Learn how to get brilliant Fall color in the garden with my six easy tips! Use the existing garden color you already have, then add texture, color and even evergreens! You will love the colorful examples featured in this article.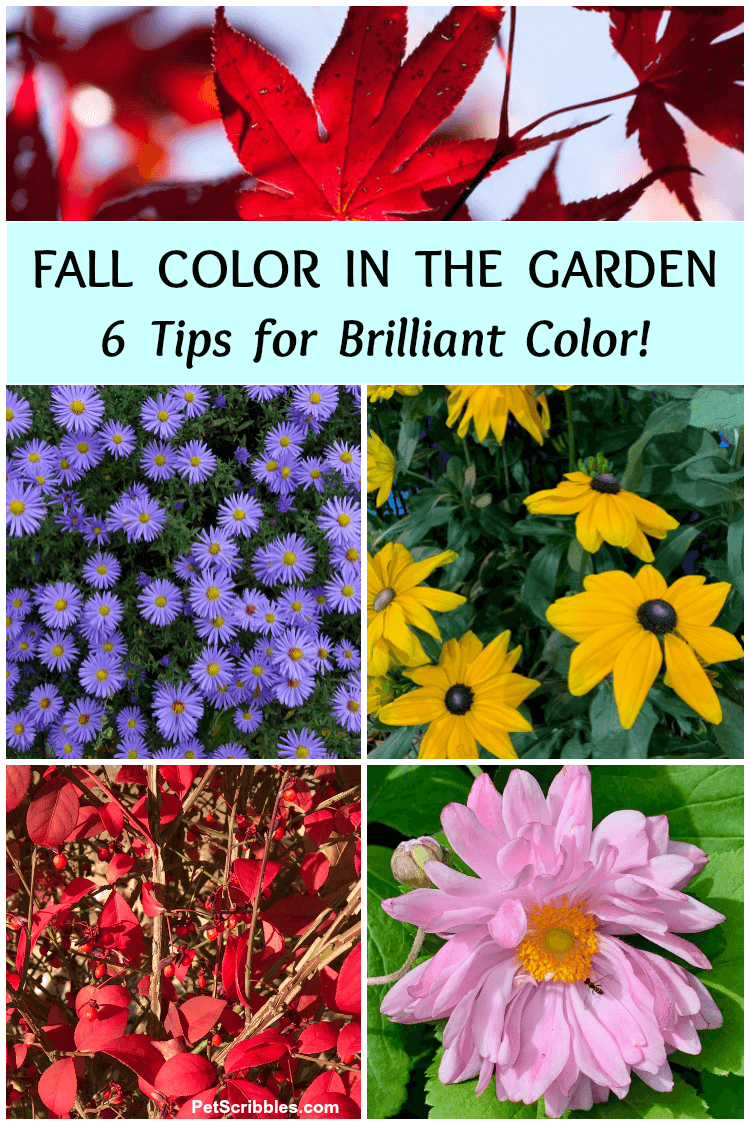 I love Fall gardening!
Not only do you get to enjoy an ever-changing color show, but you can be outside without any humidity or nasty bugs…at least here in the Northeast part of the United States!
Look at your gardens right now. What do you hope to see during the Fall season?
Whether you have an existing garden that needs more color this time of year — or you're planning to create a new garden — these six tips will help you get that gorgeous, brilliant Fall color in the easiest way possible!
Visit your local nursery and garden centers in August to see what is available in your area and begin thinking about what you want to plant for Fall color. And if you plant while the temps are still hot, make sure to provide lots of water to help your new additions look their best and get their roots established, especially if they are perennials.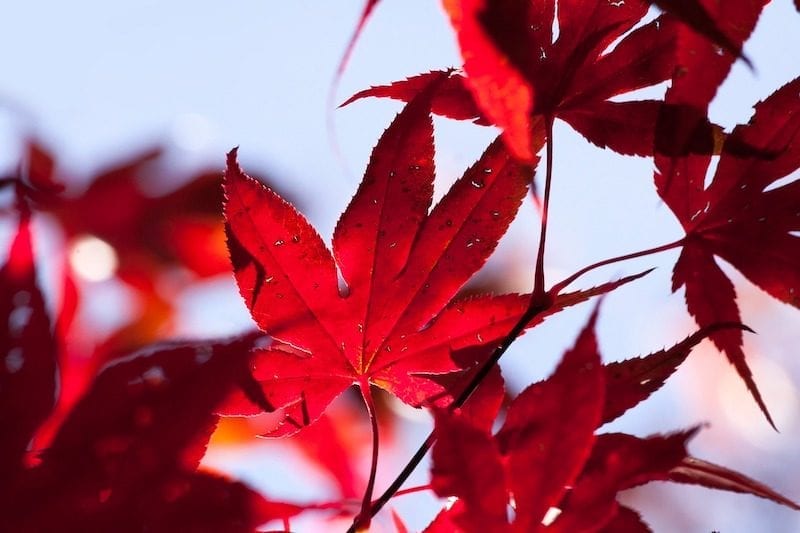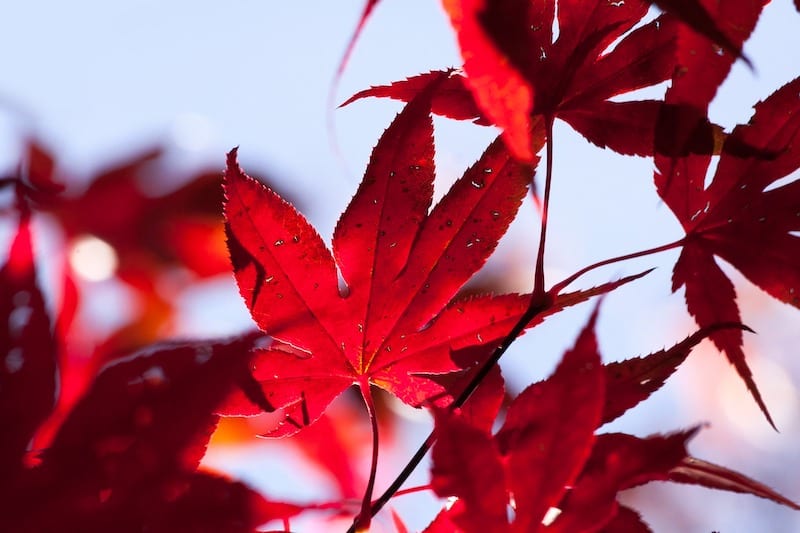 Six Tips for Brilliant Fall Color in the Garden
Keep these six tips in mind when shopping for plants, whether you're adding to an existing garden bed or planning a new garden from scratch. I talk about the importance of textures, evergreen colors, not pruning, and so much more to help you achieve gorgeous Fall color in the garden.
Remember: color is not one-dimensional, which is why I'll be chatting about mixing textures and heights of plants, as all of these things help the eye travel around the garden and notice color better.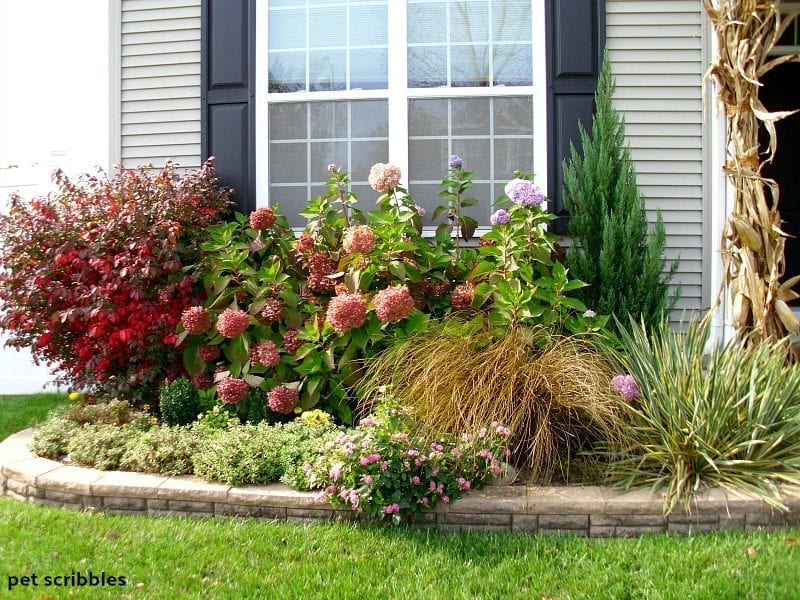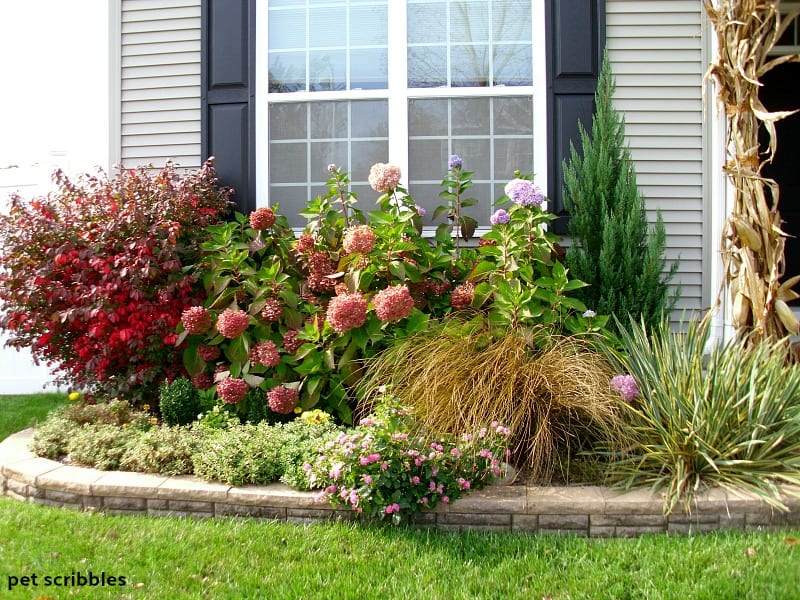 1. Use Evergreens
Normally when thinking of Fall foliage, people think of leaf colors on deciduous shrubs and trees. Evergreens provide a backdrop to showcase these magnificent Fall colors, and can be part of the color in your garden as well!
In our gardens, we use many different textures and colors of evergreens, from a yellow-green spiky Yucca plant, to a blue-green Blue Star Juniper to a burgundy Barberry. They serve as a great backdrop to the wonderful colors of Autumn.
For example, in one of our front entrance garden beds, we have Lavender Phenomenal, Helleri Japanese Holly, Blue Star Juniper, and Kramer's Red Winter Heath all in one area near an ornamental Japanese Maple.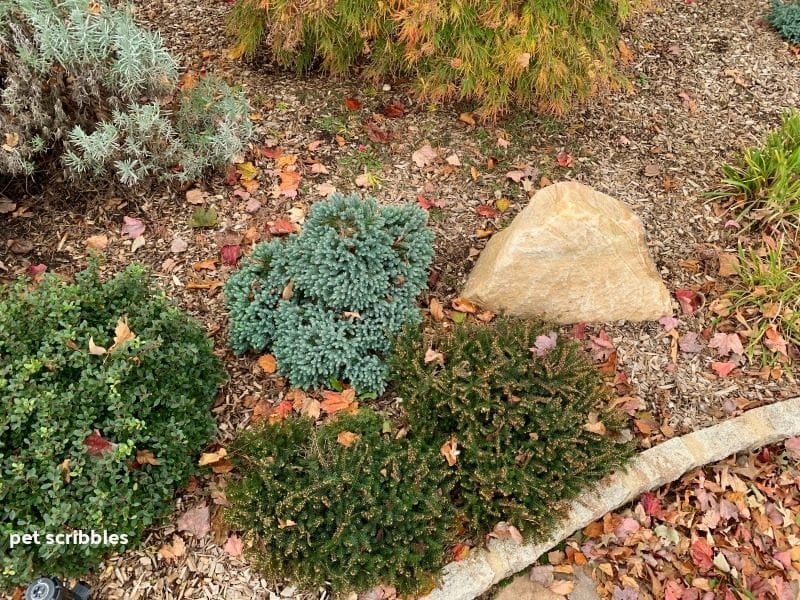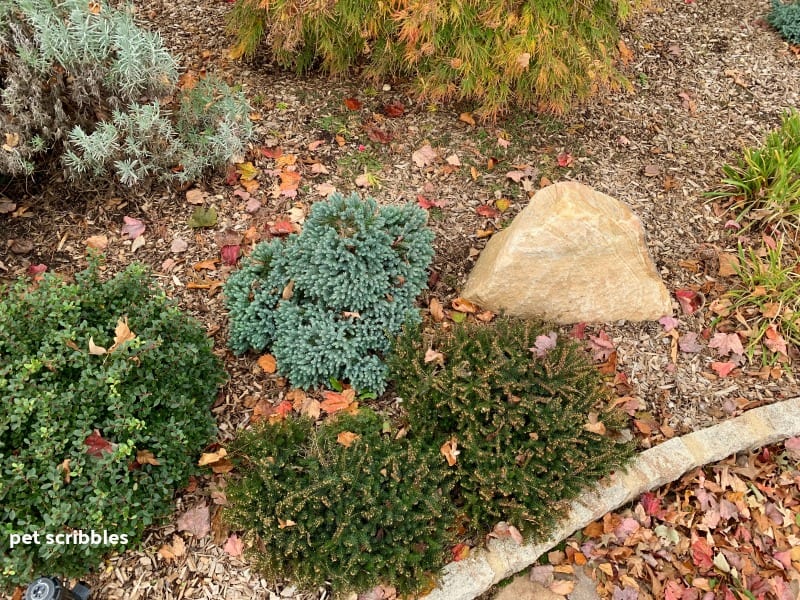 All of these blues and greens help the Fall leaf colors stand out. There are no flowers in this area, yet it's always one of the prettiest spots every Fall.
Boxwoods
Boxwoods come in many sizes and look great year-round. We use them both as feature specimen plants as well as accent plants to highlight flowering shrubs.
We have a Winter Gem Boxwood tucked among our Little Lime Hydrangeas. During the Summer it isn't noticed at all, but come the Fall, the color helps the drying Hydrangea flowers really pop! Again — we get shades of Fall from existing garden plants.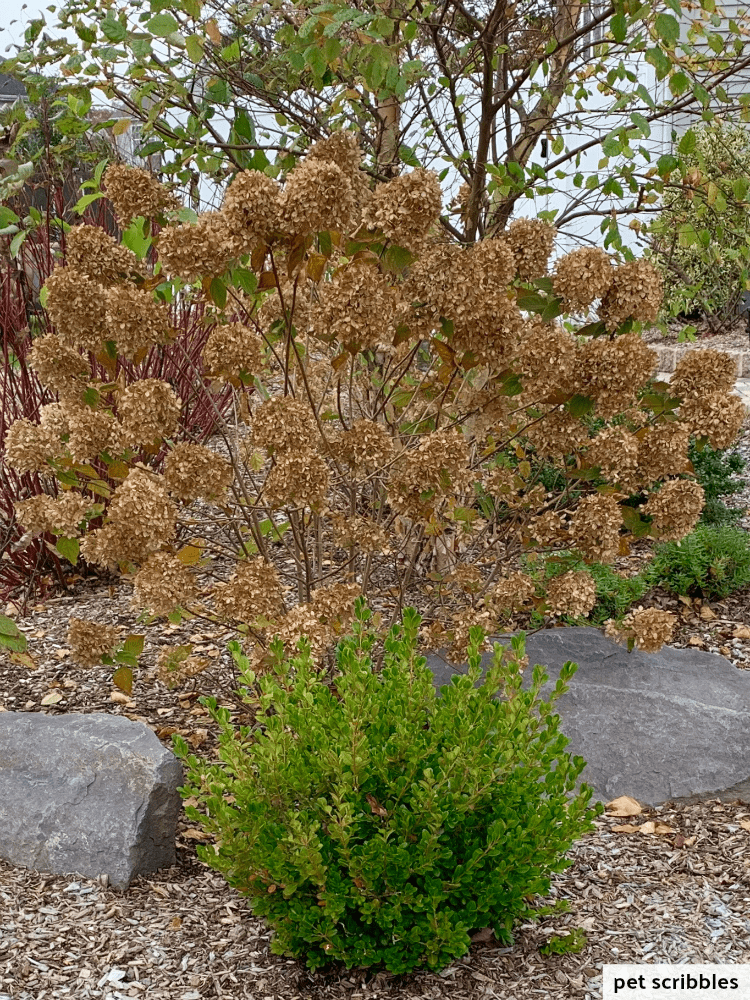 Lavender Phenomenal
I love Lavender Phenomenal for its flowers, fragrance and the way it handles heat and humidity. And this variety of Lavender keeps its color in Fall and Winter. The blue-green color is striking!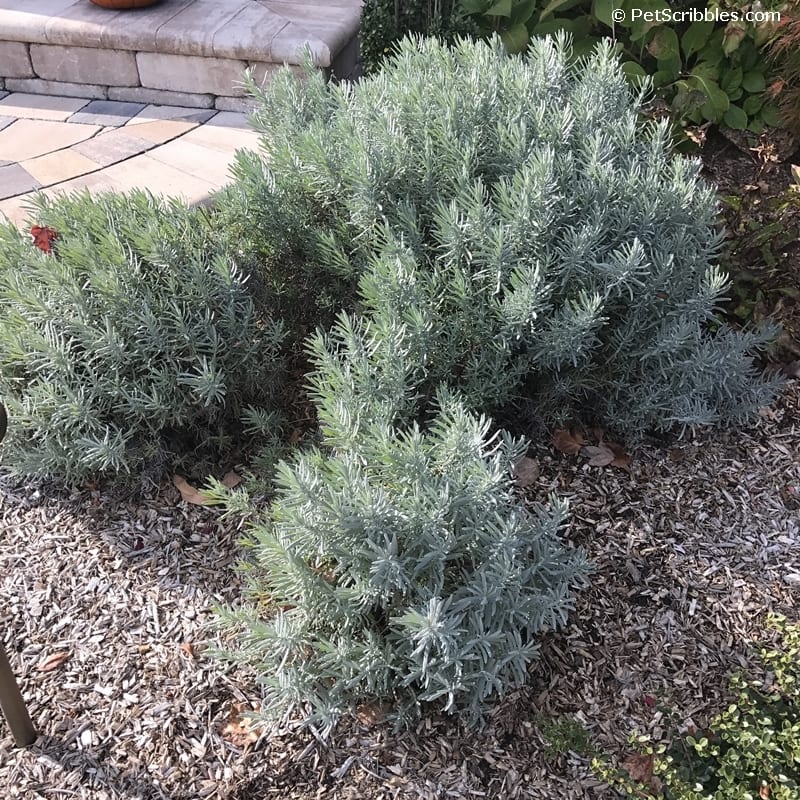 I have an article about growing Lavender Phenomenal here. Once the lavender flower stalks are removed, these shrubs take on a neat and tidy look and remain that way throughout the Fall and Winter seasons. You can also read how I harvest the lavender flowers here.
Heaths and Heathers
I don't quite know what to make of our white Heather plant, but I am in total love with it! We have Heath in our gardens, a reliable evergreen plant blooming in Winter and Spring. This white Heather, however, puts on a show almost year-round! It bloomed all Summer, and its tiny dried flowers look so pretty in the Fall. I love that you can see the evergreen of this Heather underneath the dried flowers too.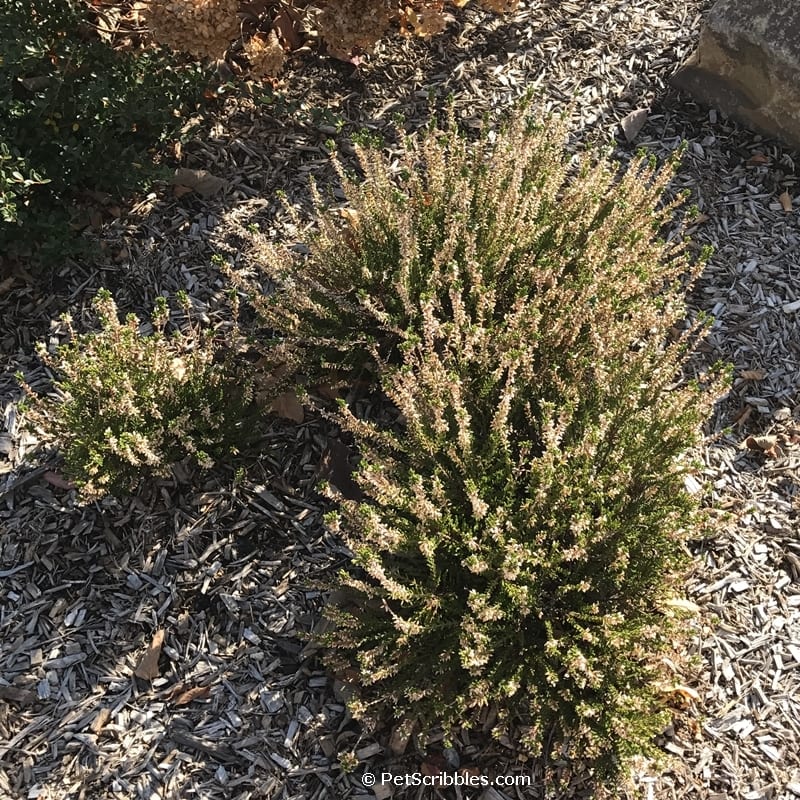 Heaths are also a great evergreen choice and since their bloom time is primarily in Winter and Spring, their flower buds form during late Summer into Fall. Again, these buds add color where you wouldn't normally expect it: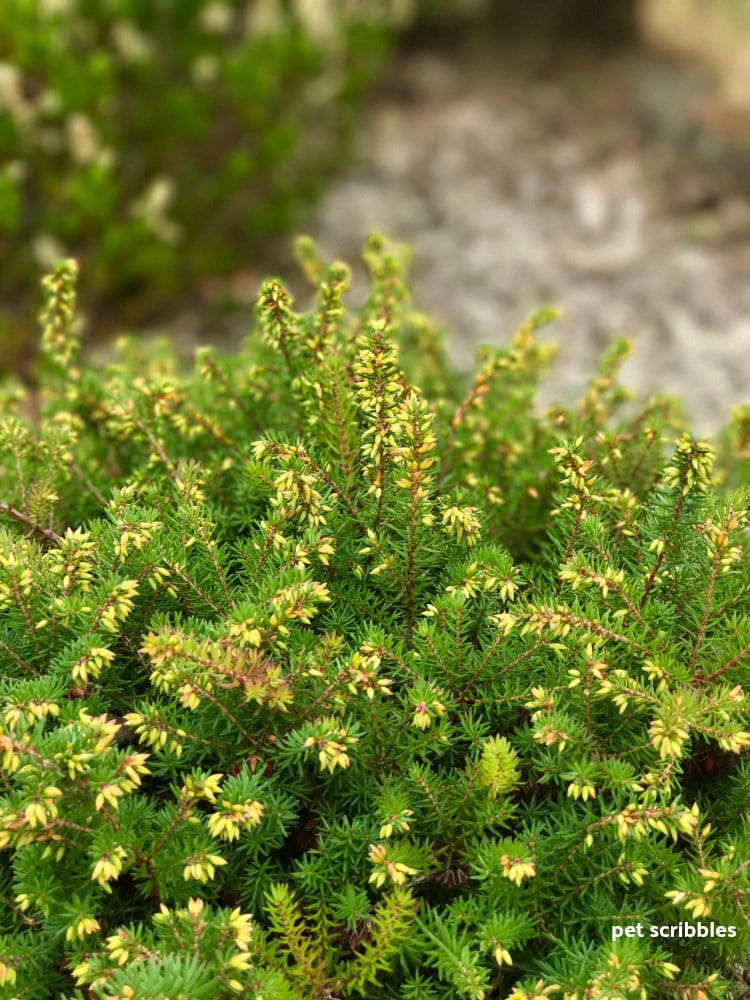 To learn the difference between Heaths and Heathers — and their similarities — read my post: Kramer's Red Winter Heath.
2. Use Multi-Season Grasses and Shrubs
If evergreens are year-round, then multi-season plants are just what the name says. These plants are either three-season plants (Spring-Summer-Fall), or in some cases four-season plants — like Yucca plants, Ornamental Grasses or Red Twig Dogwood, which shows off its glowing red twigs in the Fall and Winter landscape.
Grasses
Ornamental Grasses come in so many shapes, sizes and colors. Whether the grasses are green, blue, purple or red, they blend into Fall gardens easily, especially with their seed heads. Some grasses keep their color year-round, while others fade to tan until they return the following Spring.
These miniature ornamental grasses in our garden are too cute. Because they are small, I leave the seed heads on them for Fall and Winter interest, not pruning them back until early Spring.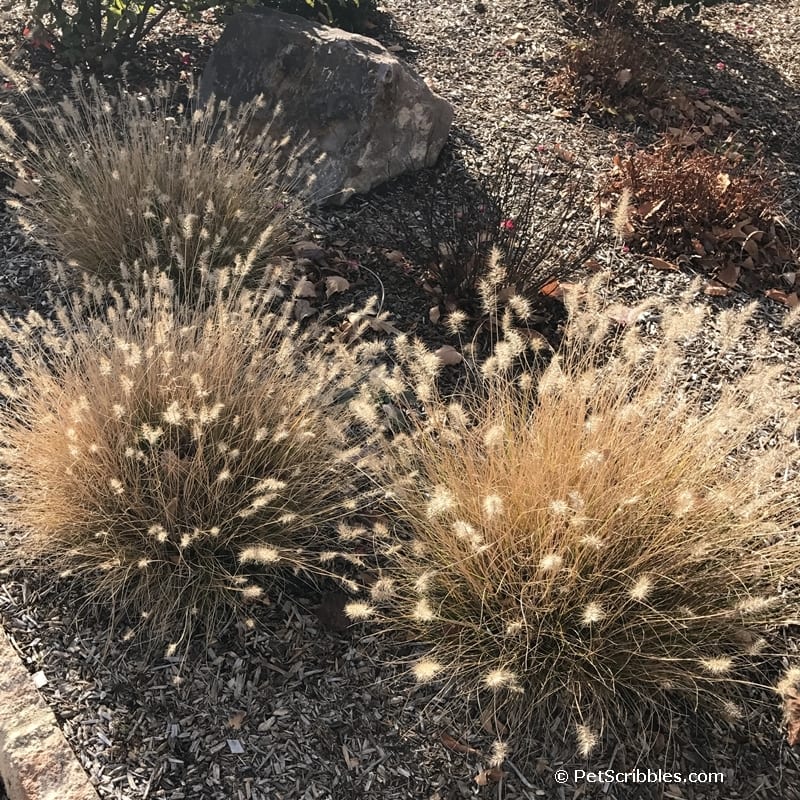 These tall ornamental grasses are perfect for Fall. I leave them "up" until after Thanksgiving. They get pruned way down to the ground before we put up our Christmas decorations outside. If I wait much longer than that, the grasses begin to come apart and blow all over the place into neighboring yards.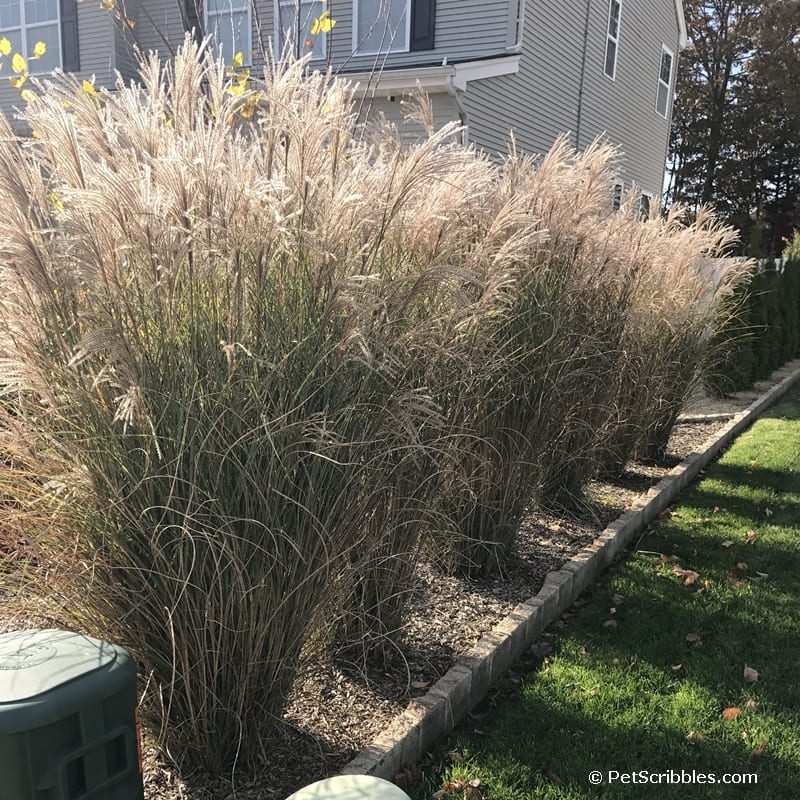 Another idea is to plant taller ornamental grasses in pots. Grasses are super easy to grow in containers plus you can move them around to add color and texture where needed.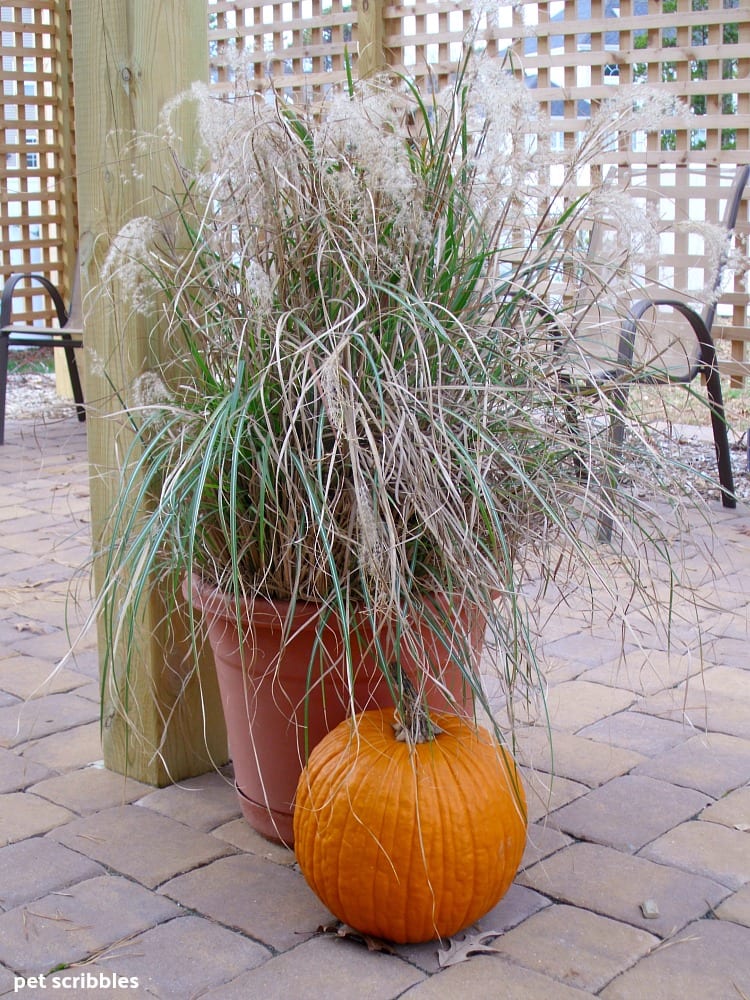 Red Twig Dogwood
Although the fall leaves provide a muted show of color, these red twigs are spectacular.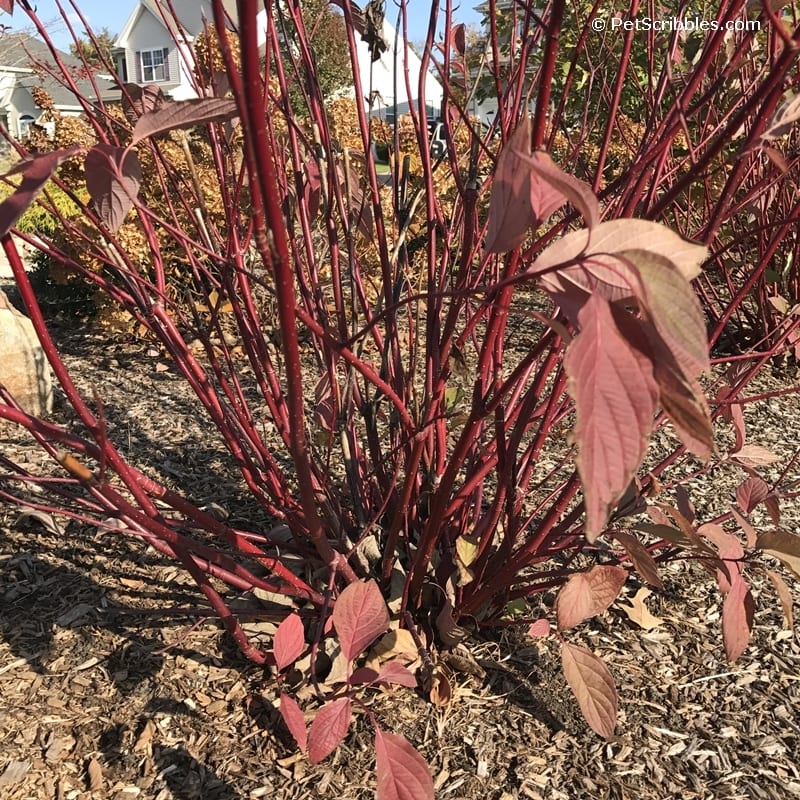 Click over to my article about Red Twig Dogwoods to learn more about this must-have four-season plant!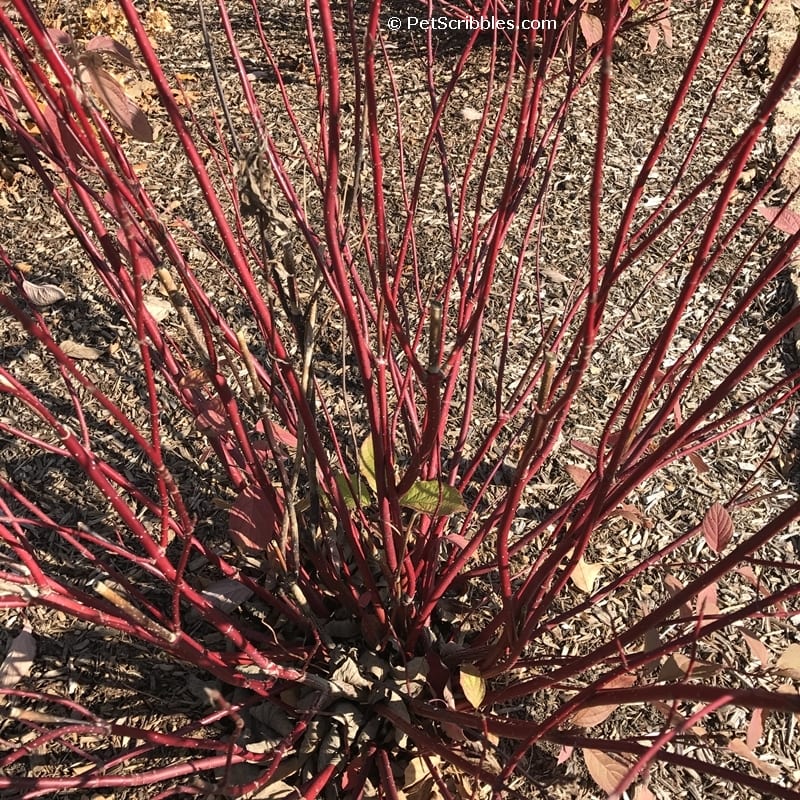 Burning Bush
Most multi-season plants have one season where they might best serve as a background for other garden stars, such as the familiar Burning Bush, which doesn't truly shine until Fall with its intense red color.
I prefer the dwarf size versus the "regular" size because as it is, the dwarf size of Burning Bush can get pretty big.
I'm in total heaven with this red color!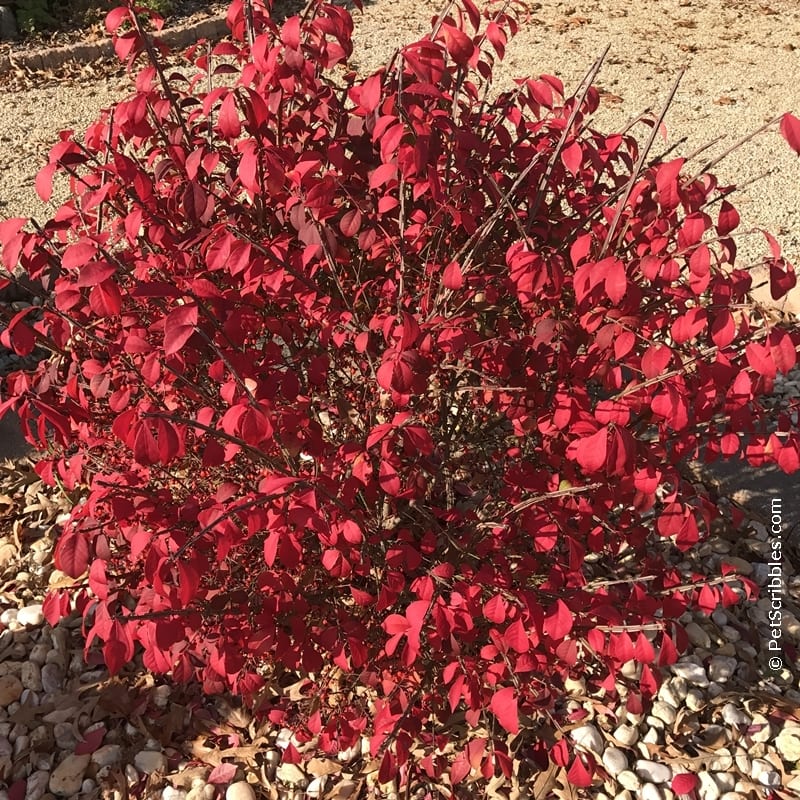 And if you look closely, you'll see some red berries too!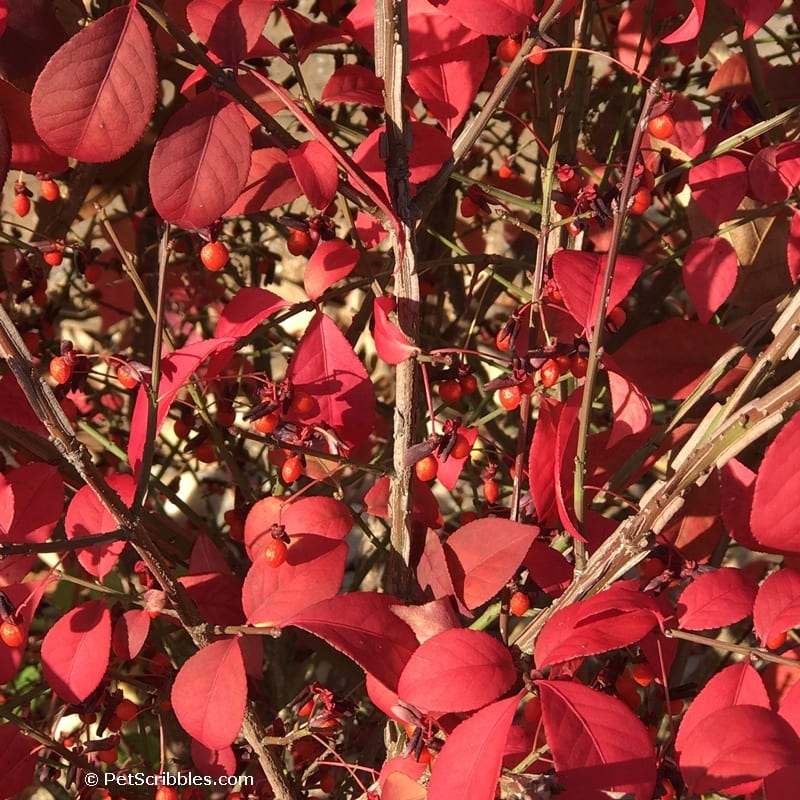 Many gardeners think Burning Bush is way overused in the landscape but I just can't help myself! I love their dependable green color during Spring and Summer, as well as their red color in Fall. And once the leaves have fallen, Burning Bush provides Winter interest as well with its unique strong stems.
Fothergilla
Another multi-season winner in my book is Fothergilla, which has beautiful bottle brush flowers in Spring, deep greenish-blue color in Summer, and then turns amazing shades of Autumn colors on one shrub! Each season brings a completely different look!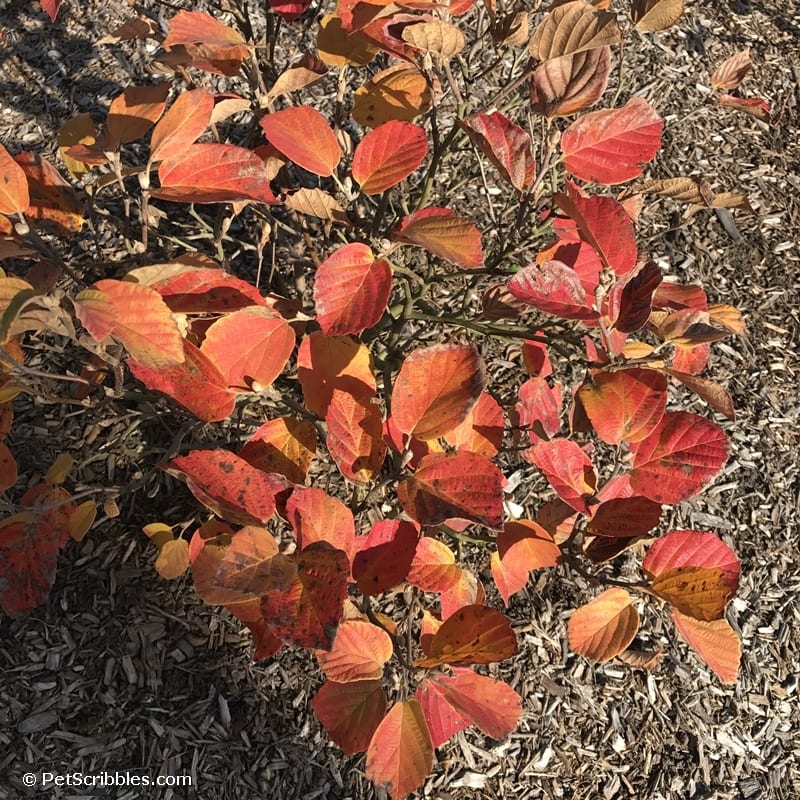 The Fall foliage on Fothergilla is breathtaking, and will be even more dazzling once these shrubs grow bigger!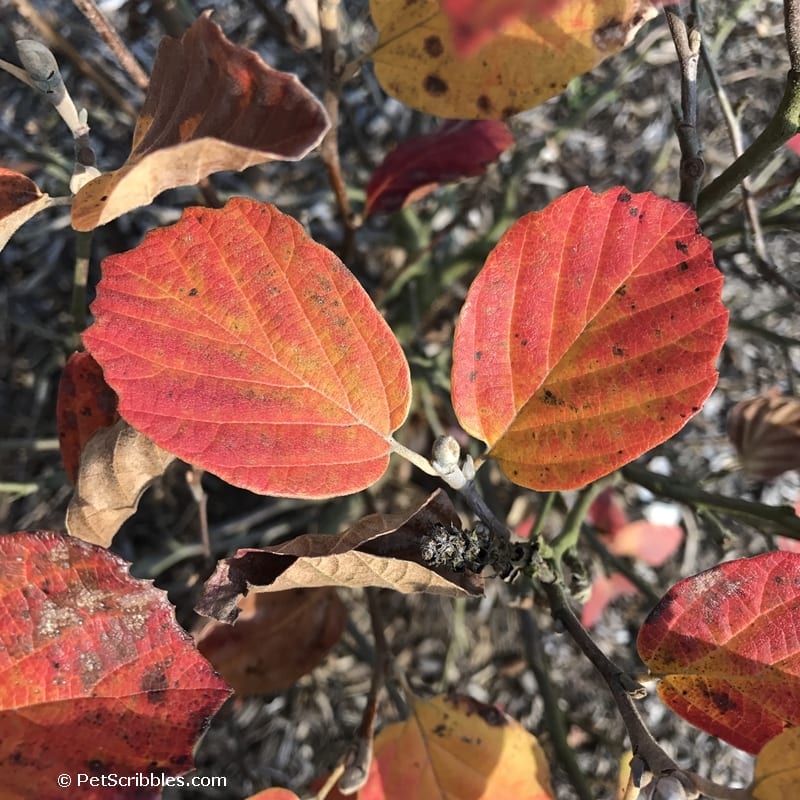 Fothergilla is one of my favorite must-have shrubs in our gardens. Learn why here: Fothergilla: a unique, easy-care flowering shrub.
Barberry
I sometimes fall in love with shrubs specifically for their color, such as the many different varieties and colors of Barberry, from bright orange to deepest burgundy to chartreuse and everything in between!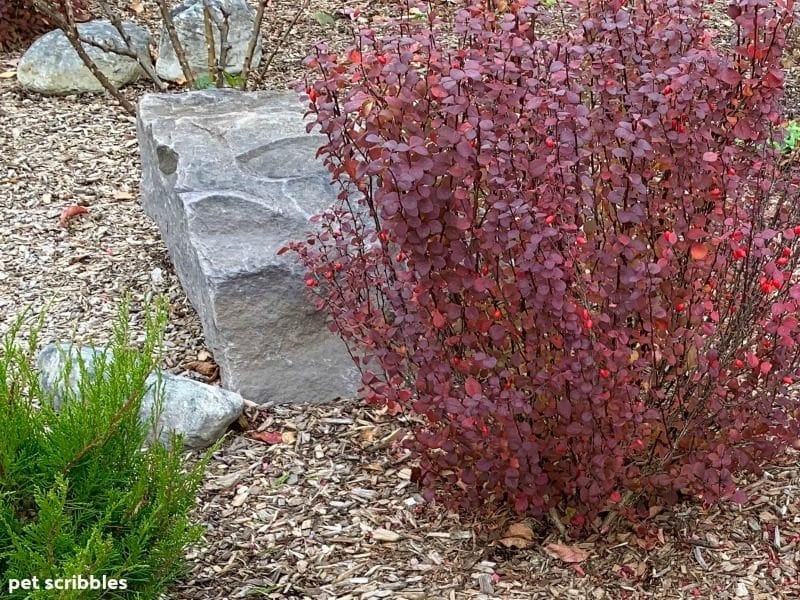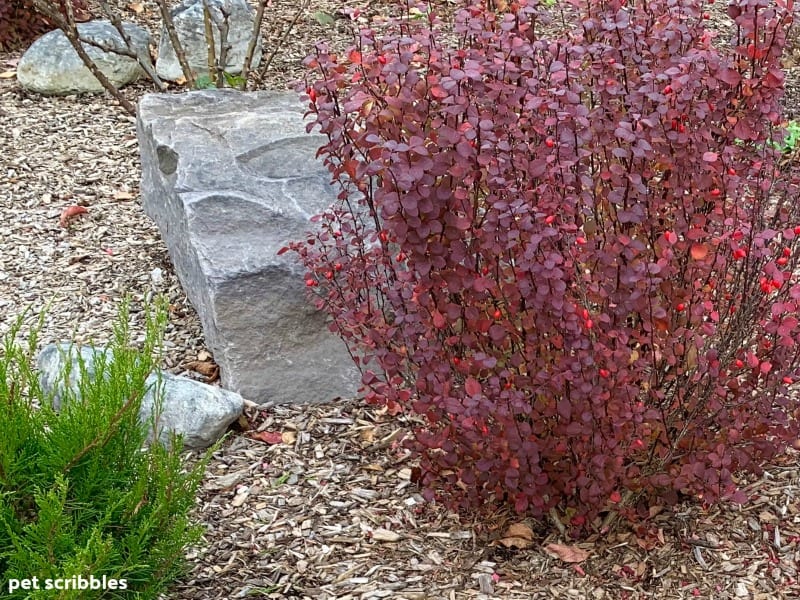 We have two Orange Rocket Barberry shrubs, which are a nice light burgundy color in the Fall. I was so happy when we got these — and so was my husband, as he no longer needed to hear me wish we had these plants. (That was a win-win for both of us!)
Hydrangeas
There are so many different types of Hydrangeas, and all of them are wonderful in the Fall garden, as their flowers dry wonderfully on the shrubs. A bonus with some of the newer hydrangea hybrids is their Fall flower color, which becomes a pretty pink or rose color.
Even the traditional Endless Summer Hydrangeas turn a charming dusty pink color in Autumn: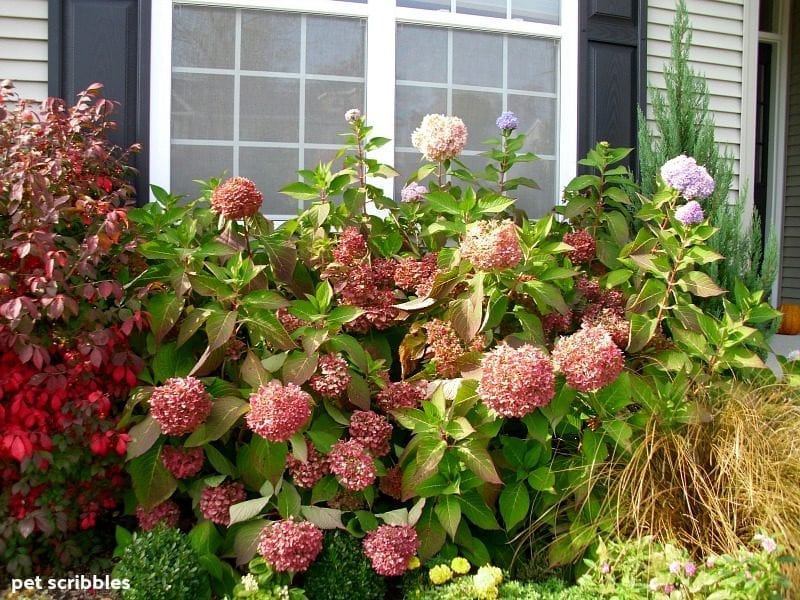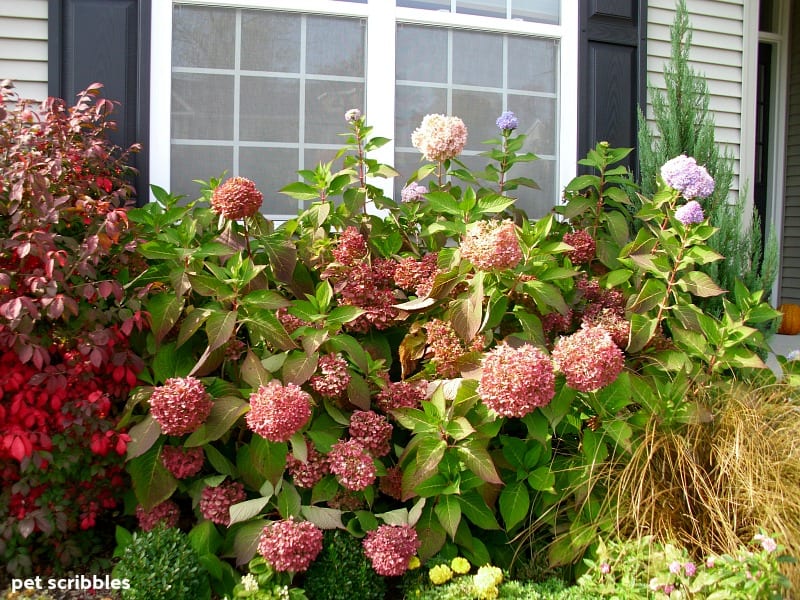 The flowers of our Pinky Winky Hydrangeas begin as white in Spring, changing to strawberry pink over the Summer. At the beginning of the Fall season, they develop into a wonderful deep rose shade.
Here's what they look like in October . . .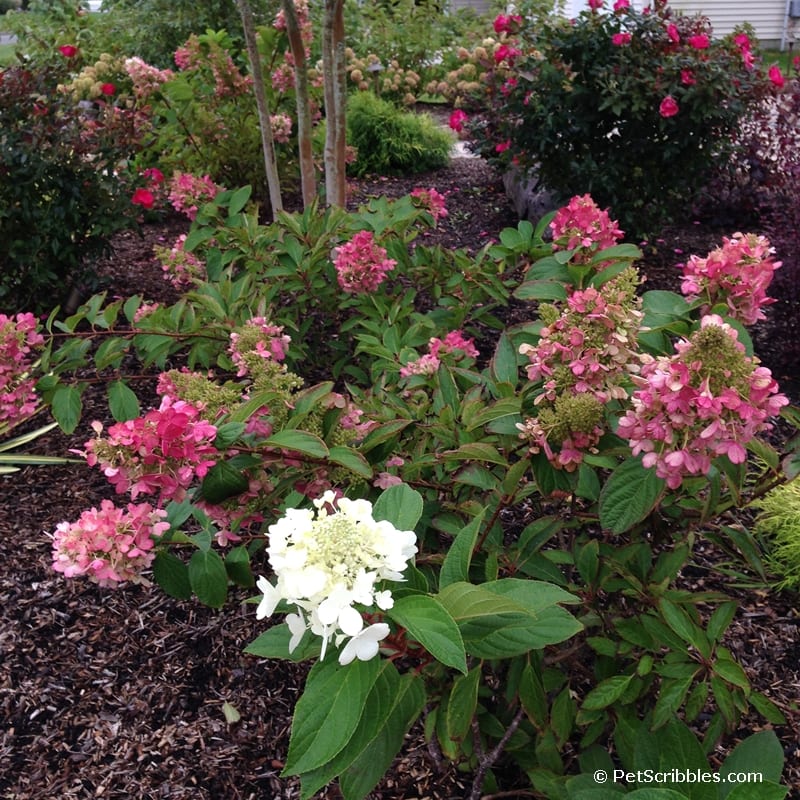 In the picture above, you can see our Knockout Roses still in bloom plus the drying flowers of our Limelight Hydrangeas way in the back. We love the dependable and ever-changing colors from Summer to Fall.
Learn more and see lots of pictures in my guide: Pinky Winky Hydrangea Care: Your Ultimate Guide.
Another hydrangea to consider is Oak Leaf Hydrangea, which — unlike most hydrangeas — has outstanding colorful Fall foliage. I still hope to add one of these into our backyard someday. Look at this striking Fall leaf color: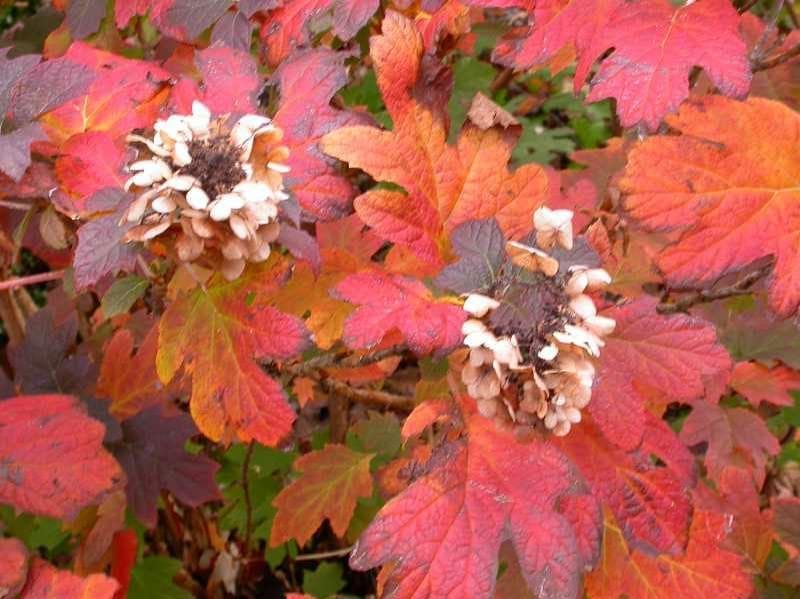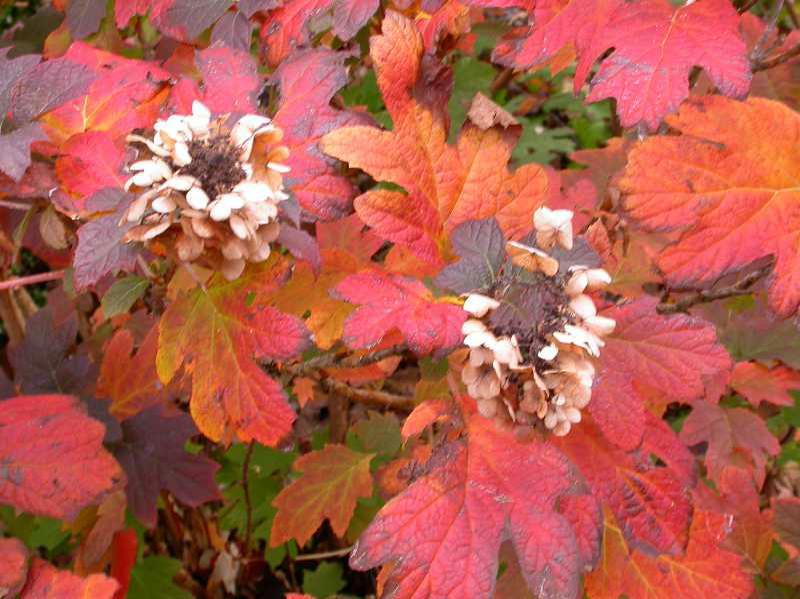 Here's a good article from the Missouri Botanical Garden on Oak Leaf Hydrangeas.
There are many other multi-season shrubs to consider for beautiful Fall color in the garden including Virginia Sweetspire, Chokeberry, Blueberry and Cranberry bushes plus several varieties of Virburnum and Spirea.
3. Mix Textures, Shapes and Sizes
I bet if you walk out to your garden right now and take a close look, you will notice different textures near or next to each other. Mixing textures is a great way to provide year-round interest in your garden, but it works especially well during Autumn.
Likewise, mixing shapes and sizes of plants and shrubs in the garden keeps things interesting. Playing with heights draws the eye around the garden in a unique way, versus just a basic front-to-back, shortest-to-tallest design. Mix it up a little for striking combinations!
Plant a ground-covering Creeping Juniper near taller ornamental grasses or shrubs. Tuck in some evergreen Candytuft in front of Roses. In both examples, you'll have tall and short, mixed with evergreen and deciduous, so something will always look pretty year-round.
An example of mixing textures, shapes and sizes are the small ornamental grasses planted almost directly underneath our Knockout Roses.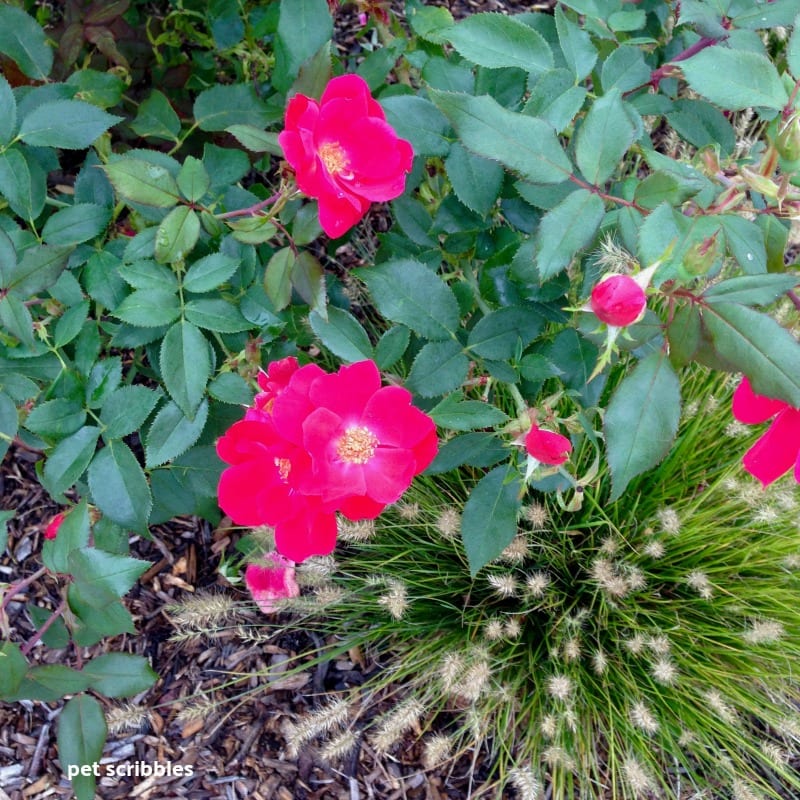 In the Fall, the Rose leaves start to lose their lush green color . . .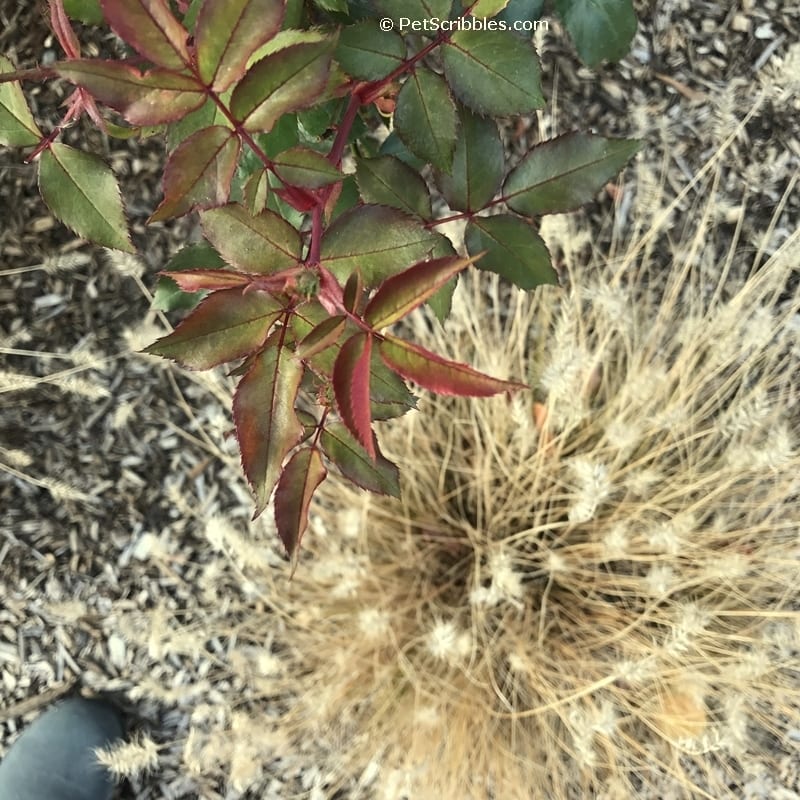 . . . while the dried grass seed heads are on display underneath!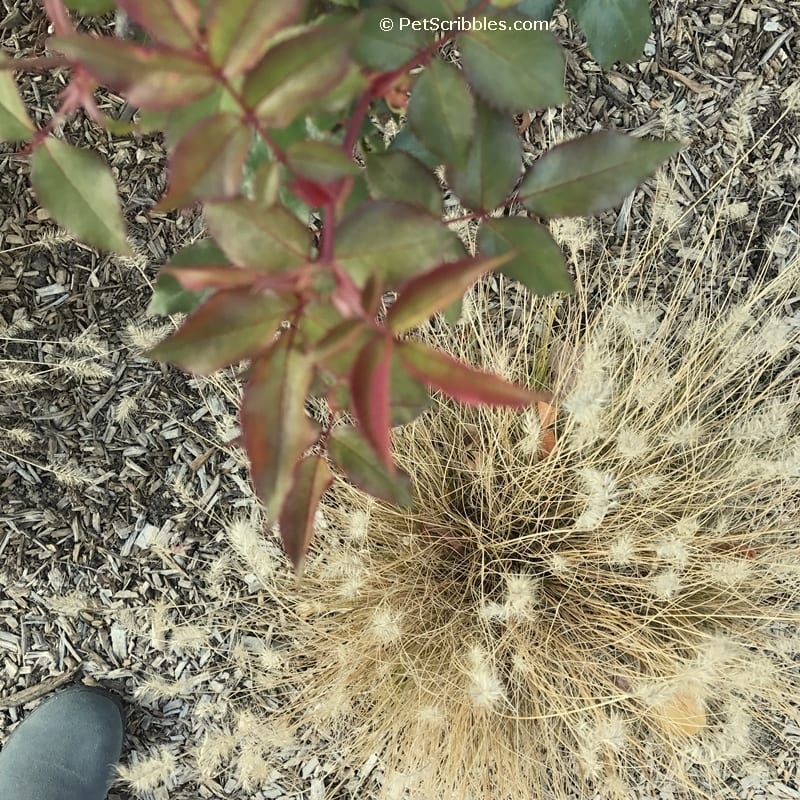 My next example is our tall Pinky Winky Hydrangeas next to medium ornamental grasses. These grasses have already dried while the hydrangeas continue to bloom. I love this combination in the Fall!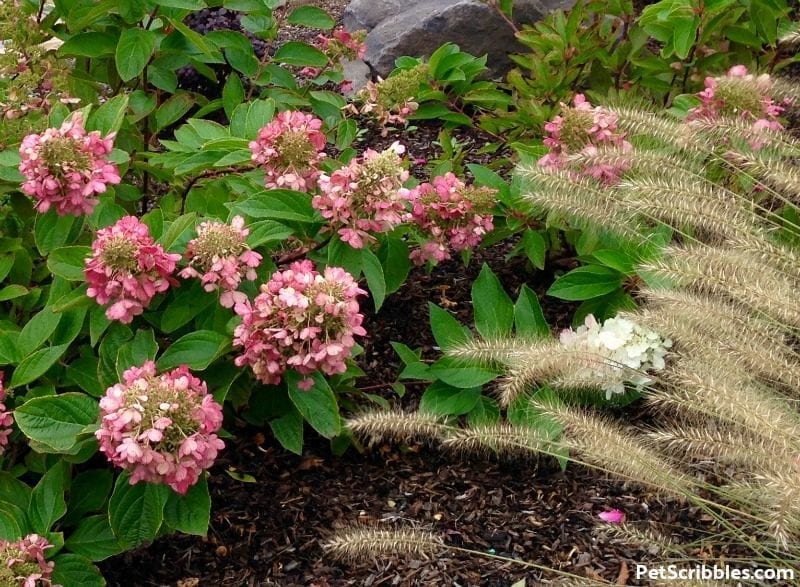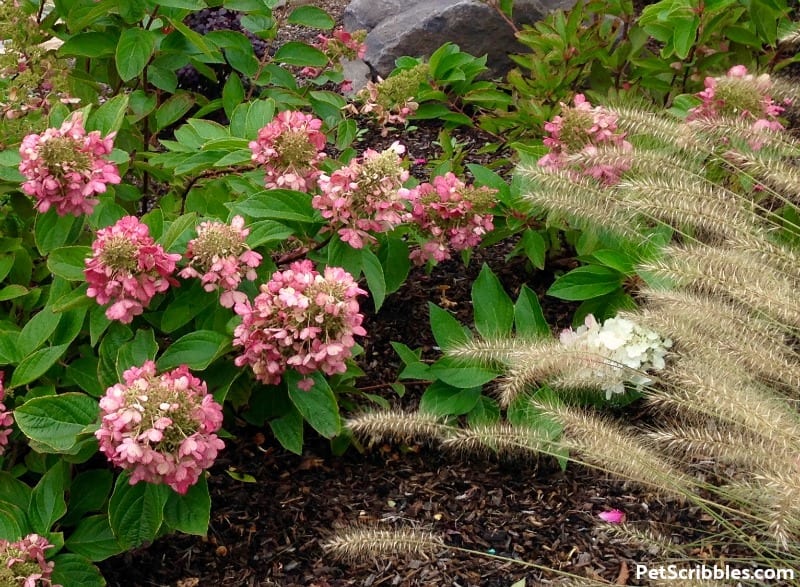 Yuccas are my husband's favorite plant, especially when we get the tall stalks of white blooms in June. I love how the green and yellow coloring of this particular variety (Color Guard Yucca) shines in the Fall and Winter garden. The spiky leaves are a perfect contrast to other plants and grasses.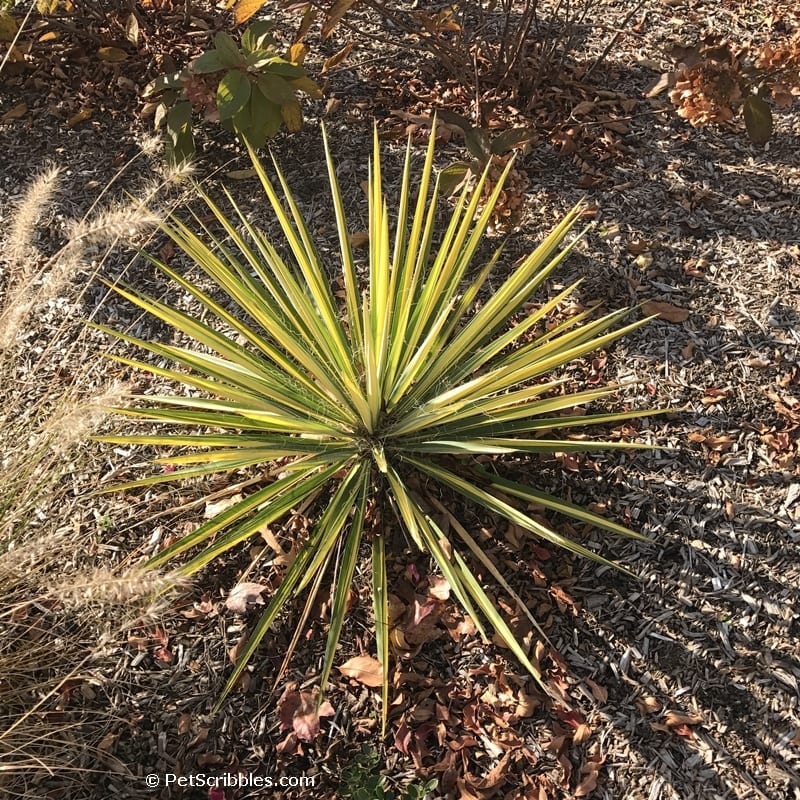 Below, the shape of the Gold Mop Cypress imitates the dried Pinky Winky Hydrangea shrub behind it, while also contrasting nicely color-wise with the tans and browns of the Hydrangea and the medium grasses behind it.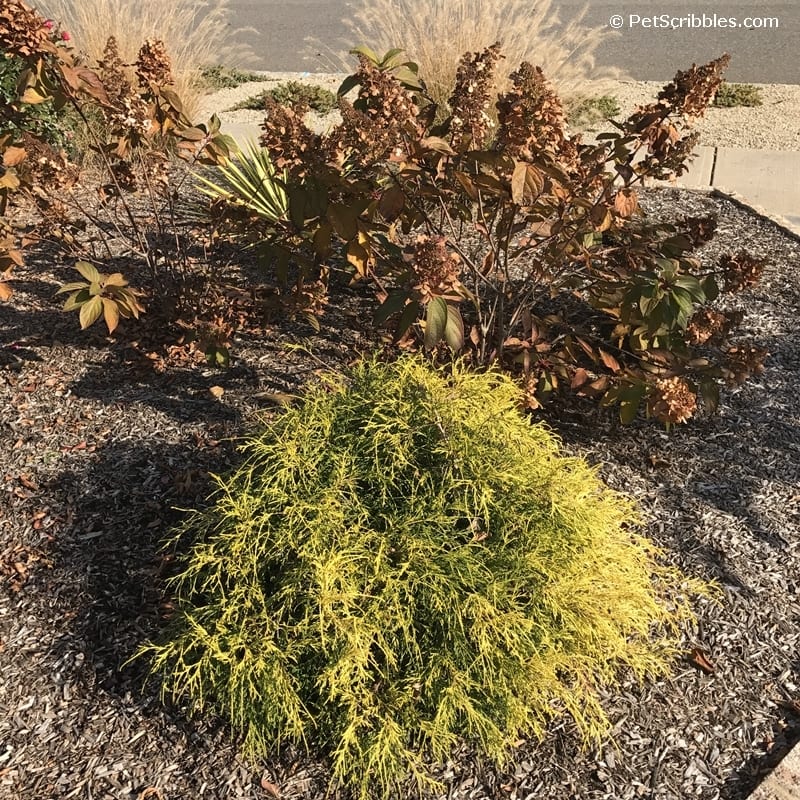 In another late-Fall garden picture below, our Mugo Pine stands out against the tall Ornamental Grasses and the whitish-pink peeling bark of the River Birch tree next to it. The grasses provide a nice background for the remaining River Birch leaves too. We have an eye-catching mix of textures, shapes and sizes with this combination.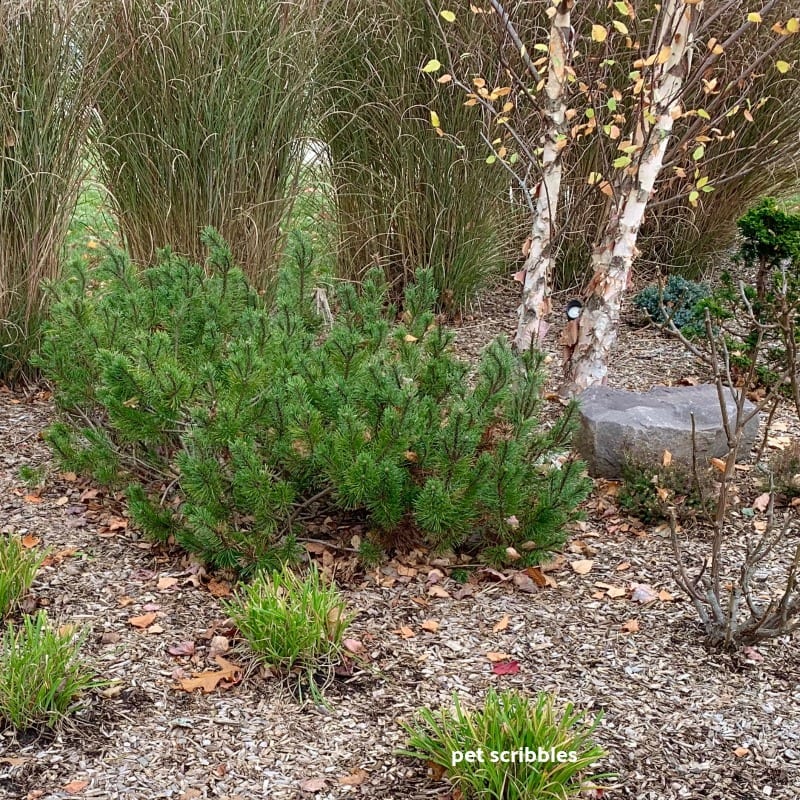 (Those small green plants in front are Stella D'Oro Daylilies that have been pruned down for the season. Read about how to easily prune them here: Pruning Stella D'Oro Daylilies.)
4. Add and Mix Colors for Fall Color in the Garden
Fall color in your garden comes from both Fall flowers as well as leaves and evergreens. But think beyond the standard potted mums to bring your Autumn landscape to life!
Flowers for Fall Color in the Garden
Summer Flowers
Depending on your gardening zone, many of your Summer flowers will also carry into the Fall such as Marigolds, Geraniums, Coreopsis, Lantana, as well as Hydrangeas. There are many types of Roses that bloom into the Fall season, from shrub roses to climbing roses. Certain types of Azaleas will rebloom during the Fall, as will Candytuft, especially Autumn Beauty Candytuft.
When shopping for perennials and shrubs any time of year, pay attention to what the Fall colors will be.
Late Summer Flowers
Next there are flowers which begin their bloom time in late Summer and carry well into the Fall, such as Hardy Ageratum, Japanese Anemones, Goldenrod, Sunflowers, Coneflowers, Turtleheads, and Black Eyed Susans.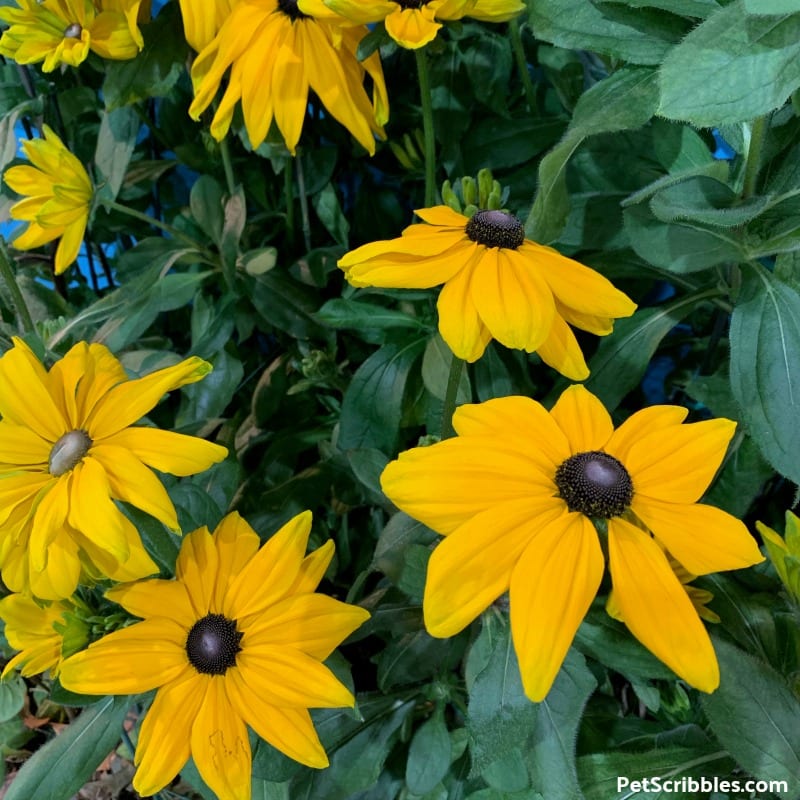 Japanese Anemones are perennial flowers and come in soft shades of white, rose, and pink.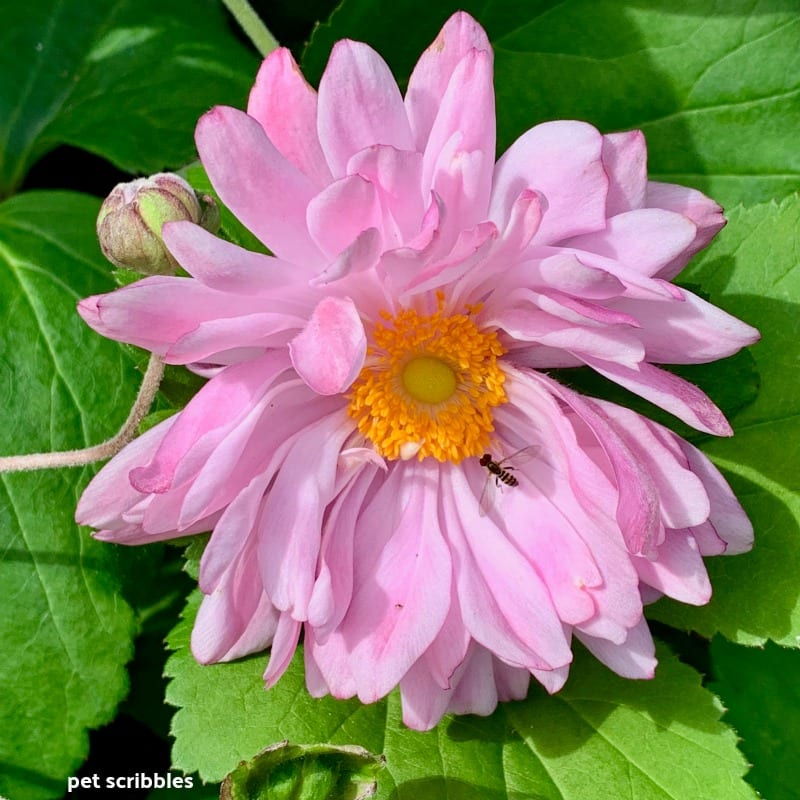 Goldenrods come in several varieties and sizes, as well as slightly different shades of yellow. Some yellows are almost a lemon color while others are golden mustard, like Fireworks Goldenrod: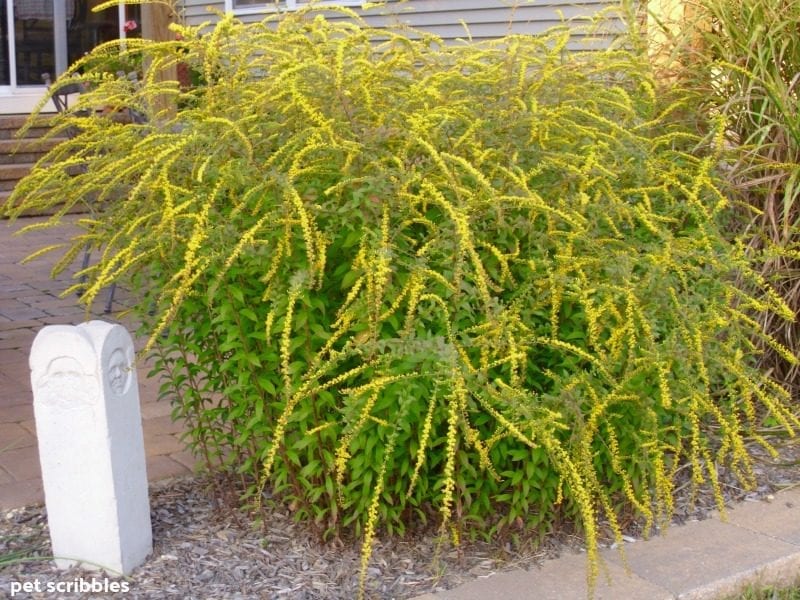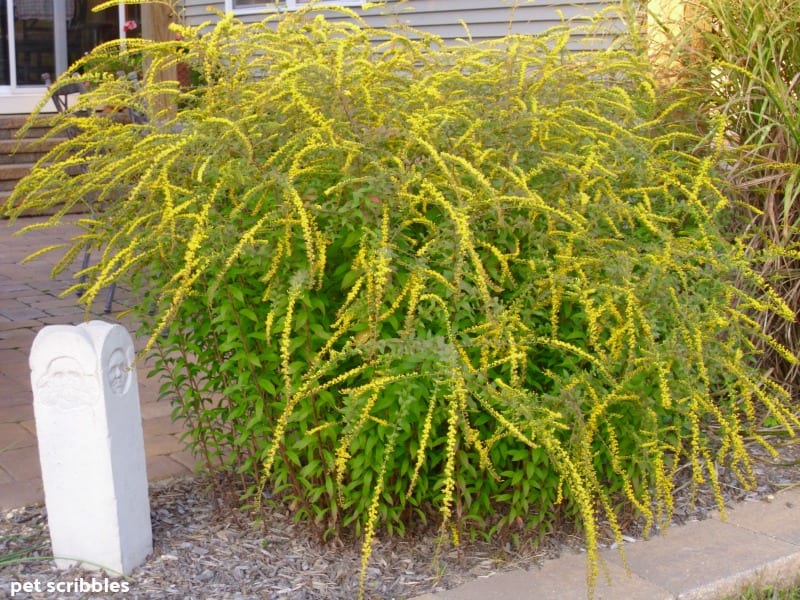 Our Knockout Roses bloom well into October! These roses get all sad-looking in the heat and humidity of August every year, but once it cools down a bit they put on a second show!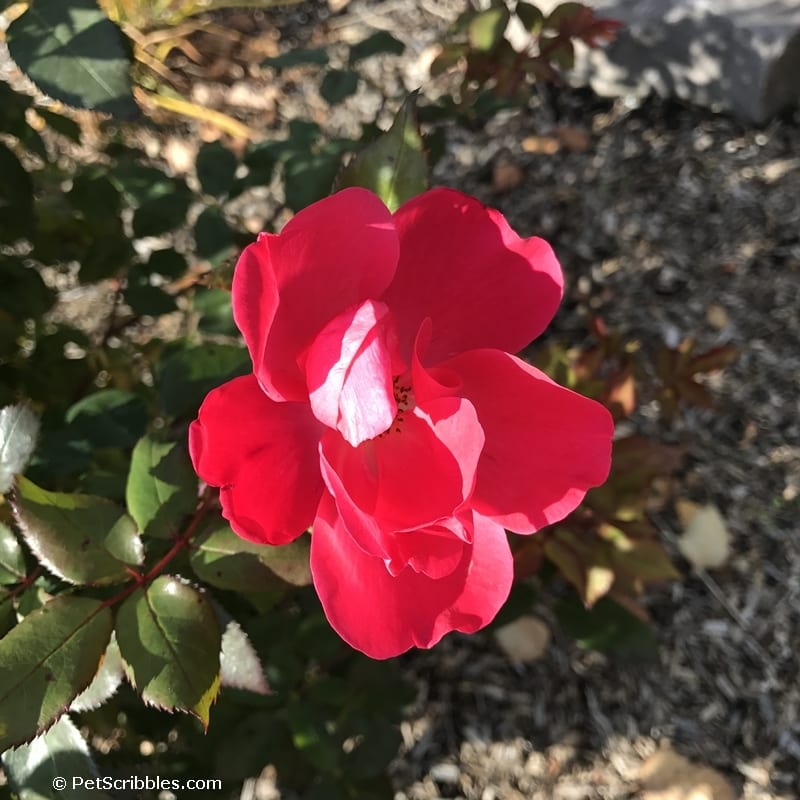 Fall Flowers
And finally, there are many colorful flowers commonly purchased and planted in the Fall like Pansies, Chrysanthemums and Asters.
Pansies planted in the Fall will bloom most of the season and may come back in the Spring too.
There are the familiar Chrysanthemums (Mums) available in lots of colors.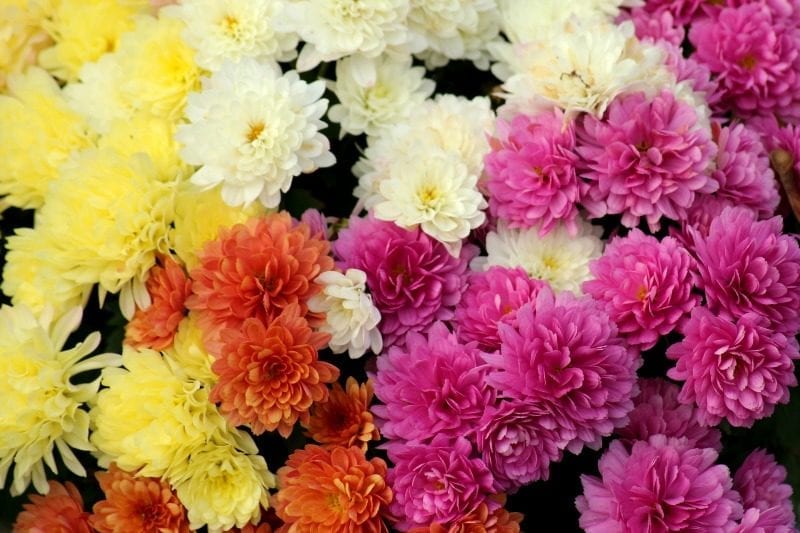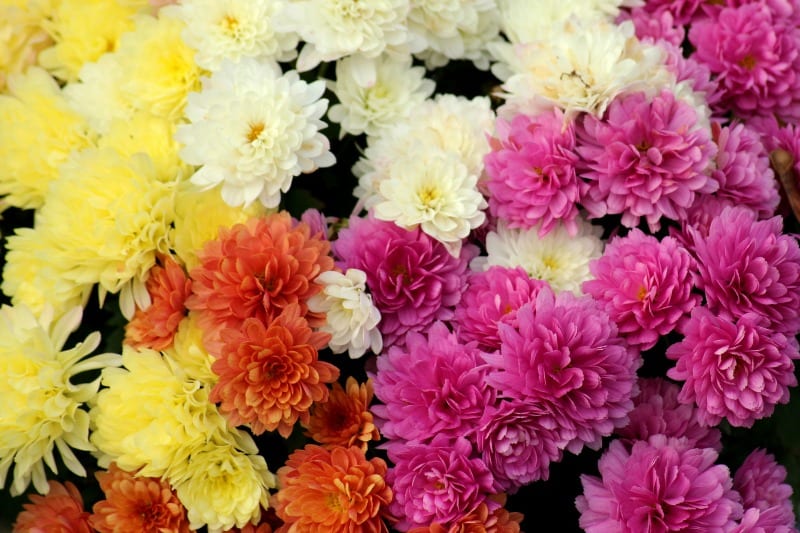 Asters are an excellent choice for Fall gardens, coming in several colors and sizes. For many gardeners, Asters are more durable and hardier than mums. They're loved for their vibrant colors that glow in the garden.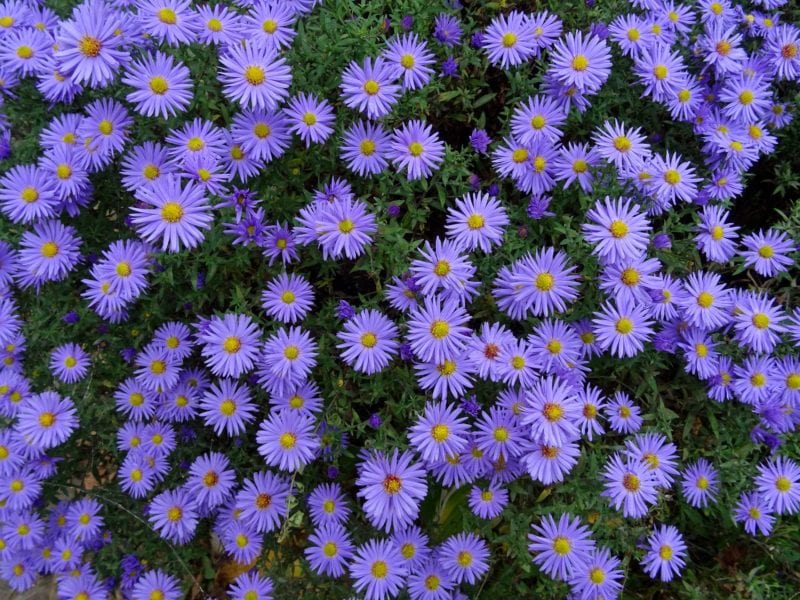 For a nice overview of Asters, click over to this page from Bluestone Perennials.
Ornamental Cabbage and Kale
Consider planting Ornamental Cabbage and/or Kale in your garden, containers or window boxes. These are easy to find at garden centers and nurseries.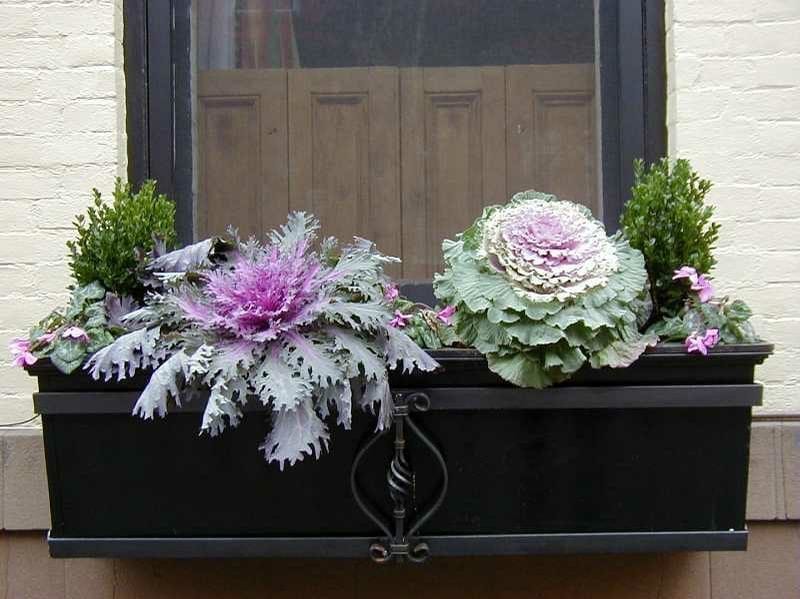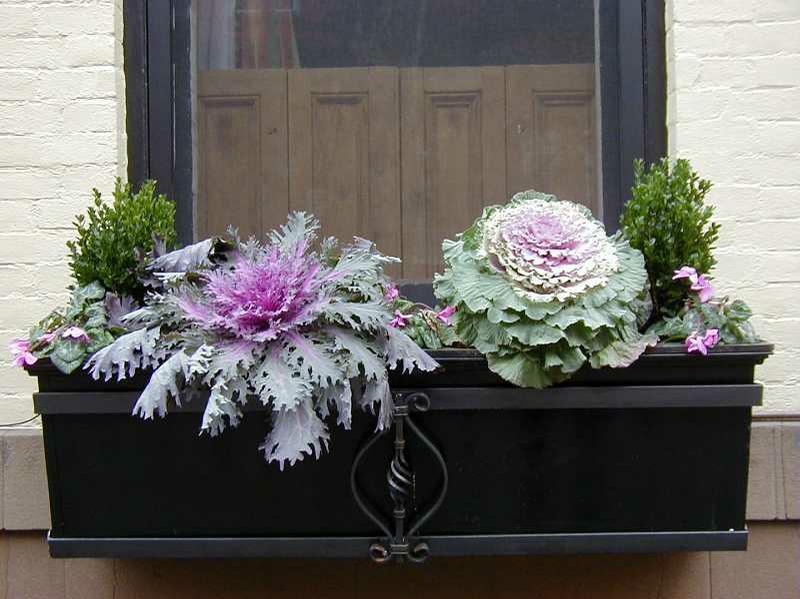 I've planted Ornamental Cabbage in our Fall gardens and they've lasted almost through Thanksgiving. As with most plants, how long they last depends on your location and the weather.
Trees for Fall Foliage and Interest
There are so many trees that provide stunning Fall color, it can be difficult to choose which ones to add to your landscape.
Many Spring-flowering trees have vivid Fall foliage, such as Flowering Dogwoods, Redbuds, and Apple Serviceberry. Crepe Myrtles are Summer-flowering trees but also have pretty Fall leaf color.
When you're looking to add a flowering tree or two to your landscape, add ones with pretty Fall foliage.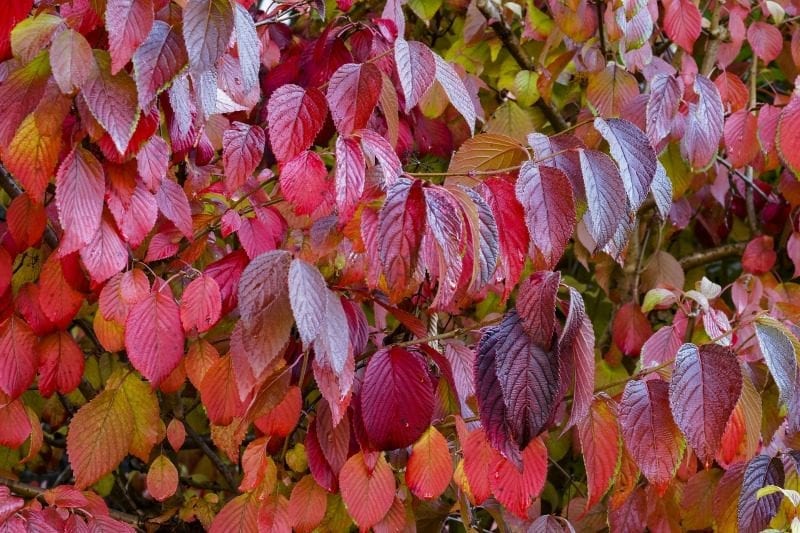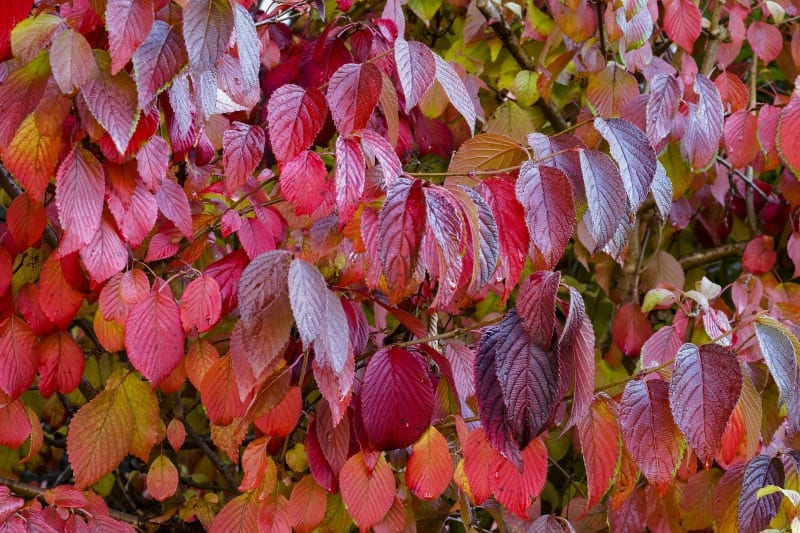 Maples and Oaks are synonymous with the Autumn season, and there are many other trees that provide brilliant fall color in your garden. Birches, Sweet Gum, Sourwood and Smokebush trees are good choices, as are the many varieties of Ornamental Maple and Witch Hazel.
Ginkgo trees have outstanding yellow color, however read up on the stinky fruit which falls from the tree before planting so you're fully aware. (Some say it depends if you plant a male versus female tree. Others say the trees can change from male to female or vice versa so it may be a moot point.) When I lived in Philadelphia, I loved the many Ginko trees planted as street trees. But yes, once those fallen fruits starting getting walked on by pedestrians it did stink!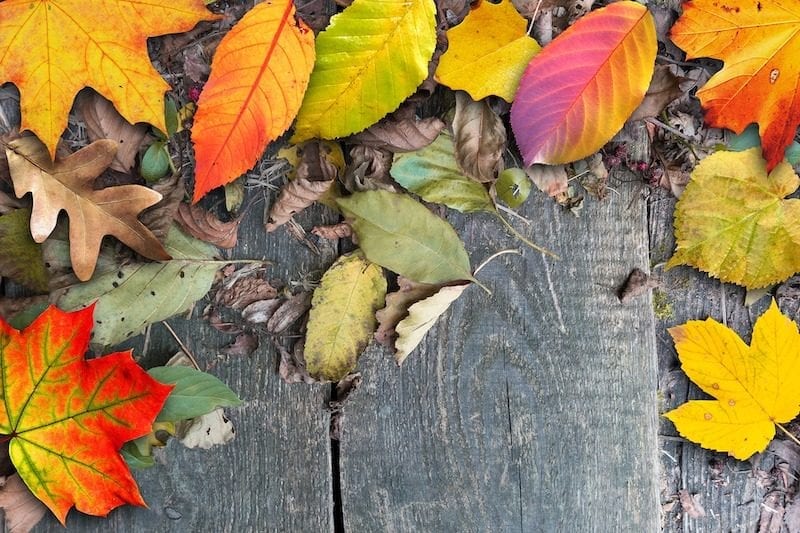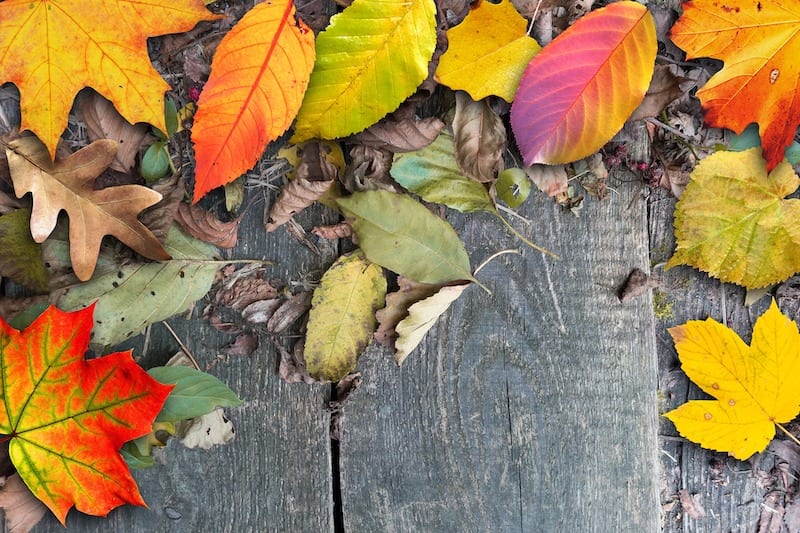 Which trees will grow best in your particular area? Visit your local garden nursery and see what they have in stock. Ask questions. Nurseries sell trees and shrubs specific to your garden zone and will usually have helpful and knowledgeable staff on hand to help.
Remember: Pay attention to a tree's maximum height and width to make sure it will fit within your landscape.
Our Trees as Examples
On each side of our front entrance we have two Ornamental Japanese Maples. These small trees have striking green leaves with coral stems in the Spring and Summer, but I always think the real show is in the Fall!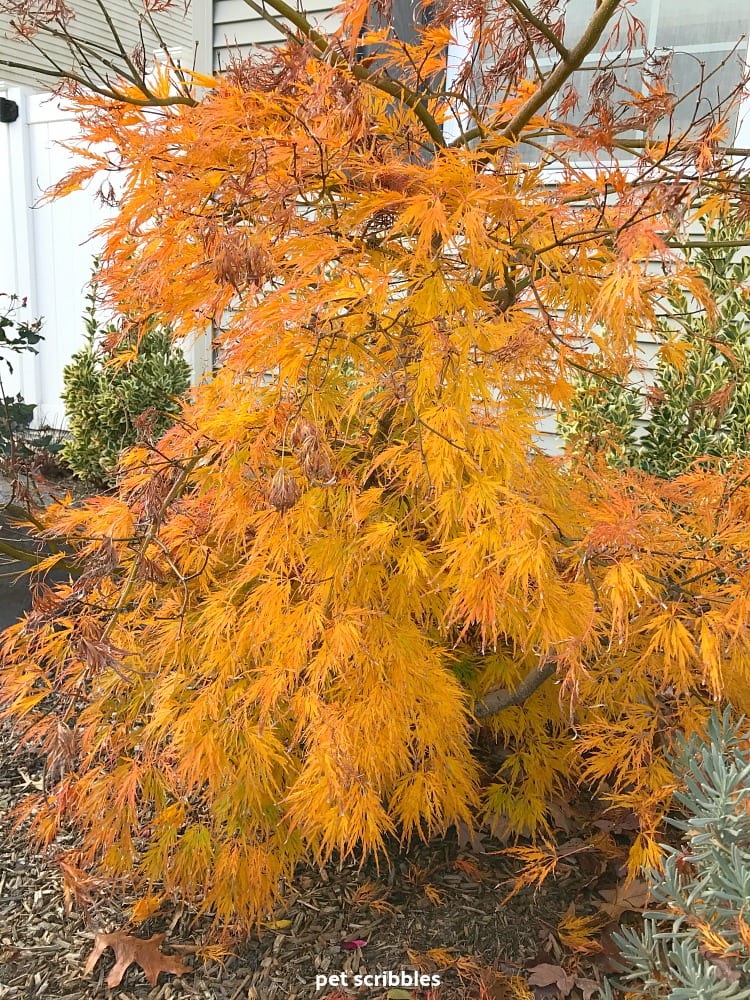 I also never want it to rain when these maples are showing off their Fall leaf color, because as the leaves dry they come off the trees very easily!
We have a Muskogee Crepe Myrtle with lavender flowers as the centerpiece tree in our main front garden bed. Although Crepe Myrtles are very common in Southern states, they are prized up in our area (coastal New Jersey, zone 7) which is just about the northern-most gardening zone to grow them successfully. Almost all Crape Myrtle varieties have stunning Fall color plus gorgeous bark on their trunks for Winter interest!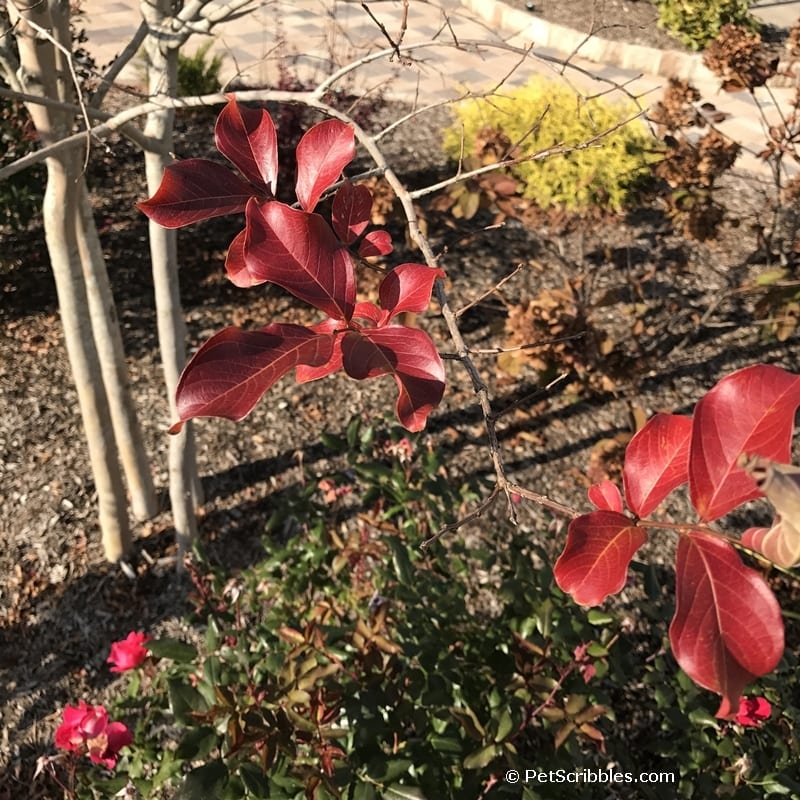 Our garden beds — because of the clay soil in our area — tend to hold lots of water, especially after a good rainstorm. River Birch trees to the rescue! We have two planted in our garden beds that flank the large center bed in front. They are dependable trees with gorgeous bark, and their yellow Fall leaves simply glow!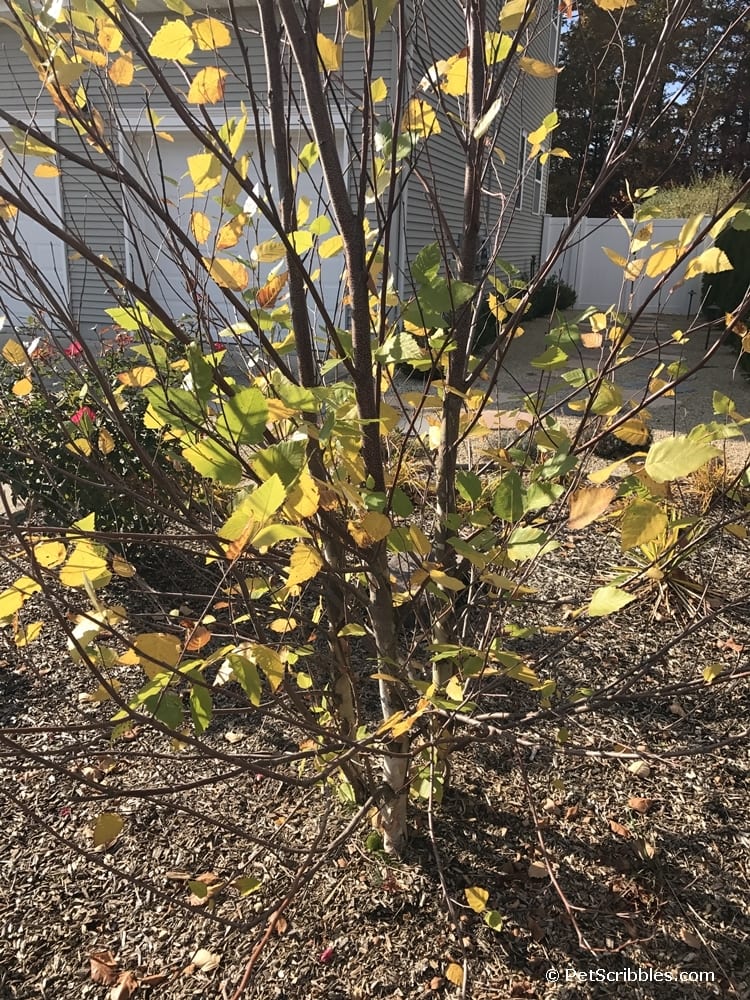 And finally, our Limelight Hydrangea Tree in our backyard is so pretty in the Fall with its dried flowers looking almost vintage, like they've been carefully preserved over many decades!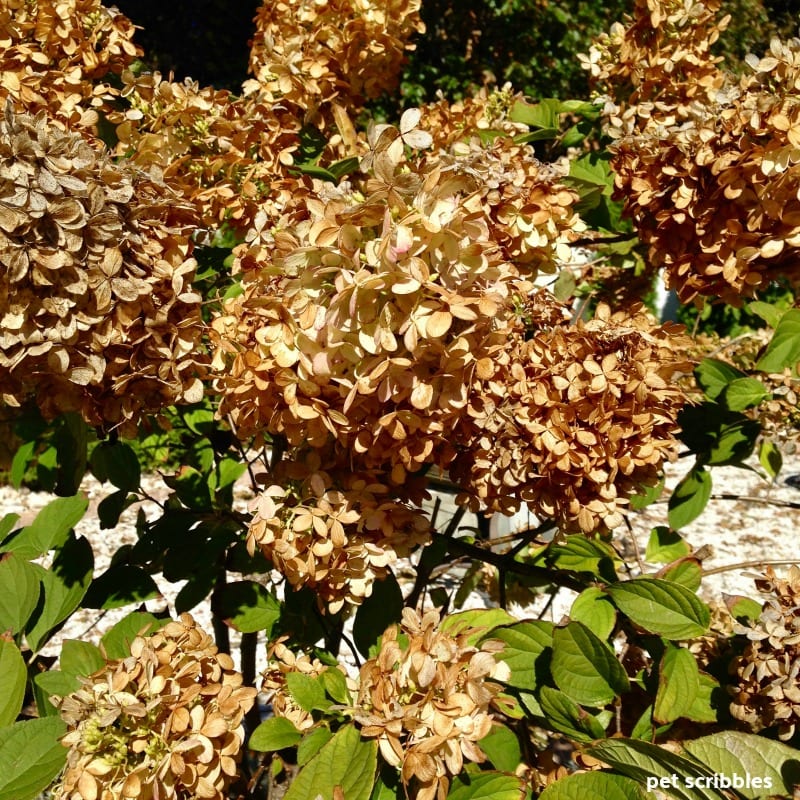 I hope to add a Pink Dogwood and a Forest Pansy Redbud tree to our backyard in the future. But I also would love a Witch Hazel, maybe a Smokebush or an Autumn Brilliance Serviceberry. I'm a tree lover and for me it truly is difficult to choose as I can't have them all!
(Once upon a time, we actually did have a Pink Dogwood, planted way too deep by the original landscapers. It died. They replaced it and this time didn't plant it deep enough. It died too. And I gave up…on those landscapers, that is.)
5. Keep Flower Heads on Plants and Shrubs
Fight the urge to prune everything down in the Fall, especially early in the Fall.
Again, look closely at your garden and you may see Fall colors already there.
From the colorful centers of Coneflowers . . .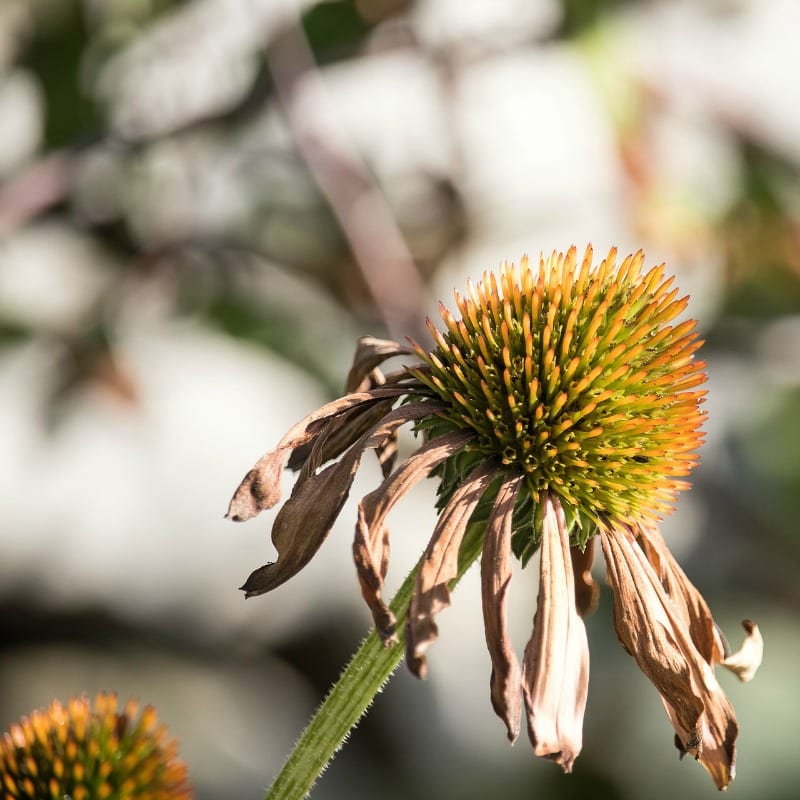 . . . to the orange rose hips that develop on certain shrub roses and old garden roses . . .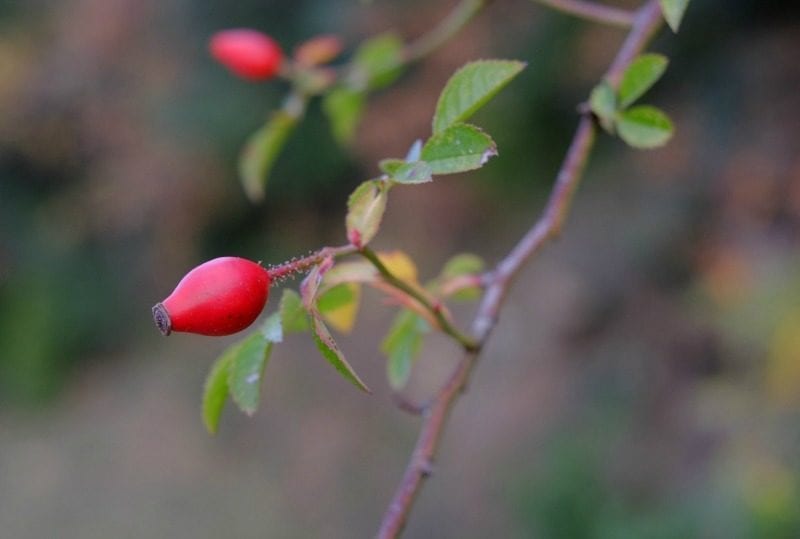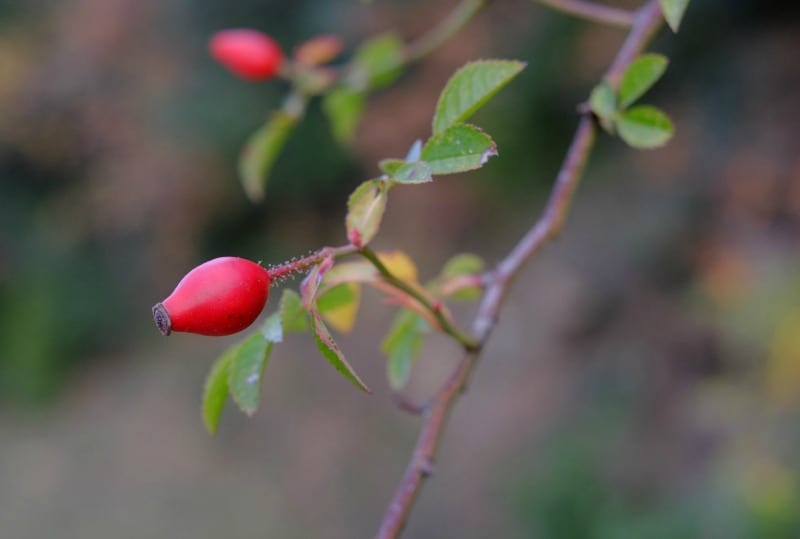 . . . to the lovely and delicate look of the various dried Hydrangea flowers — it all goes together and adds up to a colorful show!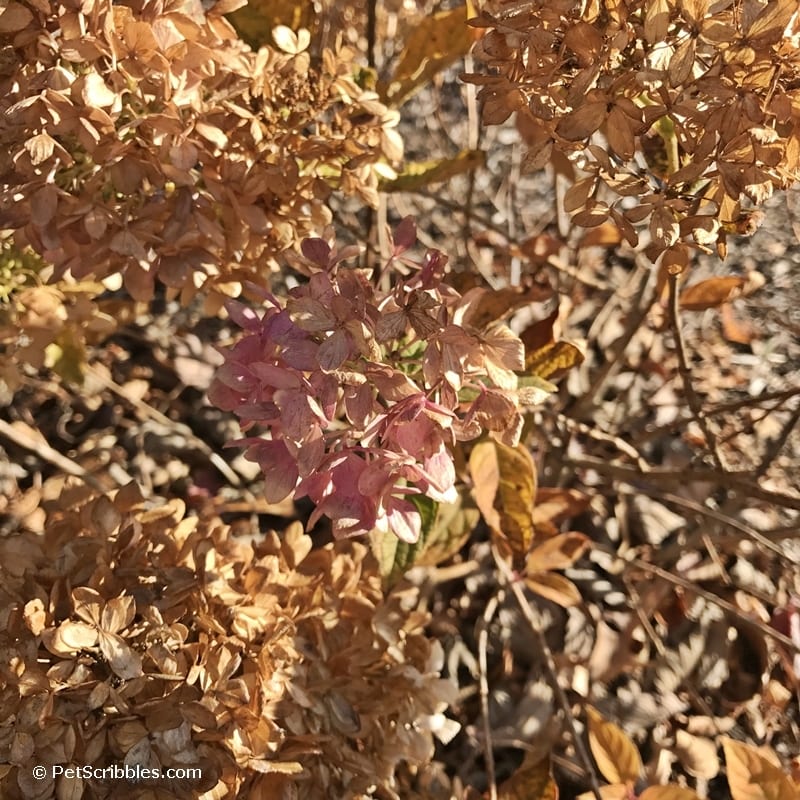 One of my favorite examples: Little Lime Hydrangea flowers turn a beautiful pinkish-rose at the end of the Summer into Fall before drying. This little pink guy (above, center) was a late bloomer from a stretch of warm weather we had. He stands out among his already-dried siblings!
Quite a few garden bloggers have written articles on how to properly dry hydrangeas, but I do it the simplest way possible: I let them dry naturally on the shrubs! Easy-peasy!
6. Add Pumpkins and Gourds
This tip is a no-brainer, yet it needs to be included in these tips for a few reasons.
First, adding colorful pumpkins and gourds is an easy way to bring color to your gardens quickly. When our gardens were new and all of the plants and shrubs were small, I placed many pumpkins in different colors and sizes all around the garden beds which made everything look fuller and more colorful.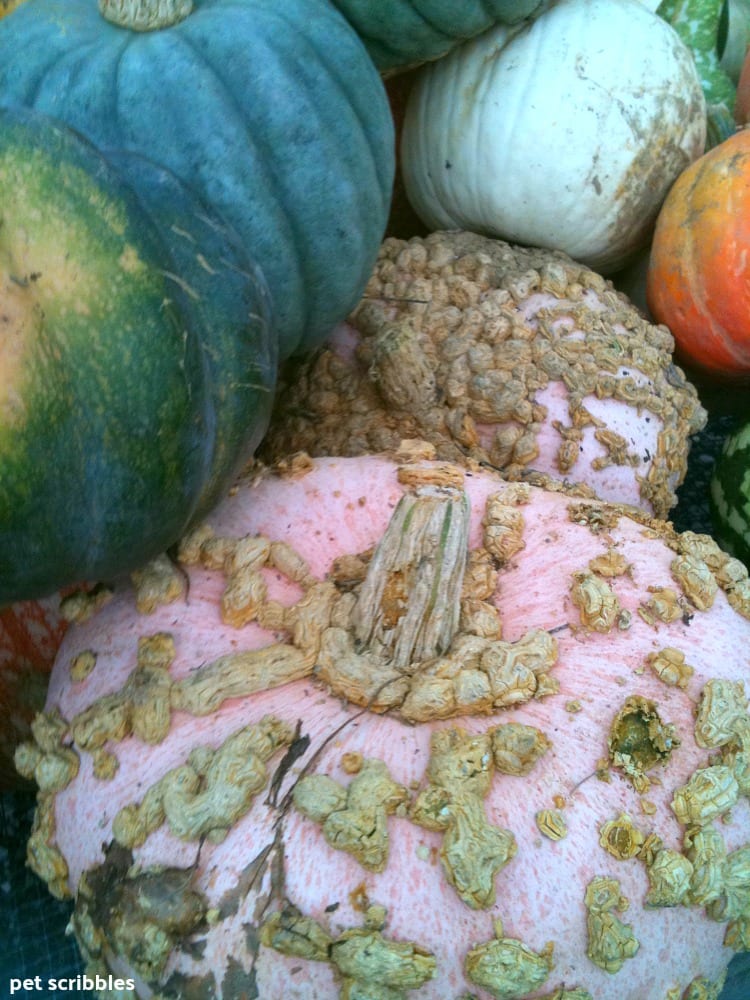 Second, don't spend a ton of money on pumpkins. Yes, this may sound like I'm contradicting what I just said above — however, that isn't the case. Some years, depending on pumpkin harvests, the prices can be rather high. In those years, I purchase smaller pumpkins with just one or two large ones at the most. Gourds are also plentiful to purchase and usually not as expensive as those perfect large pumpkins everyone wants.
Just one eye-catching display can be more than enough.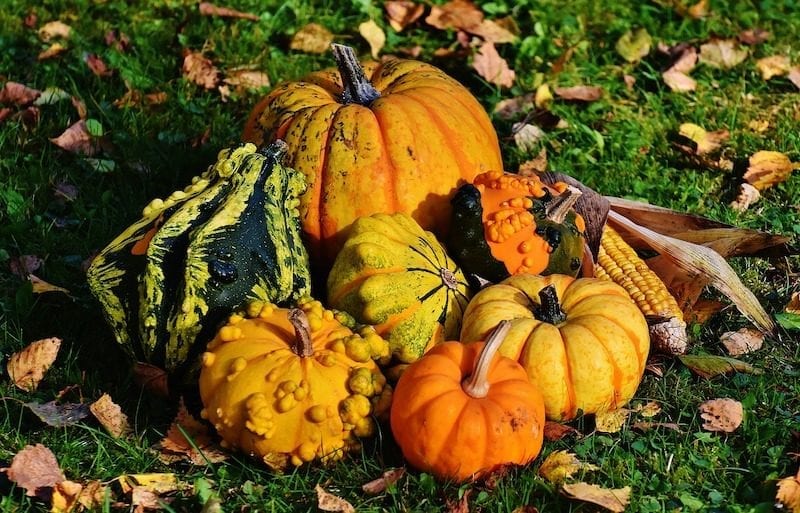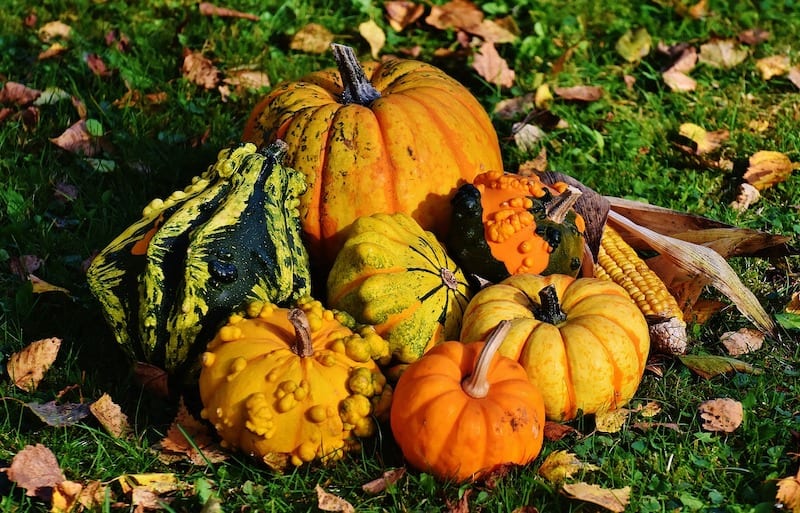 Make a display right in your lawn or garden, or use a container for an easy display like this one below, with hay and gourds: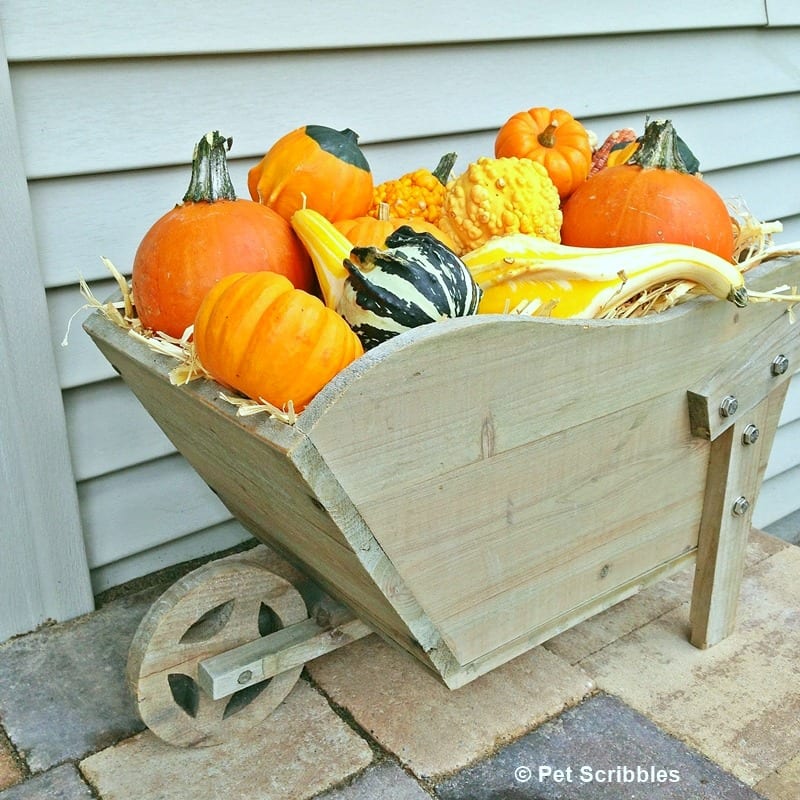 Finally, consider using fake pumpkins instead of real ones. Keep in mind that the prices of the fake craft pumpkins at Michaels and other stores can be a lot. Buy one or two, then wait for the sales. These pumpkins get marked down heavily close to Halloween, and are dirt cheap once Thanksgiving is over. Buy a bunch on clearance and save them for next year!
An extra tip for the Winter garden . . .
Keep Hydrangea flowers on your shrubs for the Winter season, especially if you live where it snows.
Trust me, the first time you see a snow-covered dried Hydrangea flower — or the first time you see one covered in ice — you'll thank me! It's almost magical and fairy-like!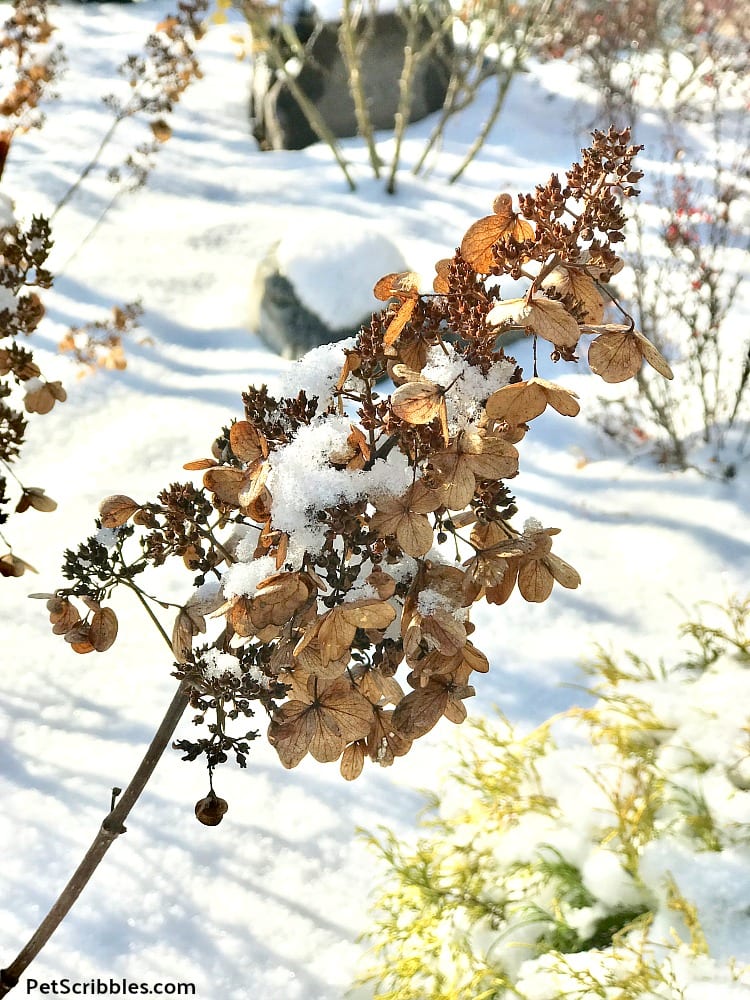 Of course I freely admit that I will cut off at least some of the dried Hydrangeas to decorate with indoors!
---
---
I hope these tips and ideas inspire you to look at your gardens with fresh eyes. Use your existing plants, shrubs and flowers as "part" of your Fall color scheme, then add some colors and textures. No need to spend a ton of money in the Fall, just some additions here and there will do the trick!
Happy gardening!