Fothergilla is one of my favorite shrubs for multi-season interest: bottlebrush flowers, blue-green leaves, bright Fall foliage, and pretty Winter interest.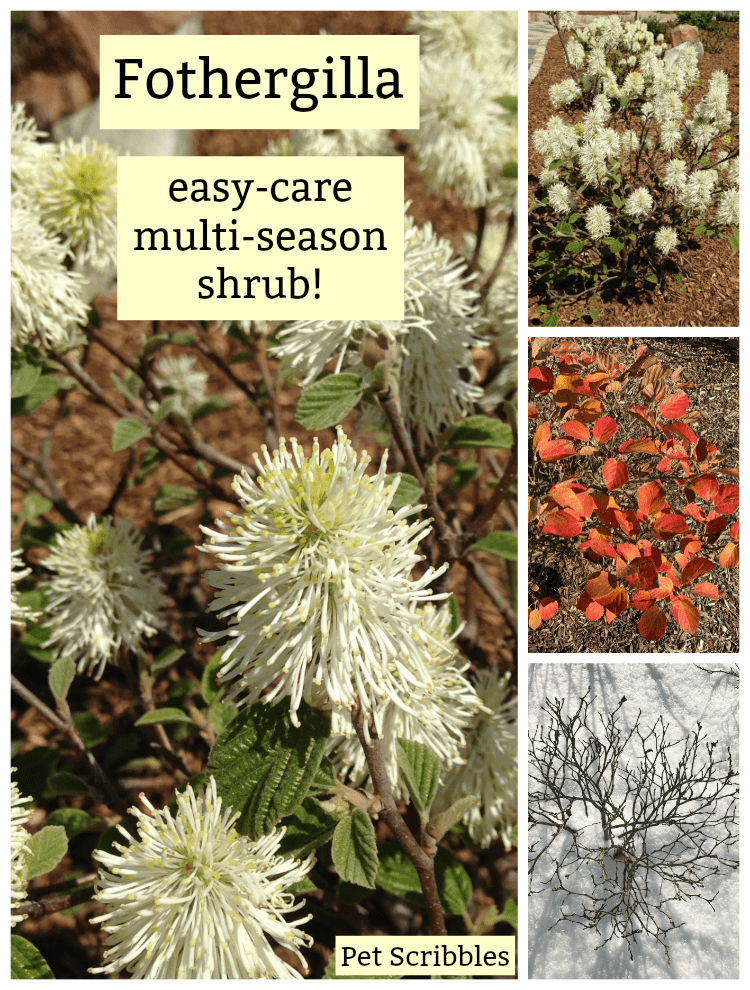 When you think of Spring-flowering shrubs, do you automatically think of Azaleas and Rhododendrons? You're not alone, as they are some of the best sellers at the garden centers and nurseries every year.
Today I want to introduce you to Fothergilla: one of my favorite shrubs not only for Spring flowers, but also for Summer and Fall color plus Winter interest.
It's an easy-care shrub that doesn't need to be pruned.
Father-what???
It's pronounced like father-GILL-ah. Think of the word "father" plus the word "gill" like what's on a fish…and the "ah" can be for what you'll say once you see this flowering shrub!
There are quite a few hybrids of Fothergilla, and sometimes they can be mixed up unintentionally because of their similar characteristics.
Some of the many Fothergilla varieties you might see at the garden center include:
Mount Airy Fothergilla or Fothergilla Major (5' to 6' tall and wide)
Dwarf Fothergilla (reaches 2' to 3' tall and 3' to 4' wide)
Blue Mist Dwarf Fothergilla (2' to 3' tall and wide with lighter blue-green leaves)
Blue Shadow Witch Alder or Fothergilla Major Blue Shadow (3' to 5' tall and 4' to 5' wide with green leaves turning into a striking powdery blue)
You might even see it listed as Alder or Witch Alder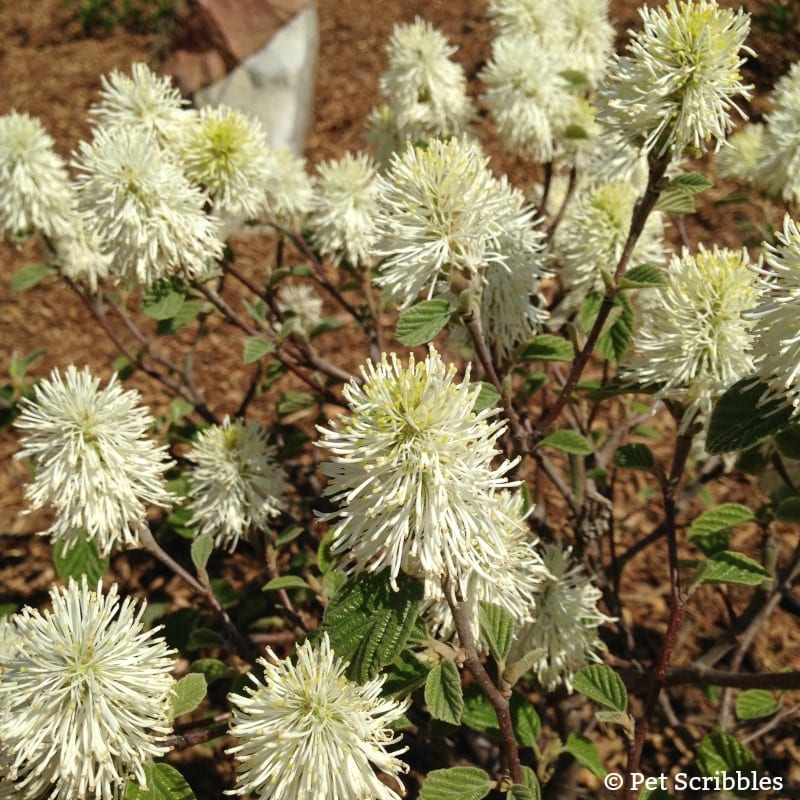 If you want to geek out and learn about the different varieties and why some of those hybrids can be a bit confusing, read this article by well-known botanist Rick Darke.
Fothergilla has all four seasons covered, as I'll show you with my own pictures, further down in this article.
But first, the highlights!
Mount Airy Fothergilla
Mount Airy Fothergilla is the specific type of Fothergilla that we have.
Very slow growing
Creamy white bottlebrush flowers in Spring
Stunning Fall leaf color
Deciduous (i.e. not evergreen)
Eventual size can be 5' to 6' tall and wide
North American native shrub originally found in woodlands, bogs, swamps
In the same plant family as Witch Hazel
US Hardiness Zones 4 – 9
Needs partial to full sun — but flowering is most prolific in full sun
Loves water, especially in full sun and hot climates
Soil can be normal to acidic and organically rich
Makes a good hedge
No pruning necessary
Supposedly deer resistant — but remember deer will eat anything if they're hungry enough!
Here's our newly planted Fothergilla plants back in October 2014: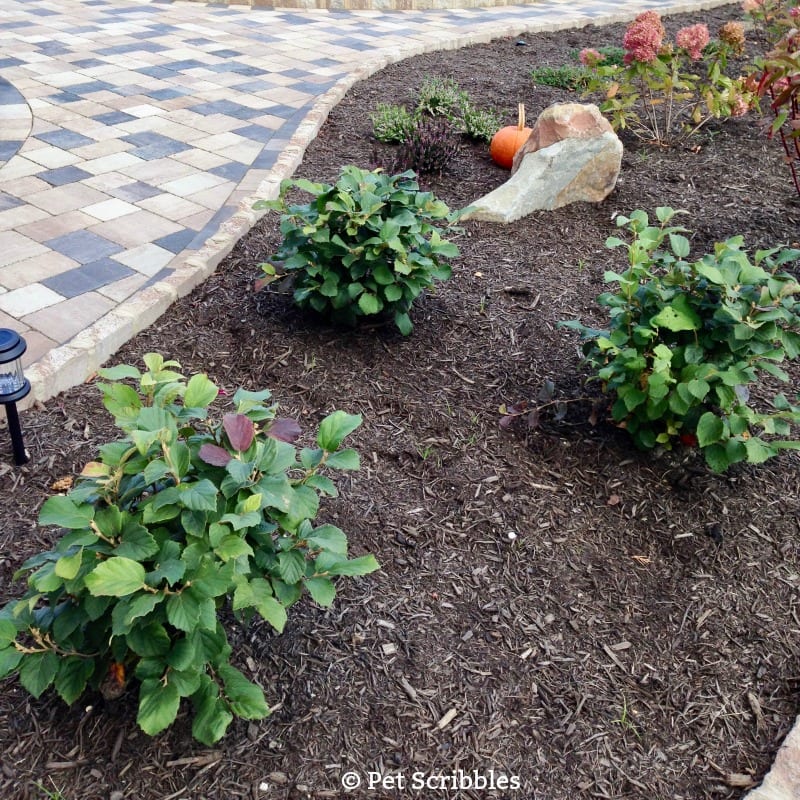 Here's the same Fothergilla plants in Spring 2016: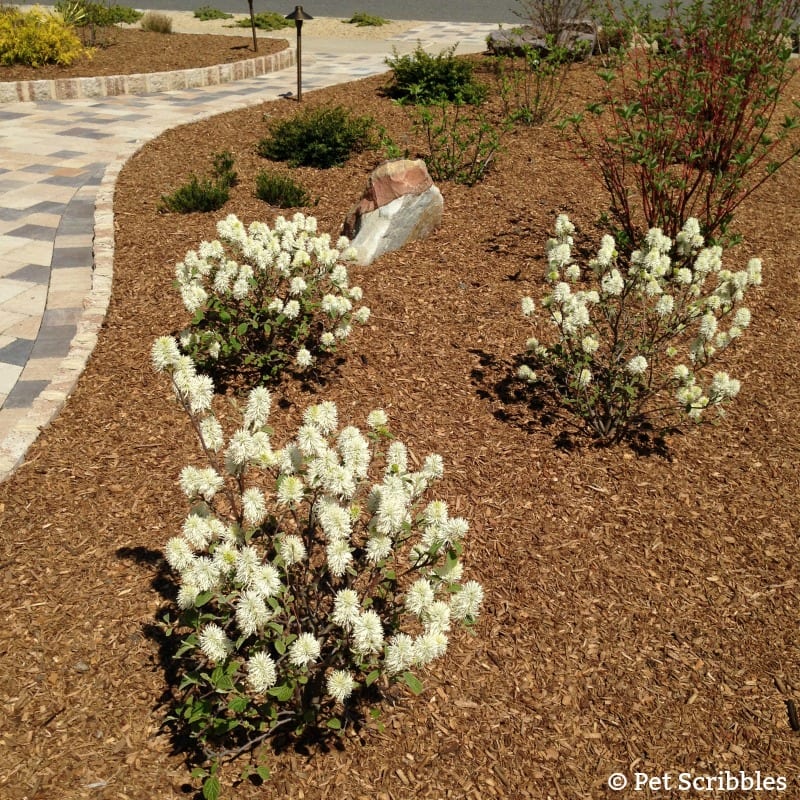 How to plant:
Plant at least 3 feet apart
Make sure the moist soil drains well so you don't get root rot
Can spread via suckers — but — I've yet to even see any
Do not prune!
Fothergilla doesn't need to be pruned.
In fact, pruning is discouraged for Fothergilla. (Gotta love that feature, right?)
Fothergilla's flowers bloom on the previous year's growth — another good reason not to prune this plant.
This is truly an easy care shrub!
Fothergilla: Beautiful Spring Flowers
Fothergilla blooms in early to mid Spring.
The flower buds look like this: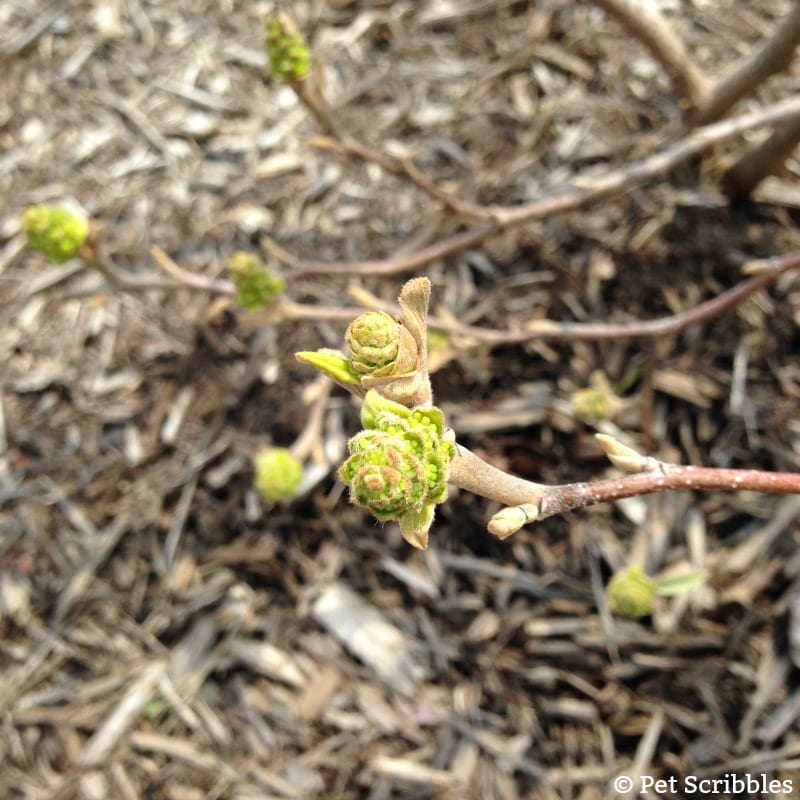 The flowers appear before the leaves begin to come out, and the blooms hang around for approximately 2 to 3 weeks.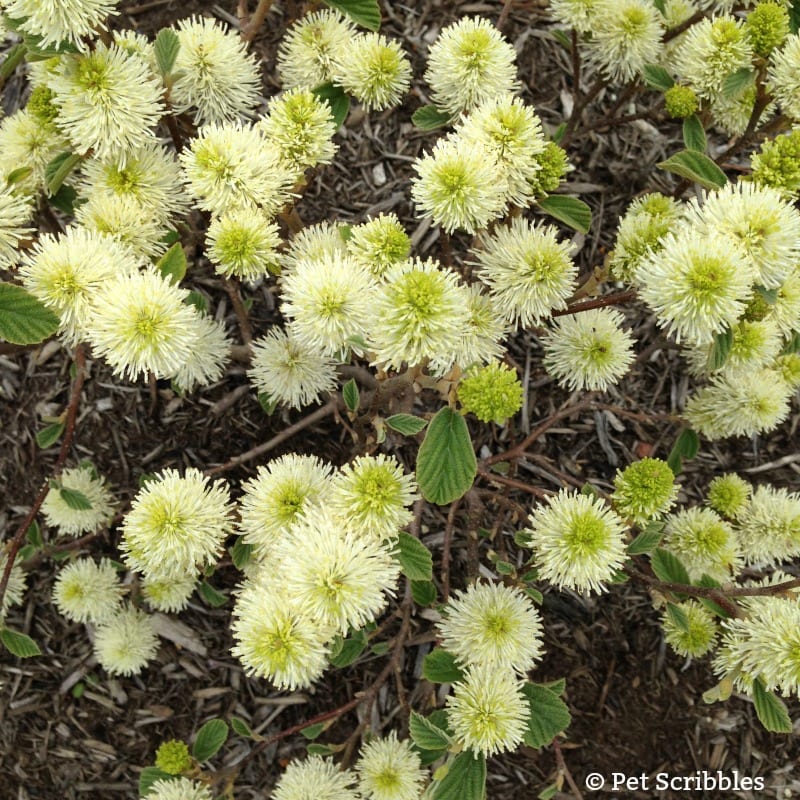 The flower show is spectacular with cream colored flowers approximately 1 to 2 inches long that resemble bottlebrushes.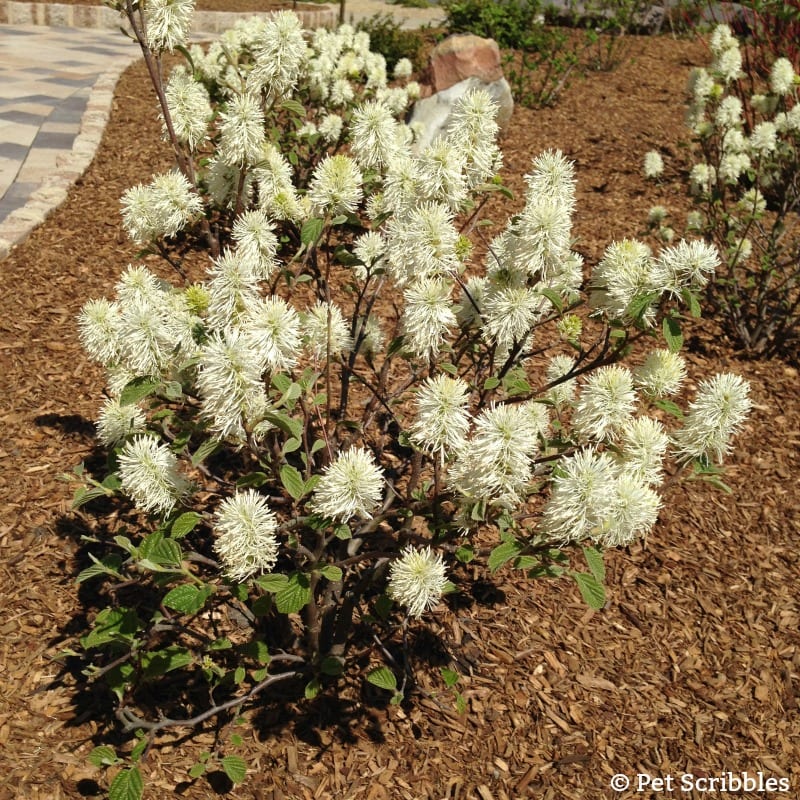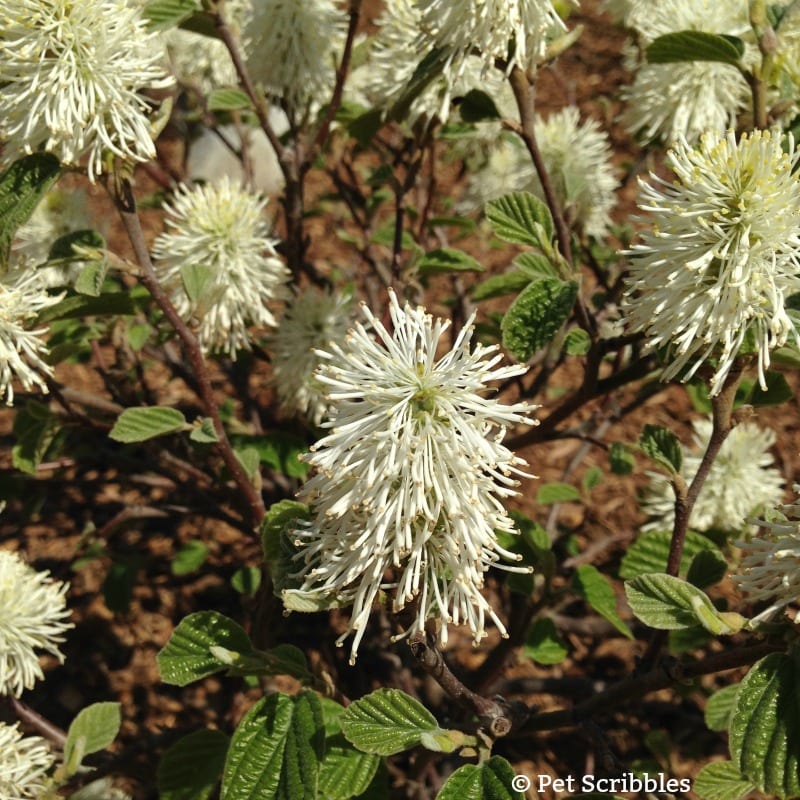 The flower scent is subtle yet intoxicating, like a mix of spices and honey.
The scent isn't overwhelming like when a woman puts on way too much perfume.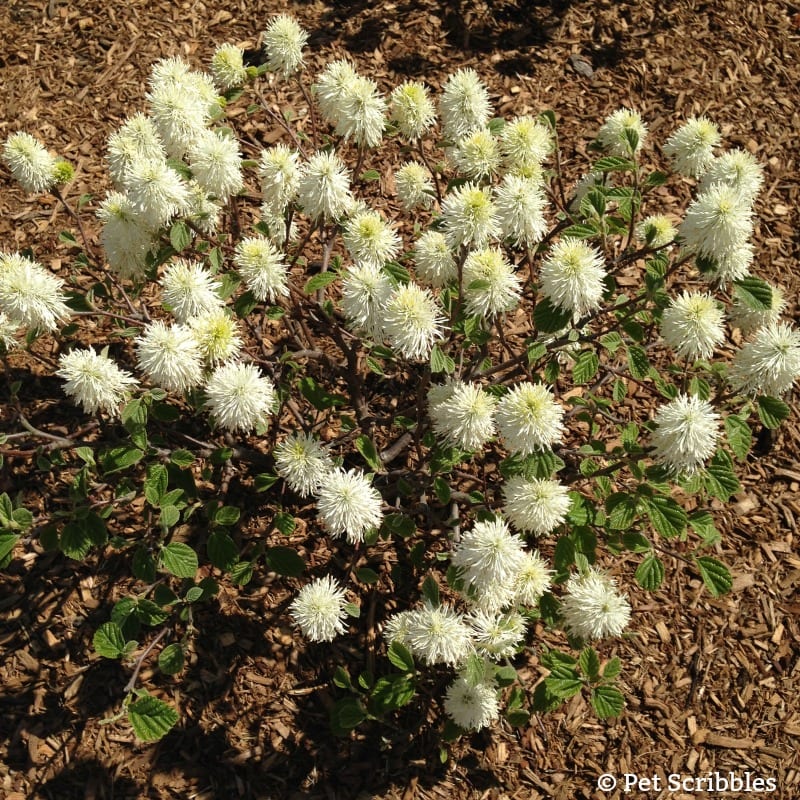 It's more like a light whiff of a scent you catch when you're nearby, inviting you to come closer and gently inhale.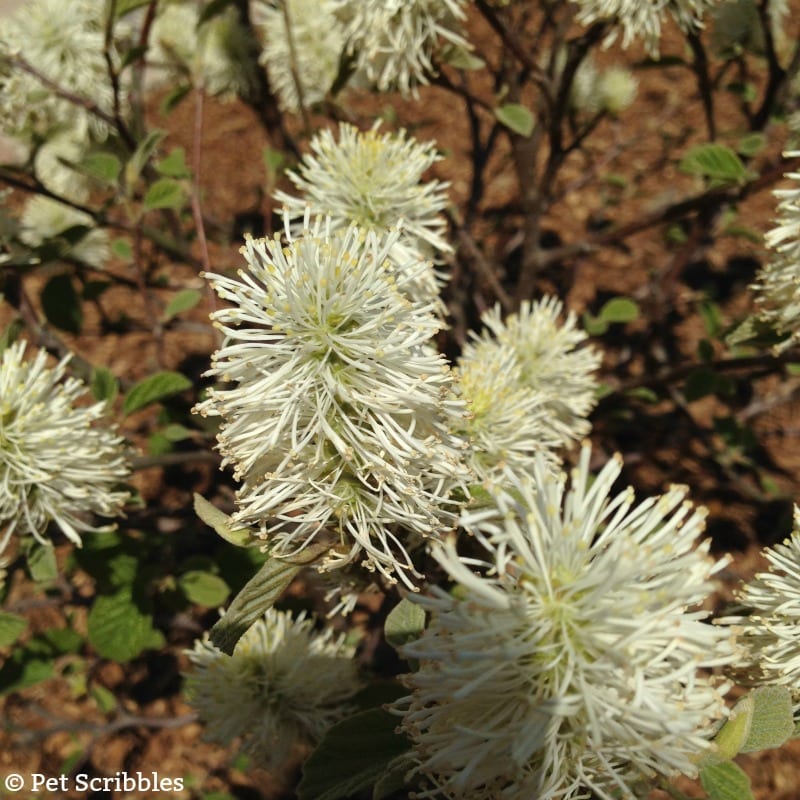 Be still my heart!
Fothergilla: Cool Summer Color
As the flowers fade, the leaves take over . . .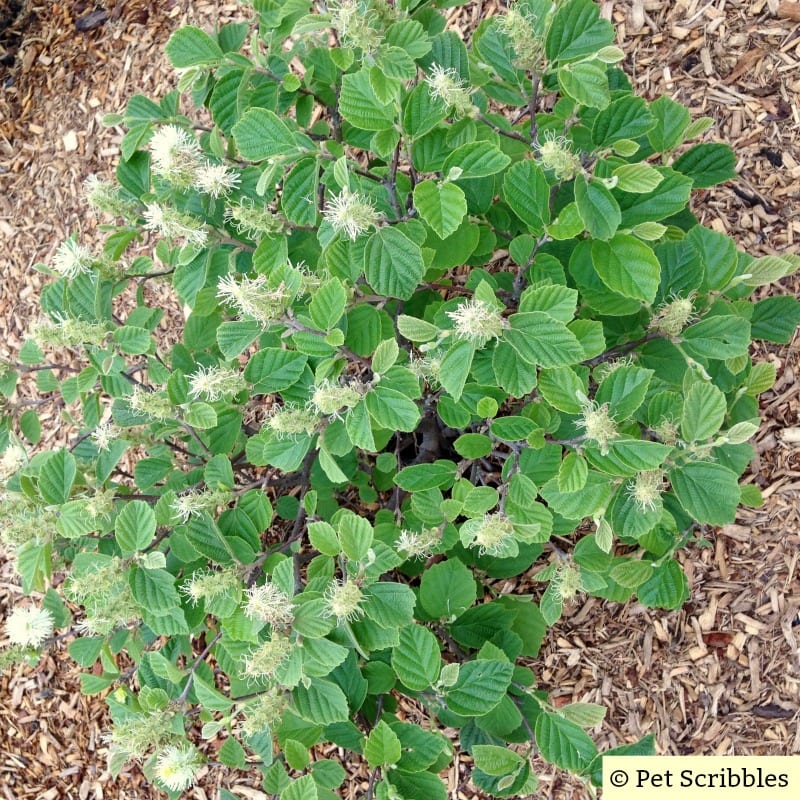 . . . and by early Summer, Fothergilla is covered in beautiful blue-green leaves — nice, full and lush.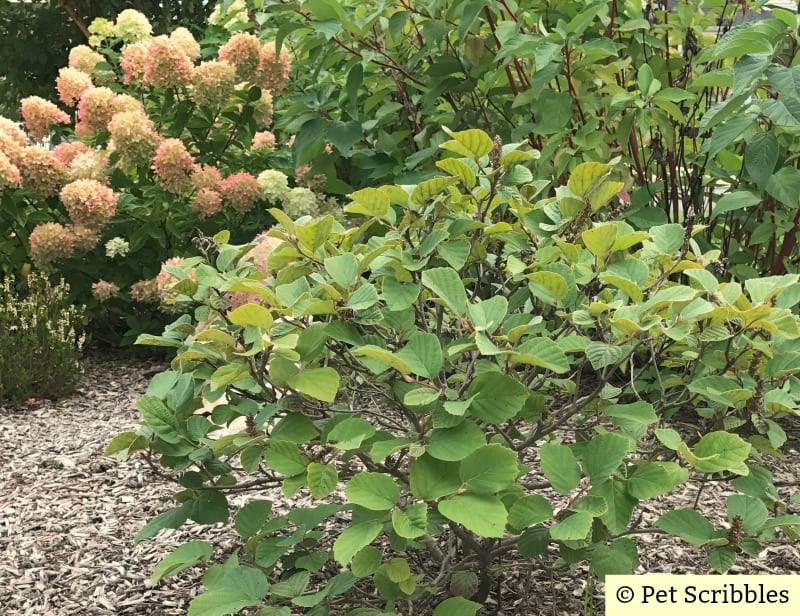 Fothergilla: Dazzling Fall Foliage
There are gardeners who plant Fothergilla mainly for the breathtaking and eye-catching Fall foliage display of reds, oranges, even some shades of yellow and purple all on the same leaf!
I love how the color begins to change in early Fall:
And just a month later, each leaf looks like it was painted with the perfect shades of Fall!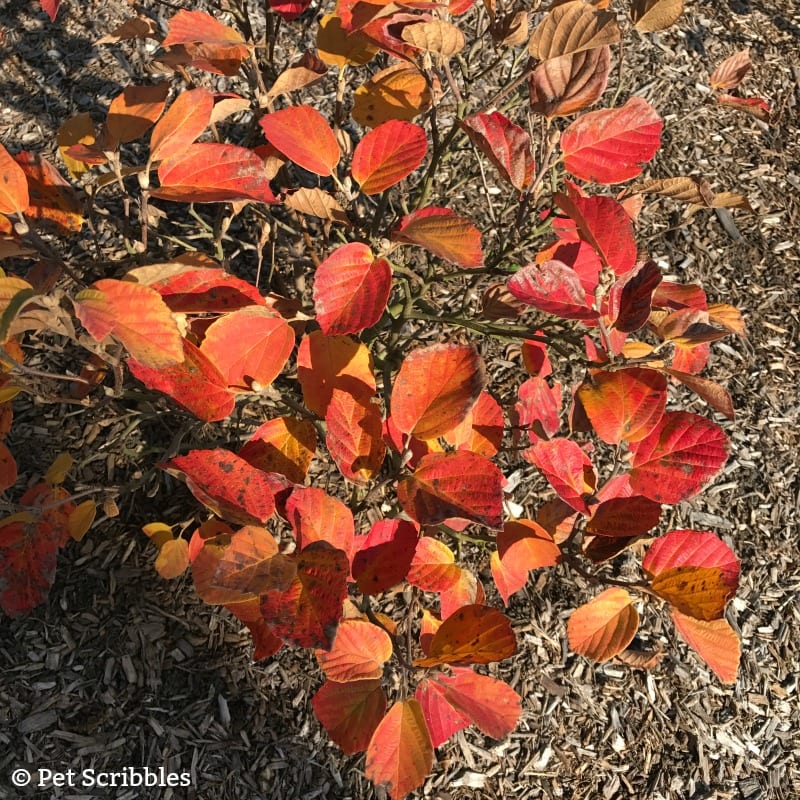 The Fall leaves will hang on late into the season.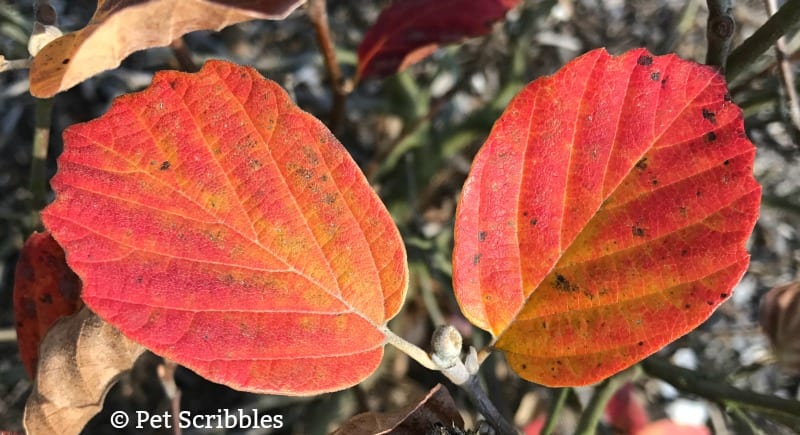 After many of the other leaves have fallen, you'll still enjoy the Fall colors on your Fothergilla shrubs.
Fothergilla: Peaceful Winter Interest
Because of the open, airy growing habit of Fothergilla, you get to see a beautifully shaped twiggy shrub during the Winter months.
This is a picture I've had on my computer desktop during the Winter: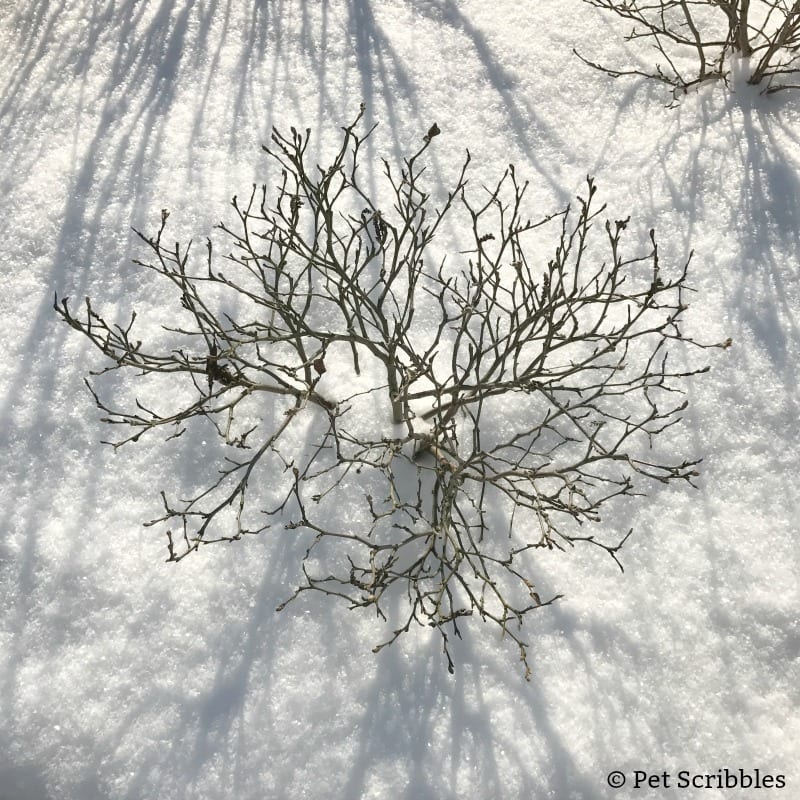 The look of the branches, especially against the snow, is so peaceful to me.
Now you know why I love Fothergilla!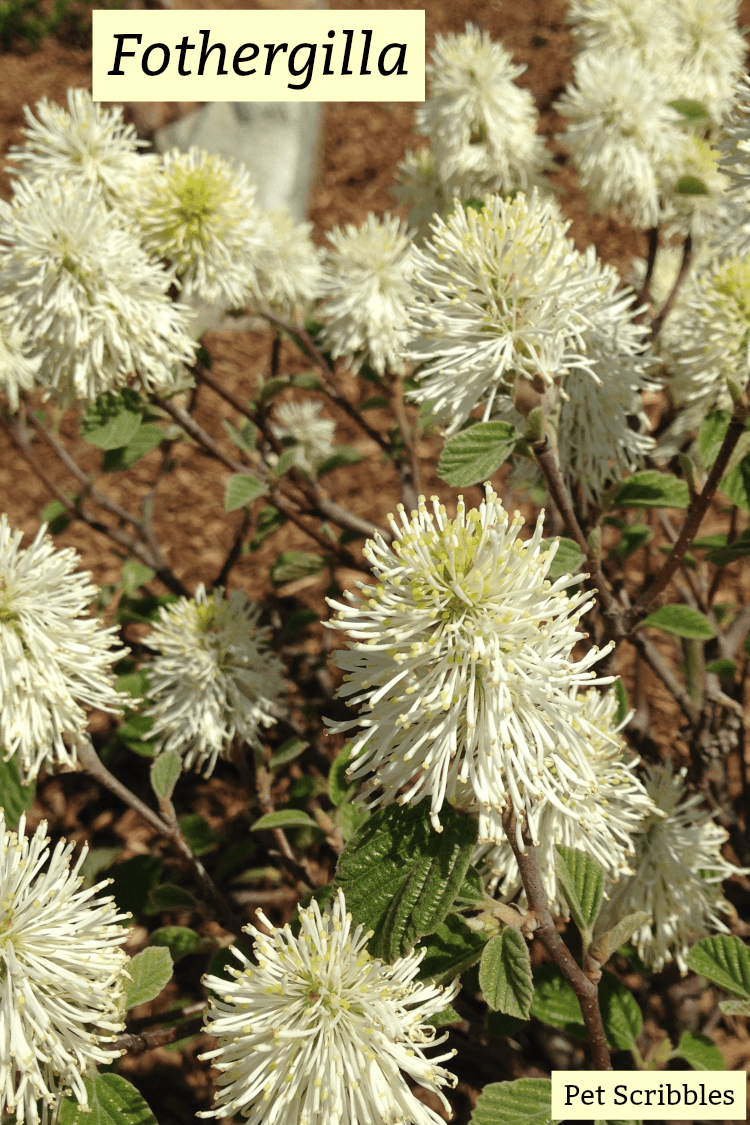 Multi-Season Shrubs are the best!
Interested in some of my other multi-season shrub favorites?
Then click below to read about . . .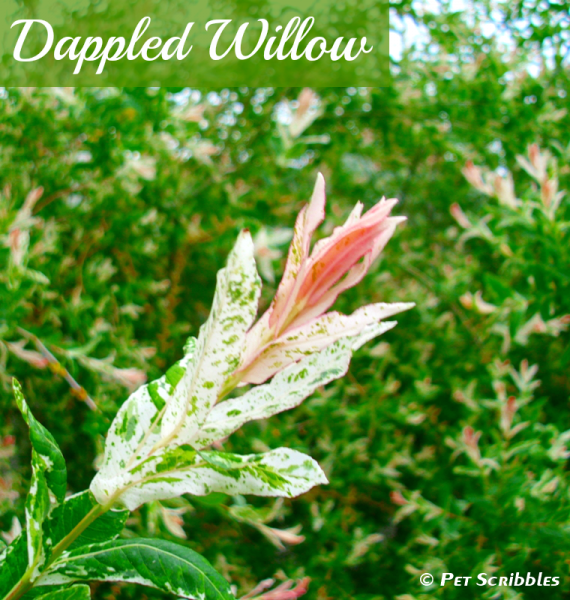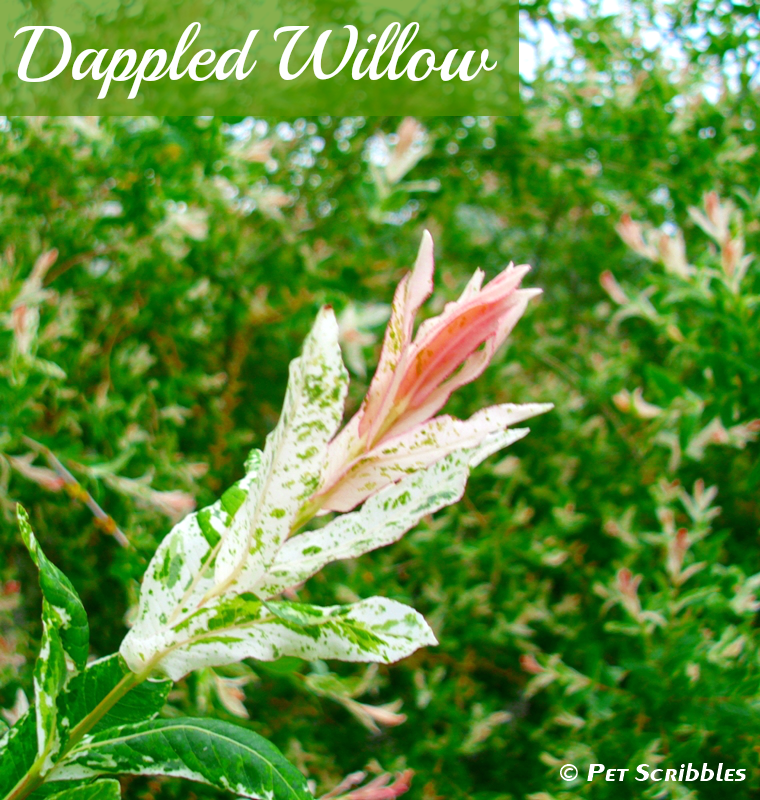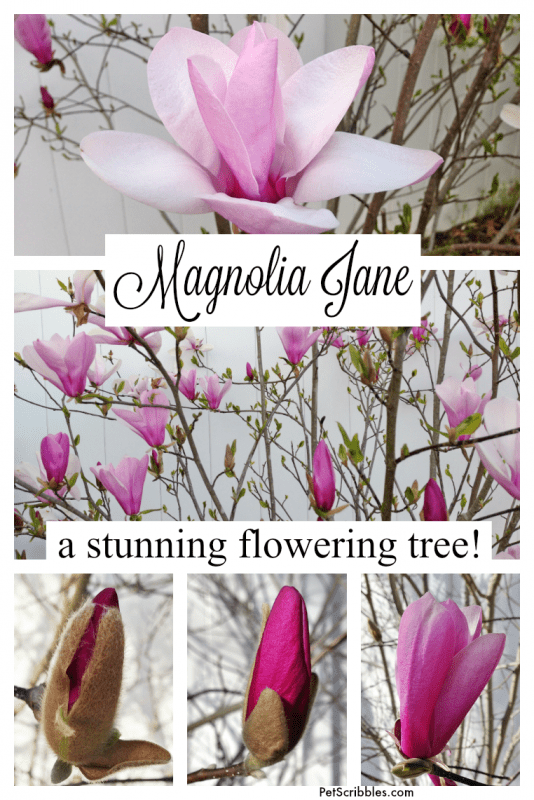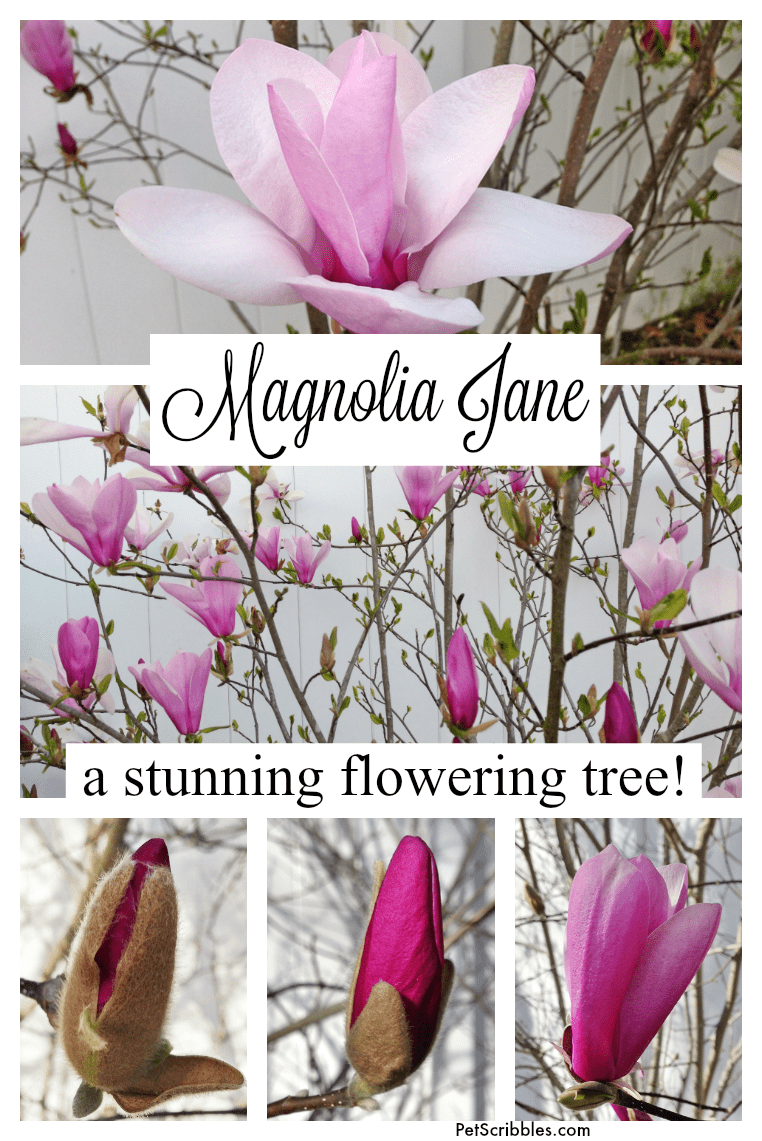 Click on My Favorite Plants to see more of my top choices in shrubs and flowers!
Happy gardening!