This post and photos may contain Amazon or other affiliate links. If you purchase something through any link, I may receive a small commission at no extra charge to you. Any supplies used may be given to me free of charge, however, all projects and opinions are my own.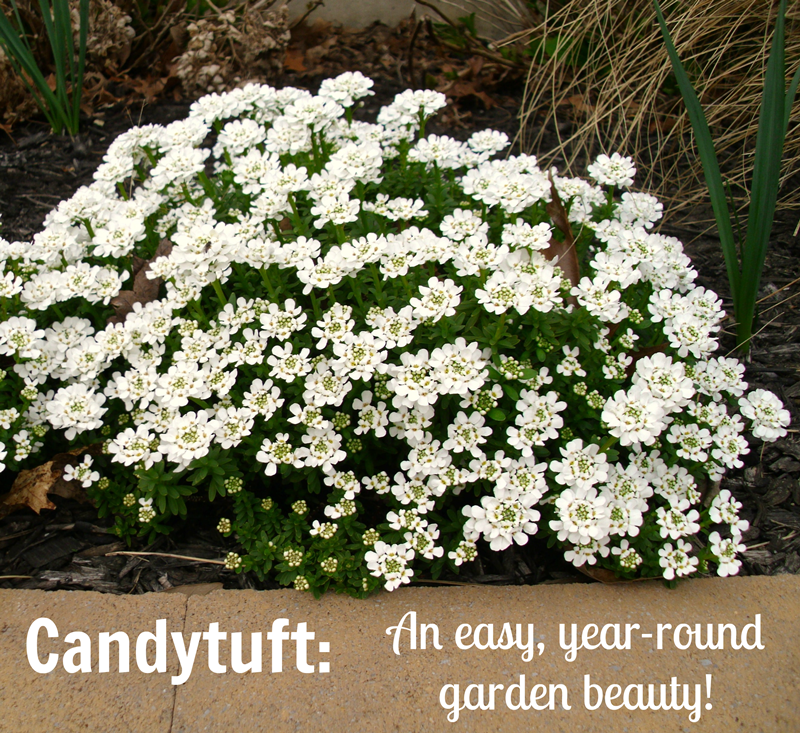 May 5, 2014 update:

As this post continues to be one of my most popular, I just added a new post with updated images over on
Live Creatively Inspired
(where I also blog), so you can see how our Candytuft looks two years later. The link is at the bottom of this post!

I have a flowering plant recommendation for you:

Candytuft!
Whether you love to garden, or you can't be bothered and just want to put something into the ground and forget about it, Candytuft is a plant you should pick up this season at your local nursery or home improvement store.
I wanted something to plant in the circled area (below) that was no-fuss.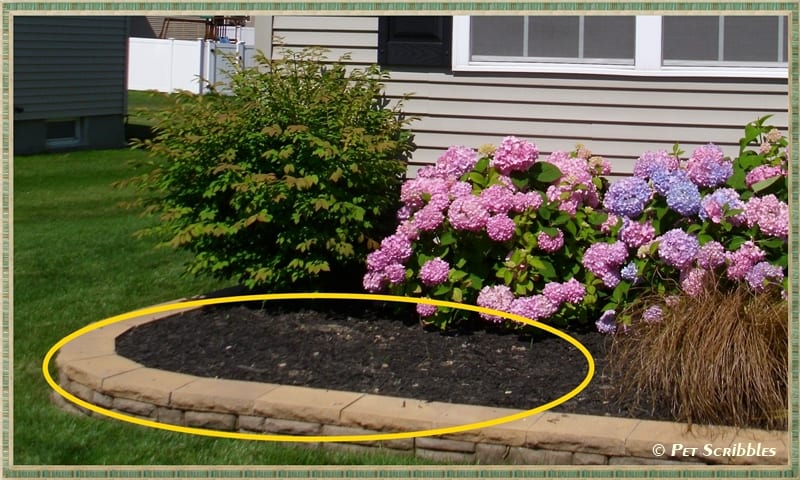 (photo taken in June 2011)
Candytuft was the perfect solution!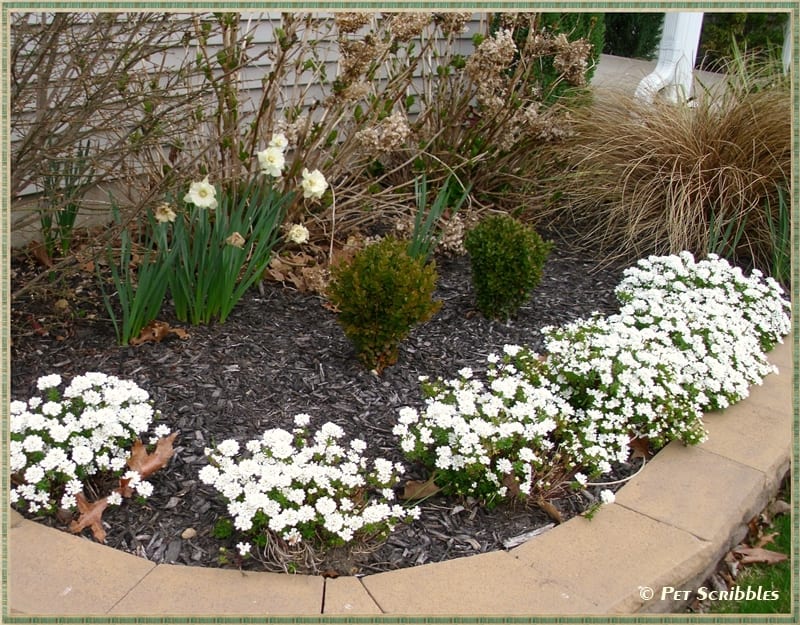 (photo taken March 2012)
Why?
Candytuft is one of the first plants to light up the garden each Spring in a blanket of white. I like to describe it as "Alyssum on steroids" as the impact is a much larger and more vibrant blanket of white than Alyssum can provide. You can plant Candytuft in full sun to partial shade. In full sun, make sure plants have enough moisture; in full shade there won't be as many flowers.
Note: Some of the links in this post are affiliate links. I explain more here.
Candytuft is a perennial. This means that once you plant it into the ground, it will return year after year: a good choice economically than all those annuals you've been buying every year. (Although don't get me wrong: annuals have their place too, but for long-term enjoyment, I prefer perennials.)
Most garden books seem to agree that Candytuft is considered a perennial in zones 3 – 9.
Candytuft is evergreen. When we think of evergreens, most of us think of pine trees (or similar needle-type trees), right? Well, Candytuft is also an evergreen, meaning that the plant leaves stay green year-round. This is especially nice to see in the dead of winter, when most things are… well… dead or dormant.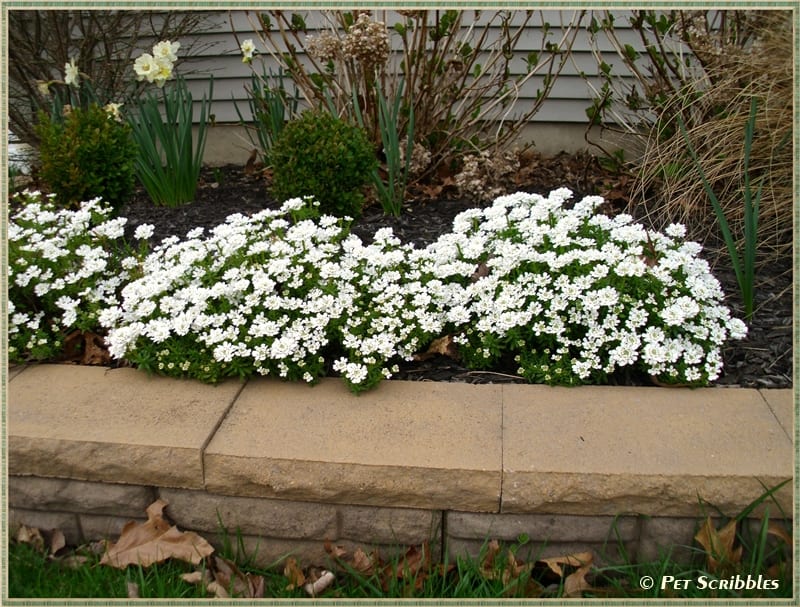 Candytuft spreads in a behaved way. Ever have plants that spread like crazy? At first it's always fun to dig up a few of the spreaders and plant them elsewhere. But eventually you can feel as if your entire landscape will be taken over with the nonstop transplanting or dividing of plants. Not with Candytuft. It fills out nicely and spreads in a subdued way that you will appreciate.
Candytuft reseeds by itself. Most gardening books I've read mention that the original plants purchased will eventually die out after maybe 5 or 6 years, but you won't really notice this because Candytuft will reseed itself (i.e. drop its seeds right there around itself) and generate new plants. This means enjoyment for many years to come.
Some experts recommend that you give Candytuft a light shearing after the initial bloom period is over or remove the seedpods as they appear, if you have the time and patience. Doing either of these things prevents the plants from getting leggy. You want the plant's energy to be spent on the plant, not on developing its own seeds. I used my pruning shears to tidy up the spent blooms, however I left some of the seedpods on for possible new plants to sprout up this season.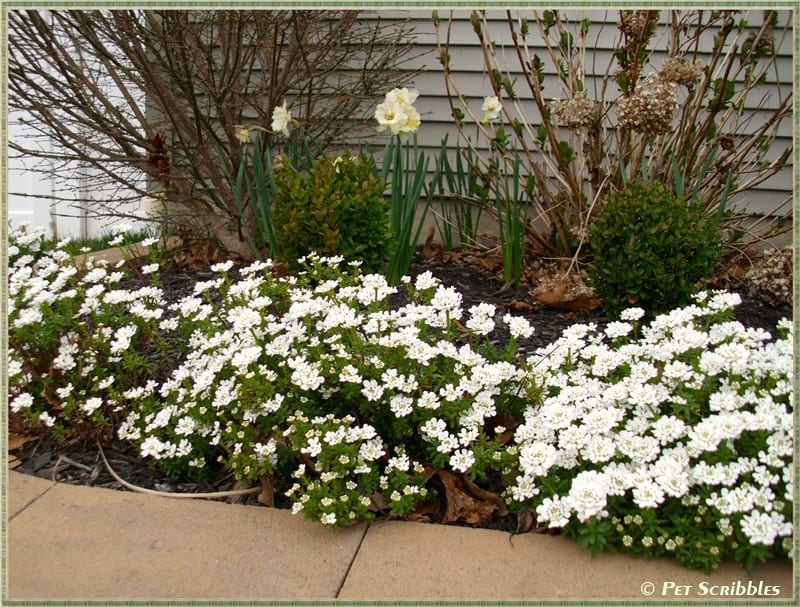 Candytuft stands up to heat and humidity. We live in southern New Jersey, where Summer is hot and humid. Candytuft seems to tolerate heat better than Alyssum, which can wilt easily if you have hot, sunny days in the latter part of Spring. I planted our Candytuft last Spring, and even during the hottest parts of the Summer months the plants continued looking almost perfect. There were a few yellow leaves that showed up when the plants needed some water, but those were few and easily picked off.
Not just one bloom period! Candytuft will often rebloom in the Fall. Although the Fall blooms are nowhere near the flowering abundance of the Spring blooming period, the Fall blooms are still quite pretty. There are several cultivars of Candytuft that will rebloom; check the plant information accompanying each plant when shopping.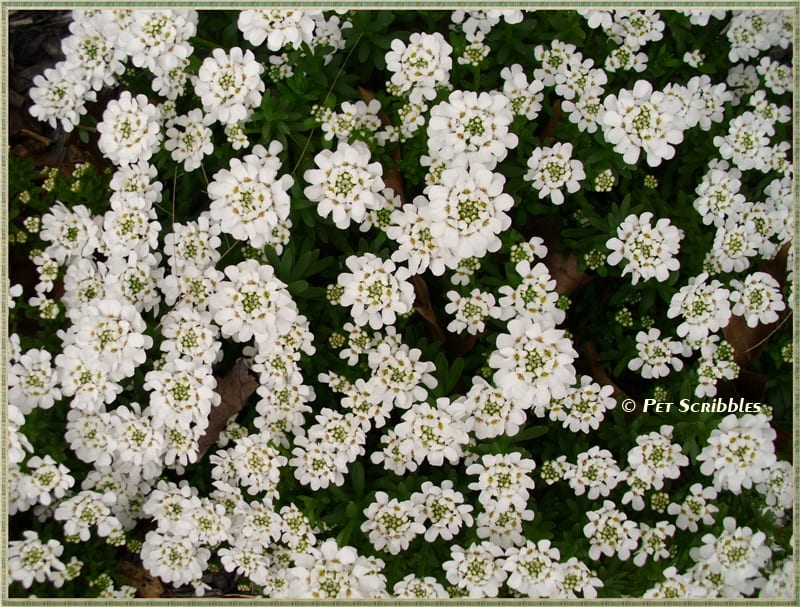 Did I convince you? Let me know!
Oh, and just so you know: all of the pictures of the Candytuft were taken this week. Please pardon the dead leaves, the bird poop on the stone wall, and the obvious need for me to do some tidying up in the garden. (This is some sort of a disclaimer, but I'm not quite sure what I'm disclaiming!)
May 5, 2014 update: Click here to see how these stunning flowering perennials look two years later!
~Laura