Candytuft: a gorgeous evergreen perennial with white flowers that light up the Spring garden! Learn why this easy-care beauty is a garden must-have.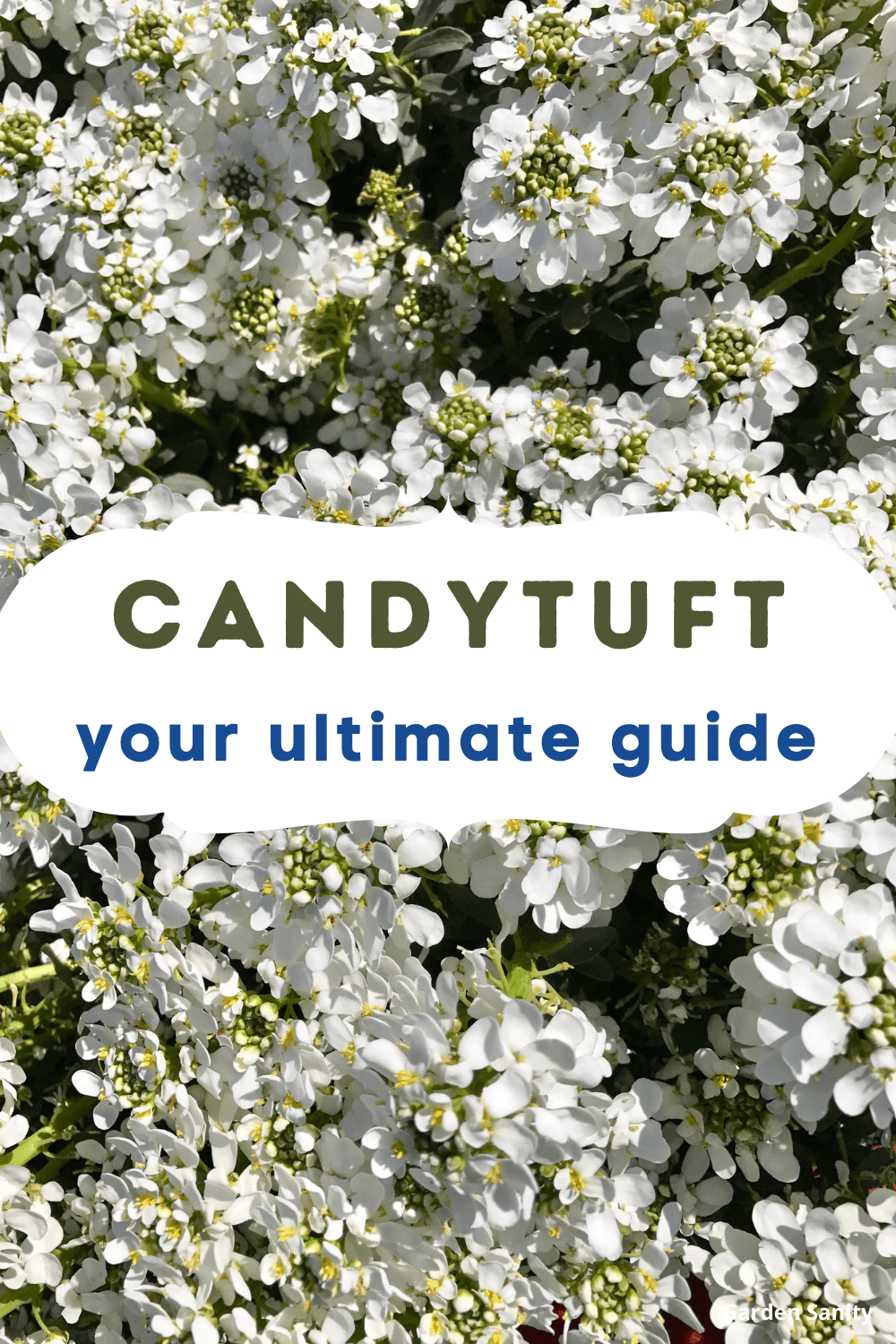 Whether you love to garden, or you can't be bothered and just want to put something into the ground and forget about it, Candytuft is a plant you should pick up this season at your local nursery or garden center.
Use the Table of Contents below to jump to specific sections.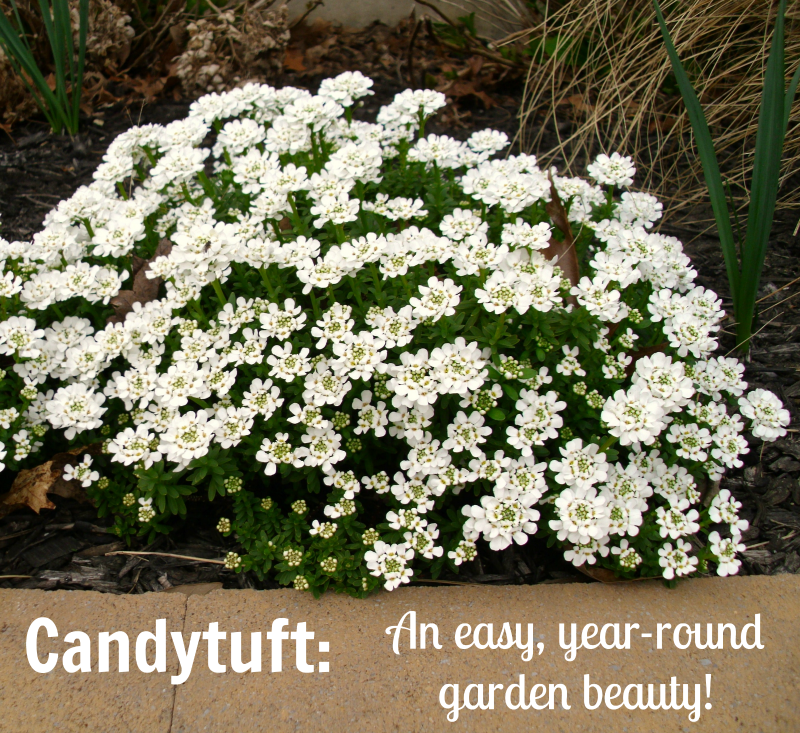 What is Candytuft?
Candytuft is part of the mustard family.
An evergreen perennial, it is also considered a sub-shrub, as it can form a small shrub-like groundcover.
It can also be considered as a taller groundcover once it fills in.
Although it mainly is known for its pretty white flowers, this perennial comes in other pastel hues as well such as pink, pale amethyst and purple.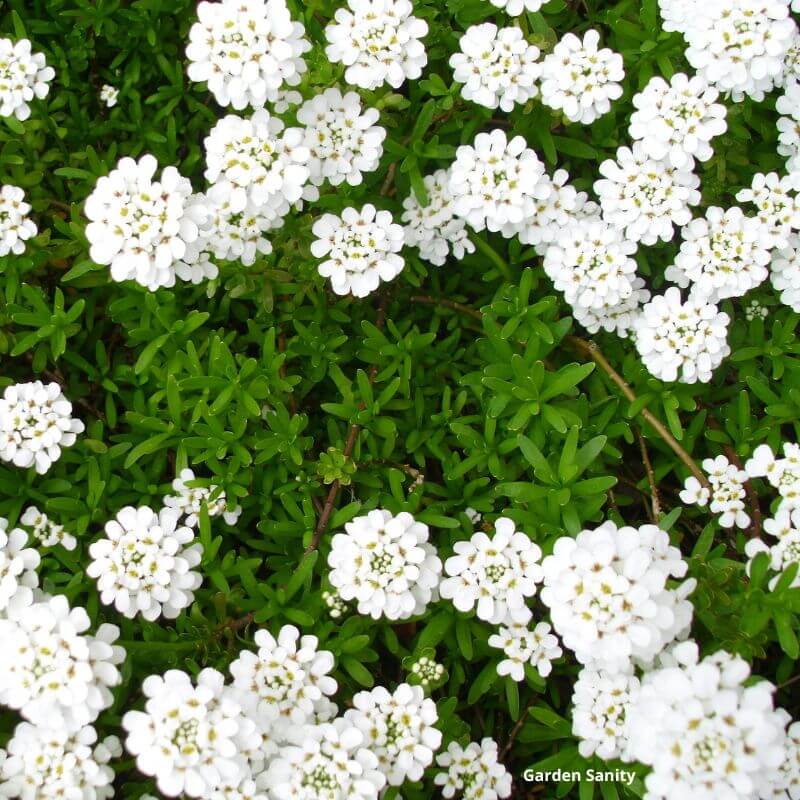 Official Name and Historical Meaning
In various plant catalogs or other gardening sites online, you'll find the following common names:
Candytuft (Iberis sempervirens)
Candytuft Iberis
Iberis
Since before Victorian times, the tiny white flowers on this plant have symbolized indifference.
Indifference is such a strange word for such a wonderful perennial.
To a lesser extent, the flowers have also symbolized sweetness and beauty — which makes a lot more sense to me!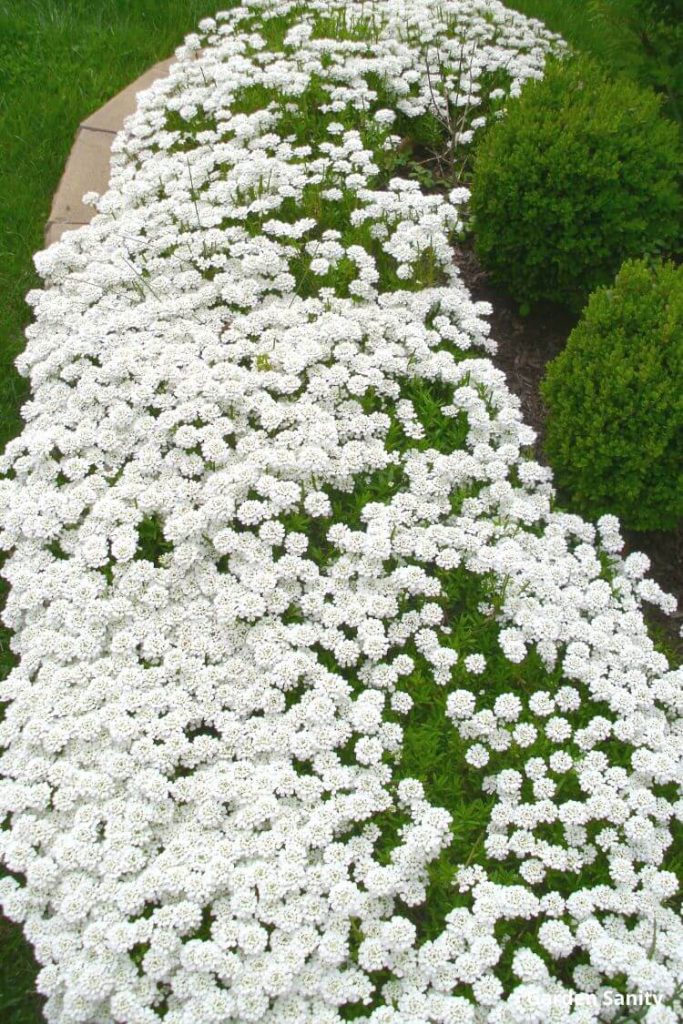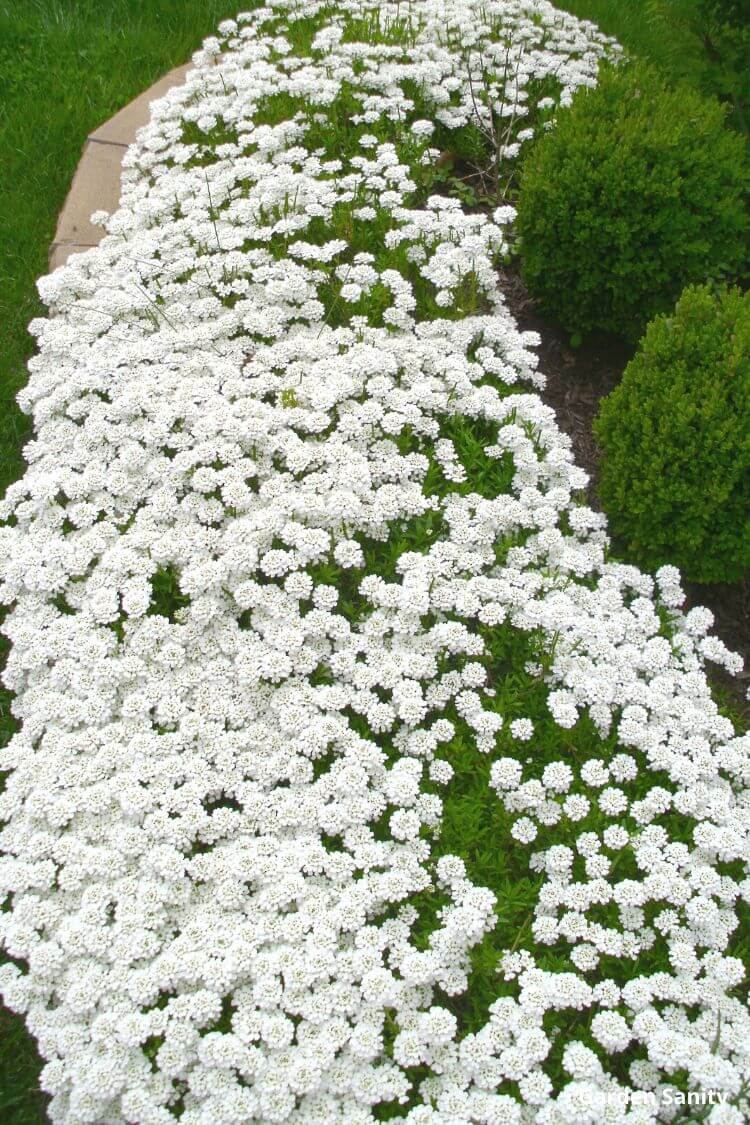 Why you want Candytuft in your garden!
It lights up the Spring garden!
Candytuft is one of the first plants to light up the garden each Spring in a blanket of white.
I like to describe it as *Alyssum on steroids* as the impact is much larger and more vibrant.
Imagine dazzling white color blanketing sections of your garden, before other perennials begin to grow.
You can plant it in full sun to partial shade.
In full sun, make sure plants have enough moisture; in full shade there won't be as many flowers.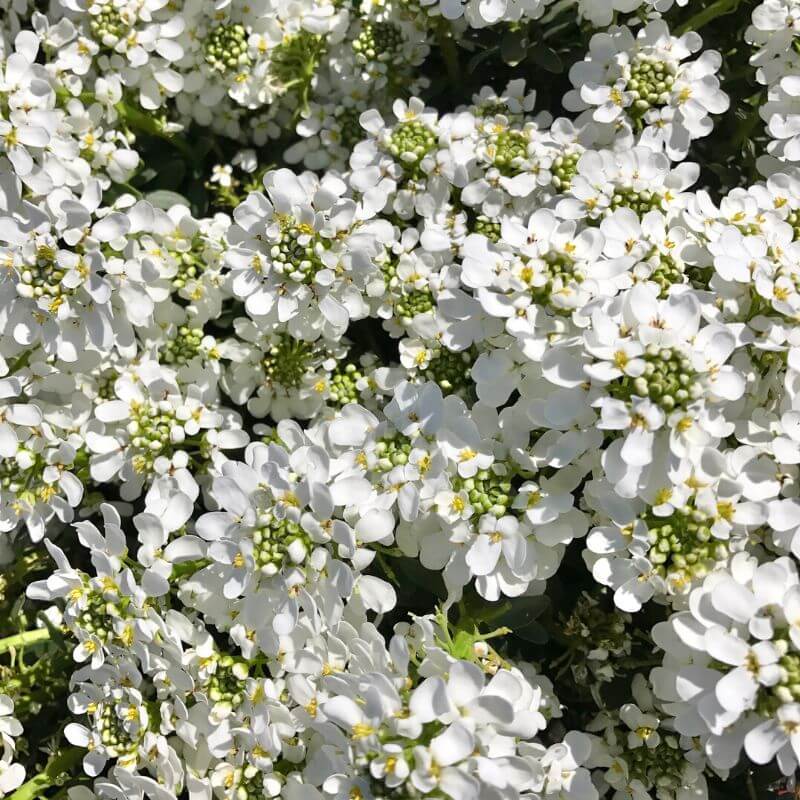 Candytuft is a reliable bloomer.
It stays wonderfully evergreen during the Winter while its flower buds are developing.
And like clockwork, this plant bursts forth in a blanket of white in Spring, lighting up garden beds and borders.
Not just one bloom period!
There are several cultivars that will rebloom; check the plant information accompanying each plant when shopping.
Although the Fall blooms are nowhere near the flowering abundance of the Spring blooming period, the flowers are still quite pretty among Autumnal garden colors.
Candytuft is a perennial in USDA Zones 3 — 9.
This means that once you plant it into the ground, it will return year after year: a great choice economically than all those annuals you've been buying every year.
Although don't get me wrong: annuals have their place too — but for long-term enjoyment, I prefer perennials.
Candytuft is Evergreen!
When we think of evergreens, most of us think of pine trees or similar needle-type trees, right?
Well, Candytuft is also an evergreen, meaning that the plant stays green year-round.
This is especially nice to see in the dead of Winter, when most things are… well… dead or dormant.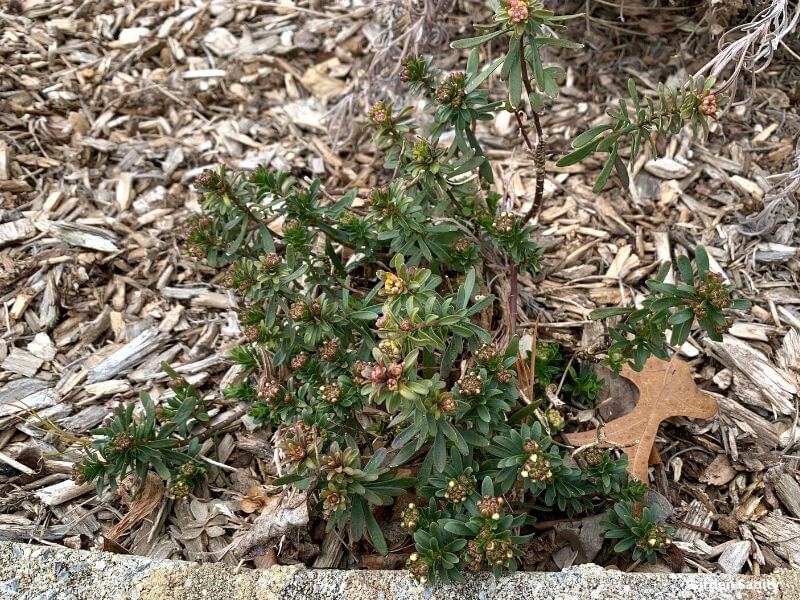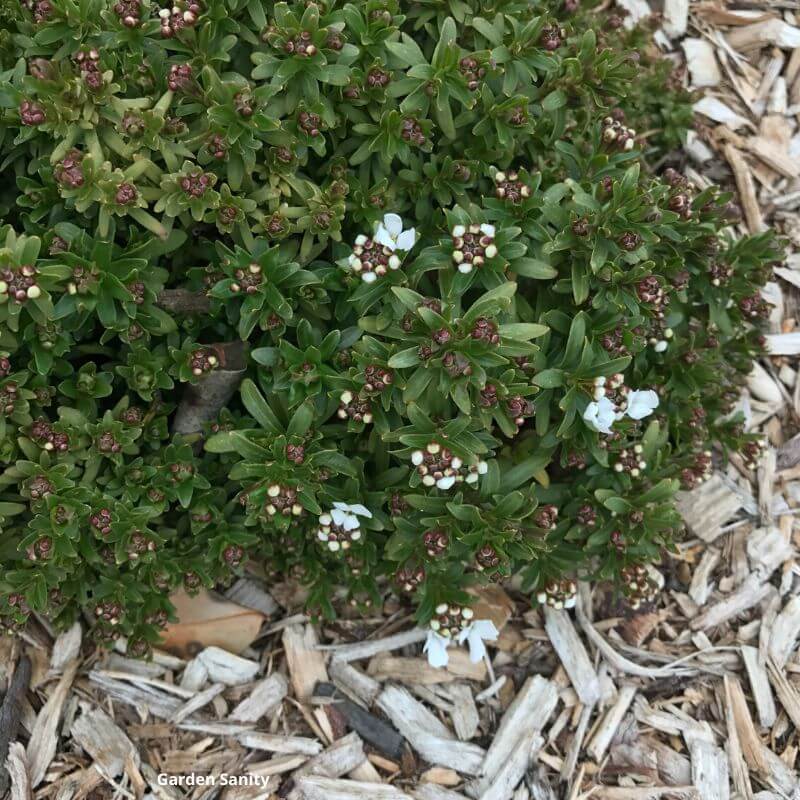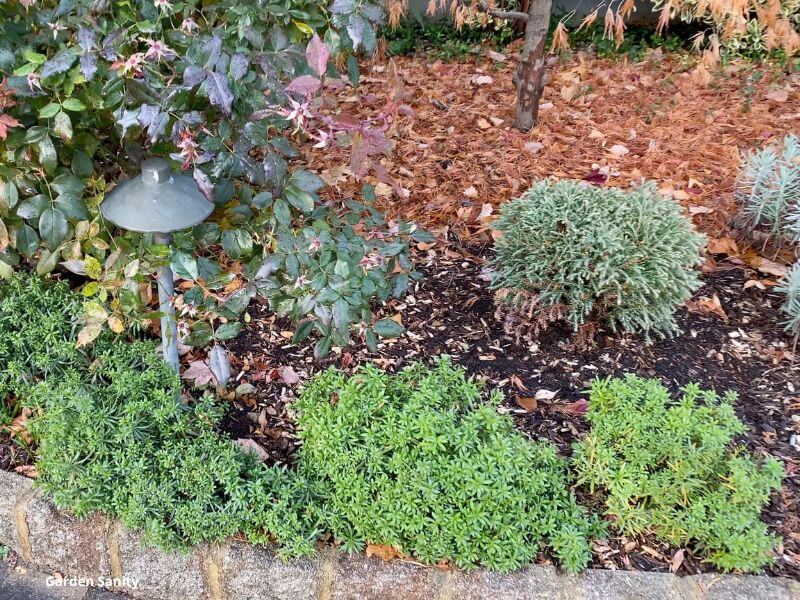 Why plant Candytuft? Here are the benefits!
Reliable bloomer
Perennial
Evergreen
Attracts pollinators, mainly bees and butterflies
Non-aggressive spreader
Reseeds by itself
Not just one bloom period
Easy care once established
Is Candytuft deer and rabbit resistant?
Yes!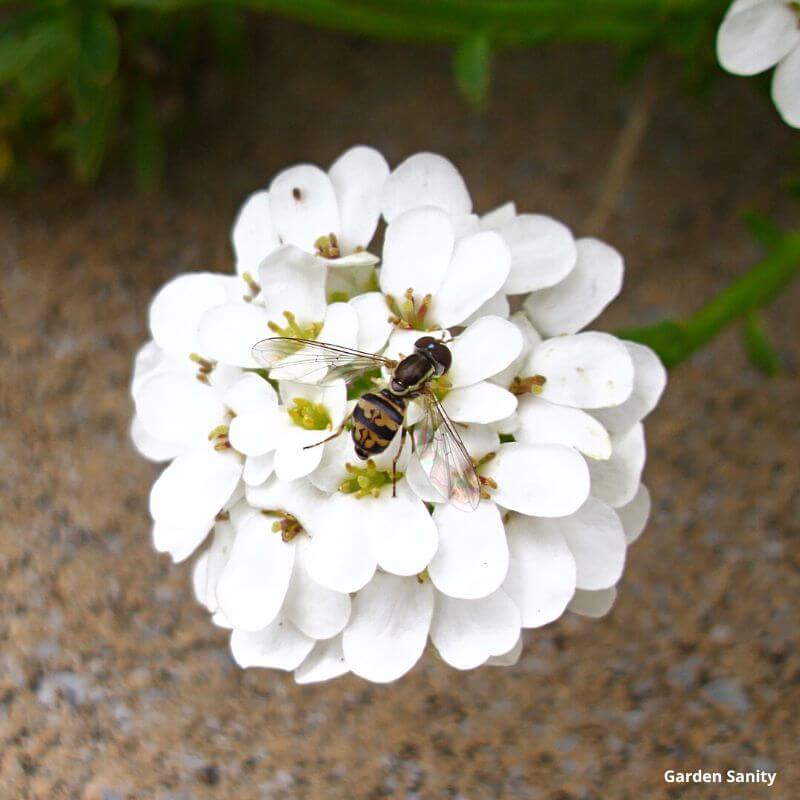 How fast does Candytuft spread?
Candytuft spreads in a behaved, non-aggressive way.
Ever have plants that spread like crazy?
At first it's always fun to dig up a few of the spreaders and plant them elsewhere.
But eventually you feel as if your entire landscape is being taken over with the nonstop transplanting or dividing of plants.
I'm looking at you Garlic Chives!
Not so with Candytuft.
It fills out nicely and spreads in a subdued way that you will appreciate.
How fast does Candytuft grow?
On average, each plant will spread up to 12 inches high and up to 18 inches wide within approximately two years.
Please note that different varieties may have different heights and spreads, so pay attention to the plant's specific information.
For example, below is what my plants looked like in my former foundation garden bed (before the major front yard makeover) back in Spring 2012.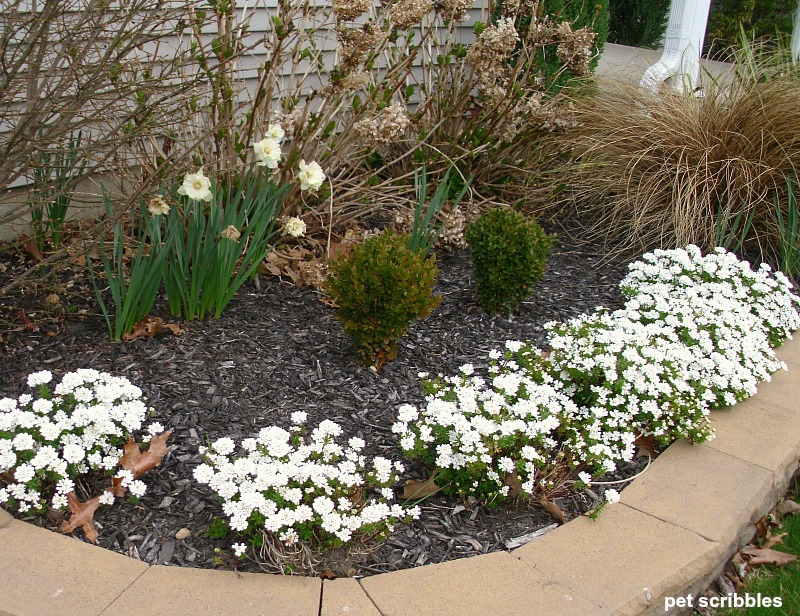 And here are the same plants just two years later grown together and much more lush!
Growing Requirements
Hardiness
Hardy in USDA Zones 3 — 9.
Sun
Plant in full sun to partial shade.
In full sun, make sure the plants have enough moisture.
In full shade, there won't be as many flowers.
While Candytuft blooms its best in full sun, here in southern New Jersey where the Summers are ultra hot and humid, I find that it does best planted in front of (and sometimes slightly underneath) shrubs and taller perennials that provide partial afternoon shade during those hot Summer months.
Below, the white flowers bloom in full Sun in Spring; however in Summer, they'll be partially shaded by Knockout Roses and Lavender Phenomenal in this bed.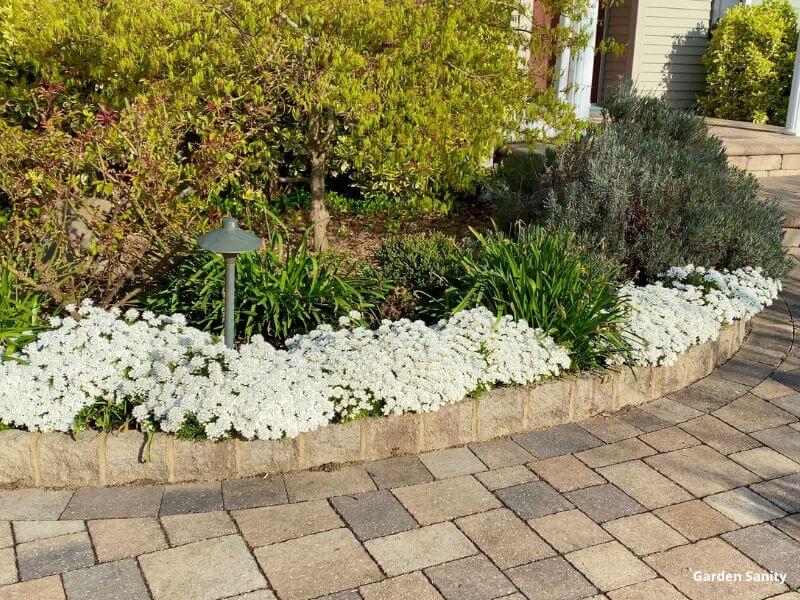 Water
Water new plants a lot during the first growing season, especially if planted in full sun when the temperatures rise.
Even once established, Candytuft welcomes water but does not like soggy soil.
Soil
Well-drained alkaline soil is best.
If you have heavy clay soil that stays wet in Winter, amend the soil with composted cow manure and top dress the soil with organic mulch
Organic mulch breaks down over time benefitting the soil.
Good drainage is important.
Fertilizer
Use a fertilizer that is low in nitrogen.
While nitrogen is great for greening up plants, it isn't great for encouraging flowers.
I use Espoma Plant-tone.
You only need to apply this fertilizer in early Spring, working it into the soil around each plant.
No additional fertilizer is necessary for the rest of the season.
Easy!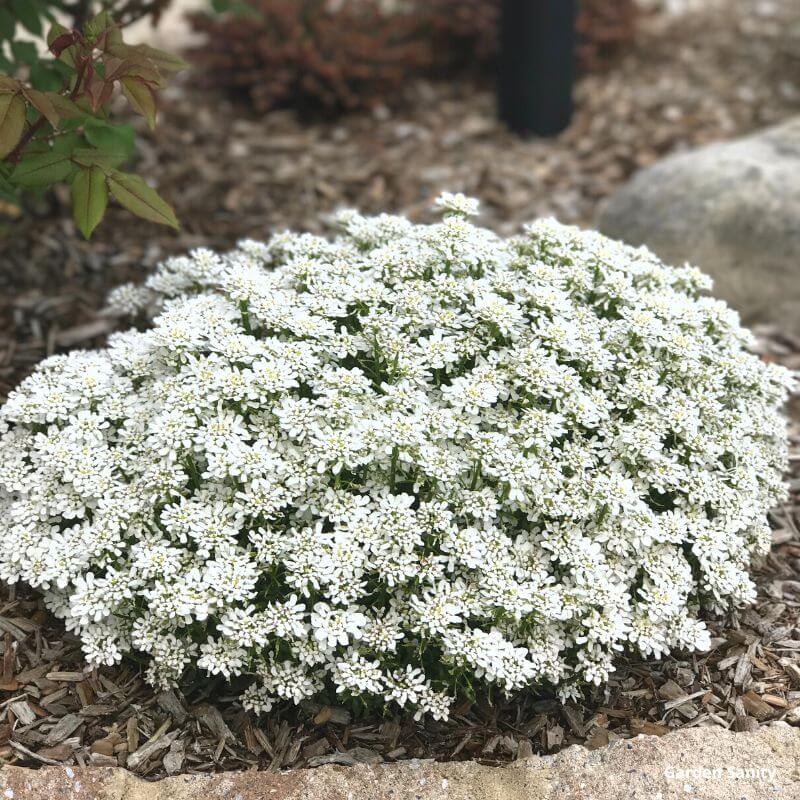 Propagation
Seeds and Seedlings
Candytuft can be grown from seed, best started indoors or in pots outside in warm temperatures.
Seedlings can be planted into the garden, spaced approximately 10 inches apart.
These small plants will fill in over time, growing into each other and becoming a beautiful evergreen carpet.
Candytuft reseeds by itself.
Most gardening books I've read mention that the original plants purchased will eventually die out after maybe 5 or 6 years.
However, you won't really notice this because Candytuft reseeds itself (i.e. drop its seeds right there around itself) and generates new plants.
This means enjoyment for many years to come!
So far, my own plants have been in my current foundation beds for approximately 6 years, and each year they look better and better.
Can you divide Candytuft plants?
No, because the roots are shallow so the plants can't be easily divided.
However, since tiny seedlings will pop up here and there in your garden, you can transplant those seedlings to another area of the garden.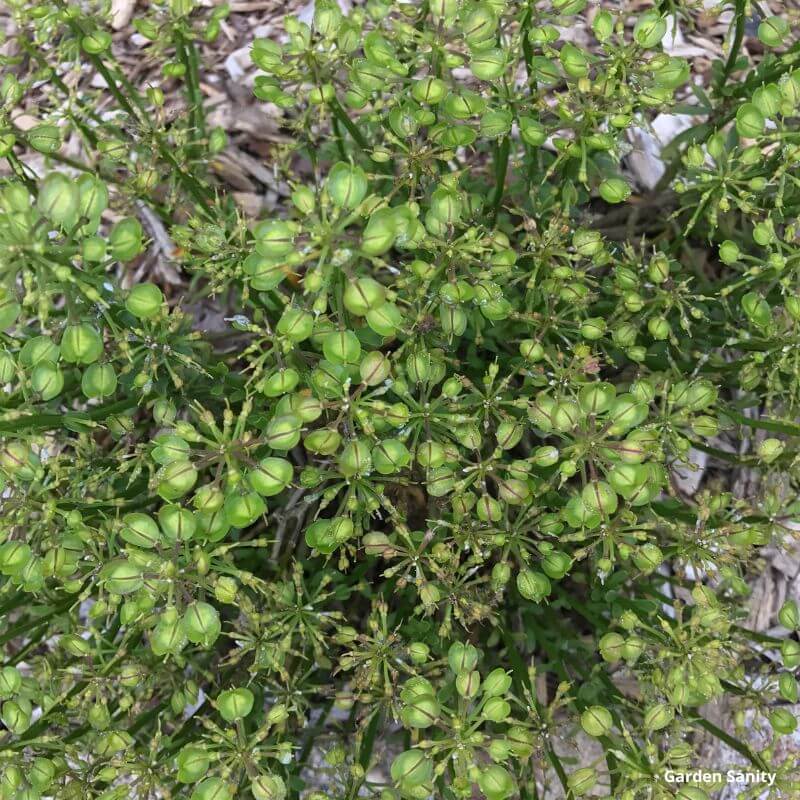 Pruning and Deadheading
How do you deadhead Candytuft?
Deadheading Candytuft is the same as pruning — sometimes called *shearing* — and is described in full below.
Do you cut back Candytuft?
Yes, you can prune after it has finished blooming in early Summer, usually when you notice the seedpods are forming.
Cut the plants back using hand pruners or hand shears, removing one-third to one-half of each plant.
Doing so removes the seedpods and spent blooms.
You want the plant's energy to be spent on the plant, not on developing its own seeds.
Pruning Candytuft encourages new growth and prevents the plants from becoming leggy.
I use my go-to hand shears to tidy up the spent blooms and make rather quick work of this annual garden chore.
But I do leave some seedpods on the plants for possible new plants to sprout up.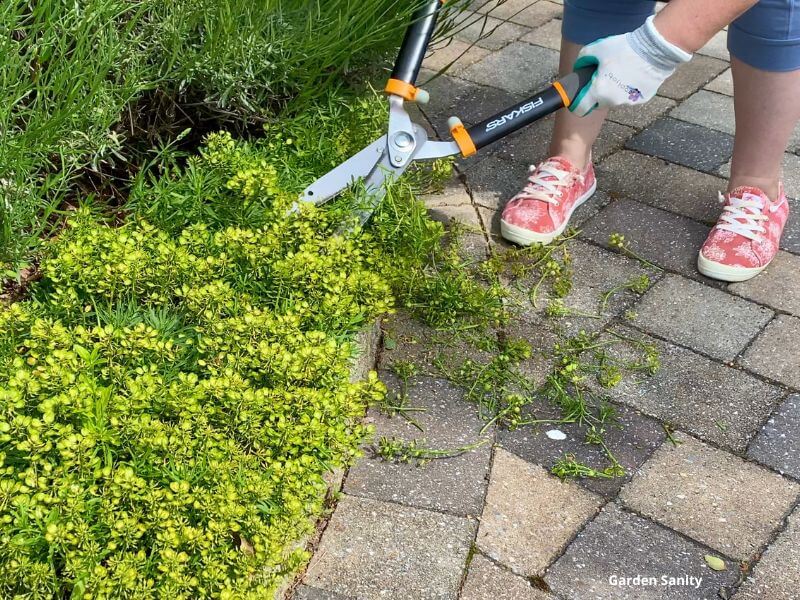 Candytuft Pruning Video
Below is a helpful video where I demonstrate exactly how to prune and deadhead your Candytuft.
---
---
Why is my Candytuft turning yellow?
There are two main reasons for Candytuft turning yellow.
First, if you leave the seedpods on Candytuft, the plant will go into somewhat of a weakened state as the plant works on developing the seeds rather than new growth, so you'll see some yellowing stems and leaves.
You normally see this with many flowering plants in Autumn, when they are winding down for the season and dropping seeds.
But since Candytuft is a Spring bloomer, this occurs in early Summer if the plants aren't sheared (pruned) back.
Second, Candytuft requires some shade in the hottest areas, or it will dry out no matter how much water it is receiving.
I've had this happen unfortunately. The best success for me has been providing them with a bit of afternoon shade using neighboring shrubs and perennials.
Landscape Uses
Cascading over rock walls and border walls
As a low groundcover
As an edger in a garden bed
Planted in a large mass planting for a carpet of white and evergreen color
Great for cracks and crevices and among pathways
Spring-blooming moon gardens
For containers and fairy gardens

The tiny white flowers are perfect as container accent plants, and look magical in miniature or fairy gardens.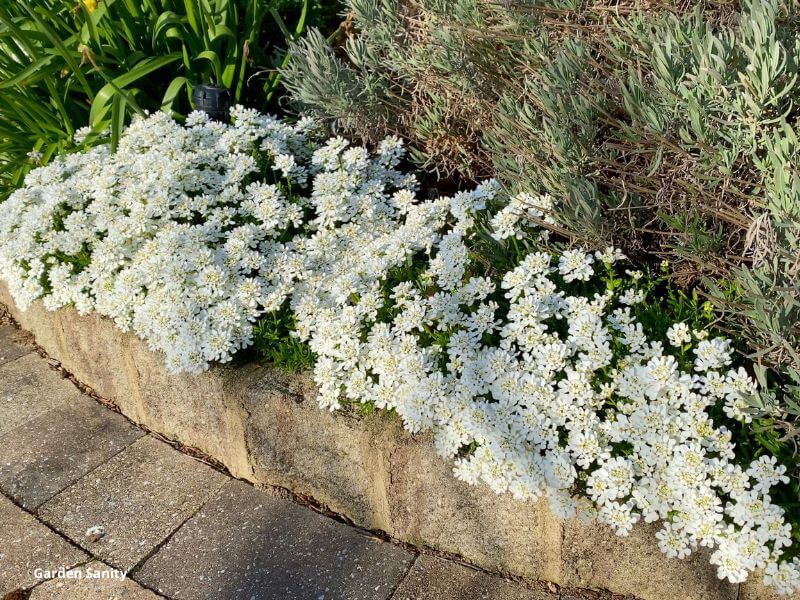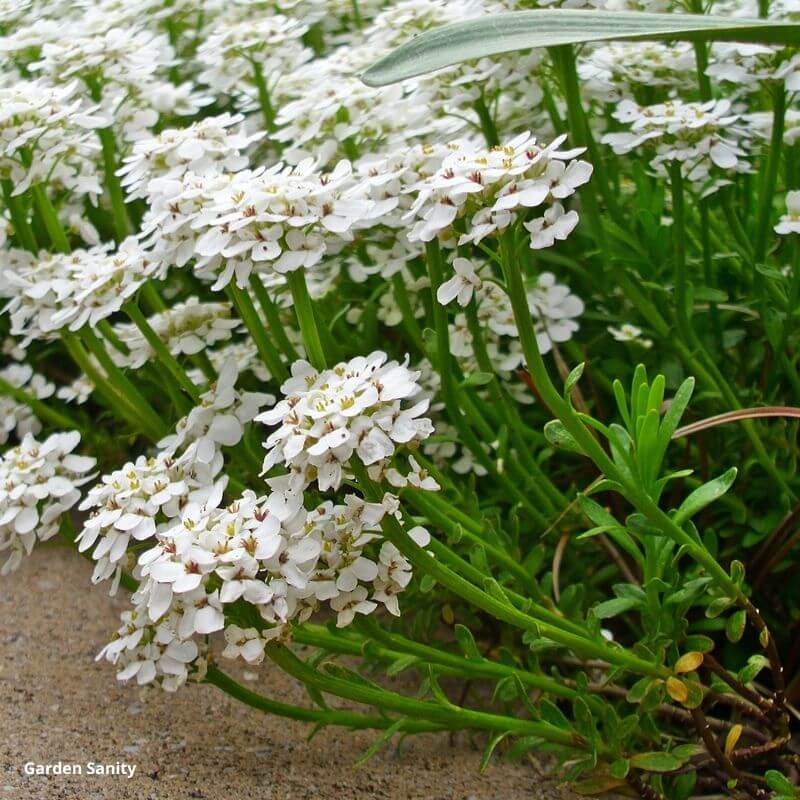 Varieties of Candytuft
Below is a selection of Candytuft varieties.
This is by no means a complete list, but should help you get started on your search!
Masterpiece — unusually large white blooms with a pink center (from Spring to early Autumn)
Purity — compact variety blooming in late Spring
Alexander's White — like Purity, has pure white flowers
Snowflake — very showy profusion of small white blooms in late Spring and early Summer
Summer Snowdrift
Snow Cushion
Autumn Beauty — has a second blooming late Fall
October Glory — second blooming same as Autumn Beauty
Iberis Pink Ice — the first pink variety
Absolutely Amethyst — purple flowers dotted with tiny yellow stamens — late Spring
Whiteout — an improved selection with more uniform flowering — early to late Spring
Little Gem
Snowball
Snowsation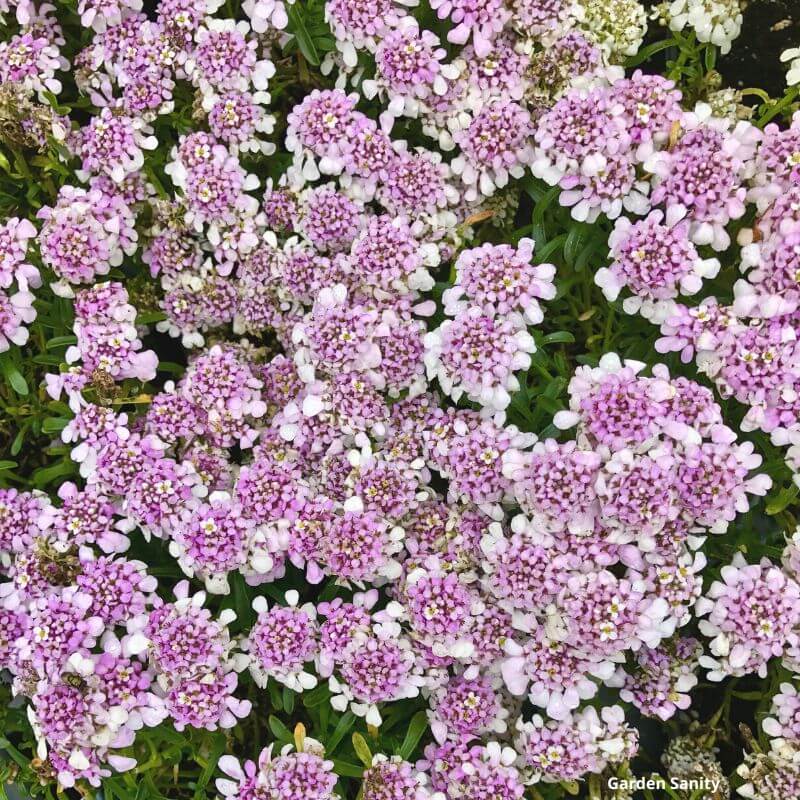 Companion Plants
Spring
Candytuft makes a great companion plant to Spring-flowering bulbs, providing a living carpet underneath and in front of taller flowers like Daffodils and Tulips.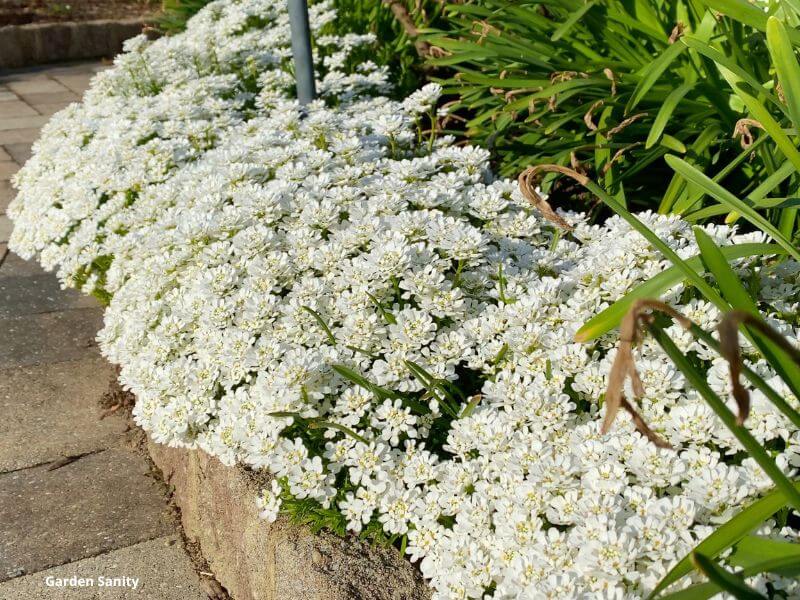 Summer
During the Summer, when this plant is a wonderful green carpet, it looks great in front of taller Summer-flowering shrubs like Roses, Spirea, Hydrangeas and more.
Plant it in front of taller perennials, and in the front of garden beds where it can be an attractive edger.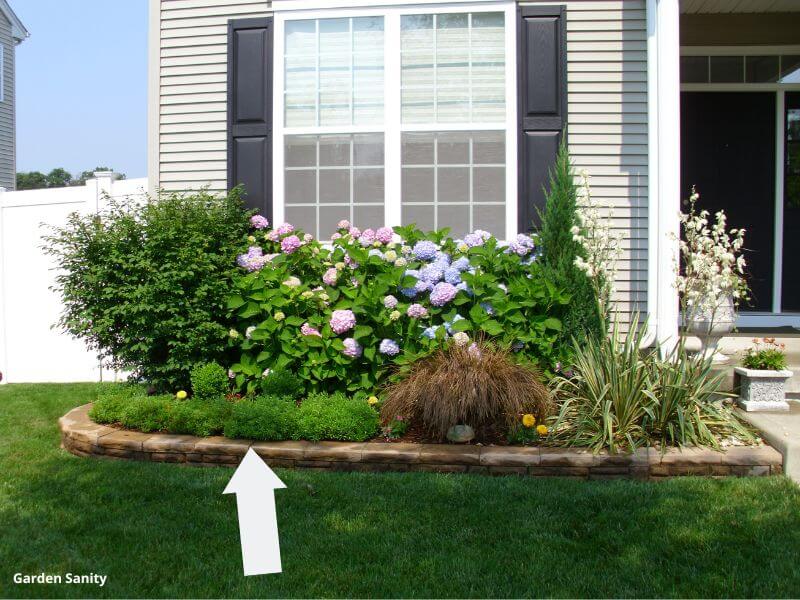 Where to Buy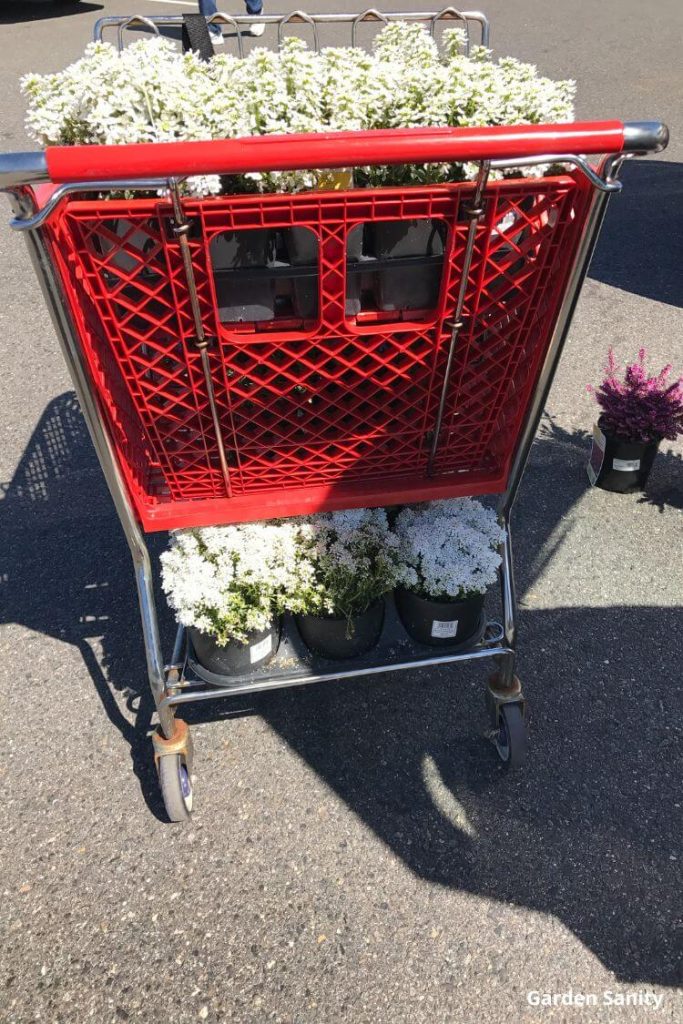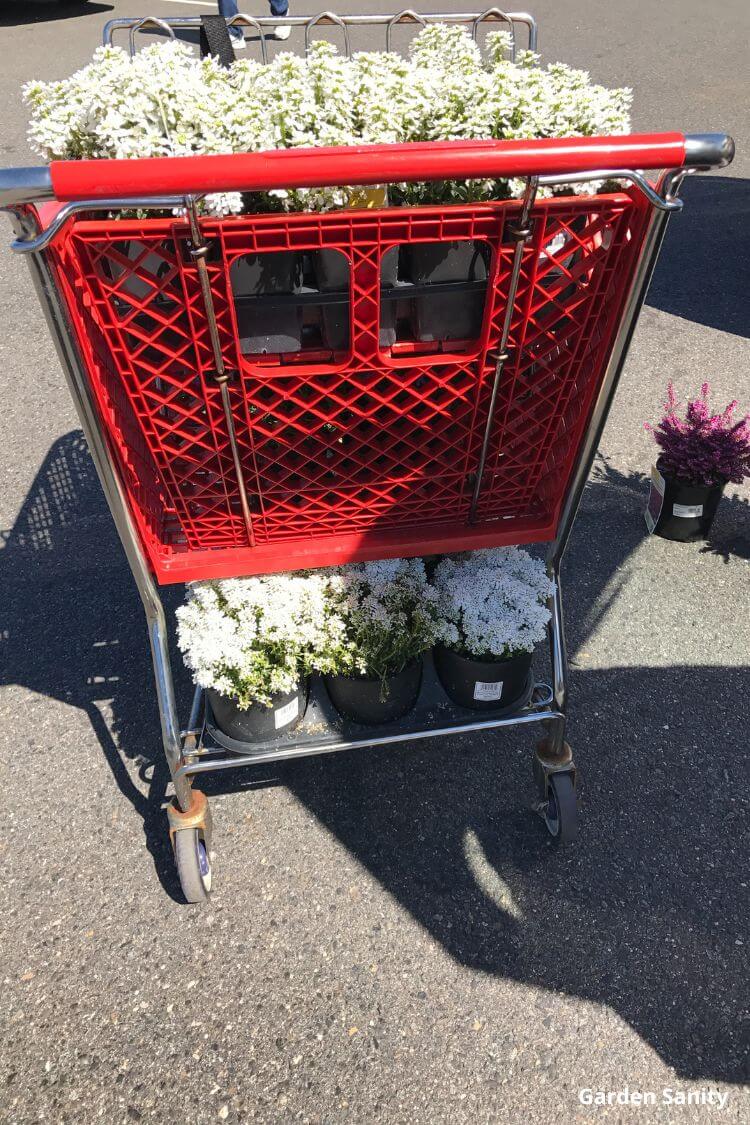 Your local garden nursery is a great resource to know what will grow best in your specific area. Ask them for advice!
In addition to your local garden nursery, Candytuft is readily available in Spring at many of the big-box garden centers found at Home Depot, Lowes and Walmart.
You can also purchase plants or seeds via the following plant and seed catalogs and online: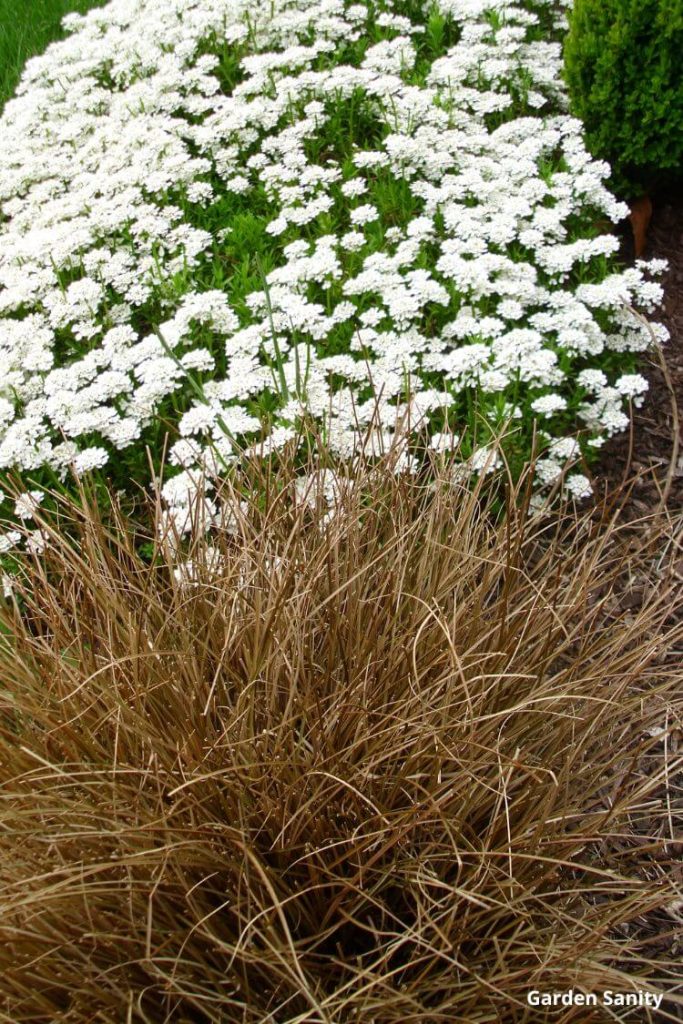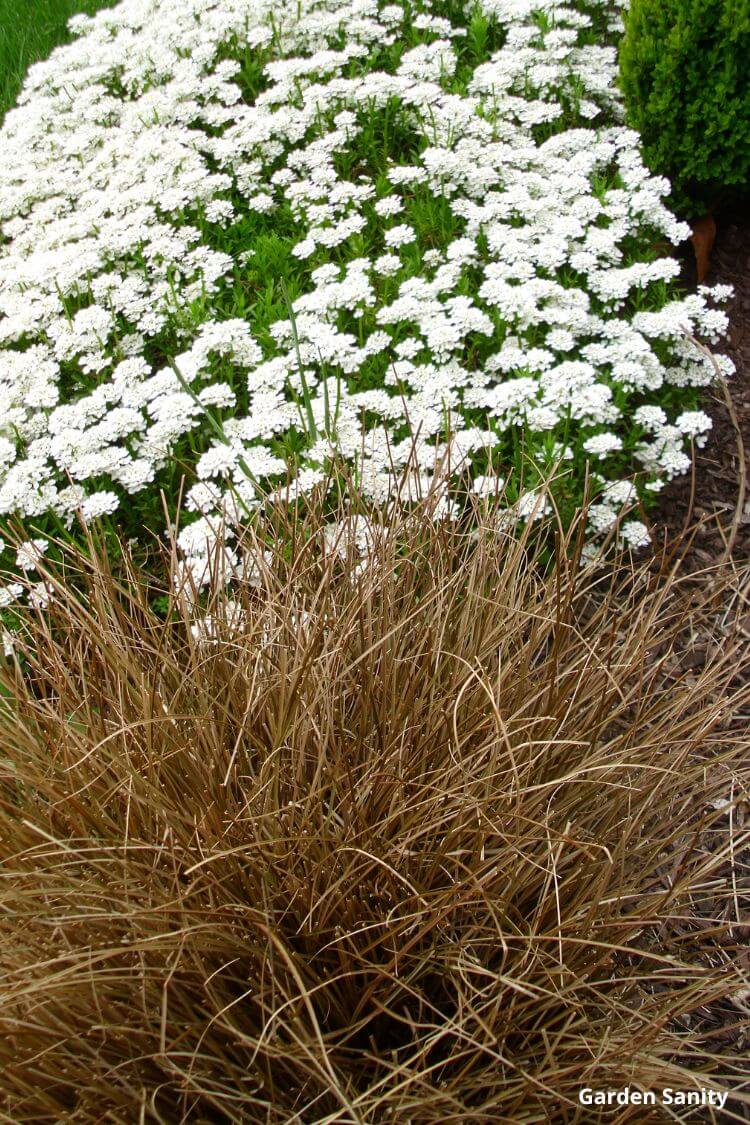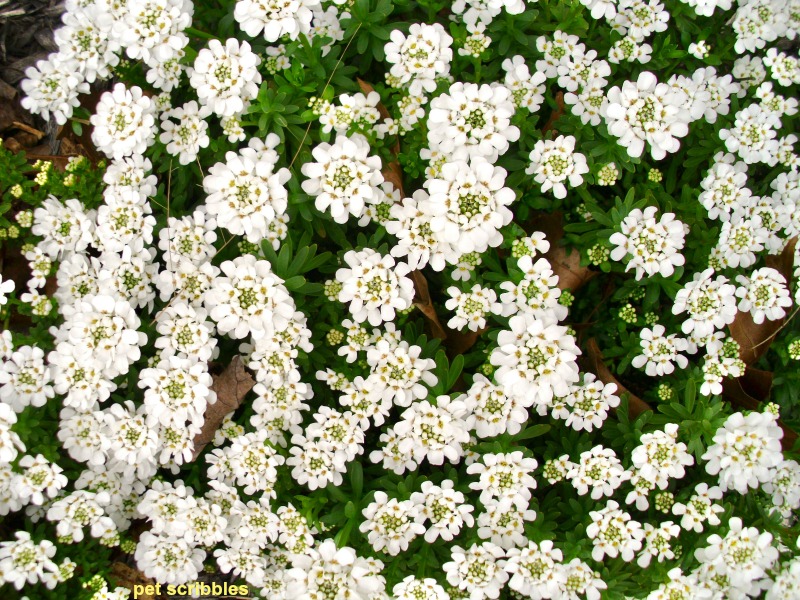 Happy gardening!