After reading so many how-to's on the correct way to prune Pinky Winky Hydrangeas — and getting discouraged by how involved some of the directions were — I came up with this easy way to prune Pinky Winky Hydrangeas – if you need to prune them at all.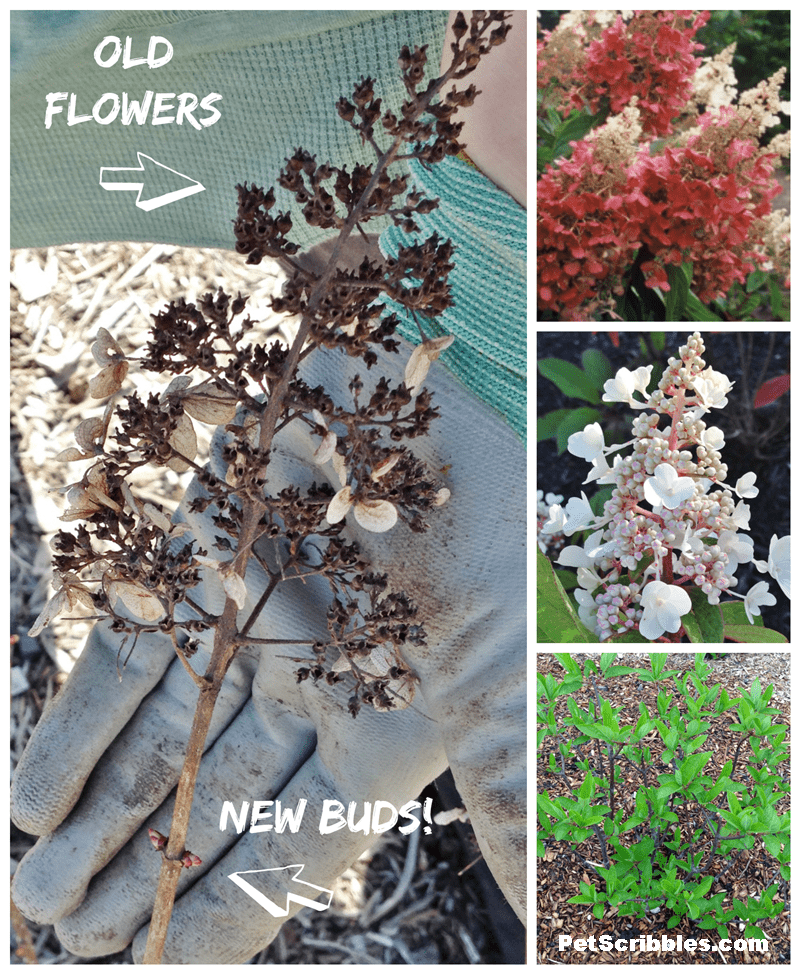 It can be super-intimidating when researching that new shrub or plant you purchased. Am I right?
You planted it in the ground last Spring, and now it's time to kick-start your garden again. Knowing what to prune — and when — can get overwhelming.
Dumb it down, Einstein!
So I'm trying to dumb it down for my own benefit, and hopefully help you too!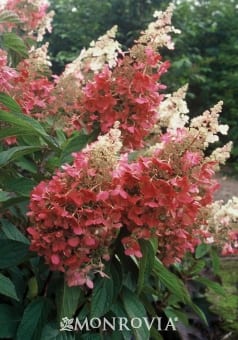 The image above is the only good one that I liked on the interwebs right now. It's from Monrovia, and it's where we got our Pinky Winky Hydrangeas which were planted a few years ago when we had our front landscaping completely redone.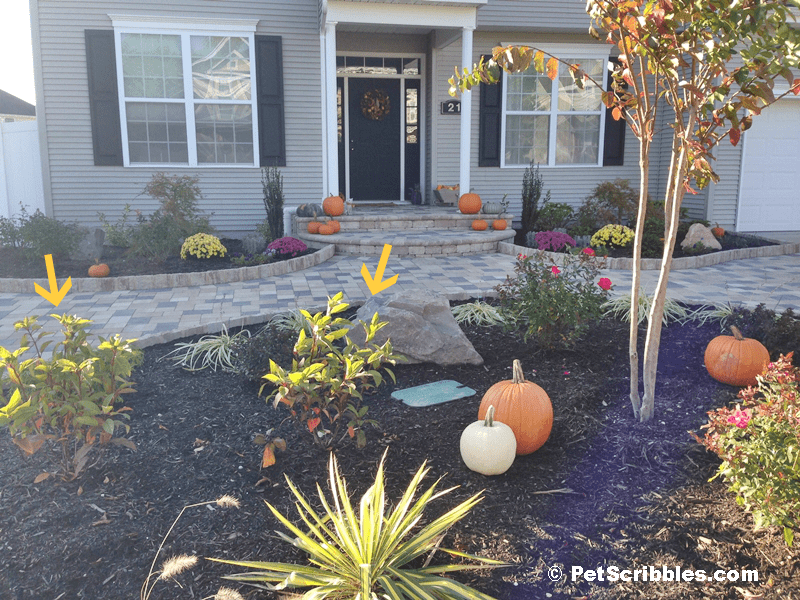 The yellow arrows show the Pinky Winky shrubs. We've got two more on the other side of this large bed as well.
(And no, you didn't miss the post about this amazing landscaping transformation. I never finished sorting through the hundreds of pictures I took of the entire process. However – stick with me, because I'm going to share it all very soon, most likely over a few blog posts so that I don't inundate anyone with too many images at a time!)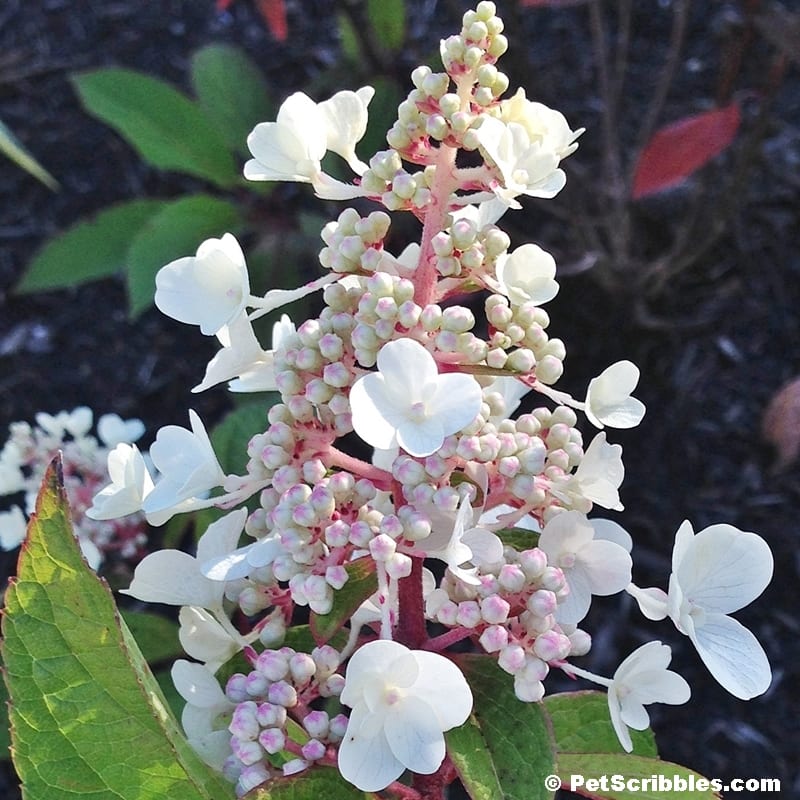 Note: Some of the links in this post are affiliate links. I explain more here.
How to prune Pinky Winky Hydrangeas the easy way!
Here we go — instructions in a nutshell, so you can read this and get outside to prune your own Pinky Winky Hydrangeas!
Here's what our Pinky Winky Hydrangeas looked like in early Spring this year.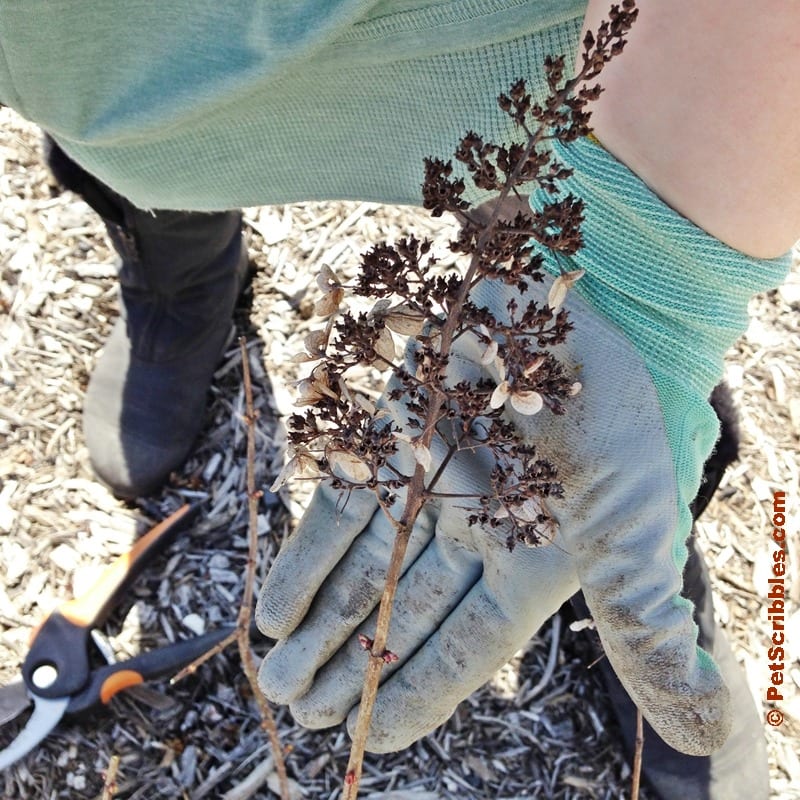 (I almost want to ask you to pardon my dirty garden gloves. Almost. But I'm keeping it real here, and these are usually what my gloves end up looking like after awhile!)
Note: You can read about my favorite gardening gloves in my post here. I swear by these gloves!
I like to leave the dried flower heads on our hydrangeas (all types) for Winter interest. Sometimes they end up being blown away by fierce winds, but mostly they stay on the plants and I like the look.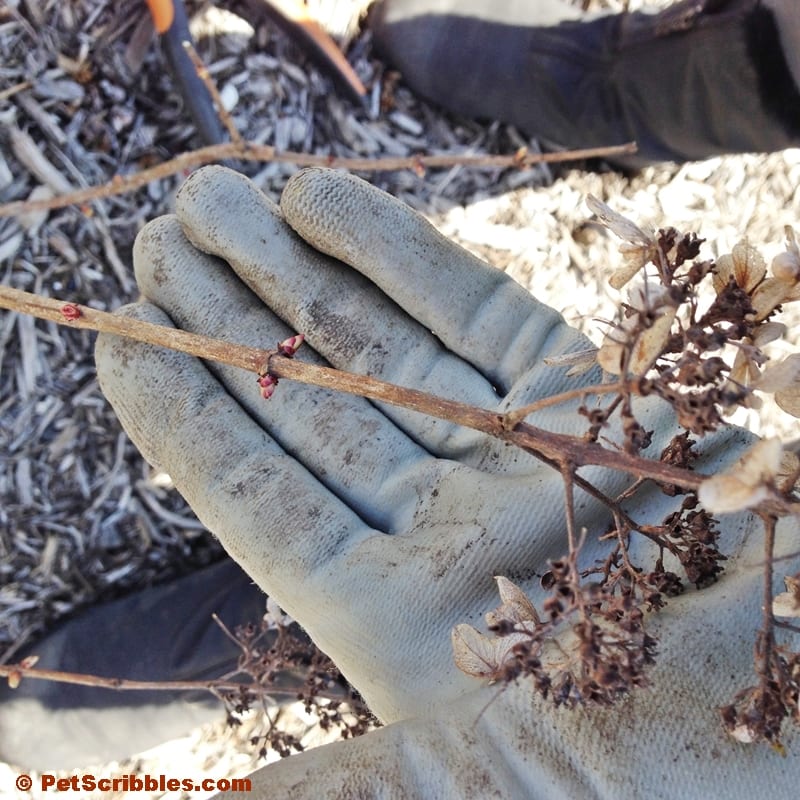 Step One: Start at the end of a particular branch – and in my case it will be at the very tip of the flowers.
Step Two: Now follow the branch away from the tip until you see the first set of buds forming.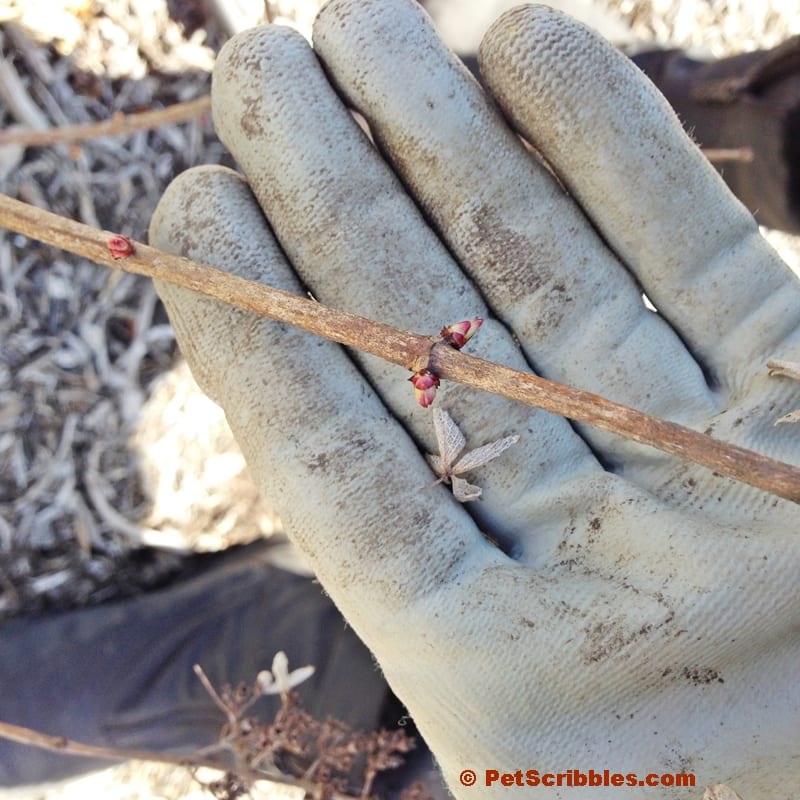 Your eyes won't have to travel down the branch very far.
Step Three: Take your hand pruners and simply make a cut just above those buds.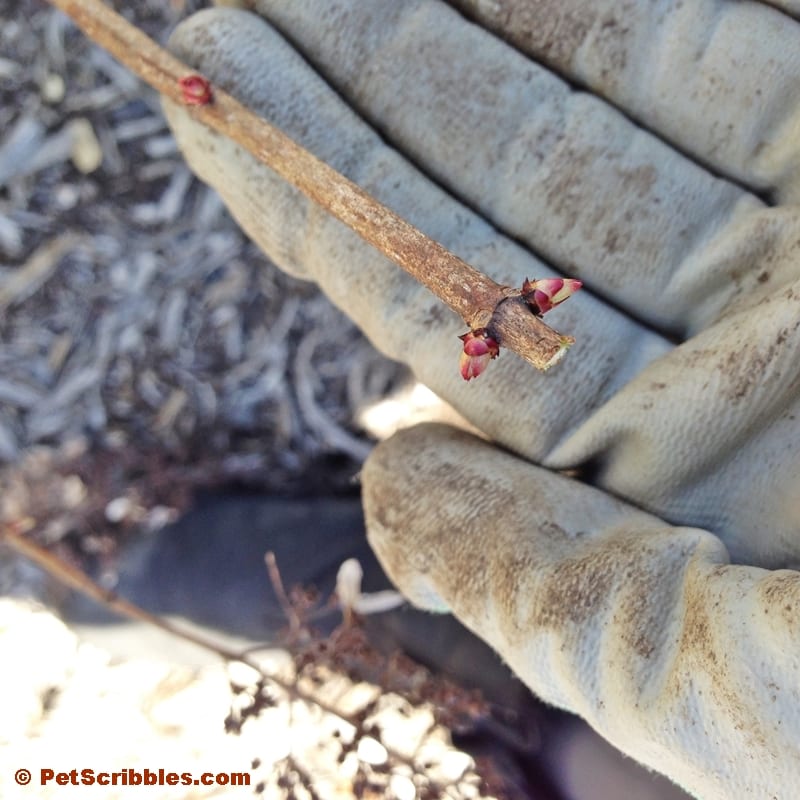 That's it.
Didn't I mention possibly no pruning is needed with Pinky Winky Hydrangeas?
Why yes I did.
While you will come across many a garden book, online article or blog post on the interwebs about the precise way to prune Pinky Winky Hydrangeas — such as pruning back certain branches in order to get larger blooms — I simply don't have time for that.
You don't either. (And if you do — kudos to you, because I just don't have that amount of patience!)
If you don't want to prune your Pinky Winky Hydrangeas, you honestly don't have to.
Many gardeners just prune a stray branch here or there to keep the shrub tidy. Or perhaps they prune any branches that are crossing (and touching), as that could cause the branches to begin rubbing against each other and some kind of bad, evil fungus could set in.
And there are gardeners like me who will prune just like I showed you above.
The point?  It's up to you!
Try whichever way works best for you and then see how your hydrangeas do.
That's really all we can hope for, right? We try our best at taking care of our garden plants and shrubs, and over time we learn what works and what doesn't quite work.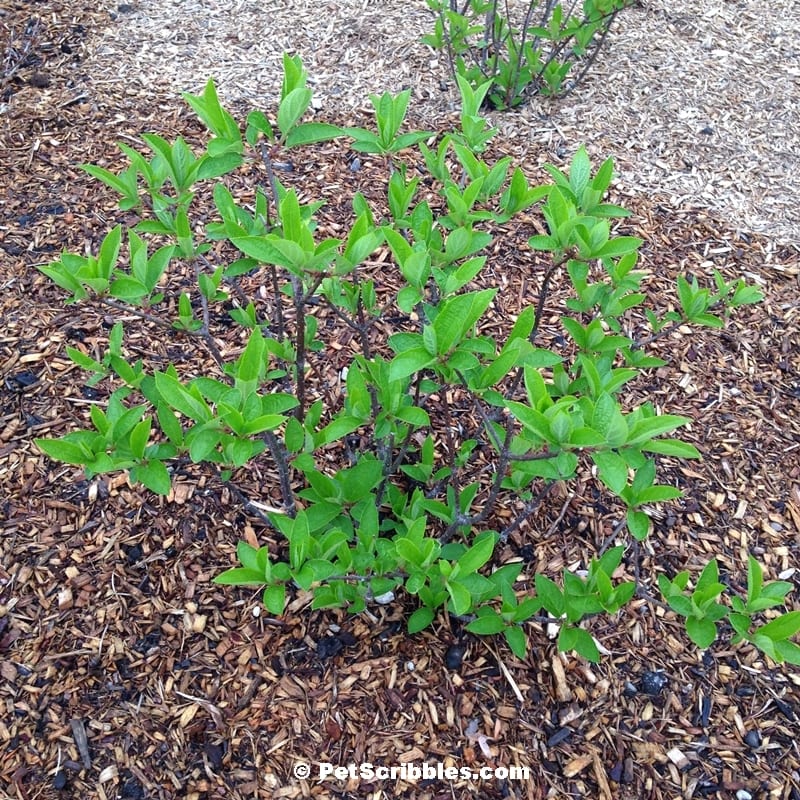 Here's what one of the Pinky Winky Hydrangeas looks like just one month after being pruned. You can't even see where I made any of the cuts, so all is well in my world!
I promise to share more pictures of these hydrangeas as the season progresses, so you can see how they're doing.
Happy gardening!
~Laura