How to prune Stella D'Oro Daylilies, including spent flowers and seed pods. Also how to remove seed pods and prevent them from developing during the blooming season. Helpful images and video included.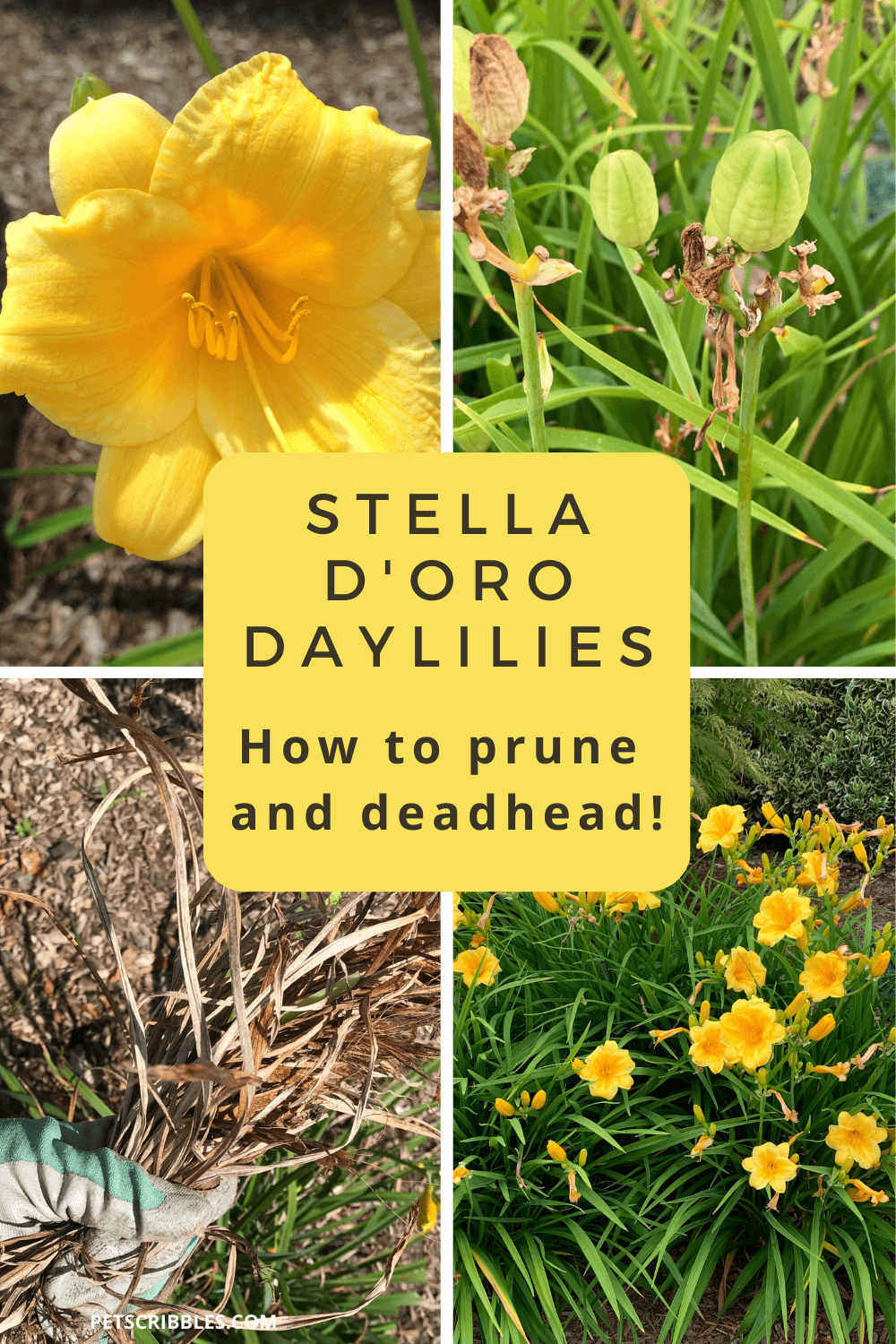 This article will show you how to prune Stella D'Oro daylilies and answer many of the common questions surrounding pruning and deadheading these perennials.
Have you been "hands-deep" in Fall gardening chores like I have?
After recently cleaning up our Stella D'Oro daylilies, I felt like I accomplished so much because of how neat and tidy they looked!
However, I'm not sure whether or not I like our Stella D'Oro Daylilies.
One one hand, they look so pretty when in bloom.
But once the major blooming is done — by the time Fall rolls around — man do they look awful!
Here's a picture of some of our daylilies when they were just about to bloom . . .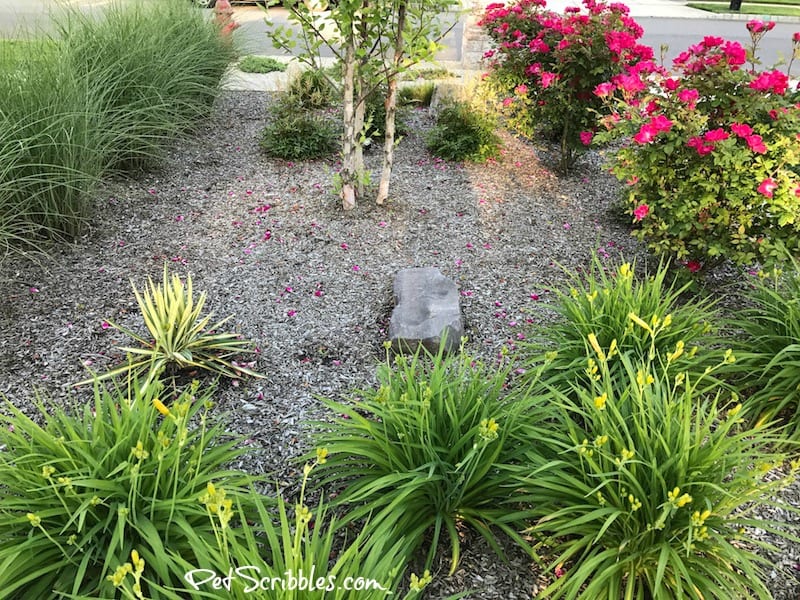 The daylilies are nice and bushy, and even the buds have a yellow "hint" of the sunny blossoms to come!
And when that happens, I always love the daylilies!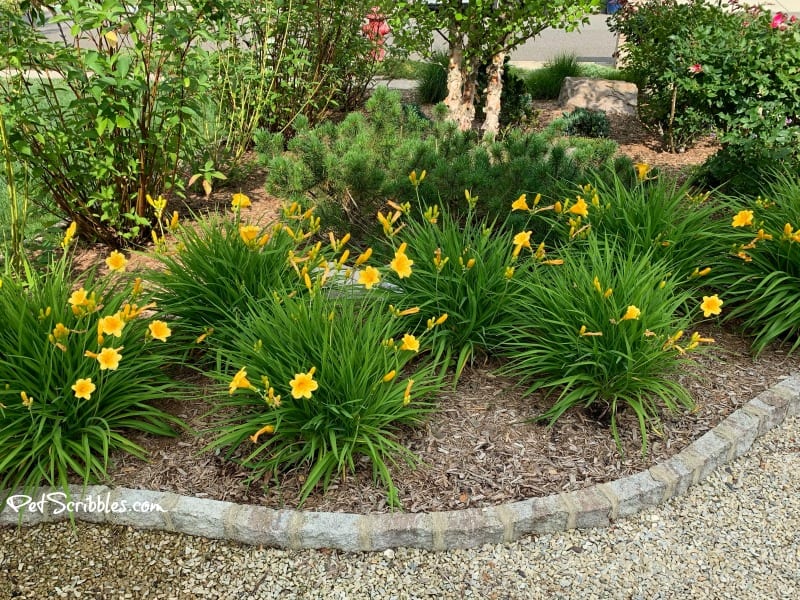 As I was pruning Stella D'Oro daylilies a couple of weekends ago, I grabbed my camera because the "before and after" was amazing.
Here's a wonderful image showing you the freshly pruned and cleaned up Stella D'Oro Daylily on the right, versus it's sad counterpart up front, on the left . . .
Deadheading versus Pruning
When you deadhead a Stella D'Oro Daylily, you are primarily removing the dead flowers from the plant — including its "ovary" which we will talk about below.
When you prune a Stella D'Oro Daylily, you are primarily removing dead grass leaves, any seed pods and trimming back the plant to a smaller size.
That's the main difference between deadheading and pruning.
Stella D'Oro Daylilies: what to deadhead and prune
With Stella D'Oro Daylilies, you want to remove spent flowers, any seedpods that form on the end of stems, and yellowing or dead grass stems.
In Fall, give these plants a hard pruning and tidy them up.
Let's dive a bit more deeply into all of this.
Why are my Stella D'Oro Daylilies not blooming?
Until a few years ago, I thought that as long as I gently pulled and removed the dying Stella D'Oro flowers, I was good.
Remove the dying flowers and supposedly more flowers will pop up.
Right? Wrong!
I originally wanted Stella D'Oro Daylilies because they bloom all season long.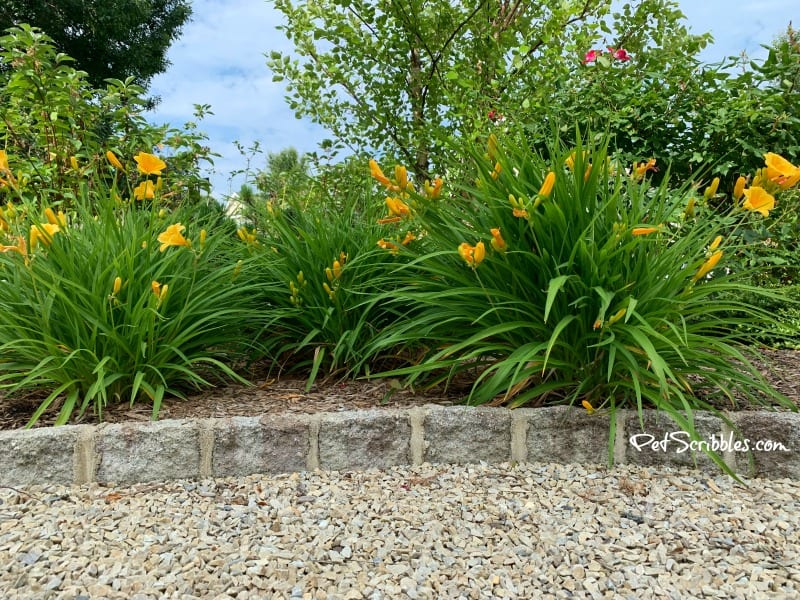 But mine weren't doing so after the initial flush of flowers.
And they were planted in full sun, which Stella D'Oro daylilies prefer.
Why weren't they blooming?
Because I wasn't fully removing the spent flowers from the plant.
I had no idea that I need to prune Stella D'Oro daylilies during the season, and not just in the Fall and/or Spring.
Stella D'Oro Daylily seed pods
Instead of getting a new flush of blooms, I was getting seed pods forming where the flowers once were.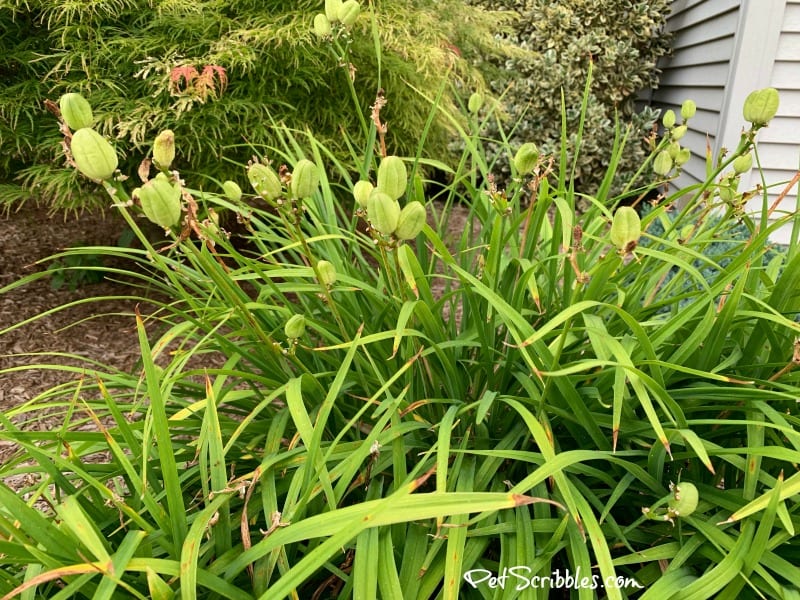 When seed pods begin to form, the plant will focus its energy on developing those seed pods.
The plant's energy is no longer focussed on producing flowers.
The plant thinks the growing season is over, so it's time to work on producing seeds for next year.
Thus, no more flowers appear.
The solution to the seeds pods versus blooms is two fold:
Remove the seeds pods immediately.
Learn how to properly deadhead the spent blooms of your Stella D'oro Daylilies, to avoid seed pods in the future.
How to remove Stella D'Oro daylily seed pods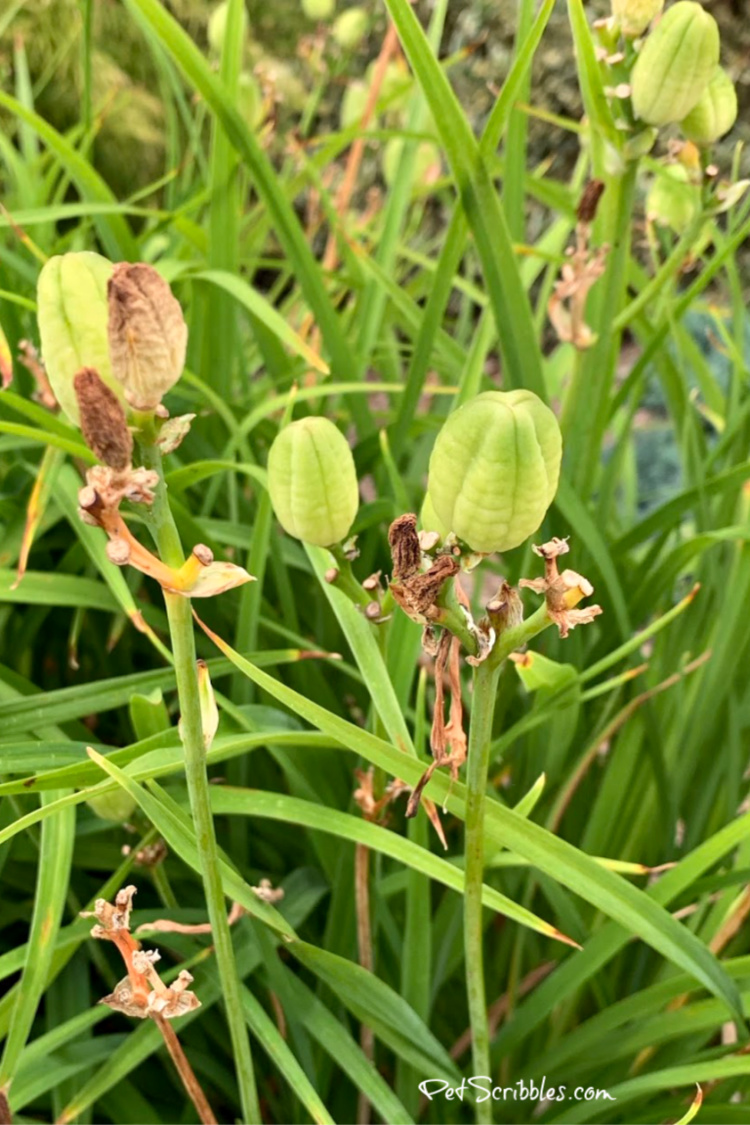 To remove the seed pods, use either Fiskars hand pruners or Fiskars garden snips.
Snip off the seed pods AND their stem as far down as you can go.
The base of the stem is usually hidden by the daylily leaves.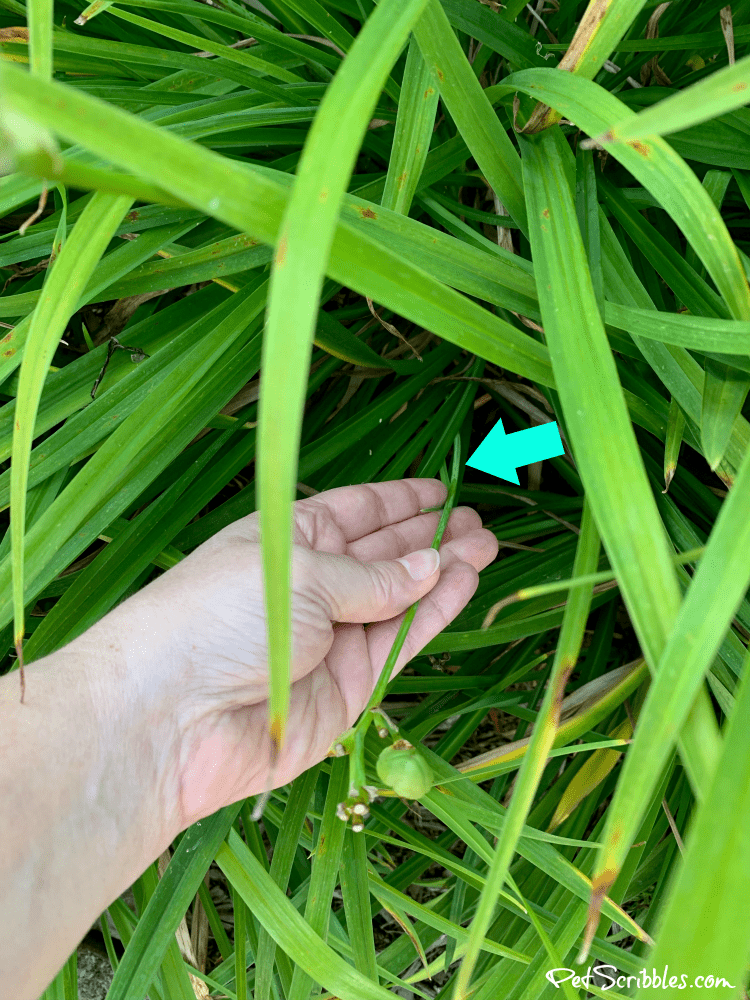 These leaves are pretty resilient, so you can move them without worrying you will damage the plant.
If you just snip off the seed pods near the top of the stem, those remaining stems will soon dry up and turn tan or brown.
Not a big deal, but you probably want to cut them out with the seed pod to avoid another chore of removing the brown stems later.
Removing these seed pods will be a pain to do if there are a lot of them.
But once those seed pods are removed, your Stella D'Oro daylilies will refocus their energy back to producing flowers.
Pretty soon, you'll have those wonderful yellow blooms back!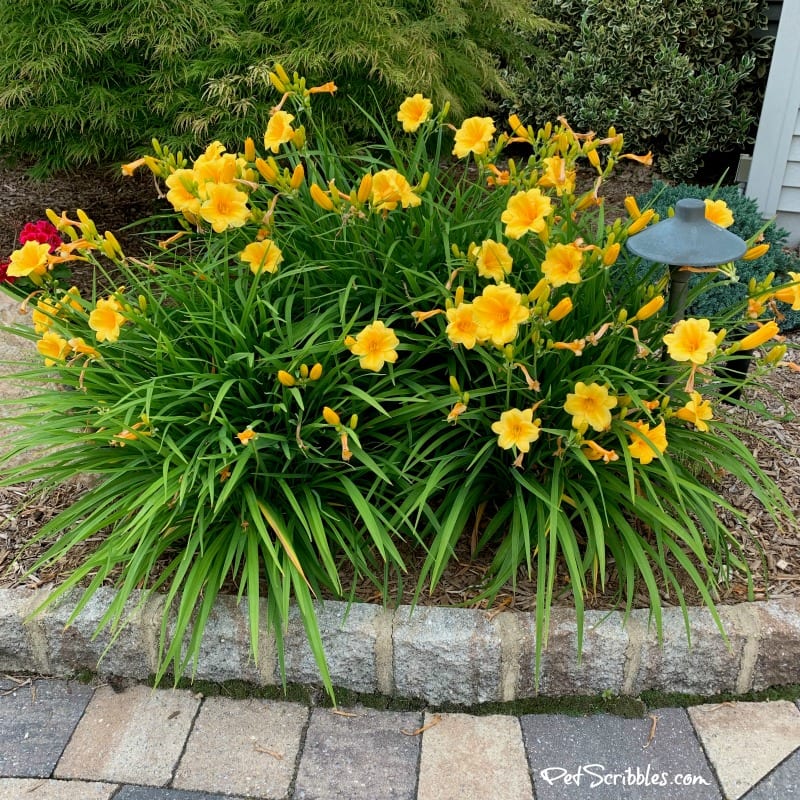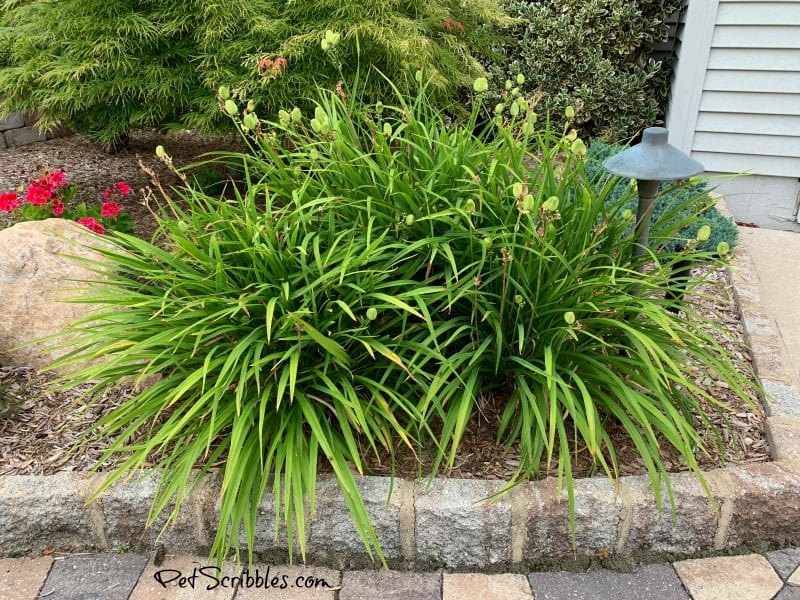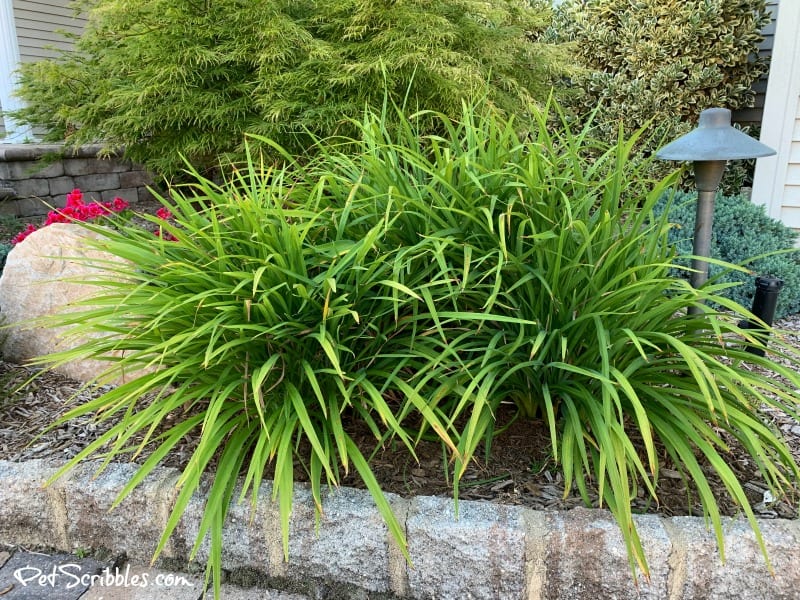 How to properly deadhead spent flowers on Stella D'Oro Daylilies
Usually when we see spent blossoms on our garden flowers, we know to remove them — whether with garden snips, pruners or even by just pinching them off with our fingers.
Doing so prevents those flowers from going to seed, which helps the plant continue to focus its energy on producing more flowers.
You want the plants producing more flowers instead of diverting their energies to developing seeds and/or seed pods.
Here is a typical Stella D'Oro Daylily stem: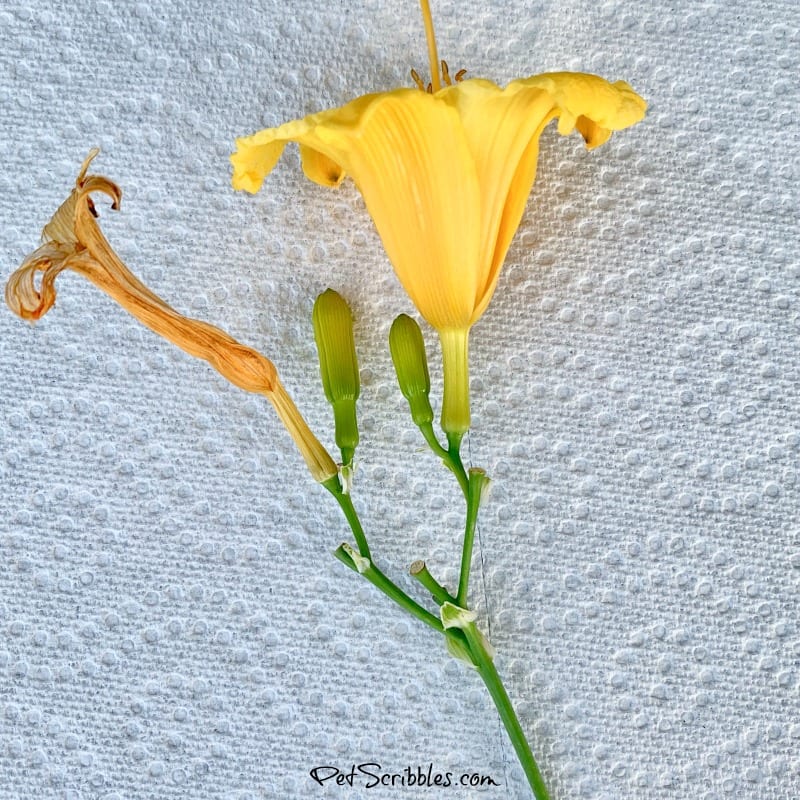 There is a full-bloom flower, a spent flower shriveled up, and two flower buds yet to open.
If you tug on the spent flower, it will easily come off: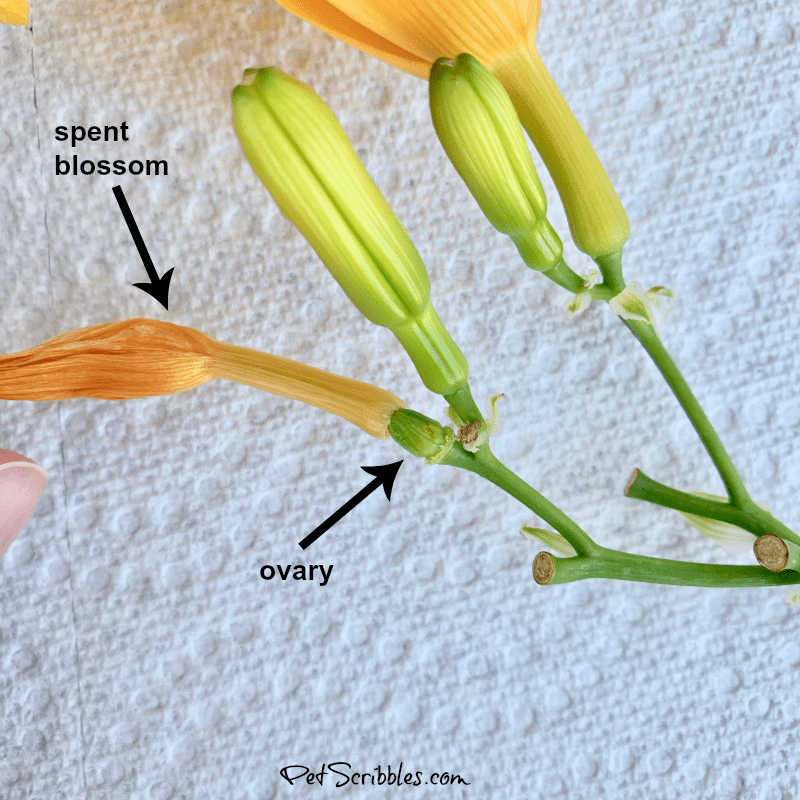 However, you are left with the flower's ovary, which is small and can appear like it is just part of the stem.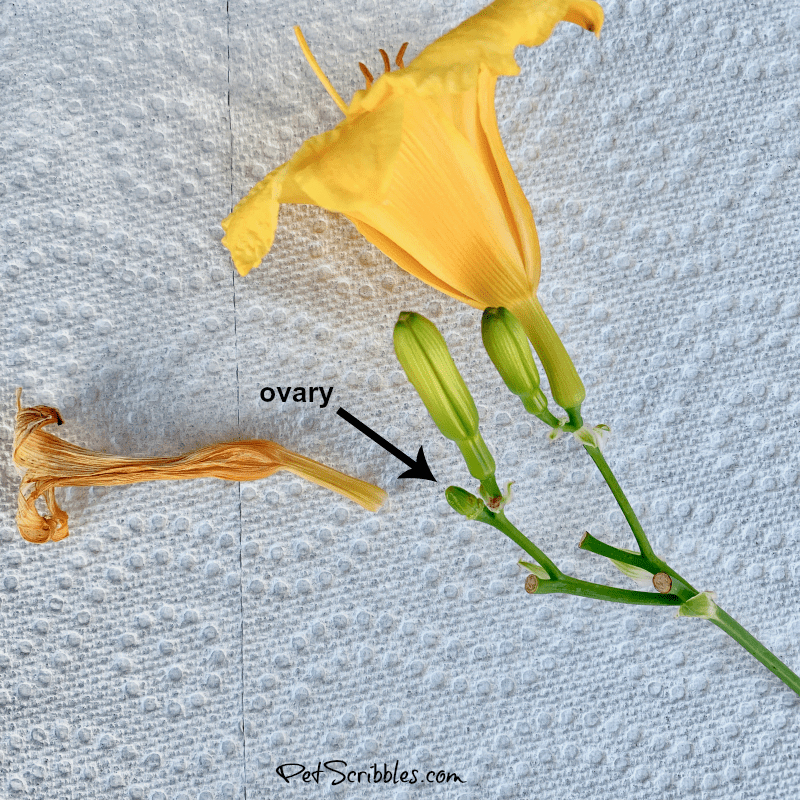 You need to also remove the ovary, otherwise that tiny ovary (below, right) will turn into the large seed pod (below, left).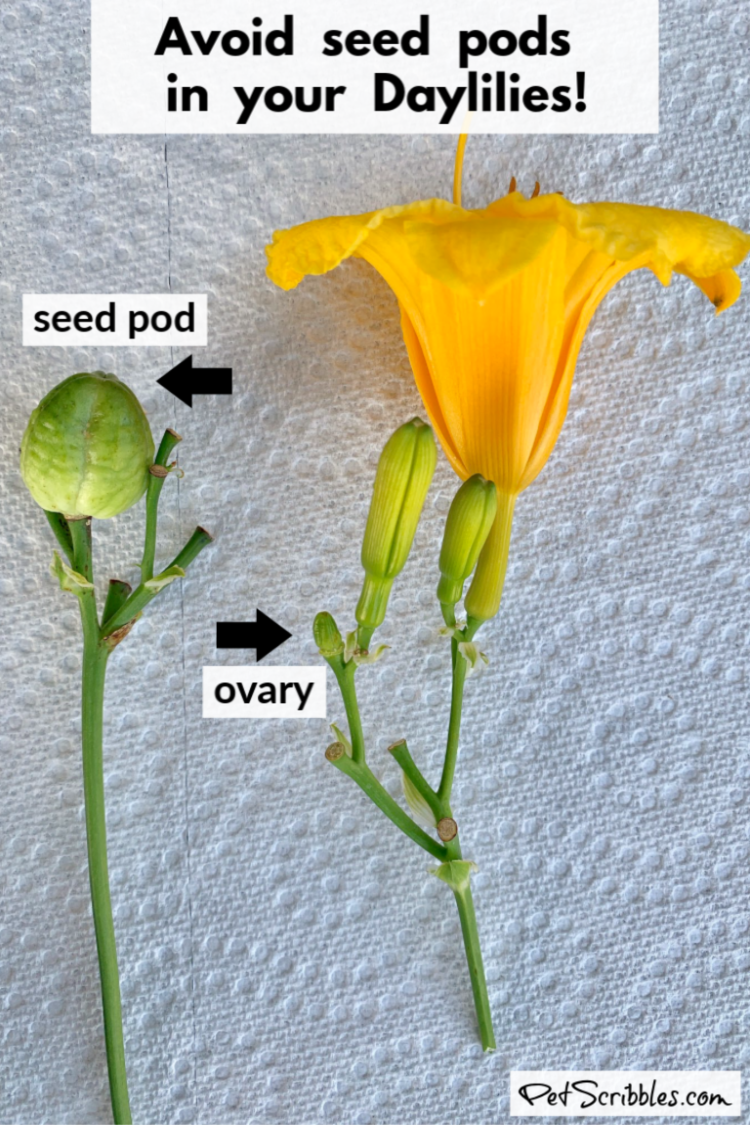 I find it easiest to gently grab the spent flower by the bottom, where you can feel the ovary inside of the thin blossom covering it.
Gently snap off the complete spent flower with its ovary and throw it away.
That's all there is to it.
Once you get the hang of deadheading Stella D'Oro daylilies the right way, this becomes an easy chore you can do regularly.
And if you deadhead Stella D'Oro daylilies properly, you will prevent those giant seed pods from developing.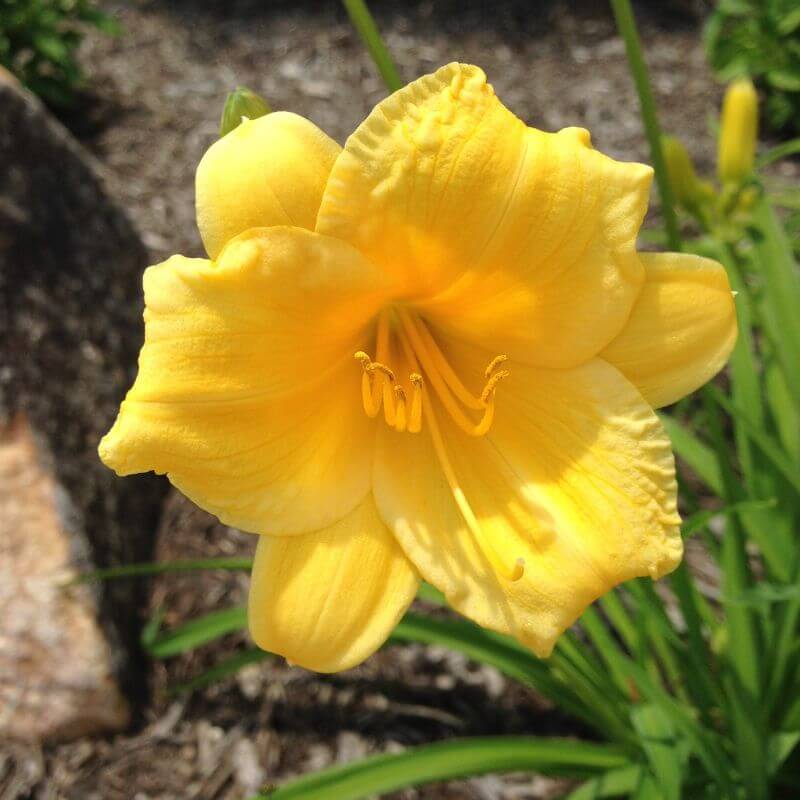 What are those brown stems that appear in my Stella D'Oro Daylilies?
Once you snap off the spent blossom with its ovary, a new stem or flower will not form in its exact spot.
Instead, once all of the Stella D'Oro flowers on that stem have finished blooming, the stem will just turn brown and die.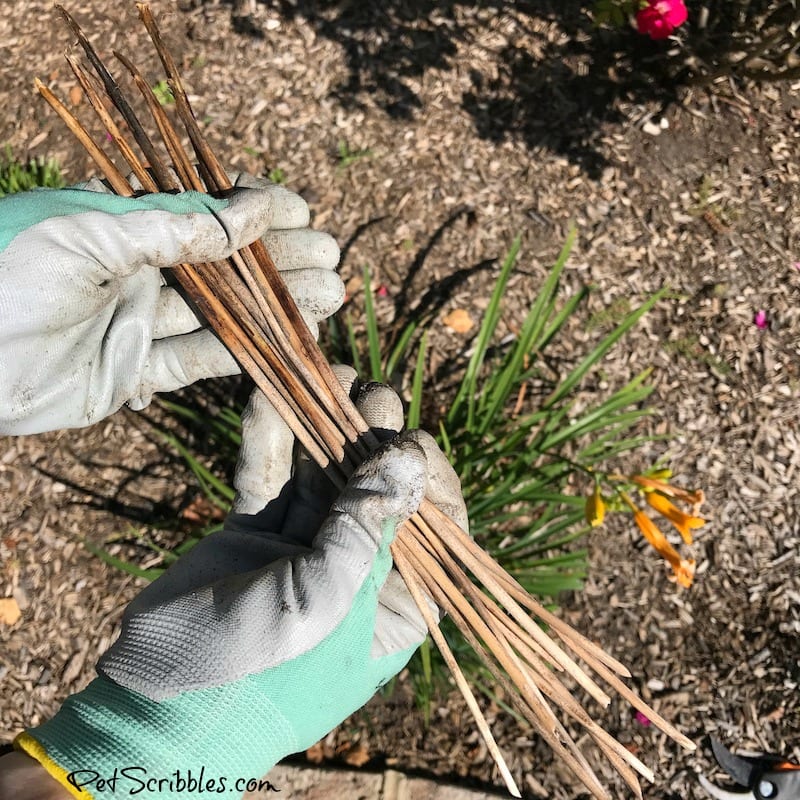 When you've removed all of the spent blooms on a particular stem, cut back that stem as close to the base of the plant as possible.
I usually try to at least cut those stems down into the leaves so they aren't as visible when they begin turning brown.
The good news is that once those stems are brown, they are easy to pull out of the plant without needing pruners.
New stems (with new buds and flowers) will continue to form from the base of the plant.
How to prune Stella D'Oro Daylilies
I prune my Stella D'Oro Daylilies twice a year.
Fall: main pruning and clean-up for the Winter months.
Spring: secondary clean-up from the Winter, possible (optional) pruning if needed.
First, grab those dead leaves around the outer base of the plant and gently tug — they come right off. (They look like dried grasses, don't they?)
Next, use your fingers as a rake and comb "up" from the center base of the plant to remove the rest of the dead leaves.
Look at this ugly mess I removed from just one plant . . .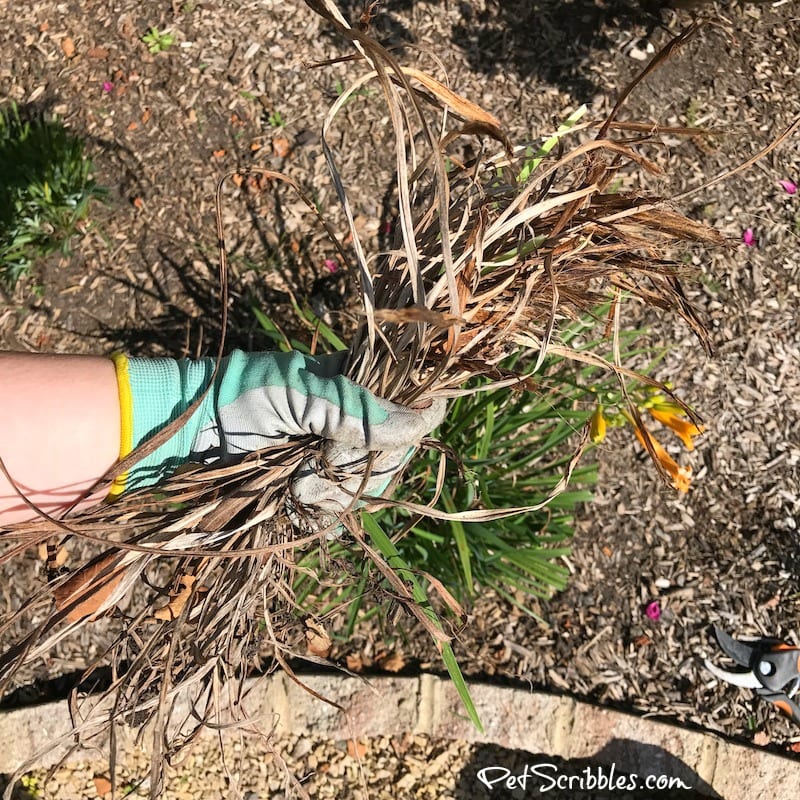 Using your favorite pruners — I use these from Fiskars — start trimming the green leaves down.
I hold a bunch with one hand, then cut them with the other.
This way, I'm holding the remains that go right into the garden trash, no mess in the garden bed.
When you see any stiff brown stems — stop and pick those out. Most will come up readily, you might need to gently tug on a few of them.
Finally, continue cutting the leaves down to just a few inches tall.
I kept any remaining flowers, just because.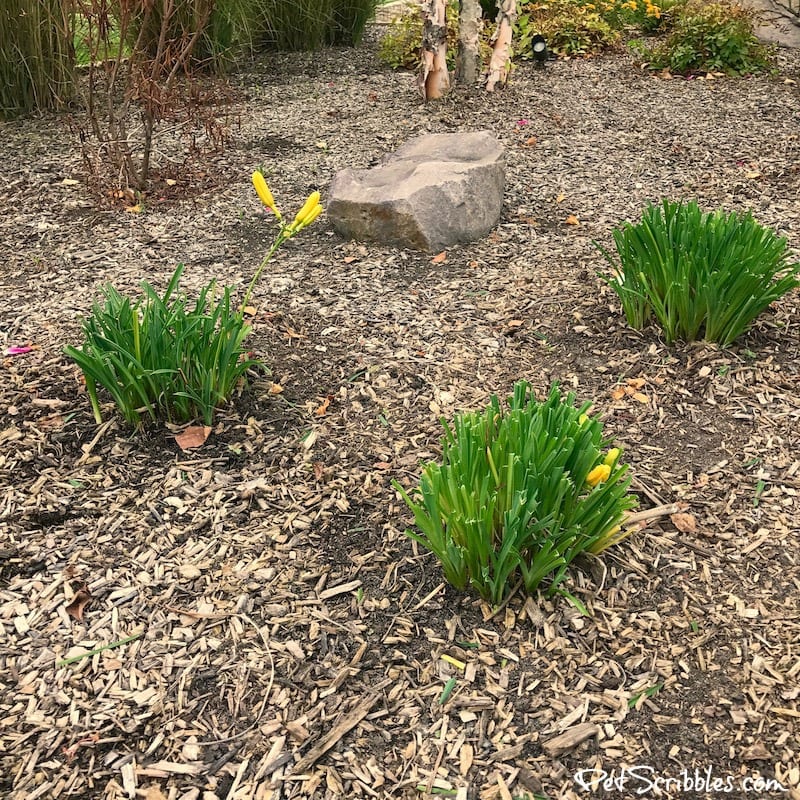 Check out this before-and-after shot . . .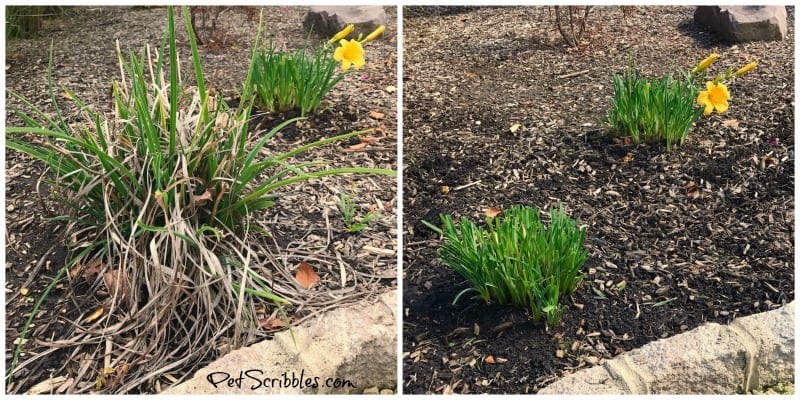 Such a huge difference, and it only takes a few minutes per plant once you get the hang of it.
Doesn't this section of the garden bed look like it could be early Spring instead of early October?
Kind of funny!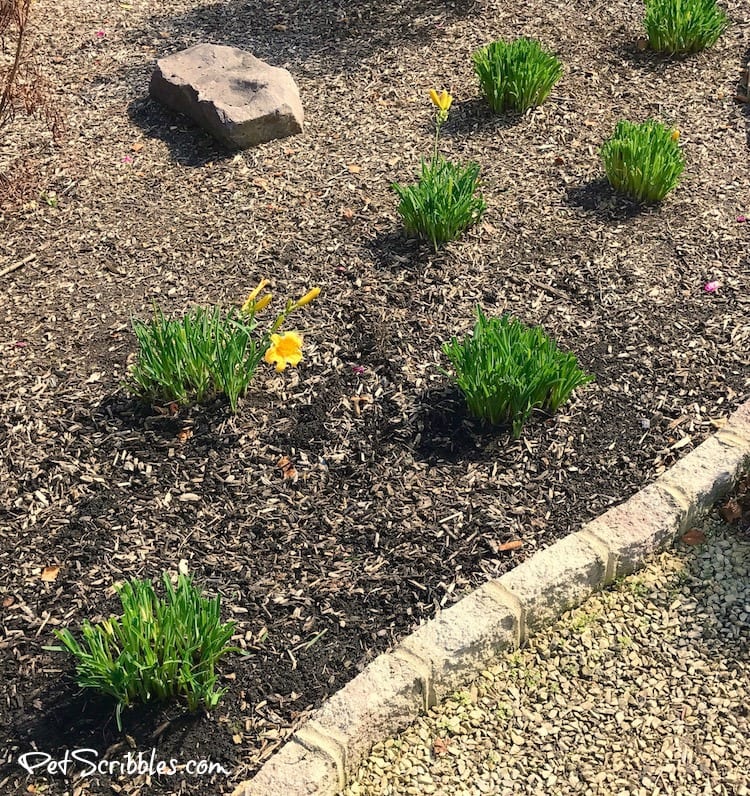 Video: Deadheading Daylilies versus Pruning Daylilies
---
---
Happy gardening!