Have you been "hands-deep" in Fall gardening chores like I have? After recently cleaning up our daylilies, I felt like I accomplished so much because of how neat and tidy they looked! Here's how to prune Stella D'Oro Daylilies!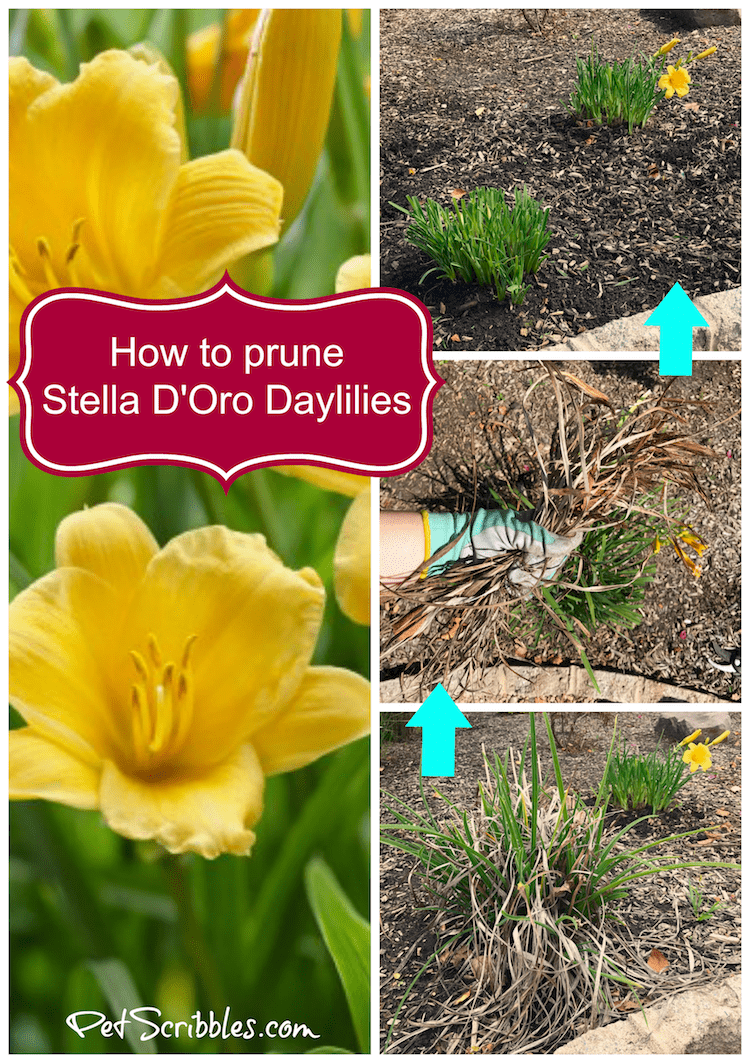 I'm not sure whether I like our Stella D'Oro Daylilies or not.
One one hand, they look so pretty when in bloom.
But once the major blooming is done…by the time Fall rolls around…man do they look awful!
Here's a picture of some of our daylilies when they were just about to bloom . . .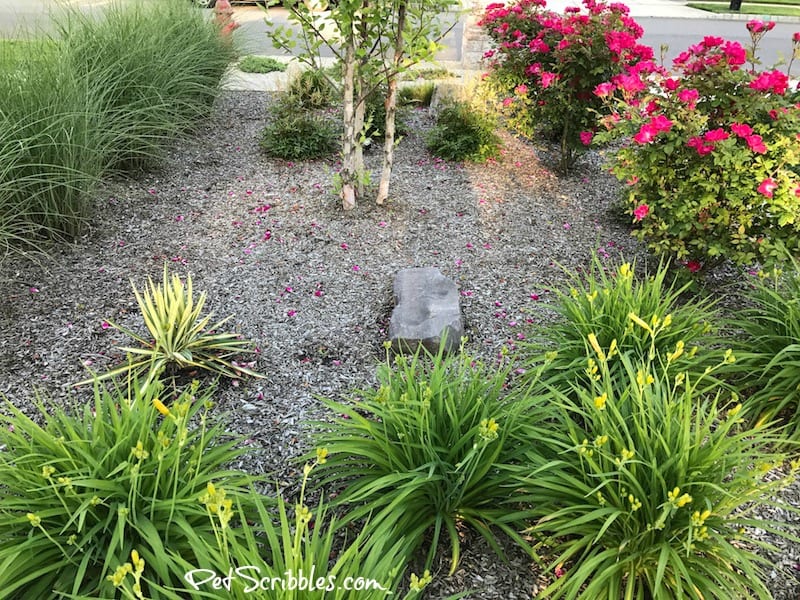 The daylilies are nice and bushy, and even the buds have a yellow "hint" of the sunny blossoms to come!
And when that happens, I always love the daylilies!
As I was pruning them a couple of weekends ago, I grabbed my camera because the "before and after" was amazing.
Here's a wonderful image showing you the freshly pruned and cleaned up Stella D'Oro Daylily on the right, versus it's sad counterpart up front, on the left . . .
It will only take a few minutes to clean this daylily up.
FTC Disclaimer: Some of the links in this post are affiliate links. I explain more here.
How to Prune Stella D'Oro Daylilies
I prune my Stella D'Oro Daylilies twice a year.
Fall: main pruning and clean-up for the Winter months.
Spring: secondary clean-up from the Winter, possible (optional) pruning if needed.
First, grab those dead leaves around the outer base of the plant and gently tug — they come right off.
Next, use your fingers as a rake and comb "up" from the center base of the plant to remove the rest of the dead leaves.
Look at this ugly mess I removed from just one plant . . .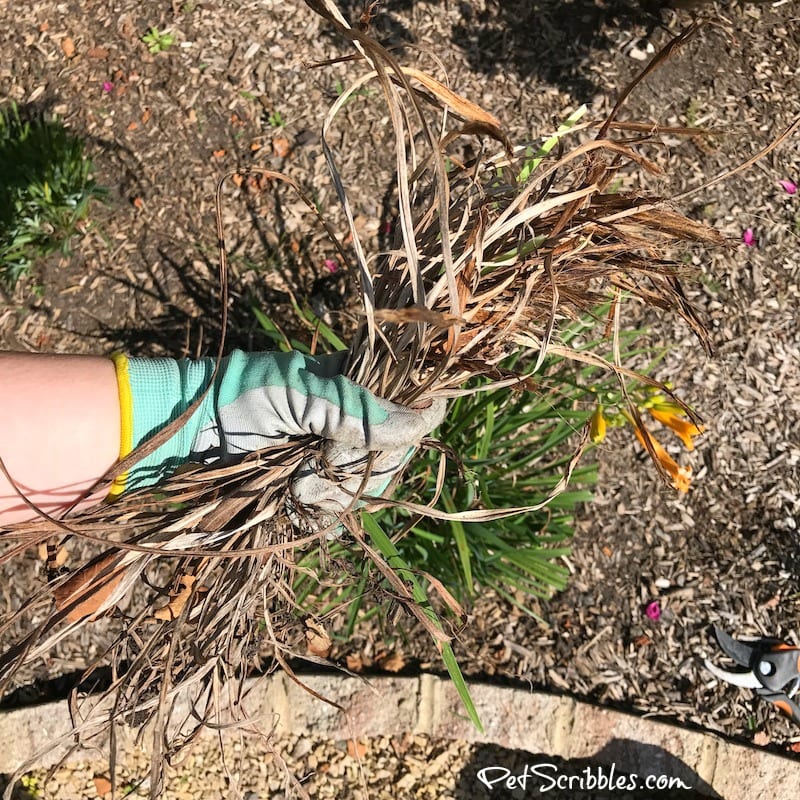 Using your favorite pruners — I use these from Fiskars — start trimming the green leaves down.
I hold a bunch with one hand, then cut them with the other. This way, I'm holding the remains that go right into the garden trash, no mess in the garden bed.
When you start to notice some stiff brown stems — stop and pick those out. Most will come up readily, you might need to gently tug on a few of them.
Here are the dead stems from that same plant above . . .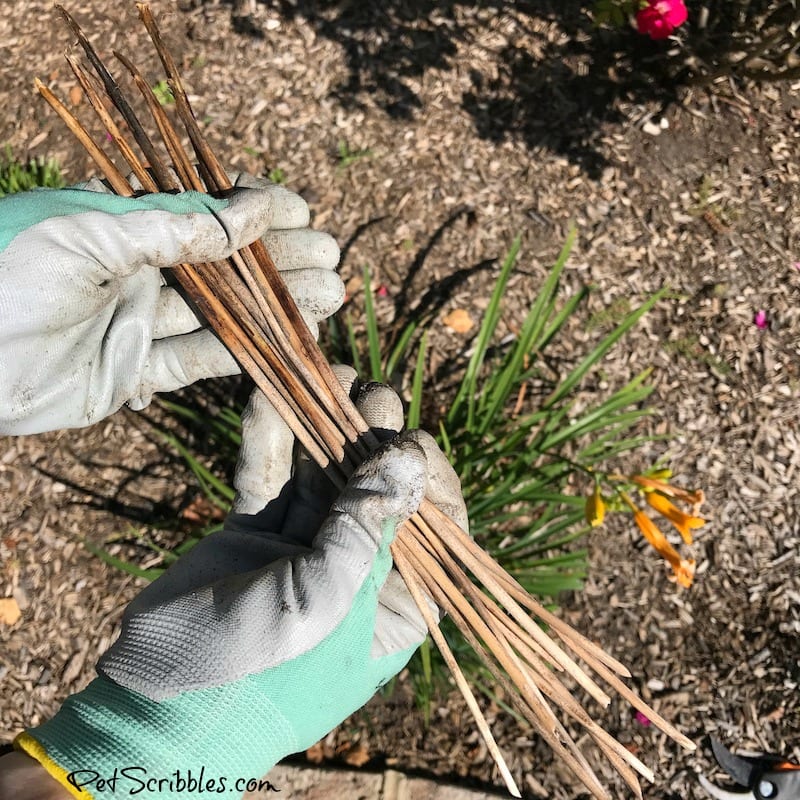 Finally, continue cutting the leaves down to just a few inches tall.
I kept any remaining flowers, just because.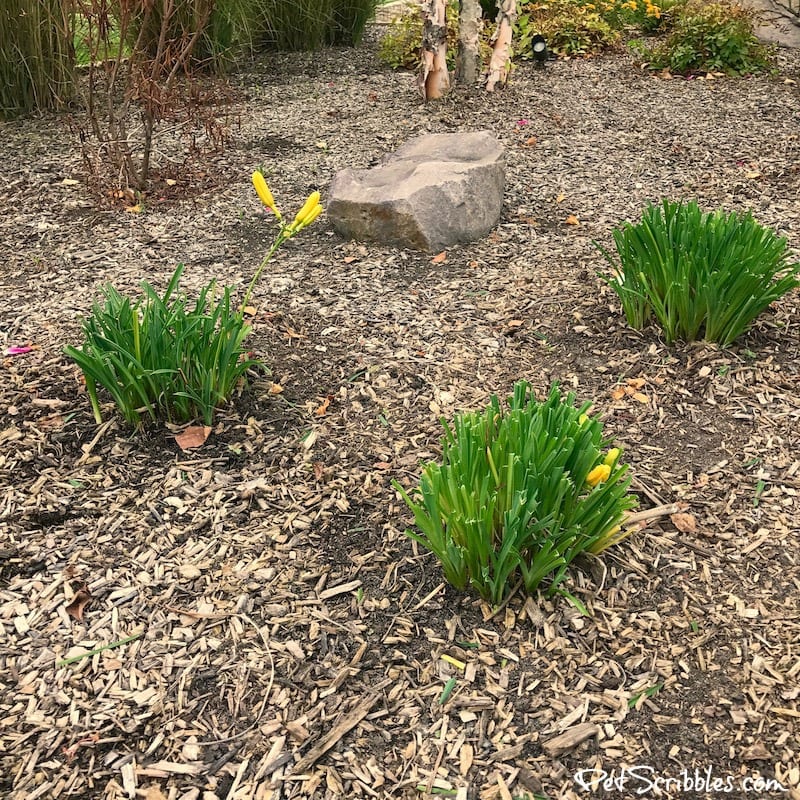 Check out this before-and-after shot . . .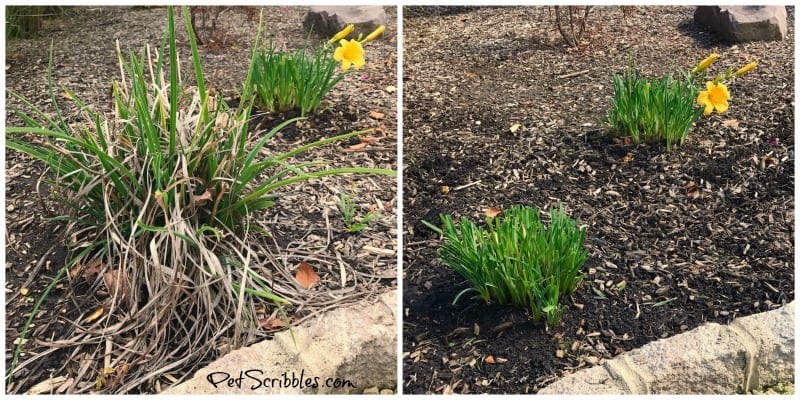 Such a huge difference, and it only takes a few minutes per plant once you get the hang of it.
Doesn't this section of the garden bed look like it could be early Spring instead of early October? Kind of funny!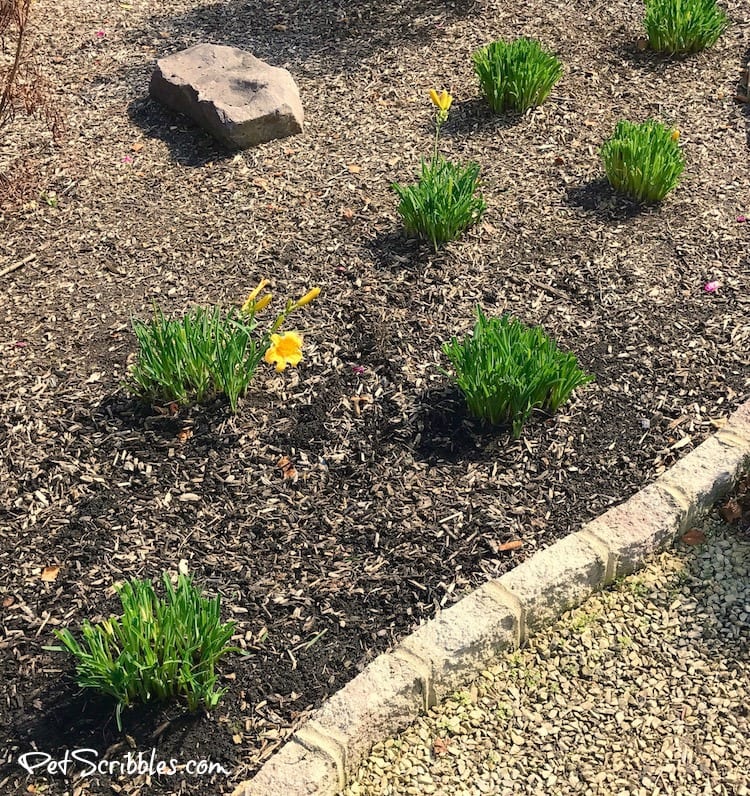 I still need to prune back a few more of our Stella D'Oro Daylilies in another bed . . .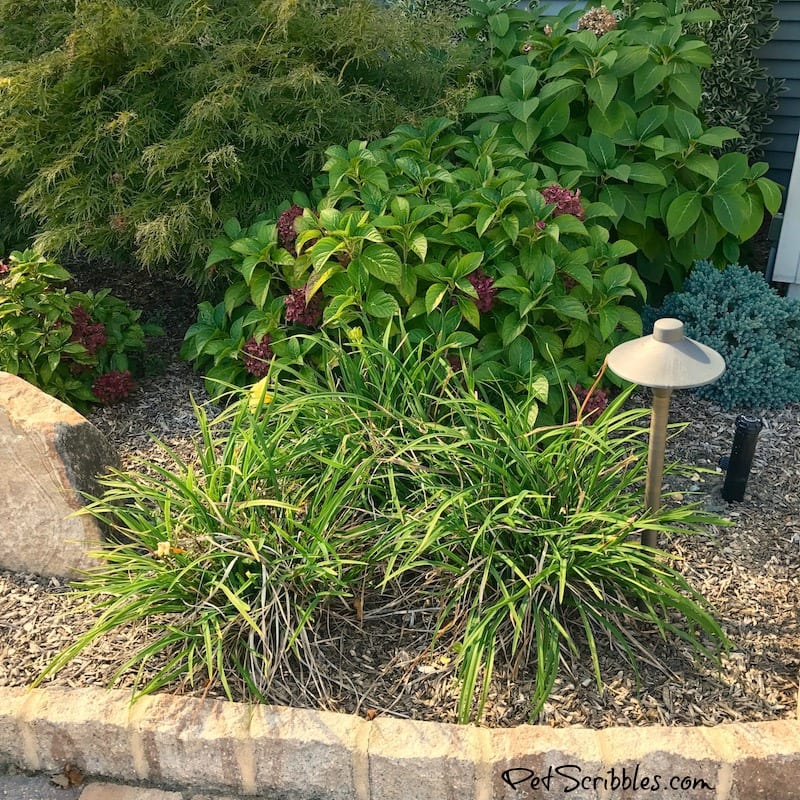 Yikes! 🙂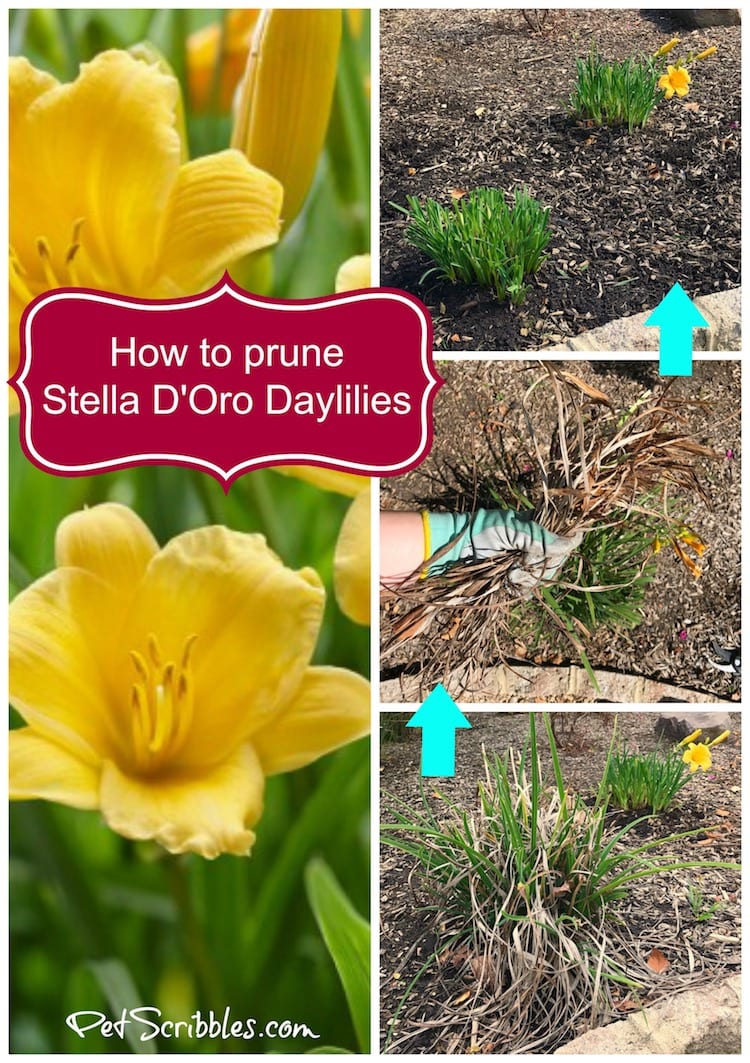 How about you?
Do you love your Stella D'Oro Daylilies?
Or does your affection wax and wane like mine does?
Happy gardening!
~Laura