The title says it all, so I'll get straight to the point: if you want an easy way to light up your late-Summer, early-Fall gardens, then plant some Fireworks Goldenrod!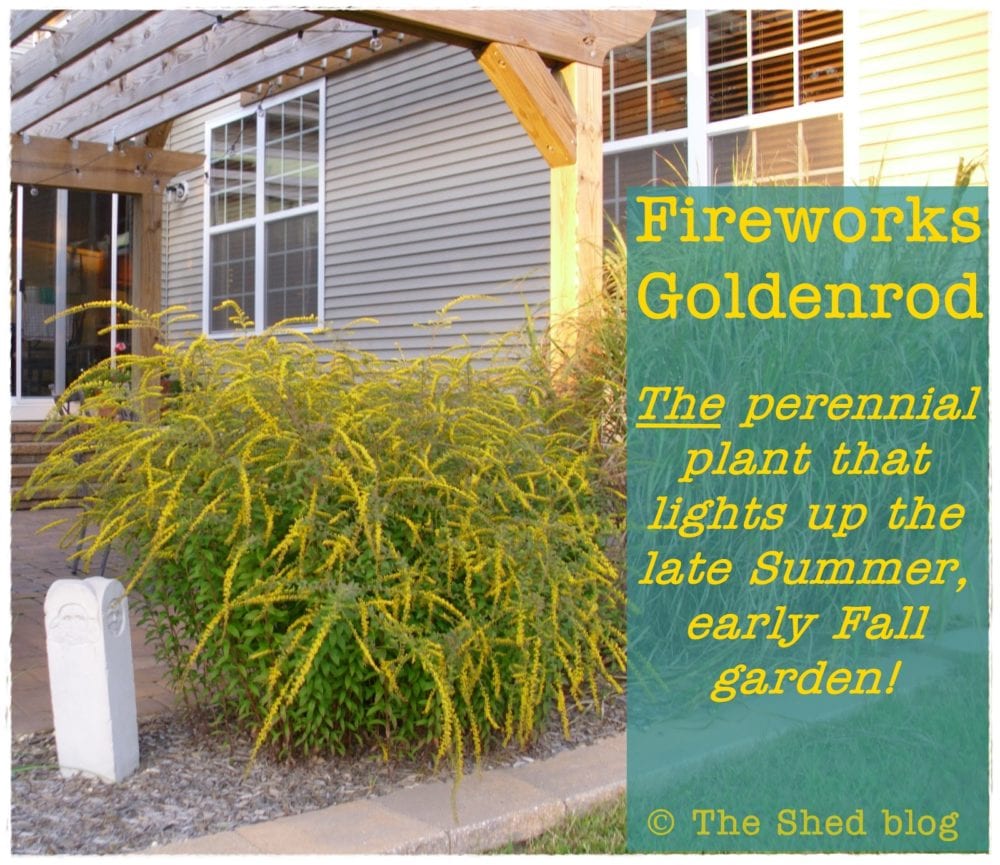 Plant it once, enjoy it for years to come. No fuss, no muss! And no matter how much the sun beats down on it, or how much heavy rain falls, Fireworks Goldenrod remains upright – so no mess either!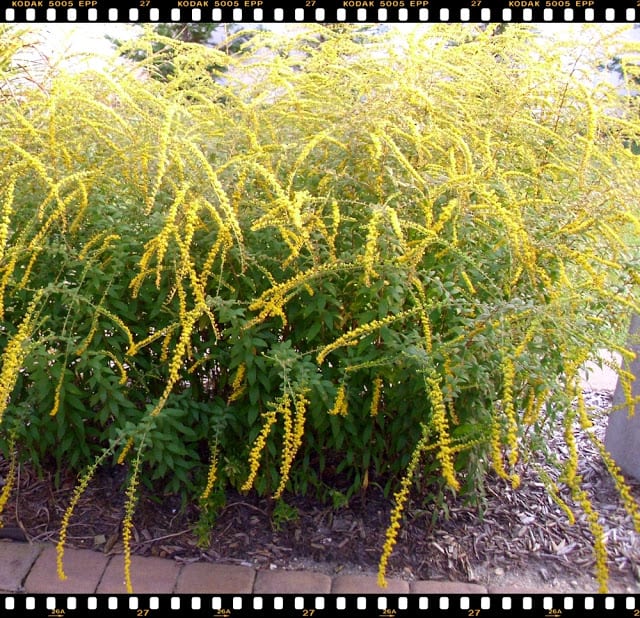 I love the brilliant yellow color!
There are many different types of Goldenrod, all of them very pretty, that can be found as wildflowers throughout the United States. I think the most beautiful of them all – and the most carefree – is the Fireworks species. Why?
Because Fireworks Goldenrod…
…is a perennial, so you only have to plant it once to enjoy the fireworks display each year.
…is an upright-growing plant and keeps its shape nicely. I've never had to prop the plant up, even after severe rains or winds.
…blooms in late Summer, and the yellow flowers shoot out like Fireworks, thus the name!
…flowers do not weigh the plant down, stands upright as you can see in the pictures.
…is not an aggressive spreader like other species of Goldenrod. New seedlings that pop up around the main plant can easily be removed or transplanted to another area.
…blooms when most other Summer plants are finished. The Fireworks species is a nice backdrop for other Fall-blooming flowers like Asters, Mums or Pansies.
…can handle Summer heat and humidity well, once established.
…has simple needs: it enjoys some organic fertilizer –

see my Fertilizer post here to learn what I use

– and an occasional drink of water. That's it.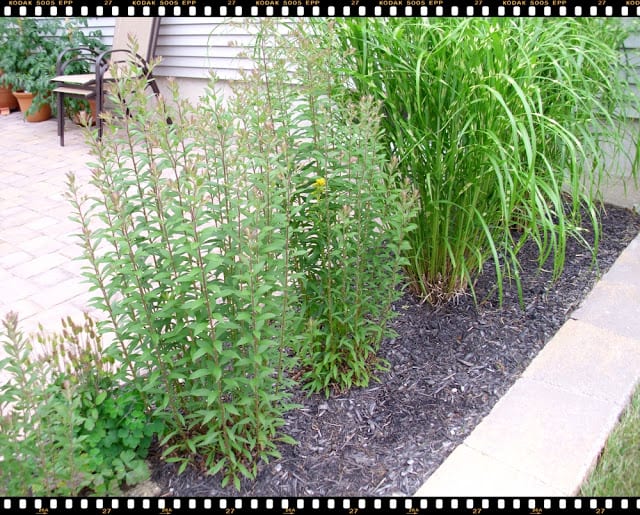 Fireworks Goldenrod, one year after planting, June 2010
Late-Fall, Winter, Spring and Summer details
Fireworks Goldenrod is not an evergreen perennial, so once its blooms are finished and the plant leaves have fallen to the ground, you can simply prune away all of the stems down to about an inch from the ground.
Once the Spring weather begins to warm up, you'll see the leaves forming at the base of the plant. I remove any leftover Winter debris from around the plant, loosen up the soil slightly, and provide fertilizer. (We always put a fresh layer of mulch down on all the garden beds each year too.)
All Summer, the Fireworks Goldenrod remains a nice upright plant, almost like a shrub if you have two or three plants growing together as we do. The green leaves are a nice background for all of the other Summer bloomers, as the plant waits its turn to put on a show.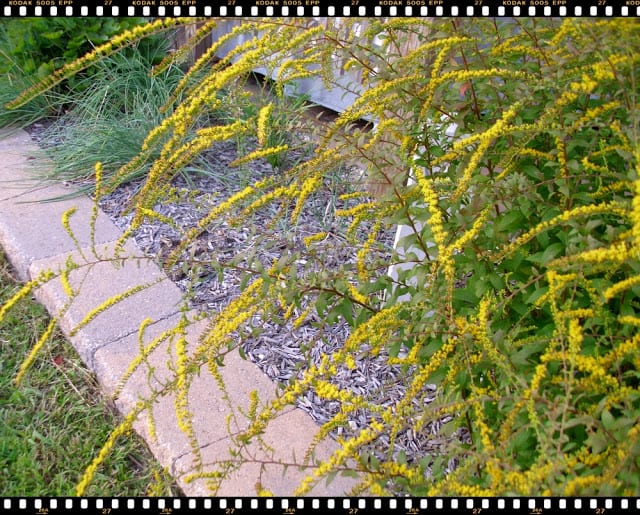 The flower stems arch forward slightly, providing a soft look to these bright yellow blooms!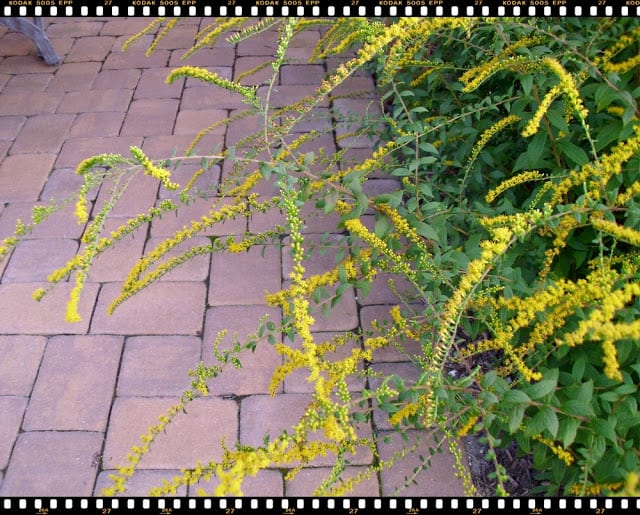 Same plant as above, with some of the flowers arching over the edge of the patio.
Fireworks Goldenrod Plant FAQs
Perennial in Zones 4 – 8
Likes full sun and average soil
Likes some water in the heat of the Summer
Upright growth, on average between 3 and 4 feet tall
Not an aggressive spreader like other species of Goldenrod
Enjoyed by bees, butterflies and hummingbirds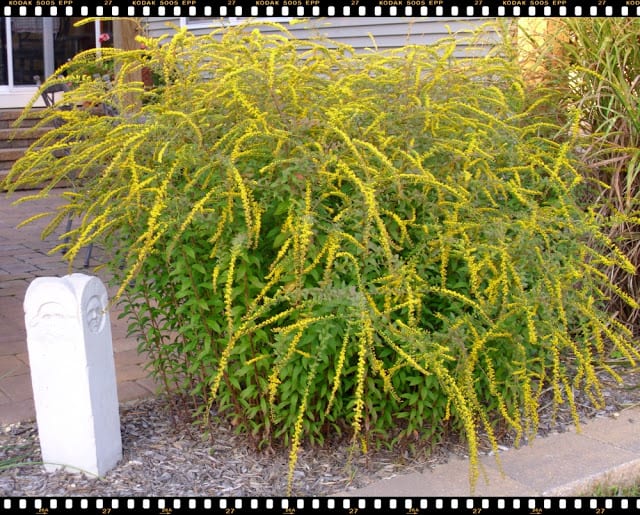 Looks just like fireworks, right?
Because you were curious what this was! We have two of these stone garden finials that depict the weather.
Here you see the wind on the left, and the man in the moon on the right.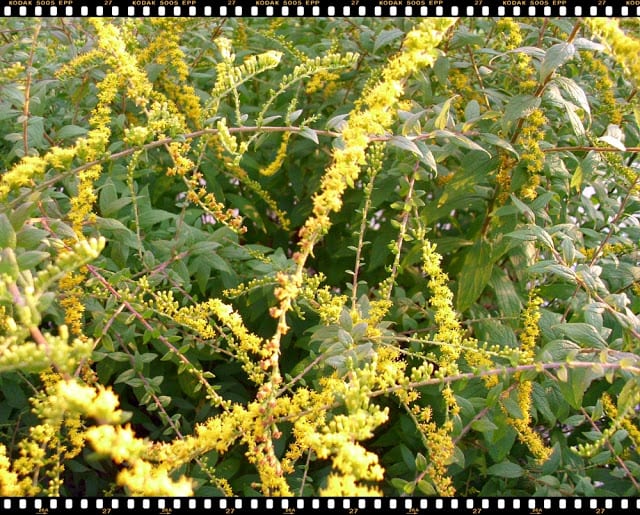 Extreme closeup of the Fireworks blooms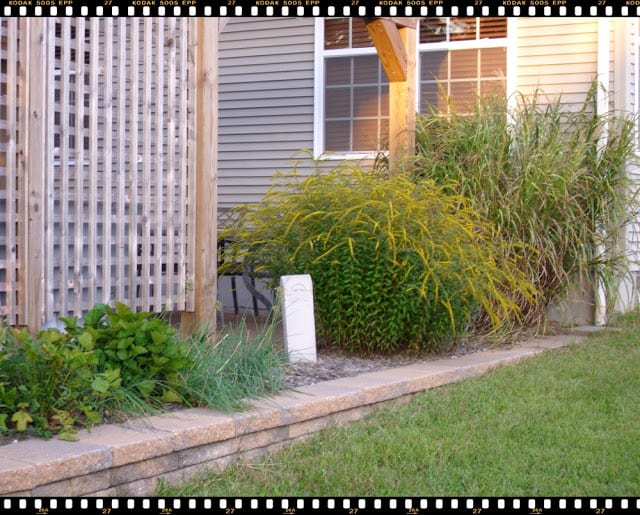 The same heavy rains that did a number on our Zebra Grass (to the right of
the Fireworks Goldenrod) didn't do any bit of damage whatsoever to the Goldenrod.
One more thing: Goldenrod – in all forms – is often blamed for causing hay fever and allergies. This is not true. The real culprit is Ragweed which blooms at the same time. I have allergies and can put my face right into the middle of this plant and nothing happens. Not that I'd ever do that, as that would be strange…but I've been up close and personal with this plant and never had any allergies crop up because of it!
So what do you think? Will you give Fireworks Goldenrod a try? Do you have any Goldenrod species growing wild in your area? Let me know your thoughts in the comments!
~Laura