Fireworks Goldenrod is an easy-care perennial with yellow flower spikes that shoot out just like fireworks! Perfect late Summer and Fall garden flowers! Bees and butterflies love it too!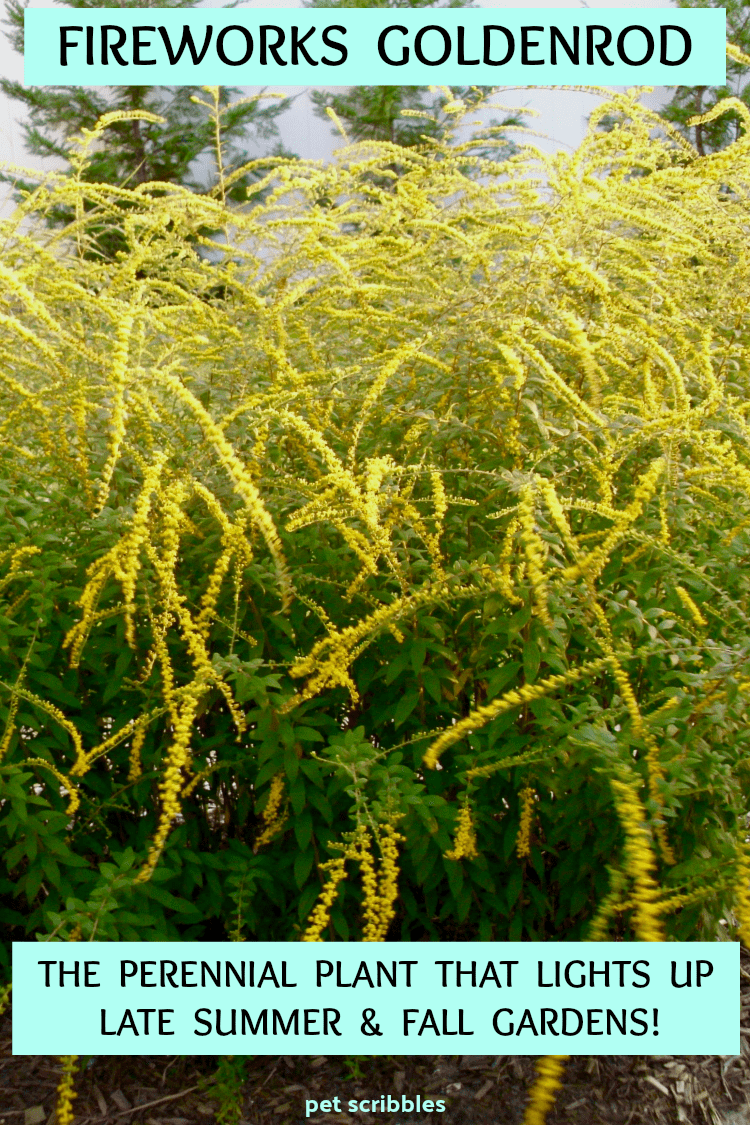 The title says it all, so I'll get straight to the point: if you want an easy way to light up your late-Summer and Fall gardens, then plant some Fireworks Goldenrod!
Plant it once, enjoy it for years to come. No fuss, no muss! And no matter how much the sun beats down on it, or how much heavy rain falls, Fireworks Goldenrod remains upright — so no mess either!
FTC Disclaimer: Some of the links in this post are Amazon affiliate links. I explain more here.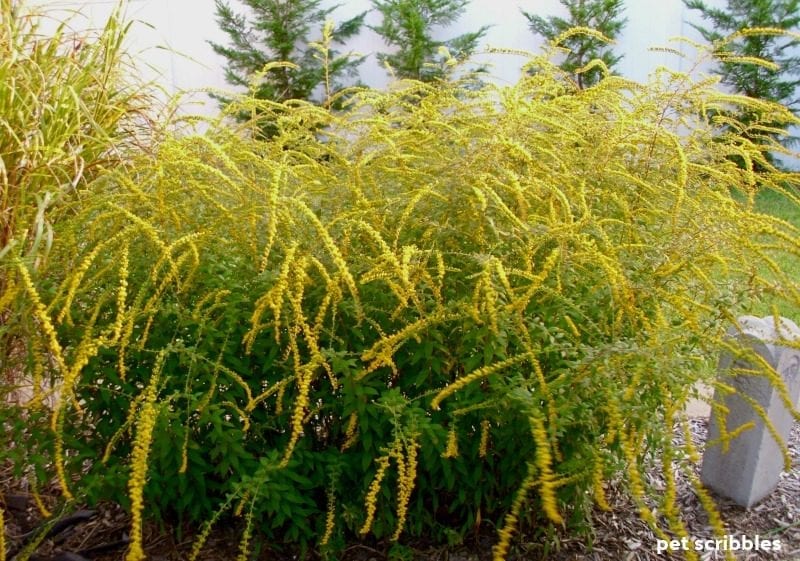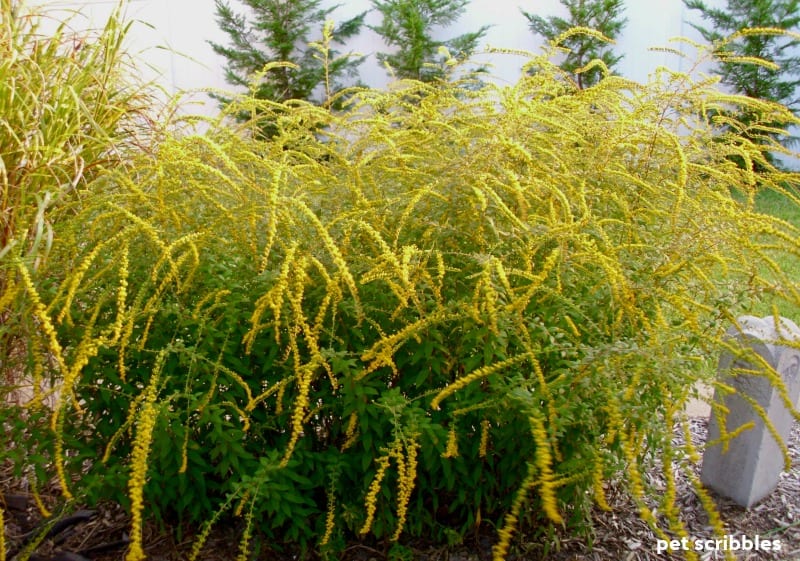 Why plant Fireworks Goldenrod?
Fireworks Goldenrod is a low-maintenance, easy-care perennial plant, native throughout most of the United States.
In the Summer, its upright green stems are a great background to colorful garden flowers. You don't even have to think about this plant, it just hangs out and helps show off your Summer blooms.
Beginning in late Summer, the fireworks literally begin with its bright yellow flowers.
This species of goldenrod looks great as a featured plant but is a nice backdrop for other Fall-blooming flowers as well, such as Asters, Mums and Pansies.
The beautiful arching flower spikes are wonderful as cut flowers, although I prefer to enjoy their beauty outdoors.
Bees, butterflies and hummingbirds adore this perennial, while deer avoid it.
Goldenrod does not cause hay fever
Goldenrod — in all its forms — is often blamed for causing hay fever and allergies. This is not true. The real culprit is Ragweed which blooms at the same time as Goldenrod.
I have allergies and could put my face right into the middle of Goldenrod and nothing would happen. Not that I'd ever do that, as that would be strange! But I've been up close and personal with this plant and never had any allergies crop up because of it.
If you're not completely familiar with Ragweed and how to identify it, this article from The Spruce has helpful facts and photos.
Fireworks Goldenrod Plant FAQs
Flowers
The main flower color is yellow, like a bright mustard color. The flower stems arch forward slightly, and these arching spikes can grow up to 18 inches long.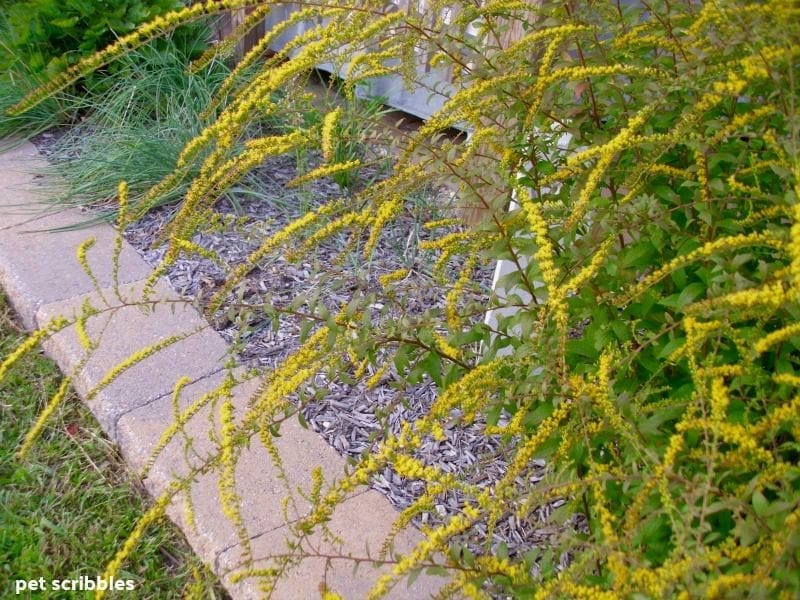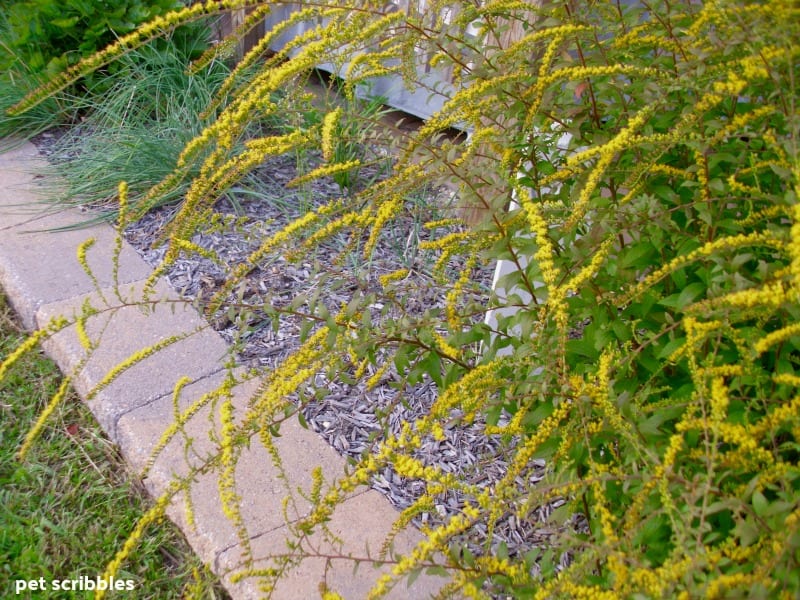 The blooming flower stems shoot out in all directions, and provide a soft look to this perennial plant.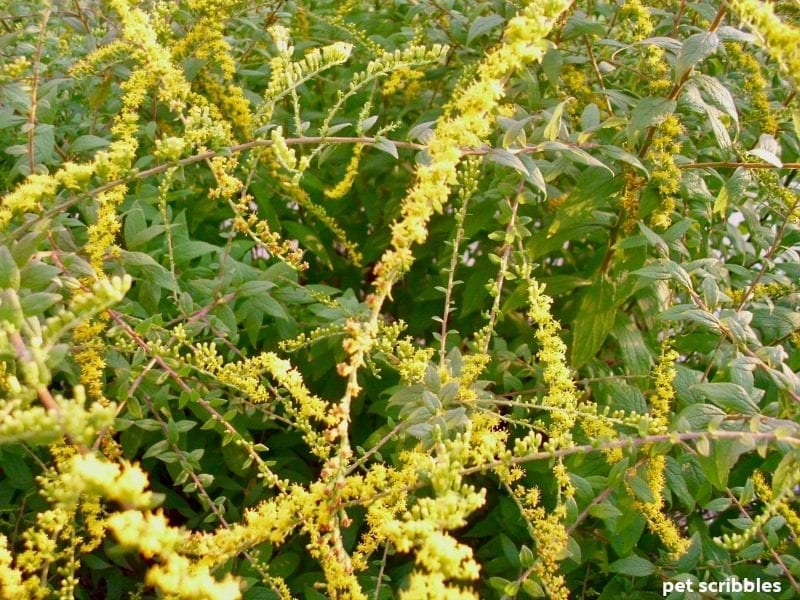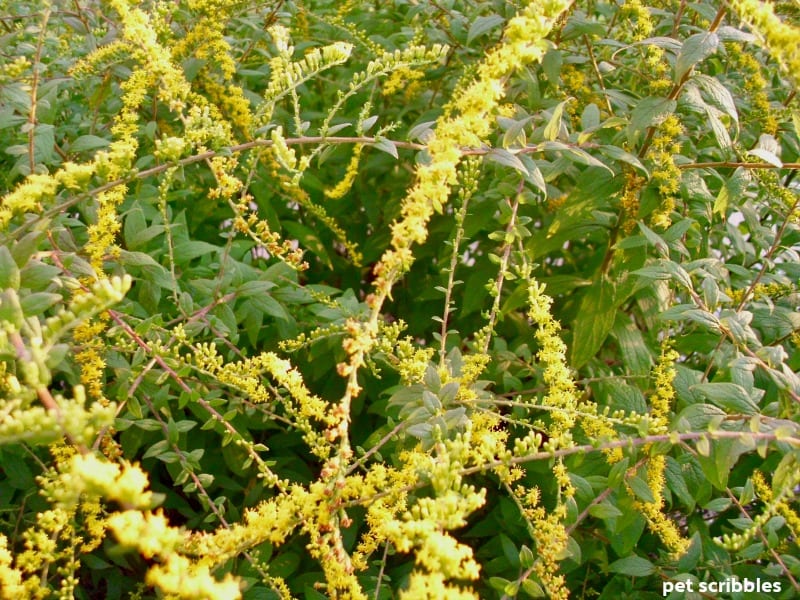 The flowers of Fireworks Goldenrod cover the plant yet don't weigh the plant down at all. When the flowers are in full bloom, they look like exploding fireworks, thus the name.
Plant Size
Fireworks Goldenrod is an upright-growing plant and keeps its shape nicely year after year.
Its average size is between 3 to 4 feet high, and 2 to 3 feet wide.
Unlike some species of Goldenrod, this variety is not an aggressive spreader. New seedlings that pop up around the main plant can easily be removed or transplanted to another area.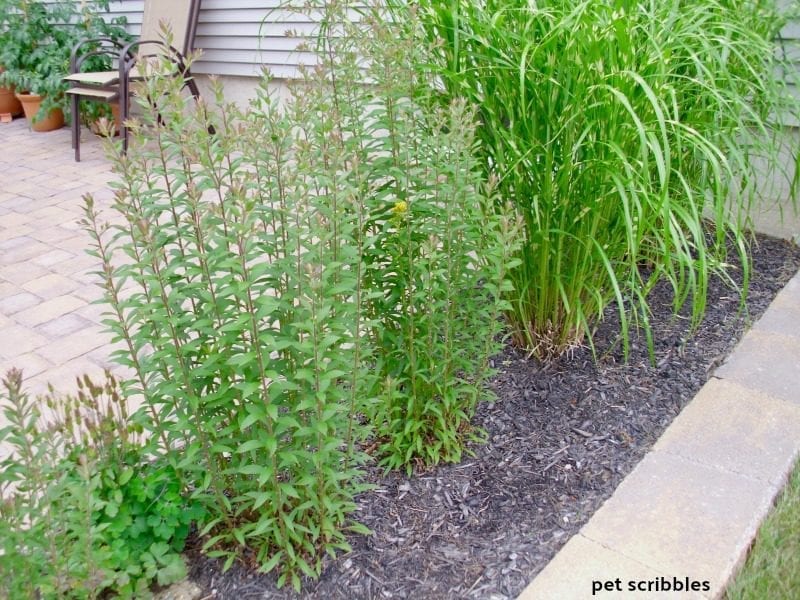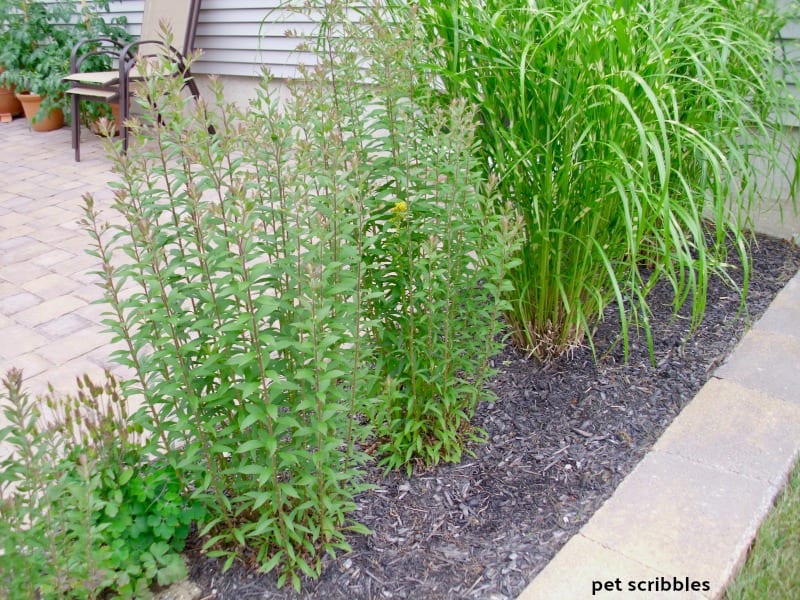 The stems are sturdy on this perennial shrub. I've never had to prop the plant up, even after severe rains or winds. The stems remain upright.
The same heavy rains that did a number on our Zebra Grass (to the right of the Fireworks Goldenrod, below) didn't do any damage whatsoever to the Goldenrod.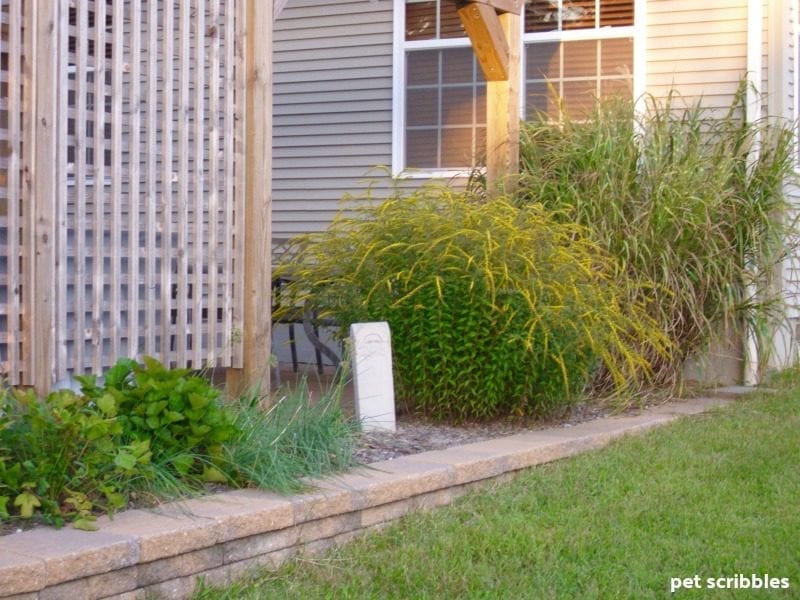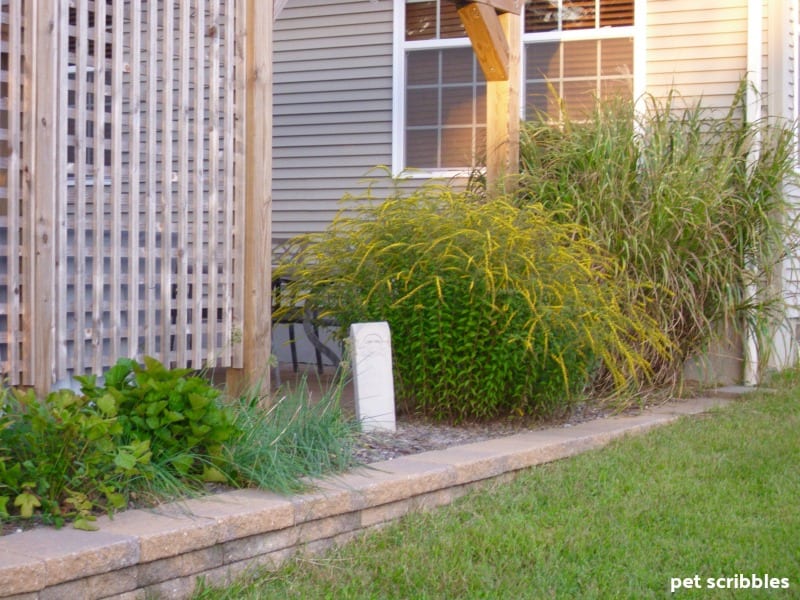 Bloom Time for Fireworks Goldenrod
Depending on your gardening zone, Fireworks Goldenrod can bloom from August to October. It begins blooming in late Summer, when the yellow flowers shoot out like fireworks.
This plant truly glows in the garden at a time when many other Summer plants are finished.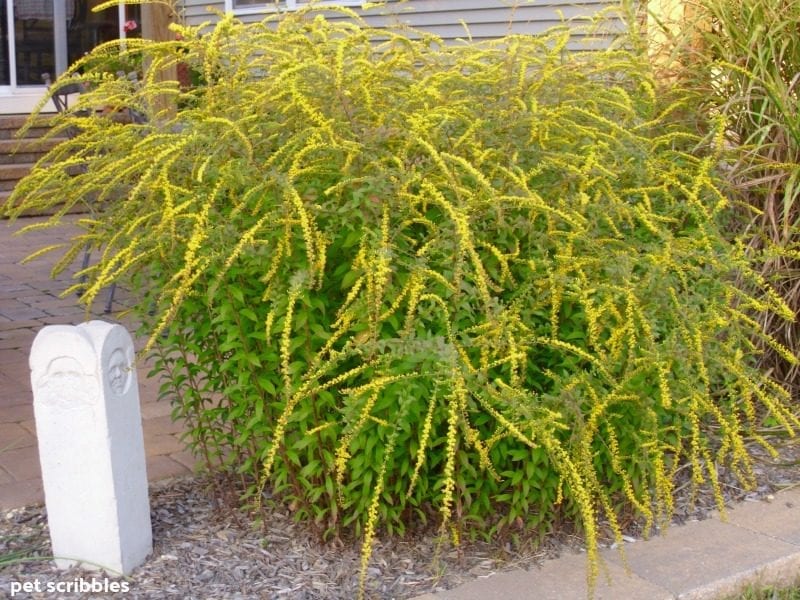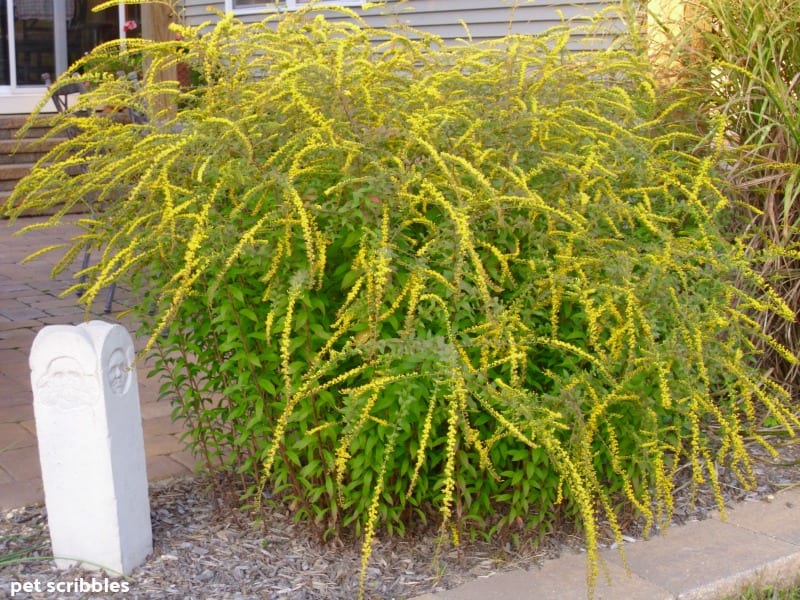 As seen in the image above, we have two stone garden finials that depict the weather. In the image below, you see the wind on the left, and the man in the moon on the right. I love how they look!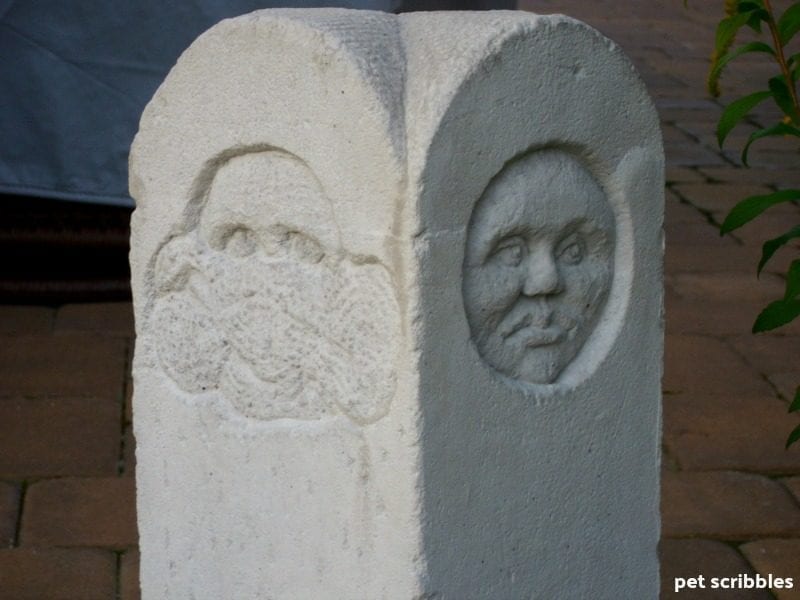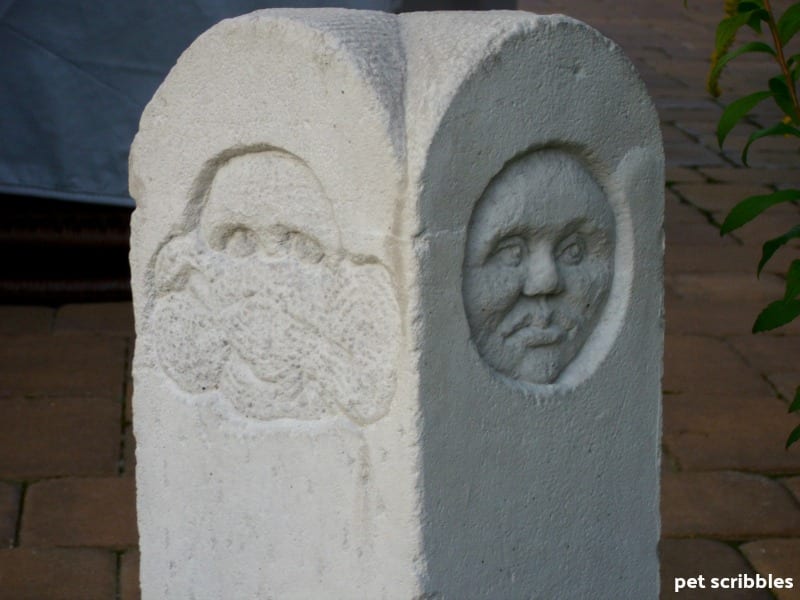 Zone
This late-Summer flowering shrub is considered a perennial in Zones 4-9. Because it is a perennial, you only have to plant it once to enjoy the fireworks display each year.
Sun
Fireworks Goldenrod prefers full sun. Once established, this perennial handles Summer heat and humidity well.
Water and Soil
Being an easy-care perennial, the only requirements of this goldenrod is average soil and some water during the heat of the Summer. Avoid overly rich soils — this perennial doesn't need much help to shine. We sprinkle some organic fertilizer around the base of the plant in the Spring and that's it.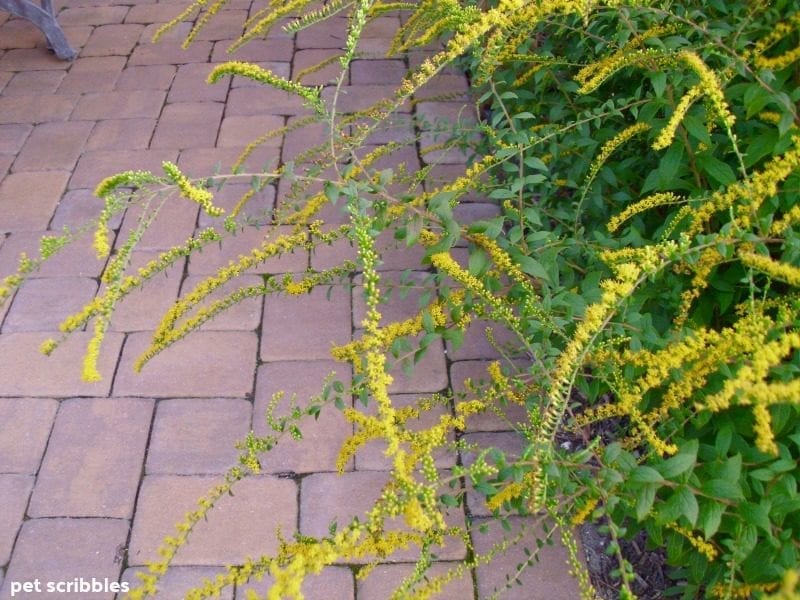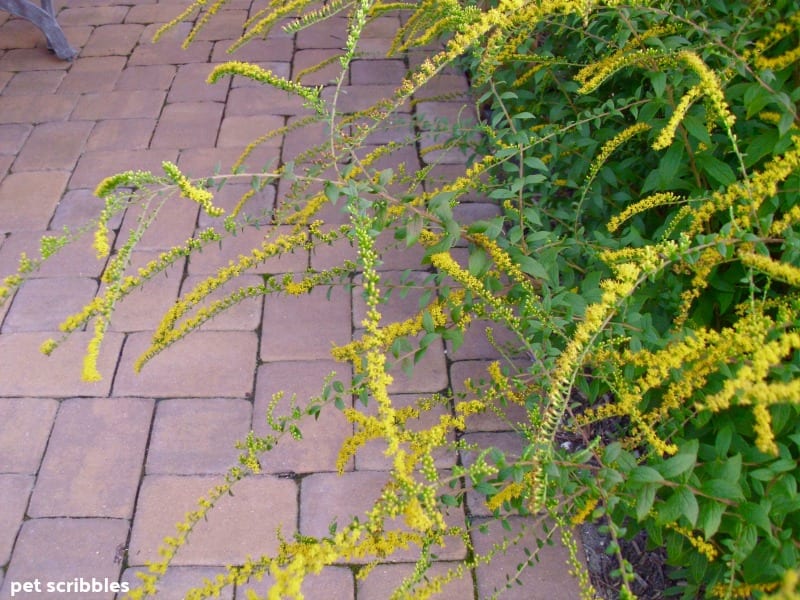 Helpful tip: During the first full growing season, water regularly to help the plant get established.
Fireworks Goldenrod is tolerant of wet soils and clay soils, and also tolerant of hot dry sites once established.
Planting and Spacing
Plant Fireworks Goldenrod either in the Spring or the Fall.
Spring planting: after frost
Fall planting: early enough for roots to get established
If planting multiple plants, space them at least 12 inches apart.
Goldenrod planted in the Spring will produce flowers its first season.
How to plant:
Dig a planting hole only as deep as the plant's container.
Dig the hole a bit wider than the sides [of the container].

Periodically check your work by simply placing the container into the planting hole to see how high or low the plant is. Adjust accordingly with more or less soil.

Place the plant into the hole and fill in the sides with more soil.
As you fill in the sides with more soil, add in some organic, slow-release fertilizer.

I use Plant Tone by Espoma.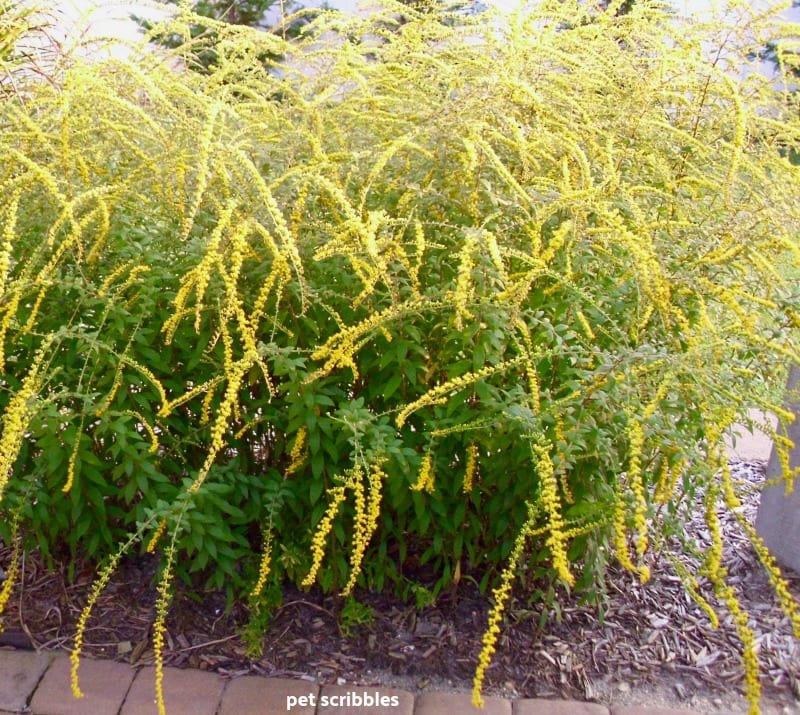 Pruning and Dividing Fireworks Goldenrod
Pruning — end of season
Fireworks Goldenrod is not an evergreen perennial, so once its blooms are finished and the plant leaves have fallen to the ground, you can simply prune away all of the stems down to about an inch from the ground.
I like to leave a tiny bit of the stems sticking out of the ground, just to remember exactly where the plants are in early Spring when everything begins to wake up.
Some gardeners like to keep the brown stems for Winter interest, especially if the dried flowers stay on the plant. I love keeping plants like this during the Winter months, however my own experience is that the first snow storm usually smashes them up.
Pruning — for size and shape
If you want more compact and bushy plants, you can cut Fireworks Goldenrod back by half its size in June. You'll have more branches resulting in a bushier plant.
Dividing
If desired, you can easily divide Fireworks Goldenrod in the Spring to make more plants. Wait until the plants are two or three years old before dividing.
Is Fireworks Goldenrod deer resistant?
Yes, it is deer resistant — but keep in mind that deer will try anything if they're hungry enough.
Fireworks Goldenrod from late Fall through the Summer
Fall and Winter
As mentioned earlier, Fireworks Goldenrod can bloom from August to October, depending upon your location. Once the flowers are finished, the plant dies back. Pruning is usually done at this time. There is no Winter interest, unless the dried flower stems stay on the plant.
Spring
Once the Spring weather begins to warm up, the leaves and stems begin forming at the base of the plant. Remove any leftover Winter debris from around the plant, loosen up the soil slightly, and provide a slow-release organic fertilizer around the plants. Add a fresh layer of mulch if needed.
Summer
All Summer, Fireworks Goldenrod remains a nice upright plant, almost like a shrub if you have two or three plants growing together as we do: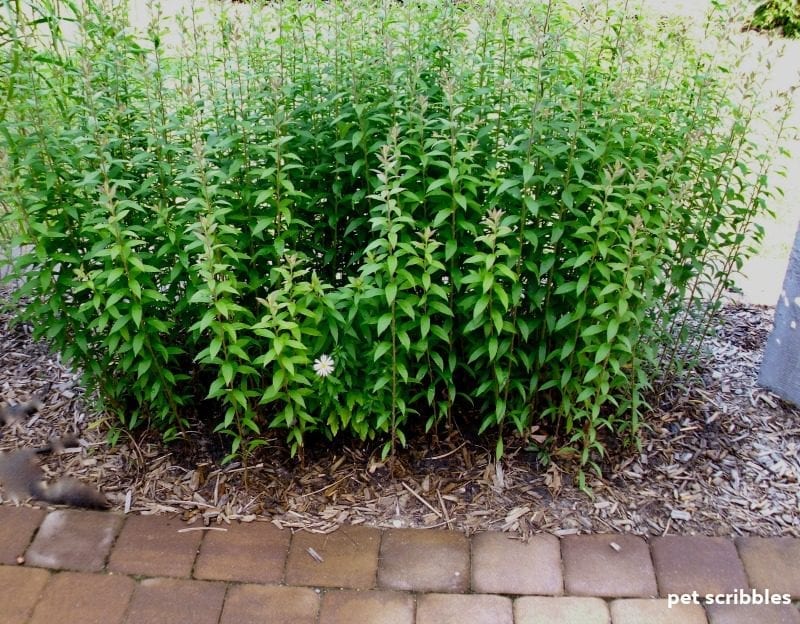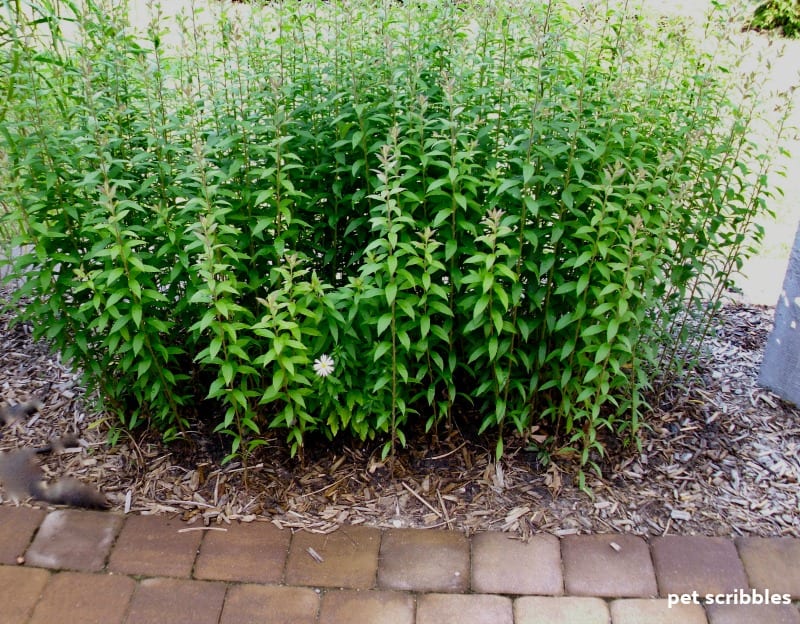 The green leaves provide a nice background for Summer flowers, as this late-Summer perennial waits its turn to put on a show. Once August arrives, you will enjoy the stunning yellow color!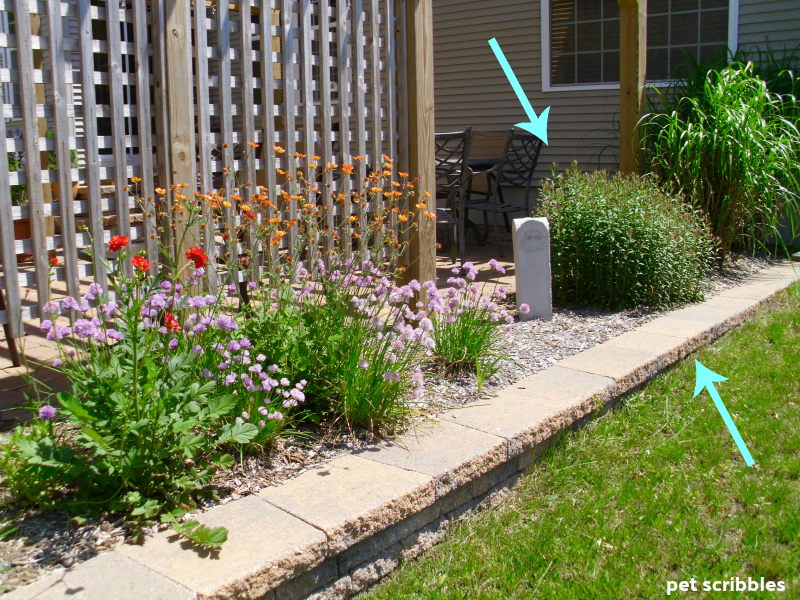 The pretty red and orange flowers you see in the photo above are called Geum. Read all about these easy-to-grow perennials in my post: Geum Perennial Flowers for your Garden.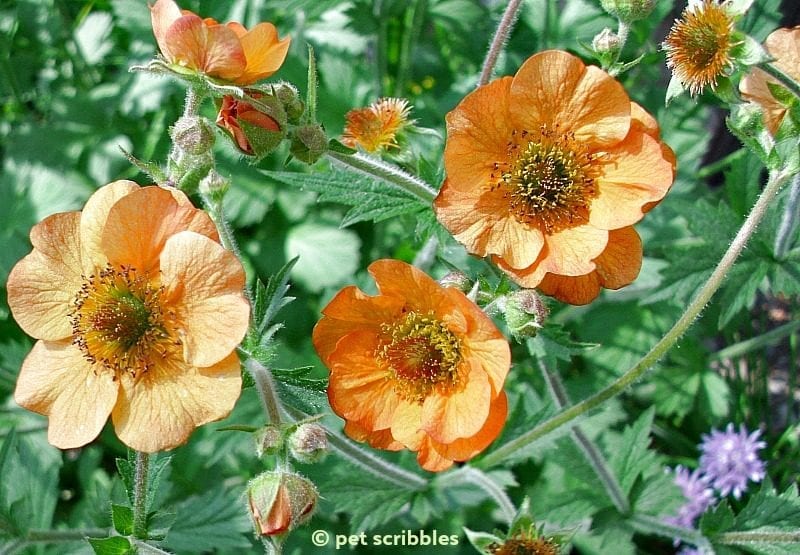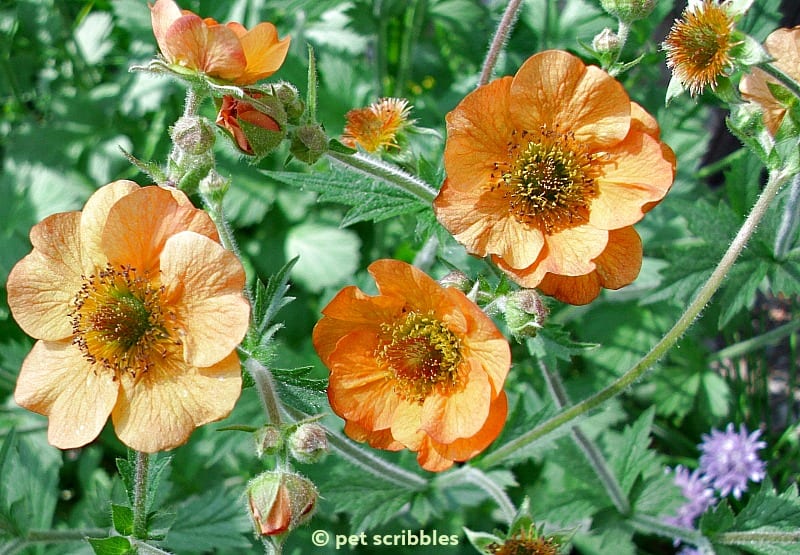 ---
---
So what do you think?
Will you add some fireworks to your garden this year?
Let me know your thoughts in the comments!
Happy gardening!