Blue Star Juniper is an easy to grow small evergreen shrub with stunning blue-green garden color. Learn more including companion plant ideas in this helpful guide.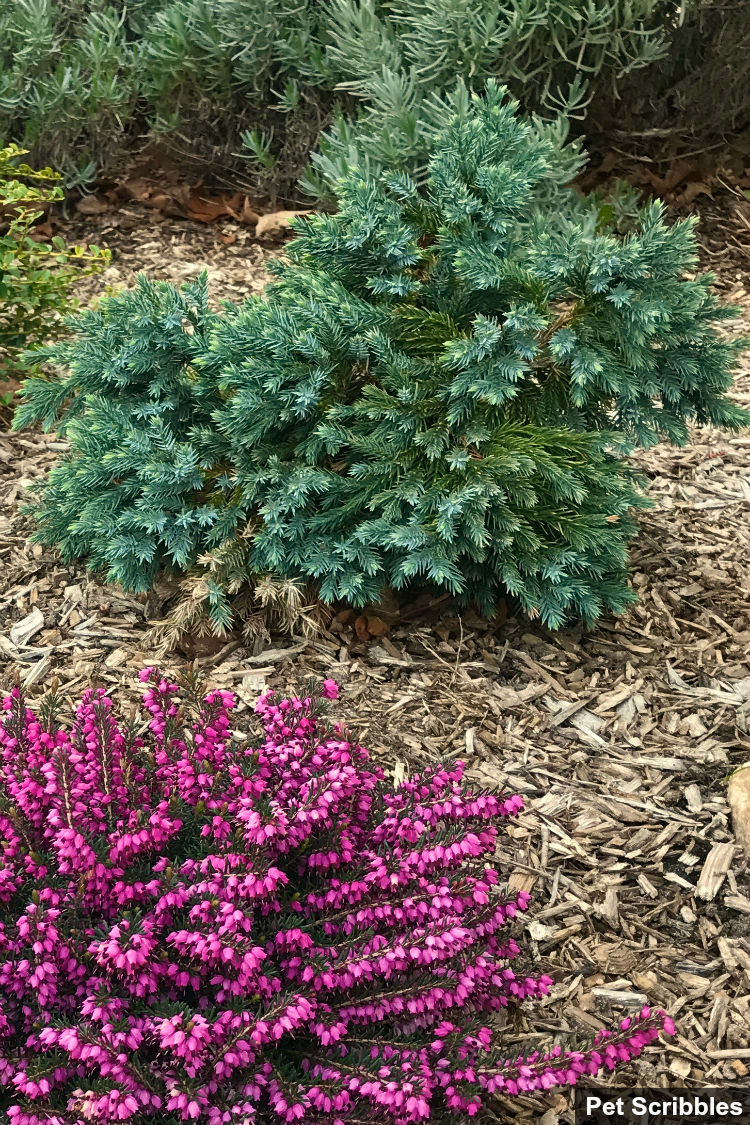 Don't knock the small size of Blue Star Junipers. Their striking blue color makes up for their short height. An evergreen that's blue? Yes please!
What is a Blue Star Juniper?
Blue Star Juniper — Juniperus Squamata 'Blue Star' — is a member of the Cypress family.
It is a small evergreen shrub — some consider it a dwarf shrub — native to the Himalayas, Afghanistan and western China.
The main features to note are a natural mounded habit, semi-sharp needles which are densely packed, and outstanding blue color.
The name comes from the needles at the very top of the plant which supposedly resemble stars.
I say "supposedly" because I had to look super close to find some, which I circled below.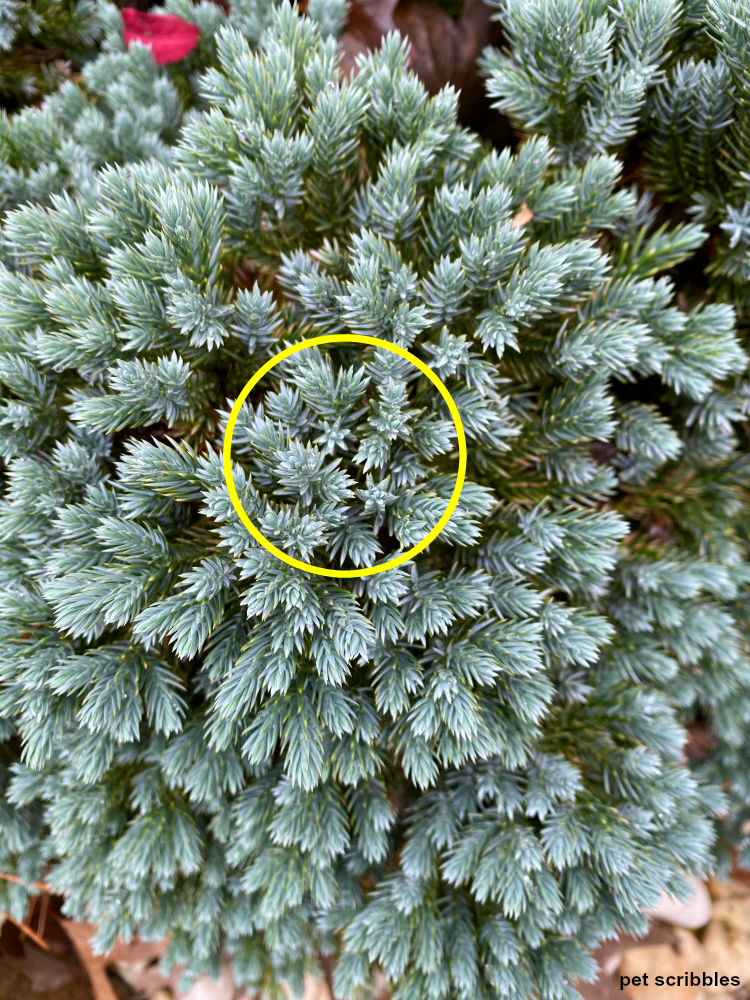 Why you want Blue Star Juniper in your garden
While some gardeners might think this shrub is boring or overused, it really can't be beat for an easy-care evergreen that works for you year-round.
If you want…
a well behaved shrub
easy to get established
low maintenance
stunning blue landscape color
evergreen
Winter interest
…then you want a Blue Star Juniper (or two or three) in your garden.
Stunning blue color
The blue color of Blue Star Juniper changes a bit throughout the year. Sometimes it has more of a silvery blue color in the cold Winter, while in the Summer the color is a solid blue with a hint of green, and some describe it as a blue-green shade.
But no matter how its color slightly changes, it remains an overall blue shade of evergreen that you can rely on in your landscape.
Here is the shrub in the Fall . . .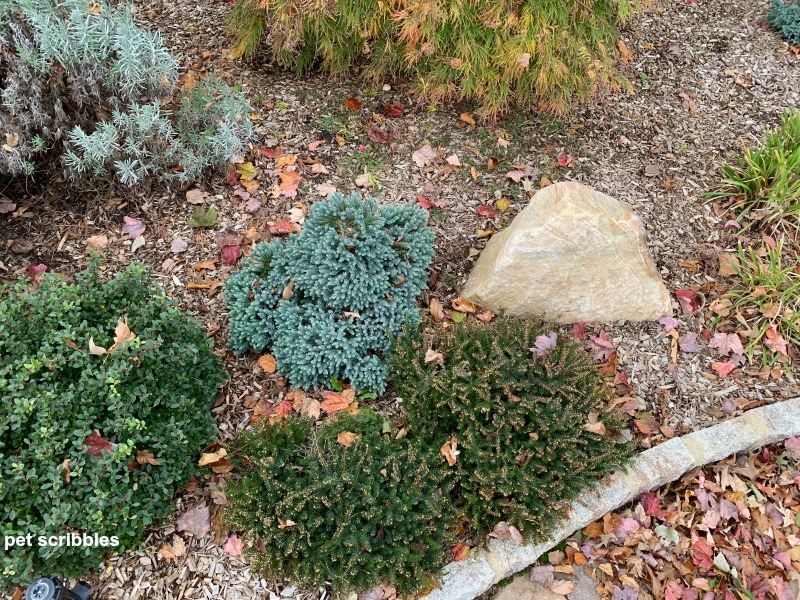 . . . and here is the same shrub the following Summer: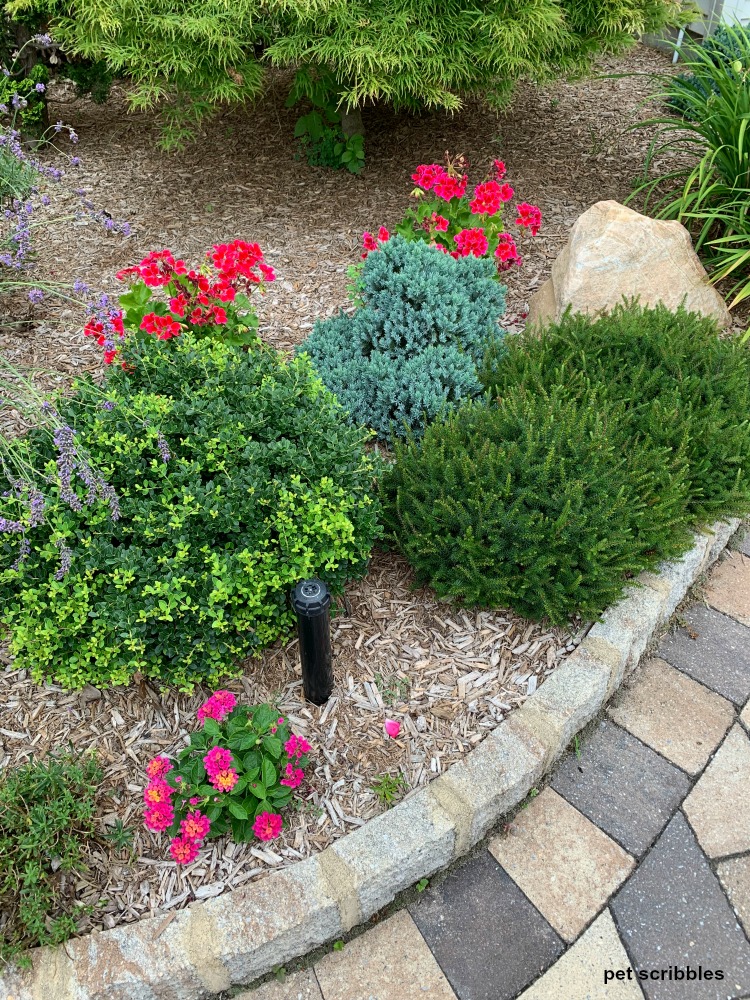 One of my favorite images of this particular Blue Star Juniper was by accident!
Last Fall, I was photographing the flower buds of Kramers Red Winter Heath up close. When I came back inside and looked at the photos, I noticed the amazing blue color peeking out behind the Heath.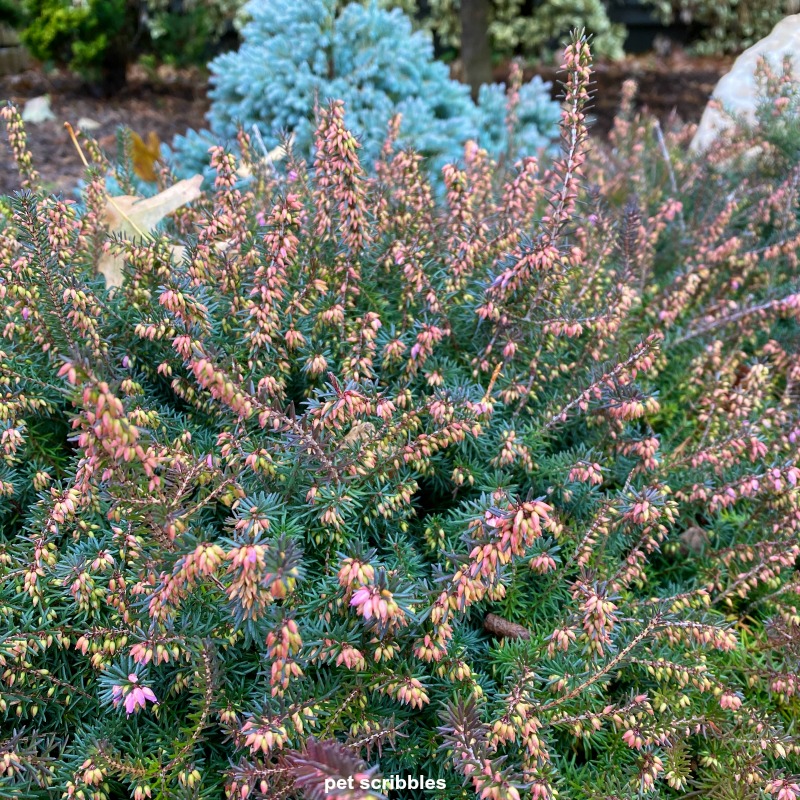 Like I said: stunning blue color!
How big does a Blue Star Juniper get?
A very slow grower, Blue Star Juniper eventually reaches a height of 2' to 3' tall with a spread of 3' to 4' wide. Sometimes the mature size can be a bit more for older shrubs.
The overall growth is mounded so you get interesting variations in shape. In general, the growth will appear to be wider than it is tall.
When you buy a Blue Star Juniper, it will usually be about 1 foot in height and width. Make sure to plant for its eventual mature size, even if that means having space around it for awhile until it fills out.
Helpful reminder: Always pay attention to a shrub's maximum height and width before planting. This avoids having to transplant and/or unnecessary pruning to keep a plant within its space.
Growing requirements
Blue Star Junipers don't do well in hot and humid conditions, according to several sources.
However, here in southern New Jersey near the coast, our weather is horribly hot and humid for part of every year and our Blue Stars are doing well.
Nonetheless, if you live in an area subject to high heat and humidity, consult your local plant nursery experts to see if it will indeed grow in your area. (A great nursery will sell plants that will do well in your specific locale and also be familiar with those plants that will struggle.)
Hardiness:
USDA Zones 4 — 8
Light:
Full sun
Soil:
Widely adaptable. Intolerant of wet soils.
I'm growing our shrubs in clay soil just fine.
Water:
Water regularly while getting established, especially during the first season and/or if your Summers are hot.
Considered drought-tolerant once established, it won't need as much water except during extreme heat.
Fertilizer:
Slow-release organic fertilizer in the early Spring. Compost is always good too. (See my post on how to improve your soil quality to see what I use.)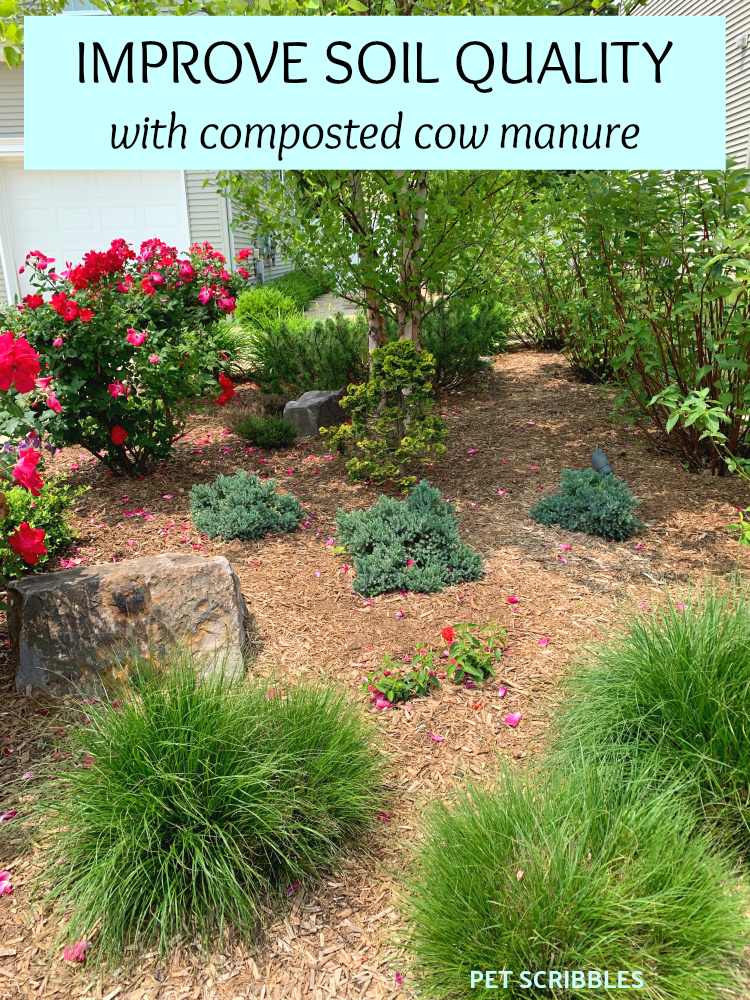 Deer, rabbits and pests
Blue Star Juniper is deer resistant and rabbit resistant.
This shrub isn't really bothered by any serious pests or diseases, although the shrub could be hit with aphids, scale, spider mites or leaf miners.
If needed, use an insecticidal soap spray following package directions.
Helpful tip: Use commercial sprays as opposed to making your own homemade spray. Homemade sprays are usually made with dish detergent which can damage plants. Even watered down dish detergent contains too much soap for plants to handle over time. Commercial soap sprays use a lot less soap but are still super effective.
Is Blue Star Juniper poisonous?
Yes. Technically, the berries, stems and needles are toxic, but just assume the entire plant is.
If you have pets that will be curious enough to nibble on your garden plants, please consult the internet to see which garden plants and shrubs are safe for your pets.
Planting and Pruning
How to plant a Blue Star Juniper
Dig a hole that is the same depth as the root ball or container, but also at least two times as wide. This allows plenty of room for the roots to spread out and develop.
If the roots are stuck, loosen them up gently with your fingers or a small garden tool like a hand weeder or garden trowel.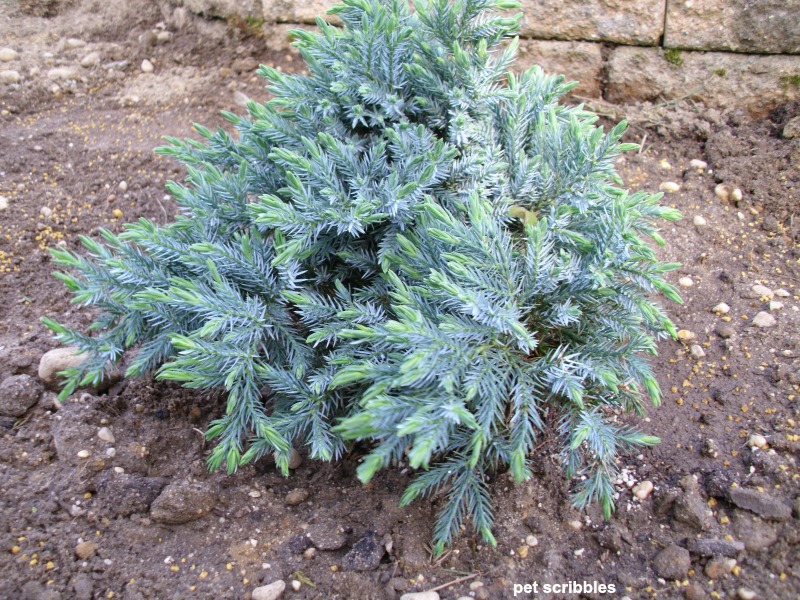 Place the shrub in the hole, and replace with soil you previously dug up. Pack the soil lightly — you don't want to tamp it all down or the roots will have no place to go — or rather grow.
Keep the soil at the base of the shrub — don't mound it up higher than the base.
Next, avoid putting mulch against the main stem.
Finally, give your shrub a good watering session to start it off right.
Can you prune a Blue Star Juniper?
No pruning is required for Blue Star Juniper. It is extremely slow growing, so should behave nicely where it is planted.
After a rainy and wet Spring, you might see some dieback at the stem tips, which can be snipped off with no harm to the plant.
If you need to remove a stem here or there, feel free to do so, but I like mine to grow naturally and see what interesting shapes develop.
Is your Blue Star Juniper turning brown?
On occasion, you may see a stem or small section turning grey or brown and dying.
And from time to time, if you look closely you will see some of the plant dying off at the base or underside of the shrub.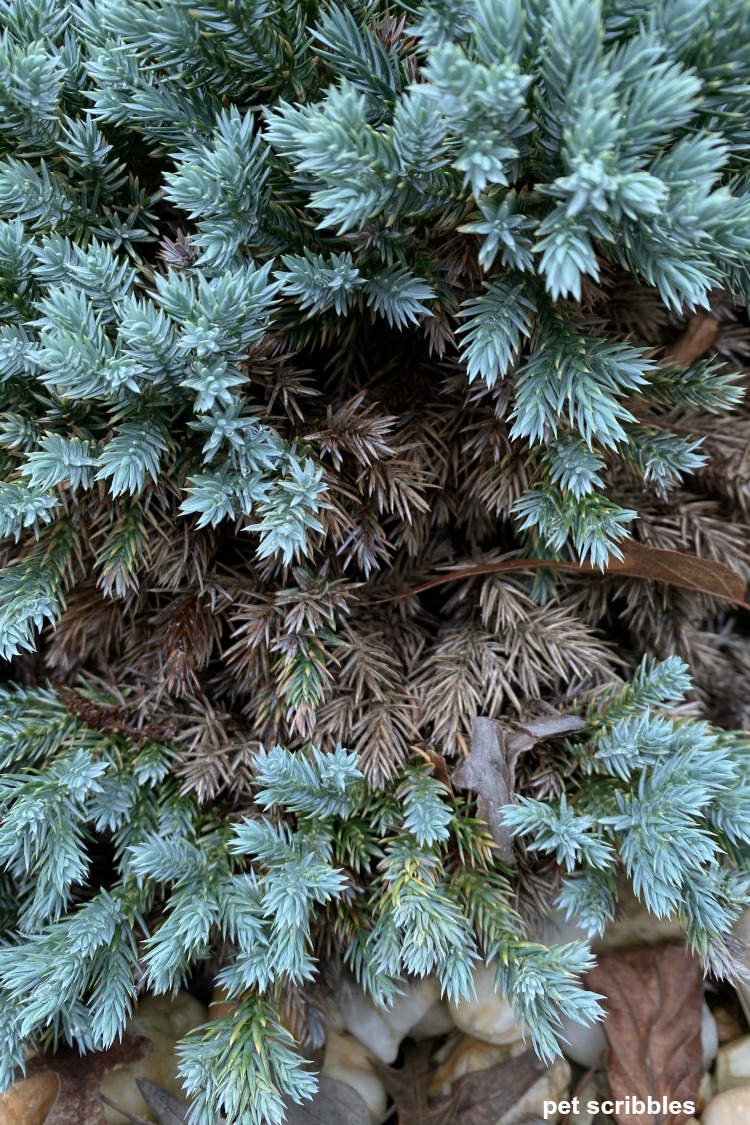 Neither of these things is anything to be worried about. It happens partly due to poor air circulation since the plant doesn't get much air moving underneath it.
Those dying stems usually pull off easily or simply use hand pruners. The needles are somewhat sharp so make sure to wear nitrile-coated garden gloves.
Blue Star Juniper landscaping ideas
Blue Star Juniper is often used as a low groundcover or specimen shrub.
The color adds so much year-round whether as an accent to other greenery or as a background to flowers. It plays well with similar foliage colors that have a blue-green color and contrasts nicely with bright greens too.
The shrub's size is great for small gardens, while in larger gardens it looks wonderful massed together.
Also noteworthy?
Blue Star Juniper…
can be used for erosion control on slopes
develops interesting texture and highs-lows as it grows
keeps its color for reliable Winter interest
In Winter, the strong needles and branches of Blue Star Juniper won't collapse under the weight of snow.
Rocks and gravel
Grow Blue Star Juniper near a large rock or boulder and over time it will spread along the side of the rock and slowly around it as well.
This small shrub looks great planted among gravel and rocks as well as near pavers and pathways.
Here's one of our shrubs planted among river rocks in our backyard landscaping, below a burning bush: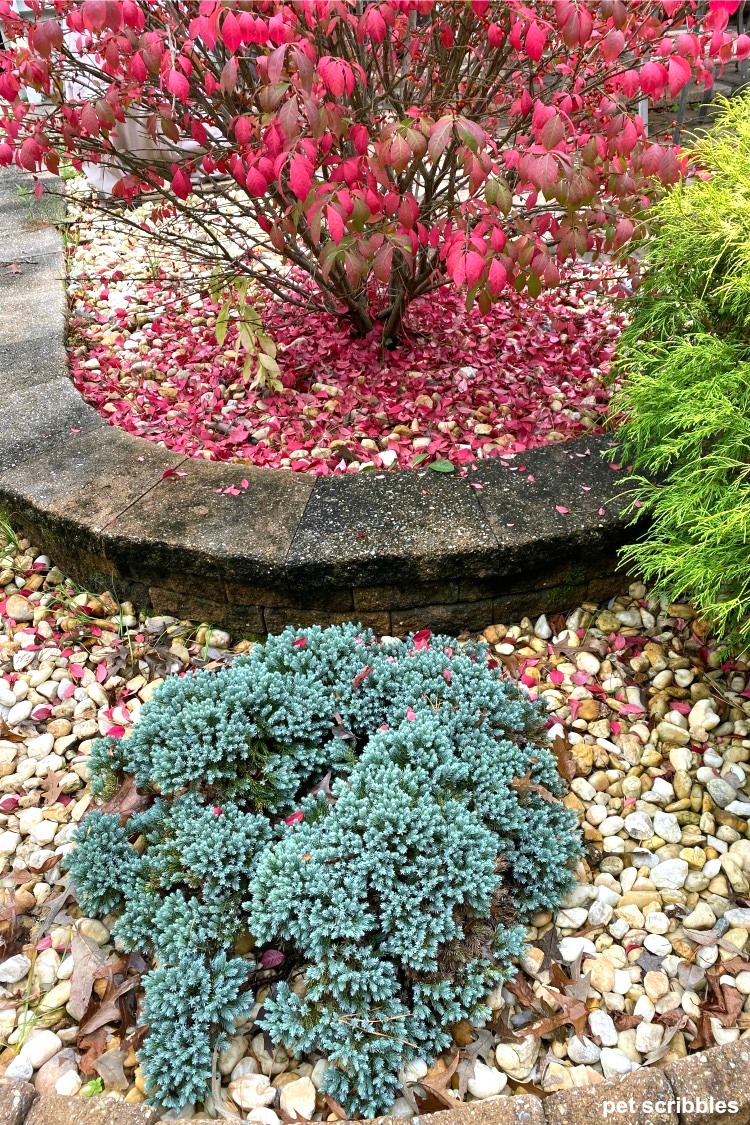 Look how the red leaves from the burning bush glow against the blue needles: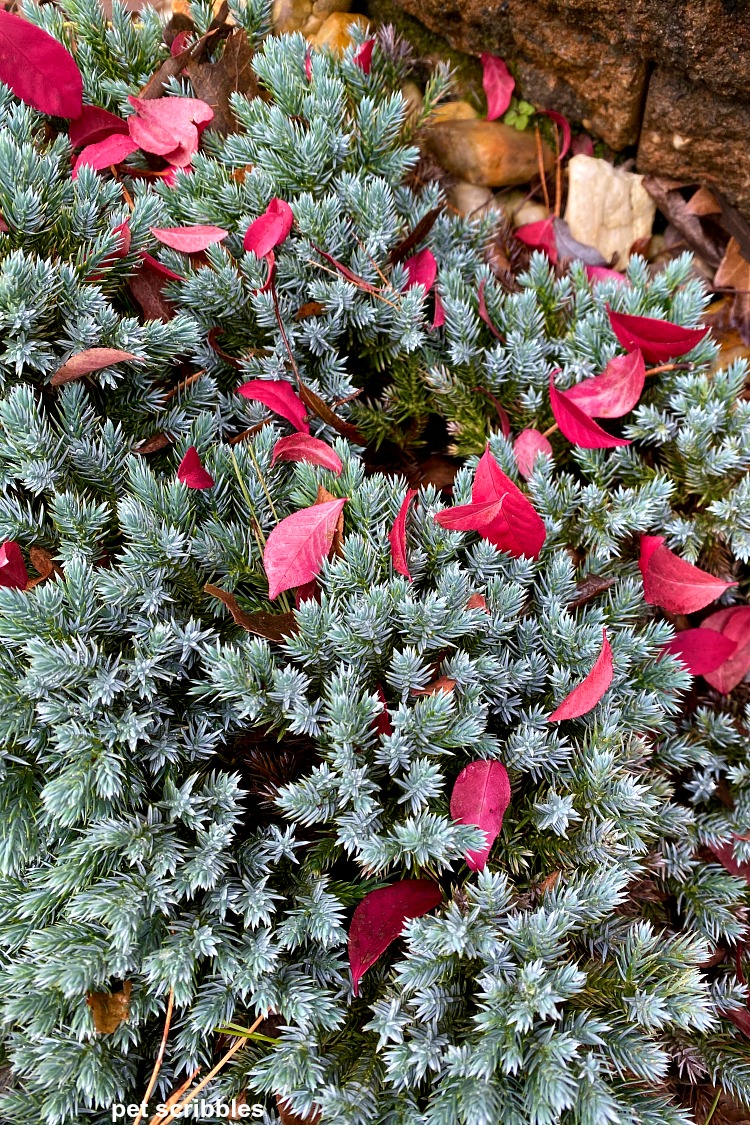 Front yard gardens
In our front yard, we have these shrubs in a few places throughout our landscaping.
Here is one of our beds in mid-May, after the Heath and Daffodils finished blooming. The various shades of blue and green look so happy together!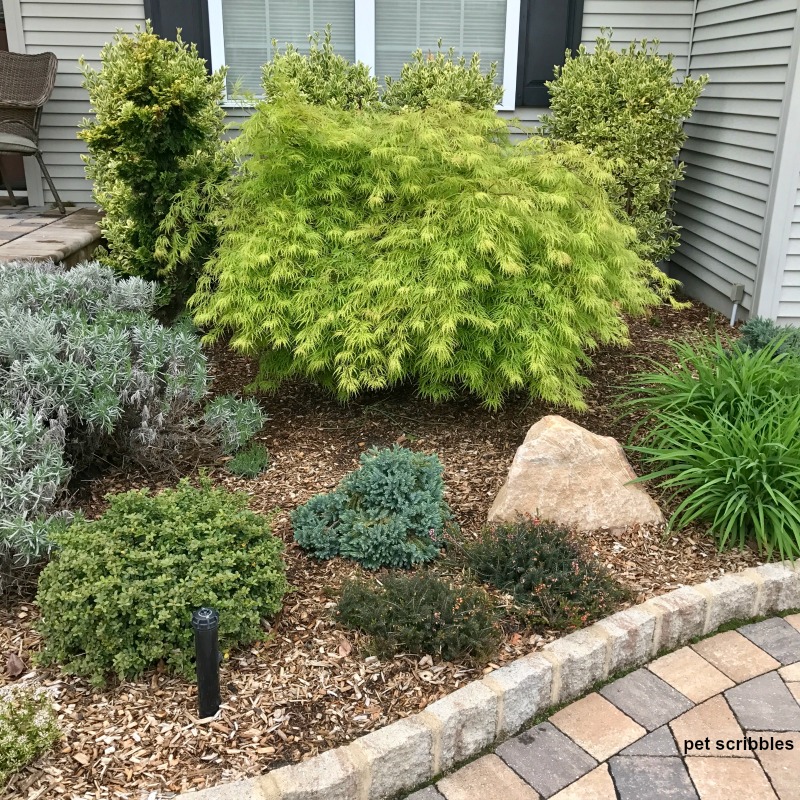 (Yes, they could probably use some flowers once the bulbs are done. I'm working on that!)
This same garden bed, in mid-Summer, with the Lavender Phenomenal blooming. That little blue shrub sure stands out!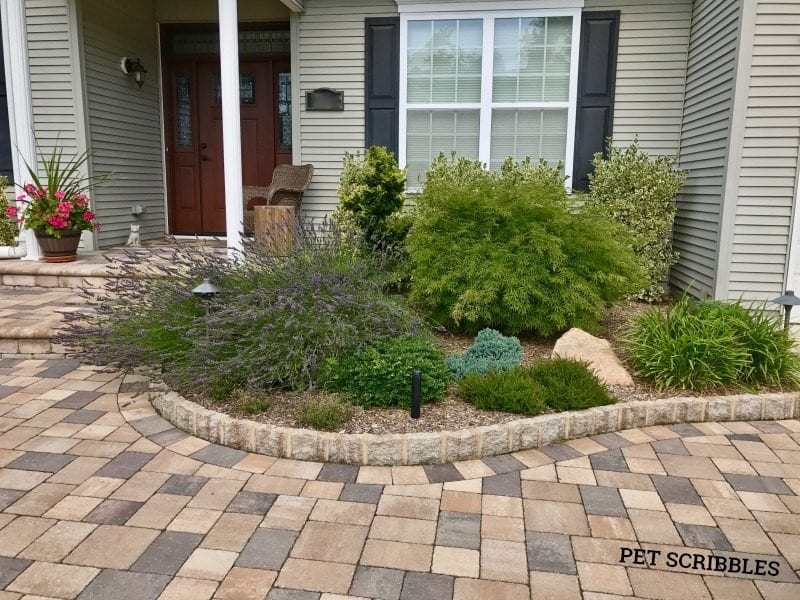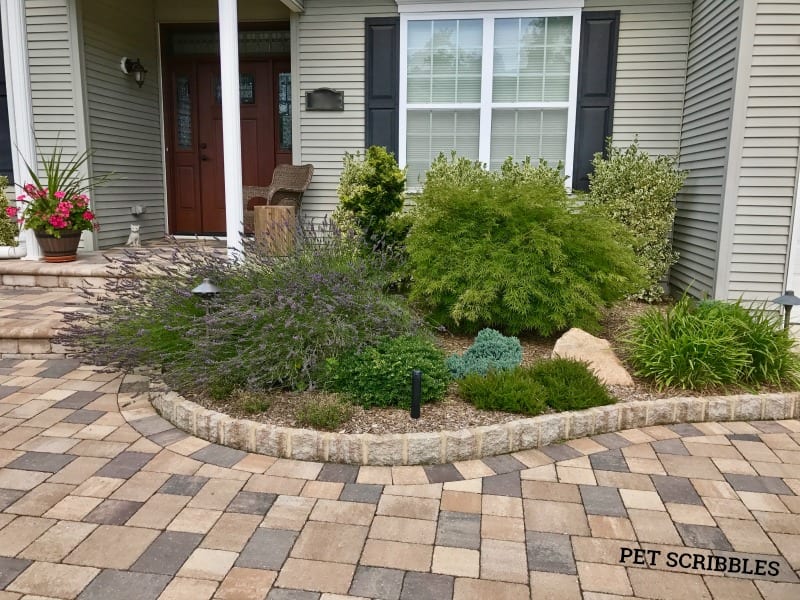 In another garden, we planted three of these in the space between our River Birch tree and small grasses.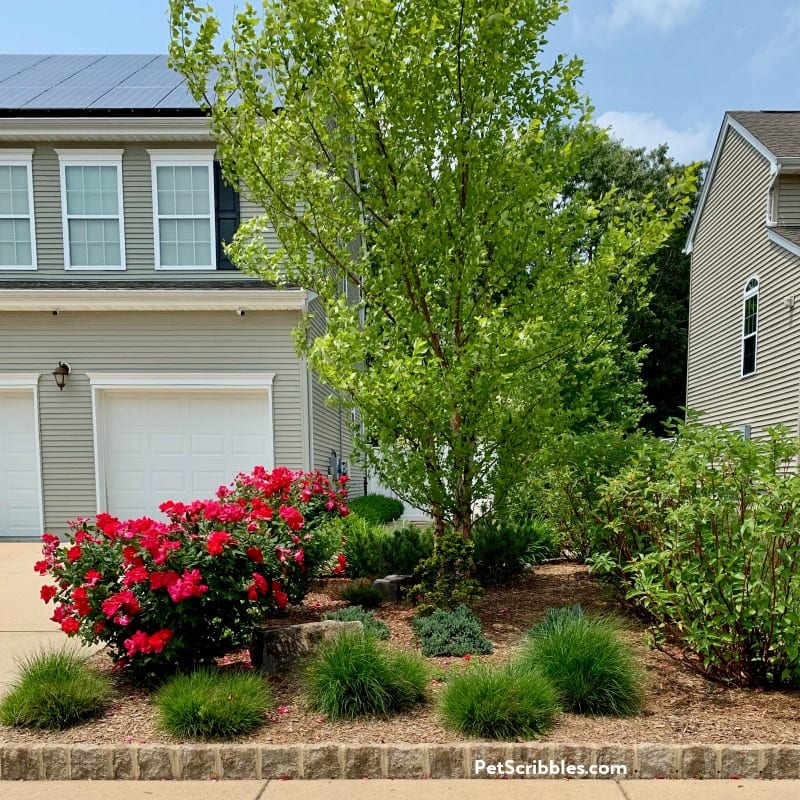 They are small now, but soon will grow a bit taller and wider filling in the space nicely.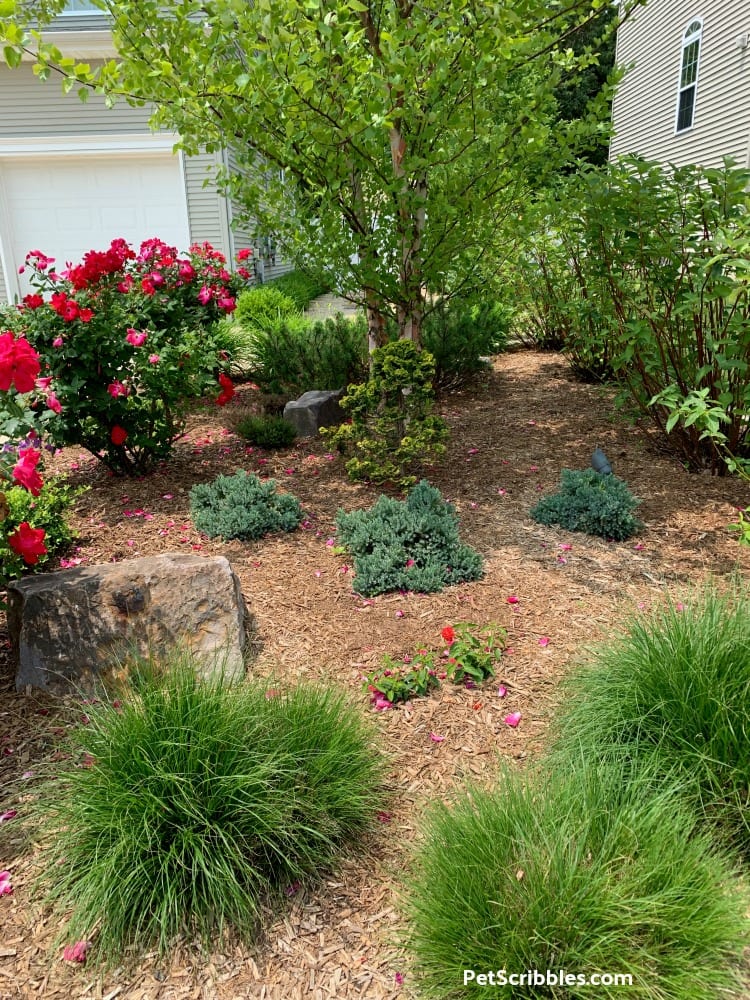 Containers work too!
Blue Star Juniper also does well in raised planters or large containers, mixed in with other plants. I suggest mixing with perennials, so you aren't disturbing the dirt when planting annuals each year.
Blue Star Juniper companion plants
There are several plants and shrubs that make wonderful companion plants for Blue Star Junipers, including Roses, Grasses, Barberry, Sedums, Yuccas and Hydrangeas.
Small evergreen shrubs like Heaths and Heathers as well as ground-hugging Junipers play nicely.
I enjoy this combination of Kramers Red Winter Heath and Blue Star Juniper. Planted far enough apart, they are growing together and filling in nicely without overcrowding.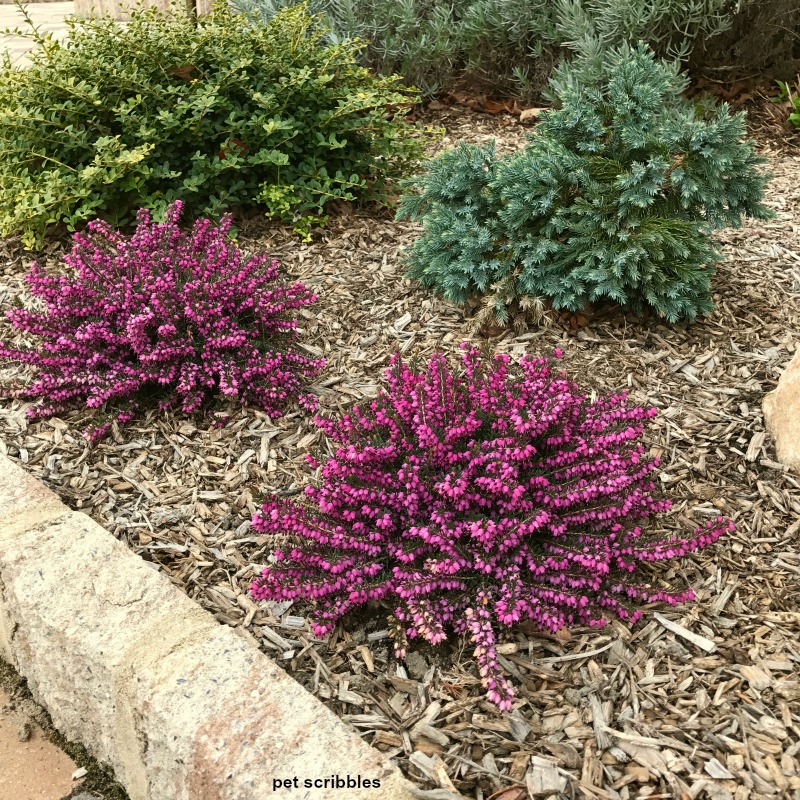 Here are the same shrubs several months later in early Summer. Now the Heath is bright green with new growth tips, still a stunning match with the blue color of the juniper.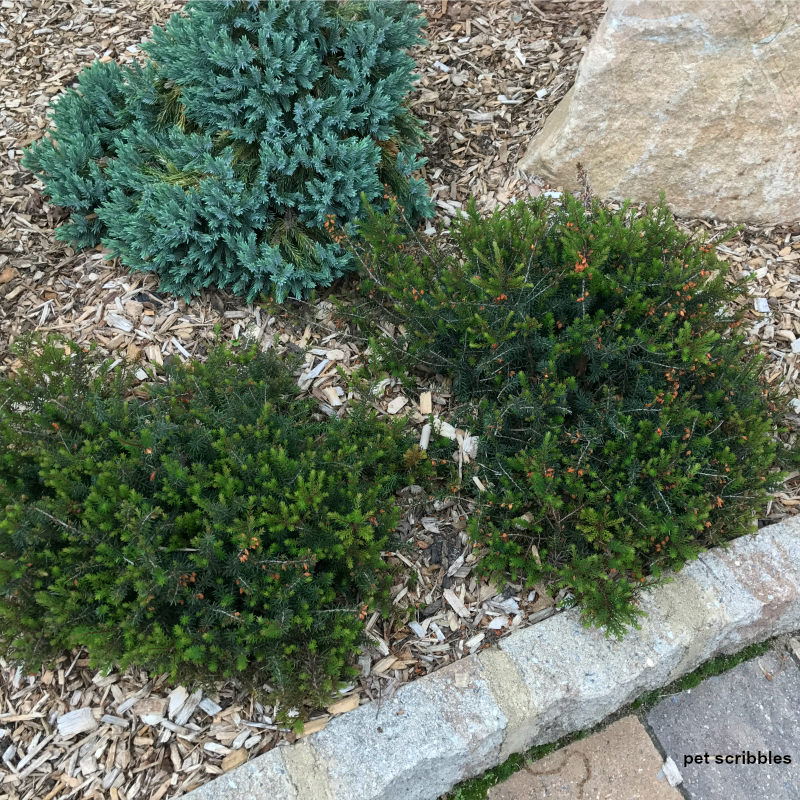 A Dwarf Alberta Spruce will remain small but provide a bit of height next to small shrubs. Consider Boxwood, Holly and other shrubs with shiny green leaves.
For blue color companions, consider perennials like Lamb's Ears, Lavender, Artemisia and blue grasses such as Elijah Blue Fescue.
An outstanding combination that works in our garden is having a Blue Star Juniper near our Lavender Phenomenal shrubs.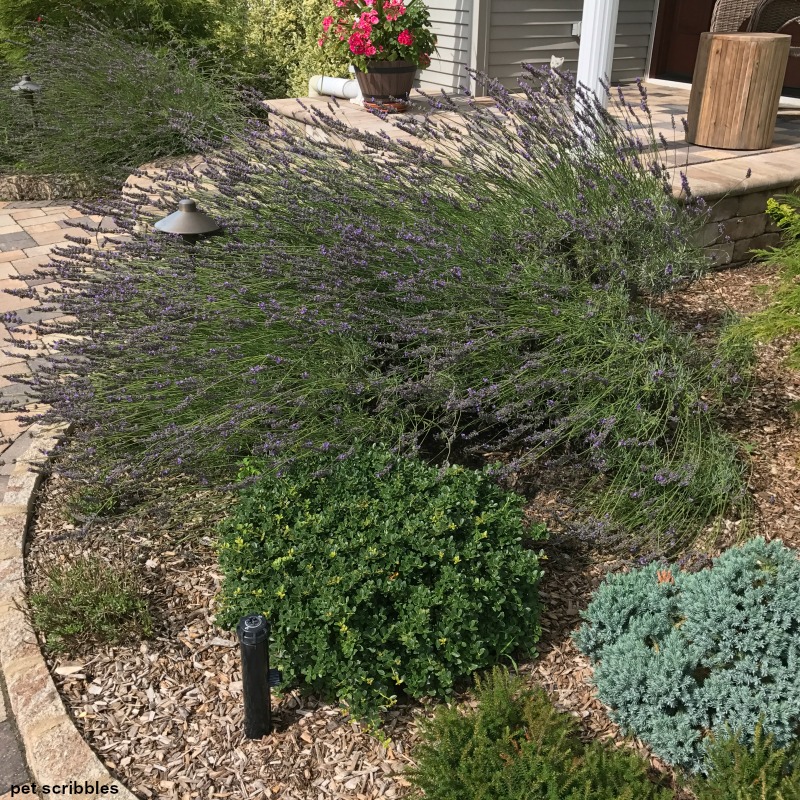 This Blue Star Juniper in front of a Little Lime Hydrangea shrub is one of my favorite combinations.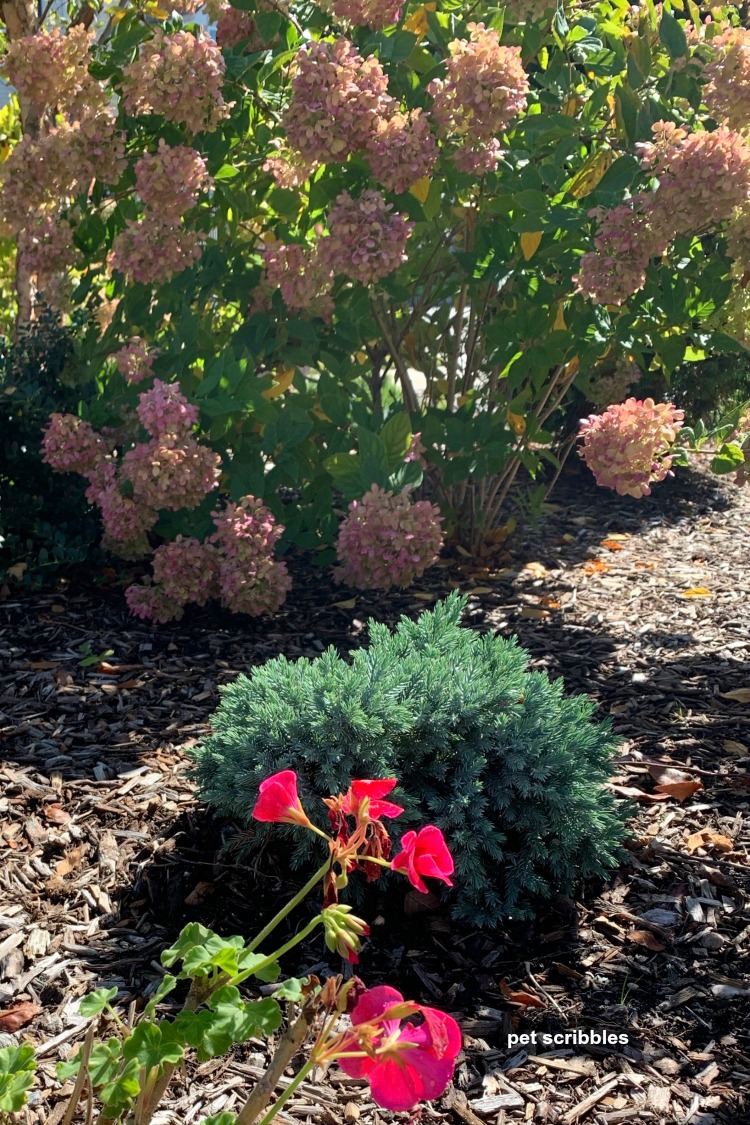 The different sizes of the shrubs work well together and I love the way this adorable little shrub looks with so many lovely flowers behind it.
Where to buy
Purchase in person:
As Blue Star Juniper is a fairly common shrub, you can find it at your local garden nursery, as well as big-box store garden centers such as Lowes and Home Depot. Average price appears between $25 and $30.
Purchase online:
Amazon — surprisingly has this in stock and for a comparable price of $30.99 with free Prime shipping. Seems to have many good reviews although I have never (yet) ordered live plants from them.
Monrovia — they will ship to a local garden center near you, although it appears to currently be out of stock.
This guide answers the most common questions. Please leave a comment below if your question isn't answered here.
Happy gardening!