Why is Lantana a garden rock star? Here's just a few enticing answers: non-stop blooming time; easy-care flowers; and the color combinations are ah-MAZ-zing! Pull up a chair and let me tell you more . . .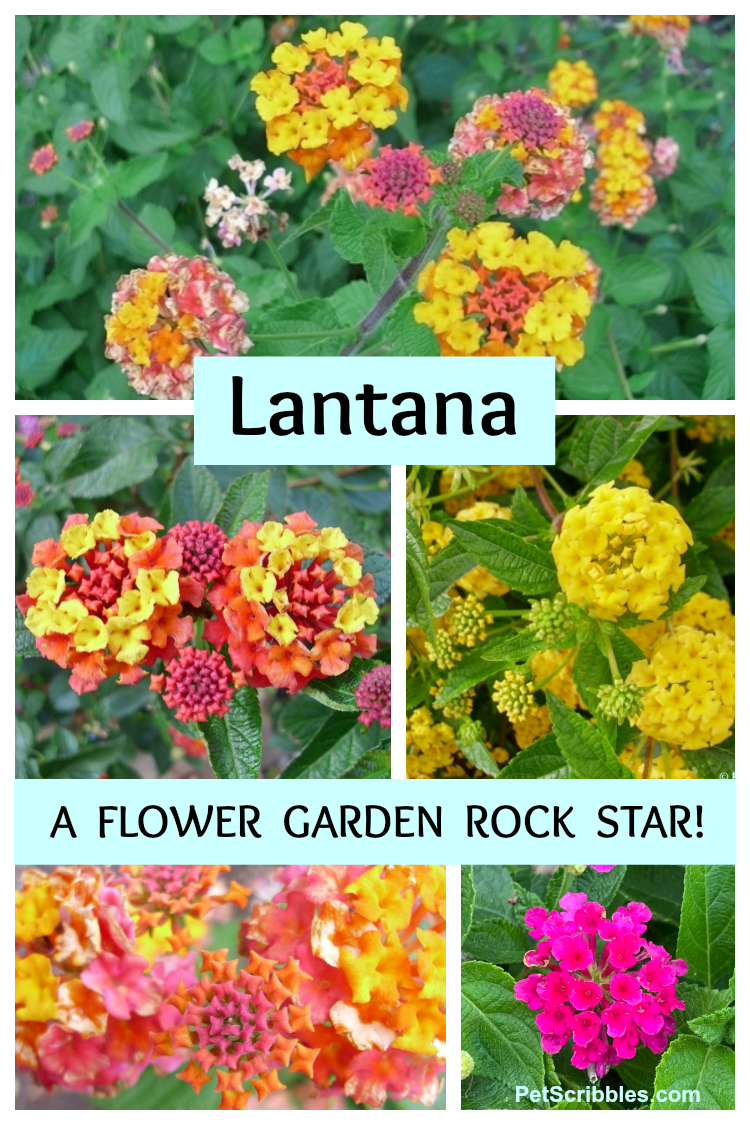 Lantana is a must-have for your flower garden. This plant — which can be grown as an annual or as a perennial depending on which USDA Zone you're in — blooms non-stop from Summer well into the Fall months, as I'll show you in just a moment.
Lantana loves being in full sun. When you buy it at the home and garden center or nursery, it will be on the small side in pots, something like this …
The above image was planted in June 2013 in our front garden. When you first plant Lantana, water it regularly until it gets established. Once it begins growing, you'll notice that its water needs are minimal.
Below is how this same plant looked 3 months later, in September 2013:
Amazing, right? And this is just one plant!
If you look at the image above, you can see the Lantana flowers in all stages of bloom, from just the green buds, to the larger yellow-colored buds that look almost like tiny yellow rectangular pillows, to the fully opened blooms!
Here's a Lantana shrub – basically a larger-potted Lantana plant – that I planted 3.5 months before this picture was taken. After a full Summer of blooming its heart out, it was still growing strong in mid-September that year (2013):
This variety of Lantana is called Luscious Berry Blend Lantana. The multi-colored blooms are stunning!
Here's the same plant at the end of September that same year. (Notice our lovely garden edging? Half brick, with some green plastic edging thrown in. Yes it was temporary! LOL!)
We had the mis-matched edging because we were planning out our beds to get real edging professionally installed the next day. And here's what that looked like – again at the end of September 2013:
Much nicer edging, right?
And here's the same Lantana plant one month later – at the end of October 2013:
The Lantana was still going strong, right along with those yellow Mums nearby. That's when we knew we would always be planting Lantana in our gardens every year!
Here's the key points you need to know about Lantana:
Loves full sun.
Comes in an almost endless array of color combinations and solid colors (red, yellow, orange, pink, white, lavender)
Can be grown as annuals in USDA zones 2 – 11; Can be grown as perennials in zones 8 or 9 and above
Attracts butterflies and hummingbirds
Low maintenance
Perfect for both containers as well as in the garden
And two VERY important notes about Lantana:
Lantana can be invasive in areas where frost doesn't occur. Check with your local garden nursery if unsure.
Lantana can be poisonous to cats and dogs, especially with the small berries that develop on the plant at the end of the Summer. If you have pets, please either use a chicken-wire fence that's high enough to keep your pets out, or supervise your pets when they are in your garden areas. (Our cats have always been indoor-only cats.)
My favorite varieties are the multi-colored ones. (Although as shown earlier, a solid mass of one color can also be very striking too!)
You can see in these two images (above and below) how the individual tiny petals resemble rectangular pillows before they open.
I never tire of looking at these flowers up close, nor do I ever tire of watching the butterflies and hummingbirds enjoy the flowers!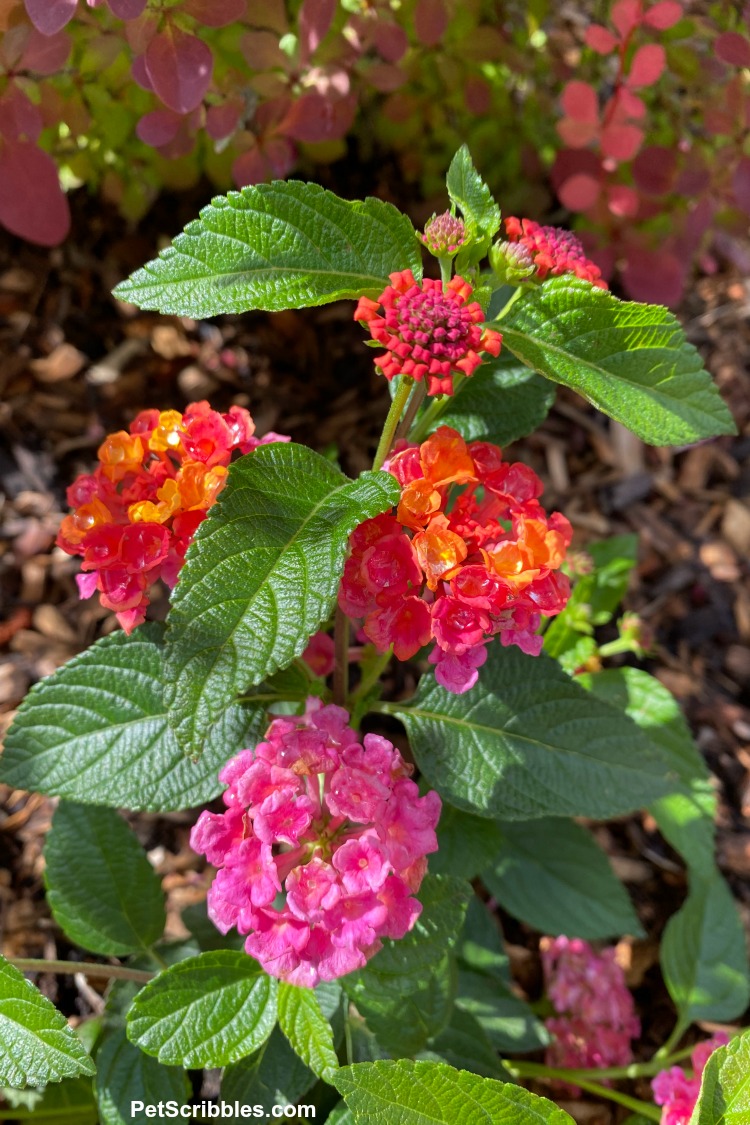 Want to see more of my favorite plants for the garden? Click here: My Favorite Plants
Happy gardening!