Plant Hardy Ageratum for beautiful late Summer and early Fall color. I love perennial ageratum (different from the annual) and its periwinkle color. Here is everything you need to know about one of my favorite easy-care perennials!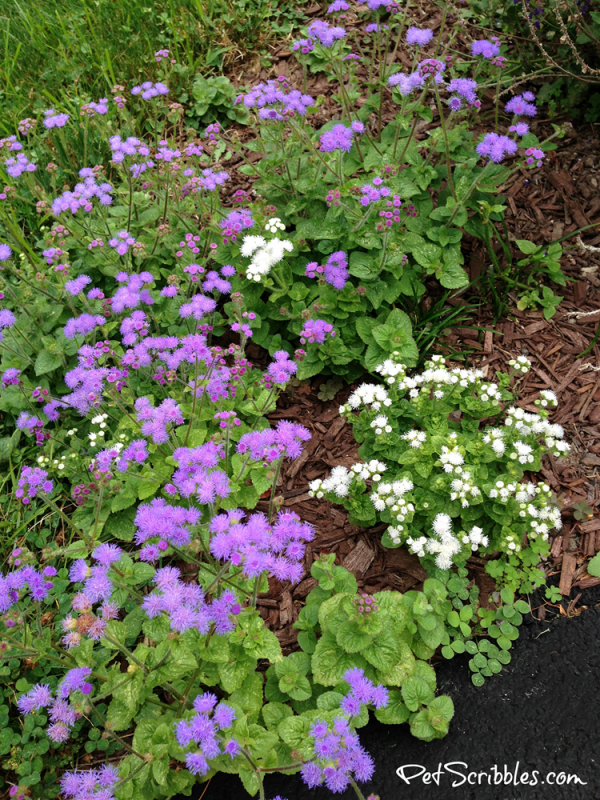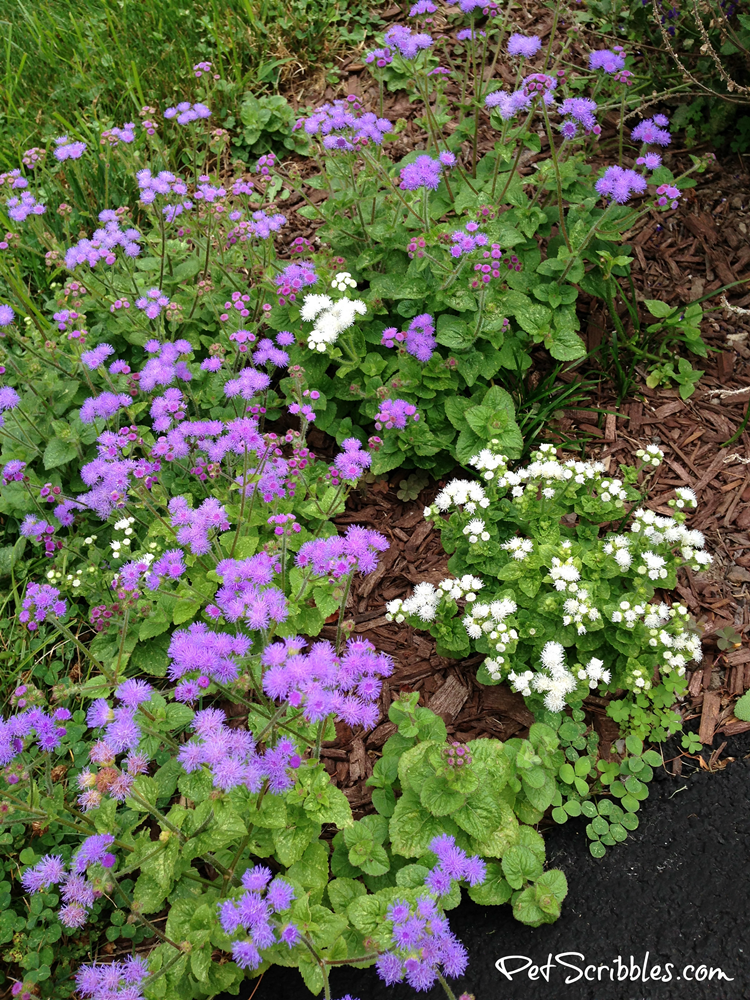 Ever since I was a little girl, I have loved the pretty blueish-purple flowers of ageratum.
Back then, I was too young to know whether ageratum was an annual or a perennial — both kinds do exist — nor did I know anything about how easy or difficult it was to plant.
All I knew was that ageratum was very pretty, both from a distance and especially when looking at the unique flowers close up!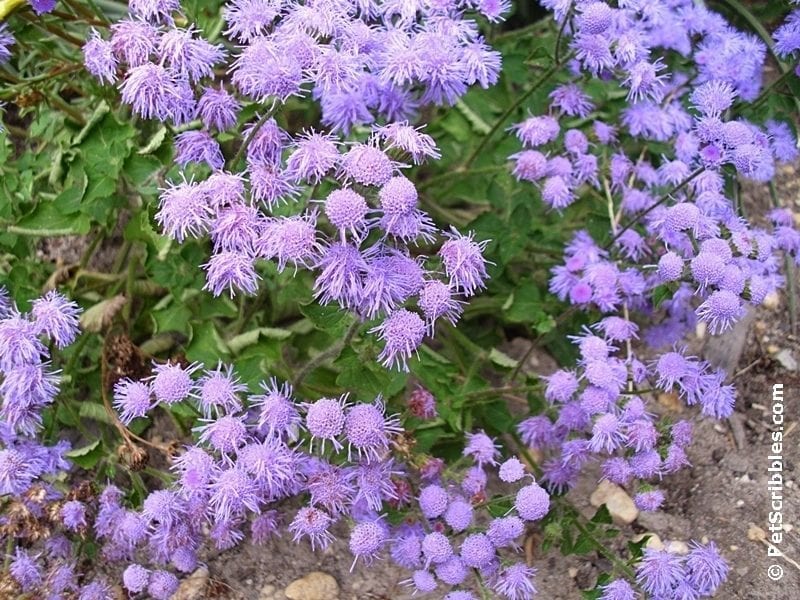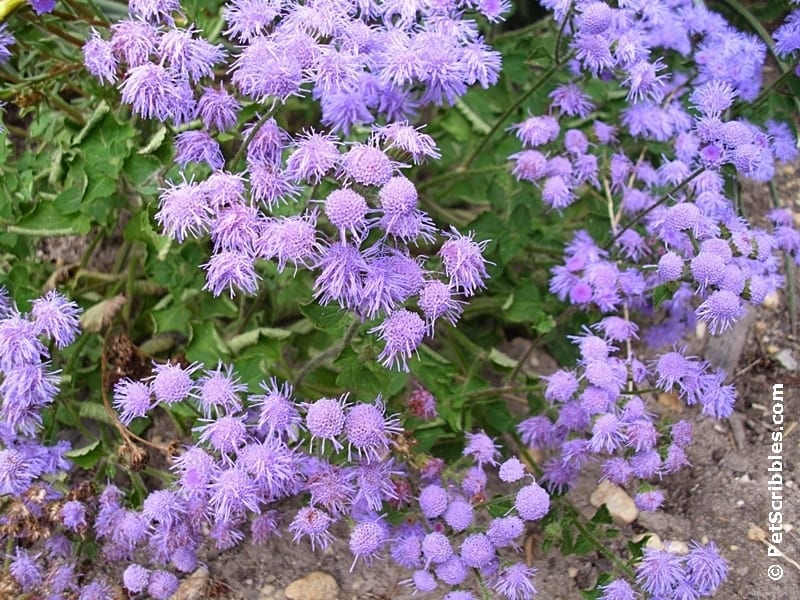 My mother planted it ever since I can remember, and when I was recently home to celebrate my 50th birthday with my 85-years-young parents — yes, I turned 50 back in June! — I marveled yet again at how stunning a planting of ageratum can be.
My mom even has some white ageratum popping up here and there in her garden which she swears she never planted: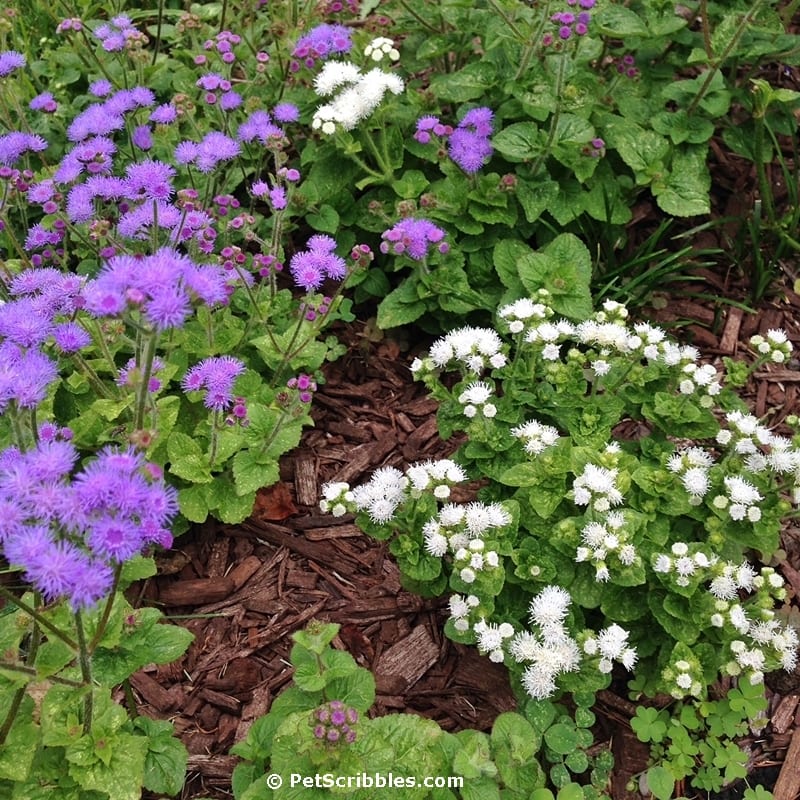 Aren't they pretty?
Is Ageratum an annual or a perennial?
The answer is both, as there are so many hybrids, with some being annuals and others being stalwart perennials.
Can you guess which version I prefer?
Perennials for the win!
Why are perennials so great?
Perennials may require a tiny bit more work in the beginning, as you aren't just planting them for one season.

But the reward for your initial effort — especially once perennials get established in your garden — is reliable plants popping up every year and doing their thing with hardly any effort on your part.

And when it's 90+ degrees out with unbearable humidity? Having late season perennials popping up and blooming in your garden is simply fantastic! And effortless.
Mist Flower or Conoclinium or Eupatorium
Hardy Ageratum is also commonly known as Mist Flower or Blue Mist Flower. You may also see Hardy Ageratum referred to as Conoclimium or Eupatorium.
Random Hardy Ageratum Factoid:
The botanical name for Ageratum has always been Eupatorium, but recently it was reclassified as Eutrochium.
What does this mean for you and me?
Not much, because most online sites still call it Eupatorium.
Hardy Ageratum
low garden perennial – hybrids can be anywhere from 12″ up to 24″ in height
blooms late Summer through early Fall
needs partial to full sun but tolerates shade too
USDA zones 5-8, with some varieties being hardy in the Gulf states too
no special soil needed
beautiful blue shades, also available in white
deer resistant (although deer will eat anything it seems if they're hungry enough)
prefers a consistently moist site, but will adapt to dryer soils
spreads by underground roots
butterflies love it
deciduous (i.e. not evergreen)
Hardy Ageratum color
While most plant catalogs describe the ageratum flowers as blue. Sometimes I think they look more purple.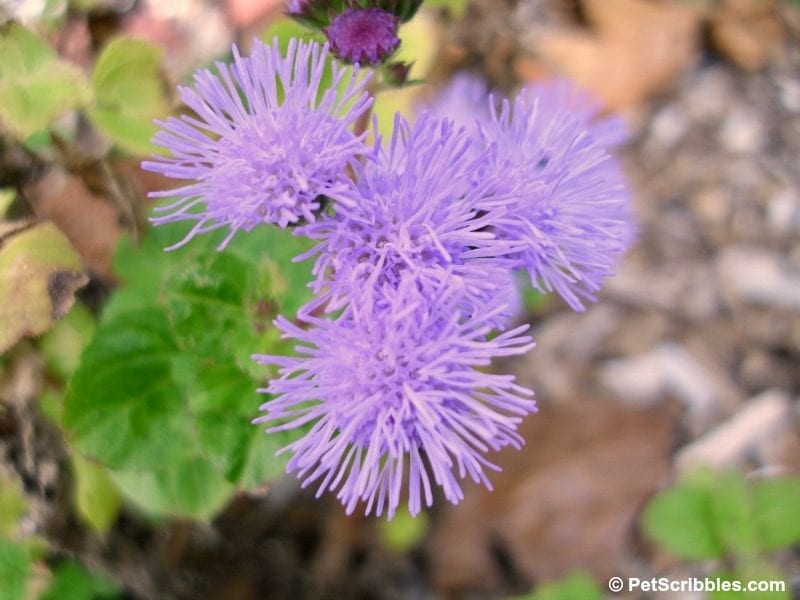 And then it hit me: Ageratum — except obviously for the white hybrids — has flowers the color of a Crayola periwinkle crayon!
At least I think so!
Does Hardy Ageratum spread?
Let's talk about the spreading nature of hardy ageratum. It's just what it does.
Rather than fight it all the time, think about where the best place to plant it is.
Overall, the most important thing to remember is this: proper location is everything!
How to control hardy ageratum spreading:
Proper planting site location is everything!
This is worth repeating, so that you don't come to hate this plant. Knowing how hardy ageratum — or mist flower — spreads will help you choose the best spot to plant it so that you're happy and love it like I do.
Don't grow hardy ageratum with other short perennials, as it might end up invading those spaces.
After so many years of having hardy ageratum in her gardens, my mom does spend time pulling out seedlings each year so they don't invade nearby flowers like her white begonias.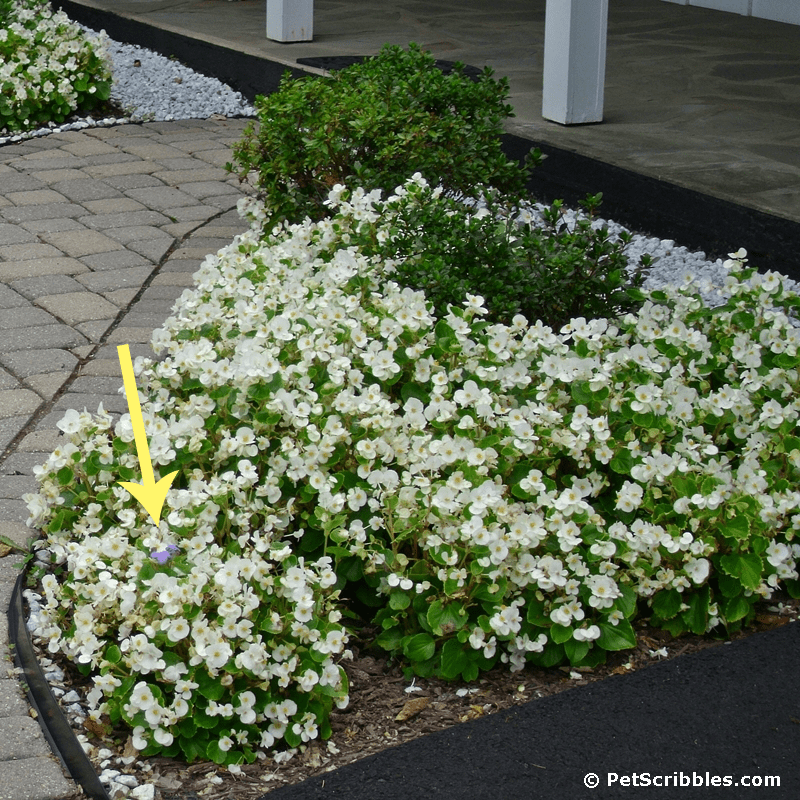 Follow the arrow in the image above and you'll see a single blue ageratum plant poking through those white begonias! Don't tell my mom!
The spreading nature — which bothers some gardeners — can be an asset if you plant hardy ageratum among taller perennials like Coneflowers and Brown-Eyed Susans.
I think hardy ageratum also looks pretty underneath Knock Out Roses and certain ornamental trees and shrubs as long as there is space. (Remember the earlier point about other short perennials.)
Don't leave the seedheads on the plants.
Unless you like the look for Winter interest, don't leave the hardy ageratum seedheads on the plants. Clip them off and you'll have less seedlings popping up next season.
People say the happier a hardy ageratum is, the more it will spread.
I think it's trial and error, as we all have different soils and climates.
Although I think the "errors" need a better name, for how else do we learn what works for our particular garden beds?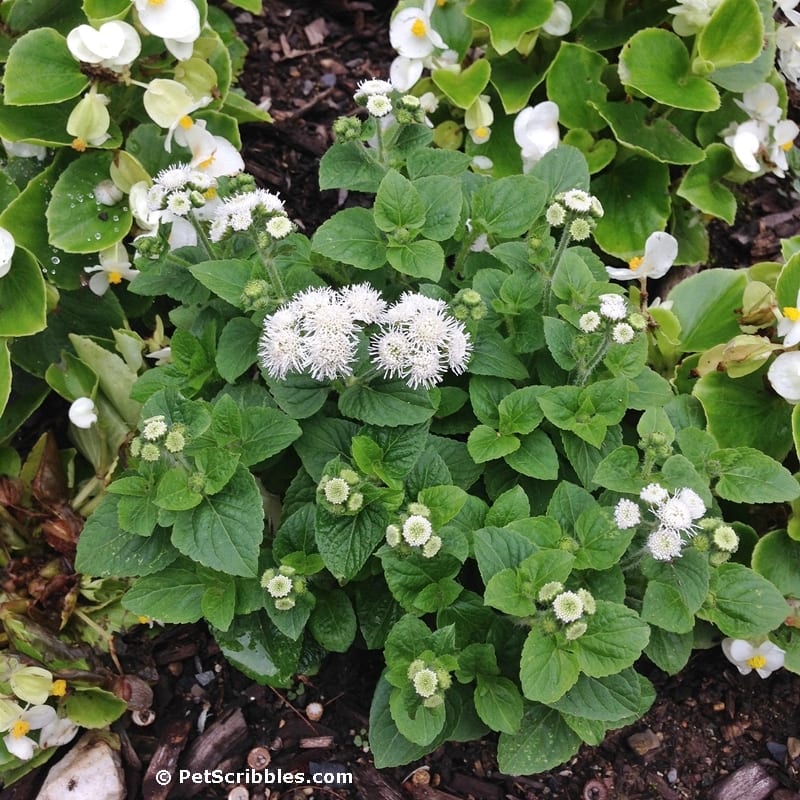 I spy some white ageratum (above) hiding out among my mom's white begonias!
Which Hardy Ageratum hybrid should you plant?
If you have a good plant nursery, definitely seek out their expertise on what will grow best in your specific area.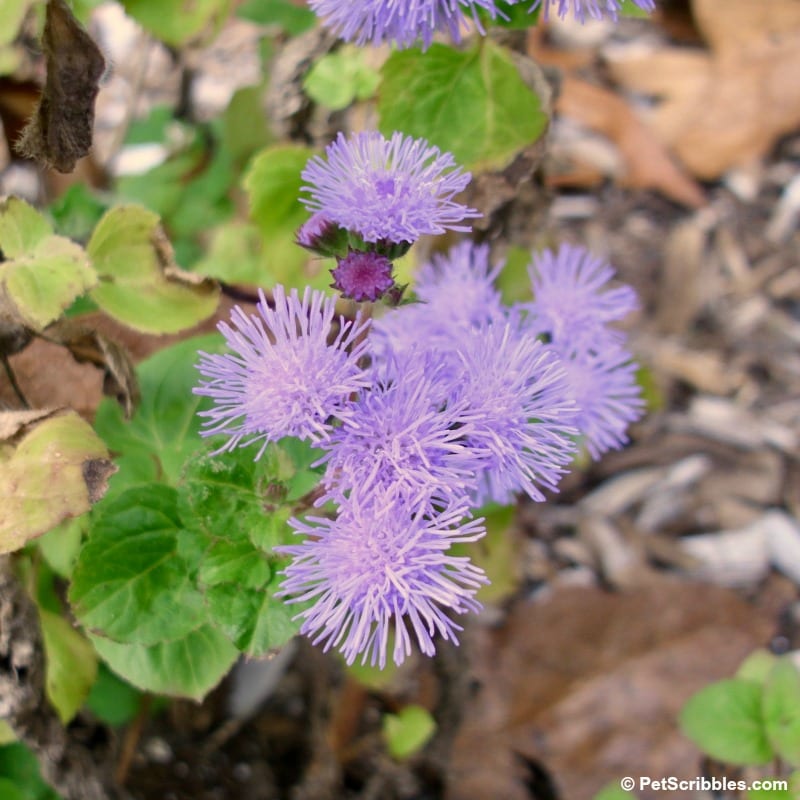 You can also search the wonderful interwebs, where I love geeking out learning about plants! Sometimes I come across a garden forum, other times I might click on an excellent blog post about a flower or plant I'm interested in. (Sort of like you reading this post of mine — thanks for being here!)
Where have I planted Hardy Ageratum?
Years ago, I used to have a patch in our backyard gardens, but it got ripped out accidentally when we were redoing our landscaping in early Spring.
I miss having it. Big-time.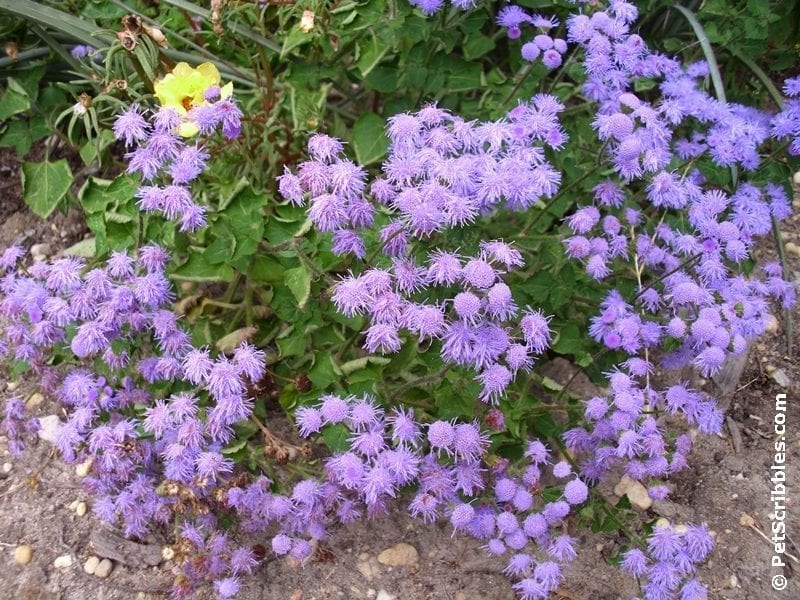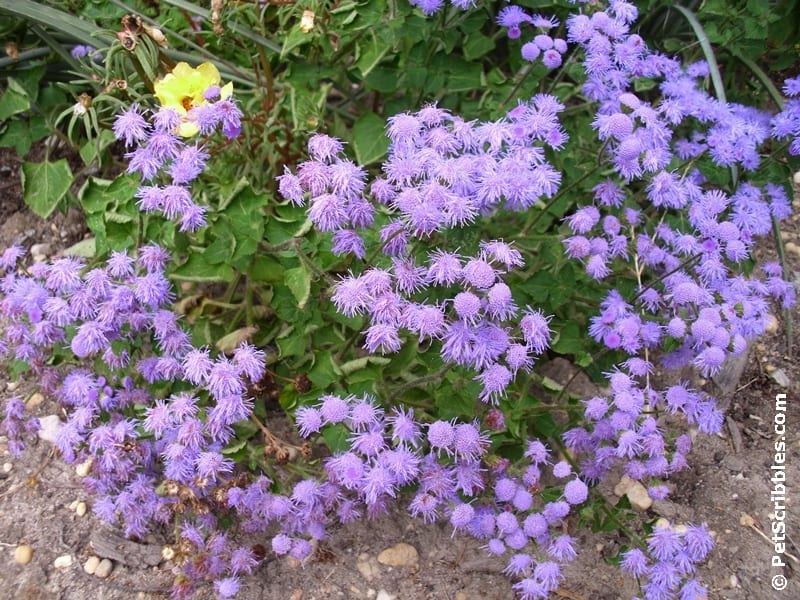 So… I'm planning on adding hardy ageratum to some of our raised garden beds in the front of our house. I found the Wayside hybrid from Bluestone Perennials that can be shipped out in time for Fall planting. Hooray!
I'll keep you posted.
More Fall Color Ideas
I'm all about beautiful colors in a Fall garden, but it's more than just colorful flowers or leaves.
You can get interesting combinations of color just by mixing evergreens and textures of drying flowers as well.
Click here to see my tips and suggestions: How to get brilliant color in the Fall Garden.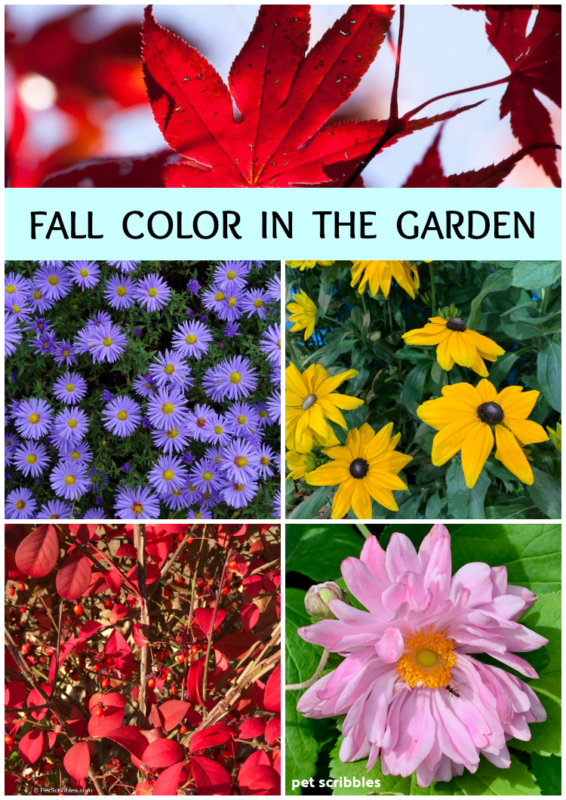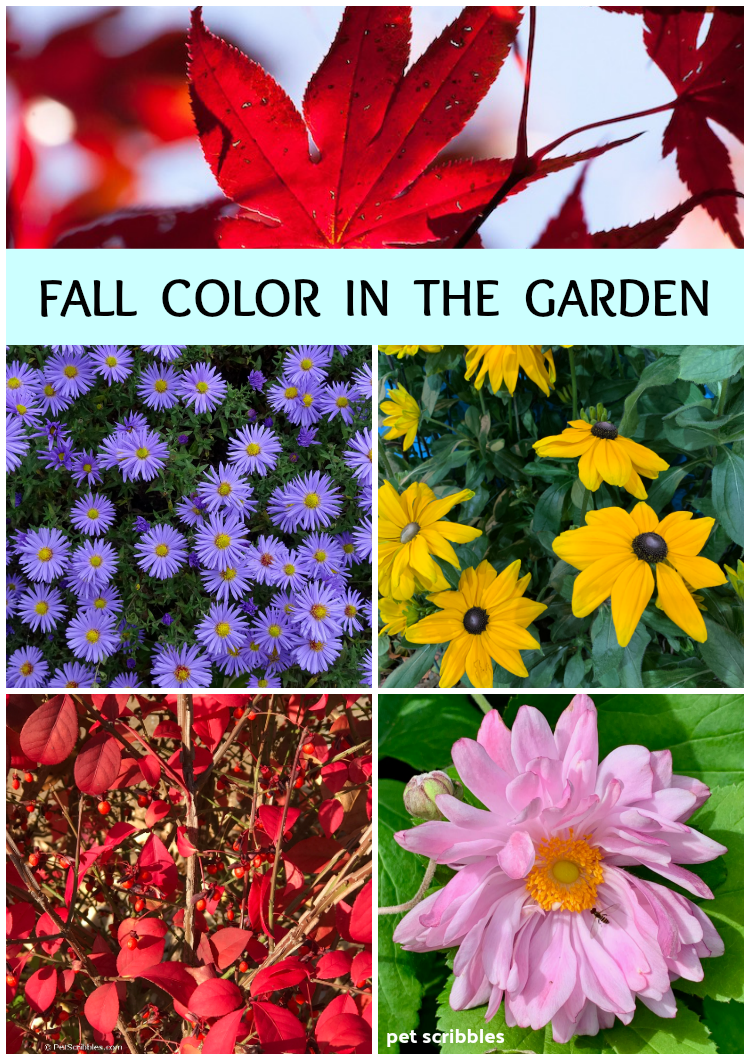 Happy gardening!