Little Lime Hydrangea — Your Ultimate Guide includes planting, growing and pruning tips, companion plant ideas, inspiring images and videos.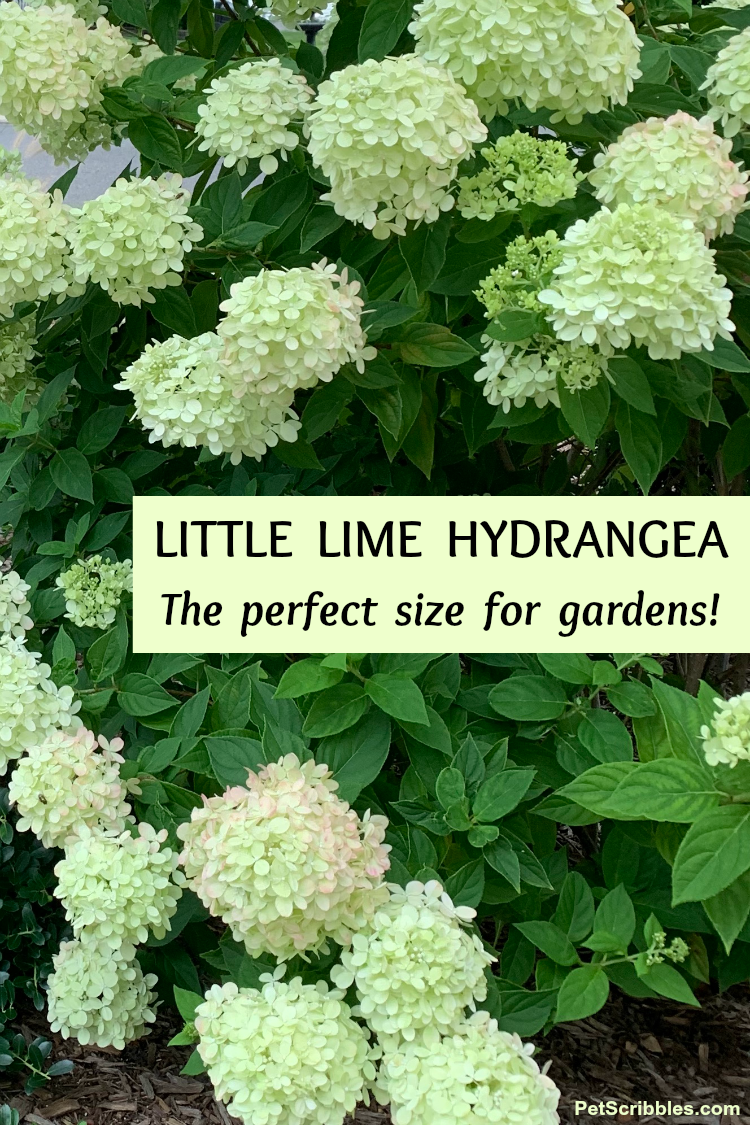 Move over Limelight Hydrangea as there's a new kid in town!
Little Lime Hydrangea is a dwarf form that is a better size for gardens.
This Summer-flowering shrub has the same stunning flowers as its big brother, and the flower show extends well into the Fall season.
What is a Little Lime Hydrangea?
Little Lime hydrangea is a dwarf version of Limelight hydrangea.
It's much more compact, growing just 3 to 5 feet tall and wide.
Little Lime is a flowering deciduous (not evergreen) shrub.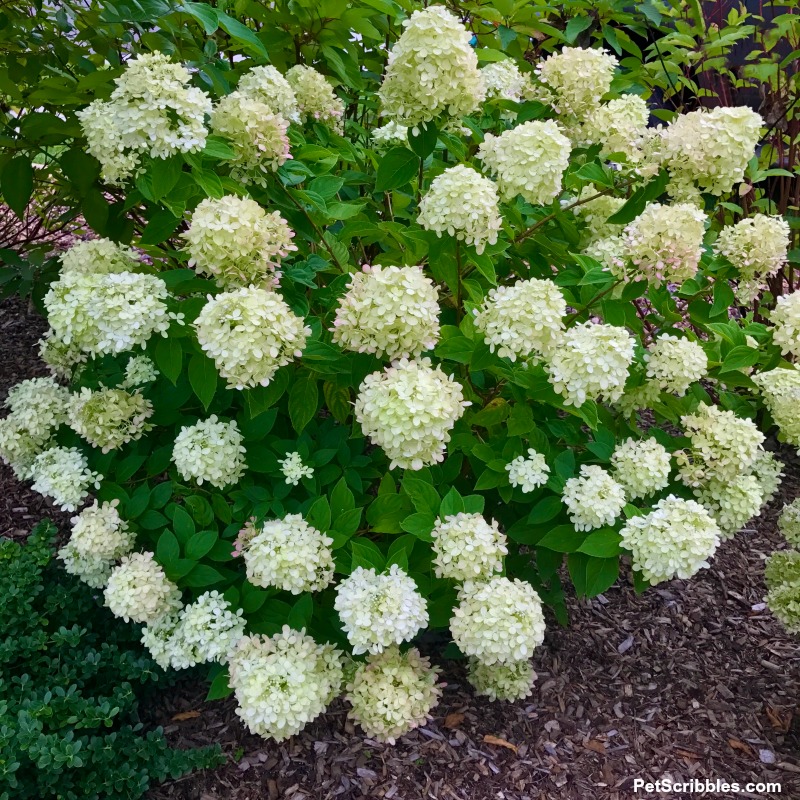 The official name is Hydrangea paniculata "Jane" but it is commonly sold as Little Lime hydrangea.
It's also known as a Panicle hydrangea.
Panicle hydrangeas are considered the most hardy of all the hydrangea species, which means this Summer-flowering shrub is easy care.
And panicle hydrangeas are great shrubs for beginner gardeners because of how trouble-free they are.
(See my post on Pinky Winky Hydrangeas to learn more about Panicle hydrangeas.)
Why You Want Little Lime Hydrangea In Your Garden
Much more manageable size for gardens
The smaller size of Little Lime fits into gardens much easier than making room for a full-size Limelight hydrangea.
Little Lime's maximum height and spread is between 3 and 5 feet.
Limelight hydrangeas grow up to 8 feet tall and 6 feet wide.
Perfect for containers and smaller hedges
Little Lime is a great small size for planters and containers.
Group several in a row for a lower hedge or border.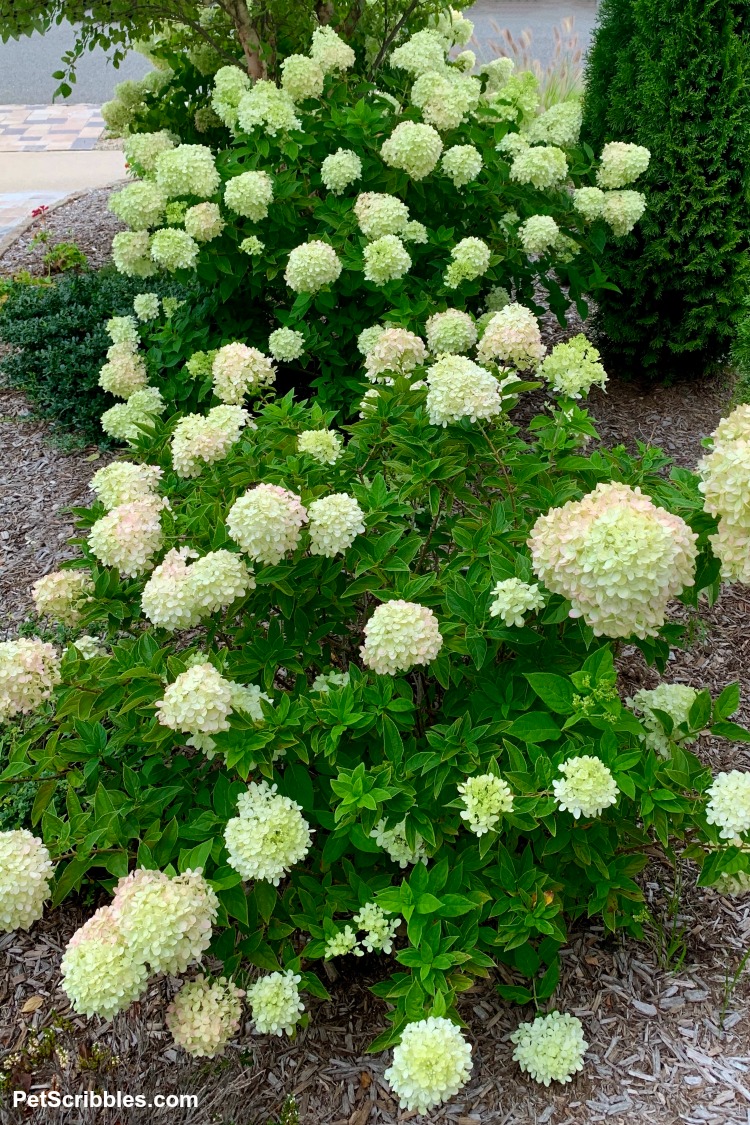 Easy to grow
This is such an easy-care shrub that I am considering planting more of them.
No real pests or diseases to worry about, and they seem to happily bloom their hearts out all season long.
Great for butterfly gardens
Butterflies love hydrangeas, and so do bees.
Little Lime hydrangeas are perfect for pollinator gardens.
Very reliable bloomer
No matter what the Winter weather has been like, our Little Limes come back prettier and bloom like crazy every single year.
Unlike more fragile plants and shrubs, there's no worry how these flowering shrubs will perform.
Long blooming
The flowers of Little Lime begin to shine in July and stay on the shrub for months, well into the Fall season depending on your climate zone.
Summer AND Fall color
The flowers are an eye-catching pale lime color in the Summer.
About a month later, hints of pink appear.
As the temperatures cool, the flowers continue to change color, eventually becoming a pretty medium pink shade before eventually drying on the shrub.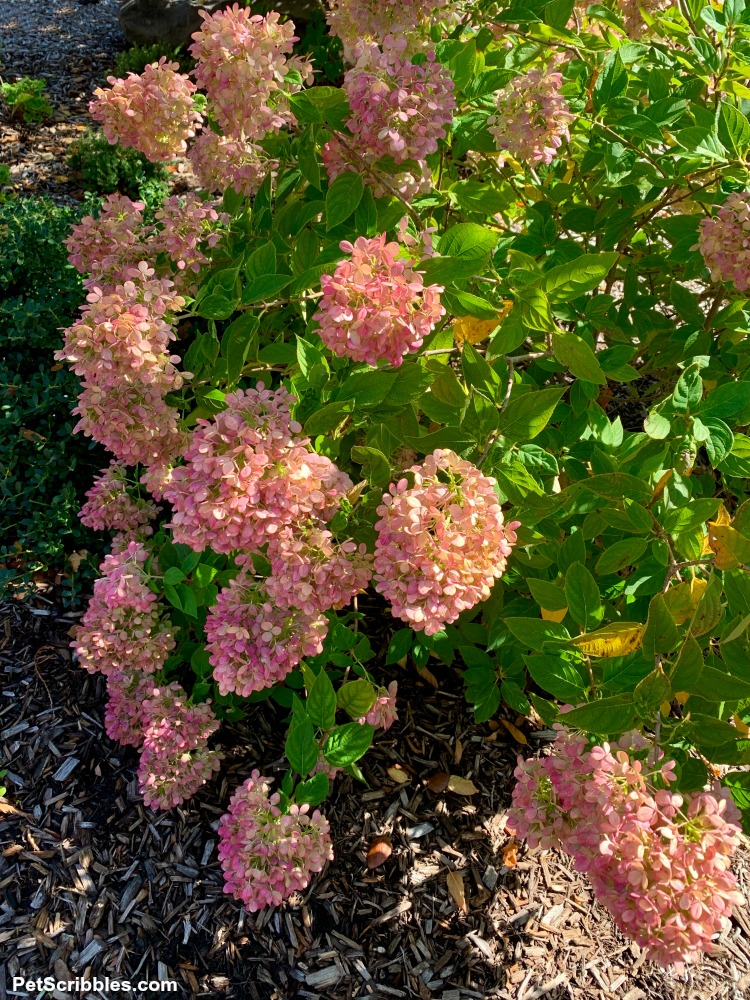 Superb for cut or dried flowers
You can snip a few to enjoy indoors and they will last quite some time, as they begin to dry and take on an almost vintage look.
My favorite, however, are the dried Little Lime flowers, as they dry perfectly without any need for special drying techniques. I let them dry right on the shrubs.
Which brings me to . . .
Winter interest — dried flowers
I keep the dried flowers on the shrubs for Winter interest and color.
They look so pretty, whether against evergreens in the garden or with some snow on top.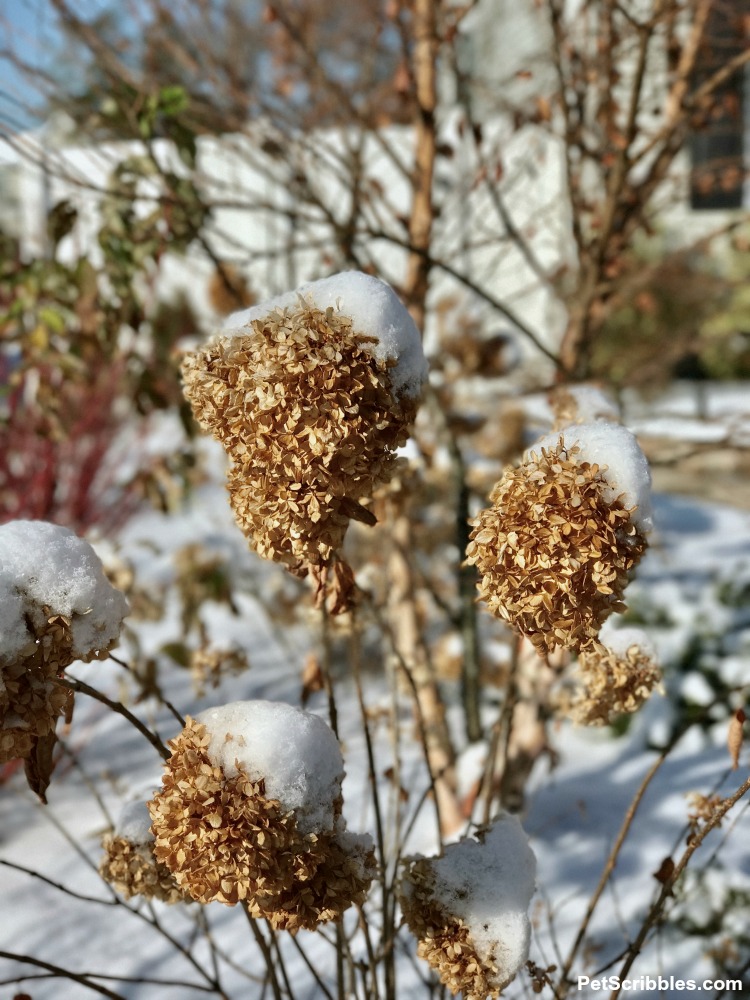 Is Little Lime Hydrangea deer resistant?
Deer will eat just about anything if they are hungry enough and their normal foods are lacking.
Hydrangeas, in general, can be "occasionally severely damaged" by deer according to Rutgers University.
So while hydrangeas aren't "deer candy" like rhododendrons or evergreen azaleas, they may get nibbled on by deer.
The difference between Little Lime and Limelight Hydrangeas
Size is the main difference between the two shrubs.
Limelight hydrangeas grow up to 8 feet tall and 6 feet wide, while Little Lime hydrangeas stay between 3 and 5 feet tall and wide.
Shrub Size, Growth and Habit
Habit
Little Lime has a rounded habit, with sturdy stems and branches that never get floppy.
The branches hold the flower heads upright all season long.
How big does it get?
The height and width for Little Lime hydrangea is between 3 and 5 feet.
It is approximately 1/3 the size of Limelight hydrangea.
How fast does it grow?
Little Lime hydrangea has a moderate growth rate.
However, I consider it rather fast since I prune mine to about two feet and they grow up and out in one season.
(See the Little Lime hydrangea images further down this page for my own example of growth rate from Spring through Summer.)
Little Lime Hydrangea Leaves and Flowers
Leaves:
The bright green leaves that appear in Spring darken slightly to a medium green.
These leaves are oval in shape and come to a point on the ends.
If you look closely, you'll see that each leaf has little serrated-looking edges, although they are not at all sharp.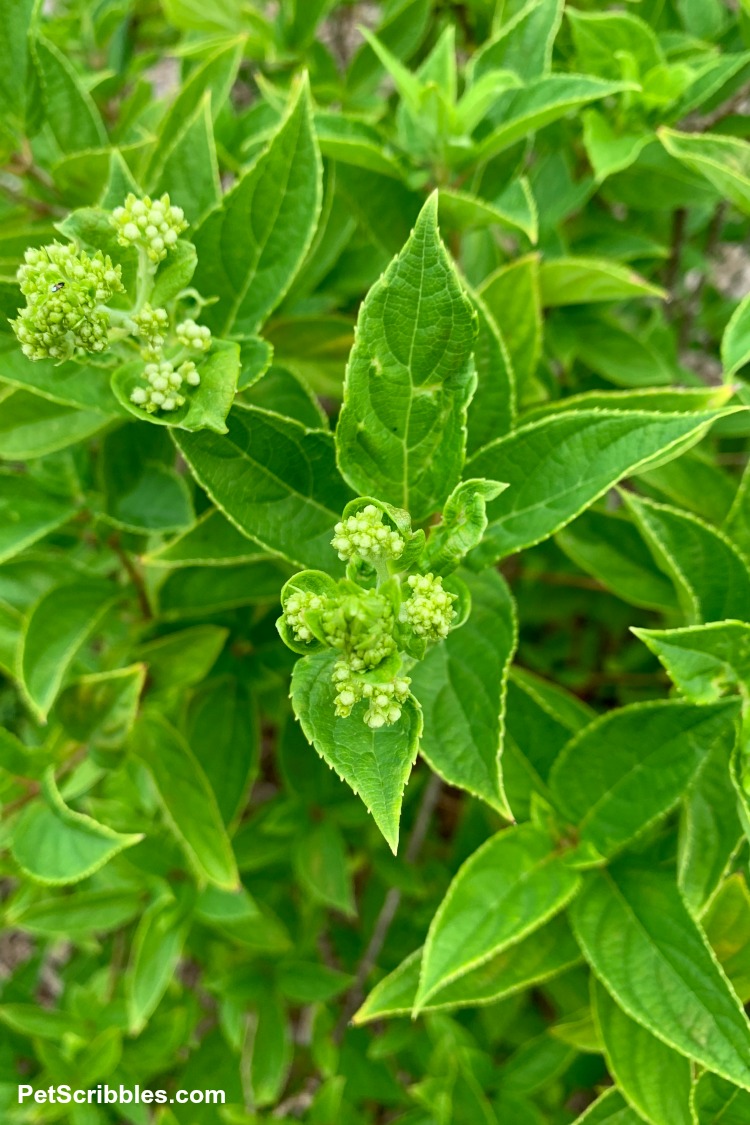 There is no spectacular Fall foliage color, but that doesn't matter when the flowers are still putting on their show.
(Some nurseries say the Fall foliage is somewhat colorful, but I personally haven't experienced it.)
Flower shape and size:
The flower heads of Little Lime hydrangea are known as panicles, which usually are cone-shaped, but Little Lime panicles have a bit of rounded mophead shape to them.
These panicles can grow up to 5 inches tall and 4 inches wide.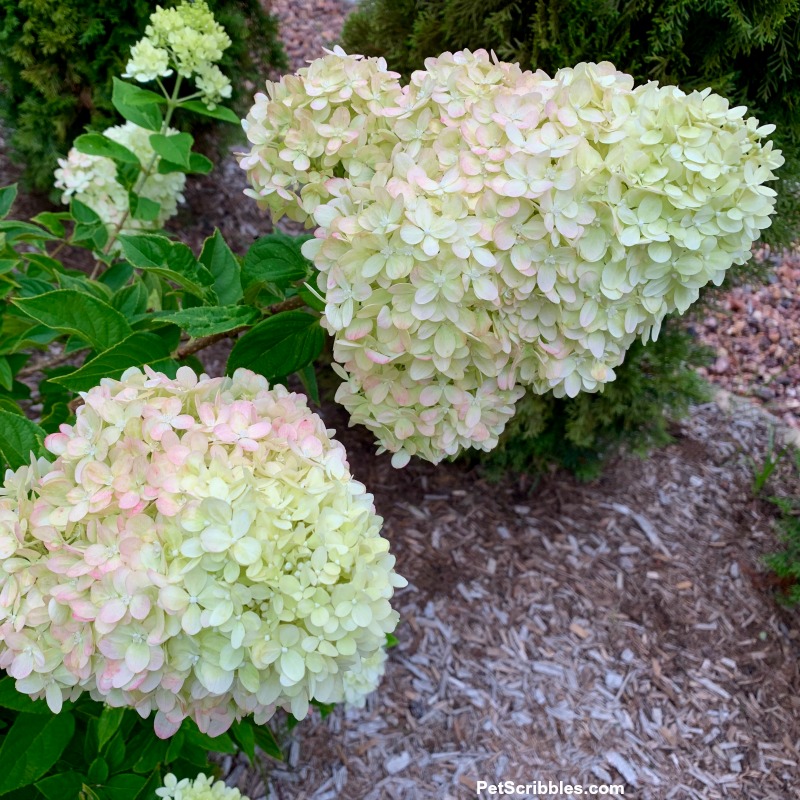 Flower color:
In Spring, the flower buds are lime green: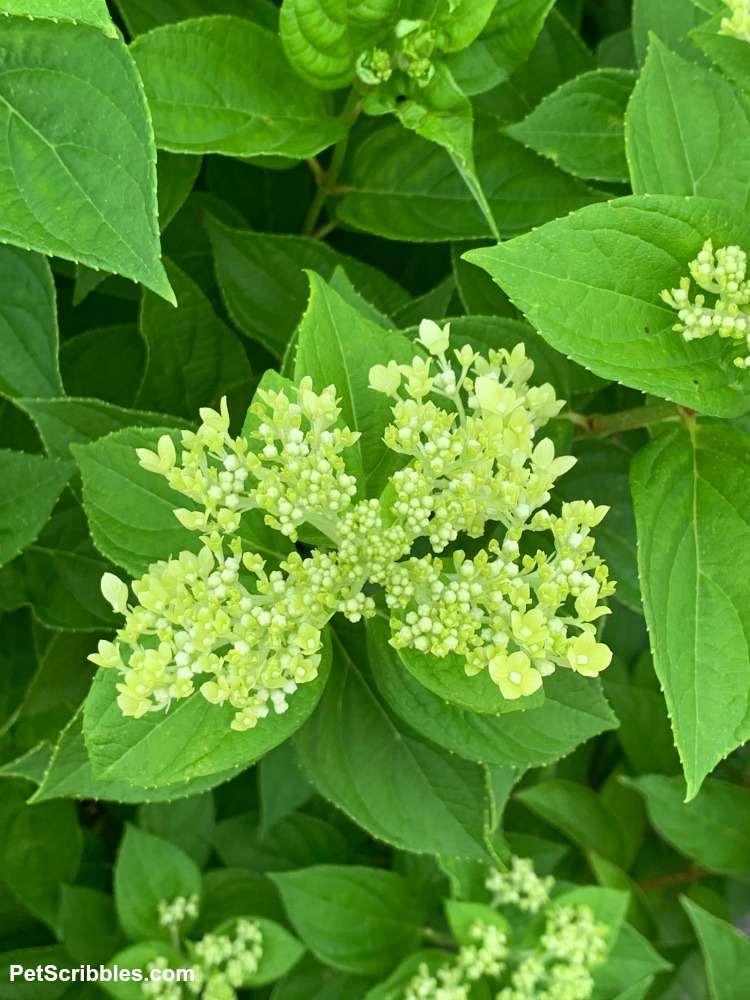 These flower buds develop into flowers with the same pale lime green shade.
Flowers stay this color all Summer.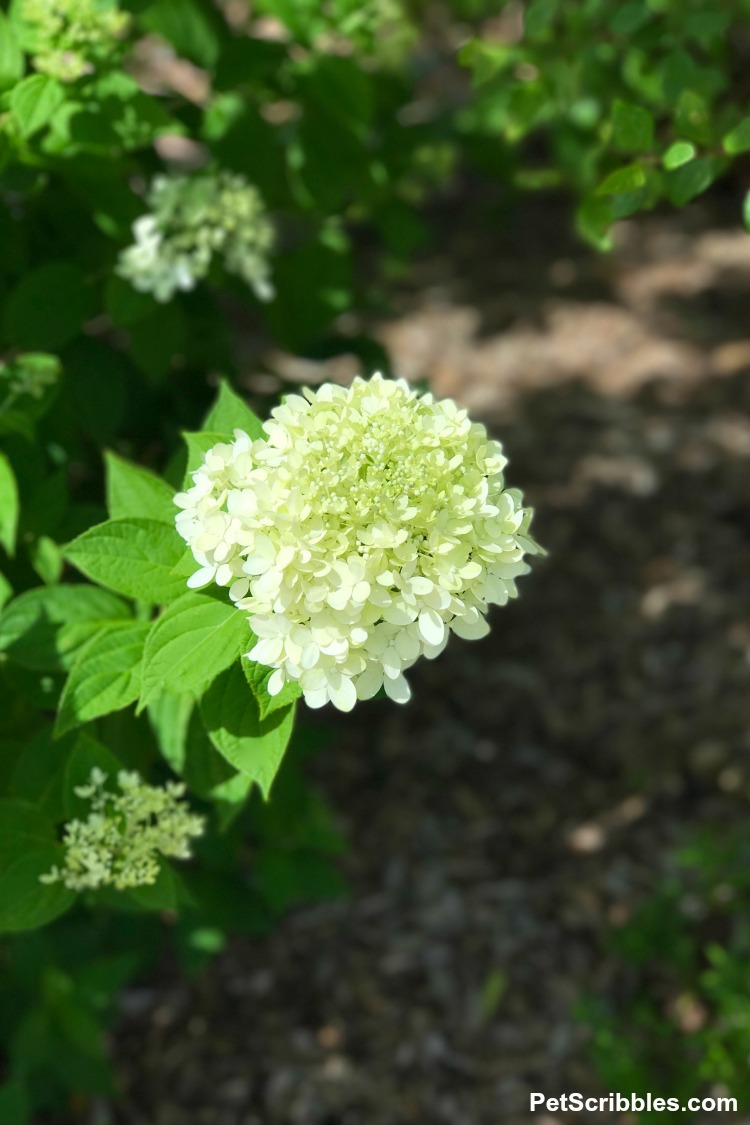 In my experience, some flowers can appear more ivory than lime.
Helpful tip: It doesn't seem that all nurseries agree on the exact Summer flower color description. It is described as fluffy white, or pale lime, or pretty ivory. Not very helpful, but just know that you can see some of each as I mentioned above.
The blooms take on hints of pale pink as the Summer continues.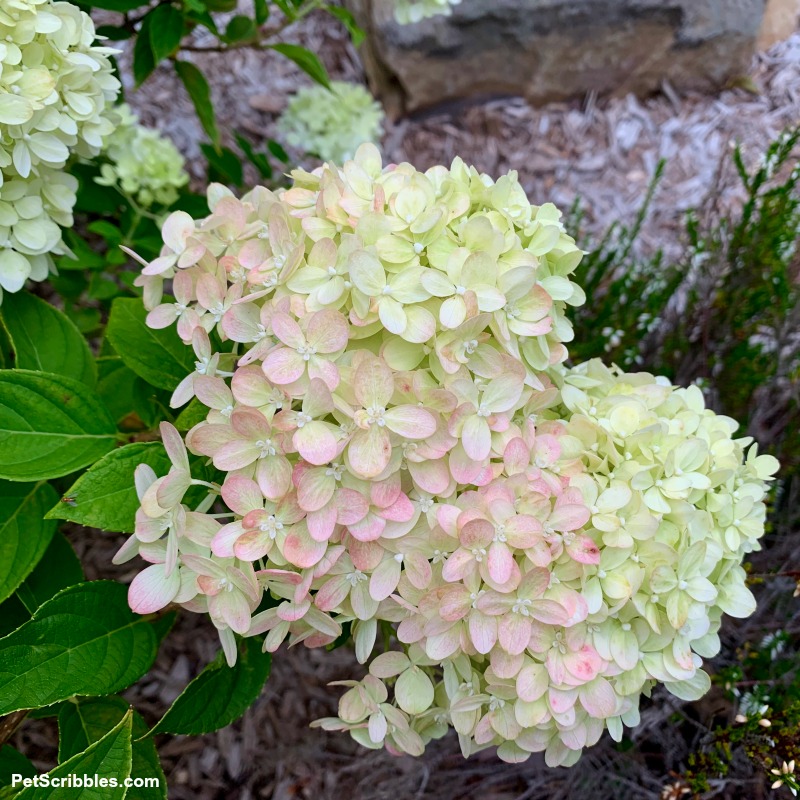 Below are two of our Little Limes next to each other.
Notice how one is pale lime green while the other has begun turning pink.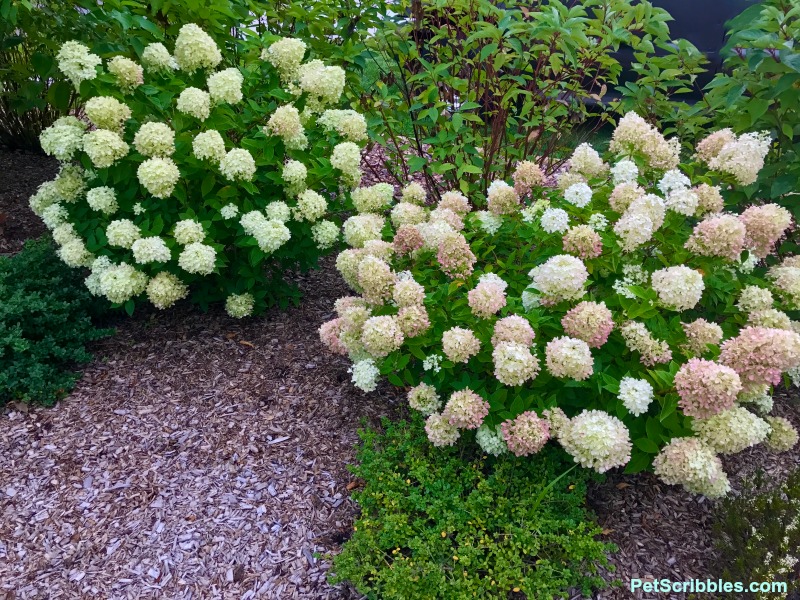 The flowers continue turning darker pink in Autumn as the weather begins to cool.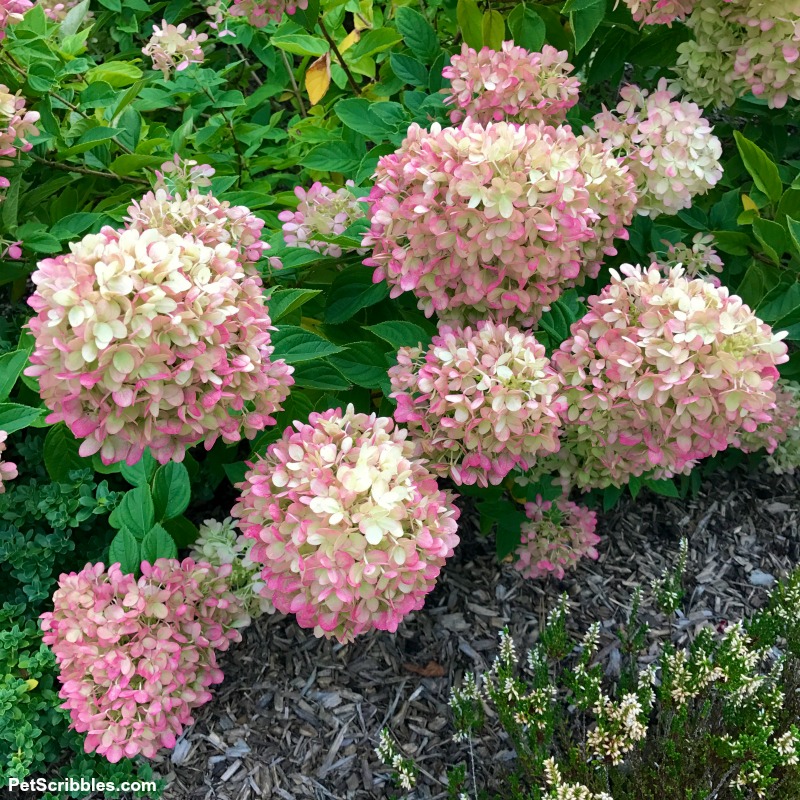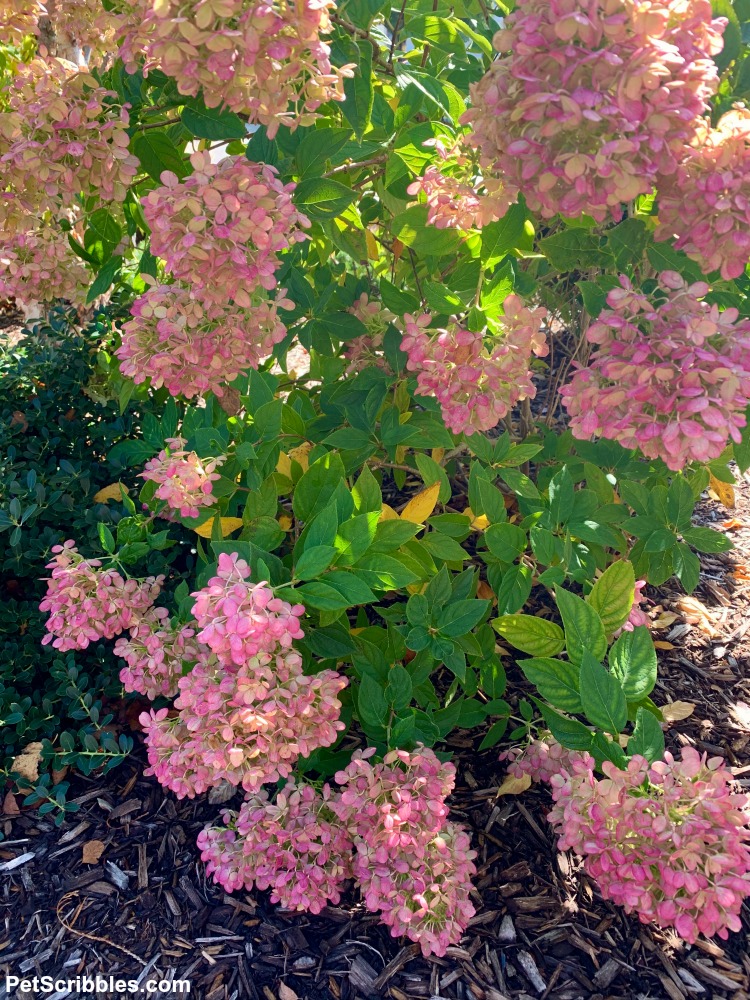 The flowers continue to deepen to a medium pink color, while other flowers may begin to fade in the sunlight.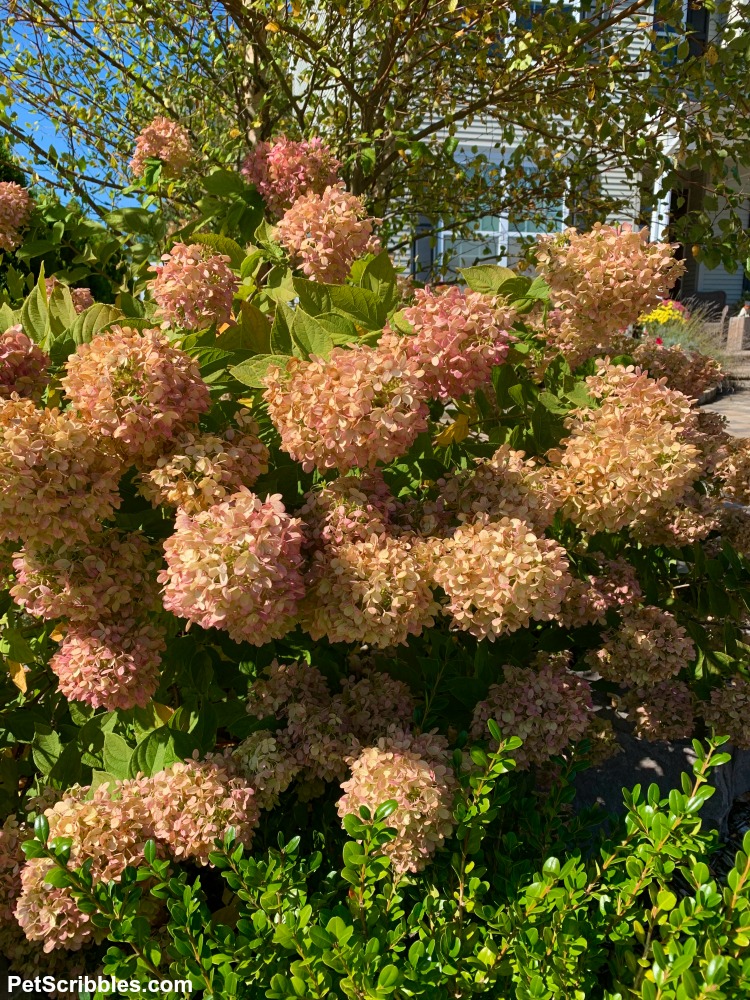 The dried flower heads are a perfect shade of vintage cream with hints of tan.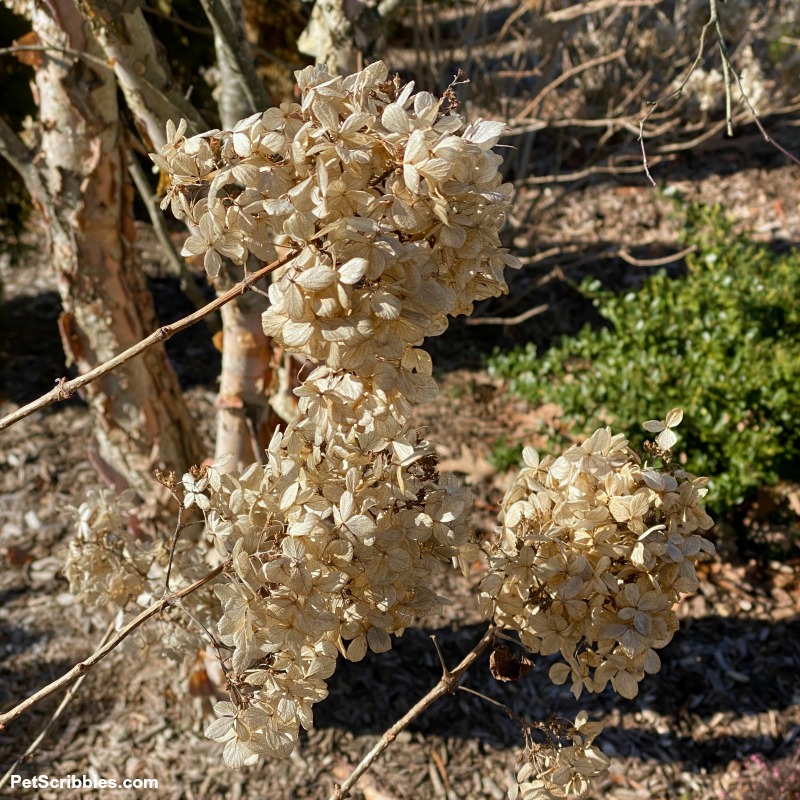 When do they bloom?
Little Lime hydrangea has the same blooming period as its big brother Limelight hydrangea.
It flowers continuously from July until frost.
Helpful tip: The flowers bloom on new wood, so make sure any pruning of the stems is done in late Winter or early Spring. (See pruning information further down this page.)
Growing Requirements for Little Lime Hydrangea
Hardiness:
USDA Zones 3 — 9
Sun:
Little Lime hydrangeas are happiest in either full sun or partial sun.
In the South they will benefit from afternoon shade.
Water:
Water regularly to maintain evenly moist soil that won't dry out.
These shrubs are drought resistant once established.
You will see the occasional yellow leaf on the shrubs.
You can ignore them unless you see a lot, in which case the shrub is telling you it is thirsty.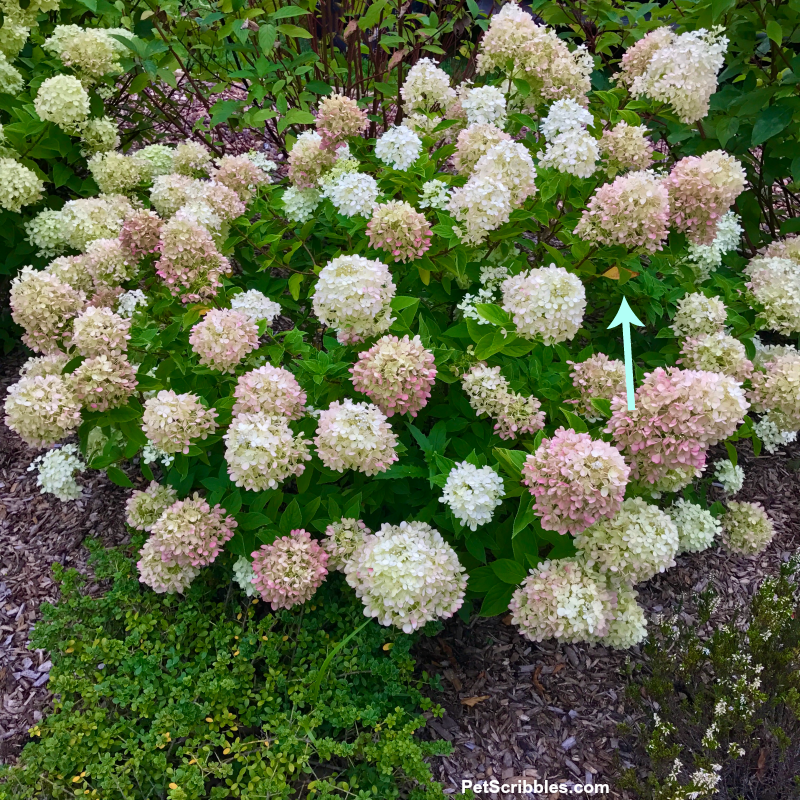 Soil:
Panicle hydrangeas prefer soil on the acid side.
Bloom color is not affected by the soil's pH.
There is no need for soil amendments like you might add for certain mophead hydrangea varieties to turn them pink or blue.
Fertilizer:
Use an organic, slow-release fertilizer for acid-loving plants in the early Spring.
I use Holly Tone by Espoma.
Some gardeners don't use any fertilizers on their hydrangeas and still have beautiful shrubs with lots of flowers.
Do not use high nitrogen-based fertilizers, as this can actually hinder flower production on most hydrangea varieties.
Planting Little Lime Hydrangeas
Best time to plant Little Lime Hydrangea
Plant Little Lime hydrangea in the Spring after frost is gone.
You can also plant these shrubs in early Fall, so the roots have time to get established before the Winter season.
How to plant Little Lime Hydrangea
As with most flowering shrubs, do not plant Little Lime hydrangeas too deep.
Dig a planting hole only as deep as the Little Lime shrub is currently planted in its container, and a bit larger than the width [of the container].
Periodically check your work by placing the container into the planting hole to see how high or low the plant is.
Adjust accordingly with more or less soil.
Place the plant into the hole and fill in the sides with more soil.
Mulch to conserve moisture and keep the soil from baking in hot sun.
Little Lime Hydrangea Spacing
Plant Little Lime hydrangea shrubs at least 4 to 6 feet apart.
Can I transplant Little Lime Hydrangeas?
Yes, but wait until the shrub is in a dormant stage, either in early Spring before buds leaf out or late Fall once leaves have fallen off.
If you transplant Little Lime while it is actively growing, the shrub will experience quite a bit of stress and shock.
Pruning Little Lime Hydrangeas
When to Prune Little Lime Hydrangea
Little Lime hydrangea flowers bloom on new wood, so make sure any pruning of the stems is done in late Winter or early Spring.
How to Prune Little Lime Hydrangea
Give the stems a quick trim from the top, cutting at least a few inches from each stem.
For complete new growth, cut the stems all the way down to the ground.
However, if you want taller plants, cut them back to just 1 to 3 feet — which is what I do.
I've read in multiple places that if you cut back stems just leaving two buds at the base of each stem, you will have larger flower heads. (I haven't personally tried this.)
Remove any crossing branches — stems that are rubbing against each other — to avoid future problems with pests or disease getting into the branches.
Here is what a Little Lime hydrangea looks like six weeks after pruning: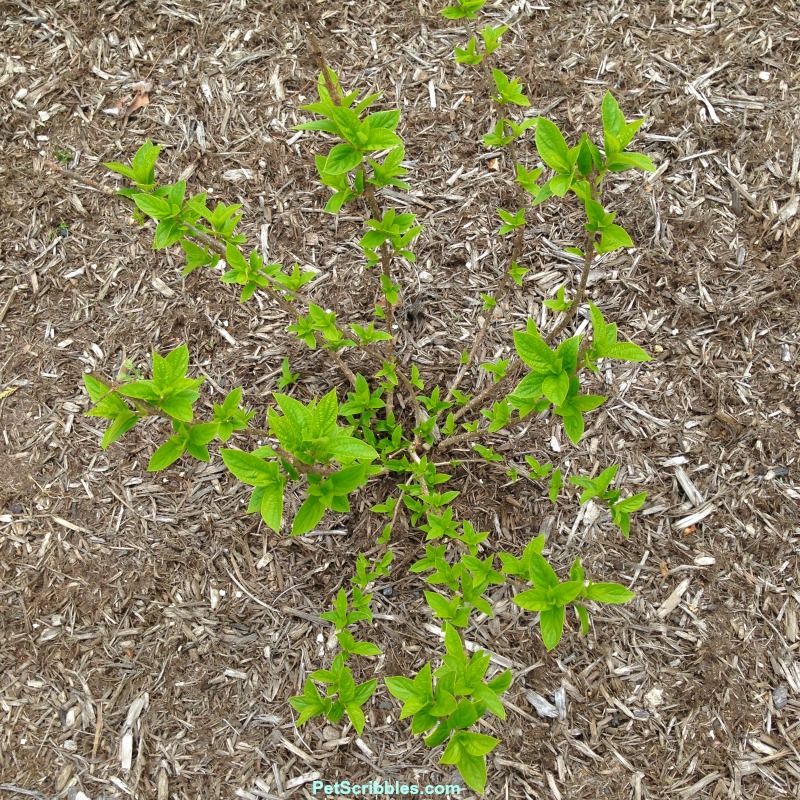 Best Companion Plants for Little Lime Hydrangea
If you have the space, you could plant full-size Limelight hydrangeas behind your Little Lime hydrangeas for a spectacular flower show from the ground up.
Butterflies love Little Limes, so consider plants such as Milkweed, Asters, Salvia, Alliums and Lantana. You can easily go down a rabbit hole by looking up plants that butterflies love!
Evergreen plants look nice in front and behind these shrubs, as accent plants during the Summer.
This is a Winter-blooming Heath in front: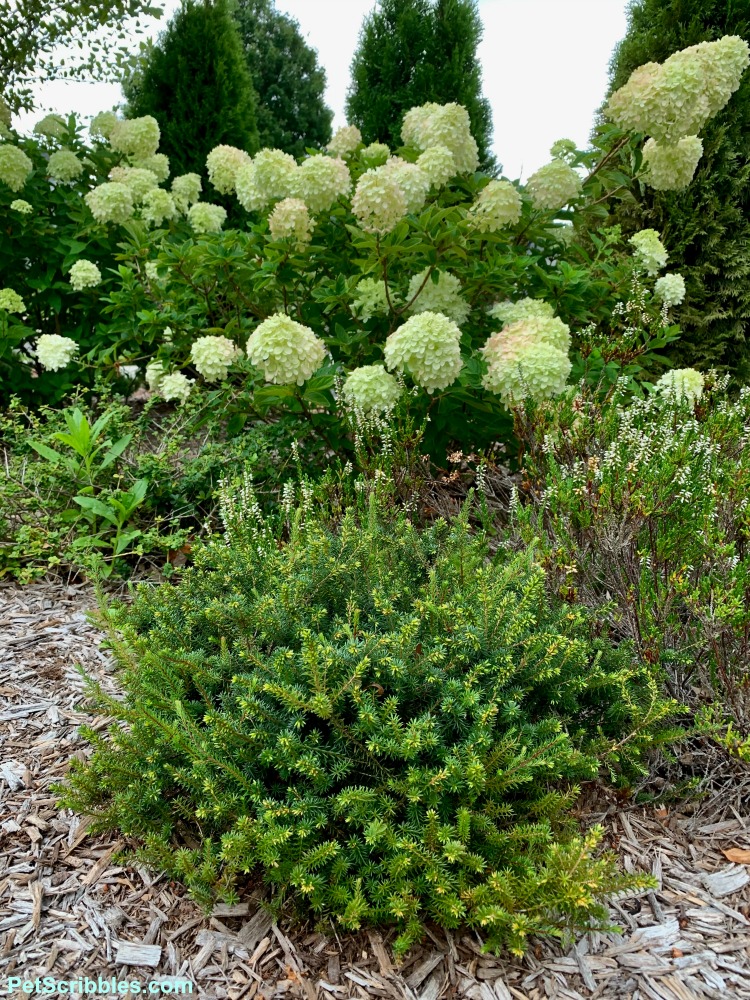 In Winter, tall evergreens behind Little Limes show off the pretty dried flowers left on the shrubs, while short evergreens in front of the plants provide much-needed Winter color.
Since the blooms of Little Lime won't pop out until late June at the earliest, plant colorful early-blooming, shorter annuals or perennials in front to provide garden color.
Violets, ageratum, geraniums, ajuga, liriope, dianthus, impatiens . . . again do a little homework and you will find some of your own favorites to plant.
Little Lime Hydrangea Images
To give you a better sense of the growing timeline in my particular zone (7), here are images from Spring through Winter.
Spring
April 30: The blue arrows point to three Little Limes with new leaf growth emerging.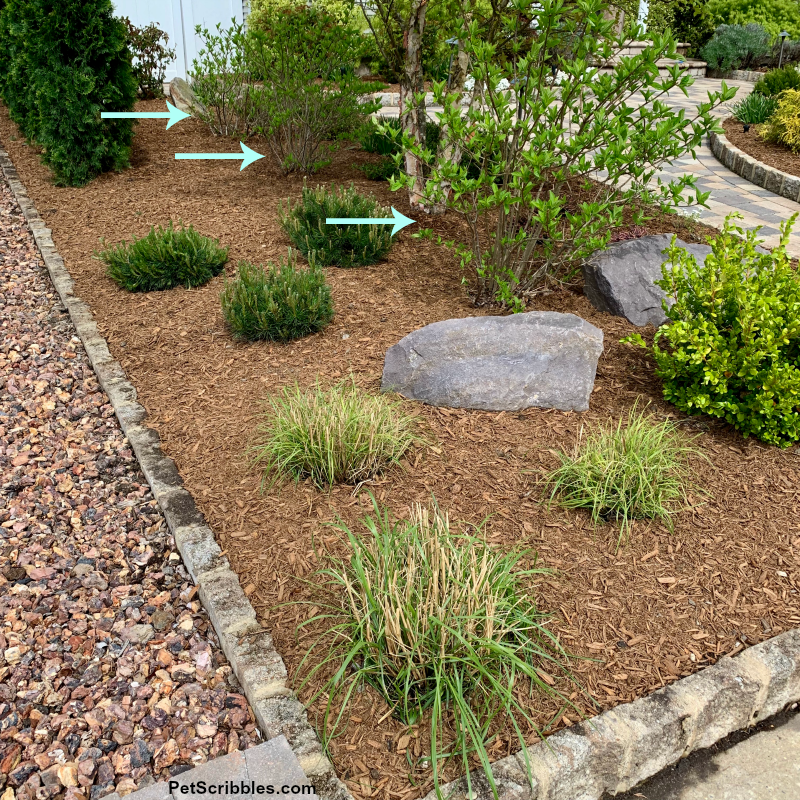 Summer
June 5: The same garden, with bright green leaves.
There's new growth on the Mugo pines and Little Bunny ornamental grass, and the Knockout Roses are blooming in the background.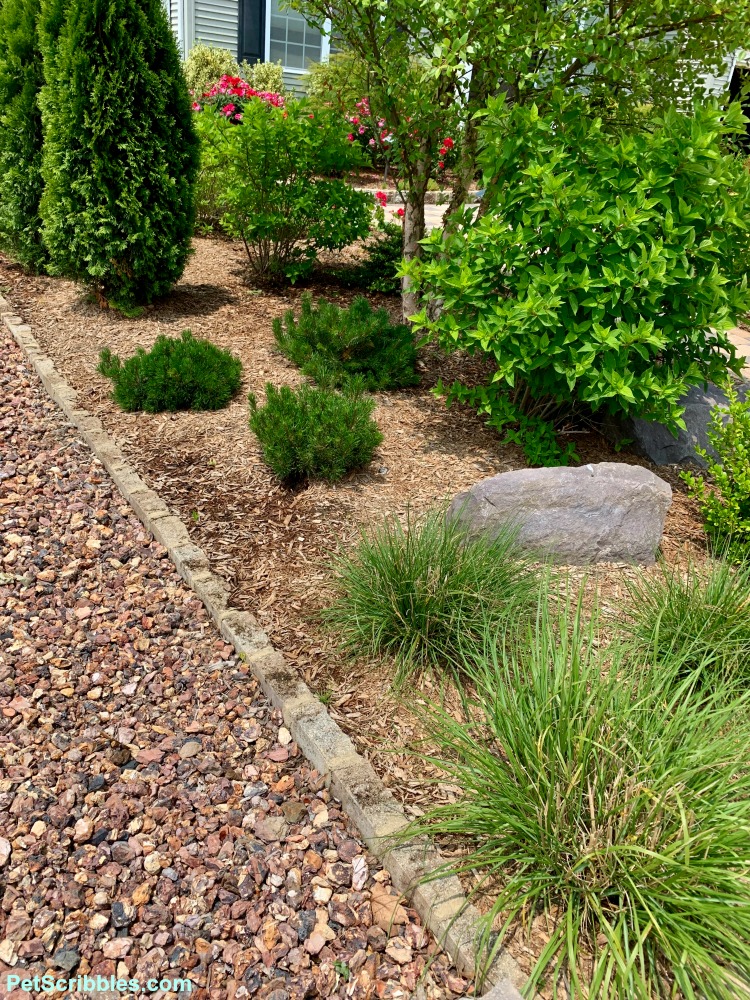 July 11: The hydrangea flower buds appear all over the shrubs.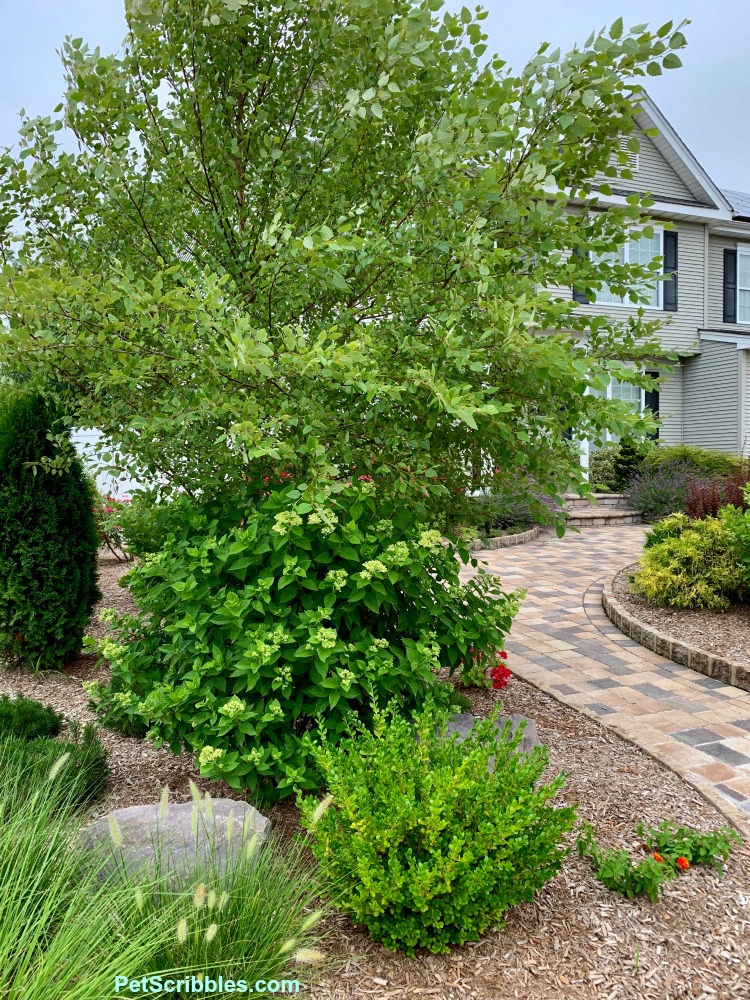 August 13: These pretty shrubs are in full bloom!
The flowers opened up by the last week in July.
Notice how much larger the shrub appears once the fluffy panicles are flowering — compare the previous image with the one below.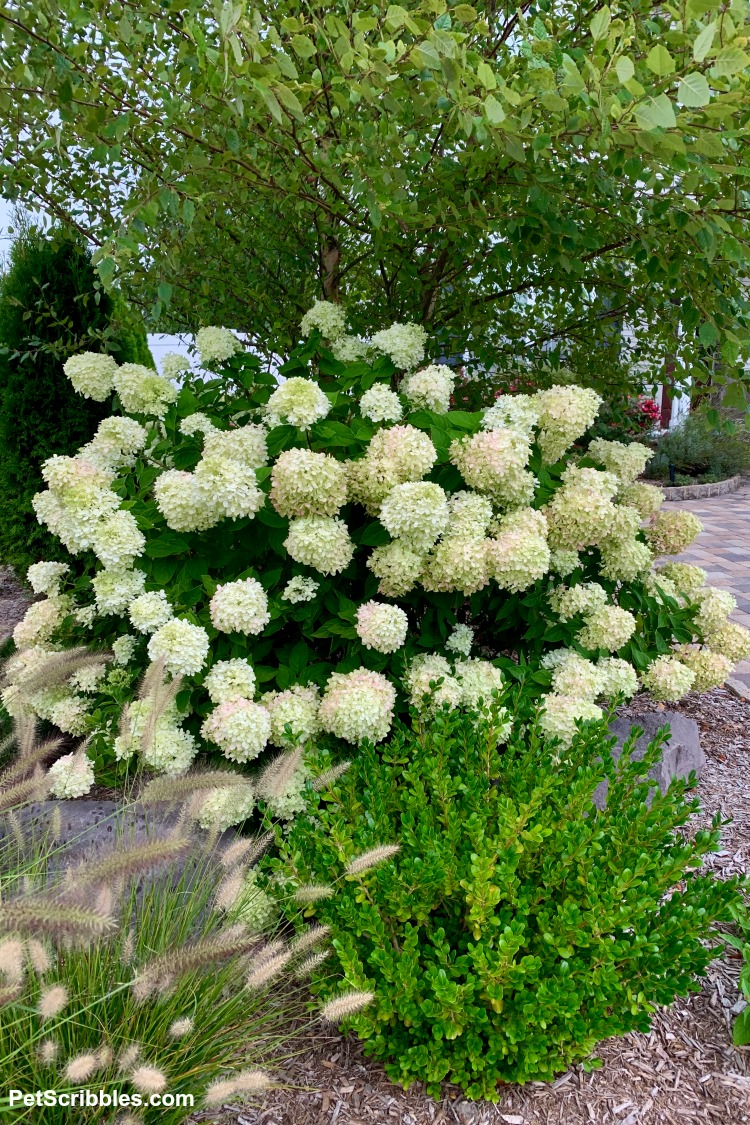 I love the pale pink River Birch bark surrounded by lime green flowers!
The small evergreen shrub is Helleri Holly.
This scene is so charming!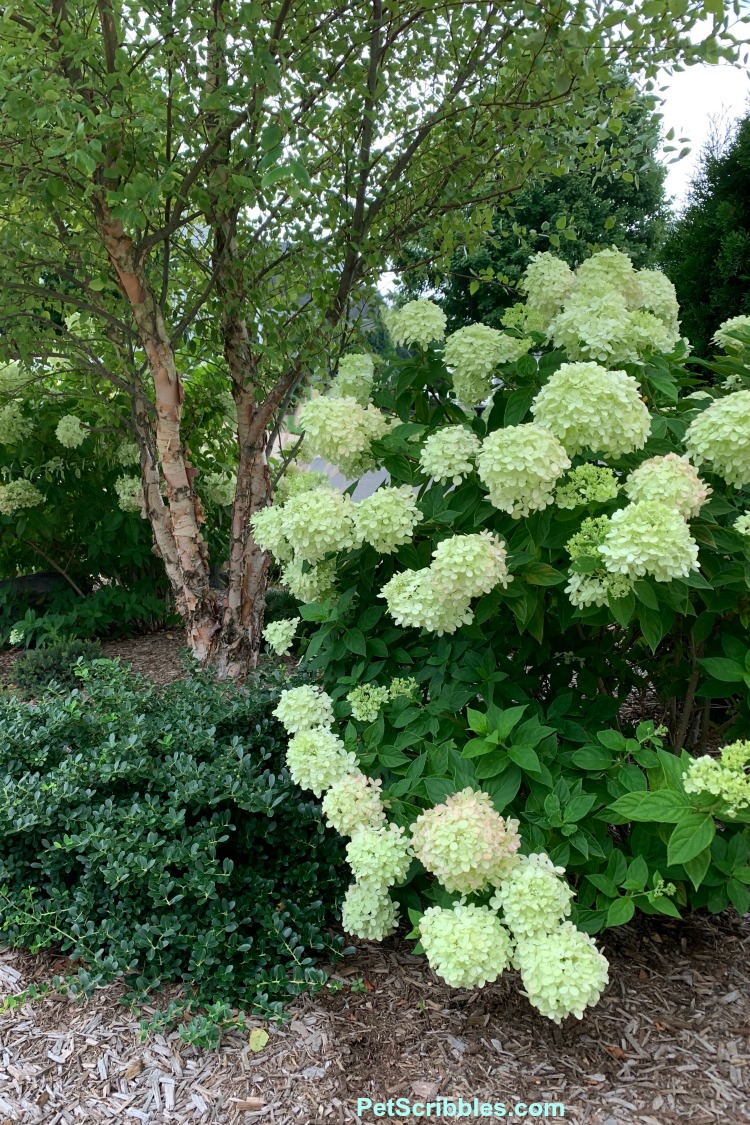 Fall
September 1: There is a lot of pink color on the flower heads.
That's a Summer-blooming white Heather in front.
(Actually that particular Heather isn't sure when it's supposed to bloom, as it seems to have some flowers on it year-round!)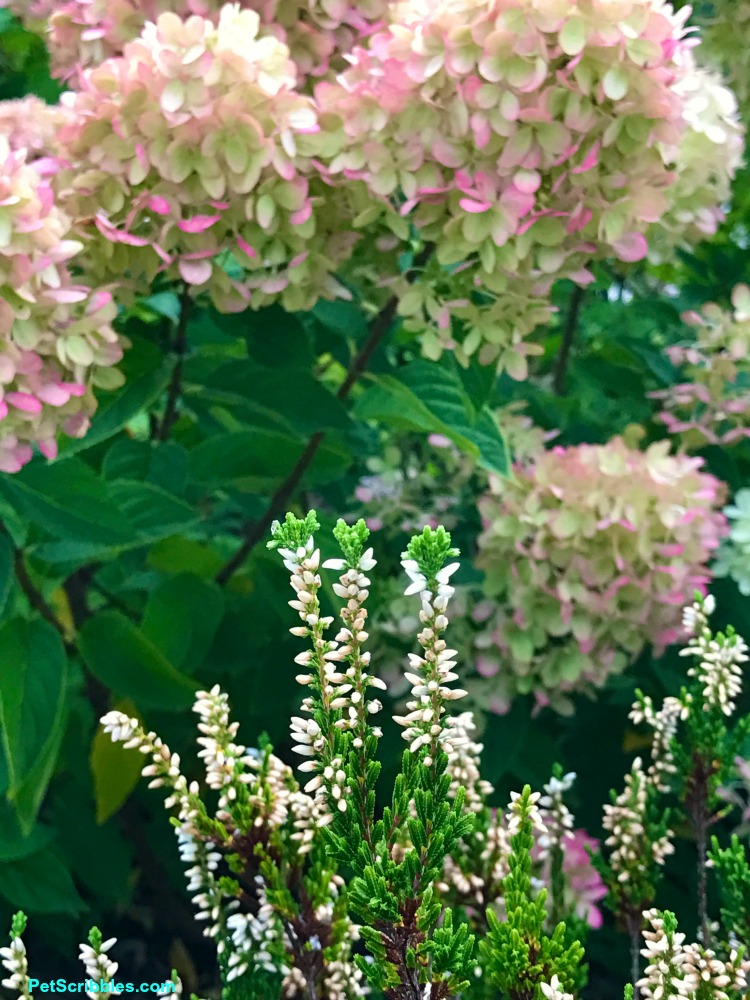 October 14: The flowers are mostly pink now, and just breathtaking!
You can also see some of the leaves have turned yellow.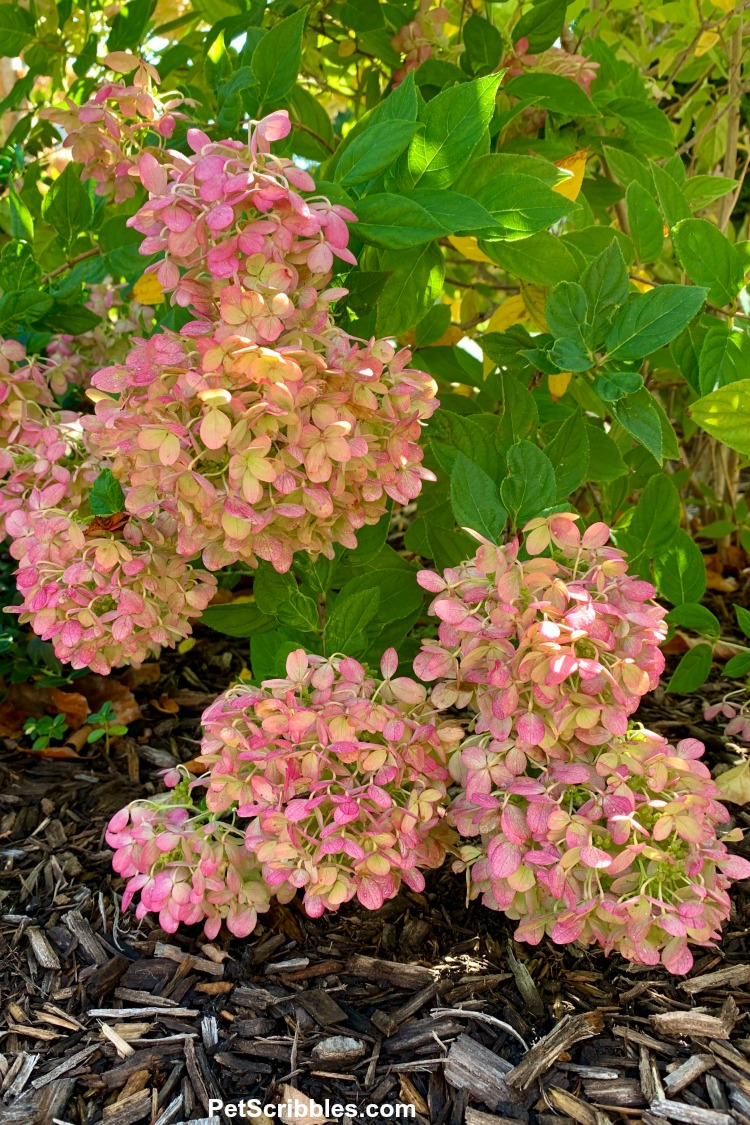 I photographed this from our second floor early one morning, to try and capture the pretty color of the drying flowers.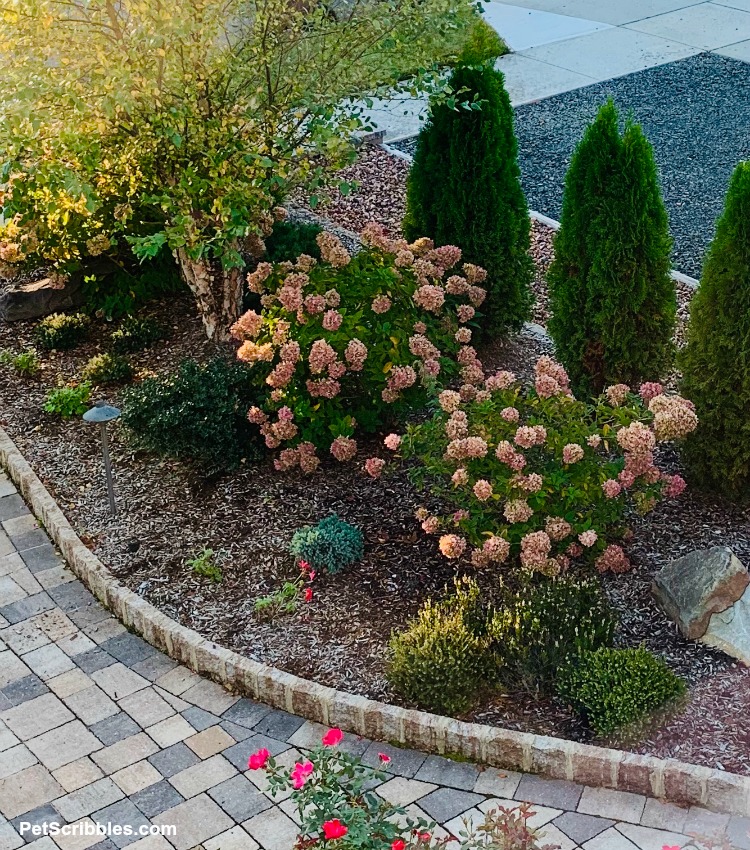 Late October: The flowers begin to fade while they dry on the shrub.
I never do anything special to dry these flowers.
Mother Nature takes care of them all by herself!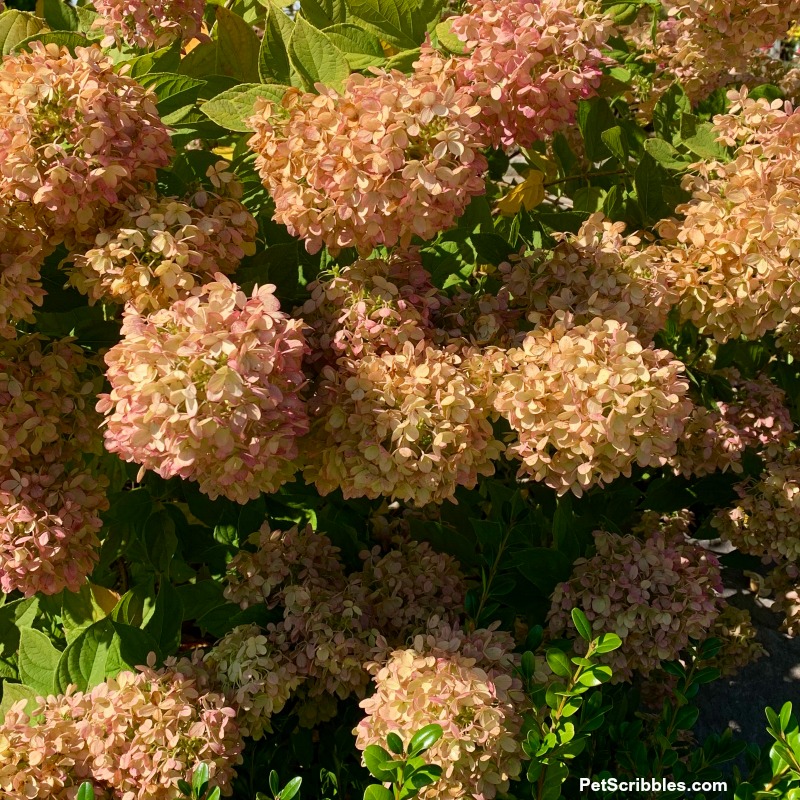 These flowers look even prettier against a blue sky on a crisp Fall day!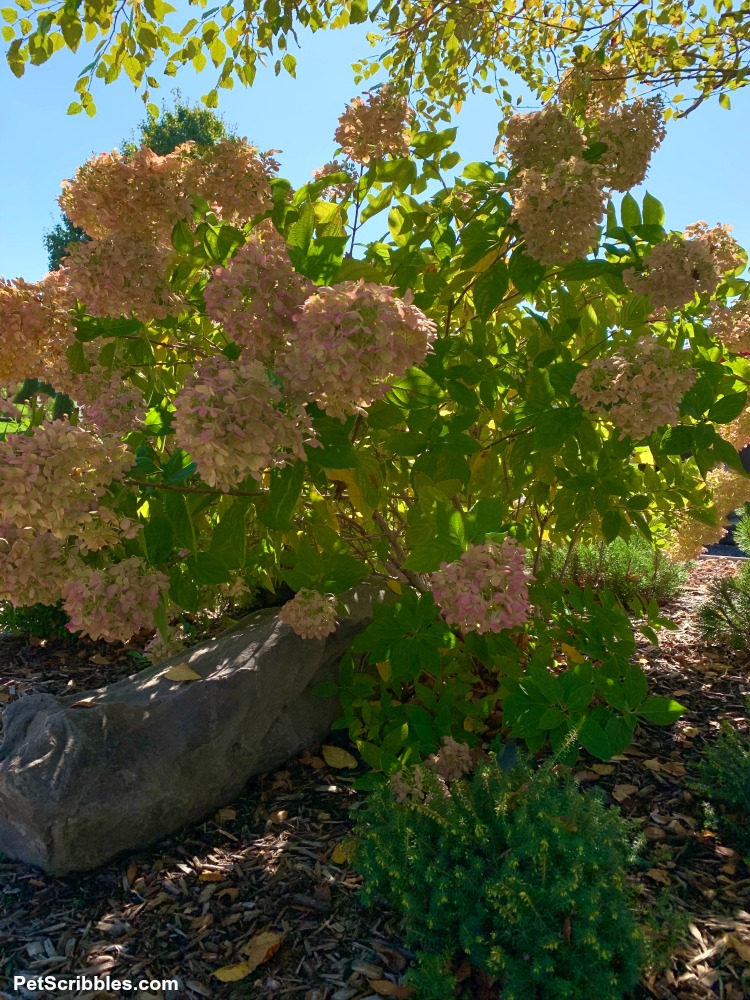 Thanksgiving: By late-November, most of the flower heads have dried.
However, look closely and you will see one that still has its pink color!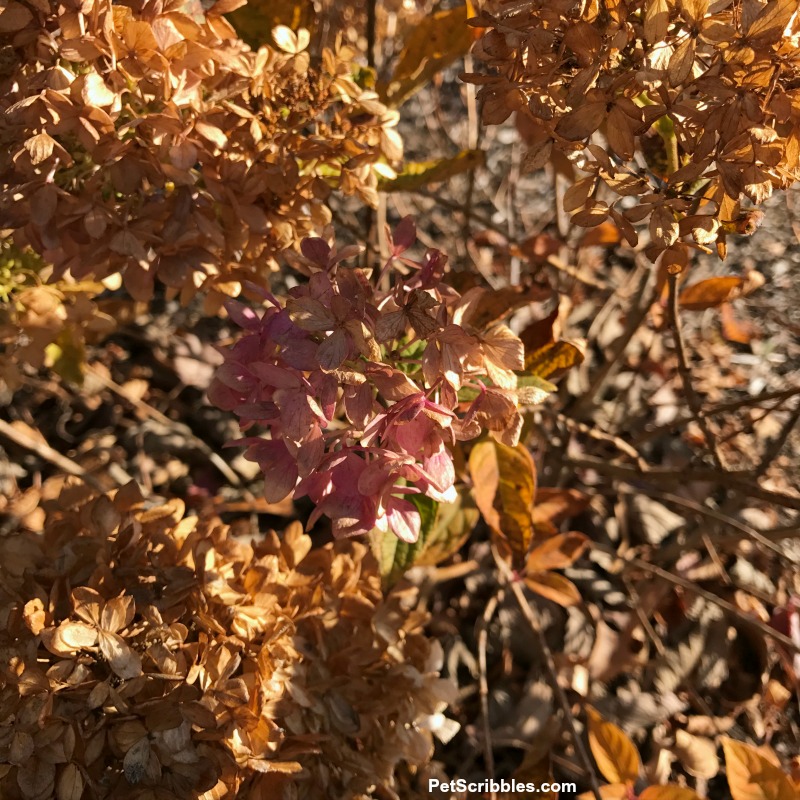 Winter
Mid-February: This Winter Gem Boxwood gets a rusty-brown tinge to it because it is in a very windy, exposed spot.
Even so, the color contrast it provides to the dried Little Lime flower heads, the Red Twig dogwoods and the evergreens nearby is welcome.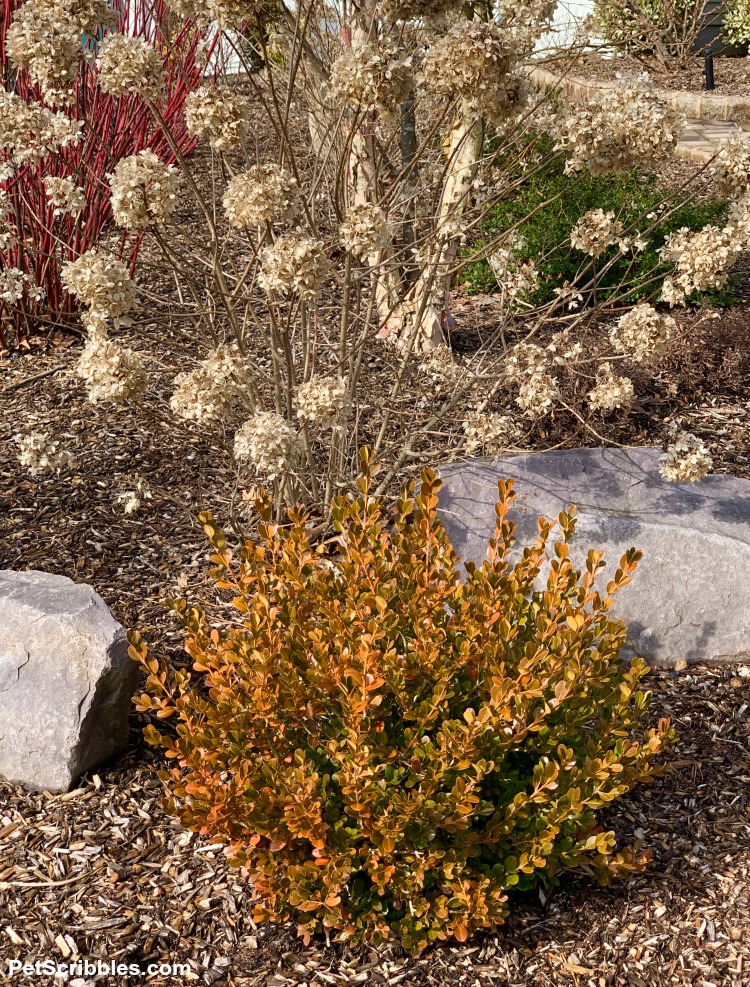 End of March: The boxwood is turning green again, and the daffodils are out!
This is when I say goodbye to the dried flower heads and prune the Little Limes back for the season.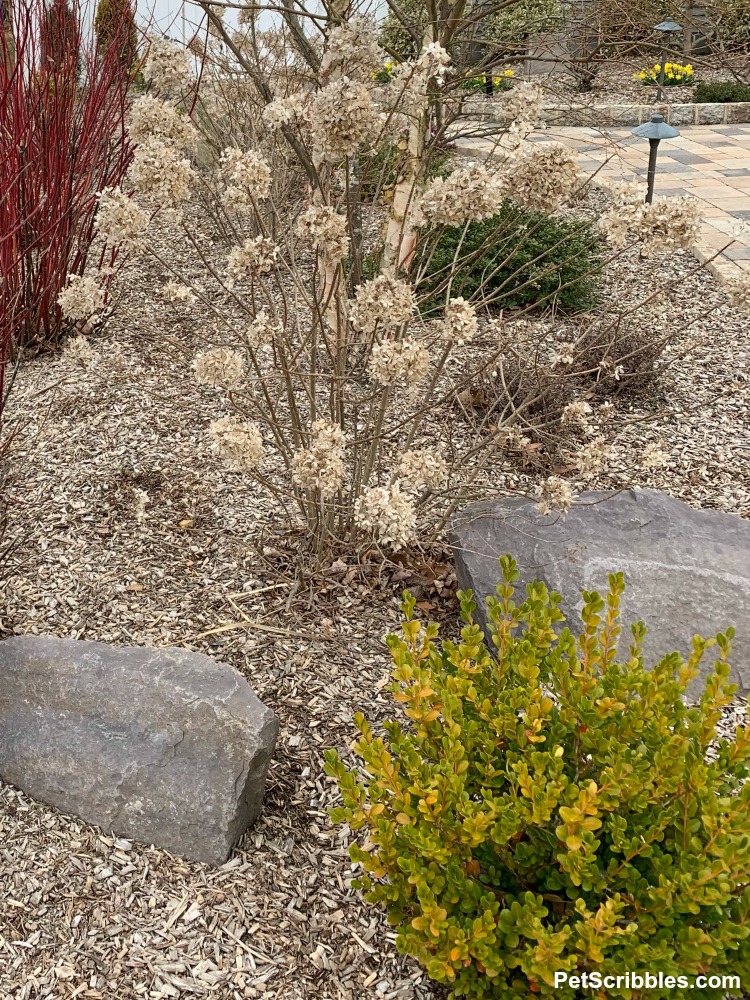 Any time during the Winter when it snows, I'm treated to this lovely display.
The dried flower heads remain on upright stems, and hold the snow nicely!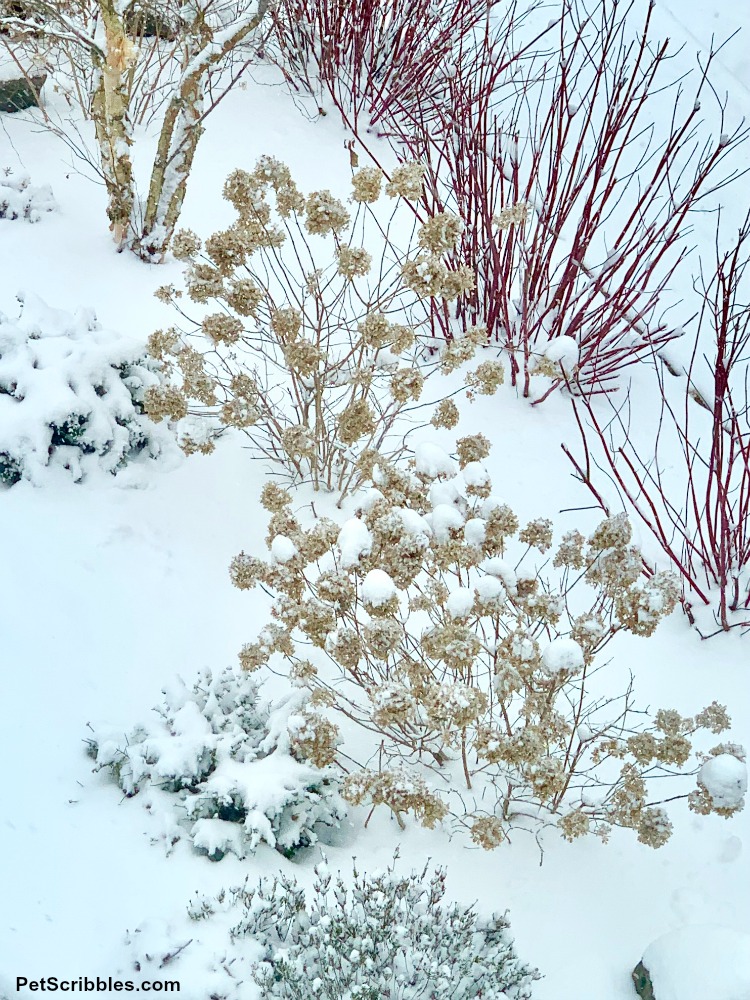 ---
---
As you can see, Little Lime hydrangea can be used as a four-season shrub.
Add at least one of these to your garden this year.
You will be very happy you did!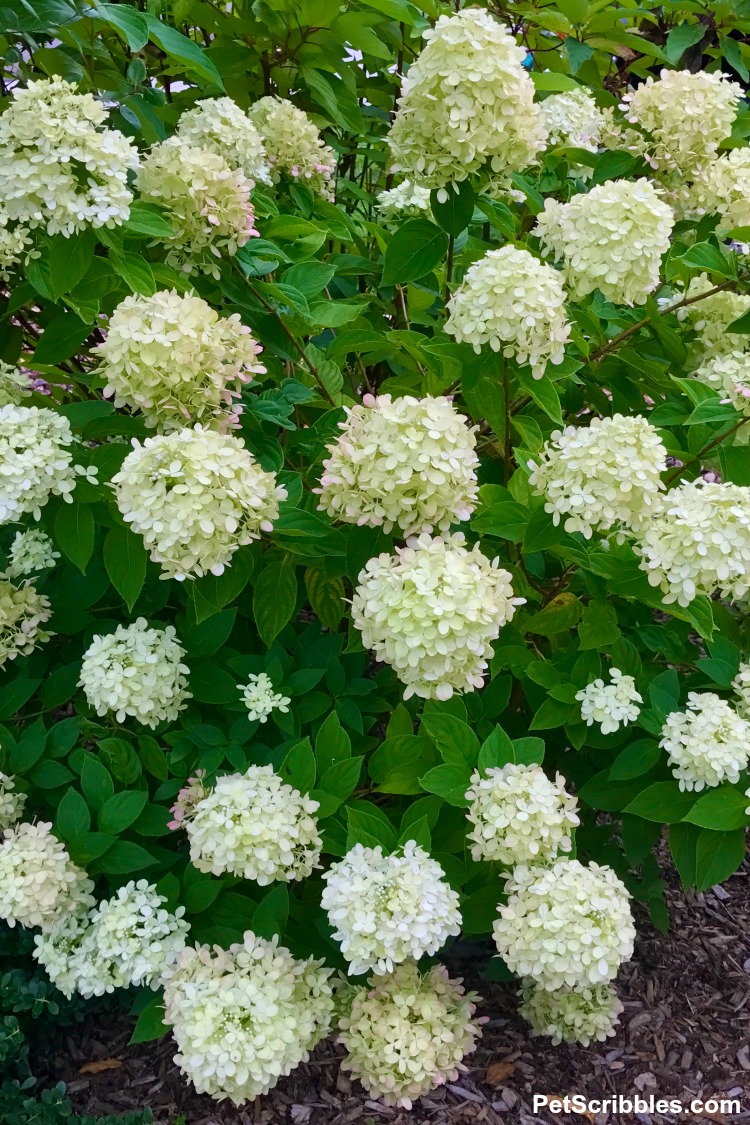 Where to buy Little Lime Hydrangeas
Locally:
My best suggestion?
Visit your local garden nursery.
You will receive expert planting advice from them because they carry plants specifically for your region.
This shrub continues to gain in popularity and many big-box garden centers also carry it now, such as Home Depot and Lowes.
Online:
Happy gardening!