Japanese Anemone Party Dress is a charming Fall perennial with frilly pink flowers on tall stems that stay upright in bad weather. Blooms September through November. Here's why all Japanese Anemones are Fall favorites for many gardeners.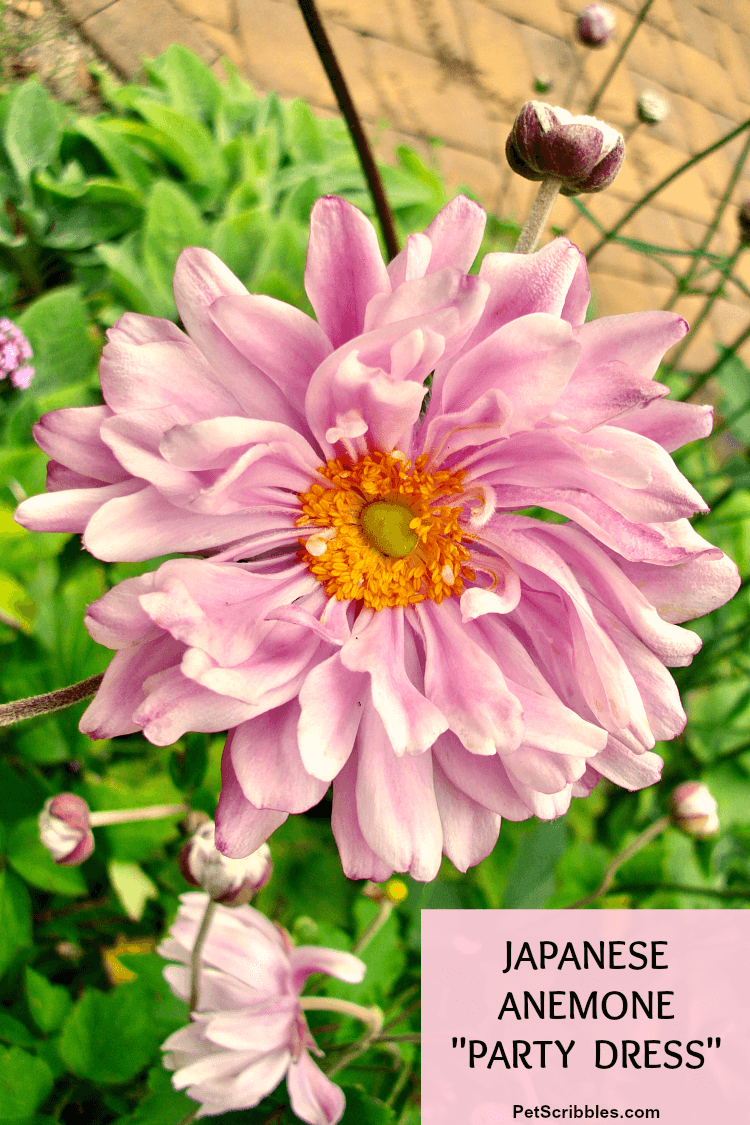 When most people think of Fall flowers in the garden, they think of Mums, Black-Eyed Susans and Pansies, followed by vibrant Asters and Goldenrod with some Ornamental Cabbage and Kale mixed in.
Read my post filled with garden eye-candy for great Fall color ideas: How to Get Brilliant Fall Color in the Garden.
I have a perennial plant to share with you today that just might change the order of popular Autumn garden flowers: Japanese Anemone Party Dress!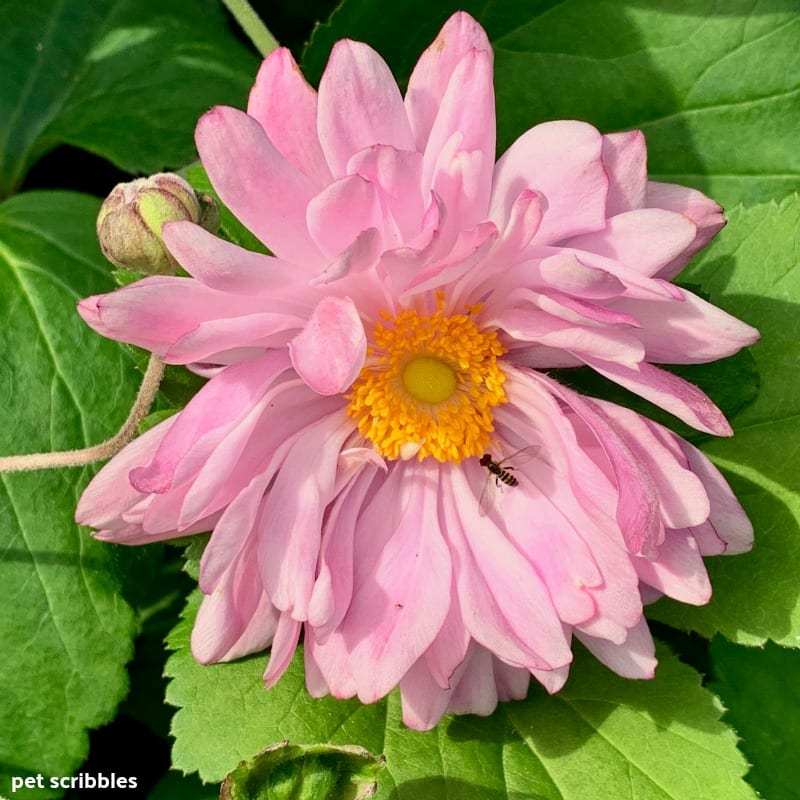 Gorgeous, right?
Party Dress is only one of many varieties of Fall-blooming Japanese Anemones. These perennials are loved by gardeners for their easy-care and pretty flowers. Japanese Anemones are perfect for adding color to late Summer gardens and they continue blooming well into November.
What to expect with Japanese Anemone Party Dress
Japanese Anemone Party Dress is a perennial, which means once you plant it, your own work is basically done. These plants come back year after year on their own, and form pleasing patches of flowers.
Pink may not seem like a traditional Fall garden color, but these flowers can mix in easily with all the shades of Autumn. The ultimate party guest!
For pleasing plant combinations, you can plant Japanese Anemone Party Dress with Hostas or Ornamental Grasses. Plant these with Spring bulbs and flowers, and Japanese Anemone's leaves will play nice as well as hide any dying foliage once their bloom time is finished. (I'm thinking of Daffodils as an example.) Fall bloomers as companions include Goldenrod, Asters, Mums and Sedums.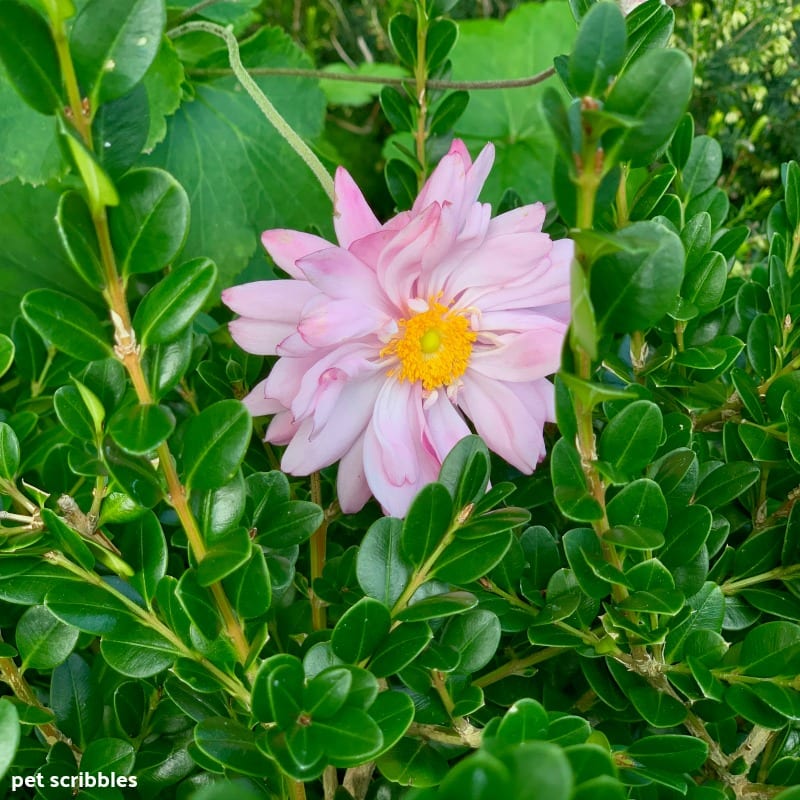 Japanese Anemone Party Dress perennials are the perfect choice to cover a large area as they do spread under ideal growing conditions. They also look lovely in cottage gardens and more informal gardens. Consider planting them in containers as well.
A new smaller variety now exists too!
I'm excited for some of the newer varieties of Japanese Anemones, including one very similar to Party Dress called Pretty Lady Emily. It features a much more compact habit, which may be more suitable for your garden. The mature height of Pretty Lady Emily is approximately 16 to 18 inches tall, whereas Party Dress is between 3 and 4 feet tall when in bloom.
Spring and Summer (how the plants look)
Each Spring Party Dress starts out looking like a low ground cover, which is very pretty as a background for Spring bulbs and Summer blooms. Plus, the Party Dress leaves help to hide dying Spring flowers and stems.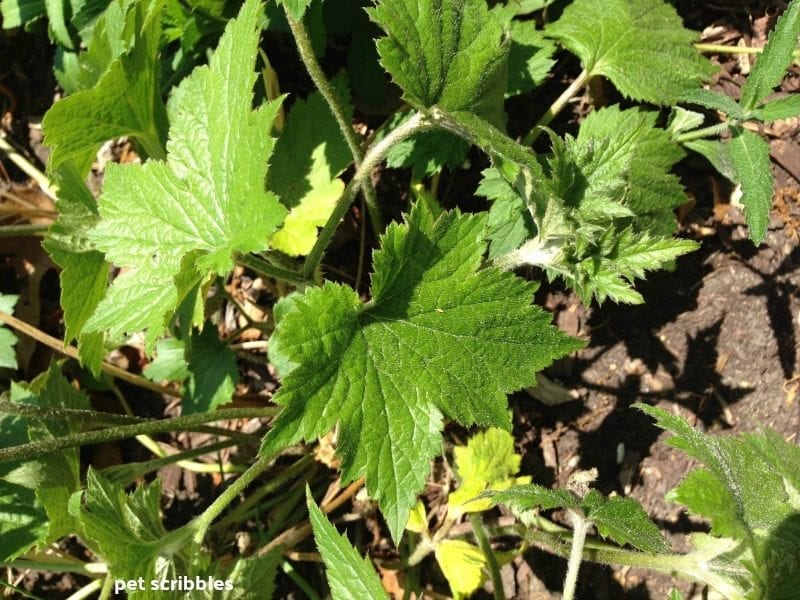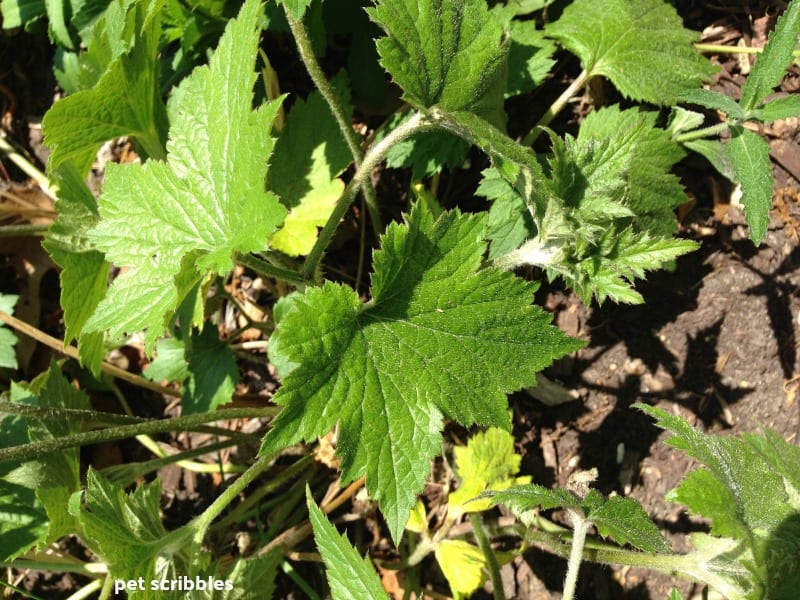 Do Japanese Anemones spread?
In ideal growing conditions — and once established — yes, Japanese Anemones in general do spread.
Here is a picture of my backyard garden taken a few years ago on May 27th. The blue arrow points to the Japanese Anemone leaves.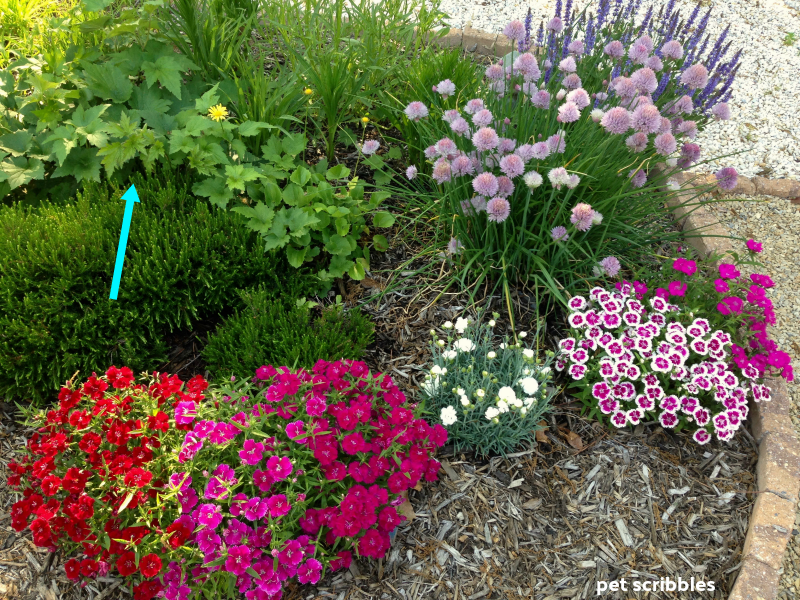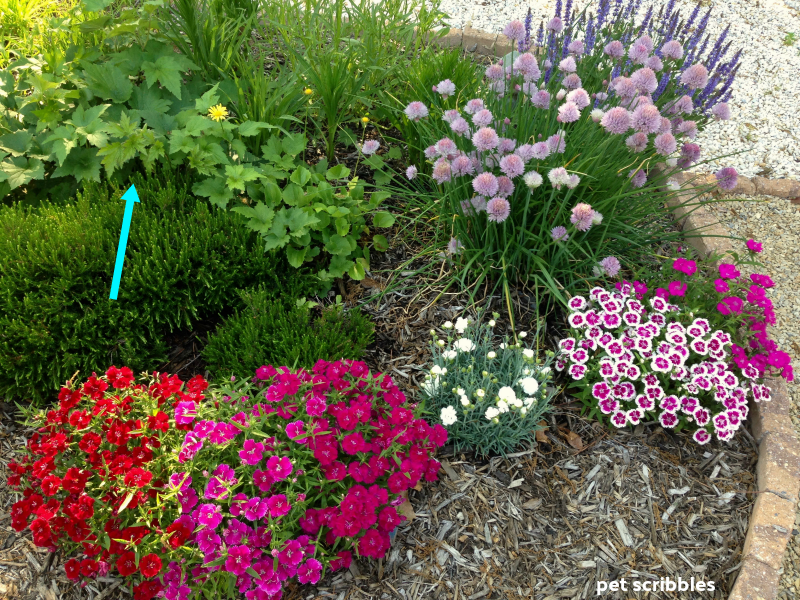 And here is a picture of the same backyard garden taken just 12 days later on June 8th. The blue arrow points to the newer leaves which have already popped up and spread.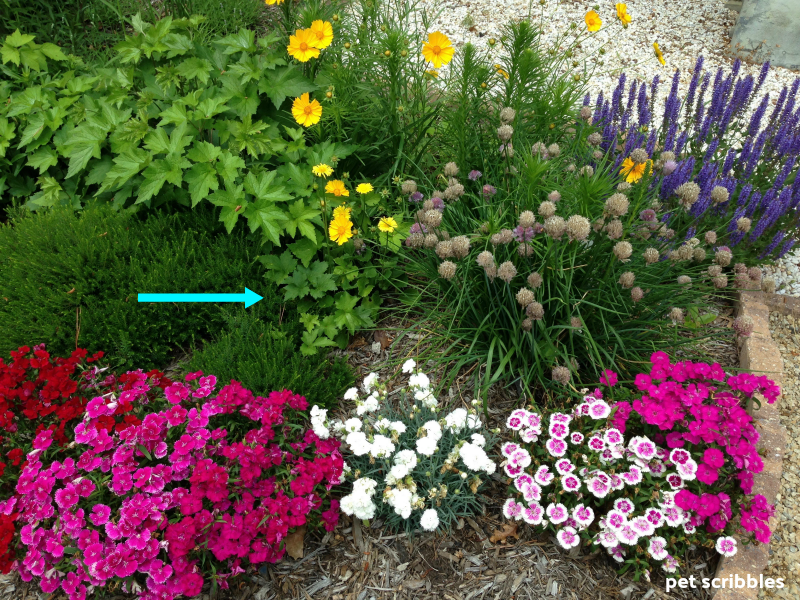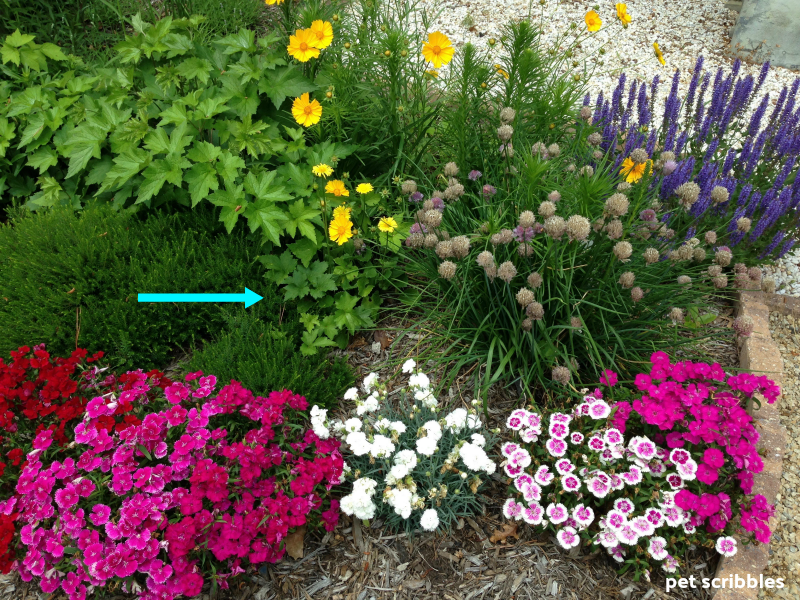 I share these images with you to demonstrate how Japanese Anemones may perform in your own garden.
However, there IS good news.
You can control the spreading!
It is very easy to control the spread of Japanese Anemones, as I demonstrate below.
Here's a current picture from another part of my backyard garden.
You can see that now — in mid-August as I type this — the Japanese Anemone Party Dress buds are popping up on their tall upright stems.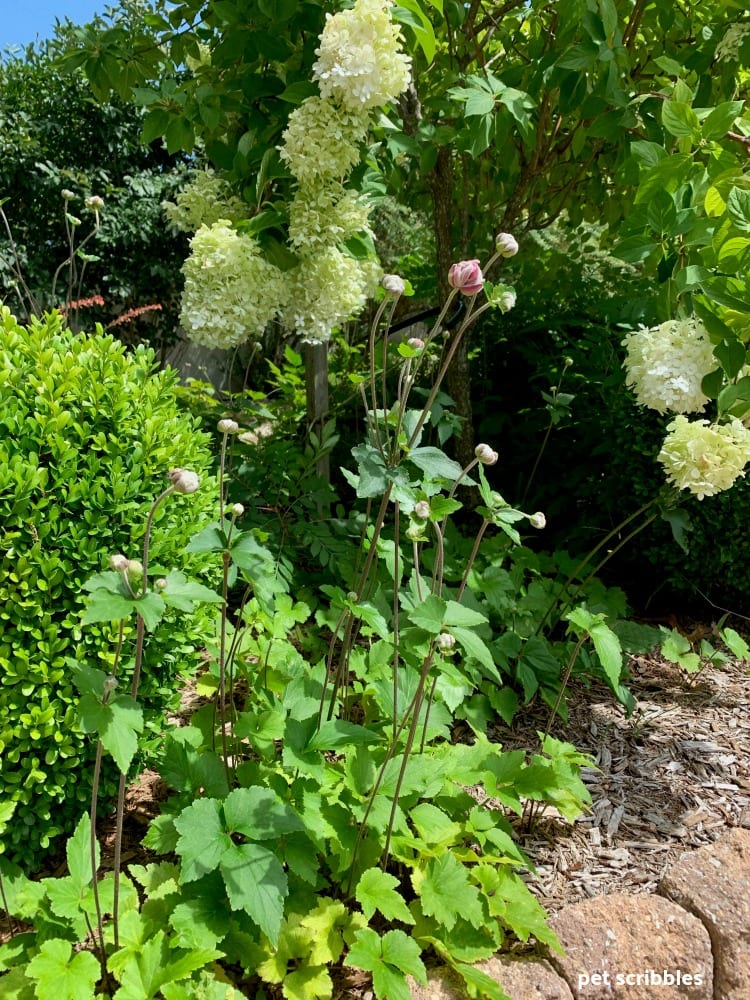 I sort of let this garden do its own thing and come out periodically to tidy up. With the high heat and humidity this Summer — plus all of the rain — I haven't been out to tidy up this garden in almost a month.
These Japanese Anemone Party Dress plants are popping up everywhere, including in front of this boxwood. It's easy to remove them.
Japanese Anemones are easy to remove!
Move the leaves apart so you can find which leaves and stems go down into the ground at a center point. Grab the plant (leaves and stems) at the base and pull the plant out of the ground.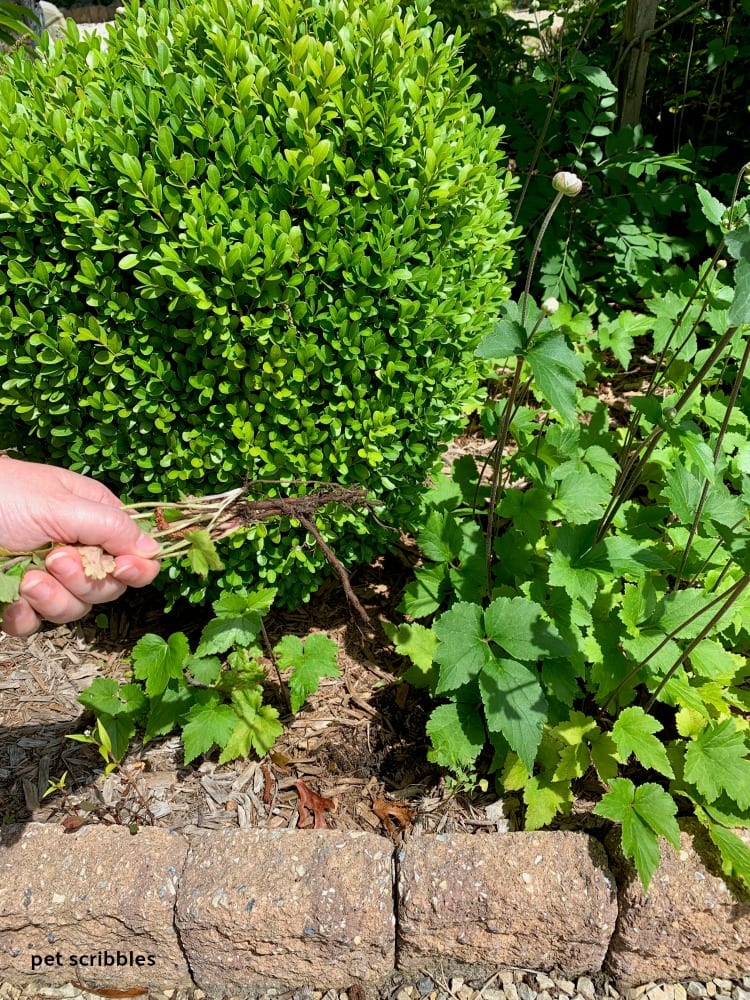 It's that easy!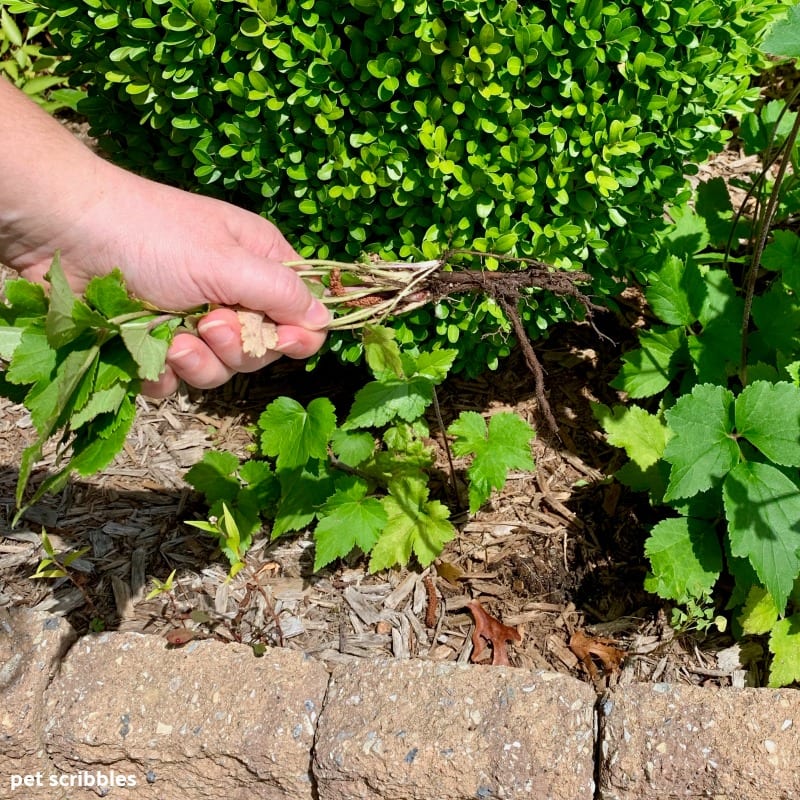 The plants readily come out of the ground and can be replanted elsewhere, potted up into a container, shared with gardening friends or simply toss the plants away. (Trust me, more plants will come!)
This is the easiest way to divide Japanese Anemone plants as well. Just pull out the plants you don't want. It's very easy to thin out an existing patch.
Roots and Rhizomes
Here is what the roots look like of a Japanese Anemone plant: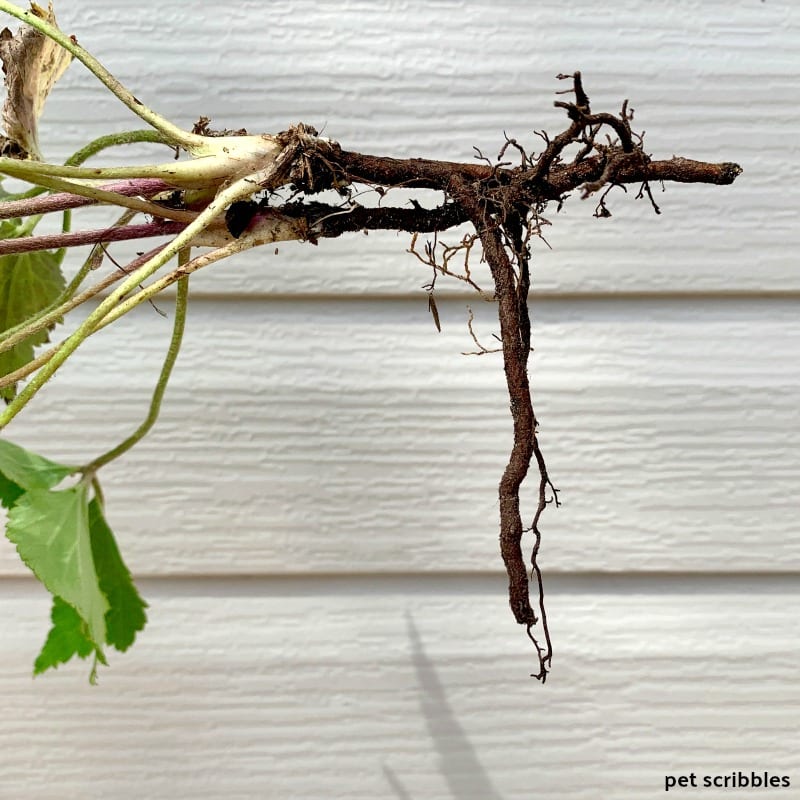 Japanese Anemone perennials spread via their roots and rhizomes underground. When you pull out one of the plants, sometimes other smaller plants will pull up with it. Again, this makes it easy to remove any unwanted plants.
Flower buds and stems of Party Dress
Starting in late July or early August, you'll see a few spikes emerging from the ground cover of leaves. First one spike, then another and another.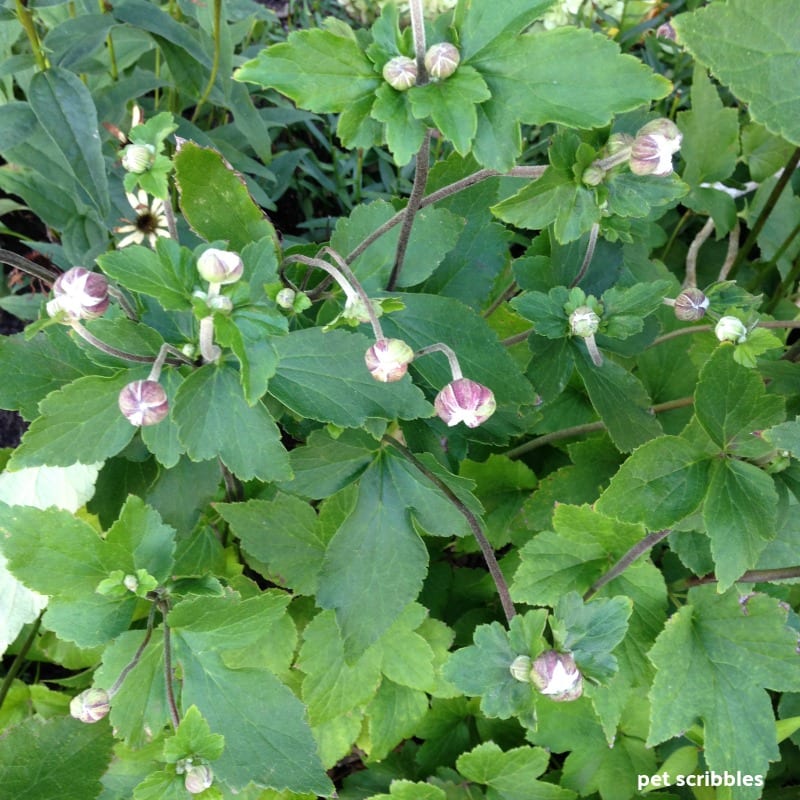 It's magical to see them begin their ascent. And the flower buds are so cool. My best description? They resemble cotton seed heads: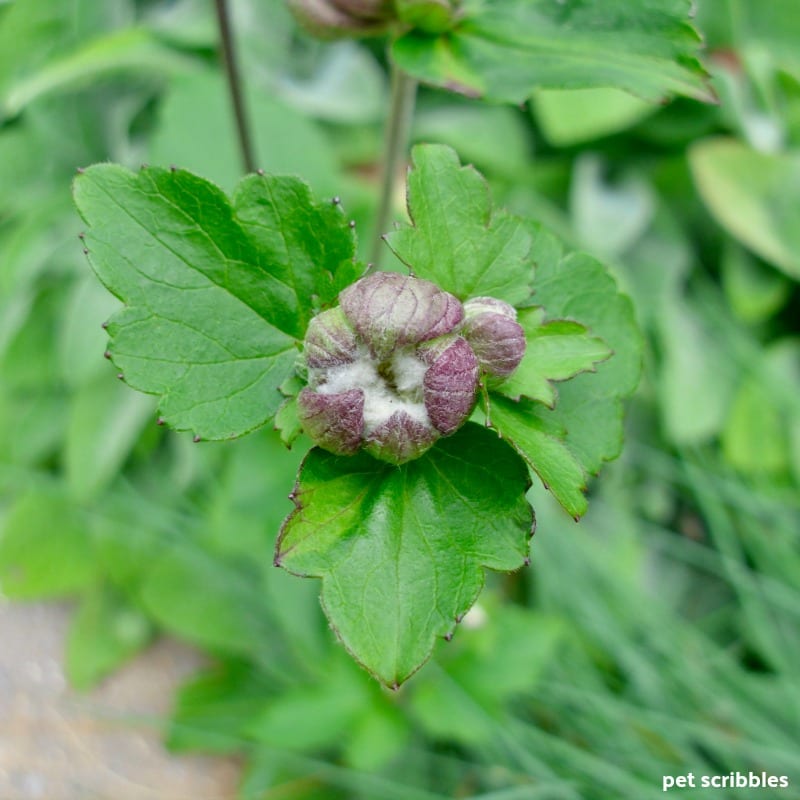 The insides of these buds look almost white, but the outside has a nice burgundy tint to it, as you can see in the photo above. As they continue to develop, they take on a white fuzzy appearance.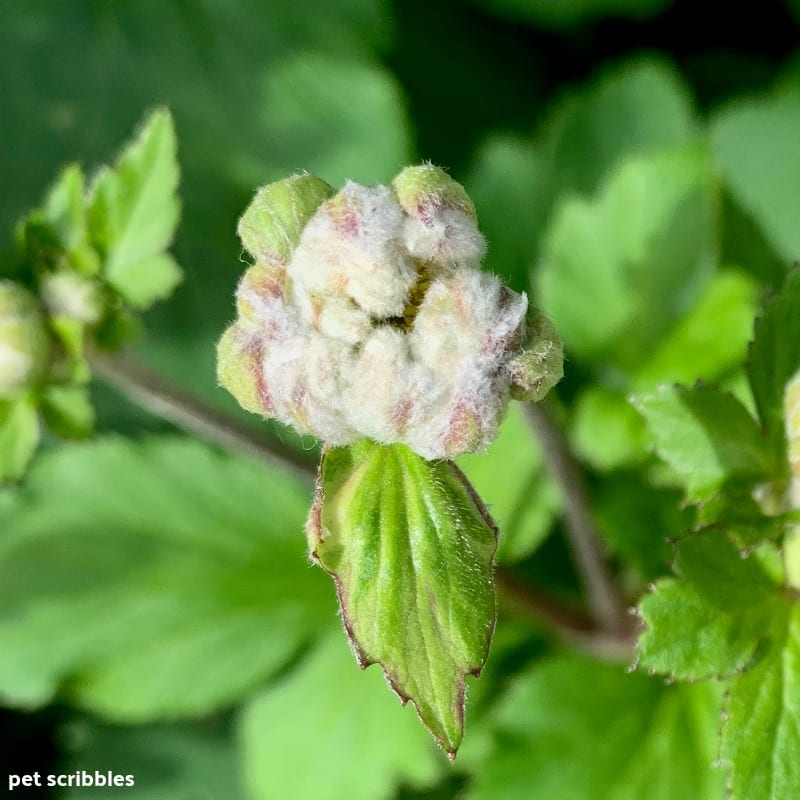 You begin to see the charming pink flower color once the Japanese Anemone Party Dress buds finally start to open and unfurl.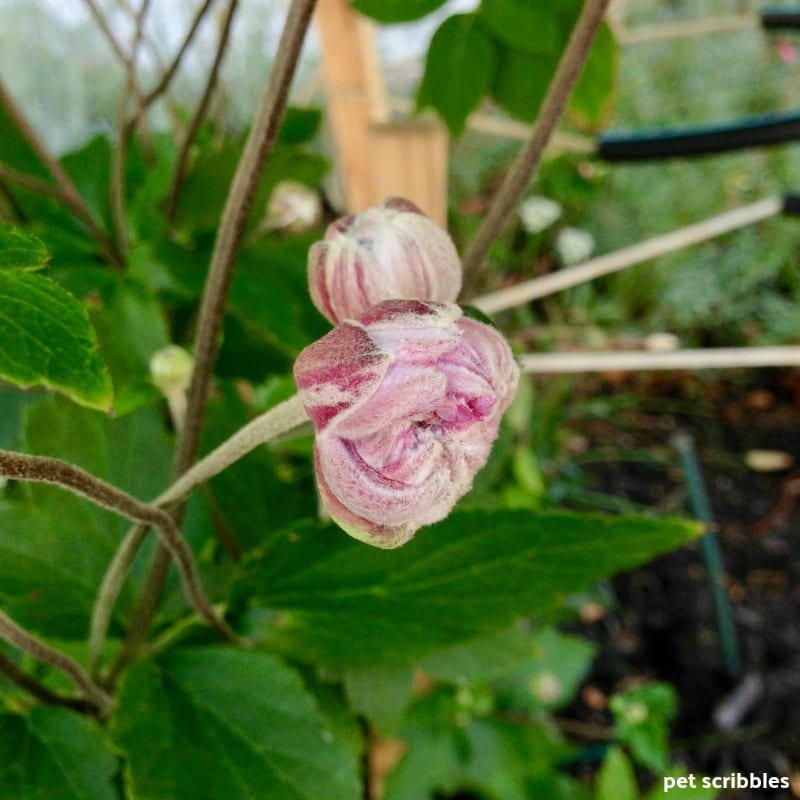 Meanwhile, the long — and strong — stems continue to shoot straight up, approximately 3 to 4 feet high above the leafy ground cover.
But the party is just getting started with these Party Dress flowers!
Fall color with Japanese Anemones
Check out their frilly petals when they begin to open up: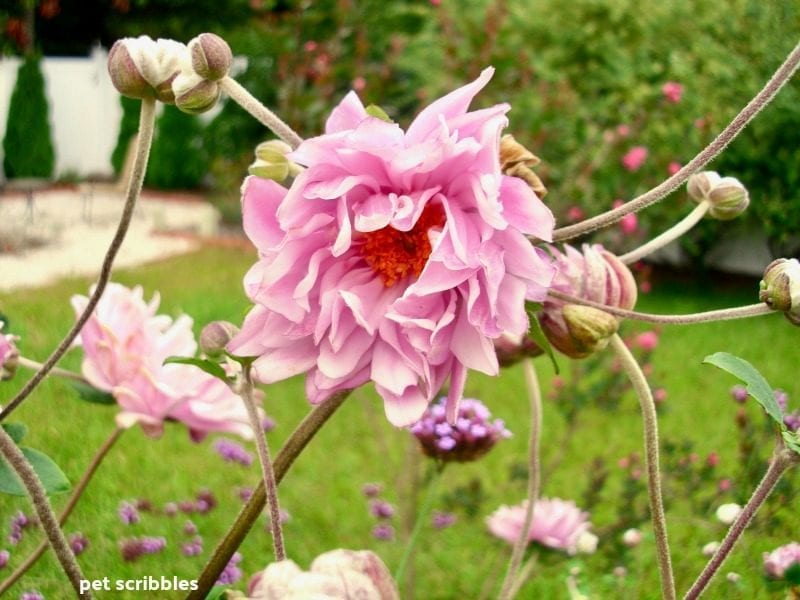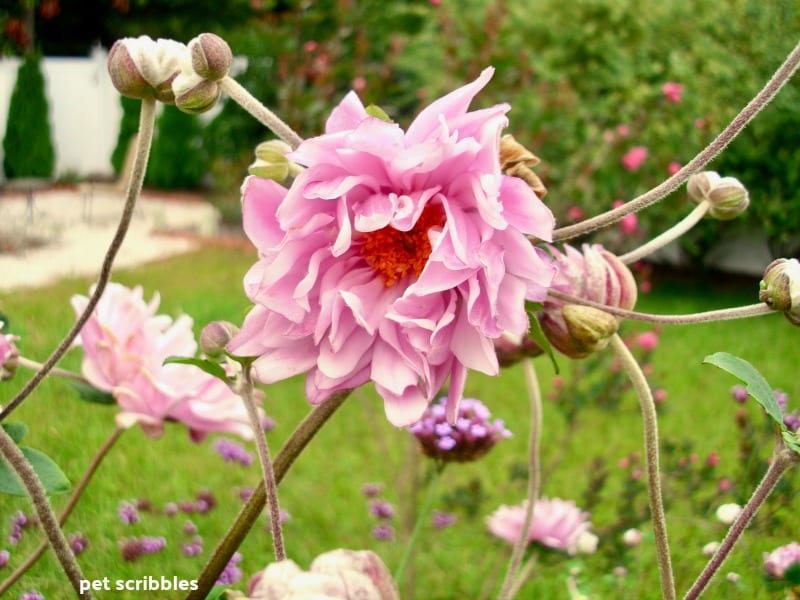 Stunning, right? What an entrance they make, in keeping with the party metaphor which I'm slowly overusing in this post!
Once the Party Dress flowers fully open, you are treated to a dazzling yet soft pink shade of ruffled petals.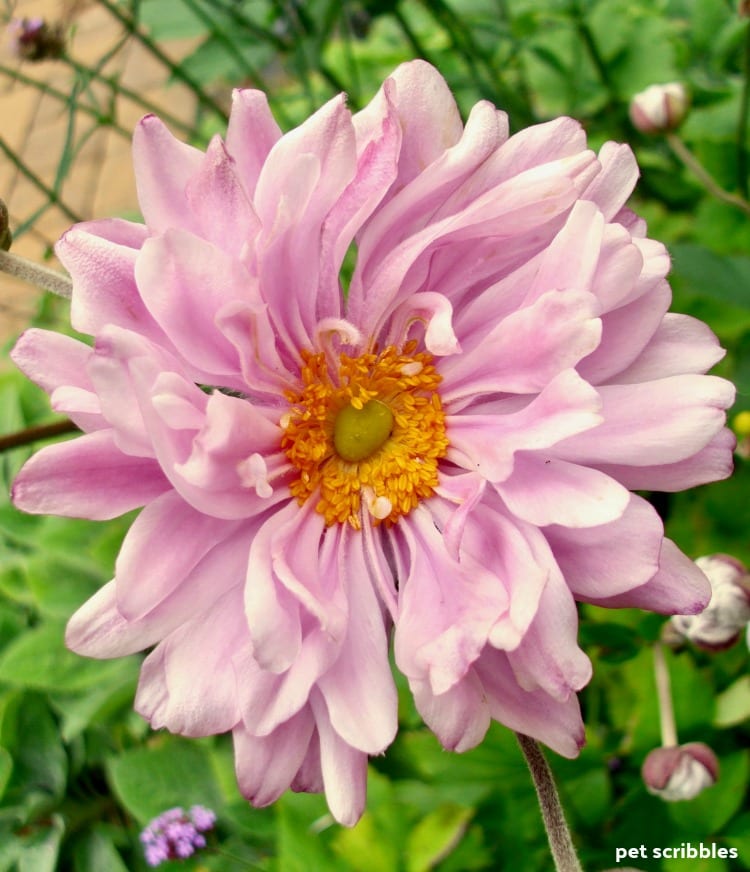 What a show stopper!
The centers of Party Dress flowers are so intricate. They have a green center, surrounded by bright yellow which is also a bit frilly, and then the pretty pink petals. Here's a closer look at the very pretty centers: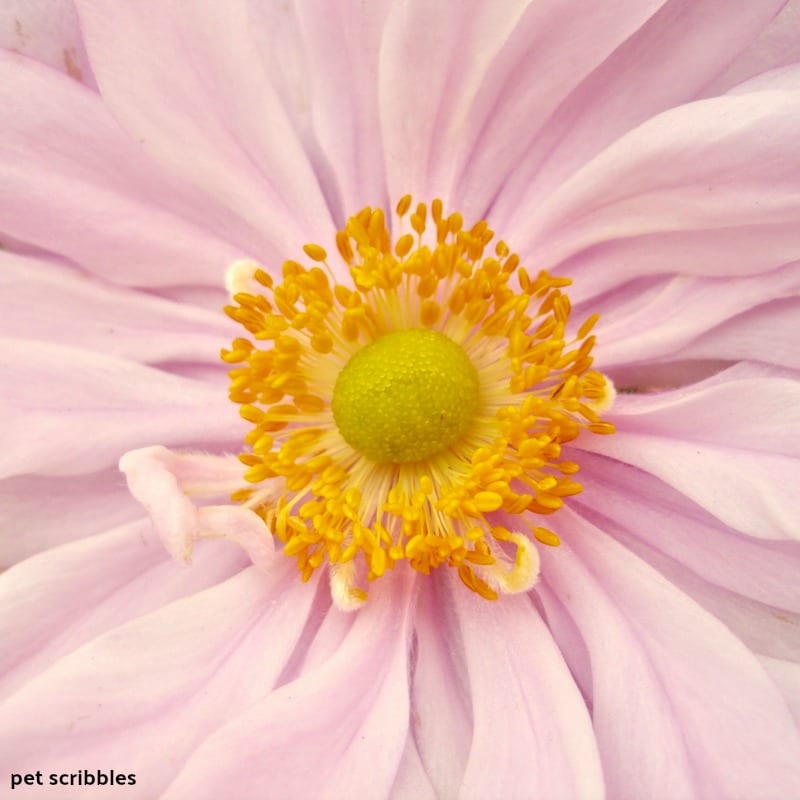 Japanese Anemone flowers look so delicate, but ours actually survived Hurricane Sandy back in 2012! Definitely tougher than they appear!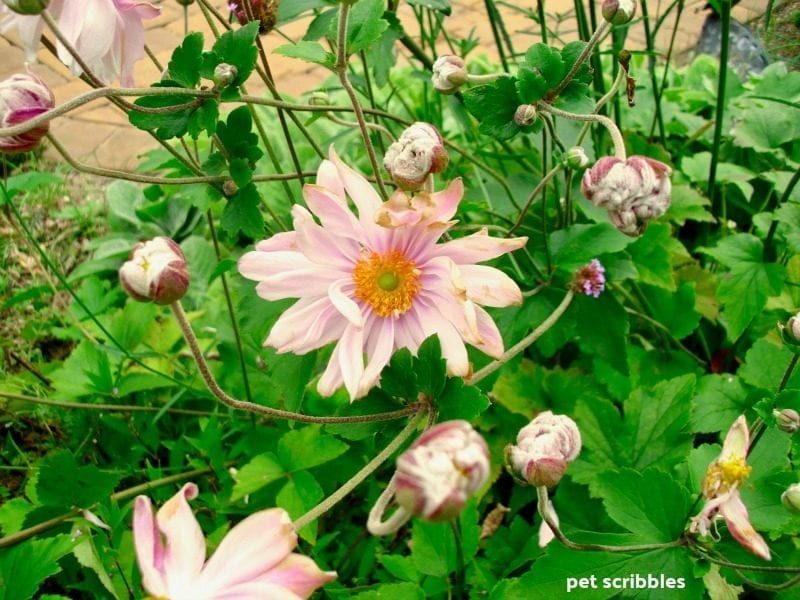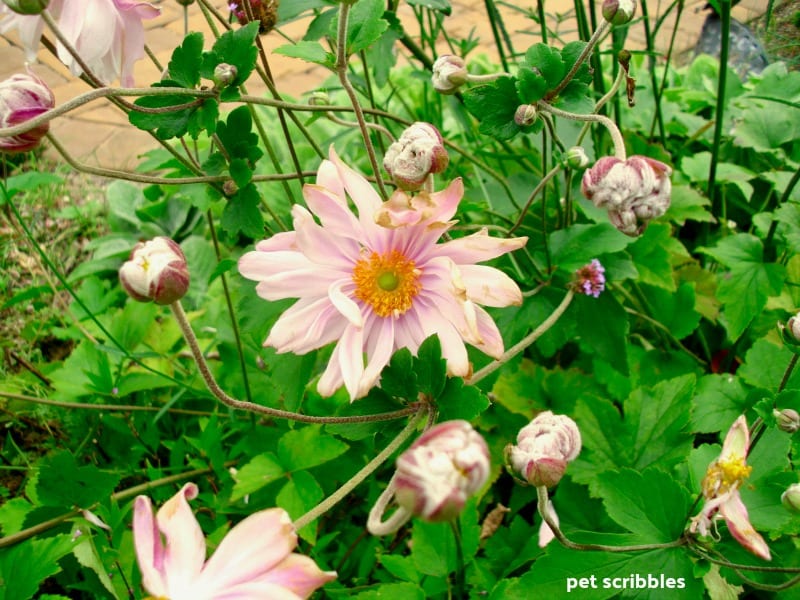 As the Fall continues, new flowers keep popping up, as you can tell in the image above, so you get to enjoy all phases of blooms at the same time.
I absolutely adore these flowers when they begin to fade. Look at how beautiful this flower is: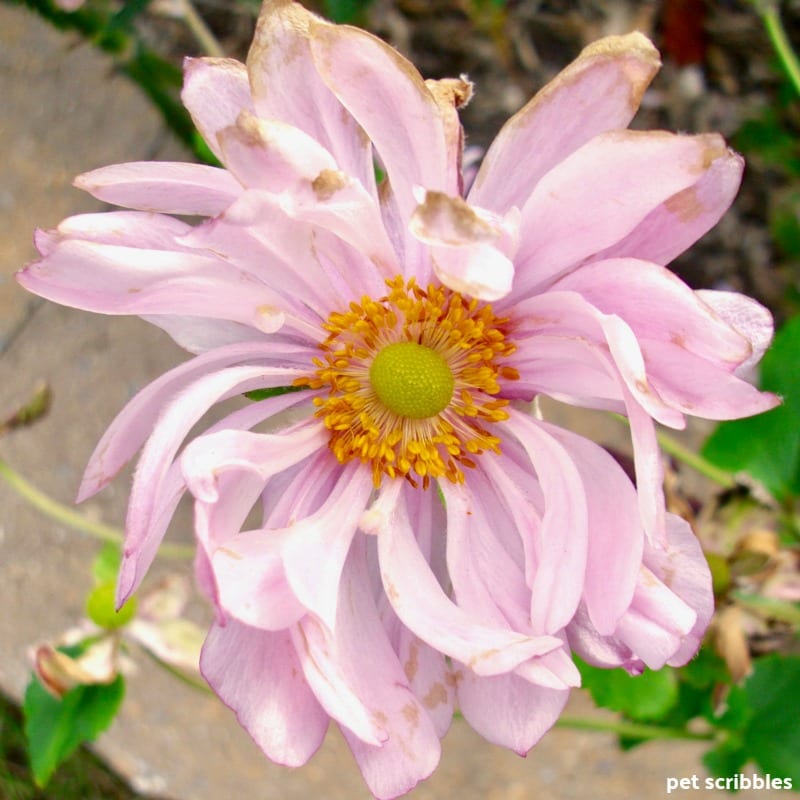 Maybe it's the vintage-loving part of me, but I just love how these flowers look with a bit of "distress" to them!
These flowers will still be going strong in late Fall. I'm in Zone 7, and here they are happily blooming in late November, next to the dried flowers on our Limelight Hydrangea Tree!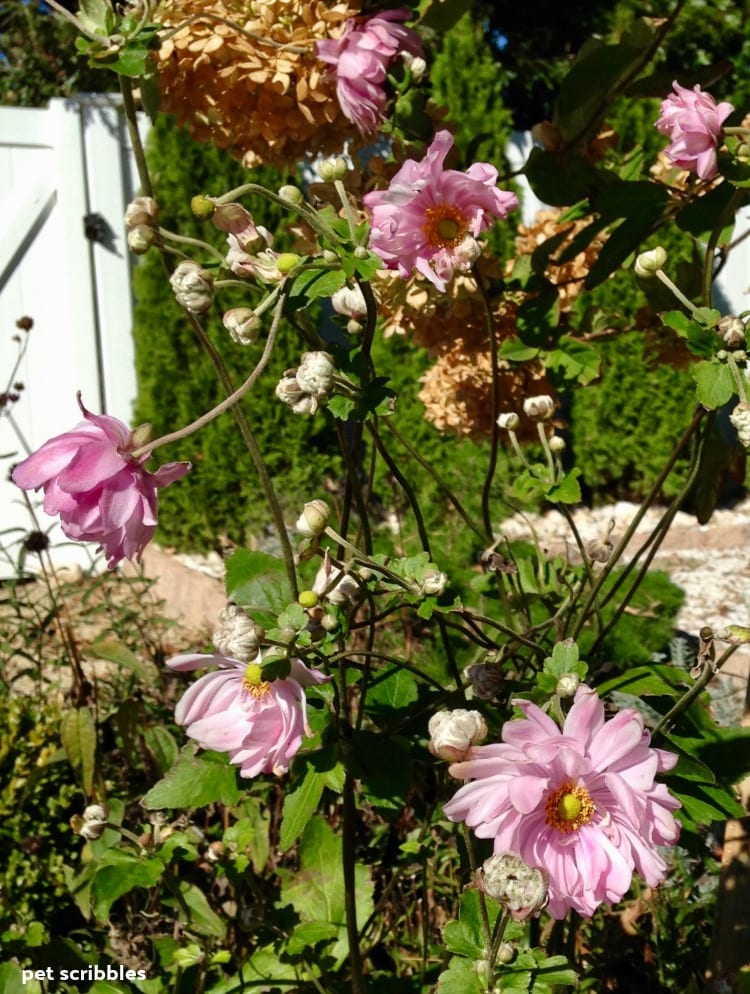 Japanese Anemone Party Dress Growing Information
Flowering perennial
Bloom time from late-Summer through mid-to-late Fall
Mature height in bloom can be 3 to 4 feet high
Spreads via underground stems, roots and rhizomes
Deer resistant and rabbit resistant*
Garden zones 4 to 9
Average soil, but moist is fine as long as it drains
Cover with mulch in Northern climates during Winter
Full sun to partial shade
*Years ago, we had a cute little bunny live among the Japanese Anemone leaves for a month in May with no damage!
Where to find Japanese Anemone Party Dress
You can find Party Dress and many other varieties of Japanese Anemones for sale in catalogs online.
Garden centers and area nurseries may also carry varieties of Japanese Anemones in Spring and Fall. My best advice is to ask your local nursery professionals when they will offer Japanese Anemones for sale.
As I mentioned earlier, a newer variety very similar to Party Dress is Pretty Lady Emily. It features a more compact habit, which may be better suited for your garden.
Other Japanese Anemone varieties with similar pink frilly flowers include Anemone Pocahontas and Anemone Alice. A much darker Pink with the same frilly flowers can be found with Anemone Prince Henry.
Some of the most popular hybrids of Japanese Anemone include Rubustissima, Queen Charlotte and Honorine Jobert. Each one is a fabulous Fall bloomer for your garden.
Two of my favorite online garden nurseries sell many different Japanese Anemones. Click here to see their current selections:
White Flower Farm
Bluestone Perennials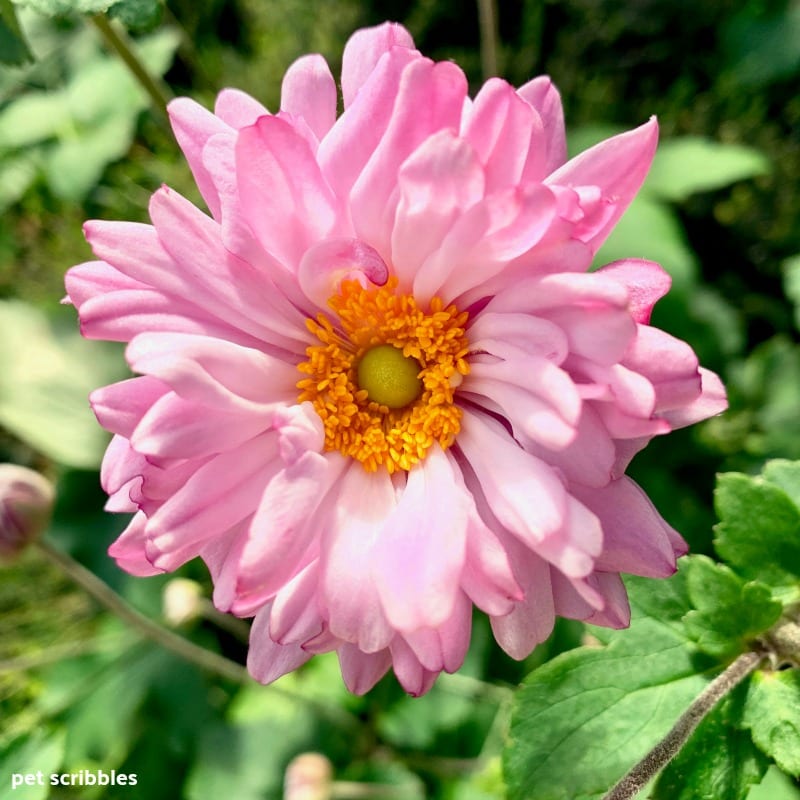 Aren't these Party Dress flowers magnificent?
I hope you'll add Japanese Anemones to your own Fall gardens!
Happy gardening!