When most people think of Fall flowers in the garden, they think of mums, ornamental cabbage and kale first, followed by vibrant asters and maybe some
Goldenrod
mixed in. But I have a perennial plant to share with you today that just might change the order of popular Autumn garden flowers:
Japanese Anemone Party Dress!
Gorgeous, right?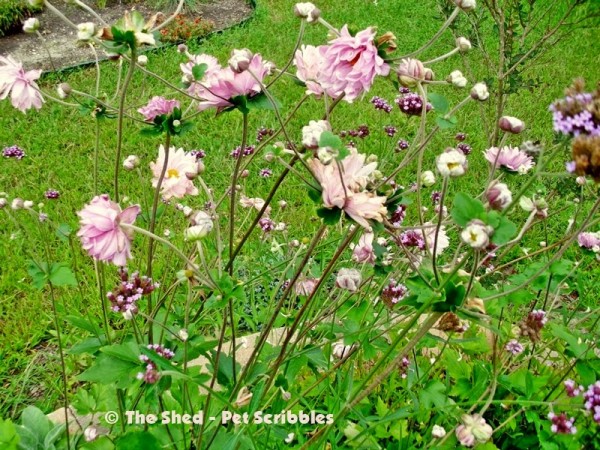 Japanese Anemone Party Dress is a perennial, which means once you plant it, your own work is basically done. These plants come back year after year on their own, and form pleasing little patches of flowers.  Each Spring they start out looking like a leafy green ground cover, which is very pretty as a background for Spring bulbs and Summer blooms.
Then, starting in late-July or early August, you'll see a few spikes emerging from the ground cover of leaves. First one spike, then another and another. It's magical to see them begin their ascent. And the flower buds are so cool. My best description? They resemble cotton seed heads . . .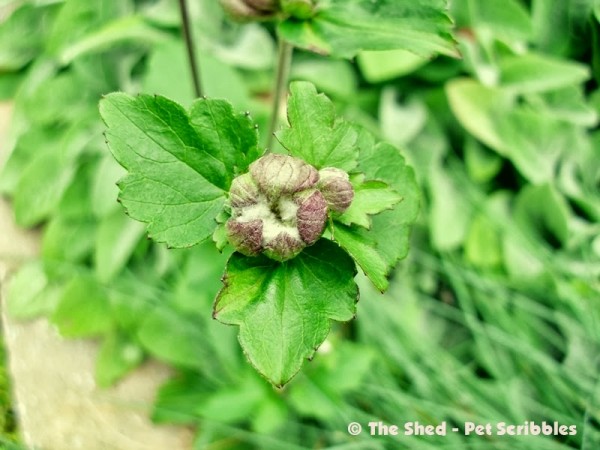 The insides of these buds look almost white, but the outside has a nice burgundy tint to it, as you can see in the photo above. The spikes turn into thick stems which shoot up around 3 feet high above the leafy ground cover. But the party is just getting started with these Party Dress Japanese Anemone flowers. Check out their frilly petals when they begin to open up . . .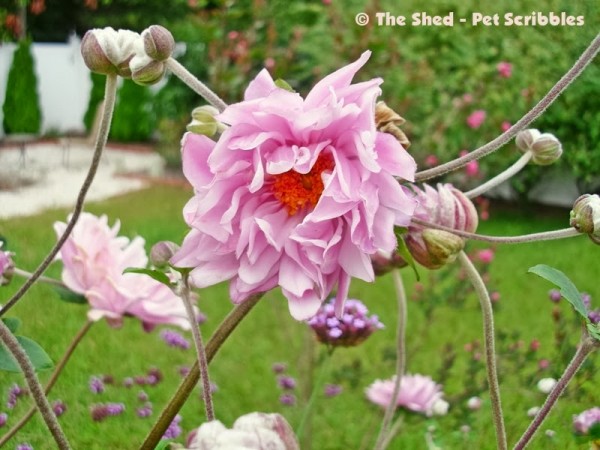 Stunning, right? What an entrance they make,
in keeping with the party metaphor which I'm slowly overusing in this post!
You get a dazzling  – yet soft – pink shade of ruffled petals with a pretty, bright yellow center on a sturdy stem!
Japanese Anemone look so delicate, but these actually survived
Hurricane Sandy
last year! Definitely tougher than they appear!
The pink hue might not seem like a traditional Fall garden color, but these flowers can mix in easily with white, orange, yellow and burgundy flowers just fine. The ultimate party guest!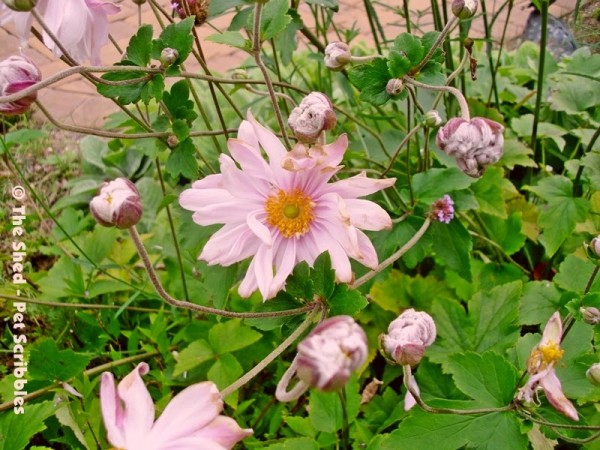 Once the Party Girl flowers fully open, you are treated to a magnificent green center, surrounded by the bright yellow which is also a bit frilly, and then the pretty petals. What a show stopper! And they keep popping up, as you can tell in the image above, so you get to enjoy all phases of blooms at the same time.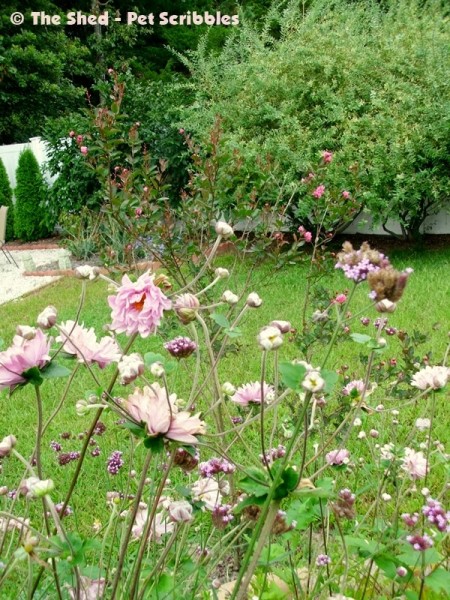 The above shot was taken last week (end of September), with a small crepe myrtle tree just behind them (planted lower than the raised patio bed). Behind, in the short distance, are the
dappled willow shrubs I gushed over back in April
: they are a must-have plant for the wet spots in your yard!
There are other hybrids of Japanese Anemone that are also fabulous Fall bloomers for your garden, which I hope to add next year, including Robustissima, Queen Charlotte, Honorine Jobert.
Oh, and even though it's a Fall-blooming flower, your best bet is to look for these perennial plants in the Spring and Summer as that seems to be when many nurseries and mail-order catalogs sell them. My best advice is to get to know your local nursery professionals, and ask them when they will offer Japanese Anemone for sale.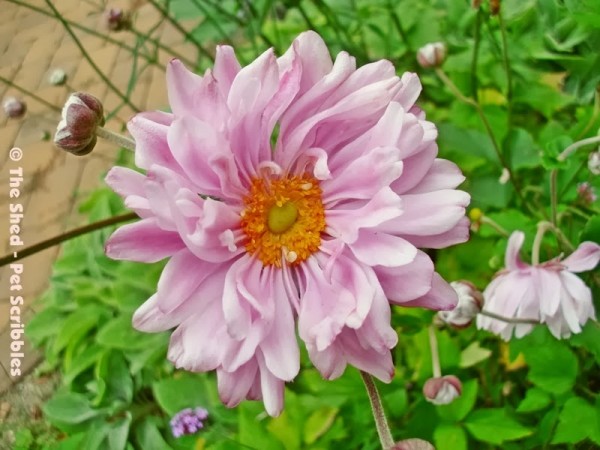 Details:
Flowering perennial
Bloom time from late-Summer through mid-Fall
Deer resistant and rabbit resistant (And we had a cute little bunny live among the leaves for a month in May too with no damage!)
USDA zones: 4 to 9. Cover with mulch in Northern climates during the Winter.
Average soil, but moist is also fine
Full sun to partial shade
Aren't these Party Dress flowers magnificent? I hope you'll add them to your own Fall gardens!
Happy gardening!
~Laura