Painted and Glittered Dollar Store Pumpkin Makeover: Match up glitter paints with similar base color paints for understated elegance! A beautiful tone-on-tone effect perfect for rustic Fall decor!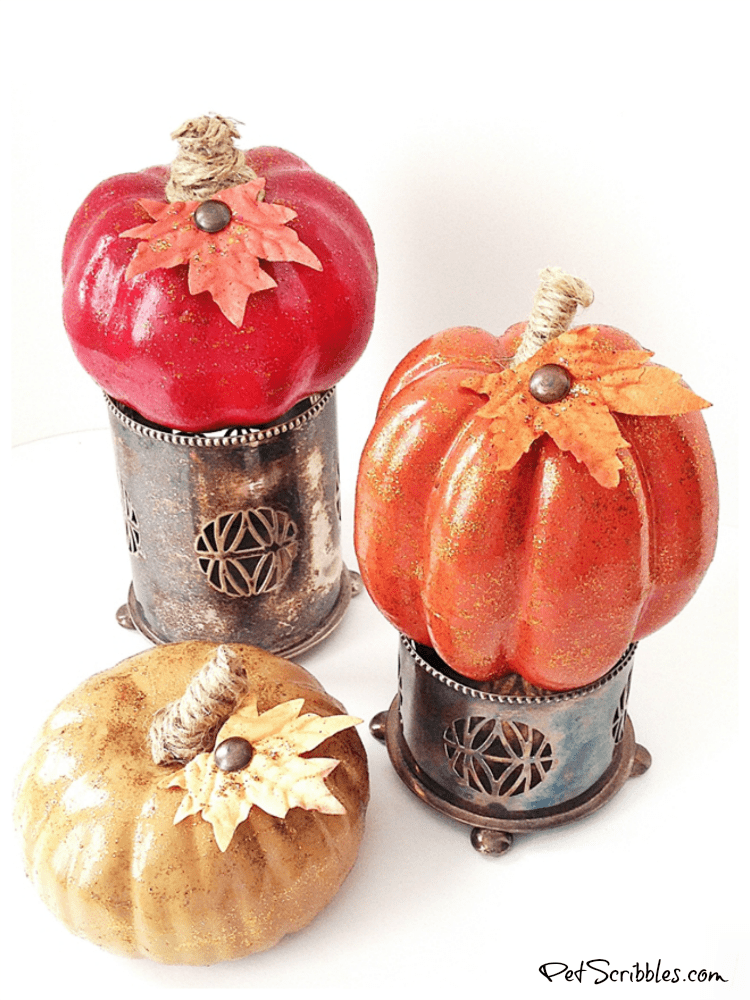 It's time for another dollar store pumpkin makeover! Ever since I transformed a dollar store jack-o-lantern into something pretty, I've wanted to make over more pumpkins. (Hint: these are so much fun to paint!)
My pretty pink pumpkin makeover from a cheap plastic jack-o-lantern!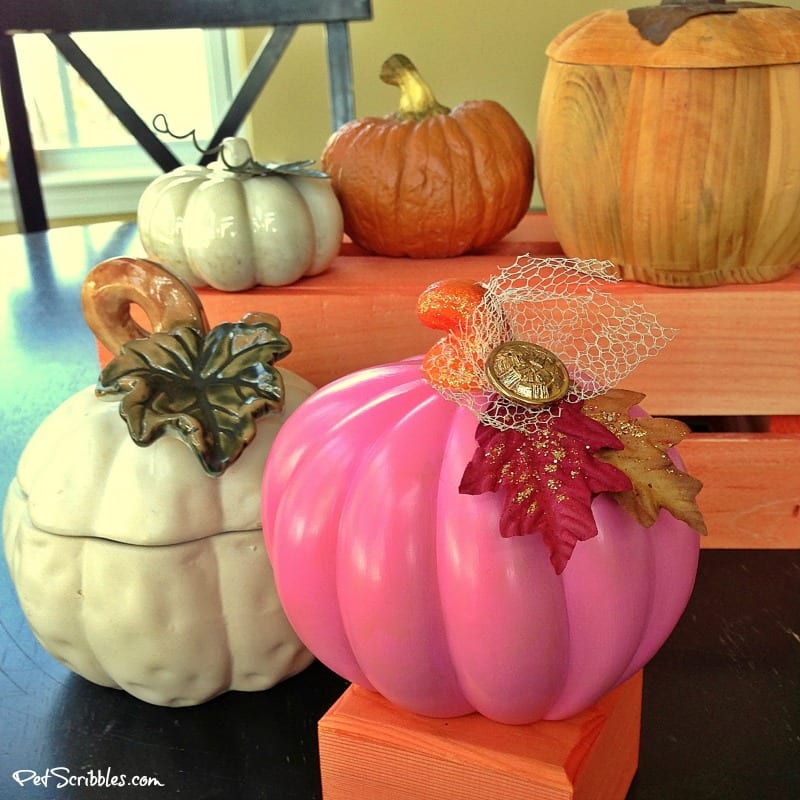 I finally had a chance play again this week!
FTC Disclaimer: Some of the links in this post are affiliate links. I explain more here.
Dollar store pumpkins
This is an easy transformation. Here's what I started with: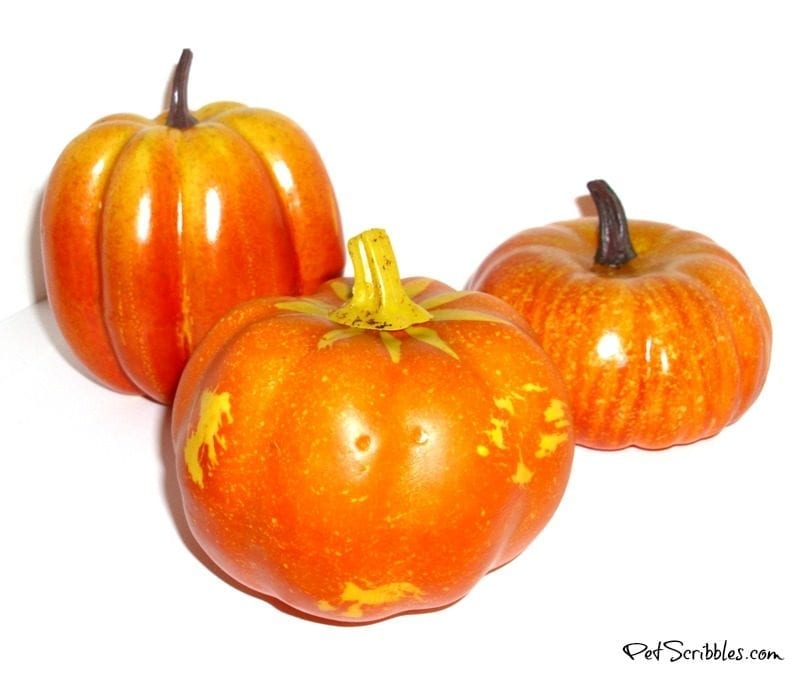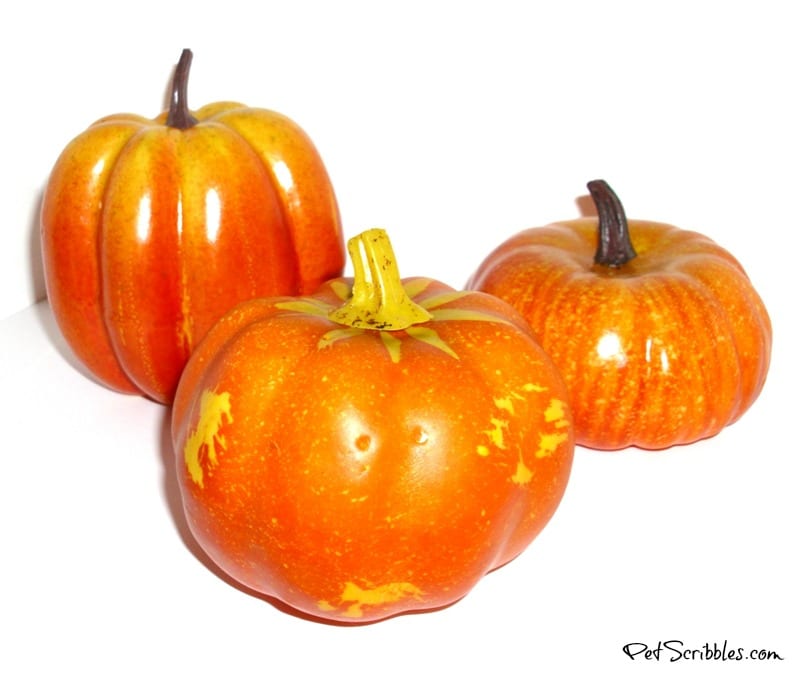 Paint colors
I chose these paint colors from DecoArt (my favorite multi-surface paints), as these colors will span the entire Fall season through Thanksgiving: Brown Sugar, Dark Scarlet, and Paprika.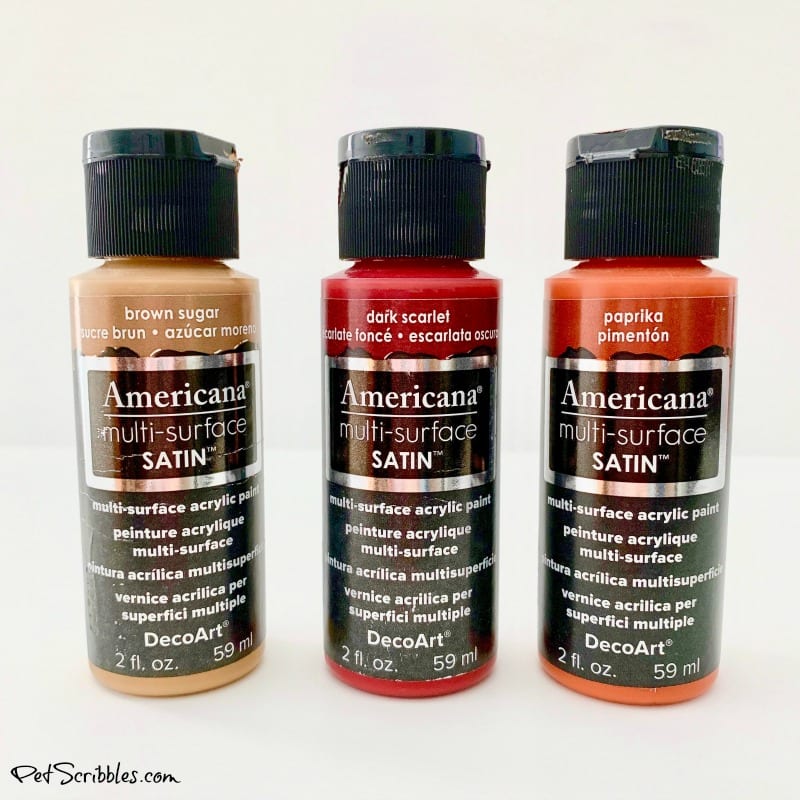 I painted two thin coats onto each pumpkin. As this paint dries so fast, it didn't take long at all until this step was done and dried: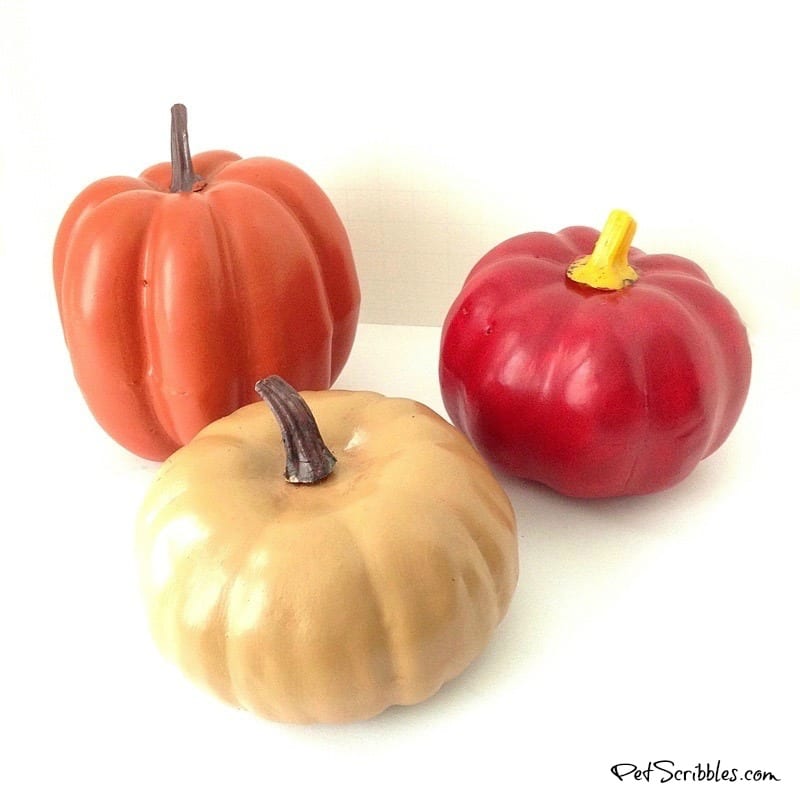 Matching glitter paint colors
Next it was time for glitter! I matched up some Martha Stewart Glitter Paints from my craft stash to go with my chosen paint colors.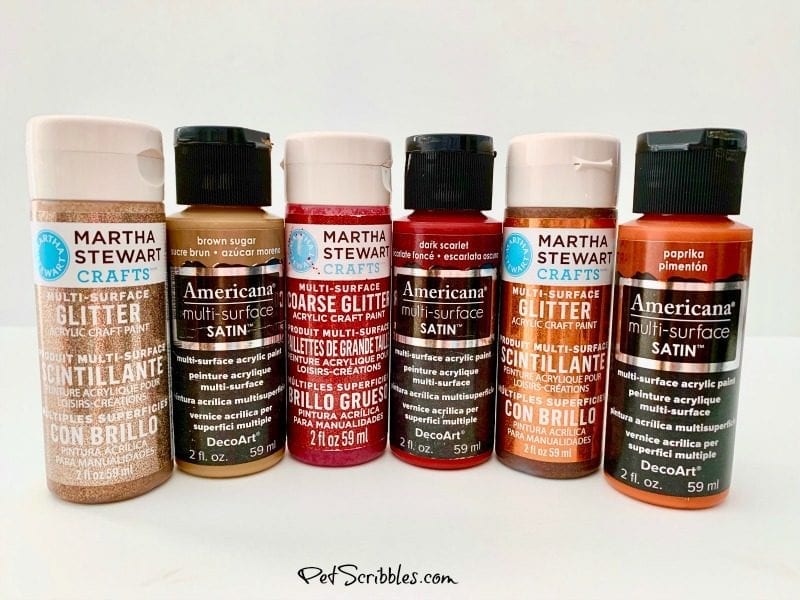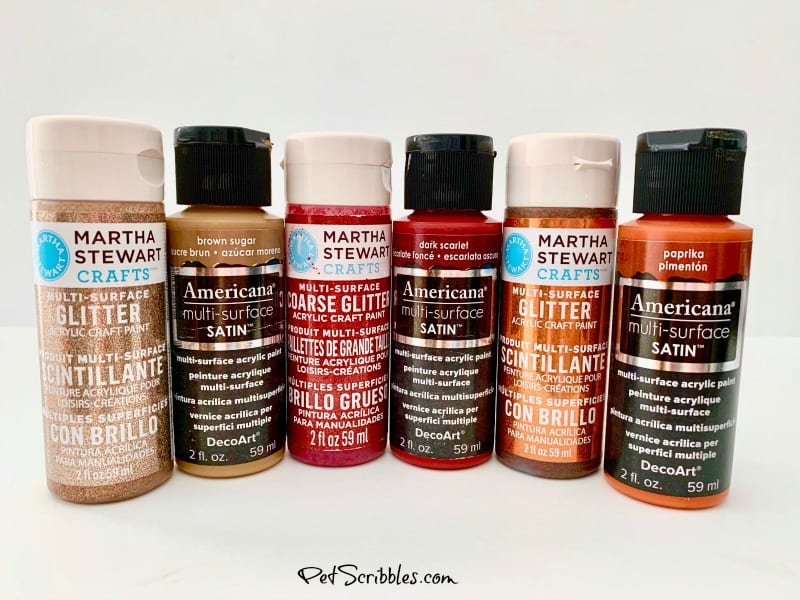 Painting glitter paints over matching (or similar) base colors of paint makes a pretty tone-on-tone effect that keeps the glitter understated. It's a very different look from just applying sparkling glitter.
Again, I simply painted on two coats of this glitter paint. I did a combination of painting and dabbing to get the glitter thicker in certain areas. Let dry thoroughly. I let mine dry overnight.
Jute wrapped stems and fake leaves
For the stems, I wrapped jute string around each stem, using E6000 Craft Adhesive to make sure the string won't be coming off anytime soon. Furniture nail tacks from the hardware store stuck through a decorative glittered leaf – purposely matched in the identical colors – was the finishing touch.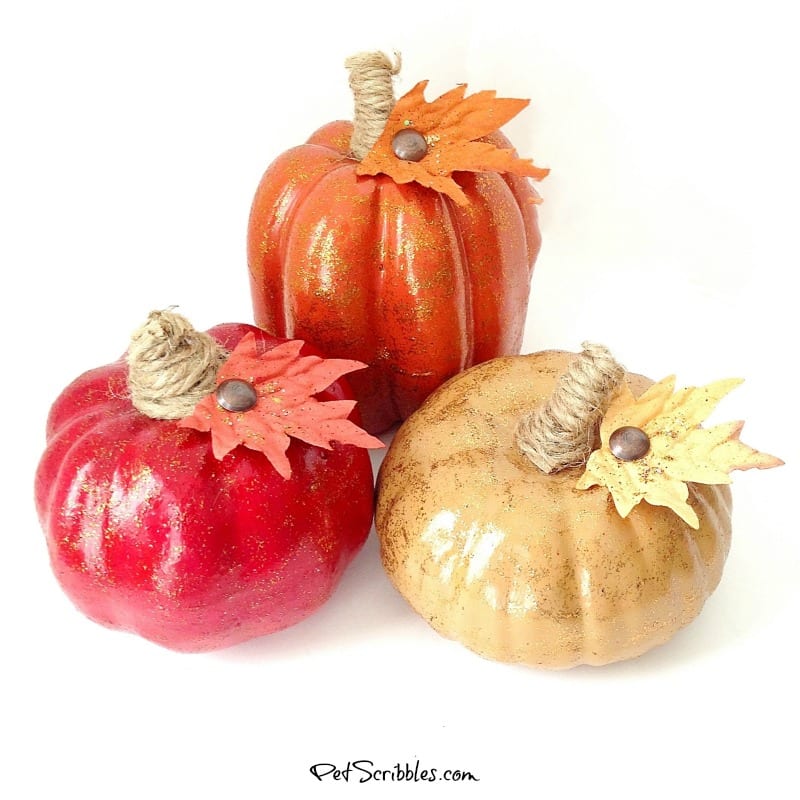 Painted and Glittered Dollar Store Pumpkins
I like the tone on tone colors of the leaves, paint and glitter, which keep the pumpkins looking understated and not too glitzy.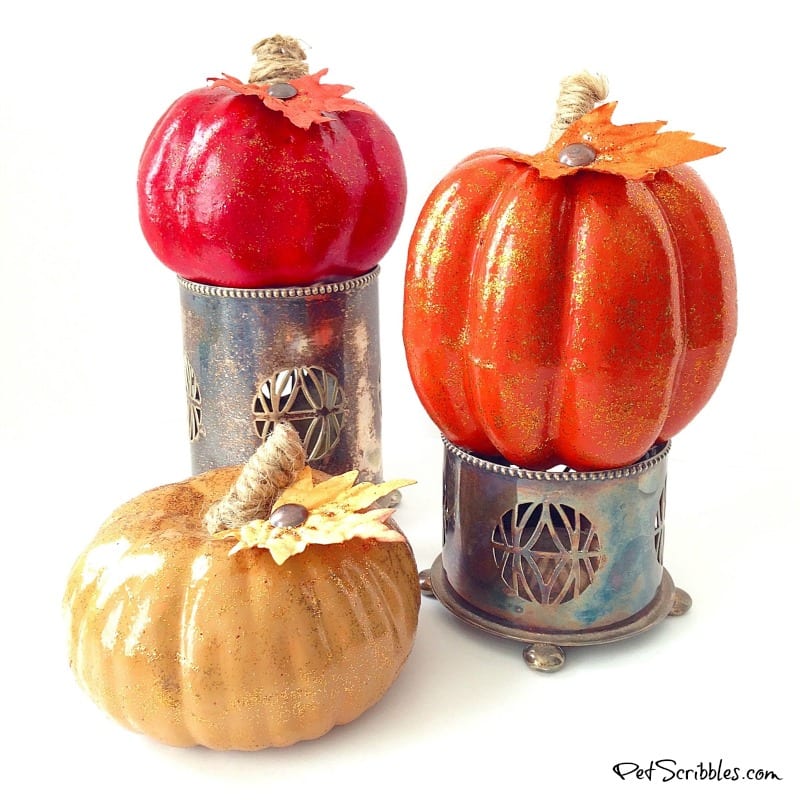 When the glitter, base color, and embellished leaf all match, you get a nice tone on tone effect highlighting the different textures used.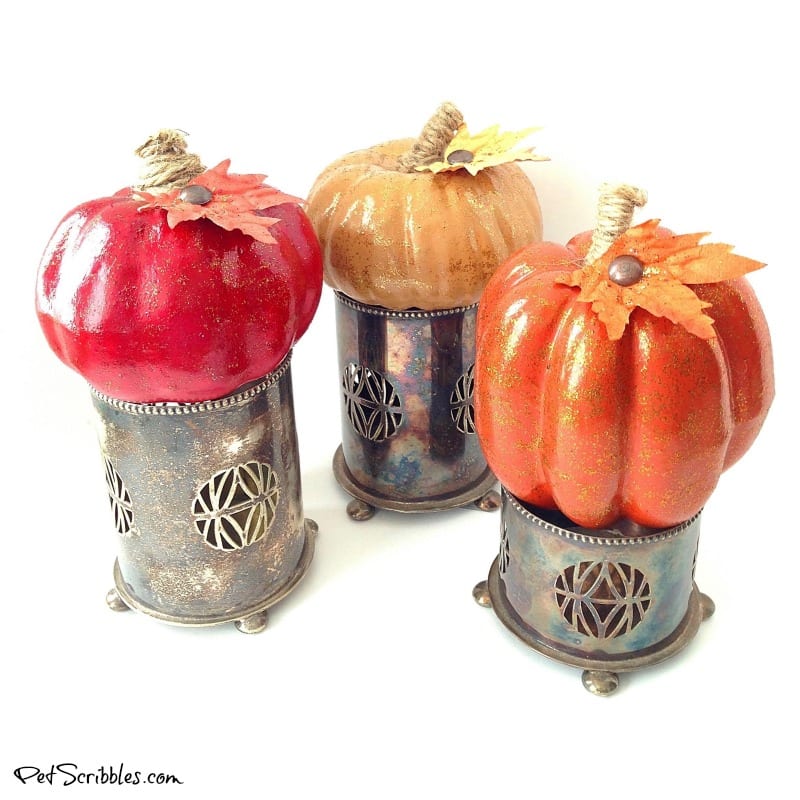 Using a set of vintage silver cups we snagged at an antique sale last weekend makes the pumpkins look a bit vintage, don't you think?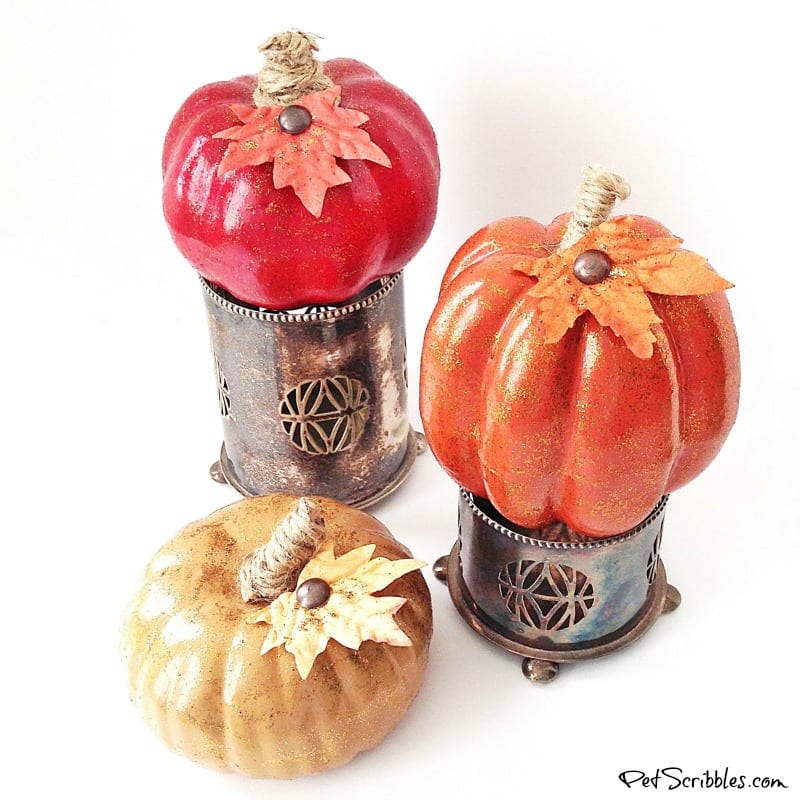 And here is what these pumpkins look like displayed with my DIY Mercury Glass Pumpkin — which is simply another dollar store pumpkin makeover with paint!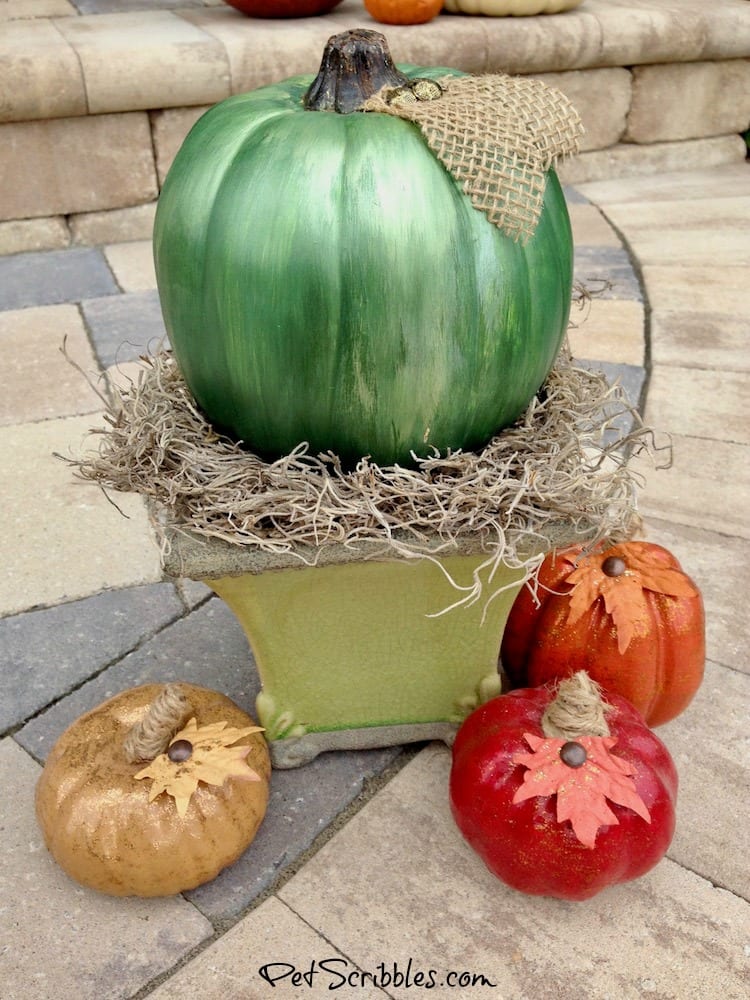 Have you jumped on the pumpkin decorating craze yet?