Painted and Glittered Dollar Store Pumpkin Makeover: Match up glitter paints with similar base color paints for understated elegance! A beautiful tone-on-tone effect perfect for rustic Fall decor!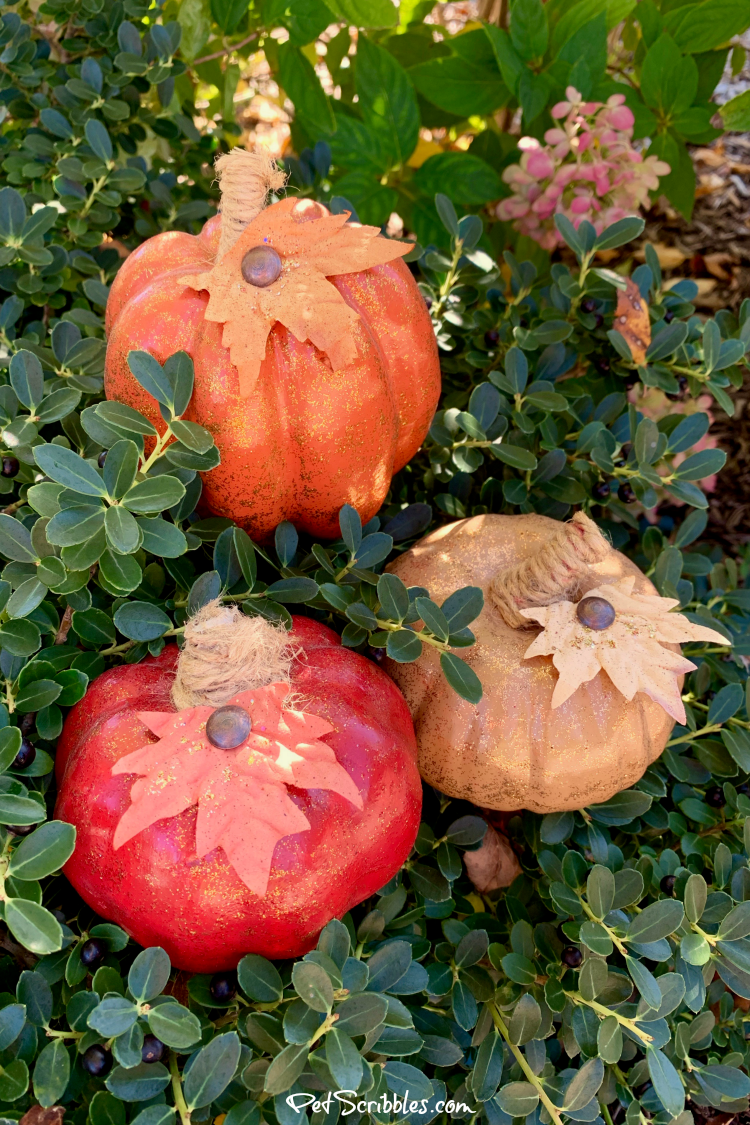 It's time for another dollar store pumpkin makeover!
Ever since I transformed a dollar store jack-o-lantern into something pretty, I've wanted to make over more pumpkins.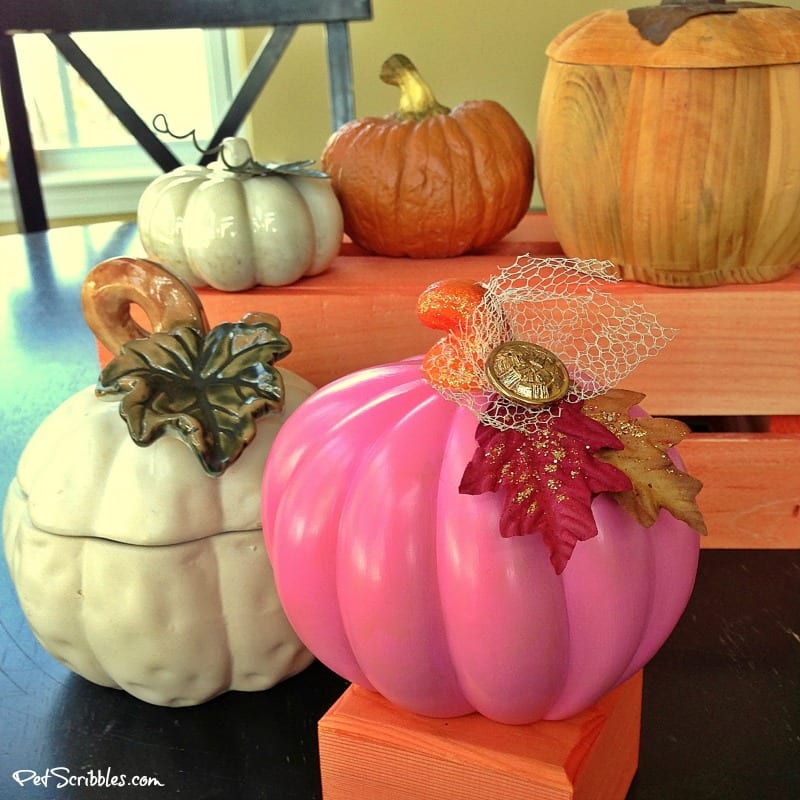 Click here to see my pink pumpkin DIY: My pretty pink pumpkin makeover from a cheap plastic jack-o-lantern!
I finally had a chance play again this week!
Dollar Store Pumpkin Makeover Tutorial
This makeover doesn't require many supplies.
Here's what you need:
Small fake pumpkins
Craft paints in Fall colors
Glitter paints in matching (or similar) Fall colors
Paint brush
Finishing touches:
Helpful tip: If you want to easily order small fake pumpkins online, click here to see pages of small pumpkins for decorating on Amazon.
I also found this wonderful set of small pumpkins with fake leaves which could be fun to paint and display:
Dollar store pumpkins
These pumpkins are so much fun to paint, and such an easy transformation to create!
Here's what I started with: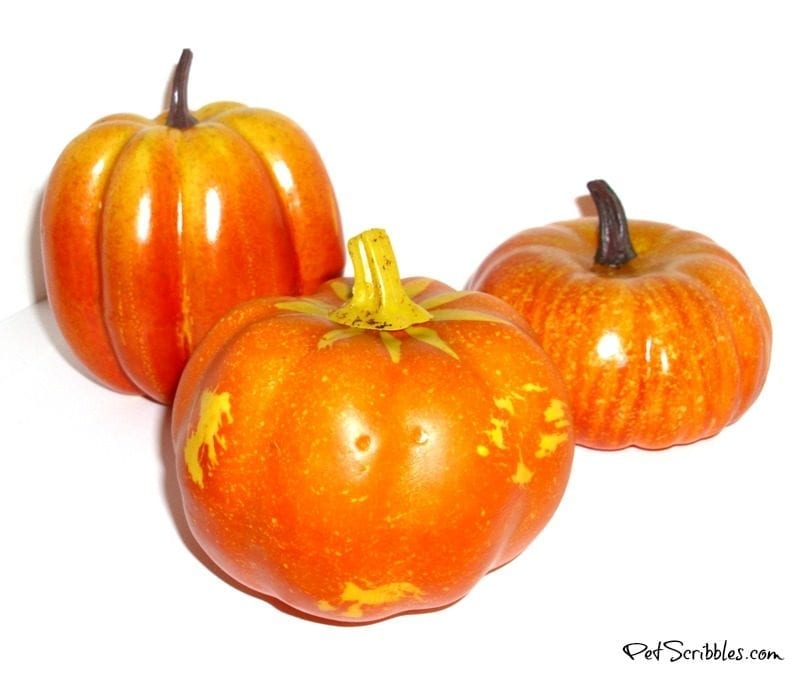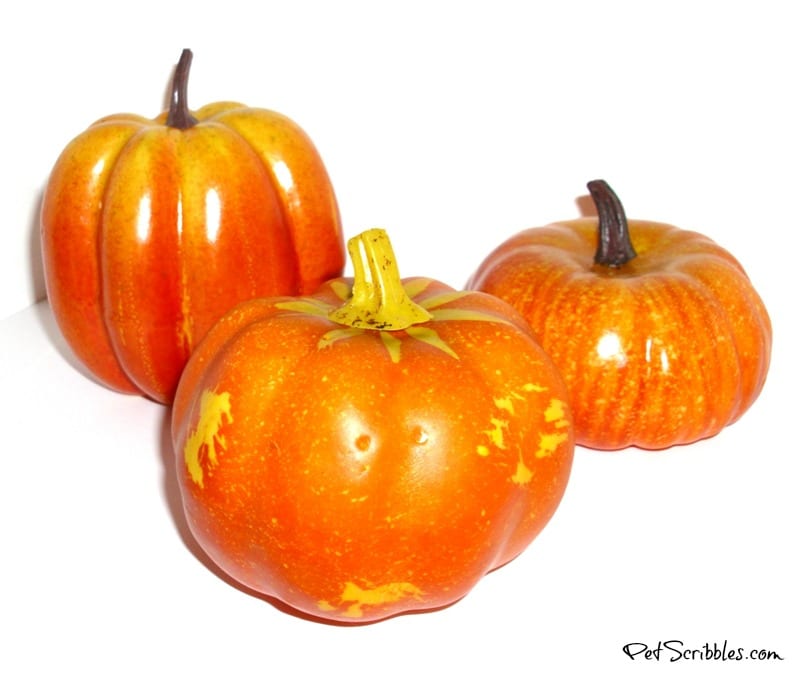 Make sure to wipe these pumpkins with a lightly damp paper towel to get off any dust before you begin to paint.
First step: paint colors
I chose these paint colors from DecoArt, as these colors are perfect for the entire Fall season through Thanksgiving: Brown Sugar, Dark Scarlet, and Paprika.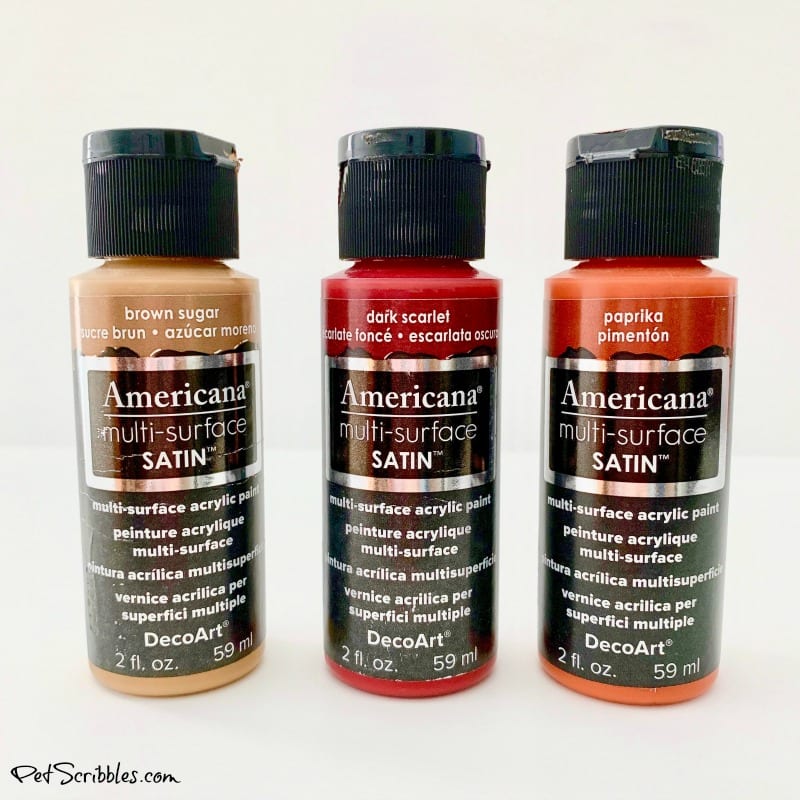 I painted two thin coats onto each pumpkin. As this paint dries so fast, it didn't take long at all until this step was done and dried: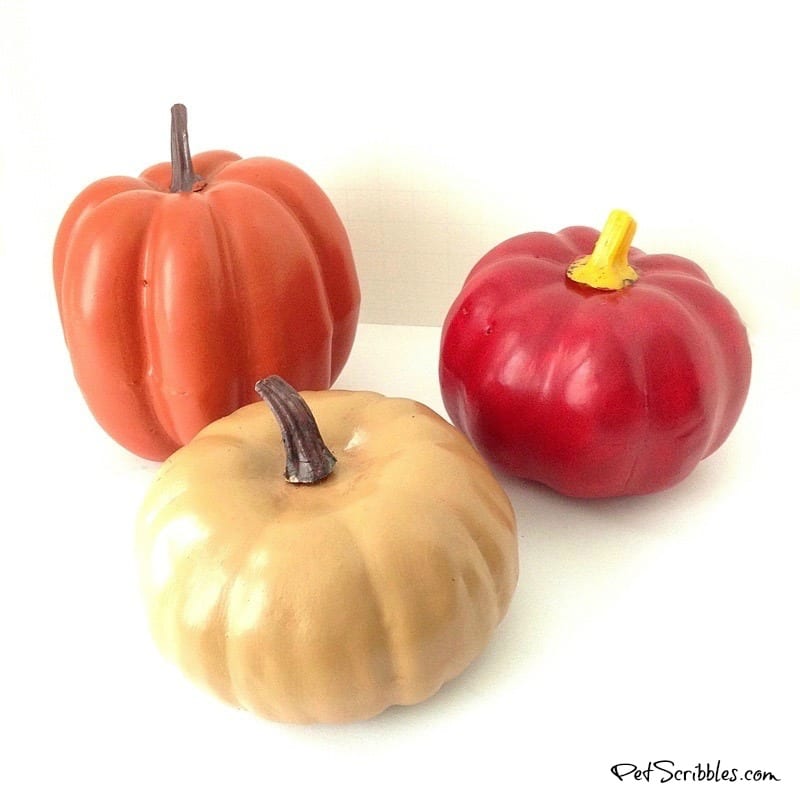 Second step: matching glitter paint colors
Next it was time for glitter! I matched up some Martha Stewart Glitter Paints from my craft stash to go with my chosen paint colors.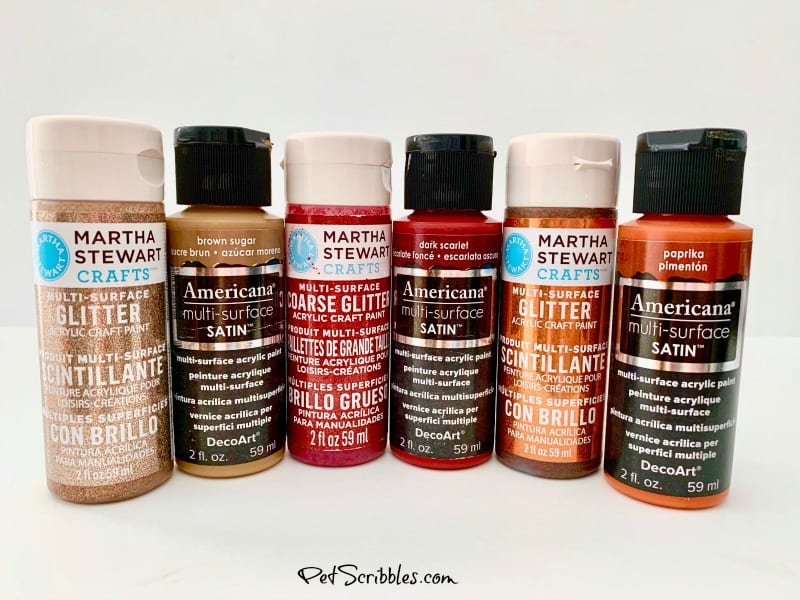 Painting glitter paints over matching (or similar) base colors of paint makes a pretty tone-on-tone effect that keeps the glitter understated. It's a very different look from just applying sparkling glitter.
Again, I simply painted on two coats of this glitter paint. I did a combination of painting and dabbing to get the glitter thicker in certain areas. Let dry thoroughly. I let mine dry overnight.
Third step: jute-wrapped stems and fake leaves
For the stems, I wrapped jute twine around each stem, using E6000 Craft Adhesive to make sure the string won't be coming off anytime soon. The finishing touch was a furniture nail tack stuck through a decorative glittered fake leaf.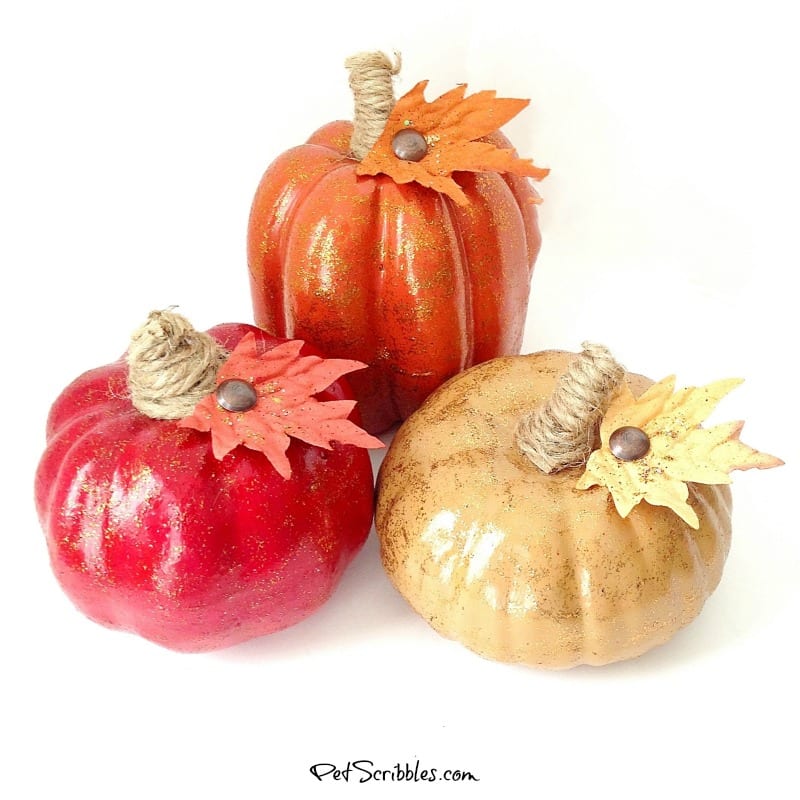 Helpful tip: You can paint craft store fall leaves in the colors of your pumpkins, then add some glitter paint. But everything does not need to be matchy-matchy either. Variety is the spice of life, or in this case the spice of Fall!
Painted and Glittered Dollar Store Pumpkins
I like the tone on tone colors of the leaves, paint and glitter, which keep the pumpkins looking understated and not too glitzy.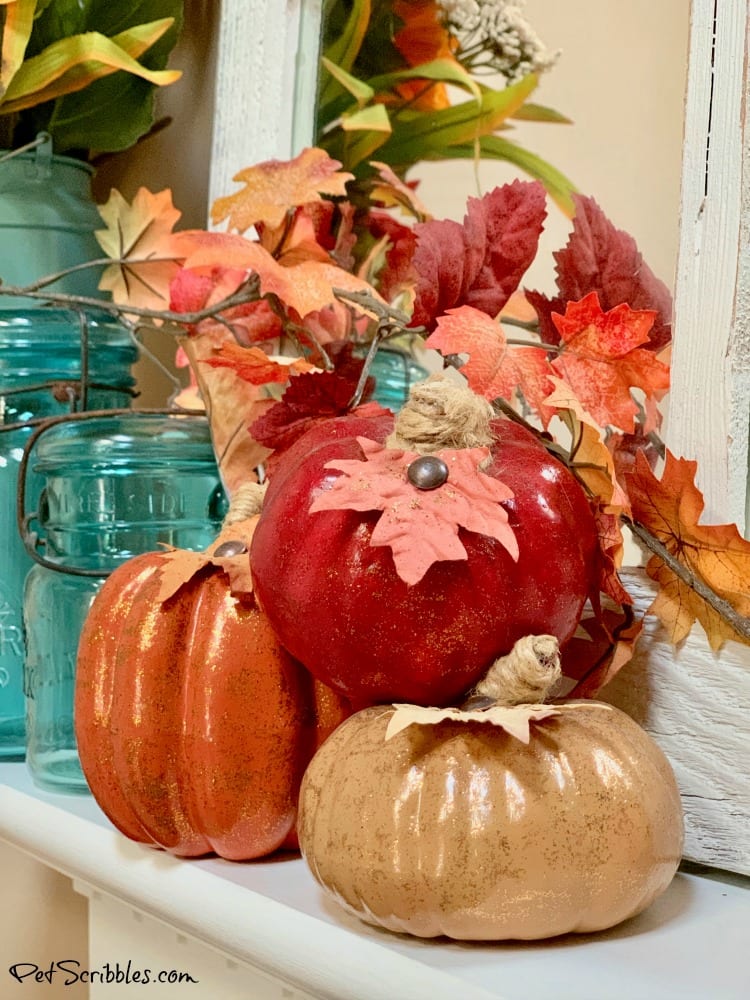 When the glitter, base color, and embellished leaf all match, you get a nice tone on tone effect highlighting the different textures used.
These pumpkins look great on our mantel next to my vintage mason jars and fake Fall flowers. (Say that ten times fast!)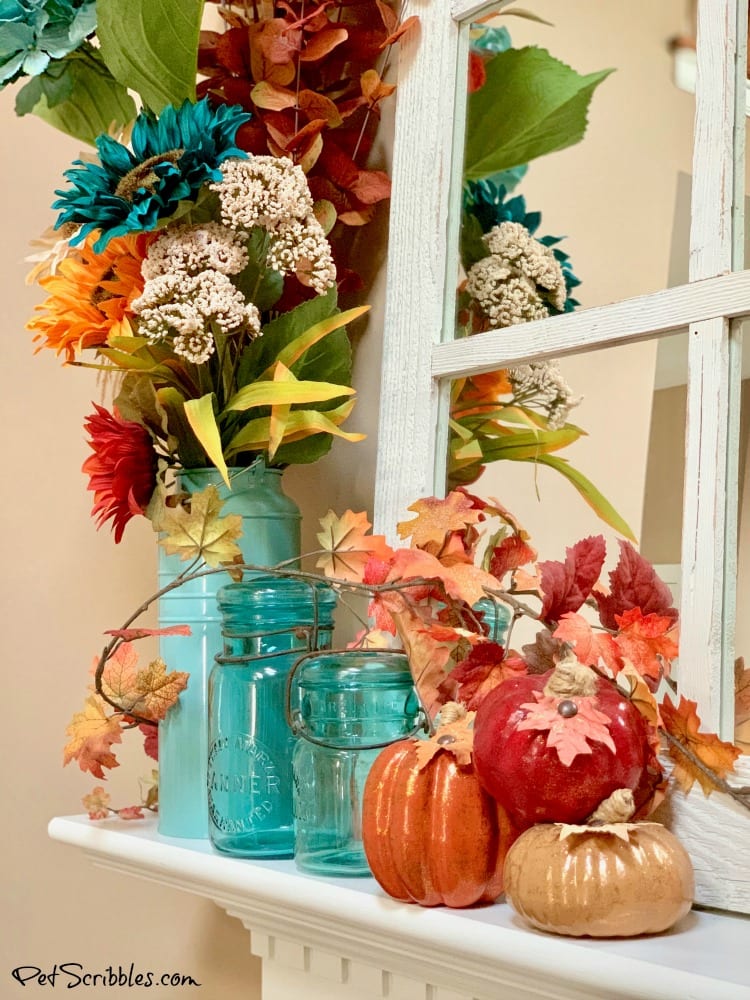 You can see more pictures of this floral arrangement I put together here: How to update your Fall floral arrangements.
Outdoor pictures on a sunny day
Because it was such a sunny day, I went outside to take pictures of these pumpkins in the front yard . . .
First stop was our short ornamental grasses, which this time of year are a mix of half-green and half-tan colors.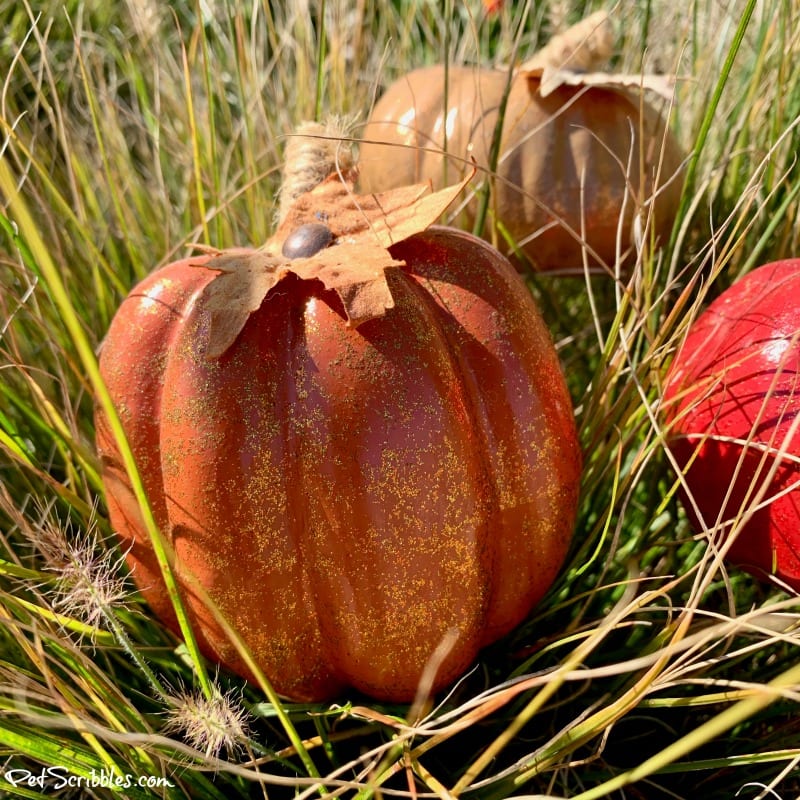 You can really see the glitter paint clearly in the close-up image above.
Behind these pumpkins and grasses are three Lantana plants still blooming even though it's the end of October.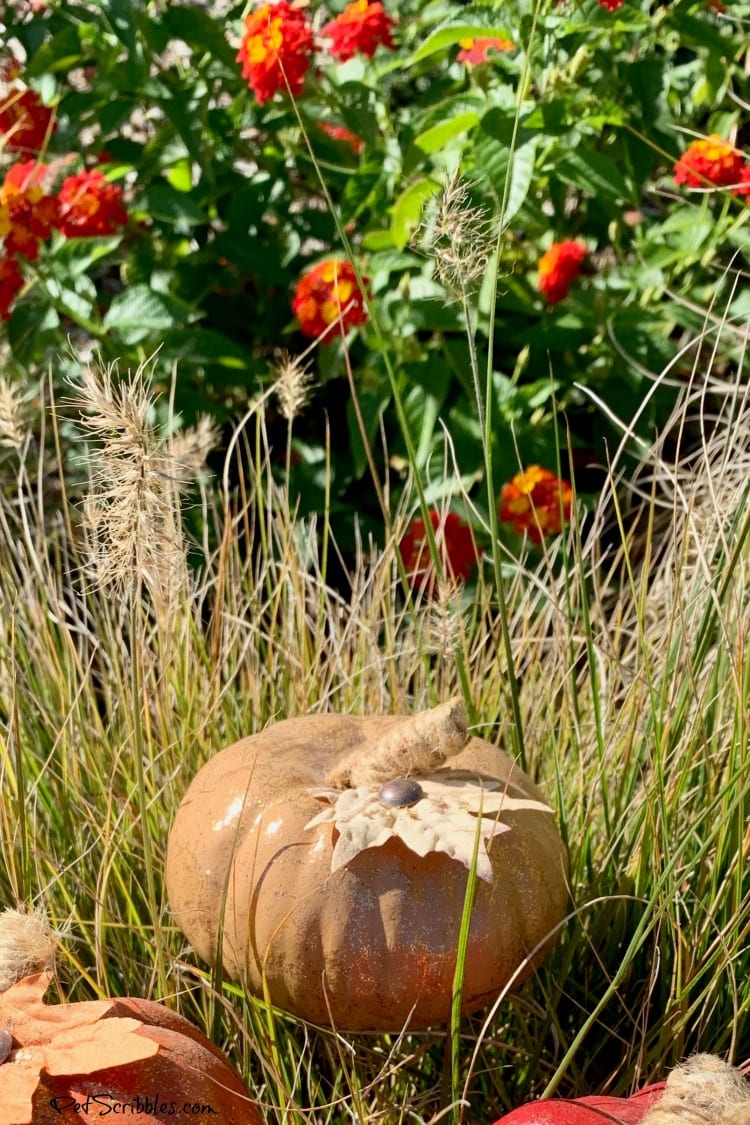 Lantana's very long blooming season is the main reason I love using this plant in our gardens. You can read more about Lantana in my article here: Lantana: A flower garden rock star!
Here is what these pumpkins look like displayed with my DIY Mercury Glass Pumpkin — which is simply another dollar store pumpkin makeover with paint!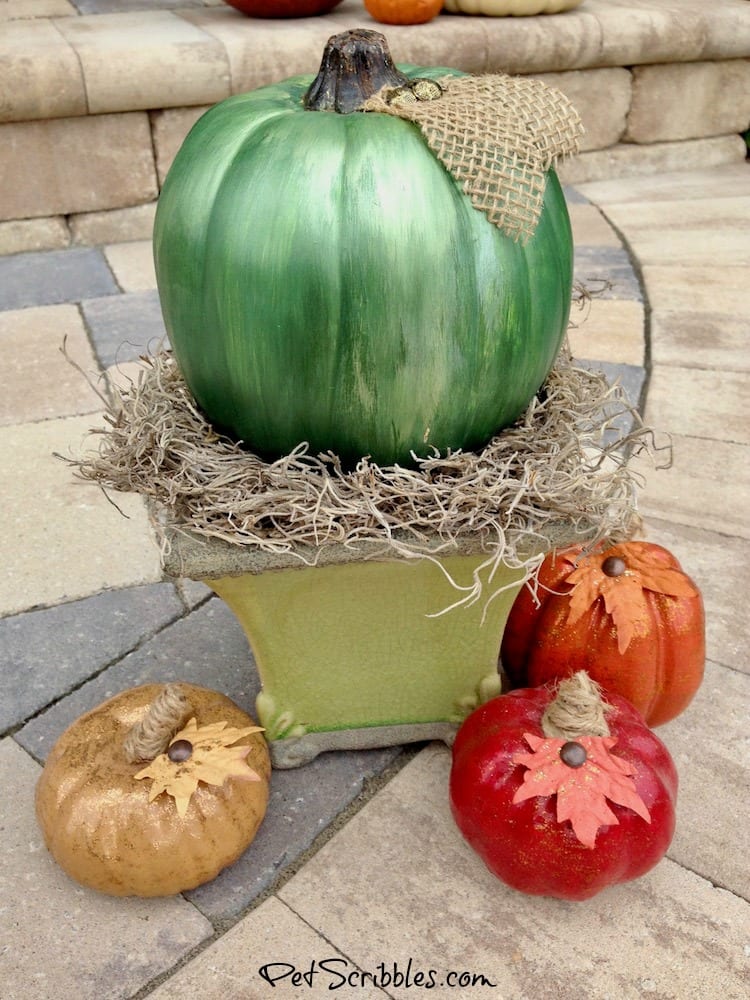 I even decorated our cement kitty statue for the Fall season with a cute ribbon bowtie.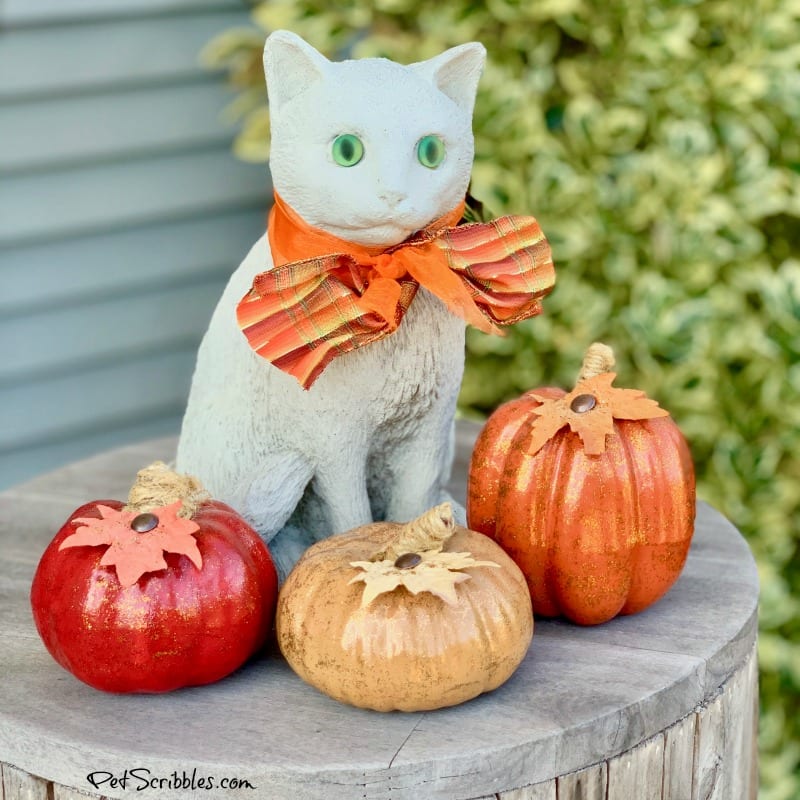 One of my favorite Fall shrubs is Blue Star Juniper, which — as you can see below — has outstanding blue-green color. The shrub's color is a great background for these small pumpkins.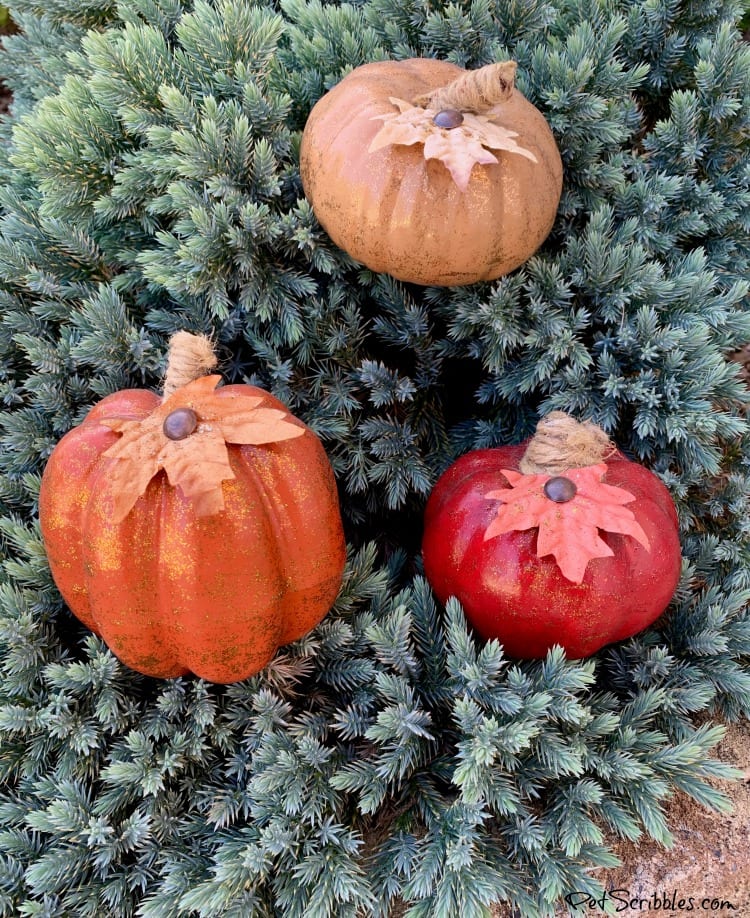 Indoor Use Only
Despite playing with these pumpkins in the garden, I would not keep these pumpkins outdoors, unless on a covered, sheltered porch or front entrance.
So I returned the pumpkins to their featured place on our Fall mantel . . .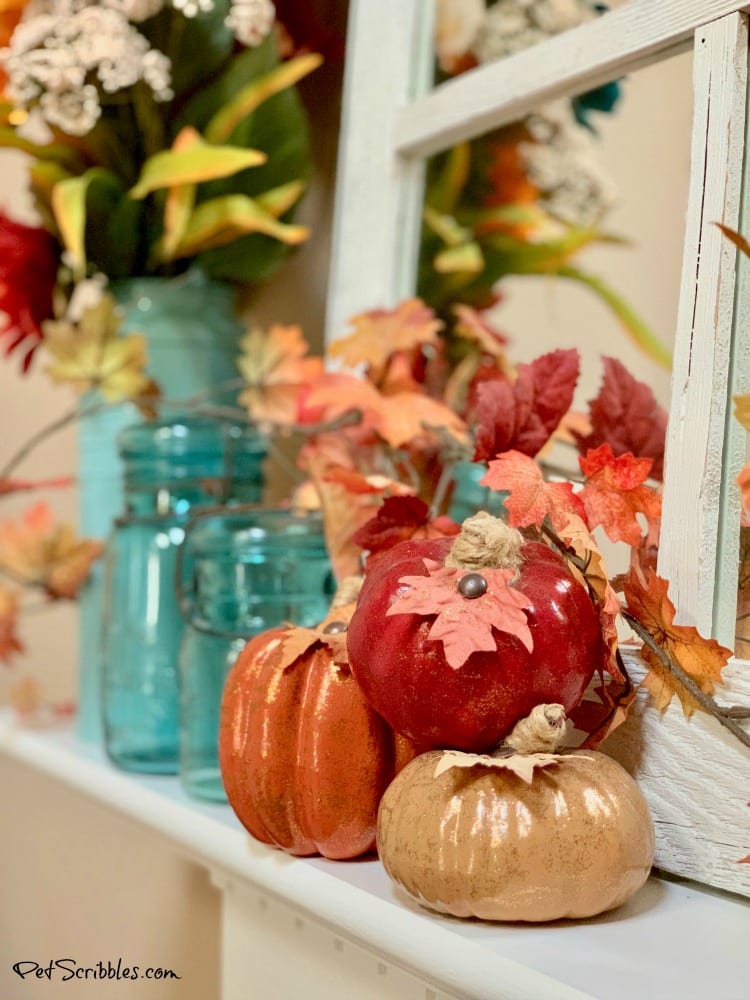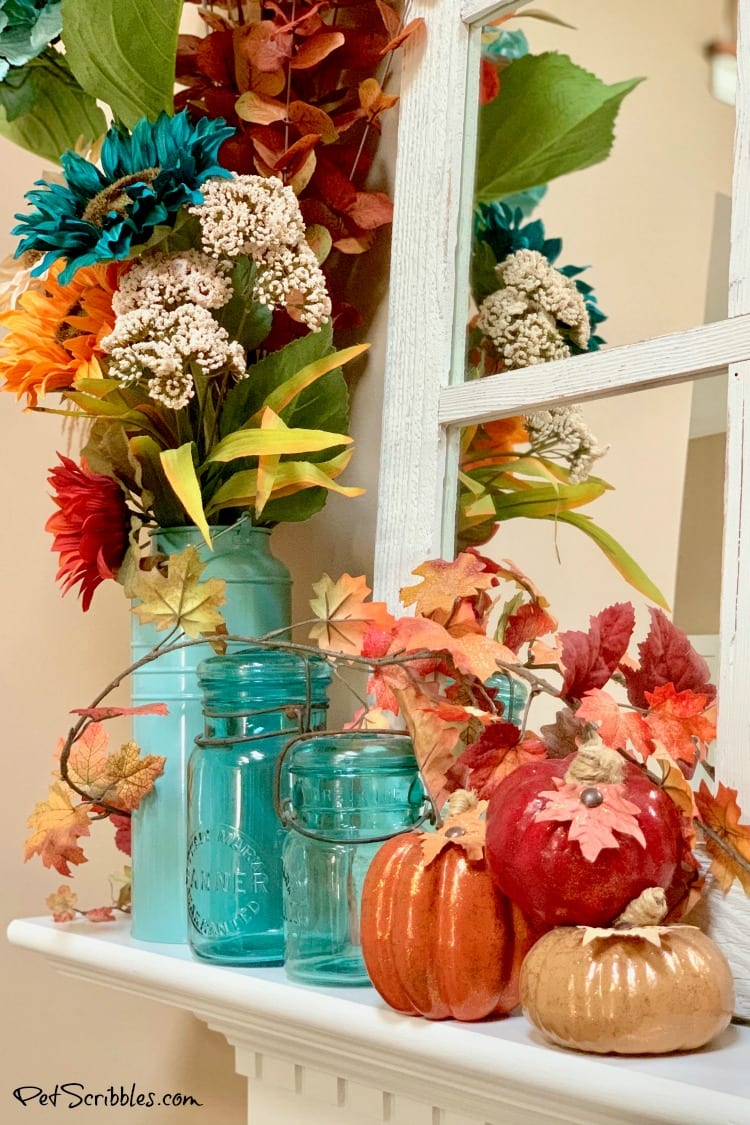 Have you jumped on the pumpkin decorating craze yet?
Happy pumpkin crafting!