Fall flowers are blooming and the Limelight Hydrangea fading flowers and yellow and green leaves add to the show! Enjoy my Limelight Hydrangea Tree and Little Lime Hydrangea Fall images.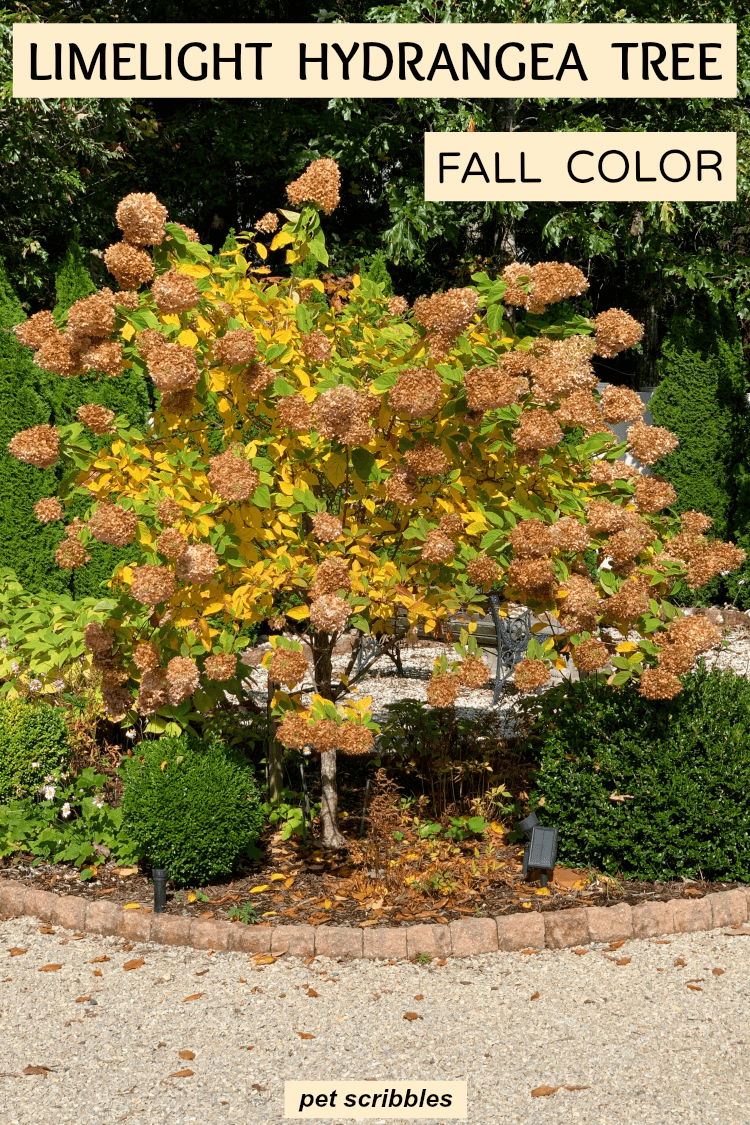 I looked out of our breakfast room window yesterday and was blown away by how beautiful our Limelight Hydrangea Tree looks right now.
Yes, it's mid October. And no, I don't remember anyone ever saying that Limelight Hydrangea Trees are known for their Fall colors.
But I'm a total sucker for beautiful fading blooms and colorful Fall leaves, so Limelight Hydrangeas never disappoint me as Fall marches on.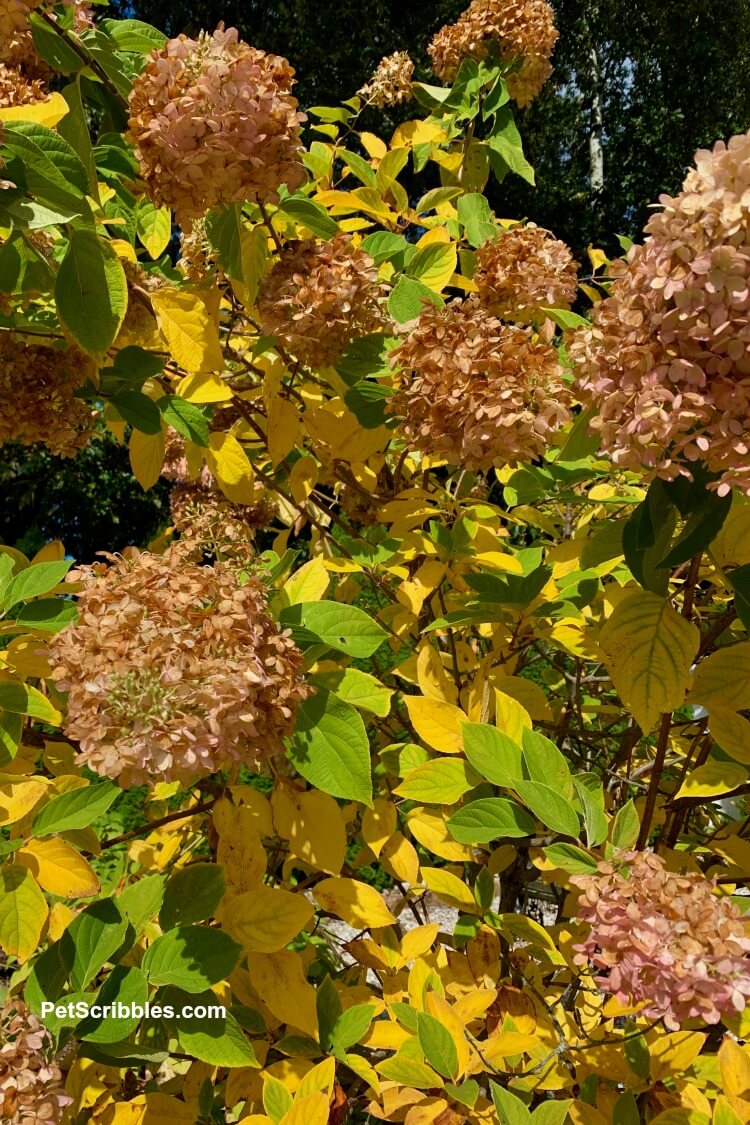 Make sure to check out my garden guides on both Limelight Hydrangea Trees and Little Lime Hydrangeas (a smaller version of standard Limelight Hydrangeas).
It was a gorgeous sunny day, so I took a lot of pictures!
While these hydrangeas are no longer at their peak Summer blooming time, they still look so pretty in the garden.
I hope you enjoy these Fall pictures.
Limelight Hydrangea Tree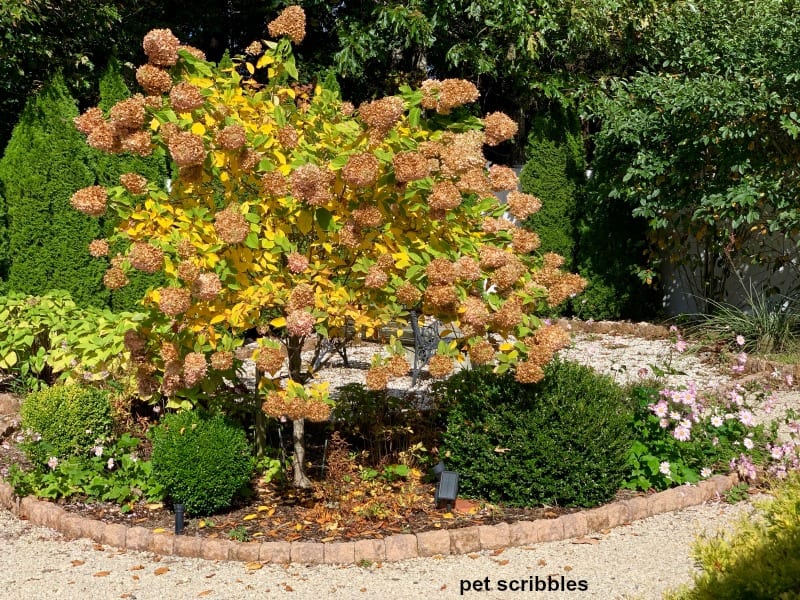 This combination of green and yellow leaves looks wonderful any time of day. In the early morning, the yellows and greens both glow. On a cloudy day? The same thing occurs. And on a sunny day — as you can see in these images — the colors make for a happy Fall garden scene.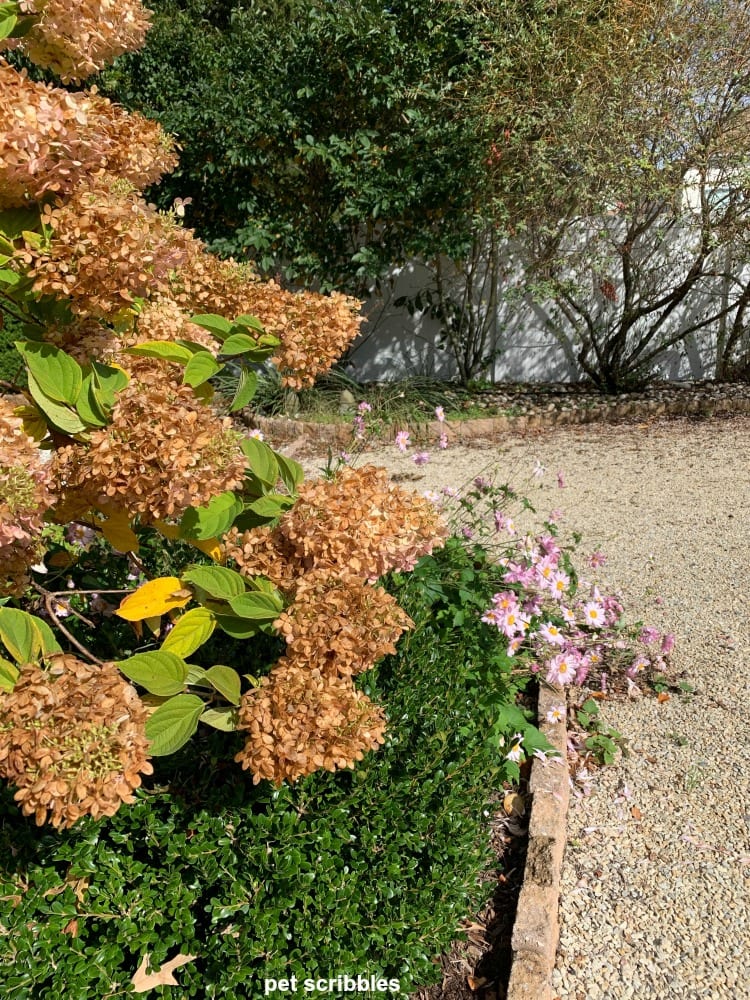 The green Winter Gem boxwoods help to bring out the fading and drying flower heads on the tree. You can also see my favorite Japanese Anemone Party Dress flowers still blooming their hearts out.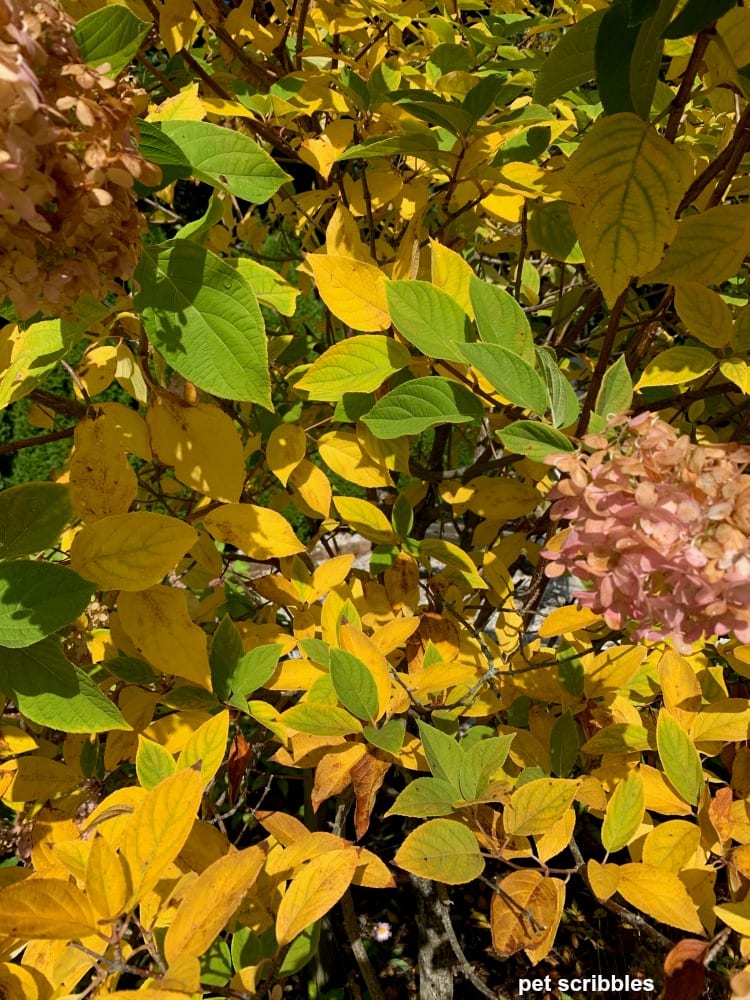 The yellow and green leaves are happy colors, and a pretty background for the large hydrangea blooms. For Fall foliage, I love the way this tree turns from green leaves to a mix of yellow and green, and later mainly yellow before turning brown.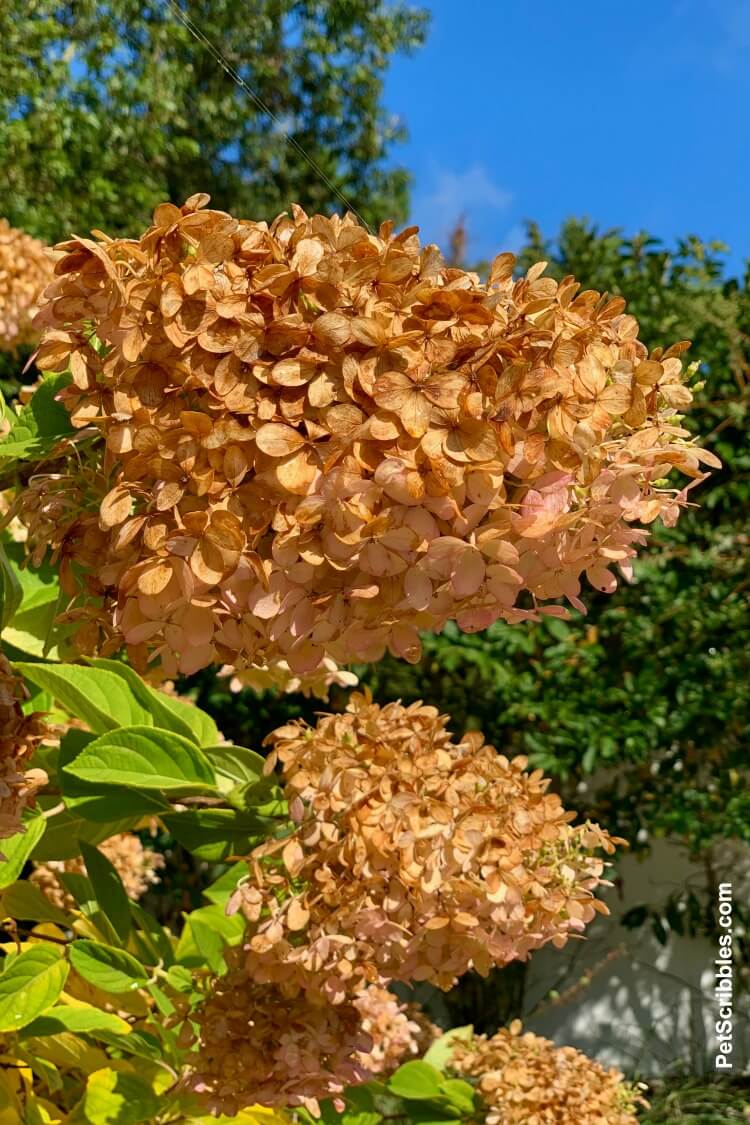 In the image above, the hydrangea flowers are mainly tan as they continue drying on the tree. You can still see some of the pale pink blossoms on each of them.
The image below shows just one of many hydrangea flower heads still blooming with mostly shades of dusty pale pink.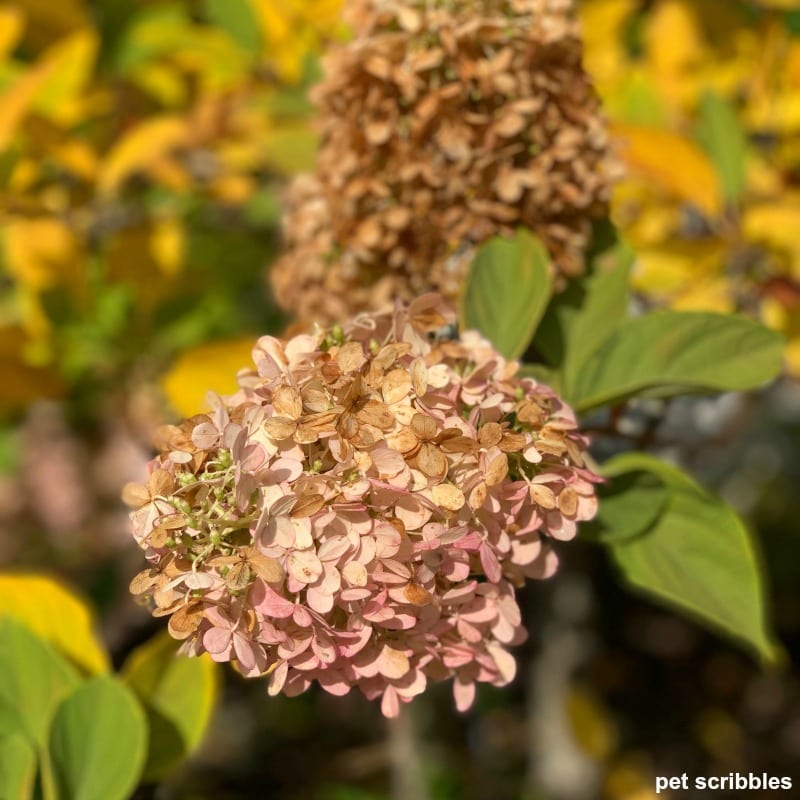 Part of nature is the many moths enjoying their final warm days of Fall, and this guy (below) was no different.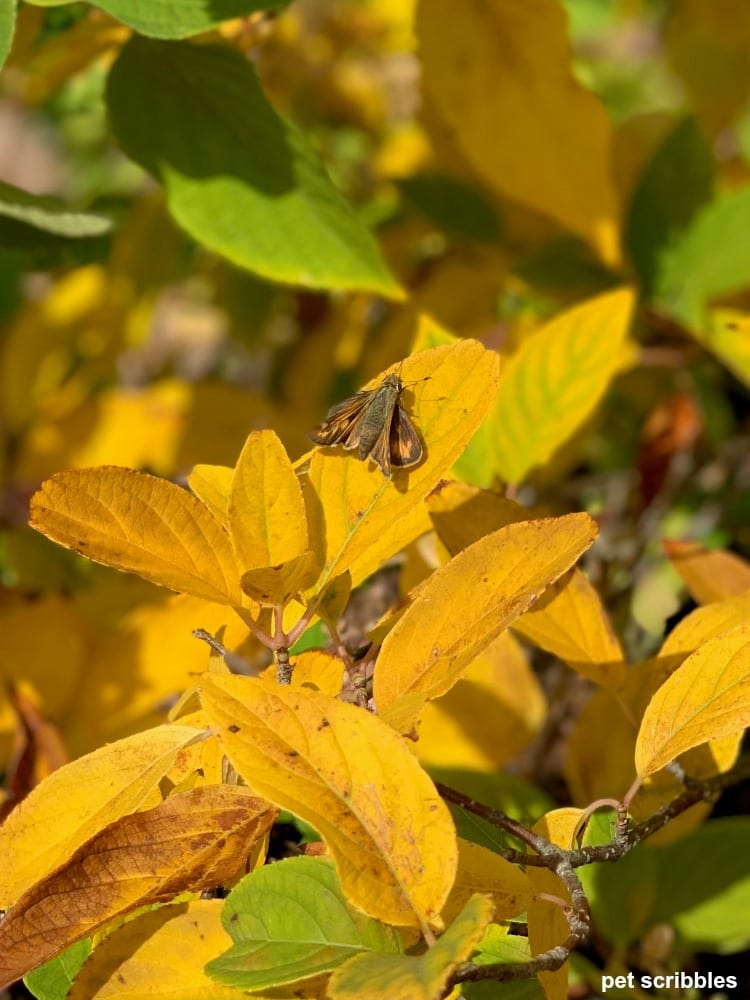 I'm sure we will no doubt get a good rain storm and these leaves will begin coming off. In the meantime, we are enjoying the show this ornamental tree puts on!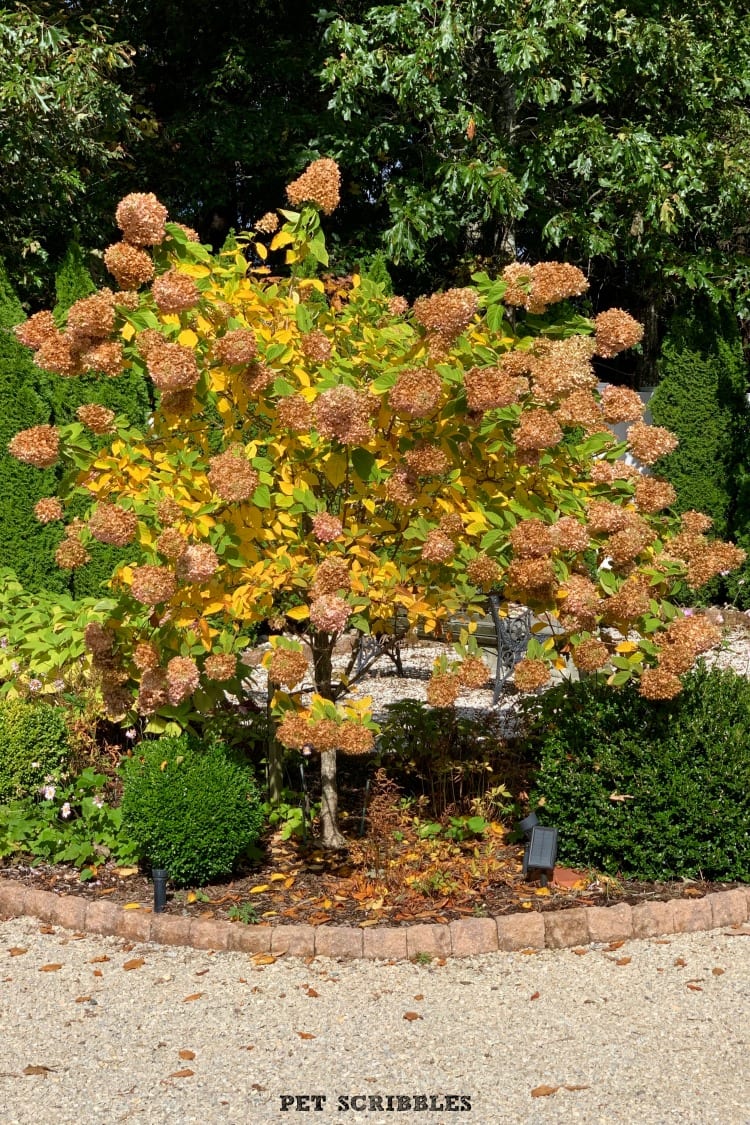 Little Lime Hydrangea
We enjoy a similar color show during the Fall season from our Little Lime Hydrangea shrubs.
Little Lime Hydrangeas are a smaller version of the standard Limelight Hydrangeas. I'll be doing a thorough article about these easy-care shrubs soon, so stay tuned.
In the meantime, enjoy these pictures of how the Little Lime Hydrangeas look right now, in mid-Fall.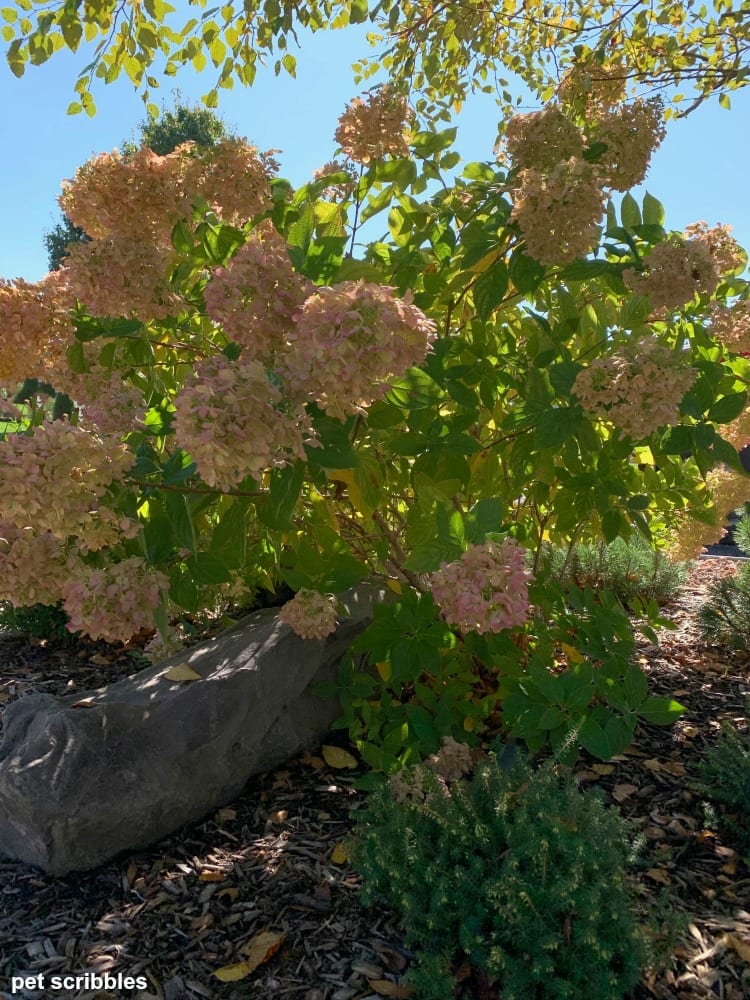 Above: there is a Kramer's Red Winter Heath in front of this Little Lime Hydrangea. The light colors on the Heath are the tiny flower buds developing. These flowers will open in December and bloom through April.
Below: Little Lime Hydrangeas have the same Summer color as Limelight Hydrangeas. The ivory cream flowers have the slightest hint of a lime color to them. In the Fall, they gradually turn into pale pink to rosy-pink shades.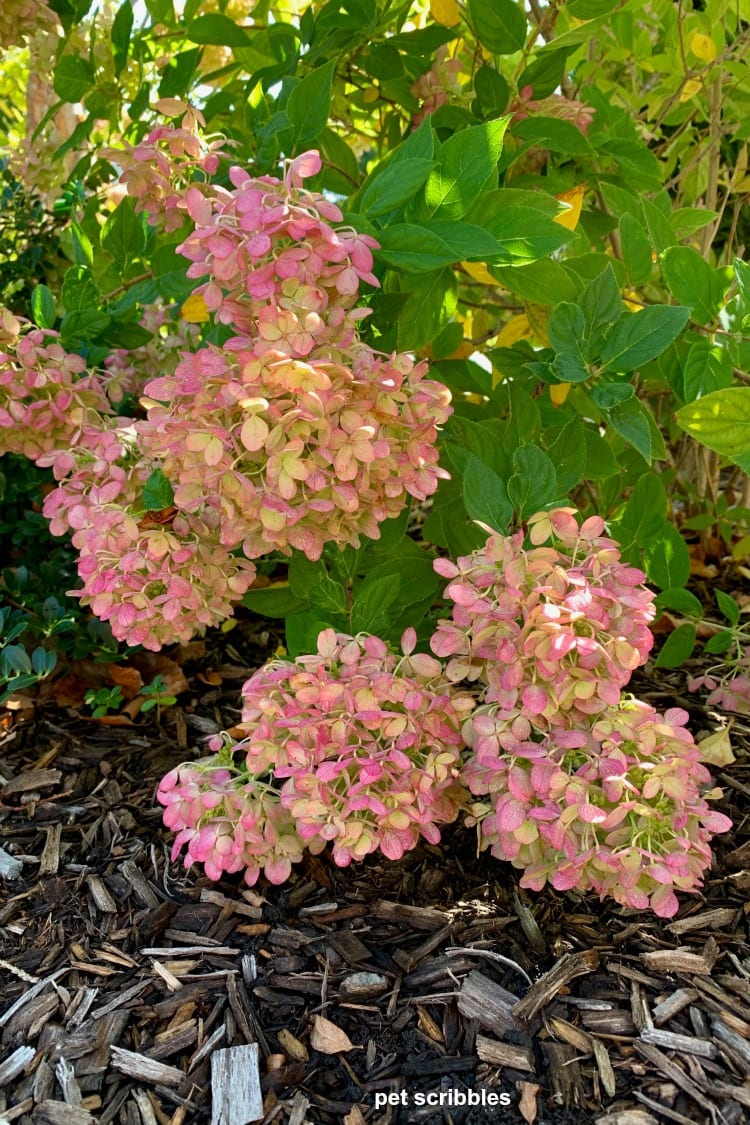 You can still see some of the lime color mixed in with these pink shades.
These flowers glow in the Fall landscape, especially against the mulch.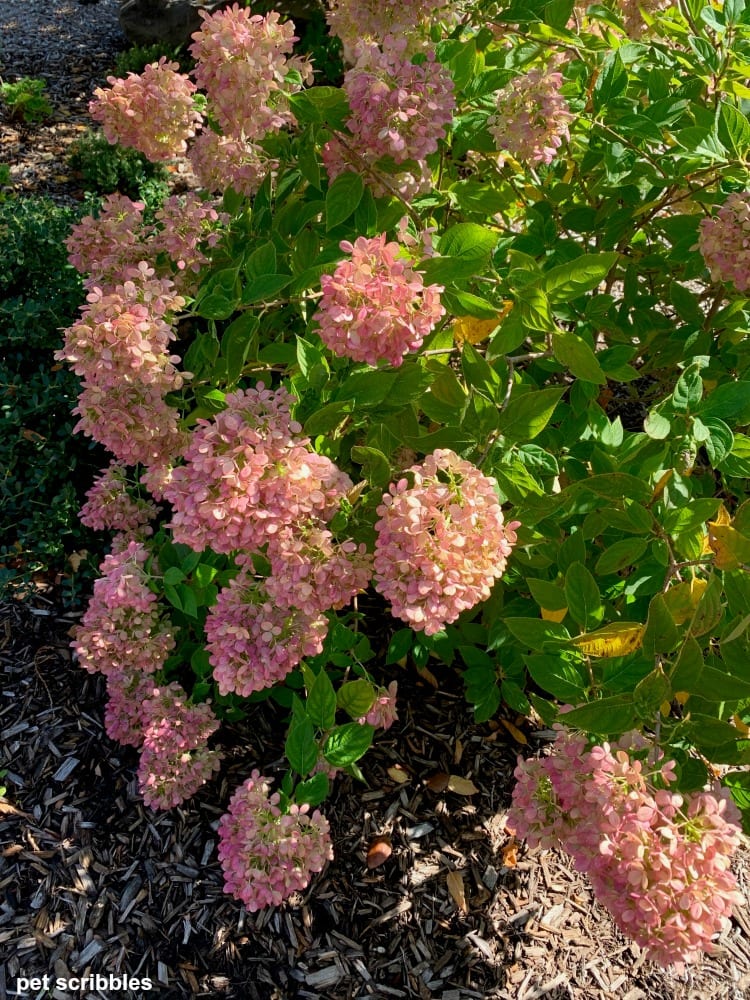 I had to include the image below, to show you I refuse to dig up my annual geraniums just yet. This year, for some reason, I'm hanging onto every last bit of my blooming flowers!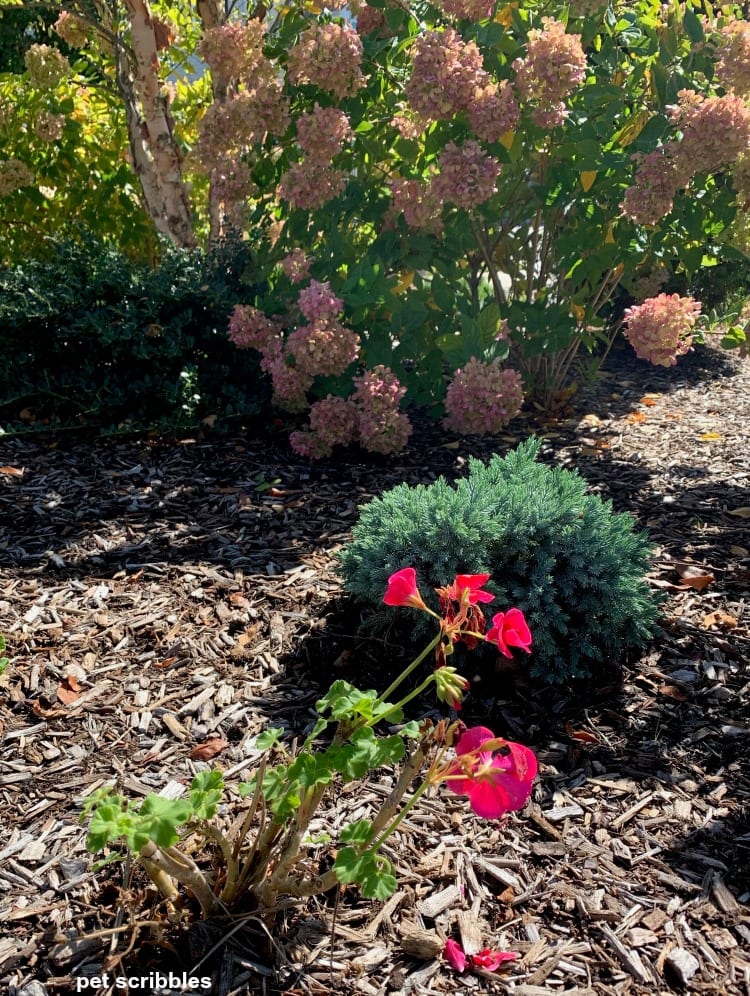 Behind the geranium is a Blue Star Juniper, one of my favorite evergreens for easy blue-green landscape color.
Just like the Limelight Hydrangea Tree in our backyard, these Little Lime Hydrangeas in our front yard provide pretty Fall color. You can see a few of those bright yellow leaves beginning to show up too.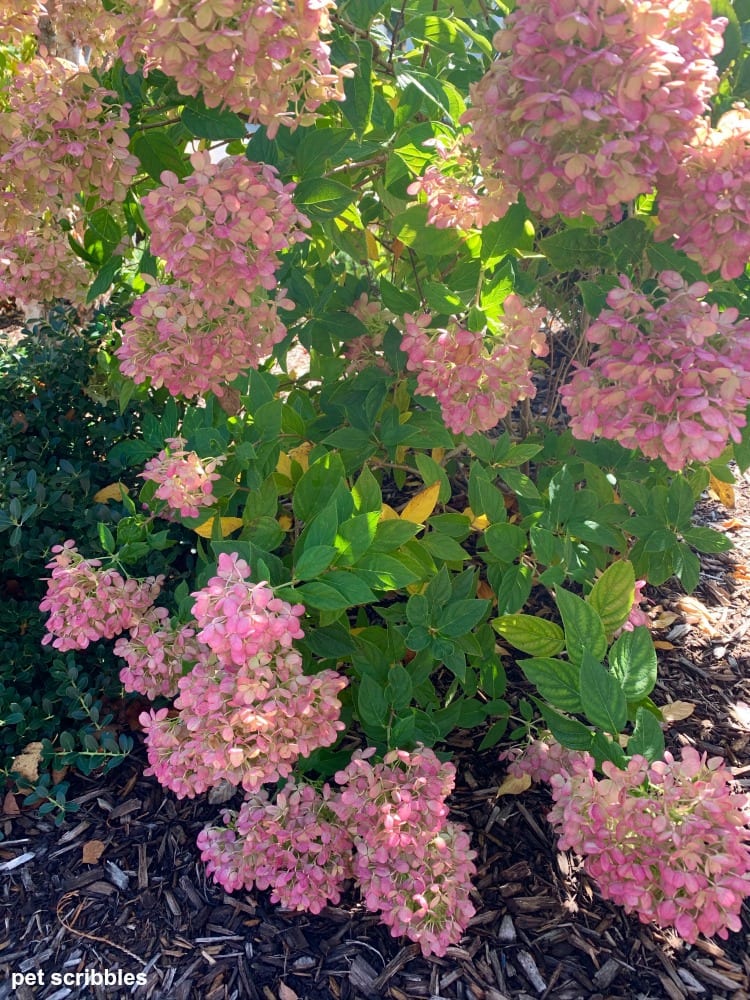 The blooms on the sunnier side of the shrubs are turning from pink to tan already . . .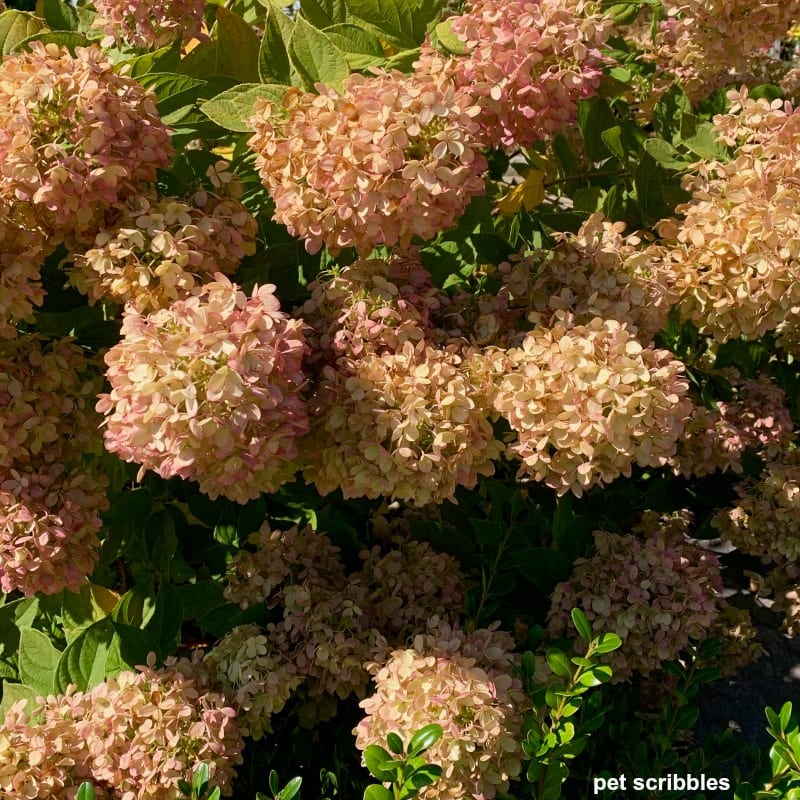 . . . And pretty soon the leaves will have fallen off, leaving the dried flowers for us to enjoy as the Winter Gem Boxwood and other evergreens take center stage, like in this image from last year.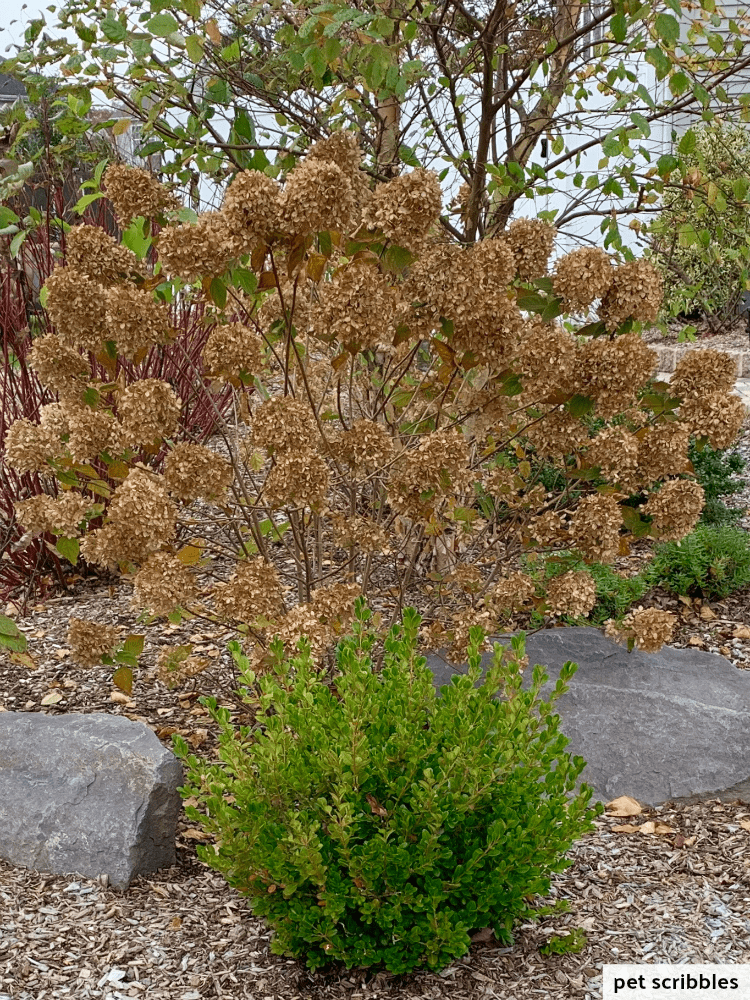 Limelight Hydrangeas not only easy-care Summer-flowering shrubs, but provide an extended flower (and leaf) show well into the Fall season. I've not seen anyone gush about their Fall foliage and fading flowers, but I truly think they are worthy of discussion.
I hope these pictures have inspired you to add Limelight Hydrangeas in some form to your shopping list.
Fall Garden Color
Be sure to click over to my How to Get Brilliant Fall Color in the Garden article, for many more flower, plant and shrub ideas!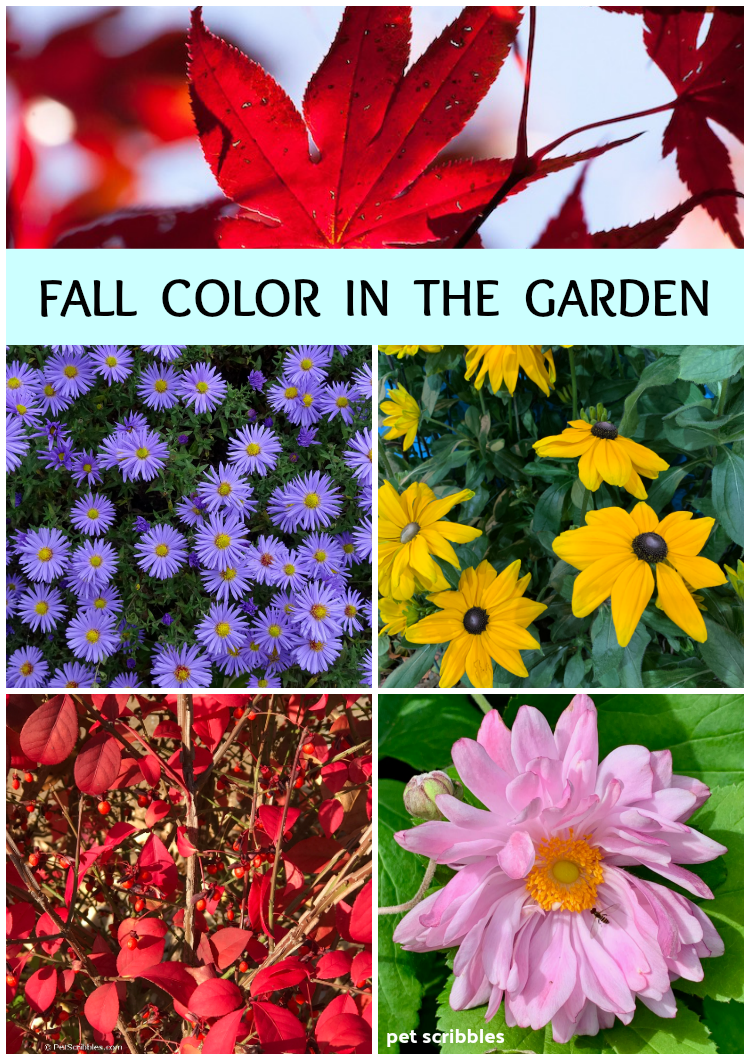 Happy Fall in the garden!