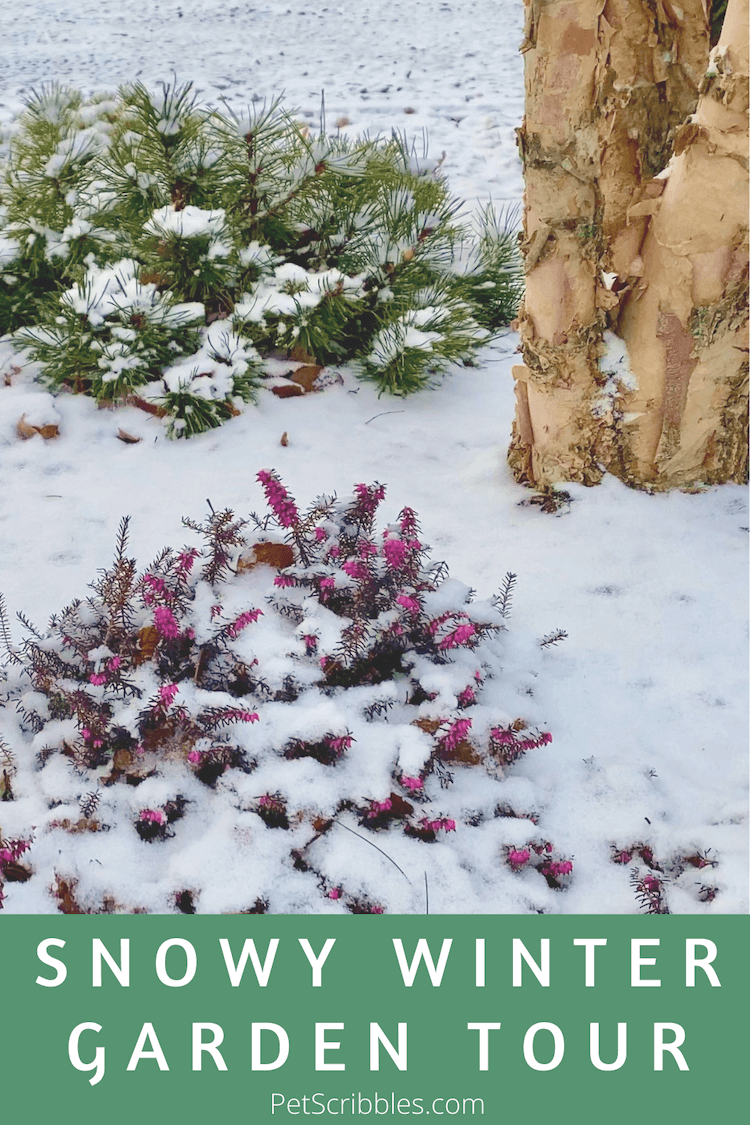 Enjoy this snowy Winter garden tour of our front yard garden beds, filled with evergreens, grasses and gorgeous Winter-blooming heath. There's also plenty of fox and rabbit tracks!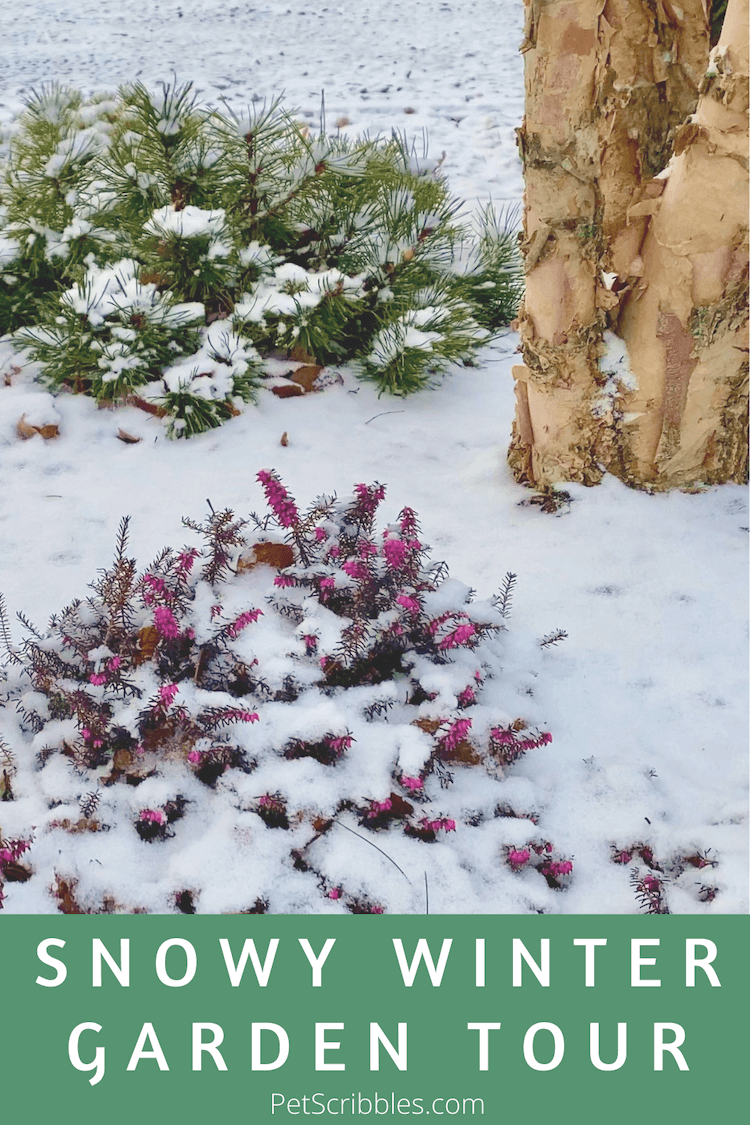 We finally had snow here in southern New Jersey! It wasn't much, but the snow was enough for me to enjoy!
I filmed a YouTube video showing how all of the front garden beds look — there's a link to watch the video further down in this article. I loved seeing the various plants and shrubs sprinkled with snow, and hope you enjoy these images!
The Fox and the Rabbits
The first thing I noticed were the animal tracks in the snow on our driveway and in the road. Below you see bunny tracks on the left. On the right? Those are fox tracks! We checked on our security cameras to see what animal made those tracks, and loved seeing the fox walking around, enjoying our gardens…and most likely keeping those rabbits on the run.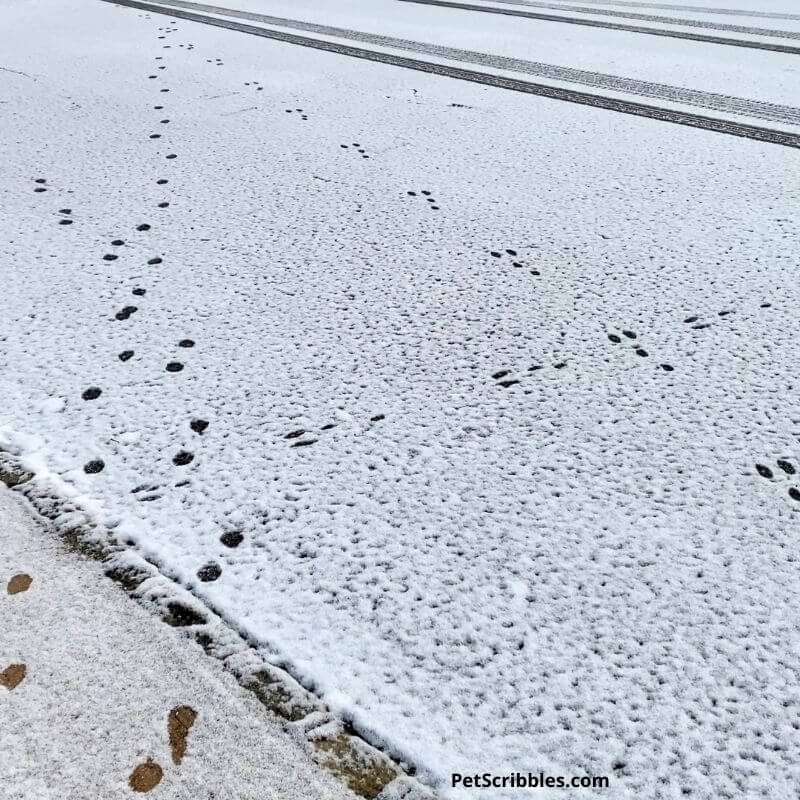 Color Guard Yucca
You can't beat Color Guard Yucca for vibrant Winter color in the garden whether or not there's snow. I love how the white background makes this plant glow.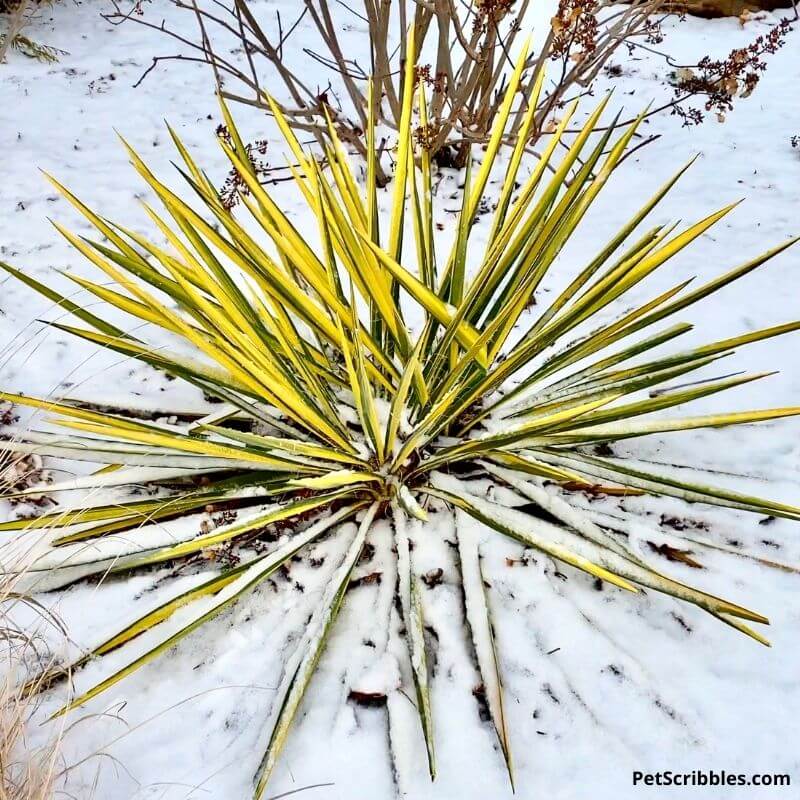 Fothergilla
I love Fothergilla, and have previously written about why this four-season shrub is a must-have in the garden. In Winter, especially when there's snow, the stems and twigs provide outstanding Winter interest and texture.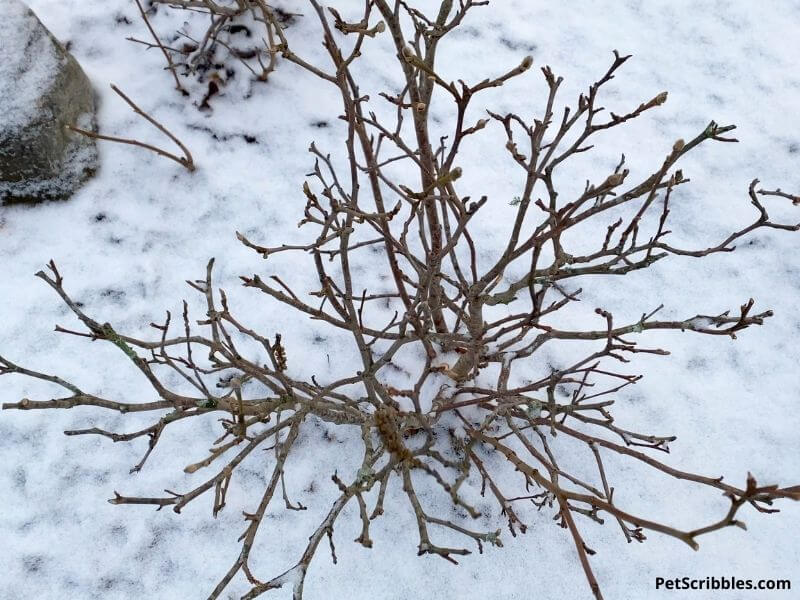 Kramer's Red Winter Heath
The beautiful flowering shrub below is Kramer's Red Winter Heath, next to Manhattan Euonymus in our lamp post bed. I have this Winter heath planted in several places throughout the front yard garden beds, where it blooms its heart out from December through April every year. You can read all about this awesome shrub here: Kramer's Red Winter Heath. (And the video shows you this shrub in much more detail.)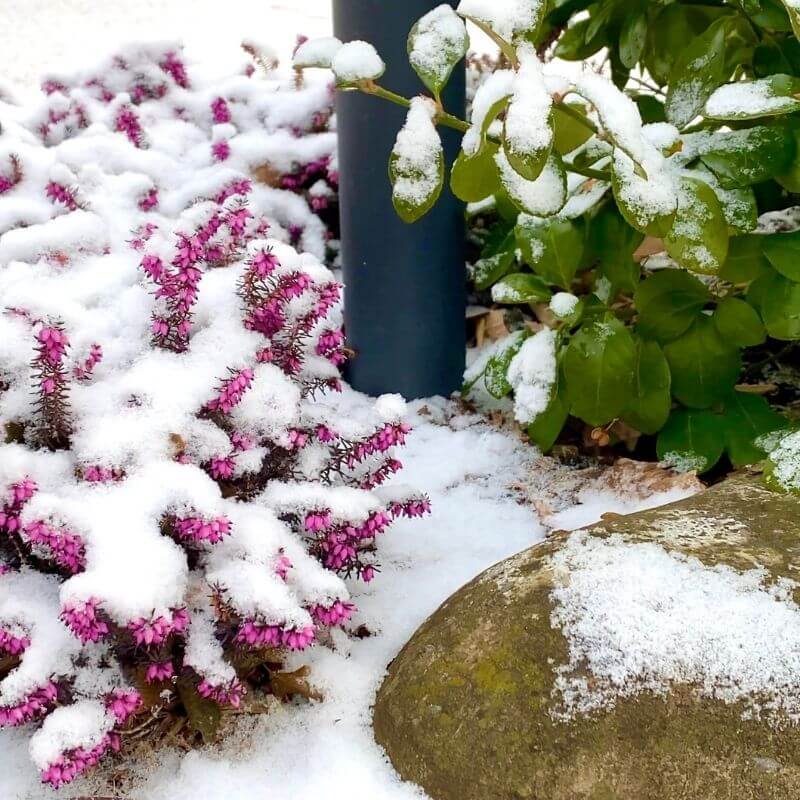 Hydrangea flowers in a snowy Winter garden
Leaving the flowers on hydrangeas provides wonderful Winter interest — and warm tan color — in the garden. I have both Pinky Winky Hydrangeas and Little Lime Hydrangeas in the front yard gardens. The Pinky Winky flowers remain upright on their tall stems all Winter long, while the Little Lime flowers — seen below — have gotten a bit battered by the various storms we've had. Nonetheless, they look so pretty with snow on them.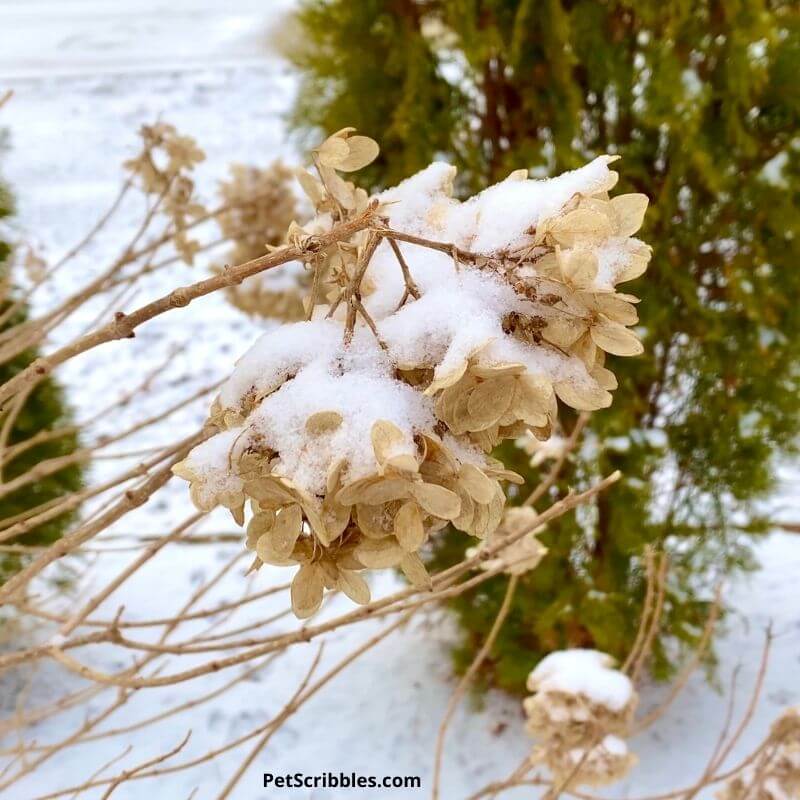 Mugo Pine
We have a large Mugo Pine in one of our front garden beds, plus three small ones in another bed. (You can see them in the video.) These pines provide such a warm green color to a Winter landscape, and I kept ooh-ing and ahh-ing over how neat they looked with snow on them!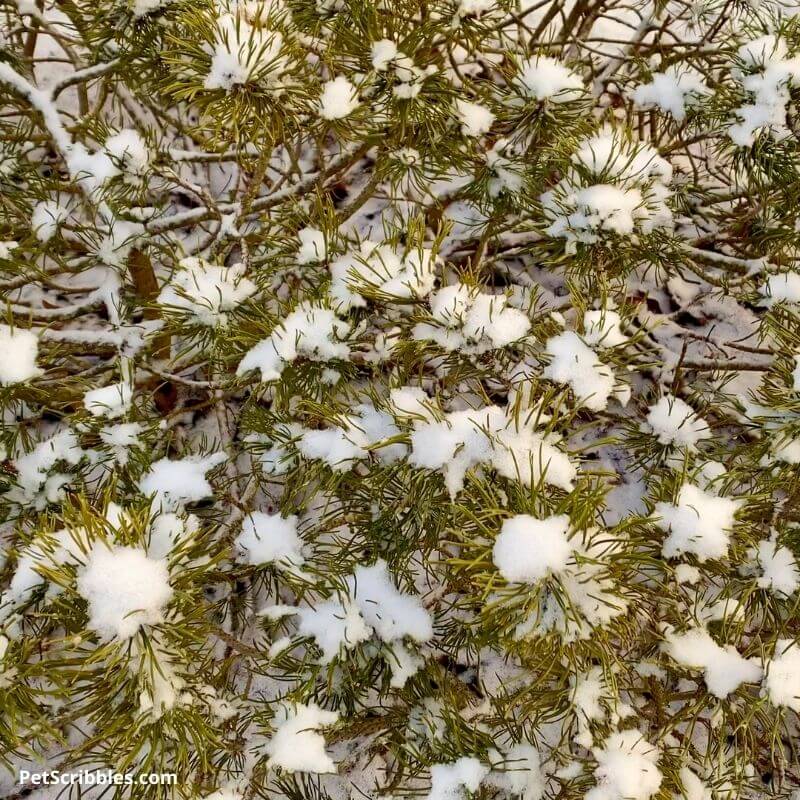 Interesting tree bark in a snowy Winter garden
I purposely chose trees for our front yard that have interesting bark. During the Winter season, when the leaves are gone and the trees are dormant, their bark still provides interesting color and texture.
River Birch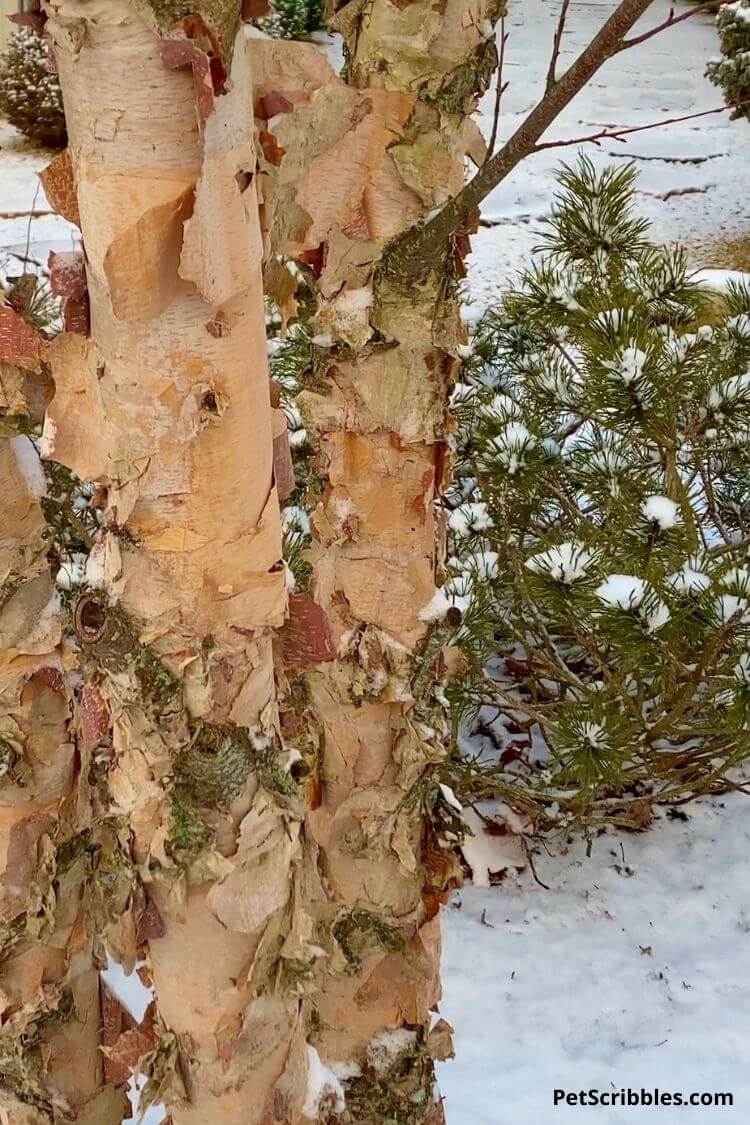 Muskogee Crepe Myrtle
In addition to the pretty bark, there's some pale aqua lichen in a few places. Just a little extra color!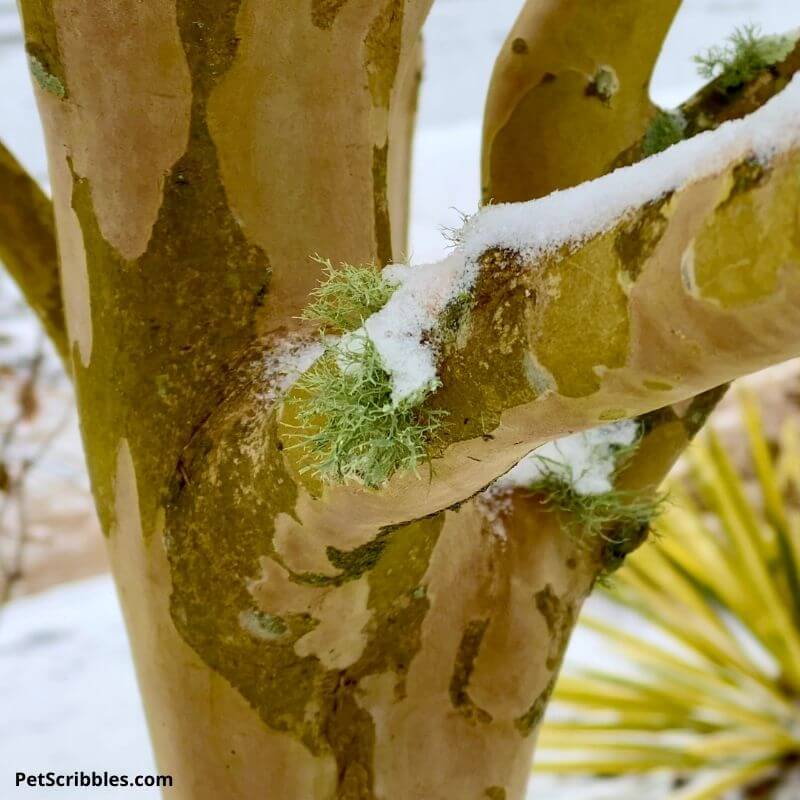 Silver King Euonymus
The colorful leaves and berries of Silver King Euonymus look so happy to me. These shrubs are against our house foundation on each side of the front entrance. The leaves dusted with snow made these shrubs look magical.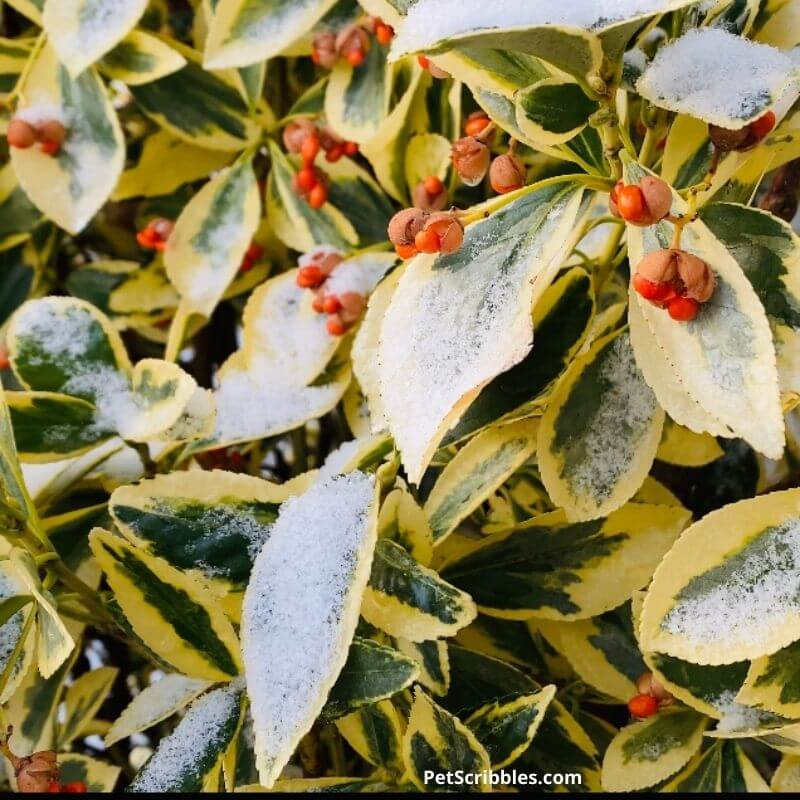 Evergreen Lavender
While Lavender Phenomenal is an evergreen lavender, I call it more of an *ever gray* lavender. These perennials — which grouped together look like a shrub — are a nice contrast to the evergreens in the same garden bed.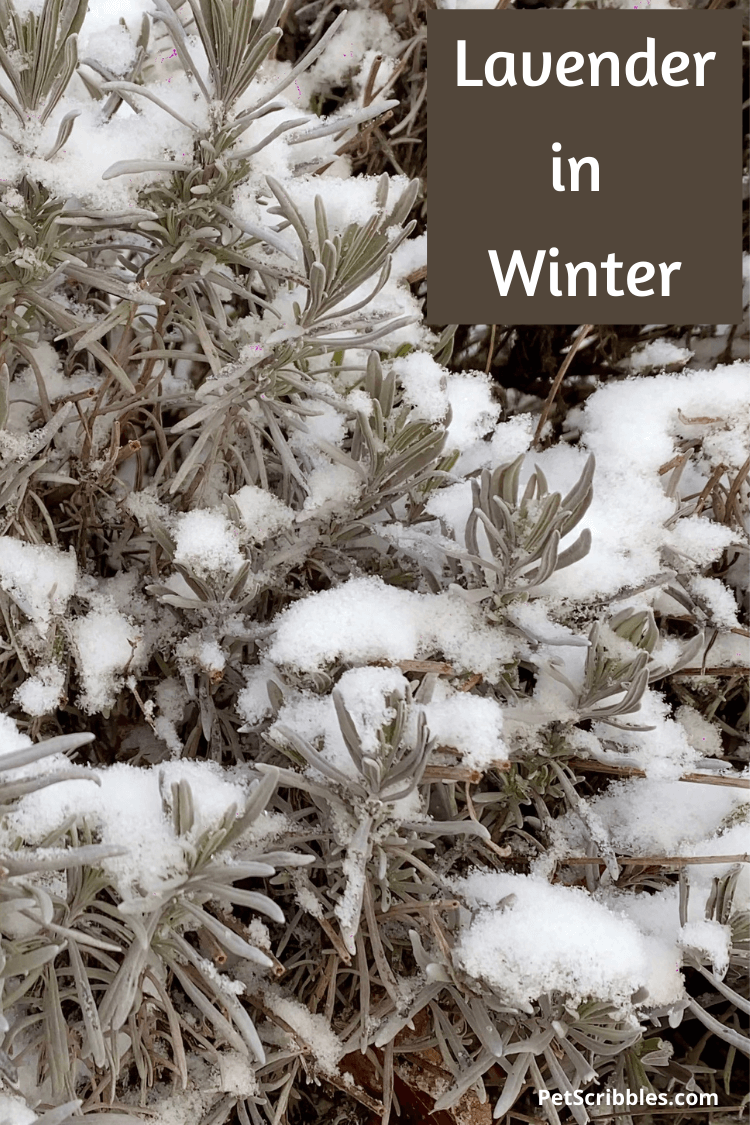 Garden scenes
In the video — link below — I take you around all six garden beds to see how everything looks right now: the main center bed, the two long beds on each side of the center bed, the lamp post bed, and the two foundation garden beds.
In this scene below, from left to right, are the stems of a Little Lime Hydrangea, two Mugo Pines, a River Birch, and in front are three Kramer's Red Winter Heaths.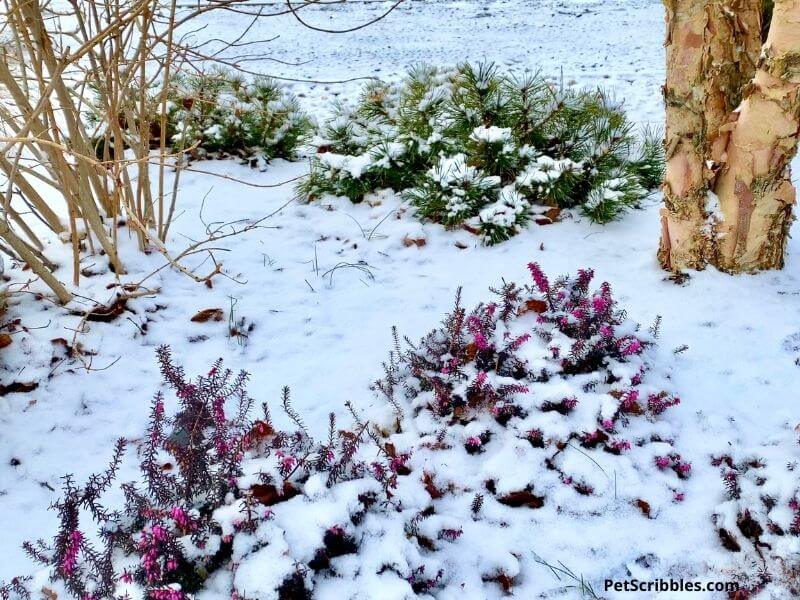 I've always tried to plant my gardens with four-season interest, so that the Winter isn't just a bunch of sticks and twigs. With snow this year, I finally got the opportunity to see how this garden looks in a *true* Winter.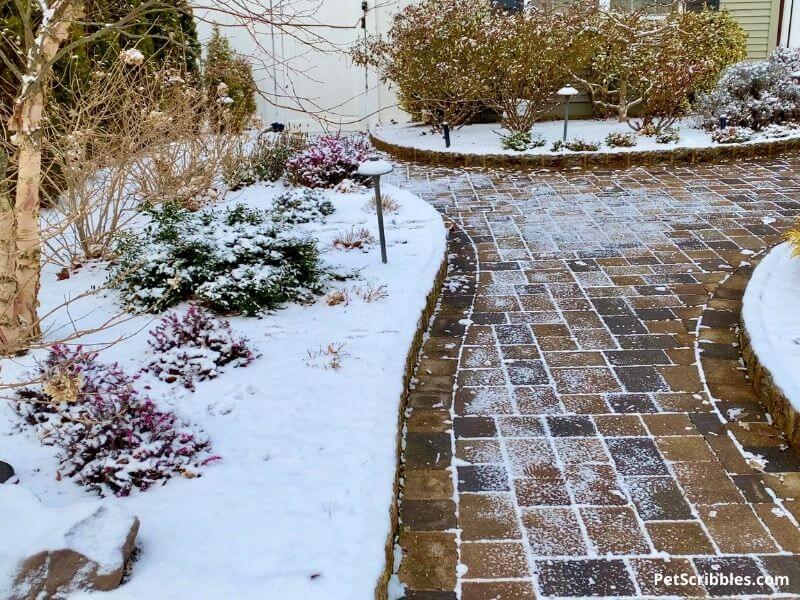 No, we didn't get feet of snow — I wish we did, as I miss the New England snows I enjoyed when I lived up there — but we got just enough to satisfy me!
Video: Snowy Winter Garden Tour
Enjoy the video below, where I share these plants and more from our front yard garden beds, including our Red and Yellow Twig Dogwoods and ornamental grasses. I'm thrilled I finally got to film a snowy Winter garden tour to share with you!
I'd love for you to subscribe to my YouTube channel! Just click the link and hit the subscribe button.
Garden Plant Guides
If you're interested in learning more about some of my favorite plants shown above, please visit my in-depth guides:
Happy gardening!
---
---