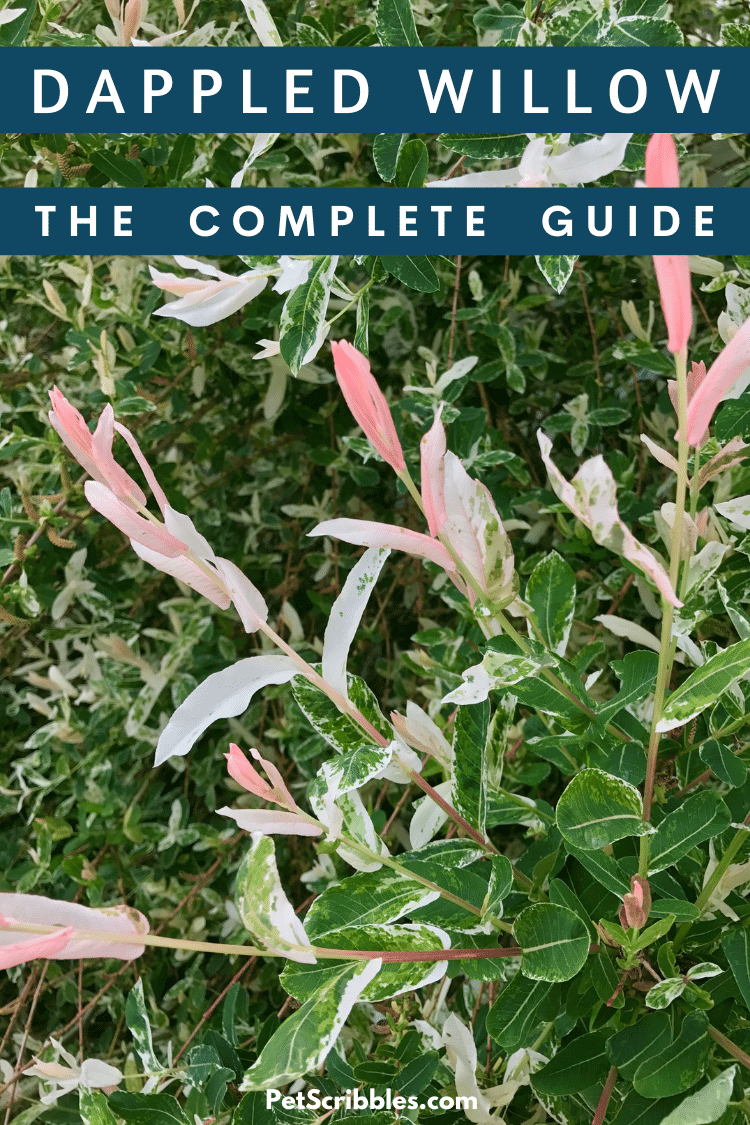 Dappled Willow is an easy-care shrub with gorgeous Spring and Summer color plus red twigs in Winter. Great for wet spots in your yard. Learn about Dappled Willow in this complete guide and see if it might be the perfect shrub for your landscape.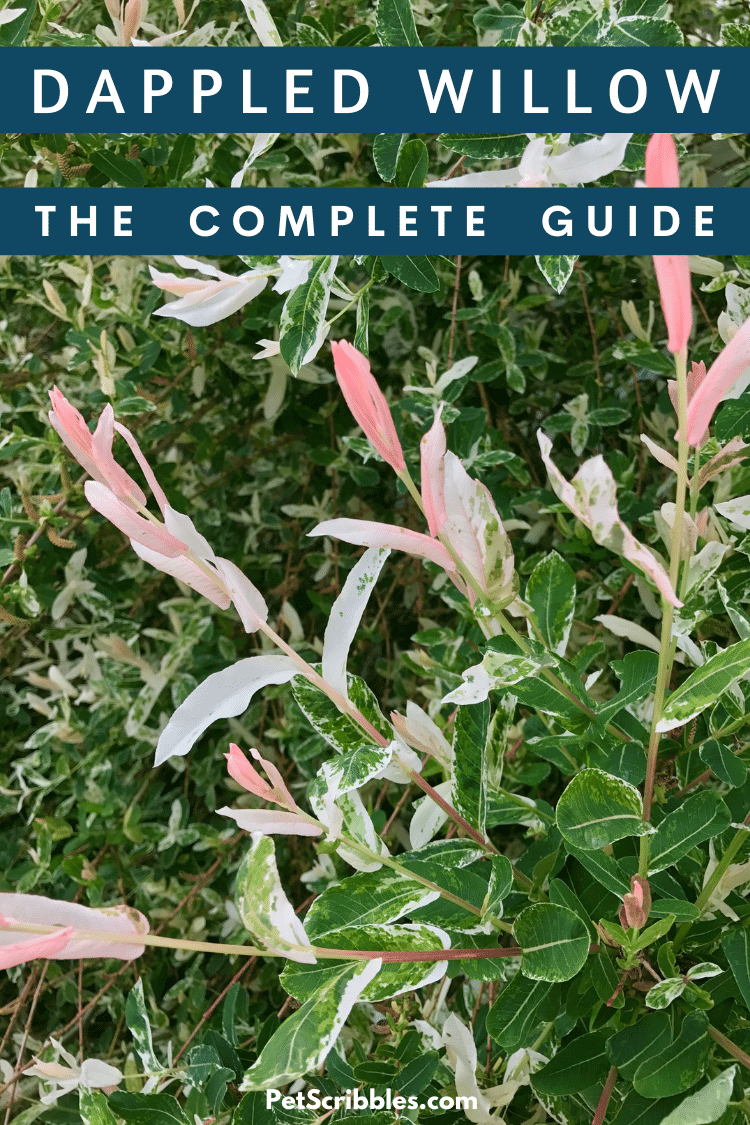 Do you have a wet spot in your yard? Do you want an easy-care plant that can handle wet spots? How about one with year-round garden interest plus a massive amount of fake flowers each Spring?
Wait a minute. Did I just say fake flowers? Yes I did, and you'll have to keep reading to understand why!
The plant of your yard's wet spot dreams is Dappled Willow, also known as Salix integra 'Hakuro-nishiki' Dappled Willow.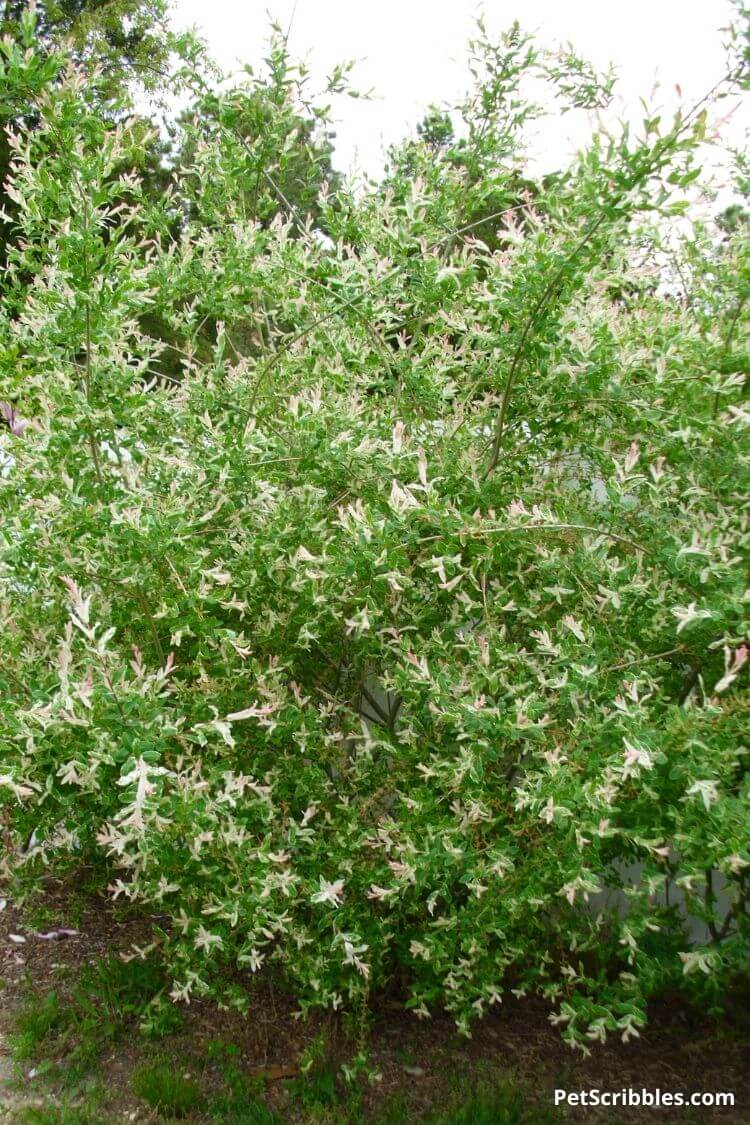 Dappled Willow is the perfect shrub to plant as a specimen or as a hedge. We have a long row of these beautiful shrubs in our back yard. We call these shrubs a living wall, as they provide privacy and nicely block our white vinyl fence (located behind them) from late Spring through early Fall.
The original Dappled Willow shrub that started it all!
Once upon a time, we were new homeowners with an actual yard where we could plant trees and flowers and shrubs. It was a magical time: no longer would we be confined to container gardening on a deck or balcony!
We headed to the local plant nursery, which was my own magic kingdom. Every type of plant I'd dreamed of growing was calling out to me. As I had been reading a ton of gardening books to prepare for this special moment, my husband trusted my judgment on what to buy and where to plant everything. (Yes, we still joke about this!)
Big mistake! I had a major garden fail. Bought way too much too soon. Rookie mistakes all over the place! I'm laughing as I think back to some of the gardening blunders I made. But that's part of learning how to garden.
The original Dappled Willow shrub we purchased got caught in my excitement of planting too much too close together.
Rookie mistake planting Dappled Willow
The photograph below was taken in early Spring 2010, one year after planting our new garden beds in our front yard. Notice the Dappled Willow.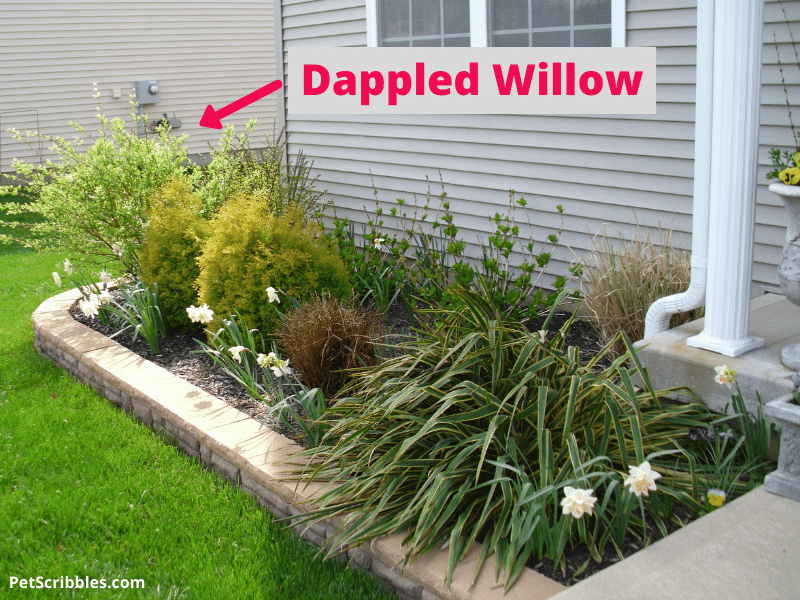 Apparently I thought one shrub was not enough. I planted six shrubs — egads, six shrubs — close together, including two Rheingolds.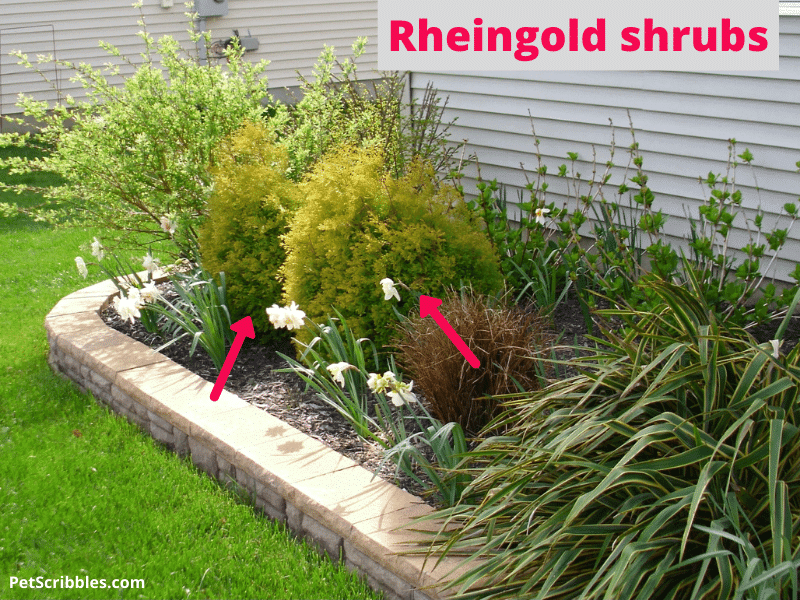 Even though the plant tags on the Rheingold shrubs clearly listed the height and spread as three to four feet tall and wide, I went ahead and placed those shrubs in the front of this raised bed.
Behind those shrubs are two Endless Summer Hydrangeas. There is also the Dappled Willow and a Burning Bush. Six shrubs planted in a very small amount of space. Most of these shrubs have since found a permanent home in our back yard where they have more room to grow.
Here is a better photo of the Burning bush planted behind — yes, behind — the Dappled Willow. Don't judge me. I've already done enough self-judging!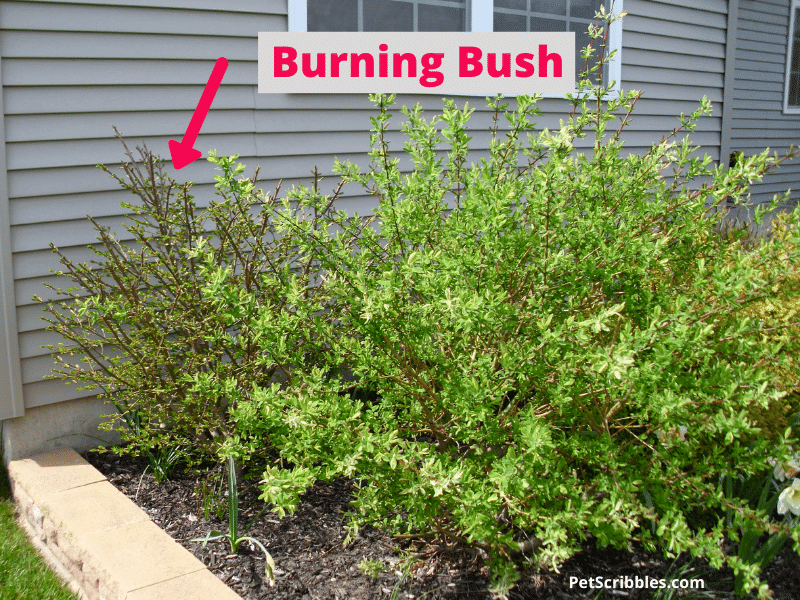 Giving the shrub a new (better) home
This Dappled Willow needed to be transplanted immediately! Of course, there's no photos of it newly transplanted because this was BB: Before Blogging.
Below is the next photo I have of our Dappled Willow in May 2011, one year after being transplanted. In this area, we knew we could let this plant go crazy! There are three Dappled Willow shrubs in this photo, all from the original plant, which I'll explain in a moment.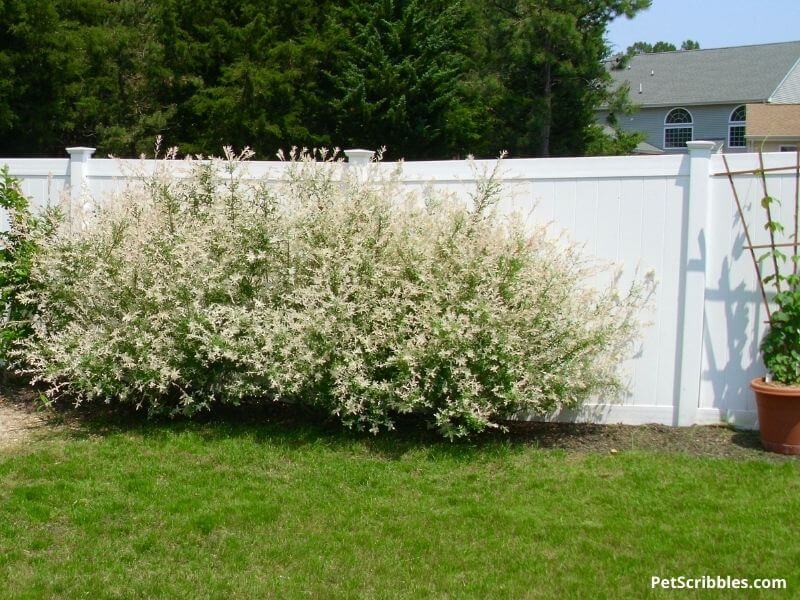 And here are the shrubs in May 2012, one year later: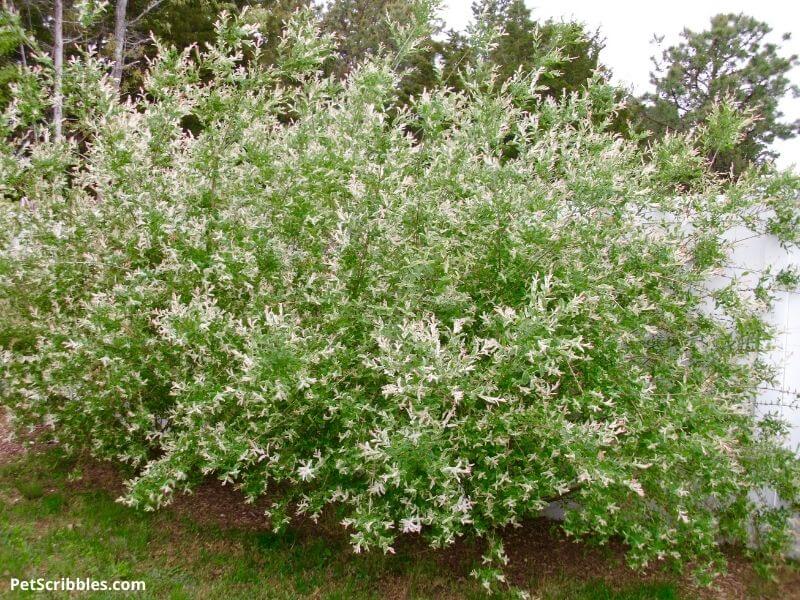 Much bigger and more lush! The white fence is six feet tall, so you can get a sense of how quickly they grew from year to year.
We also have three Magnolia Jane shrubs planted next to the Dappled Willow. This side of our yard is so pretty in the Springtime with both the Magnolias and the Dappled Willow in bloom.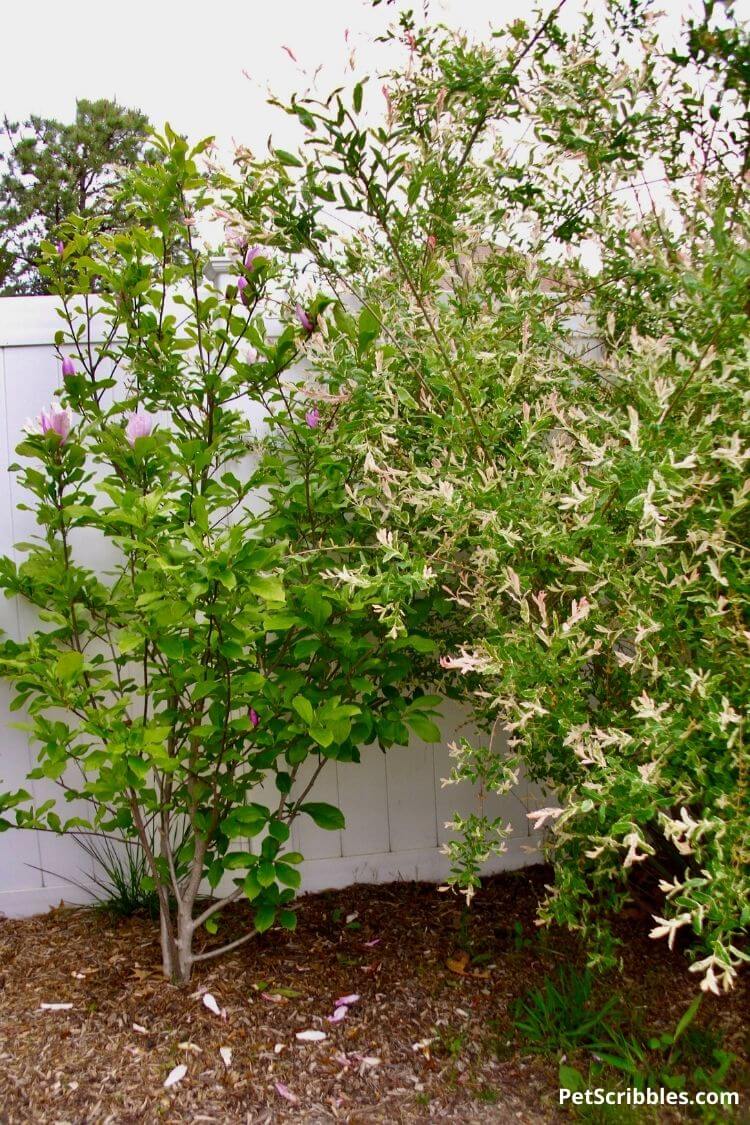 Adding more Dappled Willow from cuttings
We continued to add more shrubs to our living wall by growing additional plants from cuttings over time.
This began by accident, but oh what a happy accident as we learned just how easy it is to propagate Dappled Willow from cuttings.
One January, I cut some of the red stems from the original Dappled Willow shrub to stick into the urns by our front door. Easy Winter decorations.
Imagine our surprise when the stems began sprouting leaves in the Spring!
You can see these stems in the photo below. I carefully planted Spring flowers around them.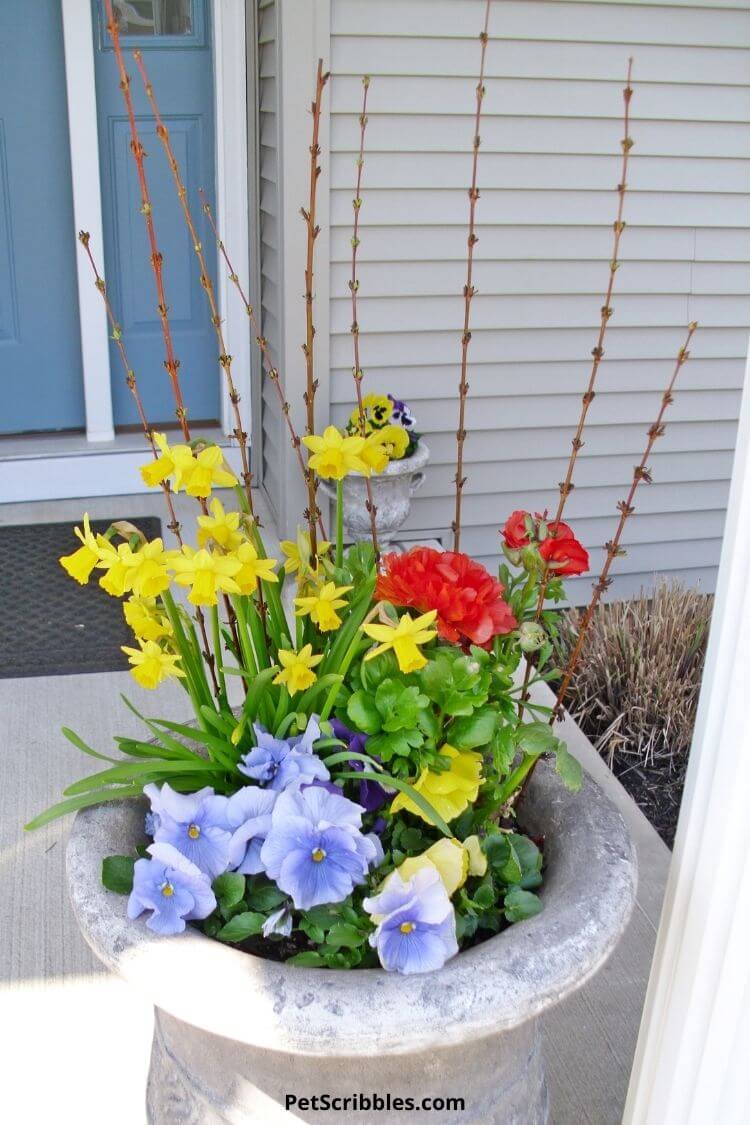 I've written a guide on how to successfully propagate Dappled Willow with simple cuttings. Click on the link to see step-by-step instructions. It is easy to do and can save you money as well. Buying multiple shrubs is expensive!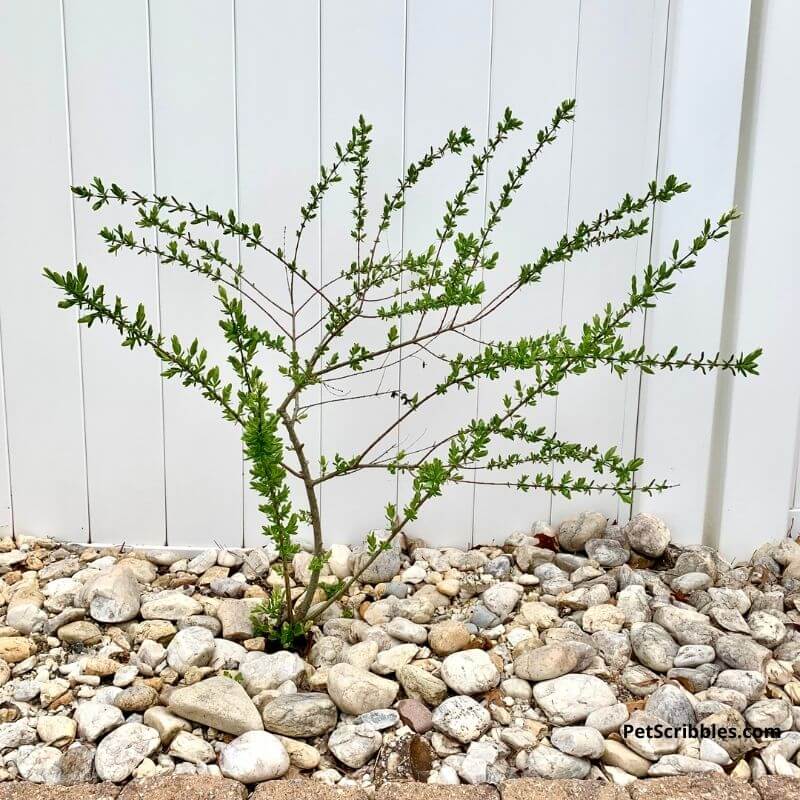 Does Dappled Willow have flowers?
Earlier in this article I mentioned fake flowers and also said this shrub looks pretty when it blooms. There is a very easy explanation.
The new Spring growth on Dappled Willow plants is a very pretty pink color. Many people mistake this new leaf growth as flowers — and they do look like flowers — but those are actually pink-colored leaves!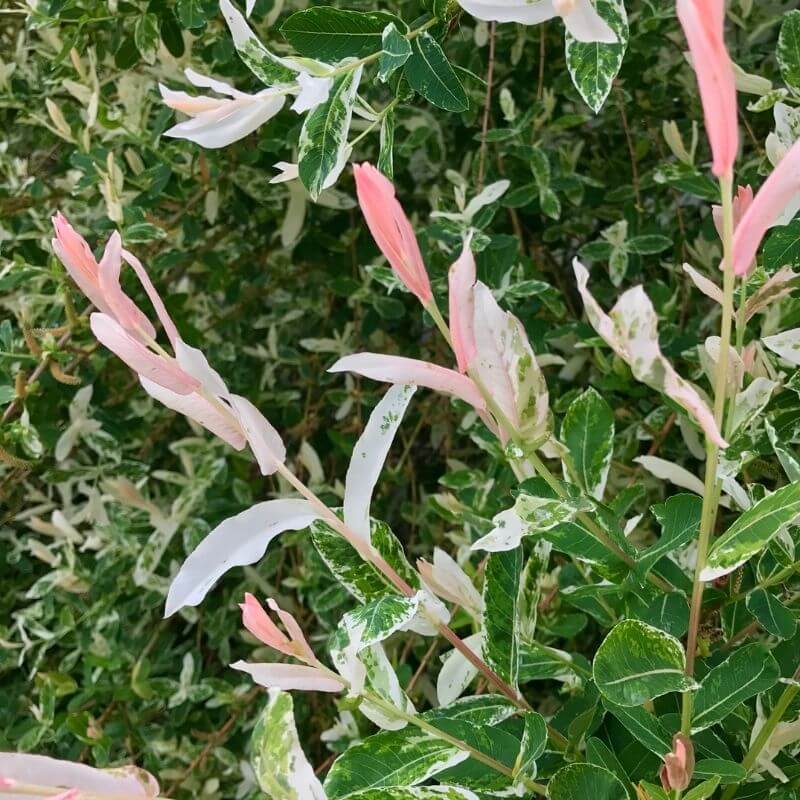 The Spring color is amazing as the shrub is covered in these pretty leaves. The pink color lasts a long time, versus some of the more fleeting Spring-blooming shrubs.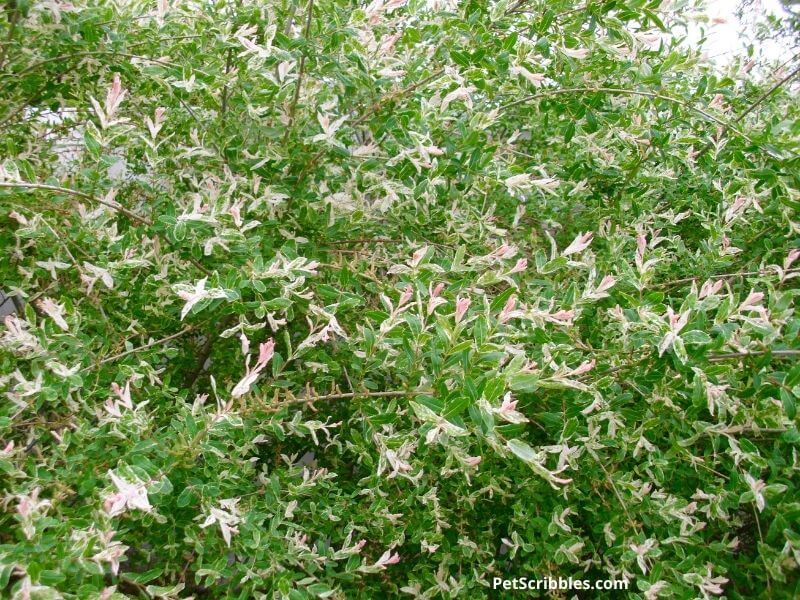 Leaf Color
Dappled Willow's Spring foliage is a striking mix of green, ivory and pink. We had never seen anything like it when we first saw it on that magical day at the nursery so many years ago.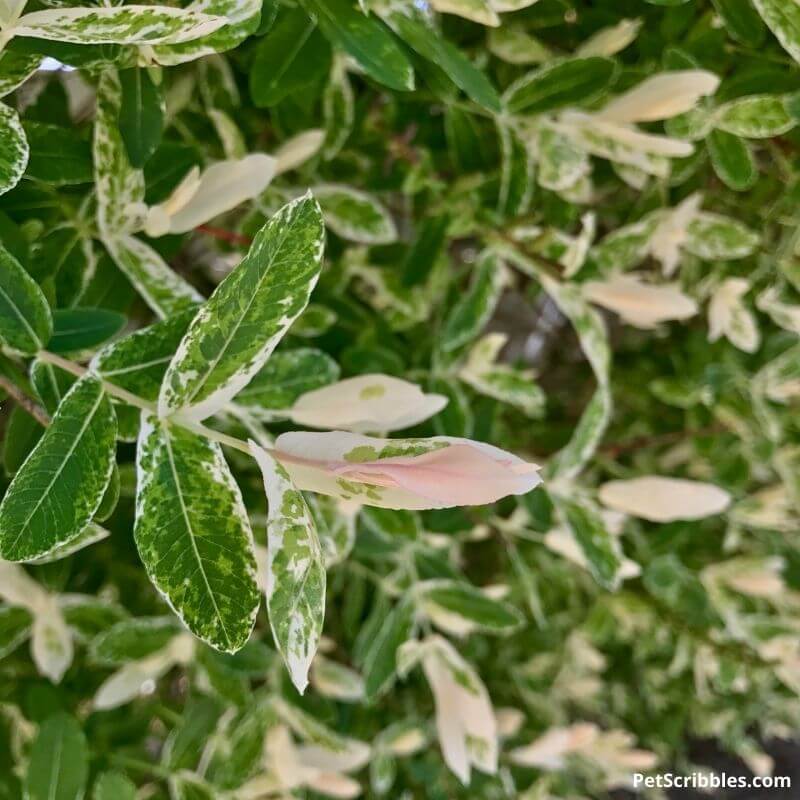 The pink leaves eventually fade and the Summer leaf color is a beautiful mottled — or dappled — ivory and green.
In the photo below, you can see how some of the pink leaves have spots on them. If you look closely, those spots are actually the *dappled* color that will turn ivory and green for the Summer.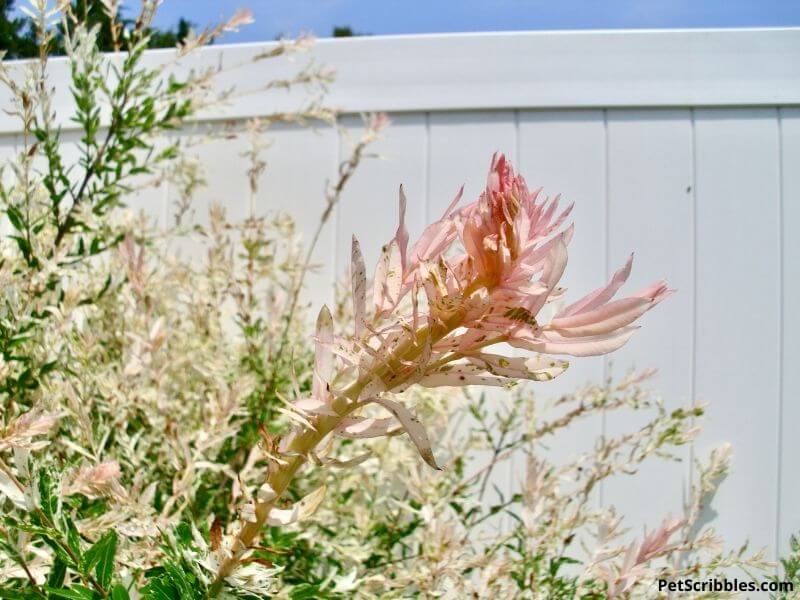 Dappled Willow does not have great Fall leaf color, with the leaves mainly turning yellow to brown before falling off.
Dappled Willow in Winter
Pretty red stems
Once the leaves are gone, there are pretty red stems to enjoy all Winter long. Newer stems are red — which is a reason why you may want to prune these every year. Older stems — including the main trunks of the shrubs — are more of a grayish brown color.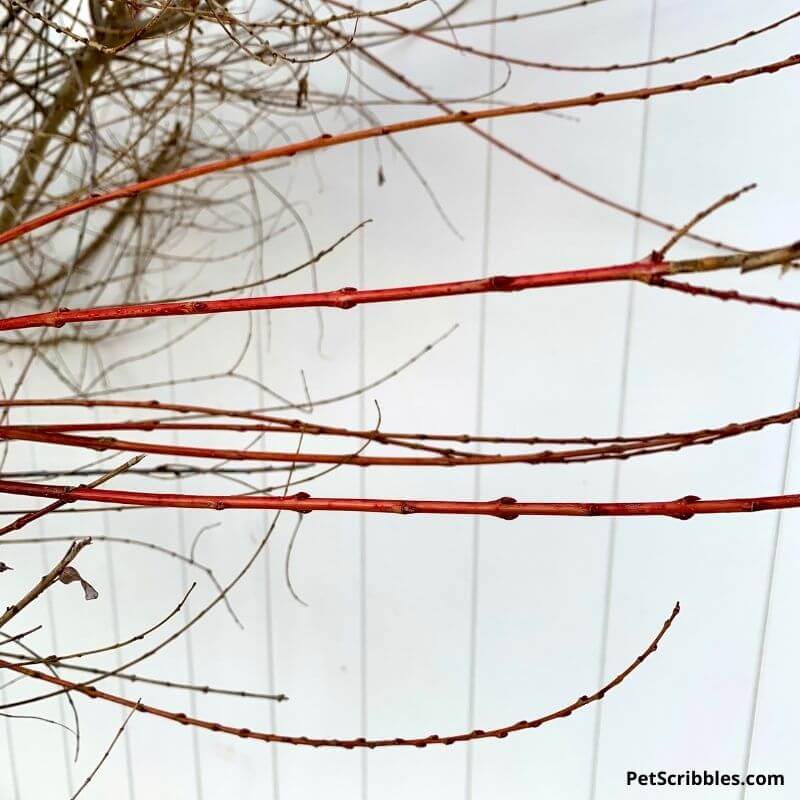 The red stem color is not nearly as vibrant as the stems of Red Twig Dogwoods, but the color is a pretty shade and looks nice against our white fence or when we occasionally have snow.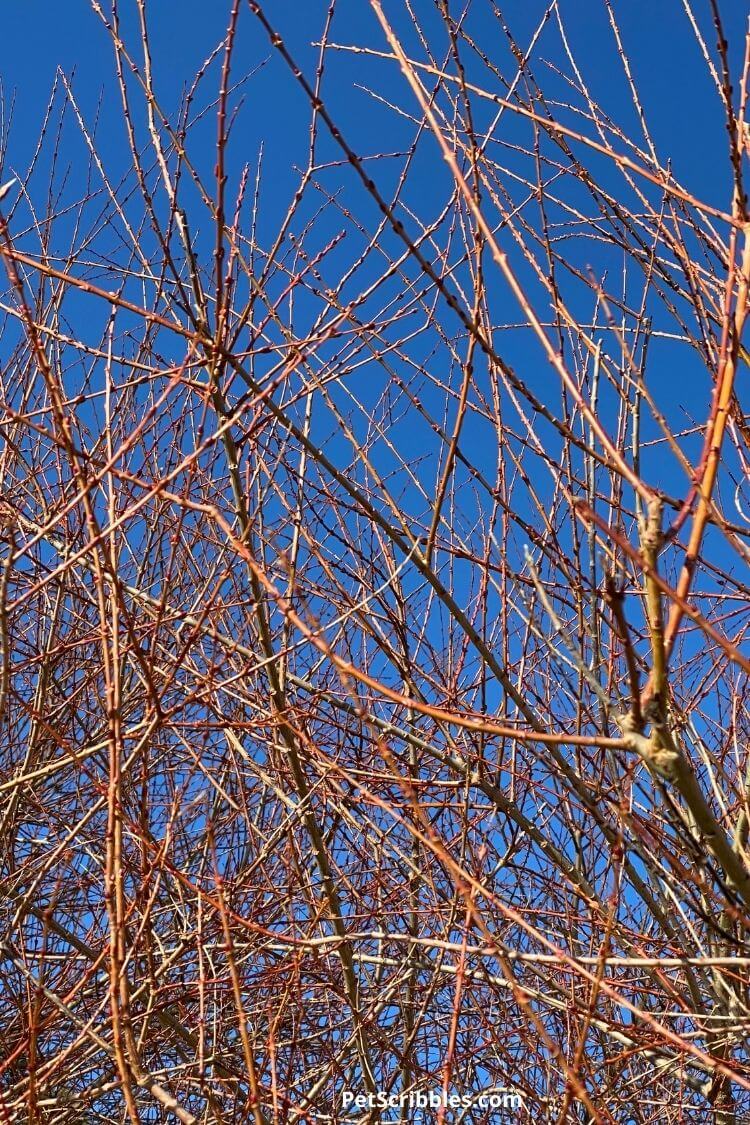 Snow damage
Normally, a light to medium snowfall will not harm Dappled Willow shrubs. When the stems are covered in snow, they look almost magical, as in this photo I took at dusk one Winter: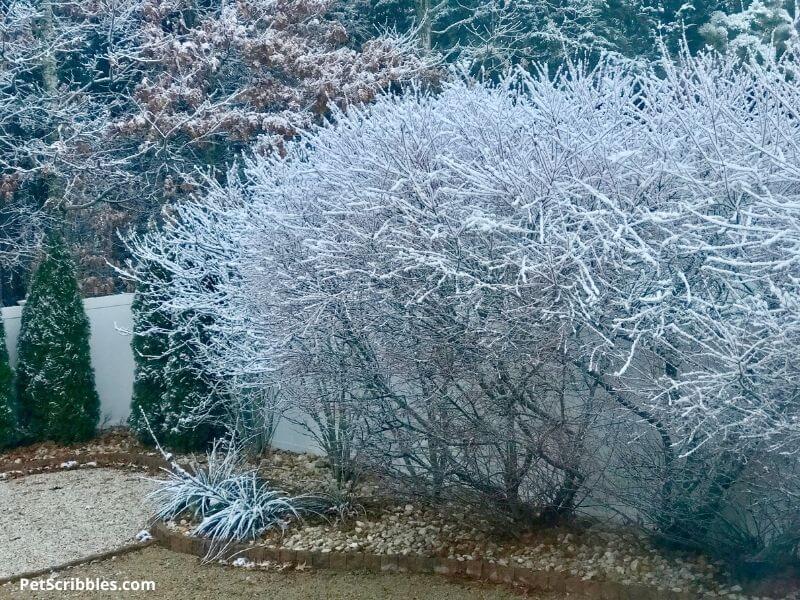 But watch out for severe Winter storms with heavy, wet snow. We had an early Spring storm in 2018 that completely crushed these shrubs, as this view out of our window shows: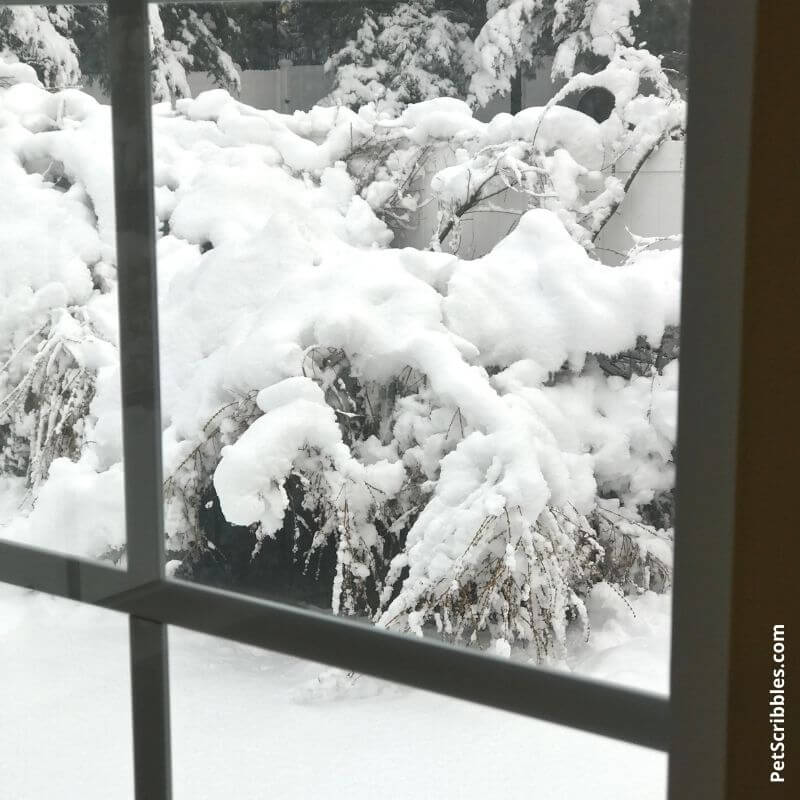 This storm occurred overnight, and as soon as we woke up and saw this, we were outside with brooms to gently push the heavy snow off without damaging the stems or branches. We were lucky that the shrubs bounced back.
Growing Requirements
USDA Zones: 4 — 9
Growth rate: fast!
Height and Width: 4 to 6 feet if pruned regularly; can grow much higher if left unpruned, perhaps 15 to 20 feet tall. To keep Dappled Willow smaller, pruning is essential.
Ours has grown between 10 and 15 feet tall. The width is hard to measure as we have grown ours as a living wall.
Growth habit: At first the growth will appear to be upright, but once the shrub is established, you'll begin to notice the growth becomes curved and arches downward, almost like it is weeping.
Sun: full sun, partial shade. The best color is produced in full sun.
Spacing between shrubs: six feet apart, whether you are planting a row of Dappled Willow or planting them within a garden near other shrubs or perennials.
Plant them closer only if you are OK with pruning them, or if you don't mind the stems growing into each other.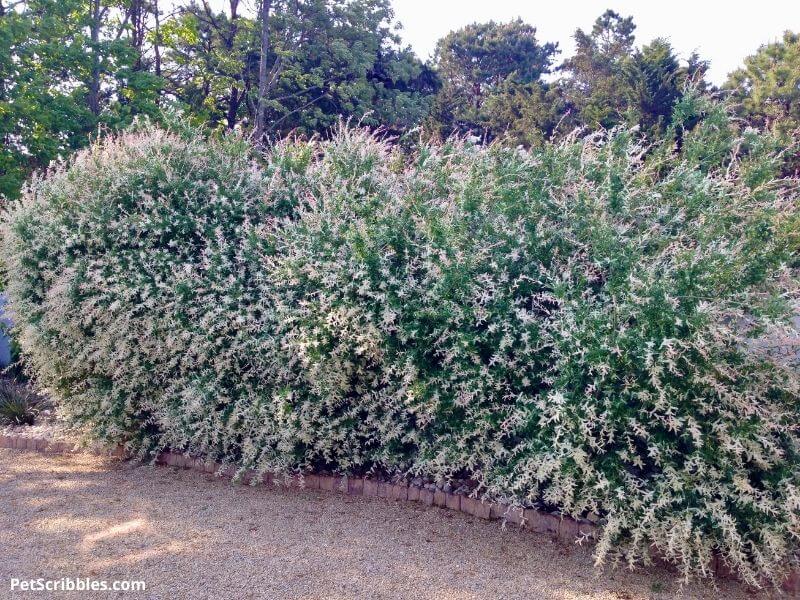 Water needs: loves moisture — especially first year. Don't let the soil completely dry out.
Fertilizer: slow-release organic fertilizer, once a year in Spring.
Soil: adaptable, but loves moist and wet soils the best. That being said, my parents have a shrub — yes, grown from one of my cuttings — that is thriving in normal soil.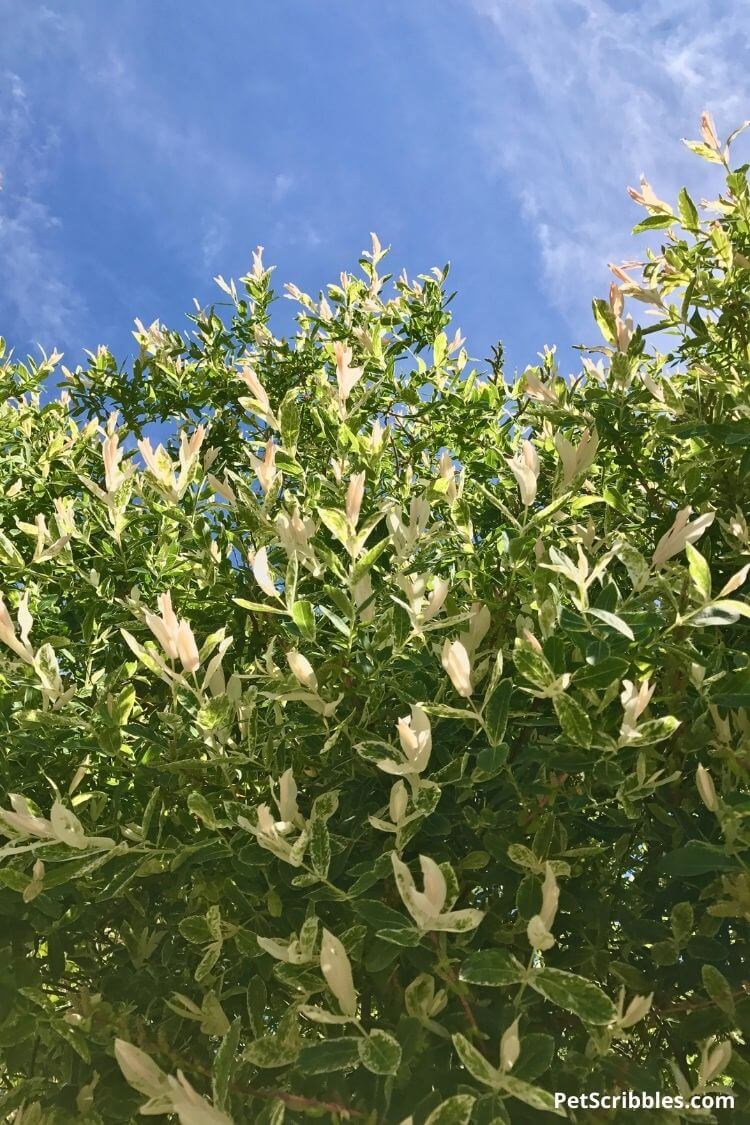 Is Dappled Willow deer resistant?
There is not a consensus on whether or not Dappled Willow is deer resistant. Some gardening experts say yes and others say no. When hungry, deer tend to eat just about anything. Dappled Willow is a fast grower, and that's in its favor if it gets naturally *pruned* by deer.
Is Dappled Willow rabbit resistant?
Rabbits love to nibble on new shoots — especially in Spring — so make sure to protect your newly planted shrubs if they are small or young. Some people will surround the shrub with chicken wire, however I've seen rabbits dig under such things. They are crafty!
We have watched rabbits visiting our Dappled Willow to eat, but there is never any major shrub damage. I think they nibble on it as salad. (And of course I wish they wouldn't.)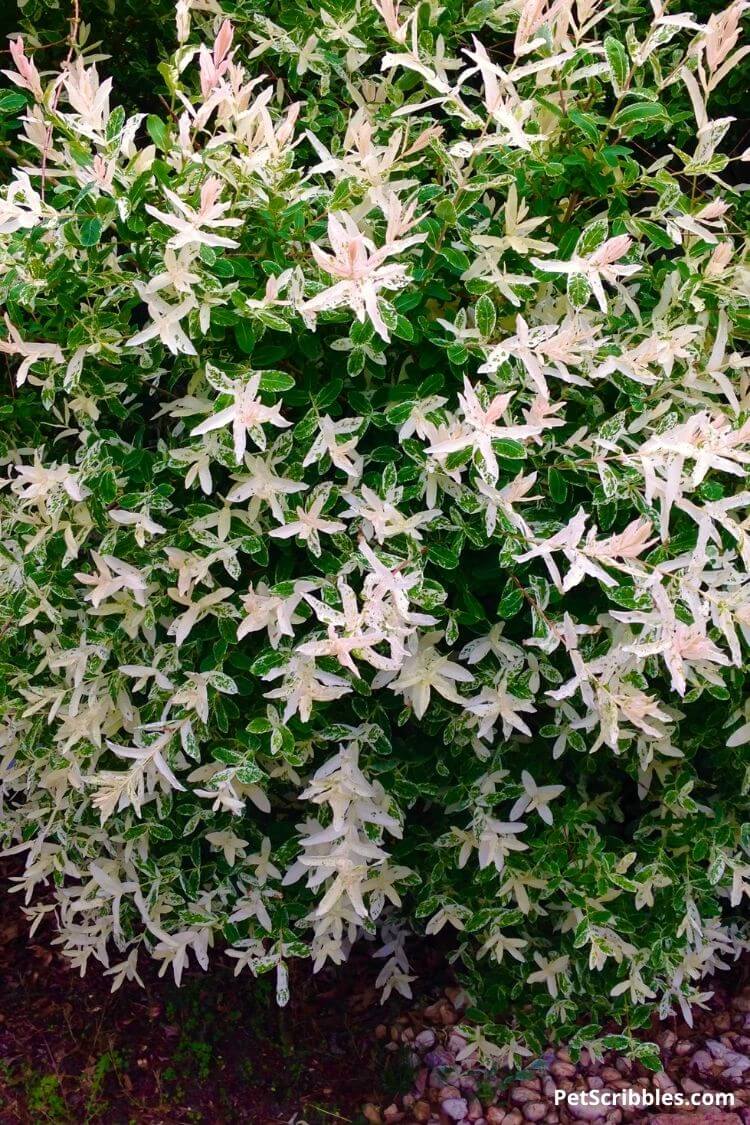 Pros and Cons
On the plus side . . .
Solves your yard's wet spot problem. It's an easy-care shrub, as long as it gets enough water.
Prune to whatever shape and size you want. This plant can fit into a more formal garden setting if pruned in a circular shape, just as it can fit into a more natural setting like in our back yard where we let it grow.
Four season interest: red stems in Winter, pink leaves in Spring and dappled leaf color all Summer into Fall.
And a few things to be aware of . . .
Avoid planting Dappled Willow near your water pipes, drains, and even any water features as their roots could end up causing problems. Just like any plant in the Willow family, their roots will seek out water.
Make sure you plant Dappled Willow where it will have room to grow. (Don't make my rookie mistake!) And be prepared for lots of pruning if you want to keep it within small gardens.
Dappled Willow is a very fast grower. Very fast. We've seen some shrubs grow as high as 20+ feet tall. Ours is currently in the 10 to 15 foot range. The fast growth is wonderful for privacy screens or hedges.
Pay attention to spacing between shrubs. Dappled Willow's branches grow long, up and out from the main branches. If you don't want to be constantly pruning, space them well apart from each other.
Pruning Dappled Willow
Dappled Willow can be pruned as much as you want, or not at all. And you can prune it into various shapes and sizes too.
Whether or not to prune your shrubs — as well as how often — is of course up to you. I'm sharing my own experience for you to learn from.
Important to remember: Dappled Willow shrubs are vigorous growers and enjoy lots of room!
Here's what our Dappled Willow — next to our Magnolia Janes — looked like in 2013: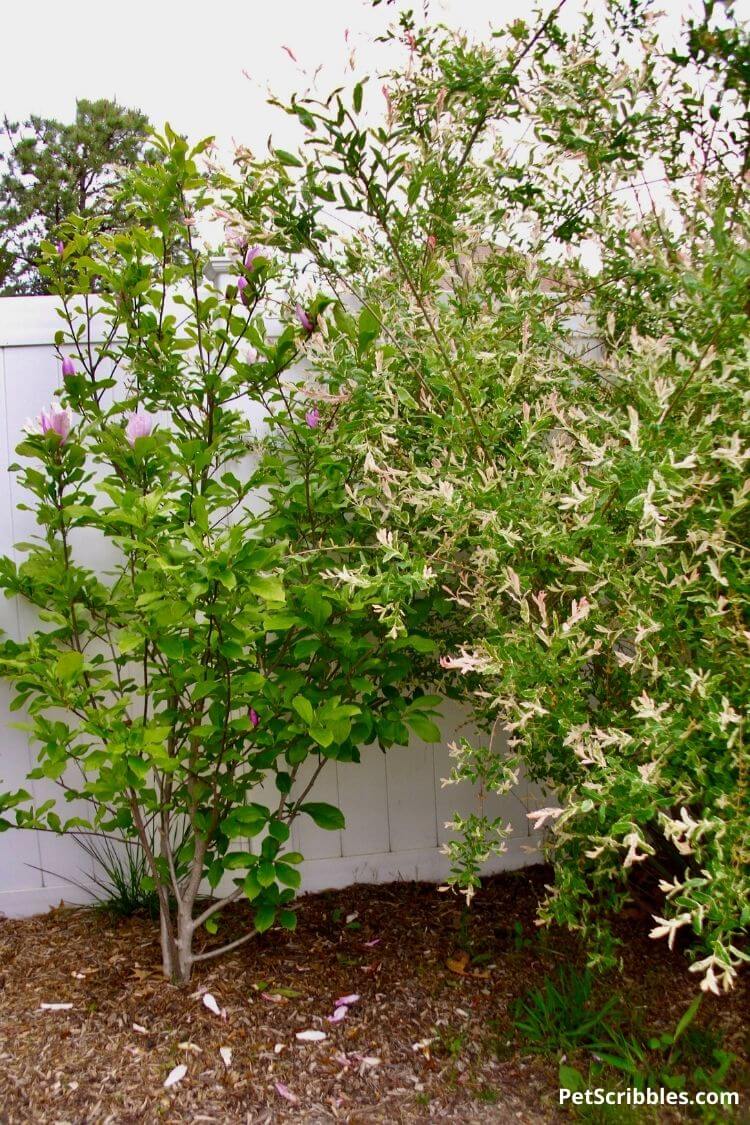 And here is what they looked like three years later: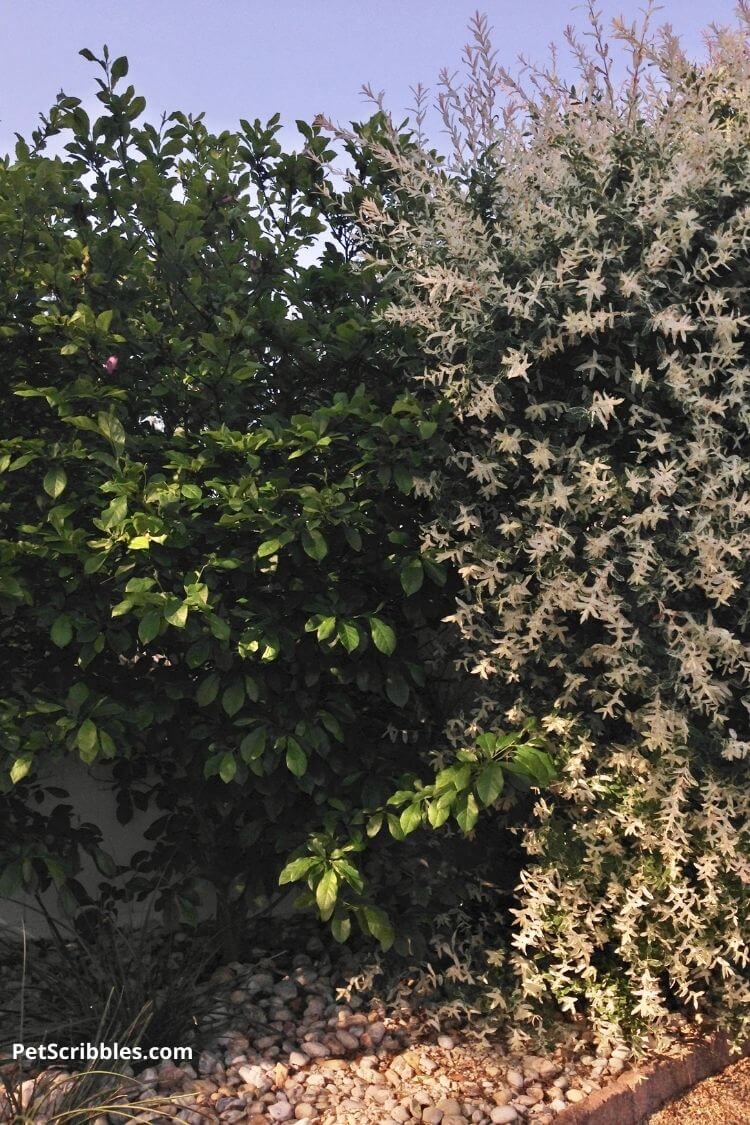 Just looking at the lack of space shows you the importance of not planting shrubs too close to each other.
I trim the Dappled Willow back a few times during the Summer and Fall to make sure it doesn't take over our pretty Magnolia Janes.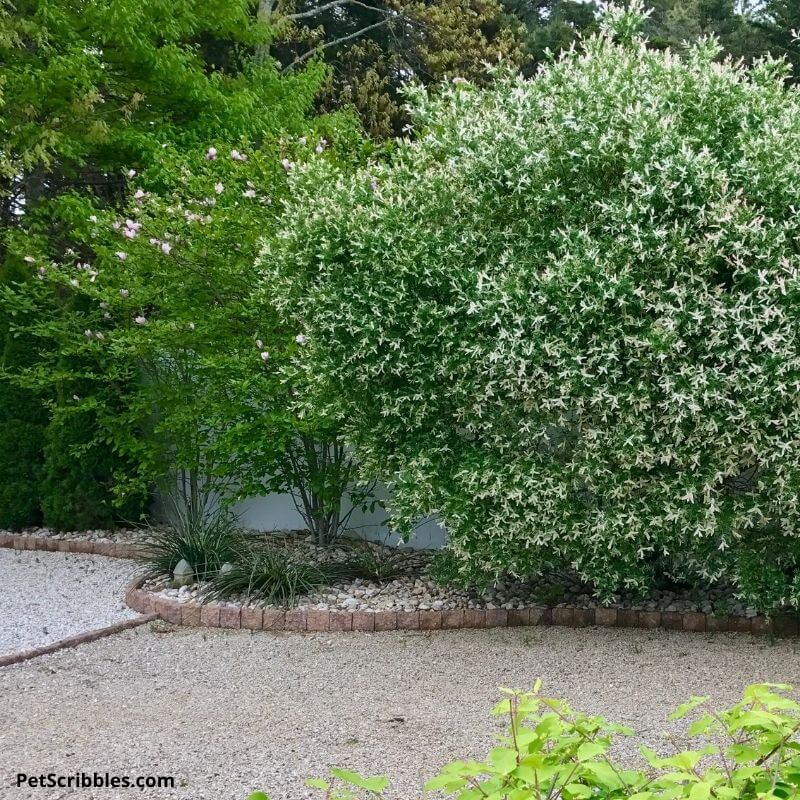 This shrub responds super well to pruning, so you can keep the Dappled Willow to whatever height and width you would like. Just remember that the more you want it to fit into a confined space, the more you'll have to prune it.
When is the best time to prune Dappled Willows?
Either very early Spring before — or just as — the leaf buds start to show. Otherwise wait until after the gorgeous pink leaves are done blooming. The Summer leaf color is a variegated (i.e. dappled) green and ivory.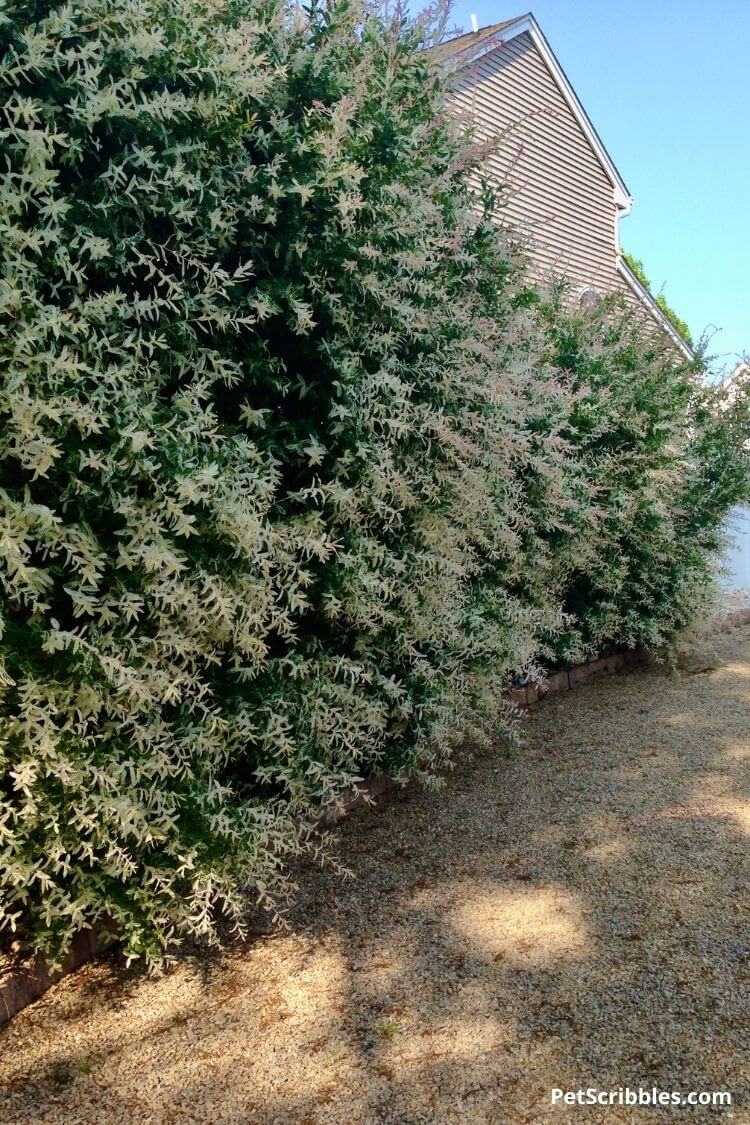 The image above shows you the height of ours. The white vinyl fence is 6 feet tall, and the Dappled Willow is between 10 and 15 feet high! The living wall is approximately 40 feet in length. Each shrub is planted 3 feet away the fence.
We trim it up perhaps two to three times a season, to keep the front of the shrubs fairly even with the stone edging.
And we also go over to our neighbor's yard and trim back any branches hanging over into their yard as well. They love the look of it rising above the fence and enjoy the added privacy too.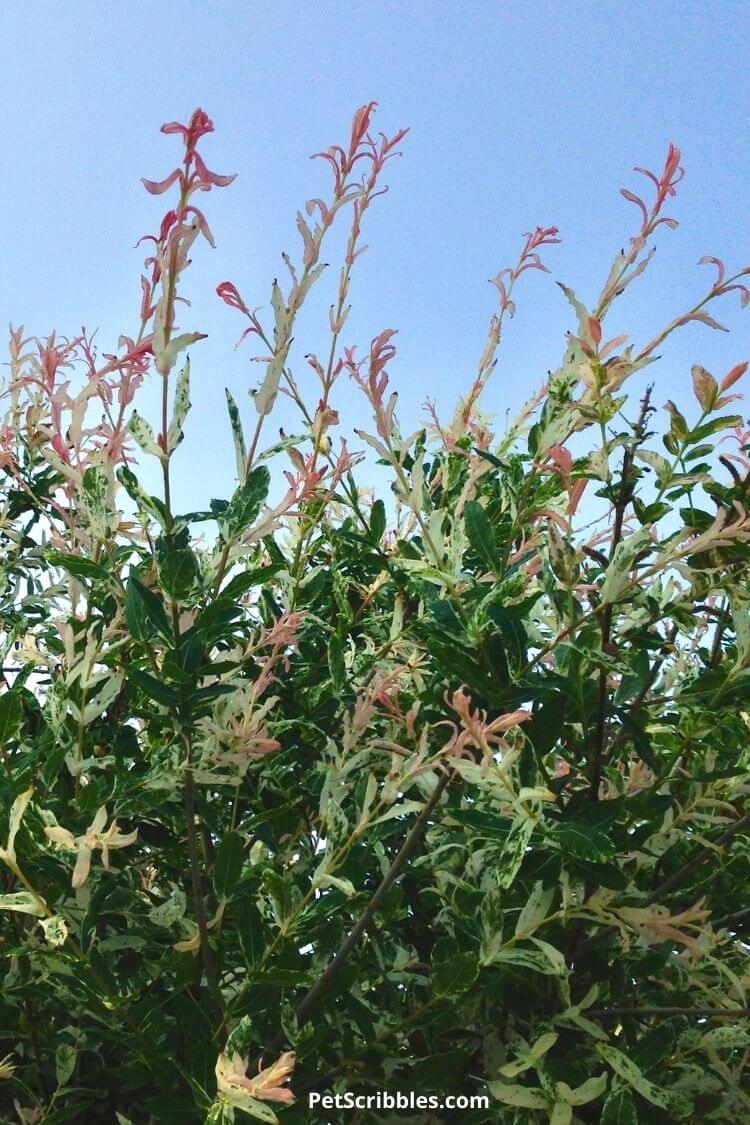 How do you prune Dappled Willow?
For the most natural look, use long-handled loppers and hand pruners. You can use an electric hedge trimmer, however this shrub is not meant to look as groomed as boxwoods, for example.
We have used a hedge trimmer in the past to quickly remove a lot of growth, but then we go in with our loppers and hand pruners to further clean up the shrub and make it look its best. In general, I'm not a fan of hedge trimmers for this particular shrub.
We also put a large tarp on the ground, to make cleanup quicker. This shrub doesn't have sharp leaves or stems, but I always wear gardening gloves to make gripping the branches and stems easier.
How quickly do they recover from pruning?
Fairly quickly, as Dappled Willow are fast growers. For example, below is a photo of shrubs in April, about one month after pruning . . .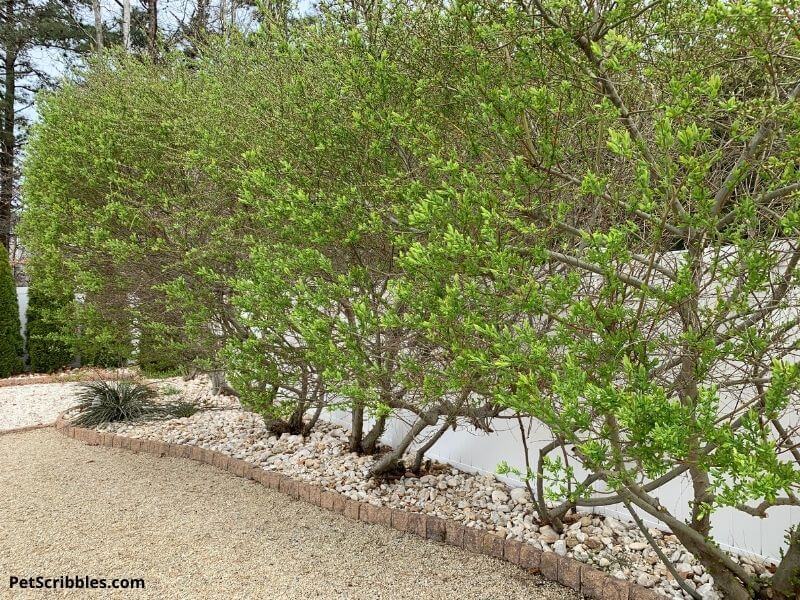 . . . and here are the same shrubs just two months later in June . . .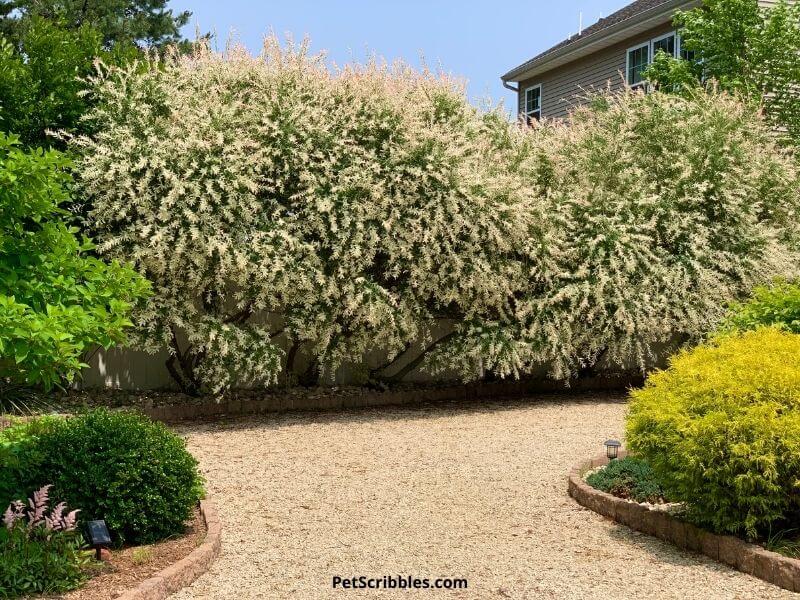 Can you prune Dappled Willow all the way down to the ground?
Yes you can! This technique is called coppicing, and will rejuvenate the shrub. As this shrub is a fast grower, new growth will sprout up and grow in nice and full. You will also encourage new red stems to grow which adds Winter interest to your garden.
Coppicing is a way to keep your shrub within bounds if you have it planted in a smaller space or just want to have a smaller sized plant. It is best done in late Winter or very early Spring while the plant is dormant.
Overgrown Dappled Willow? Coppicing is a must if your Dappled Willow has become overgrown. In fact, we did this to our own shrubs this year. Below is a short video about our overgrown shrubs, problems that arise and how coppicing will solve these problems. The second video shows you the actual coppicing.
---
---
Can you prune Dappled Willow into a tree form?
Yes, you can prune your shrub into a multi-trunk tree fairly easily. Remove any new growth from the lower two-thirds of your shrub while letting the upper stems grow. This will result in a lovely shape.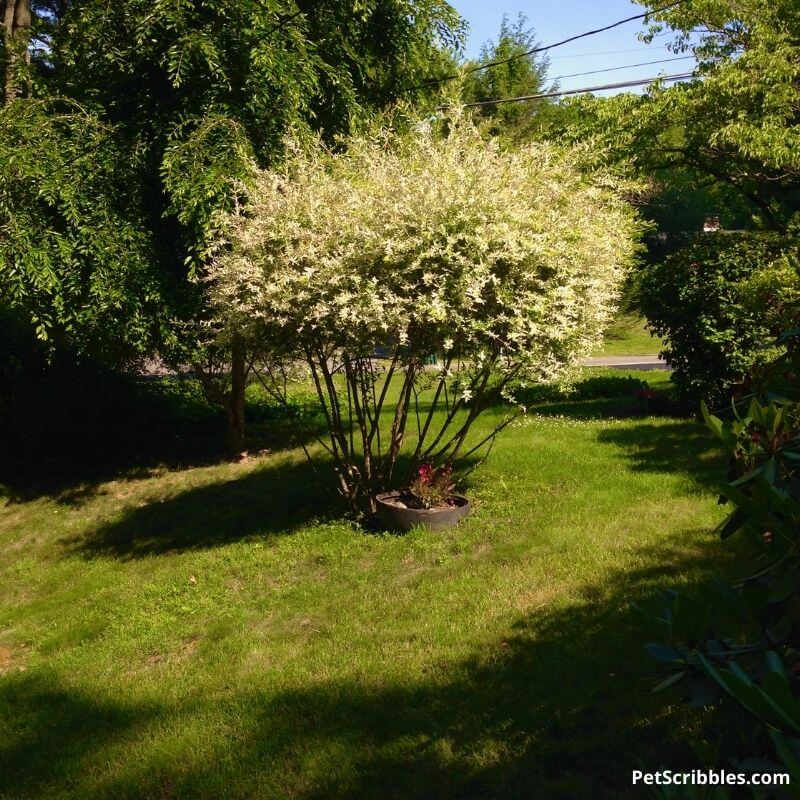 Garden centers and nurseries also sell Dappled Willow tree *standards* which look like one main stem with growth at the top in a rounded ball shape. These fit into a more formal garden setting nicely.
Conclusion
No matter what size shrub you have, Dappled Willow will add so much color to your landscape. Once established, it doesn't require a lot of care. Just remember it enjoys water and room to grow.
I love this perennial shrub for its easy care, reliability, and of course its multi-season interest. I hope you will too.
Happy gardening!