Do you have a wet spot in your yard? Do you want an easy-care plant that can handle wet spots? How about one with year-round garden interest and a massive amount of fake flowers each Spring?
Wait a minute. Hold everything. Did I just say fake flowers? Yes I did, and you'll have to keep reading to understand why!
The plant of your yard's wet spot dreams is Dappled Willow!
Isn't it gorgeous?
Editor's note: There's a new update as of June 2016! The link is at the bottom of this article. Consider it Part Two!
Once upon a time, we were new homeowners with an actual yard where we could plant trees and flowers and shrubs. It was a magical time. No longer would we be confined to container gardening on a deck or balcony. We headed to the plant nursery, which was my own magic kingdom as every type of plant I'd dreamed of growing was calling to me. As I had been reading a ton of gardening books to prepare for this special moment, my husband trusted my judgment on what to buy and where to plant everything.
Big mistake. I had a major garden fail. Bought too much too soon. Rookie mistakes all over the place. Want to see?
This shot was taken in early Spring 2010, one year after planting our front garden beds. Notice the Dappled Willow. Don't notice the missing shutters which we've since taken care of. (The previous owners said "no" to the builders when asked if they wanted shutters.)


Here's a better shot, below, to emphasize that I thought one shrub was not enough. No, I planted 6 shrubs close together. Because even though the plant tags said that the Rheingold shrubs would each spread at least three to four feet wide and tall, well… (Those have since found a permanent home in our back yard as well!) See the arrow pointing down on the right? That's a Burning Bush, and to the right are two Endless Summer Hydrangeas.
Here's a better shot of the Burning Bush behind – yes behind – the Dappled Willow. Don't judge.
The Dappled Willow needed to be transplanted immediately! Of course there's no pictures of it newly transplanted because this was BB. Before Blogging.
Here's the next picture available, of our Dappled Willow (below) in May 2011, one year after being transplanted. In this spot, we can let the Dappled Willow go crazy! There are three Dappled Willow shrubs, all from the original plant, which I'll explain in a moment.
Here's the Dappled Willow last year, May 2012:
Much bigger and much more lush! This shrub can be pruned as much as you want, or not at all. And you can prune it into various shapes and sizes too.
Here's one of our Magnolia Jane shrubs next to the Dappled Willow. This side of our yard is so pretty in the Springtime with both the Magnolias and the Dappled Willow in bloom!
But wait. I said in bloom, yet earlier I mentioned fake flowers. There's a very easy explanation: new growth on the Dappled Willow is a pretty pink color each Spring. Many people mistake this growth as flowers, and they do look like flowers, but the pink is actually new growth!
Solves your yard's wet spot problem. It's an easy-care plant, as long as it gets enough water.
You can prune it to whatever shape and size you want, so this plant can fit into a more formal garden pruned in a circular shape just as it can fit into a more natural setting like our back yard where we let it grow.
The new growth each Spring is a gorgeous site to behold. And this color explosion lasts a long time, versus some of the more fleeting Spring-blooming shrubs.
Dappled Willow provides year-round interest with its red stems in the late Fall into Winter into early Spring. The red color is not nearly as vibrant as Red Twig Dogwood, which is another plant I'd love to get my garden-gloved hands on someday, but it is a pretty shade against our white fence.
Dappled Willow grows well in zones 4 – 9, and needs partial to full sun.
These pictures were taken yesterday. I'm excited to see the buds and leaves forming. The newer stems are red, while the older stems – including the main trunks of the shrub – turn gray.
In the photo below: 1 = the original plant we transplanted from our front garden bed. 2 and 3 = started out as just a single stem stuck into some dirt. And they quickly turned into fully grown shrubs.
You know how it is: you need something to decorate with once all the Christmas decorations are taken down. It was too easy to just cut off a bunch of the red stems and stick them into the frozen dirt in the urns by our front door. I had no idea that come Spring, they would begin to sprout leaves and be ready for their own pots! This was an accidental Rookie success, which I took all the credit for in order to mitigate the Shrub Garden Debacle we were facing at the same time.
We transplanted the stems into pots, and were amazed at how fast they grew. We planted the two "new" shrubs by the end of the Summer that same year, and the following year they easily reached the same size as the original plant! We cut more stems last year, and can't wait to plant them in another wet area. This time, we might try to keep it on the smaller side with regular pruning.
Just like any plant in the Willow family, their roots will seek out water. Avoid planting Dappled Willow near your water pipes, drains, and even any water features as their roots could end up causing problems.
Dappled Willow is a very fast grower. Very fast. We've seen some plants grow as high as 20+ feet. Ours is in the 10+ foot range. Make sure you plant it where it will have room to grow. (Don't make my rookie mistake!) And be prepared for lots of pruning if you want to keep it within smaller gardens.
Isn't it gorgeous? And I only have to wait one more month for this special plant to bloom its pretty heart out!
June 2016 update!
I've added a new blog post to show you what our Dappled Willow shrubs look like today, three years later! Click below to see:
Dappled Willow: an update three years later!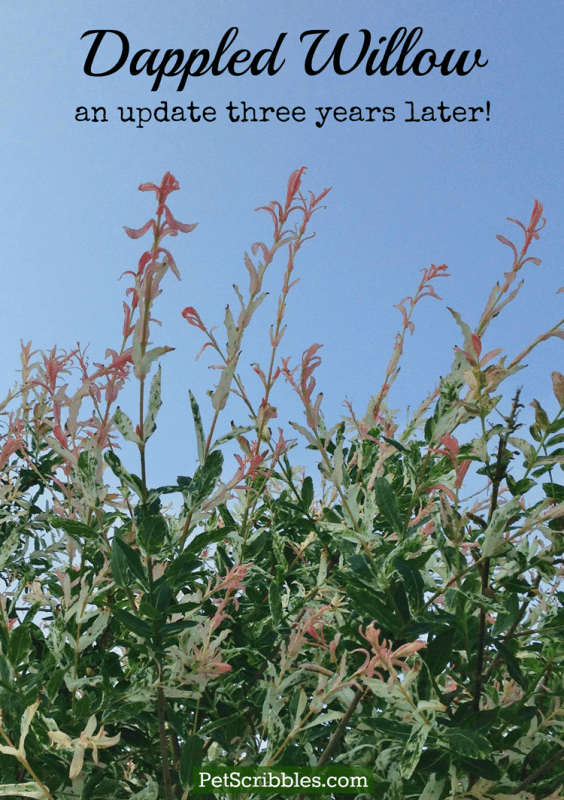 Happy gardening!
~Laura