This post and photos may contain Amazon or other affiliate links. If you purchase something through any link, I may receive a small commission at no extra charge to you. Any supplies used may be given to me free of charge, however, all projects and opinions are my own.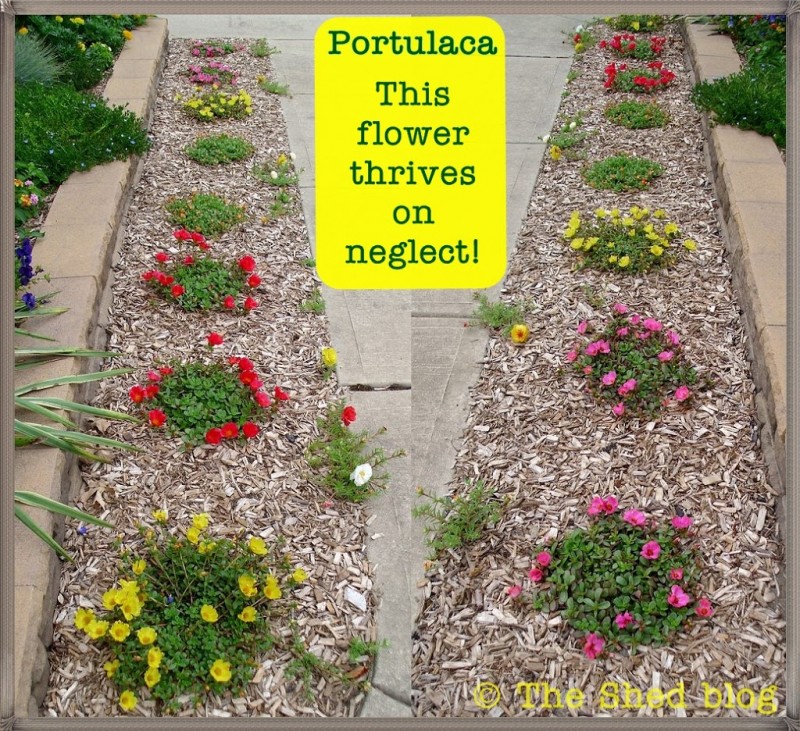 If the idea of watering your garden plants often is not your cup of tea, you should consider drought-tolerant plants.
I'm not just talking about plants that can withstand a week without rain. I'm also thinking that "drought" means nobody remembered to water the plants for a day or so…or three. Ask the staff at your local nursery or home improvement garden center for drought tolerant plants – that's the usual lingo used.
Portulaca, Moss Rose, Rose Moss
My all-time favorite plant that absolutely thrives on almost total neglect is the annual flower portulaca, which also goes by the name of moss rose, and sometimes by rose moss. I remember first seeing this flower in my grandmother's garden when I was a little girl, and have loved it ever since.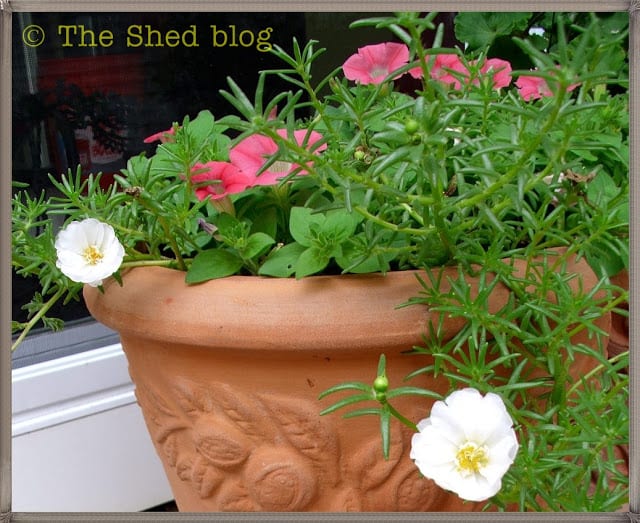 White double-flower portulaca with pink supertunias
(in a pot on our patio)
I plant this every year in my garden and containers. It blooms all Summer into Fall (as long as there is warm sunshine), it spreads with more and more blooms as the Summer progresses, and it thrives in poorer soils. No need to fertilize this plant, and it isn't bothered by any serious pests either.
Let me repeat: no need to fertilize this plant at all. In fact, if you do fertilize it? You might kill it. Seriously.
OK, didn't mean to scare you, but a little fertilizer will encourage more green leaves than blooms. A lot of fertilizer will indeed kill the plants.
We have a strip of garden in front of our low-walled garden beds that gets super-hot in the Summer being next to our sidewalk going up to our front door. Portulaca has been the perfect solution for this spot.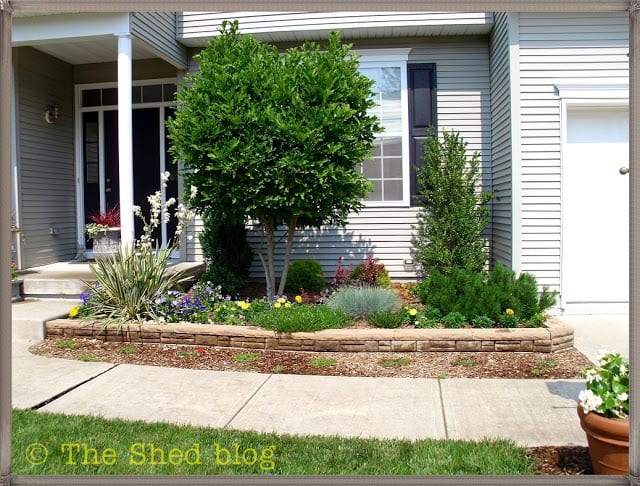 Portulaca, newly planted & watered in June 2012
(in front of the low garden wall)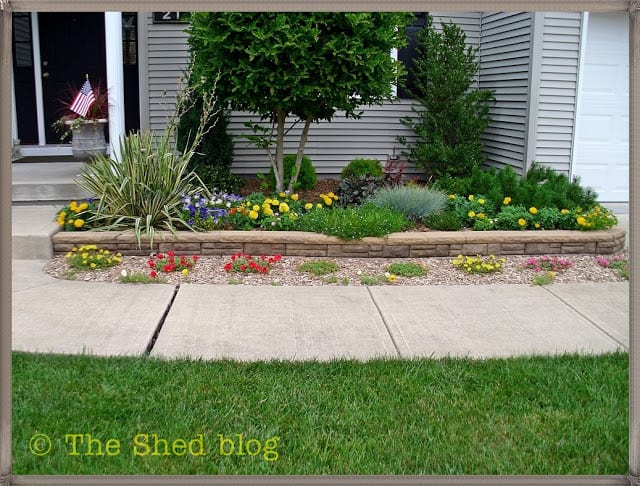 Here's the portulaca just one month later, July 2012
The plants receive water whenever we run our lawn sprinklers or when it rains. Portulaca is a succulent, which means that it stores water in its leaves and stems to use when it gets a bit thirsty. Because portulaca's root system is very shallow, too much water could actually drown the roots thus killing the plant.
Speaking of rain – Portulaca will close up during rain or during cloudy days, and sometimes at night too. This occurs more with the single-petal version than it does with the double-flower version.
Annual…but sort of a perennial too!
Another great thing about portulaca is that it nicely reseeds itself, but not invasively. For example, in this picture below, you can see our single-flowered portulaca which I planted in June with some of the double-flowered seedlings that sprouted up from last year's planting. We love this!
Spot the seedlings!
It is easy to spot newly sprouted seedlings for two reasons. First, these seedlings don't begin to sprout until mid-June, so you can happily weed away in the Spring without worrying that you might be pulling up any valuable (that's what I think of these little guys) new plants. Secondly, when the seedlings do show up, you can tell them apart from other weeds right away because their tiny leaves immediately resemble their full-grown versions.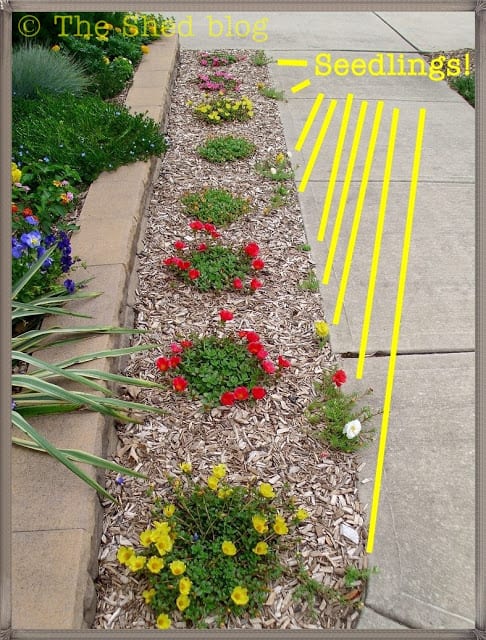 A closer look at the portulaca planted in front of our low garden wall
Single or Double? Try both!
The single-version portulaca plant is more of a groundcover, growing out (horizontally) rather than up (vertically). The height is a mere few inches, but the spread can be easily 14 inches or more.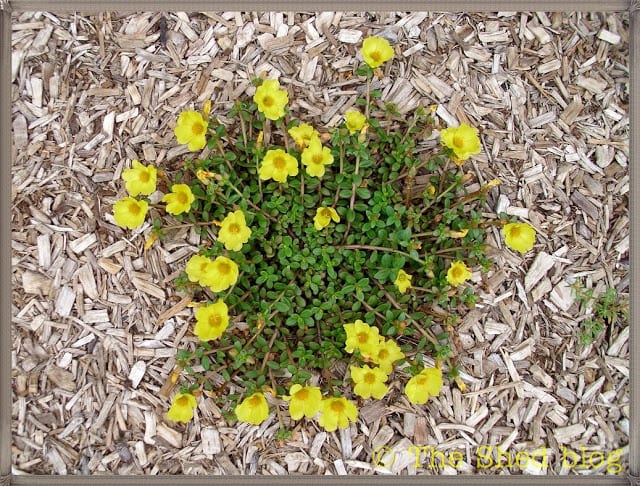 Yellow Portulaca, single petal flowers
The double-version (sometimes called semi-double) portulaca grows a bit more vertically, and the flowers resemble tiny roses with their double petals which appear to be very full and fluffy.
Lemon Portulaca, double flower variety
(in a pot on our patio)
Both types come in a gorgeous array of Summer colors, and there are even some new hybrids that have veining within the flower petals too, such as the Peppermint Portulaca varieties.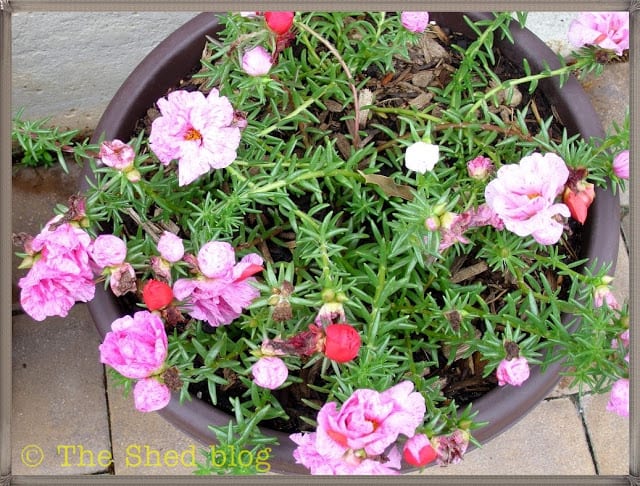 Peppermint Portulaca
(in a pot on our patio)
Portulaca is the perfect choice for rock gardens, hot and dry spots, hanging baskets and containers. It thrives on neglect, and you'll look like a professional gardener as the plants keep on blooming all Summer long into the Fall season!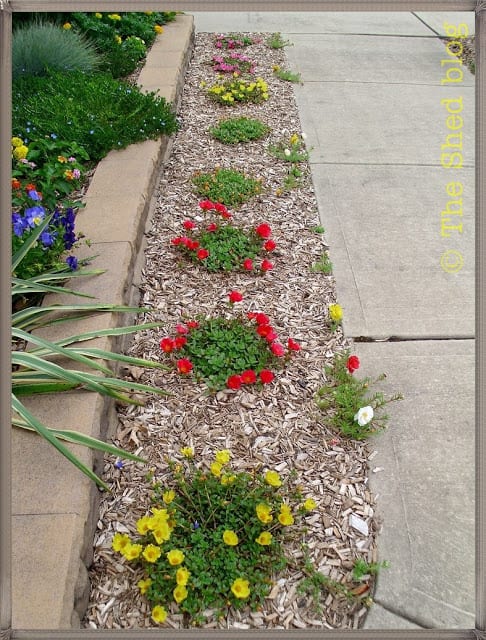 Our garden strip of portulaca, looking from left to right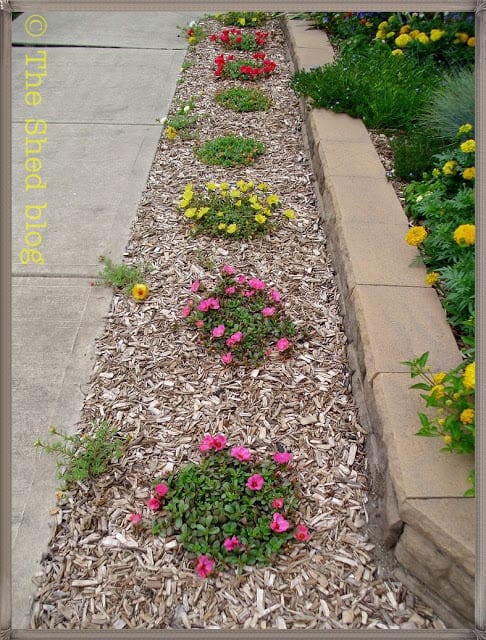 The same garden strip of portulaca, this time shot from right to left
Have your tried portulaca? Do you love it? Any preference on the single or double varieties?

August 22, 2013 update: To see even more examples of our Portulaca plants, click on the image below: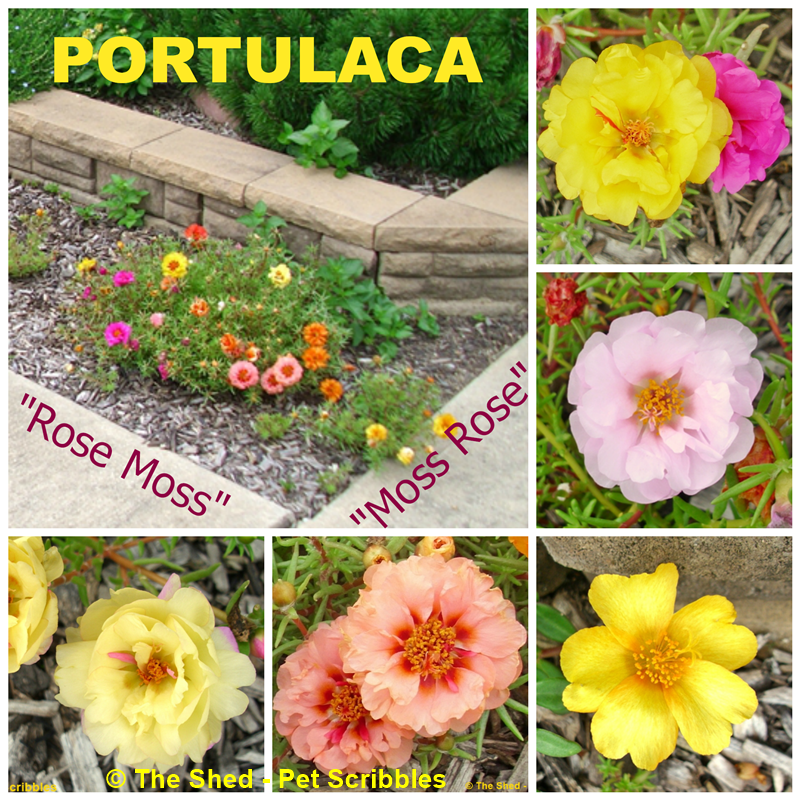 ~Laura
Please note: As with many garden plants like azaleas, daylilies and begonias just to name a few, portulaca can be toxic to dogs and cats if swallowed. Please research your plants for toxicity if you have furry family members who enjoy being outside with you. The ASPCA has a great list here.