Lithodora is an evergreen perennial that blooms profusely in the Spring. The electric blue blossoms are tiny but pack a big punch in full bloom. Here's everything you need to know.
May 20, 2018 update: There is a new update about Lithodora that I've written, as additional information to this post. The link is at the bottom of this article!
So many of you enjoyed my post about Candytuft, that I decided to offer you another plant recommendation for your gardens:
Lithodora!
Lithodora is not the same as Lobelia
I had never heard of Lithodora before we moved here to our furrever home, and in fact when I first saw it at a garden nursery assumed it was the annual flower Lobelia.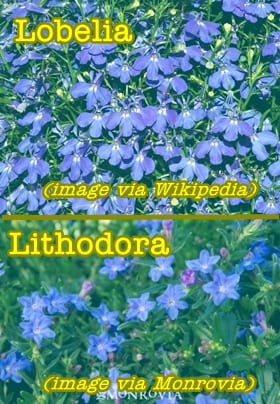 Both Lobelia and Lithodora have masses of
tiny flowers that provide quite a show of blue.
I was told by the nursery that Lithodora can handle our hot and humid southern New Jersey shore Summers, that it will bloom profusely all Summer long, and that it was an evergreen perennial. That's all I needed to hear to convince me to buy two pots for our front garden bed. That was back in 2008 – our first Spring in our new home – hard to be believe that was four years ago already! Having the hindsight of the past four years, I can share with you the realities of what this plant does and doesn't do.
All about Lithodora!
Lithodora blooms profusely in the Spring. The electric blue blossoms are tiny but pack a big punch all together in full bloom. Our Lithodora is blooming much earlier this year than in past years, definitely due to the lack of a real Winter, but usually it is a mid-Spring blooming flower.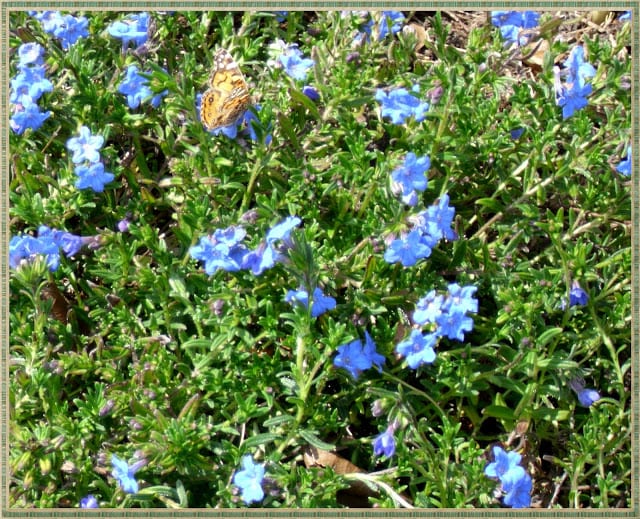 Yes, that is a baby Monarch butterfly keeping me company!

Lithodora is an evergreen perennial. Lithodora maintains its green foliage year-round. Of course when there's several inches of snow on the ground, it doesn't matter. But this year, with the warm Winter, it was nice to have some green.
Lithodora is a groundcover. At least that's how I like to think of it. It spreads almost on top of the bed, winding its way slowly, never too agressively: it spreads in a behaved way.
There was also a bumblebee enjoying the blue flowers,
but he just didn't want his picture taken!

Lithodora is a tougher plant that it seems. Pay attention to this section because this is where I differ from the experts.
Lithodora doesn't flower profusely all Summer long, at least not here. And that's ok once you know that, right? But imagine how bummed out I was expecting the blooms to last and last. After I

got over it

eventually had to let it go, I came upon the next difficulty . . .
Lithodora needs lots of water in its first year of planting, and even with all that water it will just sort of shrink up in the worst heat and humidity. In fact, last Summer most of the Lithodora looked like it had turned dark brown and died. So I ripped it all out. Well, it grew back! In the early Fall, we noticed a few small shoots, and by mid-Fall we had a few of those amazing electric blue blooms and a fairly healthy looking plant.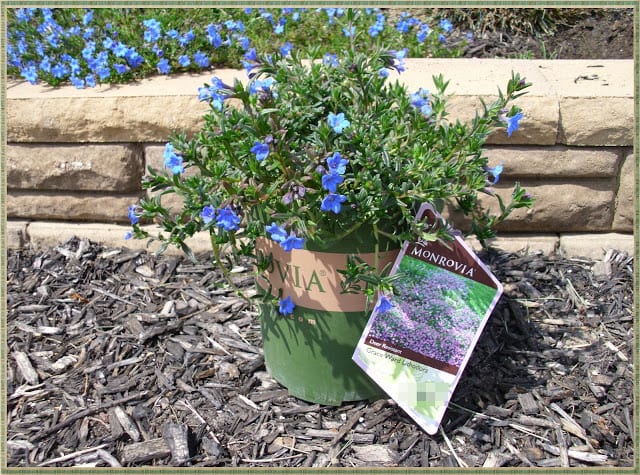 Purchased another pretty Lithodora, which is called "Grace Ward."
Because of our mild Winter, the Lithodora bounced back completely, as you can see in the image below. And so I purchased another one to try again. Here's hoping they just keep growing and spreading!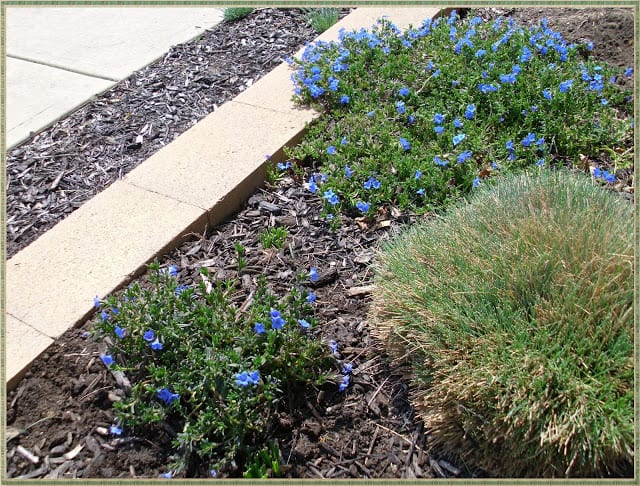 Newly planted on the left, and hopefully will make friends with the other one!

Details:
This hardy perennial is perfect in Zones 6-8, but I've also seen nursery catalogs that claim this is hardy down to and including Zone 5, and up to and including Zone 10 and 11. I'm in Zone 7.
Needs full sun to bloom, not much water – however – watch out during dry spells and high Summer heat and humidity.
May or may not bloom all Summer long – my guess is it depends where you are located.
Evergreen – keeps its green foliage color all Winter long.
Spreading groundcover – looks pretty in front of borders, and spilling over rocks and walls in gardens.
Likes soil on the acid side.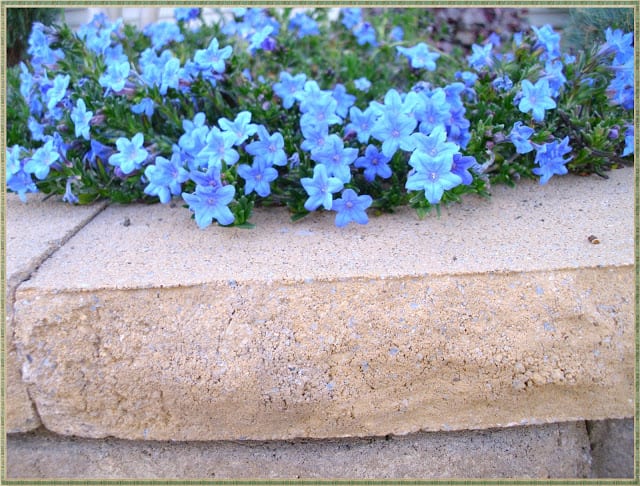 Looks so pretty spreading onto the rock wall.
What do you think? Will you give Lithodora a try? Do you already grow it and love it?
Let me know in the comments!
Also be sure to check out:
Is Your Lithodora Brown After Winter? There Is Hope!