Limelight Hydrangea Trees bloom profusely Summer into Fall. Learn how to grow and prune your Limelight Hydrangea Tree in this complete guide. Plenty of helpful images and step-by-step pruning instructions are included.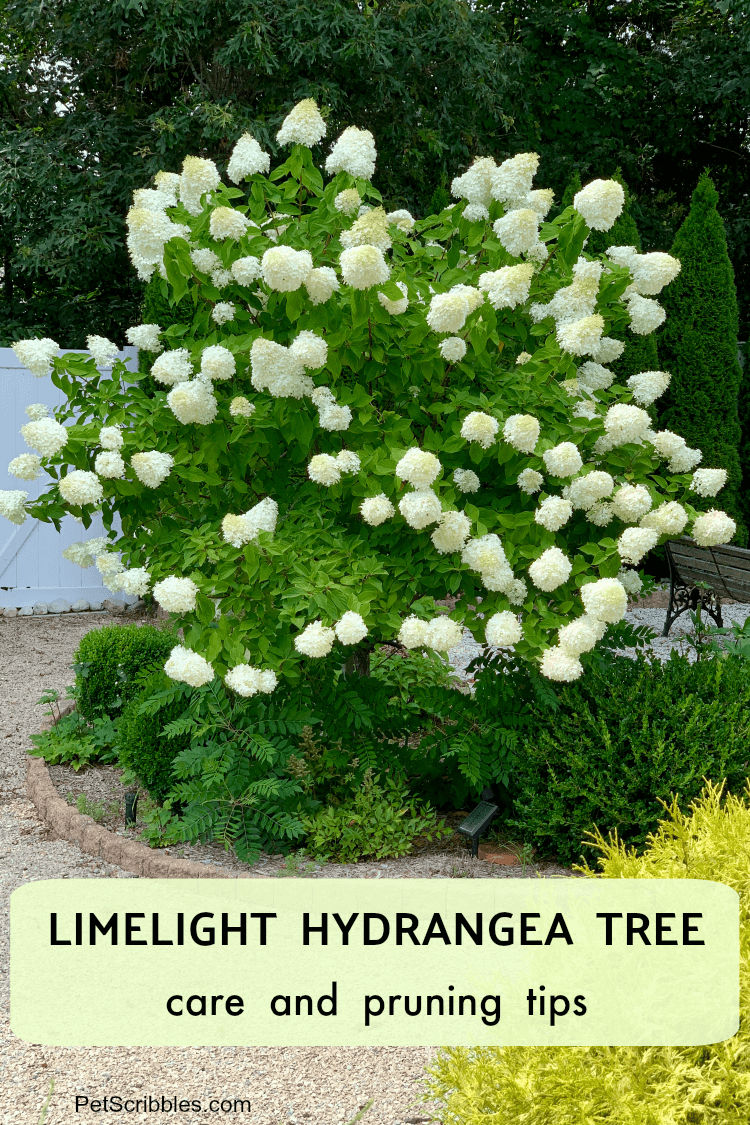 Limelight Hydrangea Tree Description
The tree form of Hydrangea paniculata Limelight has one main trunk, with new leaf growth and stems starting around eye level, several feet up from the ground.
Limelight Hydrangea Trees are considered deciduous, meaning they are dormant during the Winter months. The tree can be expected to live approximately 40 years.
The new leaf growth in Spring is a bright green color, maturing to a medium green as the season continues.
As the tree grows and the blooms become larger, some of the branches will dip down a bit from the weight of the blooms giving it a fuller and almost weeping effect.
Just like the shrub form of Limelight Hydrangea, the tree stems are very strong and hold the large flowers well.
The tree is considered a Summer blooming tree, although the blooming continues well into the Fall season with the flowers changing color from lime to pink to tan.
Picture a mix of Limelight Hydrangea flowers on branches that are upright, sticking straight out, and slightly drooping — all on the same tree at the same time.
It's beautiful.
Why you want a Limelight Hydrangea Tree in your Garden
Limelight Hydrangea Trees are easy to grow, and bloom profusely even when still a small size. Their height and spread is manageable and simple to control — if and when needed — with pruning.
Whether you place a Limelight Hydrangea Tree near your patio or in your garden beds, you will enjoy gorgeous blooms of a large size from mid-Summer well into the Fall.
And although you may want to cut the flowers to bring indoors, I leave mine on the tree to dry, where they provide Winter interest.
Short version?
A Limelight Hydrangea Tree can be a four-season tree in your garden!
Difference between Limelight Hydrangeas and Limelight Hydrangea Trees
Height difference:
Limelight hydrangea shrubs grow up to 8 feet tall and 6 feet wide.
The tree form grows taller and wider over time.
For example, our Limelight Hydrangea Tree — which is 7 years old — was 10 feet tall and 8 feet wide this year.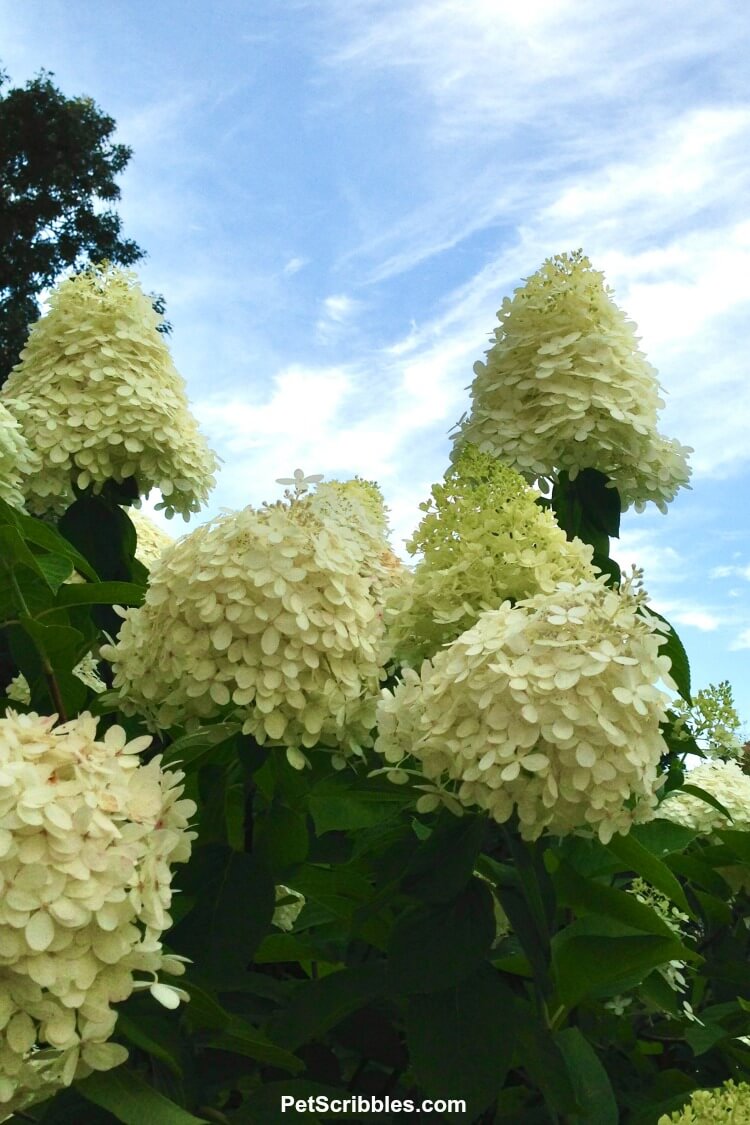 Was.
We recently did a necessary pruning due to a bad tropical storm — which I'll talk about shortly — but the height of our tree is still around 6.5 feet tall after pruning.
Many branches broke off.
It. Was. Horrible.
(There are several images further down in this article.)
Growth difference:
While Limelight Hydrangea shrubs have new growth and blooms starting from the ground all the way to the tips of the branches, the tree form is much different.
For a Limelight Hydrangea Tree, you will usually receive a "grafted tree" which means the shrub is on a standard tree form so that the growth starts at eye level and goes up — or grows up — from there.
Simply put: a Limelight Hydrangea Tree looks and grows like a tree rather than a shrub.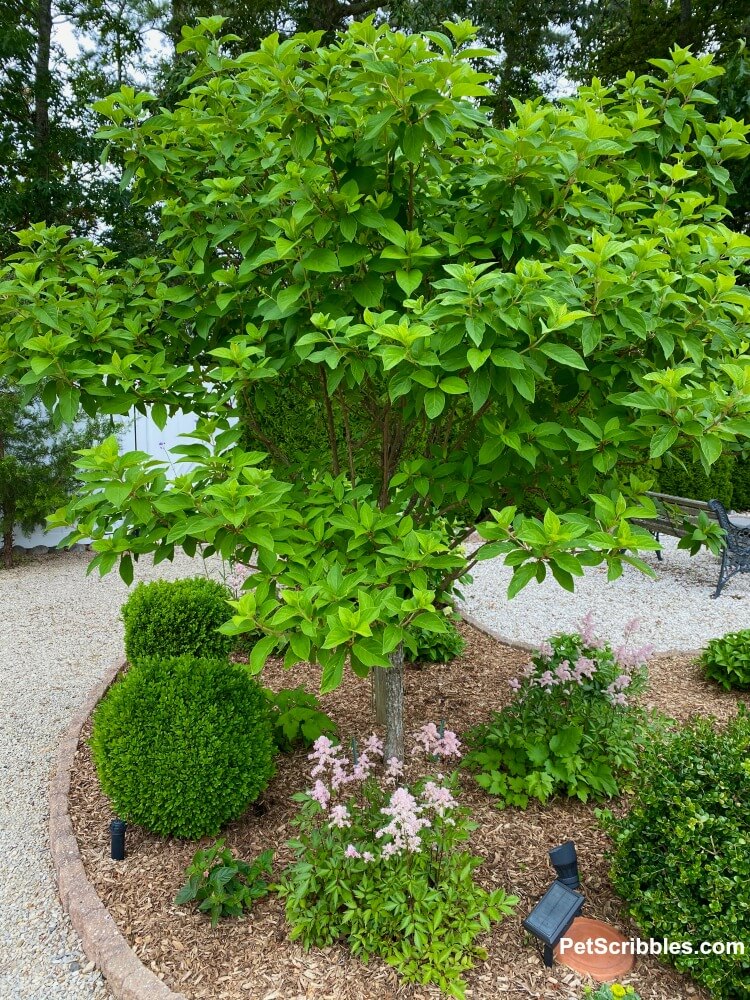 Limelight Hydrangea Tree Size and Growth Rate
A mature Limelight Hydrangea Tree can reach anywhere between 8 to 15 feet tall, and approximately 8 to 10 feet wide when in bloom. (The flowers appear on the ends of each stem thereby increasing the width and height.)
The growth rate is considered medium.
I agree.
Our tree grew in size from 5 feet to 10 feet tall over 7 years.
Here is the tree in front of our garage, the day we bought it seven years ago. The height was 5 feet: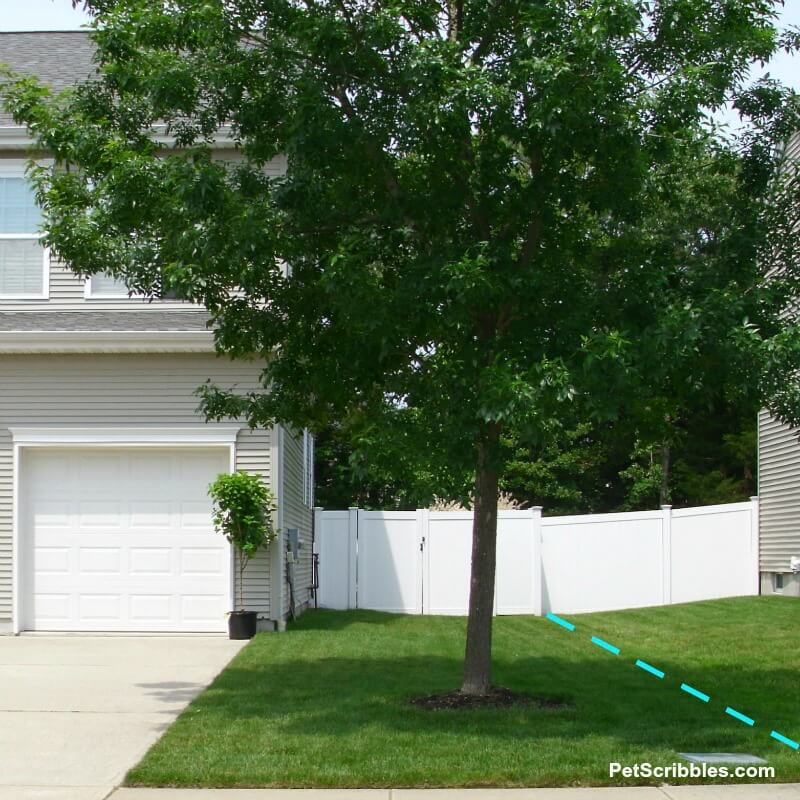 (The photo above has dotted lines as we were just beginning to plan how we would have our landscape redesigned. You can see how the grassy, swampy, unusable side yard was transformed by clicking here.)
One year later at the end of May, the tree filled in a lot and looked promising: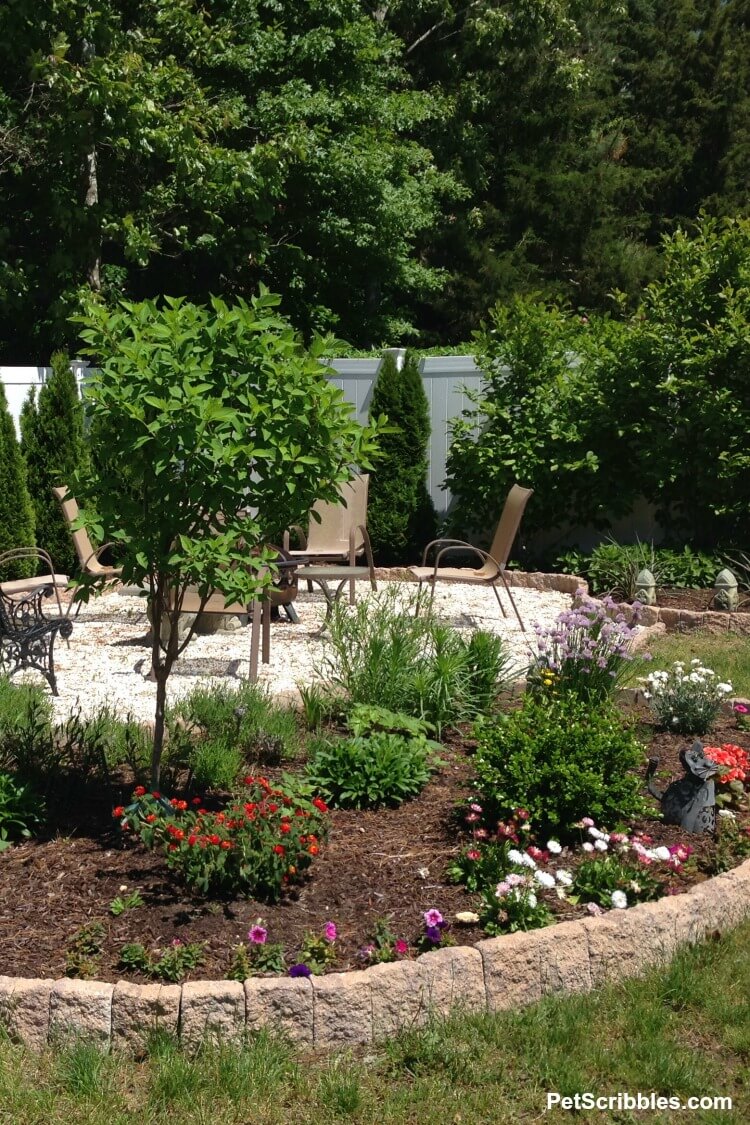 Two months later (that same year) at the end of July: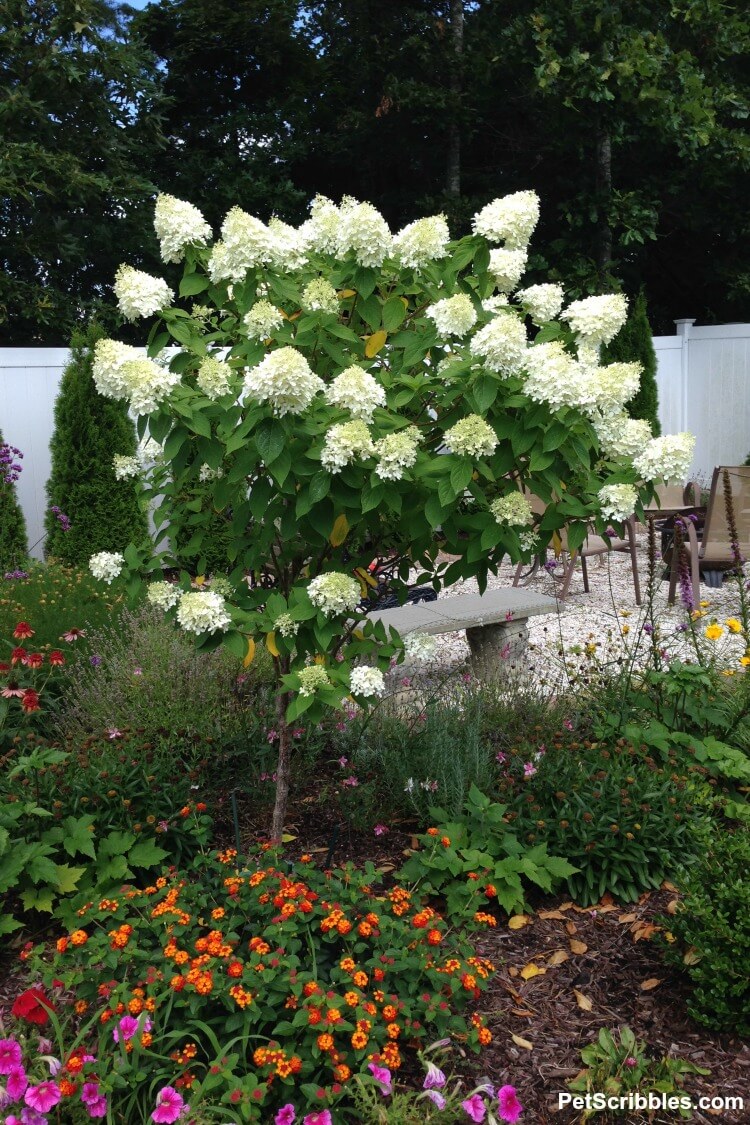 Three years after planting our Limelight Hydrangea Tree: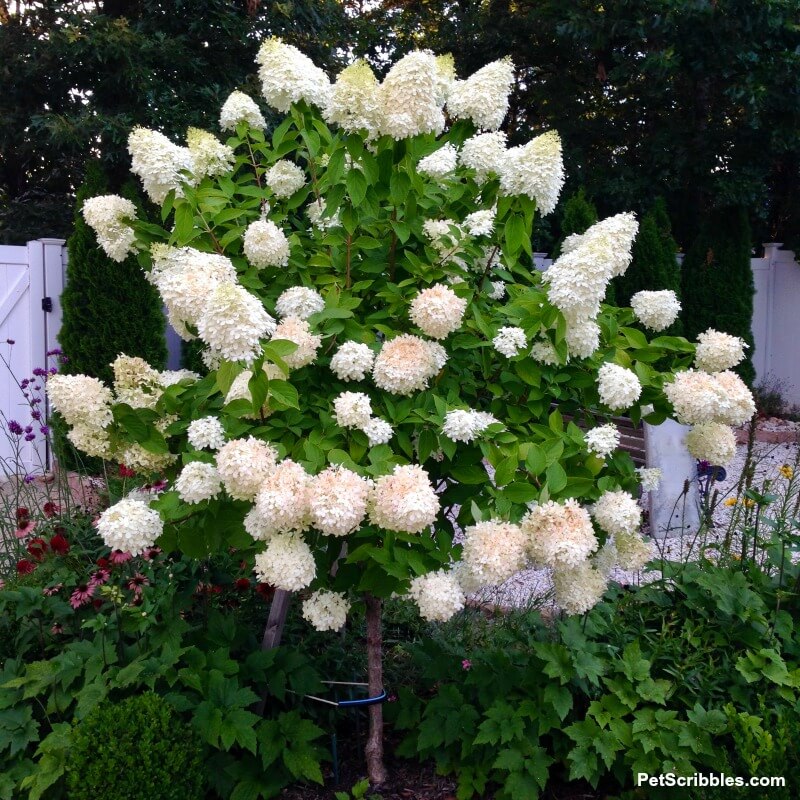 You'll notice above that we added a sturdy plant support to hold the tree in place, as it was starting to lean a bit.
This year — 7 years after planting — here's our tree: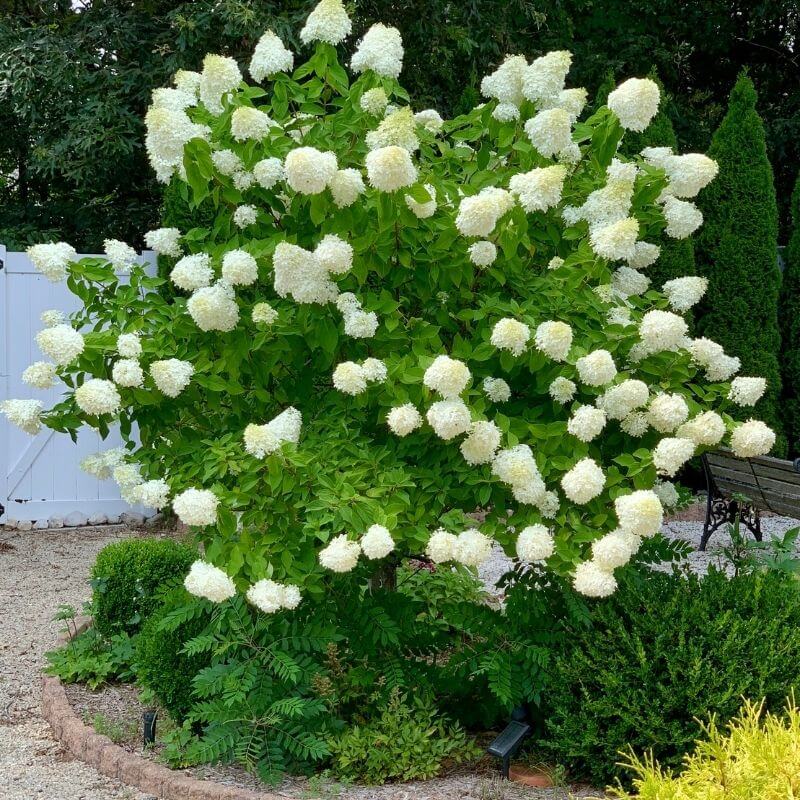 Bloom Time
The Limelight Hydrangea Tree has the same blooming period as the Limelight Hydrangea shrub. It flowers continuously from mid-Summer into the Fall season, depending upon your location.
Limelight Flower Shape, Size and Color
Flower Shape
The flower heads on a Limelight Hydrangea Tree are known as panicles, which are cone-shaped. Flowers appear at the end of each branch.
These flowers can become quite heavy during and just after a rain storm, but the strong branches will usually bend and not break.
Flower Size
These panicles (flower heads) grow to varying lengths and widths.
Our largest panicle is currently 9 inches in length and 7 inches wide at the base of the cone shape.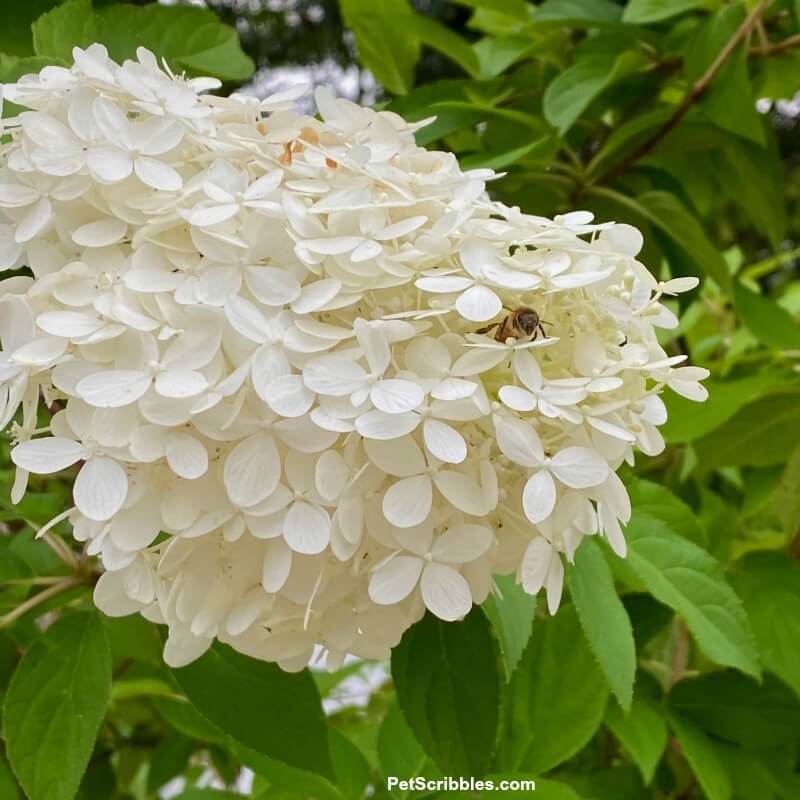 Flower Color
In Spring, the flower buds emerge with a pretty lime green color: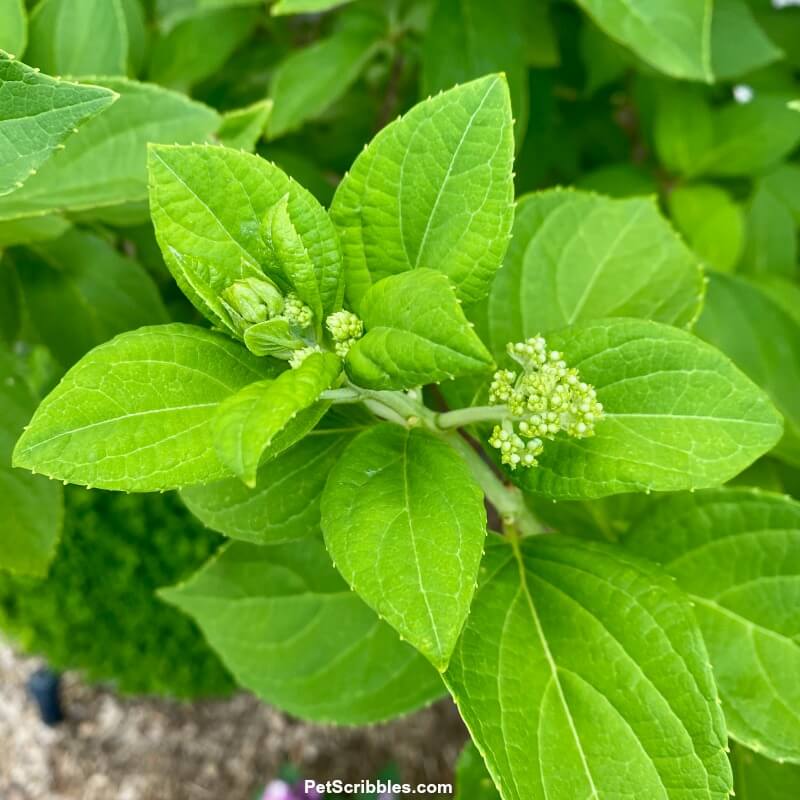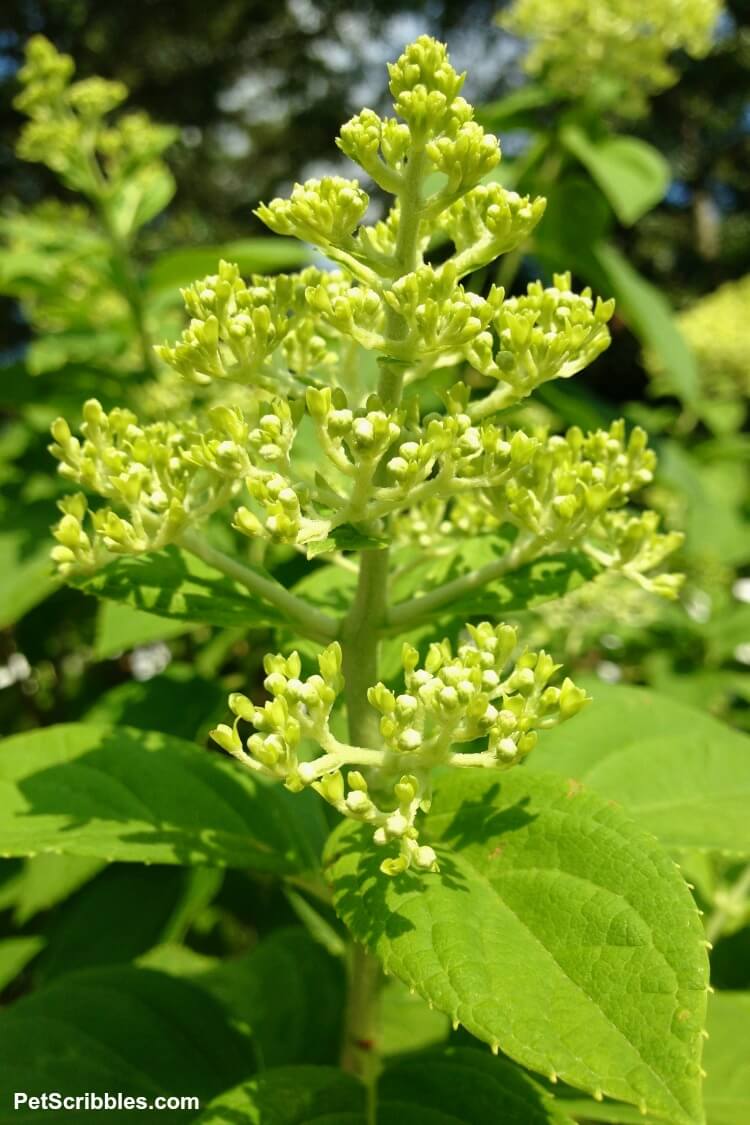 These flower buds develop into flowers with the same pale lime green shade. Flowers stay this color all Summer.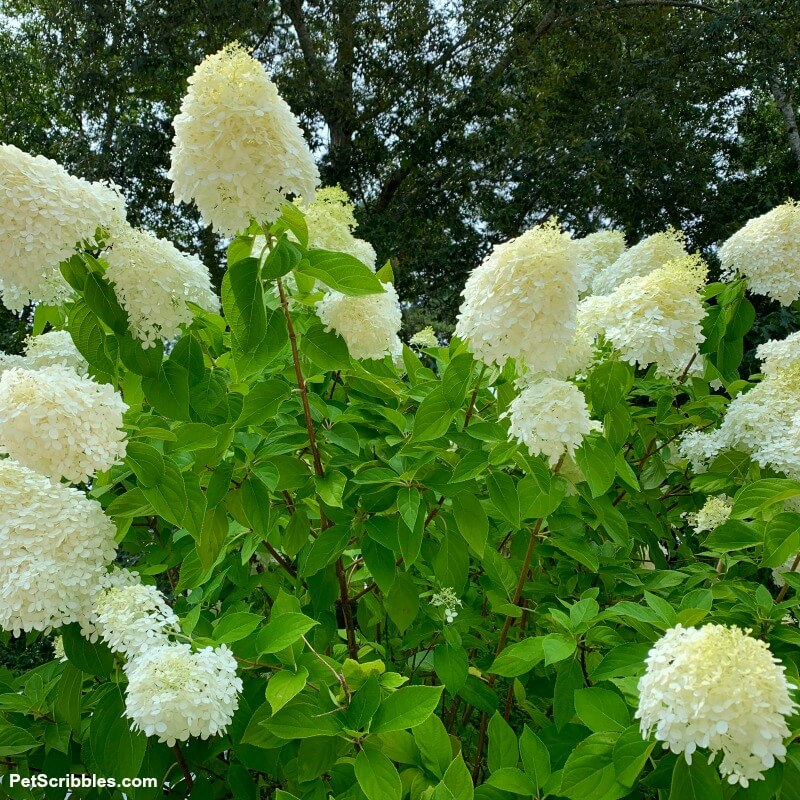 Some of the flower heads may take on a more ivory or white appearance: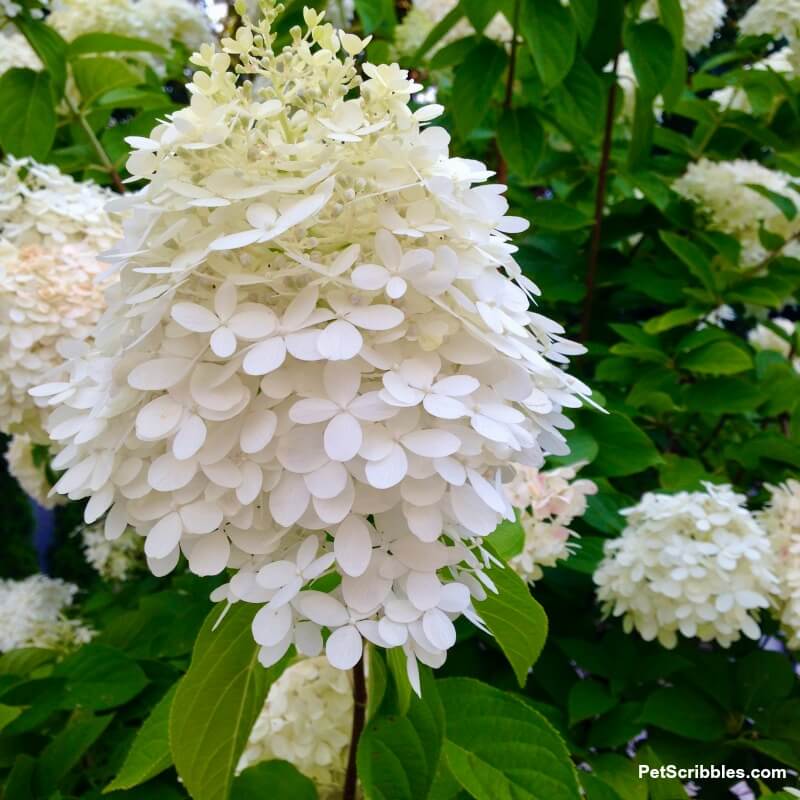 As Summer turns to Fall, the blossoms develop pinkish tones:
As the Autumn season continues, so does the flower show of changing colors. All of the petals turn pink before beginning to dry and turn lovely shades of tan.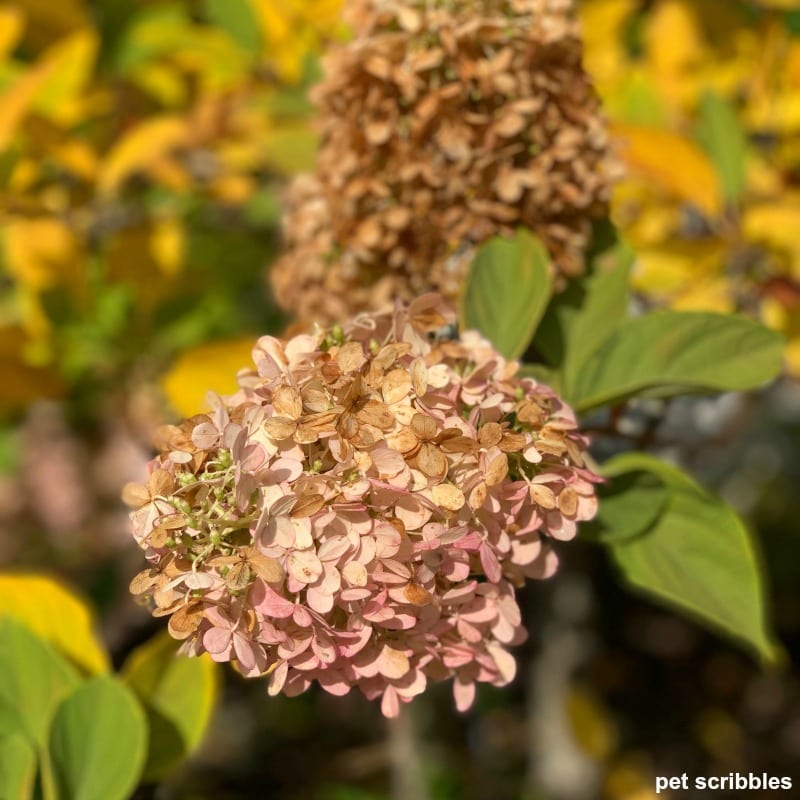 Limelight Hydrangea Tree Fall Color
As I showed you above, hydrangea tree flowers go through a wonderful long season of changing color well into Fall.
However, Limelight Hydrangea Trees are not known for their Fall leaf color. Most places will tell you the color isn't anything special.
I disagree.
The mix of yellow leaves with bright green leaves form a colorful background to the hydrangea flowers which are slowly beginning to dry on the tree.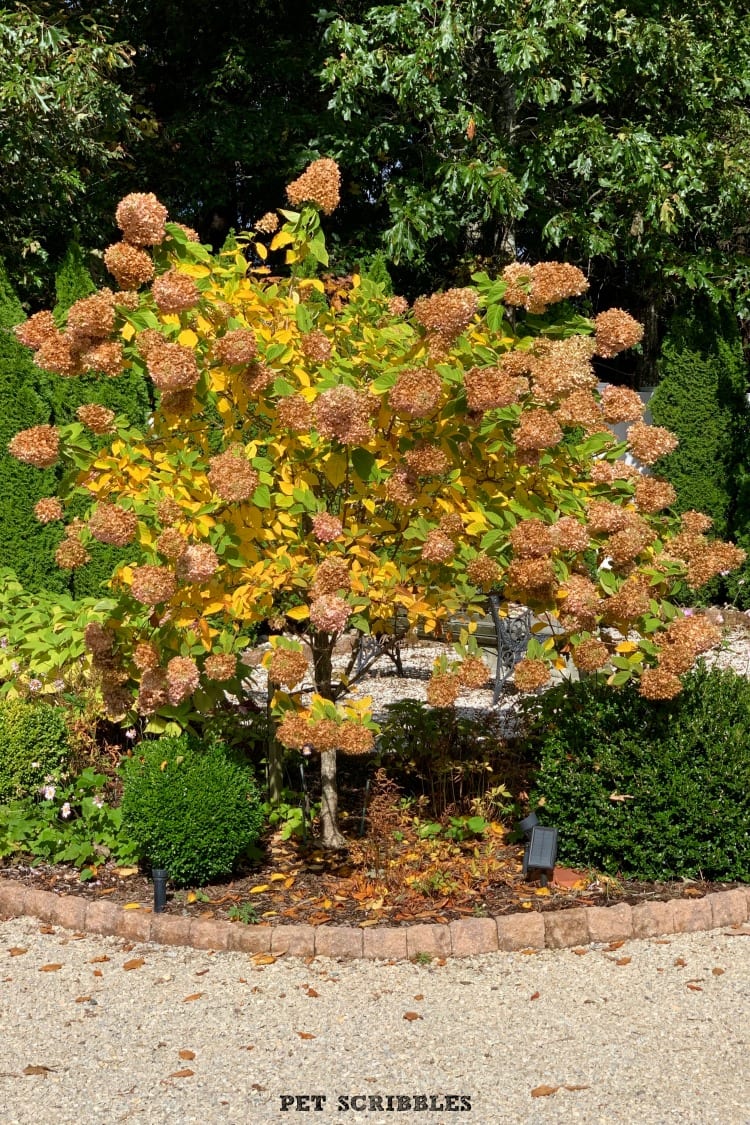 For reference, I'm in Zone 7 in southern New Jersey. The images show mid-October in my backyard.
However, here is an interesting difference from one year to the next:
Below is last year's Limelight Hydrangea Tree flowers. This photo was taken on October 14th: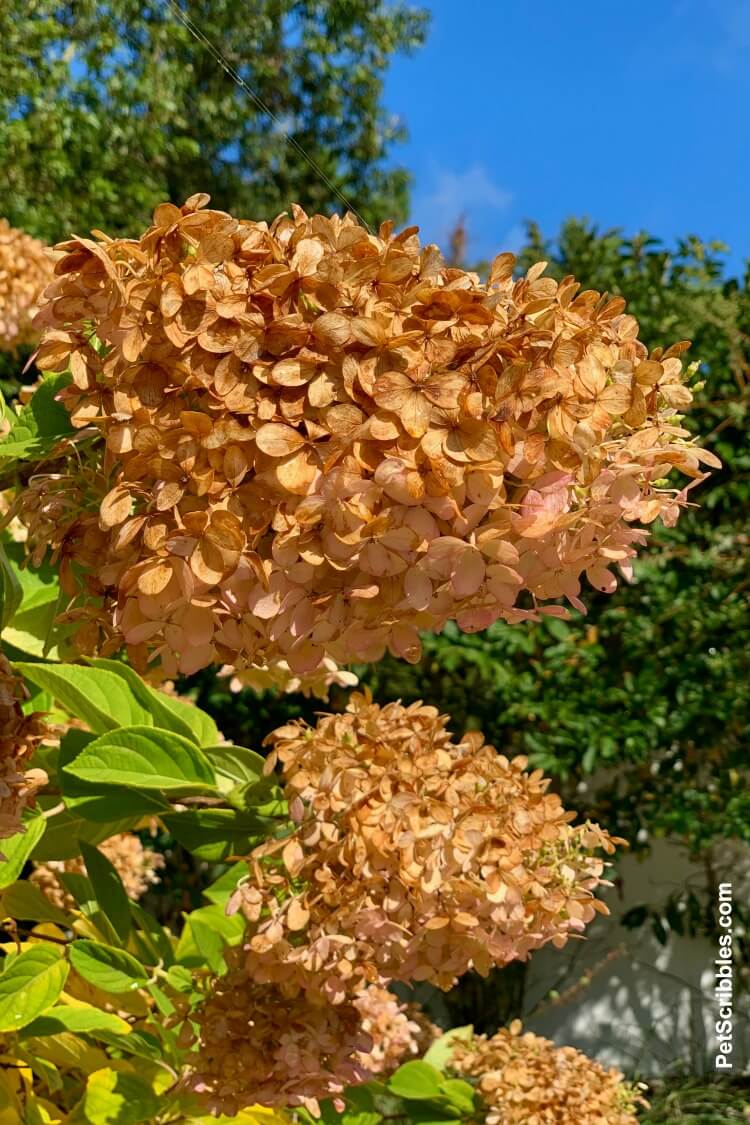 And this image, below, was taken on October 13th one year earlier: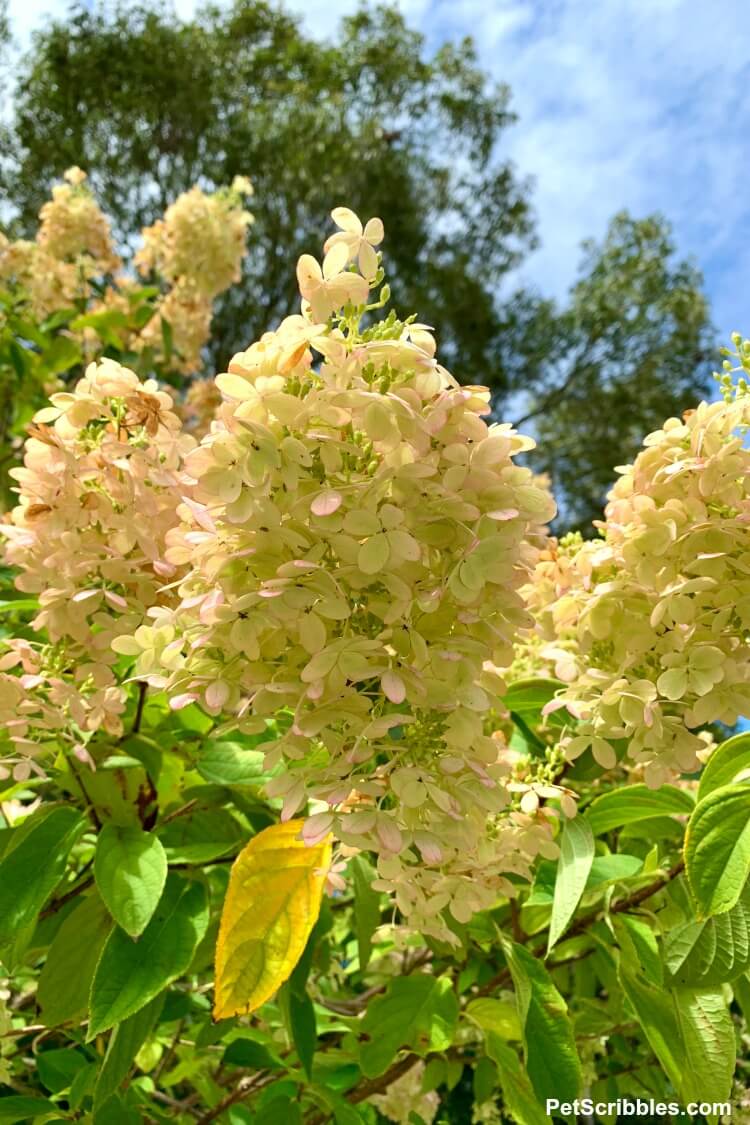 What a difference!
I didn't notice the dates on the photos right away, but imagine my surprise when I did!
Overall, the season-long process of the flowers changing color from lime to pinkish to tan is stunning. The yellow and green leaves bring out these flower changes nicely.
Whether viewed against evergreens, near darker green colors or next to traditional Fall leaf and flower colors, Limelight Hydrangea Trees guarantee a beautiful show!
To see the beauty that I see, please click over to my post I wrote last year:
Limelight Hydrangea Tree Fall Color
Winter Dried Flowers
As I mentioned earlier, I leave the Limelight Hydrangea flowers on the tree and let them dry during the Fall season. This gives me stunning dried flowers to enjoy during the Winter season in the garden.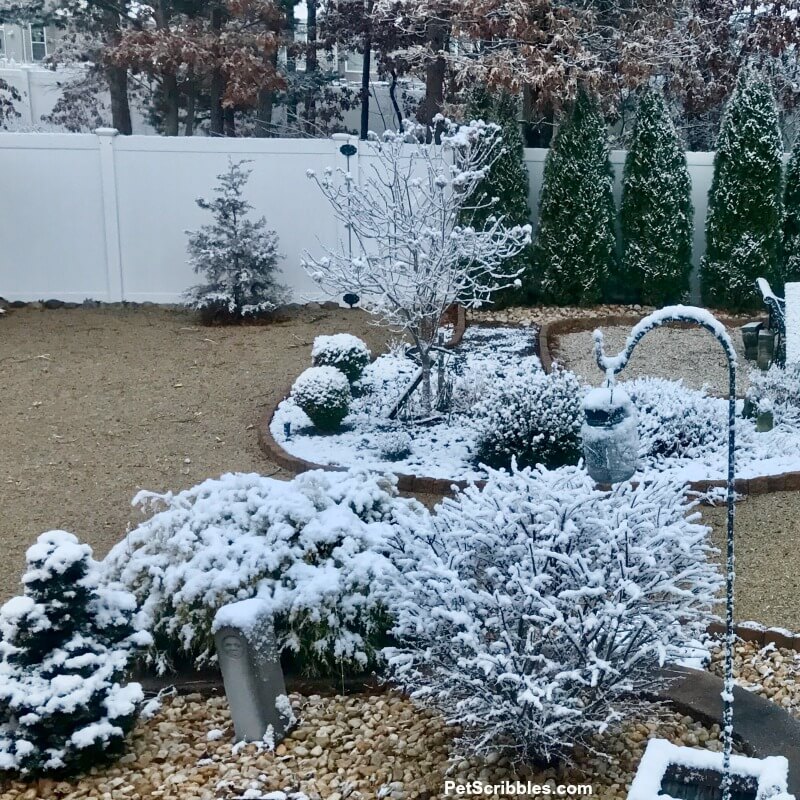 One caveat to keeping the dried flowers on your tree during the Winter months?
Large dried hydrangea blooms — which are very lightweight — become very heavy when snow is piled onto them from snowstorms. Branches can break under the weight of these snow-laden flowers.
Is a Limelight Hydrangea Tree Deer Resistant?
Deer will eat just about anything if they are hungry enough and their normal foods are lacking. Hydrangeas, in general, can be "occasionally severely damaged" by deer according to Rutgers University.
So while hydrangeas aren't "deer candy" like rhododendrons or evergreen azaleas, they may get nibbled on by deer, and this includes Limelight Hydrangea Trees.
Growing Requirements for Limelight Hydrangea Trees
Hardiness:
USDA Zones 3 to 8
Sun:
Full sun is best for optimal flowering. Limelight Hydrangea Trees can tolerate partial shade.
Afternoon shade is appreciated for trees planted in warmer climates.
Water:
Requires a good deal of water when it's first planted and while growing. Once your tree is more established, the watering requirements will be less.
If you're planting in containers, you will need to water more often.
The tree will tell you if it is thirsty, as you will notice one or two yellow leaves. That's your cue to provide some water.
Soil:
As long as your garden soil drains well, your tree will be happy.
Limelight Hydrangeas prefer a slightly acidic soil, so I use Espoma Holly Tone, which I discuss below.
Fertilizer:
Use an organic slow-release fertilizer twice a year: in early Spring and again in the Fall. I use Holly Tone by Espoma.
Do not use high nitrogen-based fertilizers, as this can actually hinder flower production on most hydrangea varieties.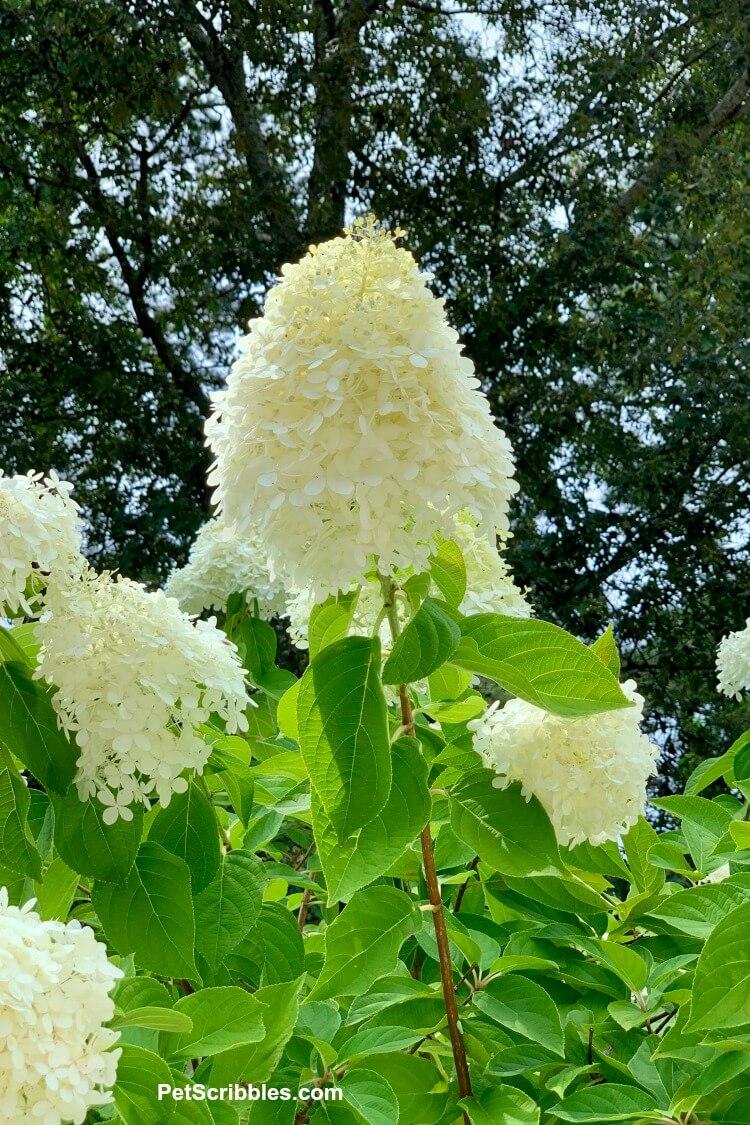 Planting Limelight Hydrangea Trees
Best time to plant a Limelight Hydrangea Tree
Plant your Limelight Hydrangea Tree in the Spring, as that is when most nurseries offer them for sale.
If you can find a Limelight Hydrangea Tree in early Fall, go for it! Fall is a great time to plant perennials, shrubs and trees. Just make sure to get them into the ground in September so they have a few months to become acclimated in their new garden home.
Note: To make shrubs and trees look more attractive, most growing nurseries will force the plants to flower earlier than they normally would bloom in your area. We bought our tree years ago in May and it was already in bloom. Normally it doesn't bloom until mid-Summer here in southern New Jersey.
How to plant a Limelight Hydrangea Tree
Before you begin
Make sure you know where any underground utility lines are, including any sprinkler lines. The last thing you want is an accident.
Planting hole
Use a shovel to begin slowly removing dirt, digging a hole that is at least two times wider than the width of the tree's container bucket.
The hole should be only as deep as will allow the tree to be placed with the trunk flare — the bottom base of the trunk where it begins to spread into roots — just at the top of the soil. You don't want to plant this too deeply, even though some nurseries do just that.
An easy way to check on the depth of your hole is to place the container (with tree still inside) into the hole to see what it looks like.
Placing the tree
Carefully remove the tree from its container. Sometimes cutting away the container is easiest versus pulling the tree out by hand.
Check the roots and gently loosen them up if you see any compacted roots.
Place the tree in the center of the hole and add a support pole if needed to aid in its growth. Depending on the size of your tree, you can use various plant supports to attach the tree to the support pole.
Fill in the hole
Fill the hole in with dirt, and if possible mix in some composted cow manure too. It isn't necessary but will provide some nutrients to the soil.
There is no need to fertilize when you first plant a Limelight Hydrangea Tree. Give it the Summer season to get established in your garden, then add some slow-release fertilizer in the Fall.
When you think you have filled in the soil around the tree enough, tamp it down gently. If you notice the soil sinks a bit lower, add more soil.
Note: A gentle slope away from the center of the tree is ok, as it will aid in draining excess water away from the tree versus having the tree *sit* in water.
Add mulch
Apply a top dressing of mulch to protect the soil and help keep it moist in between waterings.
Note: Please oh please don't build up a mulch *volcano* around your newly planted tree. It is a horrible habit people do which actually hinders trees. You don't want mulch around the base of tree trunks as it can aid in fungal development and disease.
Water well
Give the tree a good watering.
Add a tree support (optional)
Depending on where your tree is planted, you may want to add a tree support. Tree supports help a tree stand upright and prevent it from blowing over during storms, which can happen when a newly planted small tree hasn't yet developed a strong root system underground.
Our tree is seven years old and we still have a tree support on it.
Planting a Limelight Hydrangea Tree in a Pot
Limelight Hydrangea Trees can be planted in large pots while young, although you will want to transplant them into the ground as they mature.
Follow the above planting steps, however start with a container that is much wider to provide room for the roots to grow.
Pruning a Limelight Hydrangea Tree: When and How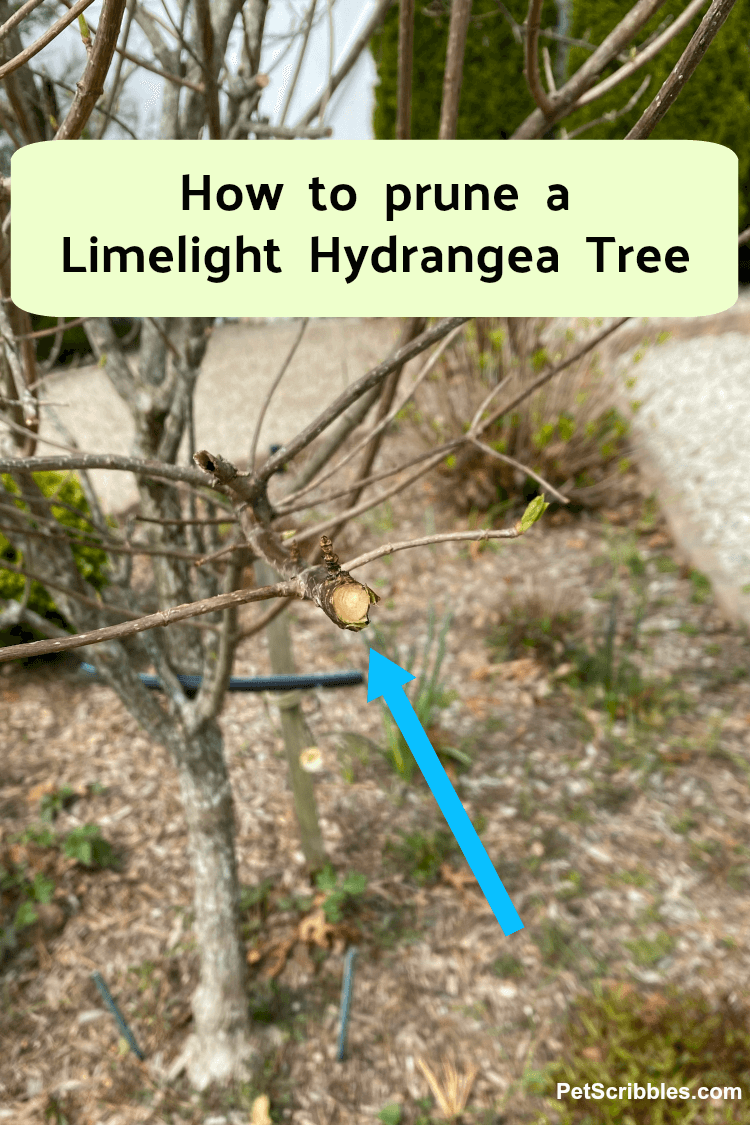 When to prune a Limelight Hydrangea Tree
Pruning should be done in late Winter or early Spring before any new growth actively begins.
Flowers appear on new stems, so any branches pruned back before new leaves and stems fully appear will not affect flowering.
There are some that suggest pruning back in the Fall is fine. I won't argue the point, but since the dried flowers are pretty during the Winter — and it's better to see which branches survived your Winter season — my choice is to prune in late Winter or early Spring.
Helpful tip: If you want to wait to prune your Limelight Hydrangea Tree until you see tiny leaf buds forming, that's ok. In fact, using the leaf buds as your guide can make pruning much easier if you're new at this.
I use both hand pruners and long-handled loppers to make this task easy.
Confusion over new stems and old wood explained
Limelight Hydrangea Trees — as well as all paniculata type hydrangeas — bloom on new growth, which means the current season's stems.
But those new stems sprout forth from the old wood stems of the plant.
It makes sense, right?
This means that no matter if you prune your tree severely or mildly, your tree will produce gorgeous blooms because all the flowers come from new stems which grow out from the sides of the old stems.
This should put any worry you may have about pruning your tree to rest.
You can't screw this up!
I promise!
How to prune a Limelight Hydrangea Tree
Always make your pruning cuts above newly forming buds, leaves or stems.
How far down the branch you wish to prune is up to you.
Just always remember to prune just *above* a set of leaf nodes or buds.
Here are several examples to guide you.
Pruning cuts above buds
The image below shows a broken stem, most likely from a large dried hydrangea flower that broke off during the Winter months.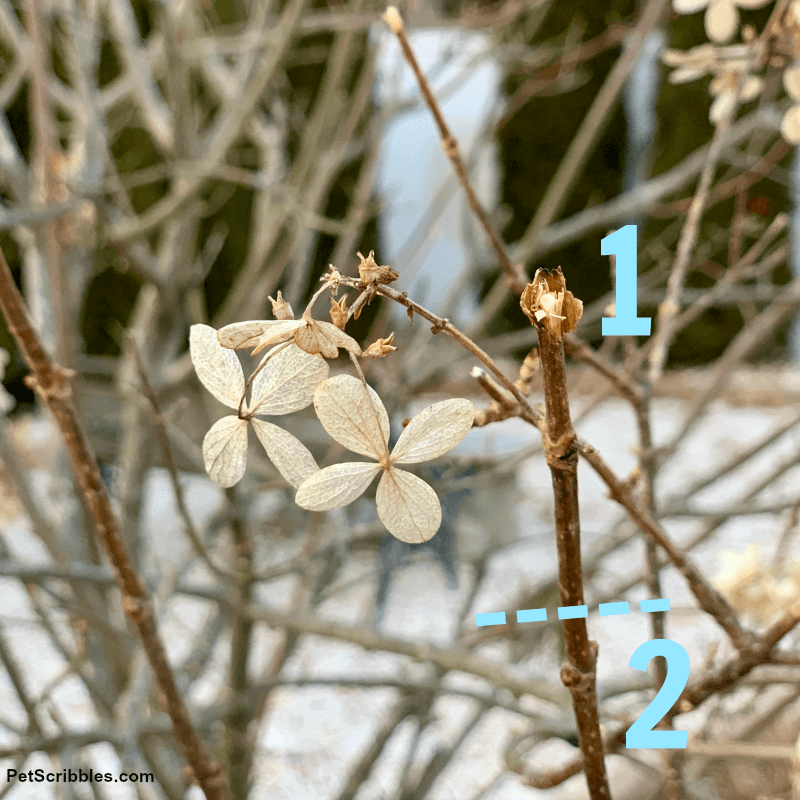 1 = This stem needs to be cut back as you don't want to keep a broken edge on your stem.
2 = To the left of the *2* you will see two tiny buds coming out of the stem.
These will become new leaves and stems during the upcoming season.
Cut on the dotted line (shown in image) with your pruners.
This cut is above the two buds, which is how you want to make any cuts where you are pruning "back" stems and not simply removing the entire stem.
Pruning cuts above leaves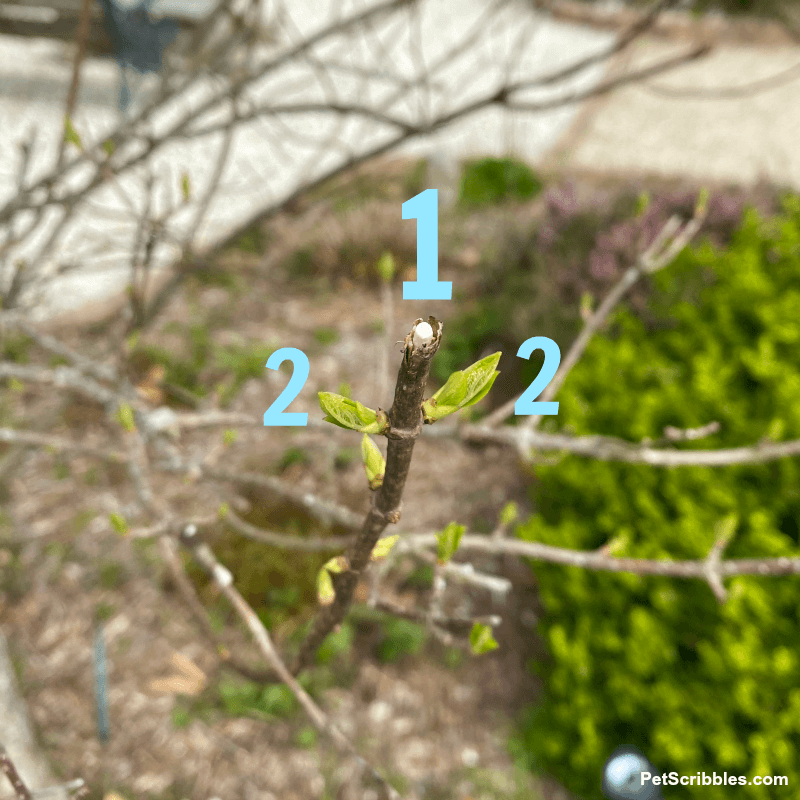 1 = The main stem being cut back.
2 = The new leaf buds which will eventually become new stems.
As the leaves and stems grow, they will cover up the pruned stem.
Pruning cuts above smaller stems
Cutting a stem back to a smaller stem — or a pair of smaller stems — is a similar process.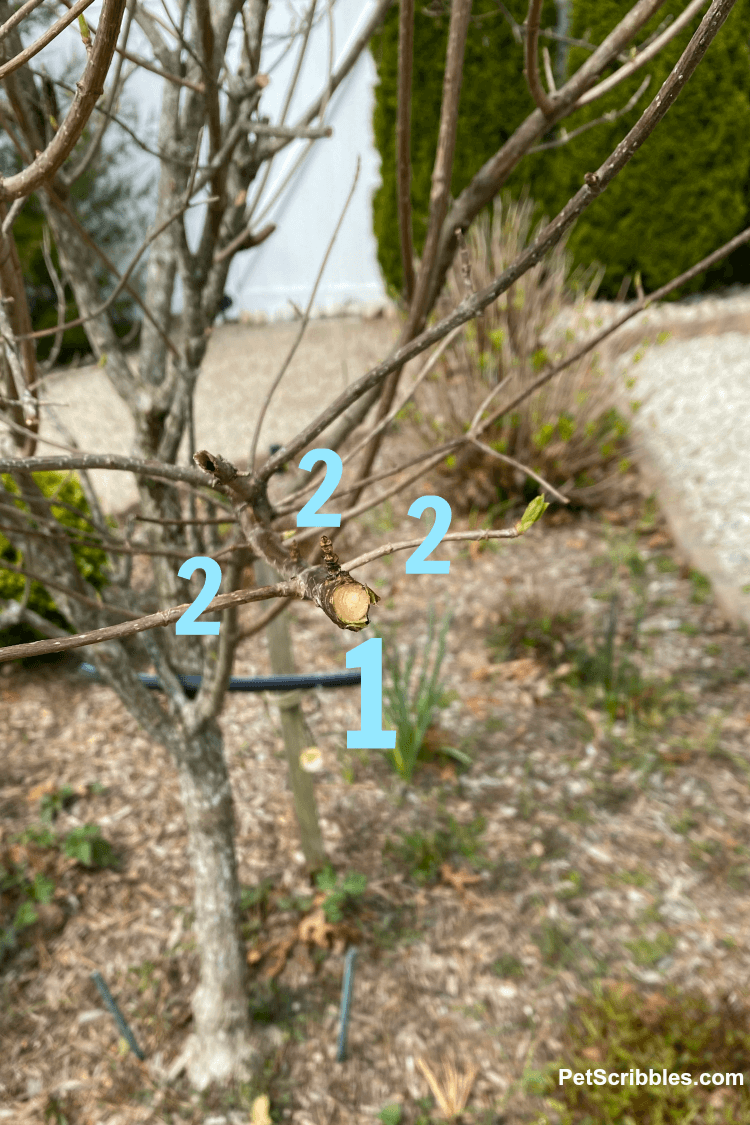 1 = The main stem being cut back.
2 = Smaller stems which will continue to grow larger.
Limelight Hydrangea Tree Pruning: Five Things To Do
If you remember these five things, you'll be in great shape — and so will your tree!
First, cut off any remaining dried flower heads.
Second, remove any dead branches or stems.
Third, remove any crossing branches.
Fourth, remove any small, weak stems.
Fifth, remove any overly long branches to give the tree better shape.
Let's go through each one in detail, below.
First, cut off the remaining dried flower heads.
As basic as this sounds, do this first before you begin to prune any stems. This way, you can see exactly what the tree looks like without any dried flowers getting in the way.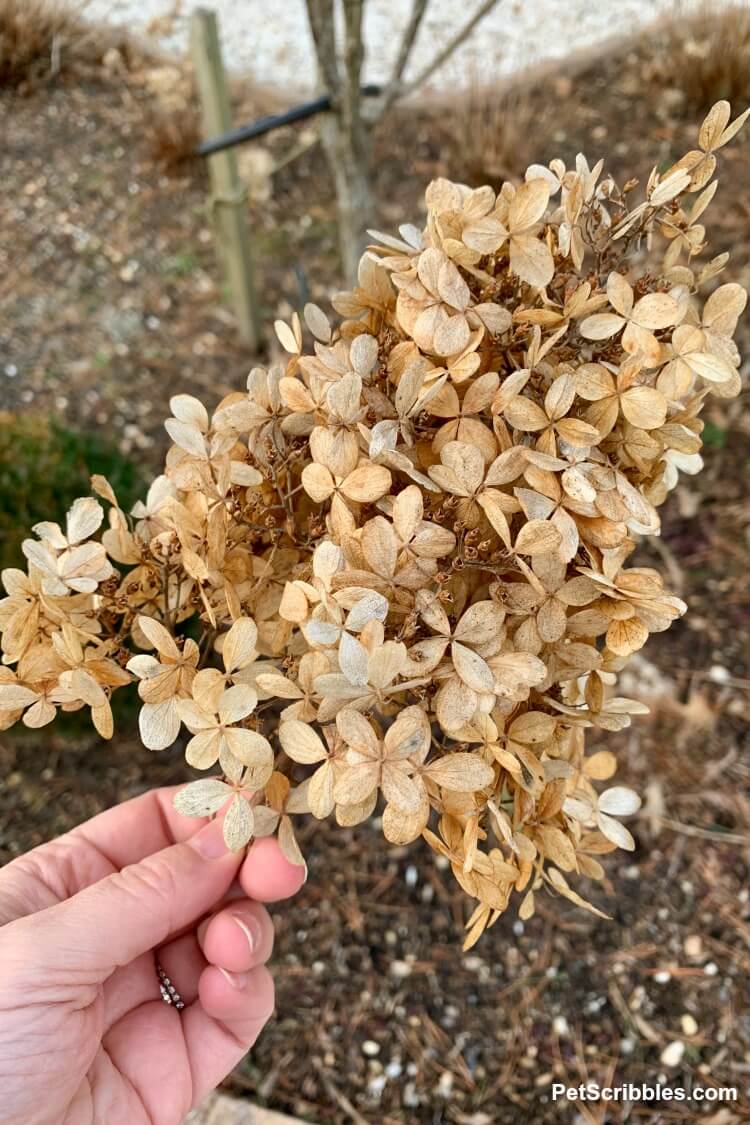 Second, remove any dead branches or stems.
If a tree hasn't started its new growth yet, how do you know if a branch is dead or not?
This is a good question. And here's what I do . . .
To begin, if any branches *look* dead to me, I take my hand pruners and cut just a bit off the stem.
What does the inside look like? Is there any green visible?
In the image below, the arrow points to the green edges of this freshly pruned branch.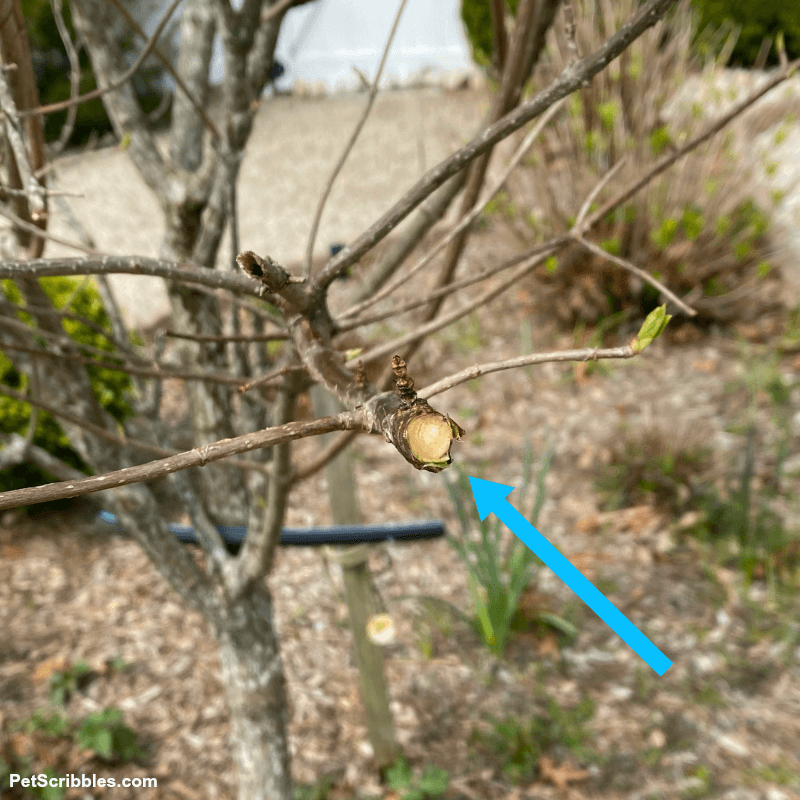 Another way to see if a branch is alive:
Take your pruners and very gently scrape against the stem's outer layer to see what is revealed underneath.
Is there green showing up? Then the branch is alive.
If I'm still unsure whether a particular branch is dead or alive, I will wait until the new growth is beginning to show. This sometimes is the only way you can fully see if any branches are dead.
I couldn't tell if this branch was dead or not. It sure looked dead to me.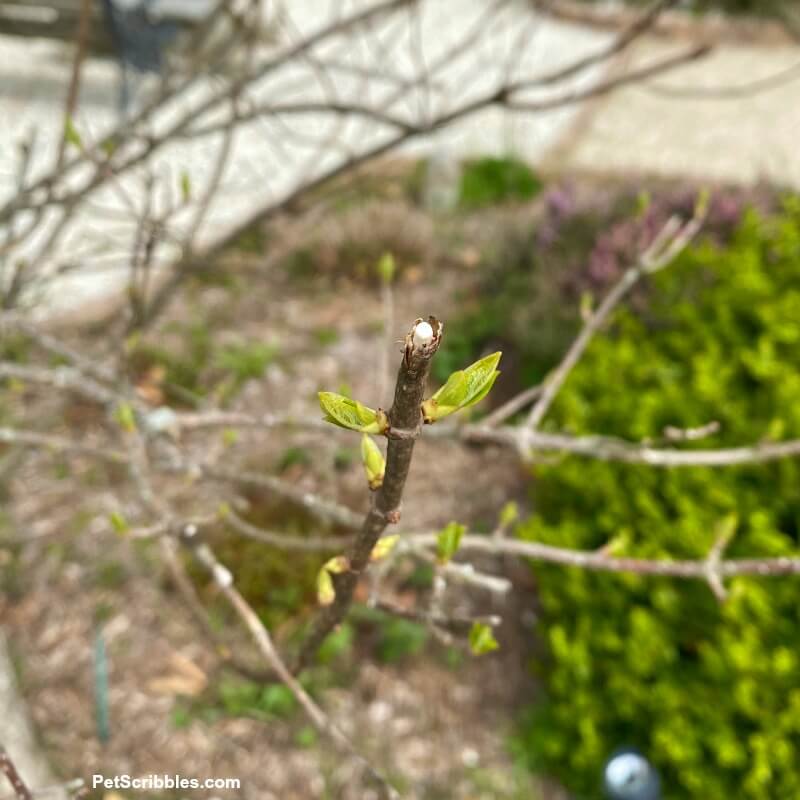 However, I realized it was alive once new growth appeared.
When you begin seeing leaves budding out along the stems and branches, look for signs of any dead stems you may have missed earlier. Go ahead and remove those branches with your pruners or loppers.
Third, remove any crossing branches.
Locating any crossing branches is easy to do in early Spring before the tree leafs out.
However, since our tree needed to be repaired recently after the storm damage it suffered, I took the time to remove any crossing branches.
Here is an example of crossing branches: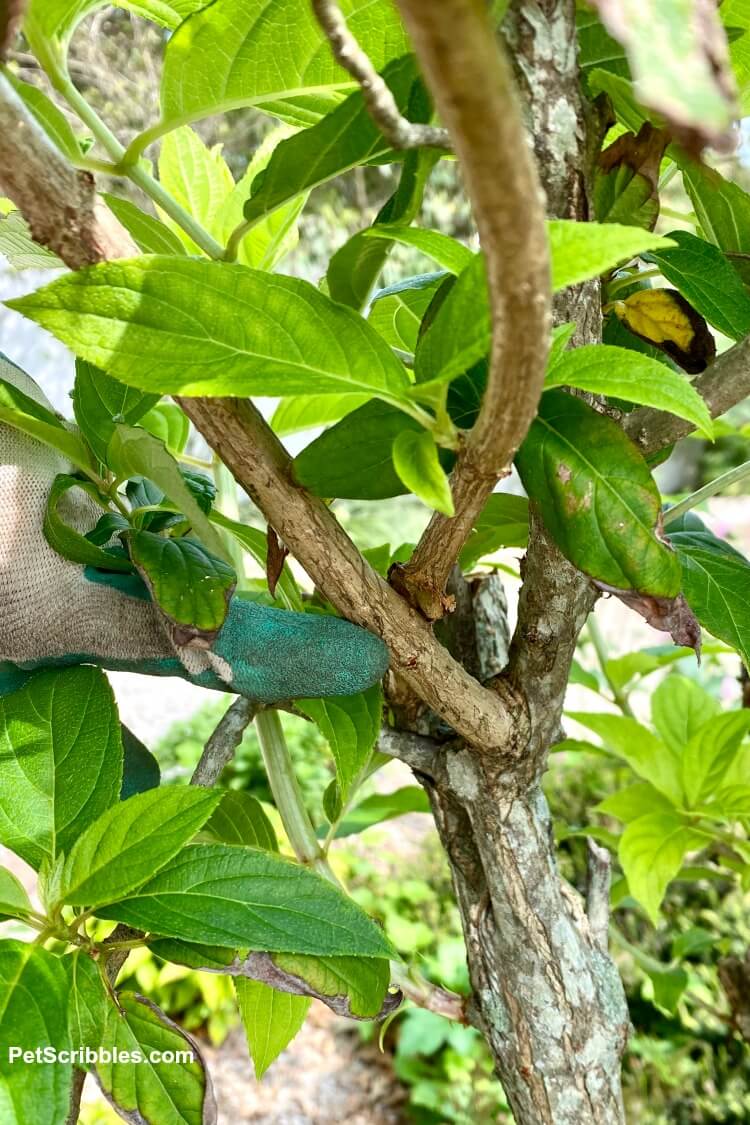 When branches are crossed, they rub against each other, causing the bark to weaken over time which lets in fungus and disease.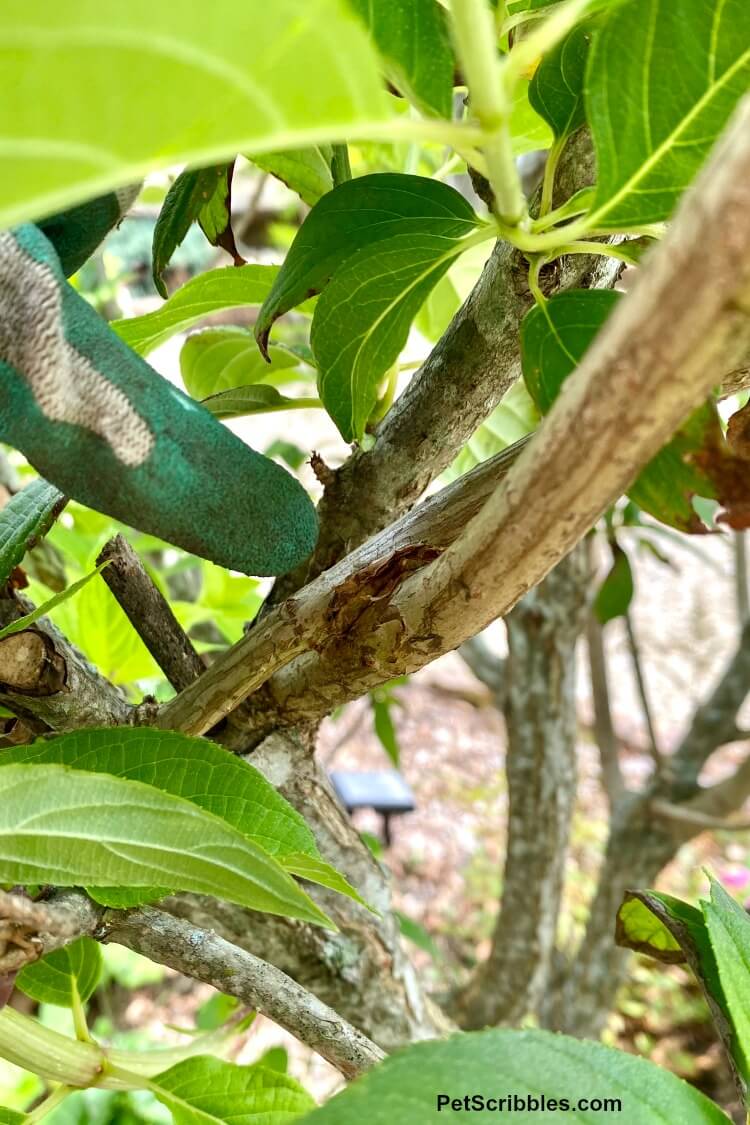 Take your hand pruners or loppers and cut off one of the crossing stems. Make the cut as close to where the stem begins as possible.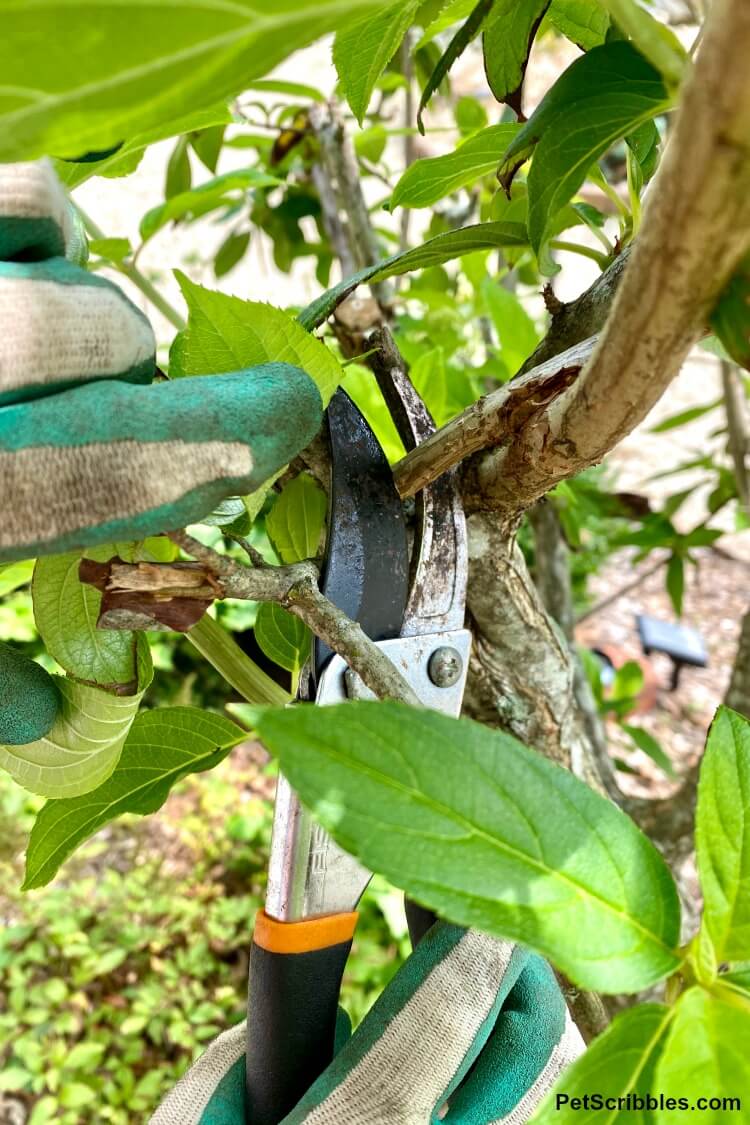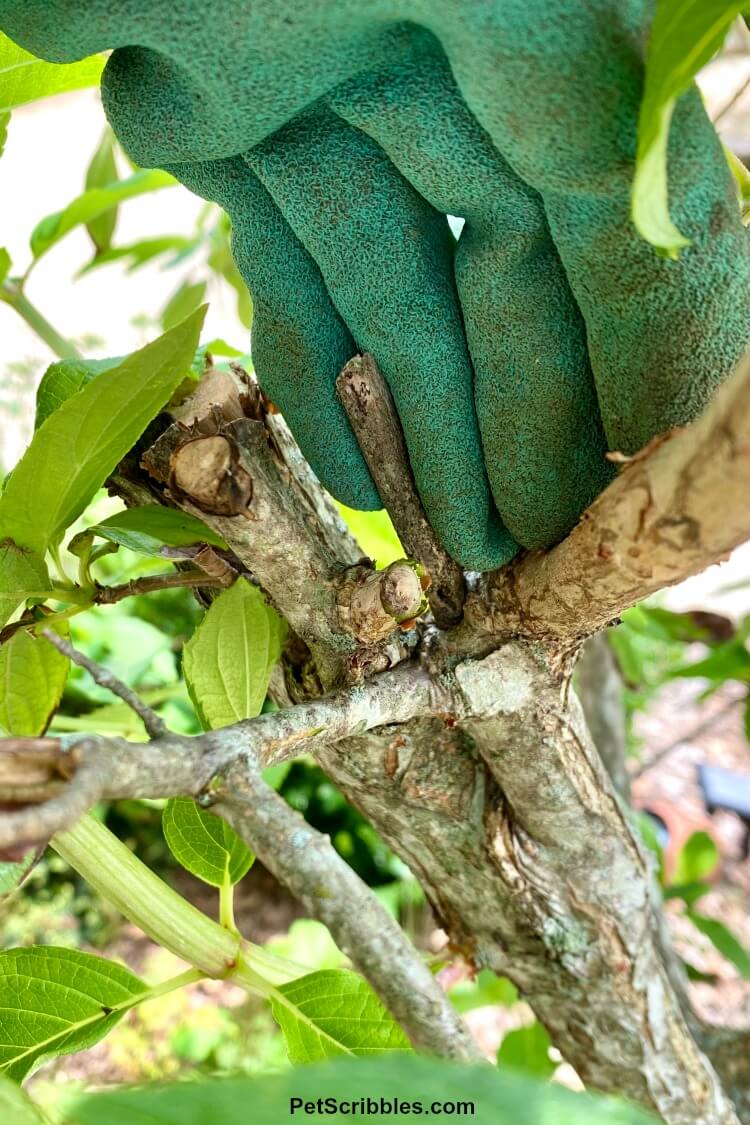 Now, examine the *other* crossing stem to see if there is any damage to the bark: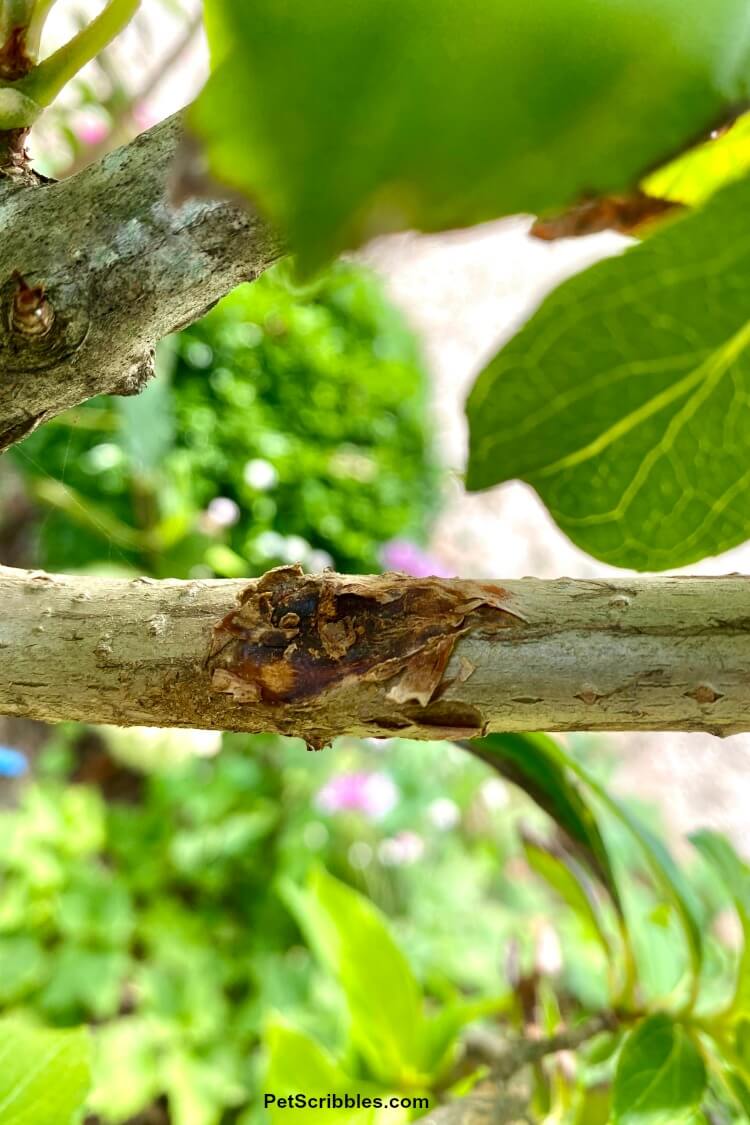 If there is, like in my example above, you have two options:
Prune back this stem part of the way, removing the damaged area.
Cut the entire stem off at the base.
Which option you choose will depend on where the damaged bark is located.
If the damage is near the base of the branch, remove the entire branch.
If the damage is further out on the branch, you can save the remaining stem by pruning off the damaged area.
Fourth, remove any small, weak stems.
Weak stems won't turn into strong stems, so it's best to remove them.
In fact, many tiny or small stems won't survive the Winter season anyway.
Here is a good example: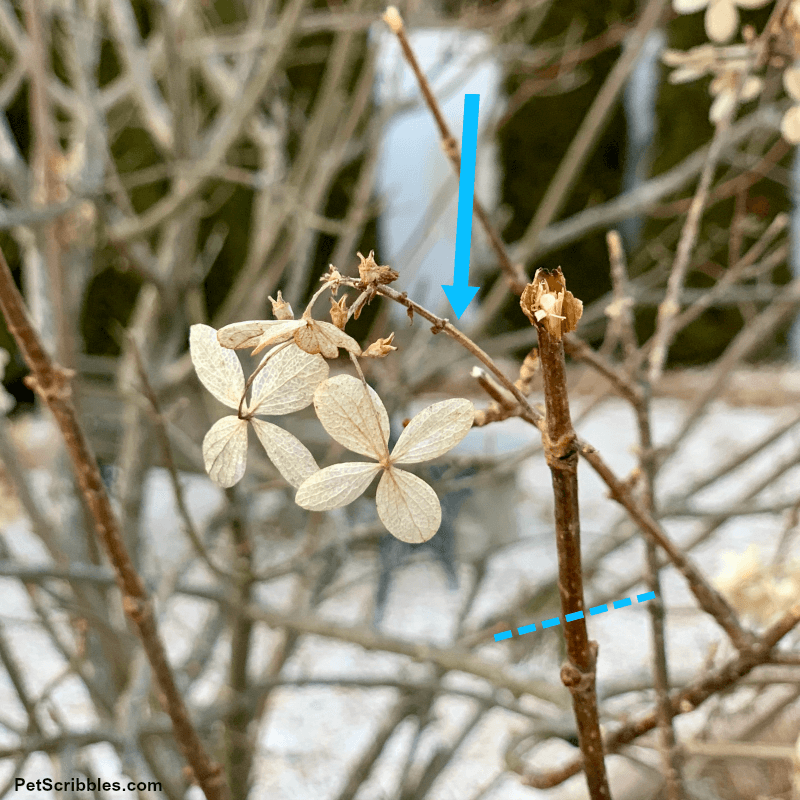 The flower petals are still attached to a stem that really isn't going to do anything special.
The arrow points to the stem, which can be removed.
All of the *weak stems* will look like tiny twigs, so they are easy to spot and remove.
Fifth, prune back any overly long stems to give the tree a better shape.
Here's a current example of a long stem on my limelight hydrangea tree sticking up into the air, left over from the hard prune we were forced to do after the tropical storm: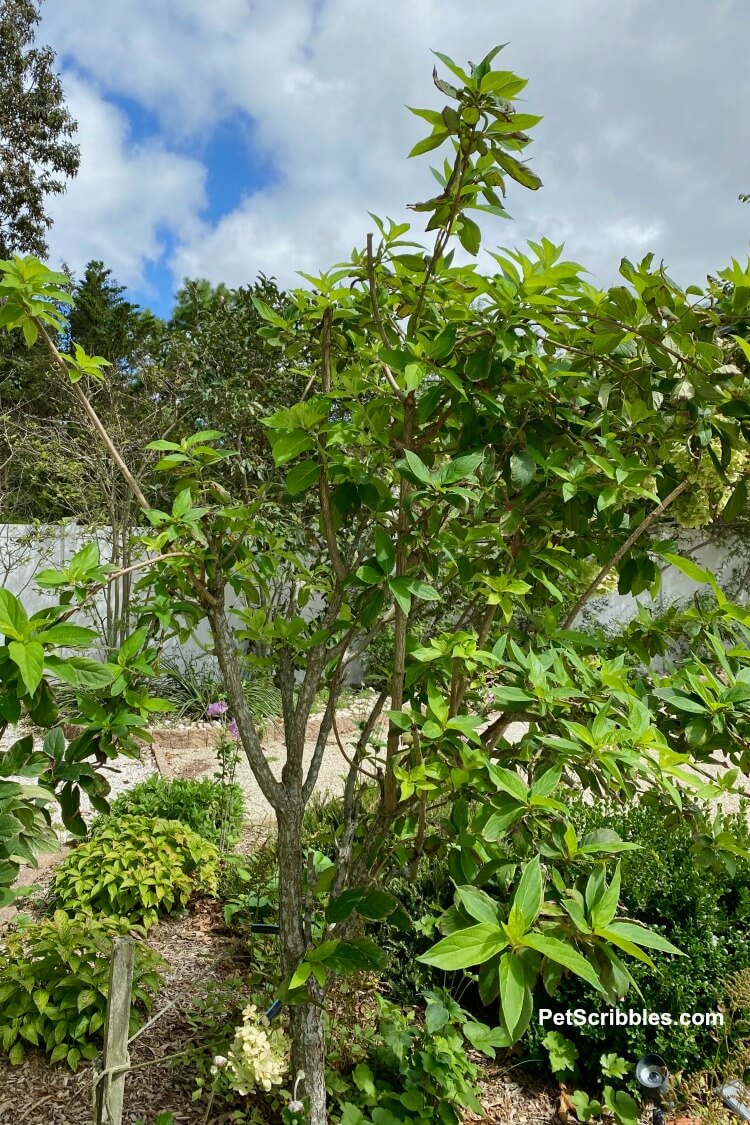 I need to cut that back.
You give your tree a better shape simply by cutting back those taller branches.
Can you prune a Limelight Hydrangea shrub into a tree form?
Yes you can.
This requires selecting the strongest stem to be the *tree trunk* and pruning away all of the other shrub stems.
Use plant ties to attach the main stem to a tall support to encourage upright growth.
The best directions on how to turn your shrub into a tree can be found here.
These instructions are easy to follow.
Keep in mind that if you choose this method, you will need to pay attention to pruning and removing new growth with frequent pruning for a few years until the tree shape and size is more established.
My opinion?
Purchase a grafted tree form at your local nursery to have the work already done for you.
What to do when a Limelight Hydrangea Tree gets top heavy
Do you need to be concerned with how heavy Limelight Hydrangea Tree flowers get?
Yes!
And here's where you can learn from my mistake!
A Limelight Hydrangea Tree becomes top heavy when it has many flower heads growing to a huge size.
A fully grown hydrangea tree can have panicles (flower heads) more than 10 inches in length and fairly wide at the base of each flower head too.
I only ever pruned our tree to give it a better shape. I never worried about how heavy those gorgeous flowers could be.
And after a rain storm? The blooms hold onto the water, and become very heavy and droop.
And after a tropical storm? The tree breaks apart from the weight of those long stems and heavy blooms being blown about in the high winds.
Our Lopsided Tree
I should have been concerned earlier in the Summer, when I realized how lopsided our tree was growing.
This is the back of the tree, the side we never see from the house. The branches don't bloom on this side. I don't know why, but I never thought it was a big deal.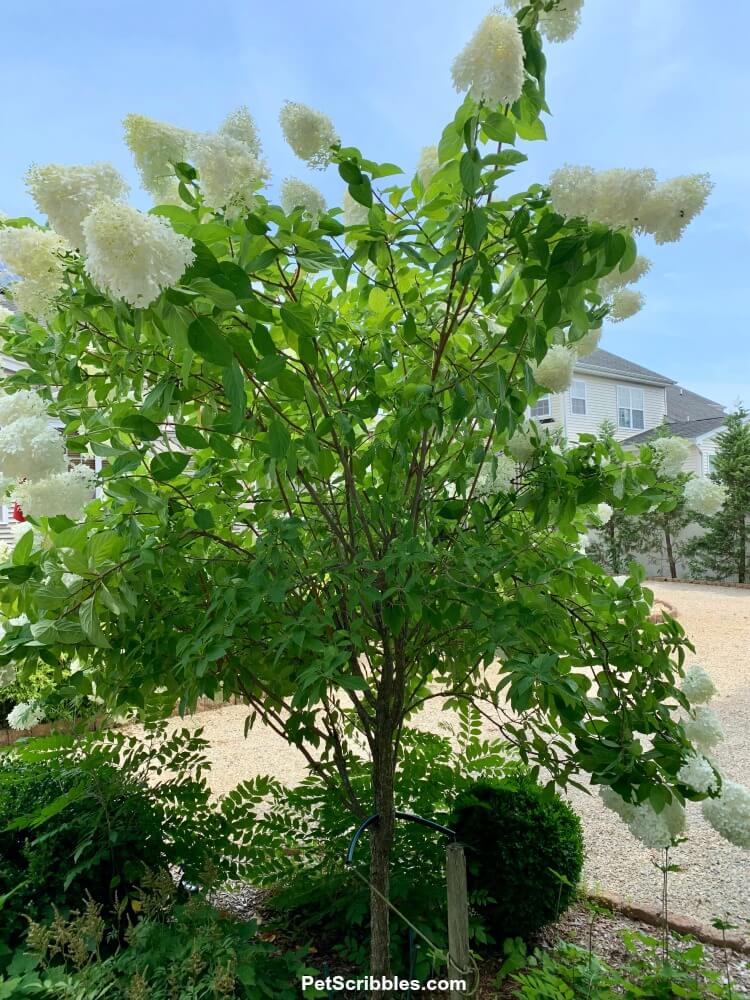 In late July, I got my first warning that something was up, when I spotted this broken branch after a severe rain storm.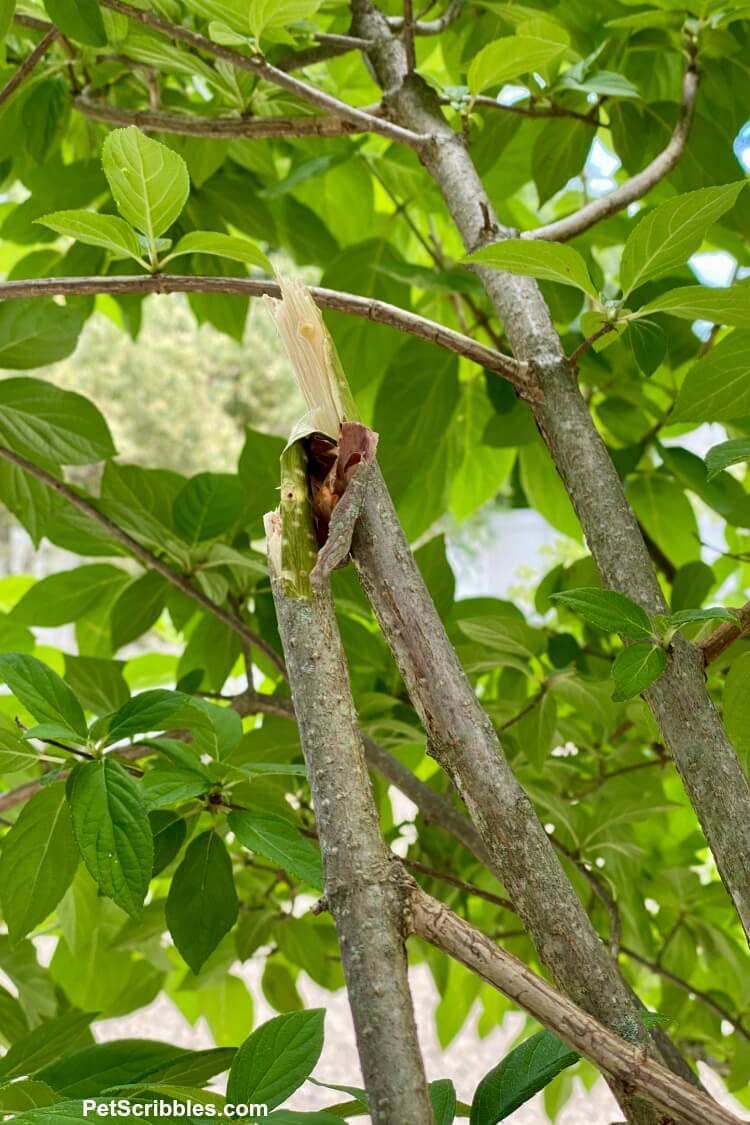 After pruning the branch away, I didn't think much of it.
In fact, the tree was so beautiful that I told my husband I wanted to take some new pictures of me in front of it to use here on the blog.
His reply?
Well don't wait. Do it now while the tree is perfect.
It was like he knew somehow.
Tropical Storm Damage
And then we had Tropical Storm Isaias, which was a doozy.
You can see my post — and watch my video — on what the storm did to the front gardens here: Tree and Hydrangeas Turning Brown After Tropical Storm
In the backyard, we immediately noticed how droopy our Limelight Tree looked: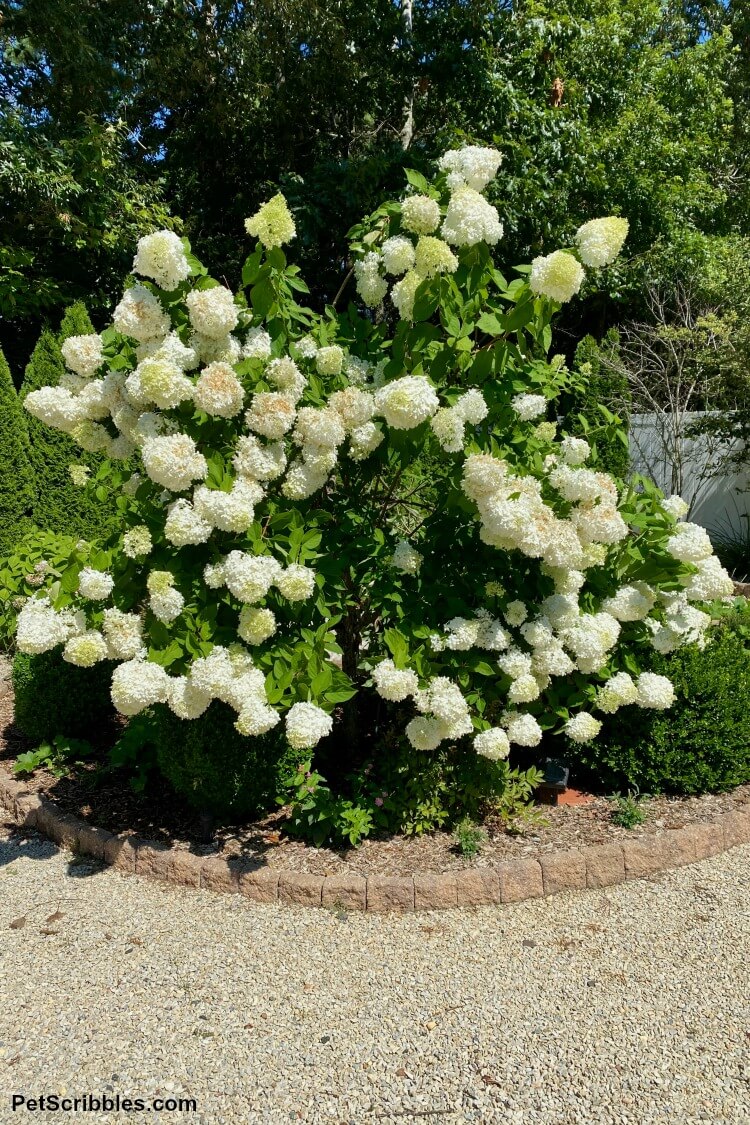 And walking around the tree, it was even worse:
Yes, I got choked up.
Our beautiful tree.
I thought it was ruined.
First I filled up several vases with all the hydrangea flowers we cut off from the broken branches.
Then we got to work pruning away and trying to fix our tree.
I was talking to the tree the entire time.
While my husband thinks me talking to the plants is nuts, I swear it makes me feel better. Of course I hope the tree felt better too.
Our emergency repair job!
Here's what it looked like after our repair job.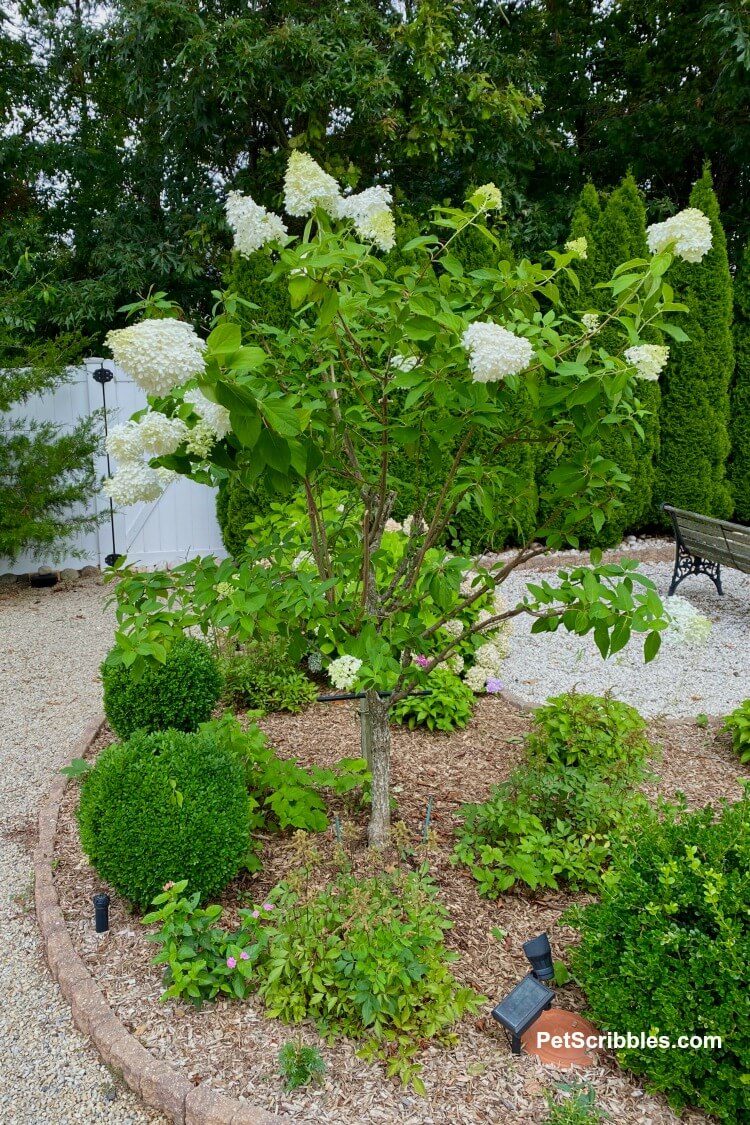 Not bad, and actually much better than I thought it would be.
The current height of the tree is around 6.5 feet tall after this pruning.
Here is a close up of the inside of the tree, which thinned out quite a bit with so many broken branches.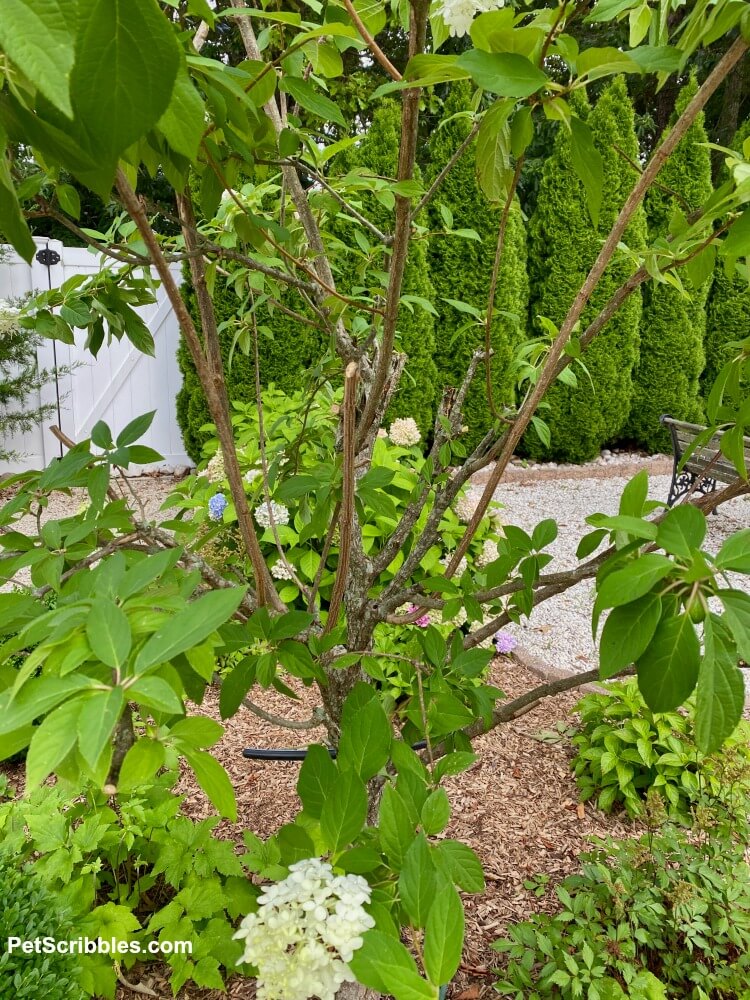 The good news?
New growth was visible within a couple of weeks: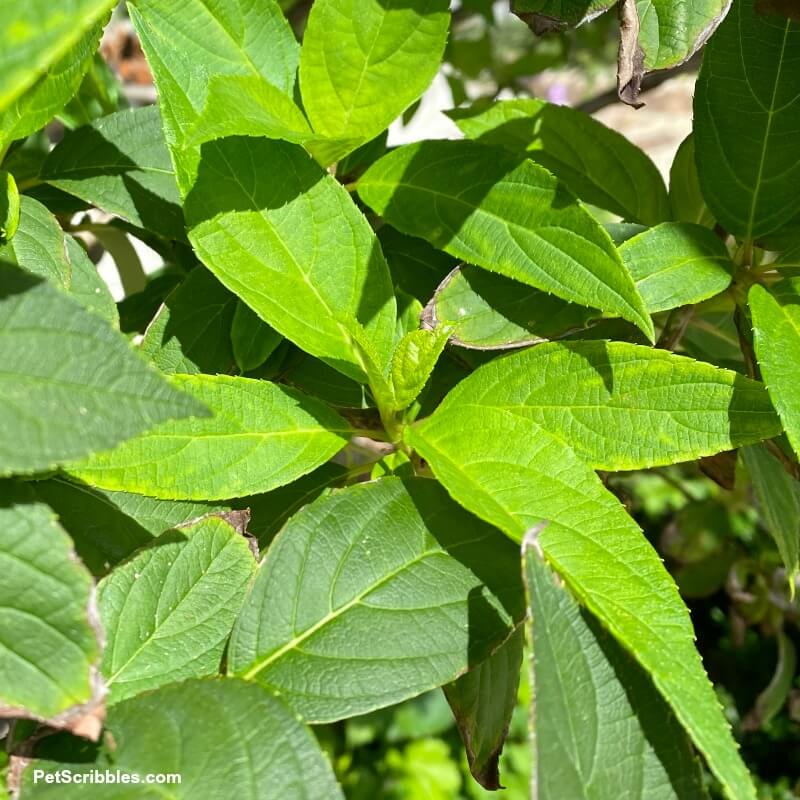 I was thrilled to see new stems had sprouted up overnight. At least it appeared that way to me: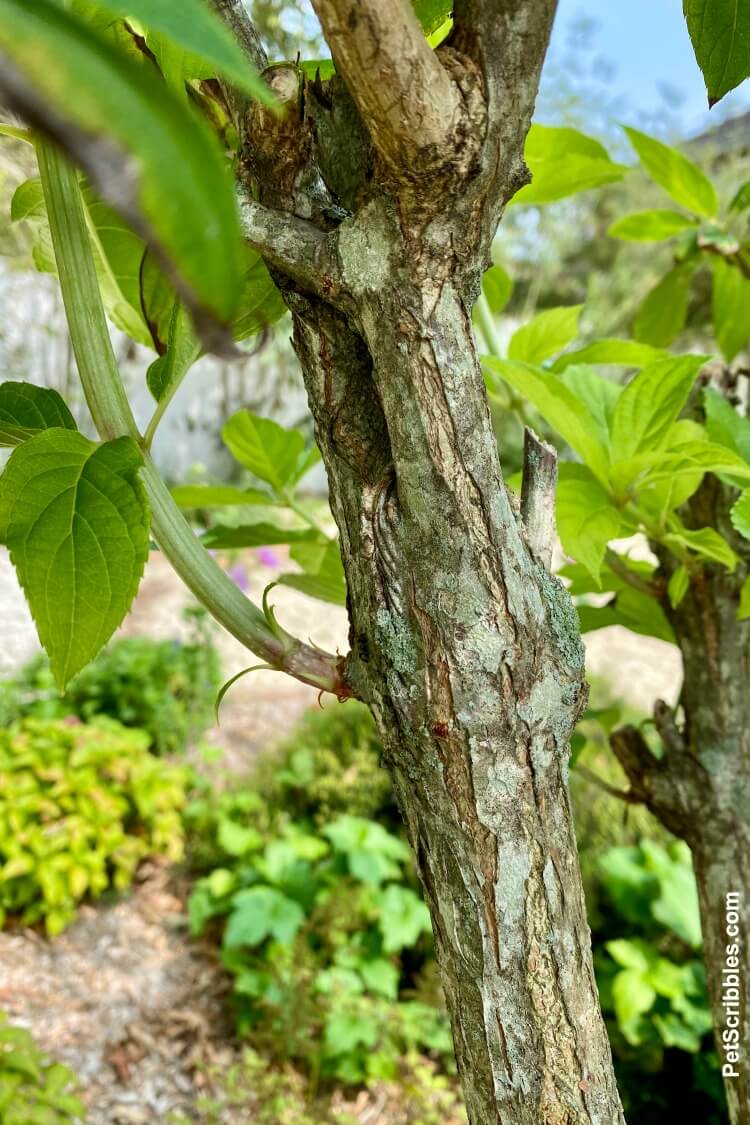 Is there a lesson to be learned?
Yes!
Don't be afraid to prune, thinking you won't have a beautiful large tree full of flowers.
Next Spring I will definitely prune the tree back much more than I usually do. I also hope to keep an eye on the stems in the back and somehow get them growing to make the tree full and not lopsided.
I saw this praying mantis (below) while inspecting the tree recently, which to me is a sign from Mother Nature telling me our tree will be ok.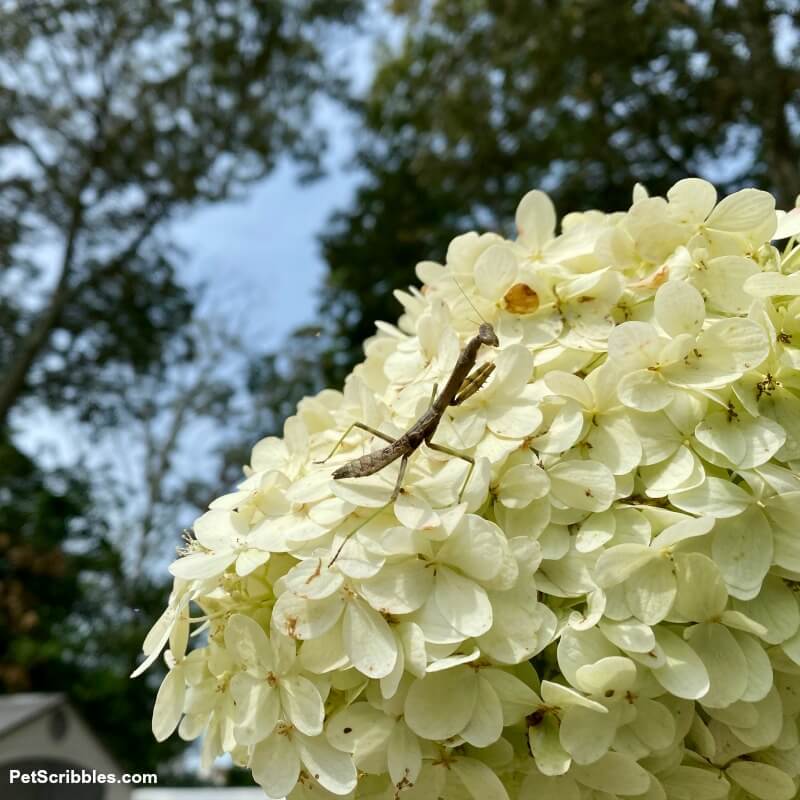 Where to buy:
Your local nursery is your best bet, as they will sell these at the proper time for Spring planting.
As these trees are becoming more and more popular, you can usually find them in season at big-box home improvement stores such as Home Depot and Lowe's in addition to your garden nurseries.
Further reading: additional hydrangea guides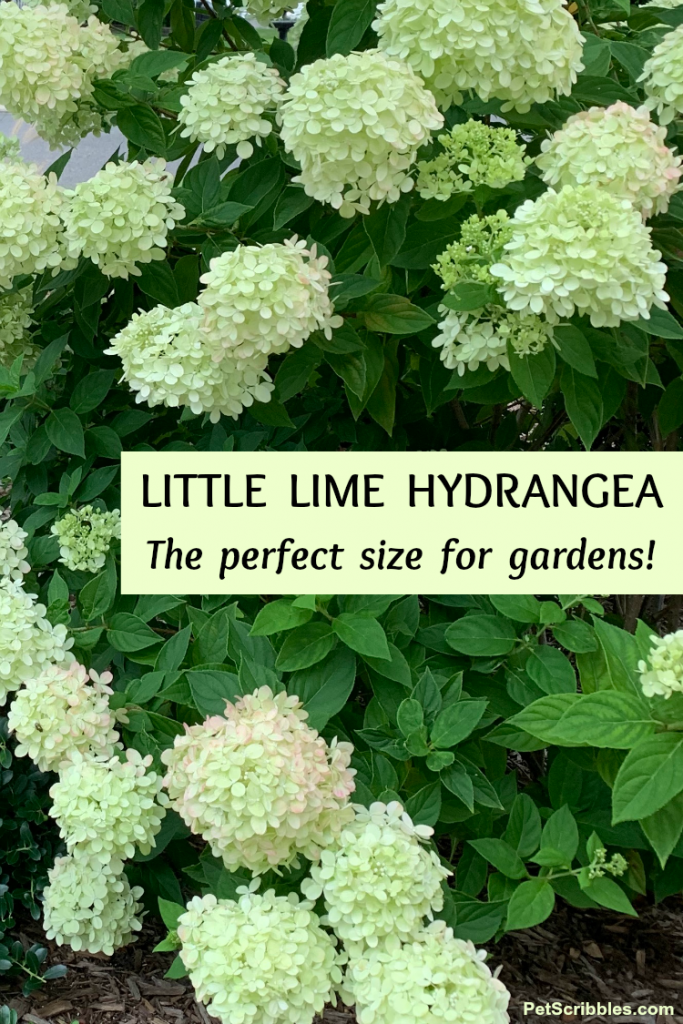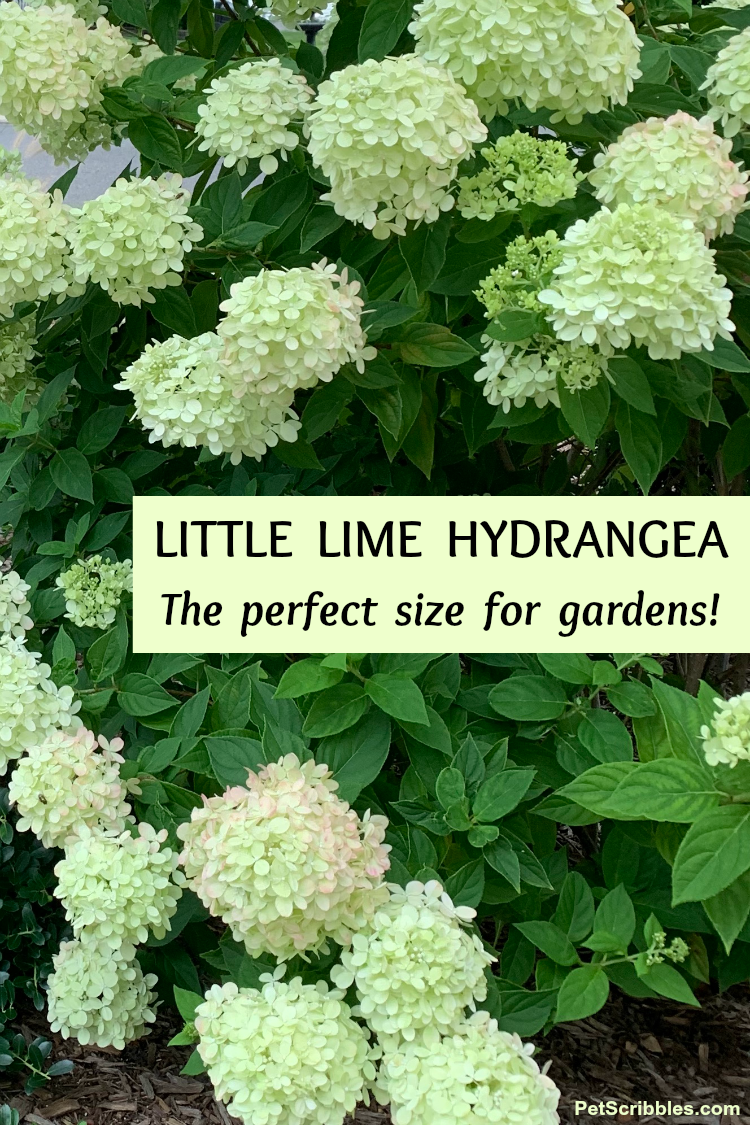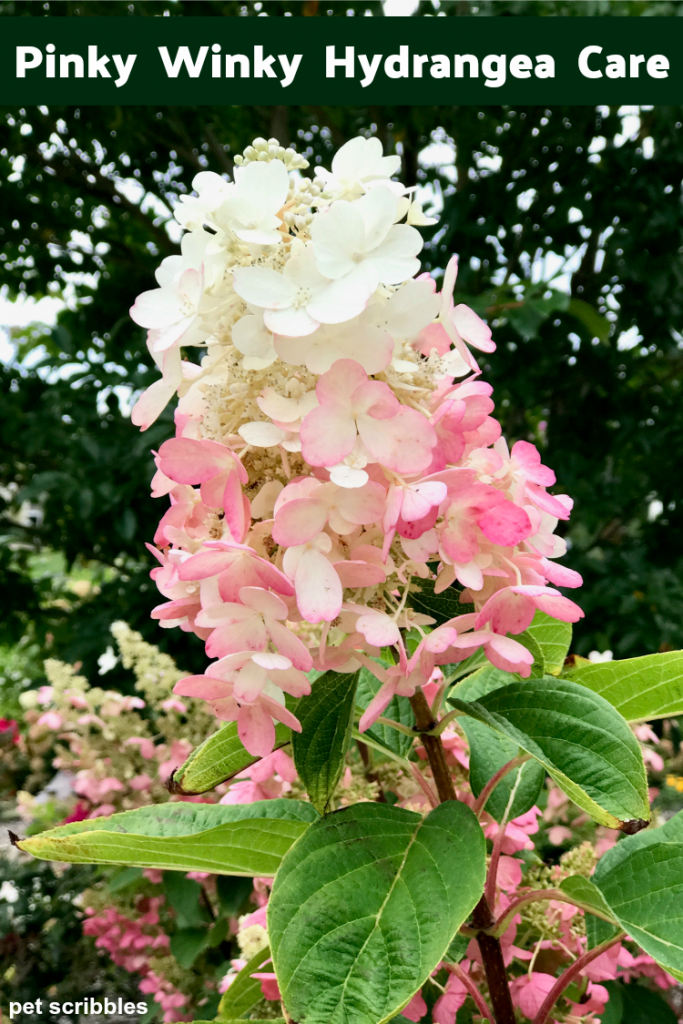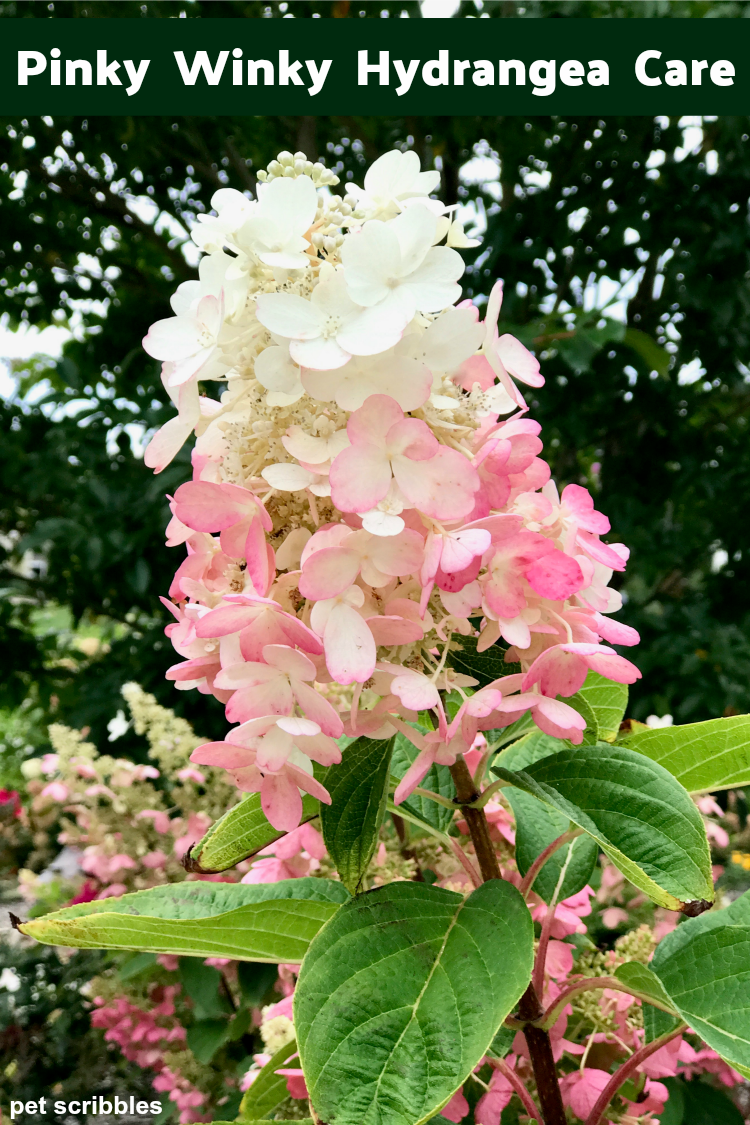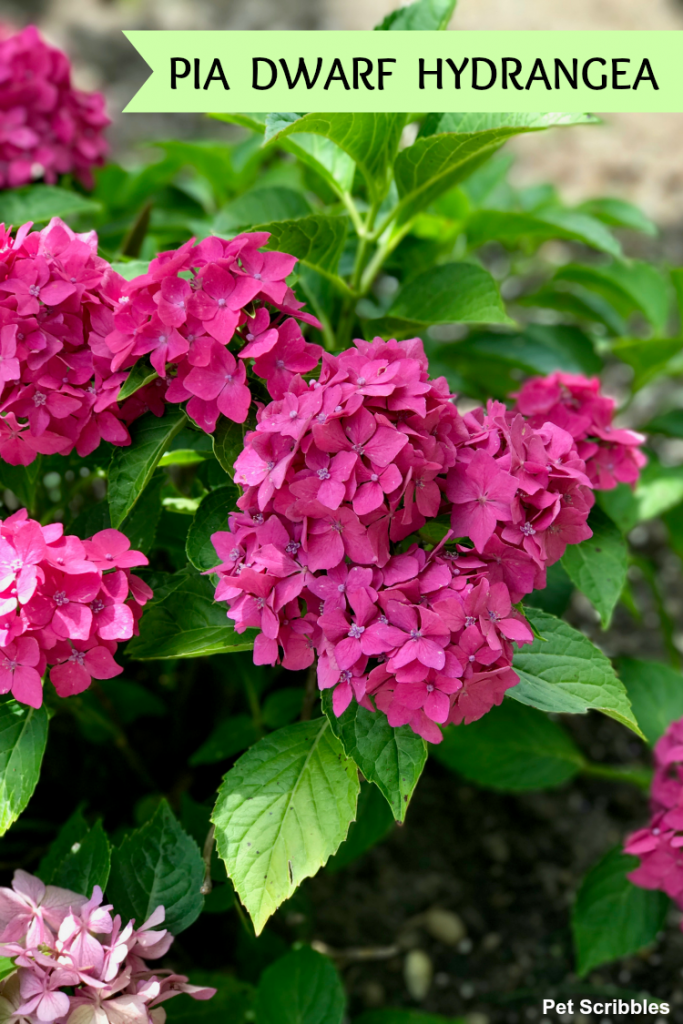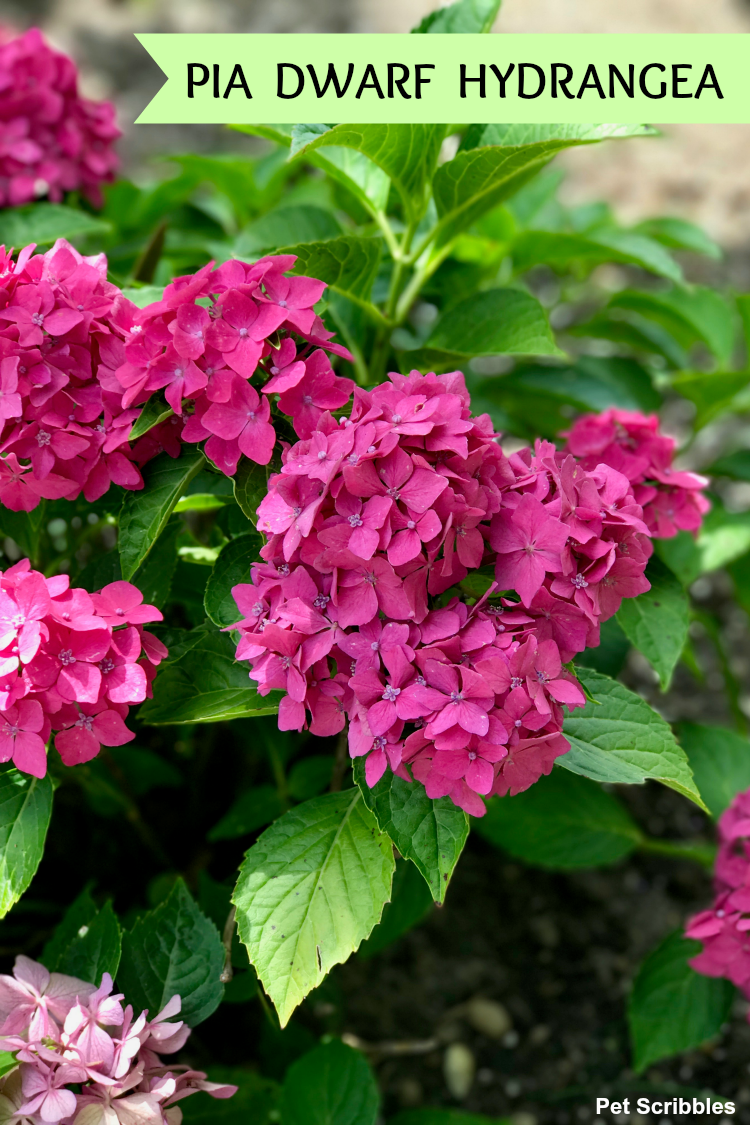 Happy gardening!