Are your trees and hydrangeas turning brown since Tropical Storm Isaias? My River Birch trees and Little Lime Hydrangeas suddenly look like late Fall has arrived. Here's what I've learned so far.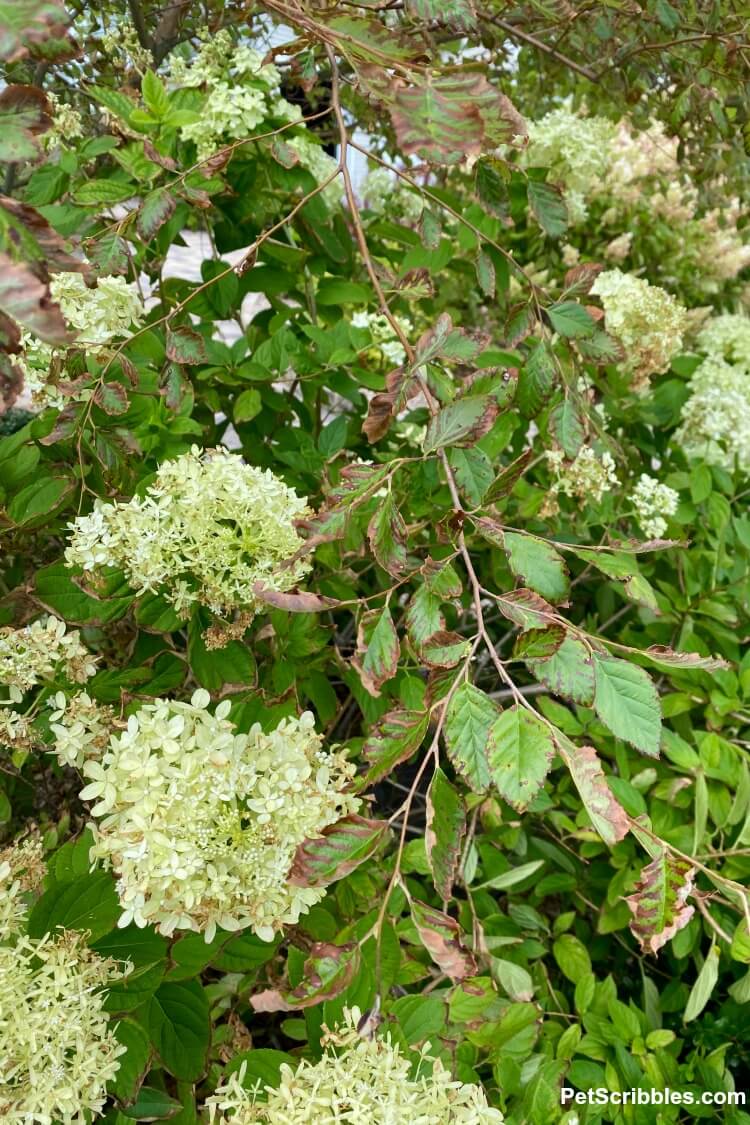 Tropical Storm Isaias hit us here in southern New Jersey on August 4th.
Our neighborhood didn't appear to suffer any major damage other than some tree limbs coming down. Power and cell phone service was also down.
During the storm, I wanted to go outside to film how well our front landscaping was holding up. (But I didn't.)
The Pinky Winky Hydrangeas and Little Lime Hydrangeas never flopped or had any branches break off. It also appeared (from our windows) that no blossoms blew off either. Amazing!
Our Crepe Myrtle tree did well, other than its lavender blossoms blowing off.
Our River Birch trees did what River Birches do. They bended and swayed heavily to each side from the rain and wind. Afterwards, they bounced right back into place.
No problems at all.
Trees and Hydrangeas Turning Brown
Fast forward one week later.
One morning, we looked outside and saw our River Birches looking like half of each tree was dying. We were shocked.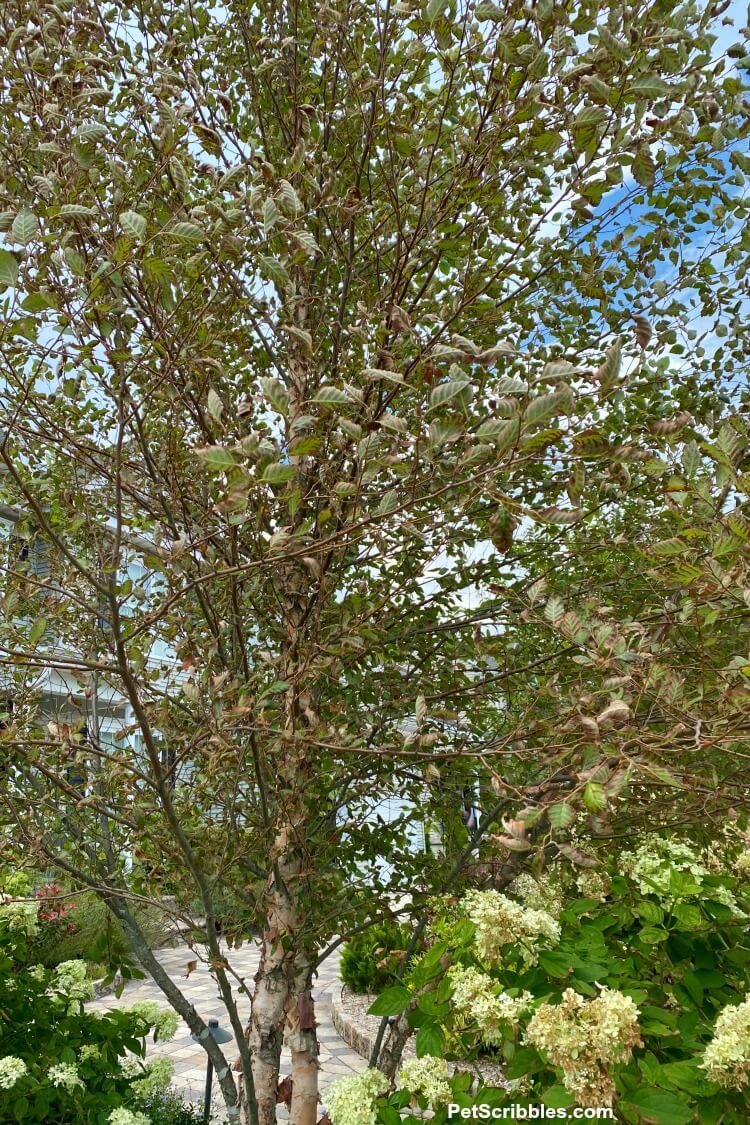 Half of each tree was green while half had brown leaves.
In some cases, the green leaves were curling and browning on their edges only.
Many of the brown leaves had already begun falling onto the ground.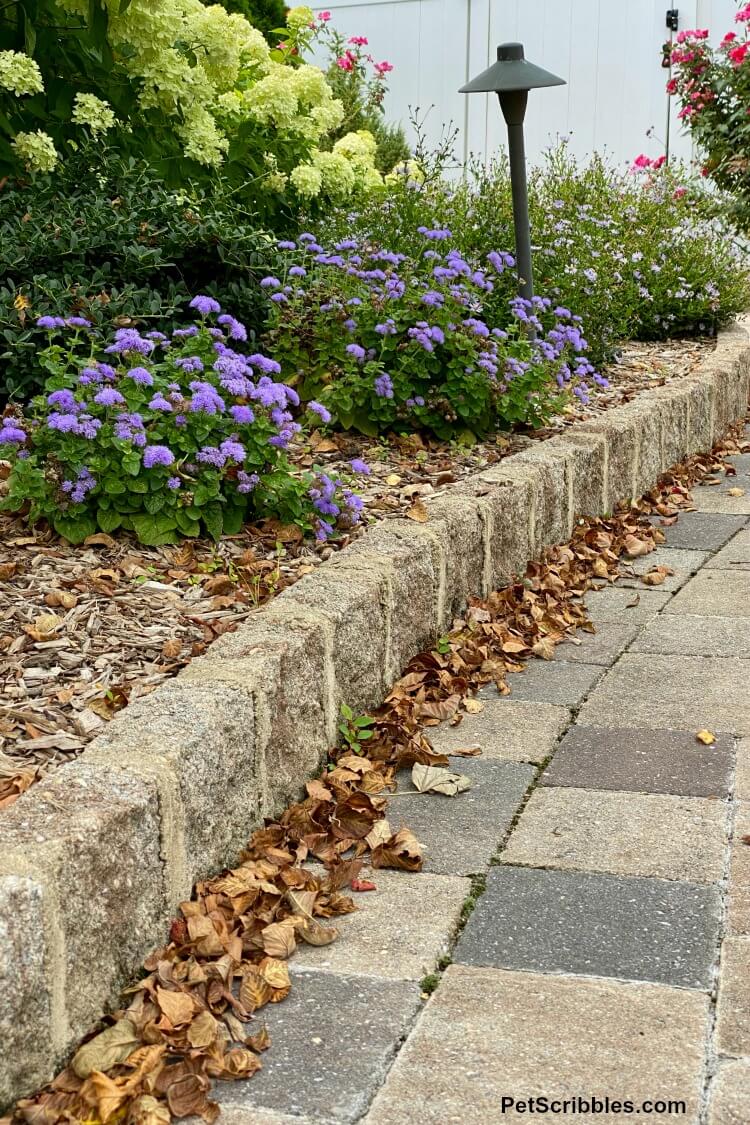 I went out to look closer, not sure what to think. Our River Birches love rain and handle wind effortlessly in major storms year-round.
As I turned the corner, my eyes looked below the River Birch branches to the Little Lime Hydrangeas underneath. Some of the flowers looked bizarre.
The flower heads look like a bunch of Xs, instead of the pretty smaller flowers that make up each flower head. (You can see these strange flowers up close in a video further down this page.)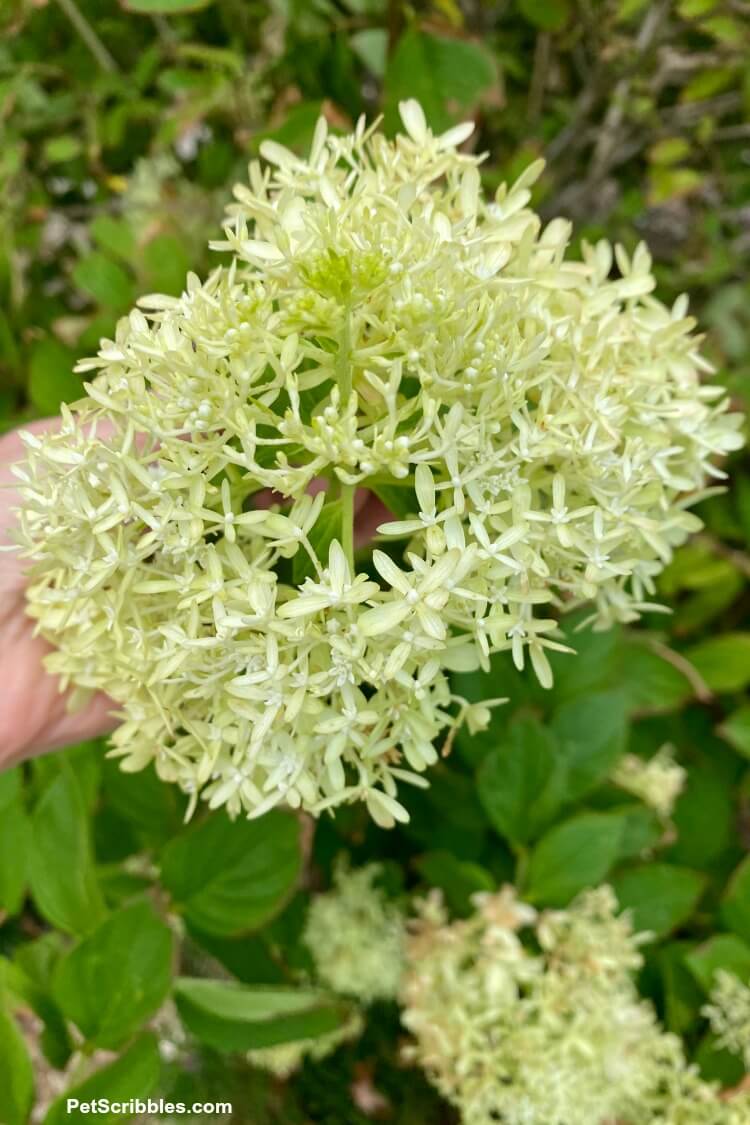 And some of the flowers are simply drying up as if it is mid-November already.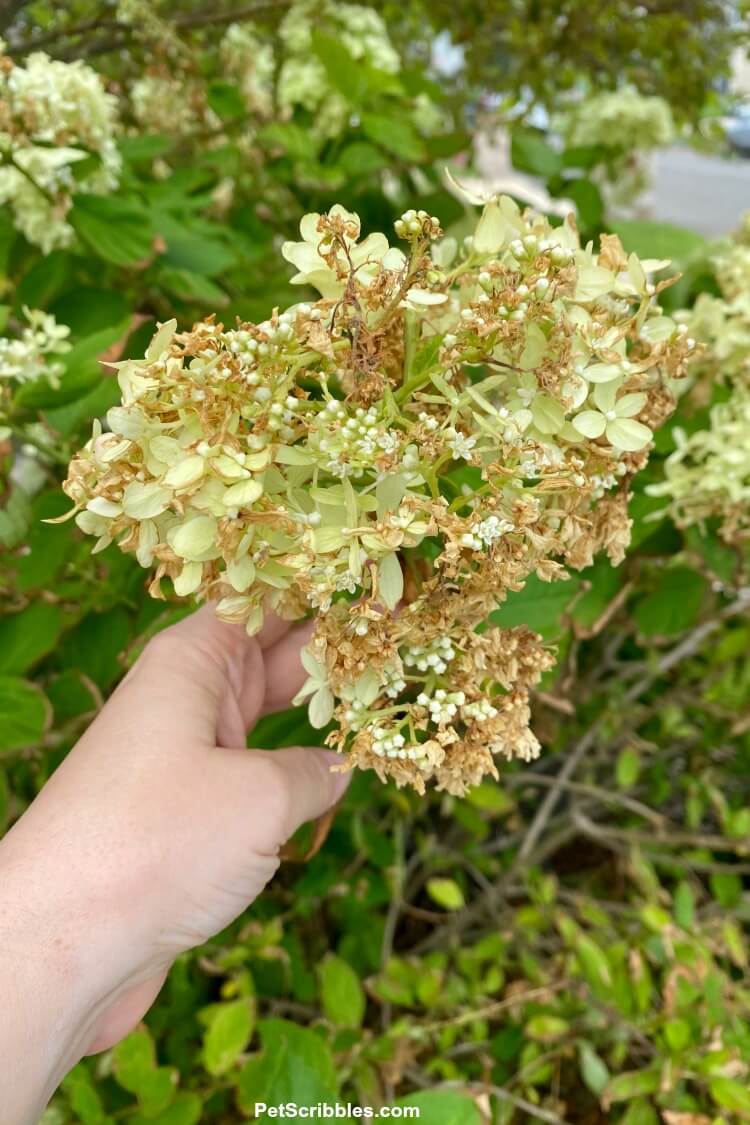 Again — strangely enough — this damage only appears on one side.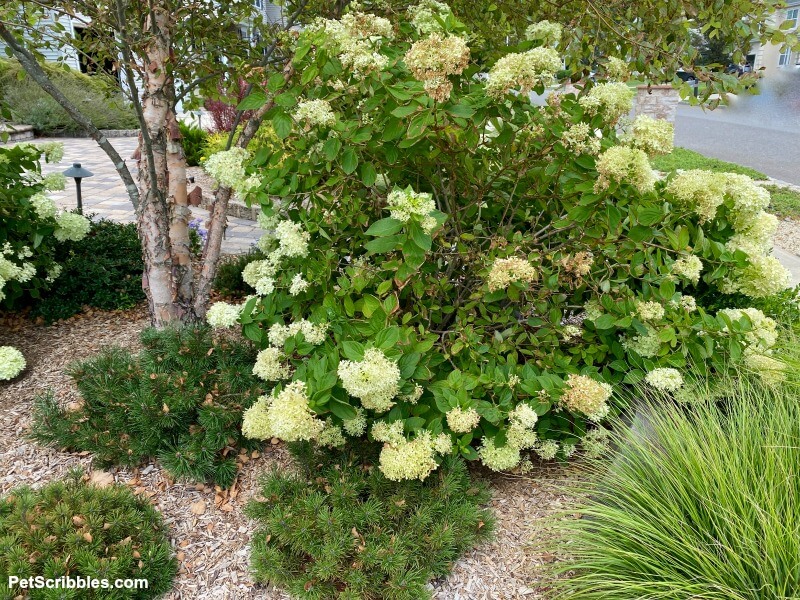 The other side of the shrub looks perfectly fine and hasn't lost one single blossom or petal.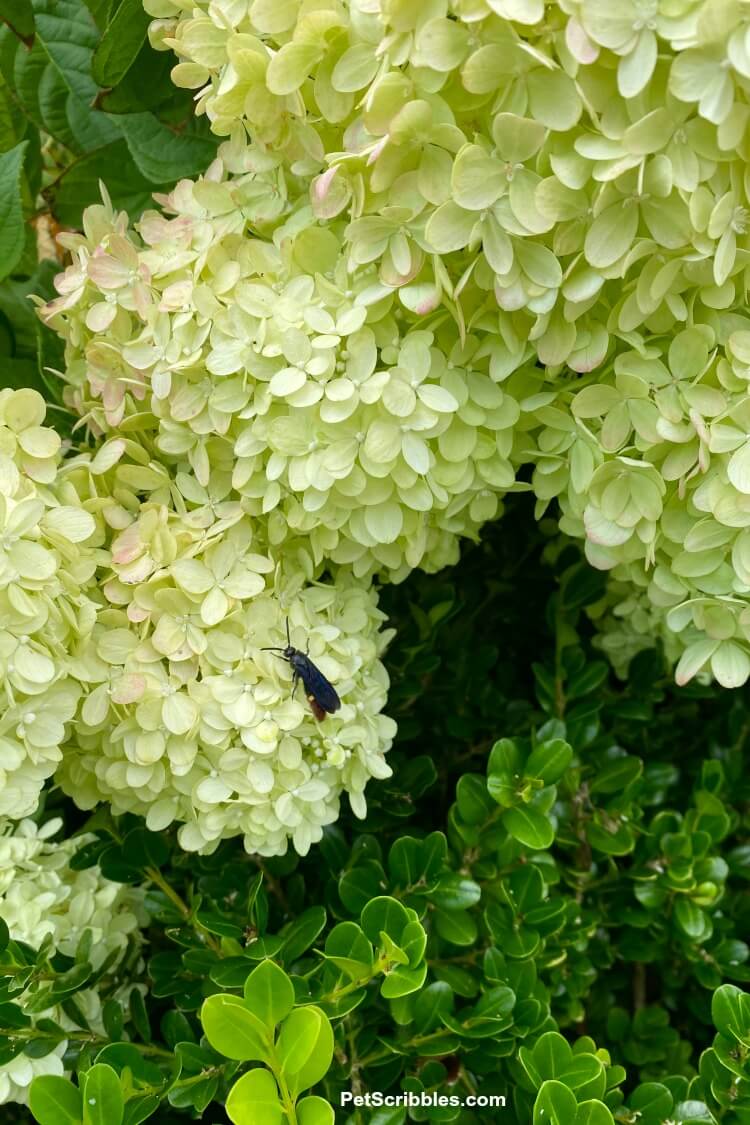 One of my Pinky Winky Hydrangeas — only on one side — has lost many of its petals.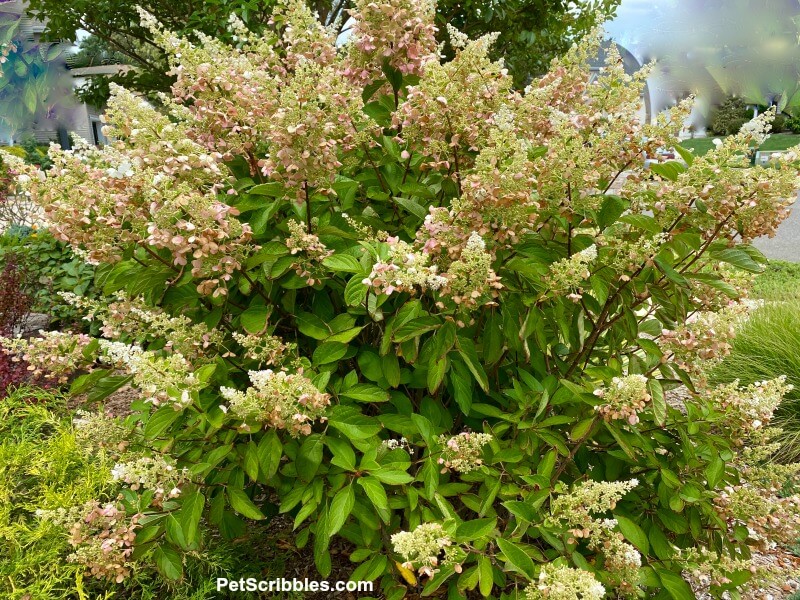 And again — the leaves are curling up and turning brown at the edges.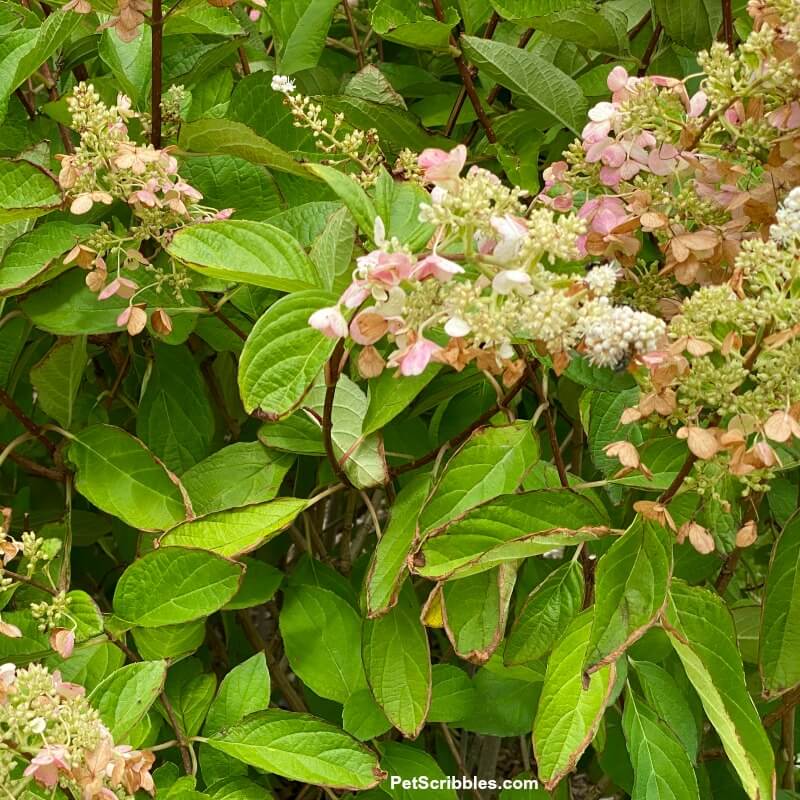 Some of the petals are fully dried up, brown and crispy.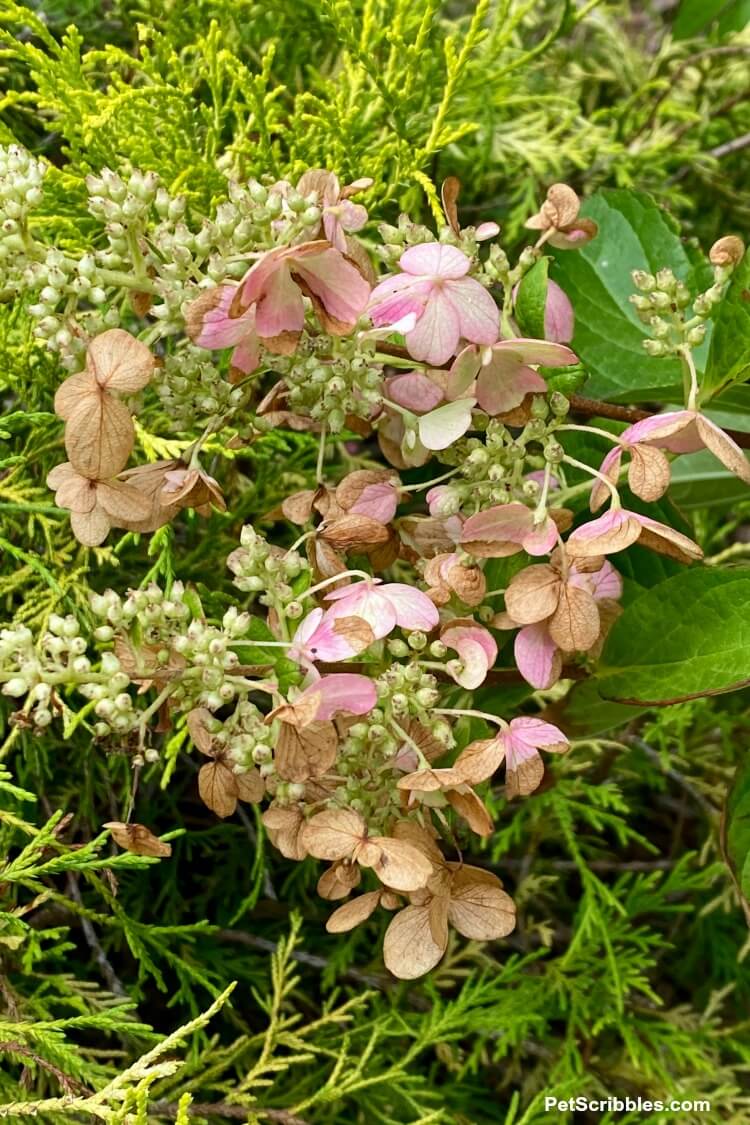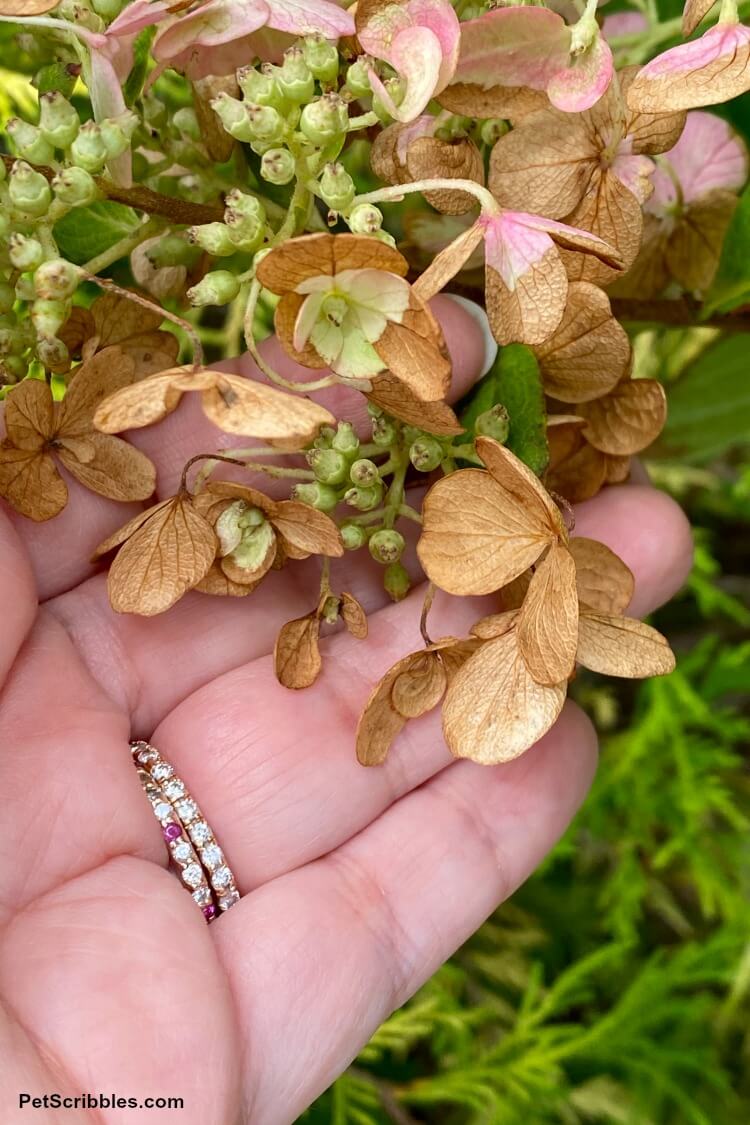 Every year, these hydrangeas — both the Little Lime and the Pinky Winky — never dry to this state until mid to late November.
Why are my trees and hydrangeas turning brown?
I posted the above image to Instagram, and had a few responses.
One theory was our trees were hit with salt water from the storm.
My husband and I doubted this at first. Although we live at the Jersey Shore, we are not situated on or near the actual coastline.
Also, as my husband pointed out, Tropical Storm Isaias hit us with way more wind than it did rain.
(I dare you to try typing *Isaias* by the way. It is impossible to type easily, let alone say. At least for me!)
I put in a call to a fantastic arborist we've consulted with in the past. Not surprisingly, he is booked solid right now and we will see him hopefully in a few weeks.
In the meantime, I decided to film the trees and hydrangeas that are turning brown, determined to figure something out.
National Weather Service New York to the rescue!
Over the weekend, I think we may have gotten a lead on what happened.
On Twitter, the National Weather Service New York office tweeted out a thread about this exact topic! I was so excited! (A Twitter thread is several tweets on the same topic, one after the other, for those not Twitter savvy.)
Click on the tweet above to see their complete Twitter thread.
A summary of what the NY NWS said:
This picture [above] is taken by one of our meteorologists on the south shore of Long Island today (August 15th, 2020), about 11 days after Tropical Storm Isaias swept through the area. The picture is taken looking to the north.

You can very clearly see that much of the south side of the vegetation looks as if it has progressed into late autumn with much of it turning brown. However, the north side of the trees and the bushes are still green! How and why is this happening??

We believe that the cause of this weird occurrence has to do with the blowing of ocean spray (and thus sea salt) onto the south side of exposed vegetation by strong winds. Tropical Storm Isaias had strong winds associated with it on Long Island, but not much rainfall.

Strong southerly winds (with gusts up to and exceeding 70 mph) off of the ocean picked up sea salt off the ocean surface and battered the south sides of just about everything.

With little to no rain to wash the salt off of trees and bushes in the wake of these strong winds, the south sides of the vegetation that experienced the brunt of the winds (and thus most exposure to the sea salt) seems to have begun to wither and wilt.

There is anecdotal evidence of this phenomenon occurring from tropical events in the past, like Hurricane Sandy in 2012 and the "Long Island Express" Hurricane in 1938, though both of these prior events occurred later in the year than Tropical Storm Isaias.

from NWS NY twitter thread
Several people commented from all over the Northeast saying this happened to them as well.
Are your trees turning brown?
Indeed, our River Birch trees and the hydrangeas have damage on their south-facing sides.
Meanwhile, the other *sides* of these trees and hydrangeas look normal.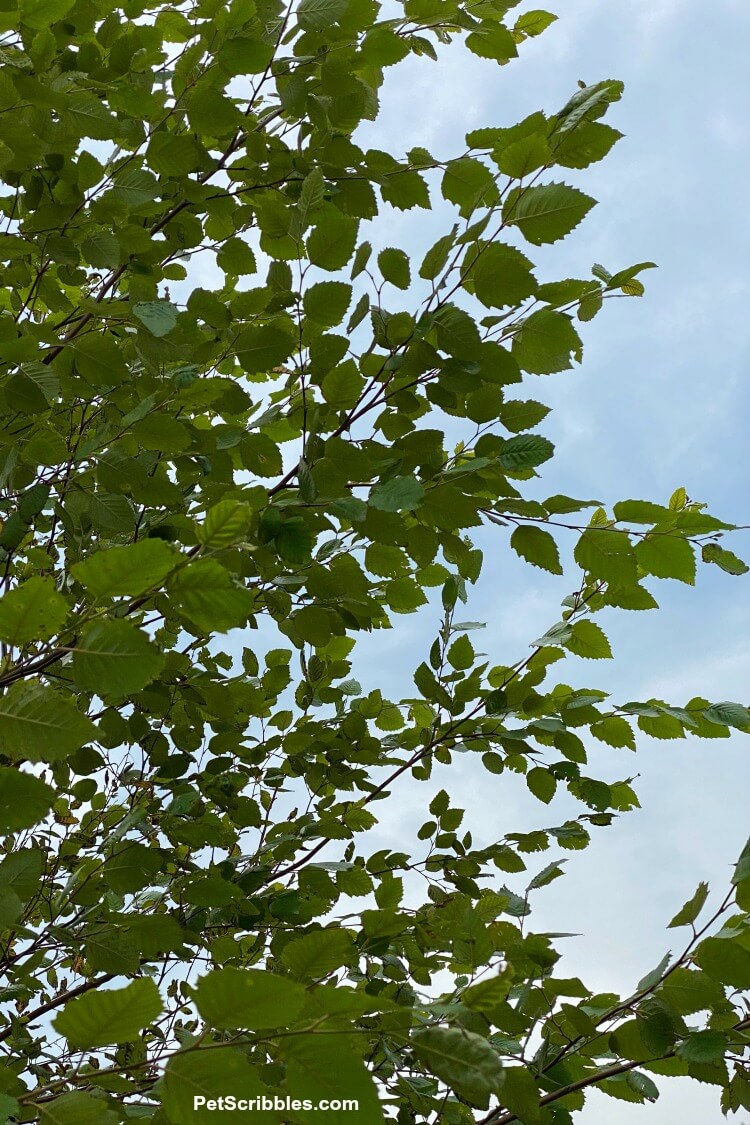 Back during Superstorm Sandy, we didn't have any of our current landscaping for me to even notice if the trees were dropping leaves.
Plus it was the end of October already. If certain sides of trees were dropping leaves, it wasn't obvious.
Case solved?
I'm still going to poke around and see what else I can learn. I'm so curious.
And my husband pointed out that one of the giant trees behind our property also has leaves turning brown on the same south-facing side, while all of the other trees are fine.
Bizarre!
Let me know if you've had this occur.
Happy gardening!