This Geum Perennial Flowers Gardening Guide will provide you with the information you need to enjoy growing Geum in your garden. Easy-care perennials that are so pretty!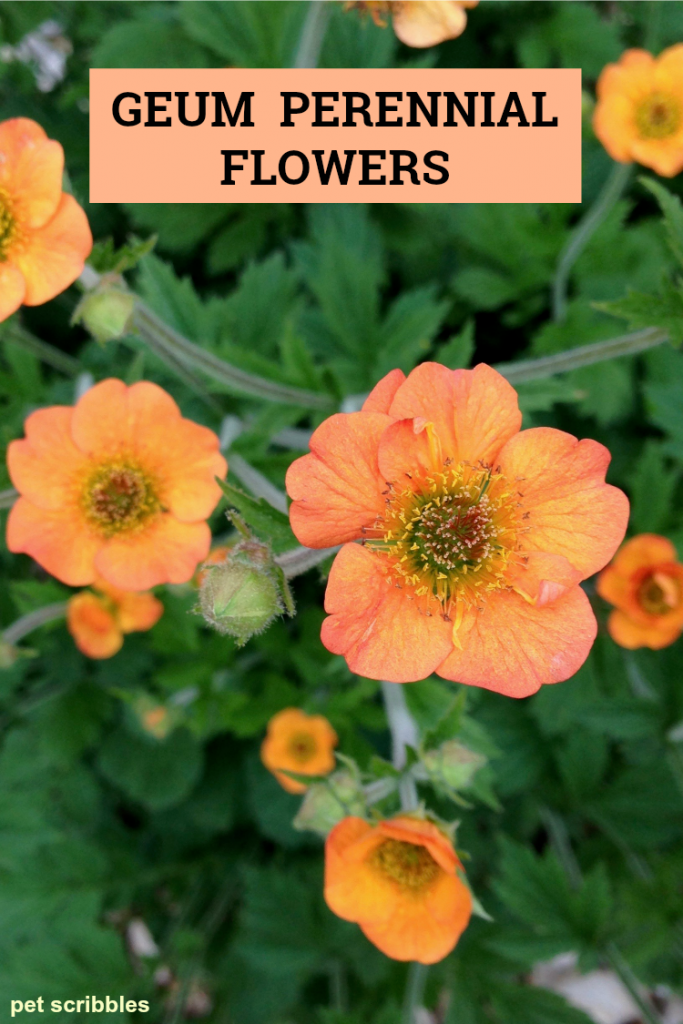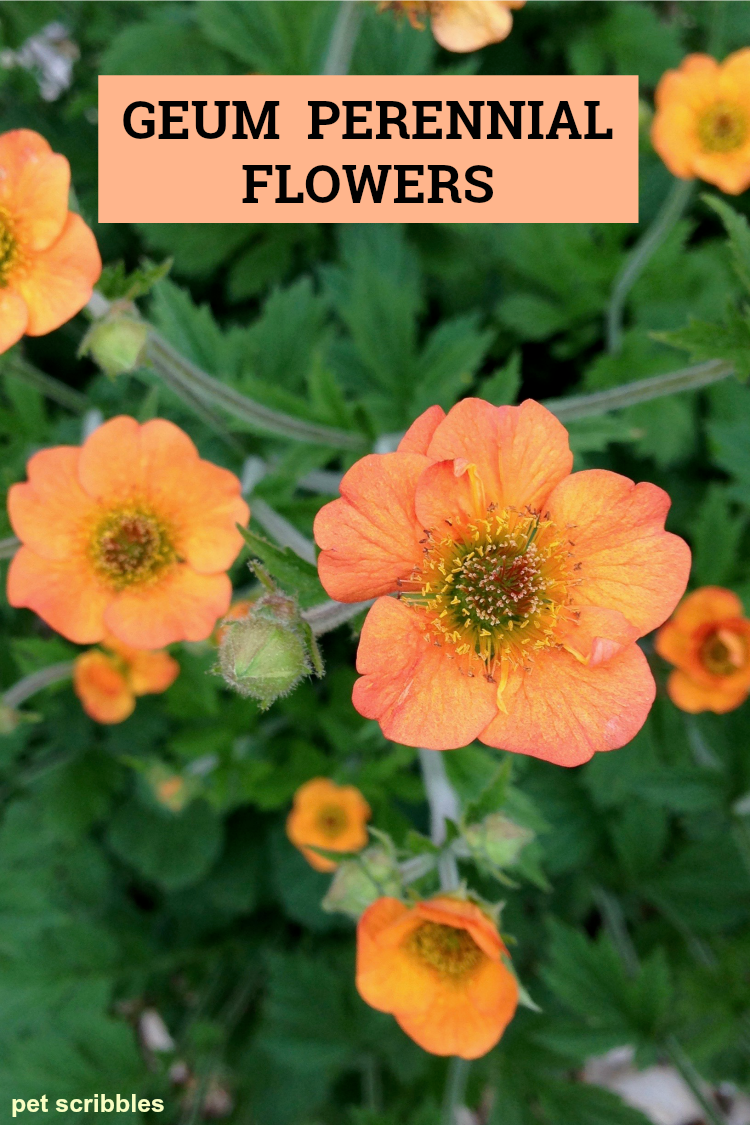 These pretty orange flowers bloom their hearts out in our garden every year!
They are Geum perennial flowers and I planted them years ago in our backyard.
Because they are perennials, I enjoy watching them return every year without any work on my part!
These are the kinds of plants we love, right?
This guide will provide you with everything you need to know to enjoy growing Geum.
Part of the fun is choosing which ones you want to grow, as there are many colors and varieties to choose from!
Geum Perennial Flowers Gardening Guide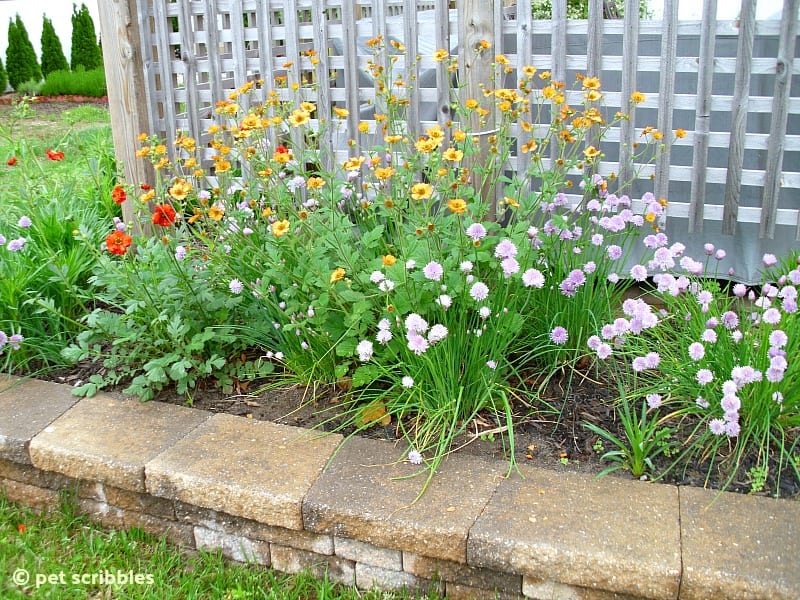 Is Geum a perennial?
Geum is a perennial flower, meaning it will grow back every year in your garden. Many Geum varieties are evergreen, but not all. Individual results depend on your Winter climate, gardening zone, and Mother Nature in general.
My favorite Geum — which is featured in these images from our garden — is Totally Tangerine Geum, which is an evergreen perennial. Here in Zone 7, southern New Jersey, the leaves stay mostly evergreen all Winter long, although they do begin to look a bit ragged by late Winter.
Remember: Always read plant labels and talk to your garden nursery experts who are truly fonts of garden knowledge!
How is Geum pronounced?
Geum is pronounced like JEE-um.
Another common name for Geum is Avens, which sounds like A-venz, where the "A" is pronounced like the A in Apple.
(You may find some garden nurseries of catalogs refer to these plants as Avens instead of Geum, but I mostly see the name Geum used.)
Geum belongs to the Rose family
When you look closely at Geum flowers, it's no surprise that Geum belongs to the rose family of plants.
As an example, you can see below how the flowers resemble roses while Geum's flower buds look very similar to rosebuds.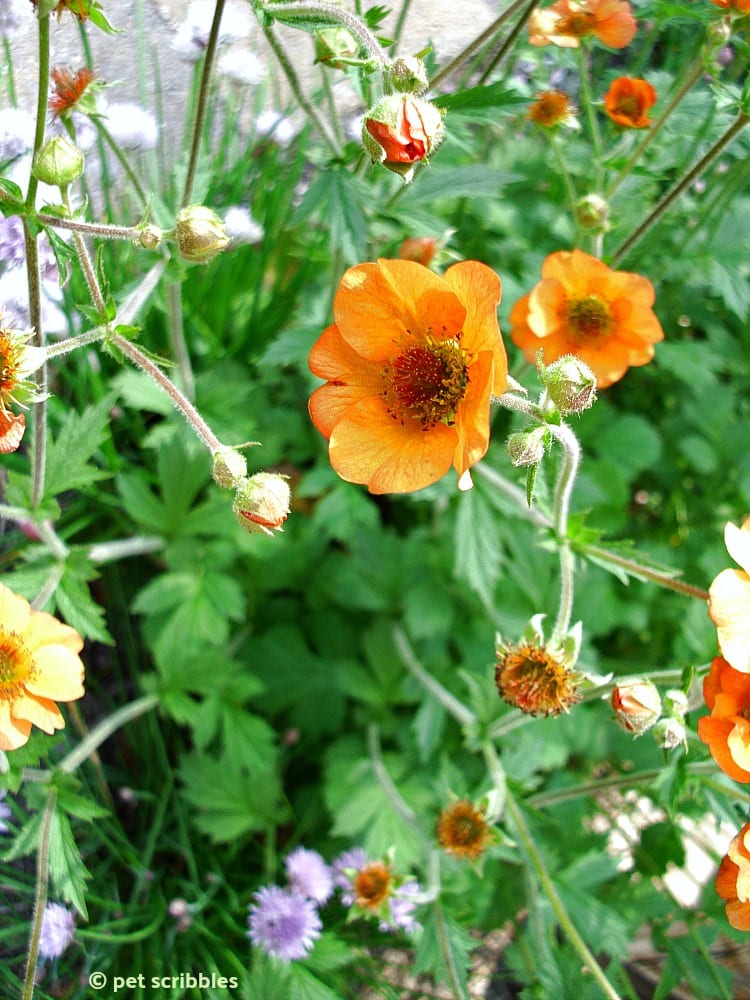 Geum perennial flowers may be single, semi-double, or double in hues of orange, yellow, red, pink and even some in pale cream as well.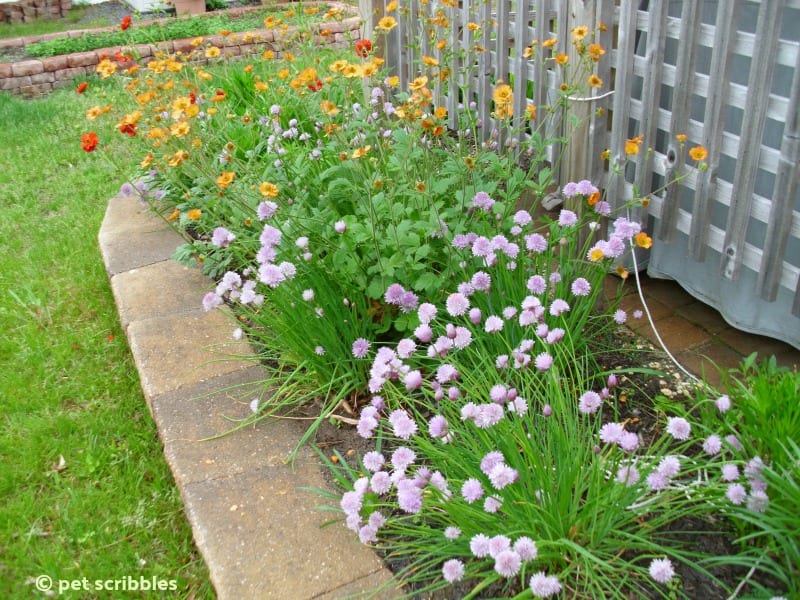 The pale purple color of Alliums provides a soothing color contrast to the vibrancy of the red and orange Geum flowers!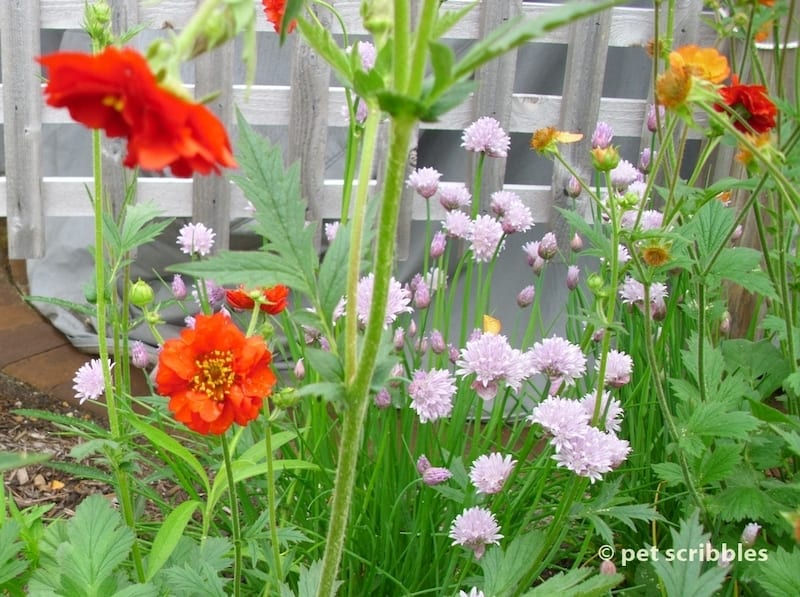 Geum Leaves and Stems
Geum perennial flowers appear on skinny stems that seem to rise up overnight from the base of the lush green foliage. Each stem has a few off-shoots, providing many flowers per stem.
Geum leaves start out round and become more pointed as they grow: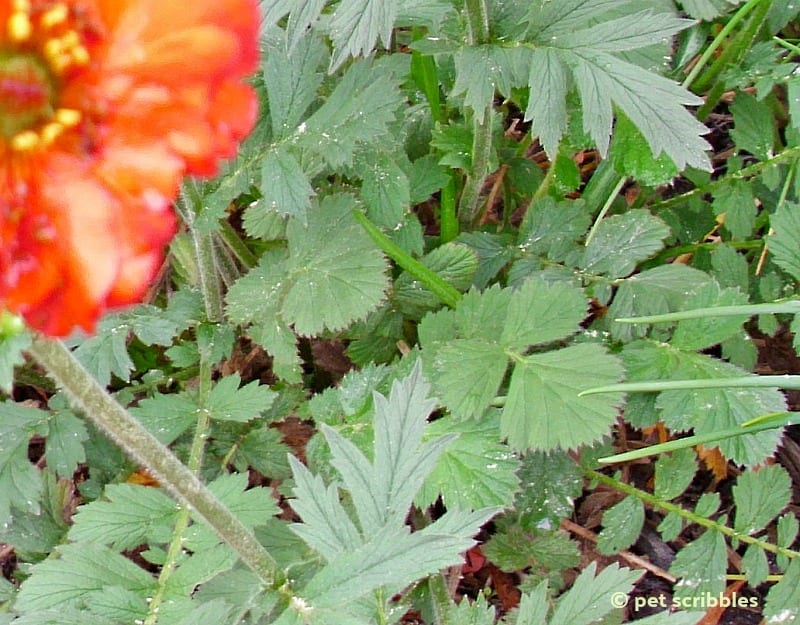 Geum's stems are hairy, and stand up tall from the base of the plant: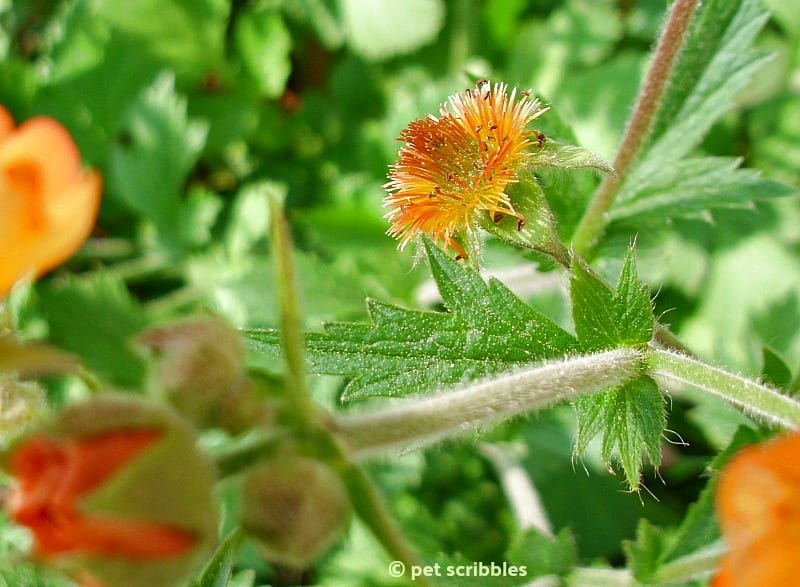 Geum's leaves, which feel fuzzy as well, are semi-evergreen to evergreen depending upon your climate zone.
The image below is from January 2019, without removing any of the dead leaves that are mixed in with the Geum plant. While the plant leaves look a bit sad, it won't take much to clean this plant up in the early Spring.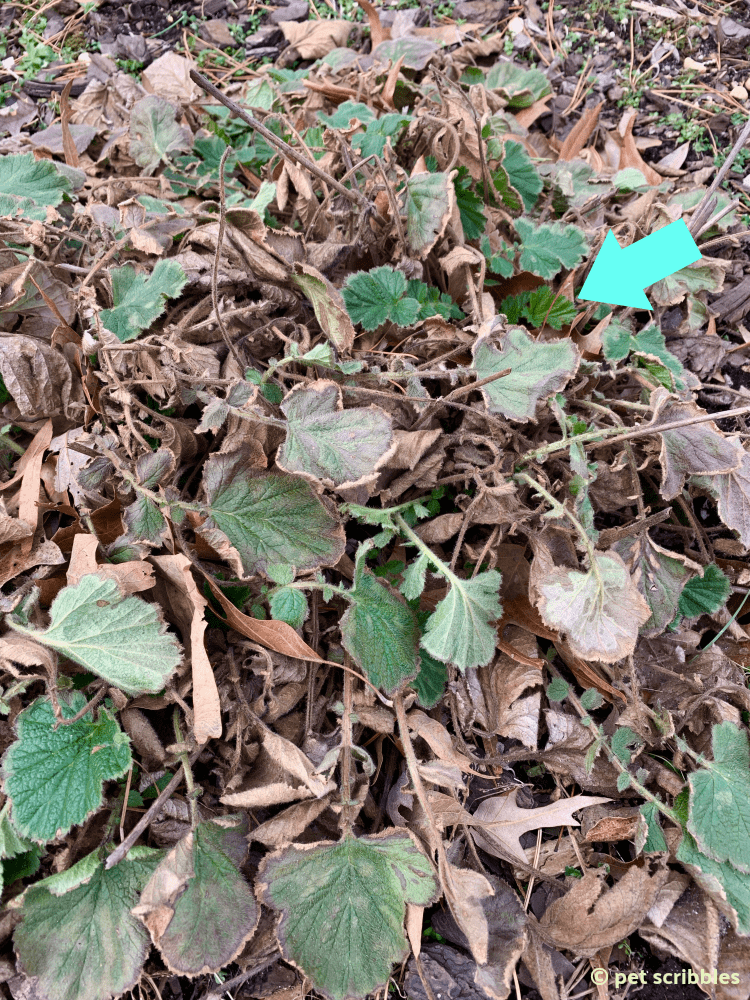 Notice the blue arrow pointing at new green growth, happening in January! Just goes to show you that anything can happen in the garden, right?
In our backyard gardens, I sometimes leave the fallen leaves around the plants as a mulch covering for the Winter. Once the dead leaves are removed — including from the plant itself — you'll see new growth sprouting up from the protective covering.
That time I didn't clean up the Geums right away . . .
A few years ago, I didn't get around to the backyard gardening chores quick enough in the Spring, having spent so much time making the front gardens look nice.
Because of this, the Geum grew up through any dead parts of the plant and almost hid them. I was able to just grab the handful you see in the image below and pull them right off. Easy peasy cleanup!
(Maybe it pays to get behind in our Spring cleanup?)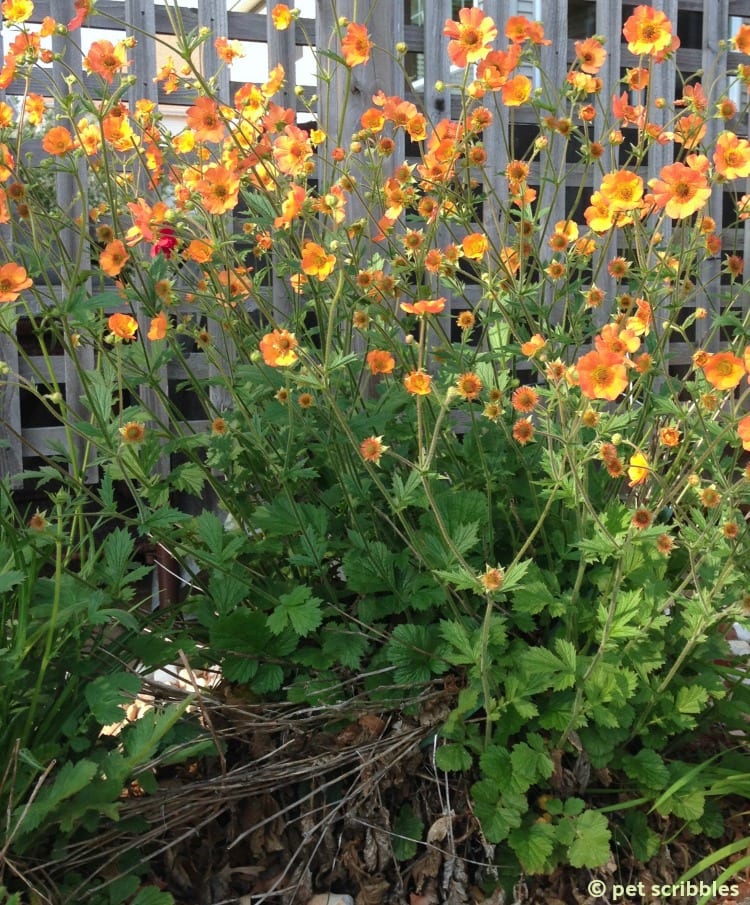 Further down this page are the growing requirements for Geum perennial flowers, so keep reading!
Popular Geum Varieties
Although there are approximately 50+ species of Geum, not all of them are commonly grown.
However, it seems like there are new introductions being developed quite regularly.
I'm sharing just a few of my favorites below, and hope these examples demonstrate how beautiful each color is.
Geum perennial flowers are truly outstanding plants for your garden!
Geum Cocktail Series
The Geum Cocktail Series was developed and bred by Brent Horvath of Intrinsic Perennial Gardens.
Each Geum variety in the series is named after popular cocktails such as . . .
. . . Geum Mai Tai
Mai Tai has ruffled, semi-double to single apricot flowers blushed with rose that lighten to peach as they mature.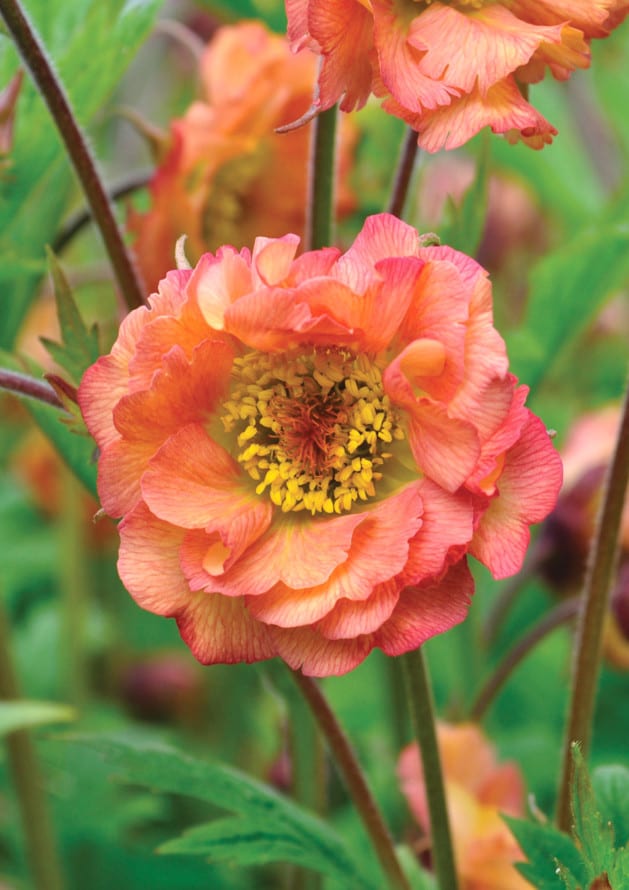 . . . Banana Daiquiri Geum
Banana Daiquiri has ruffled, soft lemon-yellow single and semi-double blooms.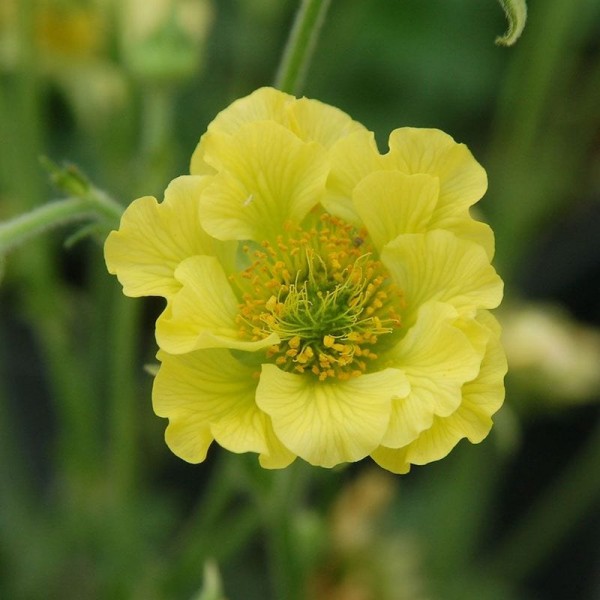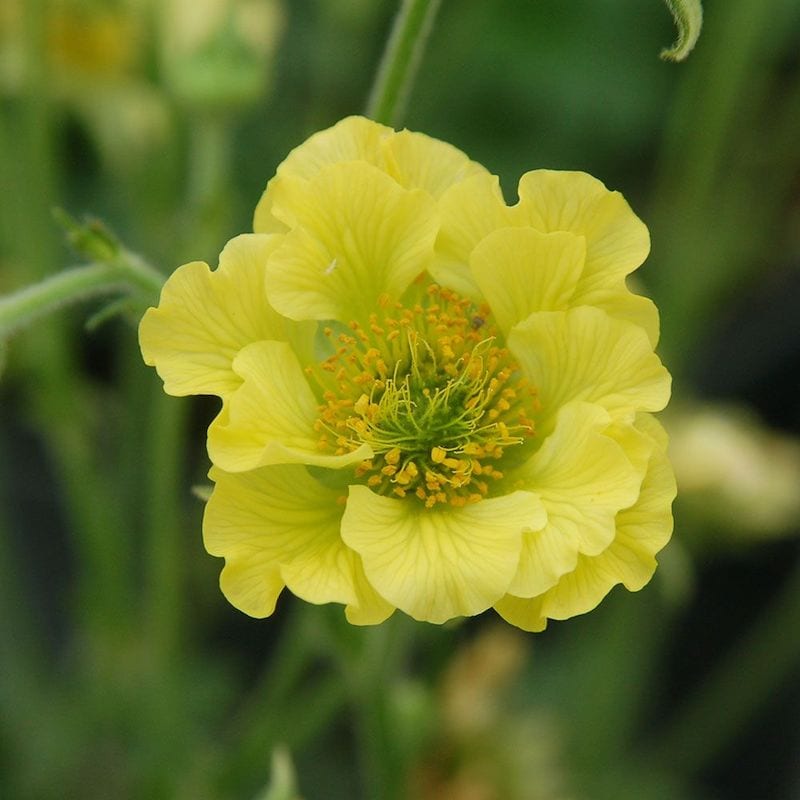 I have my eye on Banana Daiquiri Geums — this shade of yellow is soooooooo eye-catching!
. . . Geum Sangria
Sangria produces single to semi-double vivid red flowers.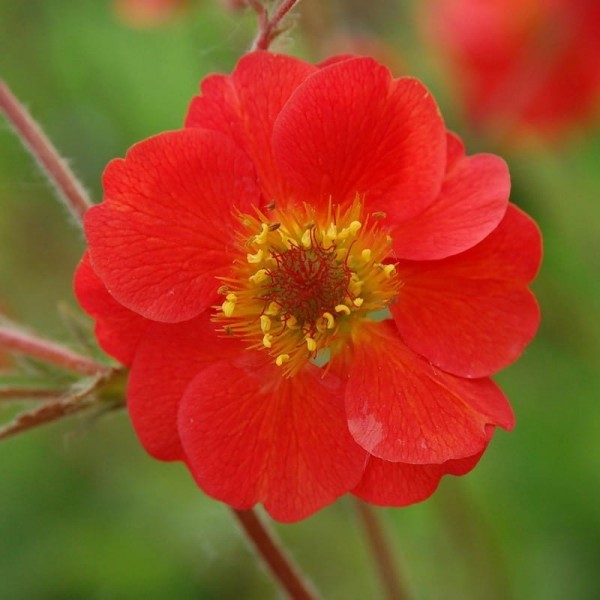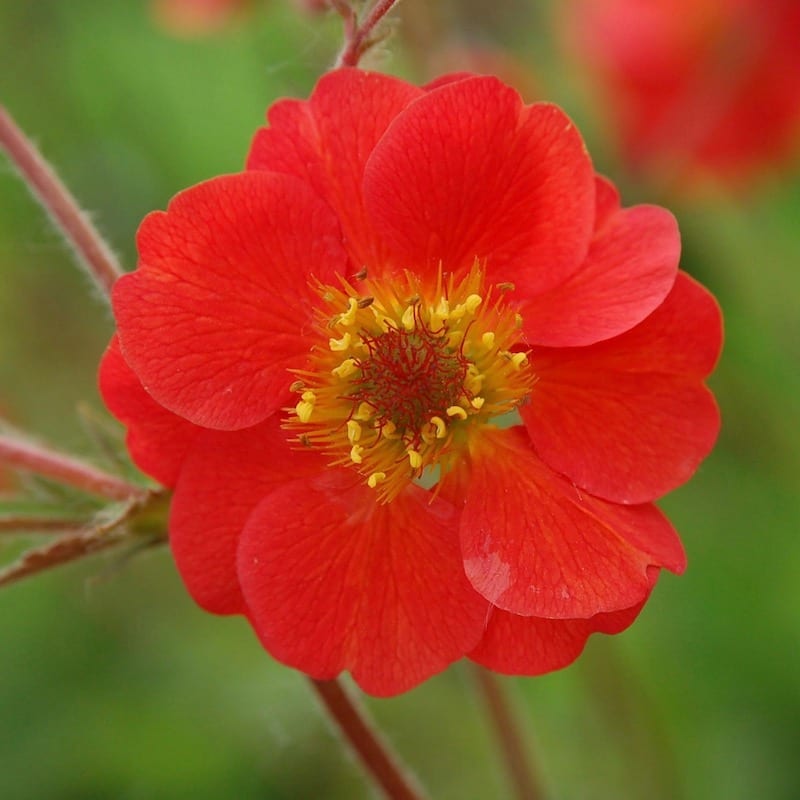 . . . plus many others like Tequila Sunrise, Limoncello, Dark and Stormy, Cosmopolitan, Champagne and more.
Imagine the colors of the drinks, and you can imagine the Cocktail Geum flowers in shades of yellow, red, orange, apricot, pink and everything in between.
You can see the entire Cocktail Series on the company's Geum Pinterest Board. They are each so beautiful!
Geum Totally Tangerine
My current favorite Geum variety is Totally Tangerine. The single blooms of Totally Tangerine are a pretty light-orange shade with hints of red on the petals.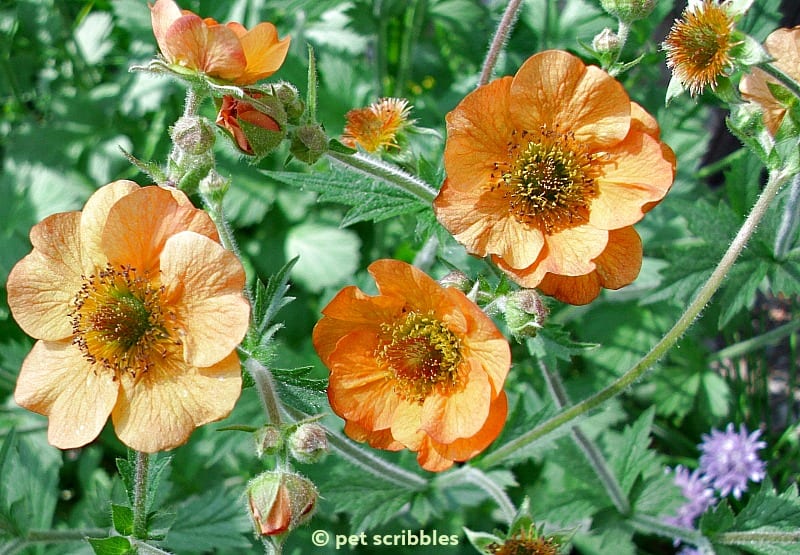 Totally Tangerine is a prolific bloomer, with some garden sites claiming it blooms five times more than any other Geum variety, of which there are several.
The reason for this? Totally Tangerine is a sterile variety of Geum, meaning no seeds are produced, so Totally Tangerine's energy is spent producing blooms rather than developing its seeds.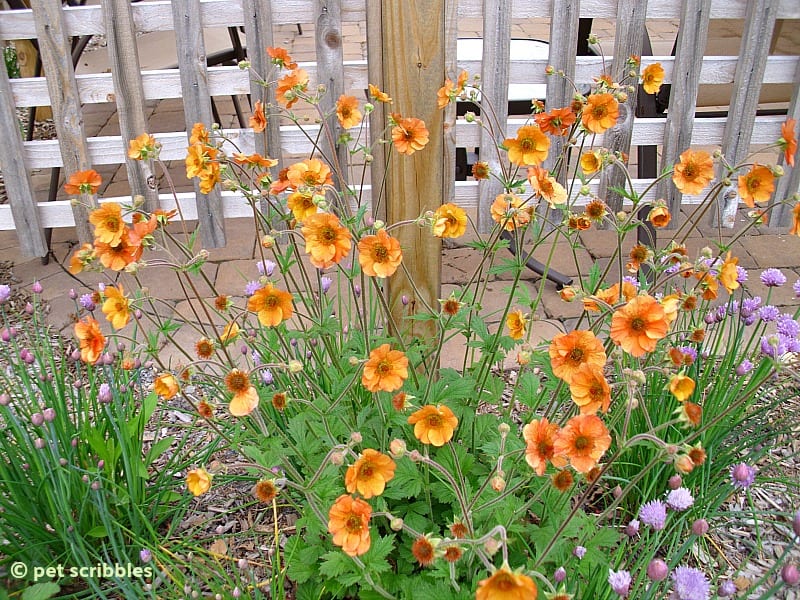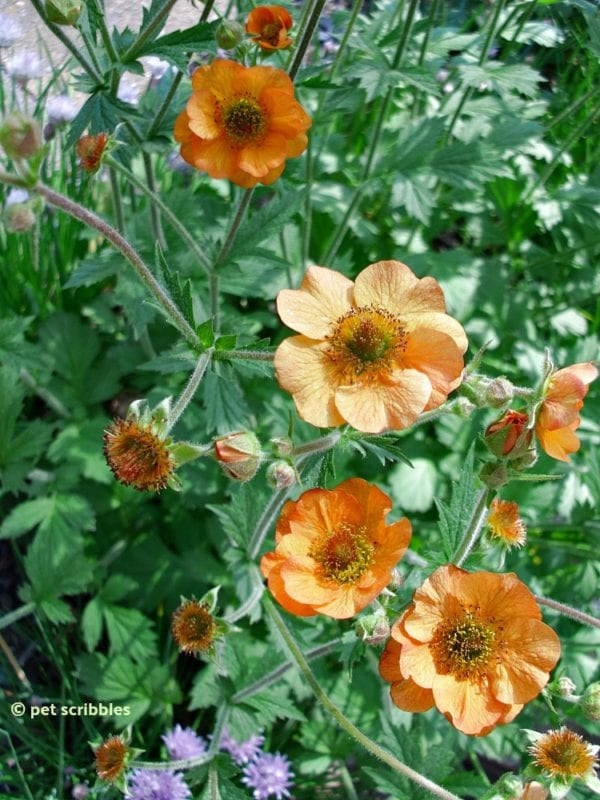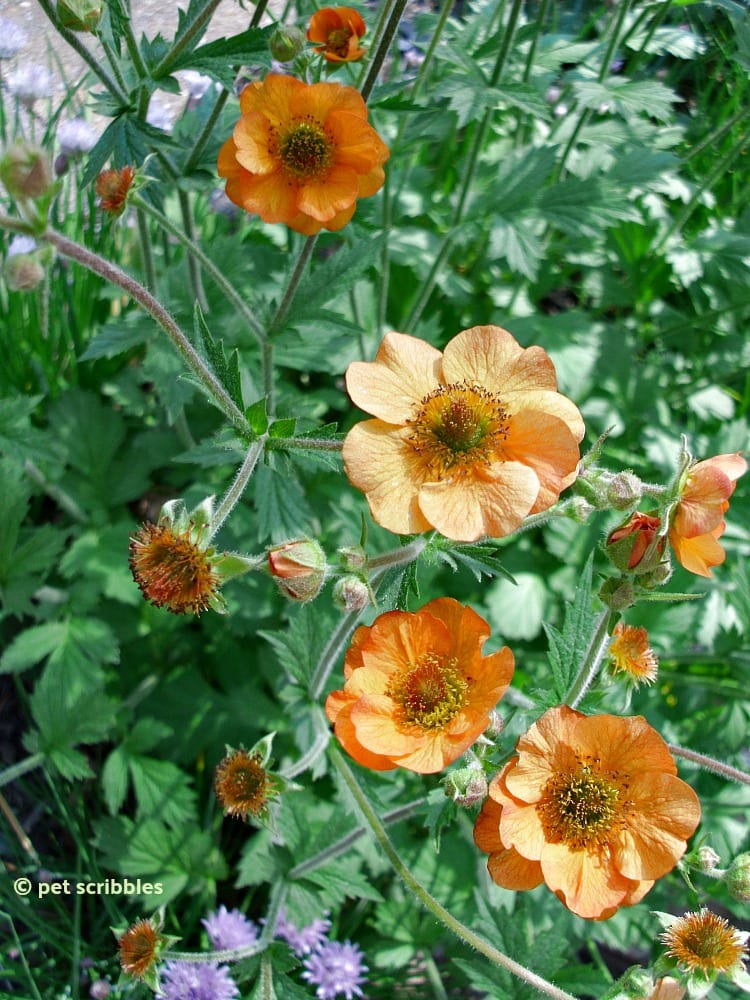 Geum Mrs. Bradshaw
Mrs. Bradshaw has red semi-double blooms with yellow centers — a very pretty flower!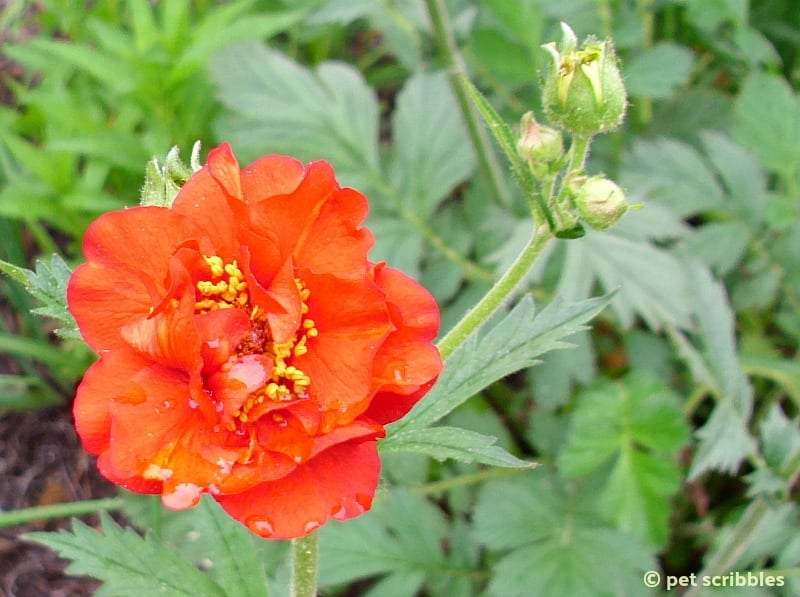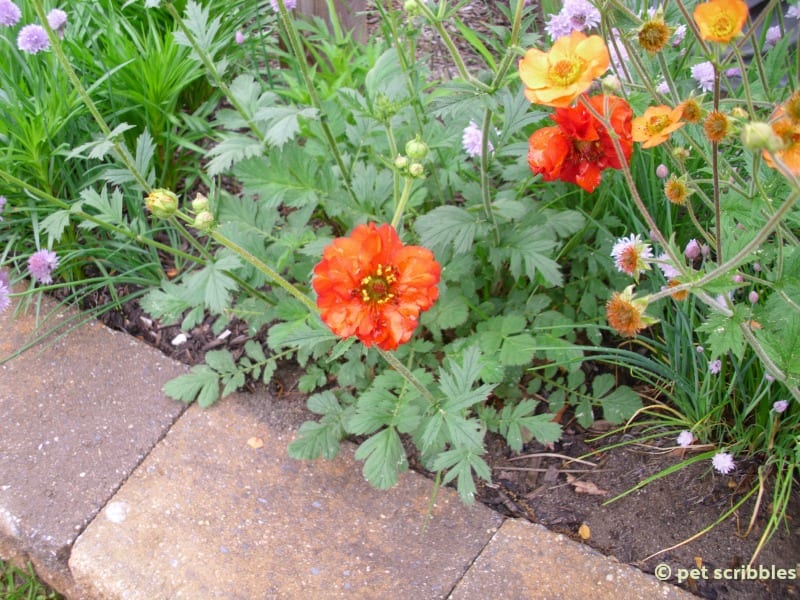 Prairie Smoke
Geum Triflorum — commonly known as Prairie Smoke — is a North American native prairie plant.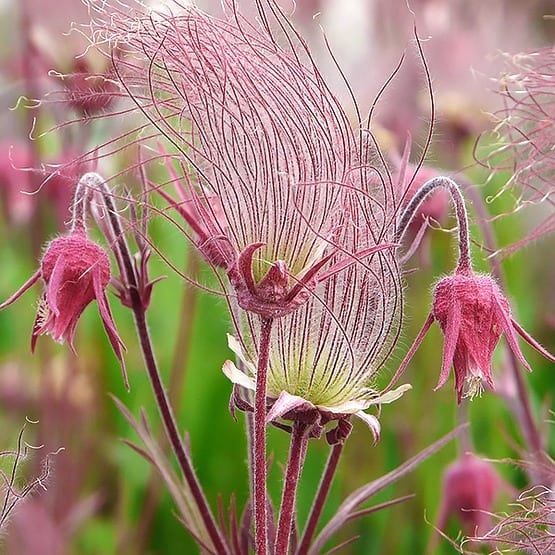 Prairie Smoke has reddish pink to purple nodding flowers, followed by seedheads which collectively resemble wispy plumes or feathers.
Many, many, many more Geum varieties!
There are so many wonderful varieties of Geum Avens — I can't possibly share all of them here.
For those of you who love to learn all you can about the perennial flowers in your garden, visit this link to a 2017 comprehensive study of Geums, written by Richard Hawke of the Chicago Botanical Garden.
This report is valuable because it gives a detailed account of how each Geum performed in their gardens over time, plus you can see many more varieties of Geum.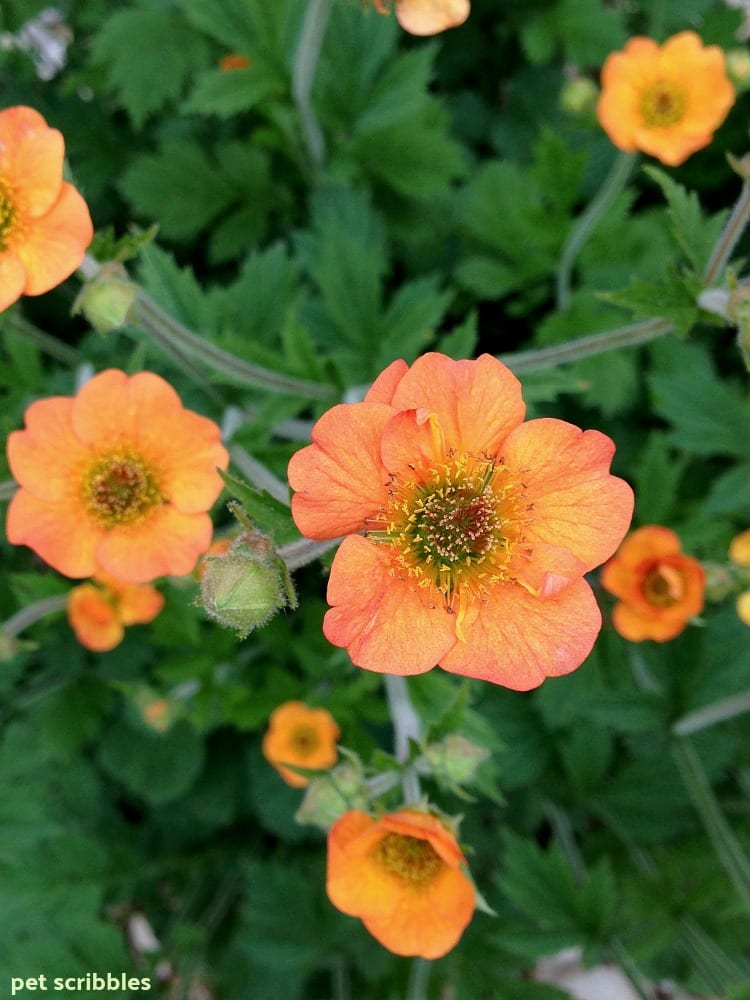 Growing Requirements
Hardiness: Zones 4 – 9 (check with your local garden center for hardiness in your particular zone)
Keep in mind that many gardeners are growing Geum in zones below 4, so as with anything: trial and error is part of the fun of trying new plants.
Light: Full Sun to Partial Shade
Water: Plant in soil that is moist but not wet. They adapt well, and most are drought-tolerant.
Bloom time: Mid Spring, Late Spring, Early Summer
Size: depends upon the variety, with some around 12″ while others up to 24″ tall when the flowers are blooming
Colors: pinks, reds, yellows, oranges, creams
Flowers: single, semi-double, and double blooms
Geum is supposedly deer resistant — though I can't personally vouch for that as our back yard is fenced in.
Deadheading (removing spent blooms) will lengthen Geum's bloom time. Geums reseed freely — with the exception of Totally Tangerine Geum, which appears to be sterile. Deadheading will help prevent reseeding and also makes the plant look nicer too. Deadheading also helps the plants focus on making more flowers, extended the bloom time for you.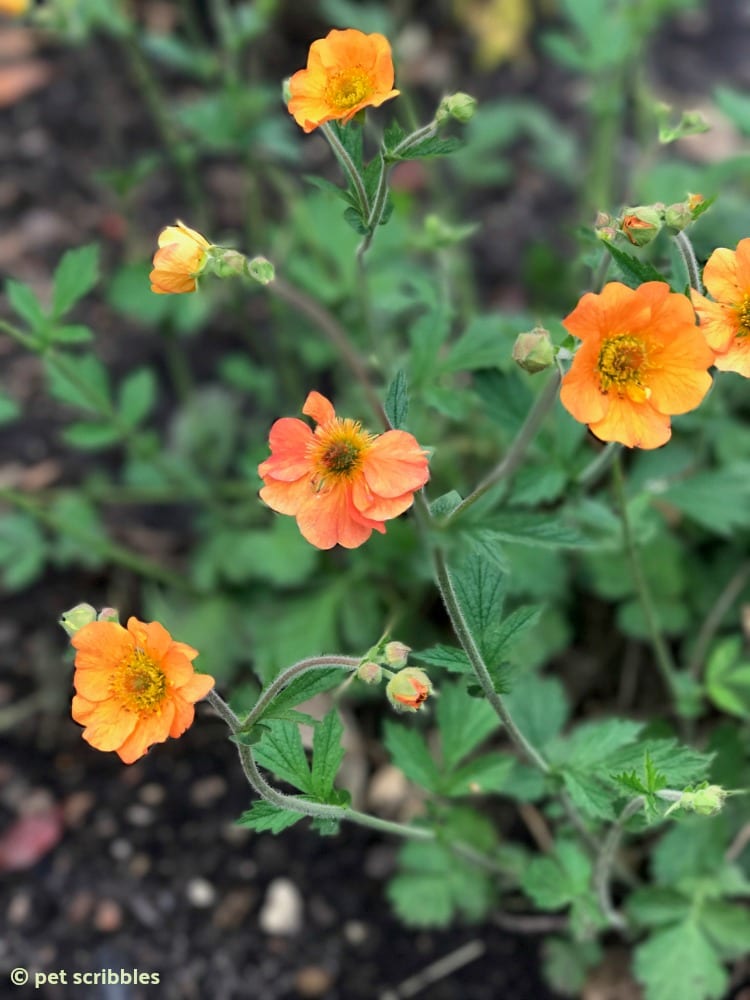 My own impressions:
For me, located in USDA hardiness zone 7 in southern New Jersey near the shore, Totally Tangerine begins blooming in May. Mrs. Bradshaw begins to bloom around one-to-two weeks later.
My Geums are located in full sun, and in a very windy location, however they don't seem to mind it one bit.
Some gardening books and websites will tell you Geum will bloom throughout the Summer, especially Totally Tangerine. As an example, my Geum seem to bloom like crazy through June and then just sporadically during the hot and humid months of July and August. Usually Totally Tangerine blooms again — once the heat dies down a bit — at the end of the Summer. A nice bonus!
Unlike some other perennials — ahem… Brown-eyed Susans, are you listening? — Geum doesn't become invasive and enjoys its home right where you plant it, which is beneficial when planting in a confined space. The base of the plant becomes fuller each year, but not so much that you even notice.
I actually didn't think Geum became any fuller at all over the years until I looked at some older pictures . . .
One-Year Growth Comparison
Here's what the Geum perennial flowers looked like in May 2012: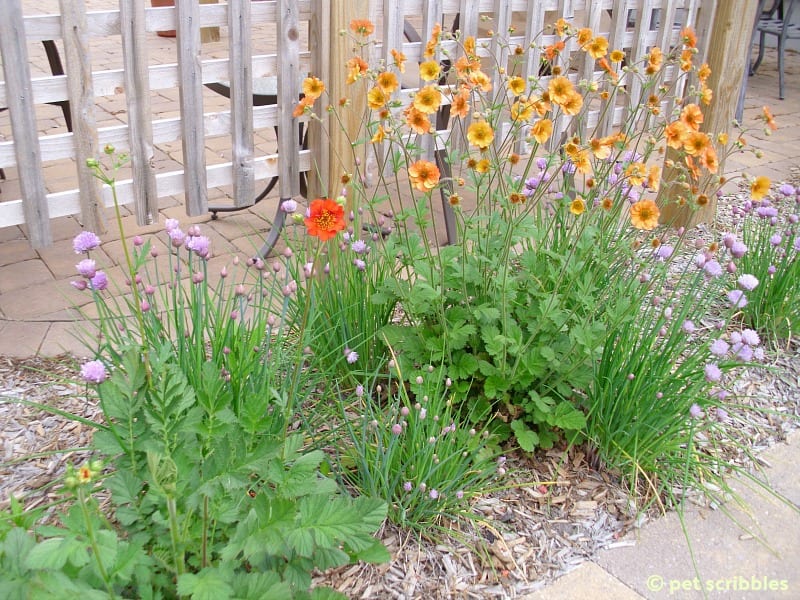 And here's what the same Geum perennials looked like one year later, May 2013: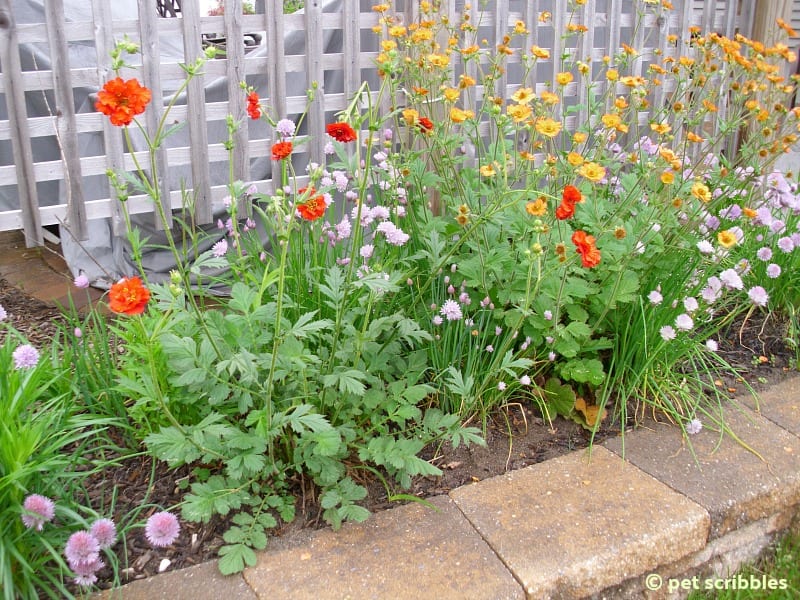 Three-Year Growth Comparison
Here's our Totally Tangerine Geum in June 2012: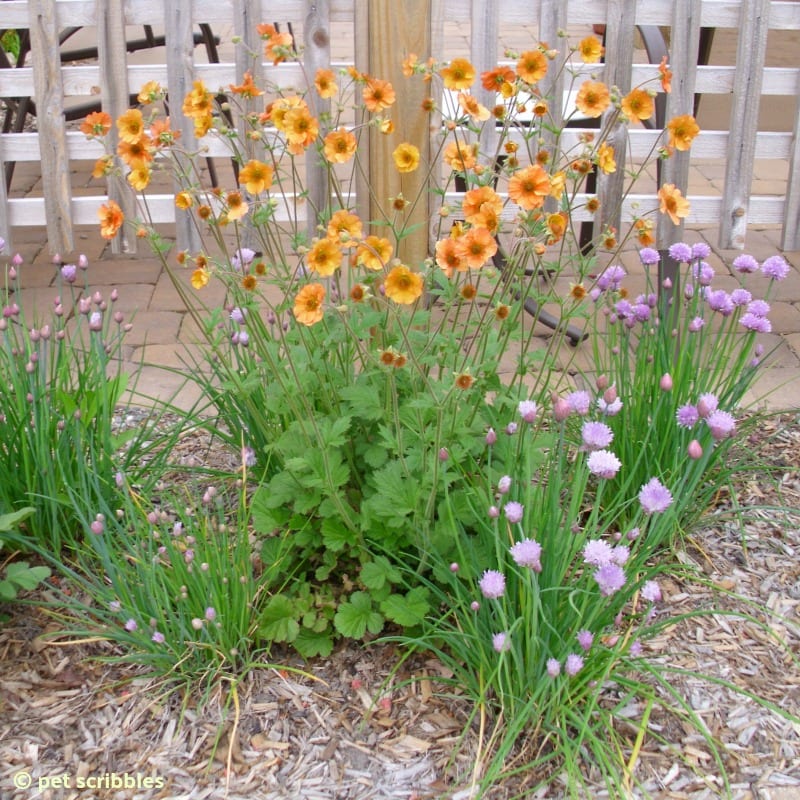 Then three years later, here's how Totally Tangerine Geum looked in June 2015: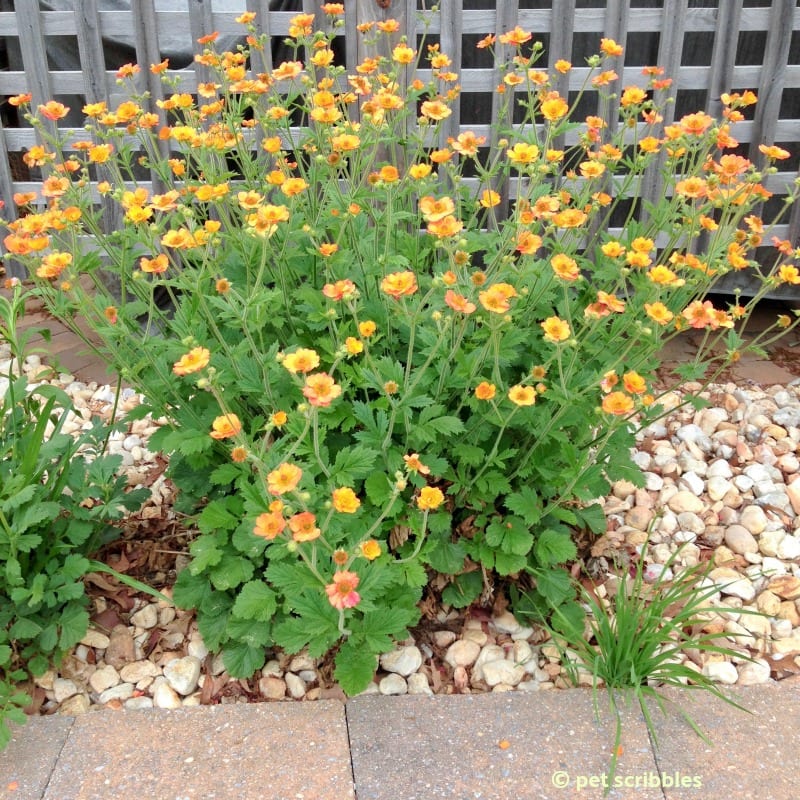 Where to buy
You should be able to find Geum at your local garden nurseries or the big-box home improvement stores.
As a result of Geum's long bloom time and easy care, more and more nurseries are carrying Geums.
In addition, this Spring I'm seeing many of my favorite online perennial catalogs featuring Geums as well, such as:
(The above list of sites and plant availability is current as of this post's publish date.)
Remember: Popular plants sell out quickly, so grab yours while you can!
Seed companies also carry Geum seeds, so check around if you love to begin your flower gardens with seeds.
Totally Tangerine Geum at Dusk
I took this photo in mid-May 2018 just around dusk. The way these flowers were glowing at that time of day was simply magical!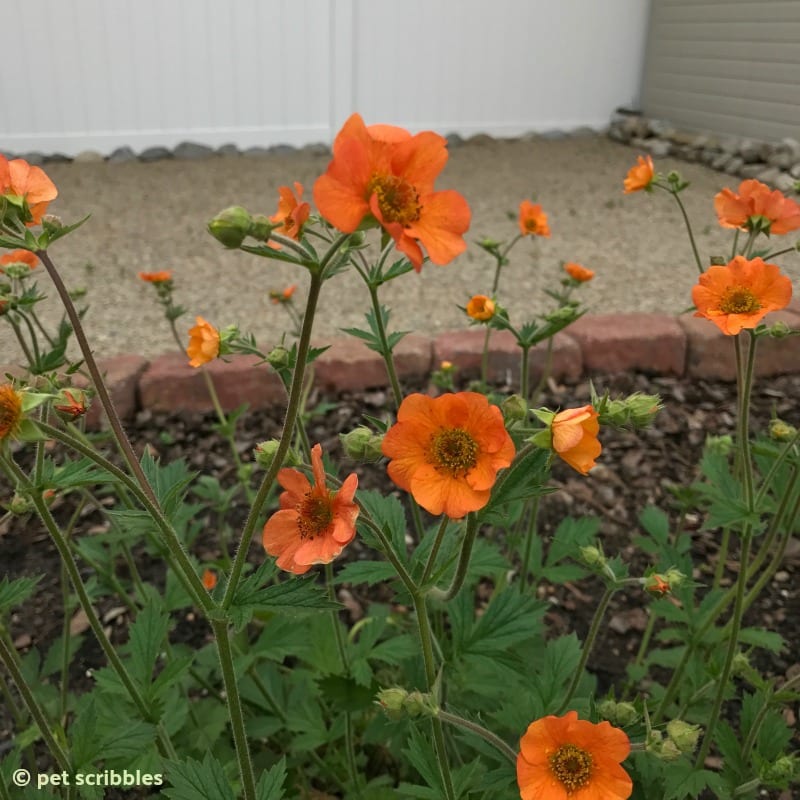 These Geum perennial flowers have been over-Wintering in a holding bed — our former vegetable garden which I kind of took over for the many plants I'm moving around. Next I'll be dividing them this Spring and moving some of the new plants to the front gardens.
I can't wait to see how they do!
Happy gardening!
PS — Visit My Favorite Plants to learn about other great mid-Spring perennials, such as Dappled Willow, Lithodora, Candytuft and Fothergilla.