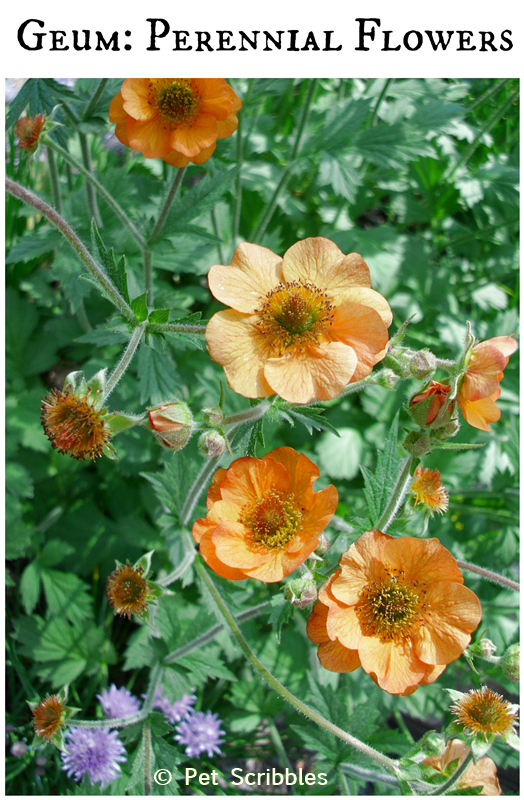 These pretty orange flowers are blooming right now in our patio bed! I planted them three years ago and, because they are perennials, they just come back every year on their own without any work on my part! Those are the kinds of plants we love, right?
This flowering plant is an evergreen perennial called Geum (pronounced like JEE-um), also called Avens. (Most of the Geum varieties are evergreen, but some are not. Always read plant labels and talk to your garden experts who are truly fonts of garden knowledge!)
Here's where I gush about the benefits of planting perennials . . .
For those of you that have seen some of my favorite plant posts, there's one thing you'll learn quickly about me: I love planting perennials! Perennials come back year after year, like a reliable treasured friend. Although most perennials' bloom time isn't as prolific as annual flowers for that all-Summer-long-bloom-your-heart-out color, there are perennial flowers that do pack a nice punch of color for part of the season. And if you do your homework, you'll find that you can plant perennials with different bloom times so that you'll always have something flowering throughout the Summer. I fill in around my perennials each year with annuals. This way, I've got constant color guaranteed for months.
What's better than perennials? Evergreen perennials!
I know I've mentioned it before, but it is truly worth it to mention this again . . . (And by "worth it" I do mean both $$-wise and garden-wise!)
Remember that evergreen plants are not just pine trees and junipers and boxwood shrubs. Evergreens are way more than Christmas trees. 
And in this large class of evergreen plants you will also find evergreen perennial flowers! (Do you hear the chorus of gardening angels singing right now?) This is the motherload of plant prizes as far as I'm concerned. Not only will these flowers return each year right on time, but when they aren't in bloom they have attractive foliage and in the winter they remain green. Yes, during the Winter months of brown and dead twigs, you can have green foliage in your gardens just smiling away at the cold!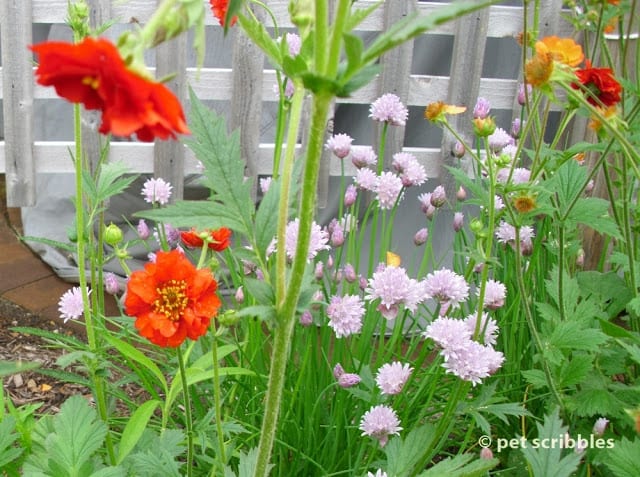 The pale purple color of the Alliums provides a calming contrast to the vibrancy of the red and orange Geum!
And now back to the subject: Geum!
Geum belongs to the rose family of plants, and you can see how the flowers resemble roses and the flower buds resemble rosebuds. The flowers are on skinny stems that seem to rise up overnight from the base of the pretty green foliage. Each stem has a few off-shoots, so you'll have quite a few flowers per stem.
This particular orange variety that I have is called Totally Tangerine Avens – Geum x Totally Tangerine: pretty apricot, pale-orange single blooms with hints of red on the petals. Totally Tangerine is a prolific bloomer, with some garden sites claiming it blooms five times more than any other Geum variety, of which there are several.
The red variety you see above, starting to bloom next to the orange flowers, is called Mrs. Bradshaw – Geum chiloense – Avens: pretty red semi-double blooms with yellow centers.
My own un-scientific impressions:
For me, located in zone 7A in southern New Jersey near the shore, Totally Tangerine begins blooming in May. Mrs. Bradshaw is just beginning to bloom, and seems to be about one-to-two weeks later than Totally Tangerine. My Geums are located in full sun, and in a very windy location, but they don't seem to mind it one bit.
Unlike some other perennials – ahem… Brown-eyed Susans, are you listening? – Geum doesn't become invasive and enjoys its home right where you plant it, which is beneficial when planting in a confined space such as our patio bed. The base of the plant becomes fuller each year, but not so much that you even notice: I actually thought it didn't become any fuller at all over the years until I looked at some pictures . . .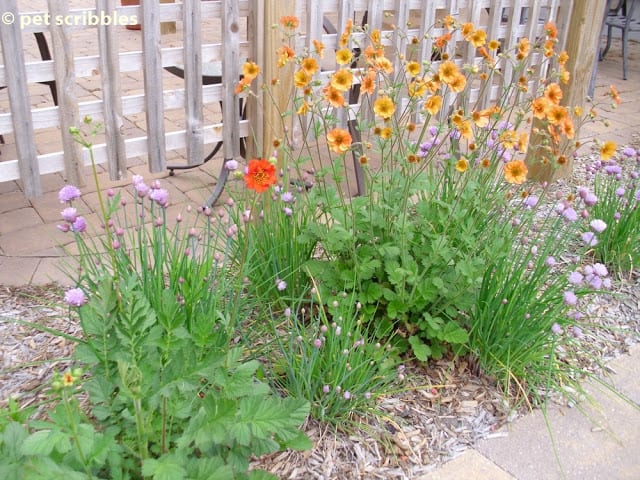 Here's what the Geum perennials looked like in May 2012.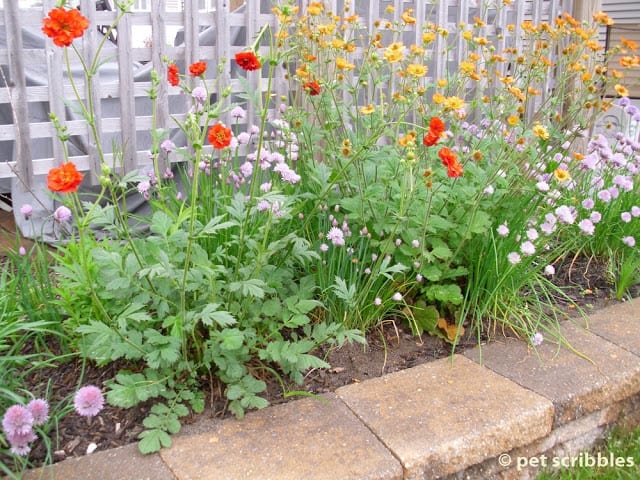 And here's what the same Geum perennials look like today, a year later, May 2013.
Growing requirements:
Hardiness: Zones 4 – 9 (check with your local garden center for hardiness in your particular zone)
Light: Full Sun
Water: Plant in soil that is moist but not wet. They adapt well, most are drought-tolerant.
Bloom time: Late Spring, Early Summer
Size: approximately 18″ to 24″ tall, and 18″ wide
Colors: pinks, reds, yellows, oranges
Flowers: single, semi-double, and double blooms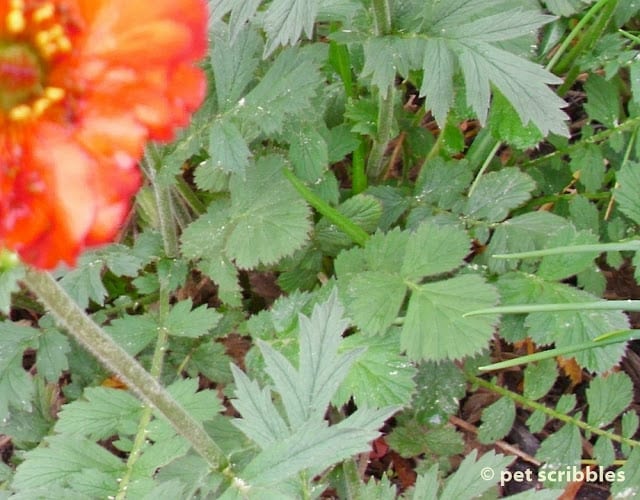 Geum leaves start out round and become more pointed as they grow.
Keep in mind that many gardeners are growing Geum in zones below 4, or growing them successfully in partial shade too, so as with anything: trial and error is part of the fun of trying new plants.
Geum is supposedly deer resistant – though I can't personally vouch for that as our back yard is fenced in.
Deadheading (removing spent blooms) will lengthen the bloom time. And some gardening books and websites will tell you these will bloom throughout the Summer, especially Totally Tangerine. For me, they seem to bloom like crazy through June and then just sporadically during the hot and humid months of July and August. Totally Tangerine will bloom again once the heat dies down a bit at the end of the Summer: a nice bonus!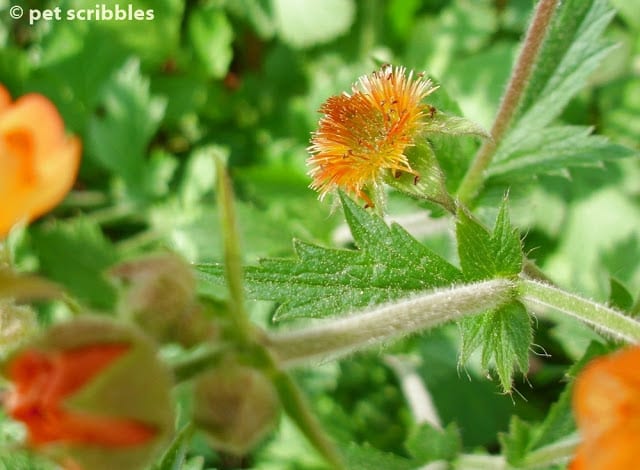 Geum's stems are hairy, and stand up tall from the base of the plant.
Where to buy?
You should be able to find Geum at your local garden nurseries or the big-box home improvement stores. Totally Tangerine is becoming more and more popular, because of its long bloom time and easy care.
And while you're at your nursery, also look for Lithodora (another of my favorites!) which is blooming its little electric-blue heart out in our front garden bed right now!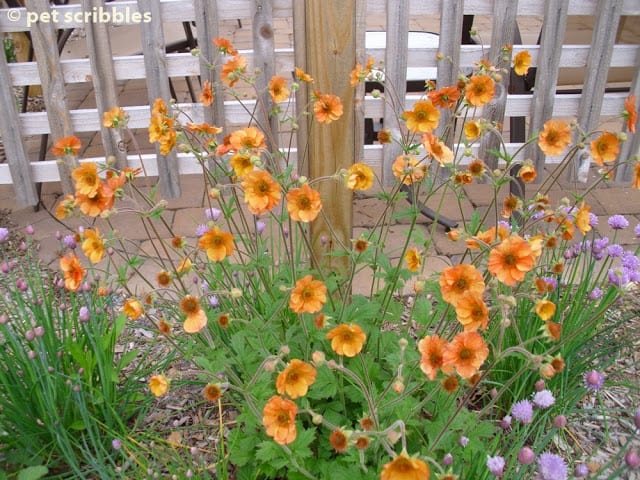 Totally Tangerine Geum is a prolific bloomer, moreso than other Geum varieties.
Rain, rain go away!
I'm hoping the rain takes a break for the entire weekend to dry things out a bit, as I'm desperate to get out there and catch up on my gardening chores!

How about you? Are you all done with your planting? Just starting?

(For what it's worth, I'm never done. Every time I see a shiny new object pretty new plant, I want to bring it home with me!)

Happy gardening!
~Laura