Our garden breakfast room is all decorated for Christmas! Come and see our white Christmas tree with cream and pale aqua accents plus the rest of the holiday decor!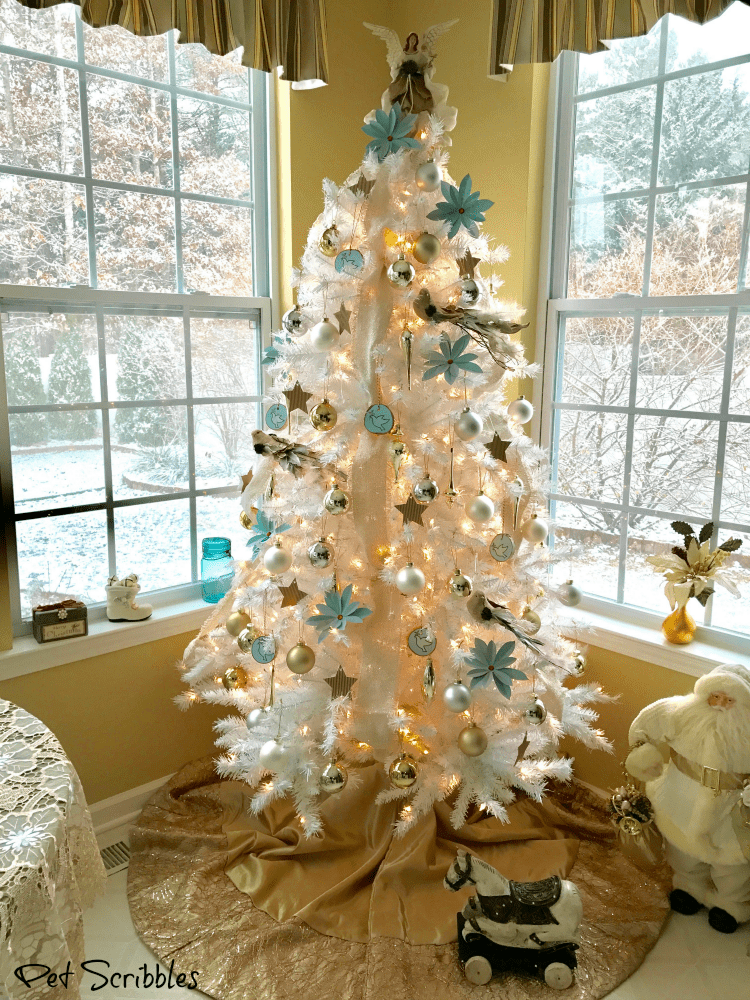 One of our favorite spots in our home is our breakfast room.
There are windows on three sides, looking out to our back patio and gardens. There's always something to gaze at outside no matter which season we're in.
When Tree Classics asked me to partner with them again this year for the holidays, I knew I wanted to do something special with our garden breakfast room!
Very special thanks to Tree Classics for sponsoring this post!
Some of the links in this post are affiliate links. I explain more in my policies here.
Check out the ornaments!
The ornaments from Tree Classics arrived and I was super impressed with how well they were packaged!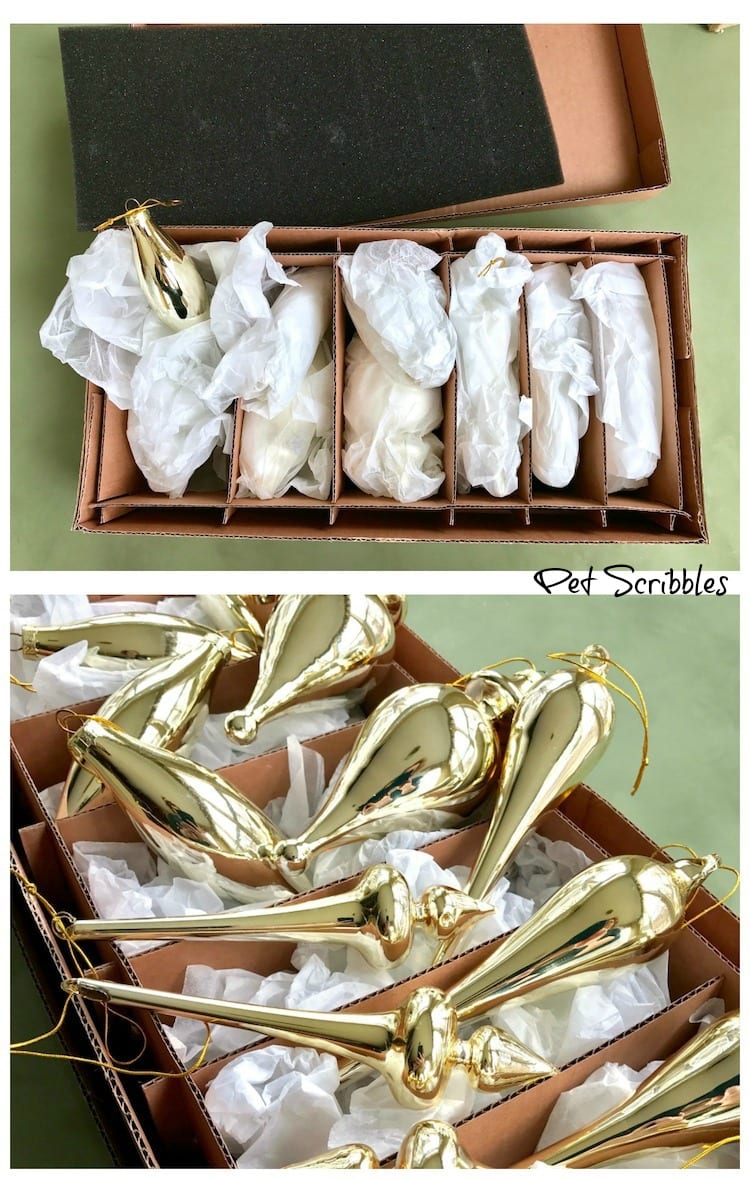 Each set of ornaments comes in a sturdy box with foam protection on top, and each ornament is individually wrapped in tissue paper.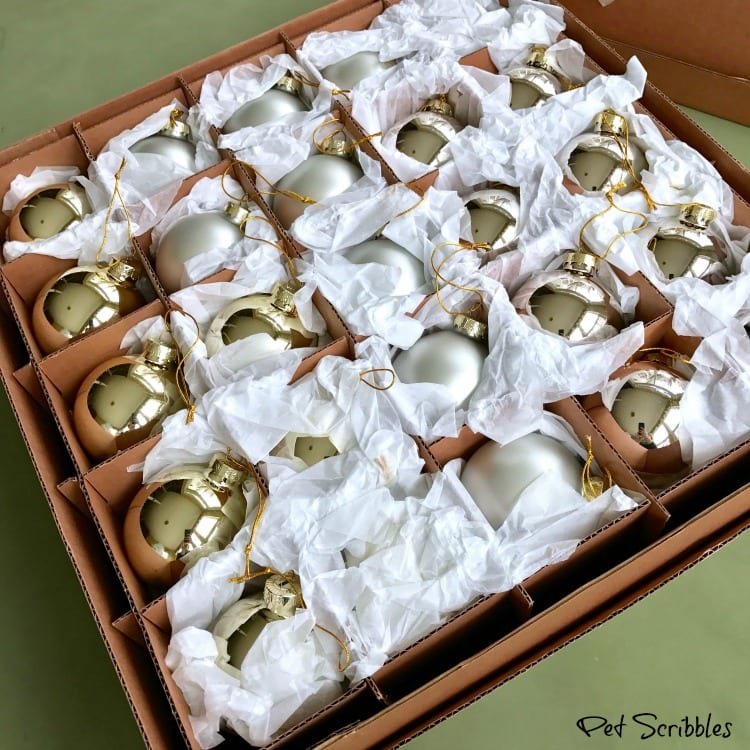 These ornaments are the Tree Classics Assorted Glass Balls from their Silver and Gold Ornament Collection.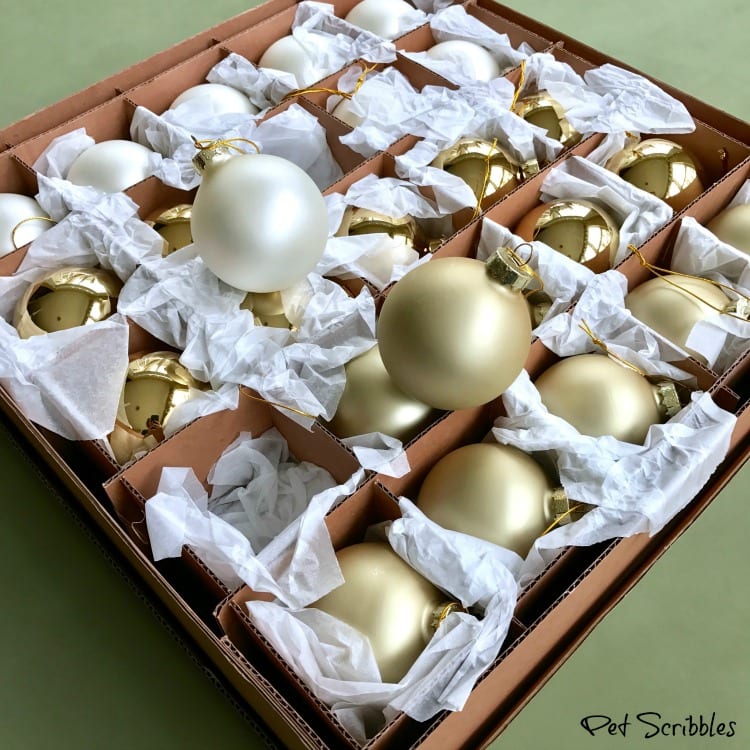 The mix of shiny and matte balls is so pretty. This ornament set includes two different golds, which I hope you can see in these pictures.
The champagne gold finials (shown earlier, above) are part of the same Tree Classics ornament collection.
And oh – that white Christmas tree!
I received a beautiful Alpine White Christmas Tree from Tree Classics, a lush and full, pre-lit tree.
There are white Christmas trees, and there are gorgeous white Christmas trees out there — and this tree is definitely the latter!
Just a few of the many features I love about this tree:
the lights are LED and won't heat up
the lights are a warm white color — not that stark bluish you get with some LEDs
there are so many branches in so many sizes — like a real tree (only white!)
a metal stand is included
comes in three sections — so easy to put together
The first step to decorating was to put on the garland. I found a pretty cream-colored burlap garland with silver threads in it, and hung it vertically.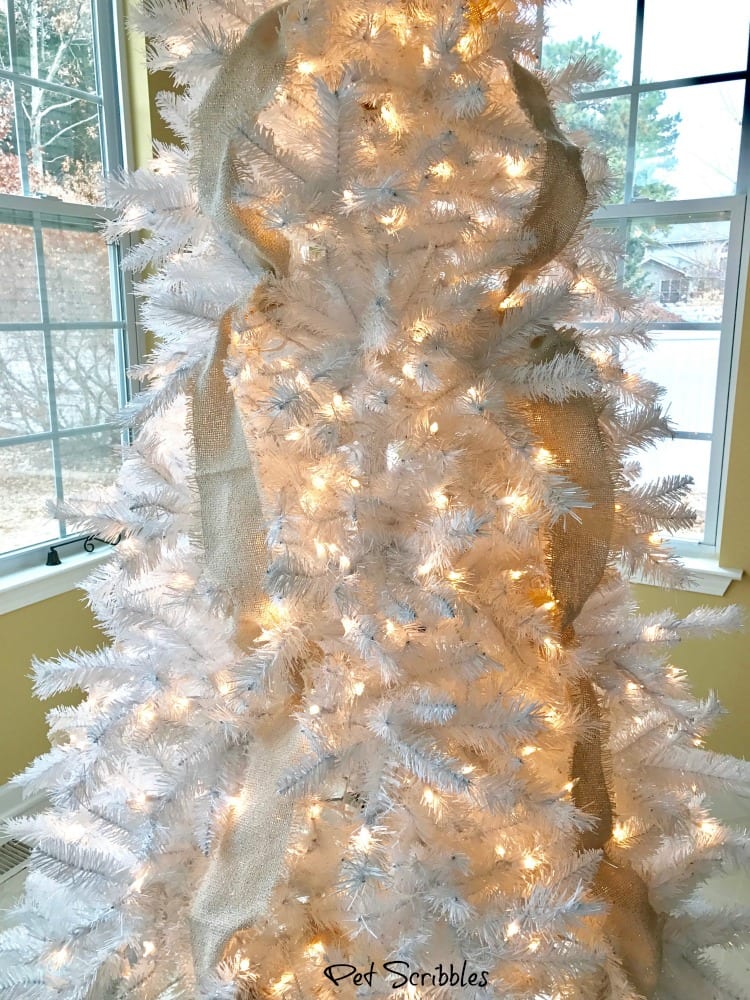 The glass ball ornaments and finials went on the tree next.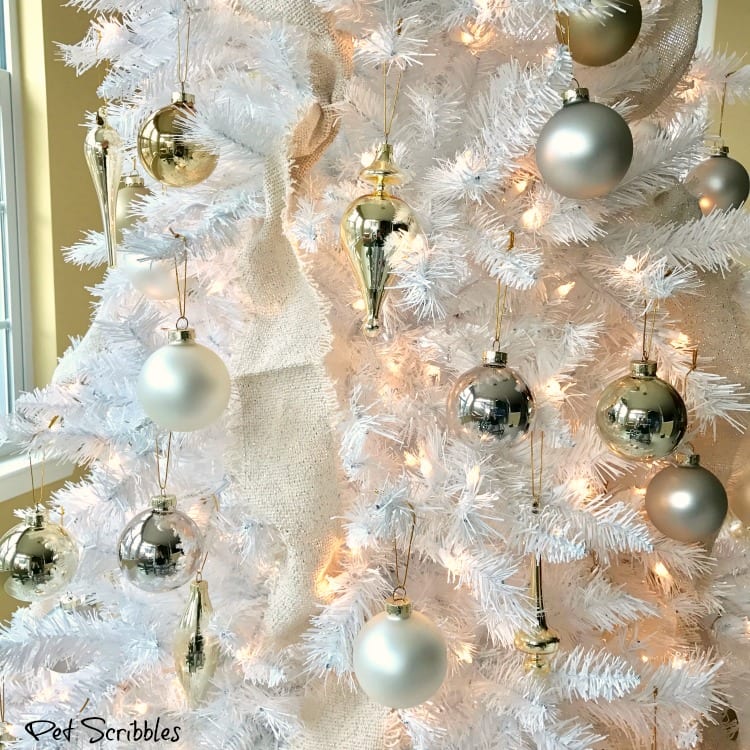 I added some clear acrylic snowflakes and icicles to the tree to reflect the pretty white lights. They blend right in, you almost don't even see them!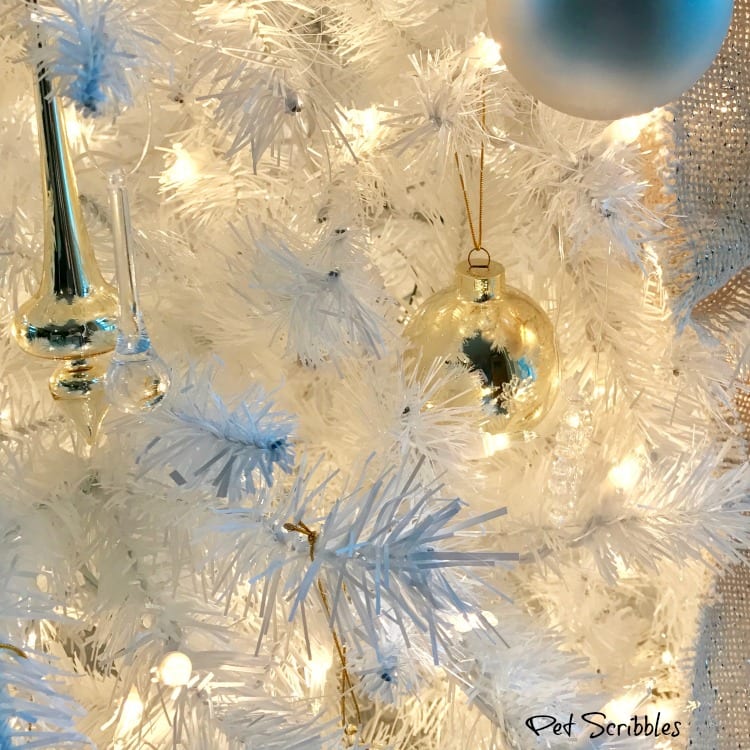 Once the angel tree topper went on, I could have stopped right there, as the tree looked so pretty and sparkly!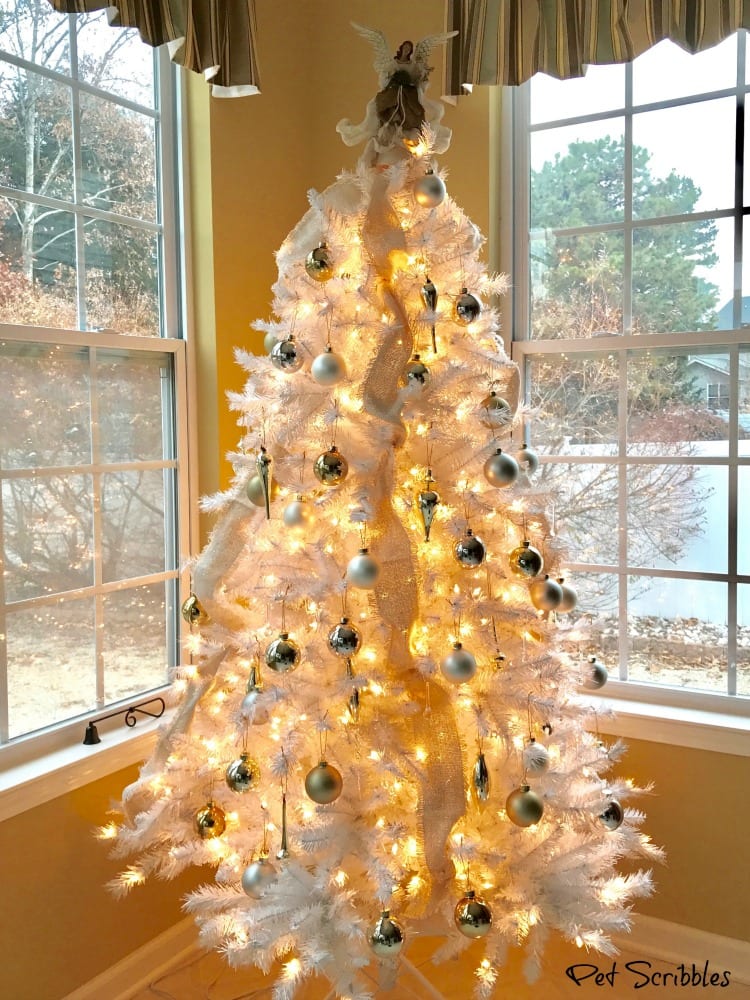 However, I wanted to add a bit of color, especially the shades of pale aqua and blue that are found throughout our home.
I made paper flower poinsettias using construction paper that matched the blue in our valences perfectly. (below left)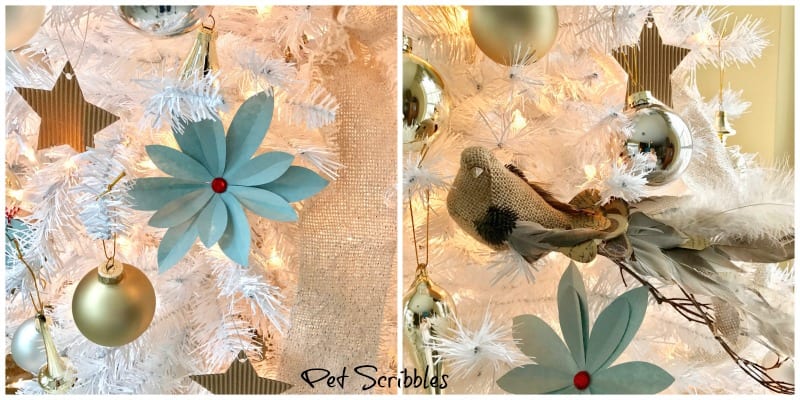 I added corrugated cardboard stars and three burlap birds to match the burlap fabric in the angel tree topper. (above right)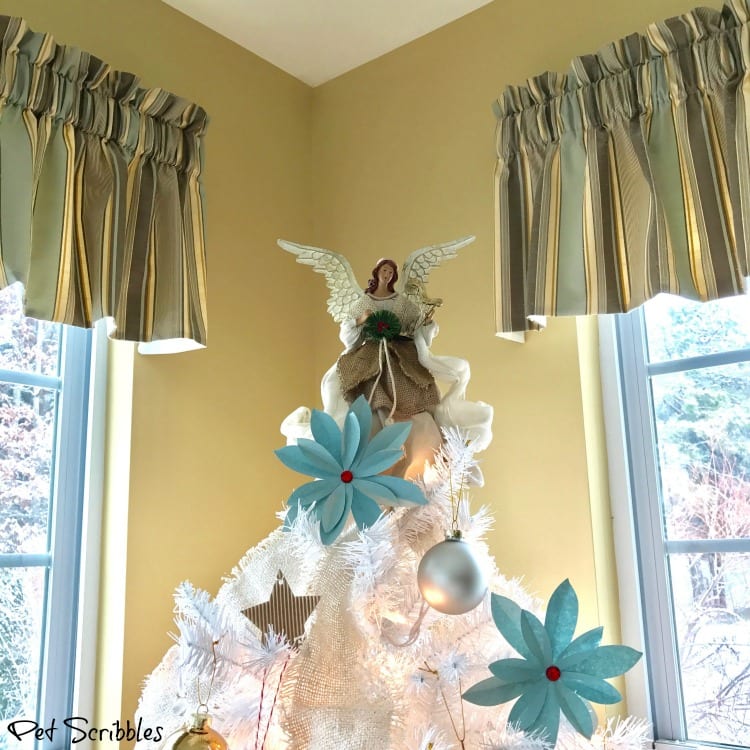 The angel tree topper from Tree Classics is called the Silent Night Angel Tree Topper.
Here's the tree all decorated, with the pretty gold Satin and Sequin Christmas Tree Skirt.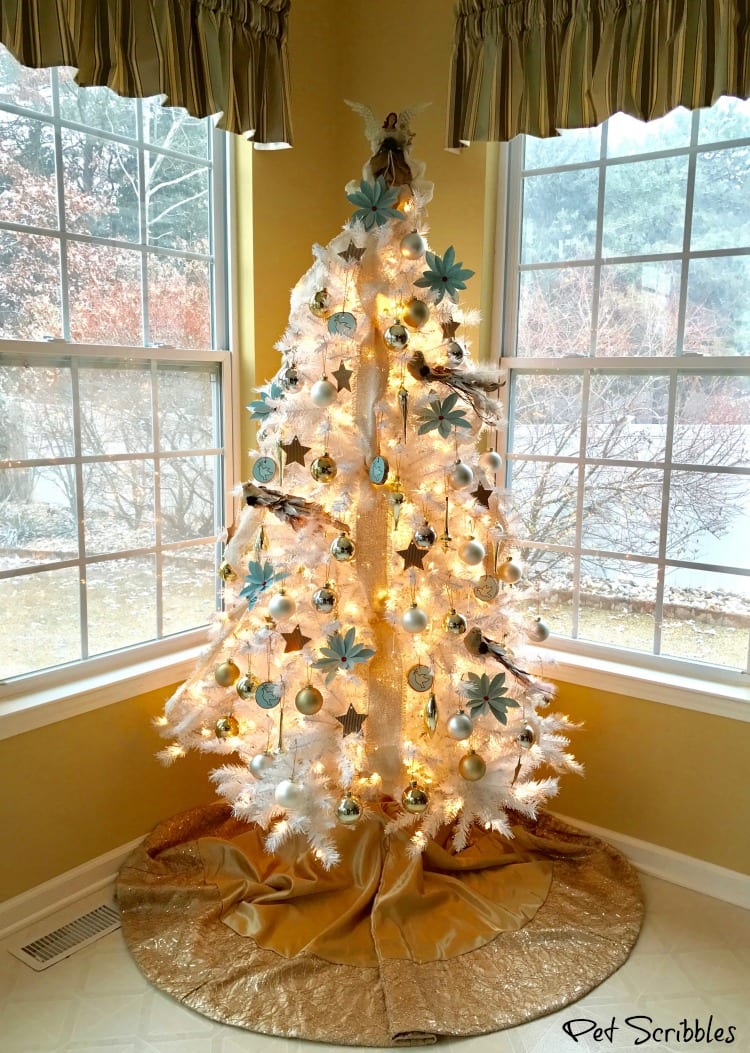 Here's a close-up of the ornaments: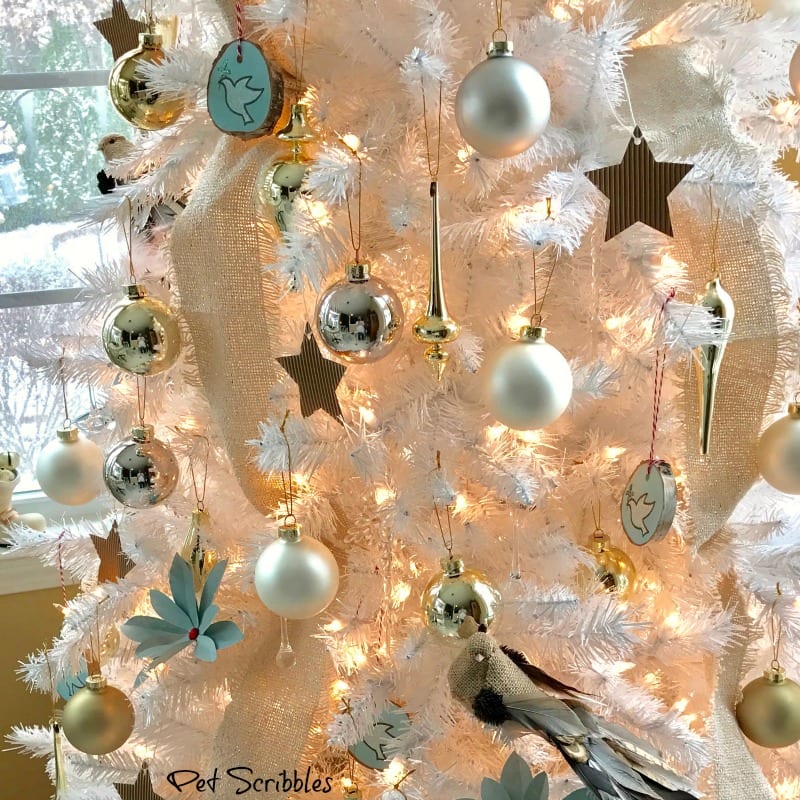 You can see my peace dove stamped wood slice ornaments that I made this year. (Click here for the tutorial on how to make them.) These ornaments provide a nice pop of blue color, and the doves are glittered.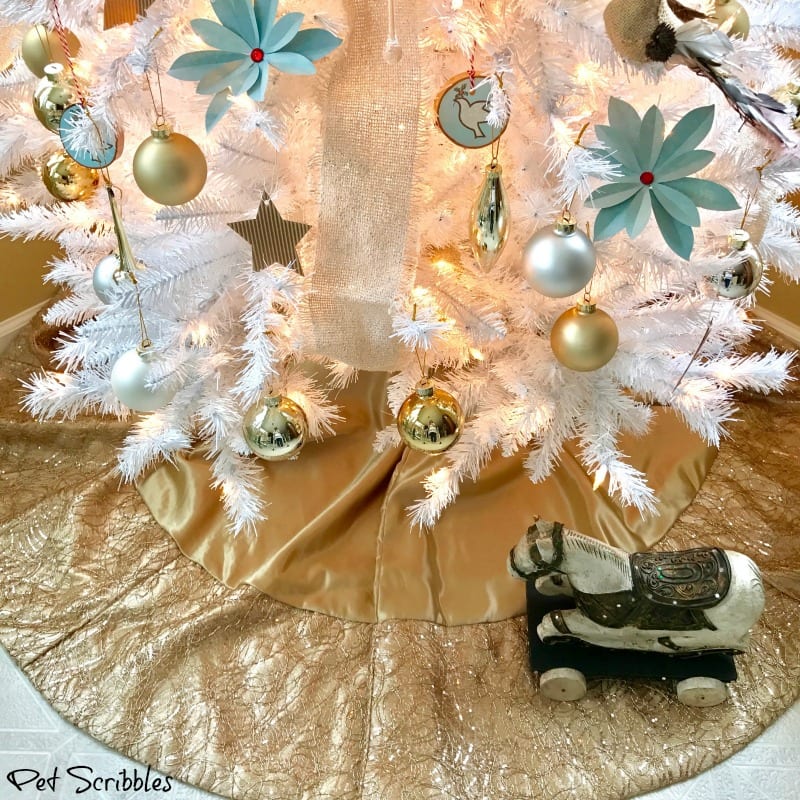 And take another look at the tree skirt, above. I love that it's so elegant but not over-the top. This skirt really adds some warmth to the tree!
And finally, the accessories!
Our cream and gold Santa matches our tree perfectly, as does the wooden horse I found at Anthropologie years ago.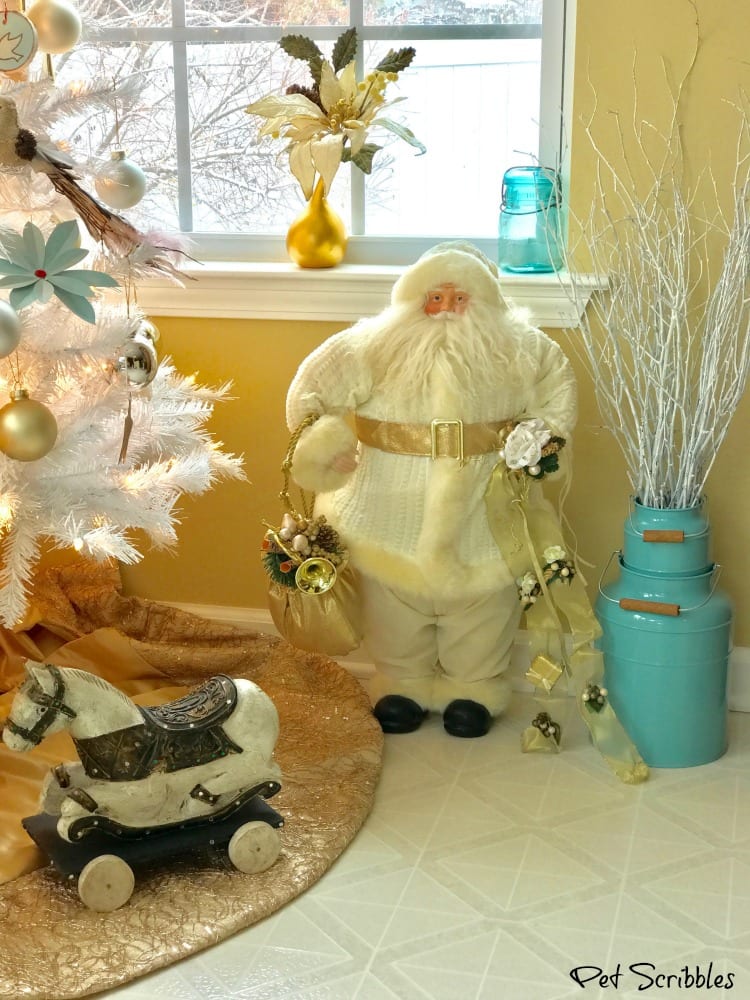 Antique ball jars plus blue IKEA canisters add more pale aqua blue accents to the breakfast room.
It was snowing while I decorated today, which was perfect — another reason we love our garden breakfast room!
Santa's boot began as a beat-up red ceramic boot I got for 25 cents at a garage sale.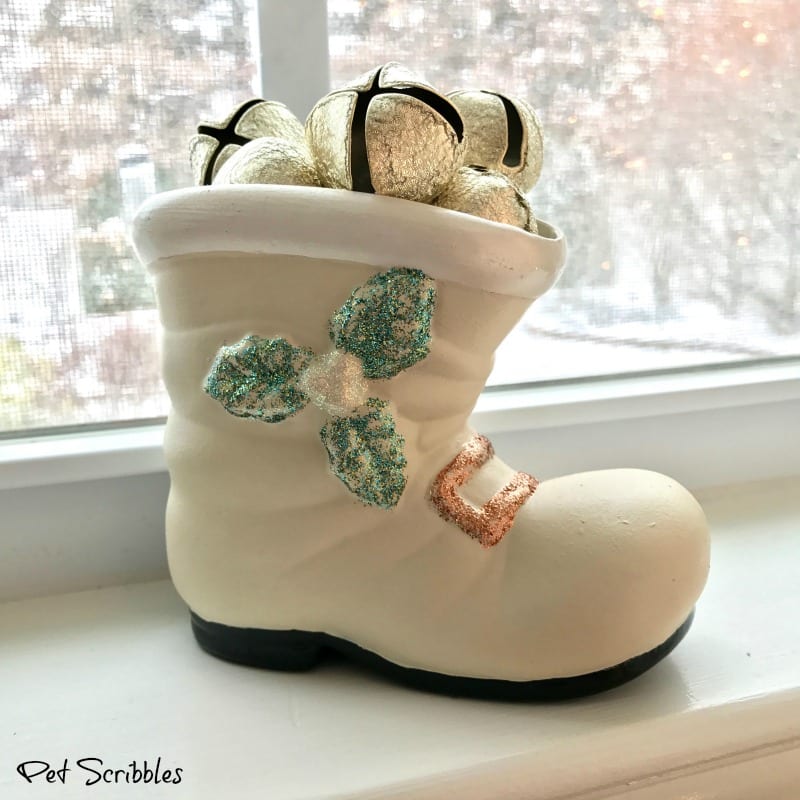 You can click here to see how I gave the boot an easy white Christmas makeover.
A dark green distressed sled sits on another window sill.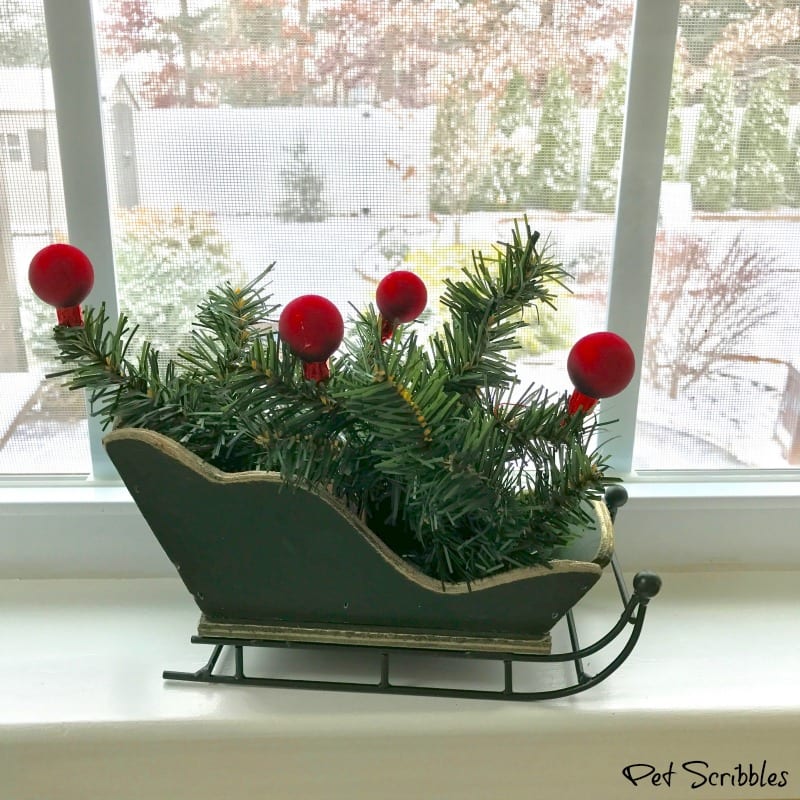 Decorating this was simple, as I like to use pine garlands that I cut apart and stick the greens everywhere. I found the red plastic balls at a craft store years back. They have wires making it easy to wrap around the greens.
My favorite "accessory" is one I purchased specifically for our white Christmas tree: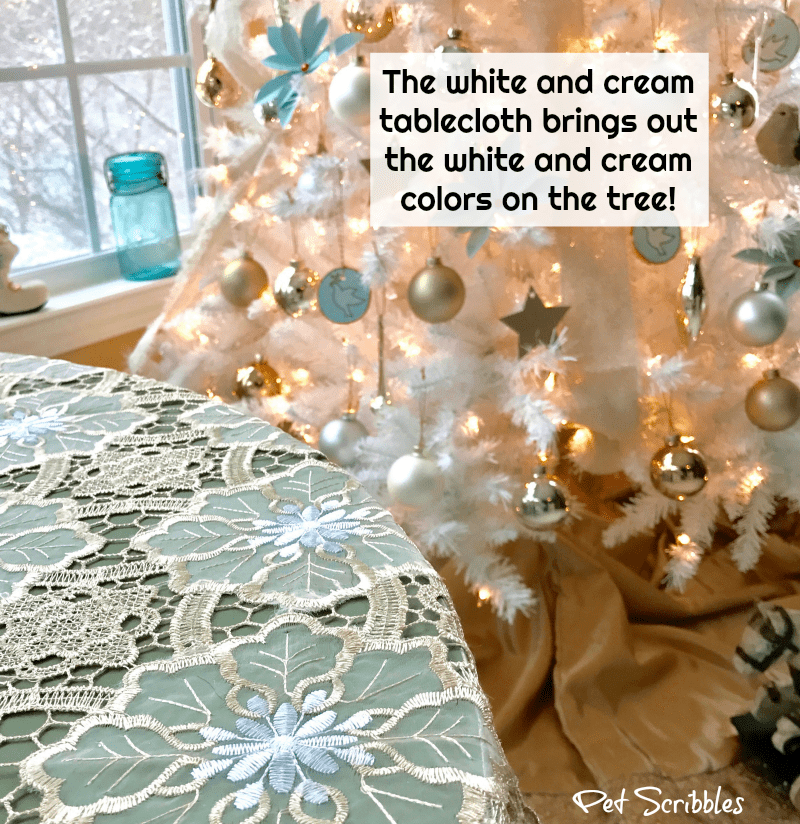 The second I saw this tablecloth, I knew it would bring out all of the white and cream shades in our tree!
I made this Christmas tray centerpiece for our breakfast room a couple of years ago, and while it varies slightly from year to year, the overall look is the same.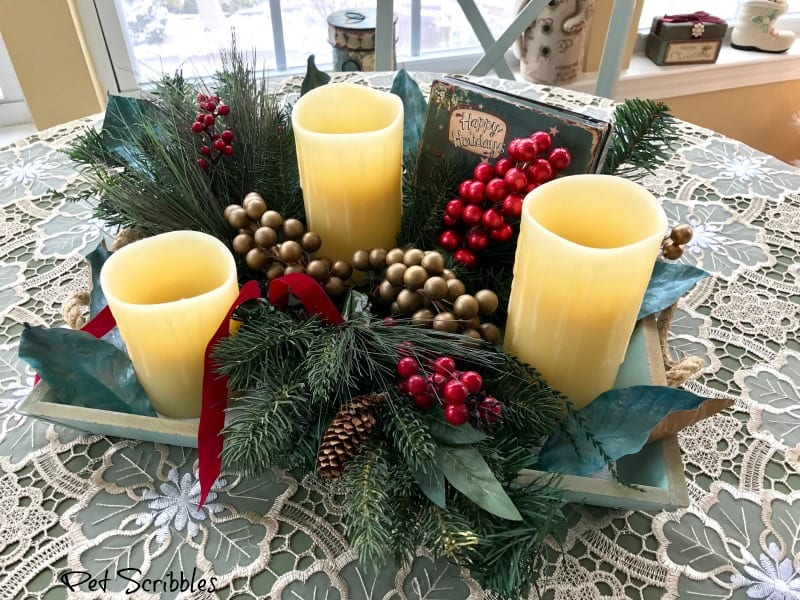 I use the coastal wood tray year-round. The Christmas greens are three floral picks from the craft store.
You'll also notice my hand painted magnolia leaves — again, painted specifically for this room! (See my tutorial here.)
Our garden breakfast room all decorated for Christmas!
In the past, our breakfast room was always the last room to get decorated for Christmas.
Not this year!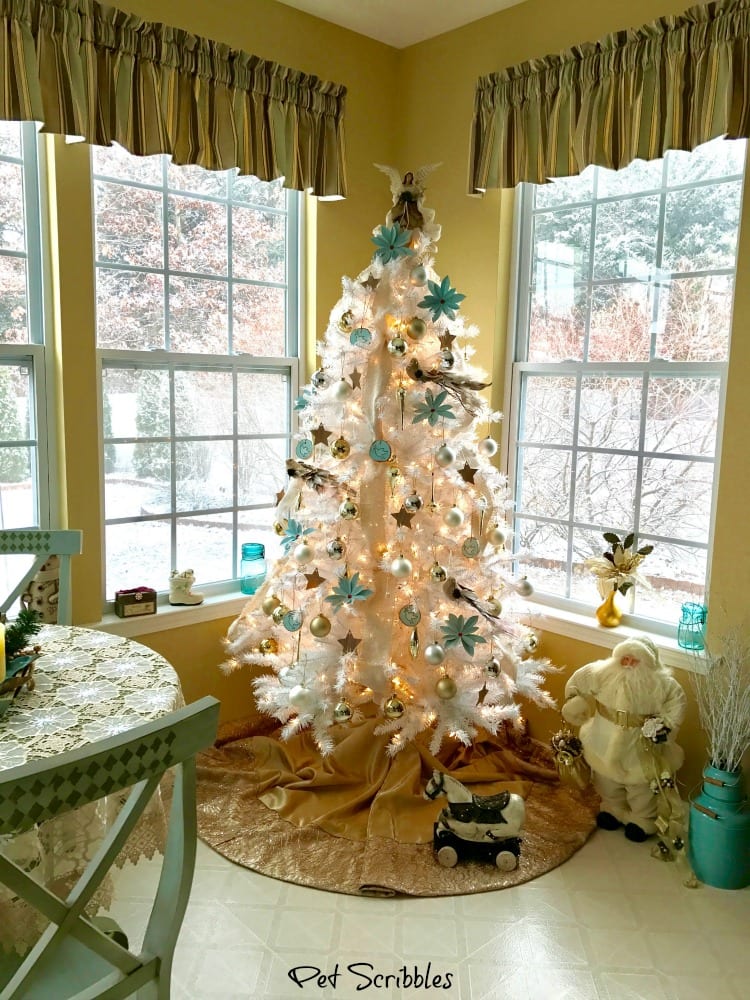 Our chairs are also pale blue — I chalk painted, stenciled and distressed them. The green harlequin design on the chair backs matches the green color of the chalk-painted table.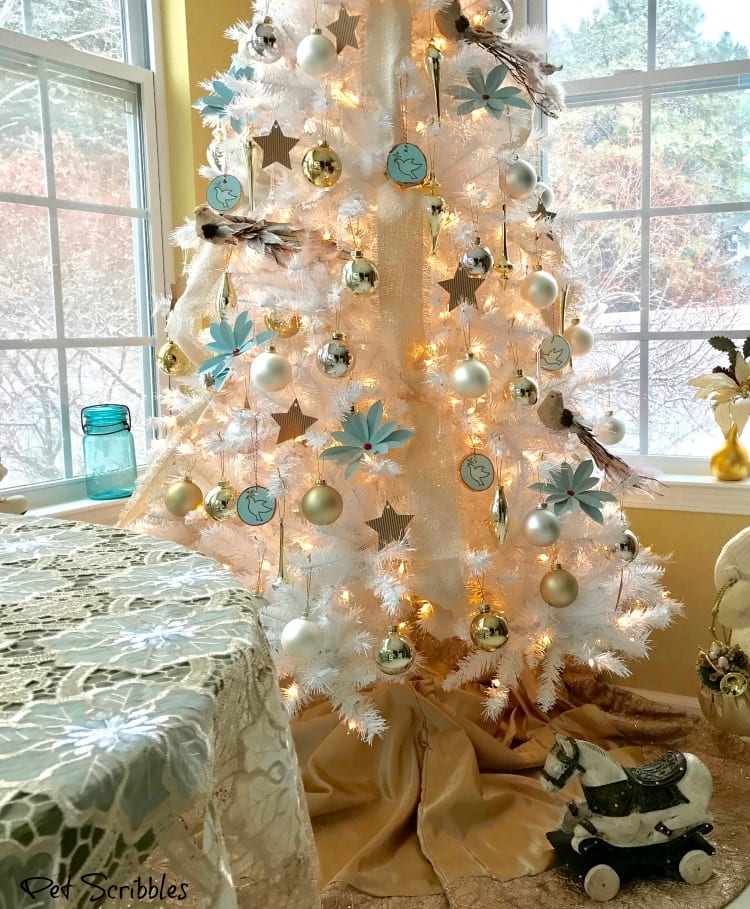 I never imagined how much I'd fall in love with a white tree!
But I have.
And once darkness settles in . . .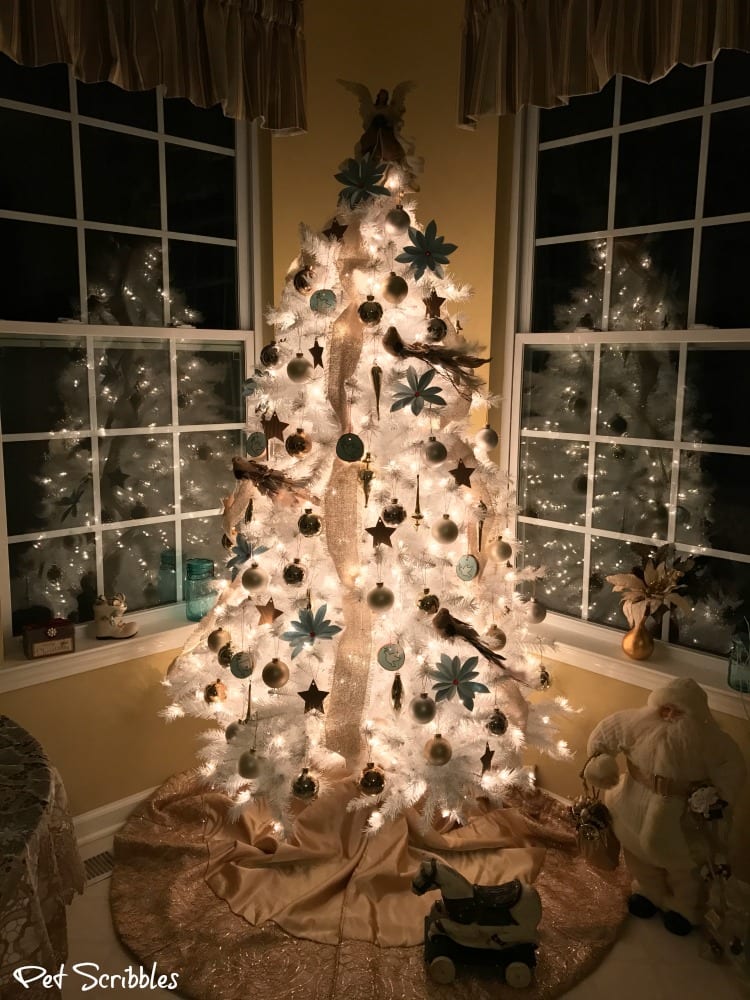 . . . the tree shines with its many warm white lights and elegant metallic ornaments.
My husband and I love how cool the ornaments look at night as mostly silhouettes against the white tree!
While I took a break from decorating — I'm still recovering from my double hip replacement surgery — my husband installed a dimmer for the tree lights as a surprise! I love it!
Below, the lights are dimmed by 50 percent, compared to the picture above: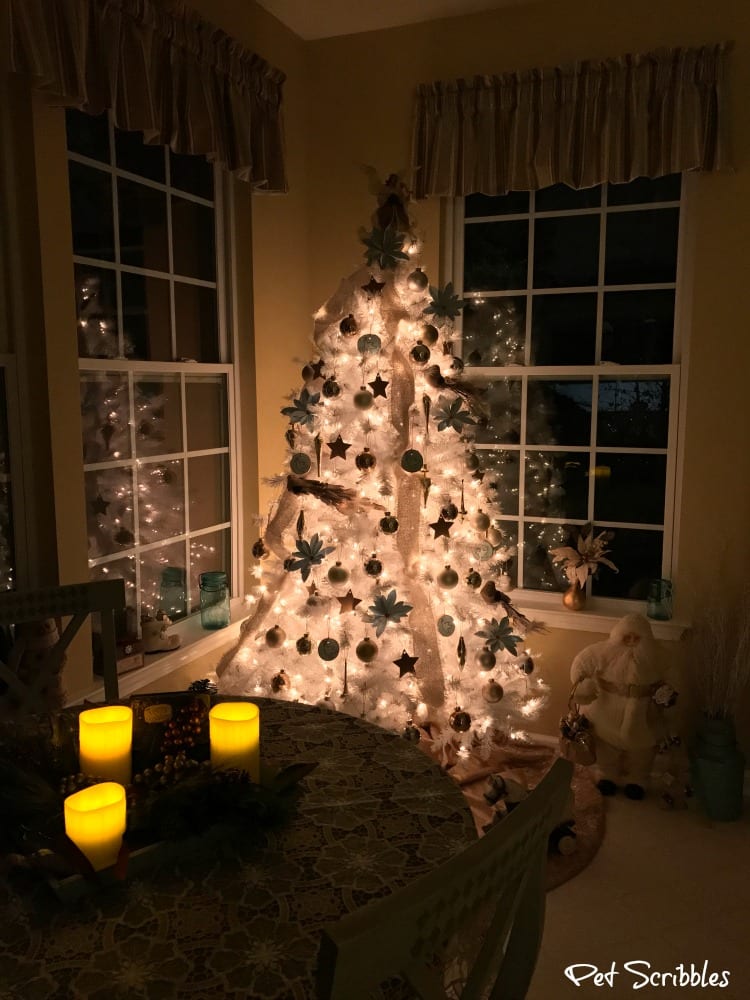 Morning and evening, this white Christmas tree really makes our breakfast room feel special!
And when it's snowing outside, the entire space is magical!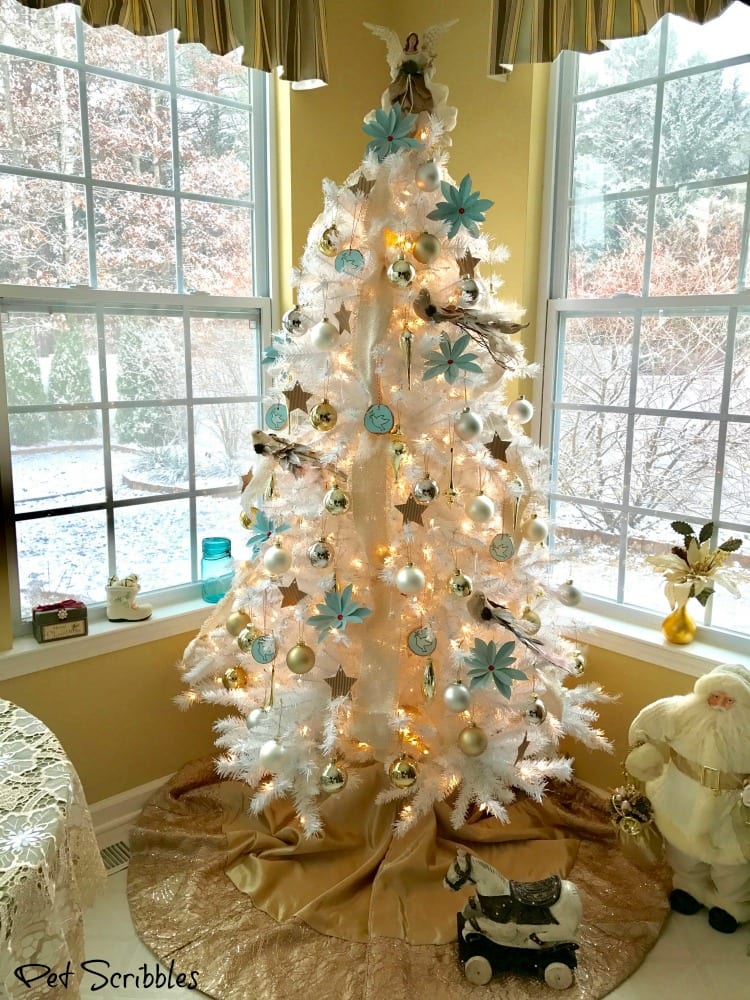 Be sure to visit my blogging friends below for more Snowy Sundays inspiration featuring Tree Classics!
Happy holiday decorating!