Our elegant and festive Christmas wreath and garland look so magical at night! The short amount of daylight this time of year is perfect to enjoy the lights!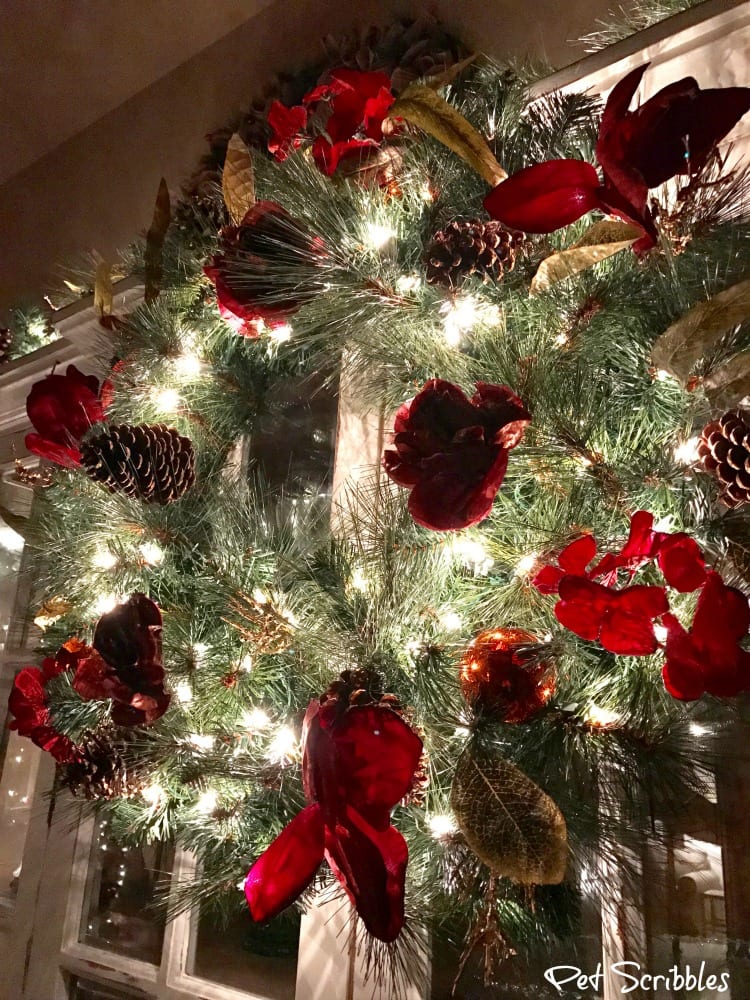 A very special thanks to Tree Classics for sponsoring this post!
I'm so excited to share more of our home decorated for Christmas and hope you enjoy these beautiful images of our Christmas decor and lights!
Our great room is our dining room!
Today I'm showing you part of the "great room" in our home.
This room originally started out as our living room, but now it's our dining room.
Why?
Because every time we had parties and get-togethers, everyone would congregate in the kitchen and dining room. Our comfy couches never got any use in this giant room, meanwhile all the guests would cram into the other rooms to chat and have fun!
So we thought let's make our dining room larger by switching up the rooms!
My continuing love for Tree Classics wreath and garland!
I've been working with Tree Classics over the past year and absolutely love the quality of their products.
Their trees, wreaths and garlands are full and realistic, and their ornaments are beautifully made and packaged.
Last year, we decorated our fireplace with a gorgeous wreath and garland from Tree Classics called Venetian Elegance.
We fell in love with this wreath and garland!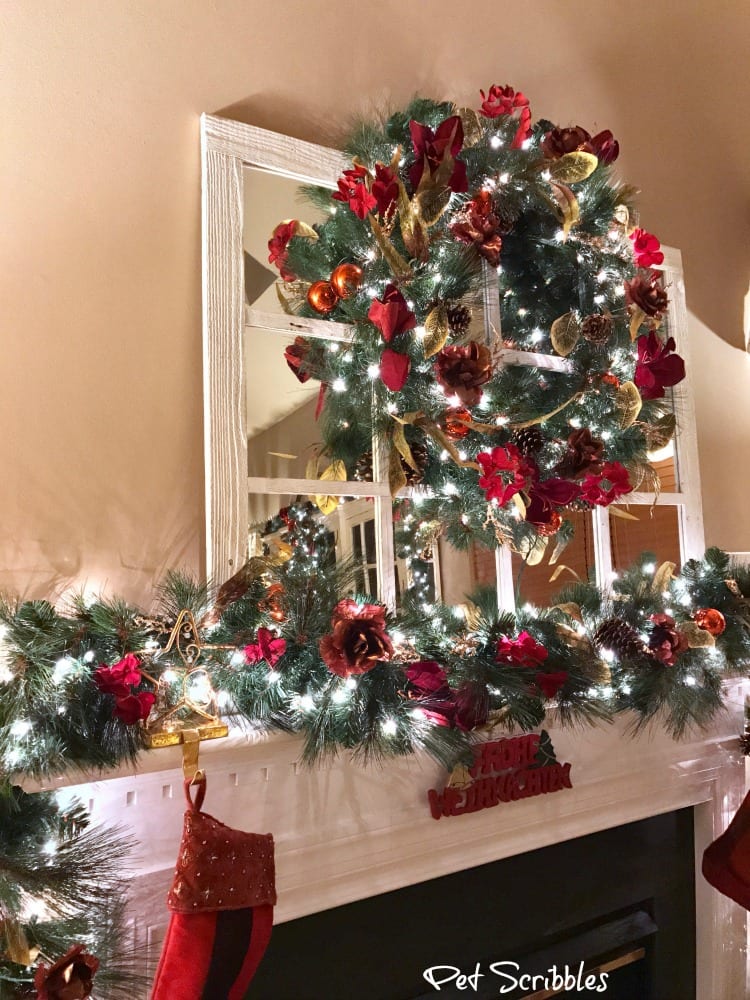 This year, we finally found the perfect distressed farmhouse windowpane mirror to lean against the wall above our fireplace!
I've always loved this look — windowpane mirror and a wreath — and now we have this in our own home! So happy!
When Tree Classics offered me a choice of products this year, I requested another Venetian Elegance wreath and garland for our large china cabinet in our great room.
Er…um… I mean our dining room!
It was a no brainer, as they say!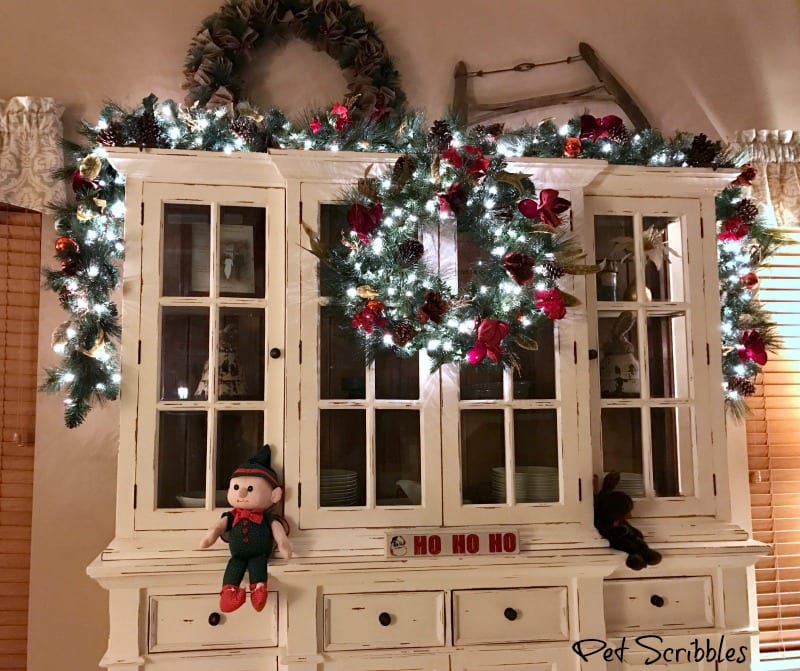 Years ago — as in probably back in 2003-ish — I purchased super-heavy metallic star stocking holders at Pier 1 Imports.
These stocking holders worked perfectly last year — and this year — to hold our mantel garland in place.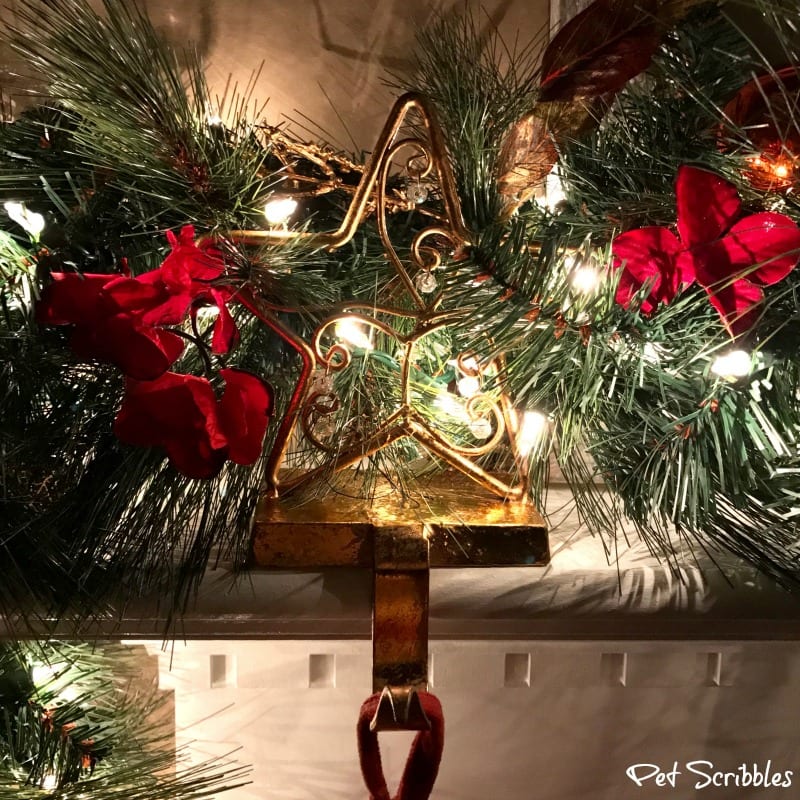 I knew I needed to find something equally heavy for our newest garland, so I hit up Amazon.
(It's what you do when you've had a double hip replacement and can't drive around to your favorite shops!)
I wanted something rustic and WOW did I find exactly what I needed!
We bought three of these rusty cast iron pinecone stocking holders.
These stocking holders match the distressed farmhouse look of the oversized cabinet — plus the pinecones blend in with the garland perfectly!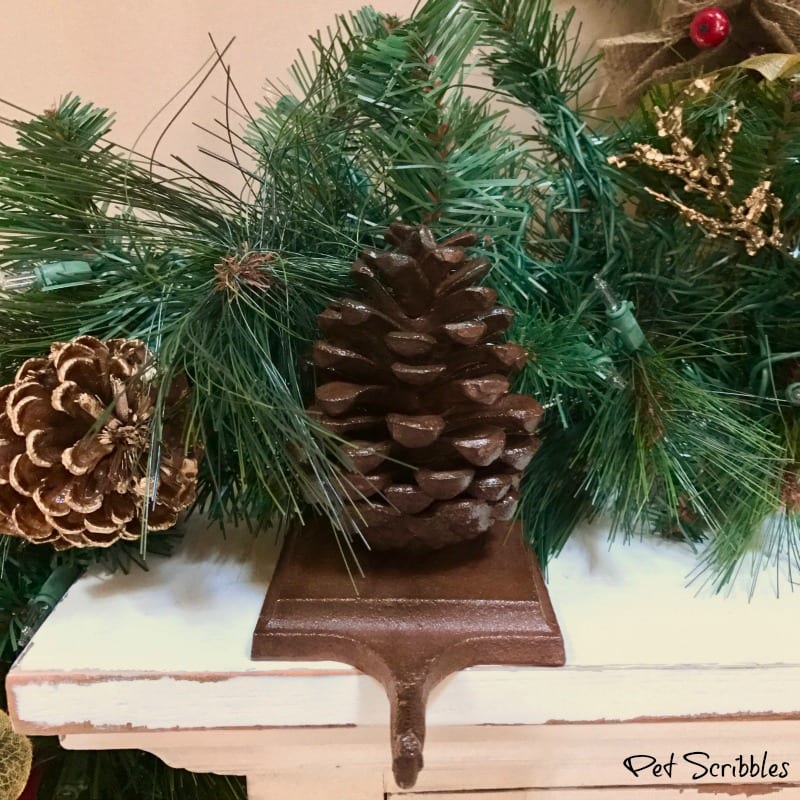 The only negative about these heavy stocking holders? They arrive packaged in tons of foam material — the kind that breaks apart easily and sticks to your fingers and anything else it touches. So be warned!
Because the garland is already so festive, I kept additional decorations on the cabinet to a minimum.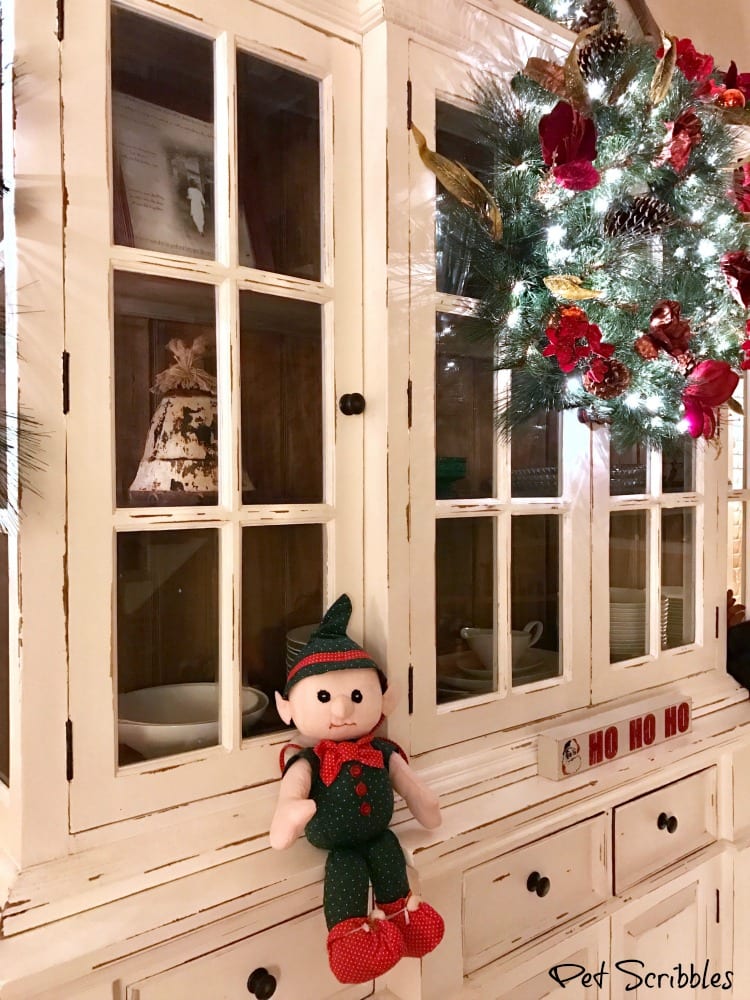 I've had this elf since I was a little girl. "Santa" gave each of us kids one of these handmade elves, made by a woman my mother knew. One of my favorite decorations even now!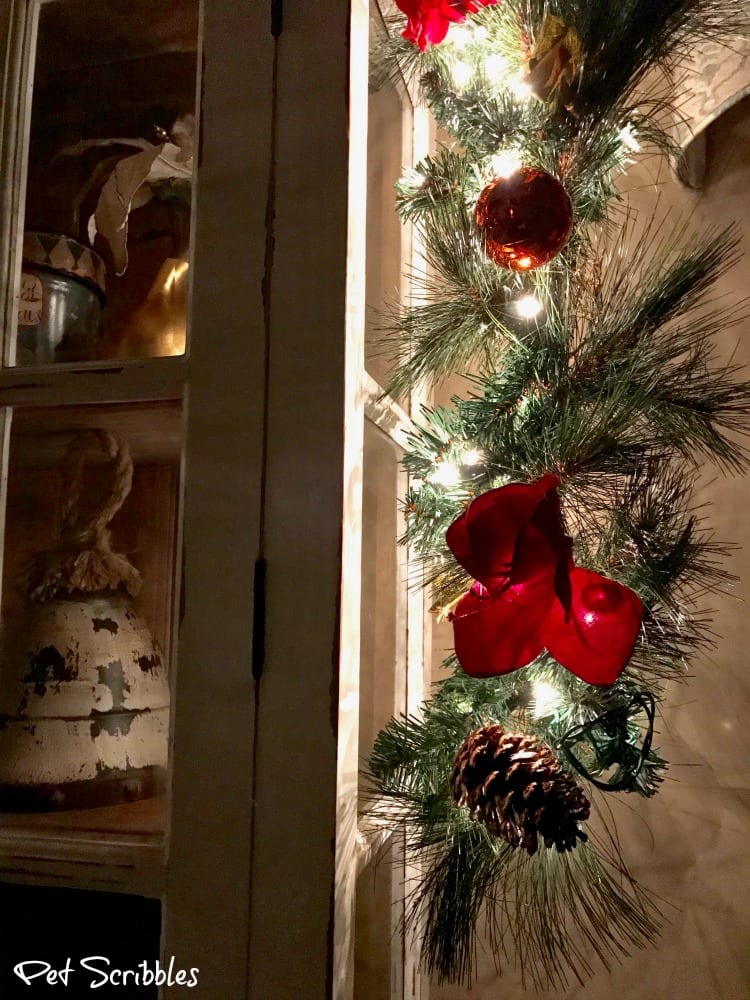 We added some oversized distressed bells to the inside cabinet shelves. On top is a giant wreath we found at a local Tractor Supply store a few years ago.
The antique saw is something we inherited from my late father-in-law. That stays up there year-round.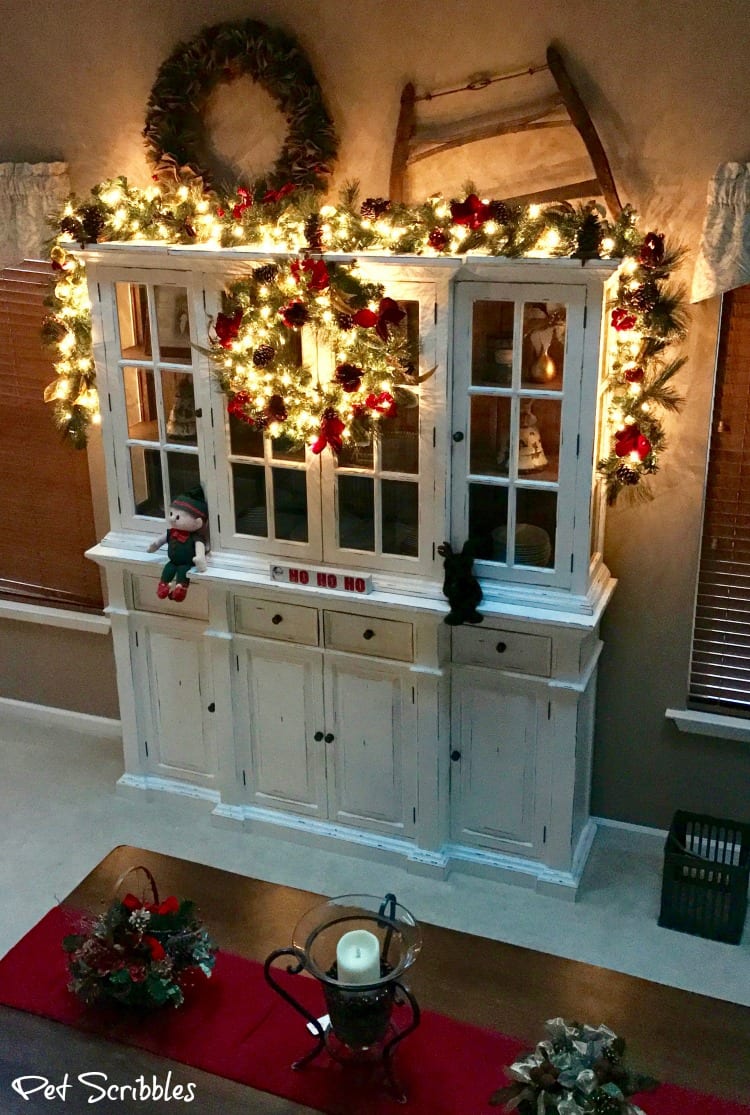 Above is a shot I took from the stair landing to give you an idea of the size of the cabinet. Our farmhouse-style dining table we bought about 15 years ago at Pottery Barn…before "farmhouse" was a thing. Hah!
Below, you can see our fireplace in the background. The wreaths are identical by the way — an important detail if you're purchasing identical wreaths and garlands in different years. You want them to match!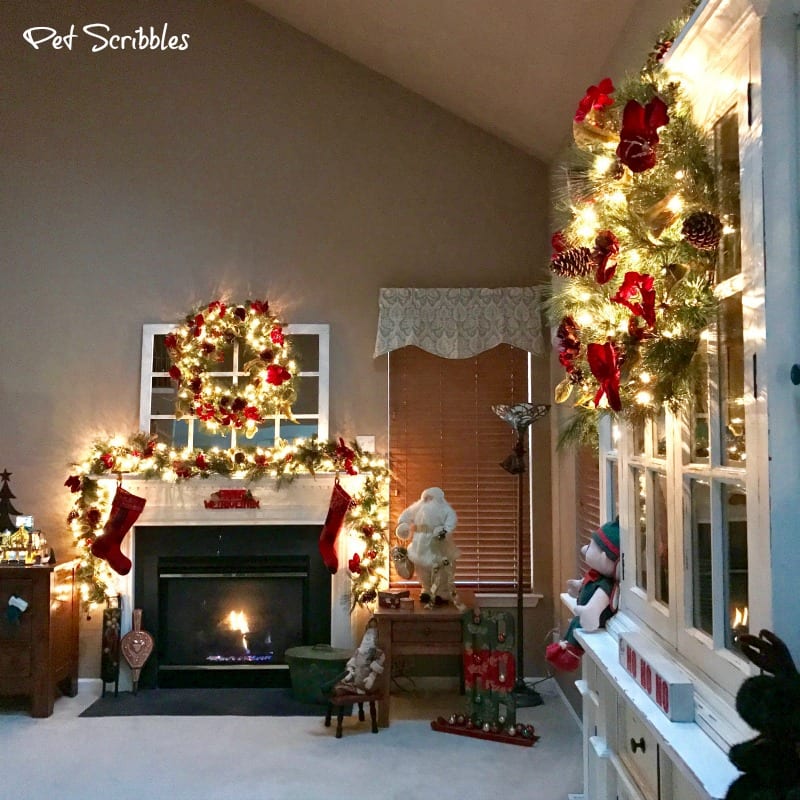 Here's the fireplace mantel seen from the stair landing.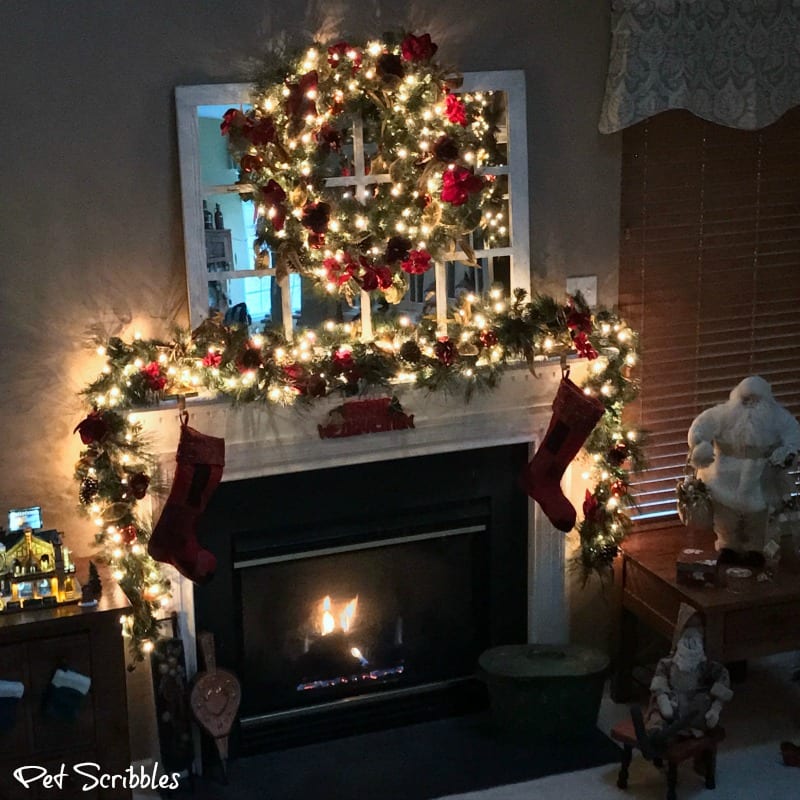 On the table to the left of the fireplace is another item that stays out year-round: our Lemax Yulesteiner Brewery!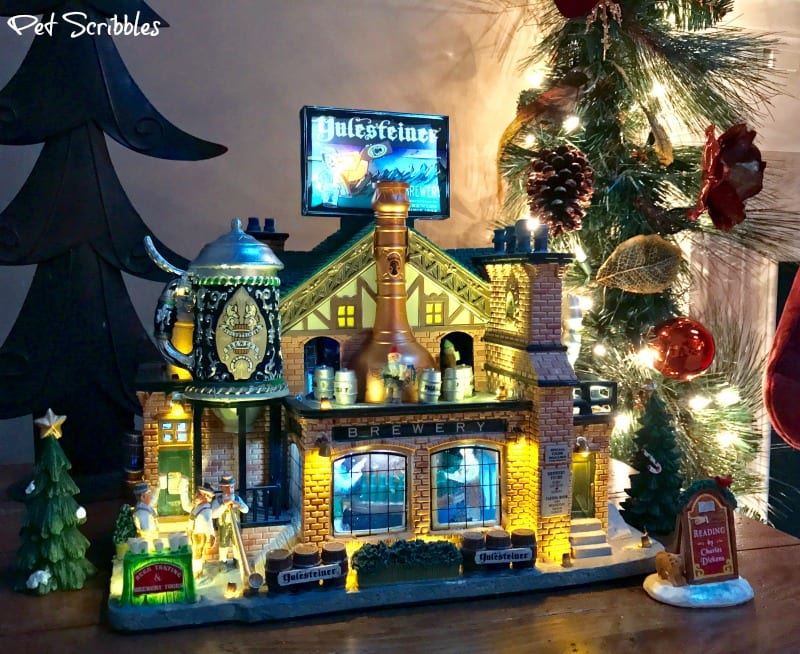 My husband Hans brews his own beer — and so one year my father saw this in a store and immediately had to buy it.
My parents gave it to Hans for Christmas about six years ago!
When I see tiny little accessories for different holidays, I buy them!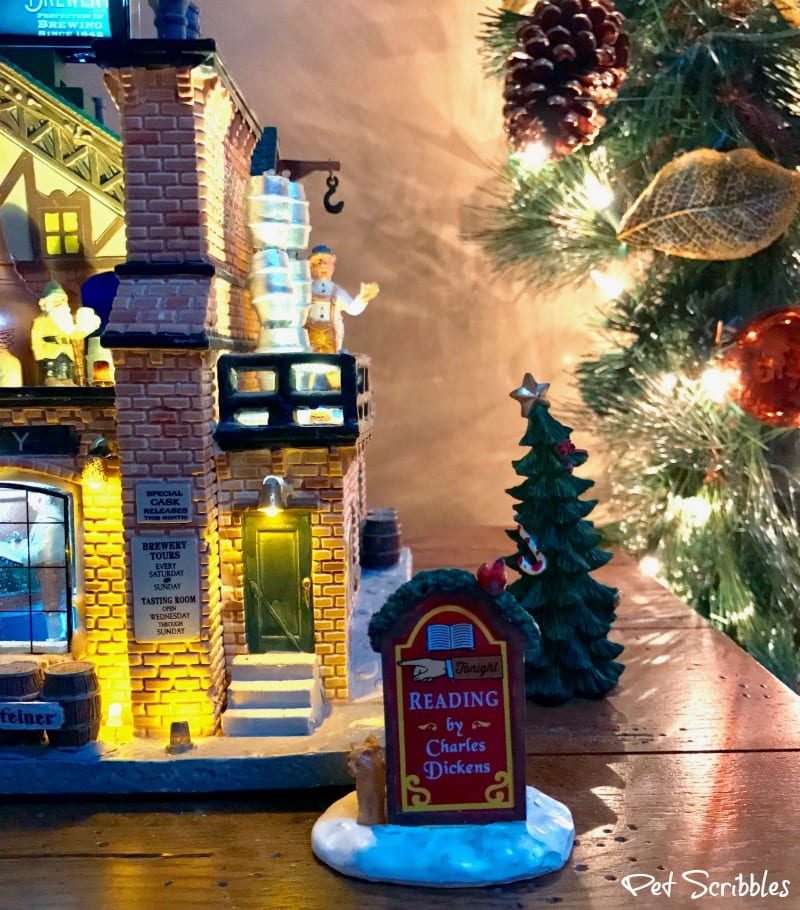 The Charles Dickens sandwich board is also by Lemax. Of course Charles Dickens might have enjoyed giving a reading in the local pub, right?
Let's take a closer look at the mantel garland to the right of the Christmas brewery scene . . .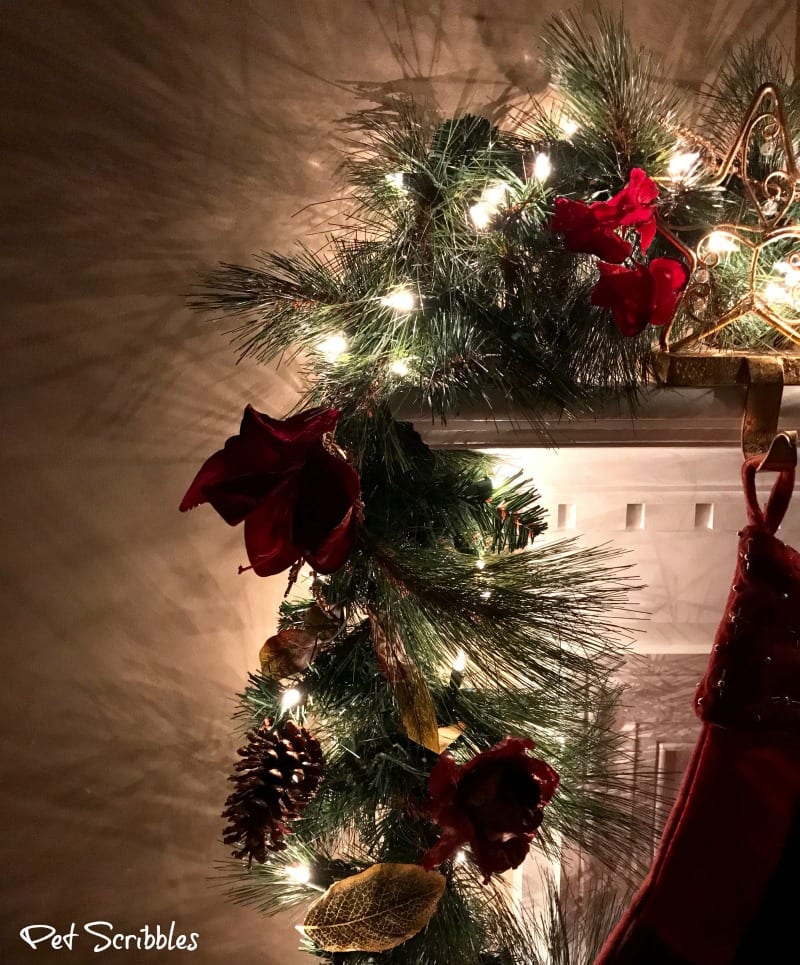 The way the lights reflect the pine needles onto the wall is so magical to me!
It reminds me of when I was a child, and I'd lay down on the floor in front of our Christmas tree to watch the blinking colored lights make different patterns on our ceiling.
Ah… memories!
Elegant and Festive Christmas Wreath and Garland at Night!
Yes, this is the time of year with the least amount of daylight, but when you've got gorgeous decorations like these, you look forward to the darkness!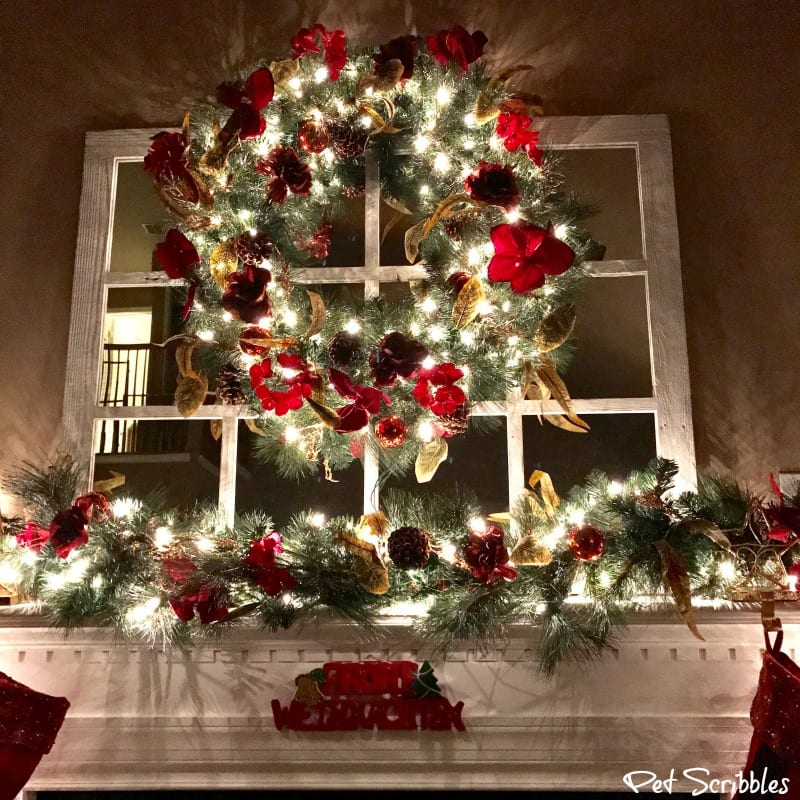 Our fireplace isn't real. It's gas-powered. We had a real one in Philadelphia that we used during the Winter months Every. Single. Night.
But the upside of a gas-powered fireplace is no cleanup of ashes, right?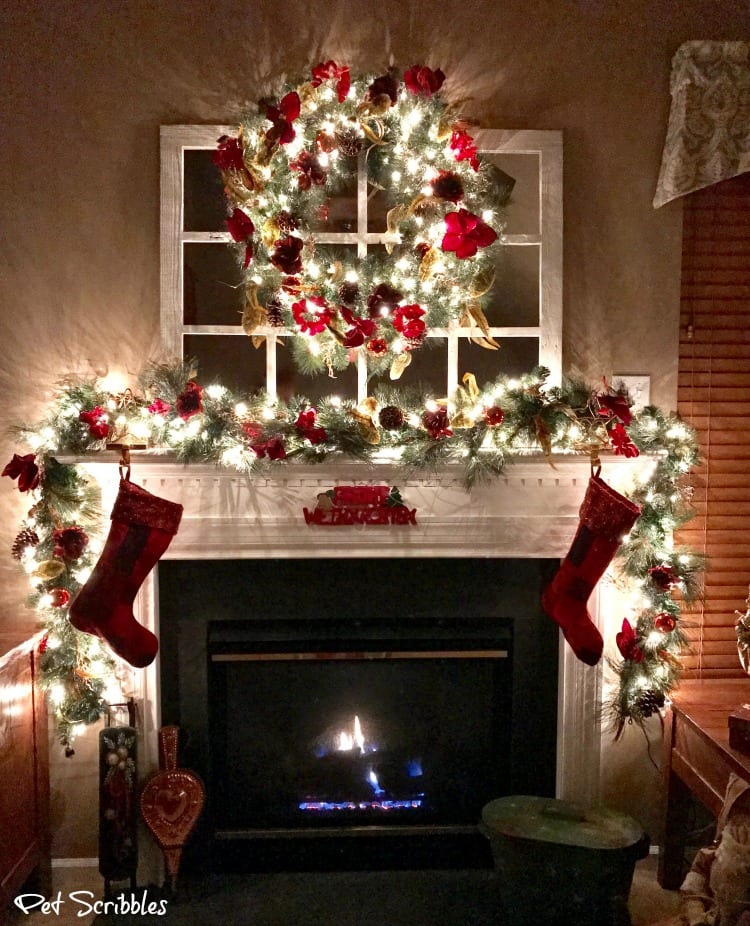 The sign above the fireplace says Merry Christmas in German — another treasured decoration from my late father-in-law.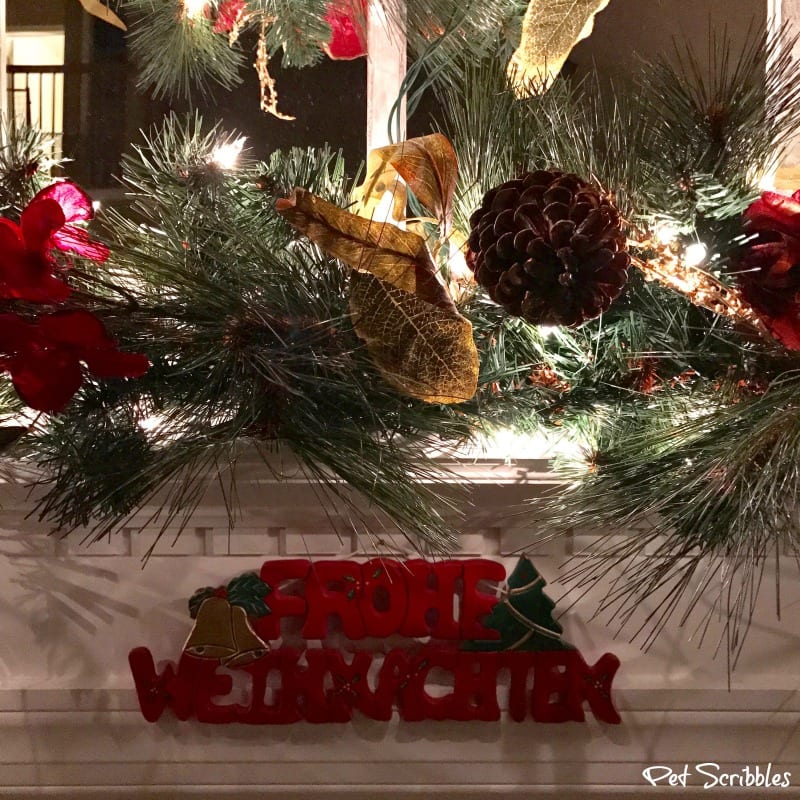 I am so happy we have another matching wreath and garland for our cabinet this year!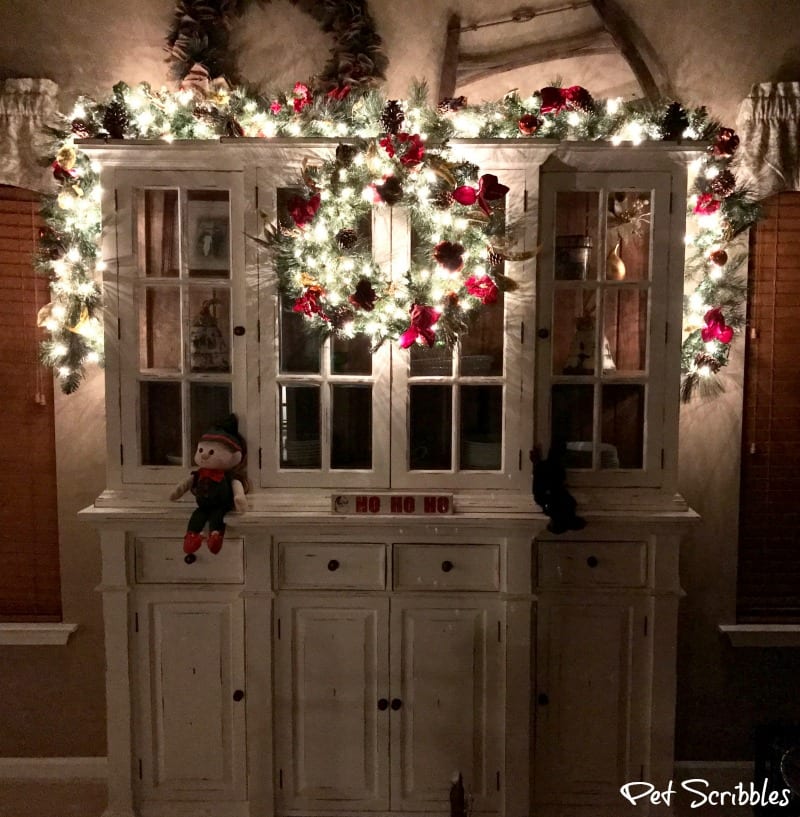 As I mentioned in detail in my blog post about this wreath last year, it is stunning! The various pinecones, flowers, magnolia leaves and other decorations are so pretty! And there's so many lights!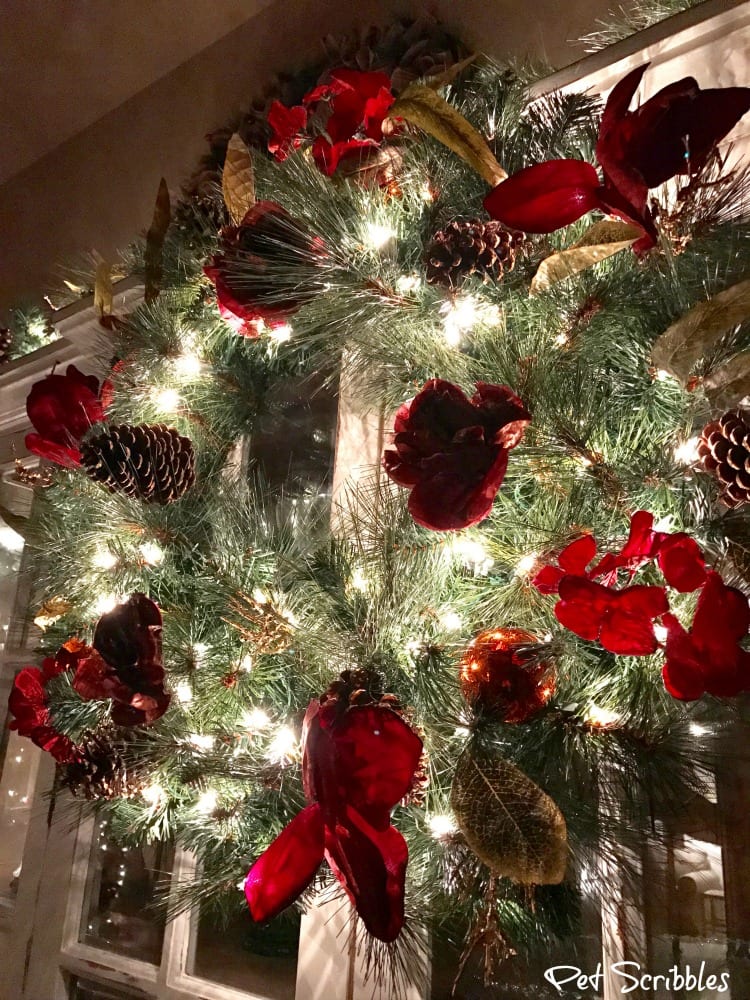 The garland is decorated identical to the wreath, and those decorations continue all the way to each end of the garland.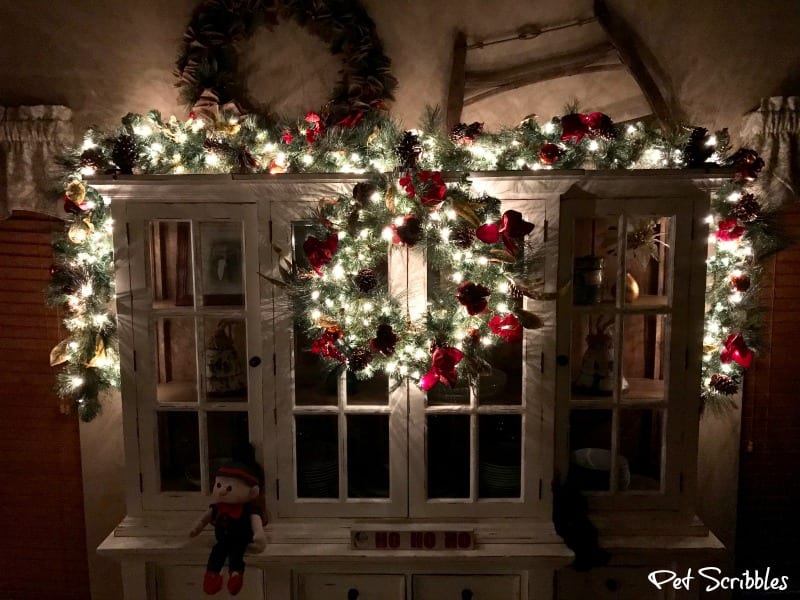 And when it gets late, and we turn the fireplace off — which sounds so odd to say, but it's gas-powered so that's what you do — we are left with just the lights in the dining room.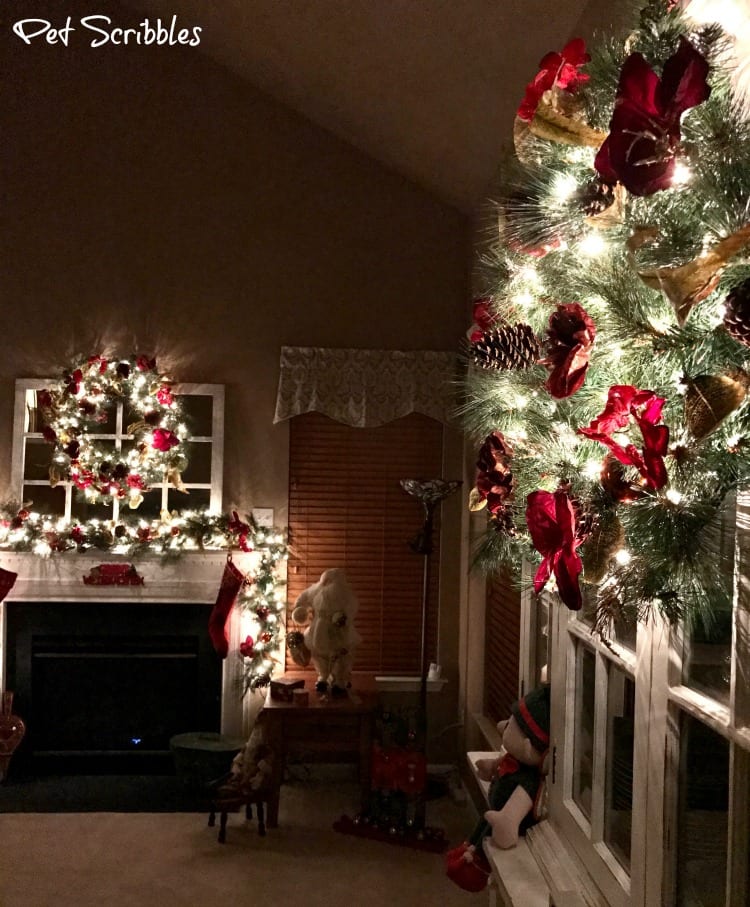 It is so peaceful.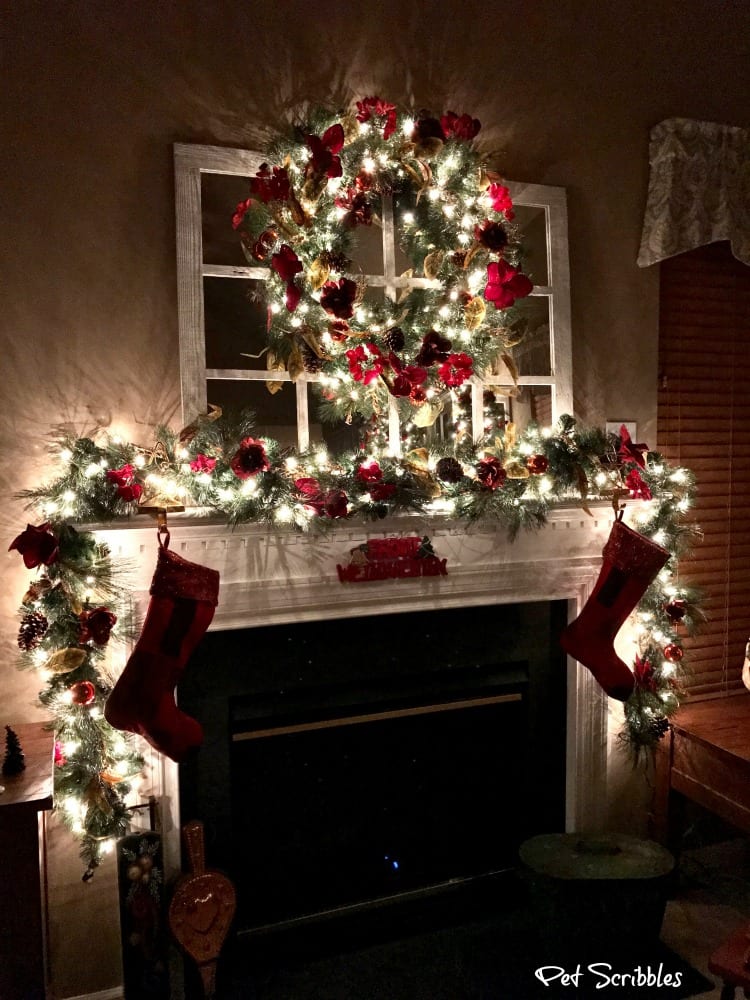 I hope you enjoyed seeing our festive Christmas wreath and garland at night.
Happy holiday decorating!