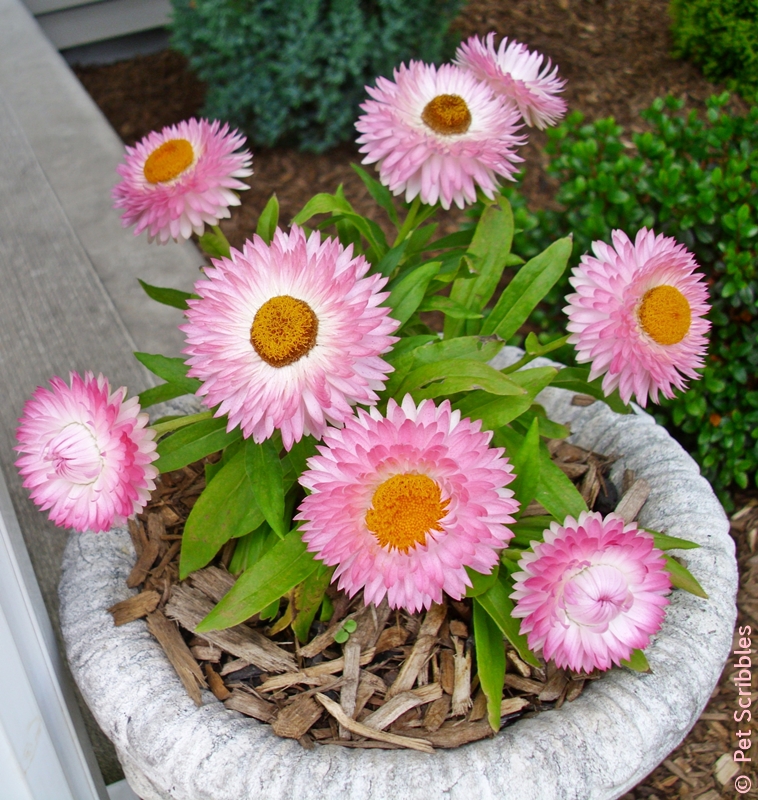 Some women get all grabby and hot-and-bothered over a fashion sample sale, or a shoe sale. Me? I get grabby over plants. Just ask my husband. It has gotten to the point where the usual conversation, once my hands are gripping a potted plant and my eyes are looking a bit wild, goes like this:
Me: "Ooooohh!!! I can't believe I found [insert name of flower or plant which will mean absolutely nothing to my husband] and it's in white! Soooooo beautifiul! I read about these flowers, and they can grow up to six feet tall!"
Husband: "Where is it going?"
Me: "What?" [trying to stall for time as I hold the plant up for him to see and to hopefully realize that yes, we DO need this plant]
Husband: "Where is it going? Backyard? Front? Where?"
Me: "Um… I don't know. I'll find a home for it somewhere." [as my grip tightens on the potted plant]
Honestly, you would think I was trying to bring home another abandoned shelter kitty rather than a potted plant.
After my husband acquiesed one too many times, and after I brought home plants one too many times that I honestly had no room for, I agreed that I would try very hard to abstain from buying plants unless I knew in advance where I was going to plant them, at least in a general area if not a specific spot.
In previous years, I admired Strawflowers at the garden centers each Spring, but the colors always seemed too Autumn-like for my Spring-Summer gardening tastes.
Strawflowers come in shades of yellow, orange, rust, crimson, and pink.
Yes, pink!
And that is the shade I found this year!
So when I showed the flowers to my husband, I was über-excited to answer the "Where is it going?" question with, "In our small faux-stone containers on the steps leading up to the front door! It will be perfect!" And it was. And is.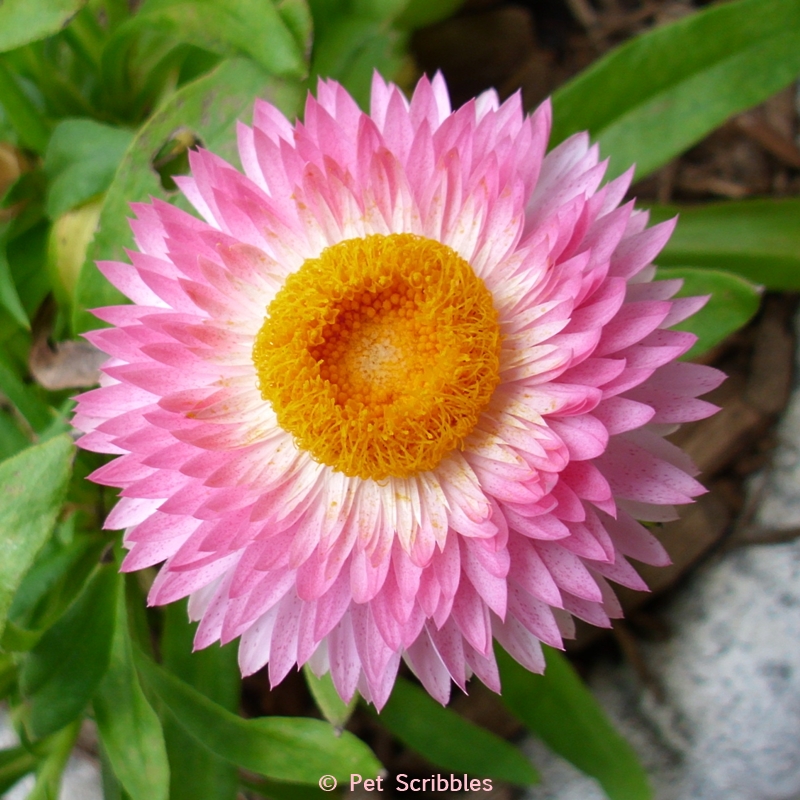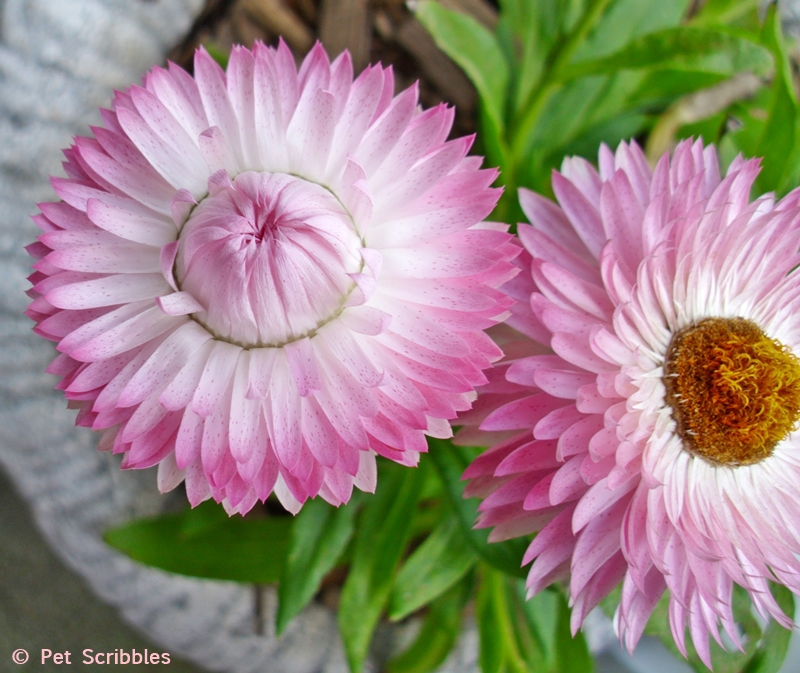 We live in southern New Jersey, and our Summer weather is hot and humid, with extra heat and humidity thrown in for good measure. Our front entrance gets lots of sun, and our various containers can dry out fairly quickly in such heat.
In previous years, I had tried different combinations of Summer flowers which would always look great until I waited one day too long to water, and then the plants never quite recovered.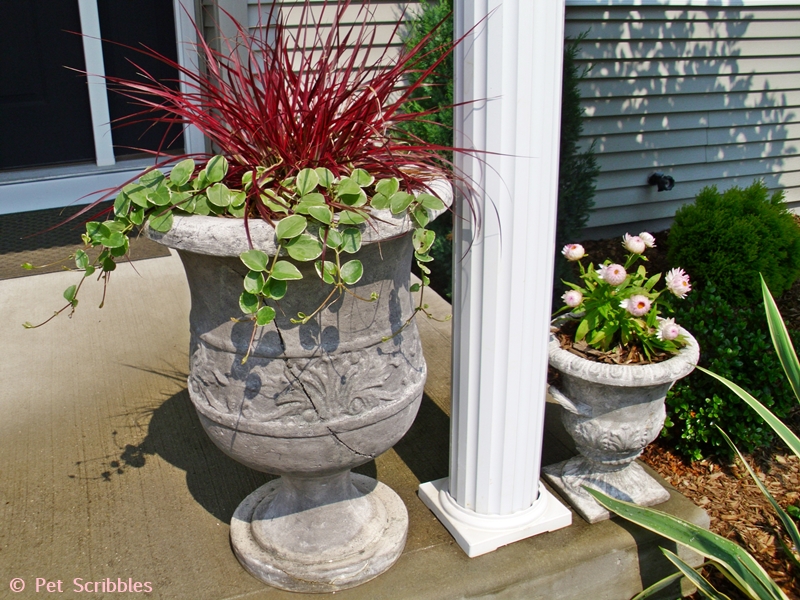 This year, I planted non-flowering plants in our big front urns, deciding it would be much easier to maintain. There's red fountain grass with some vinca vines. The fountain grass is a nice reddish-pink color, keeps its color all summer, grows seed pod "flowers" into the Fall, and stays gorgeous into November. The only negative is that it's not a perennial for us, as it needs a mild Winter season to survive. The vinca vine is just for some added interest.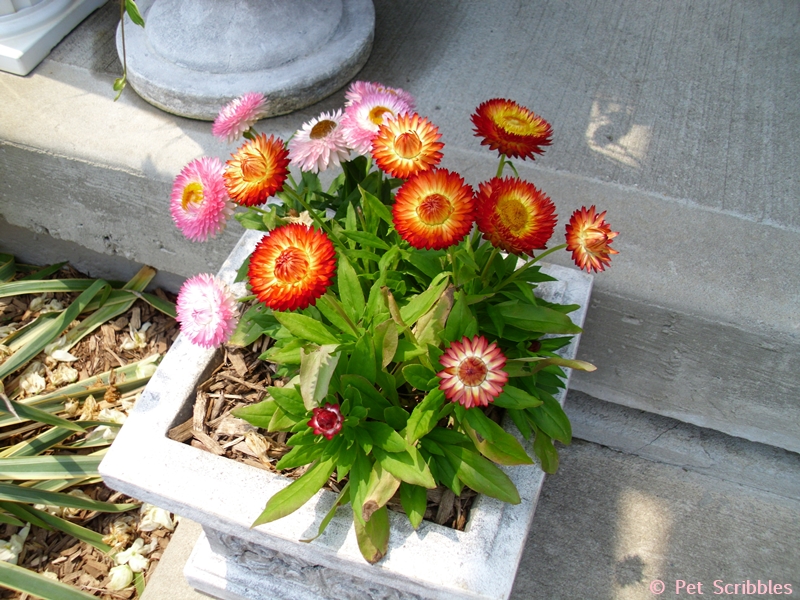 The Strawflowers — which I purchased not only in pink but also in a burnt orange color — provide the little pops of color needed, and match with the flower colors in the front garden beds on each side of the entrance.
Strawflower Details:
Bloom from Summer to frost

Full sun

Drought-tolerant

No special care needed

Flowers feel like paper or straw

Each flower head lasts two to three weeks

Excellent as a dried flower – keeps its color

Variety of colors and sizes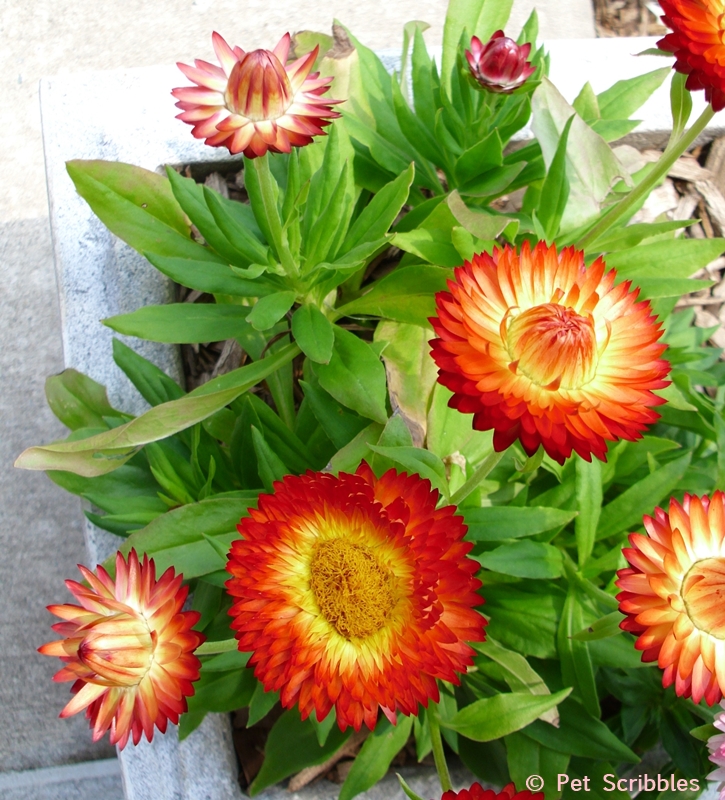 Watering:
Once the plants are planted — whether in containers or in the ground — water regularly until they are established, i.e. maybe the first 3 weeks or so.
Strawflowers are drought-tolerant meaning once established, your watering chores are kept to a minimum.
I water mine once per week, sometimes twice during days of 95-degree-plus temperatures.
Water deeply each time. (For tips on watering your containers, click here.)
Strawflowers will actually close up when it rains or when the plants get watered.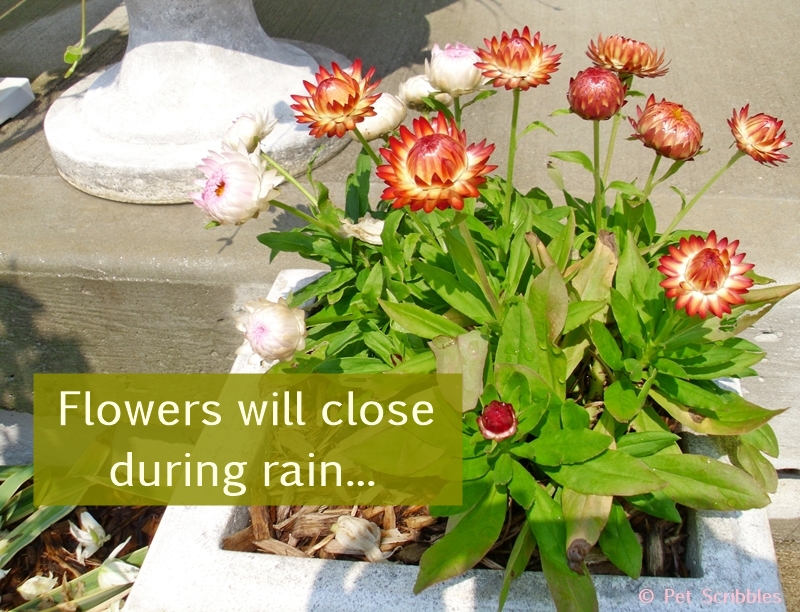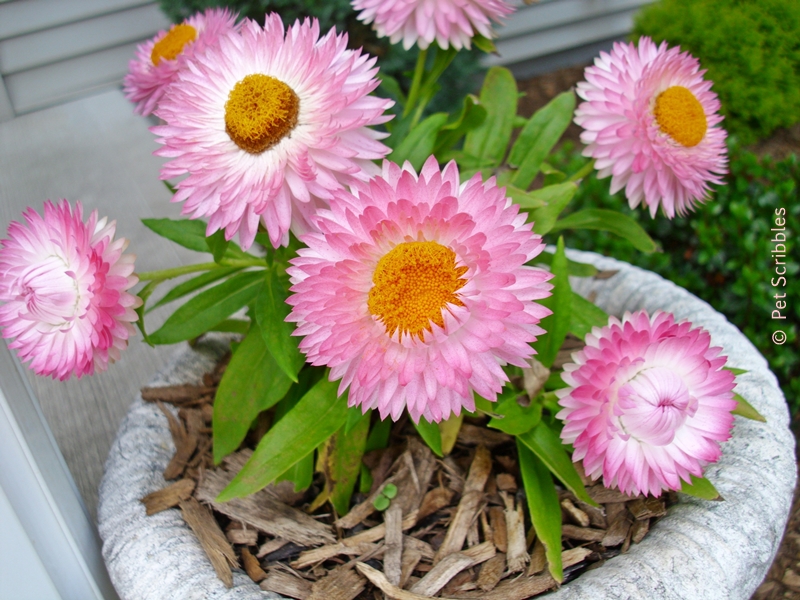 I have the small (dwarf) size of Strawflowers, but I would love to find taller versions to plant as well.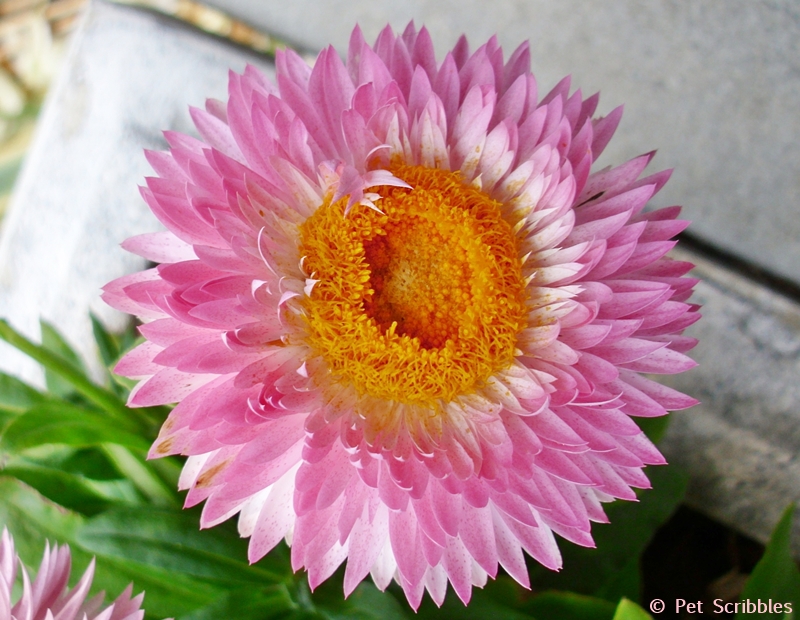 This is my first year planting Strawflowers, and I'm so enamoured with them that I'll be planting this annual flower annually (pun intended) from now on.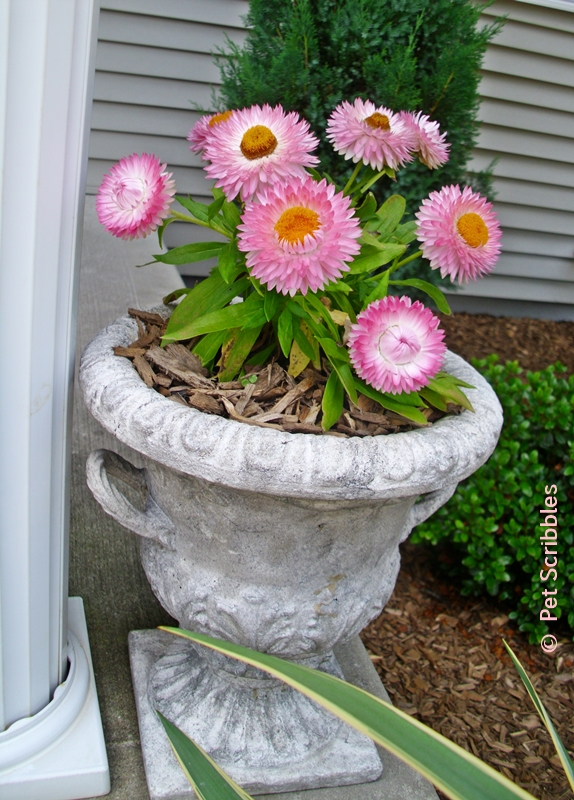 I just need to make sure I've got an answer ready for "Where is it going?" Hah!
I get grabby and hot-and-bothered over craft supplies too, but that's a different story for a different day!
Want to see how easy it is to dry strawflowers? Click here.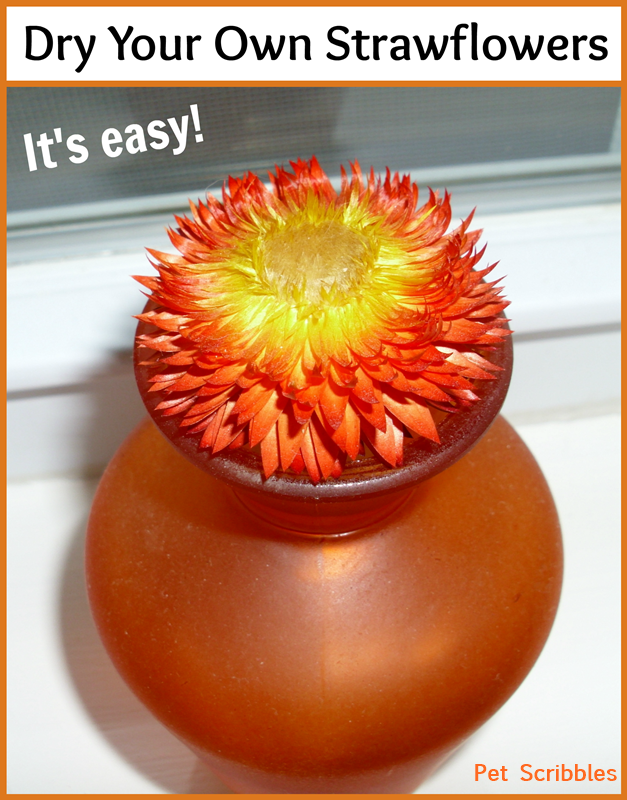 Happy gardening!