Make a Sheet Music Santa Hat Cone decoration, using a Styrofoam cone, Christmas carols sheet music, Mod Podge, cotton balls, twine and a few jingle bells! It's easy and fun!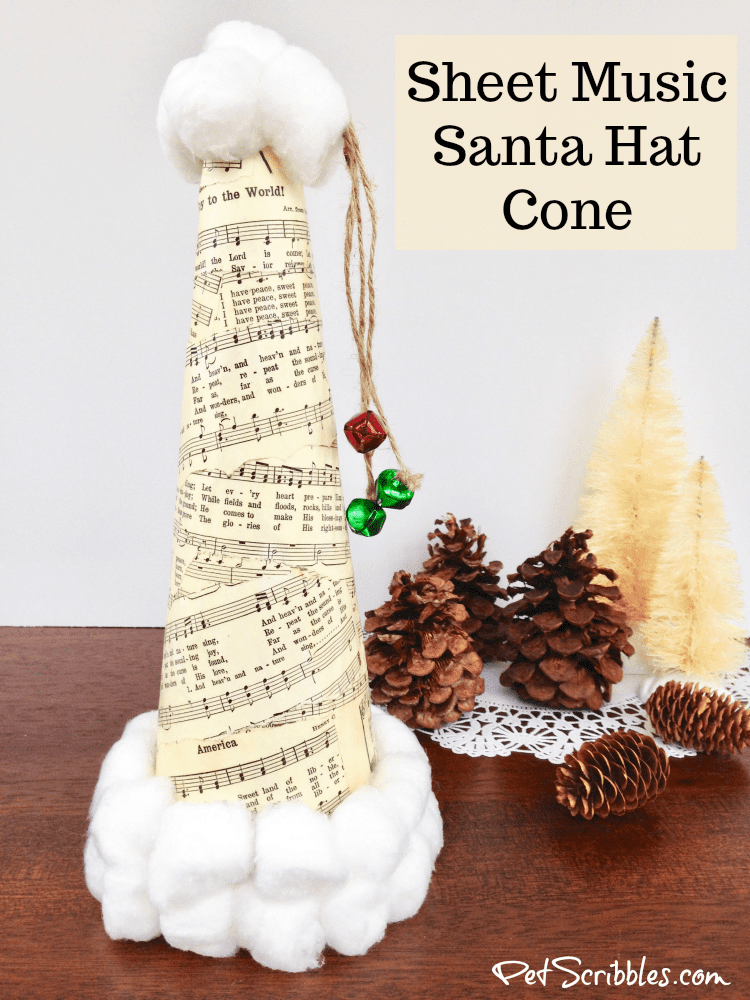 Have you ever made a Christmas tree cone from a Styrofoam form?
I made a Cotton Ball and Jingle Bell Christmas Tree, and it felt like I was playing instead of crafting!
Let's face it: attaching cotton balls can be rather fun to do!
Today's project is this pretty Sheet Music Santa Hat Cone!
It all begins with some sheet music decoupaged onto a FloraCraft Styrofoam cone.
Add some cotton balls, twine and a few jingle bells for color (and sound!) and you have a rustic, vintage-style Christmas decoration!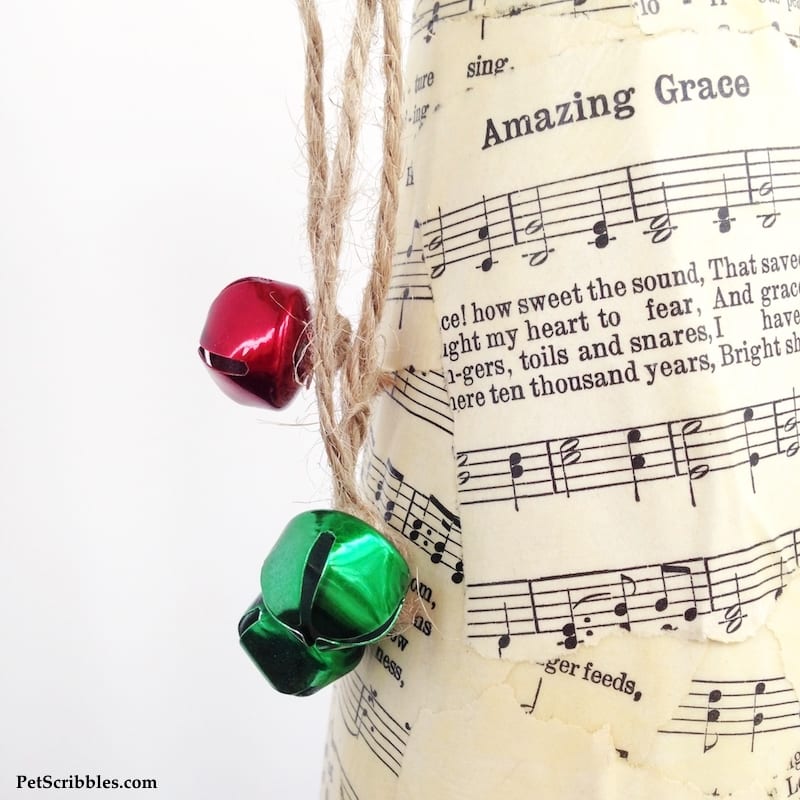 Let's get started!
Sheet Music Santa Hat Cone
Supplies:
Scissors
Foam brush
Sheet music pages
Plastic lids
I had these painted cones sitting on my shelf, left over from a project I had long ago abandoned.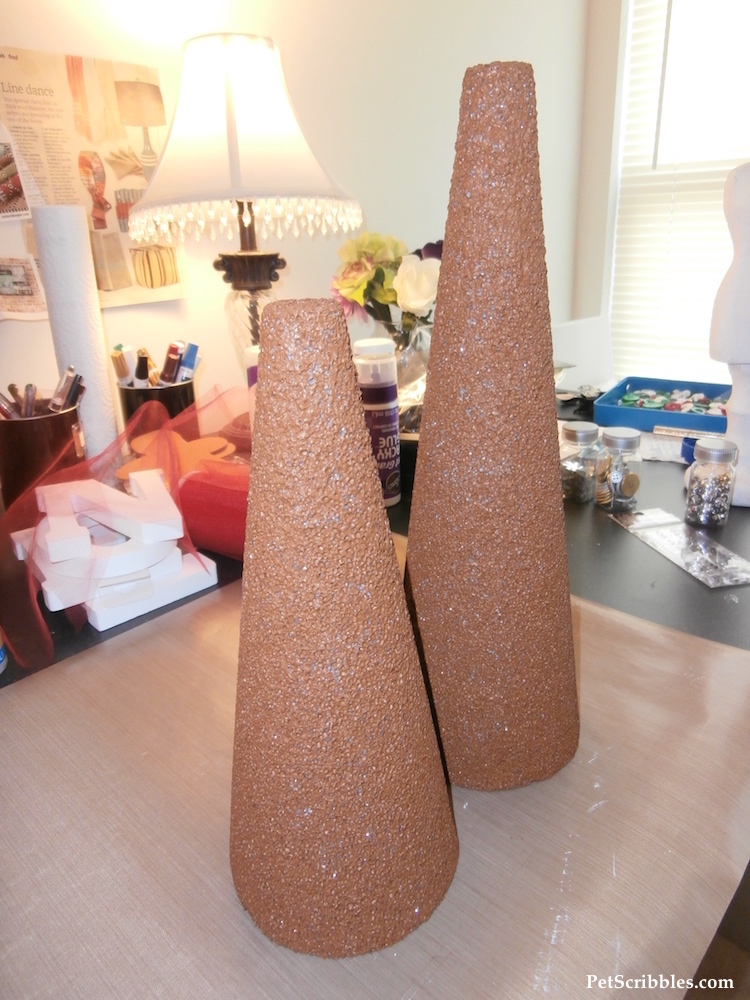 Using the cones for Christmas decorations was a no-brainer!
Tutorial:
Step One: Rip up sheet music into different sized pieces.
I used some Christmas carols as well as other songs like Amazing Grace and America the Beautiful.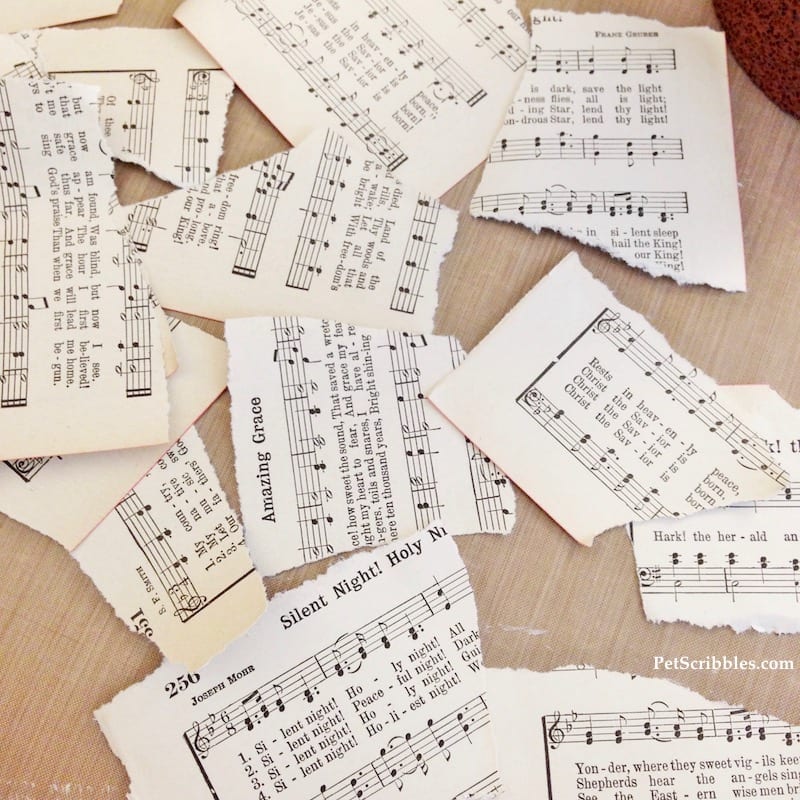 Helpful tip: If you don't want to rip up sheet music, you can find lots of copyright-free sheet music on the internet which you can print out to use.
Step Two: Decoupage the sheet music onto the Styrofoam cone, layering the pieces over each other as you go.
I did a first layer to cover the entire cone and let dry.
Helpful tip: Use a recycled plastic lid as a pedestal to easily turn the cone around as you work.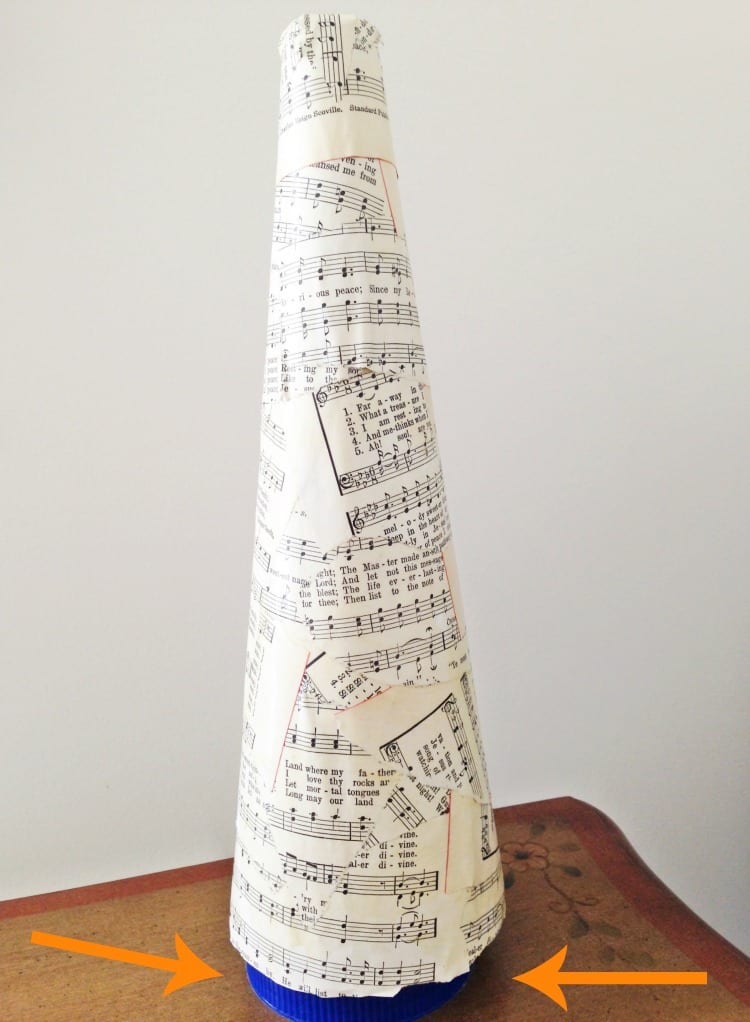 Step Three: Decoupage some of the music that you purposely want to be seen on the cone over the first layer of sheet music.
I wanted some of the Christmas carols and song titles to be visible.
A) Apply Antique Mod Podge onto the first layer of sheet music.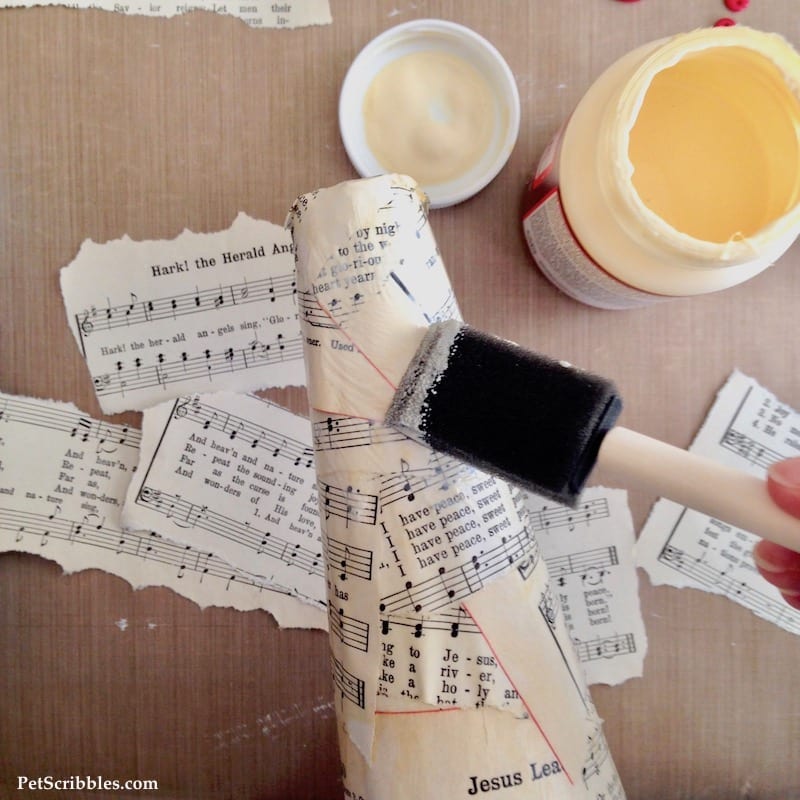 B) Choose what piece of music you want to feature somewhere on the cone.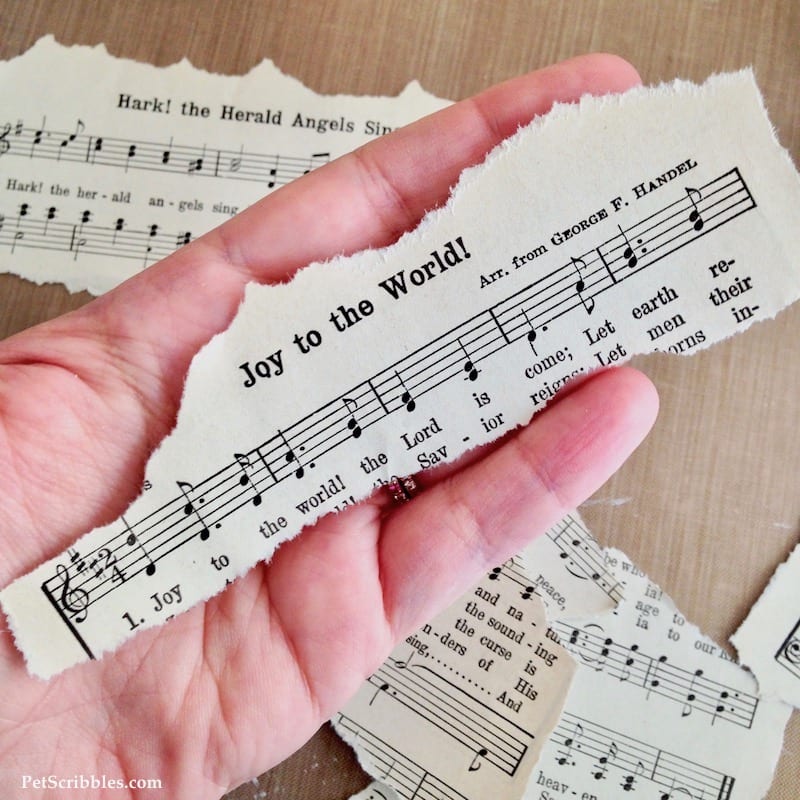 C) Place the music over the area where you just applied Mod Podge and press into place.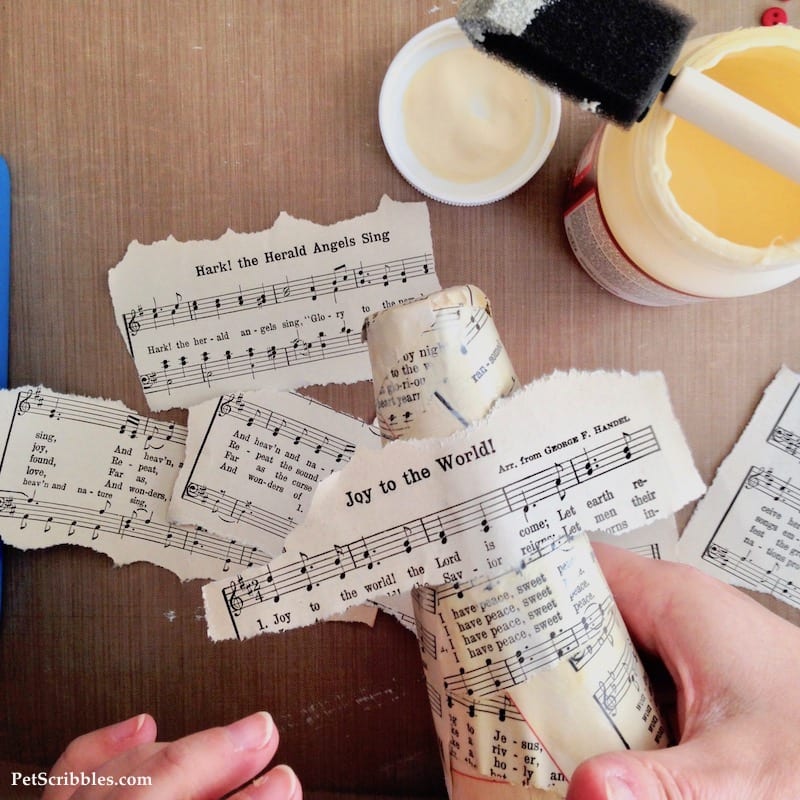 D) Apply another layer of Antique Mod Podge over the piece of music.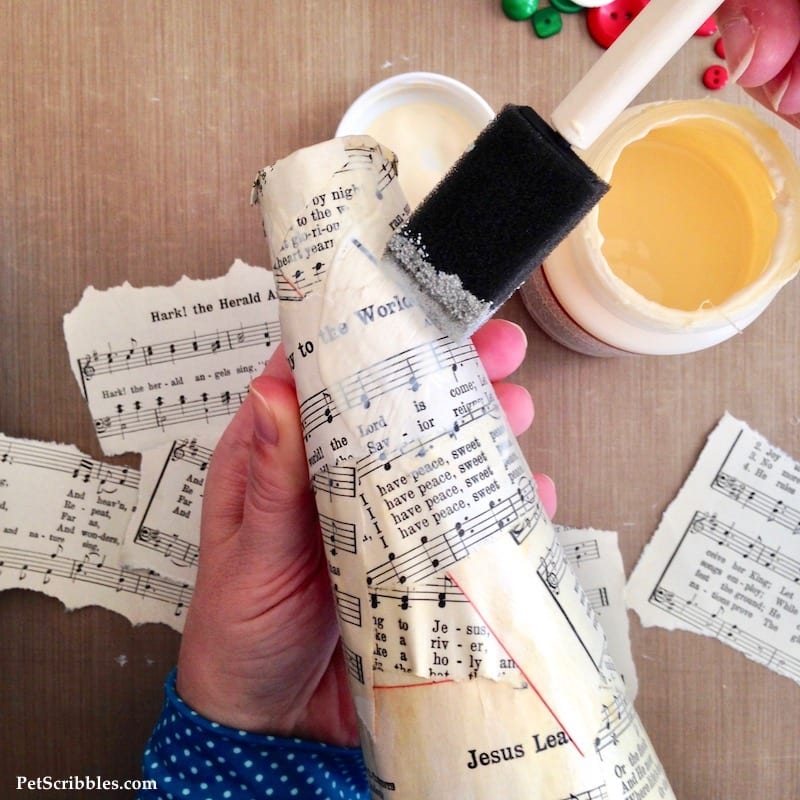 When you apply the Antique Mod Podge, it will appear cloudy, but will turn clear as it dries. This particular Mod Podge formula leaves behind a wonderful tint that makes everything look a bit vintage.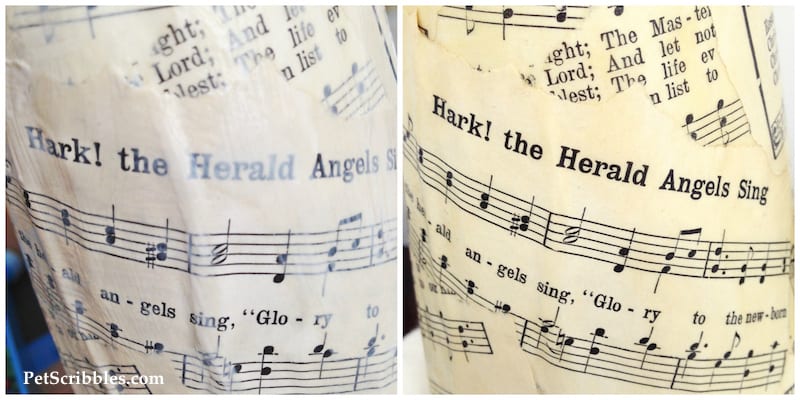 Step Four: Attach cotton balls to make the Santa hat fur trim.
A) Squeeze some Aleene's Turbo Tacky Glue into a small plastic lid.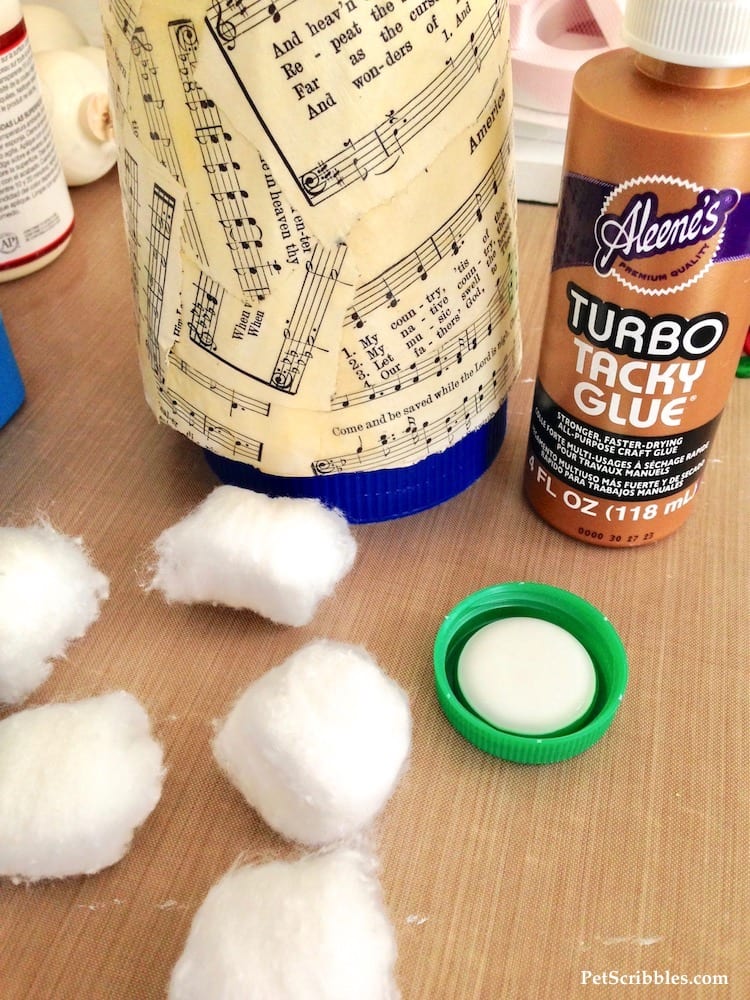 B) Dip each cotton ball lightly to coat part of it in glue, then press that side onto the cone.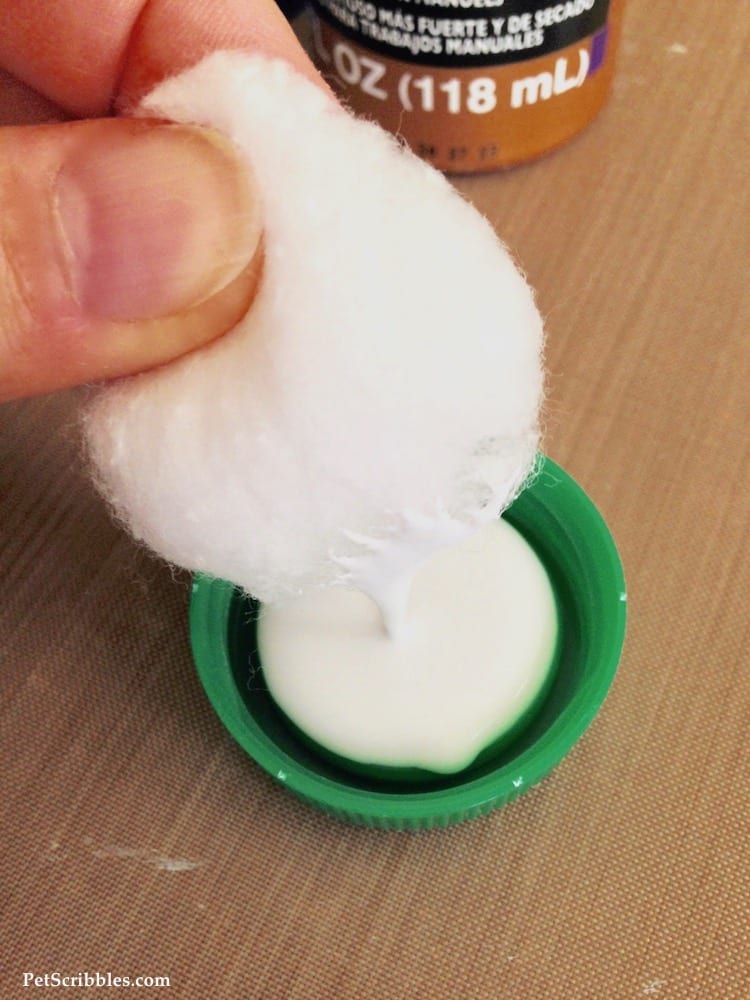 I did two rows of cotton balls around the base of the cone . . .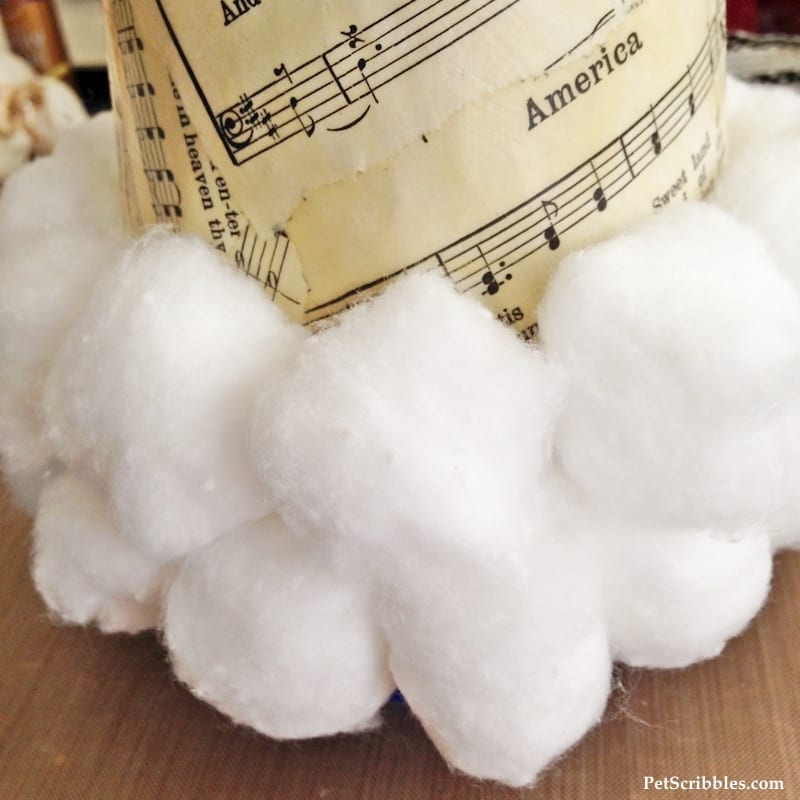 . . . as well as four or five at the top of the cone to mimic Santa's hat: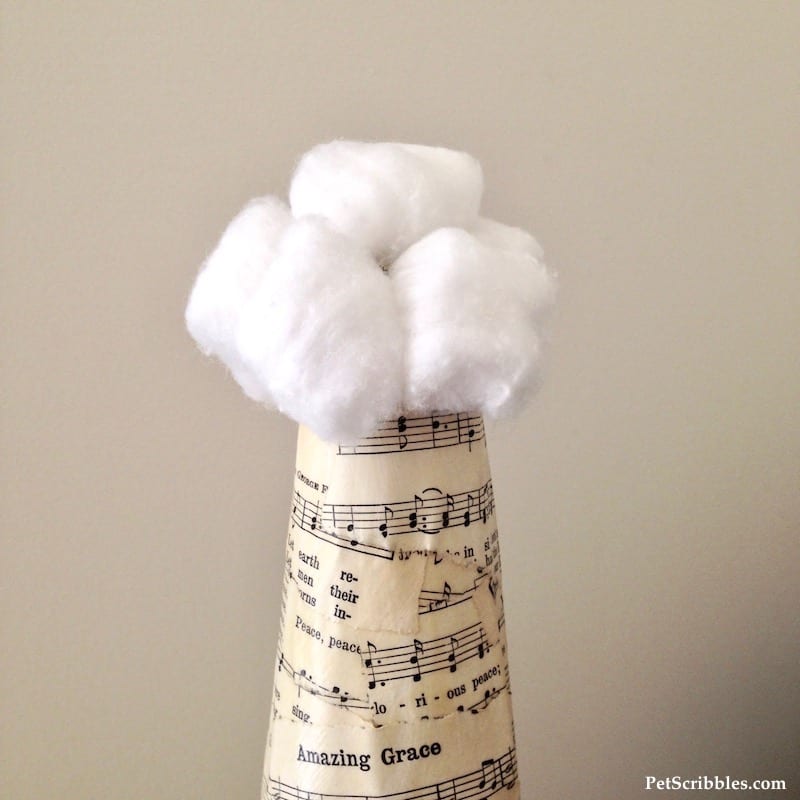 Here's the Sheet Music Santa Hat so far: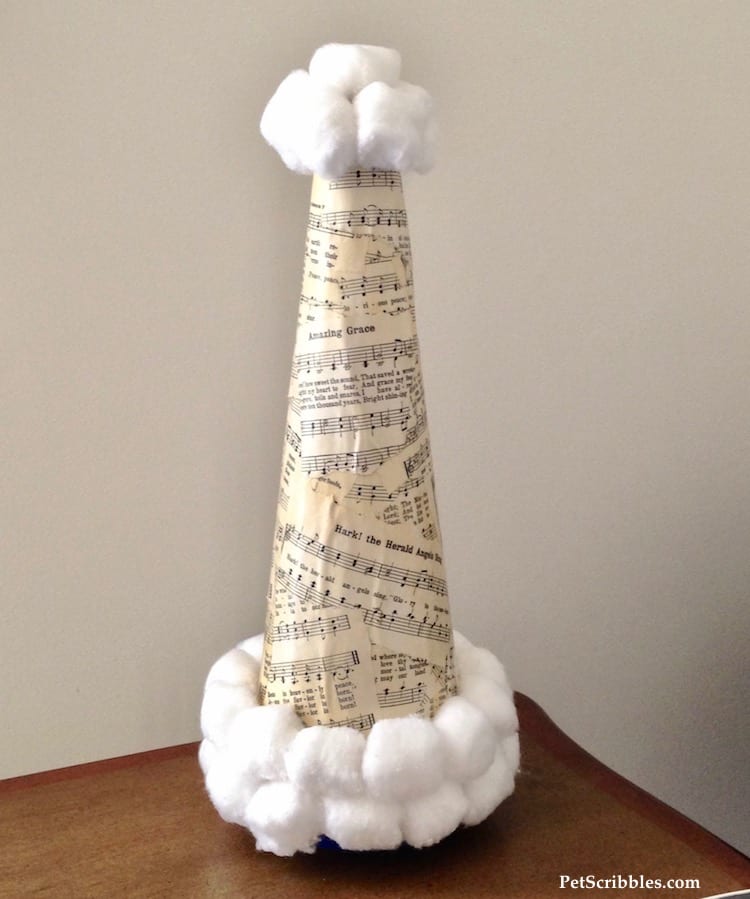 Step Five: Add some jingle bells and twine to the Santa Hat cone.
A) Thread some twine through the back of a few jingle bells and tie them together onto a floral pin.
B) Cut any extra twine off near the jingle bells and rub the end between your fingers to make it fray easily.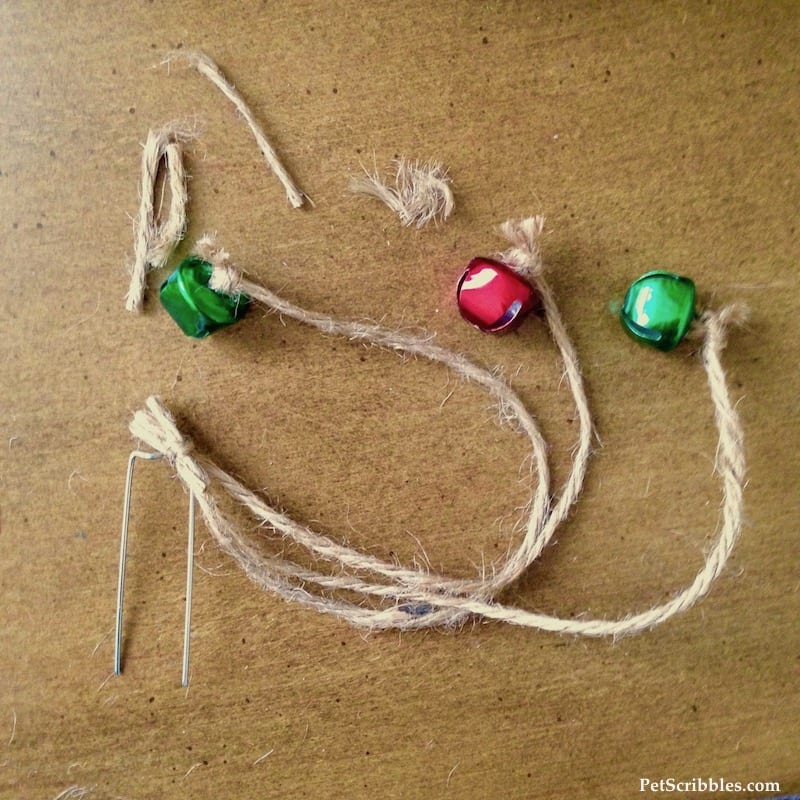 C) Stick the floral pin — with the twine and jingle bells attached — into the top of the cone, in between the cotton balls.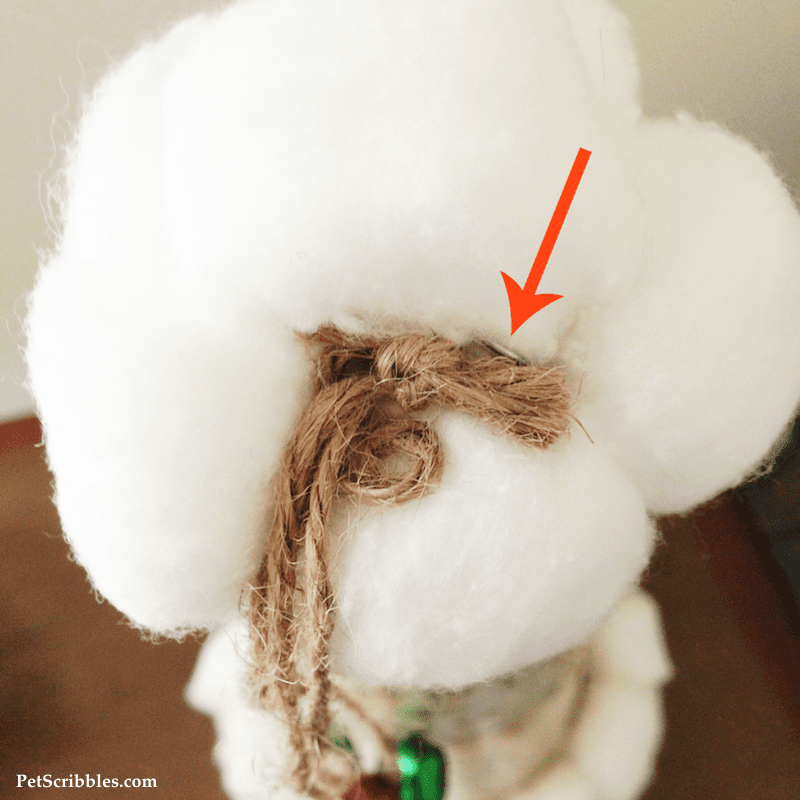 D) Hide the floral pin by adjusting the cotton balls and twine.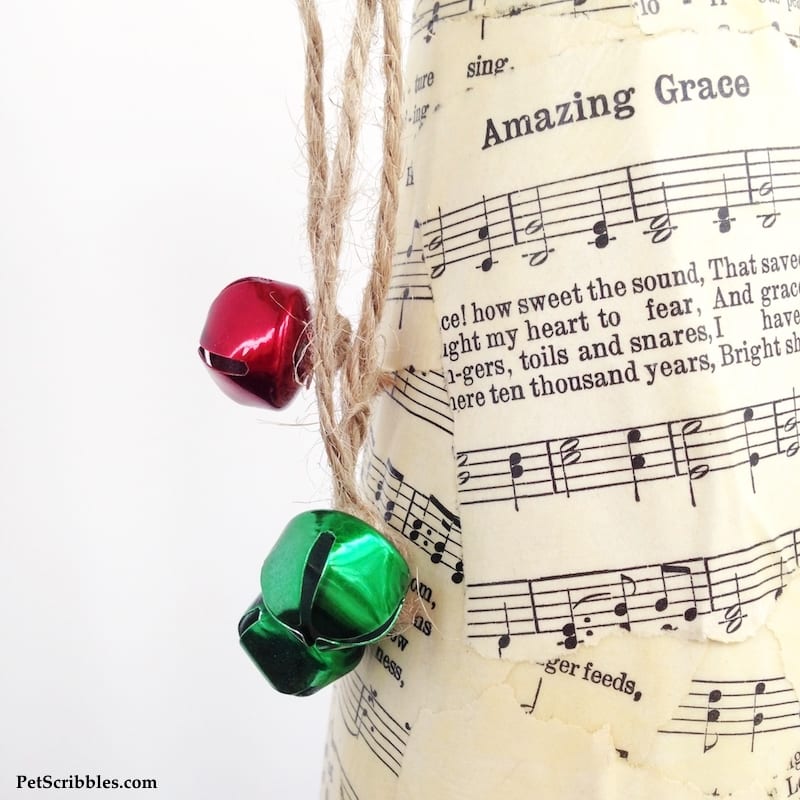 And now you have your very own Sheet Music Santa Hat Cone!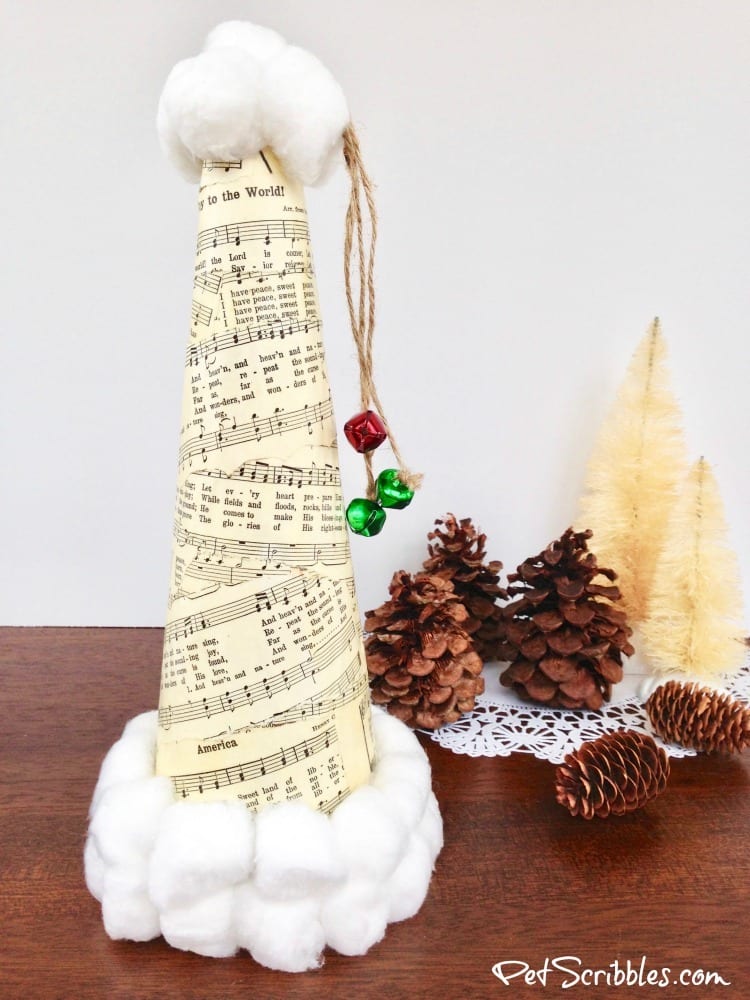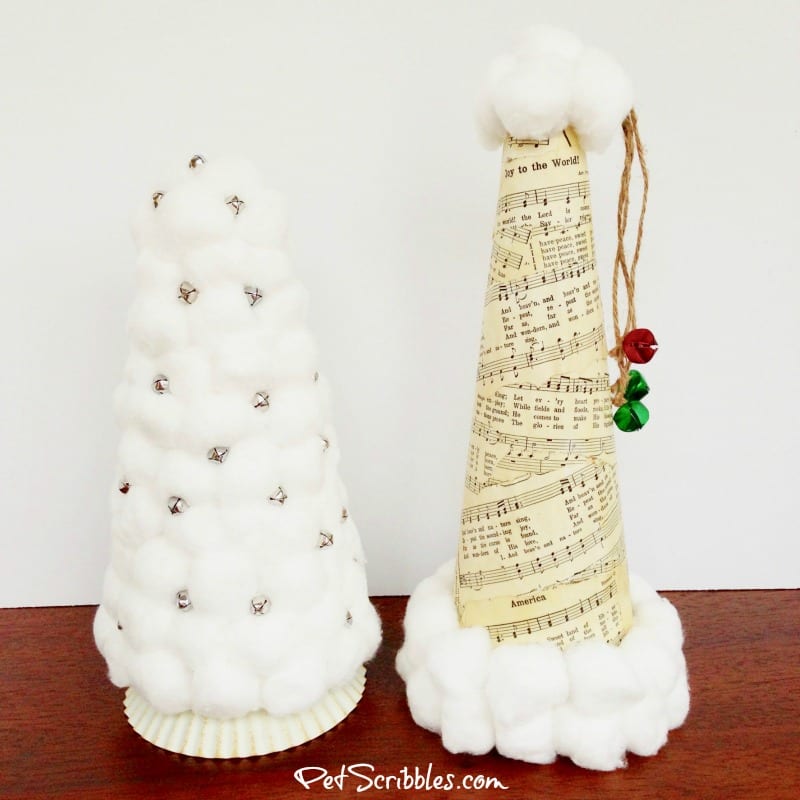 See the step-by-step tutorial for the Cotton Ball and Jingle Bell Christmas Tree here.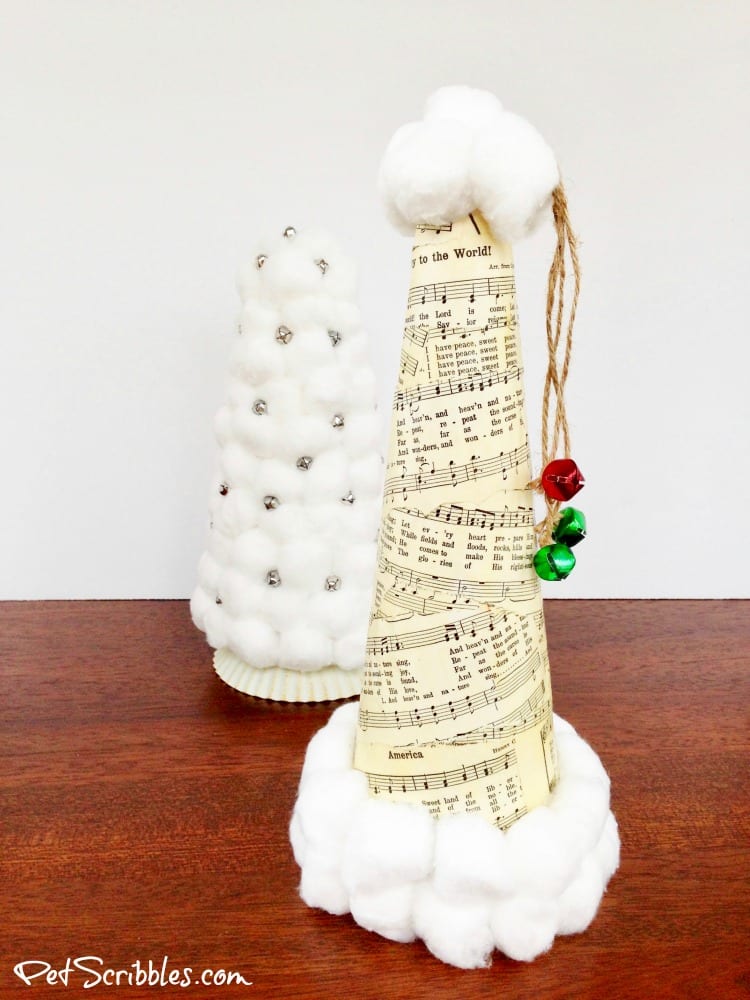 A bit vintage, a bit rustic, and a dash of color with the jingle bells!
Happy holiday crafting!
An older version of this tutorial first appeared on Deja Vue Designs, when I was a craft contributor there. This post has been completely updated for you here!