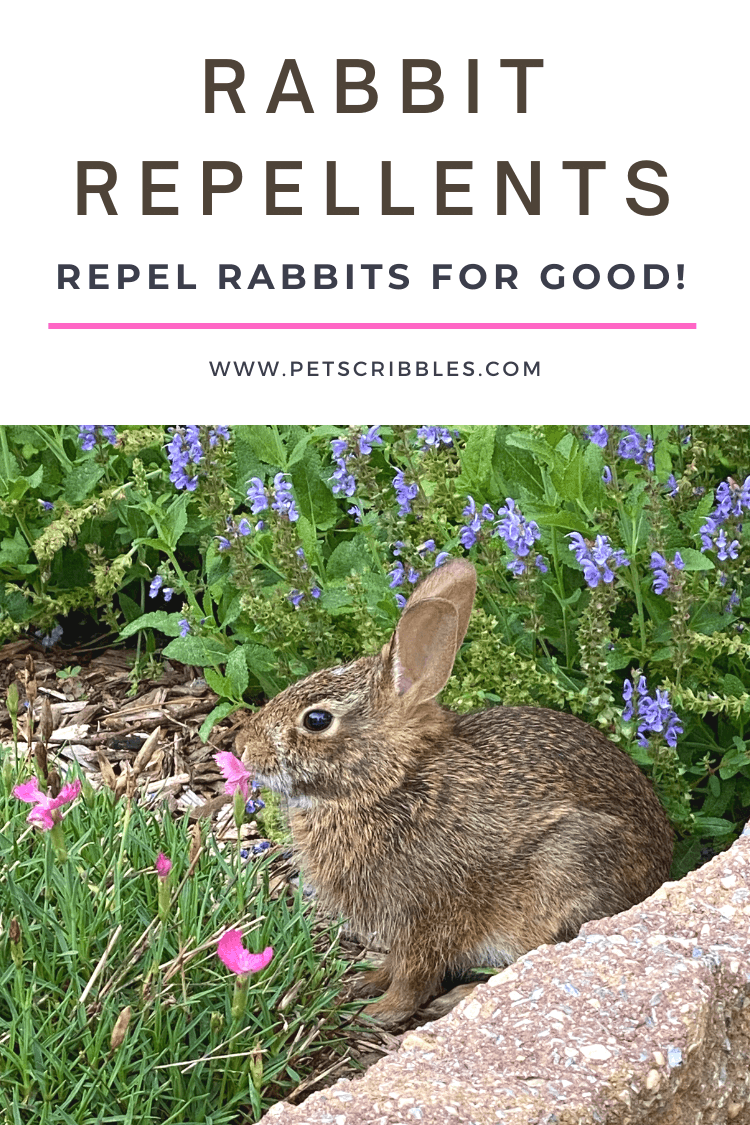 Which rabbit repellents to try; the importance of scent in rabbit repellents; sprays versus granules, plus additional options to consider. Includes helpful videos too.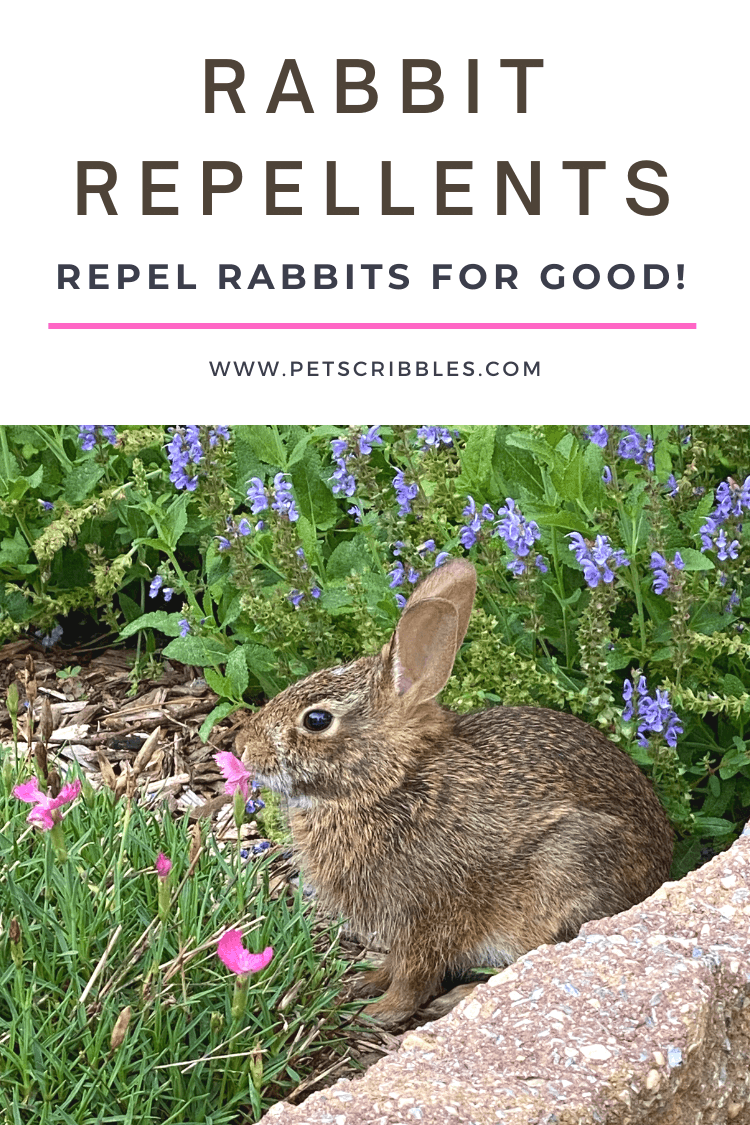 Rabbit Repellents with Varying Degrees of Success
First, here are some interesting methods some gardeners use to repel rabbits with varying degrees of success.
Soap — cutting up soap and placing it around
Pepper powder or pepper flakes — sprinkled around
Pet hair or human hair — placing near the base of plants
Pets in the yard as repellents
Used cat litter — sprinkled around — can be gross
Mothballs
Mothballs should never be used in gardens or anywhere outdoors, for any reason. They can be dangerous and toxic to children, adults and pets as well as wildlife. Chemicals from mothballs leach into the soil and into our water systems. Please don't use mothballs in the garden.
Most Important Point to Remember
What works to repel rabbits for some gardeners may not work for other gardeners.
And that's what is so frustrating! So I'm sharing what is currently working for me — "currently" meaning I know that at some point these may stop working.
It depends upon the rabbits. And if rabbits are hungry enough, they will eat anything they can.
Second Most Important Point to Remember
Rabbits may get used to a scent over time.
So for example, one of the products I use has a strong garlic scent to repel rabbits. It's possible that over time, they might become used to it.
Or, they taste something that should repel them, but they aren't bothered by the taste and continue to eat.
So what do you do?
You use more than one scent to hopefully prevent those pesky rabbits from getting too relaxed in your garden.
And hopefully if they taste these scents, which they don't like, well — that's even better!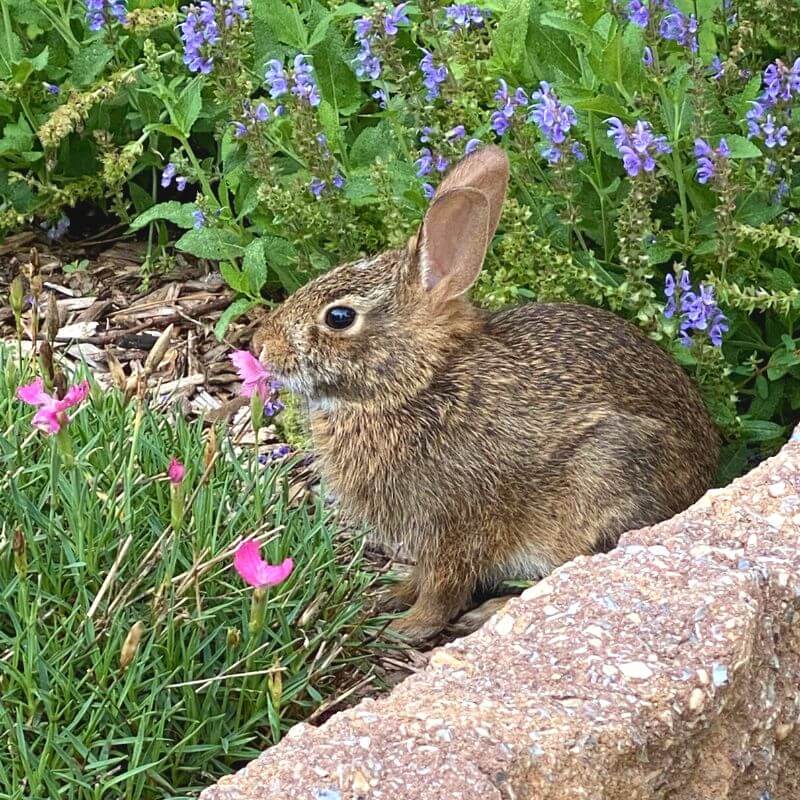 Rabbit Repellents: Sprays versus Granules
Sprays
Apply in morning or evening — avoid spraying in direct sunlight or high heat of the day due to the possibility of plants burning from the spray. You don't want your leaves scorched.
Sprays aren't usually effective in Winter, as many spray products state on their packaging they don't work well when temperatures dip below freezing.
Granules
Can be applied anytime of day or evening.
Work well in Winter — not dependent on temperature.
Must follow package directions: some formulas suggest watering the granules if no rain is coming soon.
Rabbit Repellents Using Scent and Taste to Repel
Here are the repellents currently working for me.
I'll tell you a bit about each one, but this isn't really about the pros and cons so much — because the pros and cons are as follows:
Pro — it works, it repels rabbits
Con — it doesn't work!
Remember: What repels rabbits for me and my gardens may or may not work for you because these darn rabbits don't understand English and can't read so they aren't always up on what they should be avoiding.
Bonide Repels-All Granules
There are two versions of Repels-All that work as rabbit repellents:
Both formulas are made with cloves and garlic to repel unwanted critters.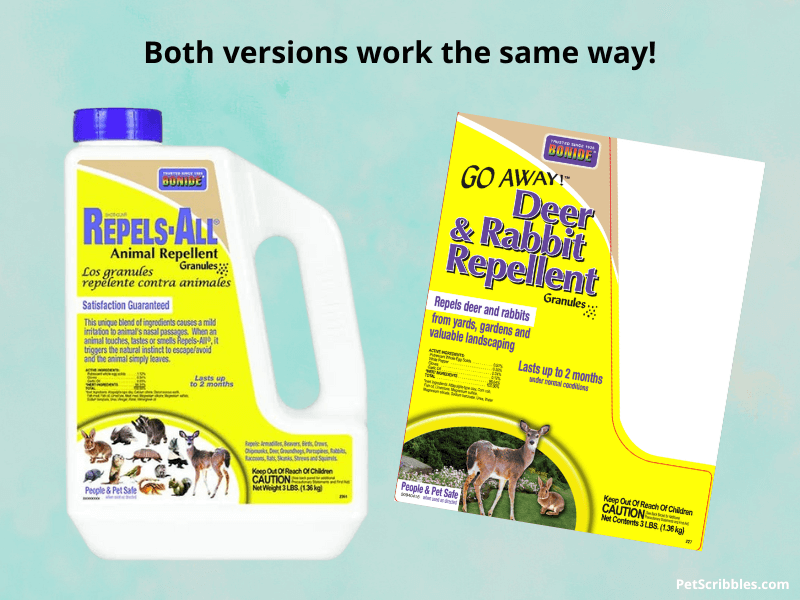 Causes a mild irritation to the animal's nasal passages
Triggers a natural instinct to escape and avoid the scent or taste
Does not harm the animals, but instead drives them away
Effective year-round, even in Winter
Granules are bio-degradable
Make sure to follow package directions and read all of the info. With Repels-All granules it mentions watering the granules IF no rain is coming soon.
I Must Garden Rabbit Repellent Spray
I Must Garden Rabbit Repellent spray is made with garlic and botanical oils of plants that rabbits naturally avoid, like peppermint, rosemary, lemongrass and thyme. It smells really good . . . but not to rabbits!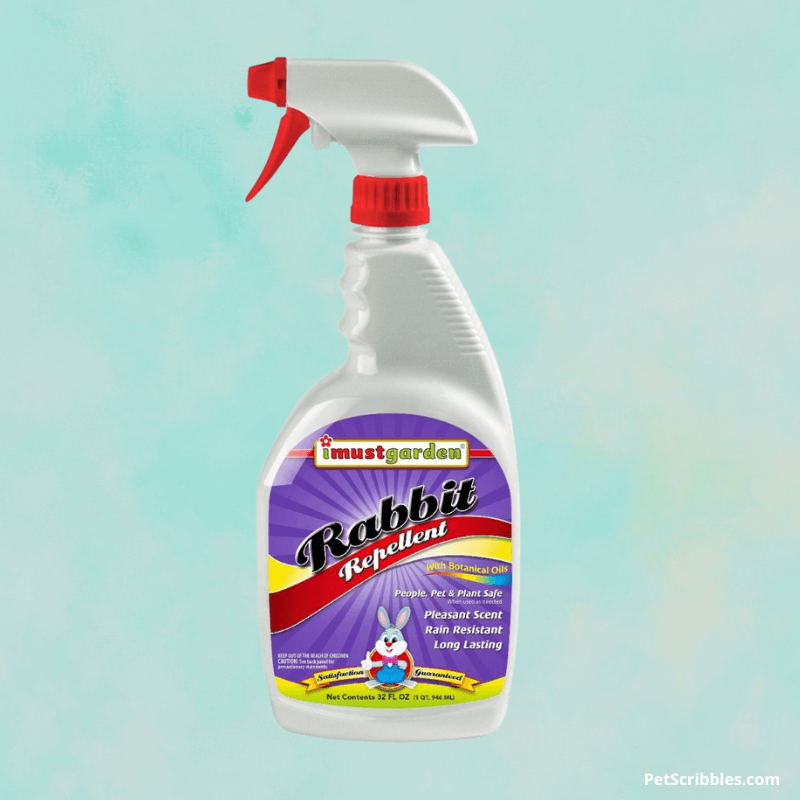 Causes a mild irritation to the animal's nasal passages
Triggers a natural instinct to escape and avoid the scent or taste
Does not harm the animals, but instead drives them away
Rain resistant
Make sure to follow package directions and read all of the info. For this spray, the plants should be dry before the spray hits the plants so that the product adheres well.
Liquid Fence Deer and Rabbit Repellent Spray
Here's an example of a repellent that no longer works at repelling the rabbits we have.
I used Liquid Fence with success for years, but starting a couple of years ago, the rabbits began eating my flowers and plants anyway. I called these rabbits Pandemic Rabbits because they were so destructive . . . and the rabbit invasion started coincidentally when the Covid pandemic began.
Spraying often and during the heat of the Summer is something I didn't enjoy, and my plants ended up with leaf scorch from the spray, like my Black-Eyed Susans below. (And still the rabbits ate them!)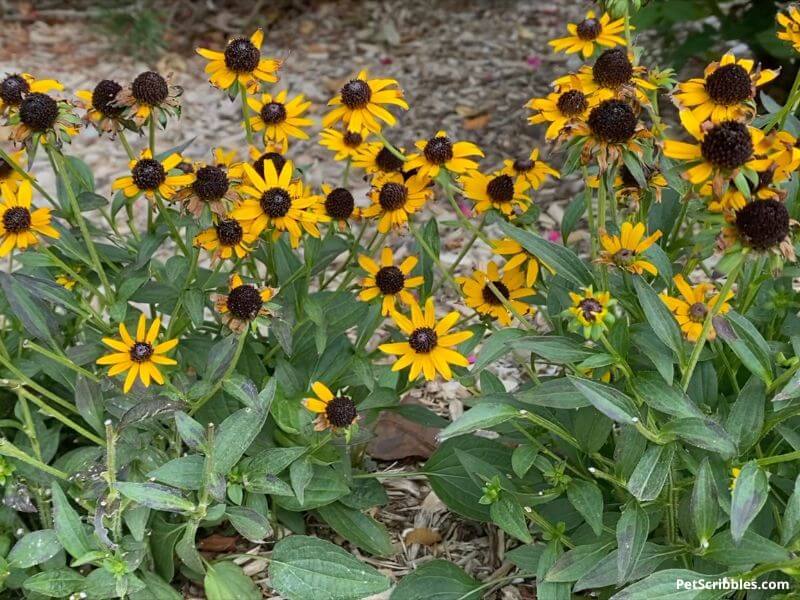 It was frustrating and it happens!
Remember: You may very well have a different outcome — and I hope that you do!
Chicken Grit as Rabbit Deterrent
Chicken Grit is normally fed to chickens to help them break up their food as they have no teeth.
I use chicken grit in the Fall — as do many gardeners — when planting bulbs to help with drainage as well as to protect bulbs from squirrels, chipmunks and rabbits. The idea is that the rough edges of the grit don't feel good on the paws of these critters.
If it's used for bulb protection, I'm thinking why not try it around my plants — especially in places where the mulch is lacking during the Winter and early Spring.
So now I'm experimenting with using chicken grit as a rabbit deterrent in my garden beds. Perhaps it helps in combination with the sprays and granules I use.
You can purchase chicken grit at farm and feed stores, like Tractor Supply Co. I use Manna Pro Poultry Chicken Grit.
---
---
Chicken Wire Cloches to Keep Rabbits Out
Some rabbit repellents are a no-brainer because they keep rabbits out, such as chicken wire cloches.
This year, I put chicken wire cloches around some of the plants rabbits devoured last Winter, such as my Color Guard Yuccas and my Drift Roses. I also put them over my tiny Black-Eyed Susan area. These worked great and looked nice in the garden too!
I purchased my chicken wire cloches from Gardeners Supply Company.
---
---
Tree Protectors to Keep Rabbits Out
Here's a simple tip to protect trees and shrubs from rabbit damage: use tree protectors, also called tree guards.
The ones I use are lightweight, reusable, adjustable for various widths and can be connected together for larger trees and shrubs.
This year I used tree protectors around some of my ornamental trees that rabbits favor: my Prairifire Crabapple and my tiny Redbud plant, as well as my Lavender Chiffon Rose of Sharon which rabbits devoured the previous Winter.
In each case, the tree protectors worked great.
For the Rose of Sharon, I surrounded it with Daffodils for the Spring, and with Catmint for the Summer and Fall seasons — plants rabbits hate. This works well.
I bought these tree protectors on Amazon.
---
---
Conclusion
I hope I've given you some good ideas to consider.
Let me know in the comments below if you've tried any of these rabbit repellents!
Happy gardening!