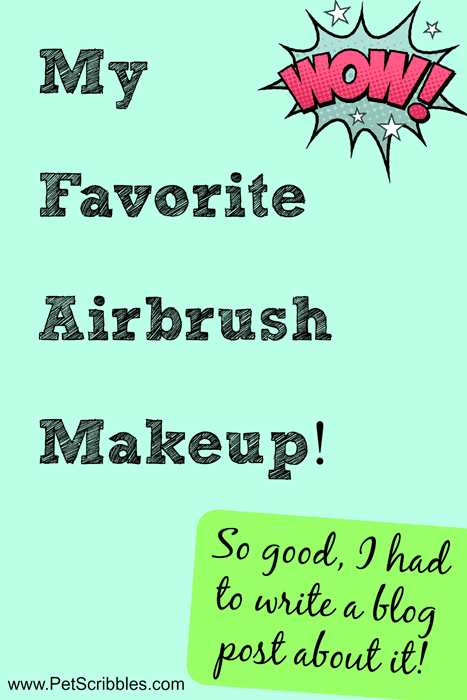 Cue the choirs of angels and trumpets because I found my new airbrush makeup!
Why am I sharing this with you? Because it's been at least 10 years since I've felt this way!
Way back when . . .
The first airbrush makeup I ever used was made by Sally Hansen. When they eventually discontinued it, I was devastated. Which sounds overly dramatic, unless you were in love with the flawless finish which resulted from that particular makeup like I was.
Surprisingly, while Sally Hansen continues to produce their leg makeup — in a formula and application exactly like their airbrush makeup — they discontinued the face makeup years ago.
It was a dark day for me.
Having to find a new foundation makeup is not fun, and if you wear makeup I know you'll agree. It was trial and error moreso than trial and success. I tried the BB creams and the CC creams and the tinted moisturizers and the heavier liquids… Eventually I settled on a makeup, but wasn't over-the-moon happy with it.
A few months ago . . .
During the holiday season, I received a Kohl's flyer in the mail advertising their new Beauty department. I'm already a huge Kohl's fan for clothing, so this had me intrigued. There was a page devoted to Pur Minerals Liquid Veil 4-in-1 Spray Foundation that made me catch my breath: the word "airbrush" was in the description!
After looking up the product online and reading several reviews – both positive as well as negative – I decided to purchase it. This makeup is pricey, no getting around it: $39. But I had to see if it would give me that flawless coverage I'd been missing for the past 10 years.
It did! 
Pur Minerals Liquid Veil 4-in-1 Spray Foundation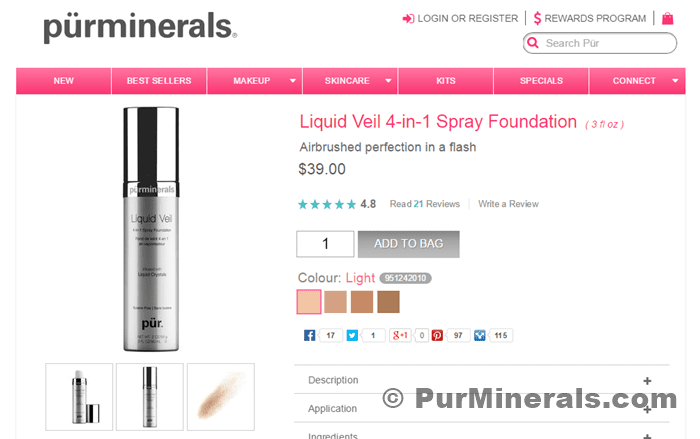 Pur Minerals Liquid Veil 4-in-1 Spray Foundation is an airbrush makeup, which can seem a bit odd if you've never tried one before. (And there haven't been that many on the market to try.) You have to shake the can before spraying, and the metal ball inside will make it sound like you're shaking up a can of spray paint. Being a crafter, I actually find the sound fitting somehow!
It is suggested by the Pur Minerals folks to use a particular brush for the best application, but I just use my fingertips. I spray some onto my fingertips, then apply lightly and quickly onto my face.
Tip: Spray over a sink, at least until you get used to the spray can, as tiny drops can land elsewhere when first trying this.
I find that two sprays will give me ample coverage for my entire face including my jawline/neck area. But on days where I'm feeling like my face could really use the coverage – I'll use more.
Here's my before-and-after shots. On the right, all I have on my face is the airbrush makeup.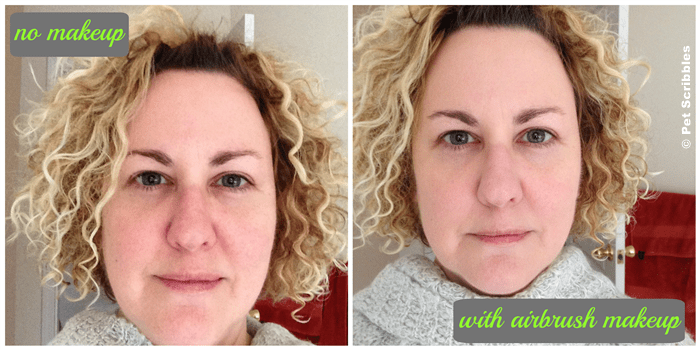 The feeling is like you're not wearing any makeup at all.
The look is like you have flawless skin, or flawlessly applied makeup.
And just what is flawlessly applied makeup? It's when you simply look radiant and glowing and NOT made up. Natural yet better somehow!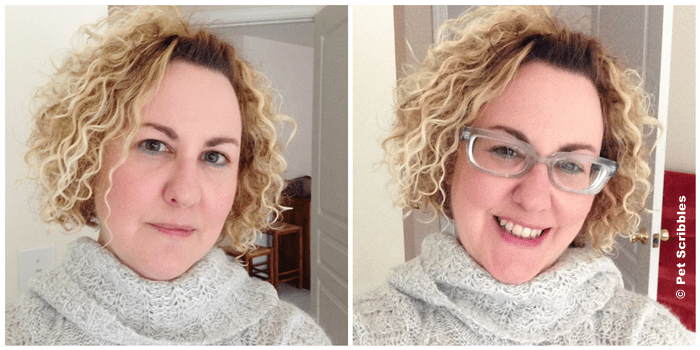 Results may vary, I realize, so I'll tell you my experience.
This makeup doesn't dry out my skin, especially during these Winter months of drier indoor air.
My skin looks fresh, but since I tend to get oily on my forehead and nose, I'll lightly brush on a bit of mineral powder in those two spots.
For me, this makeup lasts about 6 hours before I need to touch it up. I use blotting sheets, rather than adding more powder. (See forehead and nose comment above!)
I think the Pur Minerals Liquid Veil Spray Foundation is worth the price. Yes, I work from home, and go without makeup some days, so I'm not using it every day. But I would use it every day if I needed to. It's just that good.
So there you have it: my favorite airbrush makeup!
Happy face!
~Laura