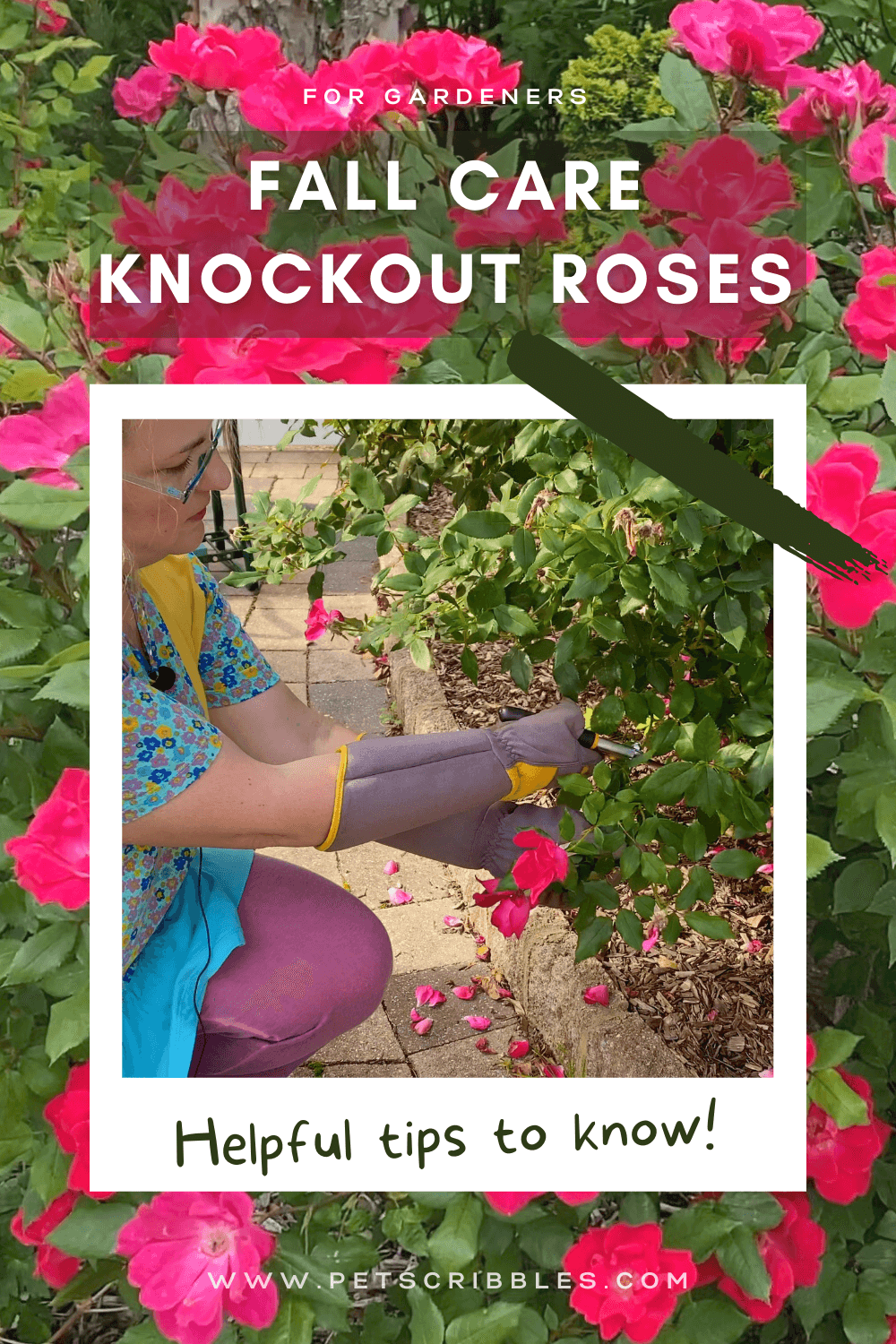 This article and video is about Knockout Roses Fall care and pruning. What should your Fall cleanup include? Should you prune Knockout Roses in the Fall or in the Spring? I answer these questions and cover everything needed to get your roses ready for Winter.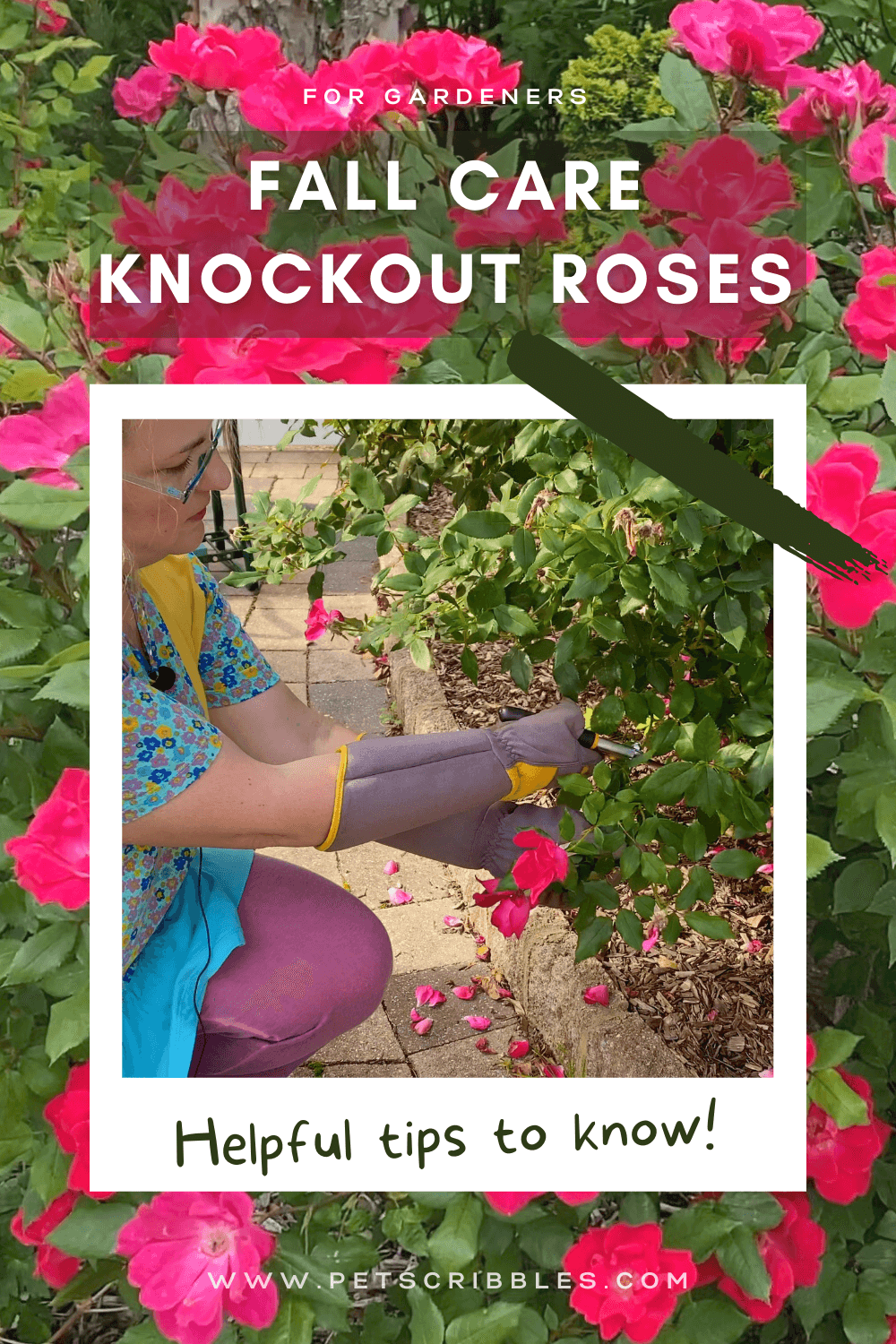 Every year in Fall there are lots of questions regarding Fall care of Knockout Roses. My goal is to remove any anxiety you have about this. It's pretty straight forward and easier to tackle than you think!
Knockout Roses Fall Care Video
For those that prefer video, below is a video where I explain all aspects of Fall cleanup for your Knockout Roses.
Keep scrolling down this page to read my Knockout Roses Fall Care tips!
Supplies for Knockout Roses Fall Care
Rose Pruning Gloves
Whenever handling your Knockout Roses — or any roses or jagged plants like Yuccas — use a set of rose pruning gloves. I like these rose pruning gloves which I purchased on Amazon. These heavy-duty gloves protect me from getting stuck with thorns.
Hand Pruners
I like these Fiskars hand pruners and use them all the time when gardening.
Garden Kneeler Bench
To get down close to the ground easily, I use my favorite garden kneeler bench which has helped me ever since I began using it when recovering from my double-hip replacement. To me, this garden kneeler bench is a game changer. I like it much better than using a kneeling pad.
Neem Oil
I use Neem Oil throughout the Summer season, especially as it's part of a 3-in-1 product that I spray on my Knockout Roses for black spot, aphids and so on. I like using either Bonide Captain Jack's Neem Oil, 3 Garden Products in One — or — Espoma Neem Oil 3N1.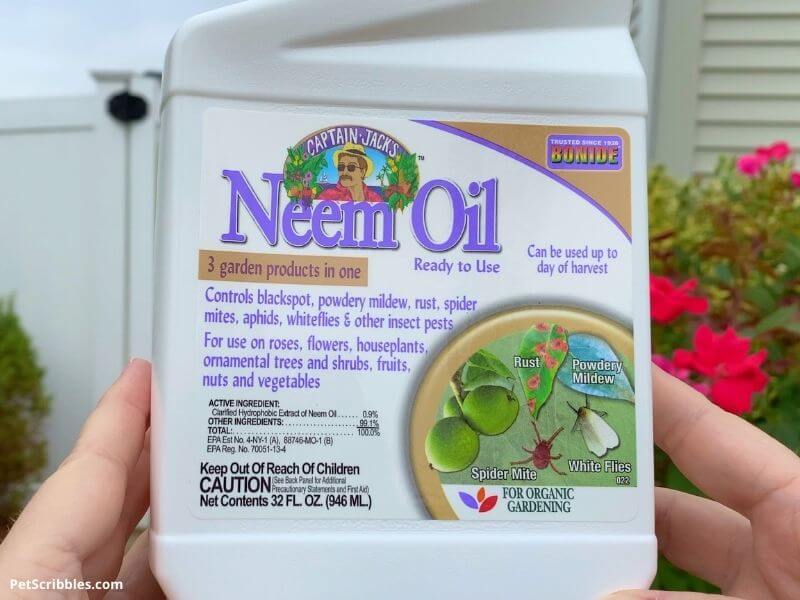 Fall versus Spring Pruning
Should you prune your Knockout Roses in the Fall or in the Spring?
This is a good question, and you'll find gardeners that prefer one season over the other. I used to prune my Knockout Roses in the Fall — however — last year I waited and pruned my roses in the Spring and now I prefer it instead.
There really is no difference to pruning results in Fall versus Spring, however it is actually easier to prune your roses in the Spring.
Why?
Because you can prune your Knockout Roses when you begin to see buds on the shrubs. These buds help you to see exactly where to prune;
You will have a much better sense of any stems or branches that are dead and should be removed.
Pruning in Fall has advantages too, including having it checked off the list, which will be one less chore to do next Spring.
And it's best to prune in Fall if you live in an area where heavy snow can damage the branches.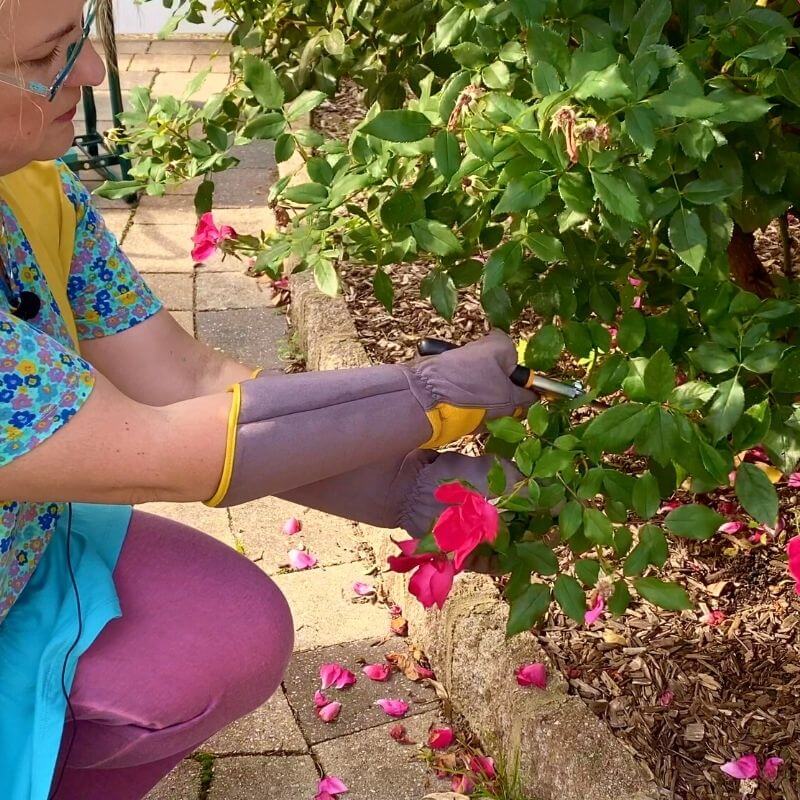 If you decide to prune in the Fall
Make sure to prune in late Fall, if you decide to prune in the Fall. Pruning too early will cause the plant to begin putting out new growth which will die off. The new growth confuses the plant too, as it wants to go dormant, yet it's beginning to grow again.
Next Spring, still take a look at your Knockouts closely in case there are branches that died during the Winter. Again, this is easy to spot as the new growth begins emerging.
Fall versus Spring pruning and bloom time
Doing my own experiment, I found no difference between my Knockout Roses I pruned in Fall 2020 versus those I pruned in Spring 2021.
The bloom time was still the same, with the Fall-pruned roses maybe being a few days ahead of the Spring-pruned roses.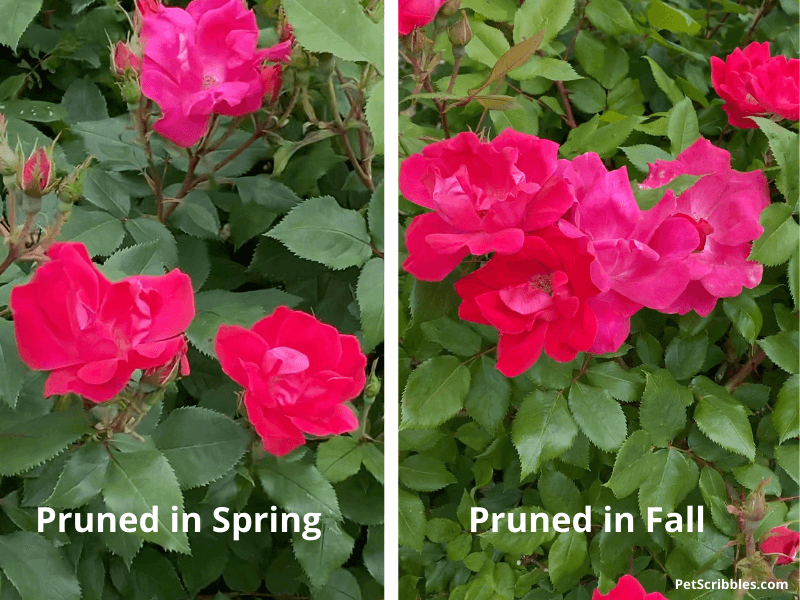 So it's truly up to you when you want to prune your roses. If Fall — prune in late Fall. If Spring — prune in early Spring.
What do I do? I prune in the Spring now. I prefer it because the buds do make it easier to see where to prune, plus if I have to remove any dead branches that didn't survive the Winter, I'm pruning only once, not twice. But I pruned my Knockout Roses for years in late Fall, so trust me when I say that either time is fine!
How to prune Knockout Roses
I have a separate article and video on how to prune your Knockout Roses. Both of these cover everything in detail and show you exactly what to look for and how to prune.
You can see them both here: Pruning Knockout Roses: When, What and How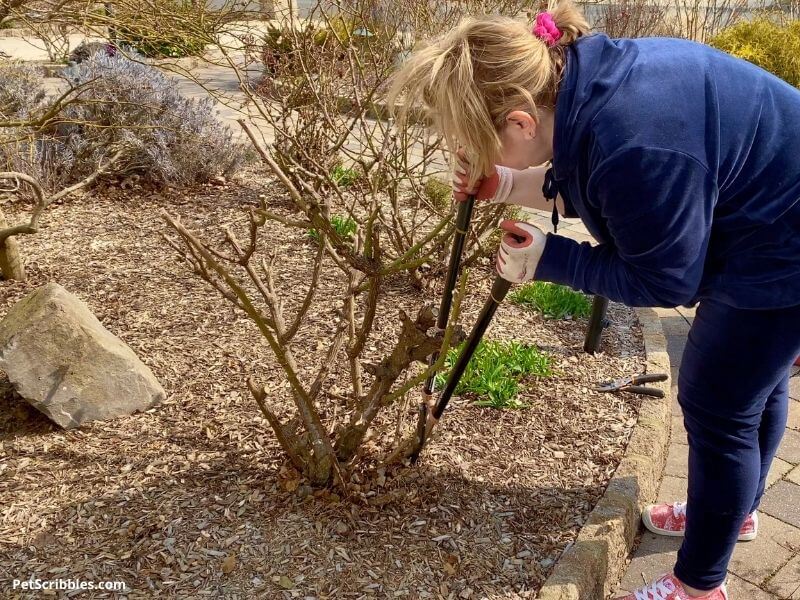 Knockout Roses Fall Care List
Trim and tidy up the roses.
You can trim back a couple of branches here and there without worrying you're encouraging the shrub to begin growing again. I like to remove bottom branches and any overly long stems — either sticking out into the path or up too high. You can even trim the shrub down about one foot if you want to. Just don't trim too much.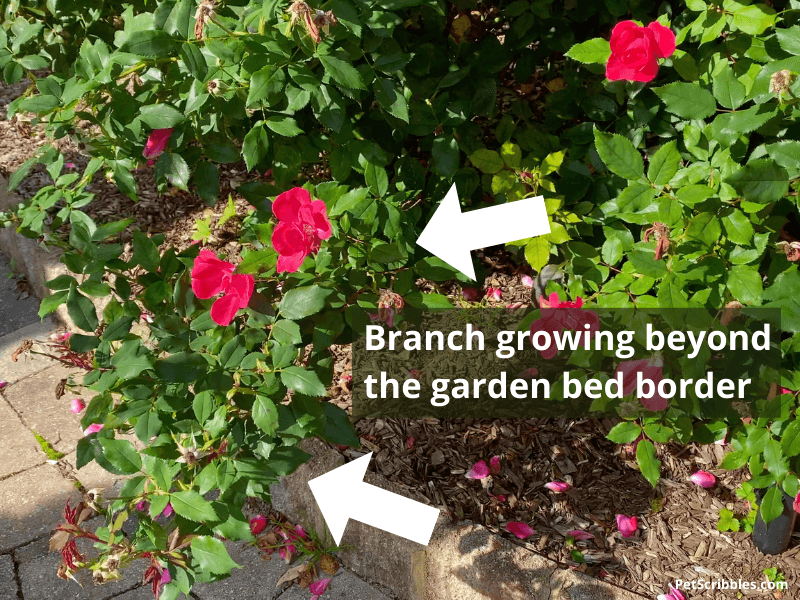 Remove any diseased or damaged leaves.
Whether it's from black spot or anything else, diseased leaves should be removed from your shrub and thrown out. (Don't put these leaves in your compost pile if you have one.)
If you want to learn more about black spot, I've got an article and video you can check out here: Black Spot on Knockout Roses: How to Treat in 3 Steps
Clean up underneath the shrub.
Here's a great photo of what was lurking underneath my shrubs: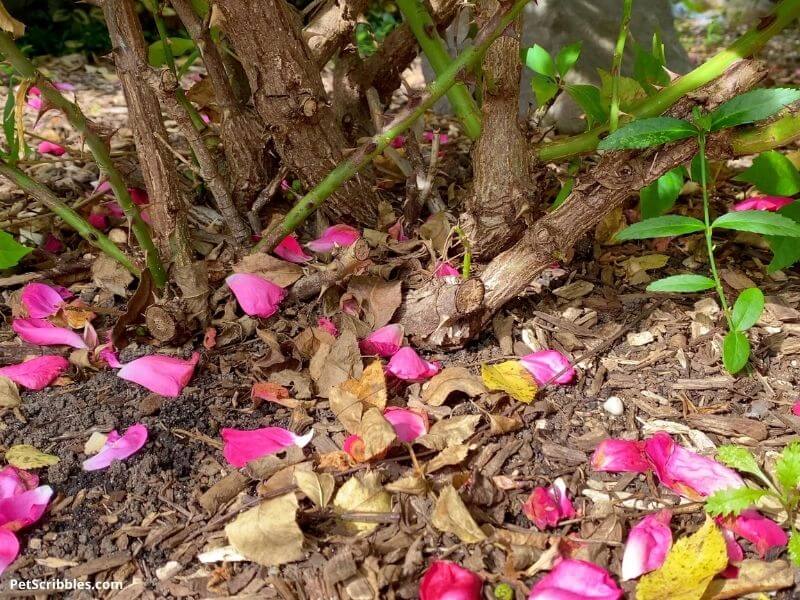 Egads! That's bad!
Remove all weeds, fallen leaves and debris from the ground around the rose bush. It's best to keep the ground around your roses clean and tidy — especially during the Winter season.
Apply Neem Oil.
During the Summer season, I use a 3-in-1 product to treat my Knockout Roses, if I see any black spot, aphids or other pests that shouldn't be there. A "3-in-1" product means it works as a miticide, fungicide and insecticide.
In the Fall, I like to give my Knockout Roses one final dose of Neem Oil to make sure I'm attacking any remaining pests or black spot spores before everything goes dormant.
You can also spray the soil around the base of your Knockout Roses in the Fall, as this will help to kill any black spot spores on the soil.
Add mulch.
This is especially important if you live in a colder zone. Most of us use some kind of mulch in our gardens, right?
So this step is reminding you to have a couple of inches of good mulch on the soil around the base of your plants. Mulch can be shredded bark, pine chips, pine boughs, shredded leaves or similar. Something that will protect the soil.
And by the way — having snow covering your garden is actually a good thing during the Winter, as it can insulate and protect the soil. I wish we had that here.
Instead, I need to make sure I've got a good mulch cover as the soil is prone to freezing and thawing when we don't have snow cover protection. And when there's freezing and thawing alternating — your plants can possibly heave out of the soil a bit, exposing the roots. I lost a small Pancake Arborvitae shrub a few years ago because of that, so I learned my lesson.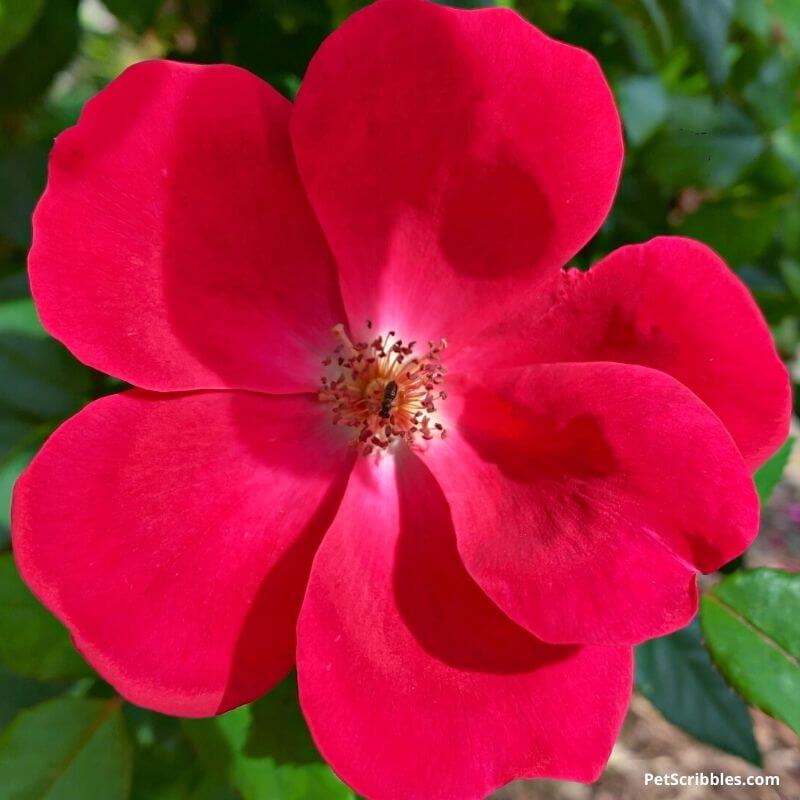 Do not fertilize Knockout Roses in the Fall.
A very important tip!
Fertilizer encourages plants to grow, and we don't want that happening with our Knockout Roses when they need to begin getting drowsy and going to sleep for the Winter.
Save the fertilizing for early Spring. That's when you can put down a slow-release organic fertilizer specifically for roses. I use Rose-tone by Espoma, and apply it just after I do my Spring pruning.
Use burlap wrap on Knockout Roses
If you live in a super cold area with harsh Winters (zones 4 and below) — the Knockout Rose company suggests you protect the base of your shrubs with burlap wrap, since Winter winds can be very drying to plants. The burlap can be removed in early Spring when you prune your roses.
If you're unsure whether or not you need to wrap your roses — please ask your local garden nursery experts what they do with their own Knockout Roses. They can advise best.
I've seen good gardening burlap on the Gardeners Supply website here.
Deer and Rabbit Prevention
Unfortunately, deer and rabbits like Knockout Roses. I don't have deer, but have heard horror stories of how they will chomp these shrubs down during the Winter. I do have Pandemic Rabbits — what I call these irritating garden dwellers that seemed to cause worse damage once the Covid-19 pandemic began.
Deer and rabbit repellents
I sprinkle Repels-All around to keep them away. As long as I remember to get out there regularly during the cold Winter days, all is well. If I forget? Well… I did get damage to one of my shrubs last Winter (below), but luckily it wasn't bad.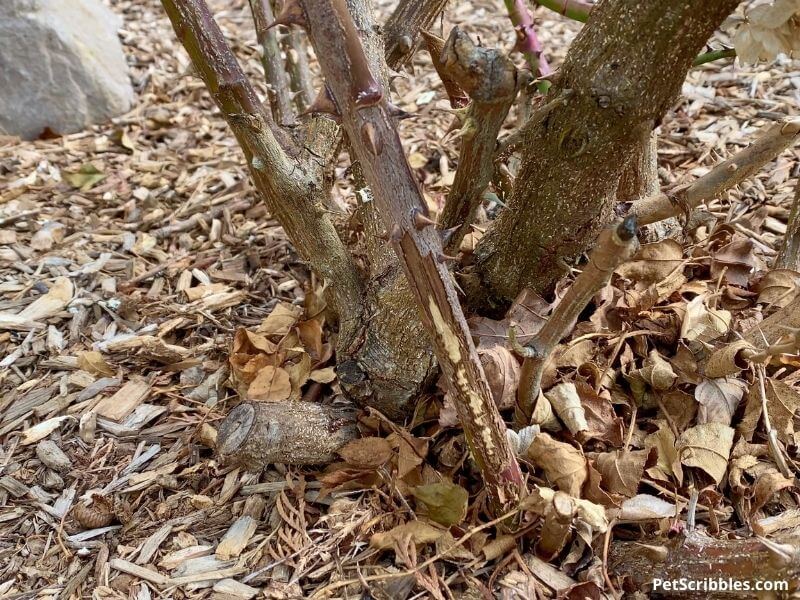 Other products to try include Liquid Fence and Plantskydd. There's actually a lot of deer and rabbit repellent products to choose from.
The best solution seems to be trial and error plus mixing and matching products until you find something that works for you.
Two important things to remember:
Some gardeners have success with these products while others do not.
Deer and rabbits will eat anything — and ignore repellents — if they are hungry enough.
Chicken wire
Place chicken wire temporarily around your Knockout Roses for the Winter, then remove in the Spring before you prune.
Plastic tree protectors
Use larger plastic tree protectors — many can be attached together to make a larger circle — and place around the base of your shrubs.
More Knockout Rose Info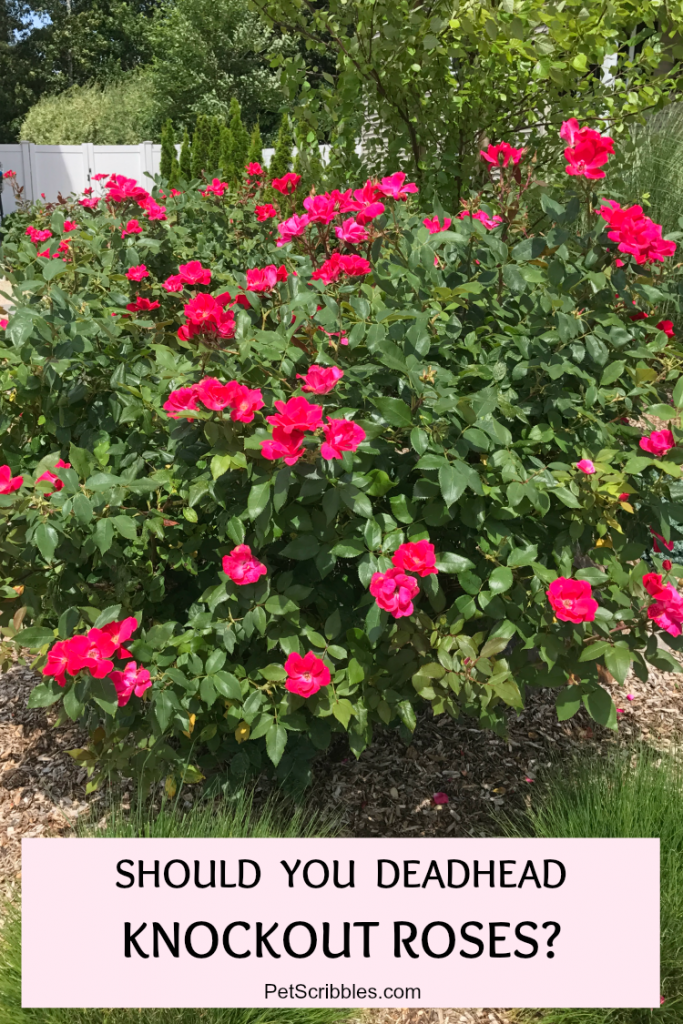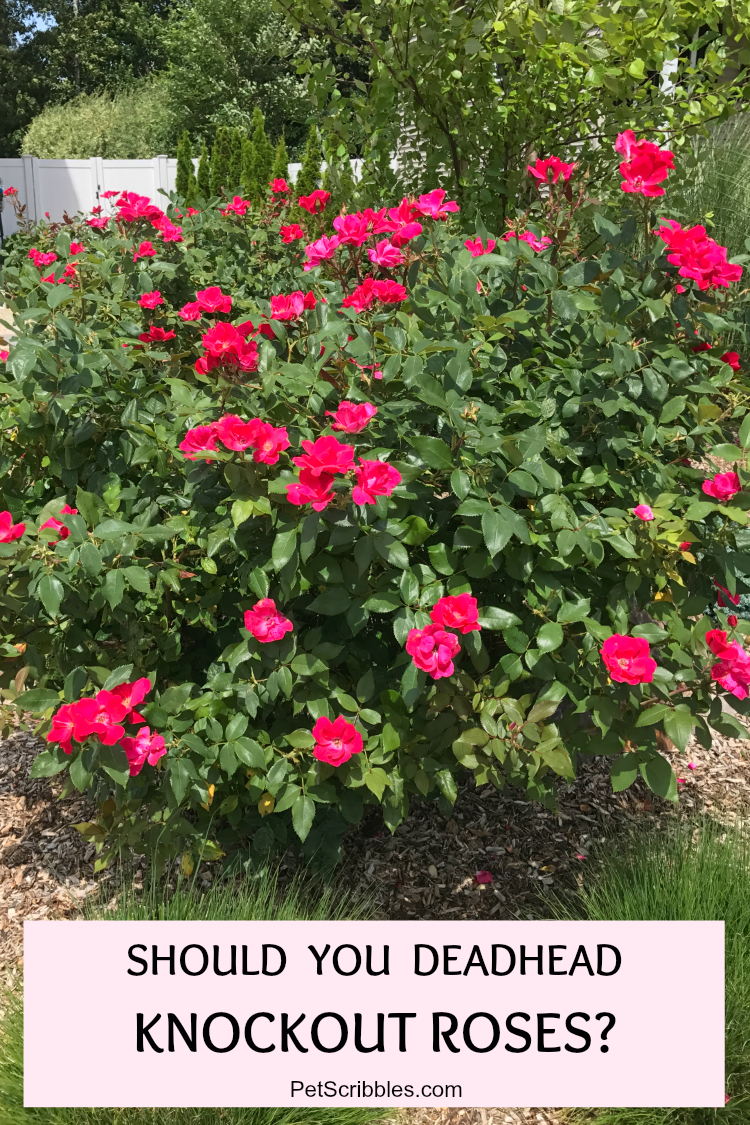 Pruning Knockout Roses: When, Why and How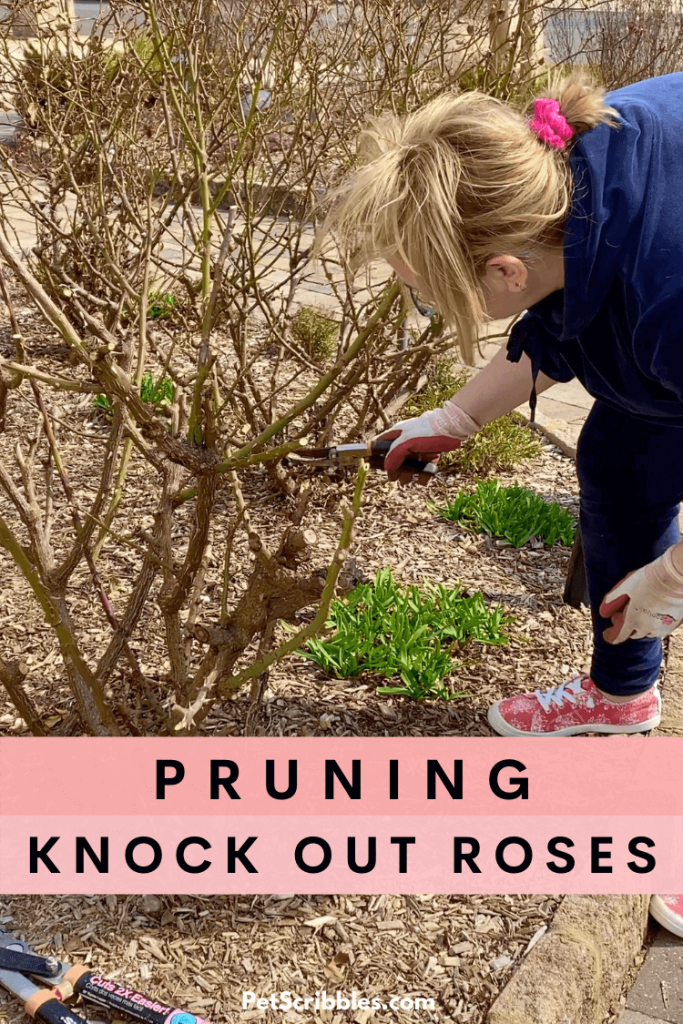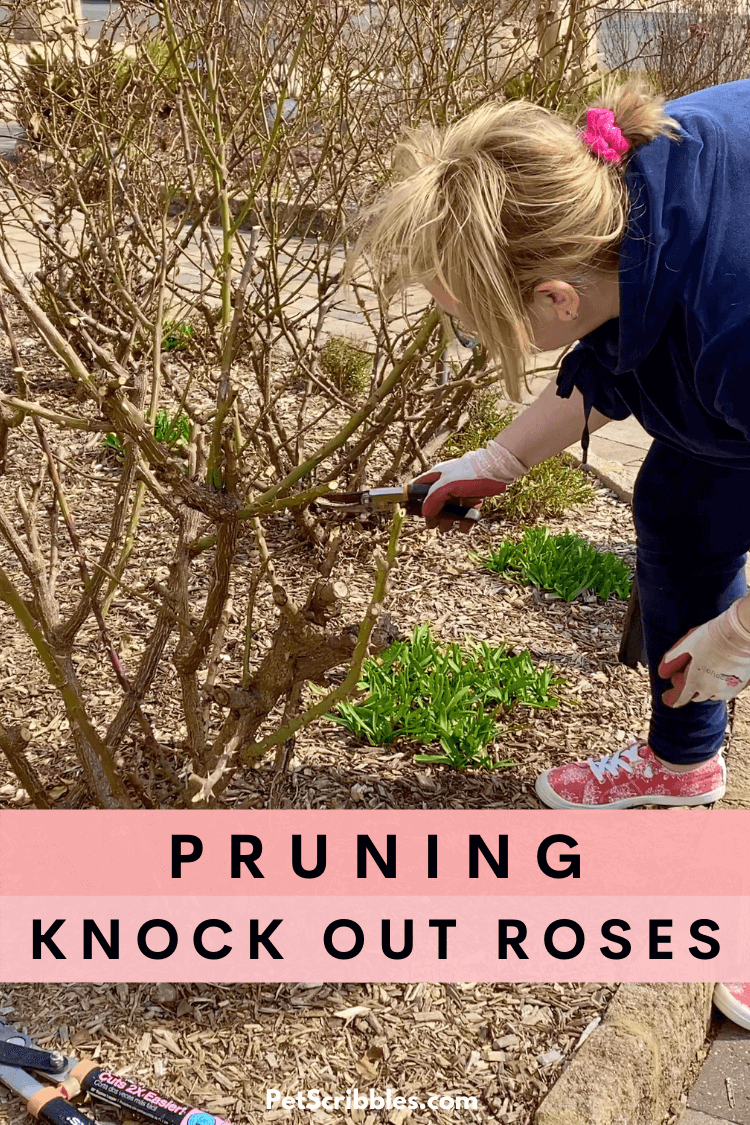 Black Spot on Knockout Roses: How to Treat in 3 Steps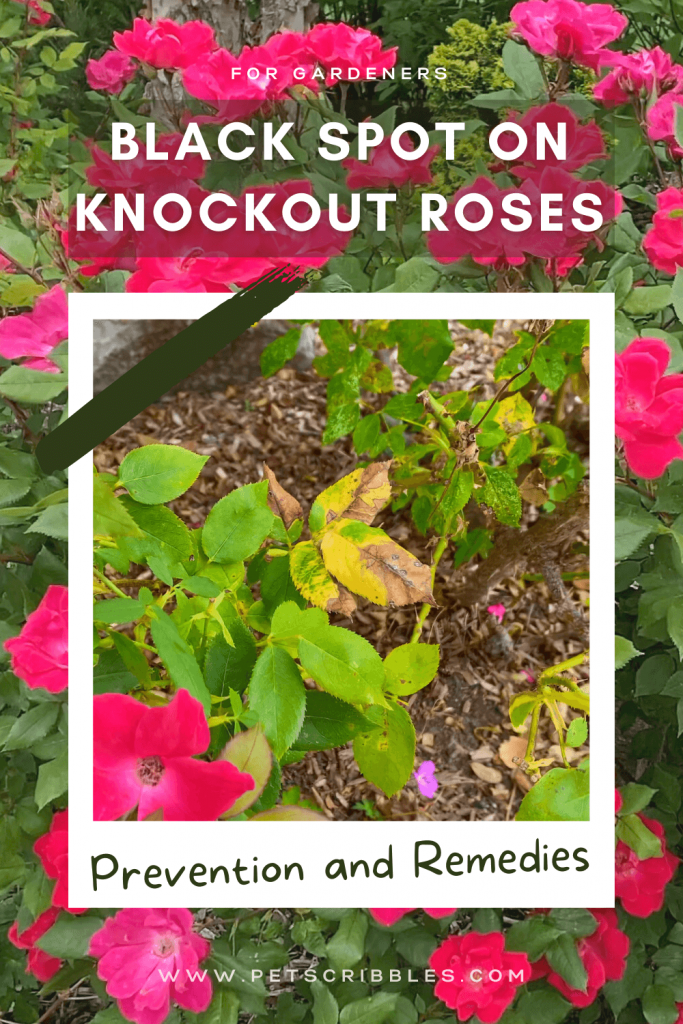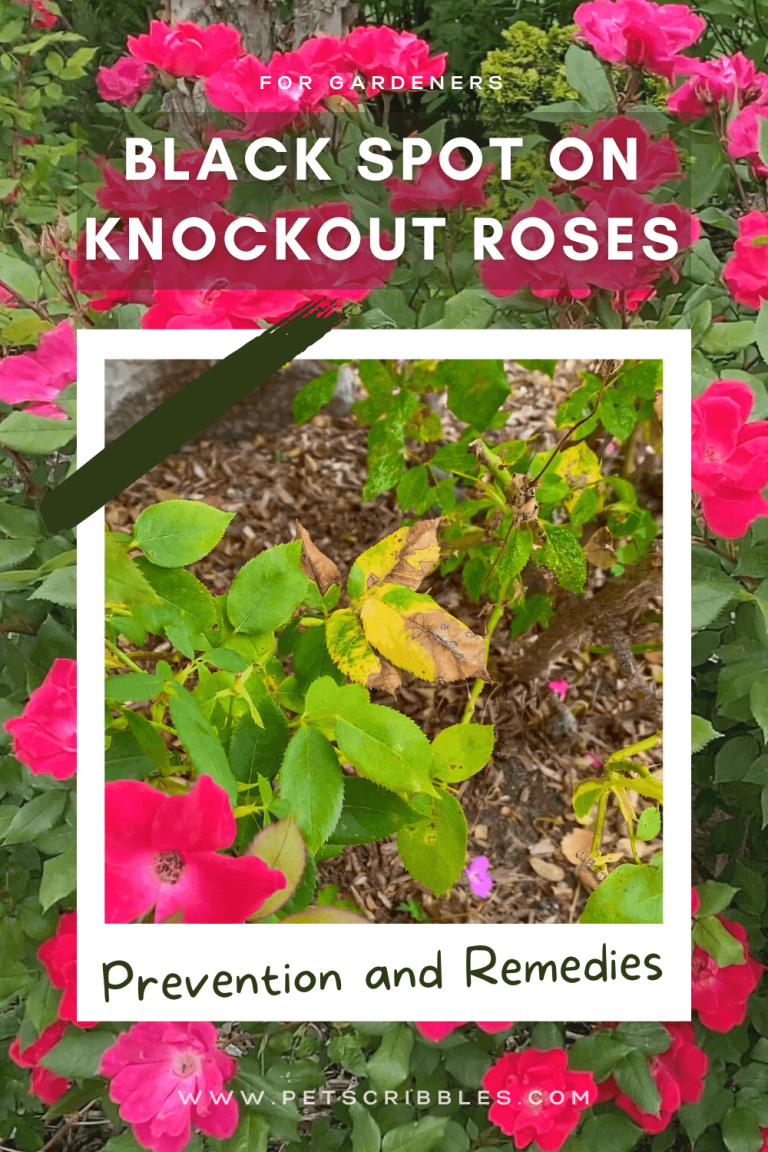 Happy gardening!