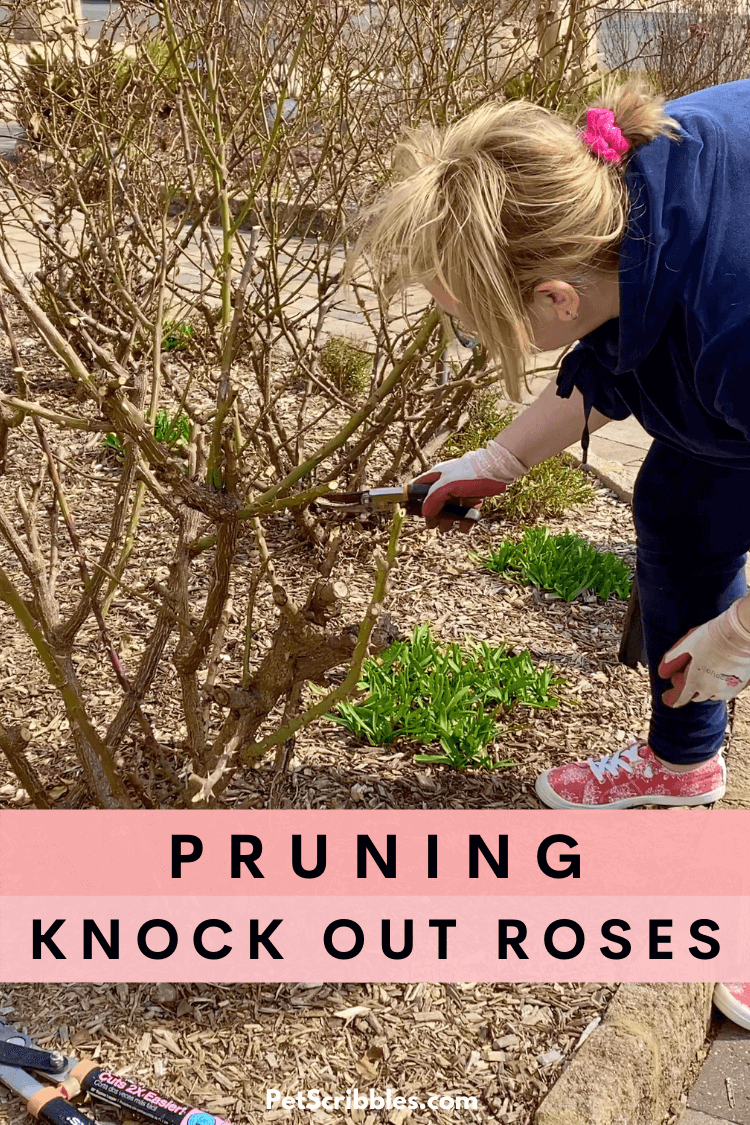 Pruning Knockout Roses is easy with these tips, including when, what and how to prune them, plus "before and after" examples. Includes video.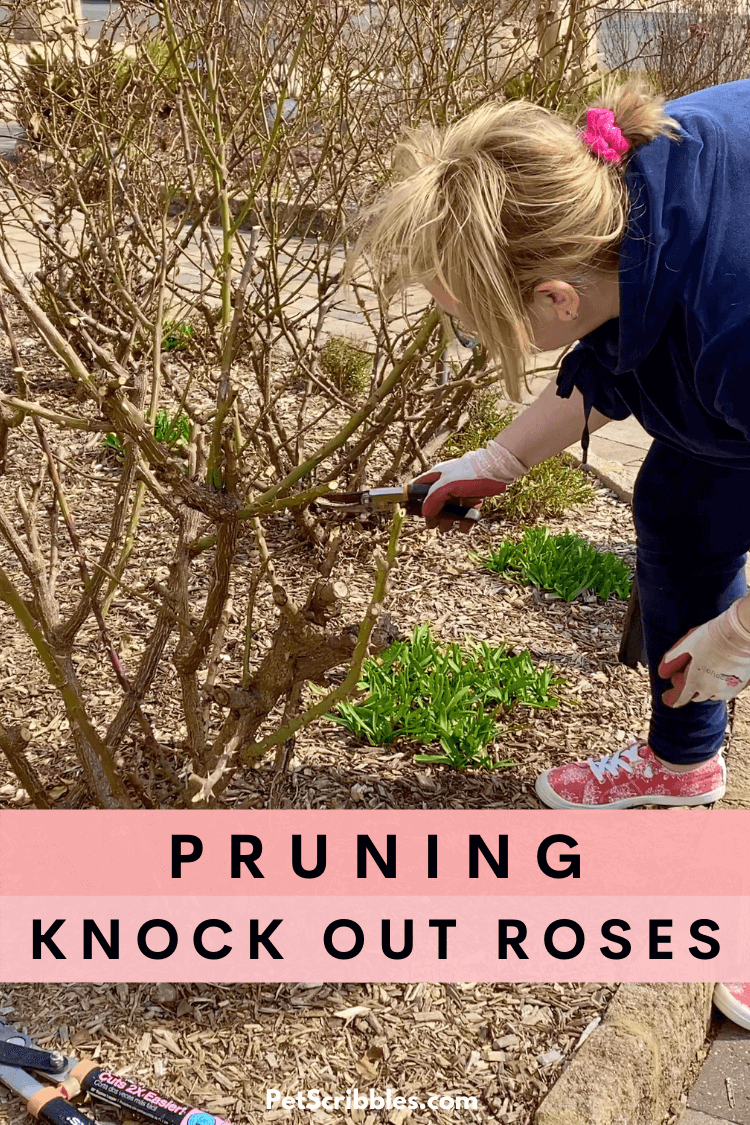 There are several things to be aware of before you prune your Knockout Roses. Once you are familiar with these, pruning your roses will be a yearly garden chore that becomes easier and easier.
Helpful note: These roses are officially called Knock Out Roses, however I — and many gardeners — slip into typing it as "Knockout" Roses. As way more Google searches are done for "Knockout" Roses rather than "Knock Out" Roses, I'm obviously not alone!
Here is a video that walks you step by step through everything you need to know.
Below the video, I've included a shortened version of my tips with photos to help you easily prune your Knockouts!
---
Supplies:
I use both hand pruners as well as loppers to prune my Knockout Roses. To get down close to the ground, I rely on my favorite garden kneeler bench which has helped me ever since I first began using it when recovering from my double-hip replacement.
Also super-important is a good pair of gloves. You should use heavy-duty gloves made for rose pruning to avoid getting stuck with thorns. Any of these rose pruning garden gloves on Amazon should do the trick.
Interested in Fall Care for your Knockout Roses?

Check out this article and video that covers everything you need to do! It's easier than you think, so hopefully I can remove any anxiety you may have about it!
Do I prune Knockout Roses in Fall or Spring?
This is a good question, and you'll find gardeners that prefer one season over the other. I've always pruned my Knockout Roses in the Fall — however — this year I'm pruning them in the Spring.
In fact, I did prune 3 of the 9 rose bushes last Fall, and the rest of them I pruned recently now that it's Springtime. There really are no differences I noticed between pruning in Fall versus pruning in Spring. Both Fall-pruned and Spring-pruned shrubs bloomed the same time, with the Fall-pruned shrubs blooming a few days earlier.
Prune your Knockout Roses in the Spring when you begin to see buds on the shrubs.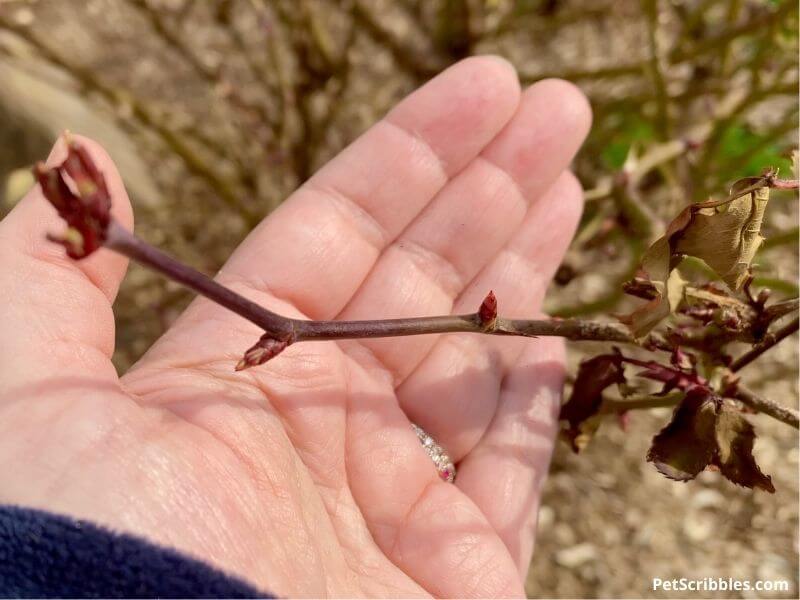 How much do I cut back the Knockout Roses when pruning?
Height can be confusing, especially if you're about to prune rose bushes that are tall. Just remember: how much to prune is entirely up to you.
You can cut down by either:
1/3
1/2
2/3
down to 12 inches (This is called a rejuvenation pruning.)
Knockout Roses can almost double in size during a season, so if you have a 4 foot shrub, and prune back to 2 feet, it will easily grow back to four feet.
No worries!
How and what to prune
I cover this in more detail in my video. In short, here is what you want to do when pruning:
First, go for height, using the above-mentioned guidelines.
How much you want to remove is up to you. I have examples of how far back I pruned my own Knockout Roses this year.
Remove any crossing branches.
If the branches are rubbing together, the outer bark can come off and allow fungal diseases to set in.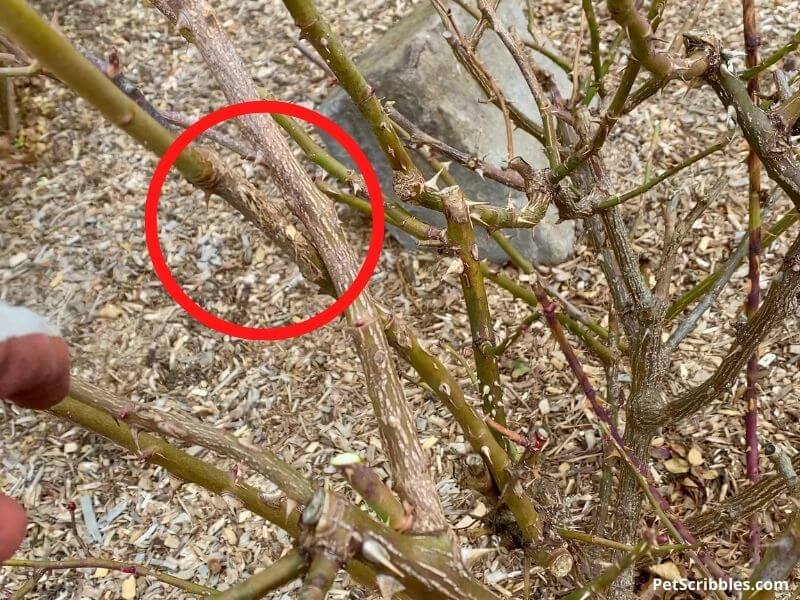 Remove any diseased, spindly or dead branches.
You want just thick, strong stems on your rose bush. Preferably stems that are facing outward to keep the inside middle of the shrub open and airy. (This again prevents disease setting in.)
If you're unsure if a stem is dead or not, wait until you see more buds coming out on the branches. You can prune those stems off at that time if they are not producing any buds.
What is rejuvenation pruning?
Rejuvenation pruning is a term that means you're cutting a shrub down to around 12 inches or a bit higher, in order for the plant to put out a lot of new growth from those large stems that are left.
This is a great way to give roses a fresh start if the shrub didn't look great last season or was hit by an errant Witch's Broom section. (I explain Witch's broom further down in this article.)
Doing this literally rejuvenates the shrub because it encourages new growth. It may take a bit longer for your roses to bloom, compared to a regular pruning, but it is worth it when necessary. (I share an example below.)
How Pruning Can Reduce Black Spot on your Knockouts
One of the remedies to reduce the chances of Black Spot occurring with your Knockout Roses is to provide your plants with good air circulation. Pruning away low growth near the soil will keep the air flowing around the rose branches. Thinning out the middle of the plants will also help improve air flow.
I discuss air circulation in my rose pruning video above, and I also have a video devoted entirely to remedies and solutions to Black Spot on Knockout Roses.
Before-and-after examples of my pruned Knockout Roses
This year, when I was pruning Knockout Roses, I didn't prune them all the same exact way. Some I pruned lower than others, and two of the rose bushes received a severe rejuvenation pruning.
Foundation bed
These are the three Knockout Roses in one of our foundation beds, as they looked last Fall. I prune them every year, and they grow back nice and full, almost looking like one giant shrub.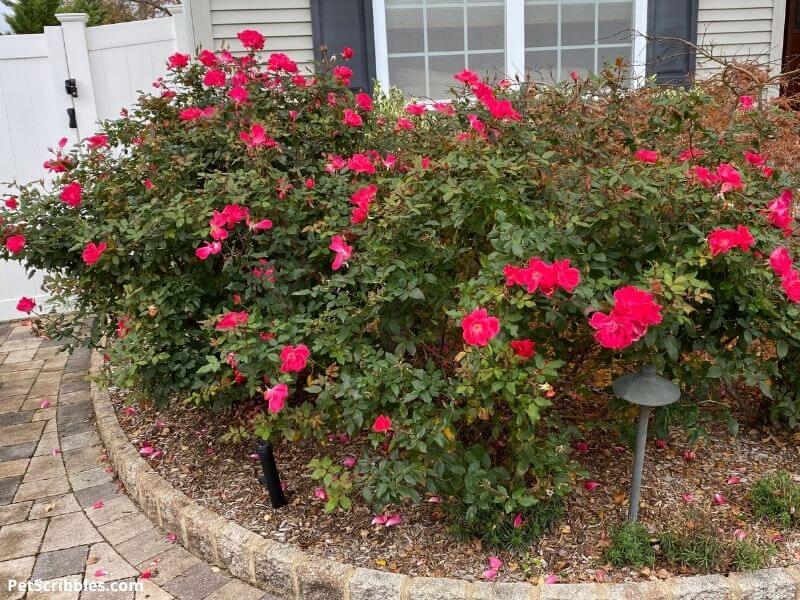 Here's me beginning to prune the tallest Knockout Rose (far left in the above image.)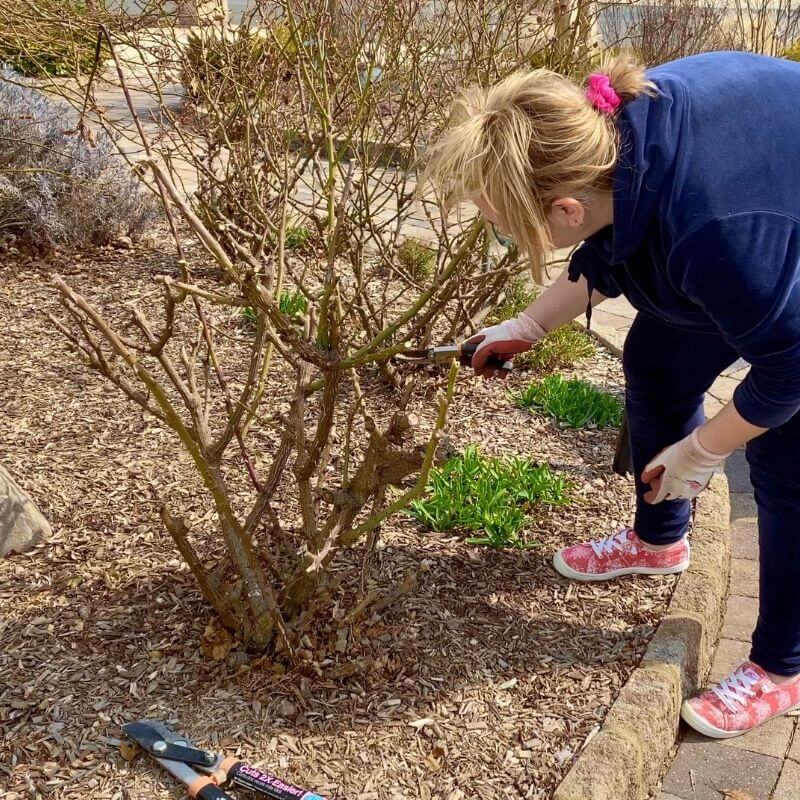 And here is the freshly pruned shrub. There are no crossing branches left and all spindly branches are gone. This particular shrub is always the tallest, between 5 and 6 feet high. I pruned this shrub down to about 3 feet.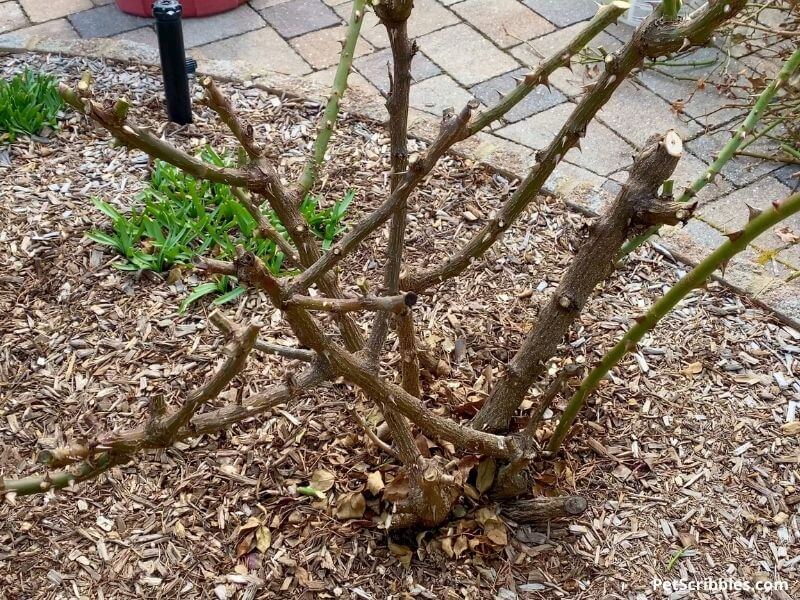 Lamp post bed
Below is the Knockout Rose in our lamp post bed. This photo was taken in early December, when we actually still had a couple of blooms here and there.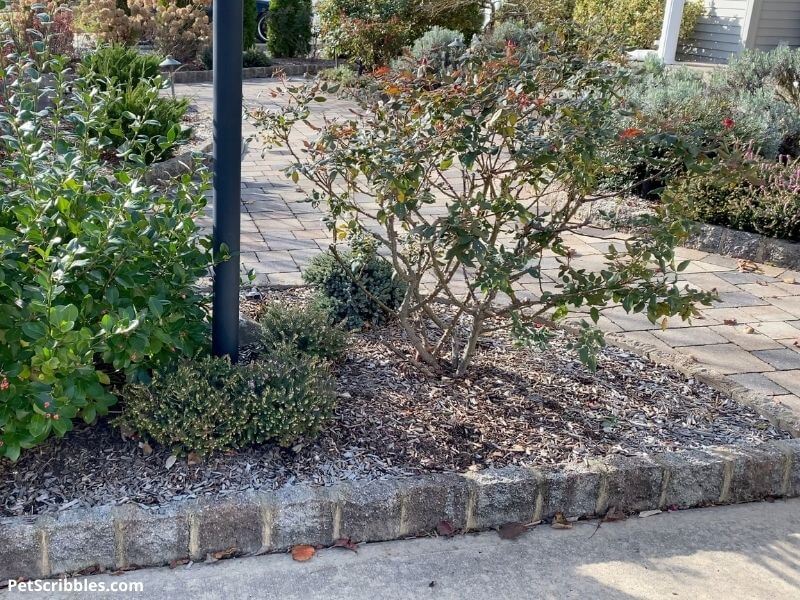 I felt this particular shrub was very scraggly and just looked sad by the end of the season. It was no longer full, and this was the second year it looked like this.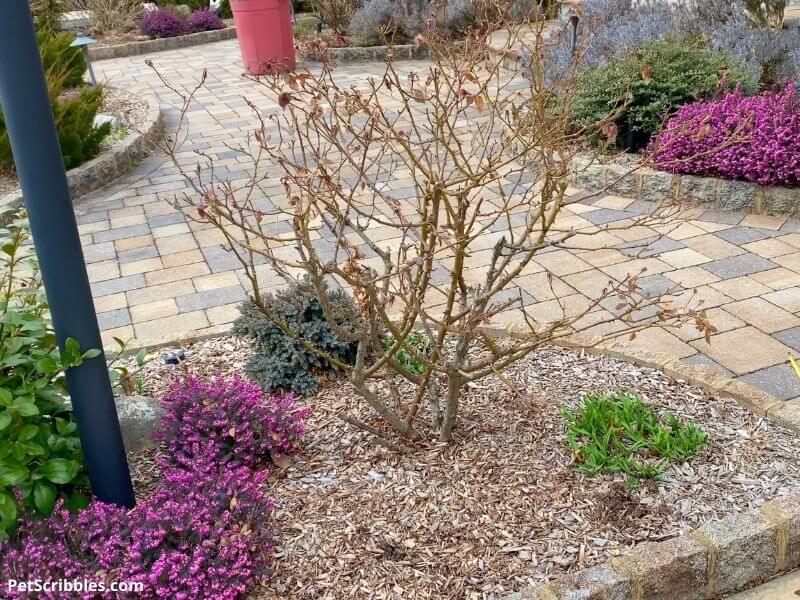 This shrub was a perfect candidate for a rejuvenation pruning. I cut it down to about 12 inches in height, and look forward to seeing how it bounces back. I'll keep you posted.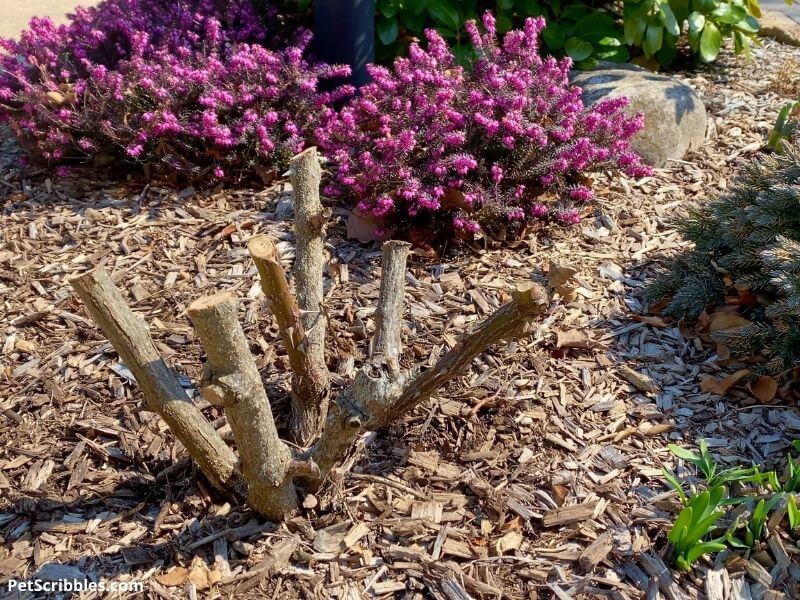 I have more before-and-after examples in my video.
Best fertilizer for Knockout Roses
Use Rose-tone by Espoma on your Knockout Roses. After pruning, sprinkle the Rose-tone around the bushes and work it into the soil just a bit. If you have mulched gardens (like we do), then sprinkle more than usual to make sure enough of it will work its way below the mulch and into the soil.
I like to use Rose-tone when I know it's going to rain, so Mother Nature can take care of watering the fertilizer into the soil. Otherwise, if no rain is in the forecast, make sure to water the fertilizer after application.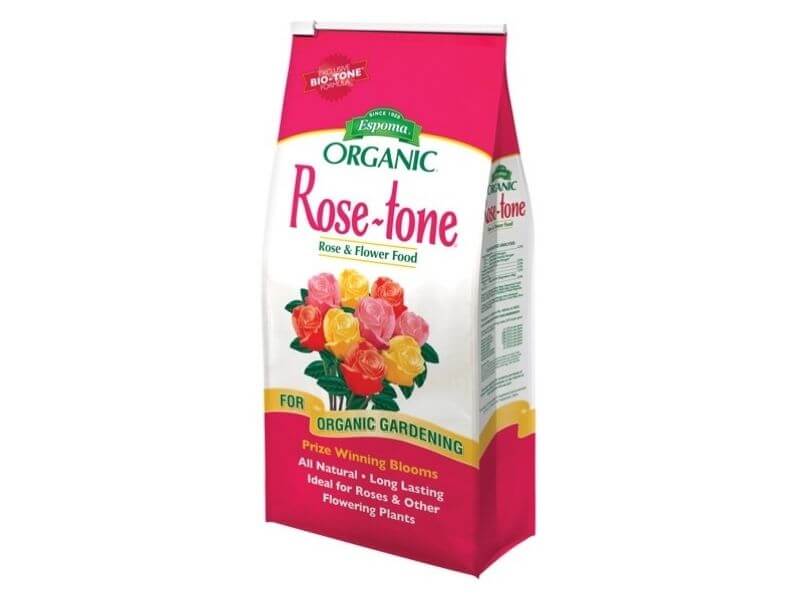 Rabbit damage
As I mentioned in my Pandemic Rabbits article, during the Winter the rabbits munched on plants they haven't been interested in before, including one of the Knockout Rose bushes: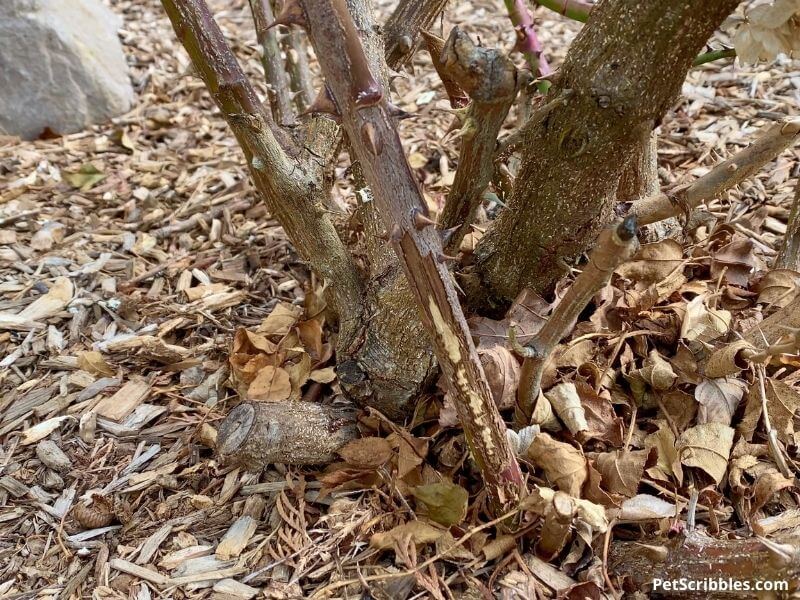 Remedy for rabbits?
I don't know why they left all of the other rose bushes alone, but what I should have done during the Winter season is sprinkle my favorite Bonide Repels-All around each rose bush. (I prefer the granules versus the spray.) I'm keeping an eye on things and sprinkling the Repels-All everywhere now that the rabbits seem to be multiplying.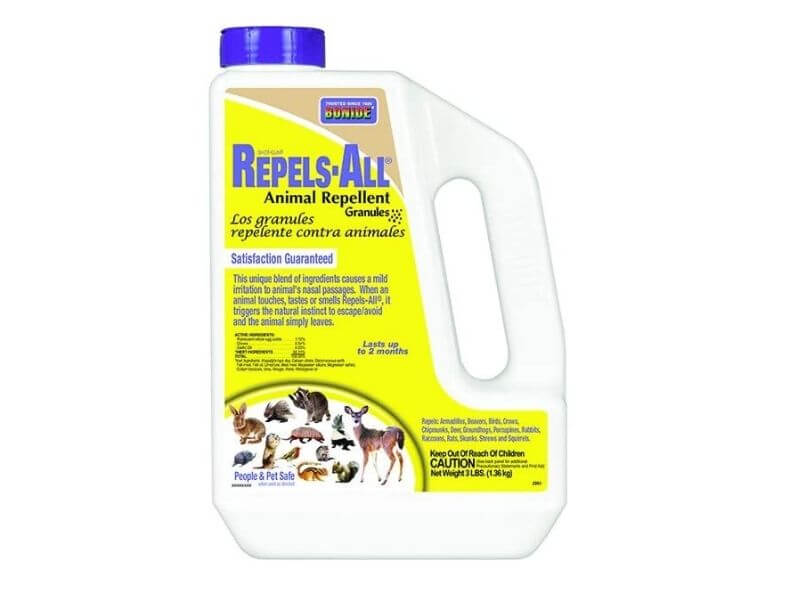 A note about Witch's Brooms on Knockout Roses
Witch's Broom — or Rose Rosette Disease (RRD) — is something important you should be aware of, so you know what to look for during the Summer season.
Rose Rosette Disease is spread by a tiny mite. The disease causes vigorous growth of all or part of your Knockout Roses. The foliage becomes distorted and the flowers look very different than usual.
Pruning your roses in Spring may help remove any mites that overwintered on the bushes.
Here is a fabulous helpful article (with photos) from Proven Winners to learn more about Rose Rosette Disease: What is Rose Rosette Disease?
Deadheading Knockout Roses
Do you need to deadhead your Knockout Roses? No, according to the company which developed these roses. However, even they admit that your roses will look better if you remove the spent blooms.
I have two resources for you:
This article talks about whether or not you need to, and then I show you how I deadhead my roses using step-by-step photos.
This is a video where I demonstrate how I deadhead my Knock Out Roses.
I hope all of this information is helpful to you!
Happy gardening!