How to treat Black Spot on Knockout Roses in 3 steps, plus solutions to prevent Black Spot from taking over Knockout Roses. Includes video.
Black Spot on Knockout Roses is not a fun topic, but it is a necessary one! In this article — and in the included video — I use examples from the Knockout Roses in my gardens. I share 3 easy steps to tackle this common fungal disease. Yes, I deal with Black Spot too. Once you know what to look for, you'll find that preventing and treating Black Spot becomes easier over time.
Helpful note: These roses are officially called Knock Out Roses, however I — and many gardeners — slip into typing it as "Knockout" Roses. As many more Google searches are done for "Knockout" Roses versus "Knock Out" Roses, I'm obviously not alone!
Here is my video that walks you step by step through everything you need to know. Below this video, I've included a shortened version of my tips with photos to help you tackle Black Spot on Knockout Roses!
---
---
First, here's the supplies I use:
Rose Pruning Garden Gloves
Whenever handling your Knockout Roses — or any roses and jagged plants like Yuccas — use a set of rose pruning gloves. These heavy-duty gloves protect you from getting stuck with thorns.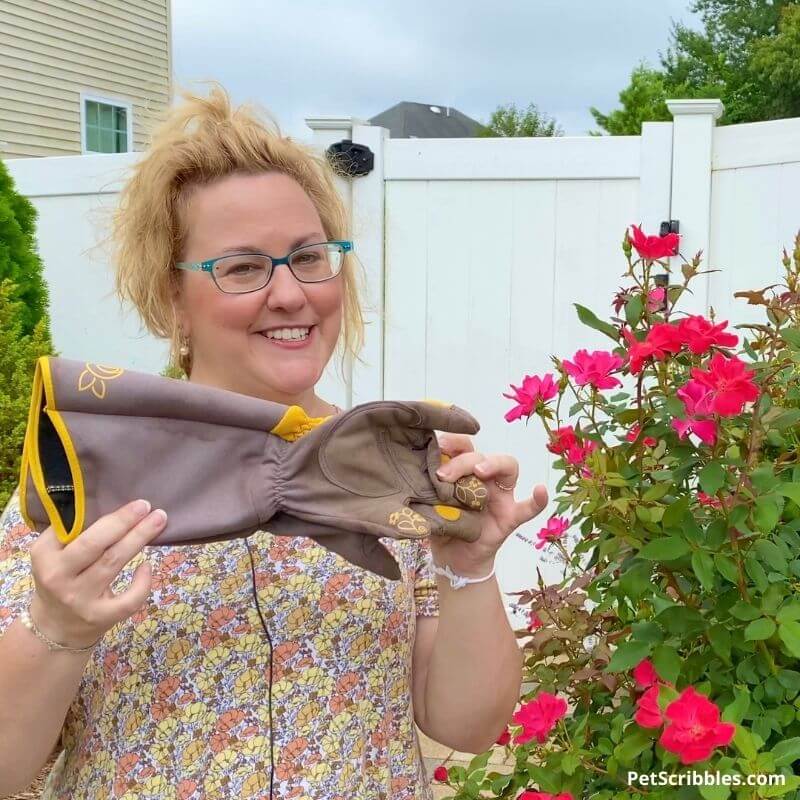 I purchased mine on Amazon for under $20 here. (These come in sizes for men and women.) They have a suede front for gripping, knit fabric on the back to breathe, plus heavy-duty fabric going up your arms so you don't get poked.
You can find a large selection on Amazon to see what you may like best — but any of these rose pruning garden gloves on Amazon should do the trick.
Garden Kneeler Bench
Part of managing Black Spot is to regularly clean underneath your Knockout Roses. To get down close to the ground easily, I rely on my favorite garden kneeler bench, which has helped me ever since I started using it when recovering from my double-hip replacement. This is a game changer!
What Causes Black Spot on Knockout Roses?
Black Spot found on Knockout Roses is caused by a fungus called Diplocarpon rosae. For home gardeners, I don't think it's important to remember the name of this fungus. Just knowing that Black Spot is caused by a fungus is enough. Black Spot fungus causes leaves to turn yellow and develop those lovely black spots.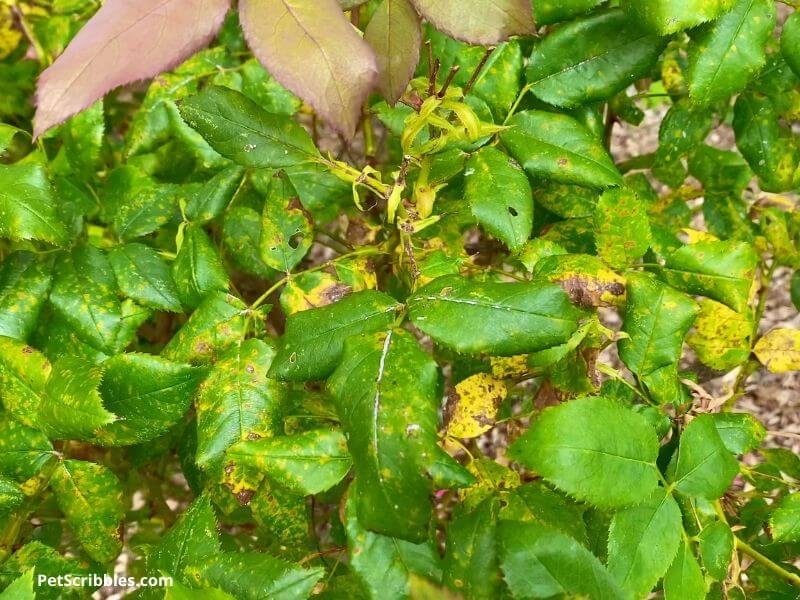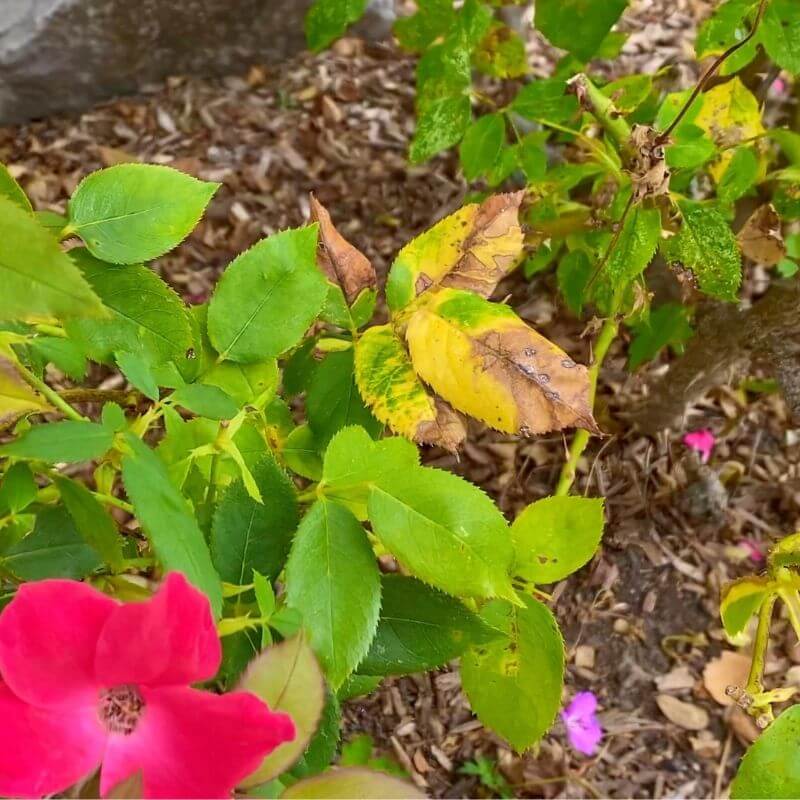 There are several things that help Black Spot to develop, including:
Hot and humid conditions
Overhead watering from sprinklers, watering can or hose nozzle
Lack of air circulation around the plants
Each of the above is discussed in detail in the video.
Is Black Spot Harmful?
Experts seem to differ on whether or not Black Spot on Knockout Roses is harmful. Here is what the Knock Out Rose company says on their website: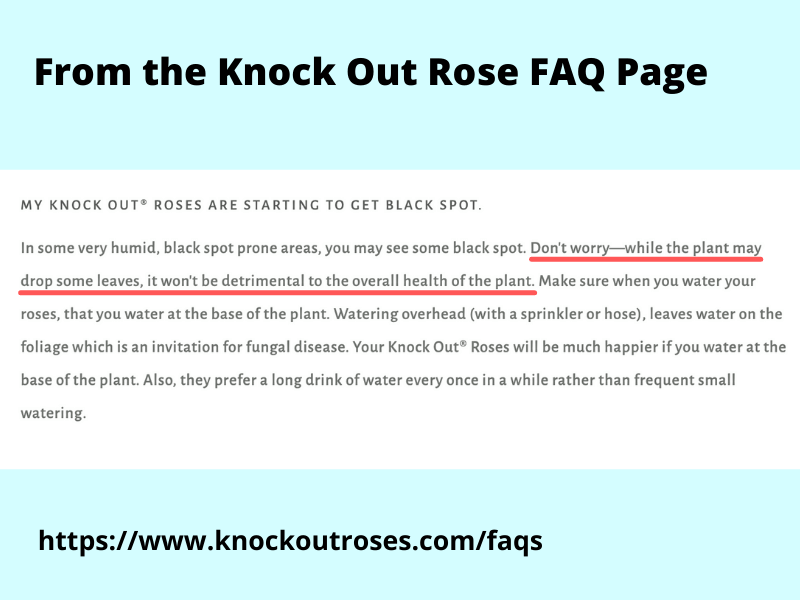 ---
But I've read other places that say the fungus — if left untreated over time — can weaken the rose bush making it "more susceptible to other stresses and to Winter damage." (from Missouri Botanical Garden website)
---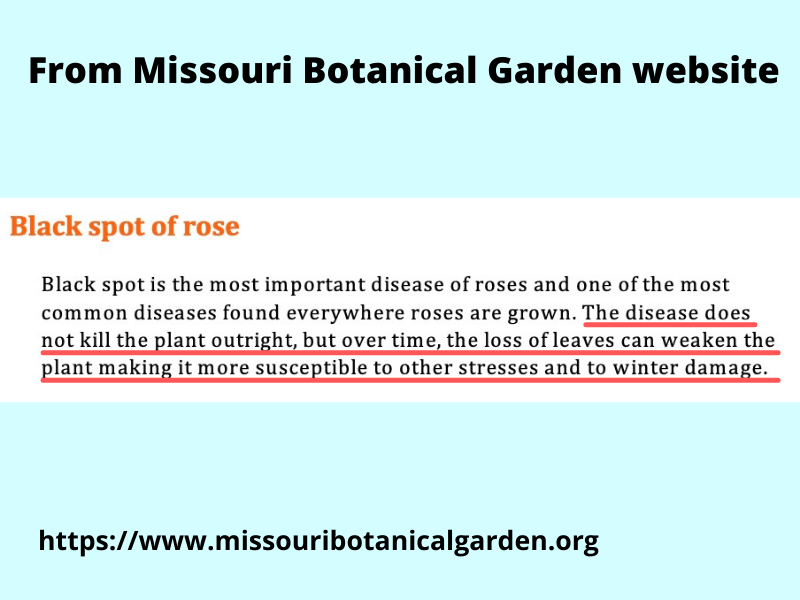 My advice is to treat and remove Black Spot as soon as you see it, to improve both the look and the health of your roses.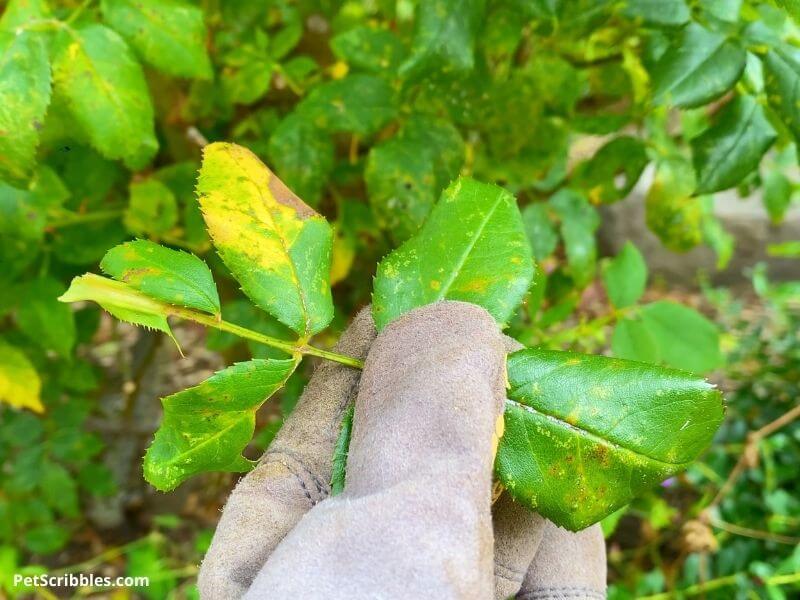 How to Get Rid of Black Spot on Knockout Roses
When your Knockout Roses have Black Spot, there are three things you can do to remove it as best you can.
Remove all infected leaves from the rose bush. Black Spot tends to begin on the bottom leaves of shrubs, so make sure to bend down and look at the bottom of your plants.
Remove all infected leaves from the ground around the rose bush. Many leaves will have fallen onto the ground. If rain or sprinklers hit these leaves, the fungus can go right back onto your plants. It's best to keep the ground around your roses clean and tidy.
Use a 3-in-1 organic spray. This type of spray is basically three products in one: a fungicide, miticide and insecticide. Because the spray is organic, it won't harm the soil.
Organic 3-in-1 Sprays
My favorite organic 3-in-1 sprays are: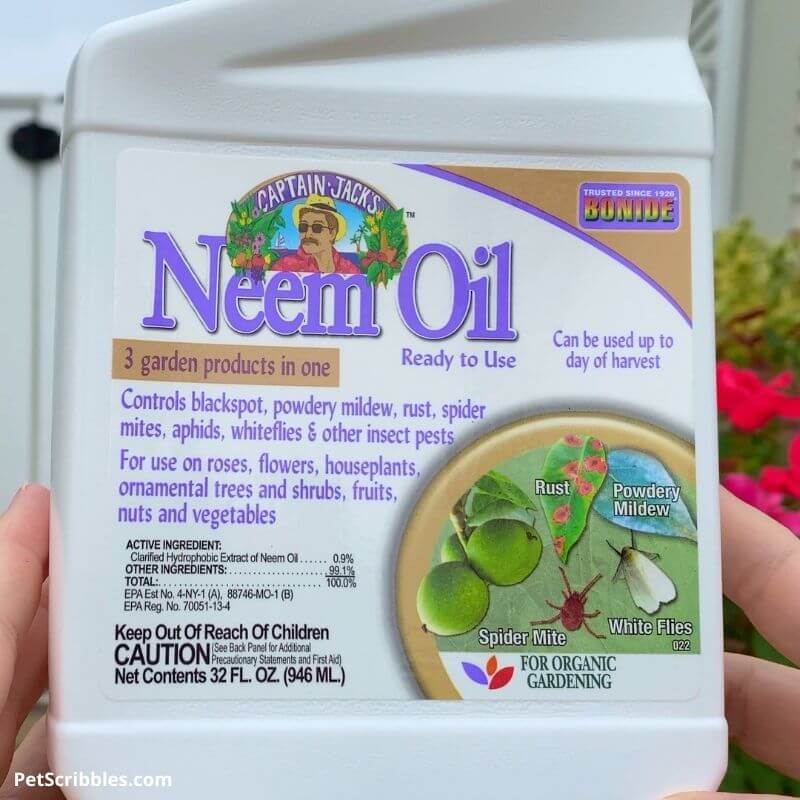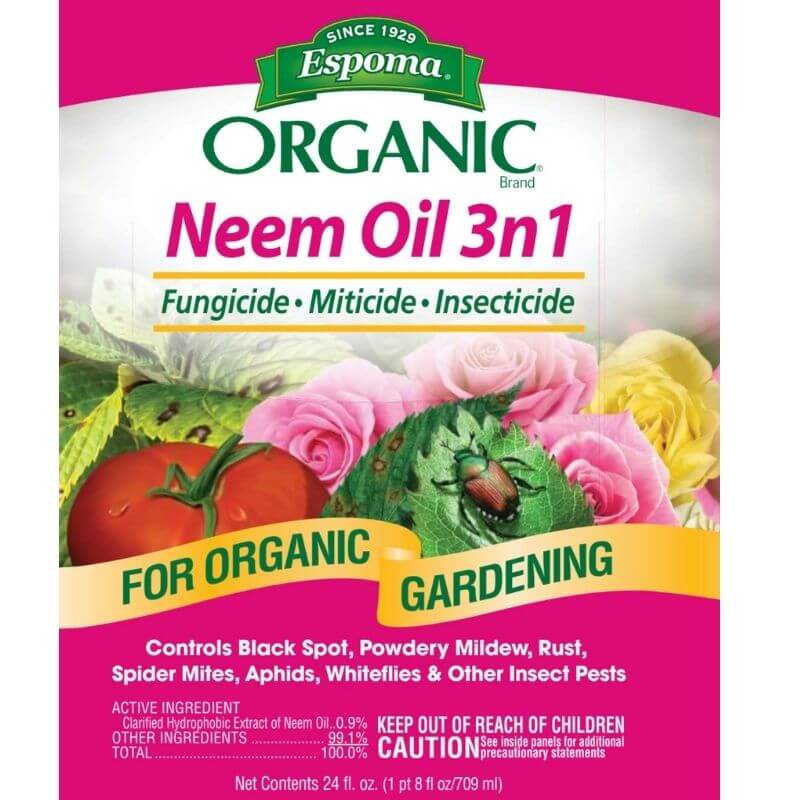 I discuss how often to use these sprays — as well as demonstrate how I use them — in the video above. These sprays also work great for common rose pests too, such as Aphids.
Good Pruning Helps Too!
To prevent and help control Black Spot on Knockout Roses, make sure to do a good pruning every year. This helps by increasing air circulation around the roses, especially around the bottom of the plant.
Whenever you choose to prune — whether Fall or Spring — that's a great time to make sure you take out any center branches, crossing branches and so on. I've got a great pruning article and video to learn and watch exactly how I prune my Knockout Roses.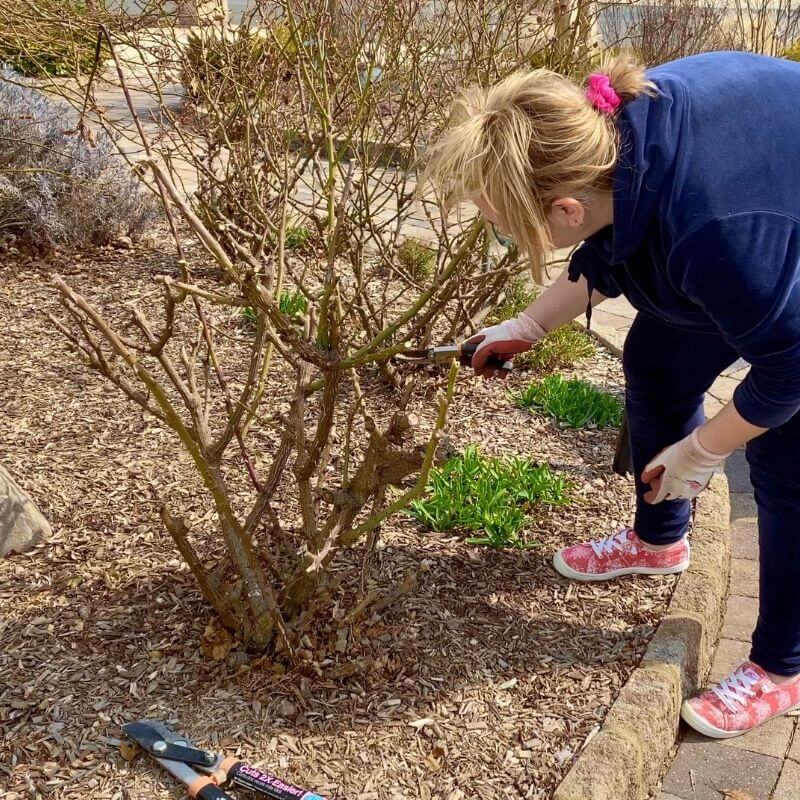 Fertilizer is also Important!
Think of fertilizer like nutrition for your plants. Just like we may feel weak and get sick if we lack proper food and nutrition, the same can happen with our Knockout Roses. If your roses aren't properly nourished, they may become more susceptible to pests and diseases. Good organic fertilizers nourish the plant and improve the soil.
I use Espoma Rose-tone Fertilizer in the early Spring, just after I've pruned my Knockout Roses for the season. After that, I apply Rose-tone a few times during the season. Make sure you stop fertilizing toward the end of the Summer, as you don't want to keep encouraging new growth when the roses need to begin winding down. And always follow package directions.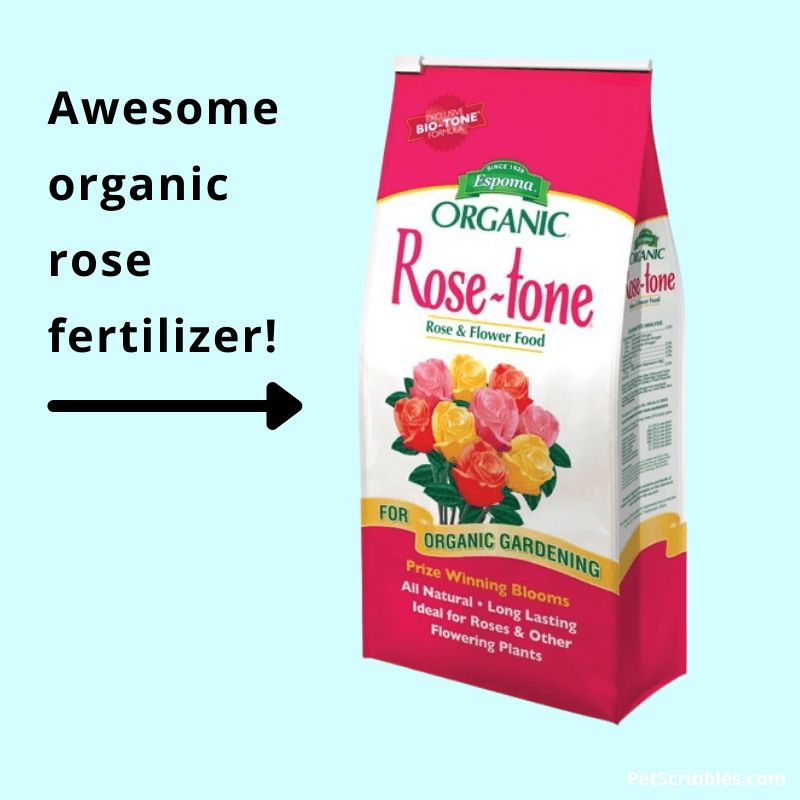 Reality Check!
One final point to make — and it's probably the most important.
You can be doing everything right, and it still happens. You still get Black Spot on your Knockout Roses.
It's OK. Just treat it the best you can. And if it gets to be too much for you over time, always remember that it is ok to dig it up and plant something better suited for your garden as well as for you.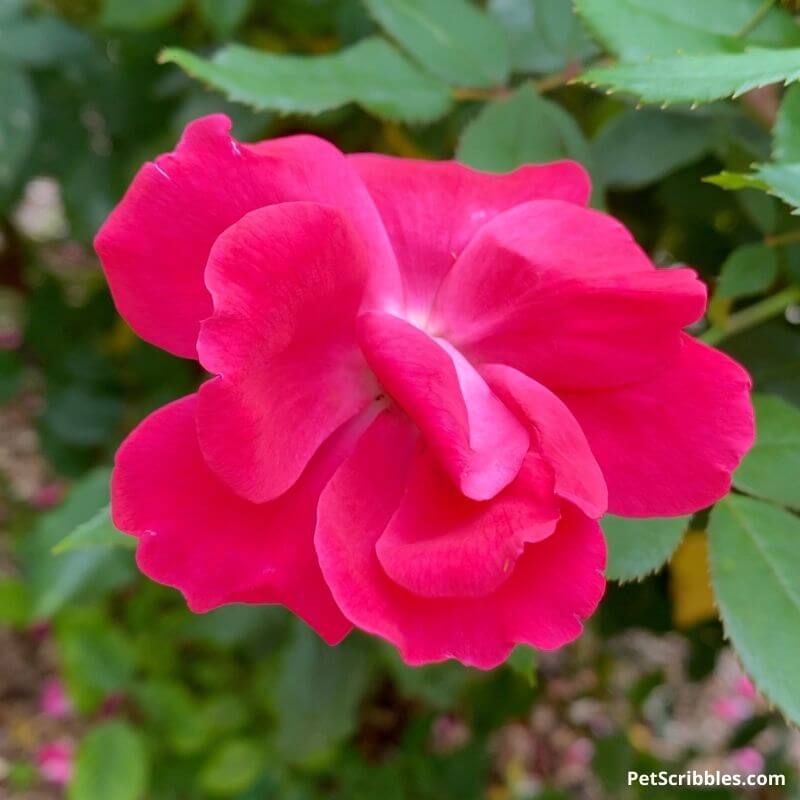 Personally, I have some of each. I have Knockout Roses that look wonderful all season long with minimal Black Spot. And in other areas, I have Knockout Roses that get Black Spot heavily. Over time, I've developed a good routine of pruning, deadheading, cleaning underneath and spraying. In a few instances, I have removed shrubs that became an eyesore Every. Single. Year.
Here's one of my Knockout Rose shrubs blooming in June: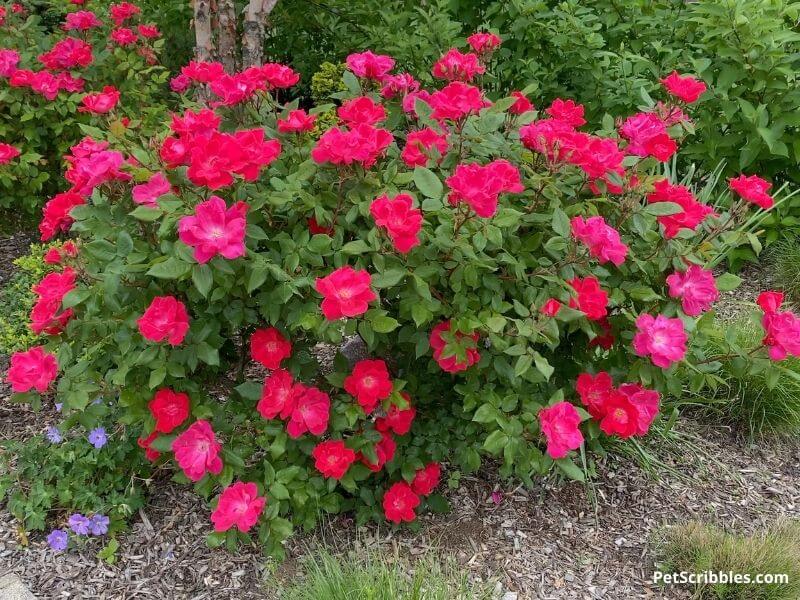 And here is the same shrub in August, overcome with Black Spot: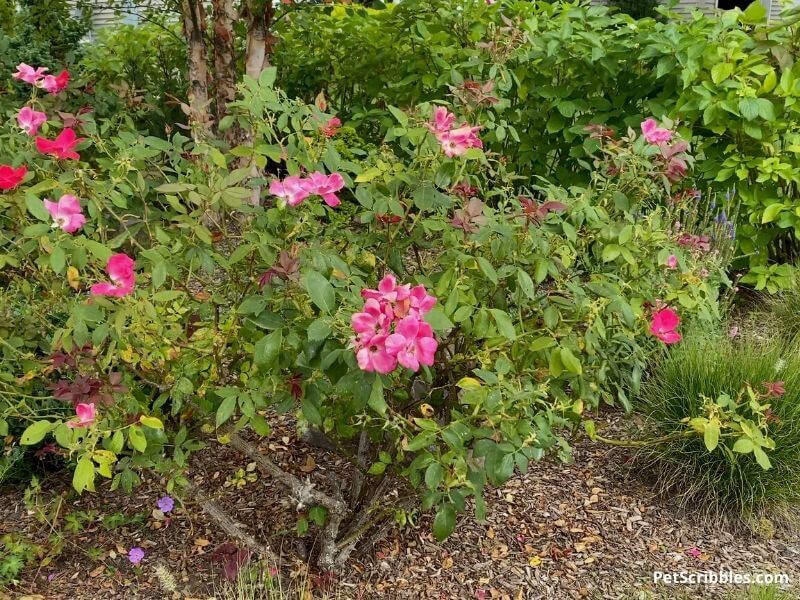 I ended up removing these shrubs, while keeping others planted elsewhere that are doing great.
Yes, it was upsetting to remove the shrubs, but it made sense. After trying everything to prevent and treat Black Spot, it became an annual battle that I eventually decided wasn't worth my gardening time. The Knockout Roses that I still do have look fantastic and are fairly easy to maintain.
We plant Knockout Roses to enjoy them, right? If you stop enjoying them — or any plant for that matter — due to the amount of effort that isn't producing good results, feel free to rip them out and start fresh!
Probably not the advice any Knockout Rose seller wants me to say!
Happy gardening!
Related Articles on Knockout Roses
Should You Deadhead Knockout Roses? (includes video)
Pruning Knockout Roses: When, What and How (includes video)