I hate garlic chives. Love them to eat, but hate them in my garden. Alternate title? That time my garden became overwhelmed by garlic chives.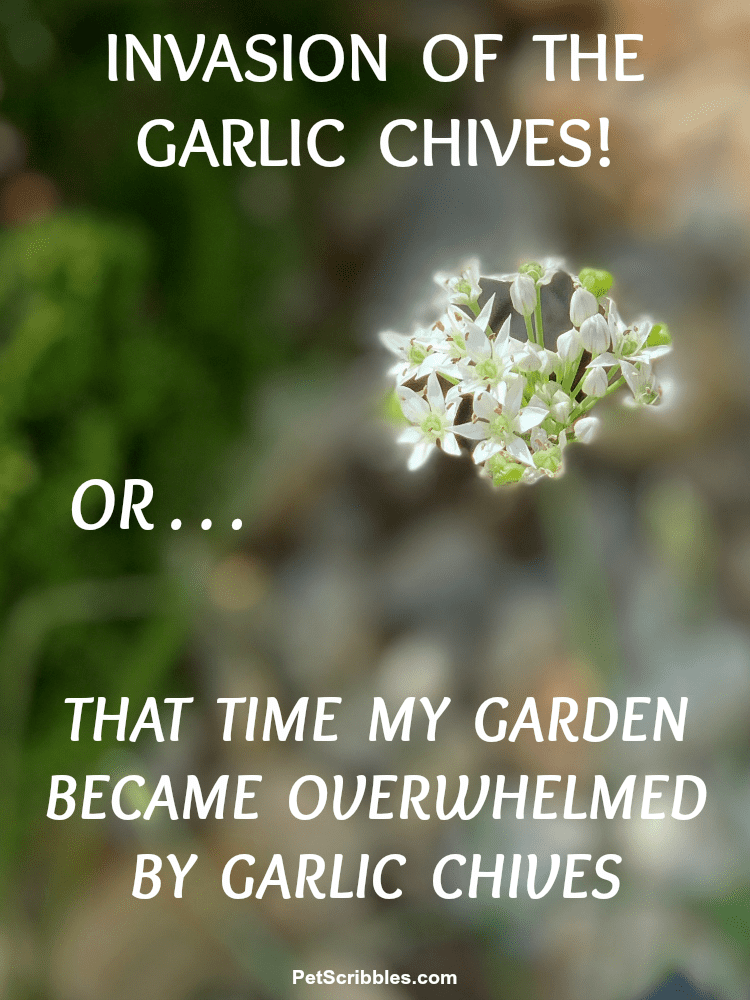 I hate garlic chives.
There. I said it.
Let me clarify . . .
I love to eat garlic chives, love the taste, love the scent.
But garlic chives in the garden? Big mistake. Big. Huge.
How garlic chives ended up in our backyard
Way back when we first started on our backyard, we had the idea — having lived in cities our entire adult lives thus far — that we would become farmers in our backyard. (Slight sarcasm here.)
We ordered three raised beds made of cedar planks and filled them with excellent mushroom soil and lots of healthy vegetables. We thought it would be fun to have a section of herbs too, including garlic chives.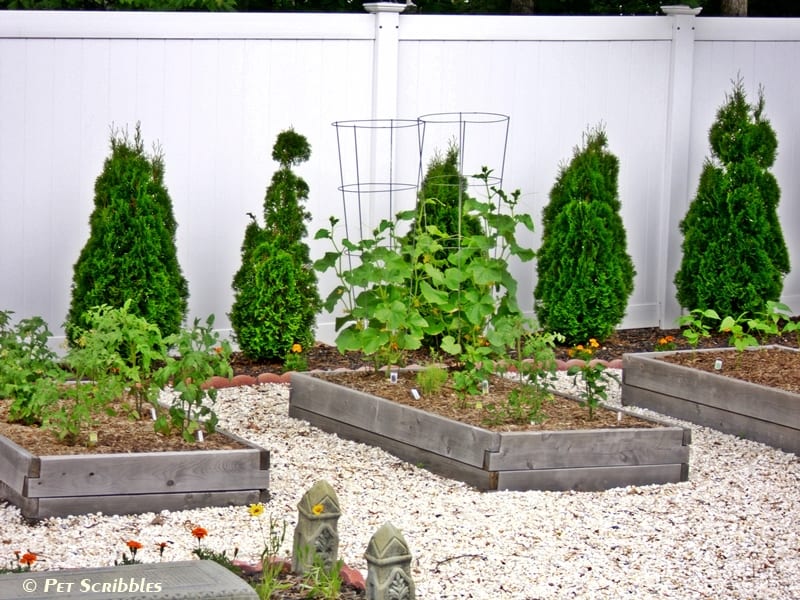 So. Fast forward a few years and the raised beds became infested with termites, so we dismantled those beds and created a large vegetable bed in another part of our backyard.
(You can read about the saga here: How to build a raised vegetable bed.)
Oh — and when we began our new vegetable bed, we did not include garlic chives.
My fault for being blinded by beauty
I might be leaving out the part where we didn't use all of those herbs as fast as necessary, so some of them went to flower… which then went to seed… which resulted in a never-ending supply of garlic chive plants popping up ALL over our backyard.
Garlic chives are everywhere.
They even pop up randomly in the middle of our gravel backyard: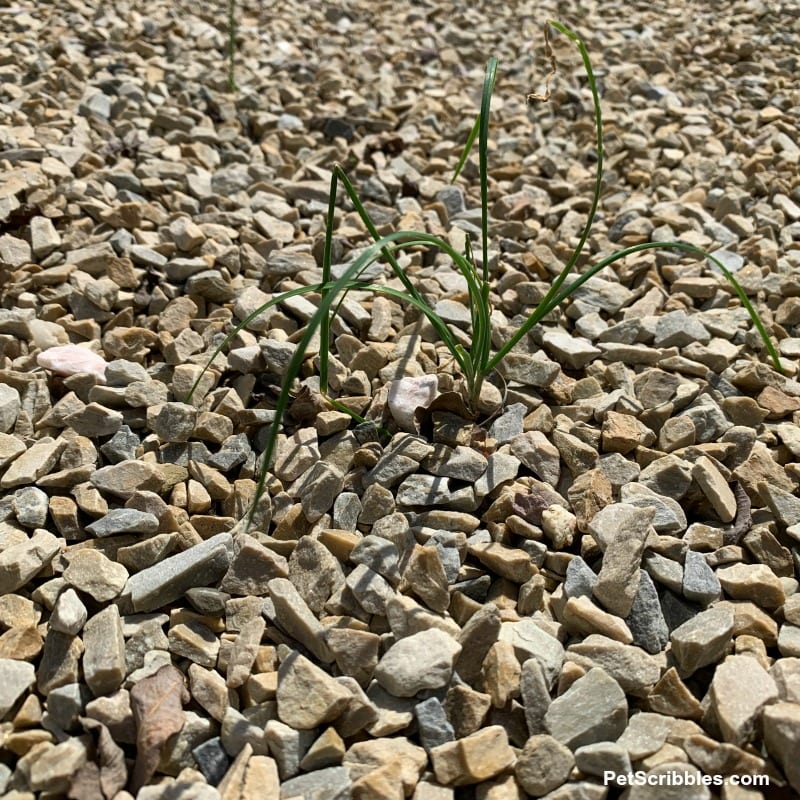 I spent one hour yesterday — one hour — just removing garlic chive plants from this little section of our backyard patio beds: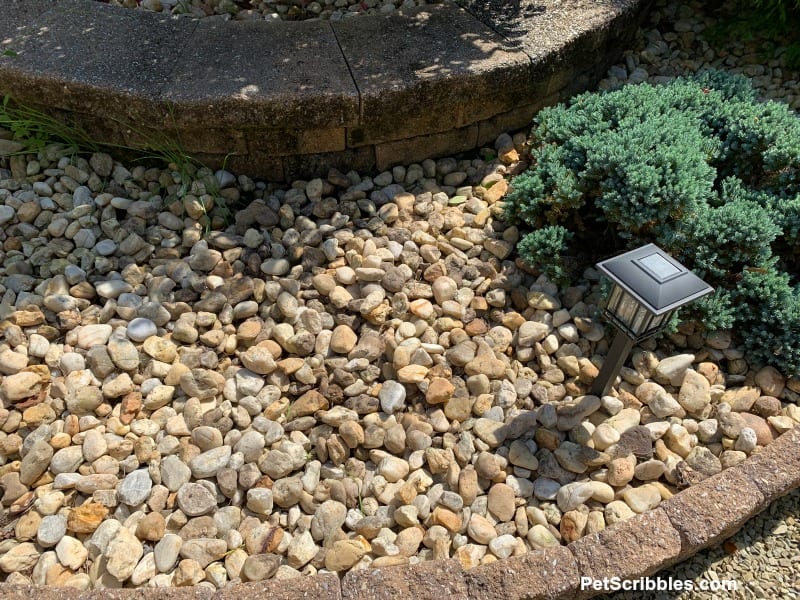 Looks nice and clean, except when I allow myself — head hanging in gardener shame — to share a photo of what it looks like to the left of this clean section: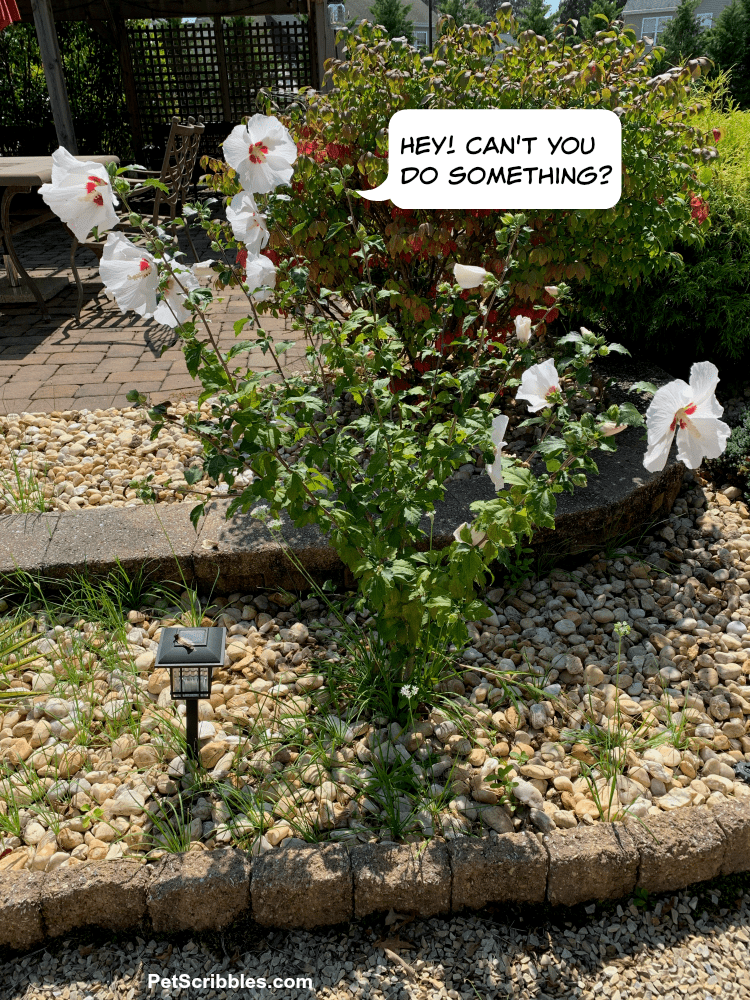 Egads!!!
It's horrible!
When I wrote my article about Helene Rose of Sharon, I spent time pulling out as many garlic chives as I could, before I began just ripping off the stems and hiding the remains with river rocks.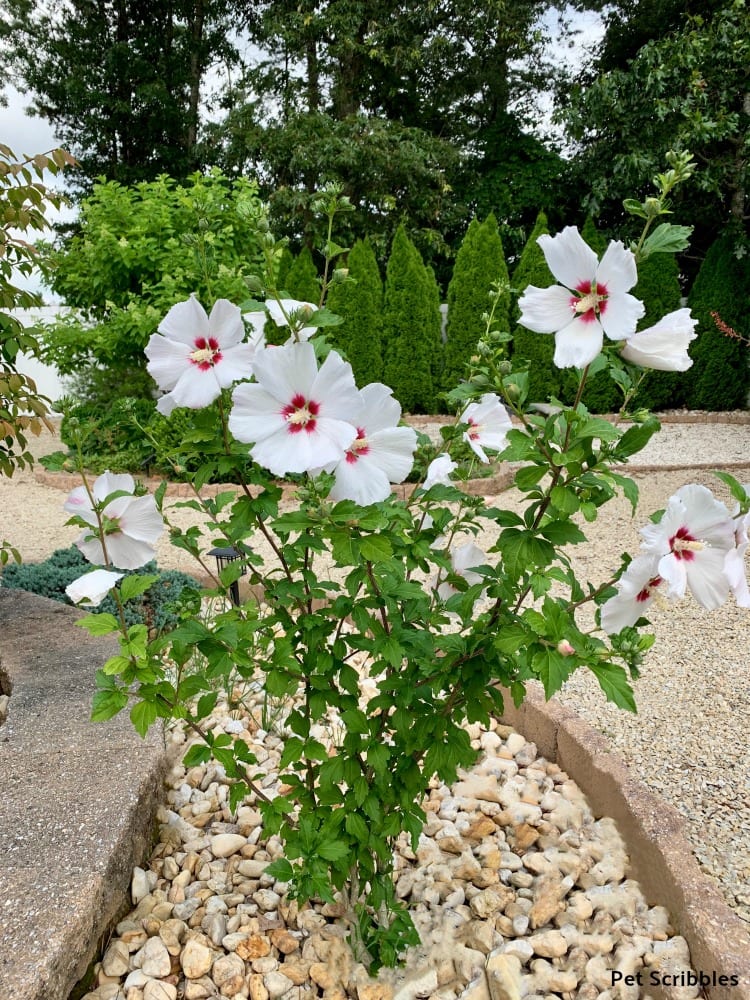 But I can't hide it any longer. The gardener guilt is too great.
Next to the Helene Rose of Sharon is a Color Guard Yucca, which we rescued from drowning in a wet spot in the front gardens.
This Yucca is doing its best to make a comeback, and I am showing it total disrespect by having all these garlic chives around it.
Make it stop!!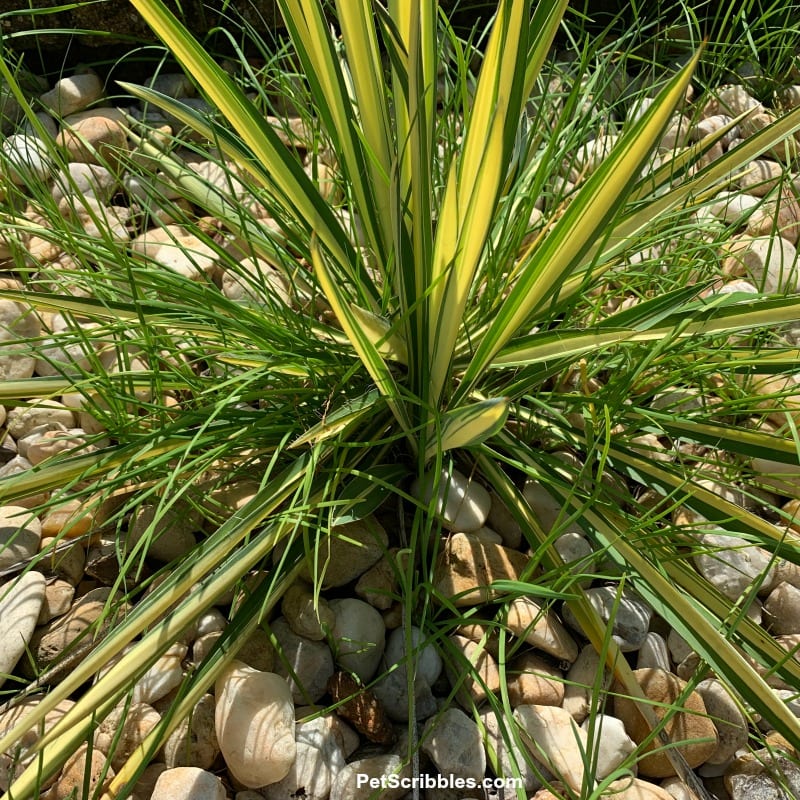 Unsee! Unsee! Make my eyes and brain "unsee" this madness!!
Sigh.
I'm determined to rid our backyard of garlic chives.
I don't care that their flowers are so pretty, almost looking like Queen Anne's Lace.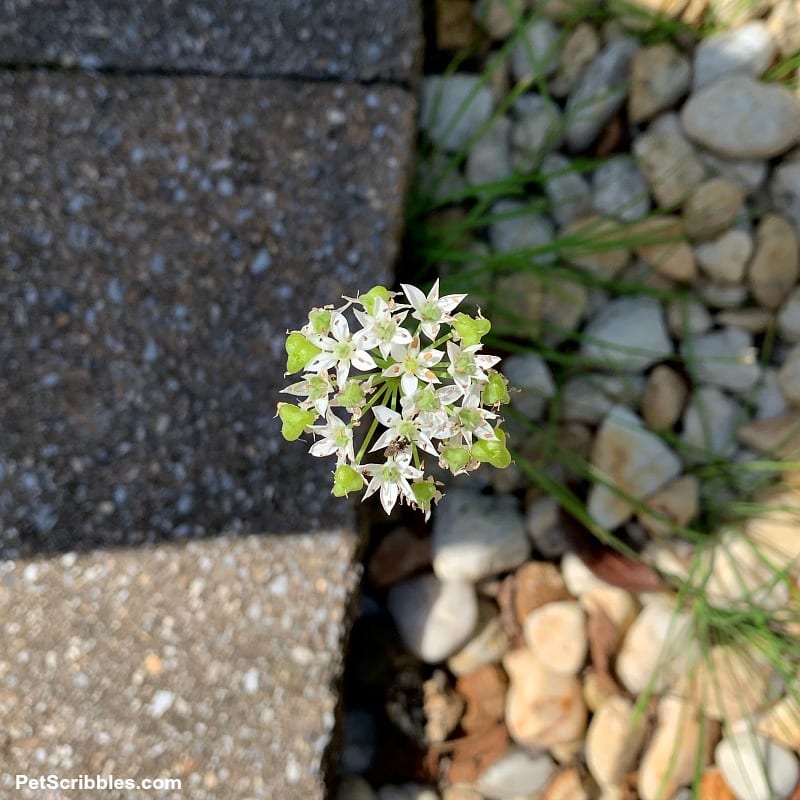 Actually, I can't allow myself to care anymore. I used to succumb to their beauty and leave them be. Such a pretty and wild-looking effect here and there in bloom. My bad.
Beauty be damned!
Me versus garlic chives, Part One
Yesterday began my intense project, which I will do until it gets too cold to be outdoors for any length of time.
The problem with these garlic chives around our patio beds? There is landscape fabric underneath all of these large river rocks. The weeds have grown underneath and on top of the fabric through little holes and those roots are everywhere.
They even grow along the edges, those sneaky little $(*#@!!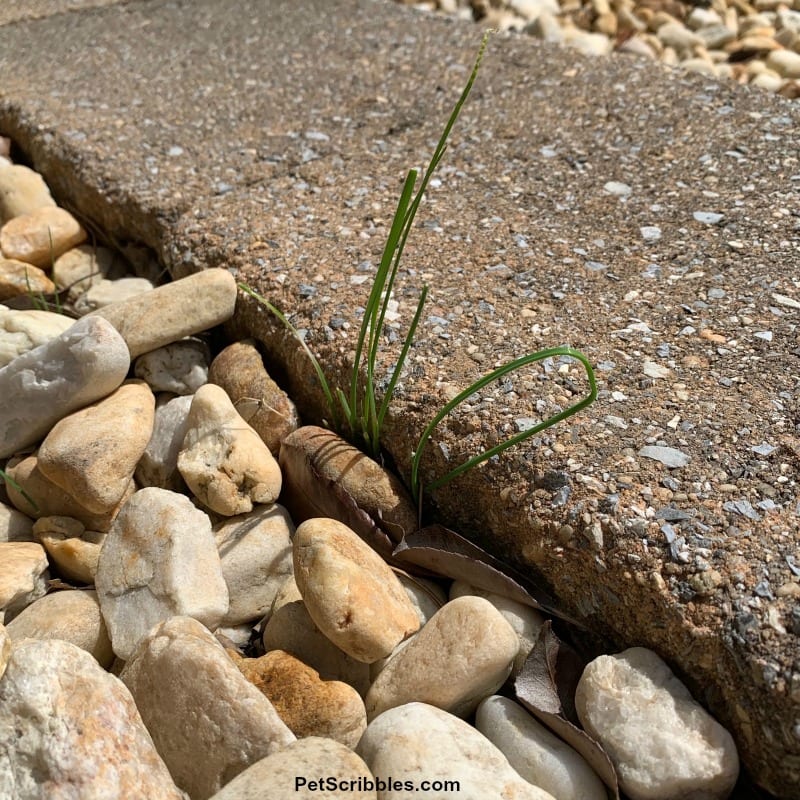 This is partly what makes me hate landscape fabric. Yes, it serves a purpose, but after awhile some weed is still going to pop up through the fabric, and if you have this fabric around your garden plants, it isn't so easy to eradicate the offending weeds.
My hands are killing me today, because even though I wore my favorite gardening gloves, moving those rocks around wasn't easy.
I wasn't moving the rocks calmly either. I was frustrated and hot and sweaty, and was tossing them around like I was much stronger than I actually am.
Also, I had already been outside gardening for awhile and it was only when I was passing by this area — putting tools away into the shed — that I looked over at our Helene Rose of Sharon and saw what a mess these damn garlic chive plants are.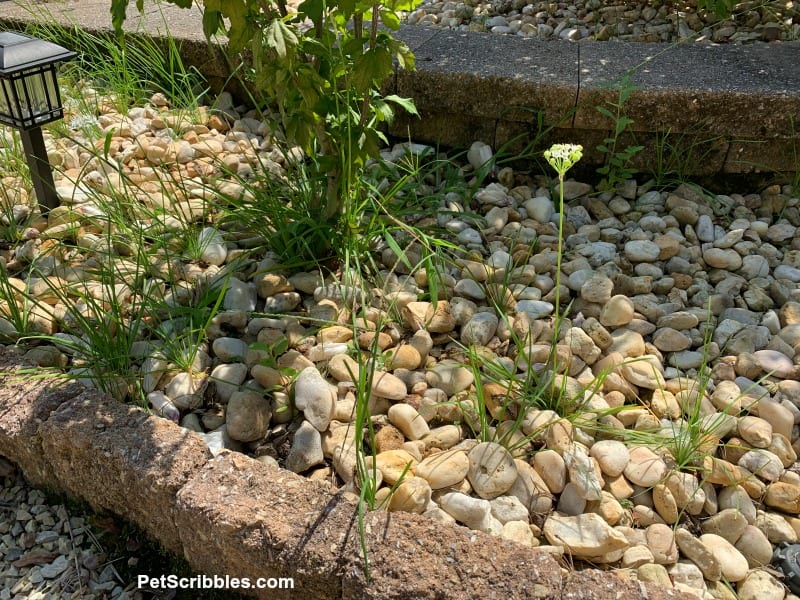 I sort of lost it, muttering to myself as I bent a finger nail backwards picking up the river rocks. My nails are already short so this hurt.
And when I pulled on a plant and the stems came off in my gloves while the roots stayed in the ground? Oh I went nuts! I grabbed my dandelion digger and worked on those damn roots until they agreed to surrender.
---
So. Garlic Chives. Who knew this was on my Fall gardening chores list?
Not me!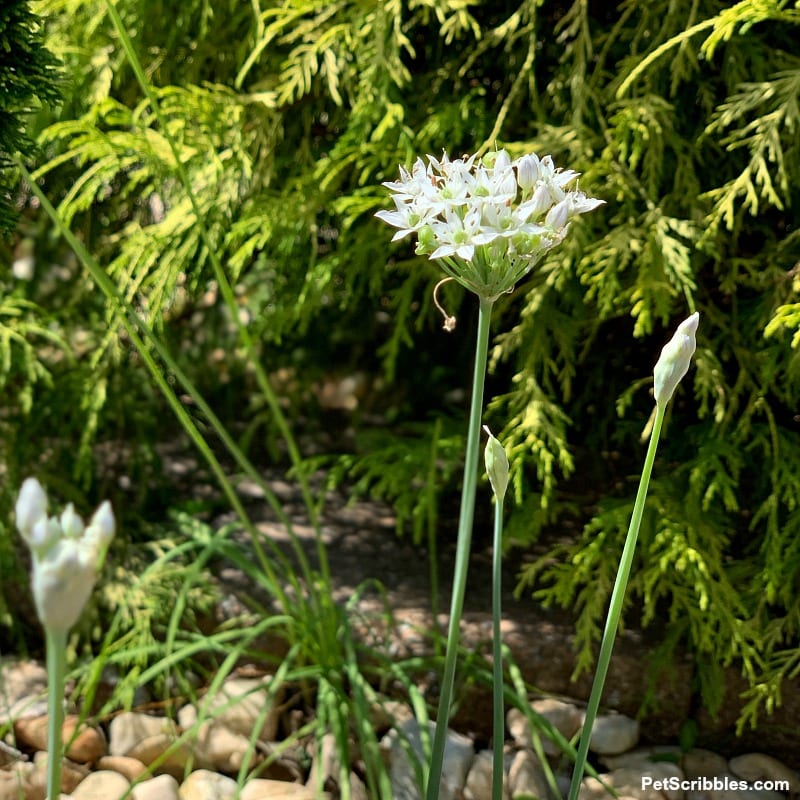 Beauty be damned!
Happy gardening!