Helene Rose of Sharon is a lovely Summer-flowering perennial shrub. A beautiful shrub I almost killed. Almost. This article is about my trial and error and eventual success with this beautiful plant.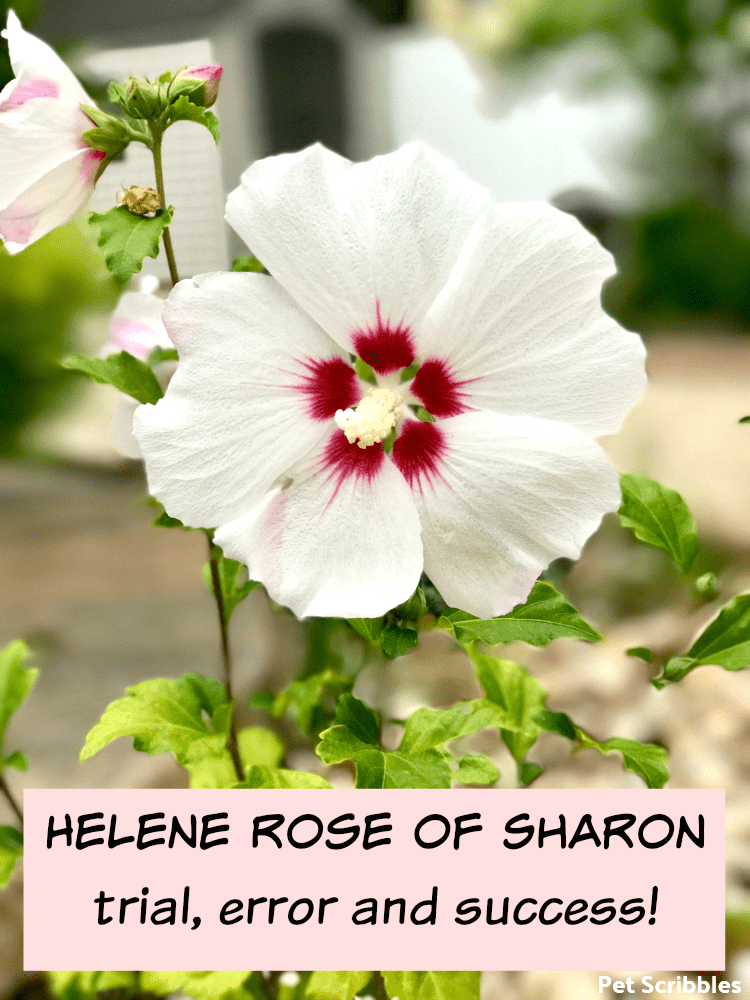 I've got to come up with another category of plants here on Pet Scribbles. You can see my favorite plants by going to the menu (above this post) and click on Gardening, then click on My Favorite Plants. 
But I need to come up with another section where I can share the plants that I want to love, but don't yet love me back. These are plants and shrubs that I want to grow, but for whatever reason it's just not happening. Or the plant bombed but is finally recovering. Or the plant is just never going to love me or my garden, although that sounds a bit dramatic.
Helene Rose of Sharon is my first example of such a plant. We got off to a difficult start, and after a couple of years I'm hoping we will finally get on some better footing.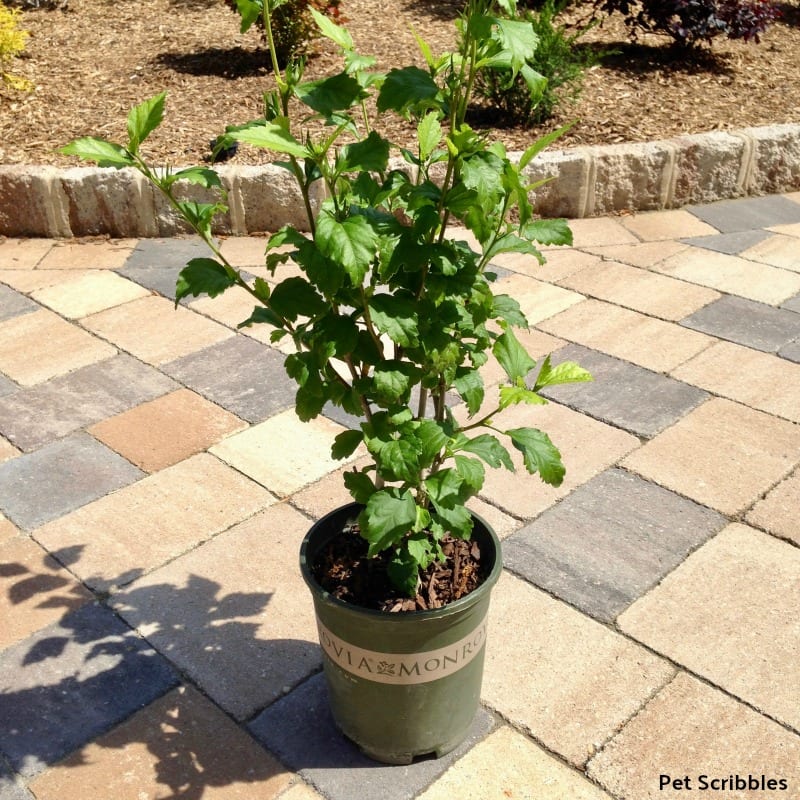 Rose of Sharon — way too many seeds!
I've always loved Rose of Sharon plants, admiring them in people's yards and gardens. And so I did some reading up on them, like I always do, and found that some people complained of all the seedlings that constantly need to be removed from around the main plant. 
Many of the older versions of Rose of Sharon were prolific seed sowers. But then the National Arboretum developed new versions of Rose of Sharon that provide little to no seeds.
That sounds like my kind of Rose of Sharon!
When I read that one of these new varieties — named Helene — was fine with heat and humidity and it also bloomed like crazy — I decided to purchase one for our front yard.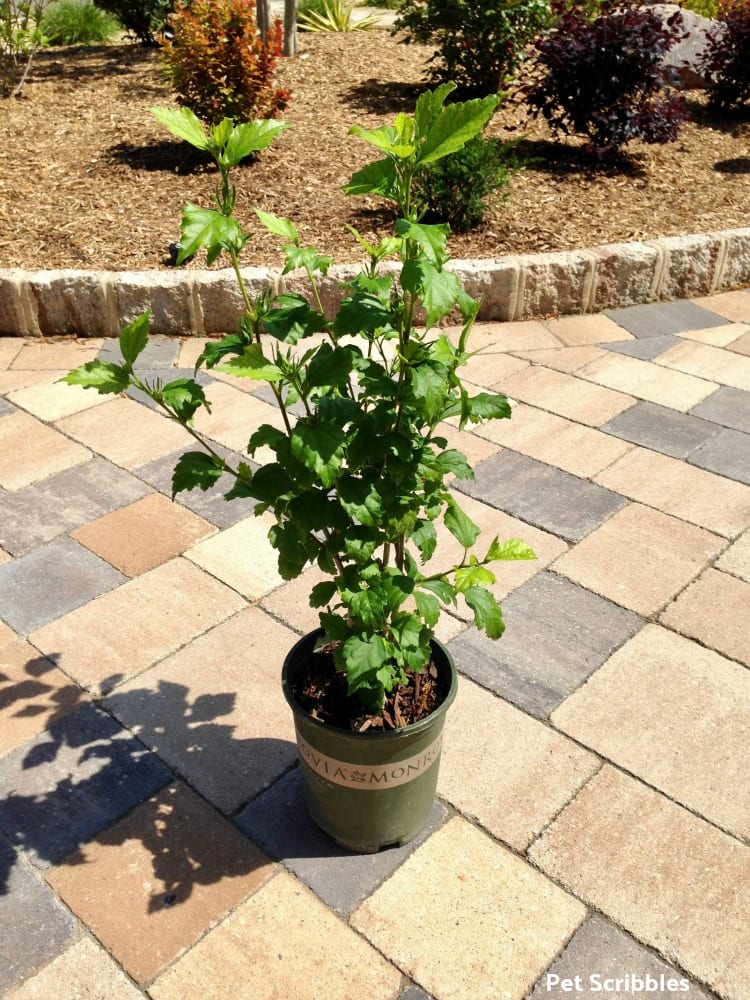 I planted it — most unfortunately — in an area of our yard that I didn't realize was as wet as it was.
Or did I?  <Hanging my head in gardener shame>
Trial and error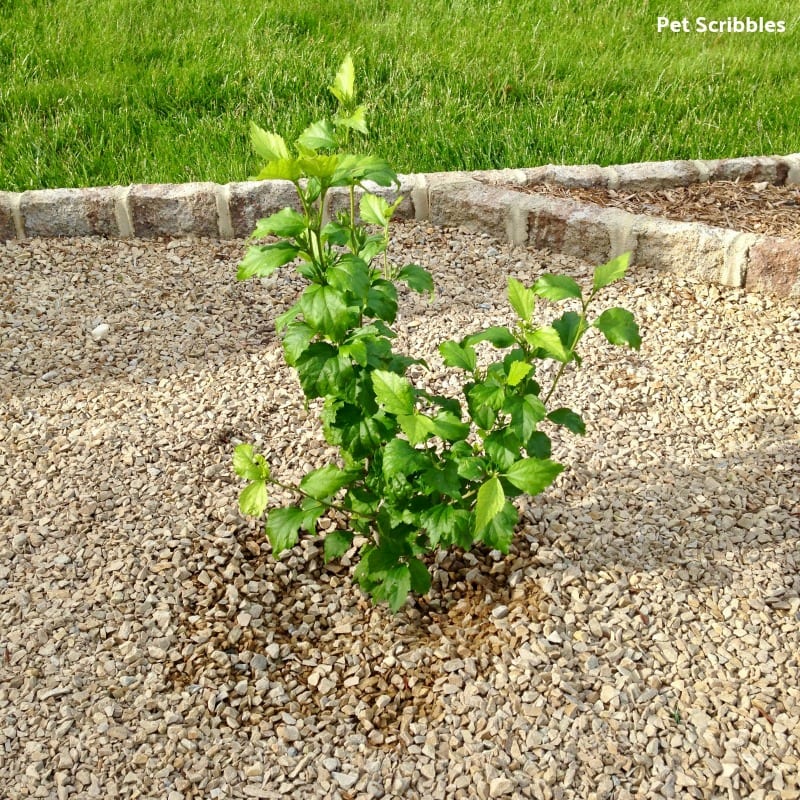 I took the picture above on the day I planted it back in 2016, so excited to have this shrub be a real show-stopper in our front gardens.
Here's why this was a stupid mistake on my part.
I wrote an article awhile ago about Bog Rosemary, a small flowering shrub that literally prefers boggy soil.
Here's the picture of where I planted our three Bog Rosemary plants — after some trial and error in a previously dryer spot, which they hated: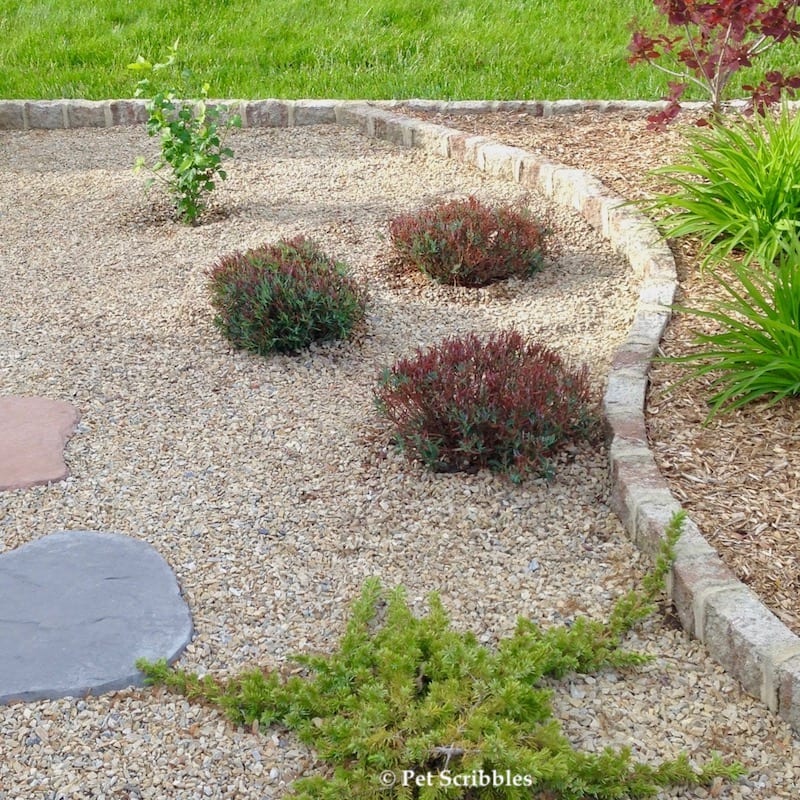 Notice the plant in the back? It was our newly planted Rose of Sharon. 
Why in the world — I'm shaking my head as I type this — did I think I could plant a Rose of Sharon in such boggy soil?
The heat must have gotten to me that day, because I swear I still don't understand why I planted it there, other than willing it to grow in a spot totally wrong for it.
More on my own trial and error shortly.
About Helene Rose of Sharon
This is one of the National Arboretum selections, and is known to be a much more profuse bloomer than the older varieties of Rose of Sharon.
Flowers:
Rose of Sharon, in general, comes in many colors. The flowers of Helene consist of white petals which are slightly ruffled with a red throat.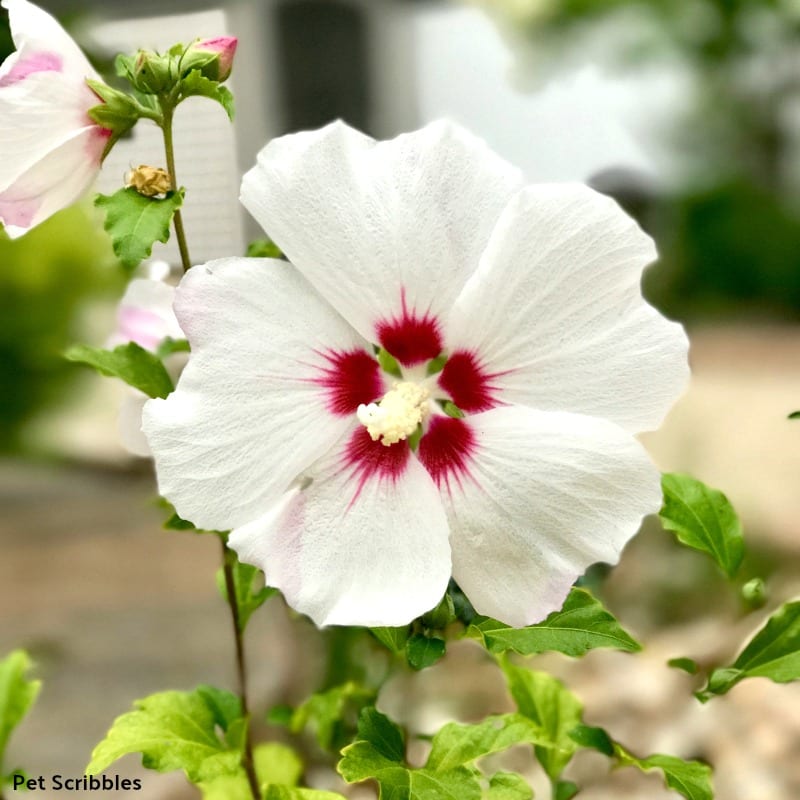 Shrub:
Helene is a deciduous (not evergreen) shrub that can grow 8' to 10' tall by 5' to 7' wide over several years. The shrub shape growth is vase-shaped: more upright versus wide. Some people call this a specimen shrub because of how showy it is. But I've also seen a long row of these, which take on the look of a beautiful living privacy screen during the Summer months. Helene can also be trained into a small ornamental tree.
Zone:
Helene is hardy in Zone 5 and above, meaning it will come back each year in your garden, after it has a dormant Winter season.
Bloom Time:
Helene Rose of Sharon flowers bloom for months and put on quite a show during the heat of the Summer. In fact, Helene prefers heat for its best blooming, and will kick into high gear once the temperatures rise. Depending on your USDA zone, they can bloom anwhere from June through October. Helene is a heavy bloomer compared to most other Rose of Sharon varieties.
Sun:
Partial to full sun is just fine.
Water:
Helene needs a decent amount of water during the heat of the Summer. Once the shrub is established it is more drought tolerant, however water is appreciated.
Pruning:
Best to prune Helene in the Winter or super early Spring while the plant is dormant. The flowers will form on new growth, so it doesn't matter if you cut it down a lot or just a little bit. 
In the photo below, the new growth has a green stem, while further on down that same stem you'll see brown, which is the older growth from previous seasons.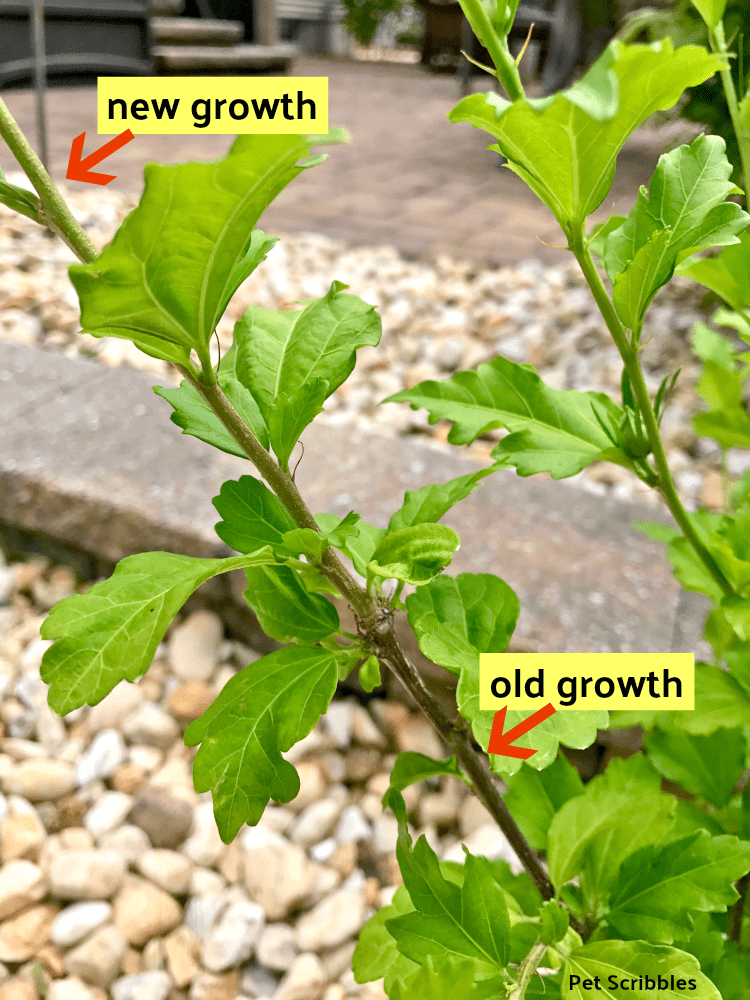 Best pruning video I've watched: Click here to see a short YouTube video on how to prune Rose of Sharon shrubs. The video is by John Holden, a landscape designer based in Connecticut.
My own trial and error with Helene Rose of Sharon
In my case, our Helene Rose of Sharon had way too much water. It basically drowned. I thought I killed it. I was really upset.
The following Summer (2017), my husband noticed a bit of green on the stems, just as he was about to pull it out and throw it away. He replanted it in our backyard near our patio just to see what would happen.
My husband is my hero!
By August, although the plant remained small, we actually had some flowers!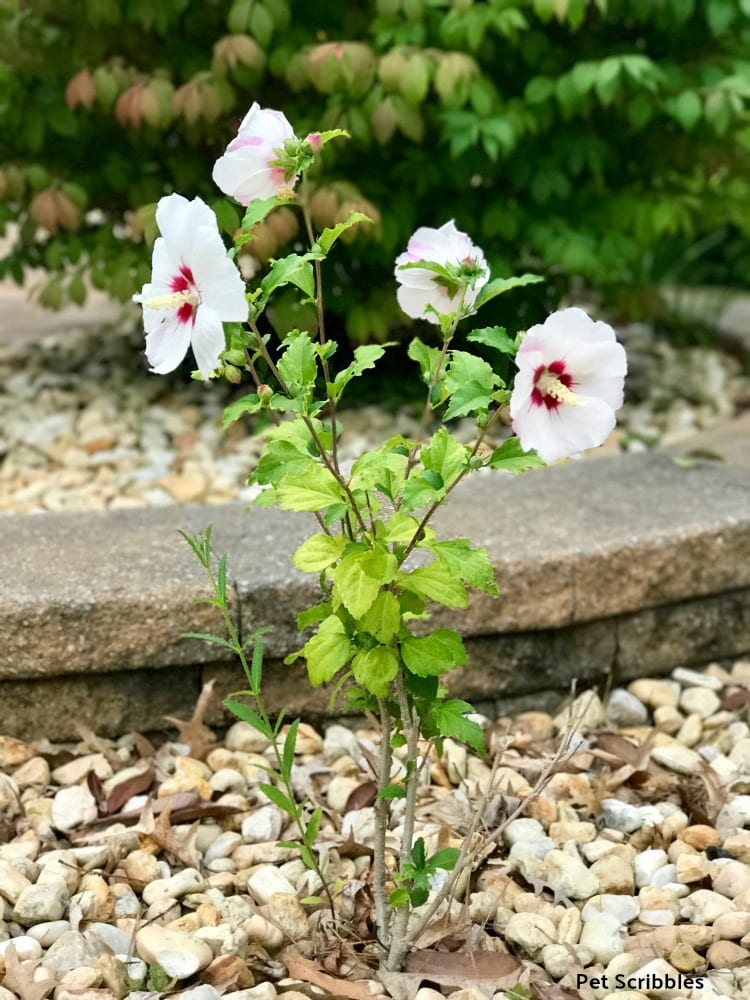 Yes, the leaves were more of a sickly yellow-green color, but we had actual blooms! Whoo-hoo!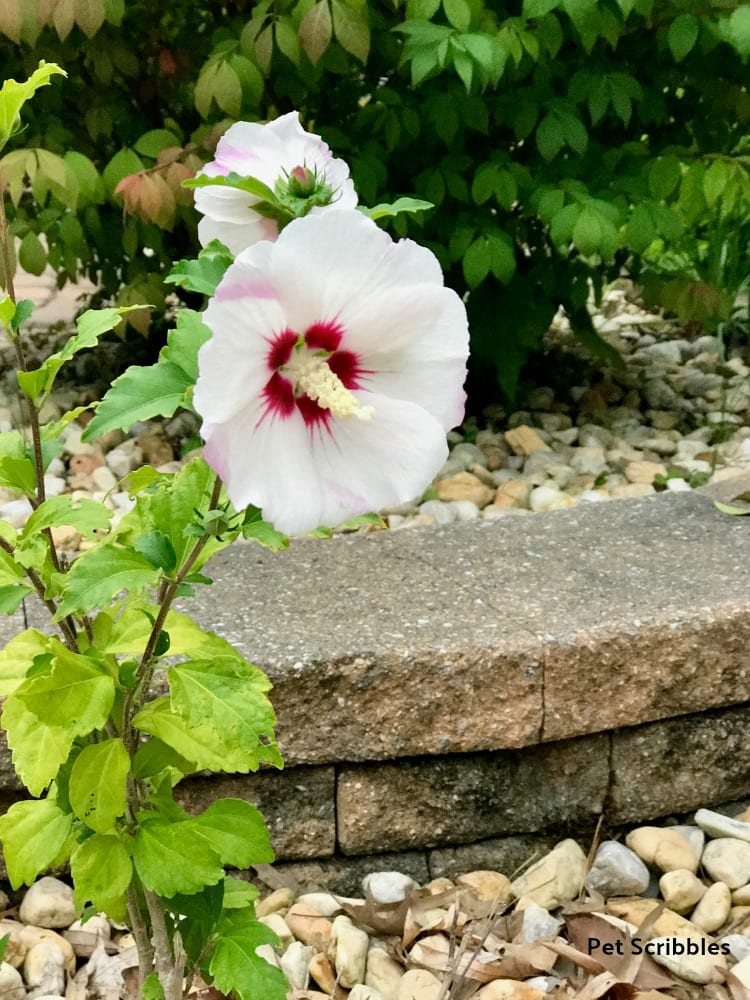 We were thrilled and I can't tell you how relieved I was!
This year, the leaves look much healthier.
Here it is in mid-May:
And this is how it looks now, in the beginning of July: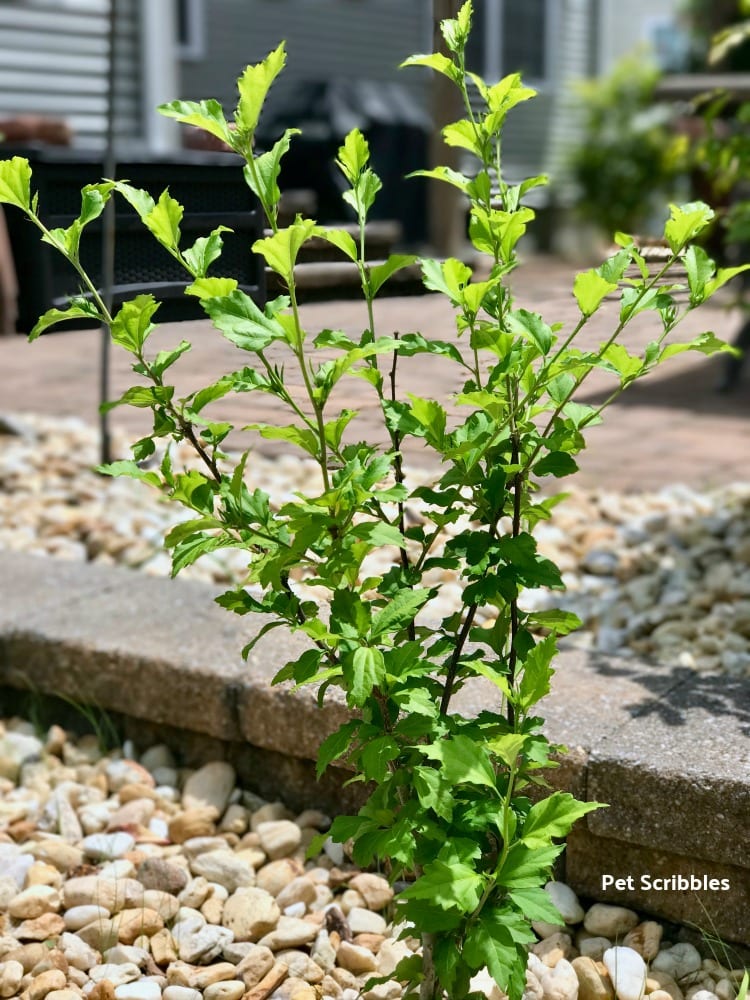 Our Helene Rose of Sharon is 3 feet tall — which is the size it was when we first purchased it — but that's fine by me because it's surviving in its new spot!
More importantly: it's not only surviving, it's thriving!
Early success after the trial and error!
There are flower buds all over the shrub: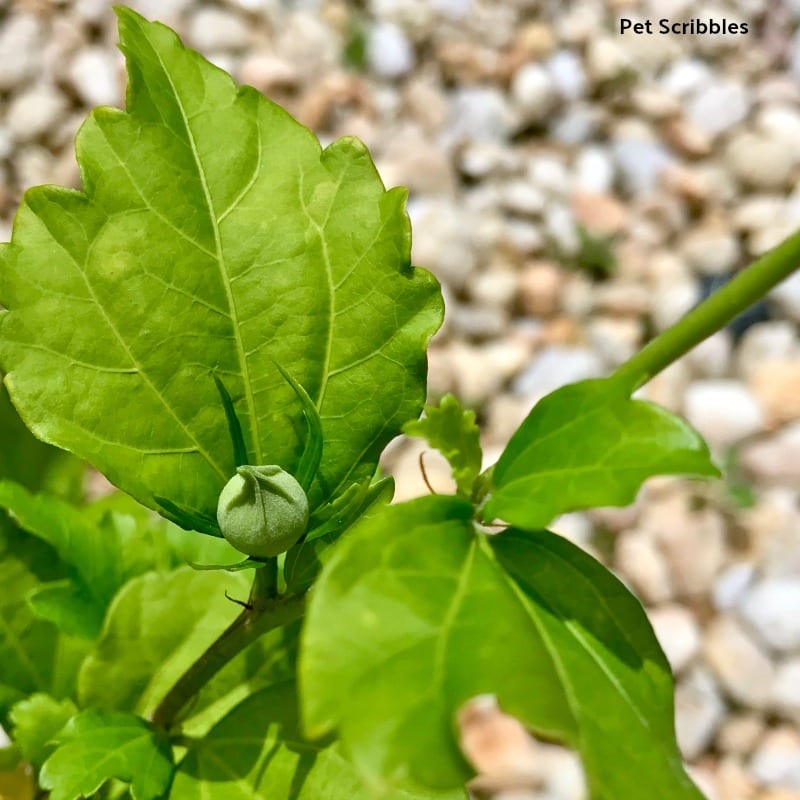 We are in the midst of our first big heatwave of the Summer, so these flower buds will be opening soon!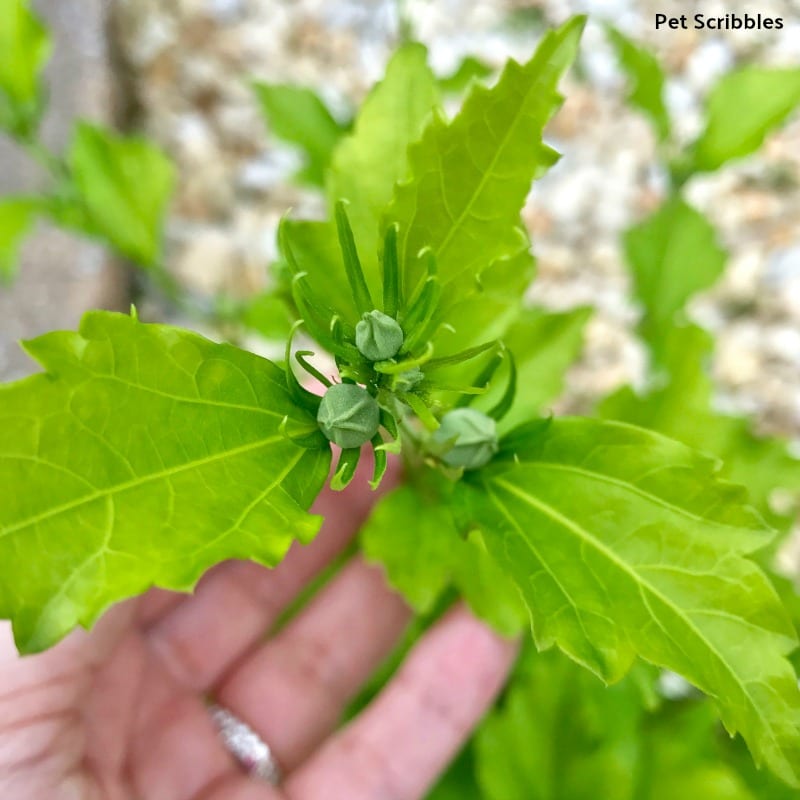 Of course I will update you as the Summer goes along. I'm still hoping for a tall, gorgeous blooming shrub full of these pretty flowers!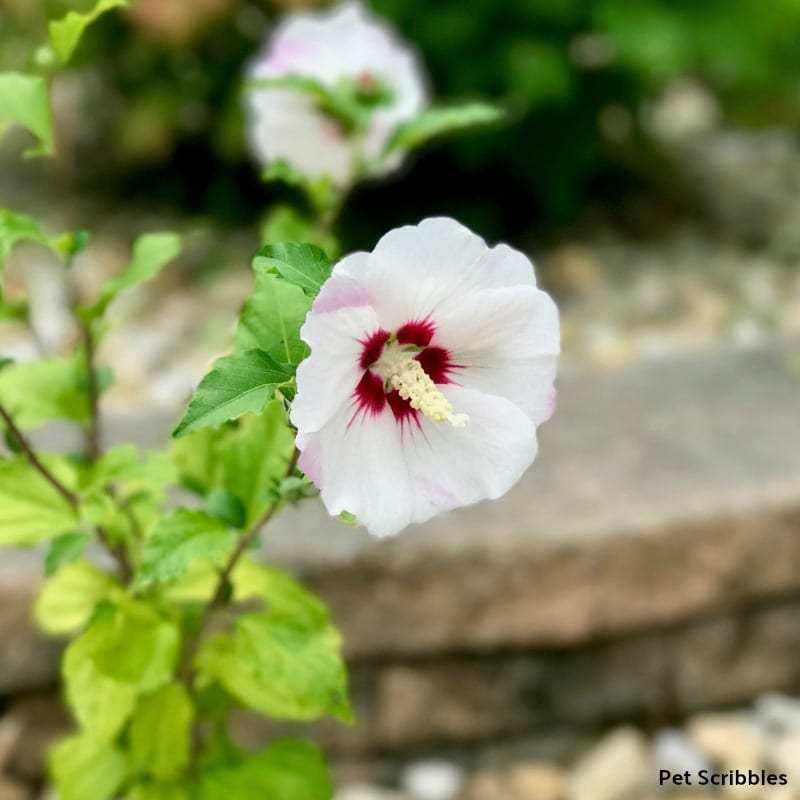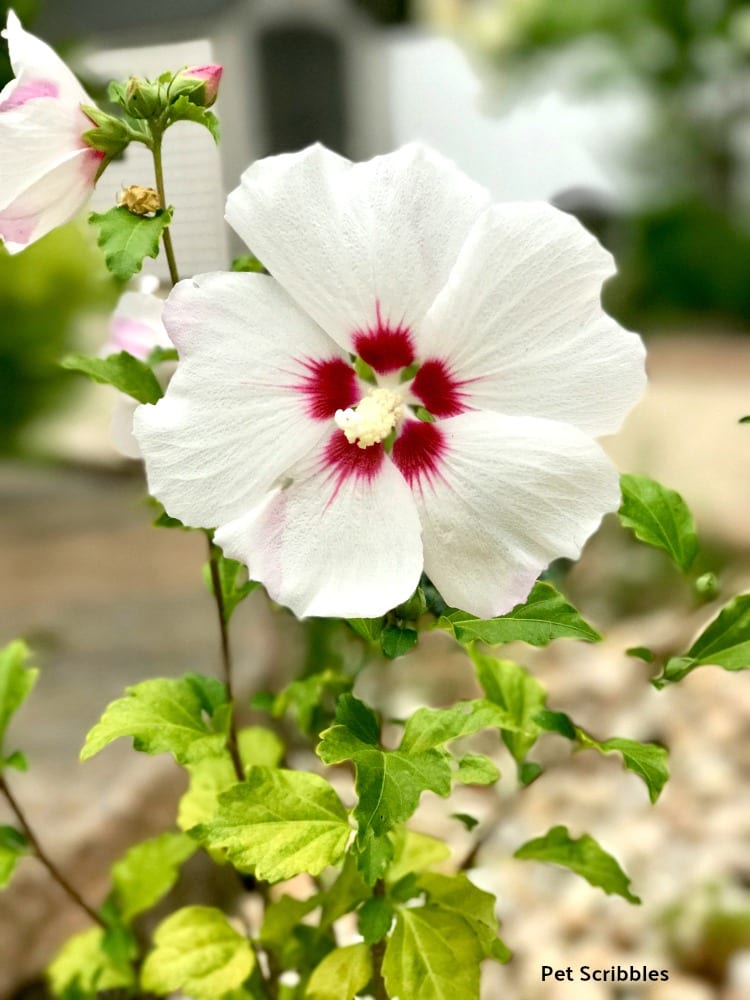 In the meantime, I'm calling this a trial and error and success story, since this little guy almost drowned!
Want more colorful garden eye candy?
Click here too see my Summer Garden Blooms!
Happy gardening!