Helene Rose of Sharon is a lovely Summer-flowering perennial shrub with non-stop white ruffled blooms. Helene is more compact and produces little to no seeds compared to traditional Rose of Sharon plants. Learn why you will love having Helene in your garden!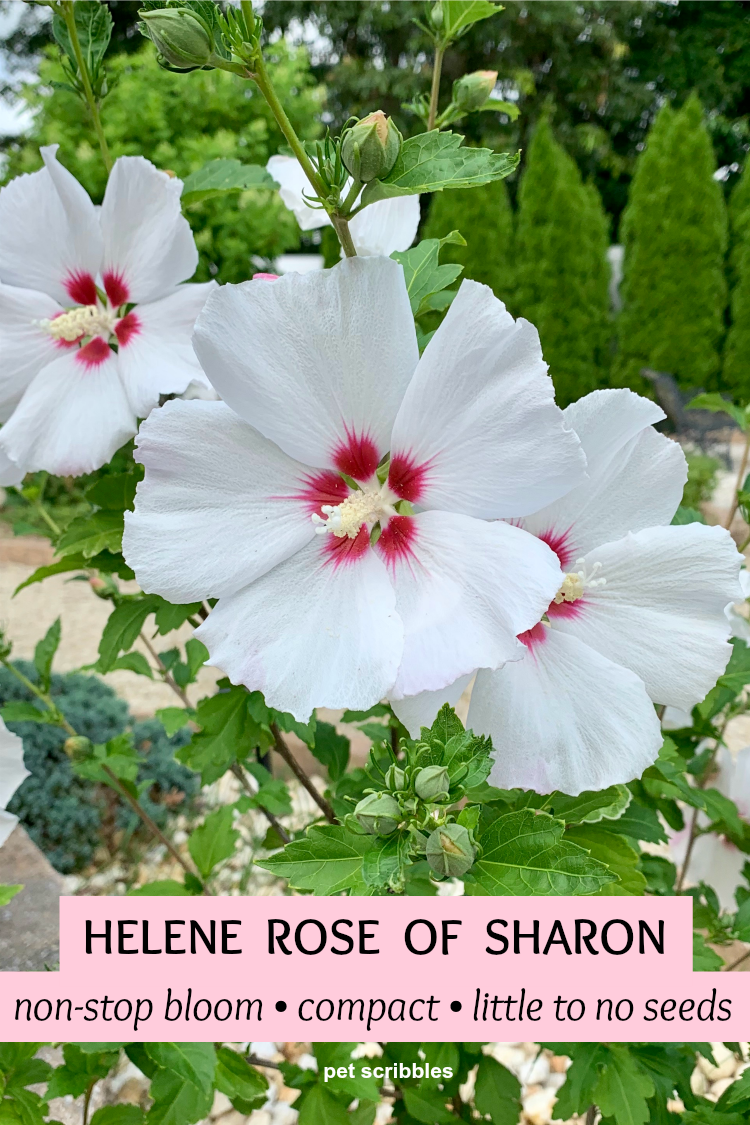 I need to come up with another category of plants here on Pet Scribbles.
You can see my favorite plants by going to the menu (above this post) and click on Gardening, then click on My Favorite Plants. And you can also see my Pruning Tips.
But I need to come up with another category where I can share the plants that I want to love, but don't yet love me back. These are plants and shrubs that I want to grow, but for whatever reason it's just not happening. Or the plant bombed but is finally recovering. Or the plant is just never going to love me or my garden, although that sounds a bit dramatic.
Helene Rose of Sharon is my first example of such a plant. After a difficult start, we are finally getting on better footing.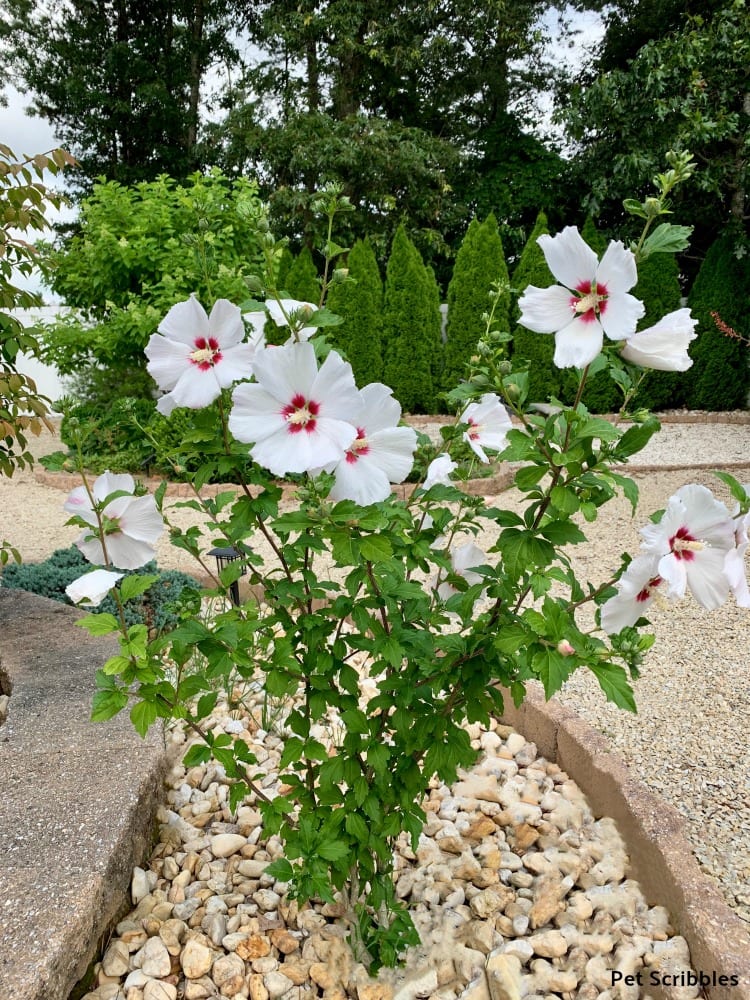 A common Rose of Sharon complaint: seedlings!
I've always loved Rose of Sharon plants, admiring them in people's yards and gardens. And so I did some reading up on these flowering shrubs, like I always do, and found that most traditional versions of Rose of Sharon are prolific seed sowers.
Many gardeners have a love-hate relationship with Rose of Sharon because of all the seedlings that show up in their gardens. They love how gorgeous the shrub is, but hate the constant managing of seedlings which can almost feel like non-stop weeding.
Initially, I had a dilemma. I wanted a Rose of Sharon shrub, but didn't want the built-in weeding that apparently came with it.
Rose of Sharon varieties with little to no seed production!
I kept doing research and it didn't take long to learn that the US National Arboretum had developed Rose of Sharon varieties that produced little to no seeds!
I imagine this is where the choirs of angels begin singing for anyone who has dealt with the endless weeding of seedlings.
These National Arboretum Rose of Sharon hybrids were developed by Donald R. Egolf — a well-known plant breeder.
The resulting plants are called Diana, Minerva, Helene and Aphrodite. Each has a more compact habit, better suited for gardens. All of these feature continuous blooming flowers, healthy green leaves and little to no seed production — major improvements over older Rose of Sharon varieties.
Diana Rose of Sharon has pure white ruffled flowers: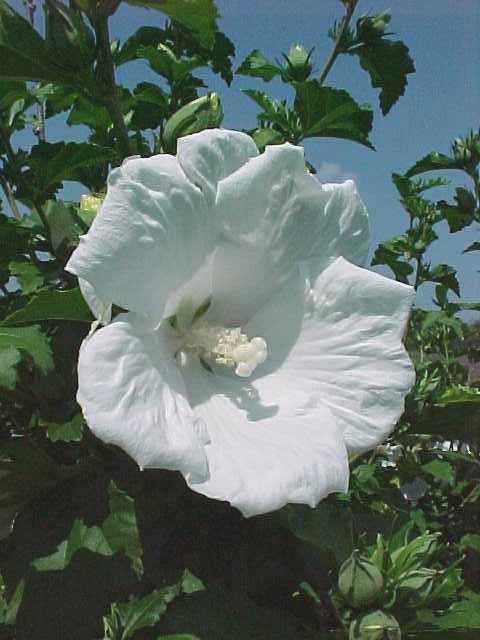 Minerva Rose of Sharon has lavender ruffled flowers with tinges of pink, with a red eye: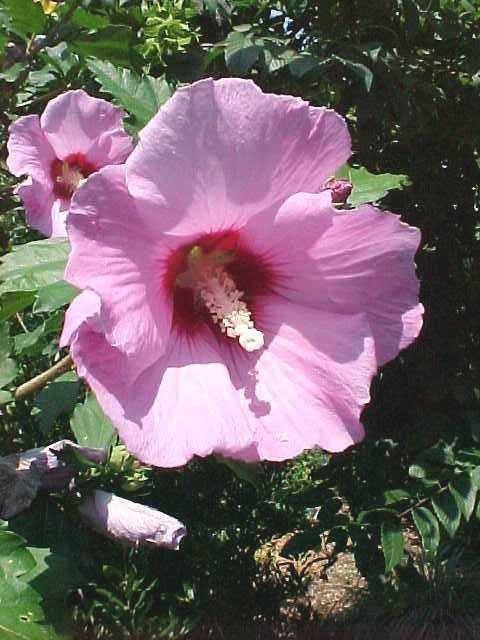 Aphrodite Rose of Sharon has pink ruffled flowers with a red eye: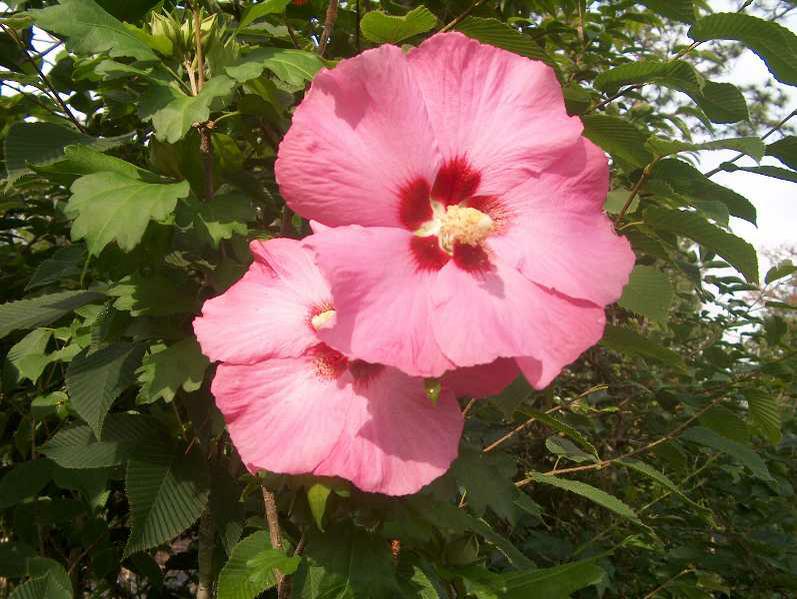 Helene has white ruffled flowers with a red eye: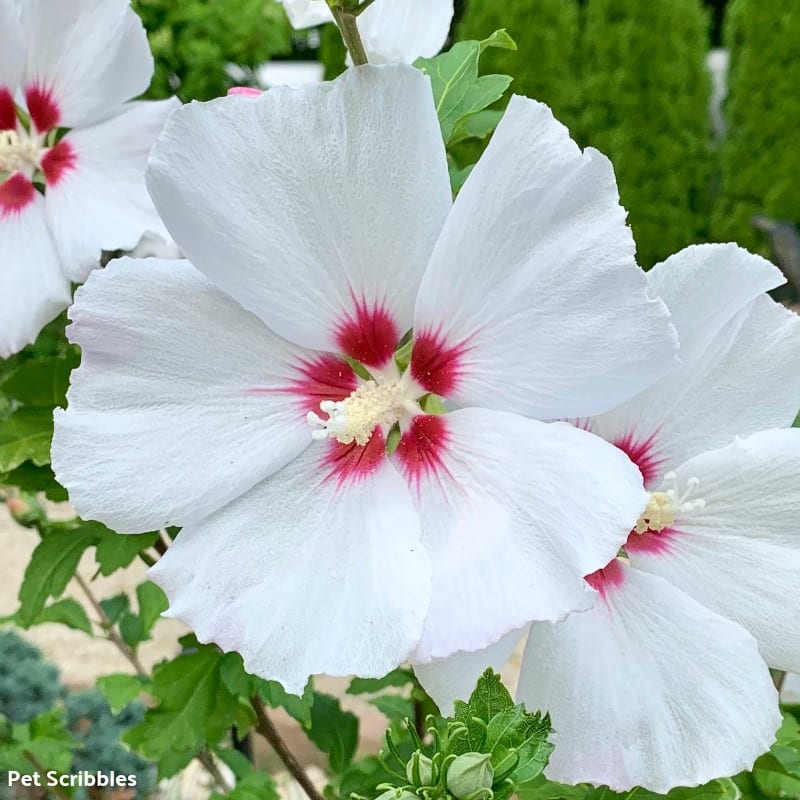 About Helene Rose of Sharon
Helene Rose of Sharon has many outstanding attributes:
tolerates air pollution and urban city settings
attracts hummingbirds and butterflies
has a long season of continuous blooms
does fine with heat and humidity
When I read that Helene was fine with heat and humidity, I needed to find this plant!
Flowers:
The flowers of Helene consist of white petals which are ruffled with a red eye. Though they look very delicate, the flowers can stand up to rain and wind pretty well.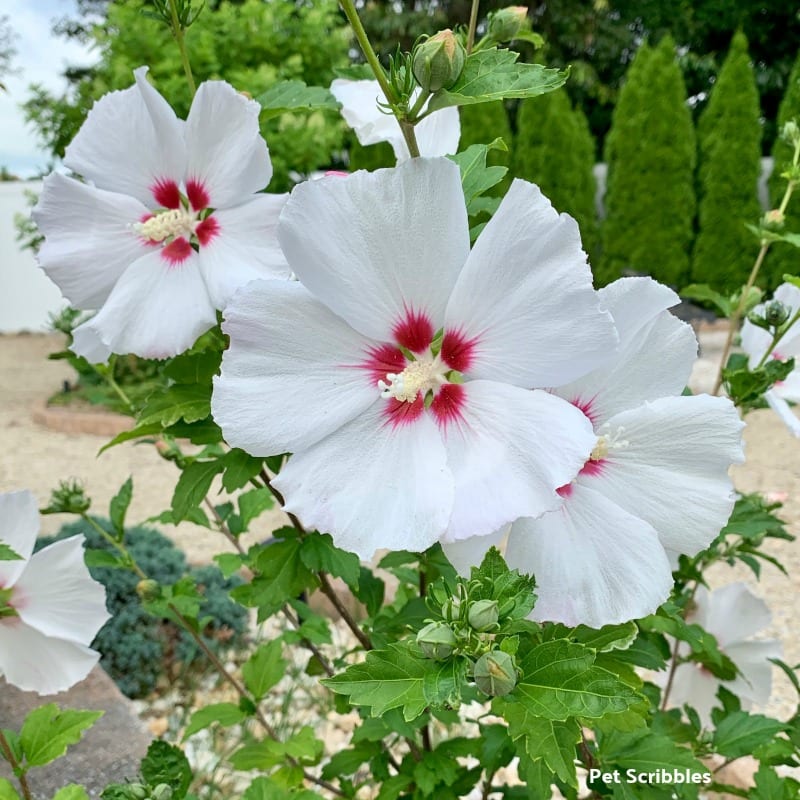 Each flower is very textured, almost looking like crepe paper. I love everything about this flower — there's so much to look at and enjoy.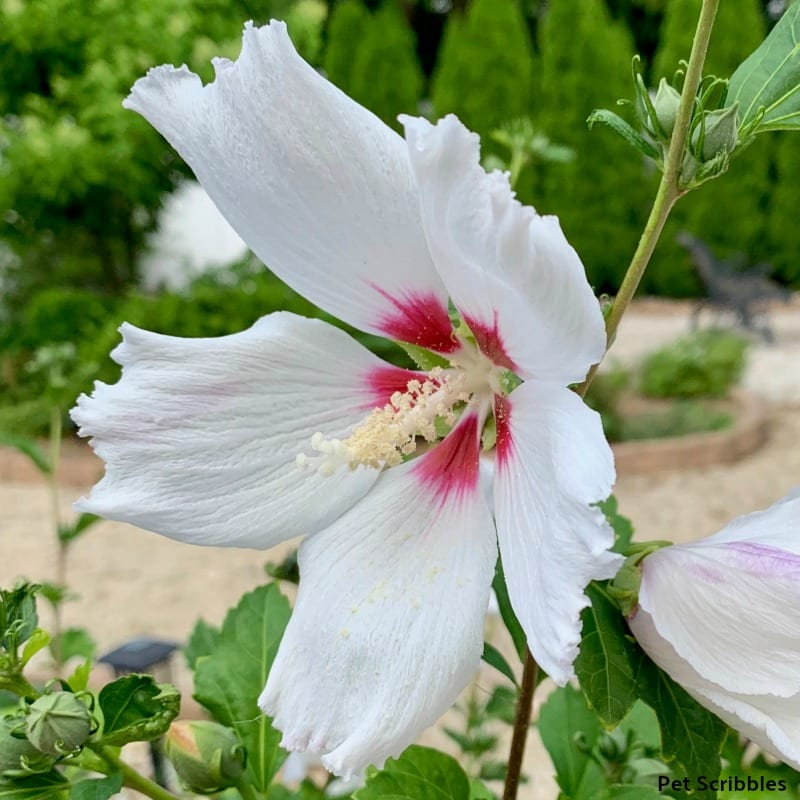 Shrub:
Helene is a deciduous (not evergreen) shrub that is more compact than traditional Rose of Sharons. This means that Helene can be added into gardens more easily.
Helene Rose of Sharon takes its time growing, and will reach a maximum height around 8 feet tall to approximately 6.5 feet wide over several years. Its size is considered shorter than most other Rose of Sharon varieties, as a traditional Rose of Sharon grows taller to around 12 feet or more.
I consider Helene to be a slow-growing shrub, although many garden sites list it as moderate growing. If you don't remind yourself of its slower growth, you will get frustrated when gazing longingly at your neighbor's much taller Rose of Sharons in the meantime.
My motto is: Be patient with this beautiful shrub's growth!
Helene can be trained into a small ornamental tree. Just be aware that the growth rate is slower than other Rose of Sharons, so turning this shrub into a tree form will obviously take more time.
Helene also makes a great container plant, as it is rather low maintenance once established. Keep in mind that container plants will need more water versus those same plants grown in the garden.
Zone:
Helene is hardy in Zone 5 and above, meaning in those zones it will come back each year in your garden, after a dormant Winter season.
Helene is slow to leaf out once Spring kicks in, and you might think it died especially if you experienced a harsh Winter. But fear not, as Helene is a tough shrub and will return!
Helpful tip: Apply an organic, slow-release fertilizer in the Spring. I use Plant Tone by Espoma, and it works great.
Bloom Time:
Helene Rose of Sharon blooms for months and puts on quite a show during the heat of the Summer. In fact, Helene prefers heat for its best blooming, and kicks into high gear once the temperatures rise.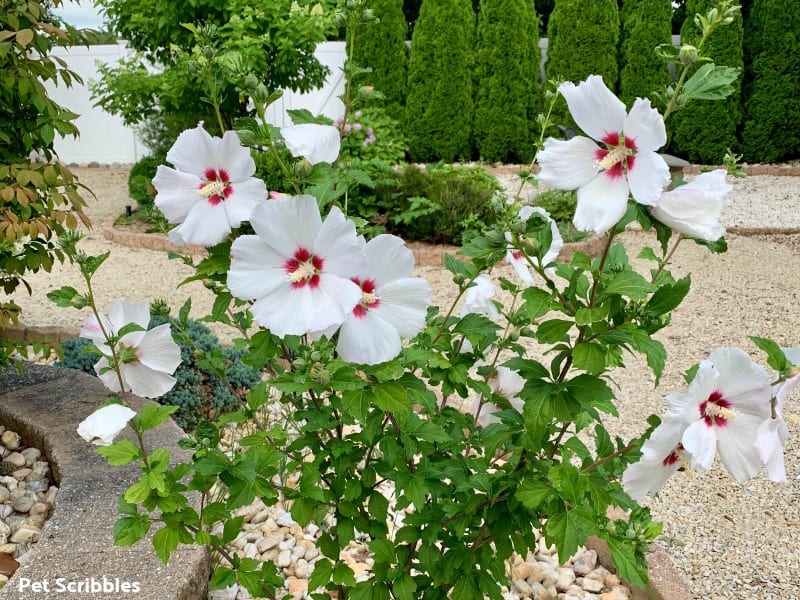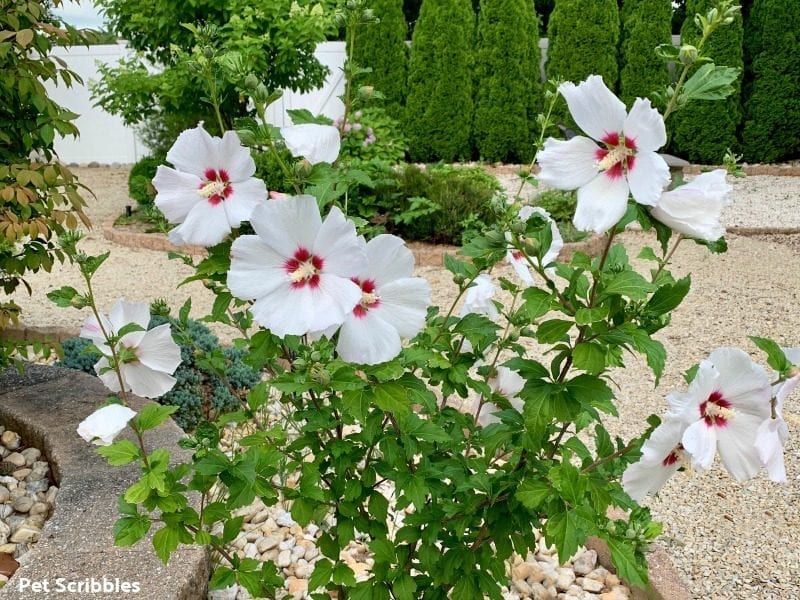 Depending on your USDA zone, Helene Rose of Sharon blooms anywhere from June through October.
Helene is a heavy bloomer compared to most other Rose of Sharon varieties.
Rose of Sharons, in general, provide much appreciated color in the latter half of the Summer season, when many flowers have finished their Summer show.
Sun:
Helene Rose of Sharon needs partial to full sun.
Ours is planted in full sun and looked great during the recent heat wave we had, where the heat index hovered around 110 degrees. (I, on the other hand, did not look so great during that same heat wave.)
According to the US National Arboretum, when Helene is grown in full sun the flowering is heavier and the growth more compact. (In more shade, you will have the plants stretching to find the sun.)
Water:
Helene Rose of Sharon prefers moist, well-draining soil and requires a decent amount of water during the heat of the Summer.
During Helene's first growing season, make sure to water well. Once the shrub is established after a couple of years it will be more drought tolerant, however water is always appreciated.
Pruning:
It's best to prune Helene in the Winter or very early Spring while the plant is dormant.
The flowers form on new growth, so it doesn't matter if you cut the shrub down a lot or just a little bit.
In the photo below, the new growth has a green stem, while further on down that same stem you'll see brown, which is the older growth from previous seasons.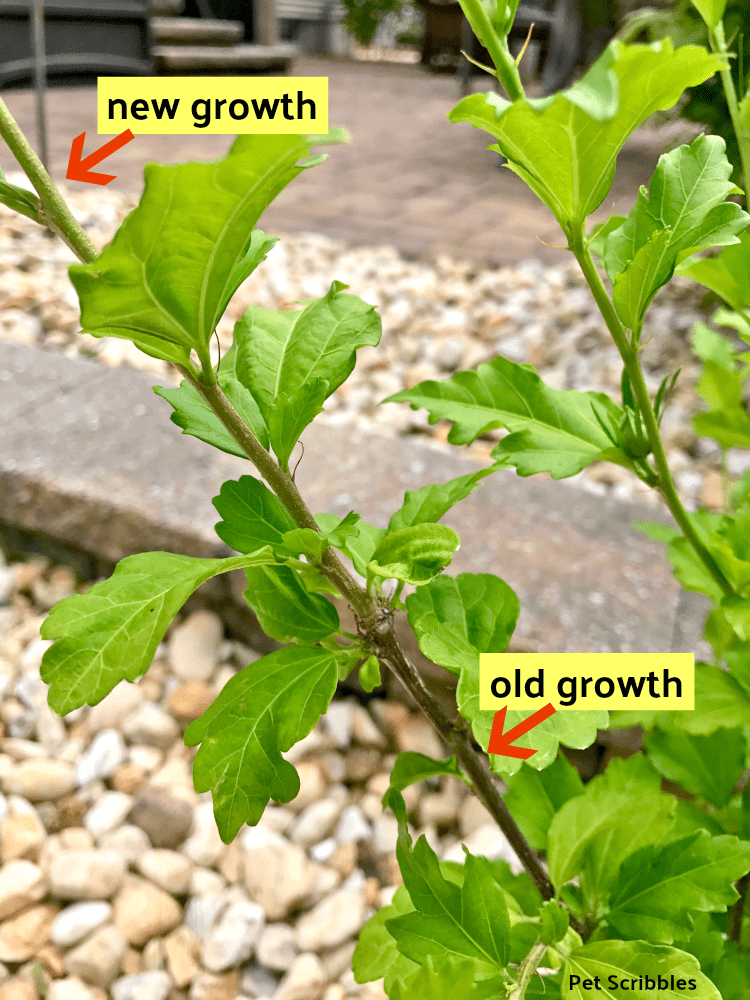 Keep in mind that Helene is a slower growing and more compact variety of Rose of Sharon, so your pruning needs are not going to be anything like they are with a full-size traditional Rose of Sharon shrub.
I didn't even prune mine at all this year, as it wasn't necessary.
My own trial and error with Helene Rose of Sharon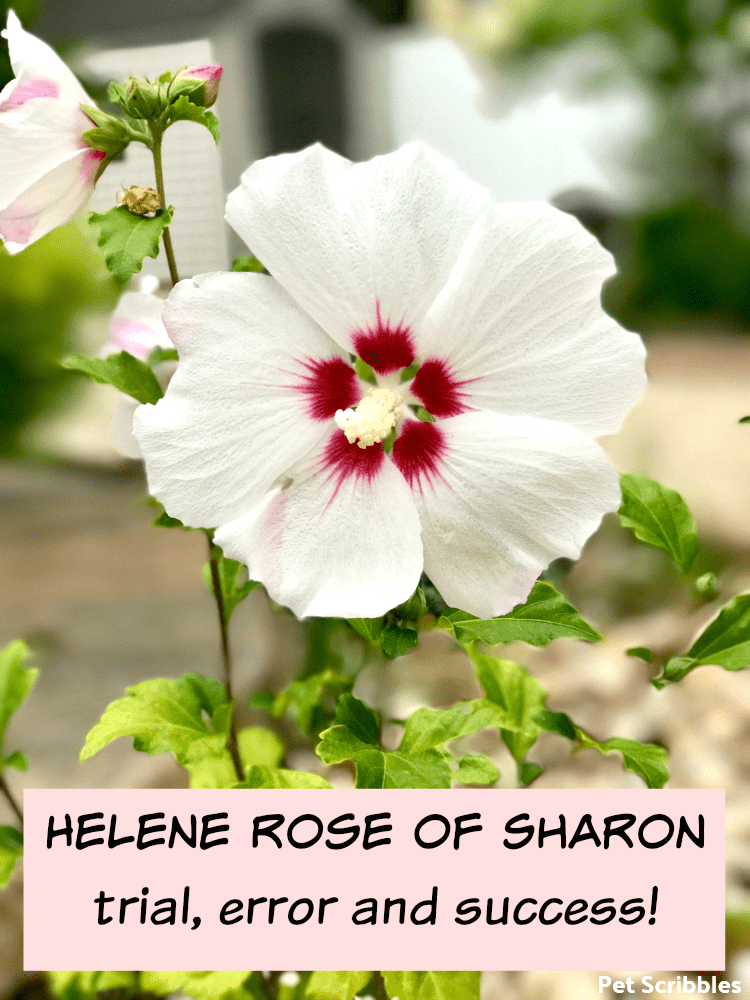 As I mentioned earlier, in 2016 I decided to purchase a Helene Rose of Sharon for our front yard.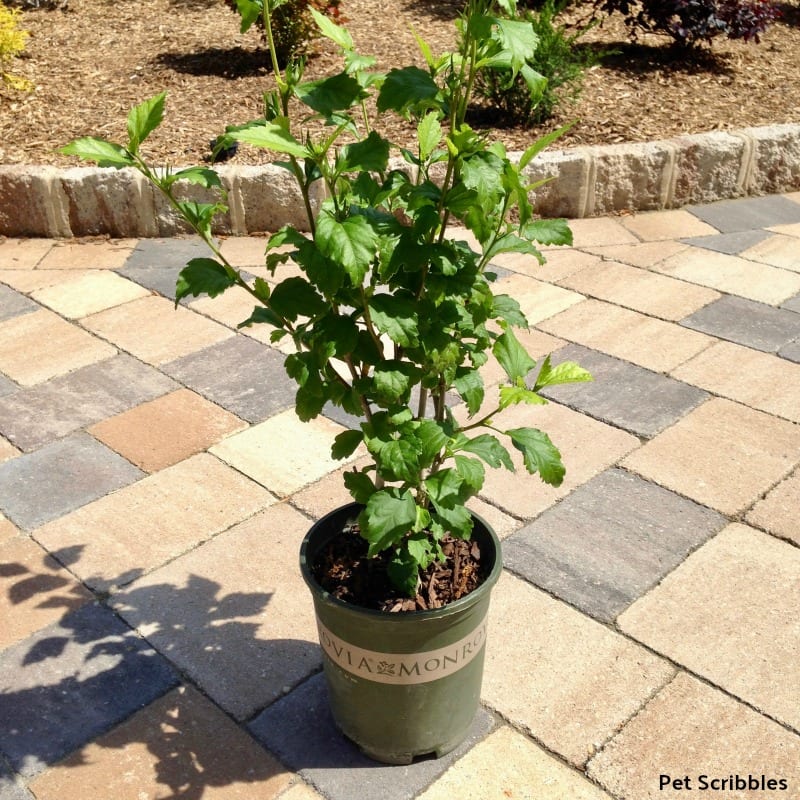 I planted it — most unfortunately — in an area of our yard that I did not realize was as wet as it was.
I honestly thought Helene would be able to handle the wetness of this area. <Hanging my head in gardener shame>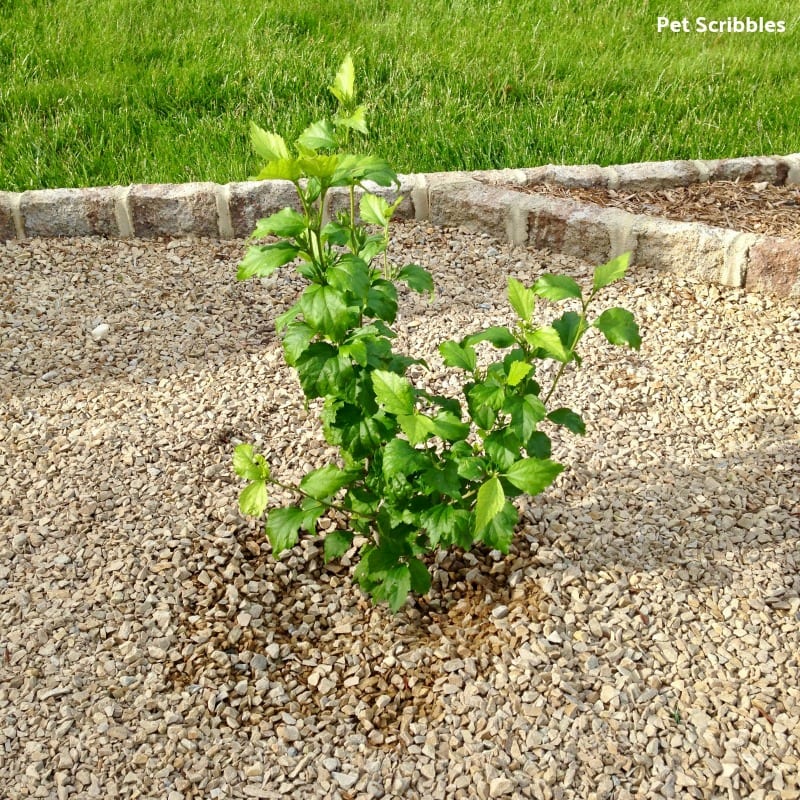 The picture above was taken on the day I planted it back in 2016. I was so excited to have this shrub eventually be a real show-stopper in our front gardens.
Why I made a stupid mistake
I wrote an article awhile ago about Bog Rosemary, a small flowering shrub that literally prefers boggy soil. (Click the link to read it.)
Here's the picture (below) of where I planted our three Bog Rosemary plants — after some trial and error in a previously dryer spot, which they hated: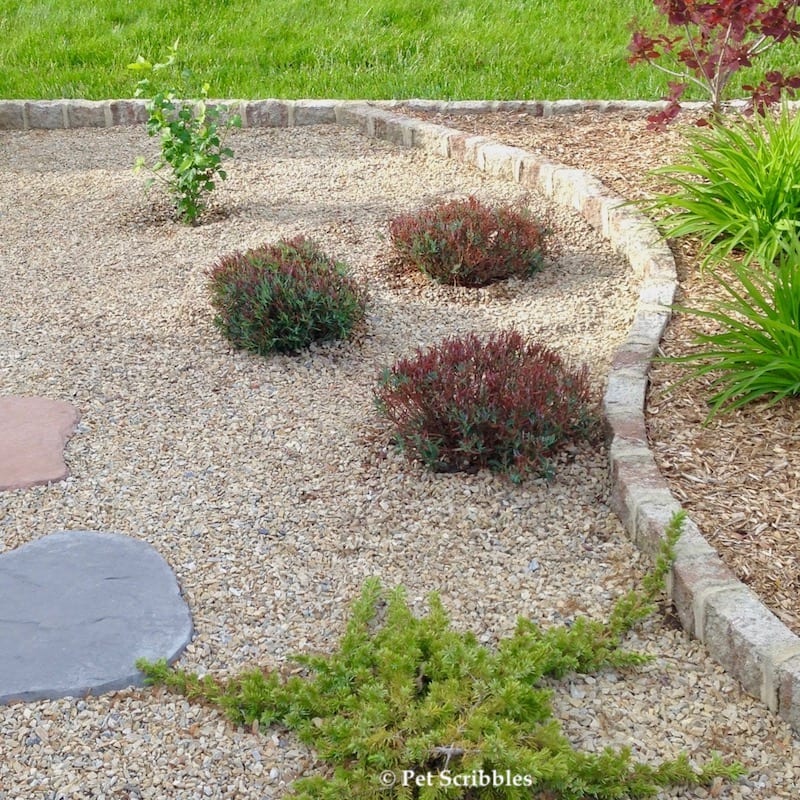 Notice the plant in the back? It was our newly planted Rose of Sharon.
Why in the world — and I'm shaking my head as I type this — did I think I could plant a Rose of Sharon in such boggy wet soil?
The heat must have gotten to me that day, because I swear I still don't understand why I planted it there. We had tried other plants in that area and they died. Seriously — what was I thinking??
Helene Rose of Sharon enjoys moist soil but it must be well-draining soil. And a boggy, sopping wet, swampy soil is not well-draining.
So I wanted it to grow in a spot totally wrong for it.
And how'd that work out?
Hah! It was a disaster.
Our Helene Rose of Sharon had way too much water. It basically drowned. I thought I killed it. I was really upset.
I'm the first one to tell myself — and to tell all of you — that we shouldn't beat ourselves up when plants fail. We don't fail — the plants do. But boy I felt foolish for my mistake.
One year later, Summer 2017
Despite knowing Helene leafs out later than other Summer flowering shrubs, we still thought I had killed it off the previous season.
But the following year (2017) in late Spring, my husband noticed a bit of green on the stems, just as he was about to pull it out and throw it away.
(Remember, I mentioned earlier that Helene begins to leaf out rather late in the Spring, so don't be fooled into thinking it died. Unless of course you tried to drown it like I did. That's different.)
My husband rescues our Helene Rose of Sharon
My husband replanted Helene in our backyard near our patio just to see what would happen.
I had given up on Helene. He did not.
My husband is my hero!
By August, although the plant remained small, we actually had some flowers!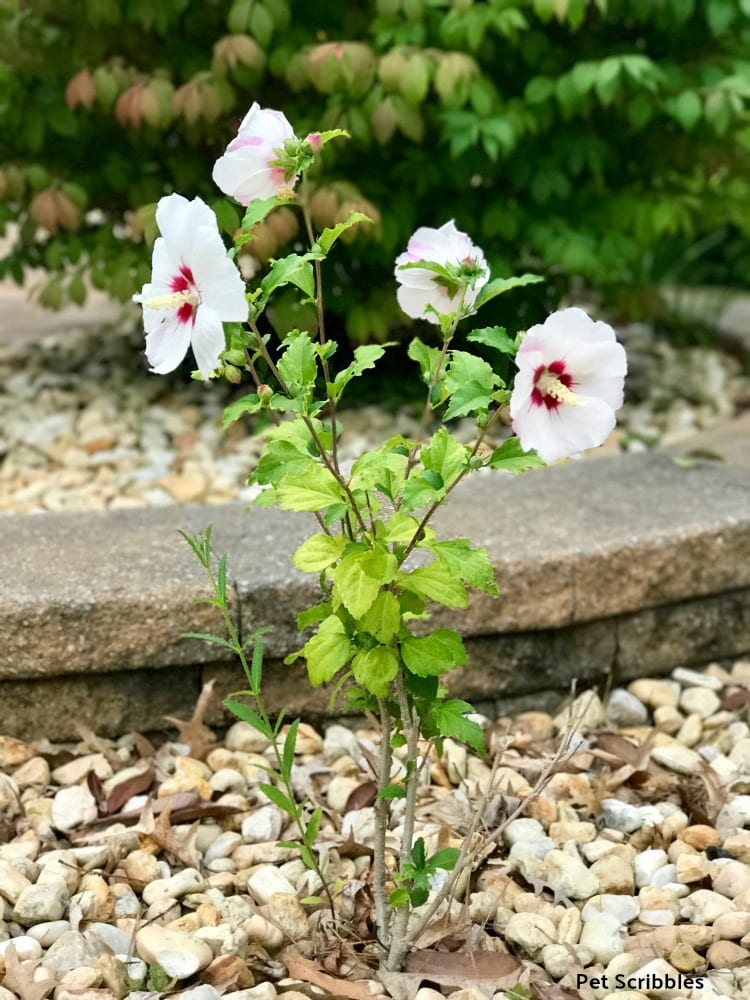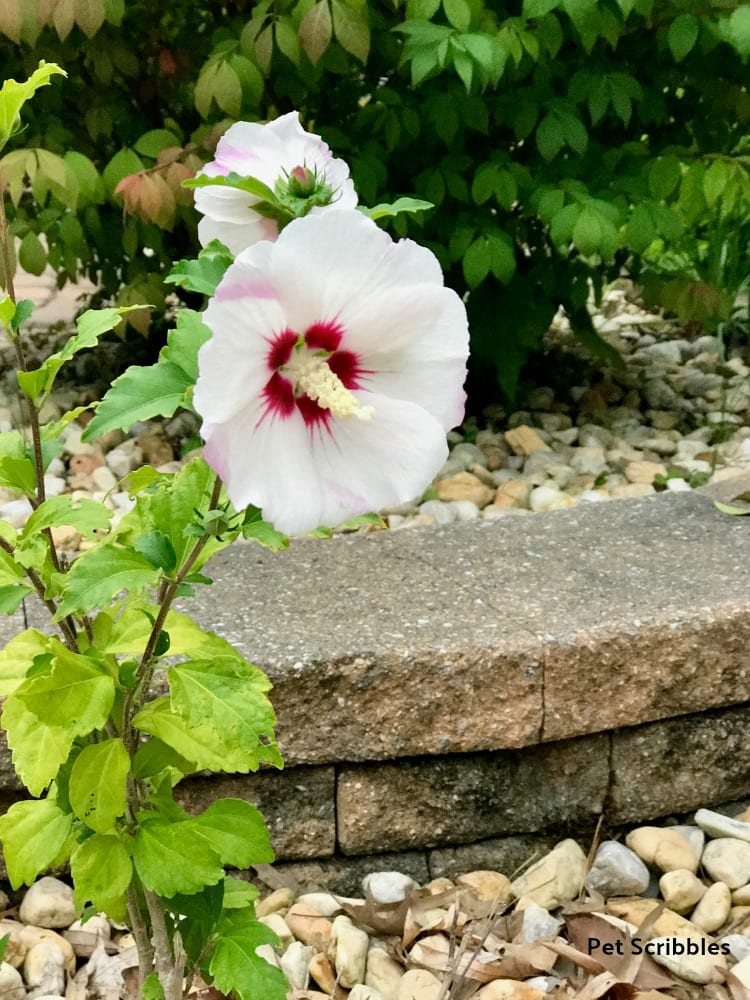 Yes, the leaves were more of a sickly yellow-green color, but we had actual blooms that looked great! Whoo-hoo!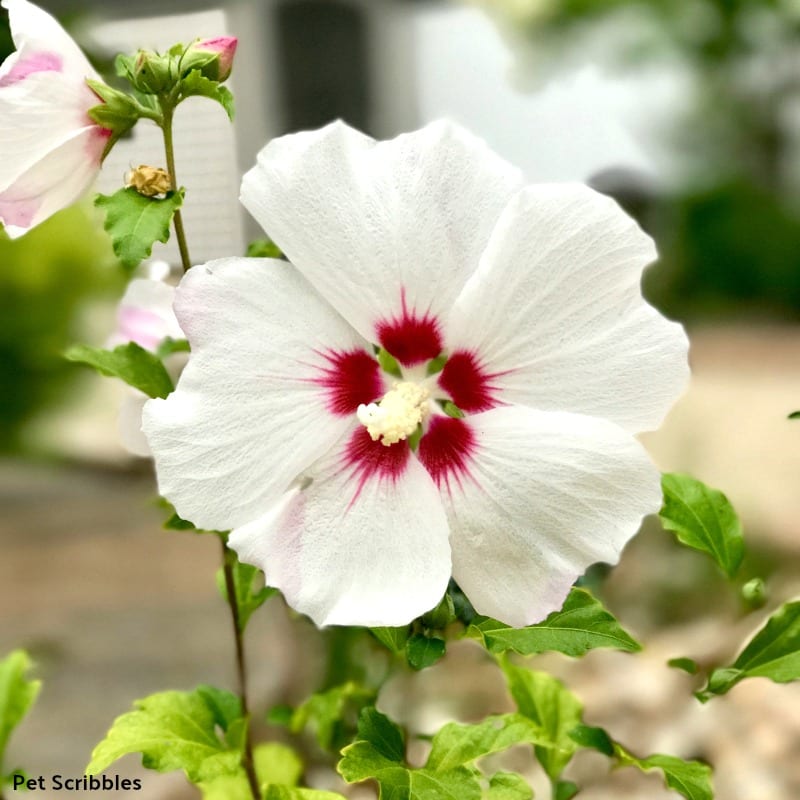 We were thrilled and I was relieved!
Helene Rose of Sharon in 2018
The leaves looked much healthier in the Summer of 2018.
Here is how Helene looked in mid-May 2018:
And this is how it looked in the beginning of July 2018: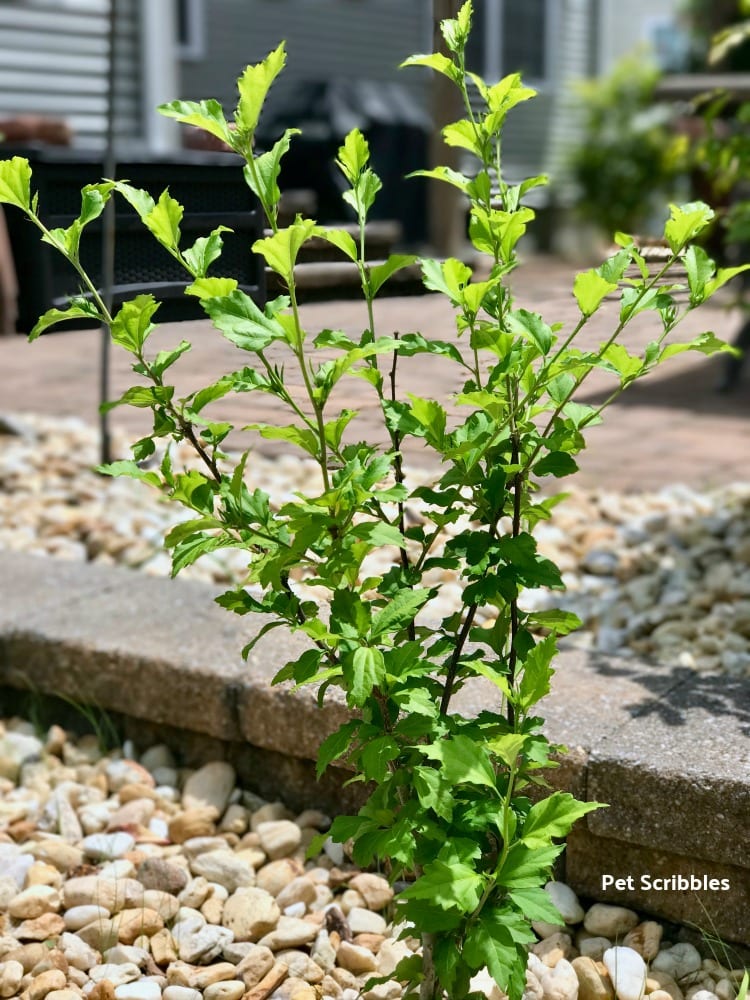 That Summer our Helene Rose of Sharon was 3 feet tall — which is the size it was when we first purchased it — but that's fine by me because it was surviving in its new spot!
Flower buds appeared all over the shrub: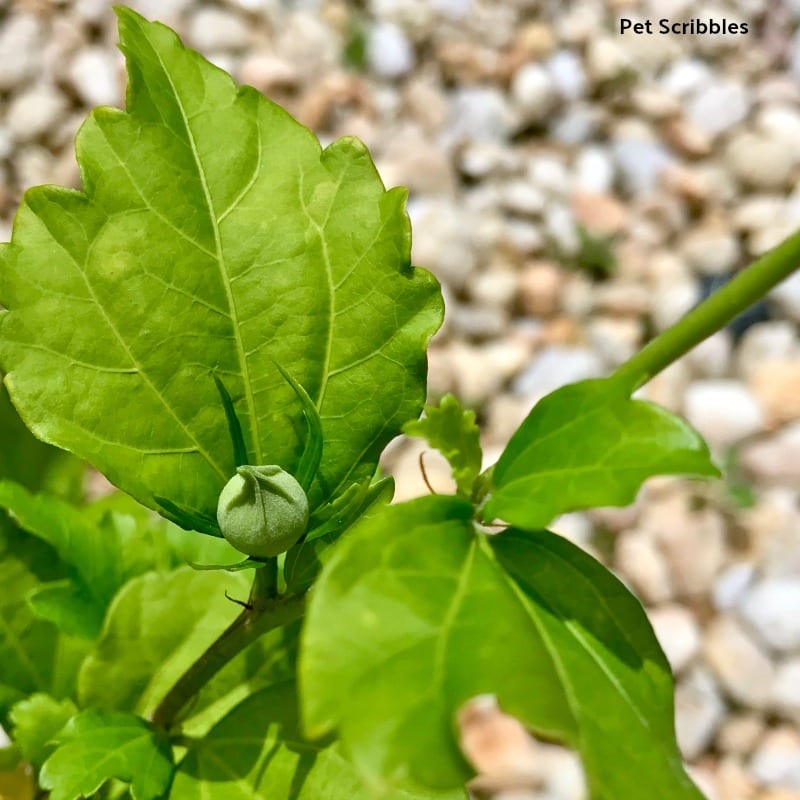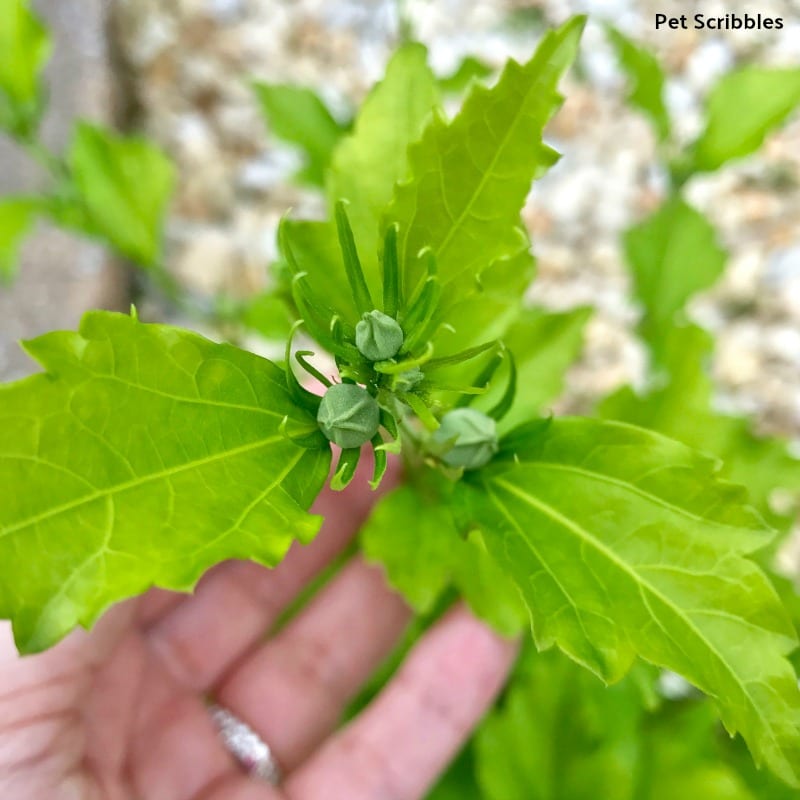 There were a decent amount of flowers that Summer too. I was still a bit tentative, wondering if Helene would ever get over the attempted drowning and fully recover.
Helene Rose of Sharon fully recovers in 2019
I think our Helene Rose of Sharon has completely recovered this year!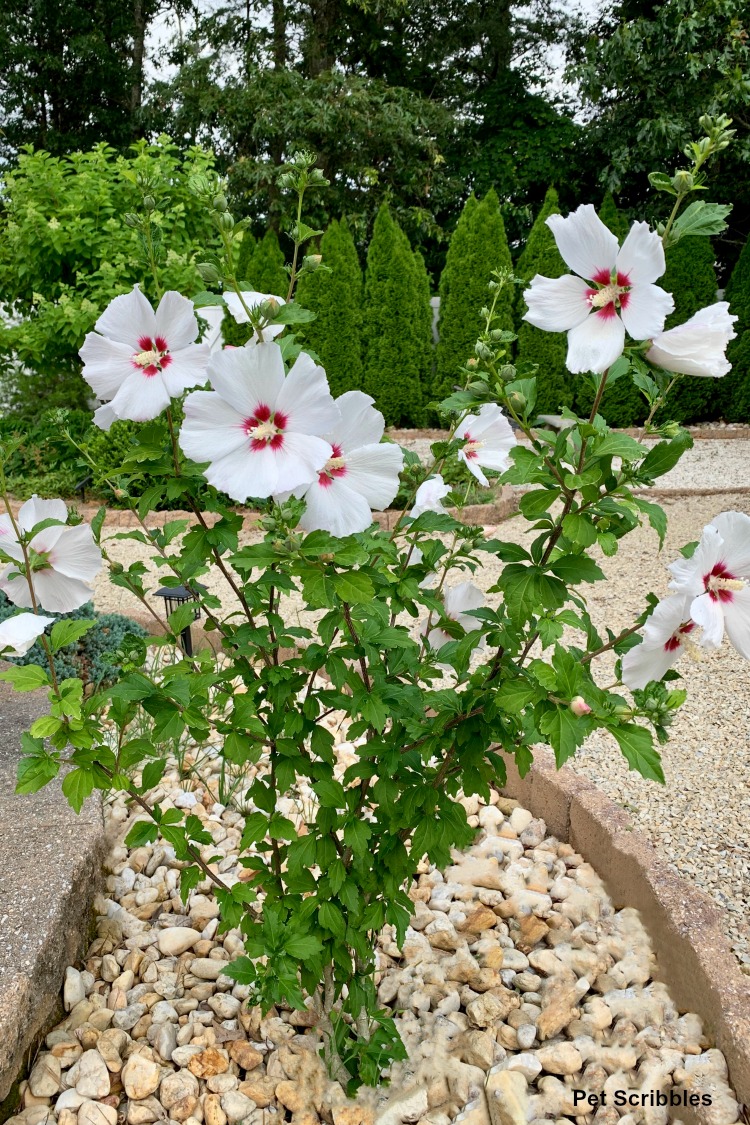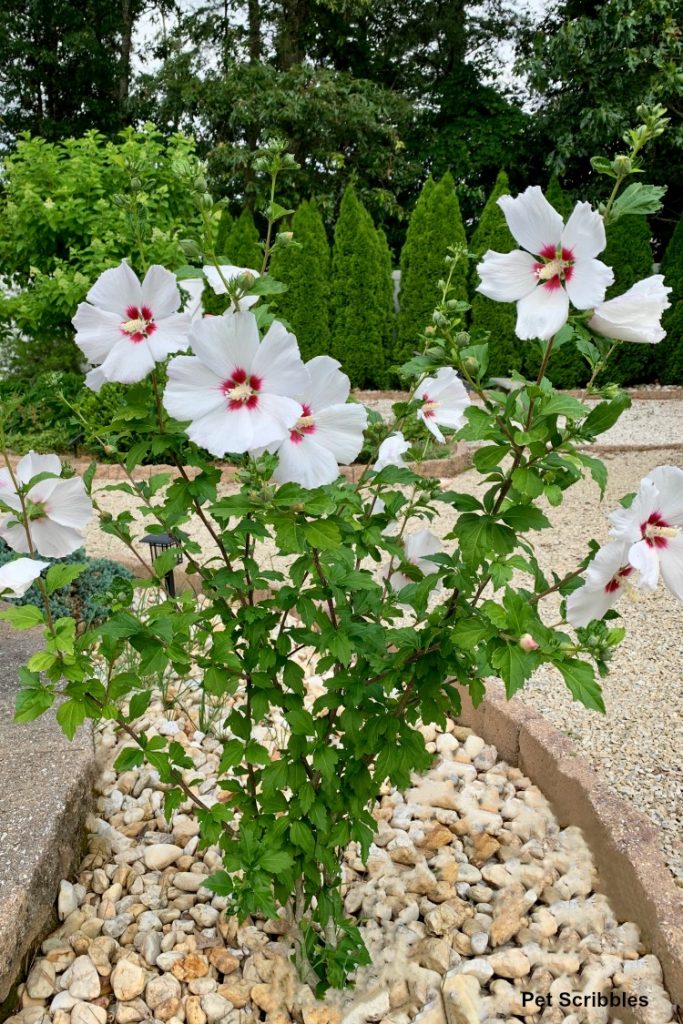 More importantly: it's not only surviving, it's thriving!
I am thrilled!
Important gardening lessons I've learned
I learned several things over the past three years with Helene:
First, have patience. If you mess up with a plant, and it's near death, it will take time for it to bounce back and fully recover. And some plants are quicker than others. Be patient.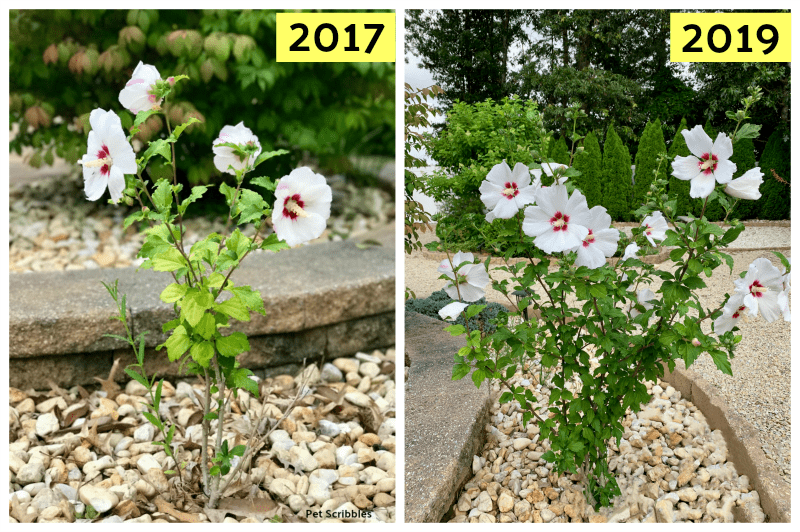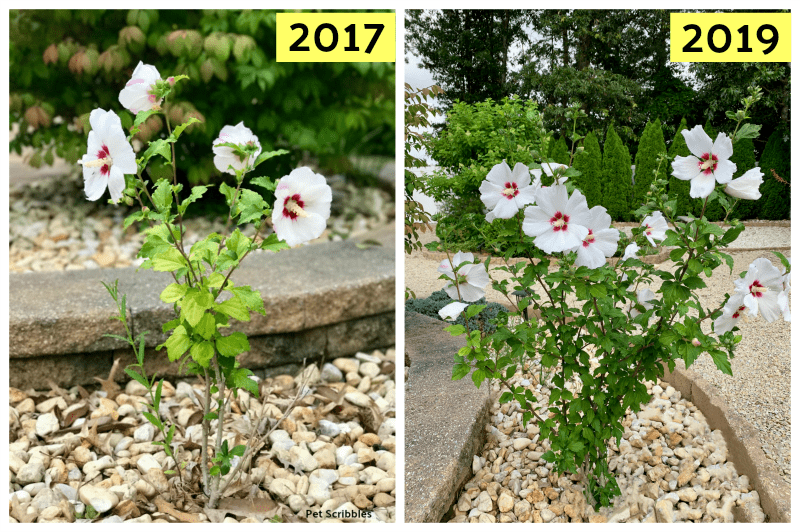 Next, never plant something that isn't well suited for a specific area.
And finally, never plant anything that isn't well suited for a specific area.
(Yes, I'm emphasizing the above lesson to myself, so it gets repeated!)
In addition to being patient, I continue to apologize to Helene over and over. My gardener guilt runs deep.
In the meantime, I'm calling this a trial and error and success story, since this little gal almost drowned!
Happy gardening!