Today I'm sharing how to create a lovely Fall farmhouse tray. With a few key pieces, you can put together a stunning centerpiece to enjoy all season long!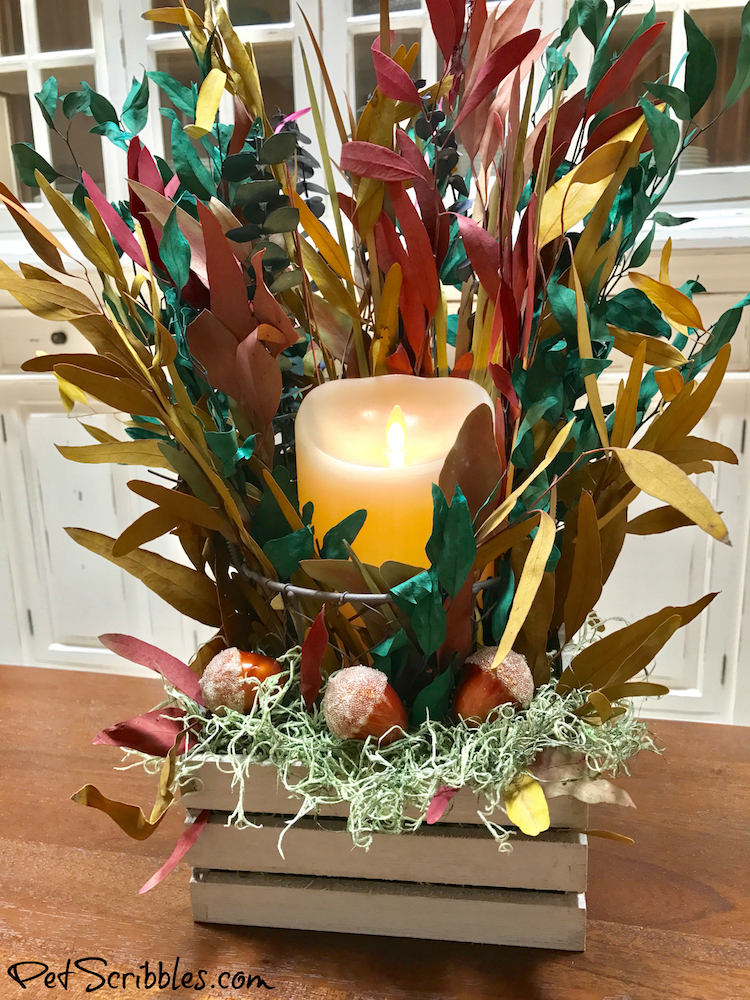 Ready for lots of lovely Fall farmhouse tray ideas?
You've come to the right place!
In addition to my DIY farmhouse tray for the Fall season, there are also 11 of my creative blogger friends who have put together Fall-themed farmhouse trays for you!
All of the links and information are at the bottom of this post.
How to Create a Lovely Fall Farmhouse Tray
Creating a rustic centerpiece with a farmhouse tray does not need to be complicated or expensive!
I found most of my supplies in the floral crafts aisle at our local Walmart, but many are available at crafts stores or via Amazon too.
FTC Disclaimer: Some of the links in this post are affiliate links. I explain more here.
Supplies:
Notes:
I used a 9″ flameless candle that has a remote. This makes it super-easy to turn it on and off without messing up my arrangment.
I spread out a canvas drop cloth on the floor to contain the mess while working with the dried stems and Spanish moss. You'll thank me for this tip — trust me!
Let's begin!
This wood pallet tray immediately caught my eye at Walmart: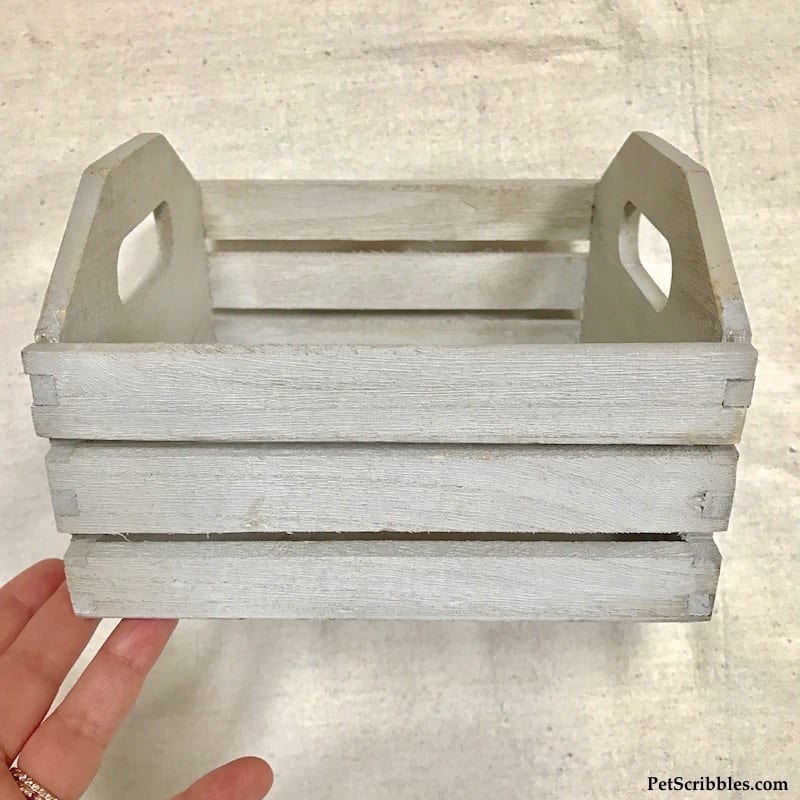 I found it in their floral craft aisle.
I love trays that have sides, so things don't fall out, and this rough, unfinished wood is perfect for the farmhouse look.
Further down the aisle, I spotted this chicken wire vase: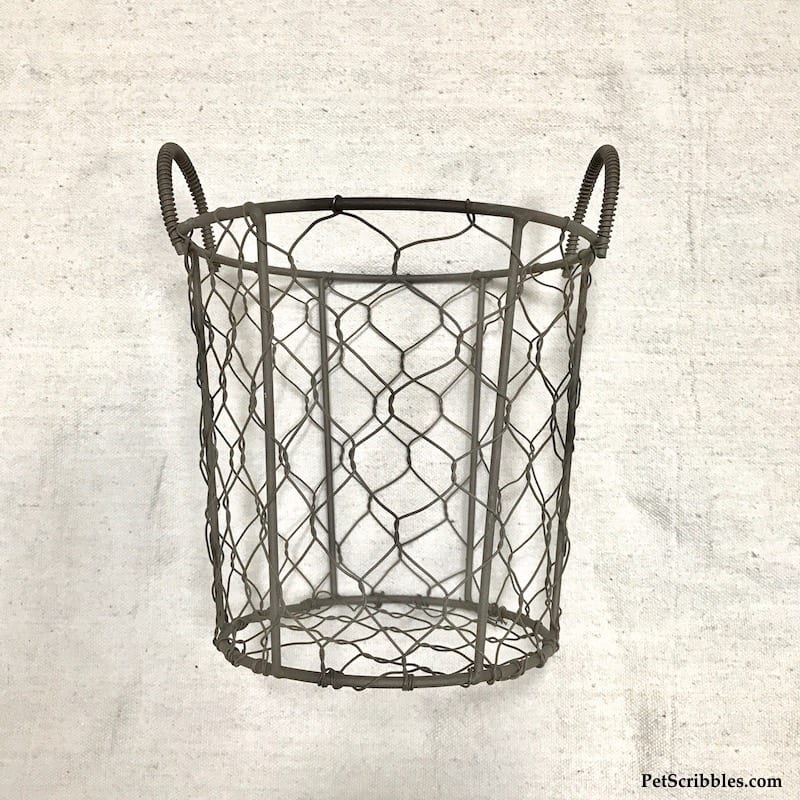 I checked to see if it fit into the tray — which it did — and smiled at my good fortune.
The bottom of the wire vase is open (below left) but that is easily taken care of with a coaster if you want more of a flat surface (below right).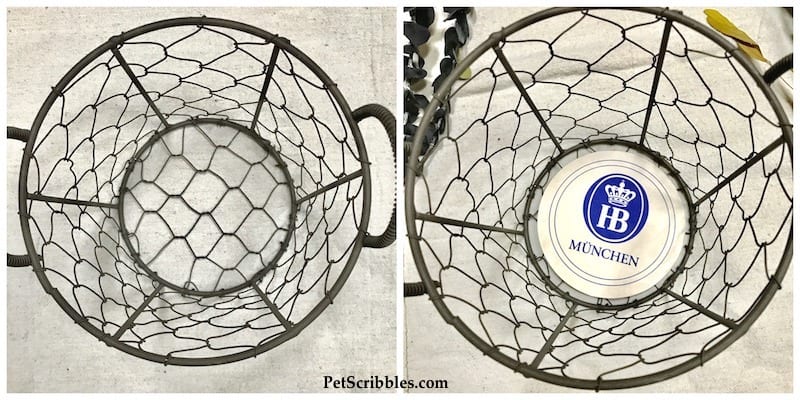 Helpful tip: Make sure your chosen flameless candle will fit nicely inside the vase with room to spare around the sides. The best vases for this purpose will have a slight V shape to them, with more room at the top versus the bottom.
The easiest way to get a Fall look is with a bundle of colorful dried stems in Autumn shades: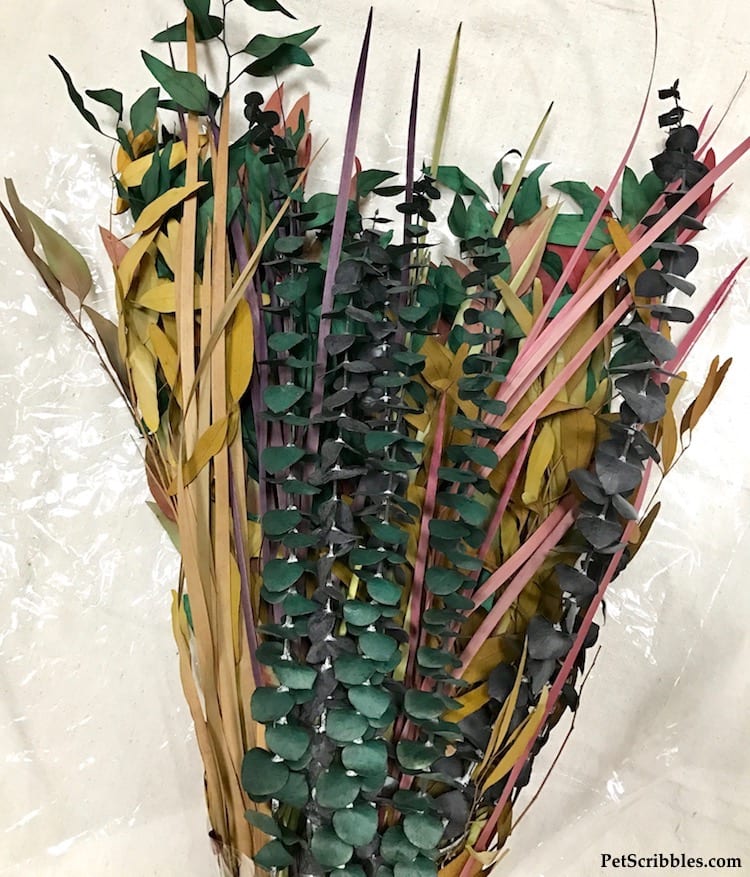 Two things I love about this bundle — which yes, I also found at Walmart — are the eucalyptus which smells so good, and the deep teal-colored stems and leaves.
Our house has touches of deep teal to a pale, muted aqua mixed in with our decor, so I like to include these colors in seasonal decorating when possible.
I always separate these assortments to better see what I have to work with…or play with!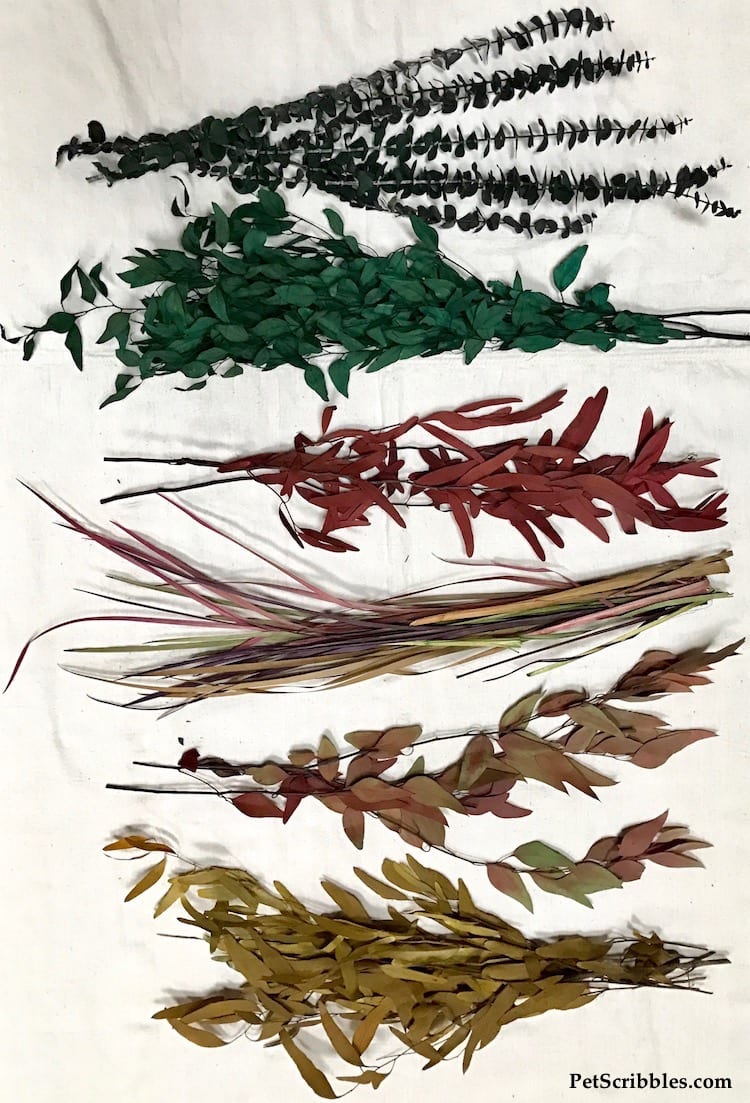 Aren't these colors pretty?
Helpful tip: When you open up one of these dried stem bundles, and some of the leaves and twigs fall off, save them for another craft or DIY arrangement.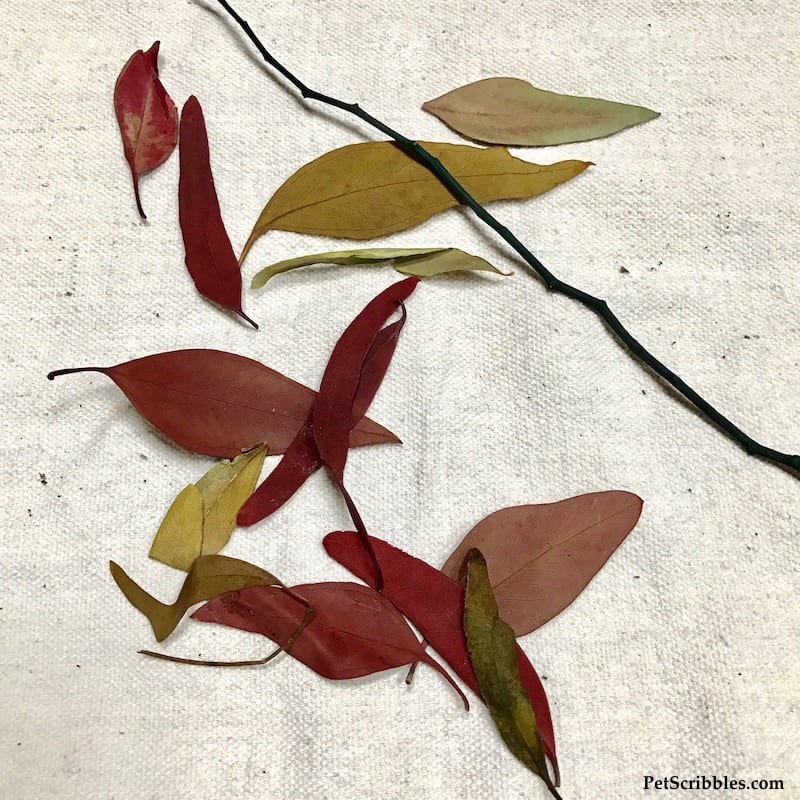 Once my colors were separated, it was much easier to start arranging my Fall farmhouse tray.
I started with the mustard yellow stems (below left) and then added the deep red stems (below right).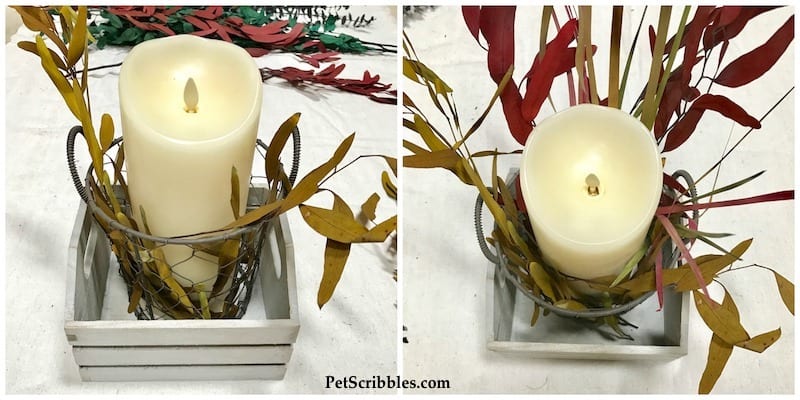 Helpful tip: Place stems inside the vase around the flameless candle. This keeps them upright and will make the arrangement look much fuller!
I added in the eucalyptus and different colored grasses (below left), then continued adding in the deep teal-colored stems (below right).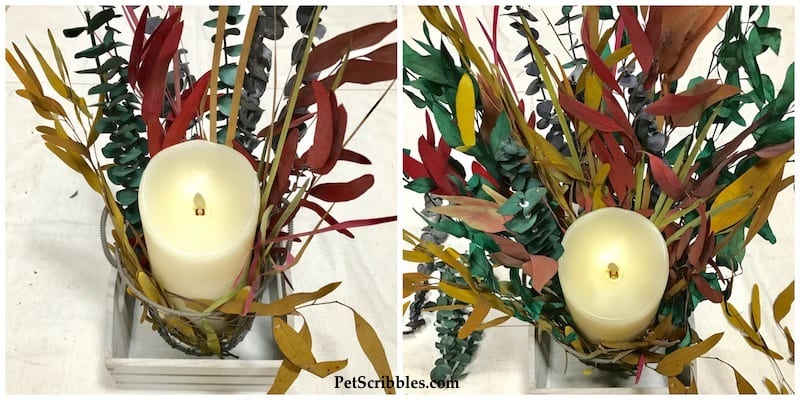 Keep adding in different sized stems to fill out the rest of your arrangement.
I filled up the tray around the chicken wire vase with Spanish moss.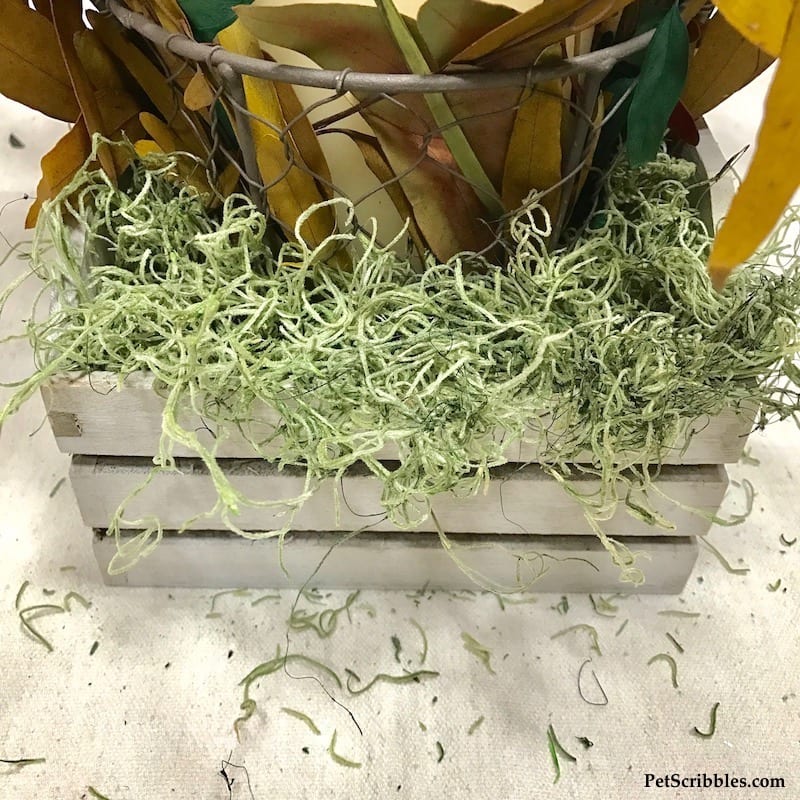 I added these decorative acorns for the perfect finishing touch. (I wish I could remember where I purchased them…I've had them for years.)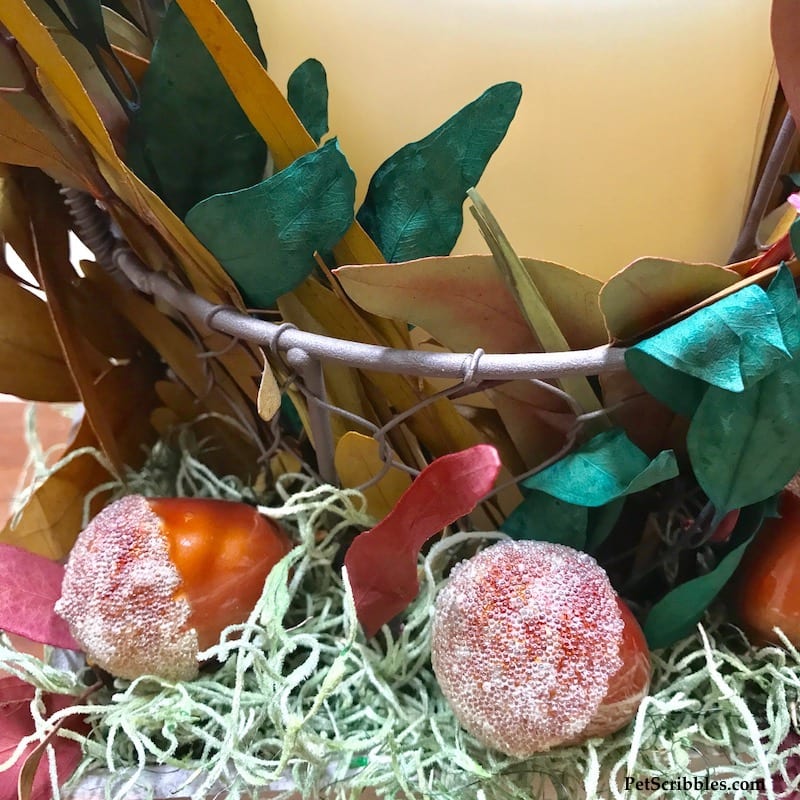 The acorns really stand out, and the crystals on them play off the ivory color of the candle too.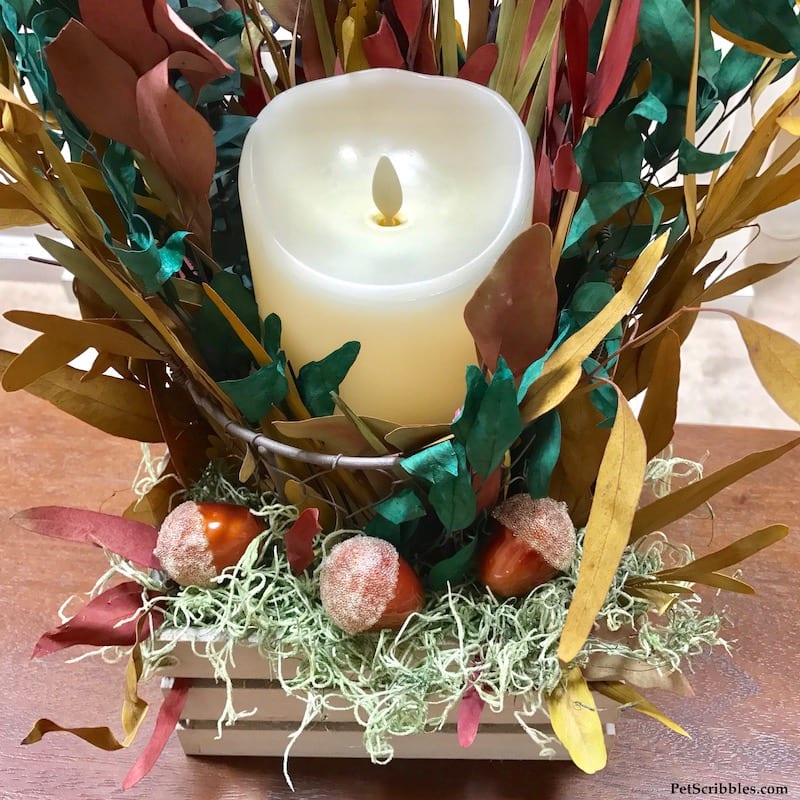 Here it is!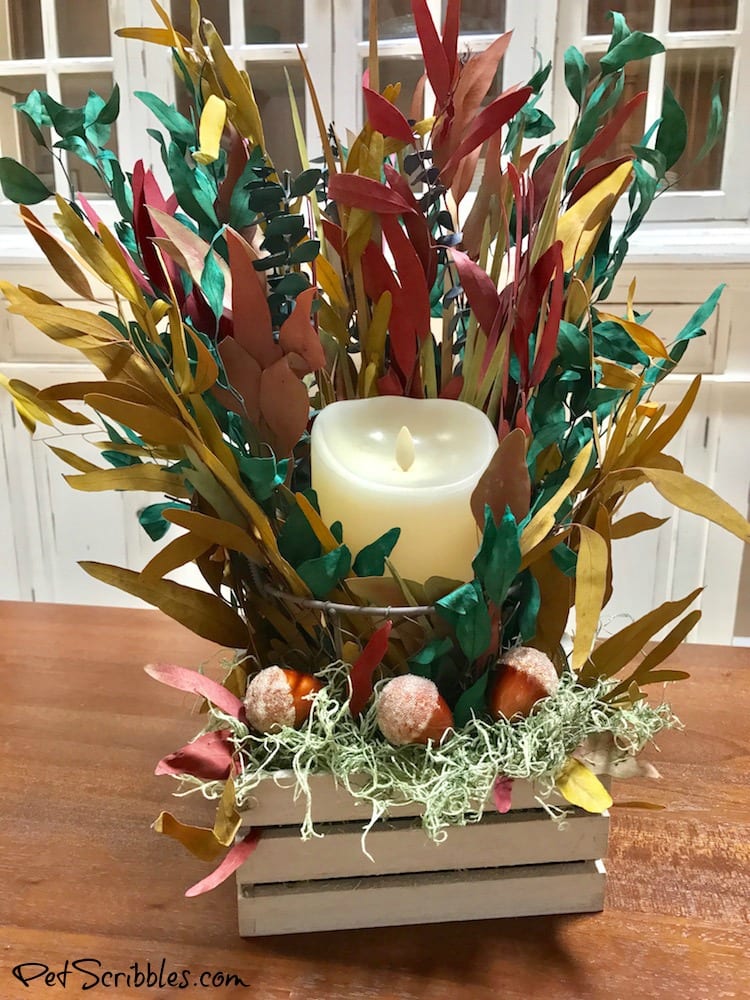 Helpful tip: Feel free to trim your Fall stems to be the height that you want.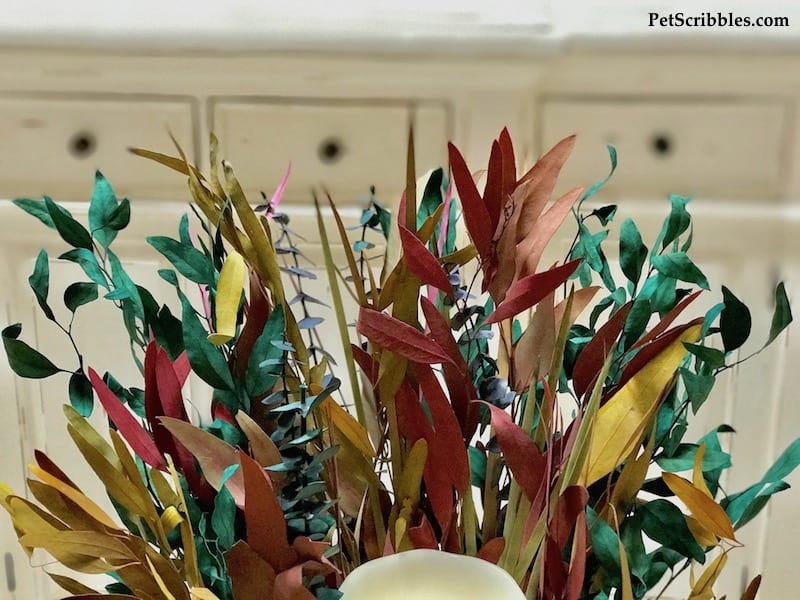 I cut approximately 4 inches off the tallest stems, and trimmed many others into smaller sizes.
This tray looks even prettier when the candle is on!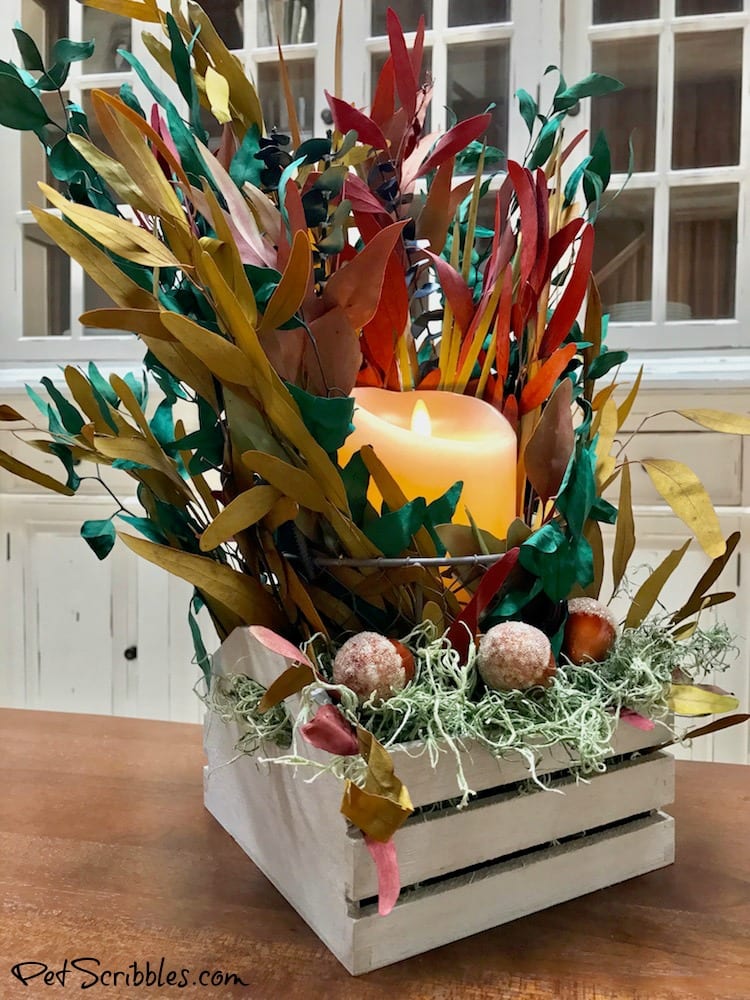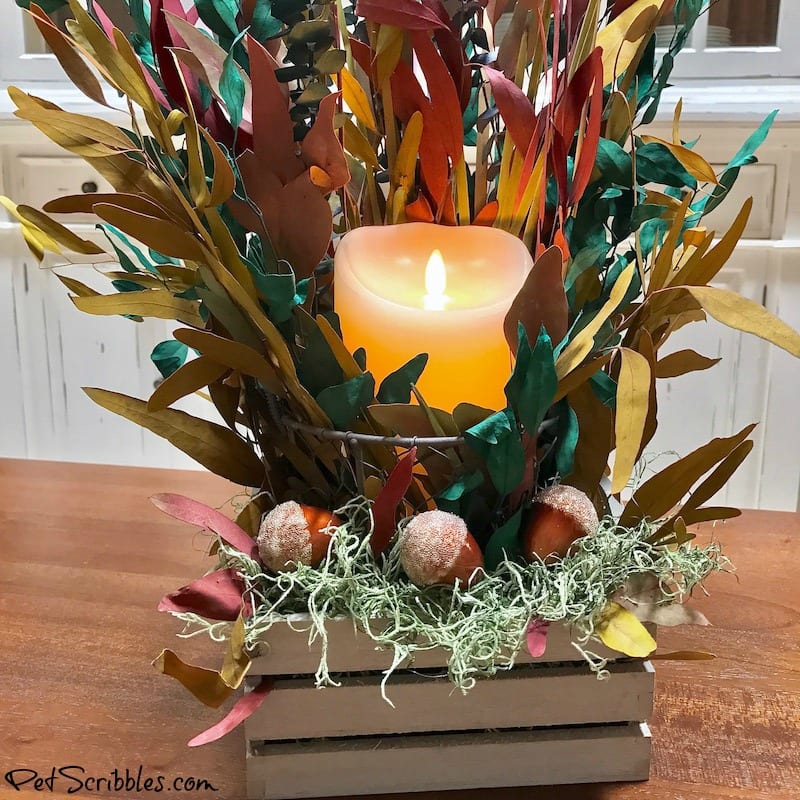 So there you have it: my lovely Fall farmhouse tray as the perfect centerpiece for our table!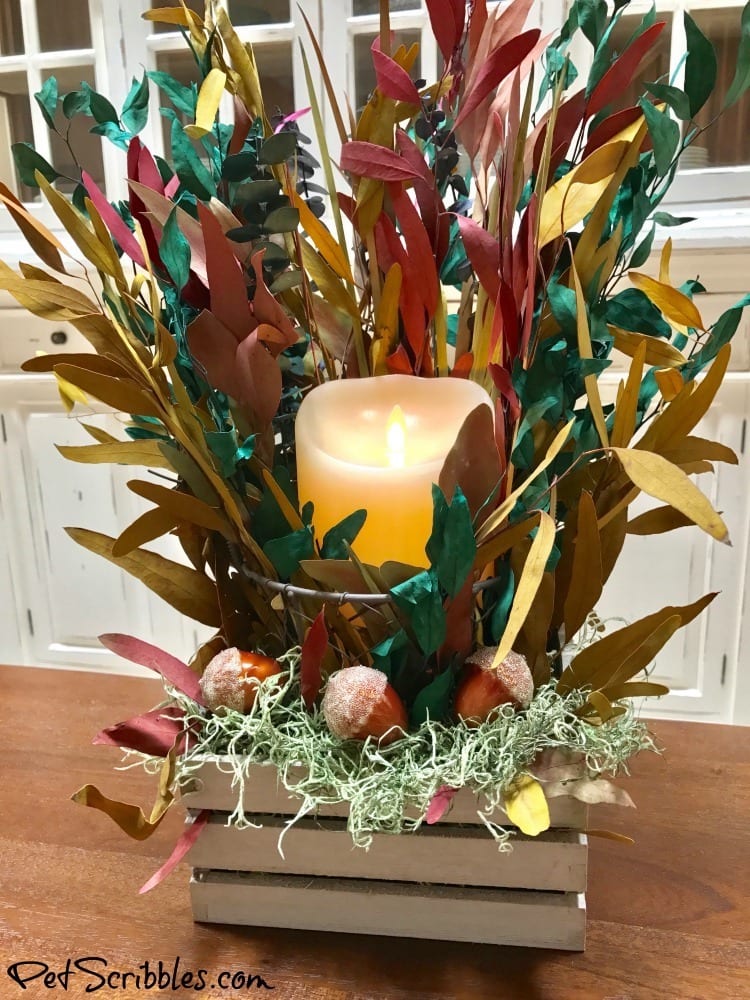 Want even more Fall Farmhouse Tray ideas?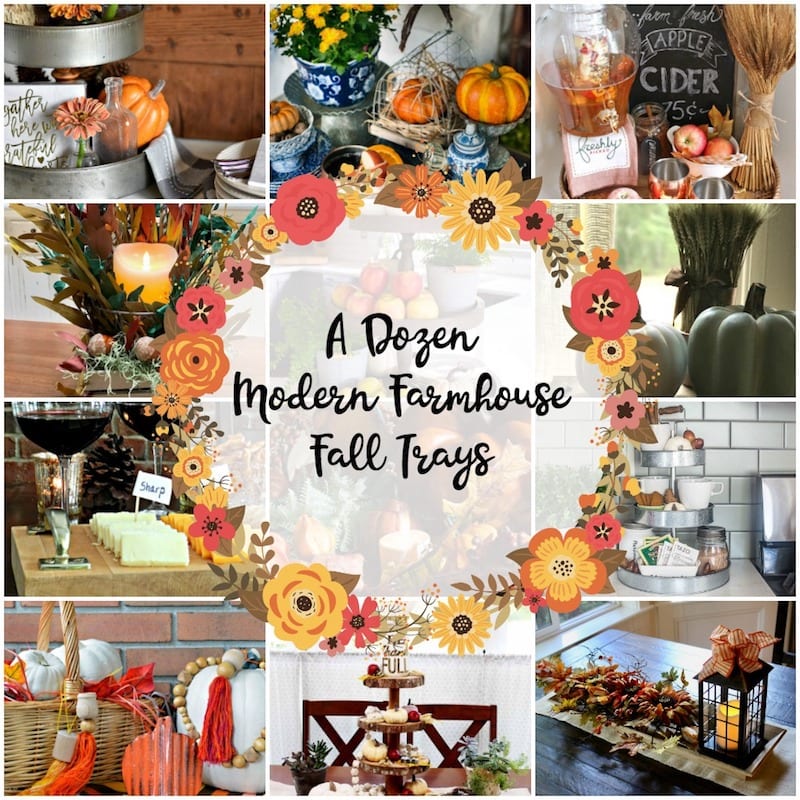 Click on these links to see 11 more fabulous Farmhouse Trays put together from my creative blogger friends:
Yesterday On Tuesday / Home with Cupcakes and Crinoline / An Extraordinary Day
Inspiration for Moms / Domestically Speaking / Celebrating Everyday Life
The Country Chic Cottage / Clean and Scentsible / Redhead Can Decorate
Mad in Crafts / Uncommon Designs
Happy crafting!
~Laura