Our cat Lulu is one tough cookie. She's our 17 year-old Ragdoll girl, and she actually smells like cookies. An update on Lulu, the most special of all cats . . .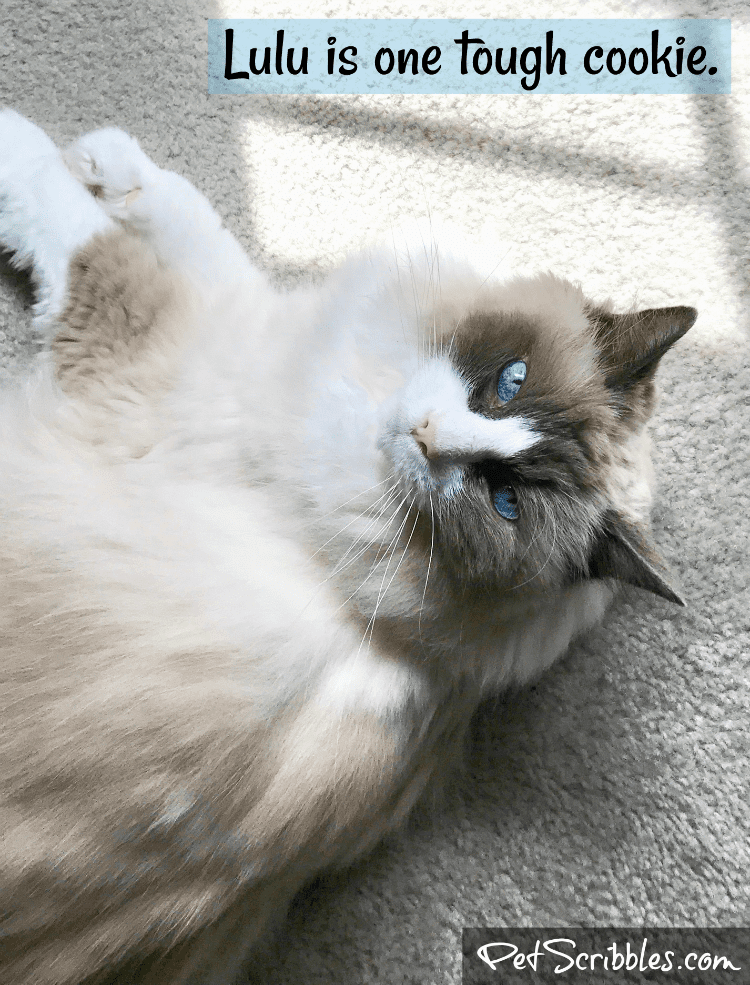 It's been way too long since I've written about our cats.
Lulu is our 17-years-young senior kitty.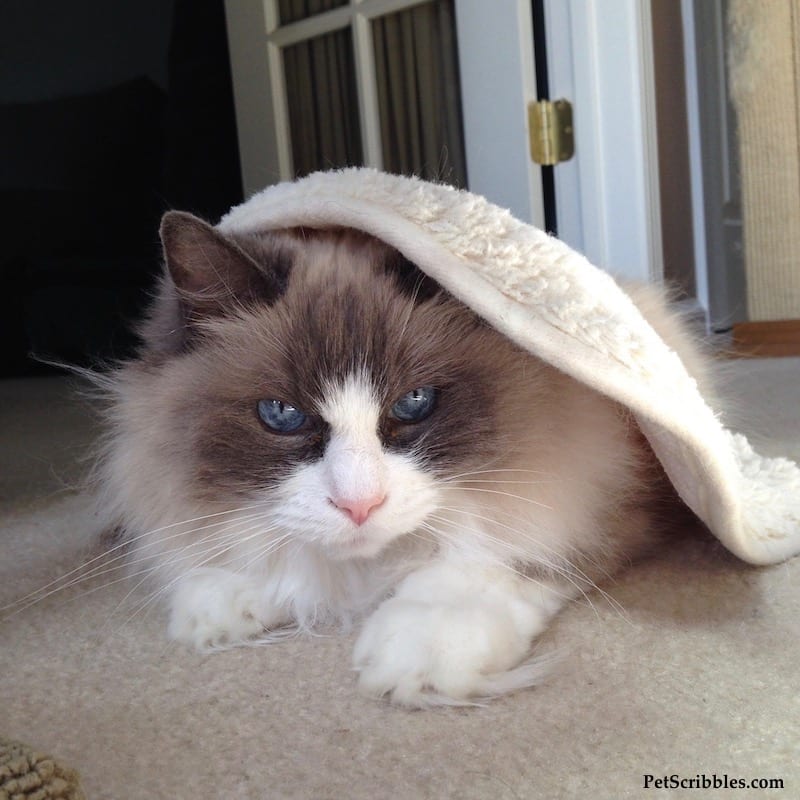 She is the alpha of the house and still looks like a kitten. Seriously, the vet techs and our vet are always amazed at how good she looks!
Otto is our 6-year-old boy kitty.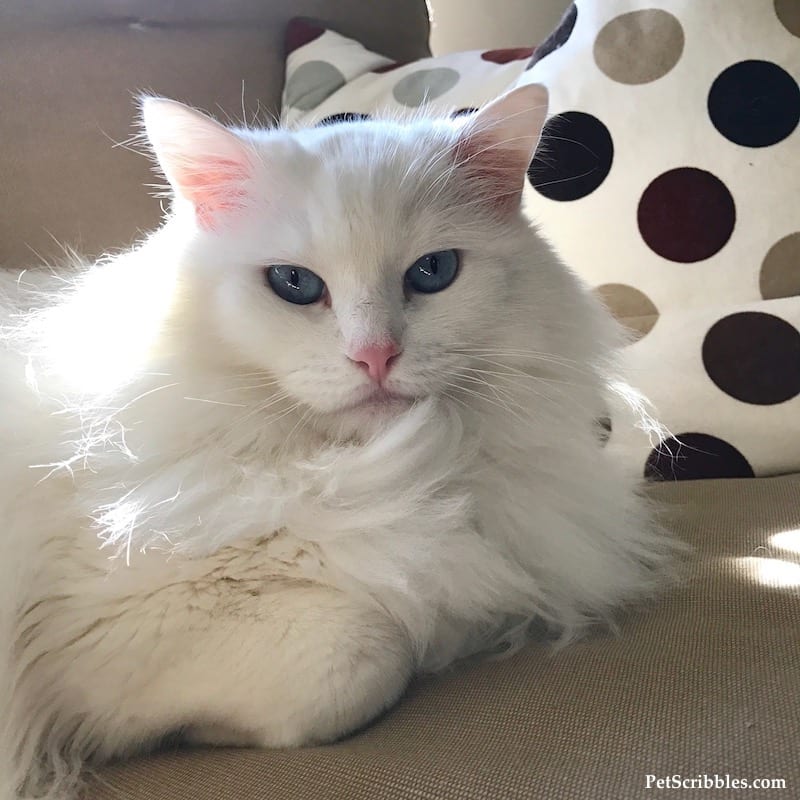 We rescued him almost two years ago, via a shelter, via his former owner who was dying and asked the shelter to find his animals a new furrever home.
They are both Ragdoll cats. Lulu is a blue bi-color Ragdoll — for those that are interested in those traits — and Otto is all white.
Otto is also deaf, as many blue-eyed, all-white cats are.
With these cats and their antics, life is never dull for my husband and I!
Below is one of the rare moments we captured where Lulu fell asleep and had no idea that Otto curled up nearby! (Otherwise, she needs her space!)
This is a great example of their size difference, too: Lulu is 10 pounds, while Otto is a growing boy of 20 pounds!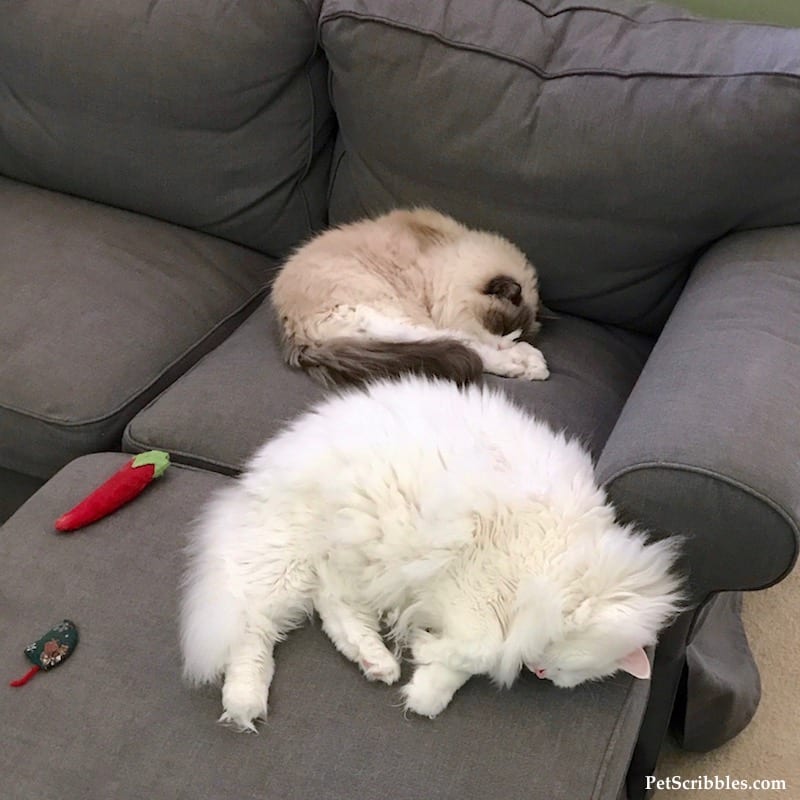 You can read the story of their first several months together by clicking here: Is Lulu happy with her "big" little brother Otto?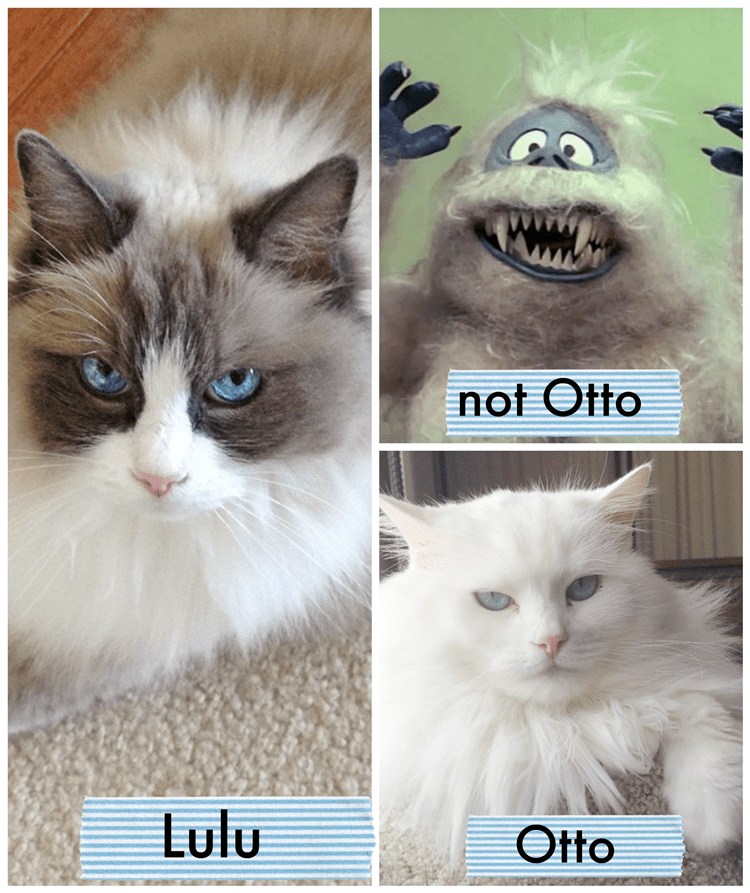 Lulu is gorgeous!
Lulu still looks so gorgeous!
Yes she has some arthritis, and her back legs don't work as well as they used to, but Lulu knows her limits. For any of her favorite places now too high for her to jump to reach, we've set up a series of little tables and stools at different levels for her to get where she needs to go.
Yes, we do have pet stairs, which our cat Aliza used all the time in the last years of her life . . .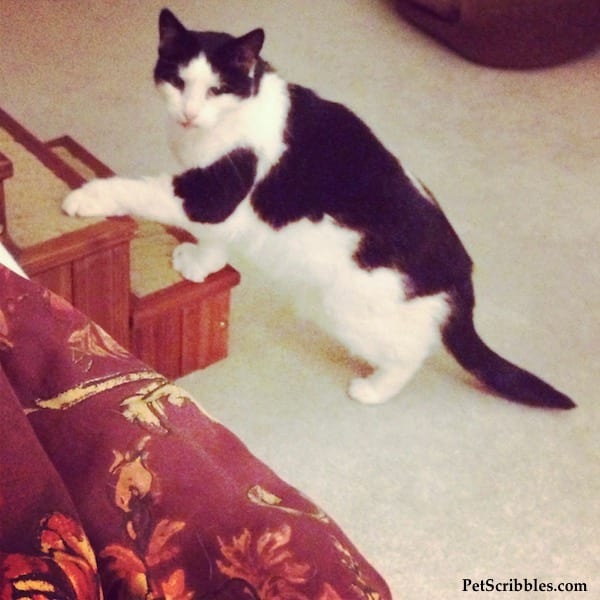 Lulu doesn't do pet stairs to reach anything.
She has let us know — by insisting on not using them — that she is just fine with jumping and climbing on her own, thank you very much.
Afterall, Lulu is one tough cookie.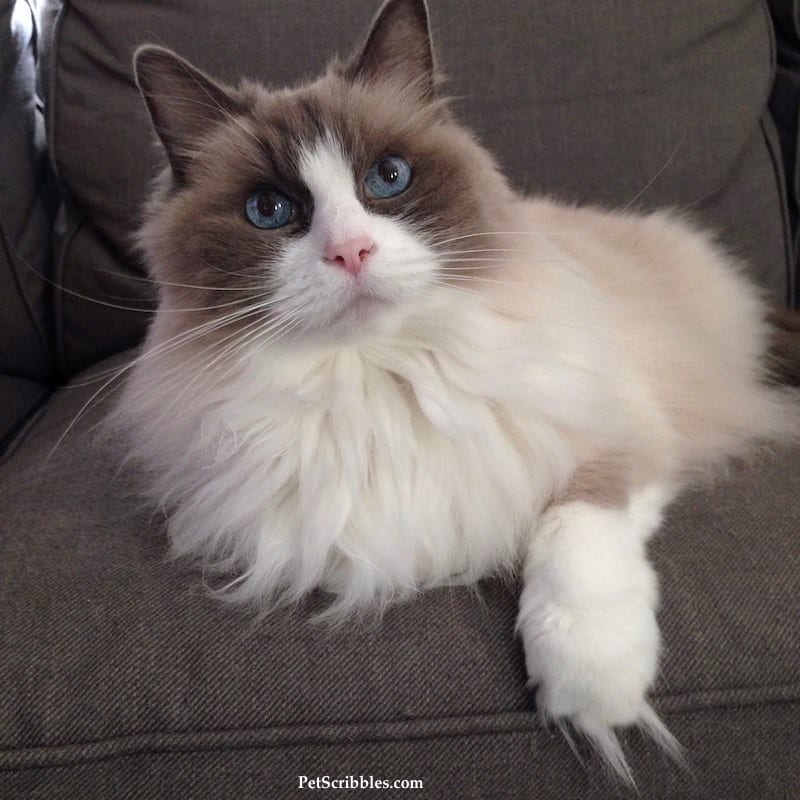 Lulu is in kidney failure.
Lulu is also in kidney failure, and it has been one of the most heartbreaking things to experience, mostly because you can't really tell anything is wrong.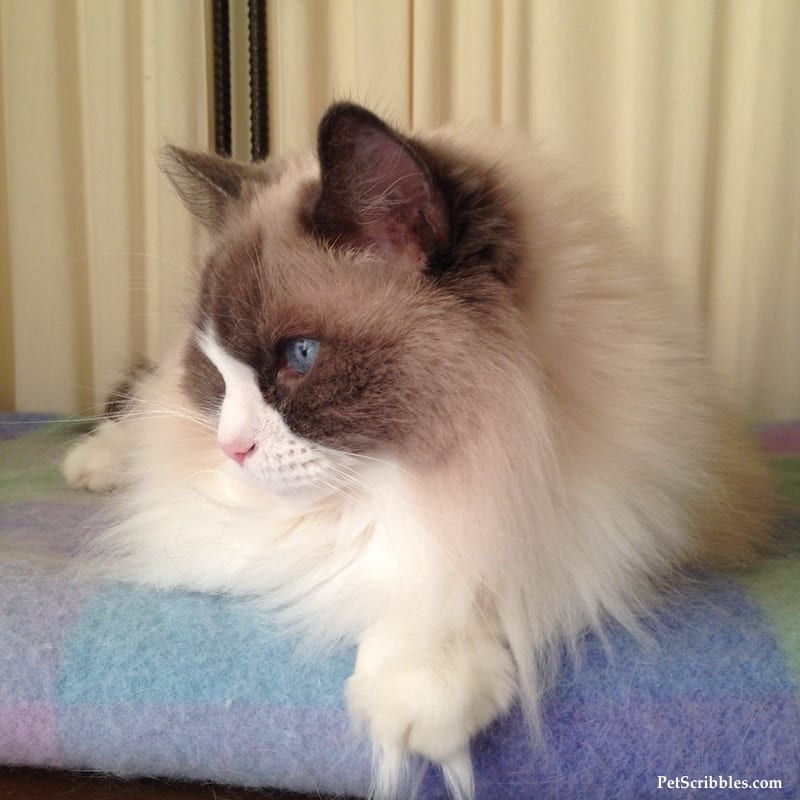 When you look at Lulu, you can't tell her kidneys are failing.
What you see is an older kitty who still grooms herself to perfection, who's blue eyes still sparkle, who purrs up a storm, who is super affectionate, and who is determined to be a tough little monkey (one of our many nicknames for her). She continues to be our alpha cat.
And although she isn't running around playing, she still enjoys her catnip toys!
She's had this much loved — and much used — catnip toy since she was a kitten . . .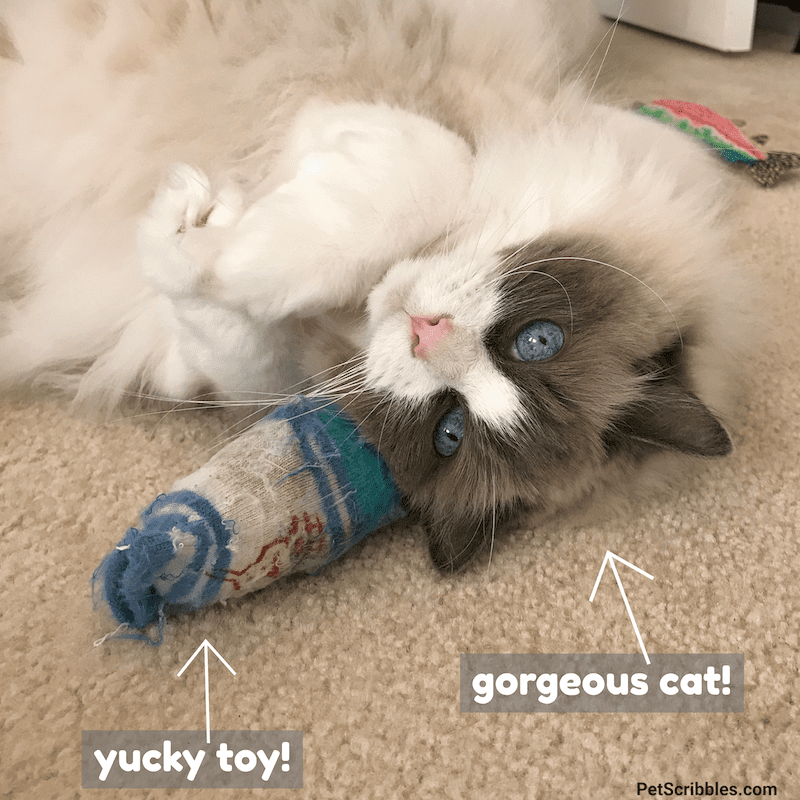 Last Spring, her bloodwork showed that her kidneys were failing.
We started her on a treatment plan with our vet, mainly switching her to a prescription diet to help her kidneys function.
(And for those familiar with feline kidney disease, it's too far along for us to do shots of medicine to help her kidneys along.)
We did this for 4 months, and felt pretty good with how she was doing.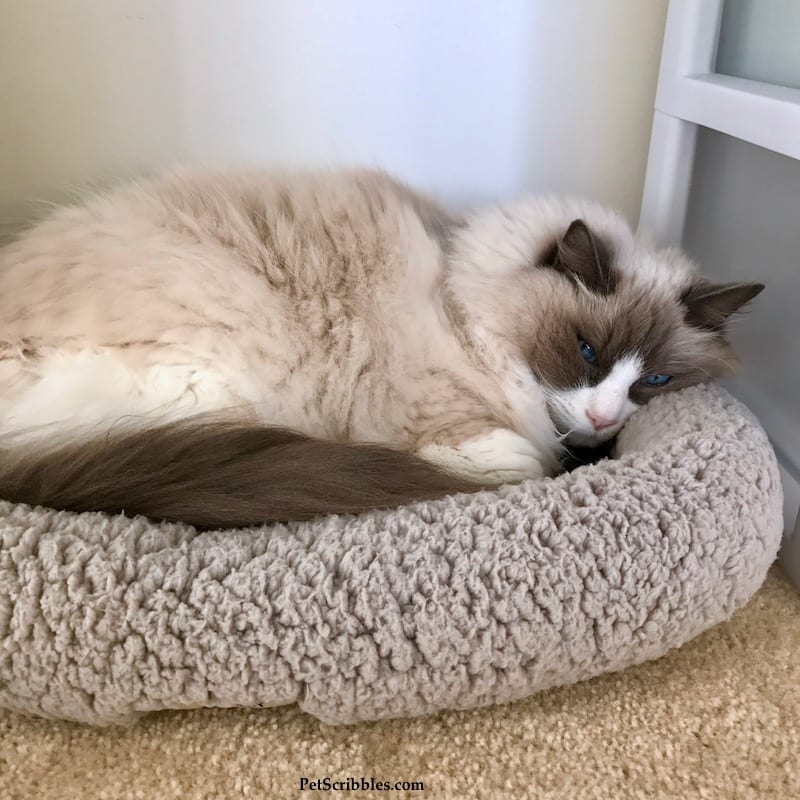 Last month was her follow-up appointment. Her bloodwork showed her kidneys had become even worse.
Our vet said it's only a matter of time.
But nobody ever knows what "a matter of time" truly means.
We've been gutted by this.
I've had my little girl Lulu for 17 years.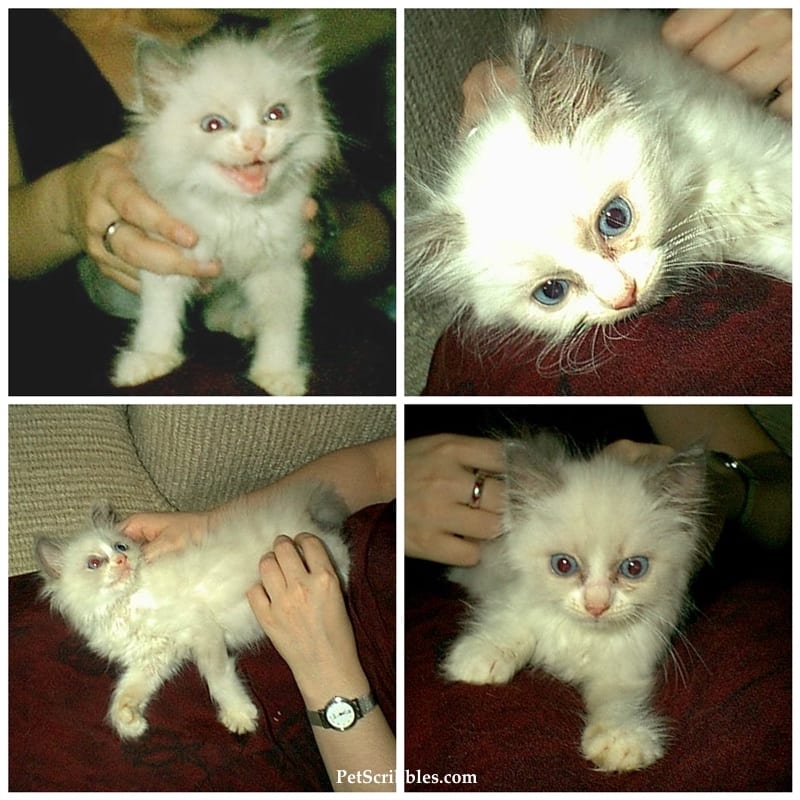 Hans (my husband) and Lulu have been together for 13 years.
Lulu is truly a big part of our little family unit.
Lulu has been a constant. Our constant.
I haven't written about Lulu's kidney failure before. It's been too hard to write about it, without dissolving into tears.
But something very special happened last night that made these words just start flowing from my fingers onto the keyboard this morning . . .
Lulu smells like cookies.
For years, Lulu has slept part of each night on one of the pillows I keep behind my own pillow on our bed.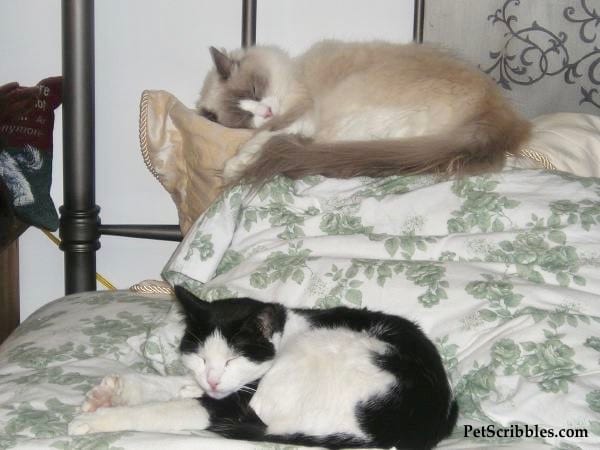 She is usually nestled above my head, and I swear if she's in a mood she will make sure her tail is accidentally purposefully swooshing in my face while she sleeps. It's aggravating and hilarious at the same time.
Lulu sleeps there to keep watch over my husband, moreso than to curl up with me. The second he stirs in the morning, she is up and ready to go and all affectionate with him. If she steps on my head in the process of getting up, she doesn't even notice or apologize. She's too focused on the fact that "dad" is awake.
Here's the best example I could find of Lulu doing this, although this was taken long ago with her big brother Matisse. That's Lulu's back leg next to Matisse's face, as she is walking on top of him to wake up and play.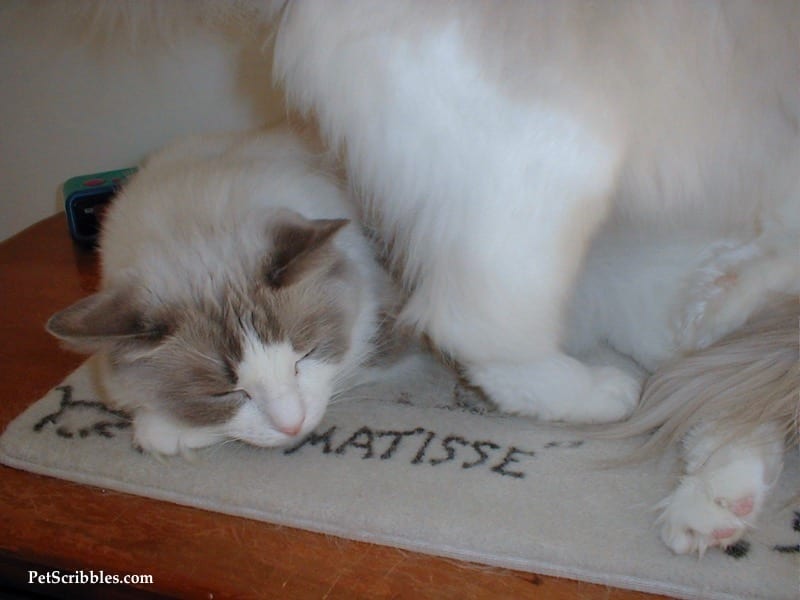 Years ago, when our cat Aliza was in her elder-kitty age of 20-something, Lulu gave up her spot behind my head so Aliza could curl up there with me. The first time it happened I thought it was a mistake. But every night, Lulu would sleep at my feet, and Aliza would take the spot by my head and snuggle into my ear and purr and purr and snuggle.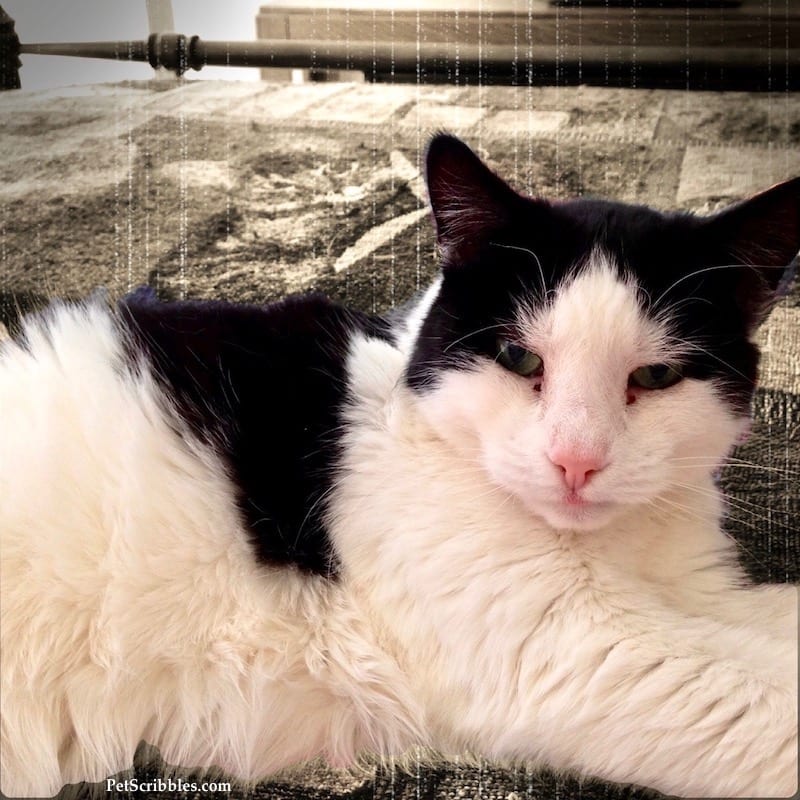 For the kitty dynamics in our house, if Lulu is the alpha…Aliza wasn't even a beta….she was way down on the totem pole, so this was especially sweet that Lulu gave up her spot.
Some time after Aliza passed away, Lulu returned to this spot. It wasn't right away, maybe a year or so later. But it's meant the world to me that she's back.
I've had trouble sleeping because of my bad hips — another story for another day — and so it's sweet to have Lulu keeping me company while my husband sleeps.
Last night, when Lulu was curled up by my head, she began the tail swooshing at my face, but then stopped with her tail resting just in front of my face. I smiled, thinking how nice of her to let me doze off again. But then I caught that familiar scent. The scent of cookies.
I hadn't smelled that cookie scent in years.
I don't know how else to describe it. Lulu has always smelled like cookies to me, especially when she was younger. Every time I'd scoop her up into my arms, I would bury my face into her soft fur and inhale her wonderful scent.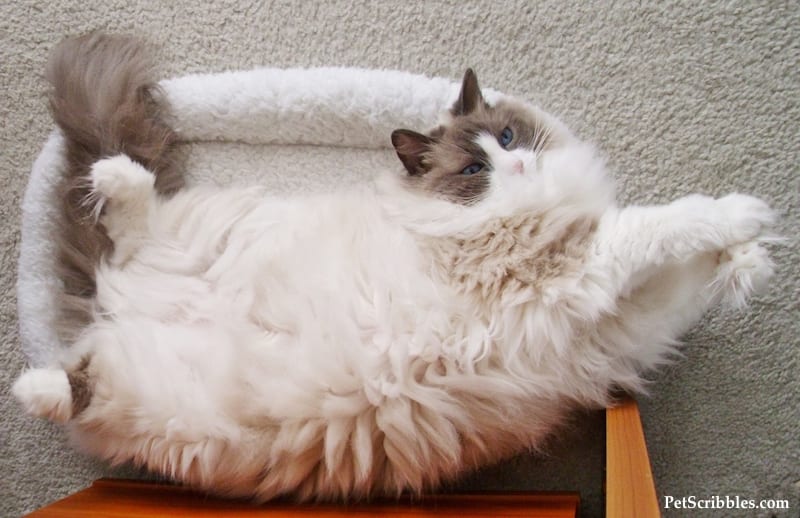 But the past couple of years, that scent hasn't been noticeable. It wasn't replaced by any other scent — so I suppose that's a good thing LOL — but nonetheless it was no longer there.
Until last night.
I smelled that familiar, wonderful scent of Lulu. I began inhaling as deeply as I could, wanting to take in as much of it as possible. If I could bottle that scent, I would have done so by now.
So instead of falling asleep, I stayed awake taking in her scent as Lulu and my husband both slept. All sorts of sweet memories of Lulu's younger days scrolled through my mind. And I let those good thoughts just wash over me.
Eventually Lulu got up to get some water and a snack, and I fell back asleep.
This morning when our alarm went off, she was back in her position on the pillow and as she made her way to my husband — including the required (it seems) stepping on my face which is what usually wakes me up — I instantly remembered what happened just hours earlier.
Once the cats were fed and we were settled downstairs with our coffee and tea, I told my husband what happened and how the cookie scent was there for awhile.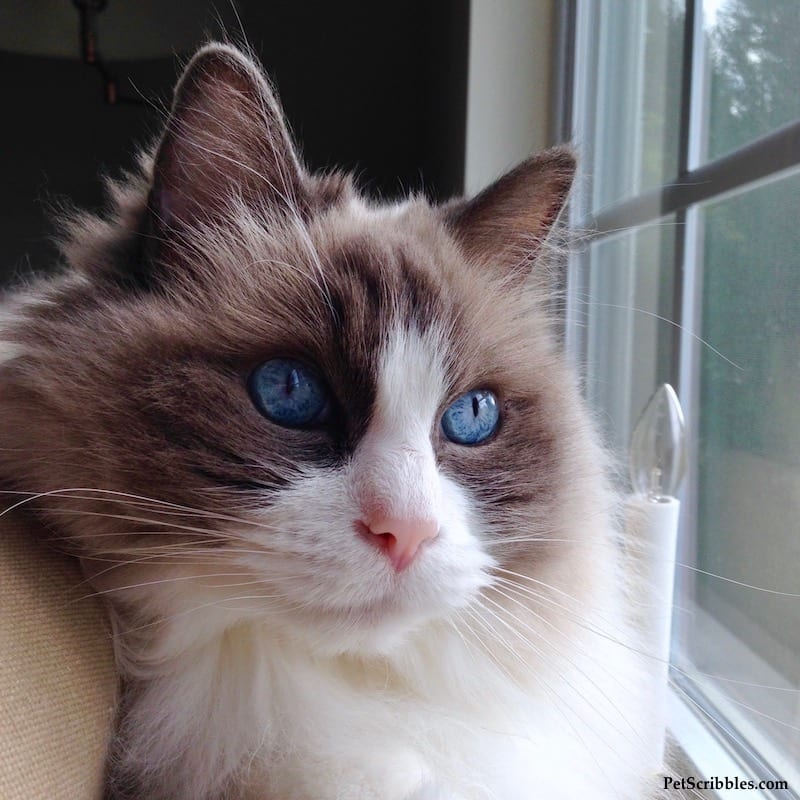 And I got choked up.
I don't want to lose Lulu. I'm not ready. 17 years isn't enough time with this special cat.
And I know my husband is not ready either. Over the years, Lulu has become his cat, and he has become Lulu's chosen person.
We both have vowed to make the rest of Lulu's weeks, months or longer — the best possible for her.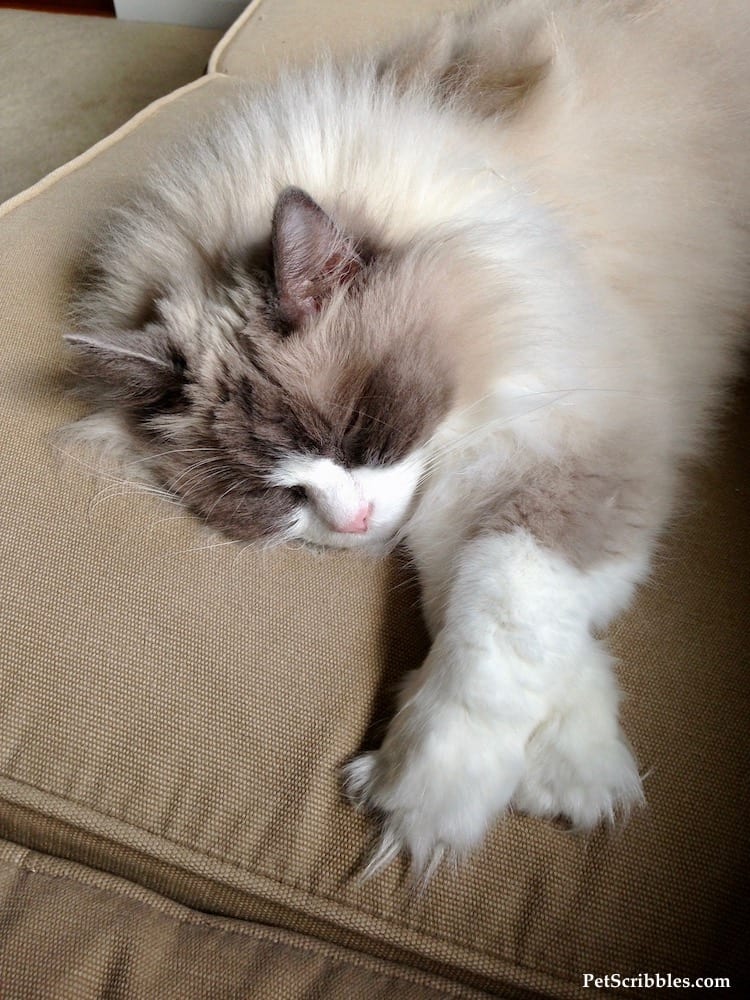 If it means on certain days she will only eat if my husband gives her the food from his fingers — literally hand-feeding at its finest — he does it. If it means we don't travel away from home together, so that one of us is always home with her, we do it.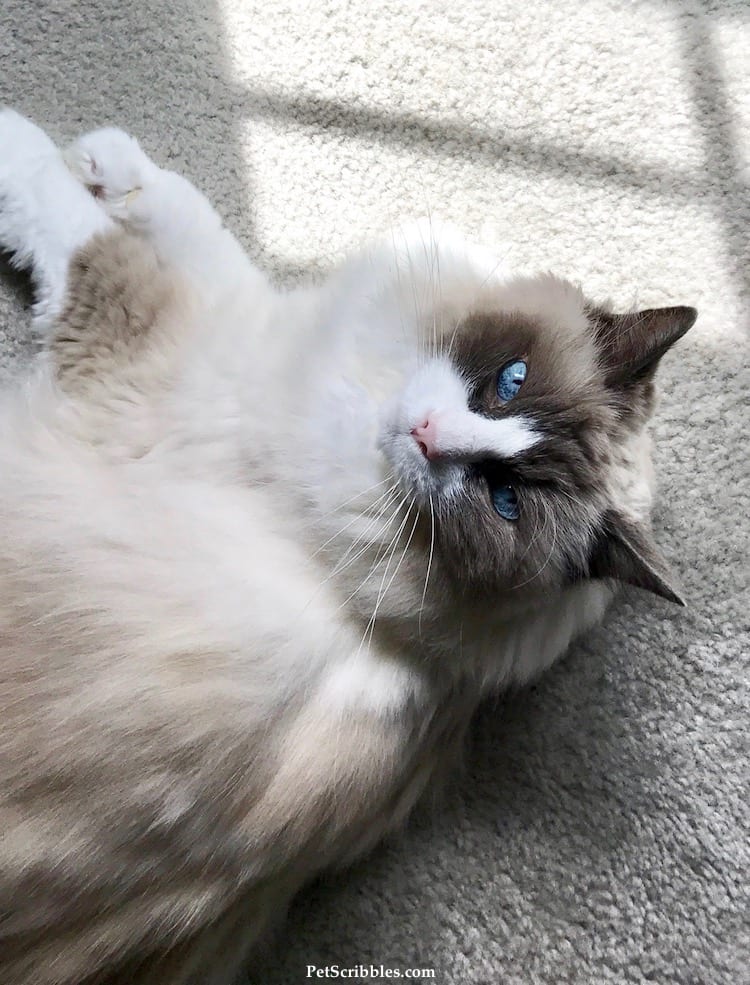 Lulu is one tough cookie.
Actually if Lulu was a cookie, she would be the best-tasting cookie ever made!
So that's where we are with Lulu.
And being able to breathe in her familiar cookie scent last night was something I will never, ever forget.
~Laura