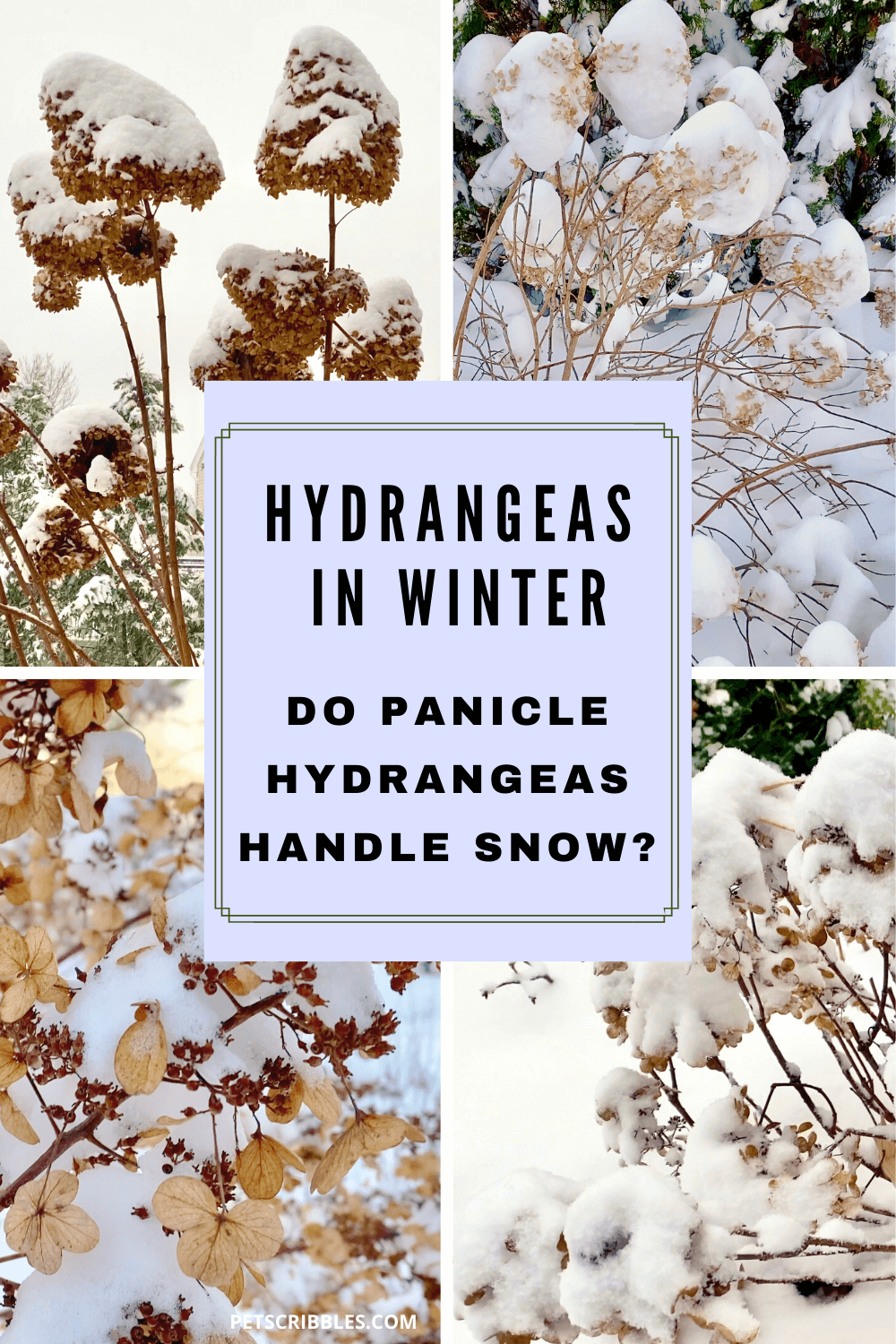 Do panicle hydrangeas — like Limelight, Pinky Winky, Little Lime and Little Quick Fire — handle Winter snow? Yes, and much better than other hydrangea varieties! This article with video discusses several panicle hydrangea varieties in the snow.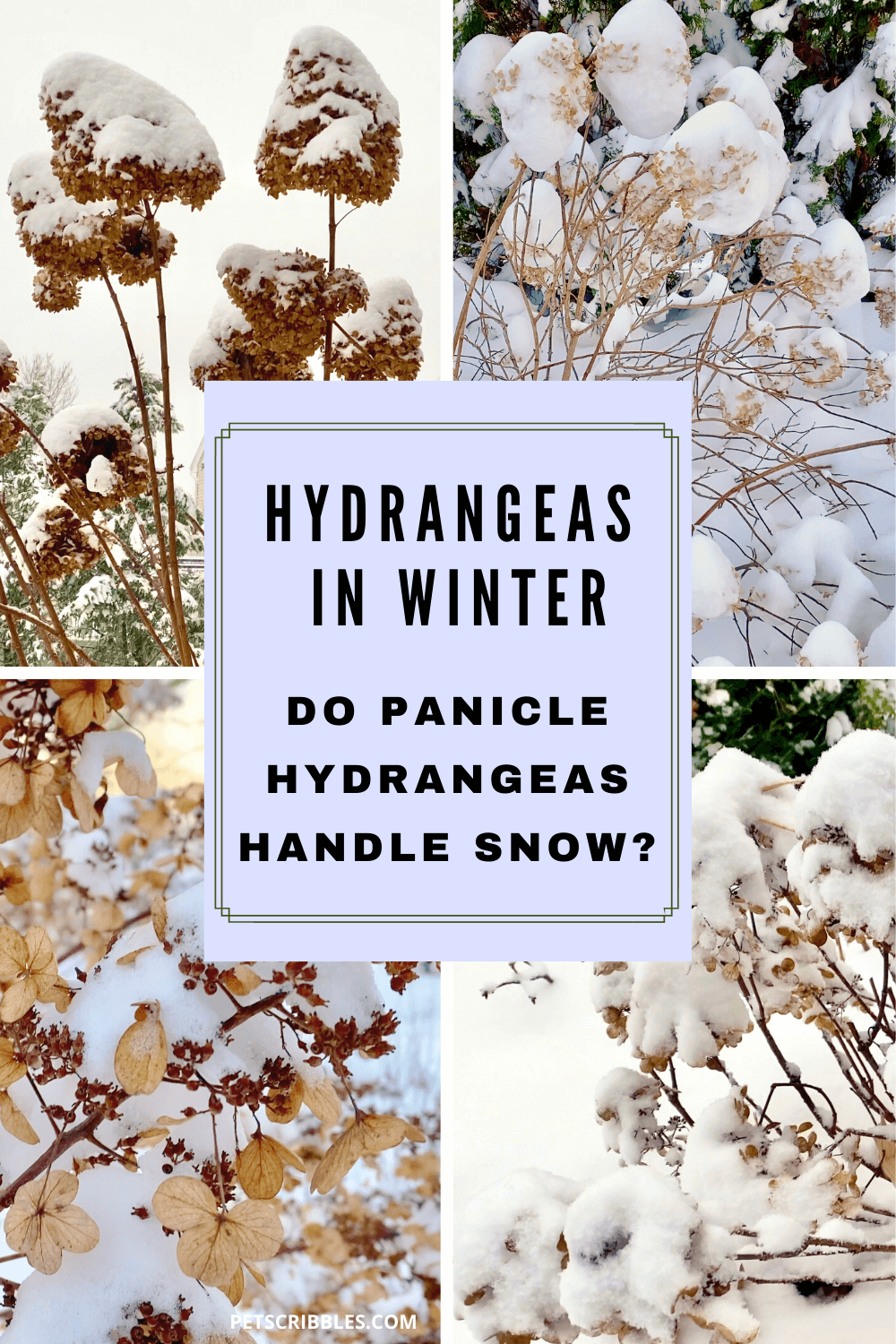 A True Test of Hydrangeas and Snowstorms
I am a gardener who believes strongly that our gardens can provide four seasons of interest. Panicle hydrangeas add to the serene look of the Winter season if you leave the dried flower heads on the stems. I do this every year.
I live in southern New Jersey and my garden zone is USDA 7. My panicle hydrangeas are exposed to windy conditions year-round. Some Winters are cold, while some include snow.
This year, our Winter season included several snowstorms, so this provided a real test where I could see for myself exactly how these hydrangeas held up.
Panicle Hydrangeas in the Winter
Panicle hydrangeas are the most hardy of all the hydrangea species.
A panicle hydrangea does all of its blooming on new wood. Even if it gets frozen down the ground, it will have new growth in Spring, as long as it was planted within its hardiness zones. (I've listed the hardiness zones for each panicle hydrangea discussed below.)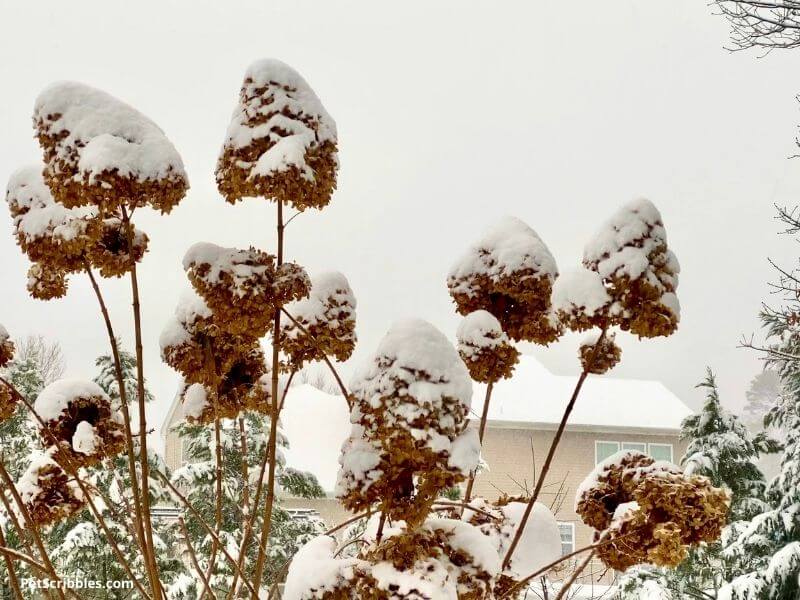 Panicle Hydrangeas are Four-Season Garden Shrubs
First, there's bright green new growth beginning during the Springtime, followed by green buds turning into white blooms. There are beautiful flowers, and as the Summer continues — depending upon the panicle hydrangea variety you have — there are wonderful color changes that occur throughout the Summer into the Fall. Most panicle hydrangeas become a pretty pinkish rose color for the Fall season, before the flowers begin to dry on the shrub. The ivory-to-tan dried flowerheads provide texture and Winter interest when left on the shrub.
Limelight Panicle Hydrangeas and Snow
If you get heavy snow on your dried Limelight Hydrangea flowers — whether in shrub form or tree form, don't panic! There are two easy ways to protect your dried Limelight Hydrangea flowers from heavy snow.
Limelights — unlike other panicle hydrangeas like Pinky Winky hydrangeas — tend to droop with heavy snow just like they do with heavy rain.
You can tell the snow will be heavy — versus light and fluffy — by looking at your evergreens. If the boughs are drooping, it's heavy snow.
Remember, the Limelight Hydrangea's dried flowerheads left on the tree or shrub are light as a feather, so they will be weighed down by heavy snow.
And some stems will be stronger than others, so the drooping is going to vary too.
Removing Snow from Limelight Hydrangeas
No doubt you have a combination of drooping stems as well as sturdier upright stems on your Limelight Hydrangea tree or shrub.
It's a good idea to remove the snow from all of the dried flowerheads, even if the flowerheads are on strong stems — especially if — like me — you're trying to keep them for Winter interest in the garden.
Option 1: Use Your Hands to Remove the Snow
The easiest way to remove snow from Limelight Hydrangea flowers is to use your hands. This works perfectly for lower branches on a Limelight Hydrangea tree and for many of the branches on your Limelight shrubs, depending on their height of course.
Hold the stem near the flowerhead and gently shake to remove the snow. The stem won't be as curved now, with less weight pulling it down.
Option 2: Use a Broom to Remove the Snow
A lightweight broom works great to gently tap the snow off the flowerheads. Don't tap too strongly — or off come the flowerheads!
Losing a flowerhead or two while removing the snow is better than a branch breaking from the weight of the snow later.
Use the tip of the broom to get the snow off.
Tap gently on the side of the flowers or underneath them to remove the snow.
Use a lightweight broom to easily maneuver the broom around and not tire your arms.
You might not think of a broom as a garden tool, but it works!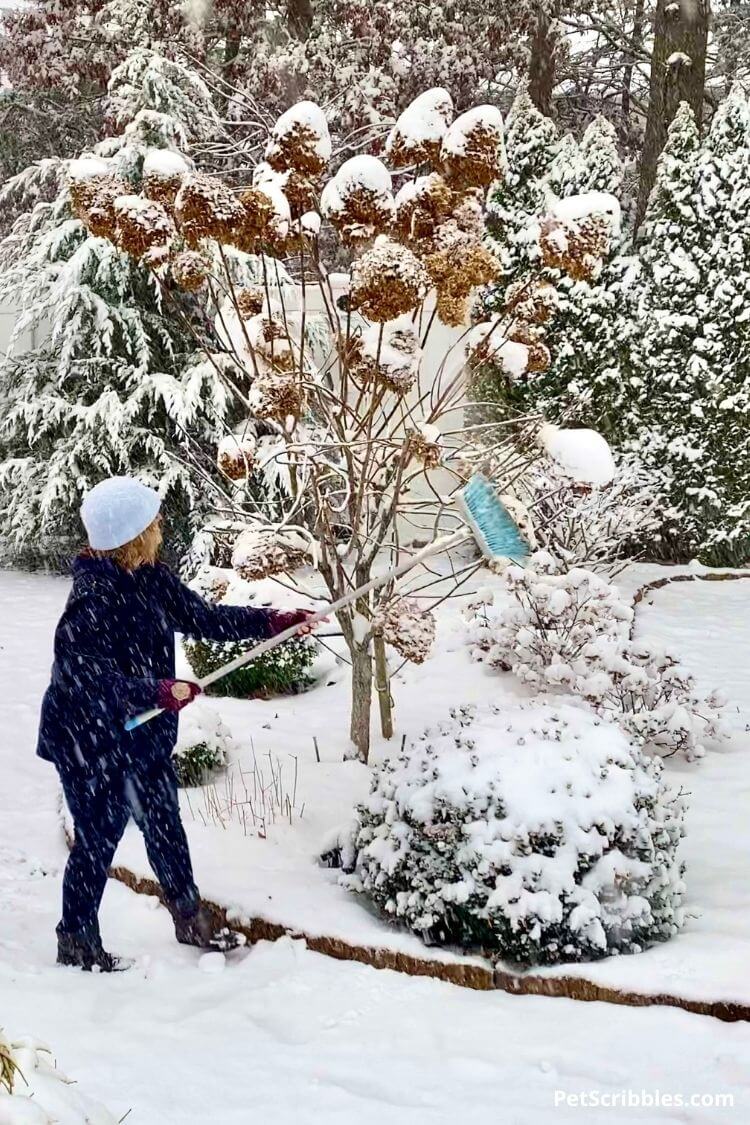 Should You Keep Flowerheads on your Limelight Hydrangeas in Winter?
For those of you in Northern states or places where you receive a lot of snowfall during the Winter, it doesn't make sense to keep the dried flowerheads on for Winter interest.
Repeated snowfall on the flowerheads will pull on the branches and possibly break them over time.
In such areas with ongoing Winter snow, I recommend pruning your Limelight Hydrangea tree or shrub in late Fall.
Another option which you can also do in late Fall — or even in the Winter if you're worried about the branches being weighed down — is to trim off just the flowerheads only, and then wait until late Winter or early Spring to do your pruning.
Limelight Hydrangea Hardiness Zones
Limelight Hydrangeas are hardy in zones 3 to 8 and sometimes 9.
Note: There is a new and improved version of Limelight which is called Limelight Prime. It has been bred to have stronger stems and a smaller overall height, which may stand up better to Winter snowstorms. Limelight Prime is hardy in zones 3 to 8.
---
---
Pinky Winky Panicle Hydrangeas and Snow
Pinky Winky Hydrangeas are super-strong and stand up to Winter snowstorms impressively! In my own garden, these panicle hydrangeas never lose a single flowerhead even during the worst heavy snows!
In the Winter, Pinky Winky Hydrangea's reddish stems show up brilliantly, and against a white blanket of snow they are even prettier! The snow also emphasizes the more-open habit of each flowerhead, described below.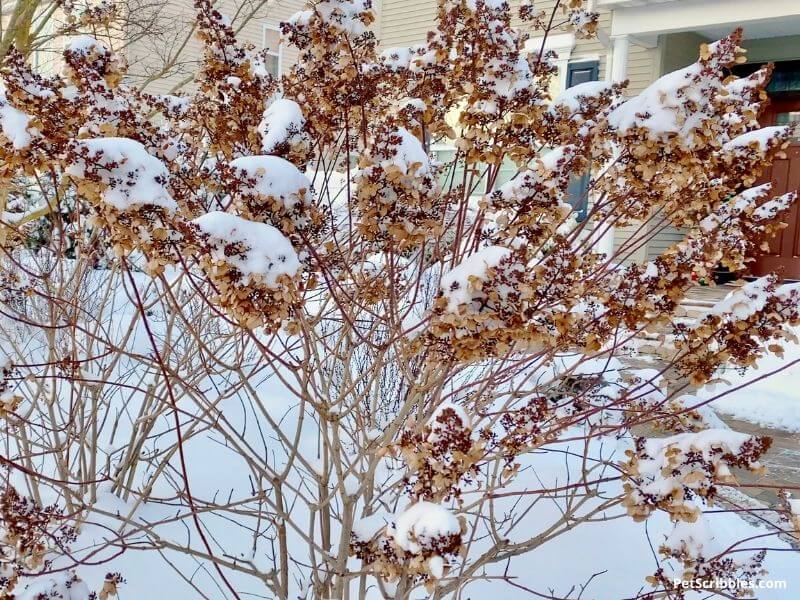 Pinky Winky Flowers have Two Types of Florets
The larger petals you see are actually sterile florets — while the tiny things are actually the fertile florets that pollinators love. The sterile florets — being larger and showy — draw in the pollinators.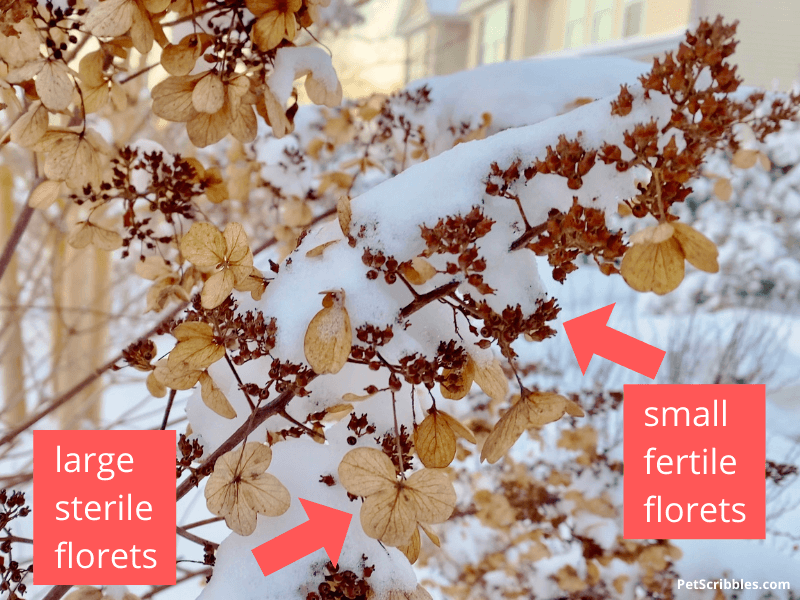 The flowerheads stay on the shrubs all Winter! While I've seen a few of the Little Lime hydrangea flowerheads on the ground, there's no sign of any flowerhead loss on these Pinky Winky shrubs — and they're planted in an open space that gets a lot of wind.
Heavy snow weighs these flowerheads down a bit, bending the stems outward and almost making the shrubs look much larger than they are.
Pinky Winky's stems are very strong however, and returned to their normal shape after the snow melted off the flowerheads. The shrubs did not suffer any stem breakage.
In fact, in the Summer, Pinky Winky's strong stems never get weighed down by the large cone-shaped flowerheads. We've had tropical storms and flooding rains, and these shrubs always remain upright.
Pinky Winky Hydrangea Hardiness Zones
Pinky Winky Hydrangeas are hardy in zones 3 through 8, sometimes 9.
---
---
Little Lime Panicle Hydrangeas and Snow
Little Lime Hydrangeas also handle heavy snow very well — better than Limelights but not as good as Pinky Winky Hydrangeas.
I don't need to knock the snow off my Little Lime Hydrangea shrubs — they can handle the snow.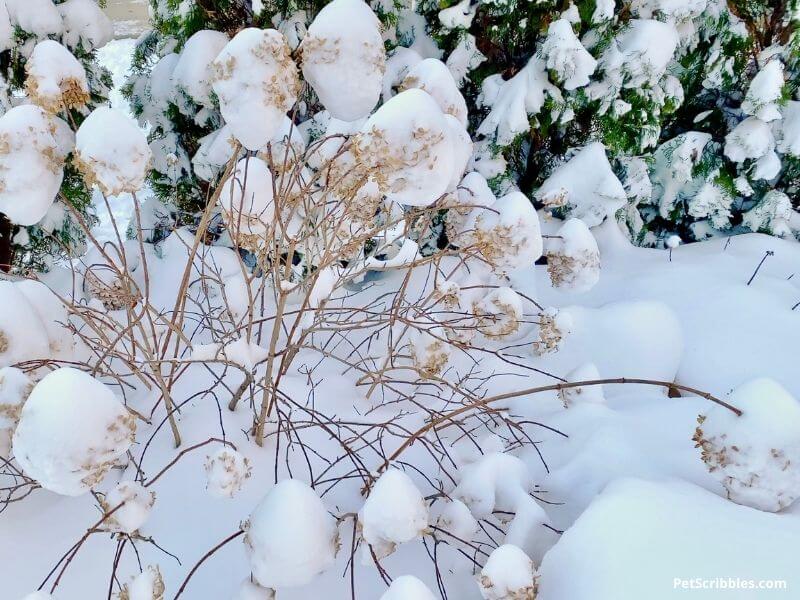 The dried flowerheads on the Little Lime Hydrangeas hold the snow just fine, but over time these flowers can break off at the ends of the stems which doesn't impact the health of the shrub. I can either snip them off, or wait until I prune the shrubs in early Spring to remove them.
The stems can bend a bit from the weight of the snow-covered flowers, but they don't break. In my experience, even the stems that bent over from the snow to the point of touching the ground bounced back just fine.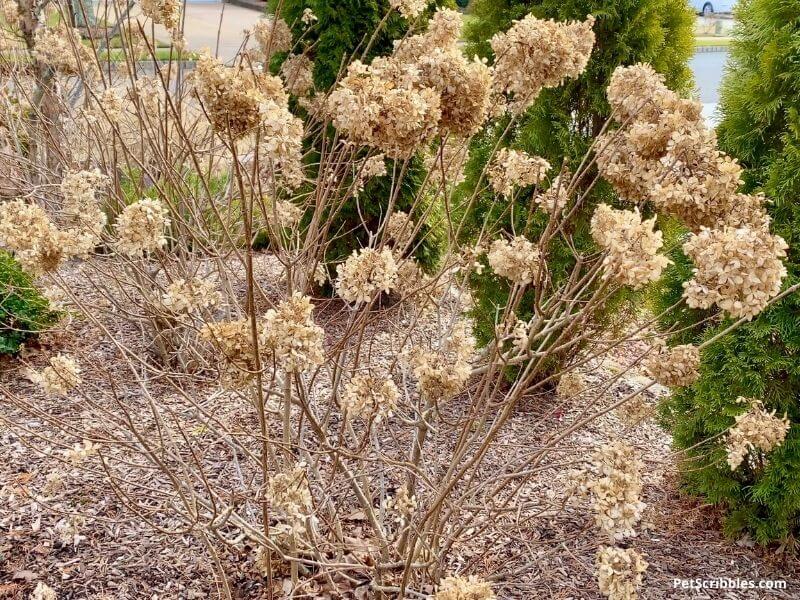 Over the Winter, I will have some flowerheads fall off the shrubs and blow around the garden. I call them tumbleweeds!
Little Lime Hydrangea Hardiness Zones
Little Lime Hydrangea is hardy in zones 3 – 9.
---
---
Little Quick Fire Hydrangeas
Similar to Little Lime Hydrangeas, Little Quick Fire Hydrangeas handle heavy snow very well, however I think Little Quick Fire is even stronger than Little Limes, at least in my experience so far.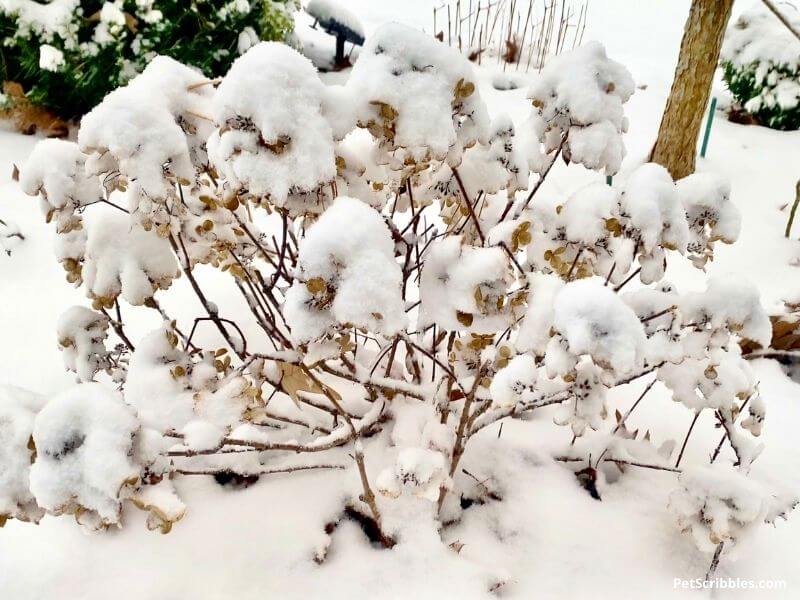 My Little Quick Fires are young, and their stems have remained mostly upright and strong. The majority of dried flowerheads held the snow just fine.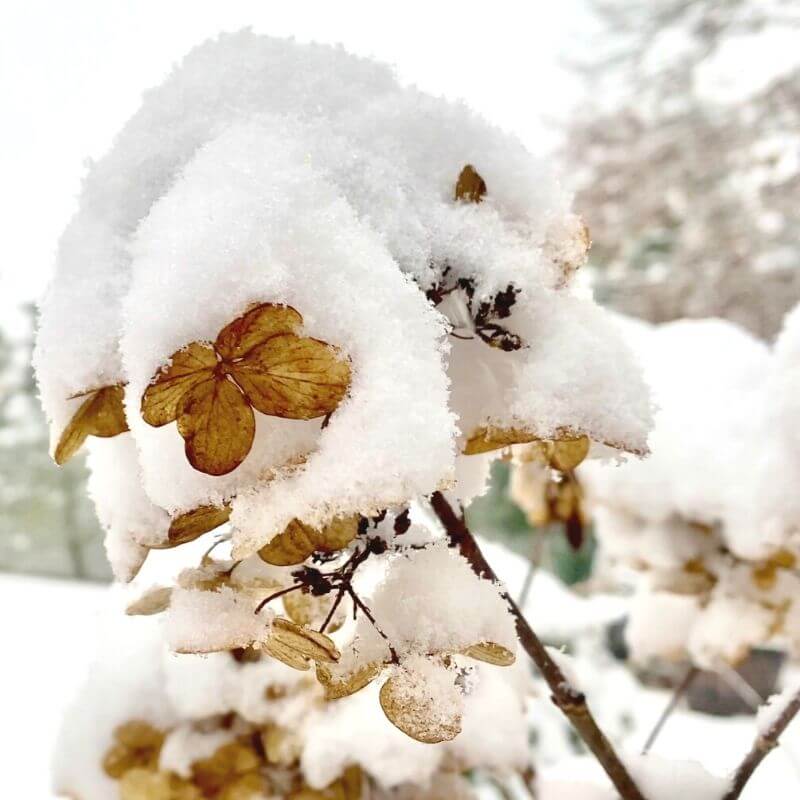 By the end of February, several of the flowerheads had caused the stems to break at the end, as if to naturally prune only the dried flowerheads off the shrub. I call this Mother Nature doing the pruning!
As with the Little Lime Hydrangeas, these broken flowerheads can be snipped off or wait for a Spring pruning. I'm waiting for the upcoming Spring pruning, which is just around the corner.
Little Quick Fire Hydrangea Hardiness Zones
Little Quick Fire Hydrangea is hardy in zones 3 – 8.
---
To see how Little Quick Fire hydrangeas look during a Winter snowstorm, please watch the video below, beginning at minute 13:51.
---
Happy gardening!