Should you deadhead Knockout Roses? If you do, you'll enjoy nearly constant blooming throughout the Summer and possibly into the Fall season.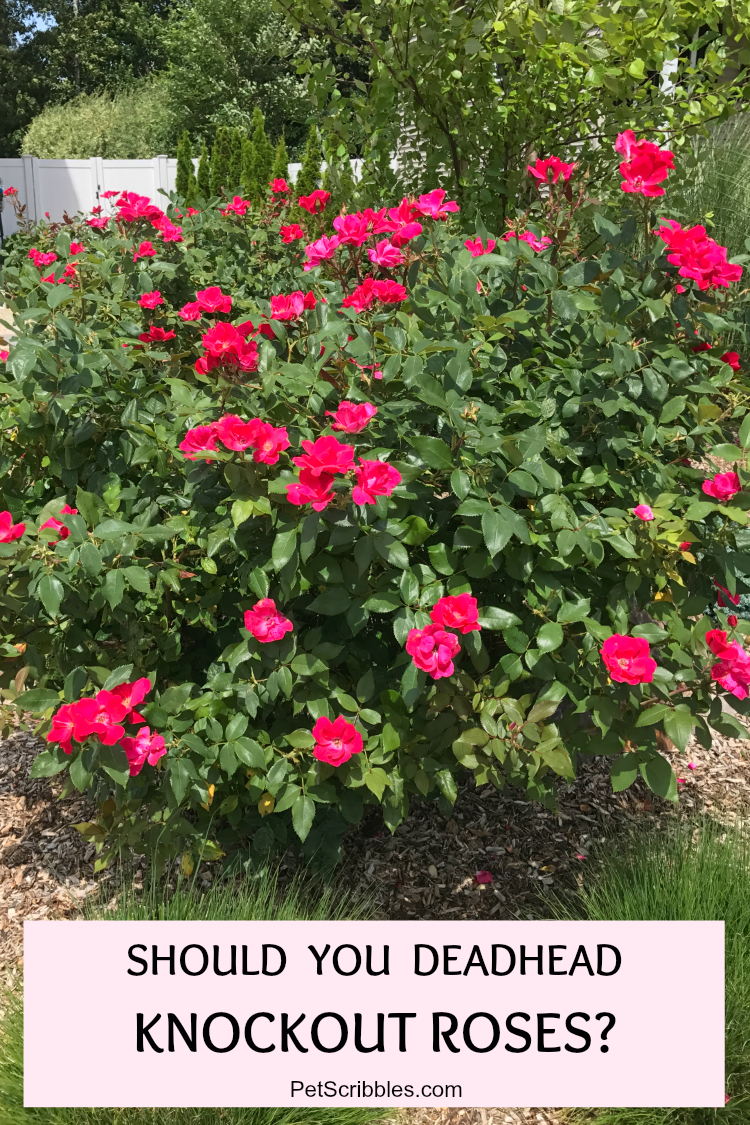 Please note: I may use Knock Out Roses and Knockout Roses interchangeably in this article. Although the official name is Knock Out (two words), there are many who use the word Knockout (one word) instead. I'm one of them who slips from time to time between each version, so don't hate me!
First off, we need to ask the main question everyone is curious about:
Should You Deadhead Knockout Roses?
Many experts — including the fine folks at the company that produces Knock Out Roses — will tell you no, there's no need to deadhead these roses because Knock Out Roses will do this all by themselves, on their own.
And that's true to a certain extent.
Knockout Roses will eventually discard their own dead flowers.
Eventually.
Meanwhile, the overall shrub can look very sad with lots of dead flower stalks poking out all over, and fewer and fewer active blooms on the shrub.
But you want blooms throughout the Summer, am I right? Lovely flowers to enjoy each and every day!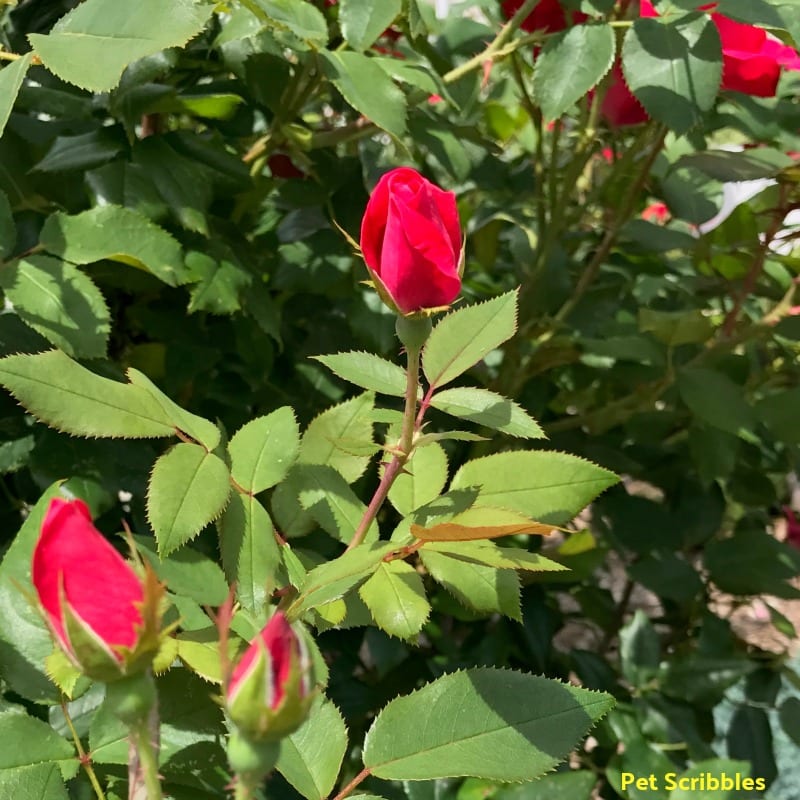 I say, "Yes, you should deadhead Knock Out Roses!" And there are many out there who will agree with me, although it does mean some extra work on your part.
Benefits of Deadheading
There are two main benefits to deadheading Knock Out Rose bushes.
The appearance of a deadheaded shrub instantly looks much better.
If you deadhead Knock Out Roses as part of your Summer garden chores, you'll enjoy almost constant blooming throughout the season.
Here's one of our Knock Out Rose bushes before I did my weekly deadheading: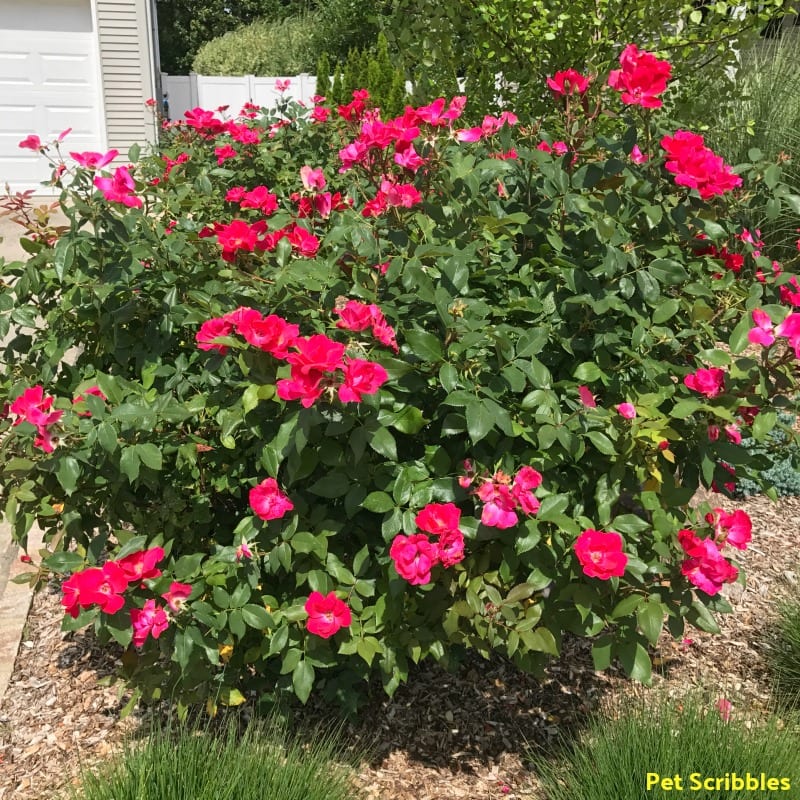 This rose bush looks fine from a distance, in part because I regularly deadhead each week, so there's never too much work to do, to maintain an ever-blooming shrub.
Upon closer look, follow the arrows to see which parts of the Knock Out Roses need to be trimmed away: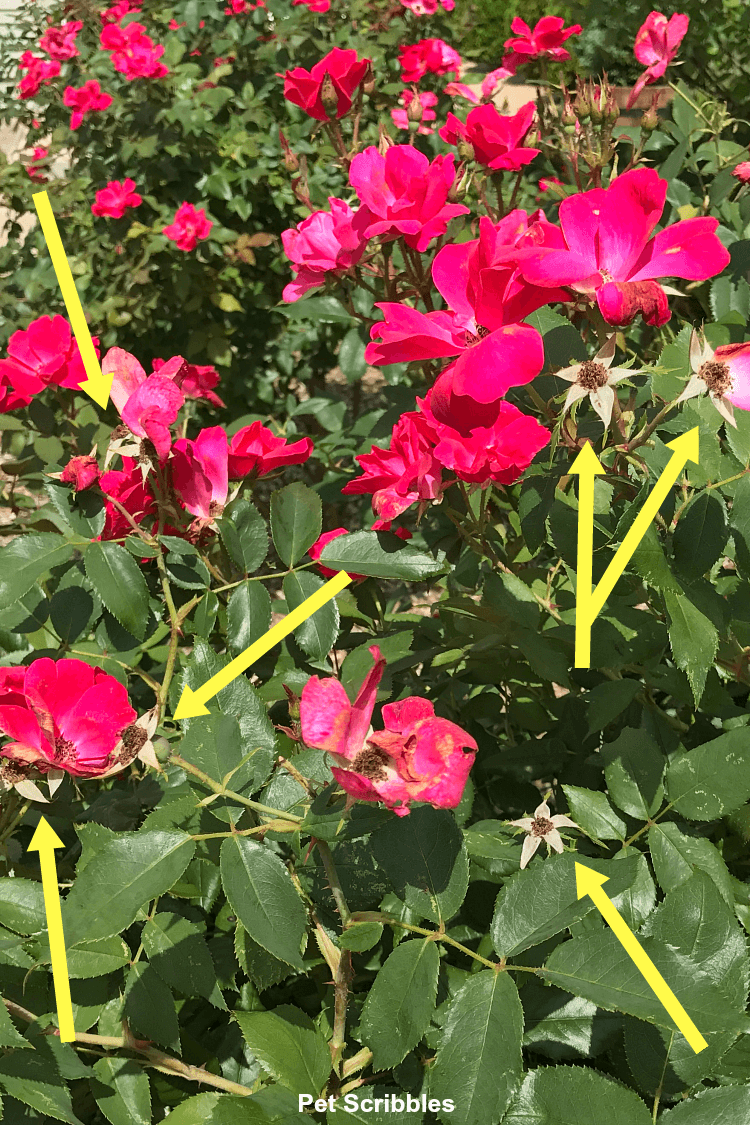 Sometimes you will find a deadhead candidate hidden among other blooming roses: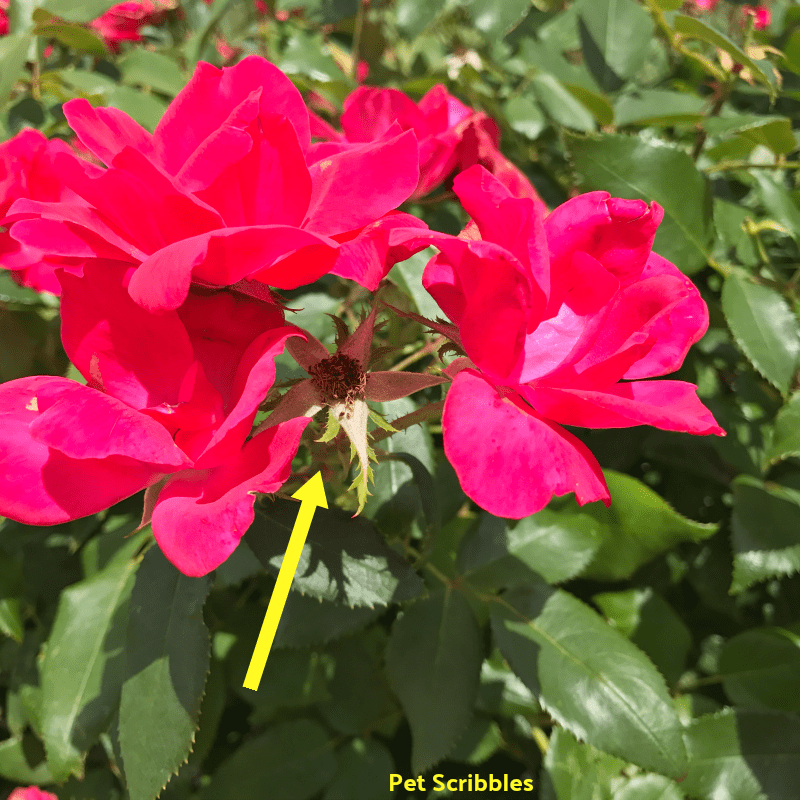 And you can also find individual roses that have come and gone as well: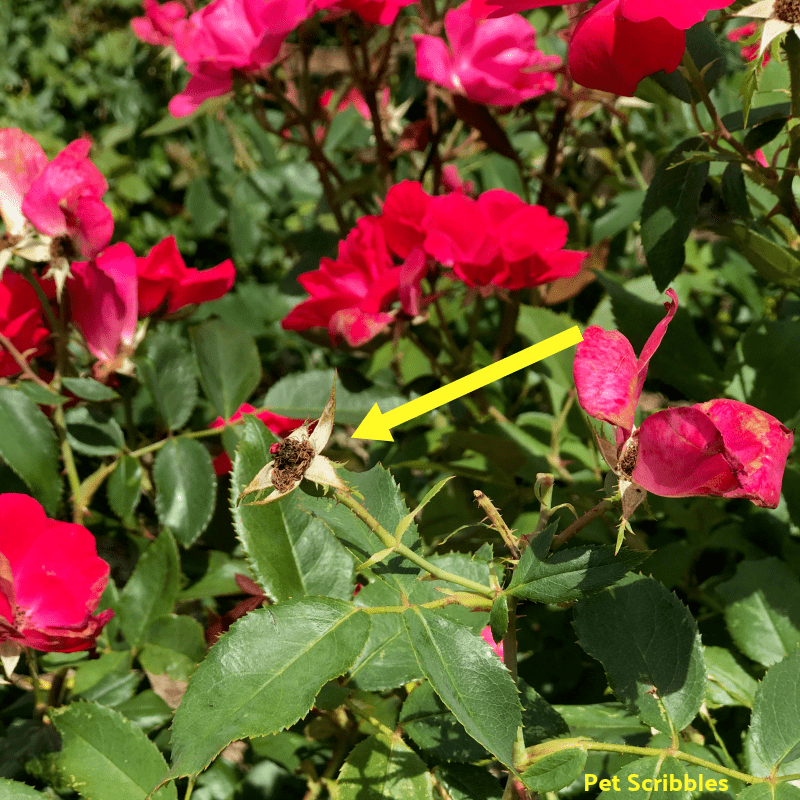 The Best Tools for Easy Deadheading
Before you begin deadheading Knock Out Roses, make sure you have a good pair of garden gloves specifically made for rose pruning — so you can avoid getting pricked by thorns — and a good pair of bypass pruners. (My favorite pruners are these bypass pruners by Fiskars.)
I toss all of my deadheading refuse into a basic bucket that I carry around the garden. It isn't anything fancy — far from it: it's a used kitty litter bucket which is the handiest thing around! We have several of them…and sadly this particular brand of litter no longer sells it in their awesome buckets, so we are now hoarding them!
How to Deadhead Knock Out Roses
Find one of the spent blooms, like below: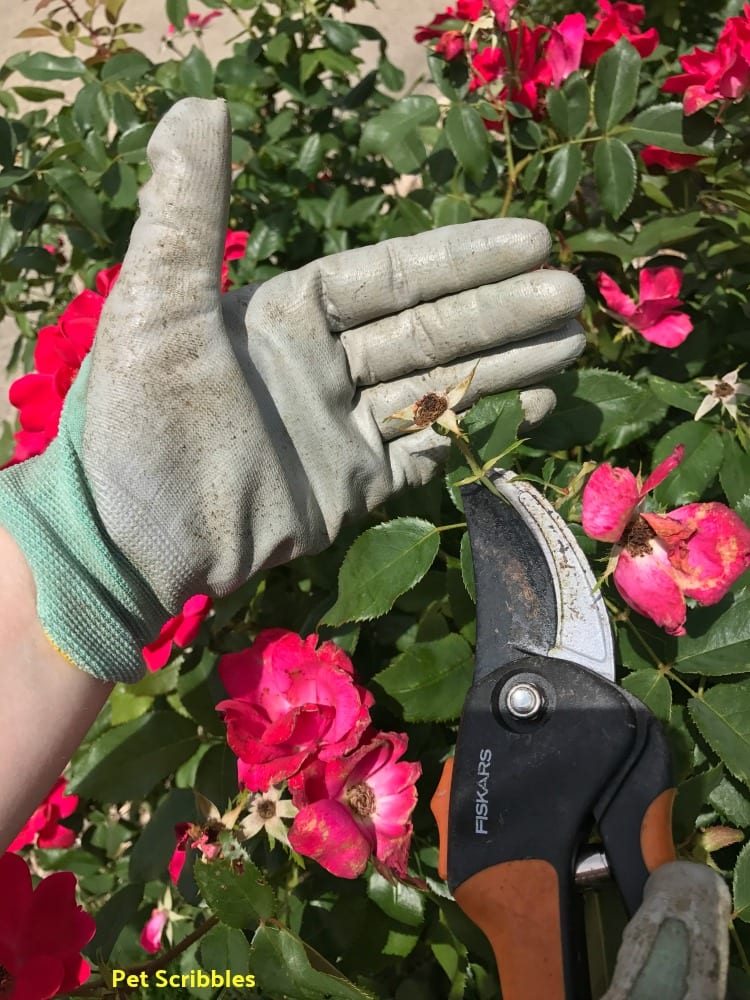 Snip it off with the pruners while holding it in your other gloved hand: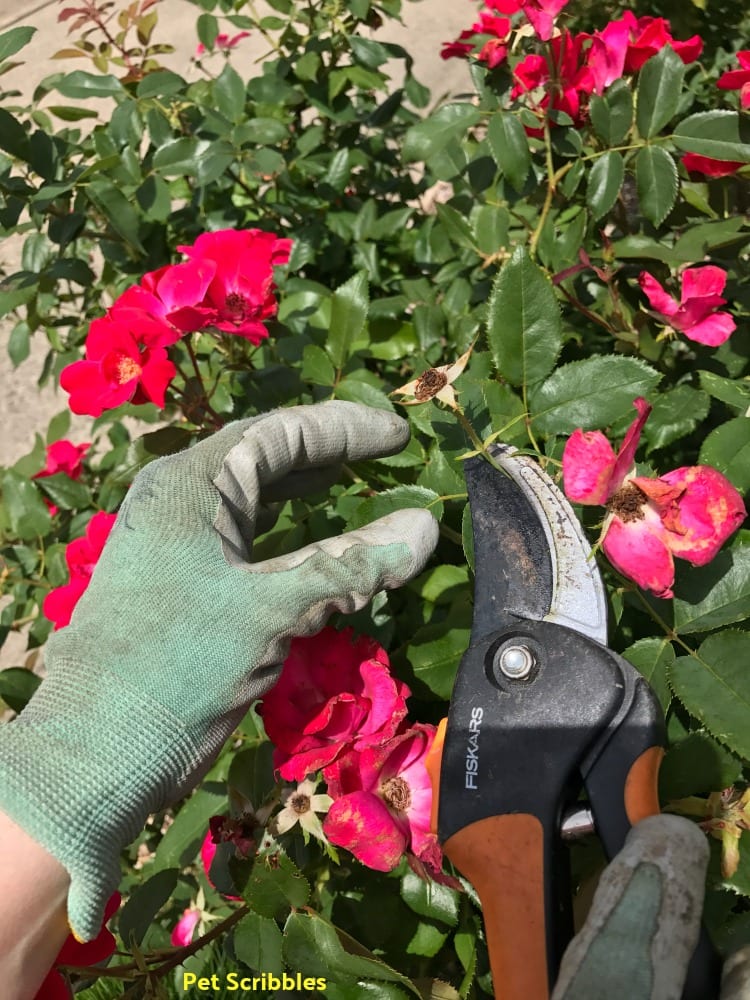 And when you see more than one of these together on your shrub?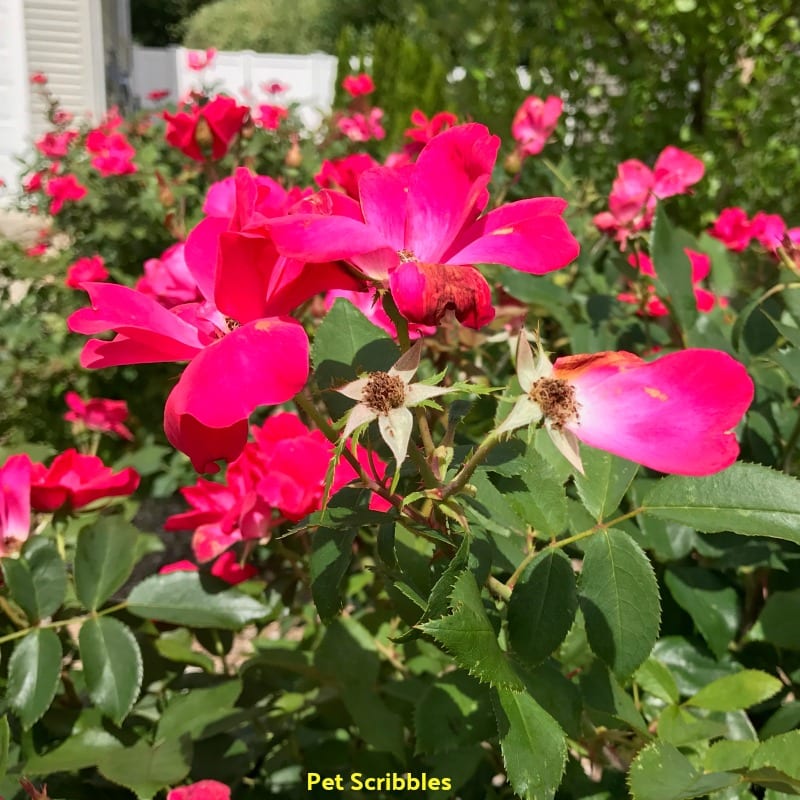 Just grab both and snip them off. Easy peasy, no fancy cuts to make or angles to pay attention to.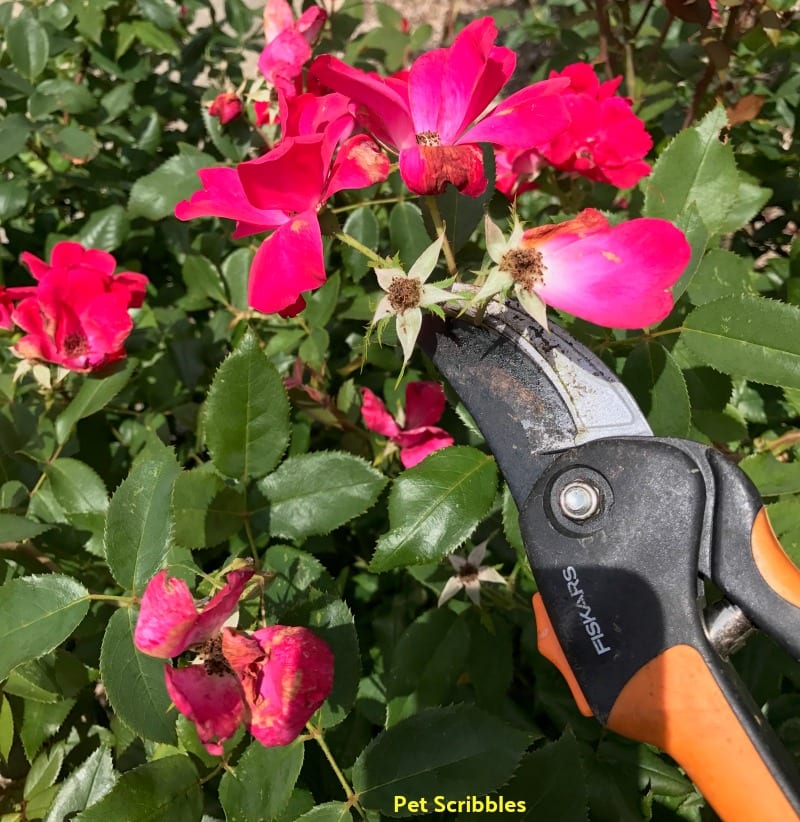 What remains are a couple of short stems that within a week will fall away on their own.
I spend time trimming spent flowers on Knock Out Roses too: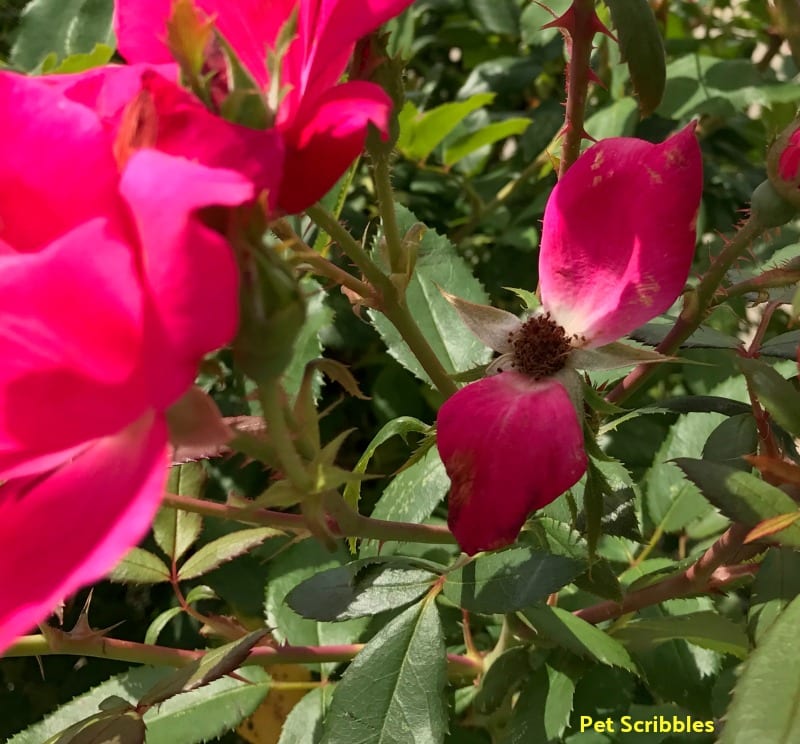 There's only a few petals left, and by this point those petals are about to fall off anyway.
How fast will my Knock Out Roses rebloom?
The simple answer is: very fast and almost all of the time!
Look at this picture below: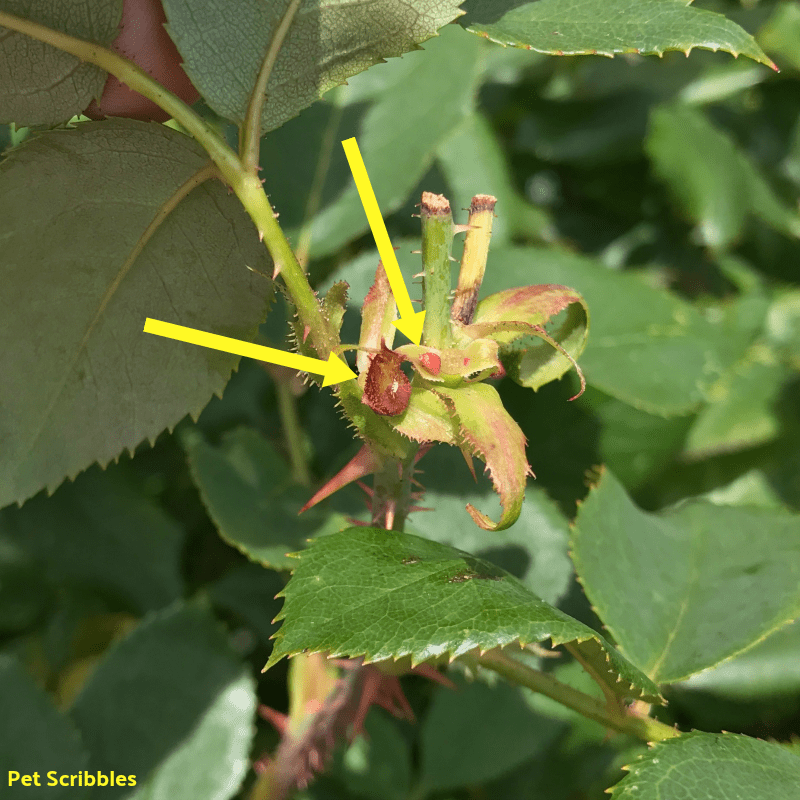 The first arrow on the left points to a new rose bud already forming, while the second arrow points to more new growth.
As the stems fall away, the newest growth will rise up beyond those old stems and will bloom in about a week.
How often should I deadhead Knock Out Roses?
I try to make the rounds and deadhead our Knock Out Roses once a week throughout the Summer months.
If you do a bit each week, you should have a never-ending display of pretty roses!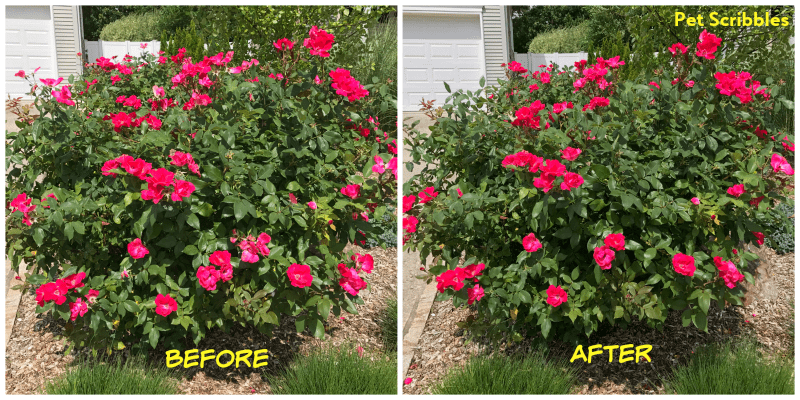 There really isn't that much of a difference in my before and after pictures, which shows you how a regular schedule will keep your Knock Out Roses looking great all the time.
I'm not out there every Monday with the pruners, but I am out there at least once a week with the sole purpose of deadheading our Knock Outs.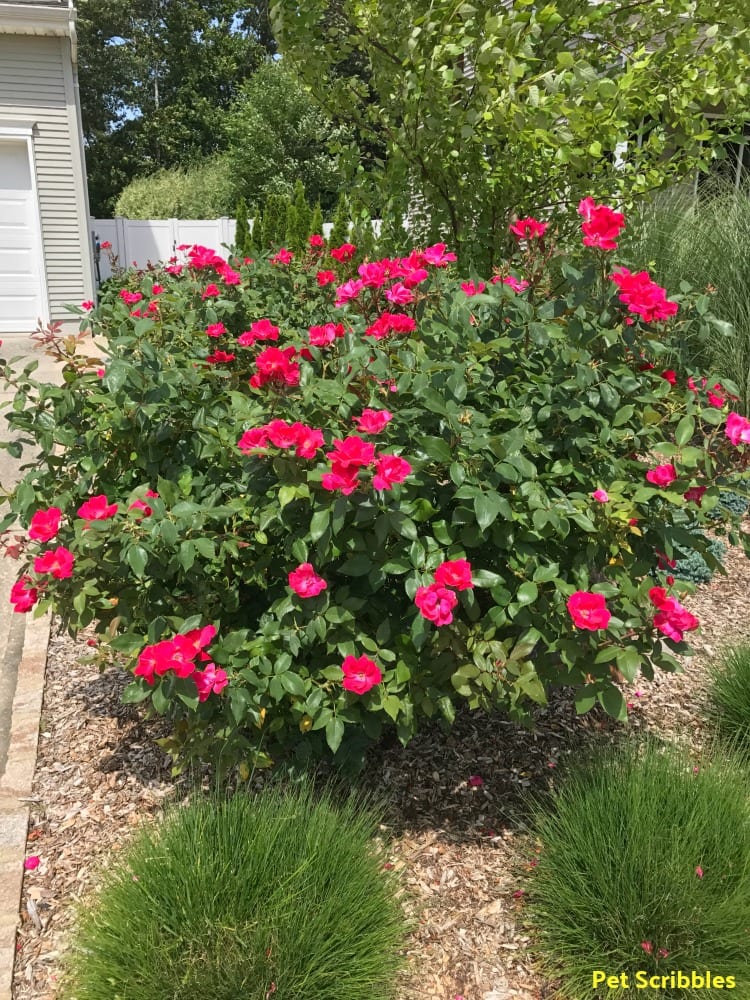 Video: How to Deadhead Knock Out Roses the Easy Way!
---
---
Pruning Knock Out Roses
Need to learn how and when to prune your Knock Out Roses? I've got you covered with this article, which includes a video too: Pruning Knock Out Roses: when, what and how.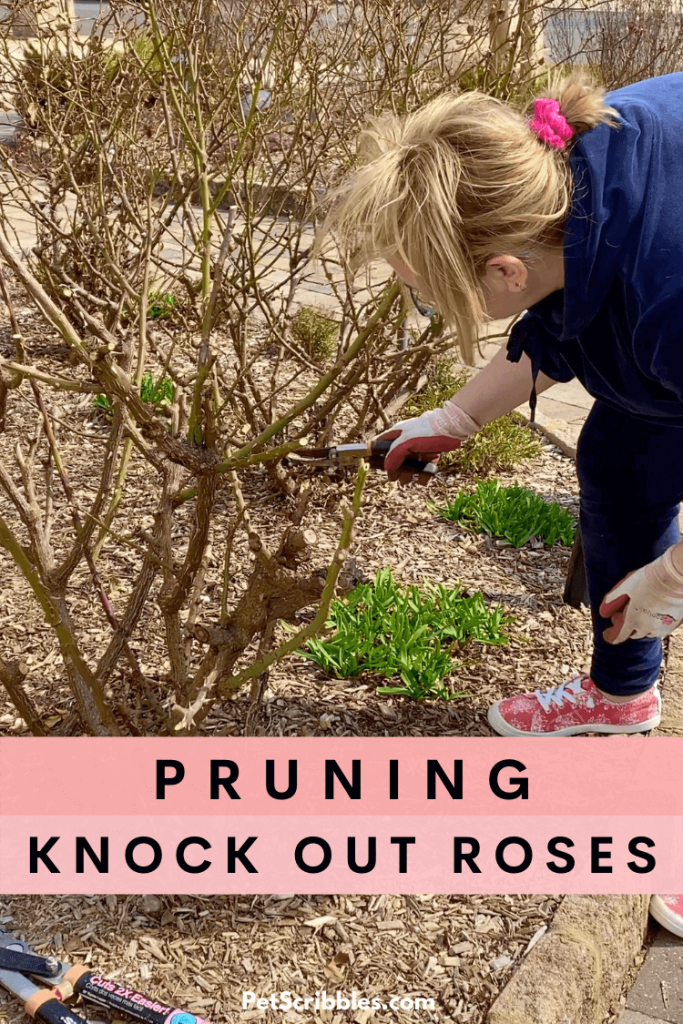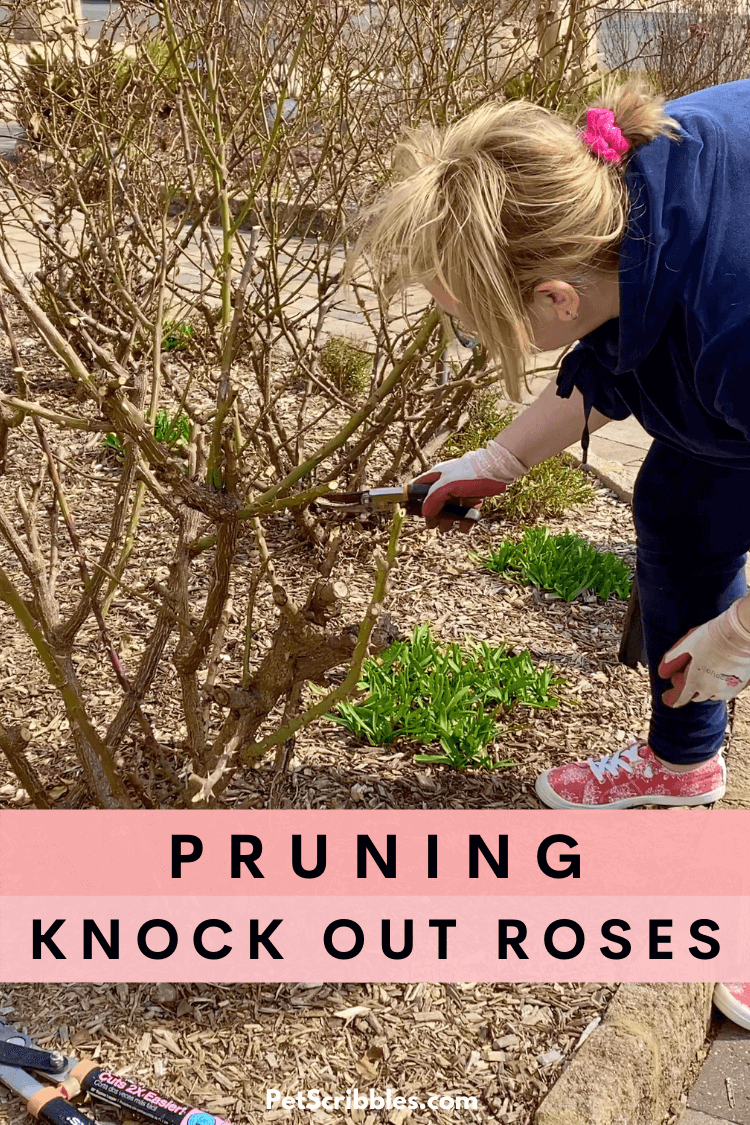 Black Spot on Knock Out Roses
Don't panic if you find Black Spot on your Knockouts. There are remedies and solutions you can try. I share three steps you can take to get rid of Black Spot in this article — which includes a video as well: Black Spot on Knockout Roses: How to Treat.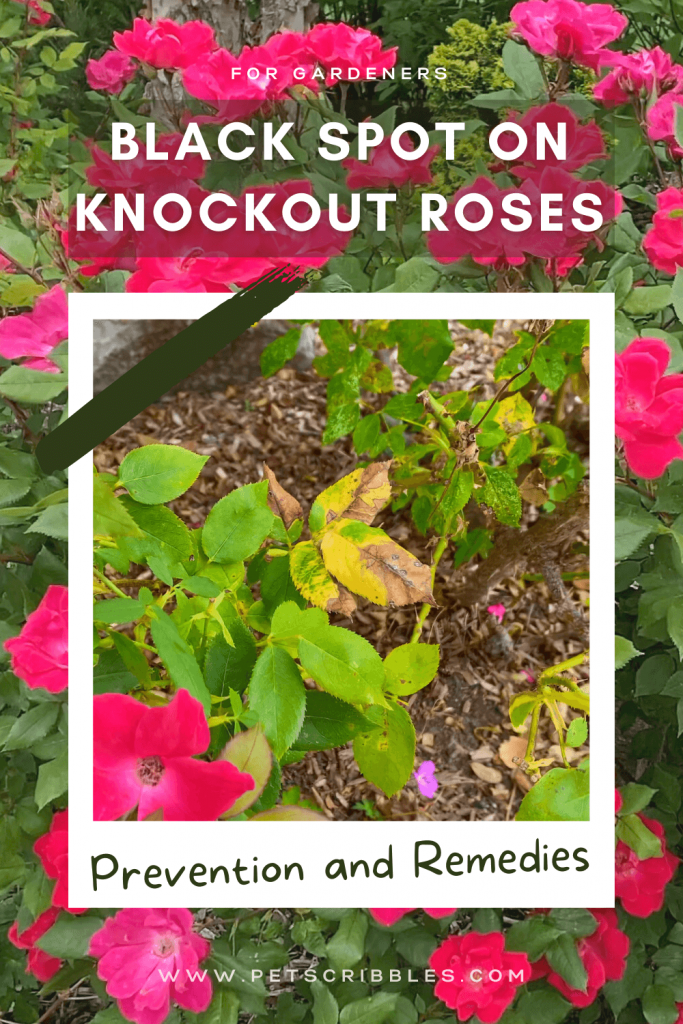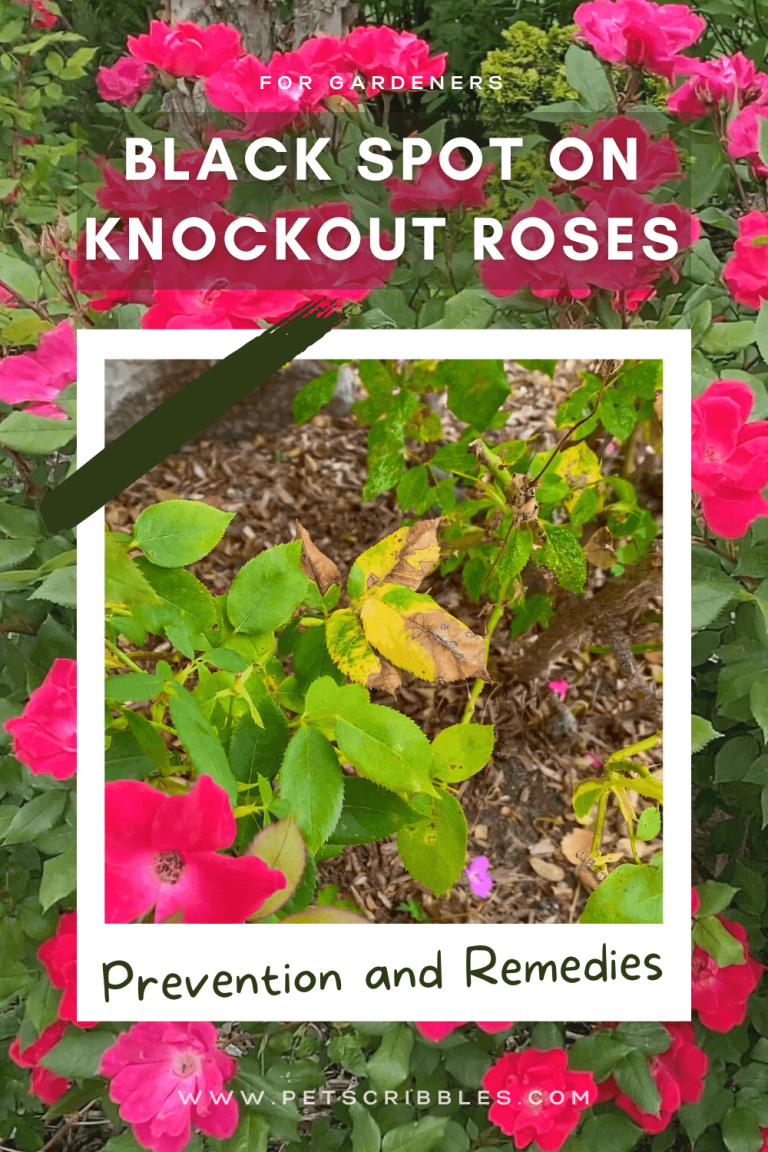 Happy gardening!