Yesterday would have been Matisse's 13th birthday. Matisse, or Mr. Boober as we affectionately called him, is our beloved Ragdoll cat who passed away almost 3 years ago. I miss that sweet boy so much.
I wrote the following post in memory of Matisse on April 22, 2010 on the Pet Scribbles Facebook page. In honor of his memory, I'm sharing it here with you. I've added several pictures which, although all are not the best quality, will help to convey what a special cat Boober was.
---
Our 10-year-old cat Matisse, as most of you know, passed away in November from cancer. Although we knew the day would come when we would have to say goodbye to him, it was still a very emotionally difficult experience. And 5 months later, I am still caught off guard by moments where I just miss him so much that I ache and I cry. But I have something to remember him by, that I could never have predicted.
(As an aside, we privately called him Mr. Boober. Not sounding like the o's in the word "boo" but rather like the sound in the word "wood." I'll be referring to him as Boober as we go along…)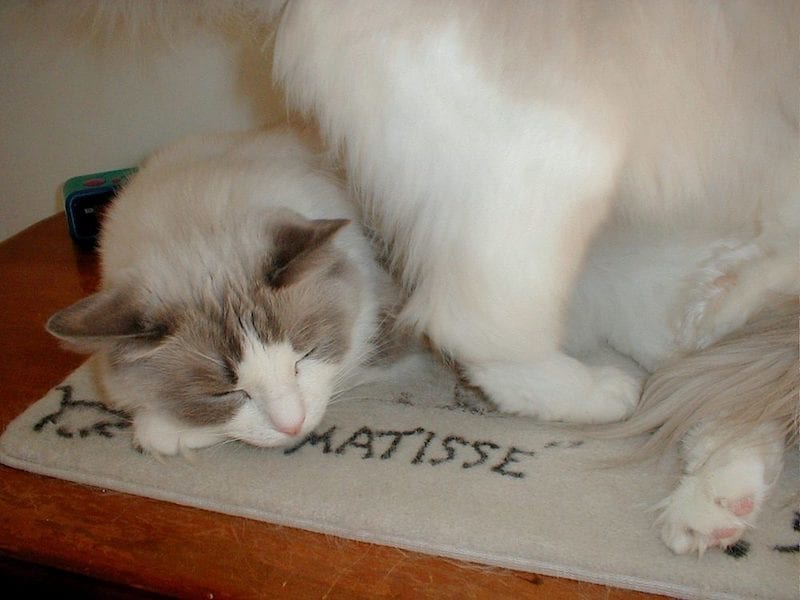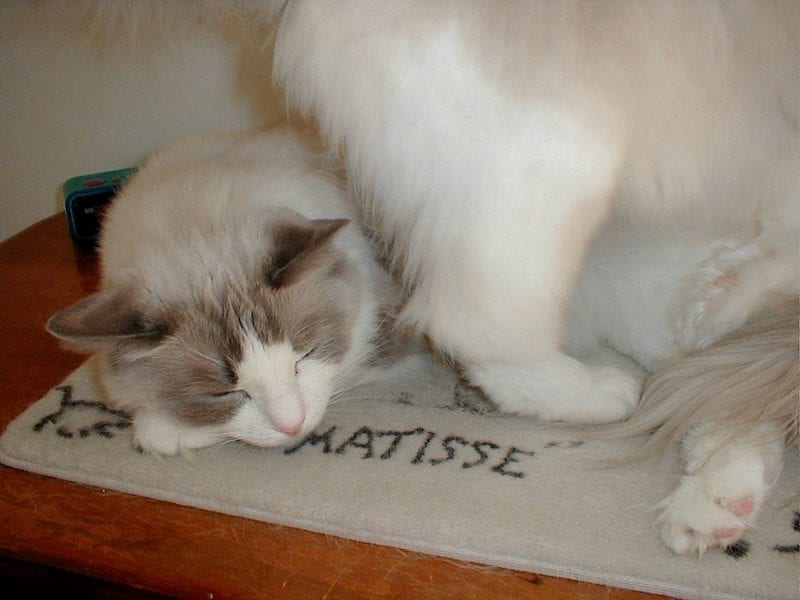 Boober was a gentle cat, a big giant mush of fluff, a true Ragdoll cat. He was gentle, he was loving, he was clown-ish, he was a Mama's Boy. My husband and I often joked that if we could get Boober a tiny baseball hat to wear, it would have a pansy flower on it, because he seemed too timid at times.
And then a few years ago Boober seemed to have a hairball issue – the darn thing just didn't want to come out, or so it seemed. A trip to our vet changed our world, for Boober had a large tumor in his lungs. That's why he had been coughing. It had to be removed, in order to not keep growing and suffocating him. The thought was that the removal would hopefully cure him. However, the tumor biopsy results showed that this tumor was instead a type of feline sarcoma that usually starts elsewhere in the body and shows up in the lungs as the final place. Boober was in a small minority of cats that have this sarcoma "start" in the lungs. No doubt there was cancer looming elsewhere in his body too.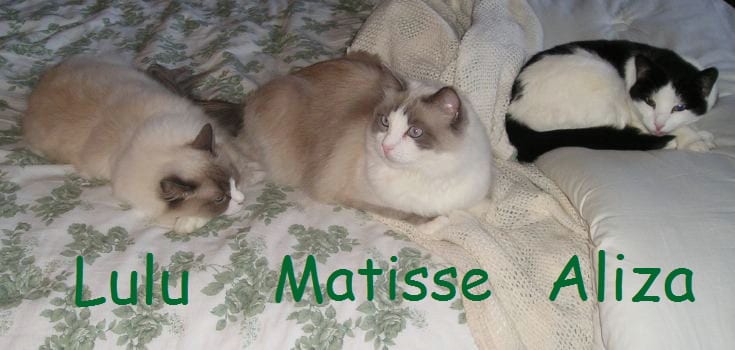 We were glad to remove the tumor, and so was Boober. After having to be quarantined away from the other cats while he recovered for 2 months, he was back to his old self in no time. (We gave him our guest room during the quarantine, and we took turns sleeping with him every night. We kept a pet gate in the open doorway, and the girls (Lulu, his little sis; and Aliza, his devoted companion) would stop by and chat with him thru the gate all the time. Aliza would actually sit at that gate almost 24/7 while Boober was quarantined. She loved him so much.
But I digress…
We were told by all of the experts that he probably had about 3 to 6 months at the most. We opted not to do chemo on him. It wouldn't have impacted the cancer, but it would have impacted his quality of life left to live, and we wanted him to live life to the fullest.
Boober showed us that he was no pansy at all. He was with us for almost one-and-a-half years after the tumor was removed. He was seemingly healthy for most of that time. He wrestled with Lulu, and he groomed Aliza. He flopped belly-up to get tummy rubs from Dad, and he snuggled with me and also played our little game of hide and seek.
In the final months, he went blind, first in one eye, then in both. The girls took turns helping him navigate around, and he never cried or complained. He leg muscles on one side atrophied, and he limped around, but never cried. He was no pansy at all. He was the bravest boy I've ever known.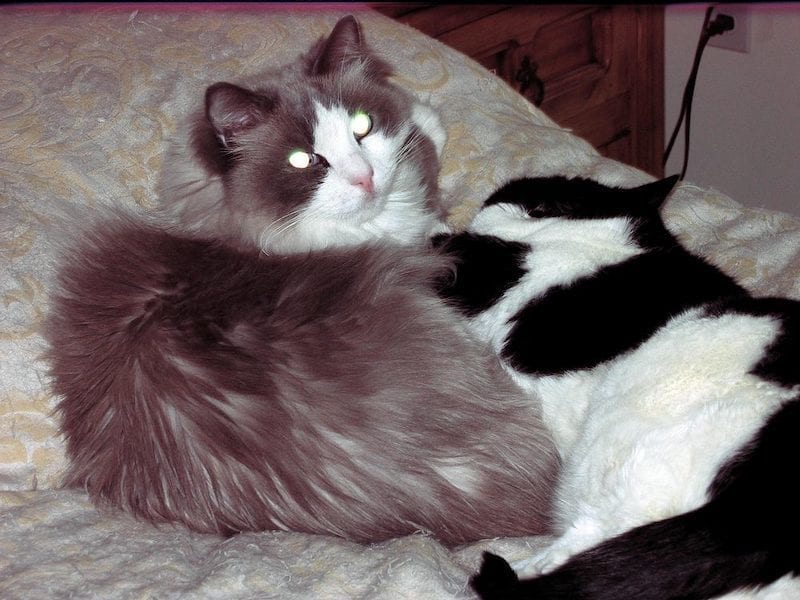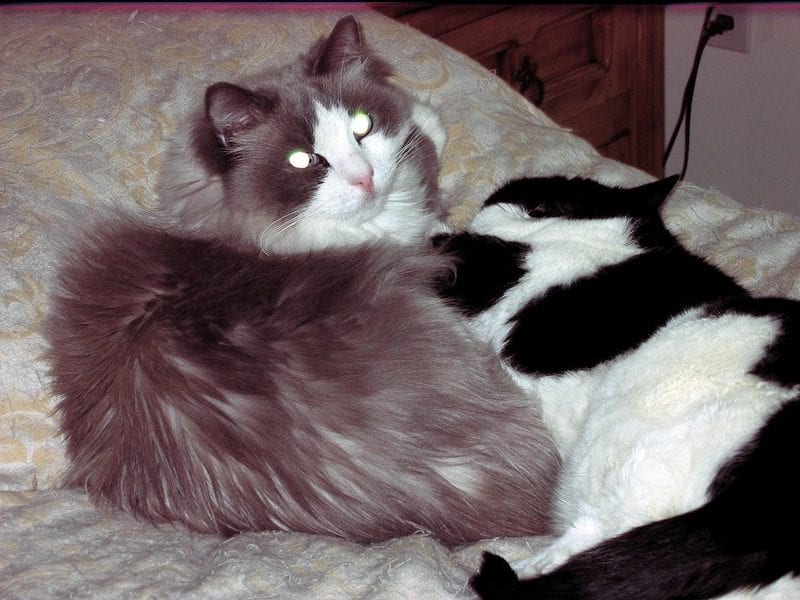 It was mid-November last fall when we made the decision (with Boober, he told us when it was time) to say goodbye. I'd rather not write about that, it is still too raw. But something happened right after that time: a pansy sprouted up among the leaves of our Yucca plant. The most beautiful pansy I had ever seen. Nothing was blooming by that time, and yet here was this pansy standing tall and proud, and blooming so beautifully: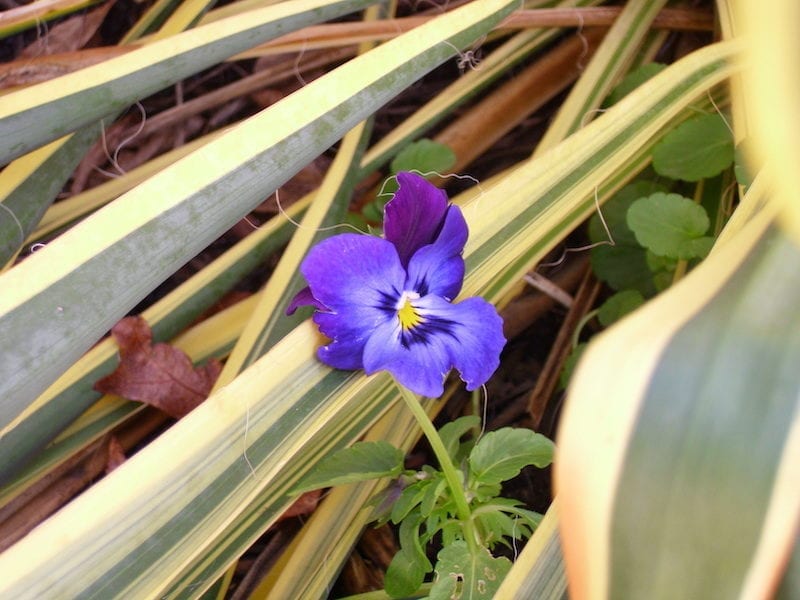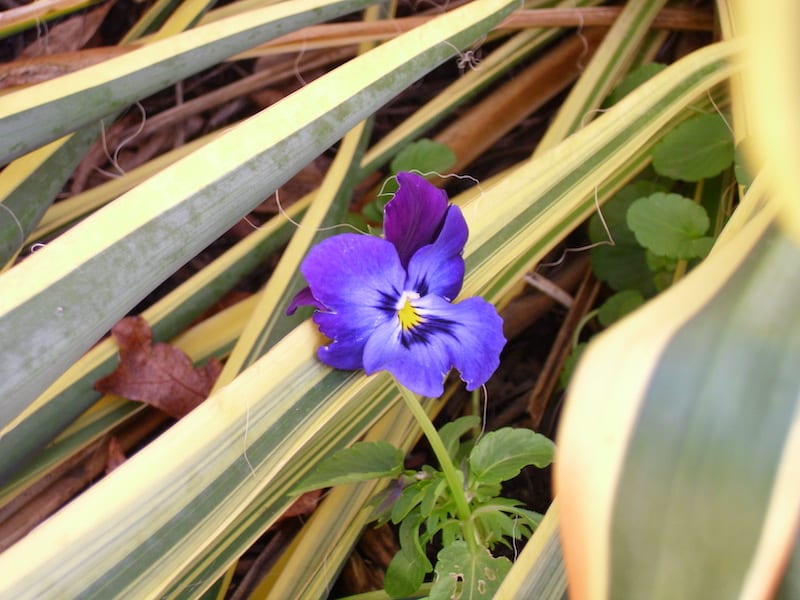 We had a few major snowstorms here over the winter, but each time, that pansy poked through the snow and survived. And kept blooming. And then in the springtime, just about a month ago, all sorts of pansies sprouted up – different from the ones we had just planted in another part of the garden. These pansies all sprouted up on their own (most likely from seeds from a previous year's plantings). I call these pansies "The Boober Pansies" and every day I spend time looking at them, amazed at their strength.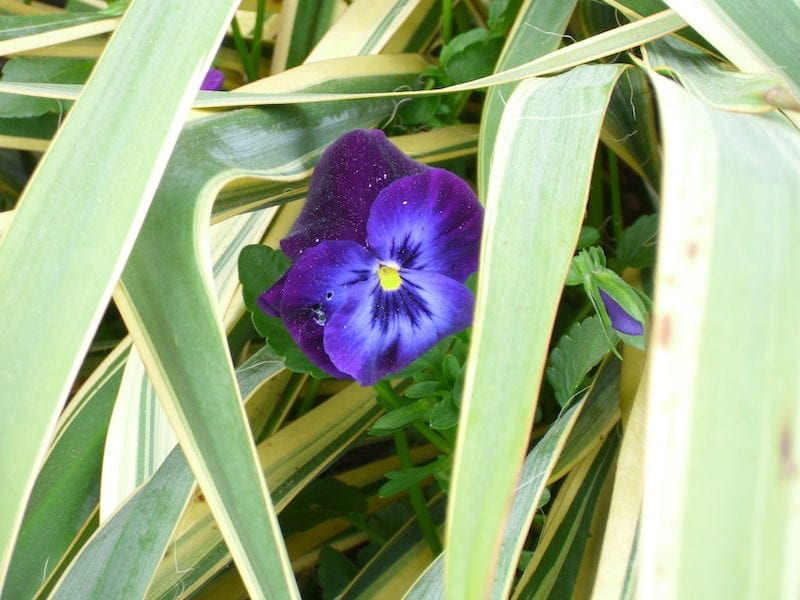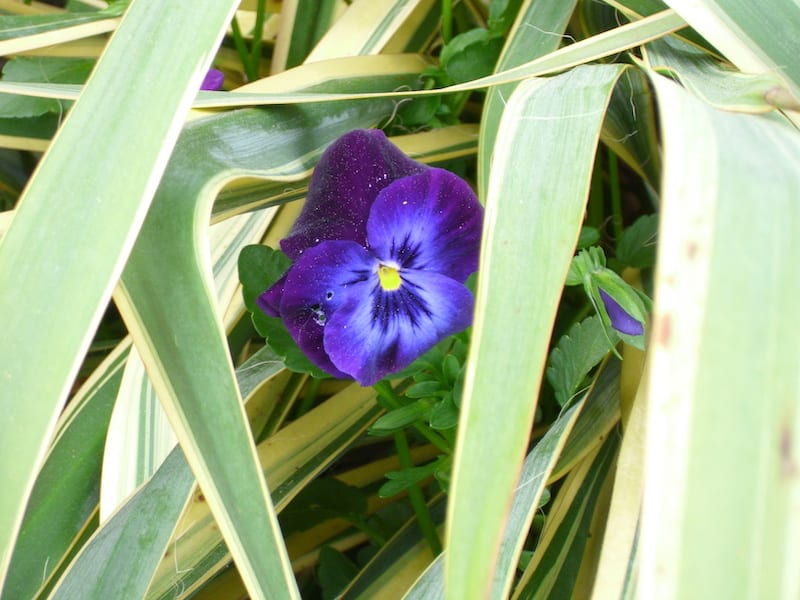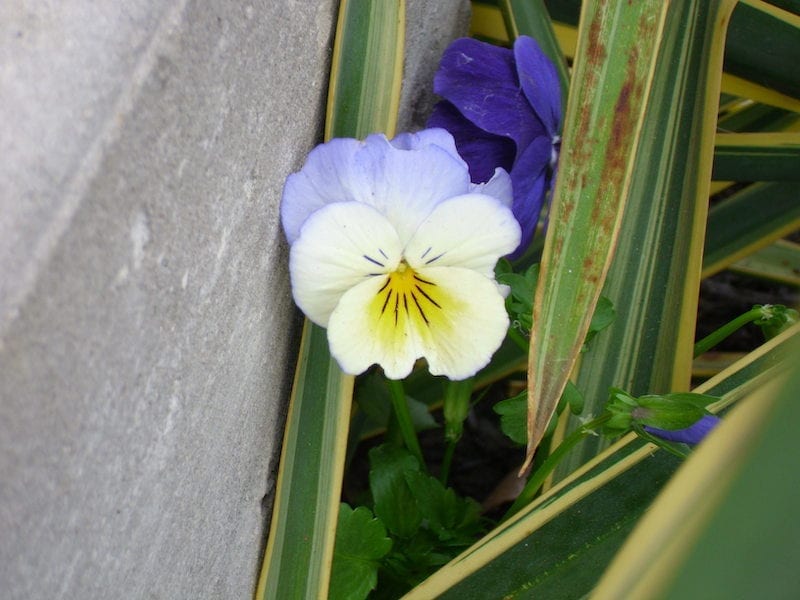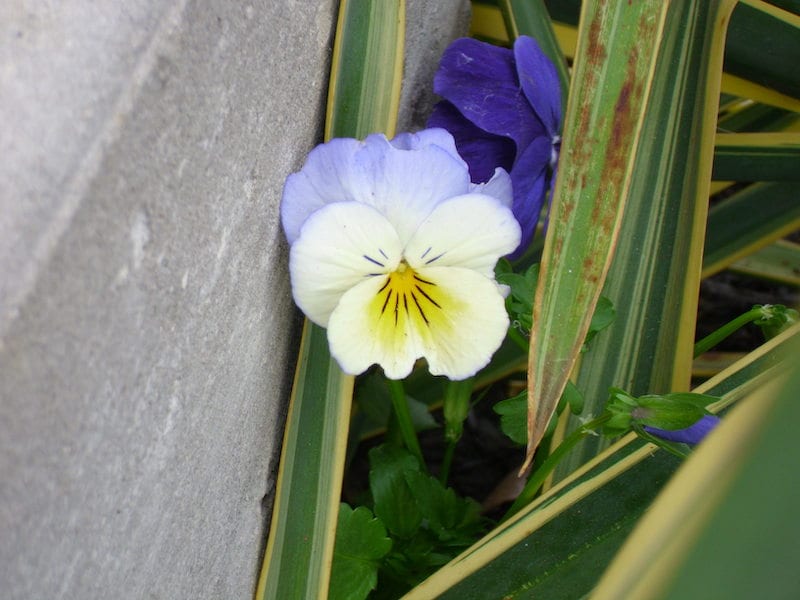 It is very hard to put this into words without crying all over again. I know this is part of the grieving process and part of the healing process too. My sweet Boober, that adorable Mama's Boy, was no pansy at all. Or maybe he was. A strong one.
I hope you enjoy these pictures of my "Boober pansies."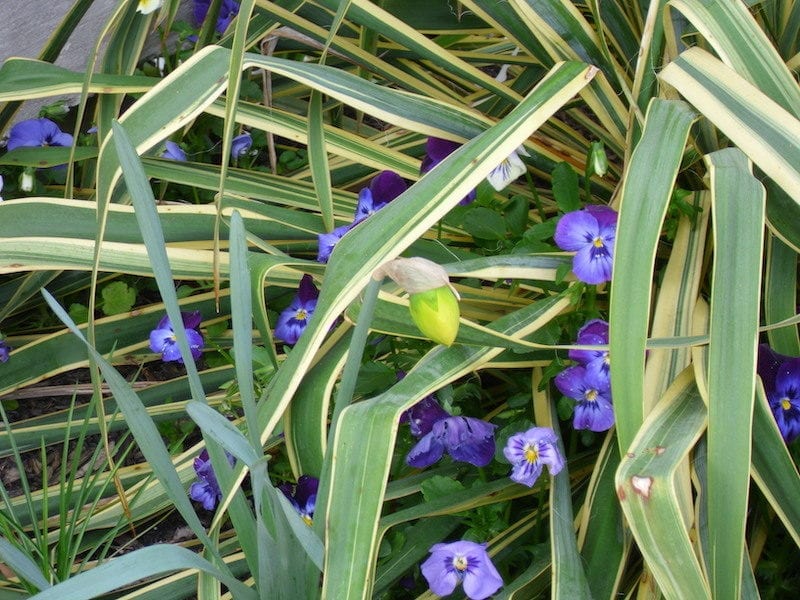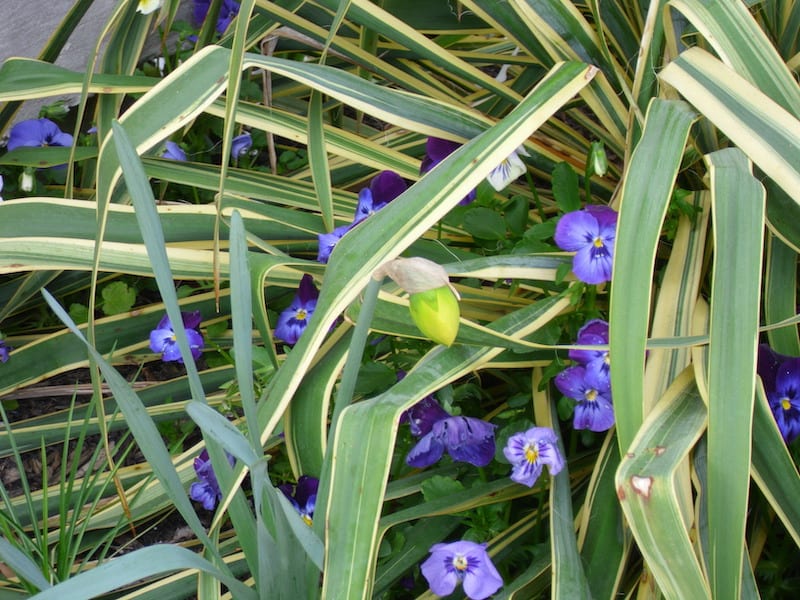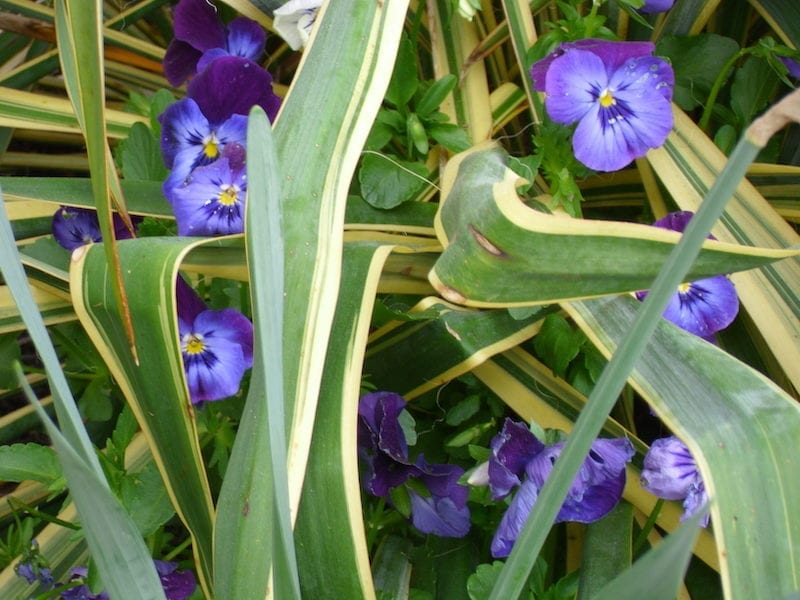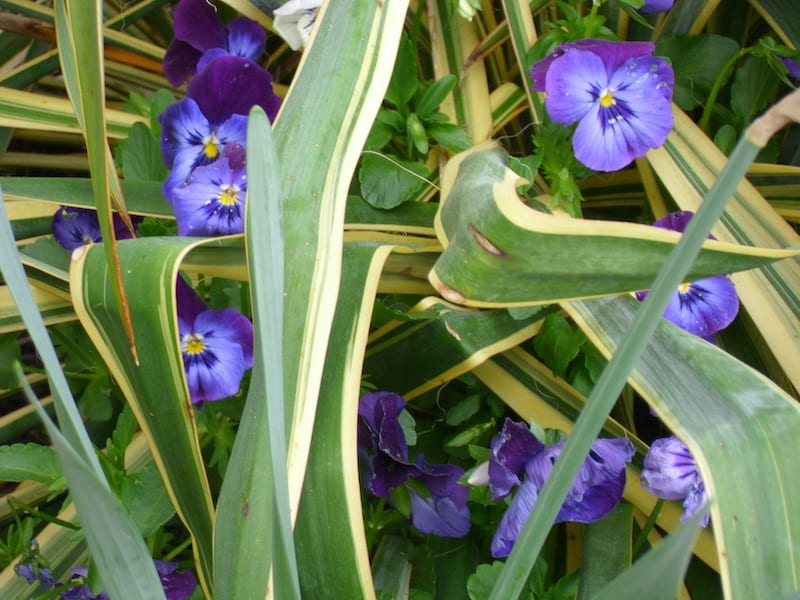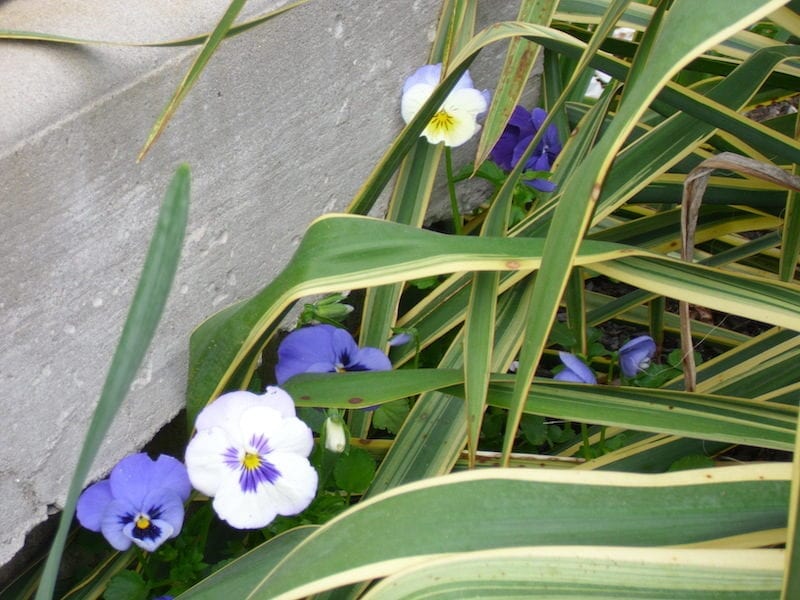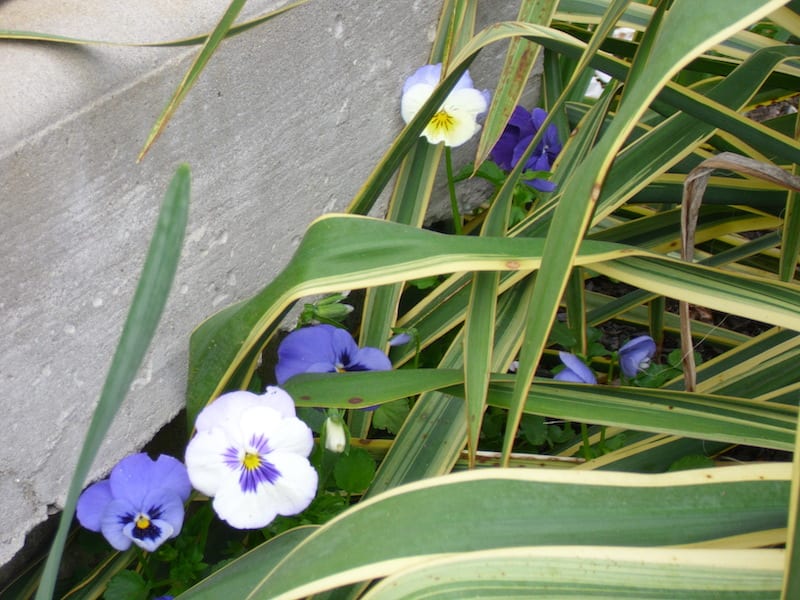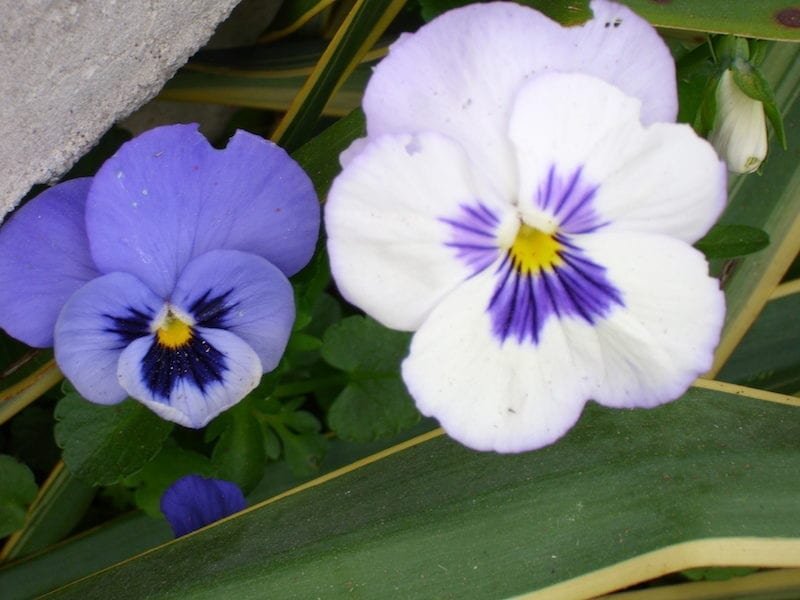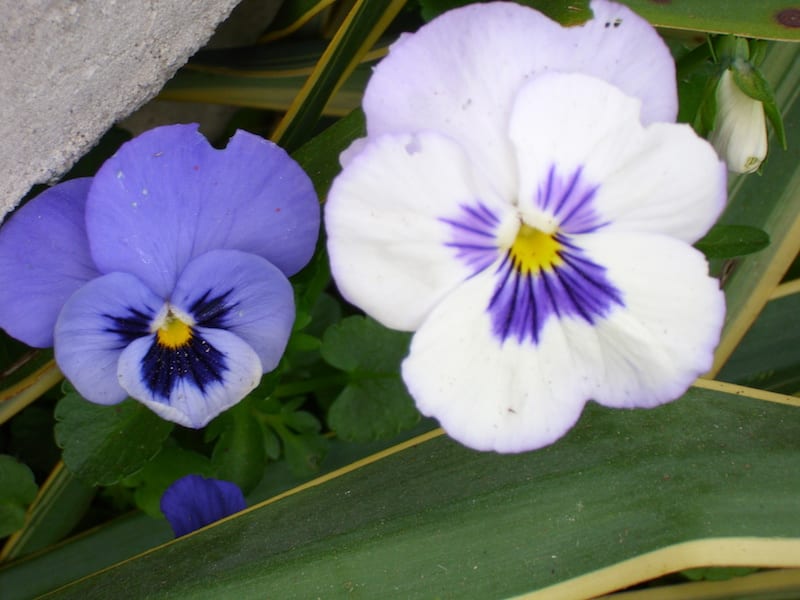 It's been over two years since I originally posted this on Facebook, and we still have "Boober pansies" popping up year-round.