I'm going to show you how to make flowers from used dryer sheets. These flowers, once transformed, look like they are made out of tulle or a very sheer fabric. I'm going to tea-stain the dryer sheets first, and then after making them into the flower shapes, I will dye them with spray ink dyes and top them off with some glimmery goodness. After I dry the flowers with a heat tool, I'll have lovely shabby-styled flowers.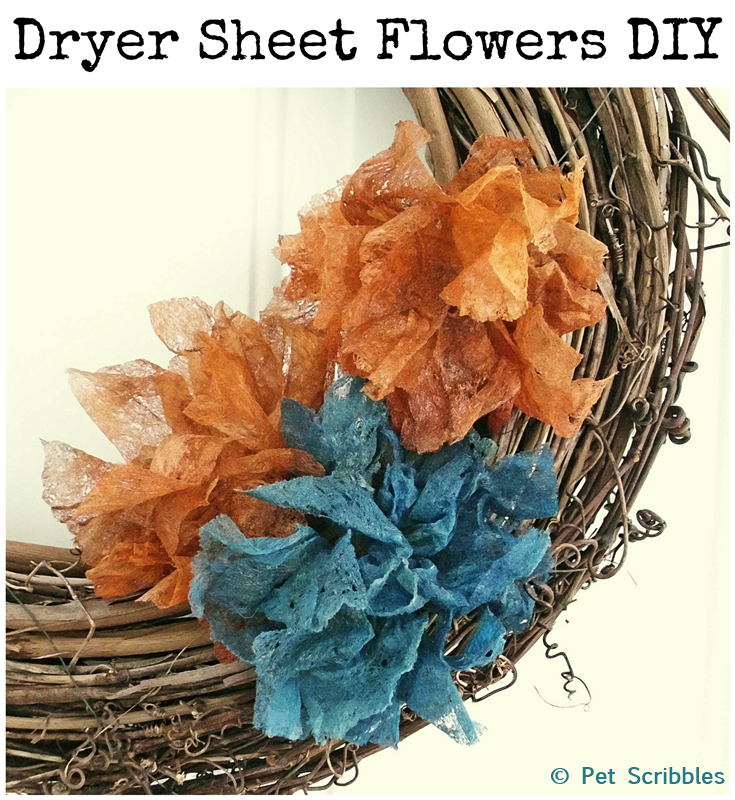 I first showed you this style of flower when I added it to my mini faux pallet art piece that I shared here last month. I made a small flower for that project, after reading several tutorials and seeing this helpful video. Since that project, I've made a few more flowers and definitely am drawn to making them in a larger size. Using full-sized dryer sheets means I can make big, bold flowers perfect to stick here and there as decorations in our home.
We've had a grapevine wreath on the inside of our front door for quite some time now. I loved the simplicity of it, but wanted to give it a touch of Autumn. These dryer sheet flowers ended up being the perfect addition!
Here's the supplies I used to make the flowers:
Dryer Sheets (used)
Wire twisty-ties (like what keeps your bread bags closed)
Scissors
Rubber Gloves
Tattered Angels Glimmer Mist in pumpkin spice (orange) and dragonfly (aqua/teal)
Perfect Pearls Mists in heirloom gold and perfect pearl
Let's get started!
Step 1. Do some laundry. Yes, now laundry becomes fun, doesn't it? You have a purpose beyond simply insuring there are clean clothes. Now you are beginning to hoard to start your collection of used dryer sheets.
Step 2. Make two cups of tea. The first cup is for tea-staining (I think I just made that a verb?) the dryer sheets. The second cup of tea is for you to enjoy. (After all that laundry, you deserve it, right?)
Step 3. Once the tea has steeped for 5 minutes (to get the color nice and rich), remove the tea bag. Place all of the used dryer sheets into the tea bath and use a spoon to make sure they are immersed into the tea. (I'm using a giant mug that doubles as a soup bowl, but you can't really tell from these pictures. And yes, I drink my tea out of a giant mug because I need all the help caffeine I can get!)
Step 4. Let the dryer sheets sit in the tea bath for about 10 minutes. Keep in mind that these sheets are delicate, so use a spoon to gently lift them out of the tea bath one at a time. Place each one on a paper towel to dry. You'll notice how textured the dryer sheets now look, with the tea staining some parts more than others. For a truly shabby look, you could use this (the tea stain) as your finished color of the flowers. So many decorating possibilities!
You should have three layers on each side of the flower, a top layer, a middle layer, and a bottom layer. This is what the flowers should look like after you pull the layers apart:
Step 9. Read this entire step first before proceeding so nothing gets messed up.
Next, you need to cut some slits into each layer of the flower using scissors. Each slit needs to only extend approximately half-way down toward the center of the flower. I alternate between making 2 slits and making 3 slits per layer, as it makes the flower fuller. Start with the bottom layer, and cut your slits "sort of" evenly spaced apart. You don't need to be exact with your spacing, just eyeball (did I just make another verb?) it.
Step 10. Take another wire twisty-tie and attach it to the flower's twisty-tie. This makes a longer stem for you to hold while you are dying the flowers.
Note: I use rubber gloves when I do this step, as the dye stains pretty effectively. (And that's what you want in a dye, so I view it as a good thing!) But no worries, if you get dye on your hands, use a baby wipe to get most of it off. The rest will come off in the shower easily. You can also wash your hands repeatedly like a woman possessed.
Step 11. Holding the flower by its twisty-tie stem, spray the dye ink all over the flower. I did this outside, but you can also use a box to spray "into" to avoid getting any overspray on your surroundings indoors. I sprayed several light coats onto each flower. There's no right or wrong way to do this, just spray until you're happy with the colors. Here's an action shot (hah!) of me spraying the orange dye:
And here's an action shot of me spraying the teal dye:
Step 12. Dry each flower with a heat tool, which also sets the dye in each flower. What is fun about the heat tool, is that it will curl the flower "petals" a bit so that right before your eyes your flower starts looking like a real flower blossom. Keep your heat tool constantly moving so that you don't singe or burn the dryer sheets. This step is trial-and-error, and after you do just one flower you will have the hang of it. If you accidentally singe or burn part of the flower, you can simply cut that off. But I like that look, I think it adds to the shabby-style, so I always keep my singed edges. In fact, I singe parts of my flowers on purpose.
Step 13. Repeat the heat tool step for each flower. I actually spend quite some time on this step, repeatedly picking up each flower and "heating" several times. Again, you will know when you're finished with this step: it is as simple as stopping when you like how it looks.
Here's the flowers dried and curled, along with what looks like my very hairy arm (egads!) with dye on it:
I embellished my flowers a bit more by spraying Perfect Pearls Mists in both "heirloom gold" and "perfect pearl" onto various sections of each flower. These mists are fantastic for giving either a soft and pretty sheen (using a few light sprays) or adding lots of shiny shimmer (using several coats close up). I just gave a few light spritzes onto each flower. And I played with the heat tool a bit more, just to make the flowers even shabbier in style.
Here's our grapevine wreath on the inside of our front door, now with the flowers attached. (I simply used the twisty-tie stems to attach each flower to the wreath.)
The aqua/teal flower is the accent color we have in our great room, and the orange flowers are a tribute to Autumn.
When my husband saw me tea-staining all of the dryer sheets, I jokingly mentioned how it makes me love doing laundry knowing I can use the dryer sheets to make flowers.
His response? "Is there any type of craft that would make you want to use the vacuum more often?"
Hah!
Happy crafting!
~Laura