Awhile back, I sent out a tweet asking if Halloween could be pretty. I already knew the answer – Halloween can be whatever you want it to be. For some it is goth and vampires, for others it's zombie time, and there's always the creepy crawlies too. Usually I like black cats and the usual colors of orange and black. But this season, I've been decorating in a combination of teal and orange for Halloween. Imagine my excitement when I received this package of Tulip Glow in the Dark Dimensional Fabric Paints from iLoveToCreate!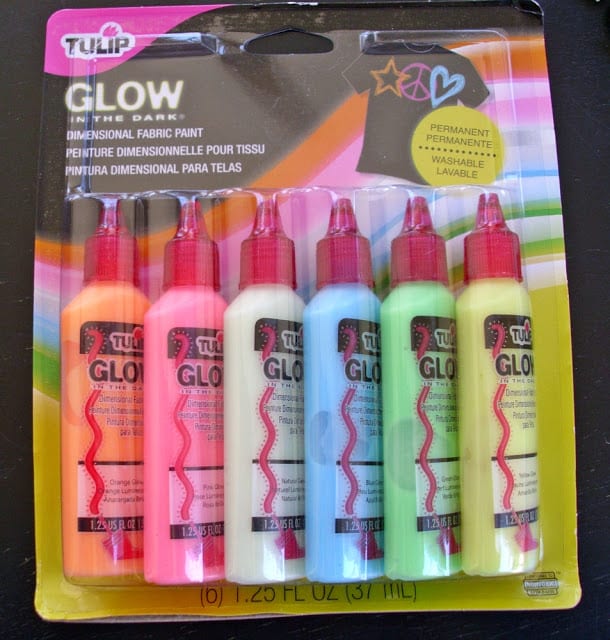 I loved how these colors looked all together in the package: so fun, so bright!
The challenge was to come up with something fun – and not necessarily fabric-related – for the Fall season, including any holidays. I thought these paints were perfect for a Halloween craft and knew just what I wanted to do: refashion those basic blah-looking glow-in-the-dark decorations sold everywhere. Sure, these type of decorations look great when glowing in the dark, but in the daytime? Not so much. They just hang there, with their almost non-descript color. Why not make them prettier? More glowy, if that's a word. (And if it isn't, I just made it up!)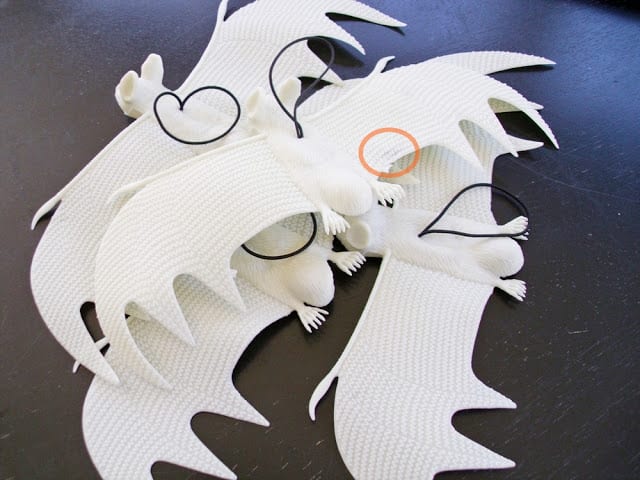 Basic glow-in-the-dark bats from the dollar store. A little blah, a few dirt spots, nothing special.
I picked up some glow-in-the-dark bats from the dollar store. They were only $1 each (naturally, right?) but definitely were blah-looking, and even had some dirt marks on them. Basically these bats were not well loved. I was about to change all of that, just by using a paint brush and the Tulip Glow in the Dark Paints.
Yes, that's it for the supplies: a basic paint brush, the Tulip paints, and some newspaper underneath (if you're like me and tend to get messy). This would make a great project to do with kids, because it is so simple and the results are really fun to see.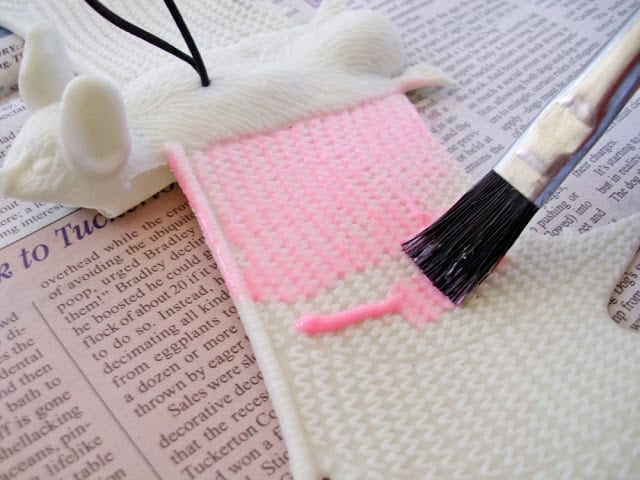 Applying the first coat of Tulip Glow-in-the-Dark Paint to one of the bats.
First, I chose my colors for the bats. I decided my bats would be pink, blue, green, and orange. I applied one coat of paint to each bat and let them dry for about four hours. Then I applied a second coat and let that dry overnight.
I applied the paint by squirting out a line of color, then spreading the color with my brush, as you see in the photo above. Nothing fancy, super easy.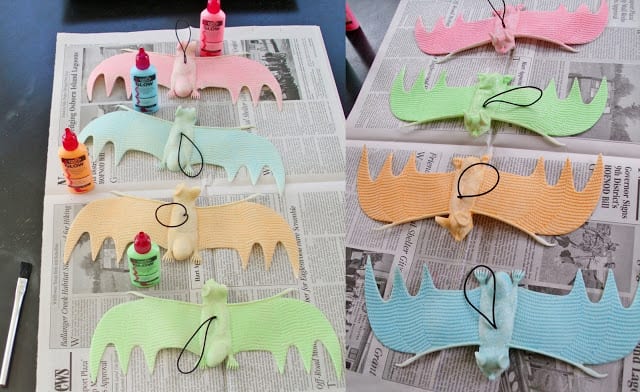 Left photo: One coat of glow-in-the-dark-paint applied. Right photo: Two coats of paint applied.
The next morning, it was time to decorate the bats! Because the bats already had some interesting lines and grooves marked into their wings, I thought I'd use those as my guide and drew out lines in a contrasting color of paint. I love how the Tulip paint colors all go together so well. This made it easy to come up with the color combinations for each bat.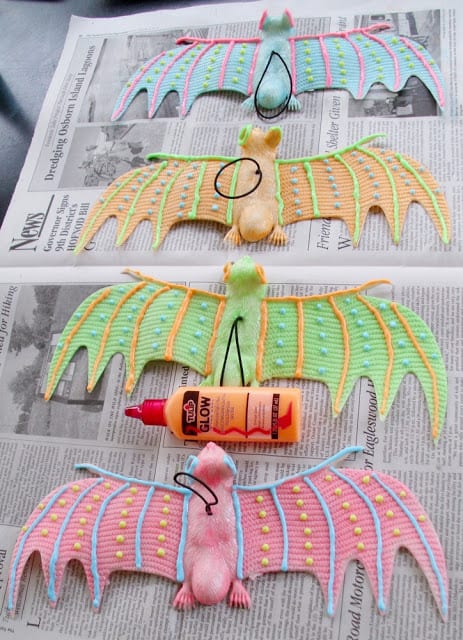 Polka dots and stripes make these Halloween bats fun…and pretty too!
After I drew my lines, I outlined the ears of the bats. Next I did polka dots in between the lines, again in a contrasting color. Doing polka dots with Tulip paints is easy, just gently squeeze the bottle and a little dot comes out of the tip. Lightly apply that dot to whatever surface you're applying it to, and that's it. You get polka dots that are all the same size! Oh – I also put a dot onto each bat's nose. Can't forget the nose!
Note: I originally planned on adding detail to the bat's eyes in a contrasting color. The eyes were so small, however, that I decided to emphasize each bat's ears and nose instead. In the dark, the effect is really cool. But of course the fun part of this project is that you can do what you want, right? (Kids love that aspect of crafting too!)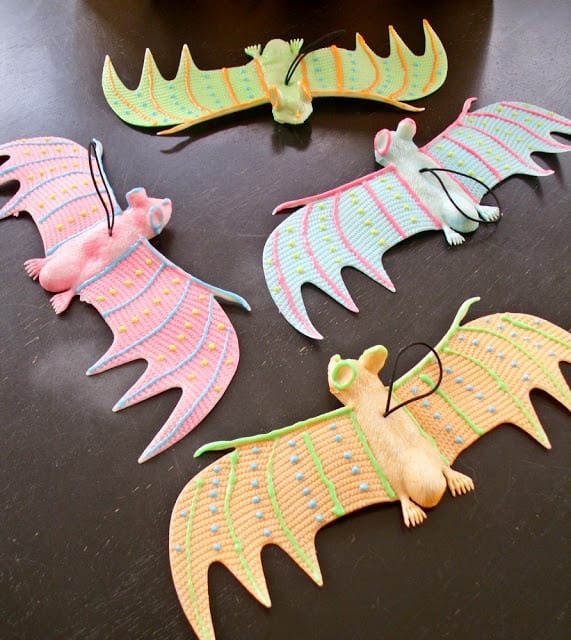 The bat faces glow with ears and noses in different colors!
The bats sat around and chatted a bit while they dried. I didn't hear their conversation but I'm sure they were complimenting each other on their new looks. Or they may have shared some bat jokes. While waiting for the bats to dry, I set to work creating the easiest mobile hanger in the world.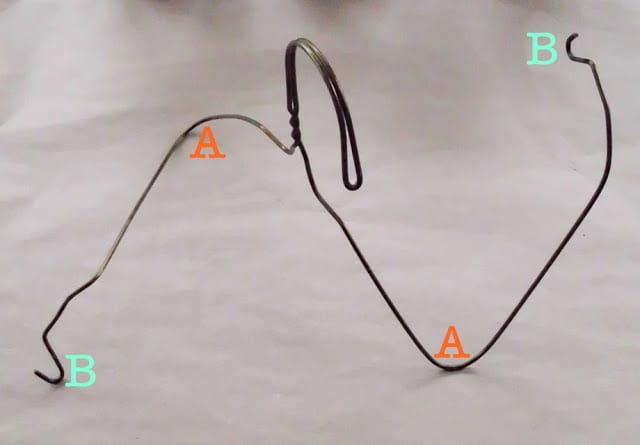 A: Bend each "arm" of the hanger in half, into a wide V shape.
B: Twist and bend the end "hooks" so they both face upward.
Using a standard pants hanger that you most likely receive from the dry cleaners (when you pick up pants or sweaters), I quickly made a mobile hanger. Remove the cardboard tube that stretches across the hanger. (The cardboard tube is what your pants or sweater is usually folded over.) Once removed, you'll see that you have two arms of wire extending down from the hanger's center, ending in two small hooks that held the cardboard tube in place. Make two bends in the wire as shown and described in the photo above. Two bats will hang from the A bends in the wire, and two bats will hang from the B hooks in the wire. Before you hang the bats in place, just make each section of wire a different level from the others, so the bats all can "fly" at different altitudes.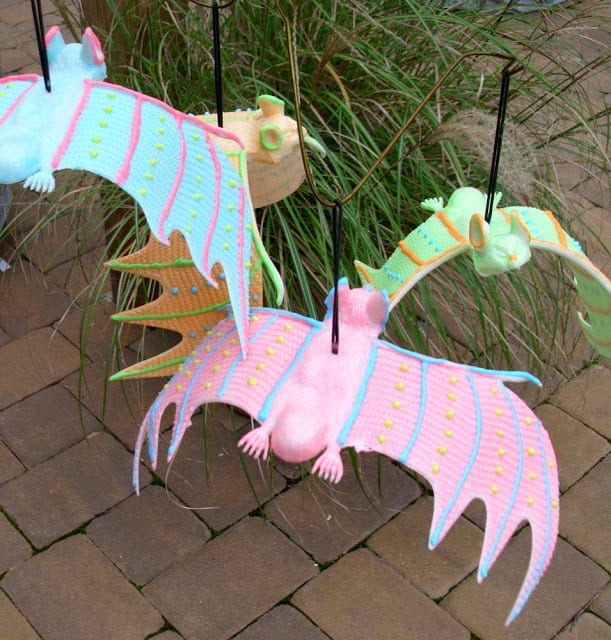 These glow-in-the-dark bats are fun to look at in the daytime as well as at night!
And that's all there is to it! You (or your kids) can make some fun and colorful Halloween bats that aren't scary at all. These bats look great in the daytime, and glow their little hearts out at night. And if it wasn't raining last night, I would have snapped some pictures outside.
Note: Keep in mind that these bats – once decorated – probably won't stand up to any rain that might fall. I plan on putting these outside as long as the forecast is rain-free. I'll bring them back inside during any rain showers.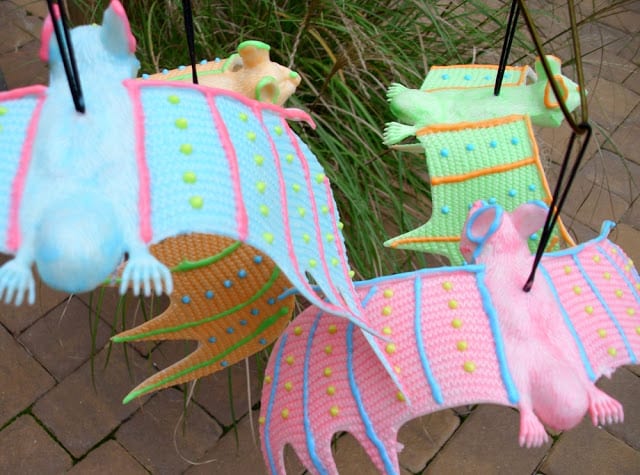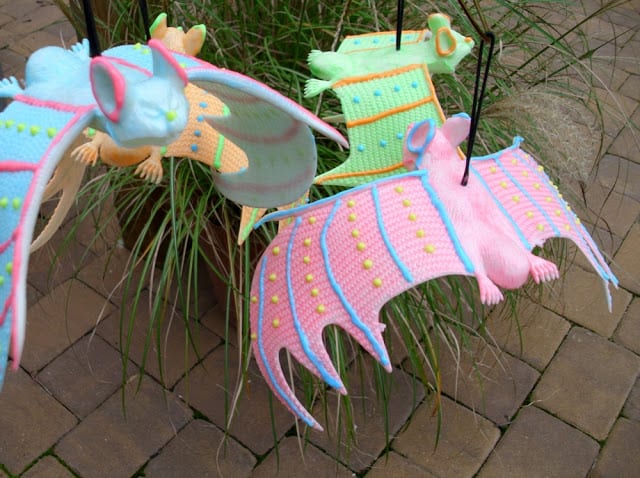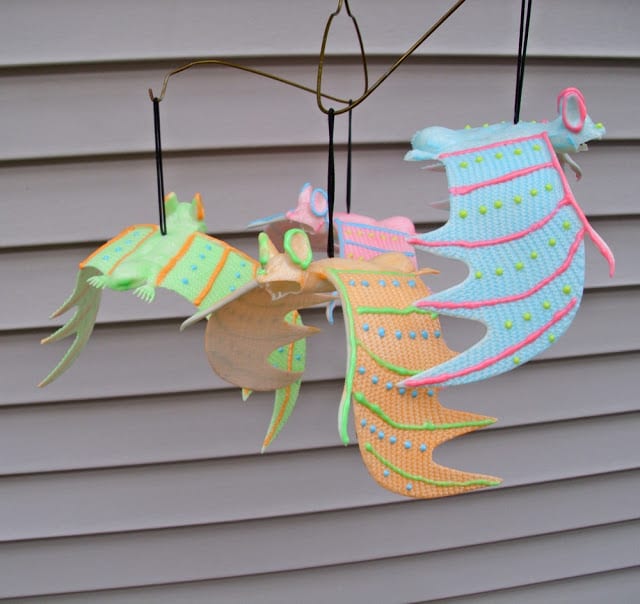 If you want more information on these Tulip paints, you can go to iLoveToCreate's website or visit their Facebook page. You can also follow them on Twitter, and on Pinterest too.
For additional craft project ideas and inspiration, please visit the gallery links below to see what some of my crafty friends have come up with for Halloween, Thanksgiving, and for Fall in general.
Can you believe there's only two more weeks until Halloween? Now that is scary!
~Laura
Disclosure: I wrote this post as part of a paid campaign with I Love To Create and Blueprint Social. The opinions in this post are my own.