Today I'm showing you my lovely rustic bathroom decor that you can easily make too! If you can use glue, you can make this wall art. I made these in 15 minutes!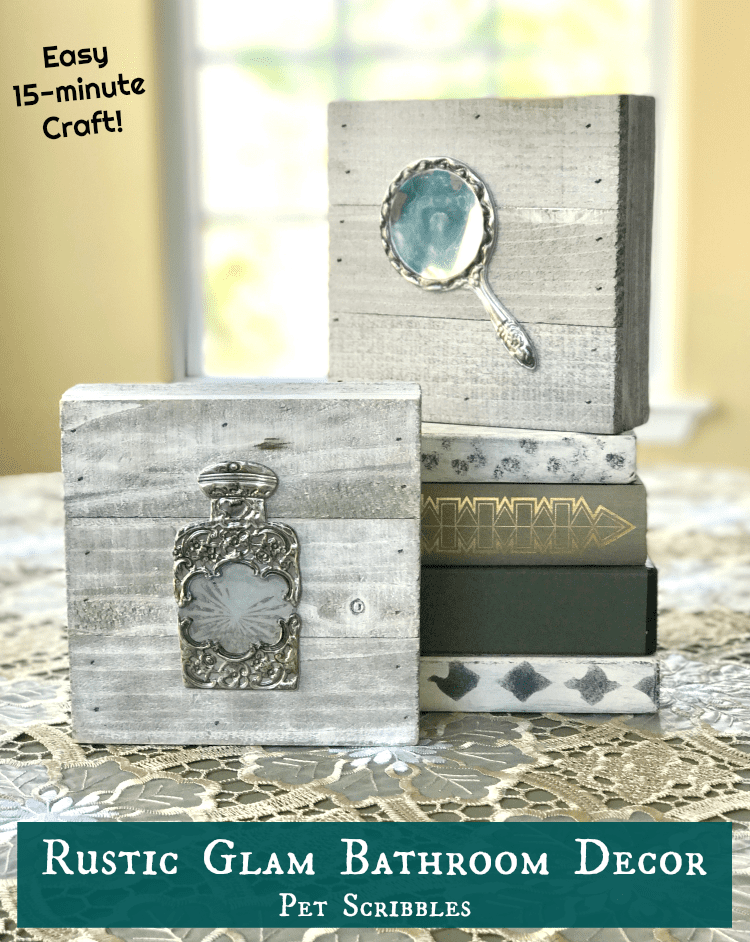 All this week, I'll be sharing quick wood crafts that you can make in about 15 minutes or less, excluding any drying time necessary.
It's all part of Craft Lightning Wood Crafts week, and I'm proud to be co-hosting this event with Angie of The Country Chic Cottage, and Carolina of 30 Minute Crafts. These two gals are the brains and talent behind the Craft Lightning series which has been going on for years. Make sure you click over and see their fun DIYs!
Lovely Rustic Bathroom Decor You Can Easily Make!
This rustic bathroom decor came together so easily!
Start with hanging wood canvas blocks…
It all starts with a basic unfinished wood pallet block that you can find at most craft stores or online. I found mine at Walmart for under $6.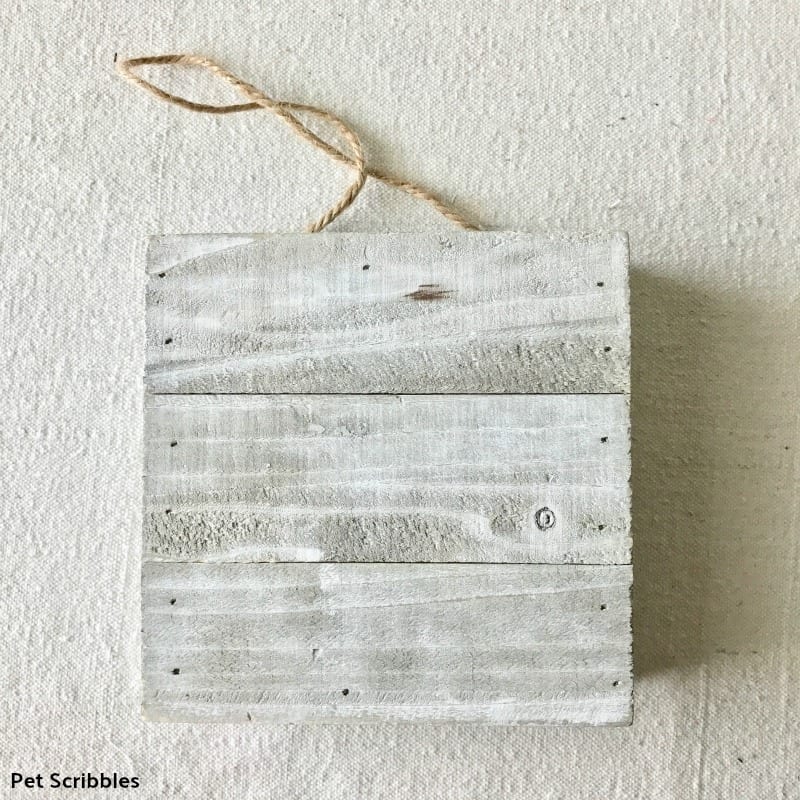 They have chunky wood sides with twine attached on the back for hanging.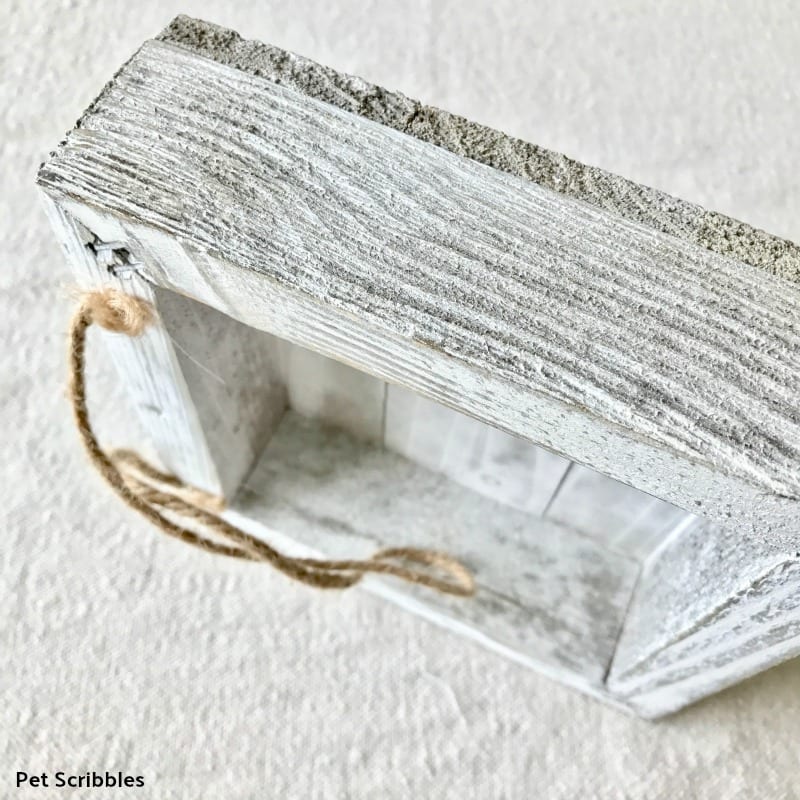 You can find these wood blocks in various sizes and colors of wood. The ones I purchased have a pale gray look to them which I love!
Choose vintage-looking artwork stickers…
For the actual artwork, I turned to 7Gypsies and their adorable Architextures line of dimensional stickers.
(I wrote more about this line in my Mini Pallet Sign that Inspires post, where I used a pair of angel wing dimensional stickers, so make sure to click over to see!)
These stickers look so real, with details that really stand out! The perfume bottle and the antique mirror both have that vintage glam look perfect for a rustic bathroom.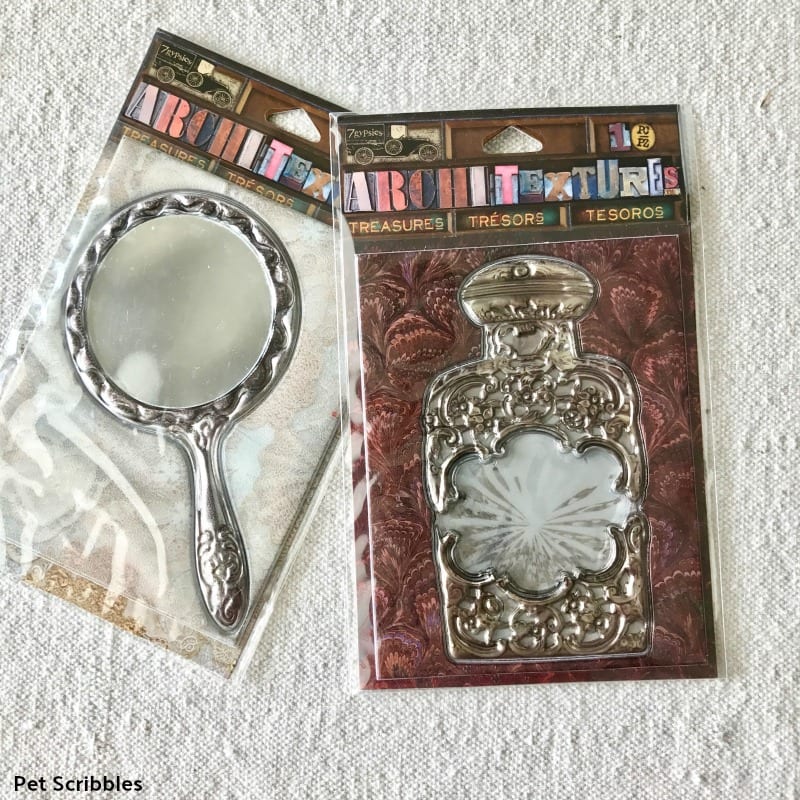 What's cool about these dimensional stickers, is that even the object's background is a dimensional sticker. So yes, the pieces below can be used in other artwork.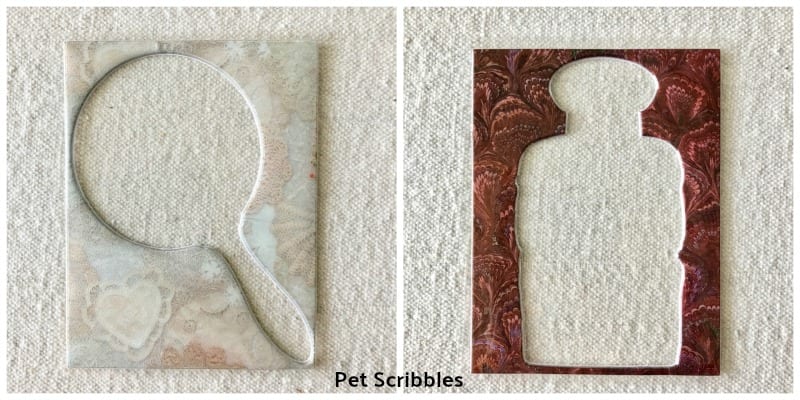 The packaging is also purposely designed to be used in your craft projects. The cardboard backing has pretty designs, and the back has various motifs you can cut out. I'm saving all of it for future projects.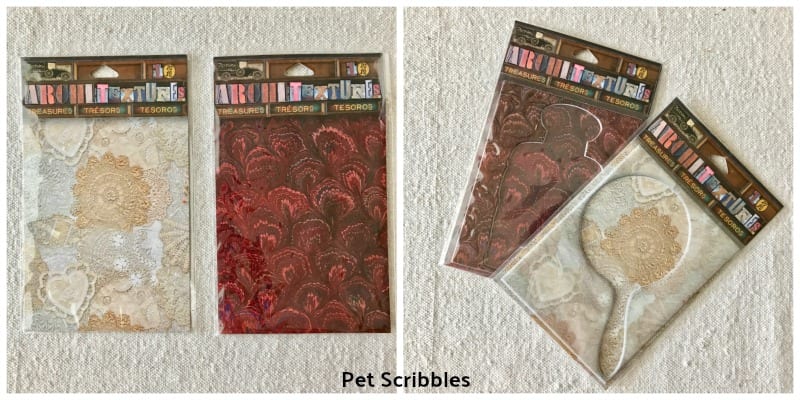 Glue them together…
As I mentioned in my introduction, if you can glue — you can easily make this project!
Even though the perfume bottle and mirror are stickers, when attaching to a surface such as rough wood, it is recommended to use extra adhesive.
I applied Aleene's Turbo Tacky Glue to the back of each dimensional sticker . . .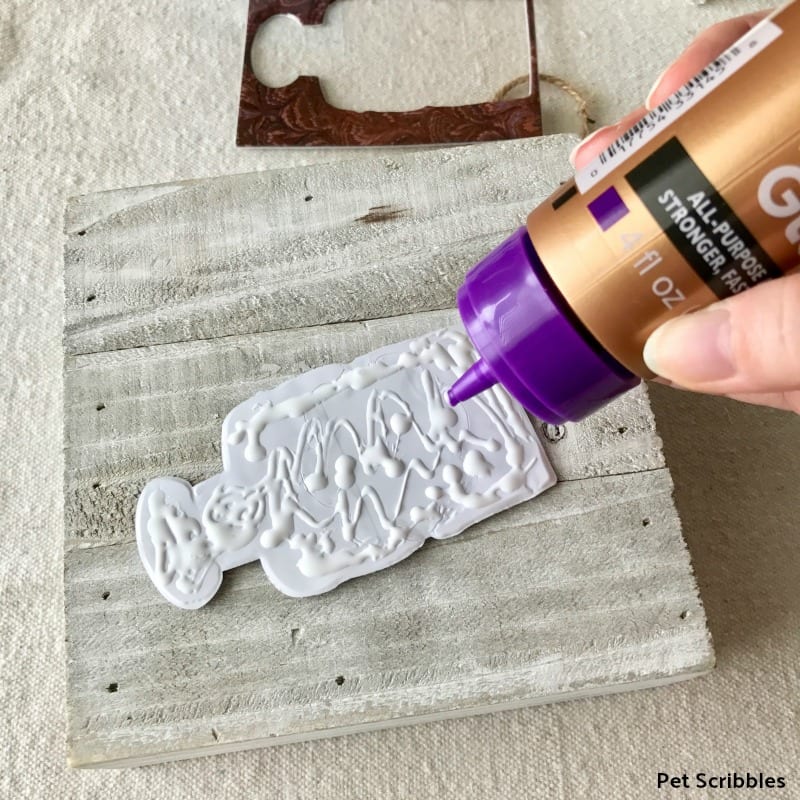 . . . then positioned them in place. I used wax paper when pressing down on the sticker to make sure I wasn't getting fingerprints or any excess glue that might seep out of the edges onto my fingers.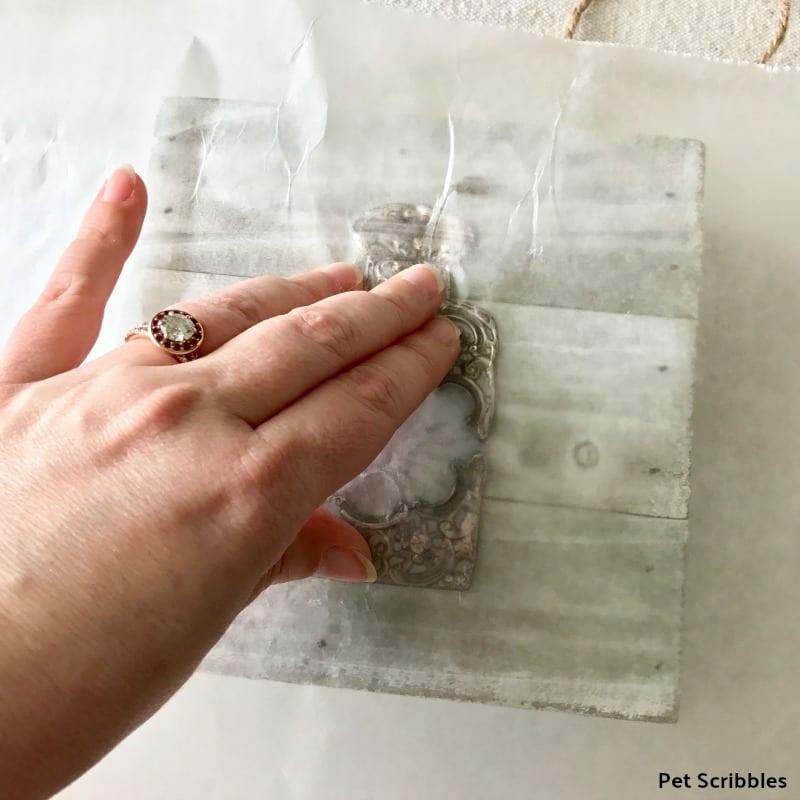 I let them dry overnight by placing a heavy book on top of each one, with a sheet of wax paper in between.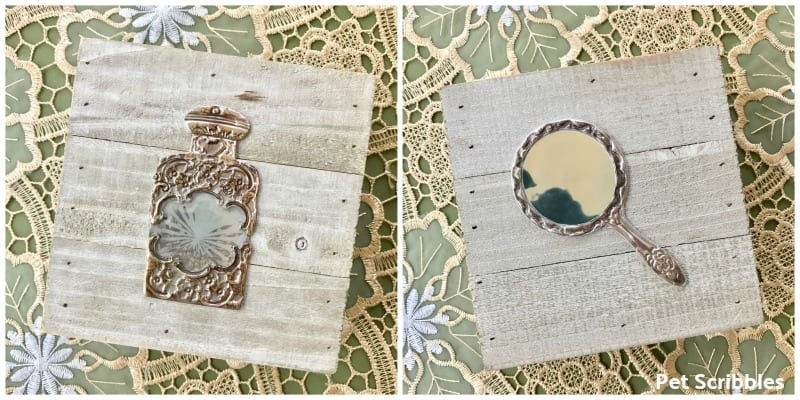 Easy peasy and created in 15 minutes!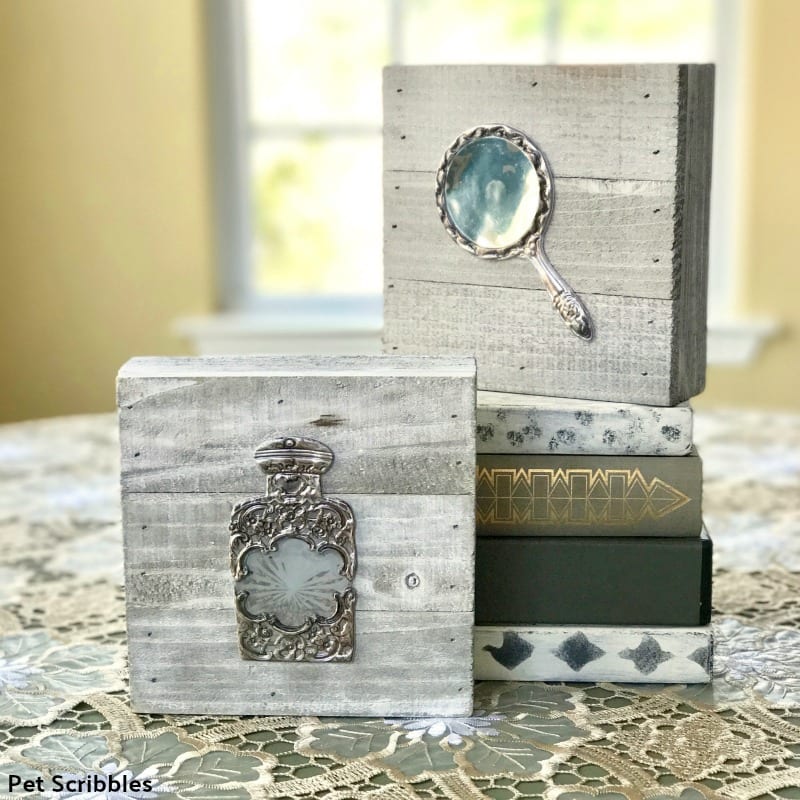 Here's some close-up shots of each one: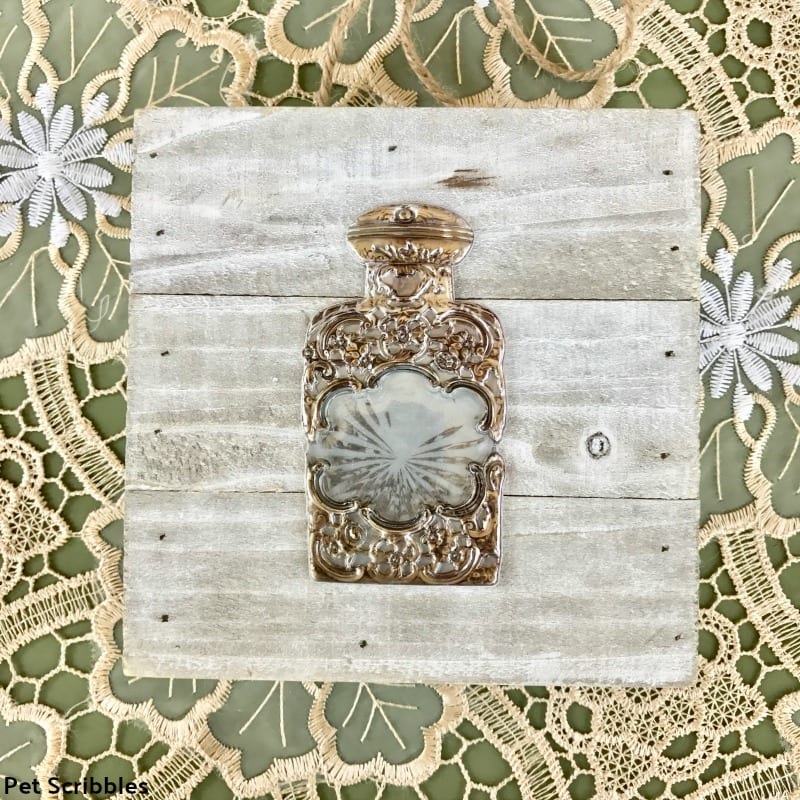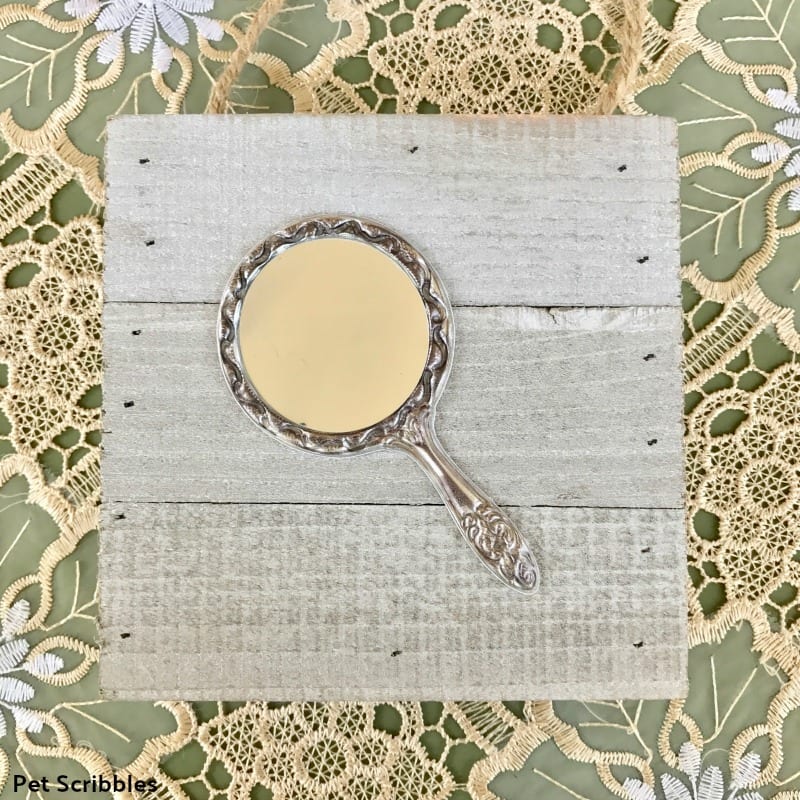 These are going to look so pretty in our guest bathroom!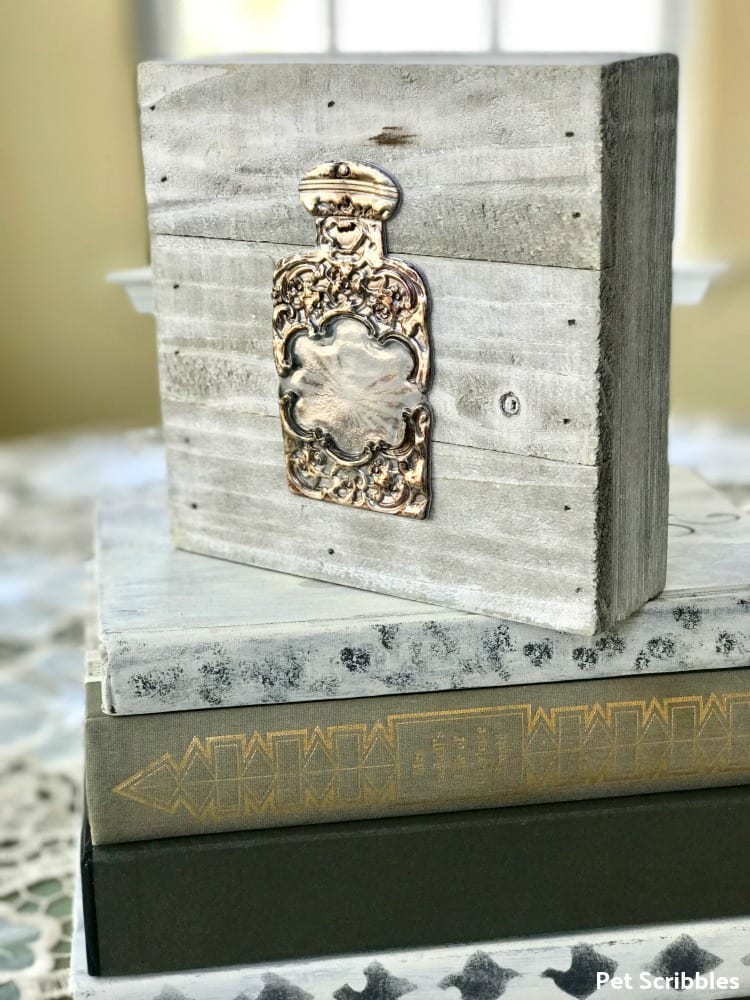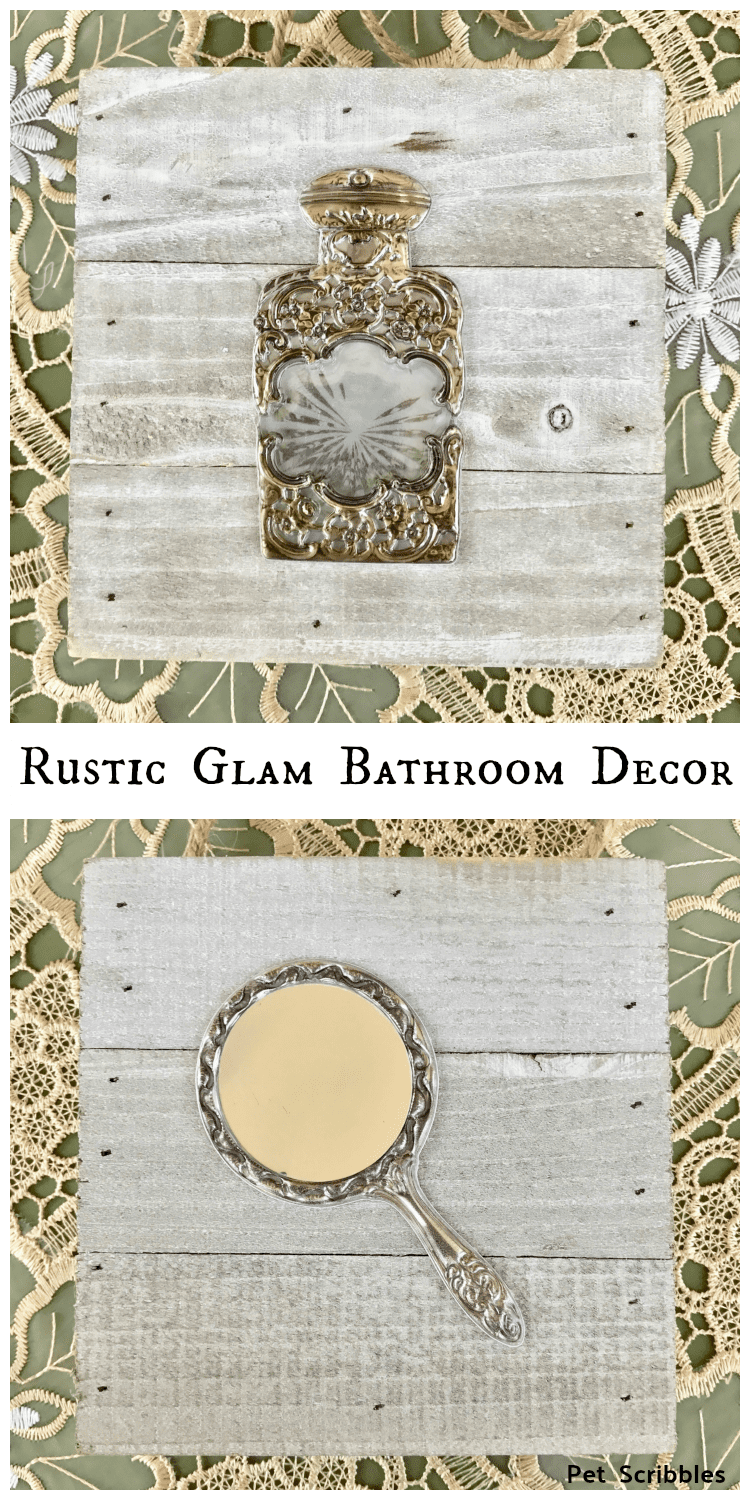 Wood blocks plus stickers glued onto each one equals rustic glam bathroom wall decor!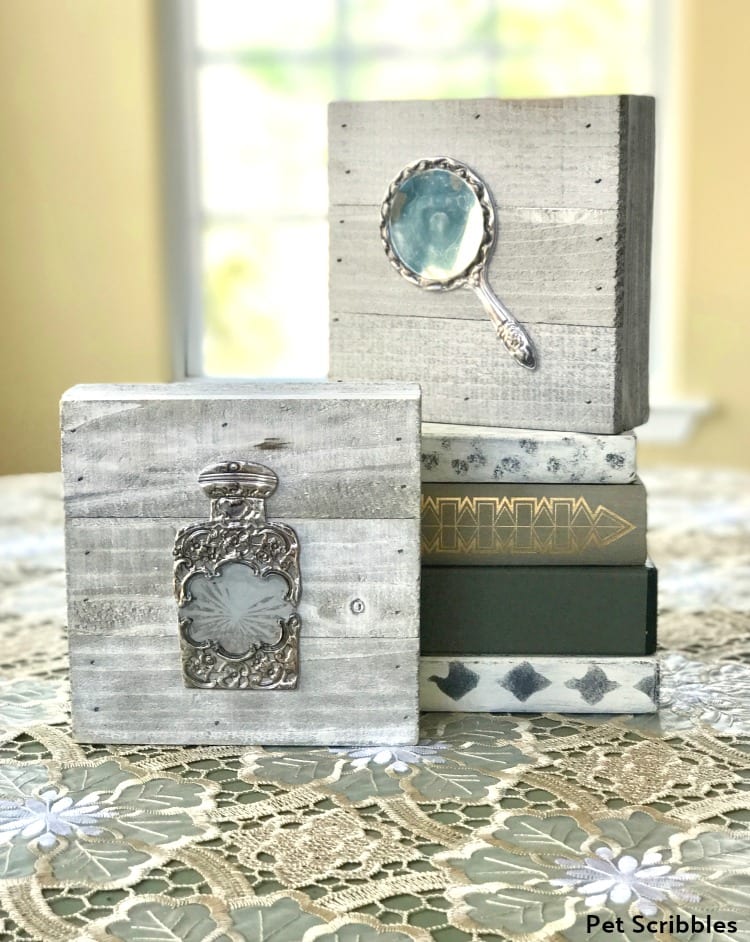 More 15-minute Wood Crafts!
As I mentioned earlier, me and a whole bunch of my blogger friends are participating in Craft Lightning Wood Crafts week!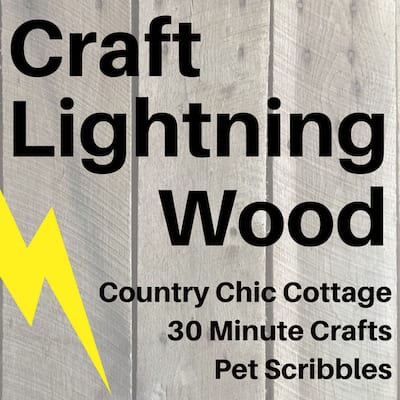 Each day this week, I'll be sharing their projects here too, so make sure to click over to see the tutorials and pin your favorites!
Wooden Pallet Flag for Summer Decor by Angie of The Country Chic Cottage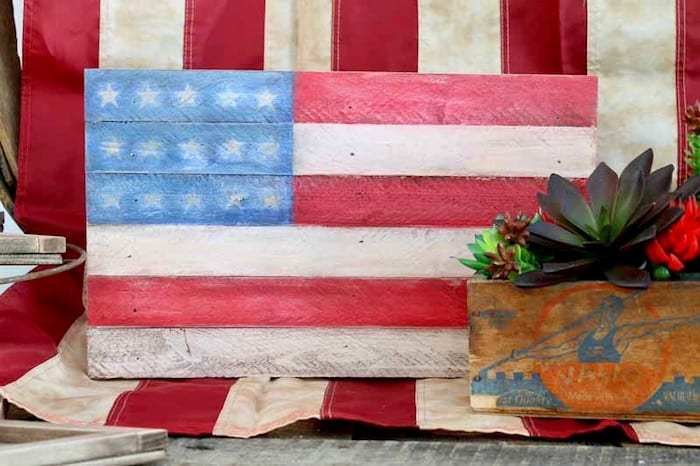 Porch Chalkboard Sign Tutorial by Jen Gallacher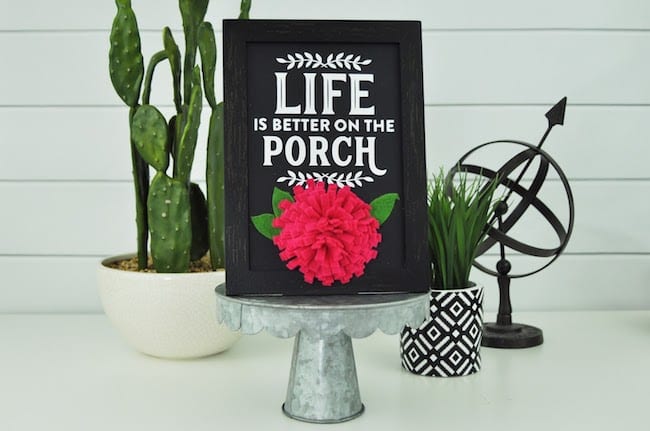 Hello Summer Banner Sign by Beth of The Ruffled Daisy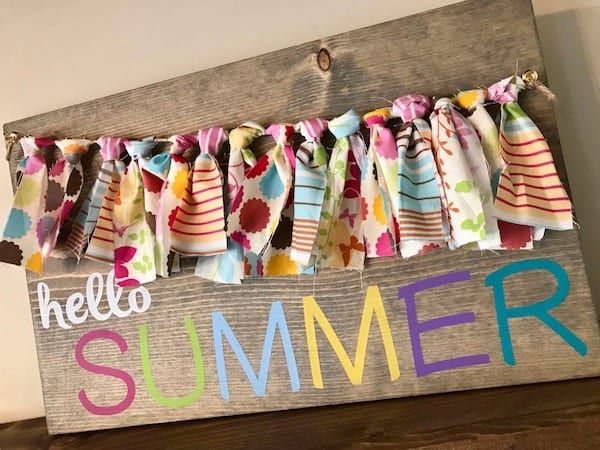 DIY Tic Tac Toe Outdoor Game — Super Easy and Cheap to Make by Amy of Leap of Faith Crafting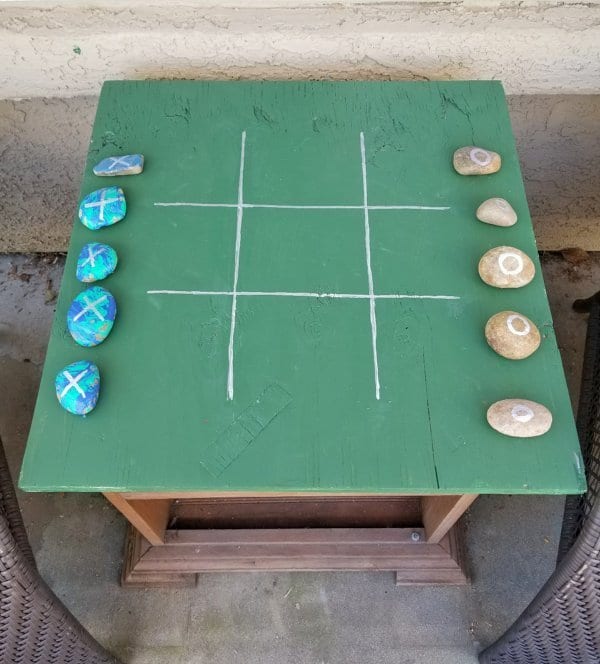 Antique Baluster Candlesticks Tutorial by Sadie of Clover Lane Blog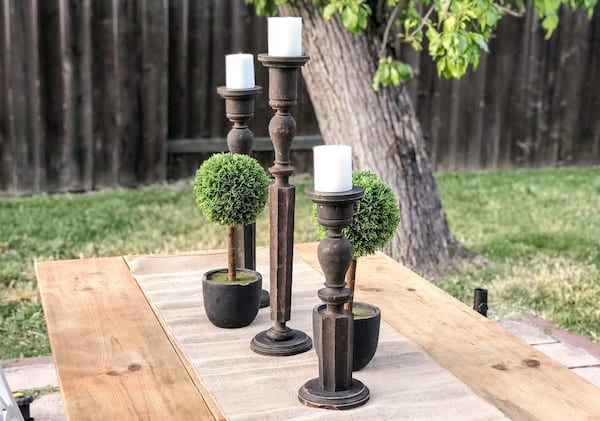 DIY Wooden Pig Cutting Board by Jeanie of Create and Babble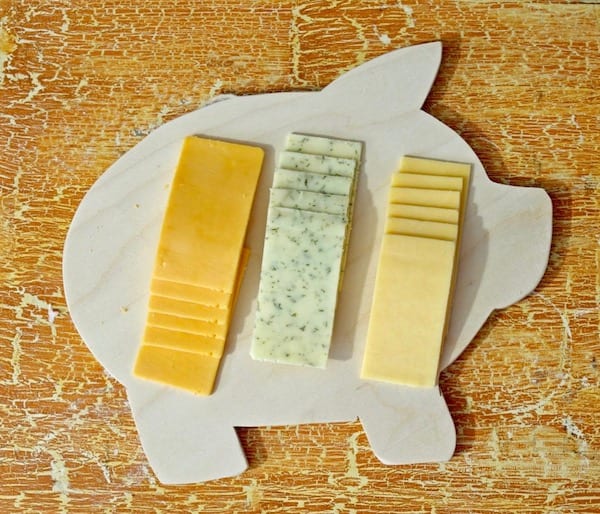 Cutting Wood Scrapbook Paper with a Digital Cutting Machine by Sharon of Color Filled Cottage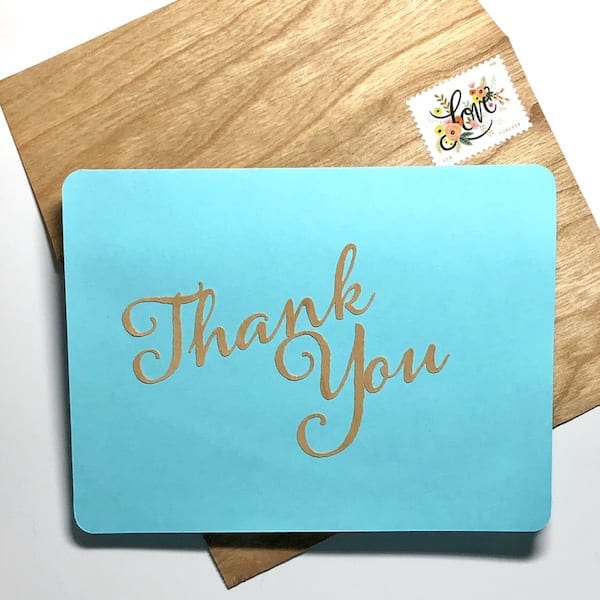 Paint a Marbled Tray in Just 15 Minutes by Jessica of Designers Sweet Spot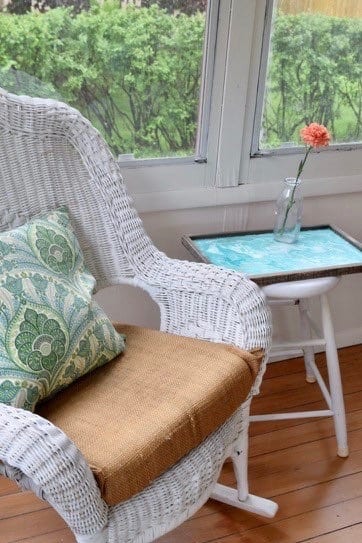 Stop back here tomorrow for Day 2 of Craft Lightning Wood Crafts Week!
Happy crafting!