I found a ready-made unfinished wood perpetual calendar, just waiting to be painted, stained or decorated. This is a useful gift for Father's Day! I stained ours with pickling wash and it was quick and easy to do.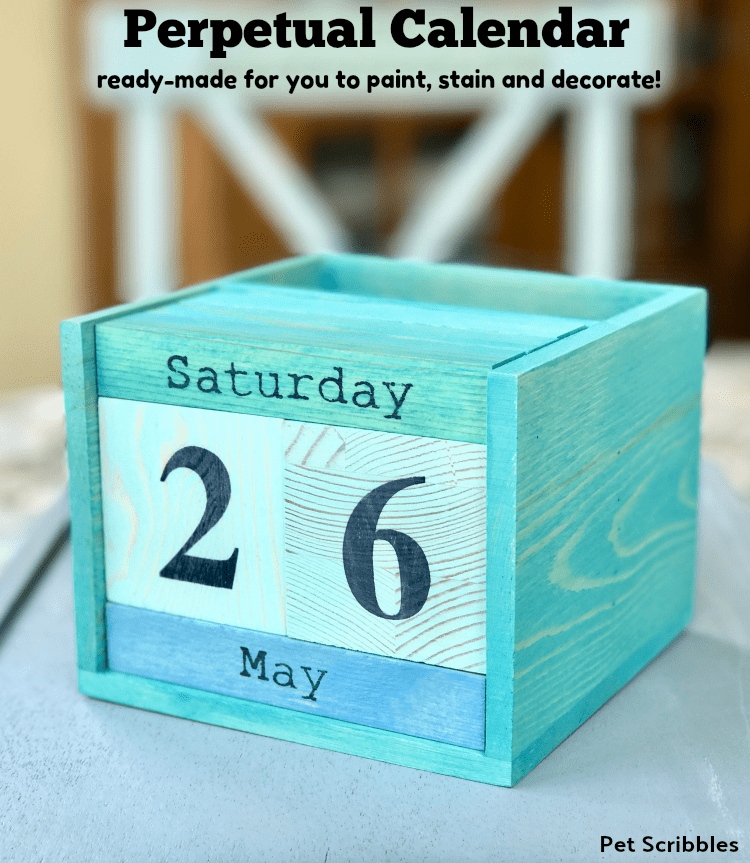 All this week, I'm sharing quick wood crafts that you can make in about 15 minutes, excluding any drying time.
It is Craft Lightning Wood Crafts week, and I'm proud to be co-hosting this event with Angie of The Country Chic Cottage, and Carolina of 30 Minute Crafts. These two gals are the brains and talent behind the Craft Lightning series, and I hope you click on their websites to take a look at their creativity!
FTC Disclaimer: I've received products to try out in my role as a Plaid Crafts Ambassador. This perpetual calendar, however, is 100% my own project! Some of the links in this post are affiliate links. I explain more here.
Perpetual Calendar that is already made!
I've always wanted to make a wooden perpetual calendar, but whenever I found the kits at the craft store, the wood pieces were all blank.
That little fact always stopped me, but then I found this unfinished wood perpetual calendar kit here on Amazon and the words and numbers were already printed on the pieces of wood!
Hooray!
Here's how the kit arrived. It was shrink-wrapped and in a secure box, in addition to the usual Amazon packaging.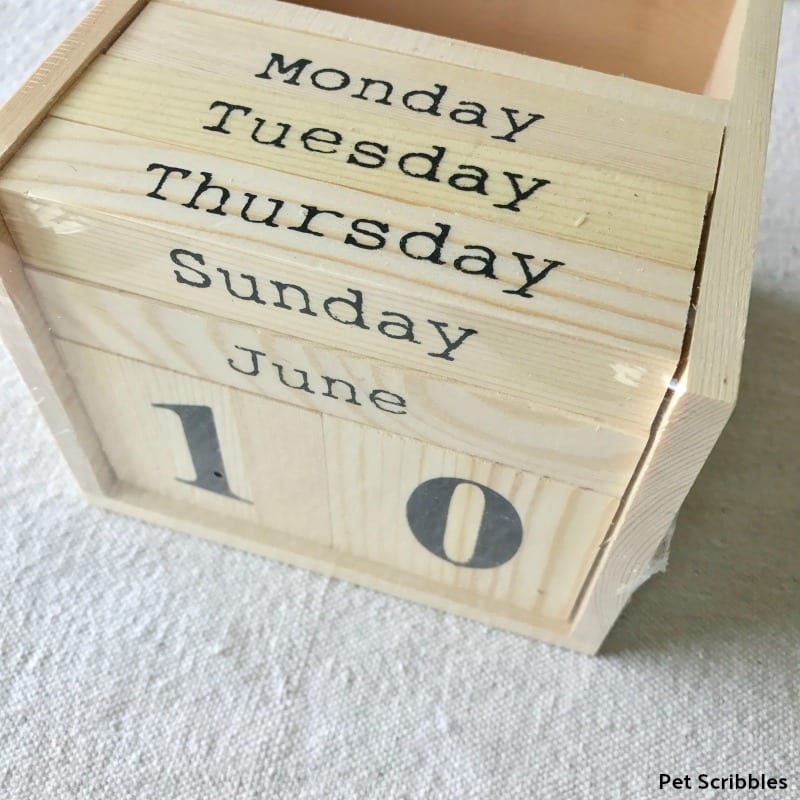 The pieces are all unfinished wood: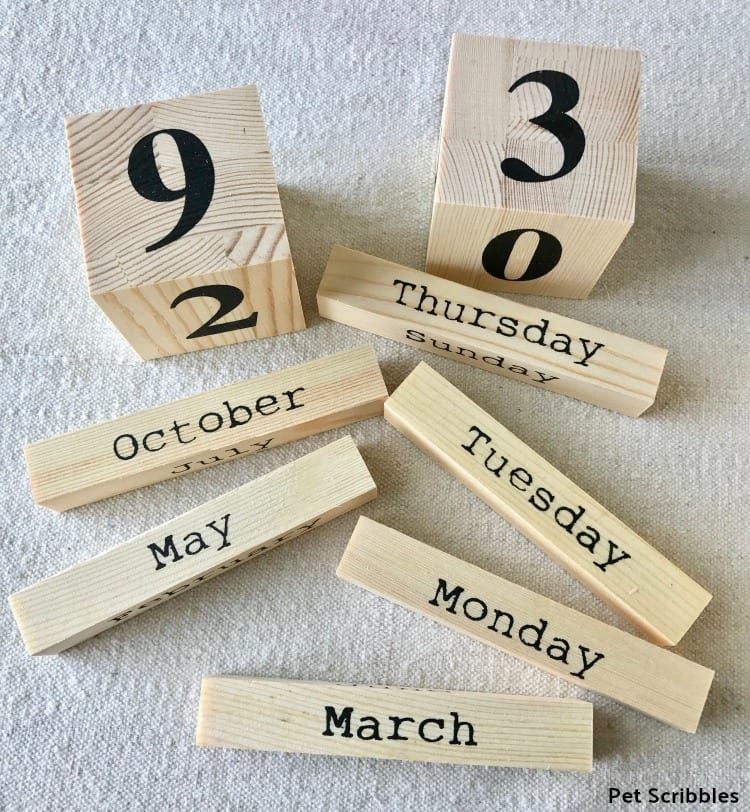 Most of the pieces have multiple words on them, so you simply turn them to whichever day or month you choose. (The number blocks are the same way — numbers on each of the sides.)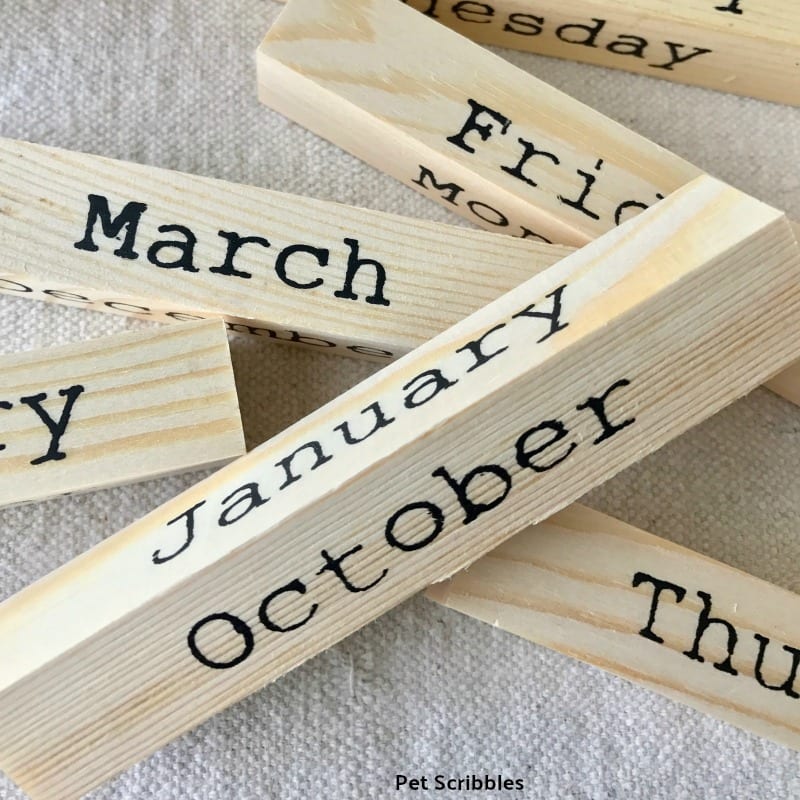 Easy way to color wood!
I chose to stain this calendar using FolkArt's Pickling Wash, which is one of my favorite products on the planet!
I also challenged myself to see just how fast I could do this project, so I didn't pause to take step-by-step pictures for you.
(However, you can see and learn exactly how to use pickling wash in my Ruler Crafts tutorial.)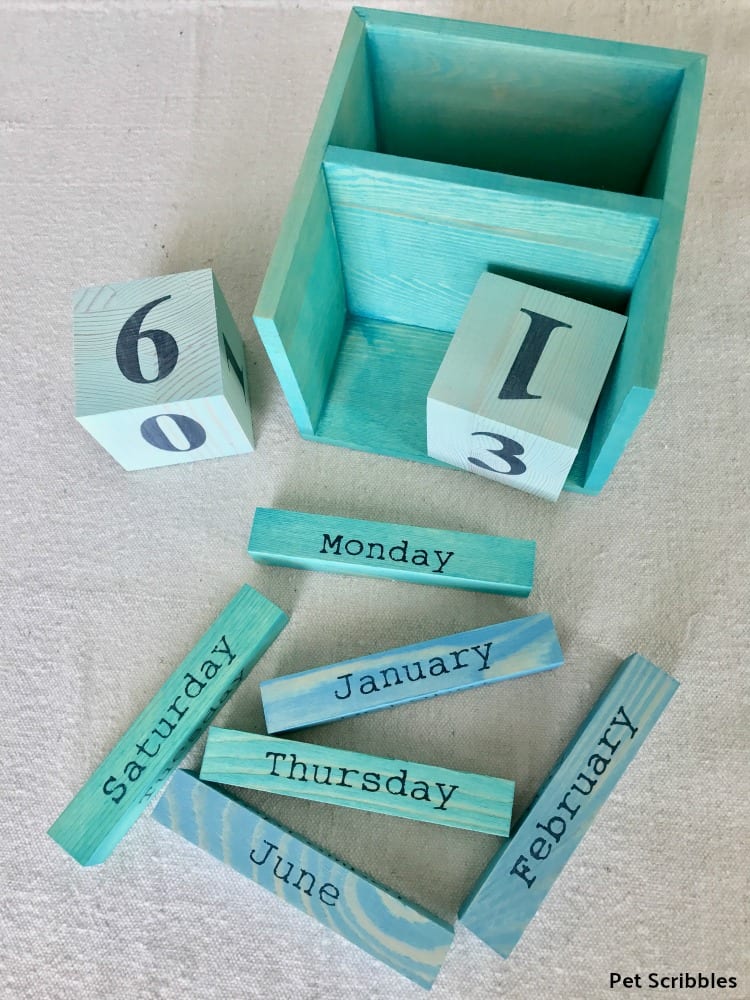 Because I chose three different pickling wash colors to paint onto the wood, this project took me 20 minutes to complete.
Just being honest! If I would have used one color, I'm sure it would have been quicker.
The cube holder and the days of the week were painted with Hidden Oasis pickling wash: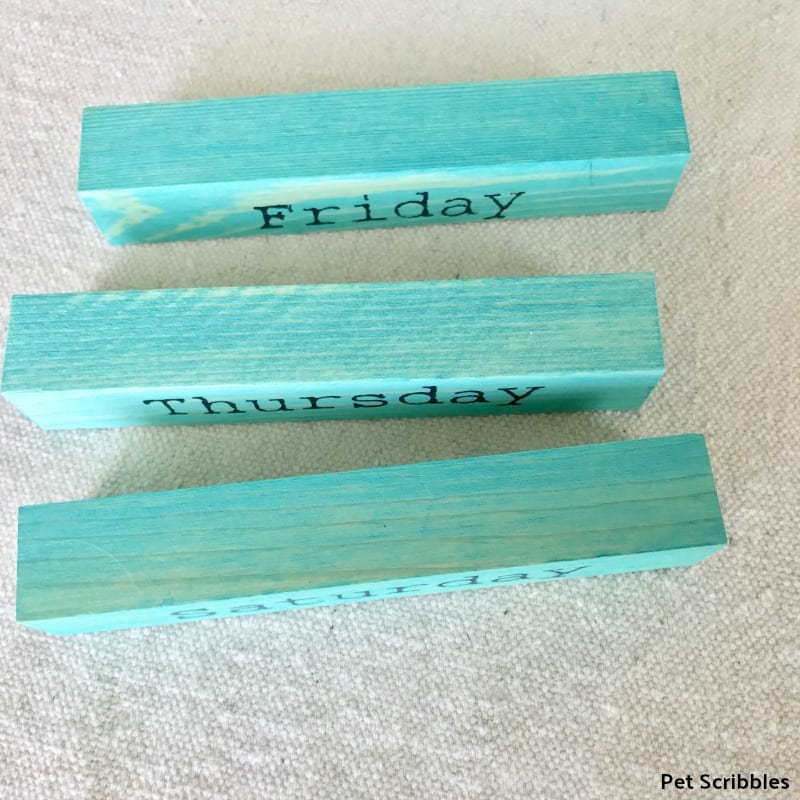 I painted the months of the year with Papillon pickling wash: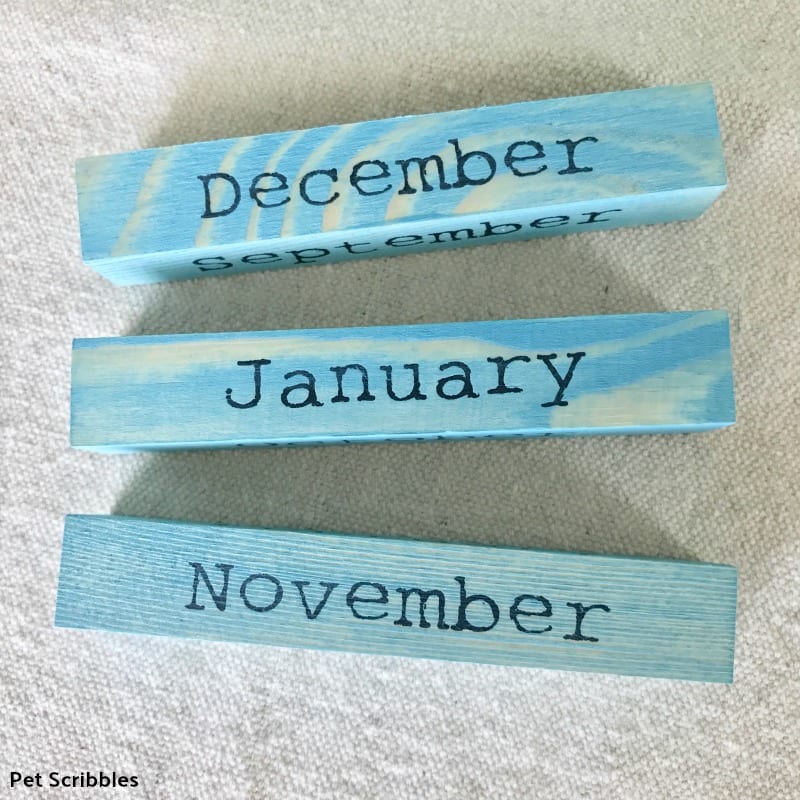 And the number blocks are painted with Sea Glass pickling wash: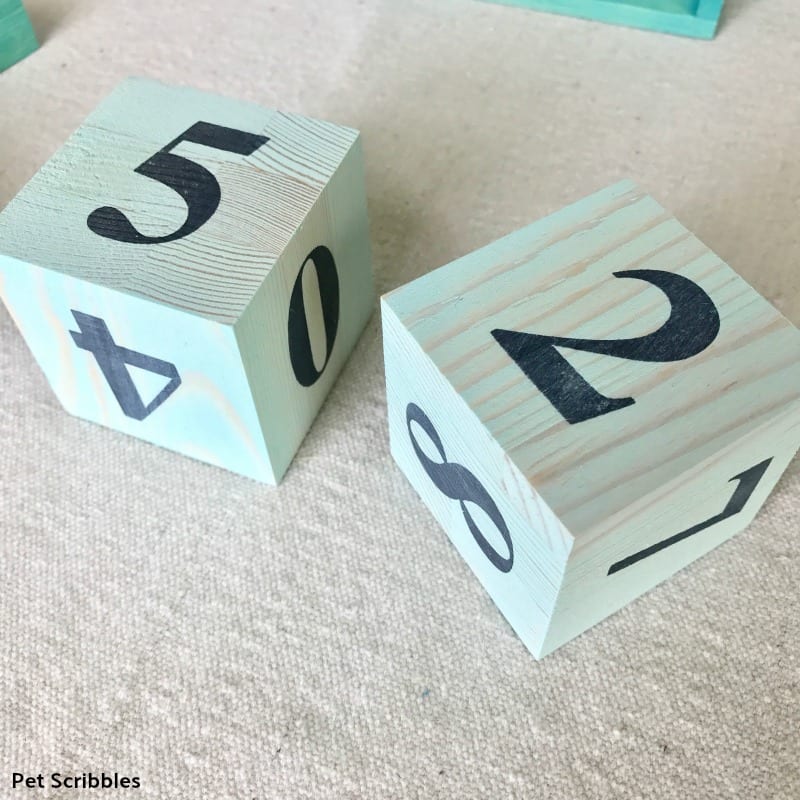 Pickling wash absorbs into the unfinished wood quickly. I let everything dry overnight.
Our perpetual calendar in shades of teal and blue!
First I set up the blocks with the date on the bottom and the month in the middle.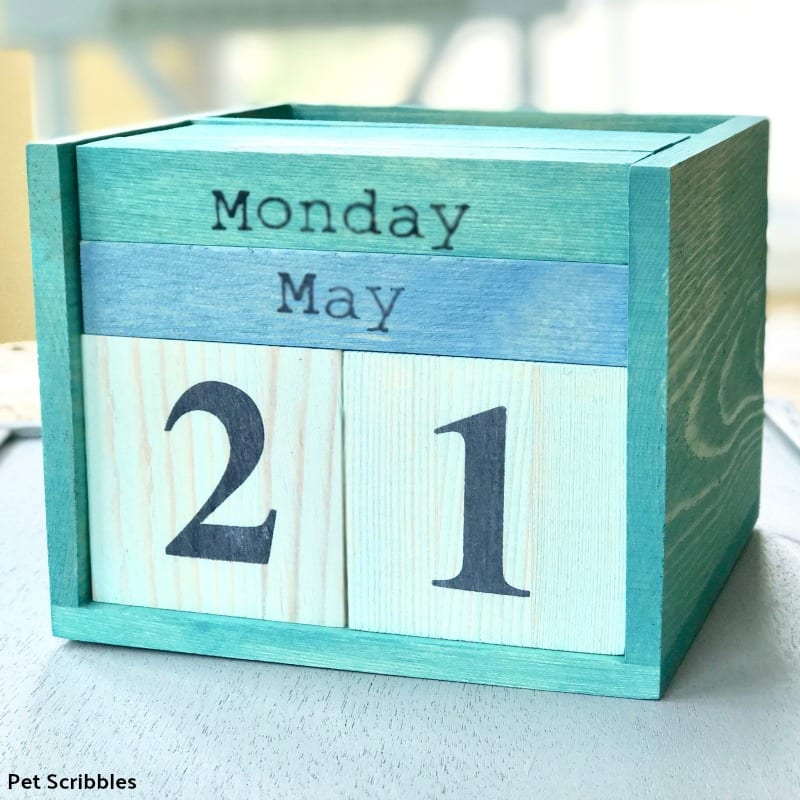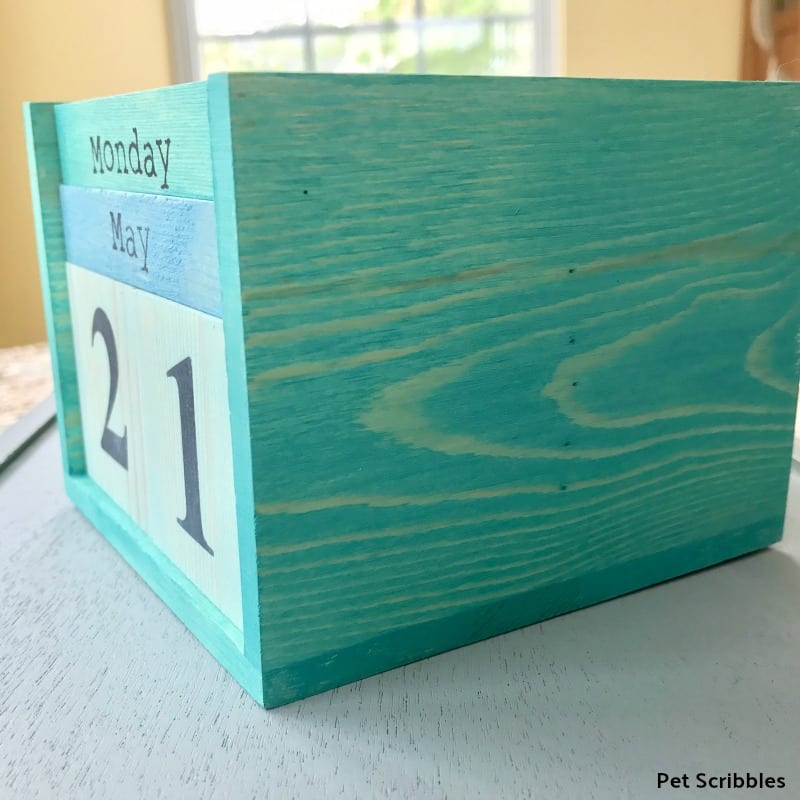 But I like the look of the month on the bottom instead.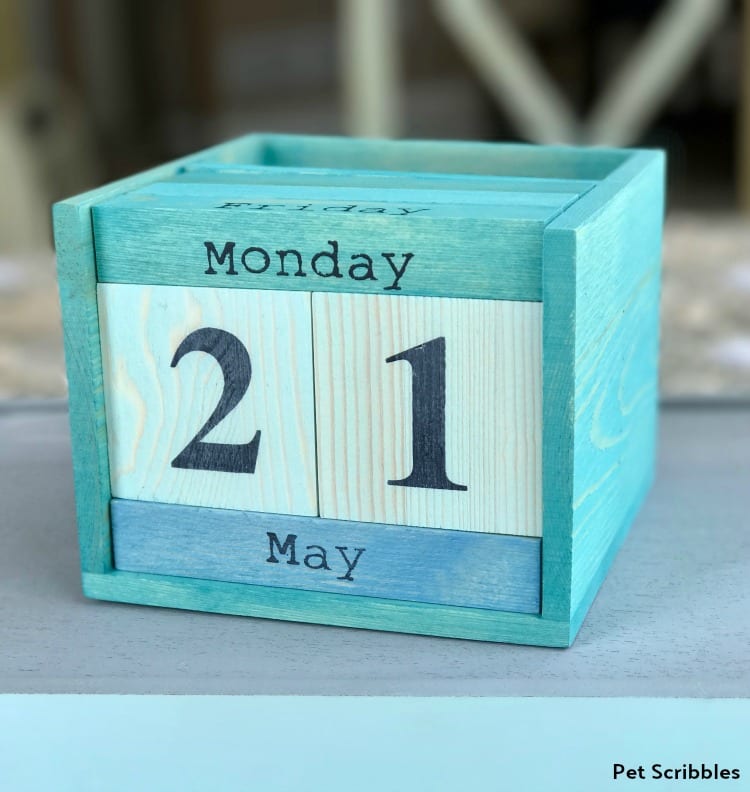 The top of the calendar has space to put your pens, scissors — whatever you need to keep handy.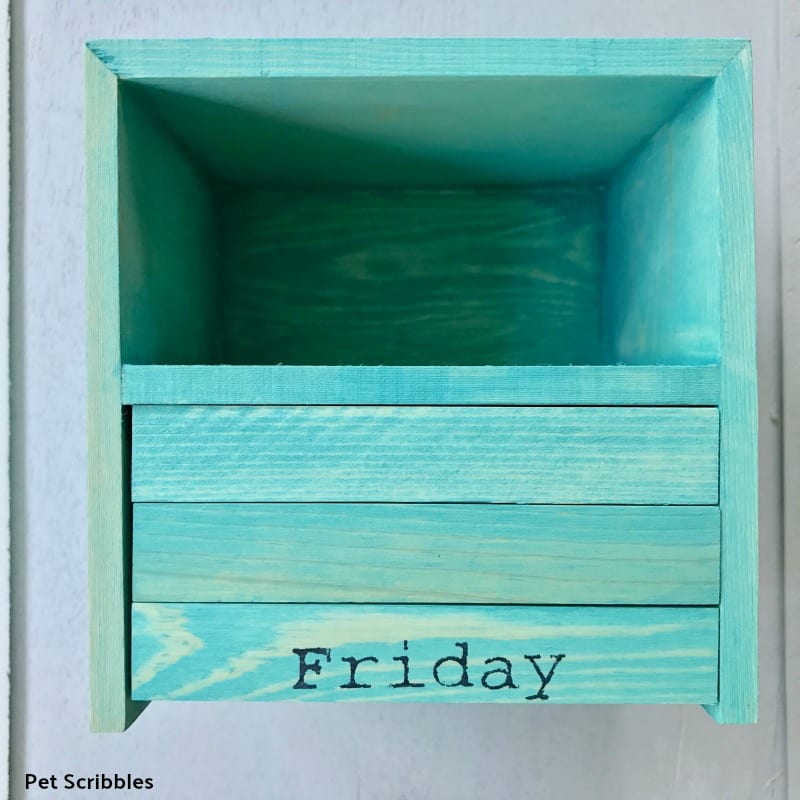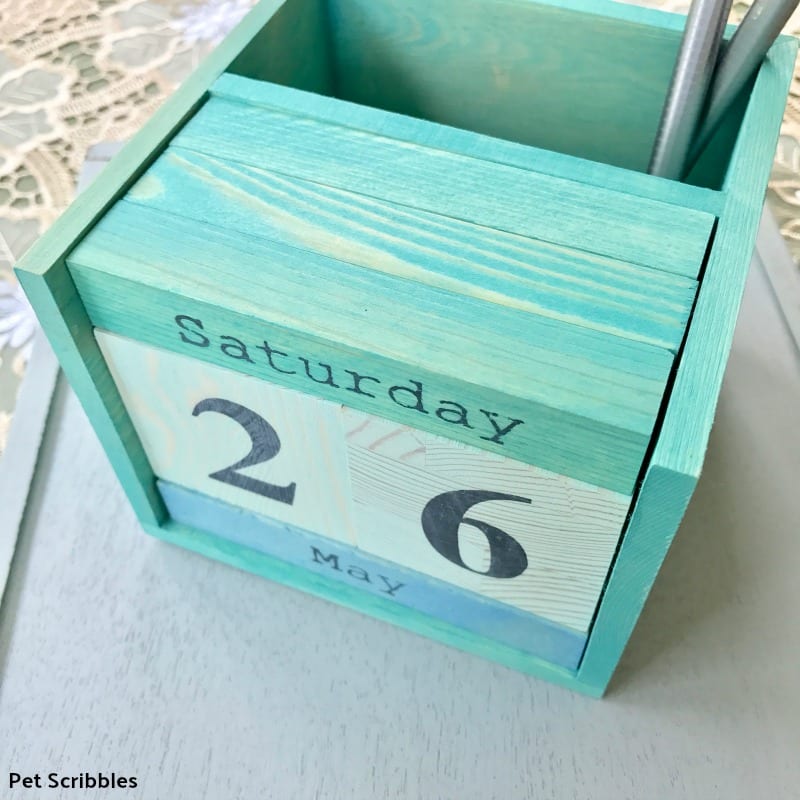 Part of what makes my pickling wash projects easy, is that I painted a complete set of wood rulers in each color of pickling wash available.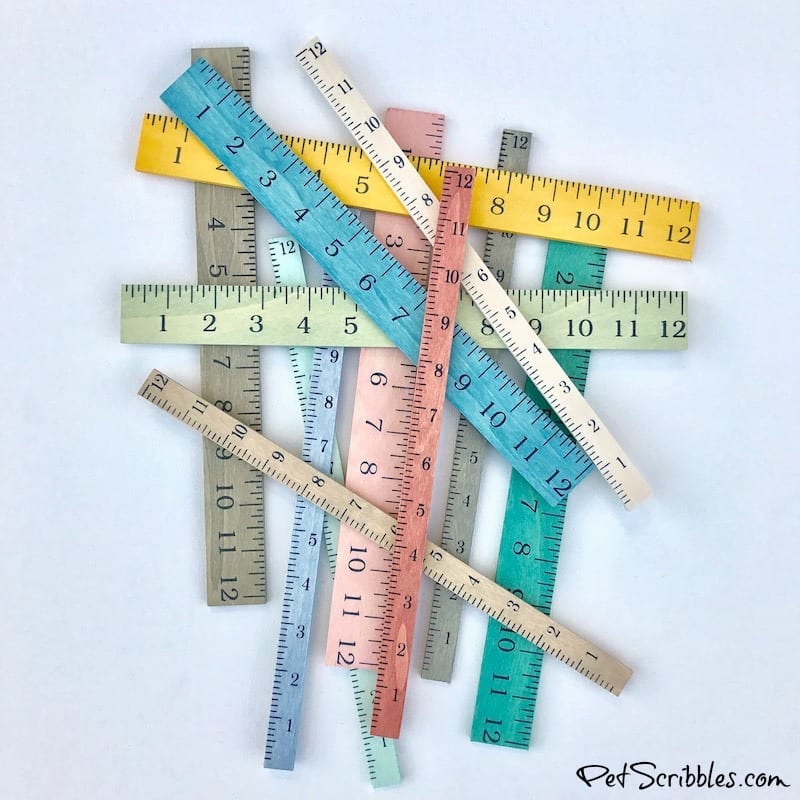 This means that at a glance, I can see what each color looks like on wood. It really helps when choosing what colors — or color combinations — I want to use.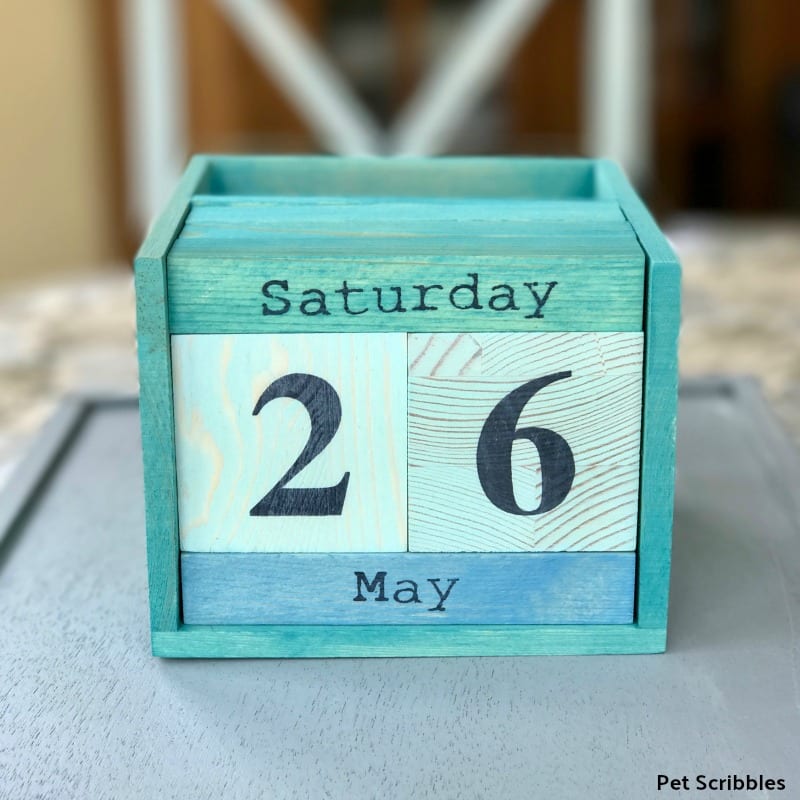 These ready-made perpetual calendars are a game-changer to me. They make great gifts you can easily paint or stain.
And with Father's Day coming up — a sweet and useful gift your kids can make too!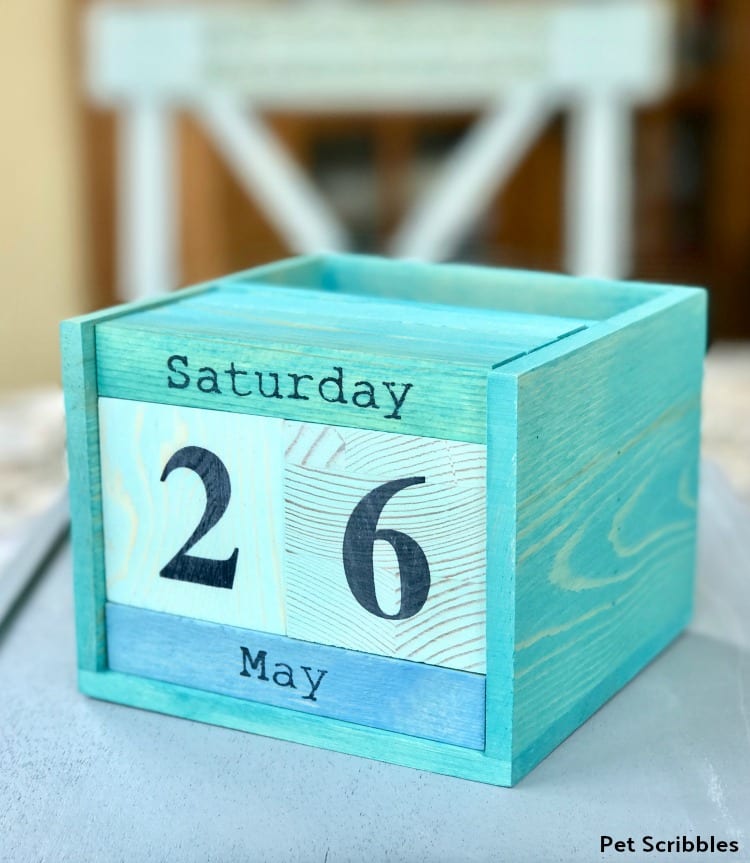 More 15-minute Wood Crafts!
Today is Day 2 of our week-long series featuring wood crafts you can create in 15 minutes! (You can see all of the creative projects from Day 1 here.)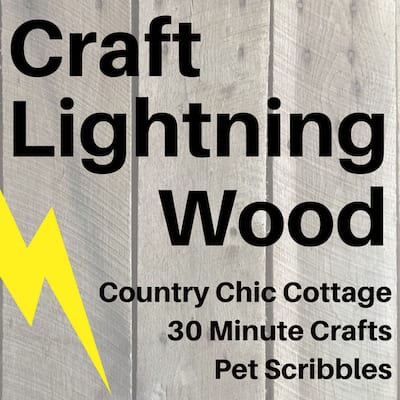 Several awesome craft bloggers are participating each day, and I'm sharing their projects here too, so make sure to scroll down and click over to see each tutorial and pin your favorites!
Faux Broken China Necklace with Napkins and Mod Podge by Cathie Filian
Cooking Conversion Chart with Your Cricut by Angie of The Country Chic Cottage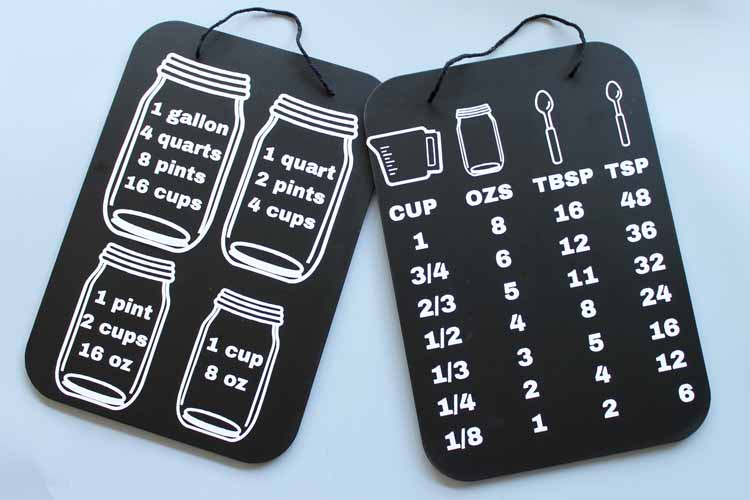 DIY Unicorn Hoop by Debra Quartermain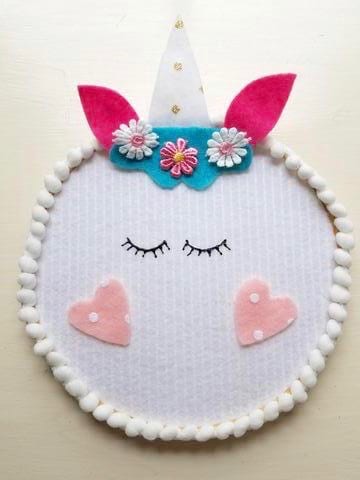 DIY Lego Minifigure Shelf by Carolina of 30 Minute Crafts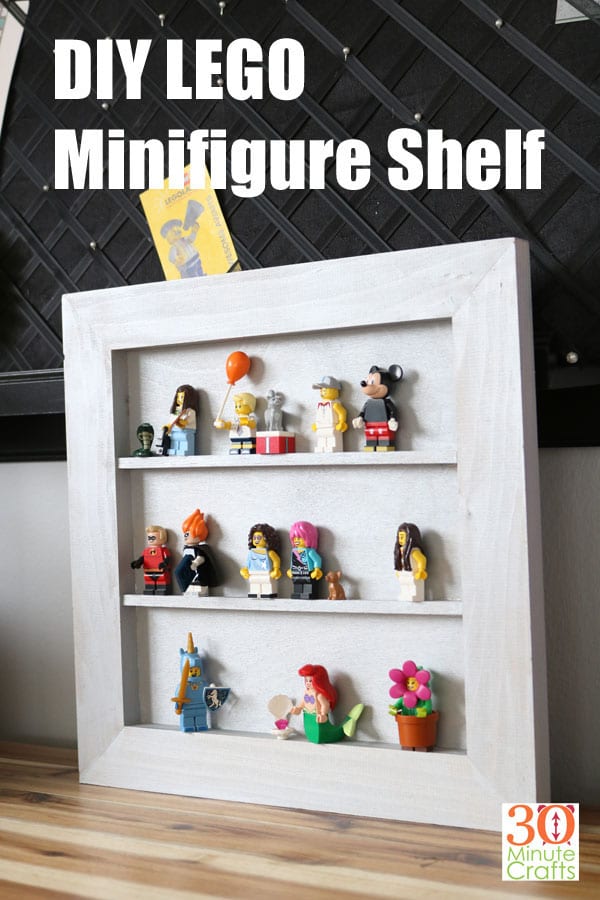 STAR WARS Wood Burned Coasters by Natalie of Doodlecraft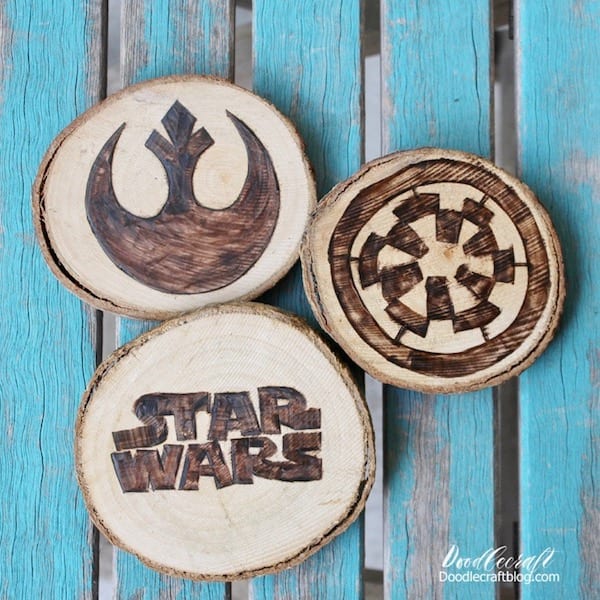 Serve Tacos Tray DIY with Free Cut File by Morena of Morena's Corner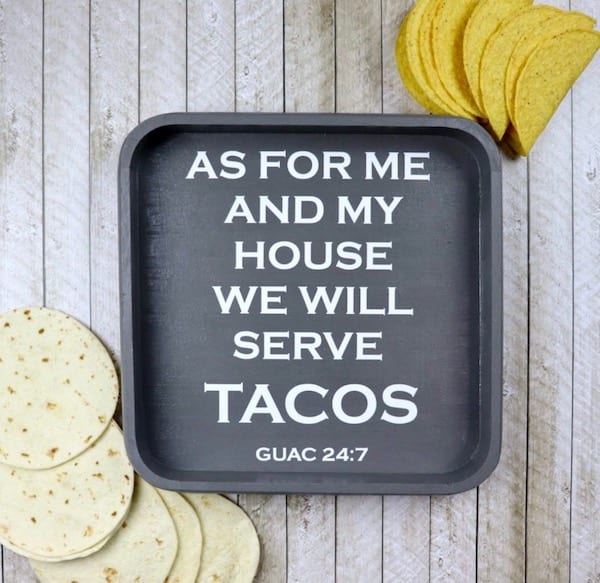 Simple Front Door Sign Tutorial by Ginger of Ginger Snap Crafts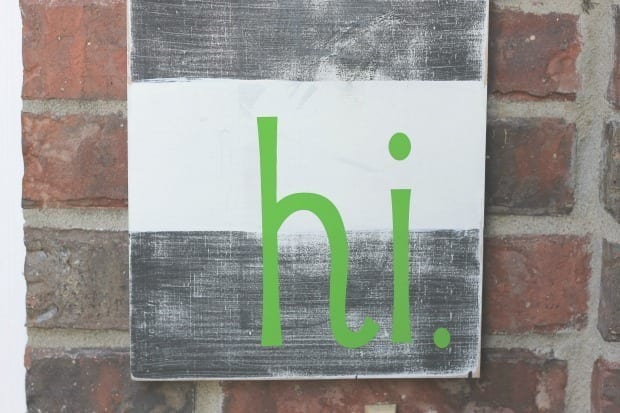 Rainbow Paint Poured Wood Key Chains by Kelli of Craft Shack Chronicles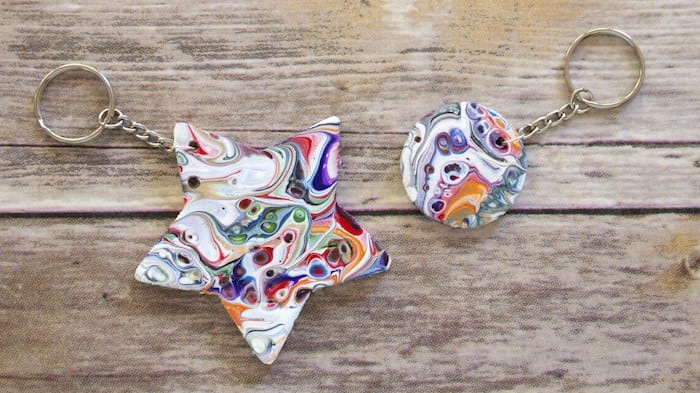 Spring Monogram Wreath by Evey of Evey's Creations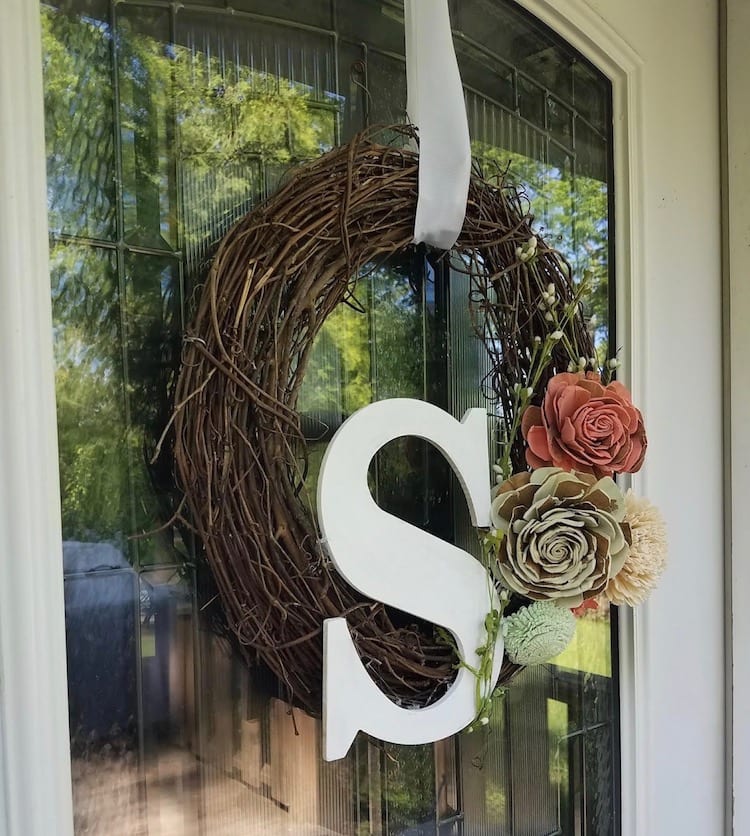 Come back tomorrow for Day 3 of our Craft Lightning Wood Crafts week for more quick projects!
Happy crafting!