The green garden comes into its own when no flowers are blooming. Spring is finished and Summer just getting started. Here is my soothing green garden in detail.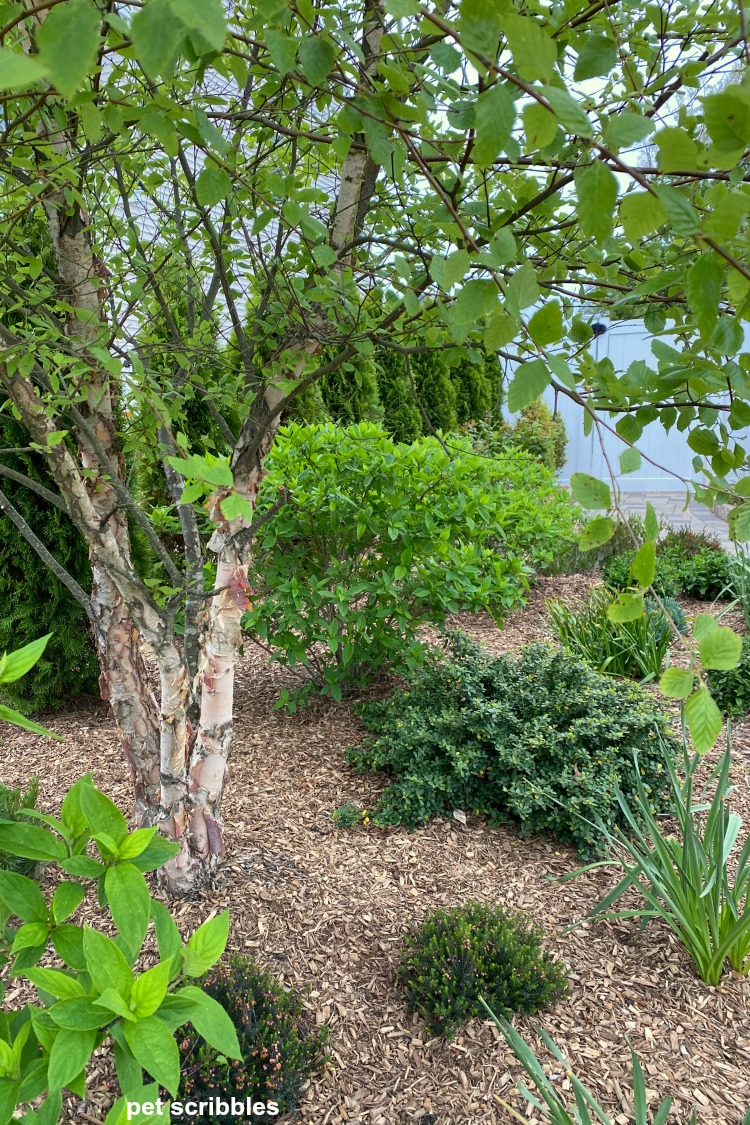 That space between the Spring blooming bulbs, flowering shrubs and trees, and Summer garden flowers blooming profusely, is completely green.
Everything is simply green in the garden. No flowers right now.
I used to feel guilty — like I needed to fill in the flower gaps between those Spring blooms and Summer flowers.
Always checking the bloom times and length of flowering in garden catalogs and books.
Trying to zero in on the perfect plants to fill in this gap.
As if having a green garden isn't quite right.
But green is a color.
A soothing color.
And this year it feels like a balm for all the stress and anxiety going on in the world.
I'm embracing the green garden this year.
And realize that I should — and will — embrace it in future years too.
My green garden
Without anything blooming, I can appreciate the many shades of green…and blue…and gray and everything in between.
I've taken so many photos of my green garden, as I'm constantly finding new things I hadn't noticed "before."
"Before" when I was too busy lamenting the lack of flowers blooming constantly.
Here's some of the green I'm enjoying right now . . .
Candles (new growth) on our overgrown mugo pine: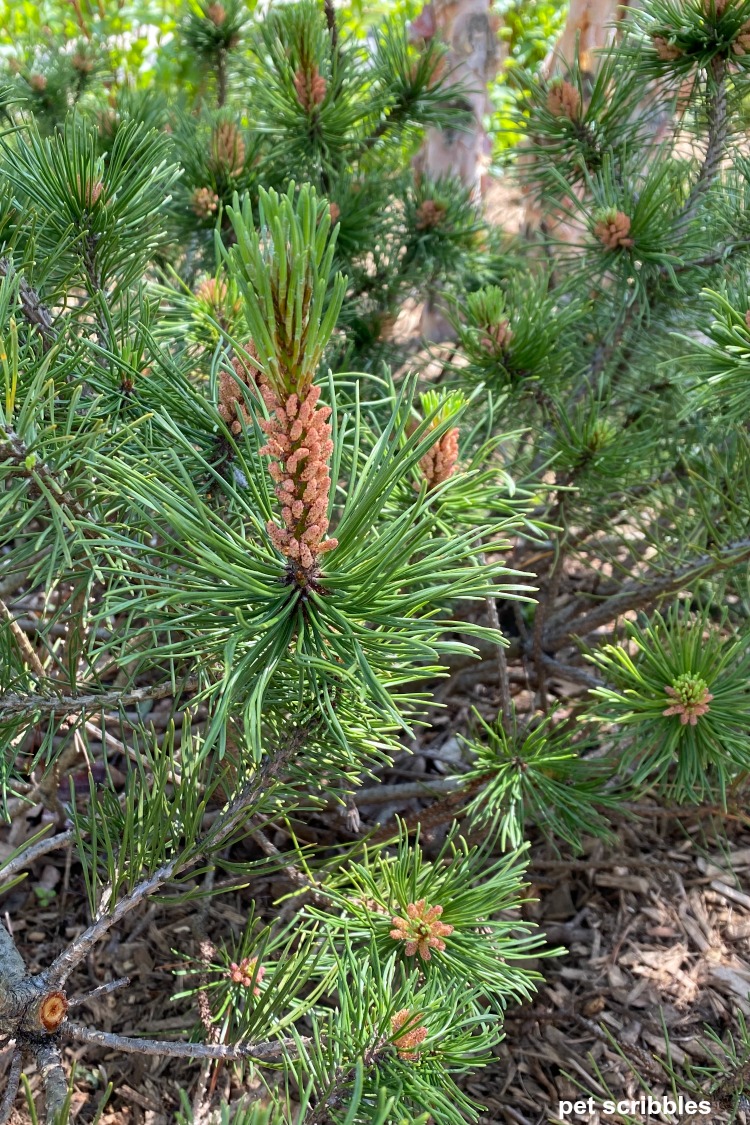 Pale blue berries on our Blue Rug Junipers: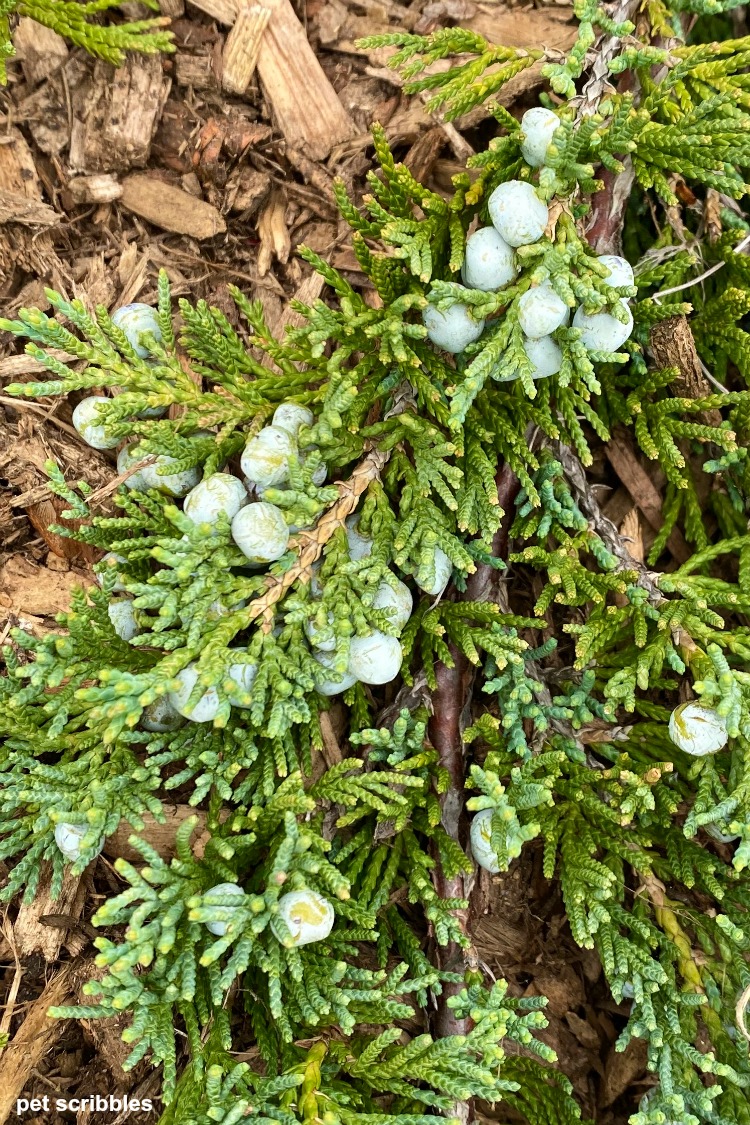 Bright pink seed pods on our ornamental maples: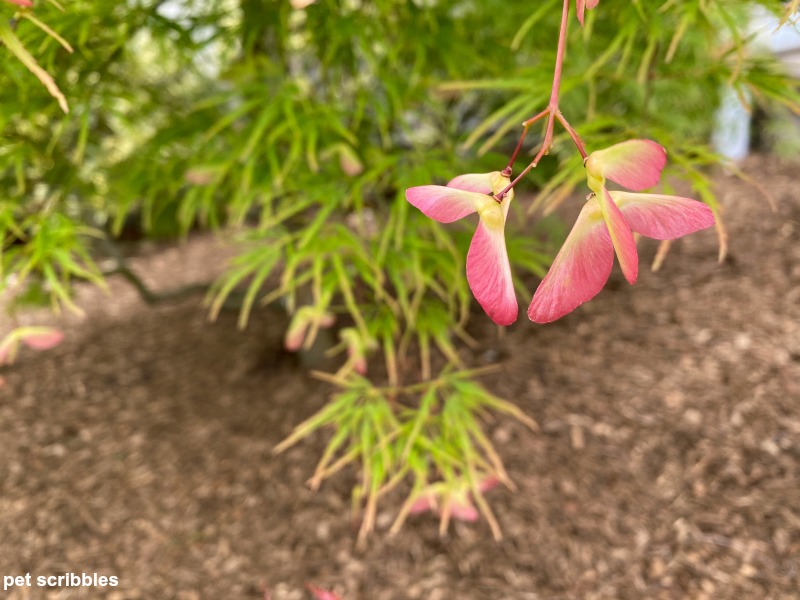 Blue needles of our False Cypress Devon Cream shrub: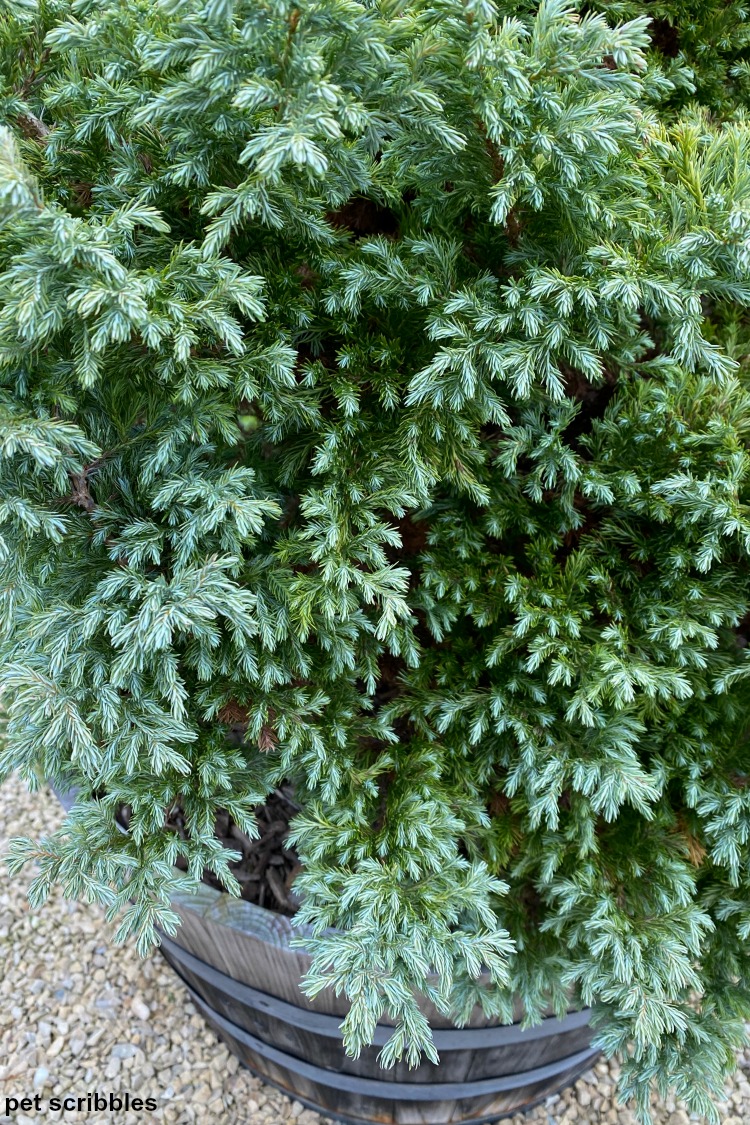 Those same needles against the background of Emerald Green Arborvitaes: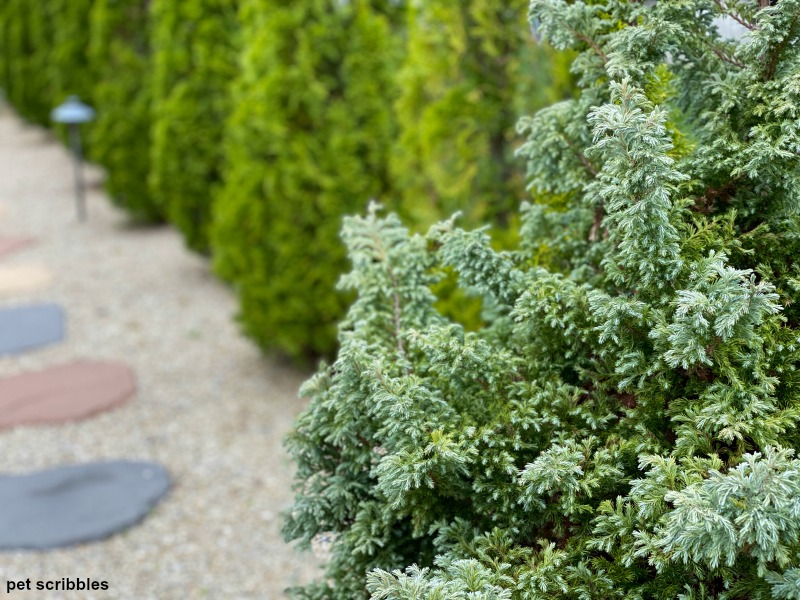 Intricate leaf details of Geranium Rozanne, along with a light dusting of pollen: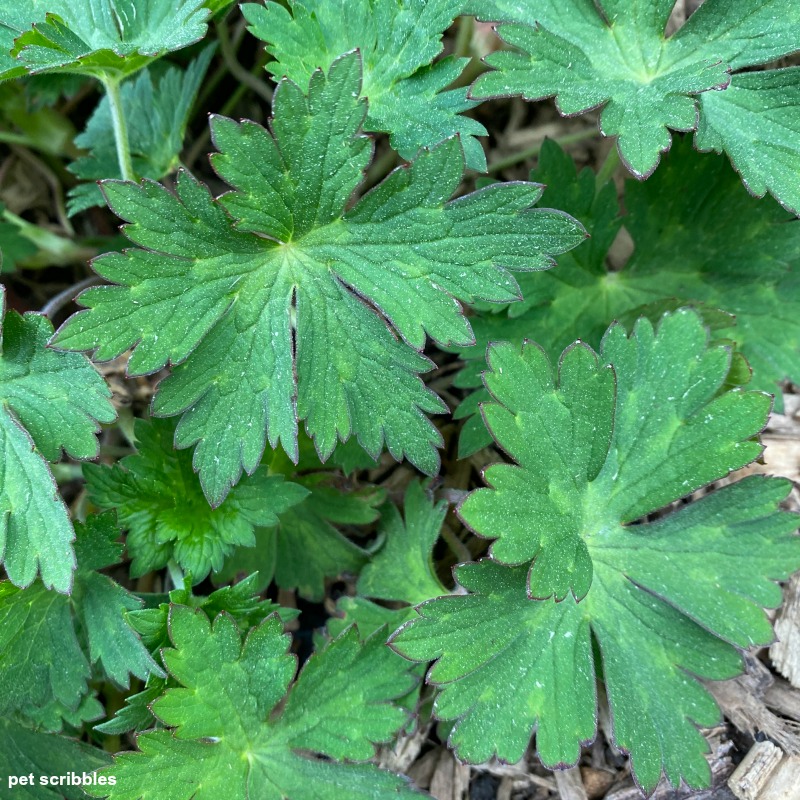 Vivid green color of our Sea Green Junipers against Orange Rocket Barberry: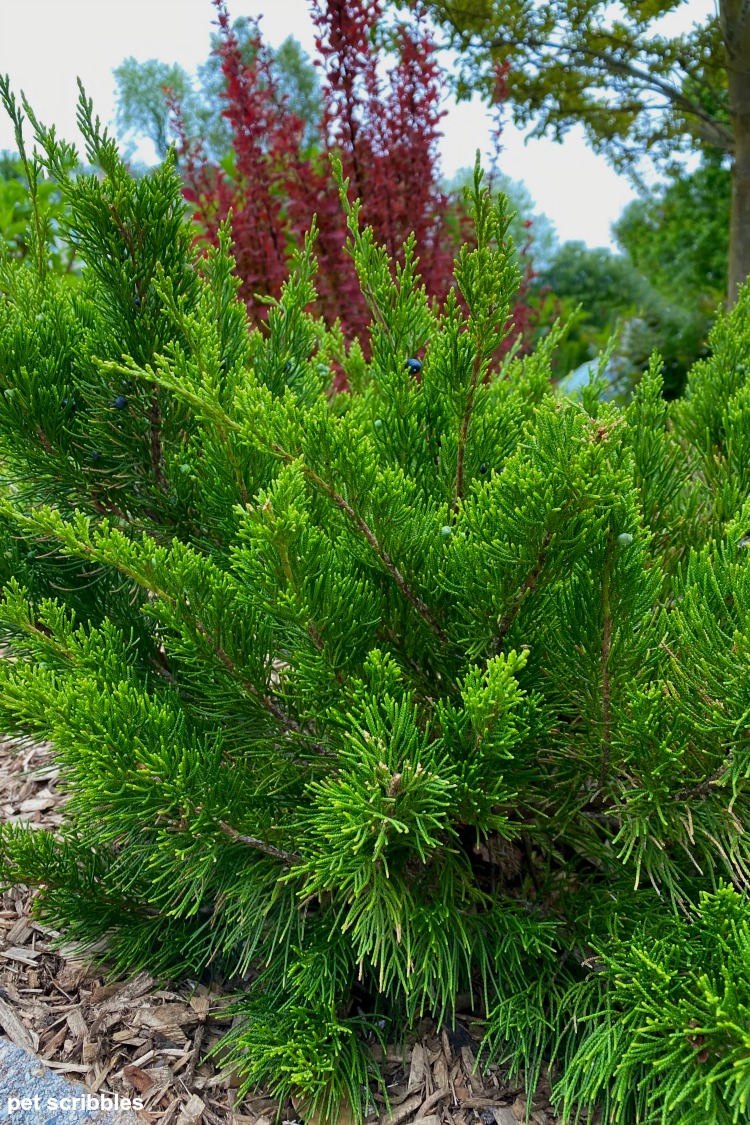 Pale gray-green color of our Lavender Phenomenal shrubs: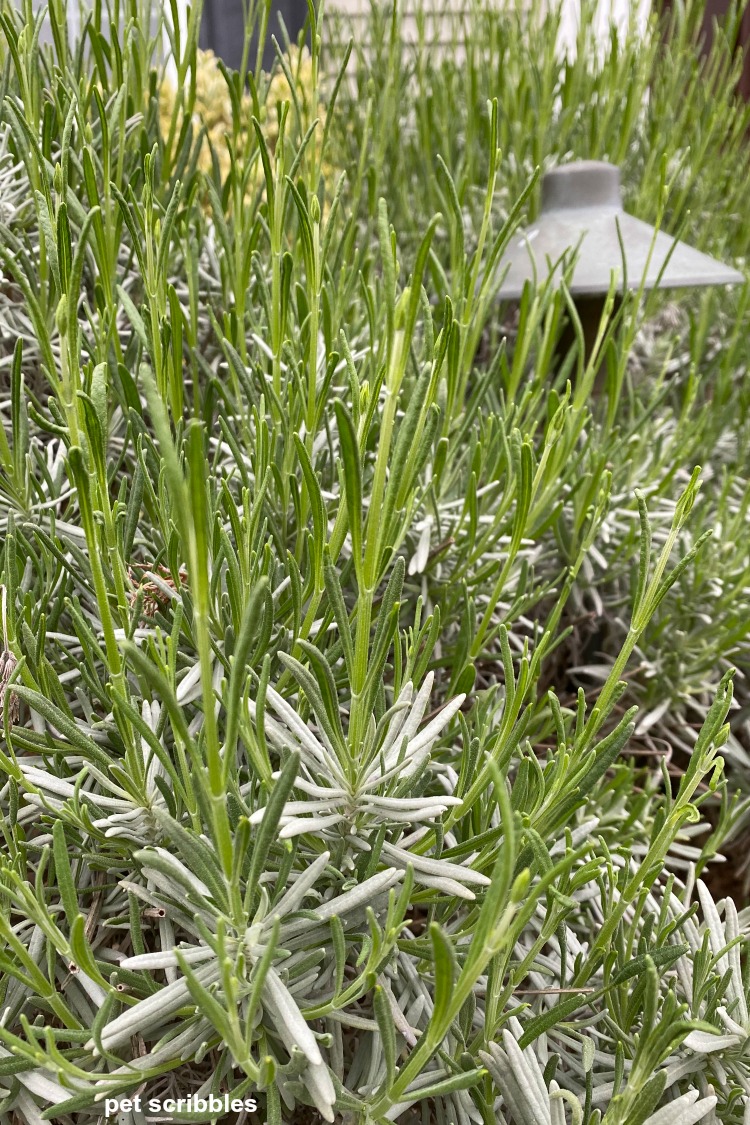 This excellent combination of tiny dried flowers plus blue and green needles on our Kramer's Red Winter Heath, which bloomed from January until May: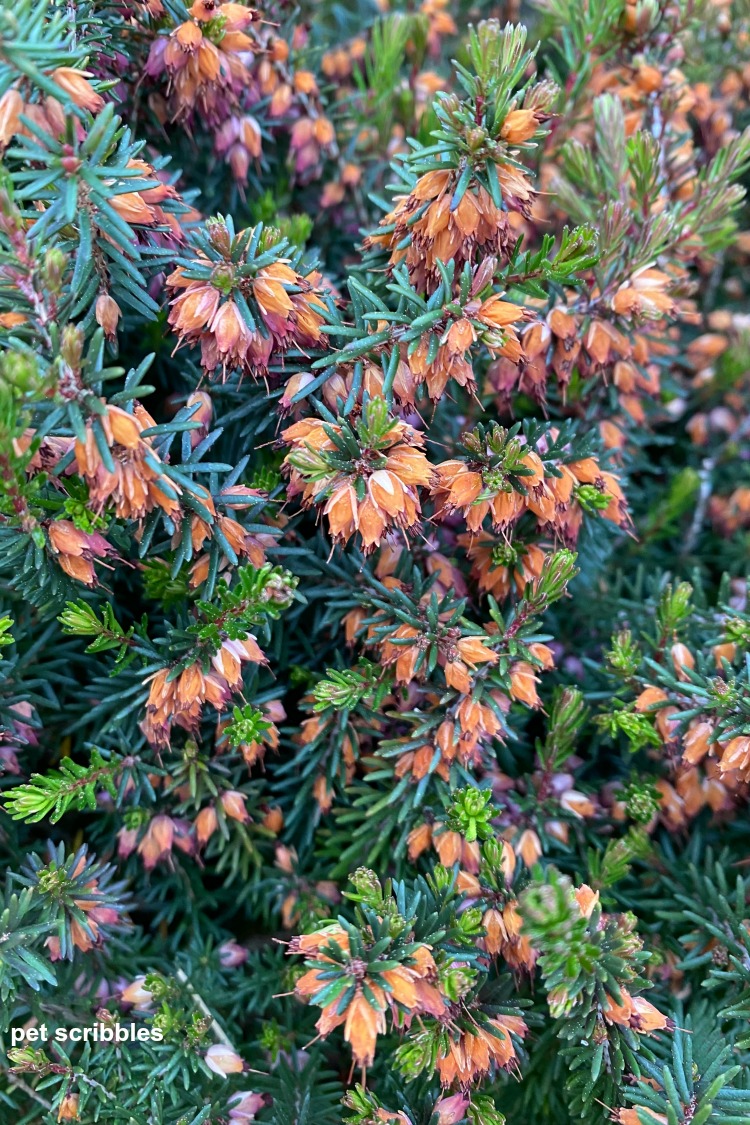 Little Goldstar Brown-Eyed Susans (Rudbeckia) far from flowering yet, but pretty leaves again with a dust of pollen: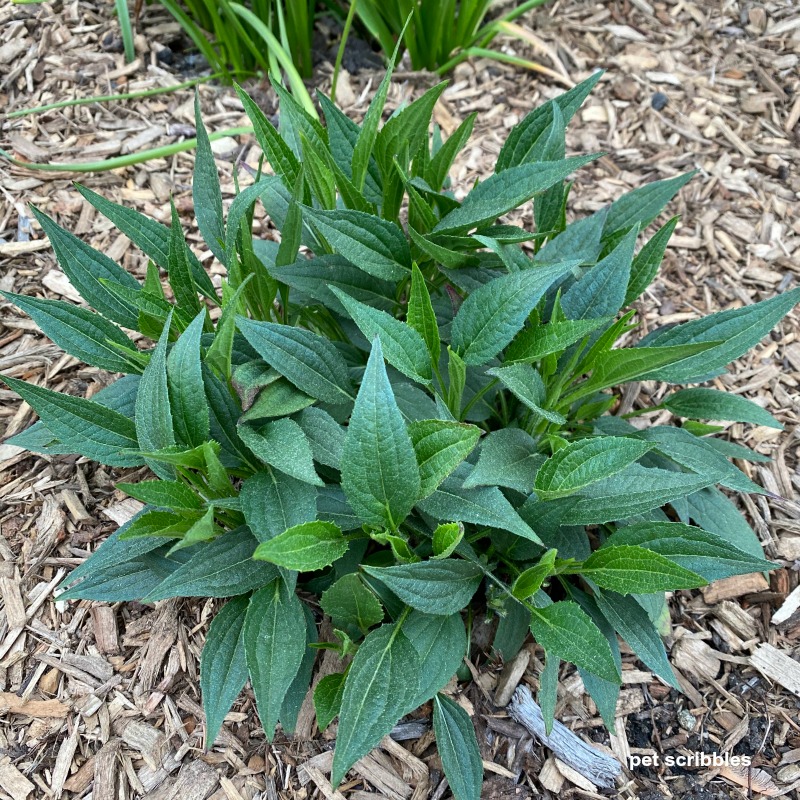 This Juniper has such pretty blue-green needles year-round, and loves where it is planted: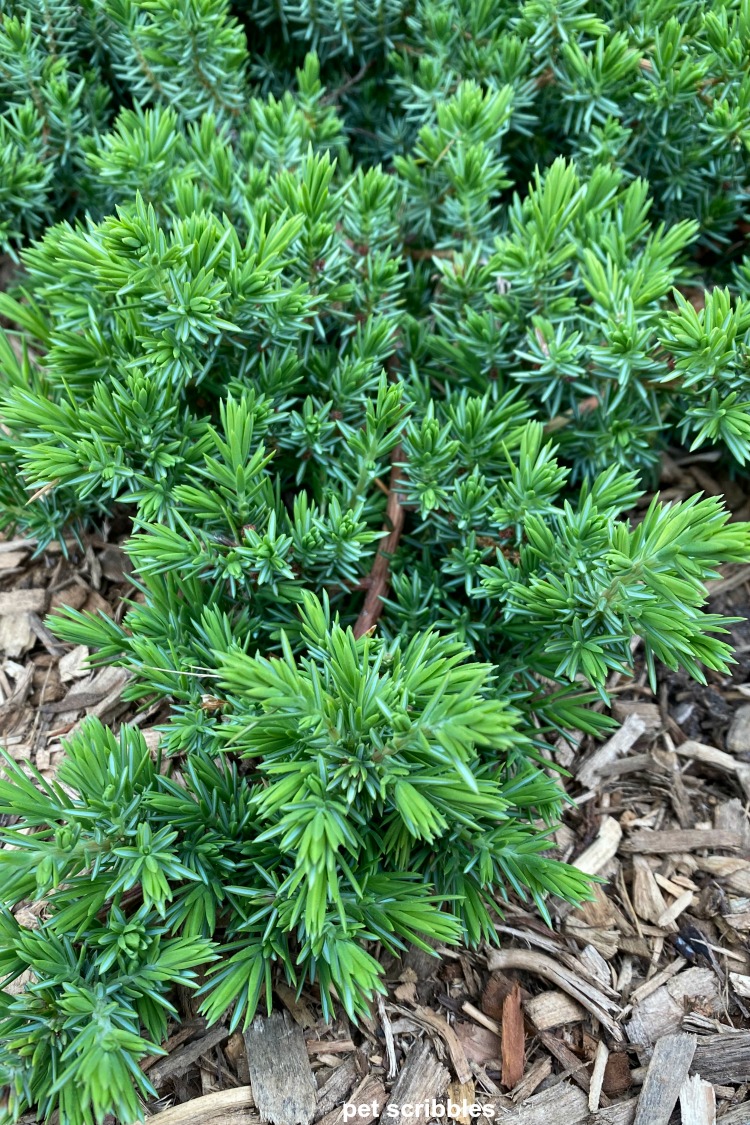 And I lost the plant tag. It's killing me trying to remember what it is, because I want another one or two or three.
Yes, it is possible that it's a Blue Pacific Juniper, however it doesn't look exactly like our many other junipers of that same name. This one is prettier, with the blue-green needles more pronounced and it grows a bit more upright along the ground versus our other Blue Pacifics which are more low groundcovers. Hmm…
The soothing garden in detail…
In the period between Spring and Summer, when Spring flowers are finished, the green colored garden comes alive with all of the new leaves on deciduous (not evergreen) trees and shrubs.
There's quite a variety of plants in our gardens, and below I list exactly what these plants are, growing in one of our beds in our front yard.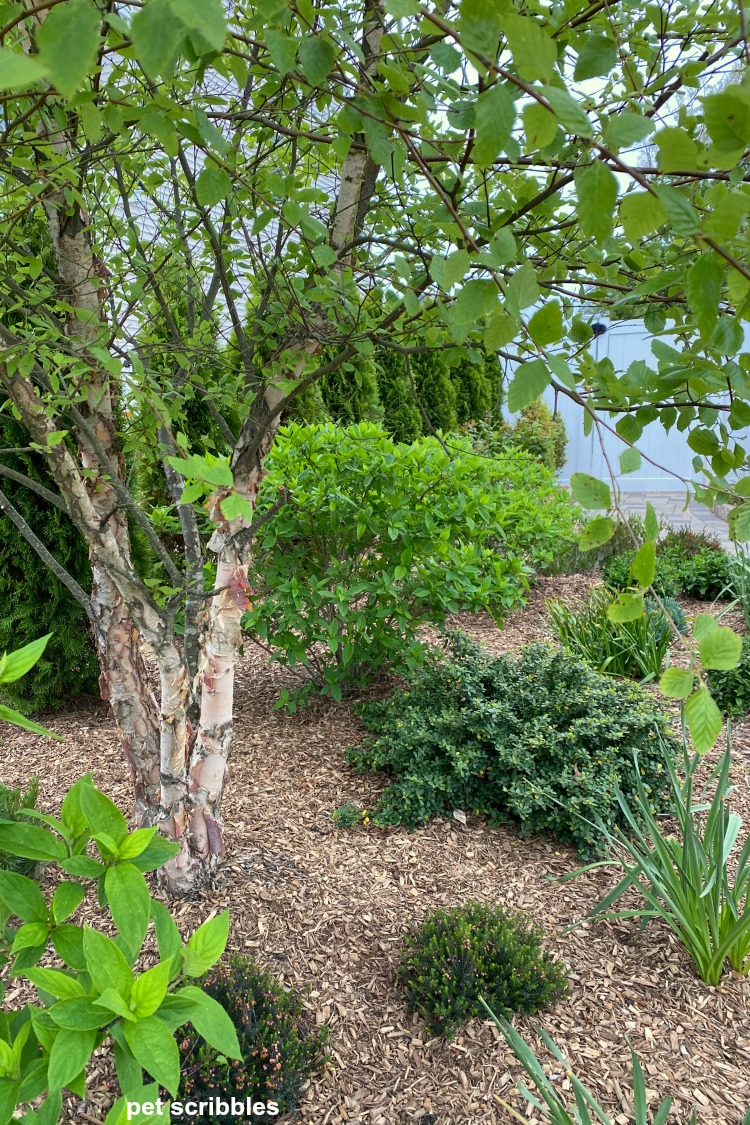 Use the image above as a guide, then scroll down to see what each plant is below.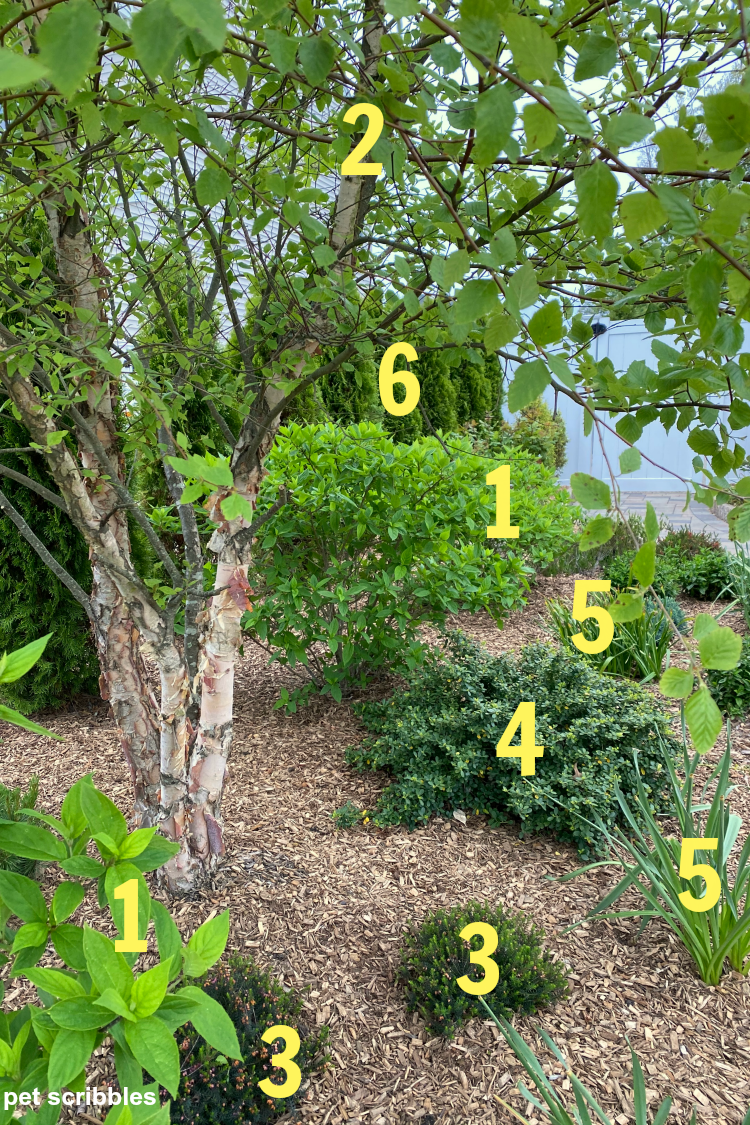 River Birch Tree
Kramer's Red Winter Heath (Erica x darleyensis Kramers Rote)
Japanese Heleri
Daffodil leaves (read here when to cut them back)
Emerald Green Arborvitaes
Not seen in this bed to the left of the River Birch Tree are three dwarf Mugo pines, three Piglet fountain grasses, plus a Winter Gem boxwood. (More shades of green!)
---
---
Walking up the paver pathway, further up the bed, you see another array of plantings: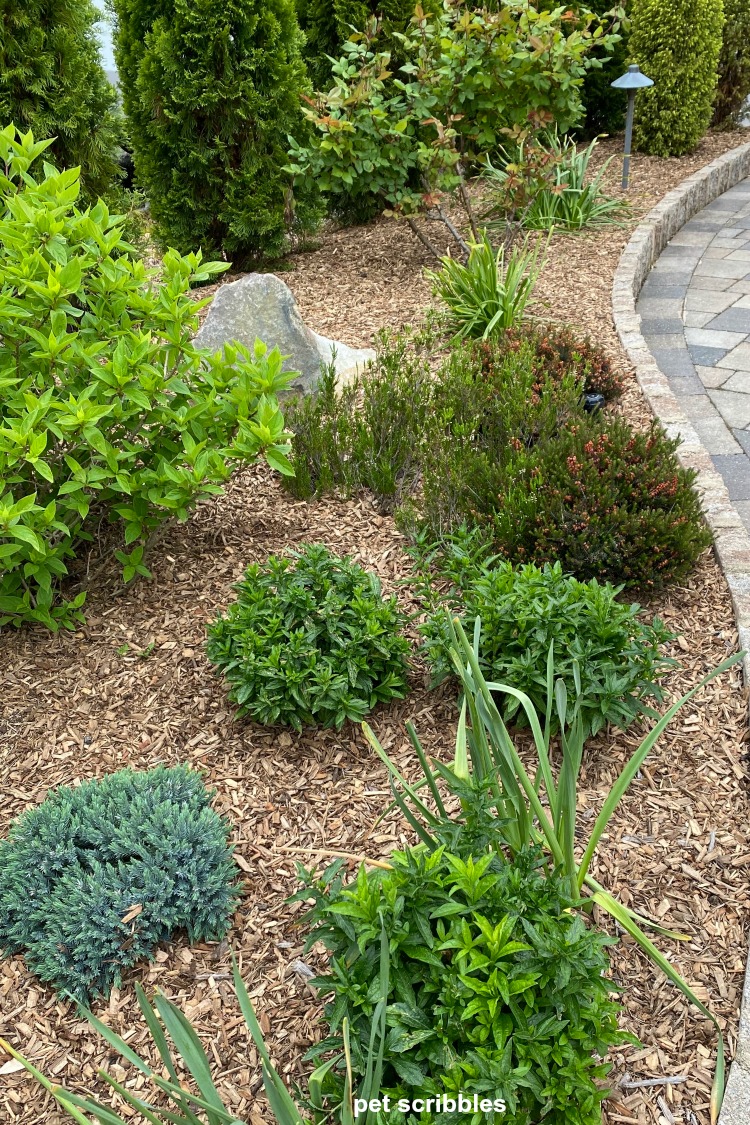 Again, scroll up and down between these images to see the plants (that are identified below).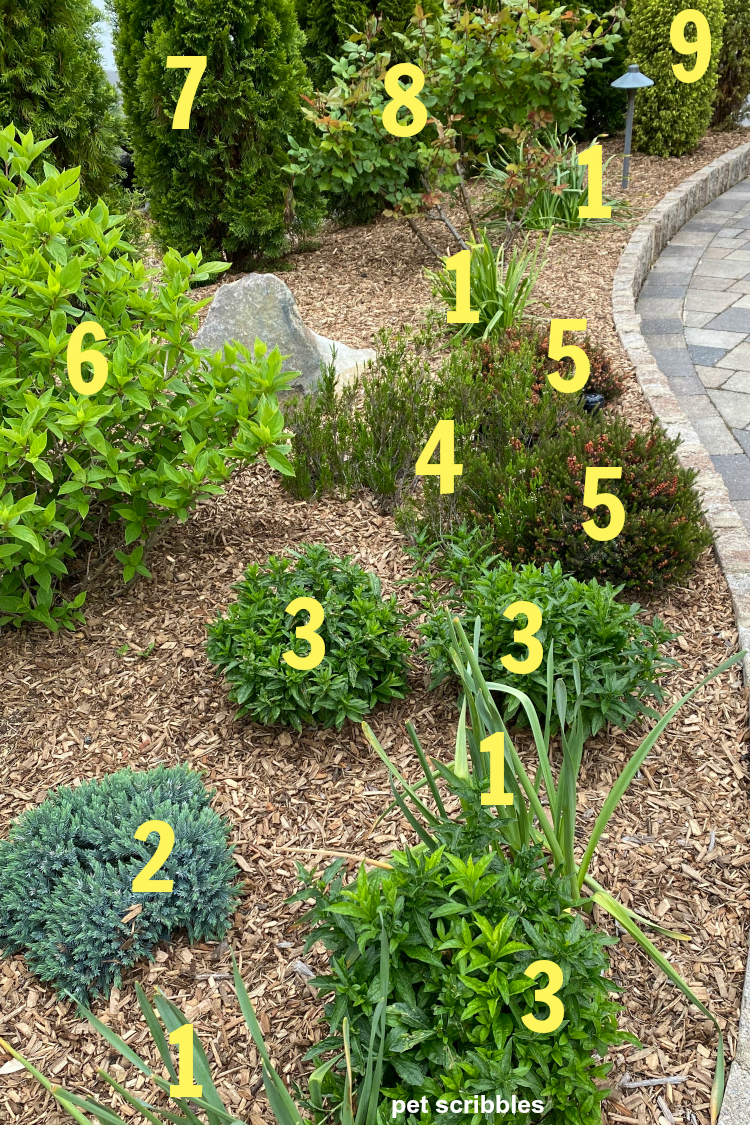 Daffodil leaves
Blue Star Japanese Aster (Kalimeris incisa 'Blue Star')
(not related to Blue Star Juniper, just coincidence with name!)
White Heather (Calluna vulgaris)
Kramer's Red Winter Heath
Little Lime Hydrangea
Emerald Green Arborvitaes
Knockout Rose bush (read about deadheading knockouts here)
Gold Cone Junipers
The flowers of the rose bush, hydrangeas and Kalimeris will light up this garden soon enough. And maybe I'll add some annuals here and there.
But for now, I'm immersed in the soothing shades of green.
And to be honest? I think I'll be a bit sad for this brief green phase to end.
Happy gardening!