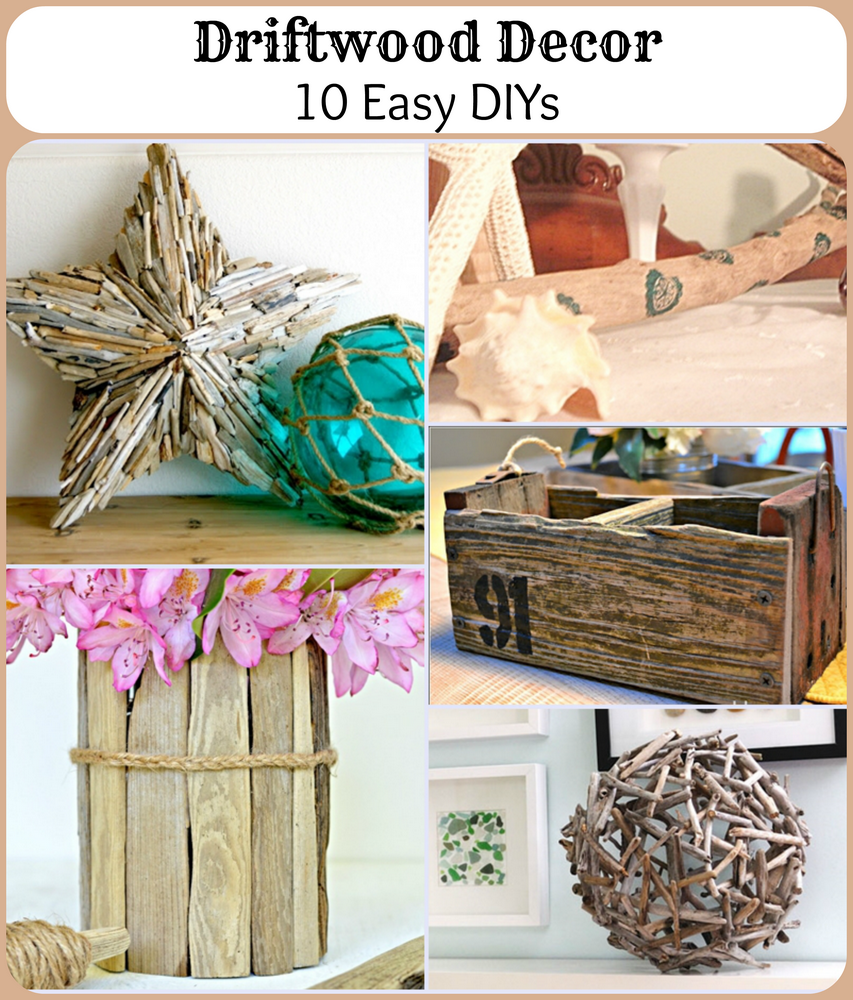 Driftwood is another big home decor trend you've no doubt seen in stores and catalogs. There's so many ways you can use and display this material. You can make what you see in the stores. And I bet yours will look even better!
Driftwood!
Smaller size driftwood pieces make up this rustic star, which can fit into your displays year-round!
Hunt for driftwood by the sea and at lakes. This decorative orb was made with lake driftwood!.
Use driftwood as the decoration with decorative stamping in colors to match your decor!
Large driftwood pieces turn a discount store mirror into coastal wall decor!
Cost for this driftwood candle project? A day at the beach + $2 for the glass from a thrift store = priceless!
What makes this driftwood fish art stand out? How about the driftwood pallet background? Oh, and this project takes less than 15 minutes to make!
There's so many ways you could style this beautifully rustic crate. And just think: all of the gorgeous distressing was done by the sea!
What a pretty way to add a nautical touch to an arrangement of fresh flowers!
The unique shells on this driftwood wreath are the proverbial icing on the cake!
This driftwood heart art, by Simplicity in the South who also made the vase above, would make a great gift to celebrate a wedding, an anniversary or Valentine's Day!
Don't know where you can get your own driftwood if you aren't near a beach or lake? Here's a DIY included in
last week's nautical decor post
on how to make your own! (And yes, that
is
handmade faux driftwood in the picture below!)
Here's links to the other posts in this series:
Nautical Anchor Decor: 10 Easy DIYs
Nautical Rope Decor: 10 Easy DIYs
DIY Sea Life: 10 easy ways to make faux seashells, coral, driftwood and more!