How to make a pretty mason jar sign for Thanksgiving to add to your holiday decor or present as a hostess gift! This decoration doesn't take long to create.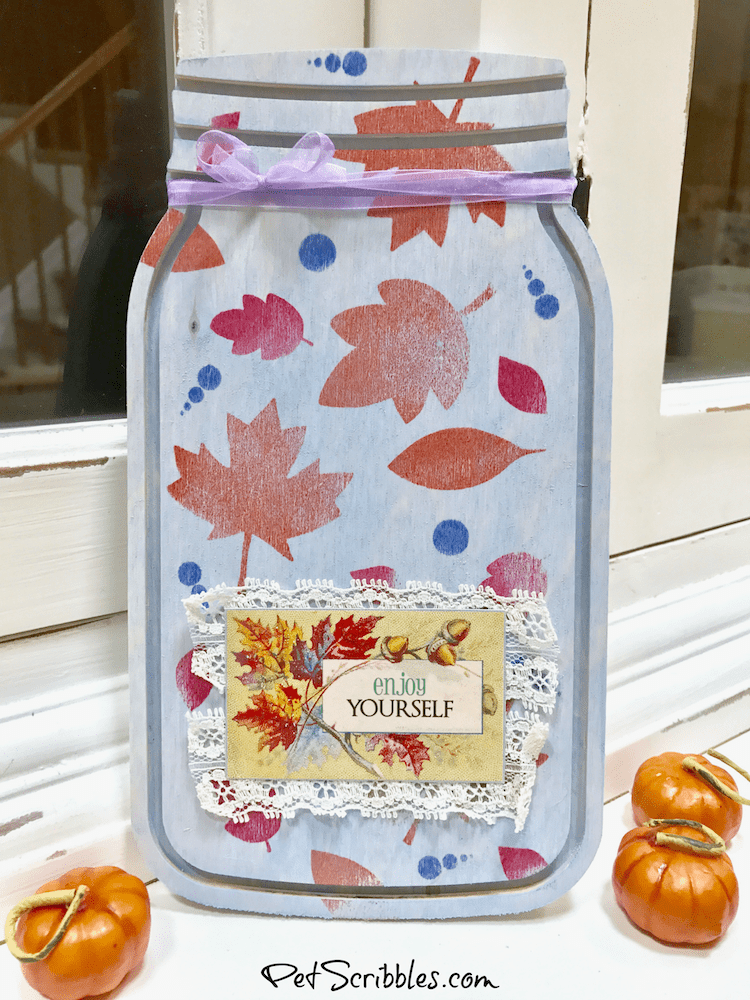 Just recently here on Pet Scribbles, I was musing about Thanksgiving decorations.
I love creating new things for Thanksgiving every year, and that's how today's project came about.
Xyron and Clearsnap
Our Xyron Design Team has teamed up with Clearsnap this week!
Clearsnap's ColorBox line of ink pads are wonderful to craft with, and if you do any type of stamping I'm sure you have used their products.
I got to try out their new ColorBox INK Premium Dye Mini Inkpads.
I love anything mini — and these little guys come in a gorgeous palette of colors!
For my mason jar sign I'm using three of the ColorBox INKs: Poppy (a red color with a hint of pink); Carrot (a perfect Fall orange); and Periwinkle, one of my favorite colors!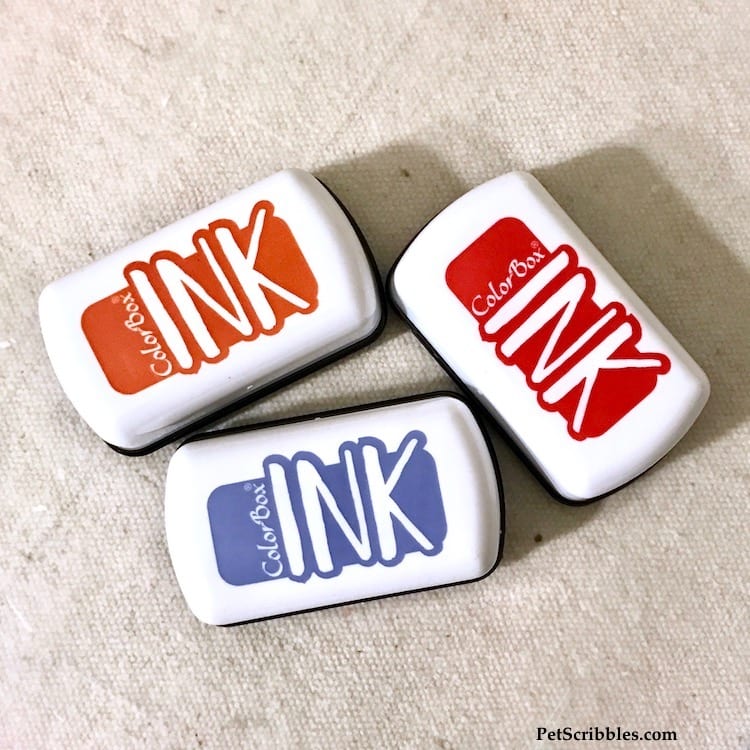 I like to mix in unexpected colors in my Fall decorations, and when I saw this Periwinkle shade I knew I had to use it!
FTC Disclaimer: I've received products/compensation as part of the Xyron Design Team. This pretty mason jar sign for Thanksgiving, however, is 100% my own project! Some of the links in this post are affiliate links. I explain more here.
A Pretty Mason Jar Sign for Thanksgiving!
I love vintage postcards, and so I hunted around my paper stash and found a pretty reproduction of one which happened to have similar colors to the inks!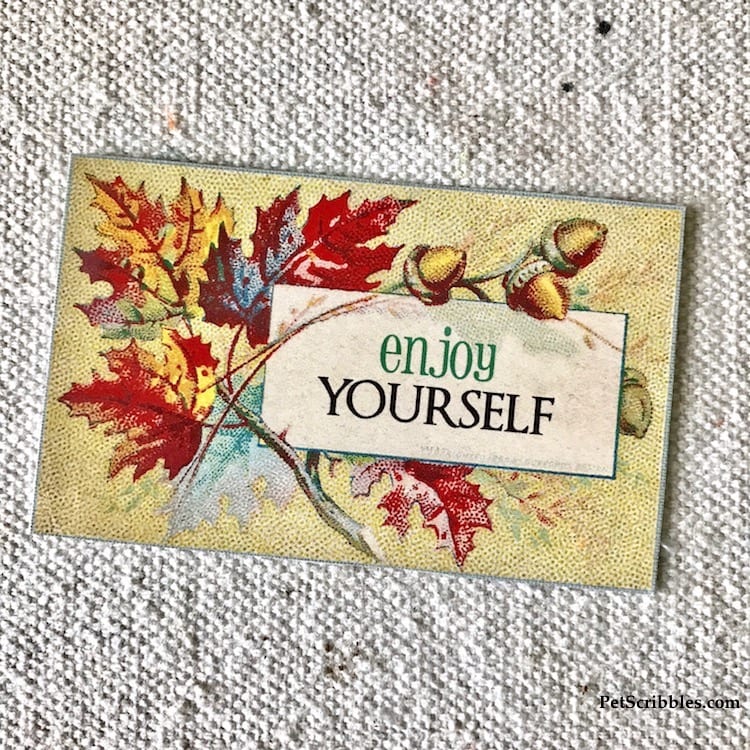 Love when that happens!
Supplies:
Tutorial:
Step One: Sand the mason jar shape for any rough spots and wipe away dust with a damp cloth. Let dry.
Step Two: Stain the mason jar shape with a pretty blue pickle wash. Let dry.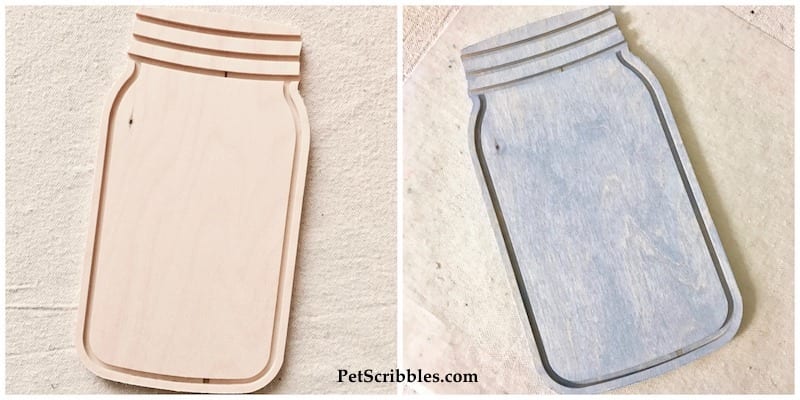 For details on how to use pickle wash, see my Colorful Stained Rulers Tutorial.
Step Three: Stamp leaves in a random pattern on the front of the mason jar, using the ColorBox INK pads in Poppy and Carrot.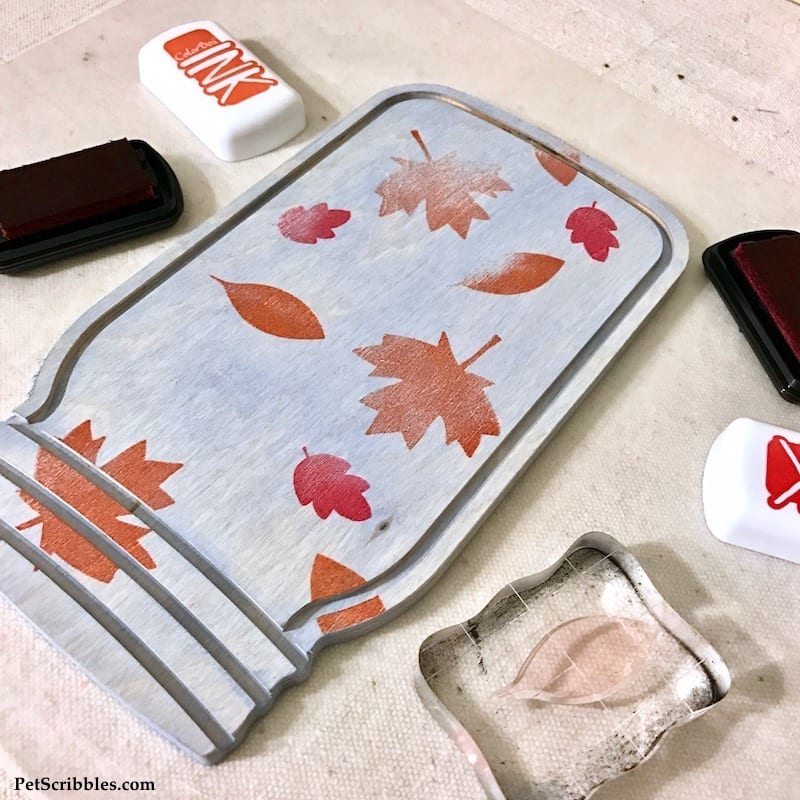 I love how rich and vibrant these inks are! They dry fast too!
Step Four: Stamp dots in between the leaves with the ColorBox INK Periwinkle ink pad.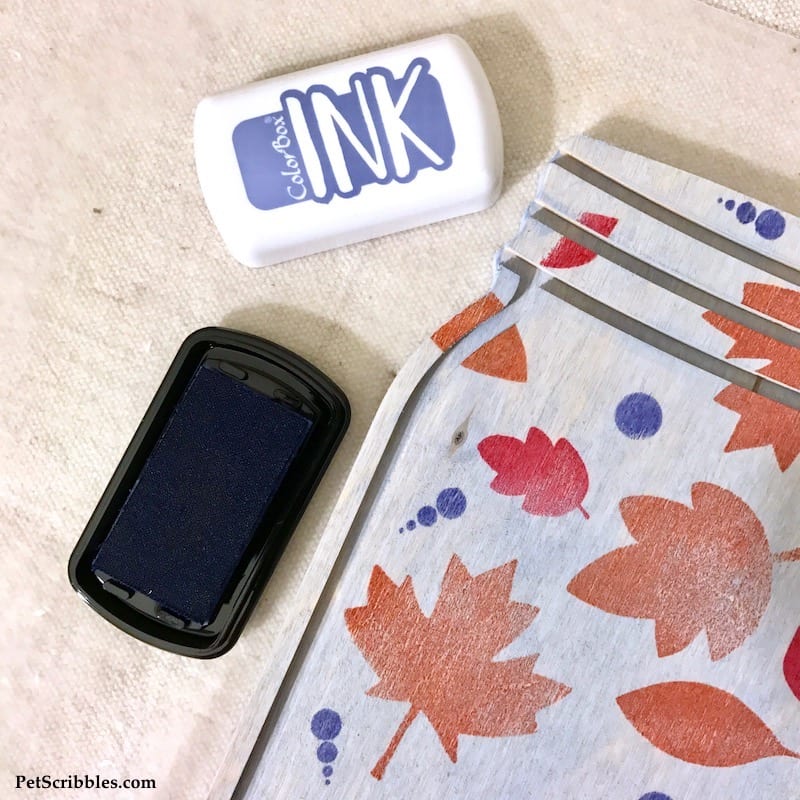 Isn't that periwinkle color pretty? I love how it provides an extra pop of color to the more traditional red and orange leaves!
Step Five: Cut vintage lace scraps to measure just a bit longer than the vintage Thanksgiving postcard image.
Step Six: Run the vintage postcard image through the Xyron Creative Station Lite to add permanent adhesive to the back of it.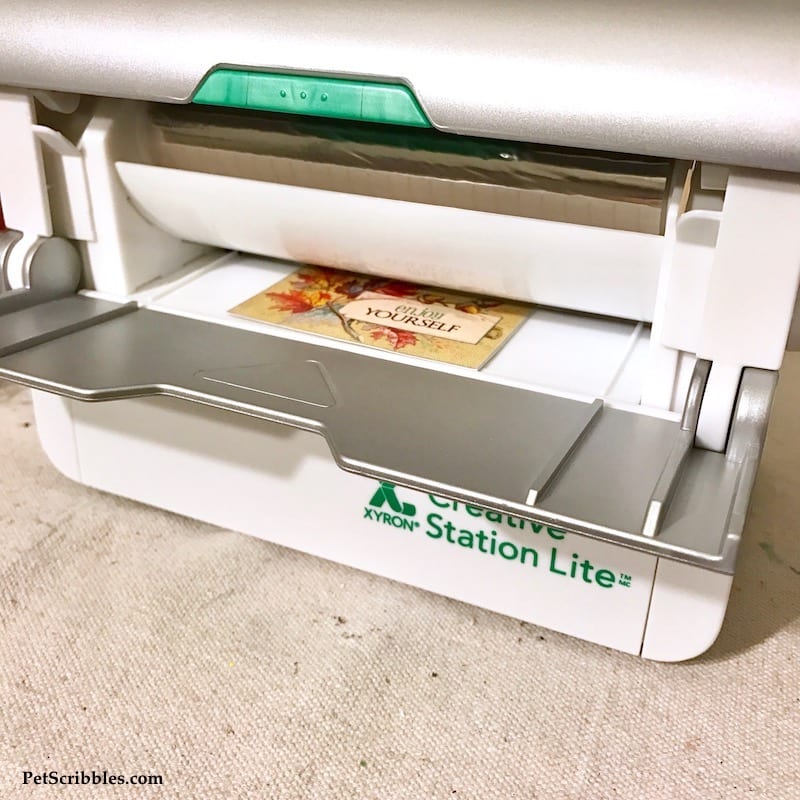 This wonderful little machine essentially turns the postcard into a sticker!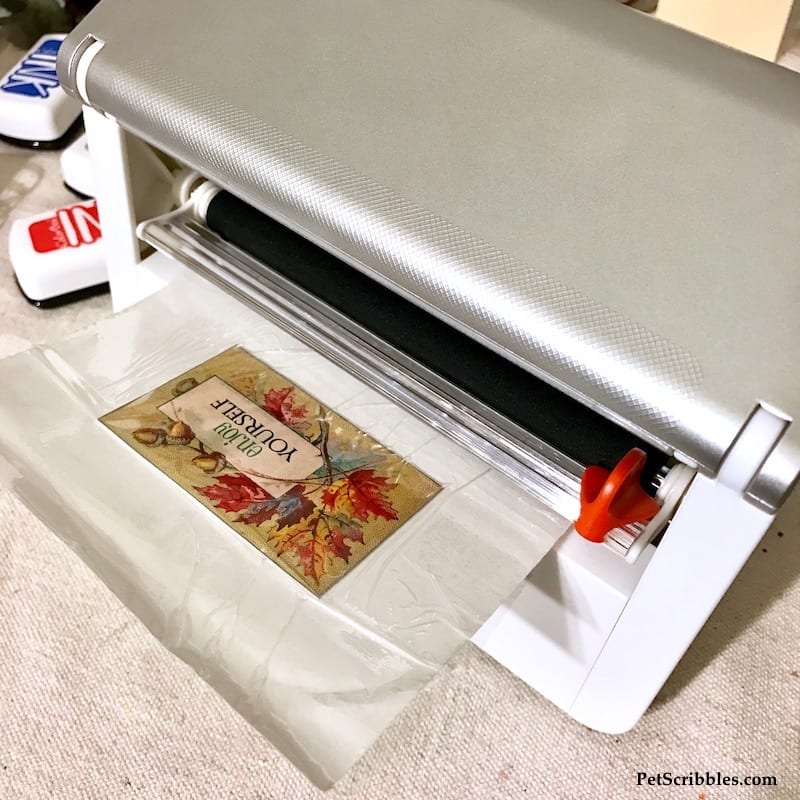 Remove the plastic covering — see below — and you're left with a sticker, ready for you to peel it off and use in your project!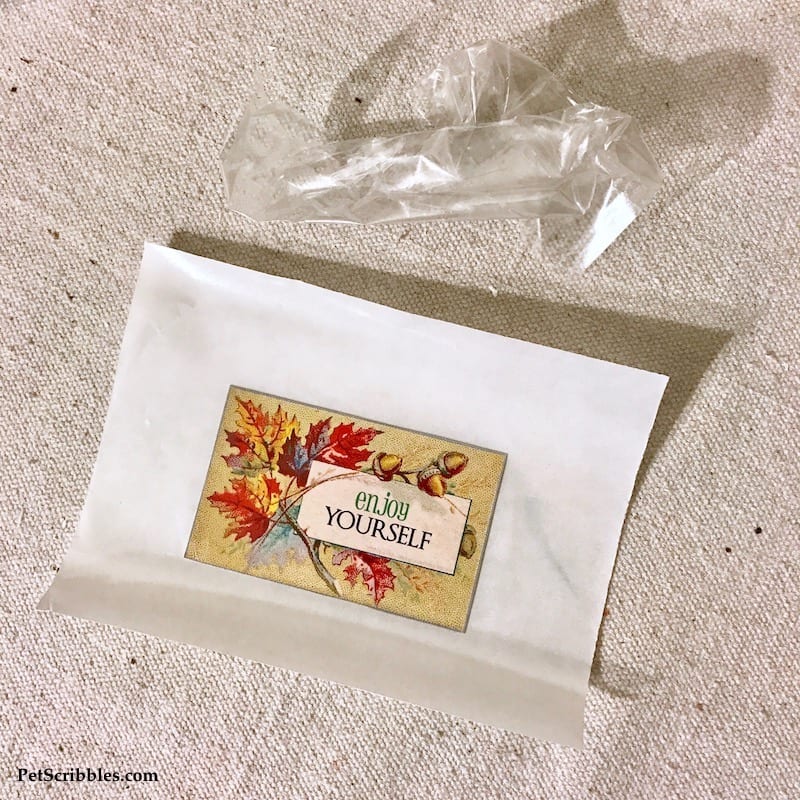 Step Seven: Stick the postcard image on top of the lace scraps, as shown below.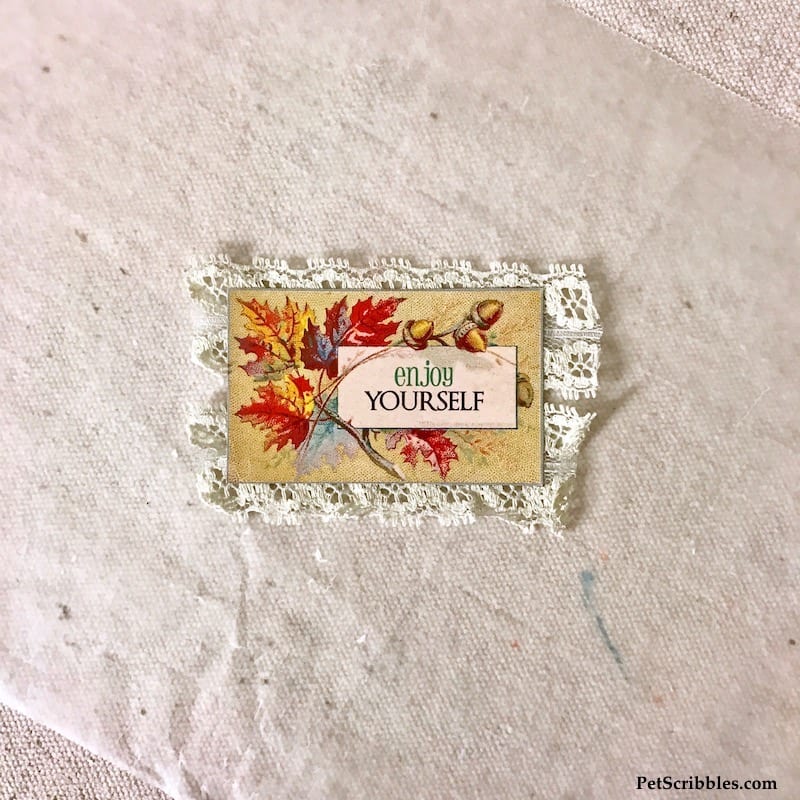 Step Eight: Apply adhesive to the back of the lace scraps using the Xyron Mega Runner.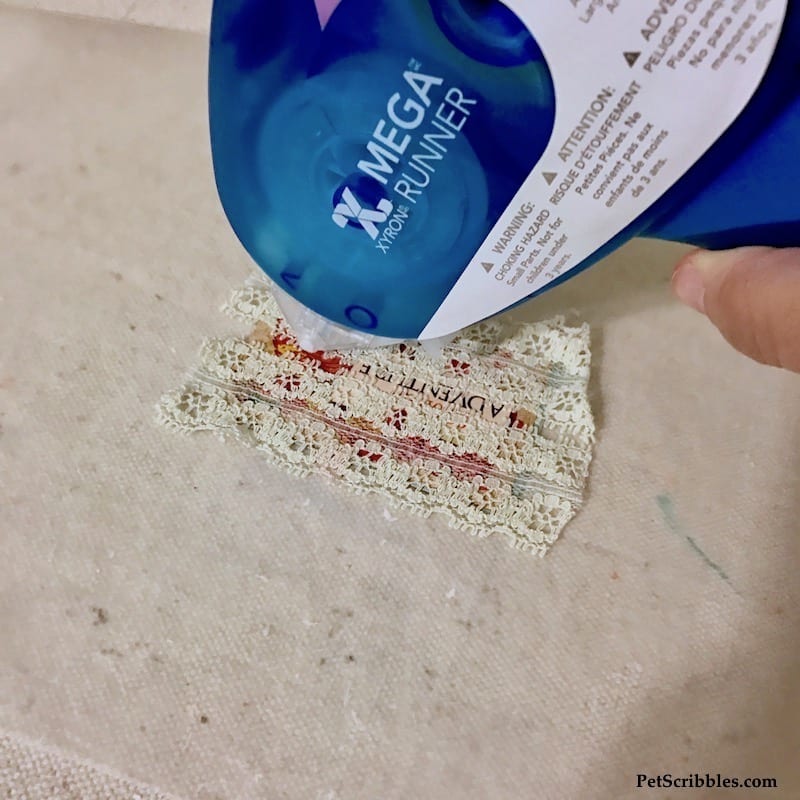 Whenever I need to use adhesive on lace ribbon, I always use my Mega Runner because the adhesive will only stick to what is there.
For example, if I was adhering this lace scrap to a greeting card, no adhesive would show through the lace scrap, as the adhesive is only on the bits of lace and not also in the holes of the lace.
Such a great feature!
Step Nine: Place the vintage Thanksgiving postcard image — now with the lace attached — onto the wood mason jar shape and press down.
Use a brayer if you have one to help press and smooth so that the adhesive fully sticks to the wood.
Using your fingers works just fine too!
Step Ten: Accent the leaves on the postcard with glitter glue. Let dry.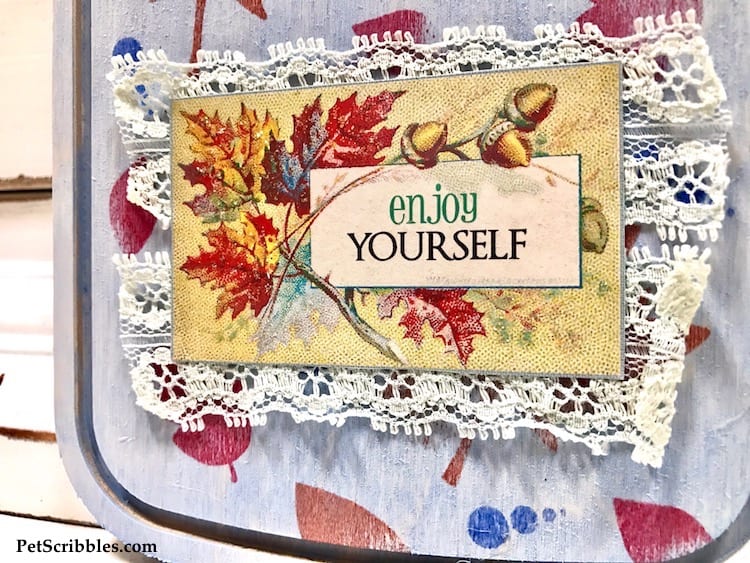 Step Eleven: Tie a decorative ribbon around the top of the mason jar shape.
And now you have a pretty mason jar sign for Thanksgiving!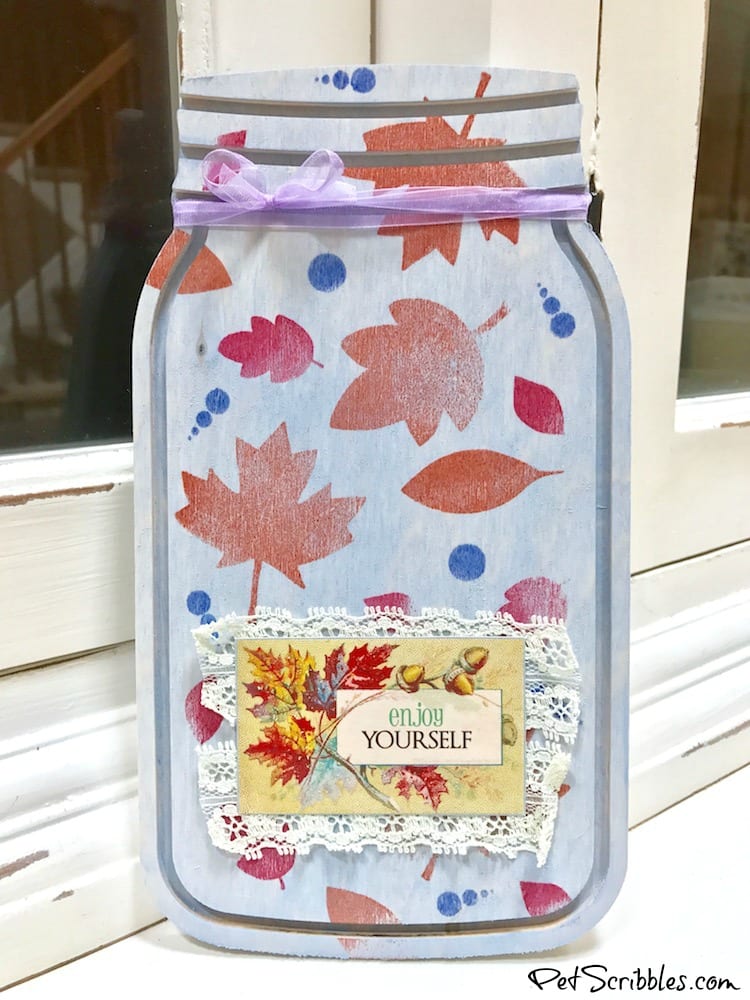 The blue background is an unexpected shade for Fall, as is the perwinkle color of the dots, but I absolutely love how these colors enhance the orange and red leaves!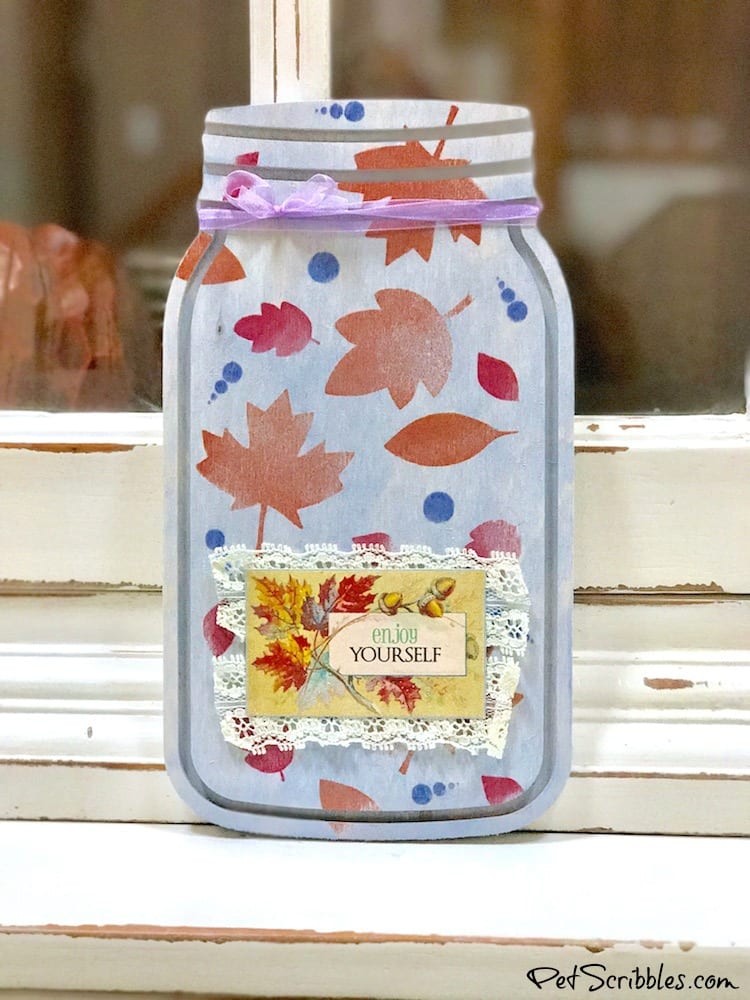 Make sure you visit our Xyron Facebook Page to see all of the fun projects the Xyron Design Team members are making!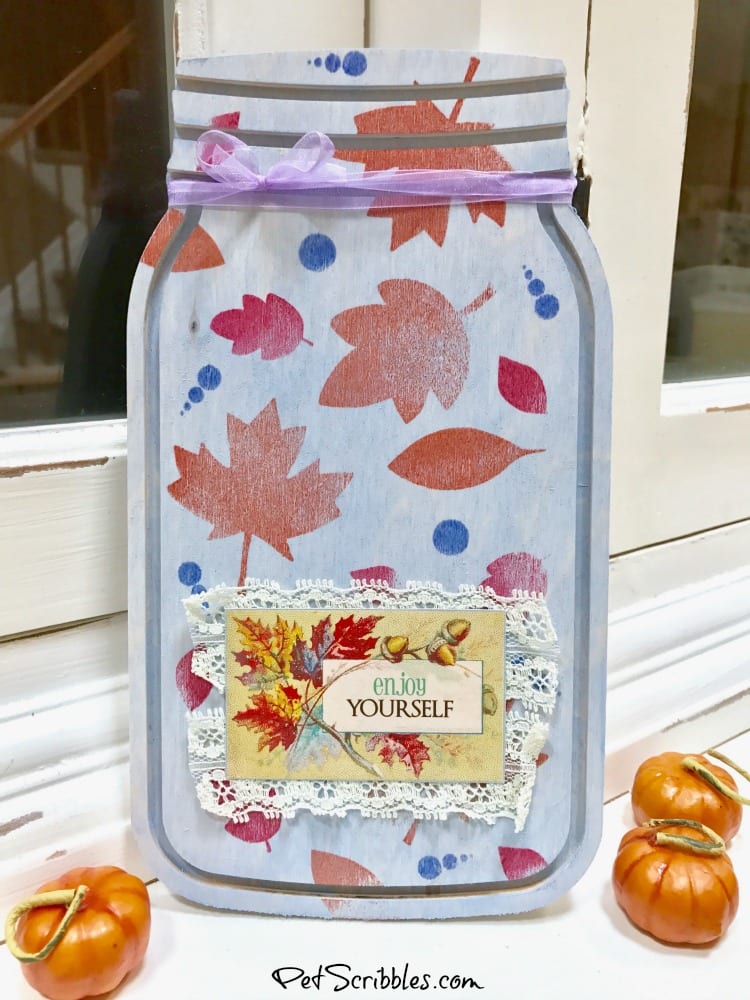 Happy crafting!
~Laura