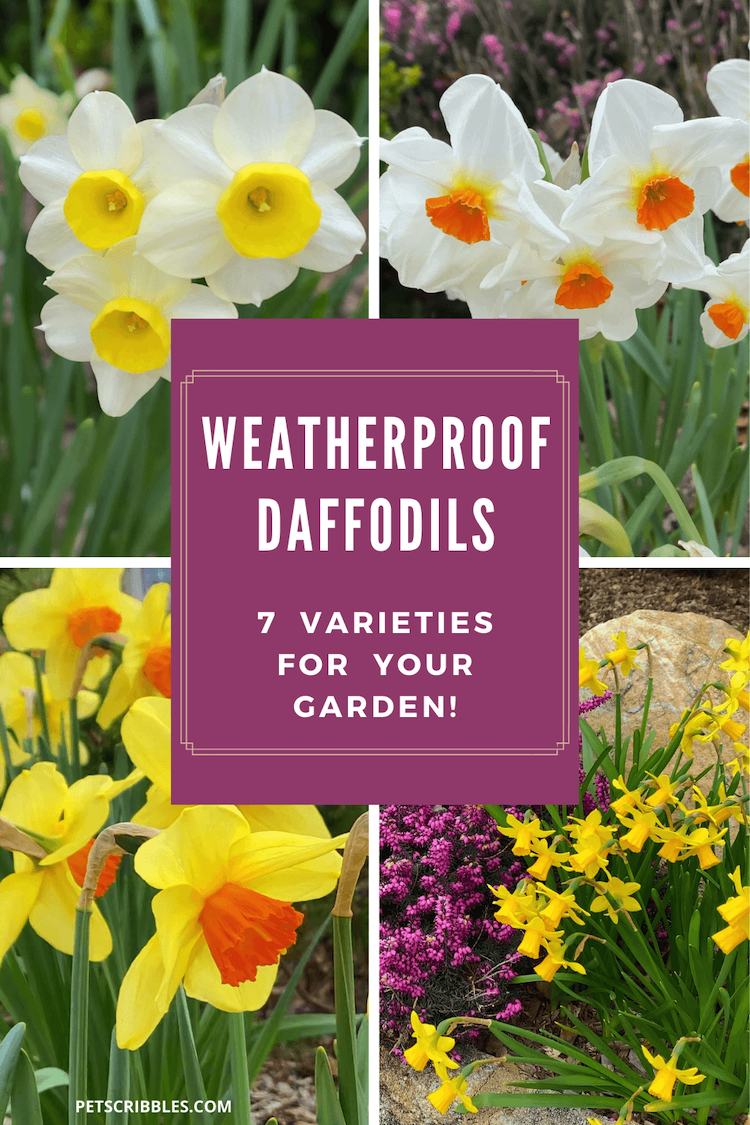 Here are 7 weatherproof daffodils grown in my garden. These pretty daffodil varieties survive Spring storms perfectly! Featuring tall and miniature, plus early, mid and late season bloomers. All naturalize wonderfully over time. Includes video.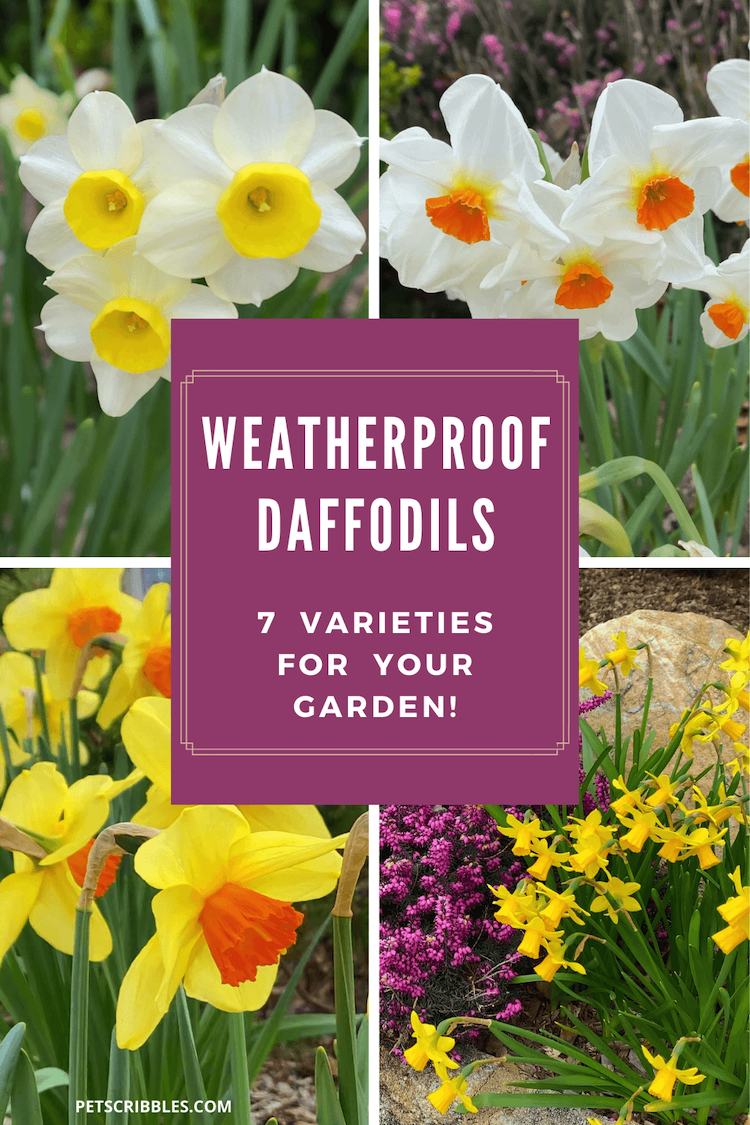 I love daffodils, and have been adding them to my gardens over the past few years. This year, I've been very impressed with how these 7 varieties have withstood not only Spring rain storms but also sudden warm temperatures too.
These weatherproof daffodils bloom in my garden from the end of February all the way into late April. Almost two months of flowers! That's the benefit of planting early, mid and late season bloomers in your gardens!
At the end of the list below are resources where you can purchase these bulbs. I also filmed a video so you can see these daffodils "in action" in my gardens. The daffodil video is at the bottom of this article.
Tête-à-Tête Daffodils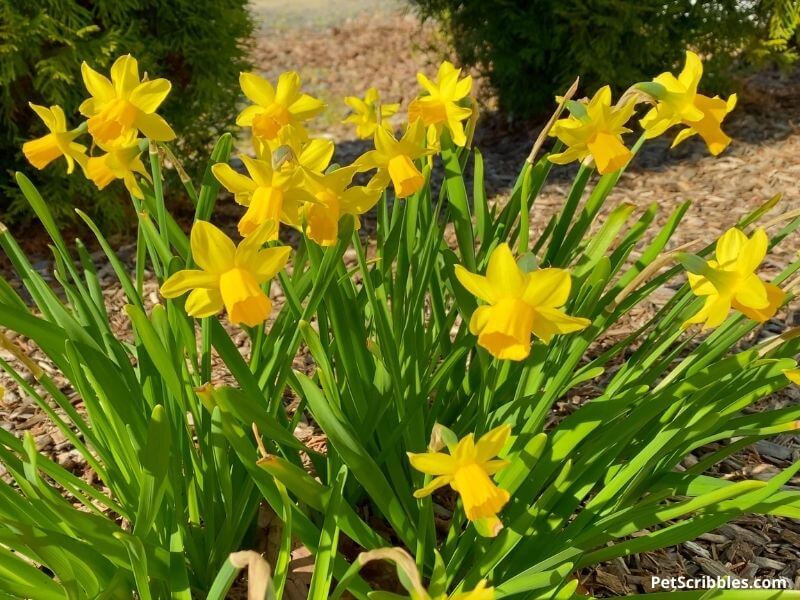 These tiny-but-mighty Tête-à-Tête Daffodils will always have my heart. They were the first daffodils I planted years ago, and I put them everywhere in our front yard garden beds. I planted them in drifts of at least 12 to 15 bulbs in each large hole I dug for a more natural look. These begin blooming for me (southern New Jersey, garden zone 7) in late February and continue into early April. Although they are short, the bright color makes them very showy in the landscape. These are great for beginner gardeners because the bulbs are smaller, and these are very reliable bloomers. You get a lot of satisfaction from your first-ever bulb planting!
Early to mid season bloom time
Small — 7 inches tall
Bulb size smaller than other daffodil bulbs
Great beginner daffodil
Very bright yellow color
Wonderfully long blooming
1 to 3 blossoms per stem
Excellent for naturalizing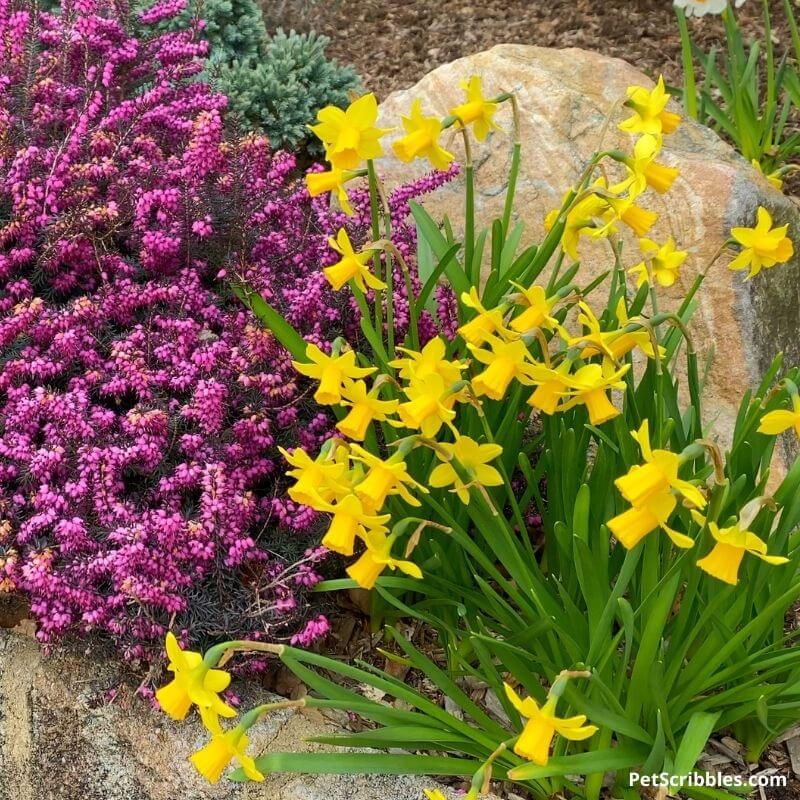 Red Devon Daffodils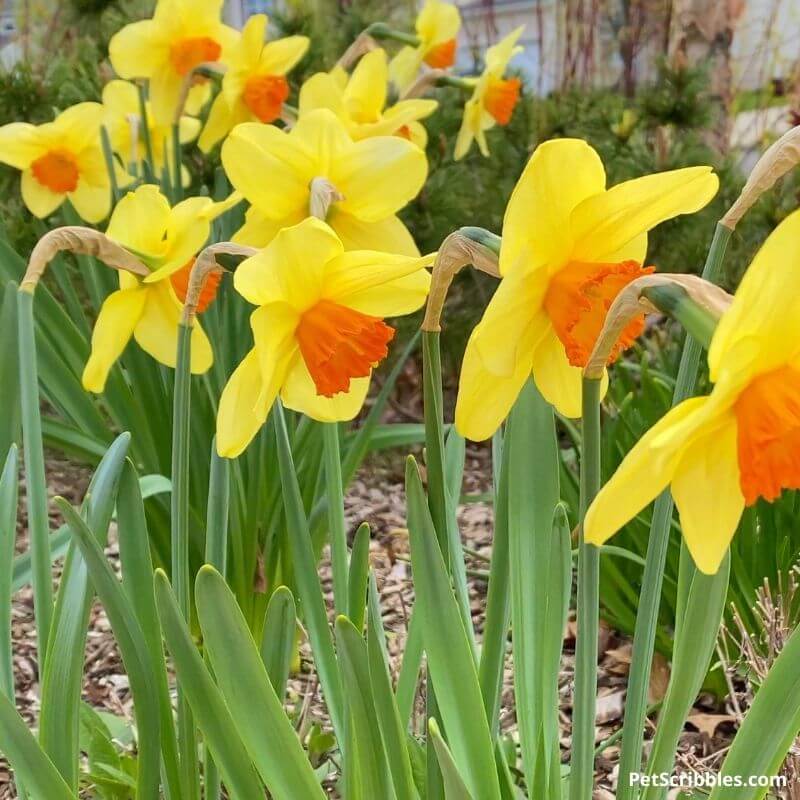 I actually get sad when my Red Devons begin to fade. They provide almost one month of color, and since they are tall with orange-red trumpets — they are very showy in the landscape. The first year I had them, I cringed when we had torrential rains. But the next day, every single one was still standing tall. There were no floppers. I've planted 200 of these weatherproof daffodils so far, and I'm positive I'll be purchasing even more this year!
Early to mid season bloom time
Tall — 18 inches tall
Flashy color with the red-orange trumpets
Dependable and strong
Big flowers
1 blossom per stem
Excellent for naturalizing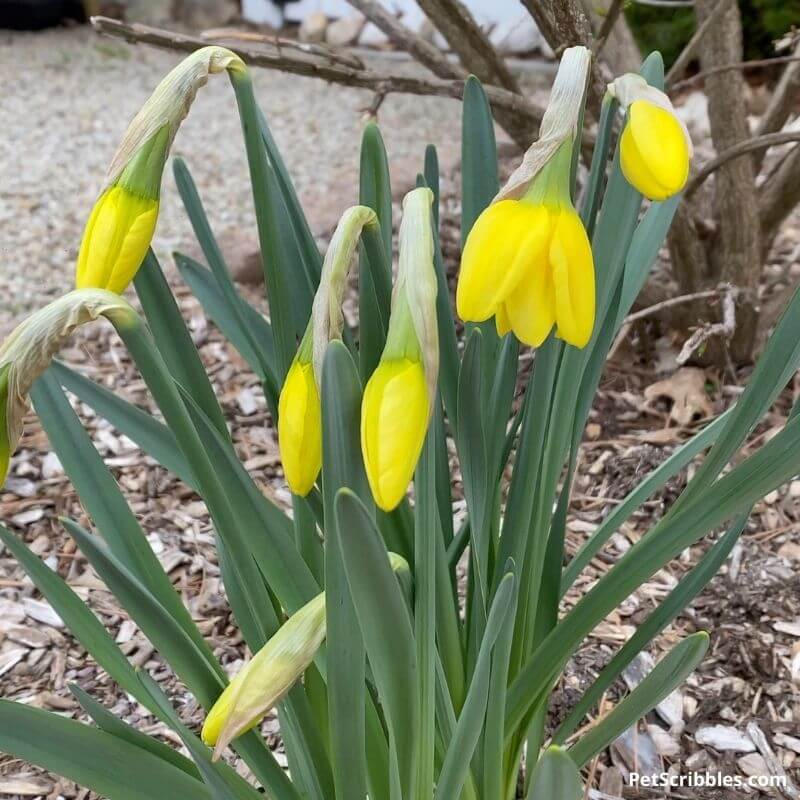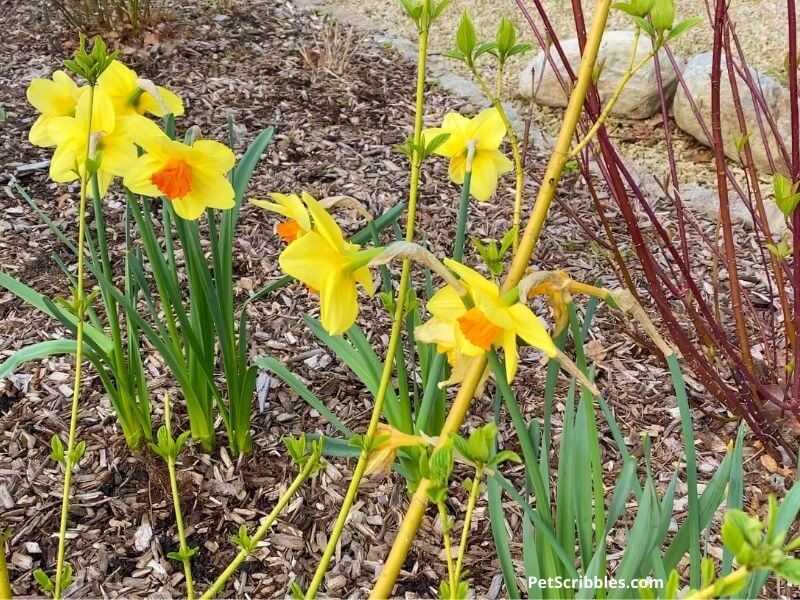 Poeticus Actaea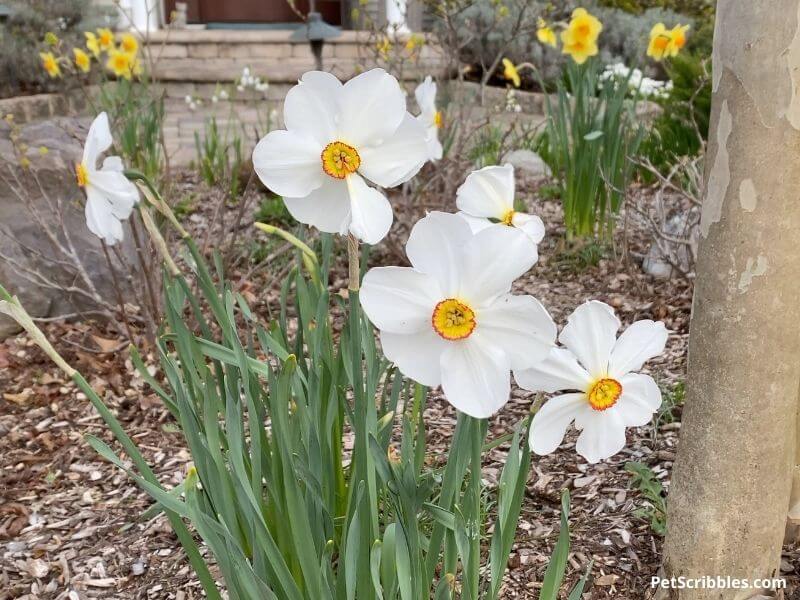 I planted Actaea around our Crepe Myrtle tree in the center bed of our front yard gardens. Because the tree doesn't start leafing out right away, these happy daffodils provide some wonderful color around the base of the tree. Actaea kicked in while the Red Devons were in bloom, and continued their show into the end of April.
Pronounced Act—Ā—ahh
Late season bloom time
One of the last daffodils to bloom
Tall — 15-17 inches tall
Intensely fragrant
1 blossom per stem
Excellent for naturalizing
Cragford Daffodils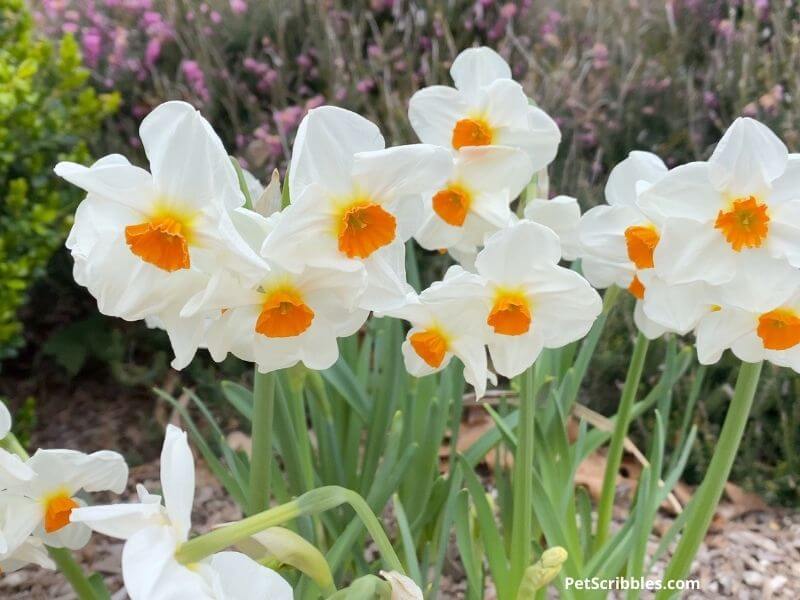 Cragford was my choice for a mid season daffodil, something to add to the Red Devon show. These provide outstanding color because of their bright trumpets. I planted these in the front and back yard gardens, and again plan on purchasing more. So very pretty, yet strong!
Mid season bloom time
Tall — 16-18 inches tall
Heat tolerant
Fragrant
3 to 5 blossoms per stem
Naturalizes and blooms reliably even in zones 9 and 10
Yellow Cheerfulness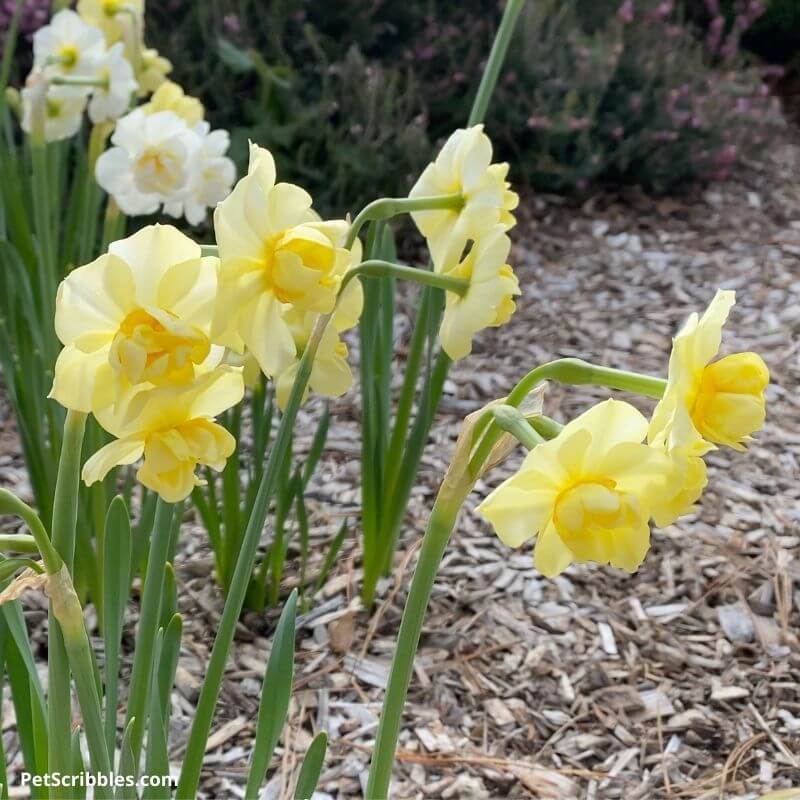 Who can resist ruffled daffodils? Not me, that's for sure! Because the yellow is a different shade than the Red Devons, I tried not to plant them close together for fear of clashing yellows. That seemed to work out well. These are wonderfully sturdy, even though their ruffles make them appear delicate. Lasted to the end of April for me. I found myself always walking over to gaze at them!
Mid to late season bloom time
Tall — 14 inches tall
Ruffled petals
Pale yellow color
Intensely fragrant
Clusters of flowers per stem
White Cheerfulness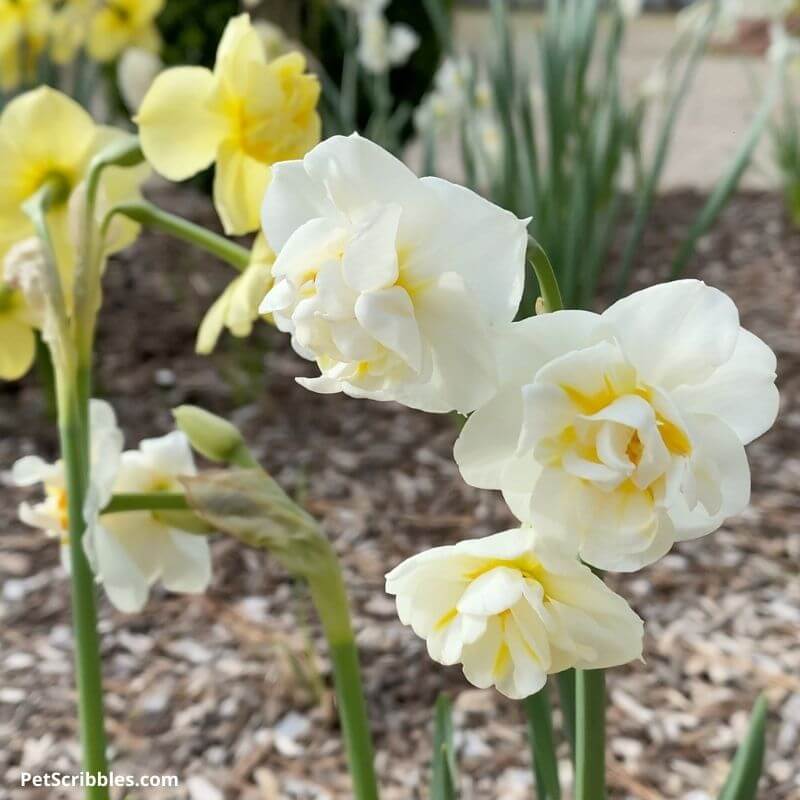 I lucked out, because some White Cheerfulness bulbs must have been mixed into my Yellow Cheerfulness order. This was a fantastic surprise for me when they bloomed this Spring! The creamy white ruffles are heavenly, but it's the bits of yellow peeking through that made me stop and stare. So pretty!
Mid to late season bloom time
Tall — 14 inches tall
Ruffled petals
Creamy white color with wonderful yellow coloring toward the centers
Intensely fragrant
Clusters of flowers per stem
Canaliculatis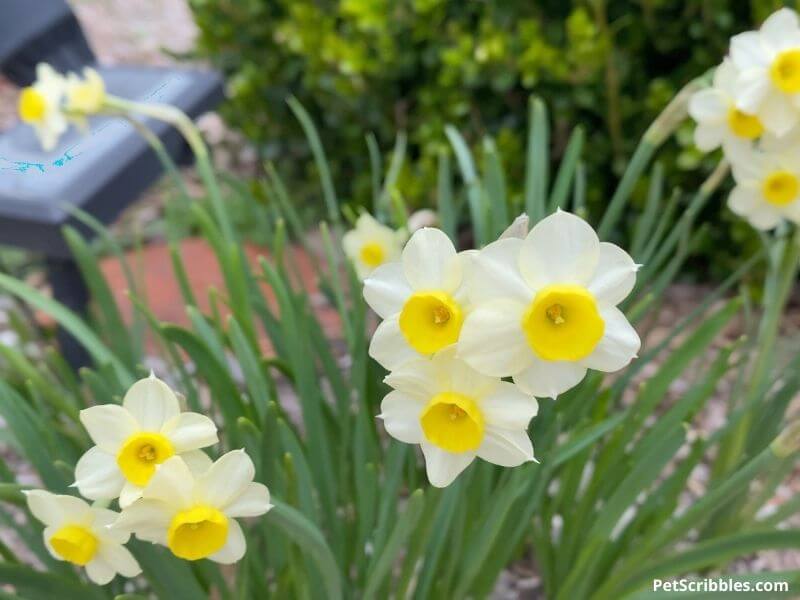 I tried these on a whim, wanting a later blooming daffodil but also a miniature one. Canaliculatis fit the bill, but wow is it difficult to pronounce! This is an interesting "mini" daffodil — the stems are tall, yet the flowers are small. Very sweet at the front of a border, but their tall stature could mix well with other taller bulbs too. Love these!
Pronounced: ca-nal-lic-CUL-la-tis
Mid to late season bloom time
Tall — 14 inches tall
Miniature daffodil flowers
Fragrant
Multiple blossoms per stem
Great for naturalizing and mass plantings
Where to buy weatherproof daffodils
While there are many fantastic bulb companies to purchase bulbs from, these are the two I've personally used and can therefore recommend. Both have top-notch customer service for any questions on your orders. Shipping is wonderful, as they arrive when it's time to plant, and both companies provide planting info with your bulbs.
I've ordered bulbs from them for three years straight. Love the quality of the bulbs and their customer service is top notch. My Tête-à-Têtes, Red Devons, Cragfords and Actaea daffodils are all from Longfield Gardens.
This past year was the first time growing daffodils from DutchGrown. Wonderful customer service. My Yellow Cheerfulness, White Cheerfulness, and the miniature flowering Canaliculatis daffodils are from DutchGrown.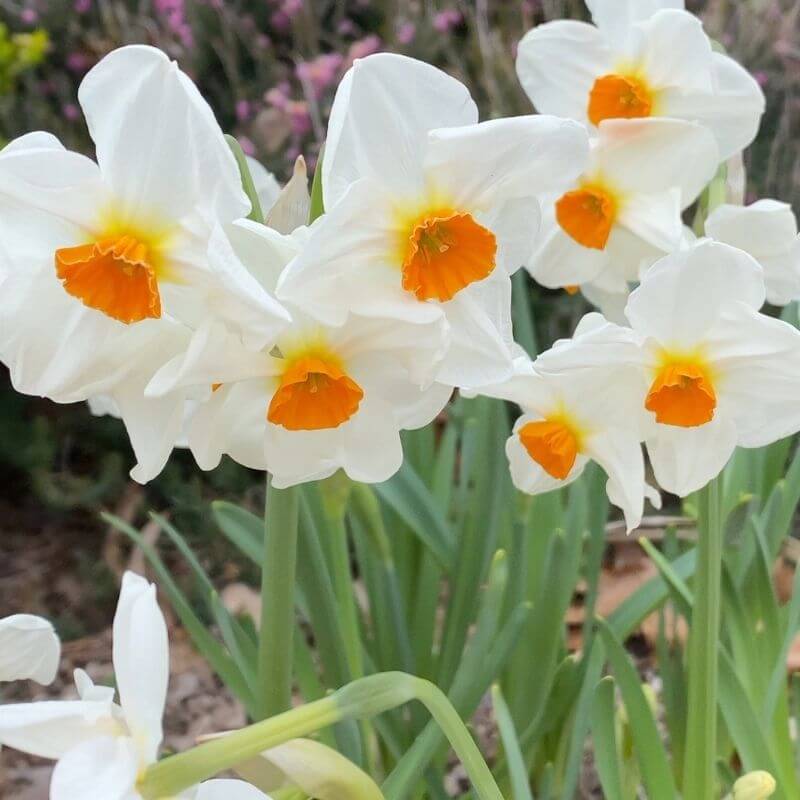 Video: 7 Weatherproof Daffodil Varieties in my Garden
---
---
Happy gardening!
PS — Check out my article "When to Cut Back Daffodils" for why and when to deadhead and cut back your daffodils, to help give your bulbs the best chance for another gorgeous show next year!