This post and photos may contain Amazon or other affiliate links. If you purchase something through any link, I may receive a small commission at no extra charge to you. Any supplies used may be given to me free of charge, however, all projects and opinions are my own.
Pride Socks

, a sock company based in Austin, Texas, sent us a huge donation!
Socks for Sandy has been able to provide some warmth to so many residents of Little Egg Harbor and Tuckerton, New Jersey who lost everything in the Hurricane Sandy storm. From the hats and scarves you sent, to the gloves and mittens, not to mention all of the different kinds of socks, your generosity has been awe-inspiring and appreciated by so many in this community.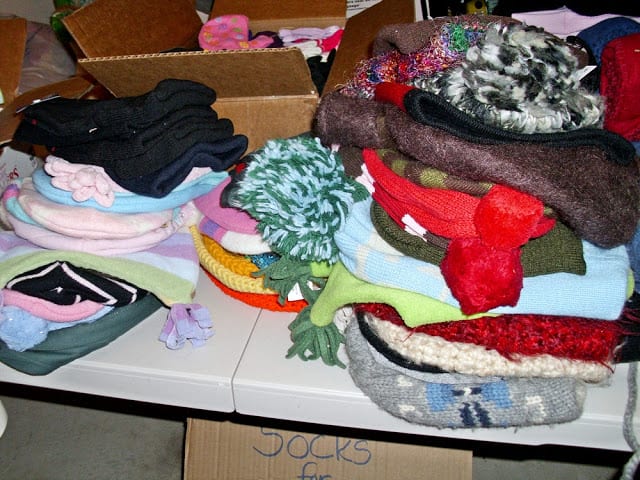 Just some of the cozy hats donated by you!
I admit that I naively thought this (Socks for Sandy) would be a short project that I would do, and that we would achieve receiving these necessary essentials quickly and be all set. Like I said: I was naive. And I was a bit premature stating earlier this week that we had enough socks. I even turned down a radio interview this week because I thought we were all set. I was wrong.
You have sent in many sizes and styles of gloves and mittens!
Last night, I attended an ad hoc (informal) meeting of community volunteers sharing information so we all can help those who need it most in the best and most efficient ways possible. And I learned a few things I hadn't known before, such as:
Over 800 homes in the 08087 area (Tuckerton and Little Egg Harbor, New Jersey) have been condemned.
Over 4500 homes in the 08087 area have been affected by Sandy in some way, whether flooding, property damage, etc.
The poverty rate in the 08087 area is currently at 45%.
The needs are great, and what is needed still yet are essentials.
You sent in so many cozy slipper socks, that I have been sorting them
into separate boxes to make sure everyone's feet can stay warm!
Socks for Sandy will continue, so that we can continue to provide some warmth as best we can.
After discussing with others last night at the meeting, we came up with a short list that I – as the person running Socks for Sandy – am asking for:
New packages of underwear – all sizes from toddlers to adults
New packages of sports bras – all sizes
New packages of socks – yes, there is still a need for all types of socks, in all sizes for all ages
New packages of thermal underwear – all sizes from kids to adults
New packages of children's pajamas – from toddlers on up
New sweatpants for adults – preferably in neutral colors (black, grey, navy) that could be worn by women or men
This is the need, and we are asking for your help. I will gladly accept all packages for the foreseeable future, at least through the New Year holiday. At that time we will reassess what we've received and what the needs are.
For those of you who have already sent us packages and boxes, you have not only my sincerest thanks, but the thanks of so many in our community who are aware of Socks for Sandy. Please share this new request for essentials with your friends and colleagues at work, in your church groups, etc.
We received a box of socks all the way from Hong Kong!
For those of you who still want to help: you can!
Please send any of the above items to:

Socks for Sandy
P.O. Box 520
Little Egg Harbor, NJ 08087
I know that I have repeatedly typed the words "thank you" and "thanks" in my blog posts, as well as on our Socks for Sandy Facebook page, but I am not sure if I could ever type or say those words enough to convey the depth of my gratitude for your help and support.
~Laura