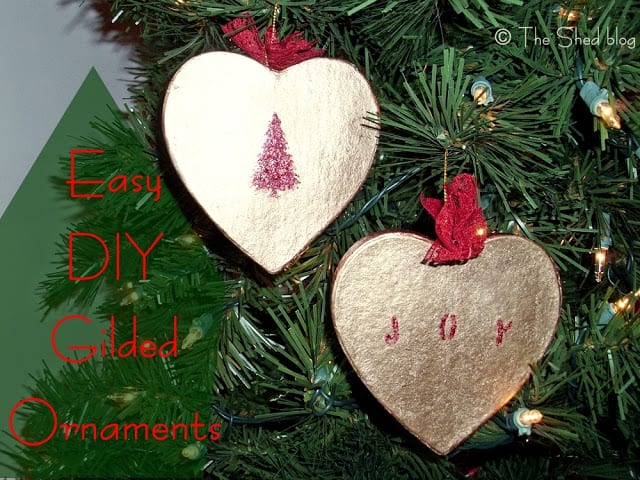 Disclosure: I wrote this post as part of a paid campaign with Martha Stewart Paints and Blueprint Social. The opinions in this post are my own.
I may have entered into what is quite possibly craft nirvana, because Plaid Crafts sent me a huge box of Martha Stewart Paints, stencils, brushes, squeegees and applicators. I will definitely be creating many of my Christmas gifts and holiday decor with these supplies, and today I'm sharing how I made a set of gilded Christmas ornaments. It is much easier than you may imagine!
First, at the risk of making you swoon, here's all of the supplies that Plaid sent! I have so many fun projects planned for you – for me – for us – to create!
The Martha Stewart crafting supplies I received included many different types of brushes for stencils, glass paints and general crafts. Also included was glitter glue, crystal ice spray, glass etching creme, and two shades of gilding liquid. I. Am. Going. To. Have. So. Much. Fun. Crafting. This. Holiday. Season.
Among the many stencils included for me to try were Martha Stewart Adhesive Stencils. Because these stencils have a sticky back, they are easy to position and easy to remove, making it super easy to craft! Each package comes in a plastic sleeve, and includes helpful directions and tips.
To make the gilded ornaments, I used the following supplies:
Paper maché ornaments (only $1 each at the craft store)
Martha Stewart Crafts Gold Liquid Gilding
Soft bristle brush
Martha Stewart Course Glitter Craft Paint in Garnet (red)
Wire or string (to hang up the ornaments while they dry)
Vintage lace seam binding in red (optional)
Two straight pins (optional)
Tutorial
Make sure you work in a well-ventilated area: the liquid gilding is pretty strong as are most specialty paints. I did the gilding in our basement, away from people and pets.
1. Spread out your paper maché ornaments and come up with a plan for how you want them to look.
2. I chose to use both the liquid silver and the liquid gold. (See image below.) I used one of Martha's awesome brushes, and cleaned it enough afterwards that it will be my "gilding brush" going forward. (Yes, I plan on gilding just about everything in sight after learning how easy this product is to work with!)

3. Paint one side at a time, and wait at least one hour in between applying coats. I painted one side, set the timer, kept watching the timer, and couldn't take it anymore after 40 minutes as I was loving how they already looked! I only did one coat on each side and along the edges. I let them dry on wax paper overnight.
The liquid gilding felt like it just glided onto the surface. I painted it on in just one direction as the instructions suggested, and couldn't get over how easy and quick it was to cover the ornaments.
4. This is how they looked the next morning, ready for the next steps. Plaid's website states that Martha Stewart Liquid Gilding is a "one-step leafing paint [that] creates a rich metallic luster…" Oh how true this is! Just look at how pretty these ornaments already are!
I already planned to use some of the adhesive stencils, and instead of regular craft paint I planned on using the course glitter craft paint. This was my first time using these paints, so I decided to see what the colors would look like on grey (for the silver ornaments) and tan (for the gold ornaments) cardstock.
On the grey cardstock, (scroll down this page to see the image) colors are (left to right): Florentine Gold, Garnet, Sugar Cube, Obsidian, and Sterling. On the tan cardstock, colors are (left to right): Sterling, Obsidian, Sugar Cube, Garnet, and Florentine Gold. I thought the Garnet (red) looked so rich and vibrant, and I love the gold and red color combination for Christmas decor, so I chose the Garnet for my gold ornaments. (The silver ornaments I'm saving for another possible tutorial, so the instructions from this point on will be just for the gold ornaments.)

5. Simply place the adhesive stencil of your choice in position and smooth it down so that no paint can find its way underneath the stencil. I had to position a few times, simply because each ornament didn't hang 100% vertically from its gold thread hanger, and I can't have crooked ornaments on my tree!
Using one of the dauber brushes, I gently pounced the Garnet course glitter paint onto the ornament surface, making sure to keep my motions up and down, not side to side which could help the paint find its way underneath the stencil. (Can you tell that I've had stencil leakage in the past?)
6. After covering the surface to my liking, I took a tissue and with my fingernail just gently blotted away some of the paint from the edges of the stencil. (Can you tell that the previous stencil leakage I had experienced in the past sort of traumatized me?)

7. I carefully removed the adhesive stencil and took a moment to absorb the fact that it worked, it looked so cool, and there was No. Stencil. Leakage. At. All. Yay for me!
Next I used some of the lettered adhesive stencils to spell out JOY. Just think of the possibilities for personalizing ornaments using these stencils! (I already did, and definitely will be making some to give as gifts this year.)
Again, I had to position the stencils a few times to get them just right. At one point, I lost the letter Y. I looked everywhere. And then I found it: stuck to the underside of my hand. (And yes, I did wish for those five minutes of my life back.)
8. Once I stenciled JOY, I hung up both ornaments to dry for about an hour. I hung them up using those twisty-ties you get on loaves of packaged bread, and hung them from some of my slatted shelving in my craft room. Once dry, I took them down and – using the same dauber – I pounced more of the Garnet course glitter paint onto the edges of both ornaments. Then I hung them up to dry again.
9. I loved how they looked, but wanted to add just a tiny bit more "oomph" so I cut three small strips of red vintage lace seam binding, stuck a straight pin through them and into the top of each ornament. I used a red permanent marker to color the top of each straight pin, and then fanned out the pieces as shown below.
And there you have it: a set of gold gilded ornaments that will dress up our smaller Christmas tree that we put up in our library each year! These ornaments could also be hung from a wreath, from a faux (or real) evergreen swag, or tied around bottles of eggnog, wine or as "gift tags" on your gift-wrapped Christmas presents. Lots of possibilities for Christmas gifts and holiday decor!
If you want more information on Martha Stewart Paints or any of the Martha Stewart craft products and supplies used, visit Plaid Crafts on Facebook, follow them on Twitter, and for "pinteresting" inspiration definitely follow them on Pinterest. (Click the links in red to be taken directly to those sites.)
Happy holiday crafting!
~Laura