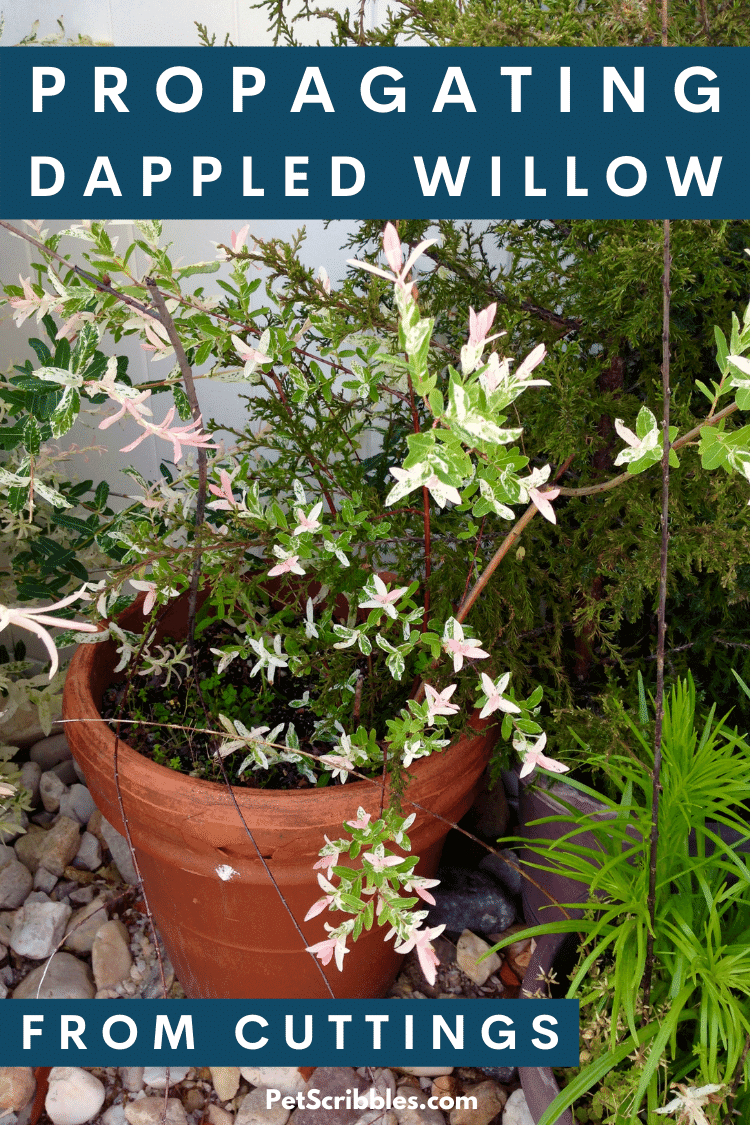 Learn how to add more Dappled Willow shrubs to your landscape by propagating Dappled Willow cuttings from your original plant. It's easy to do whether you propagate the Dappled Willow cuttings in soil (pots) or in water! Plus you save money by not purchasing more shrubs! Includes helpful images and video.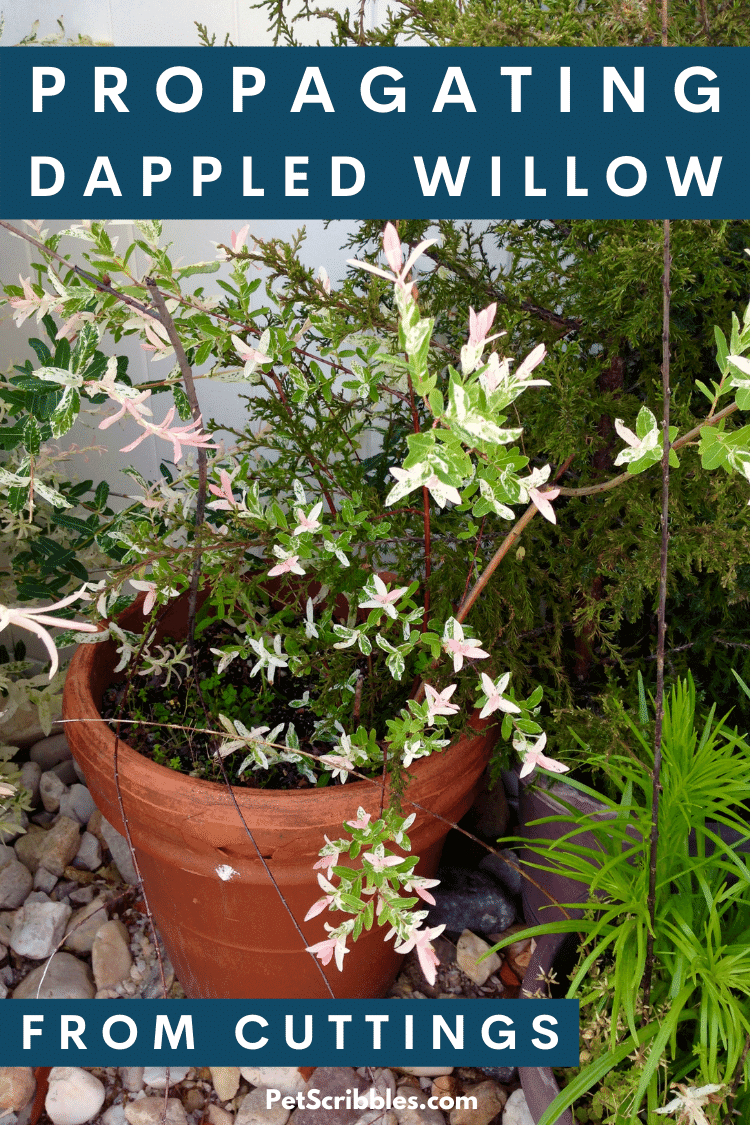 We have a living wall of Dappled Willow in our back yard, and it's so much nicer than staring at a blank fence. This entire wall (below) was grown from just one shrub. Each additional Dappled Willow shrub we planted began from cuttings taken from the original shrub.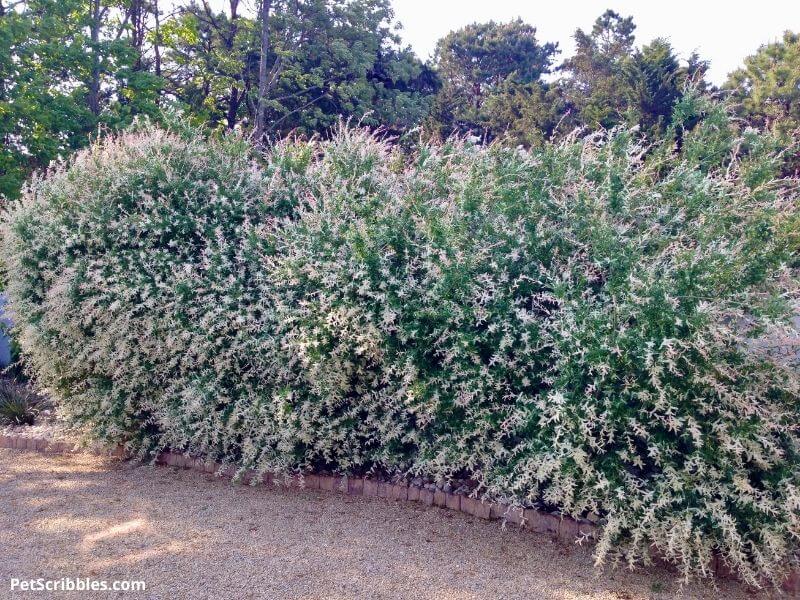 Please note: You can find growing information for Dappled Willow in my Complete Guide to Dappled Willow. (Just click on the link — it's free!)
What is propagation?
Propagation is the technical term for growing new plants from cuttings or seeds of the parent plant.
Have you ever taken a cutting from one of your houseplants and stuck it into a glass of water to make another plant? That's propagation.
The way to do this varies from plant to plant, as does the amount of success. Some plant cuttings benefit from a rooting hormone to help stimulate growth. While some cuttings do better forming roots in water, others do better in soil or a similar planting medium.
Propagating Dappled Willow is very easy and no special rooting hormone is needed.
How I accidentally learned how to propagate Dappled Willow
The first Winter after planting our original Dappled Willow shrub, I needed something to put into the urns flanking our front entrance. All of the Christmas decorations were put away and those urns looked so sad.
Standing in front of the urns, I looked around and noticed the red stems on the Dappled Willow. Perfect solution! After cutting off several stems, I stuck them into the frozen dirt in the urns. They looked so pretty. Instant Winter decor!
Fast forward to the Springtime, and we were surprised to see these red stems sprouting leaves! Instead of tossing the stems, I carefully planted Spring flowers around them.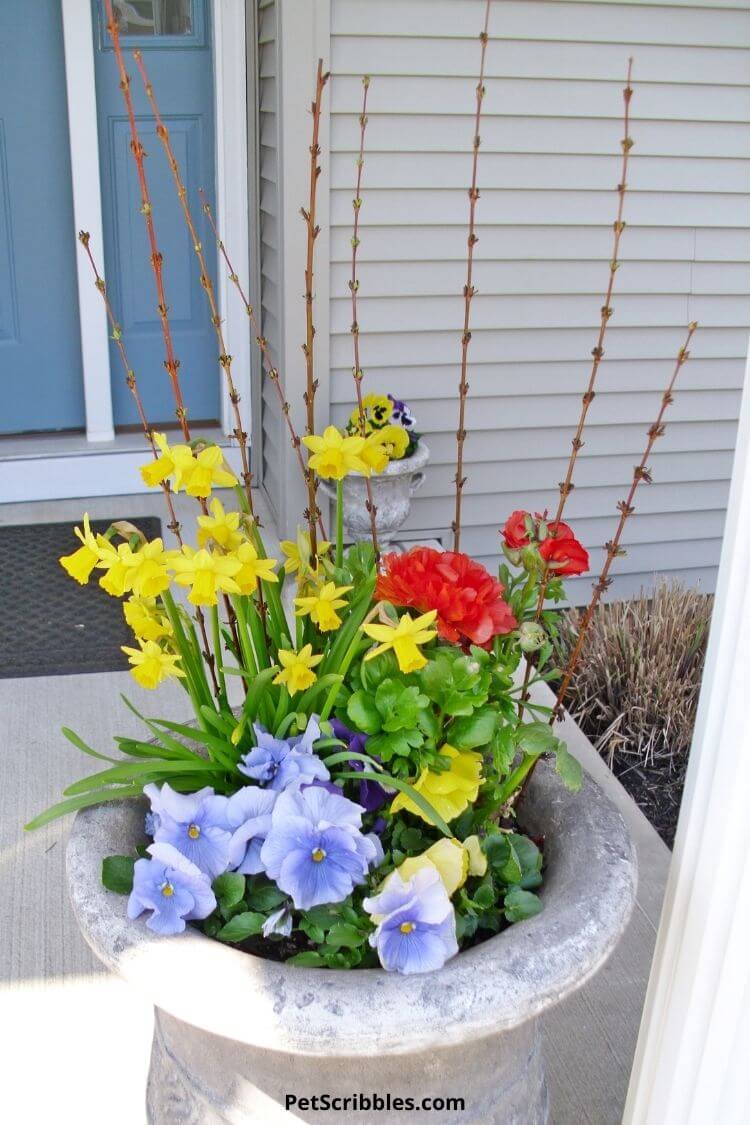 In early Summer, I transplanted the stems into pots and they continued to grow. At the end of that Summer, we planted two of the cuttings that looked the best. One year later — after a complete growing season in the ground — these new Dappled Willow cuttings easily reached the same size of the original Dappled Willow shrub!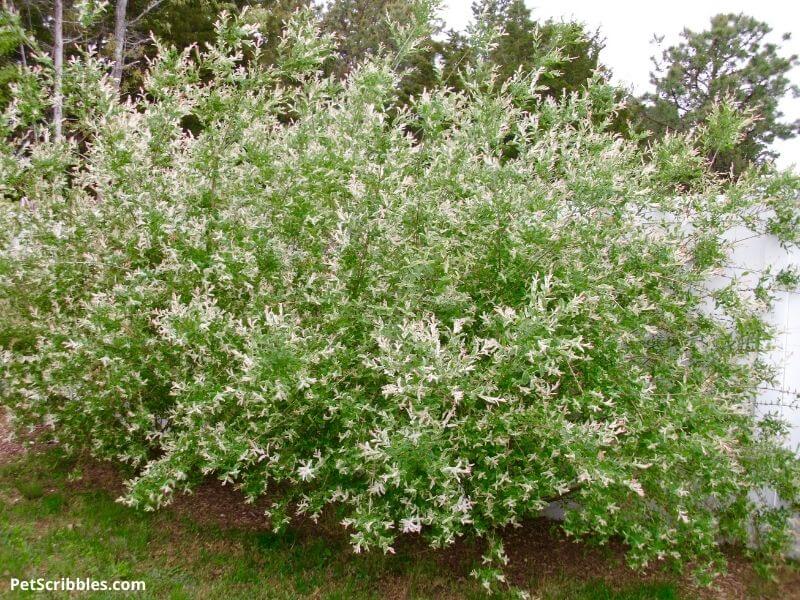 In the photo below:
1 = the original plant we moved from our front yard to the back yard.
2 and 3 = single stems stuck into dirt that grew into full-size shrubs.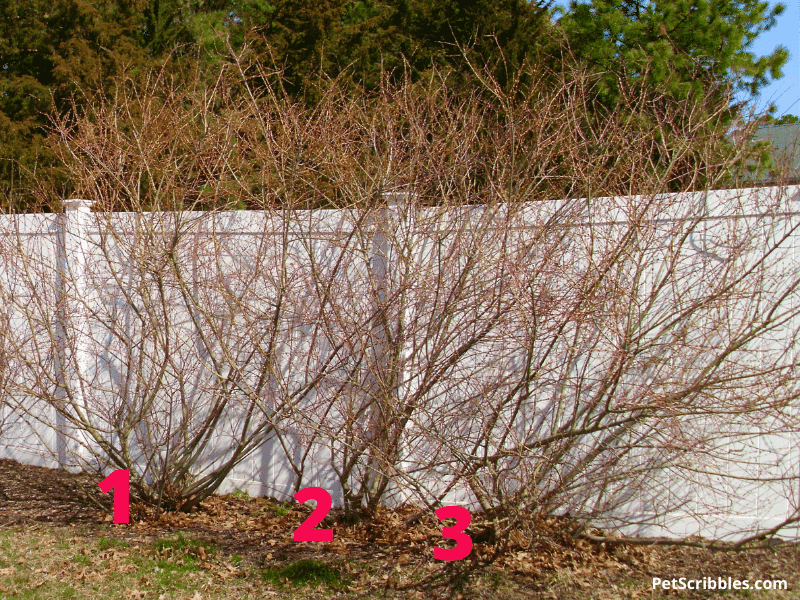 Even more Dappled Willow cuttings!
We repeated the process again, and over time developed our living wall of Dappled Willow, all from one shrub!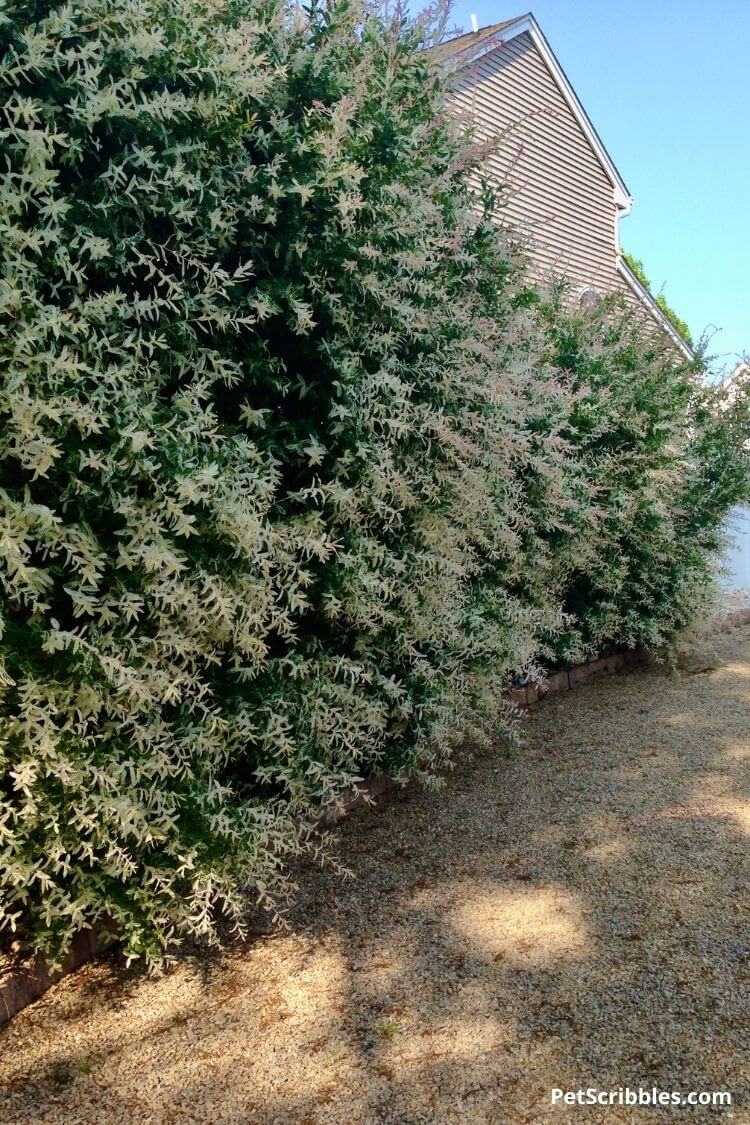 If you've ever seen the prices of one Dappled Willow shrub, you know this idea is a great way to save some money.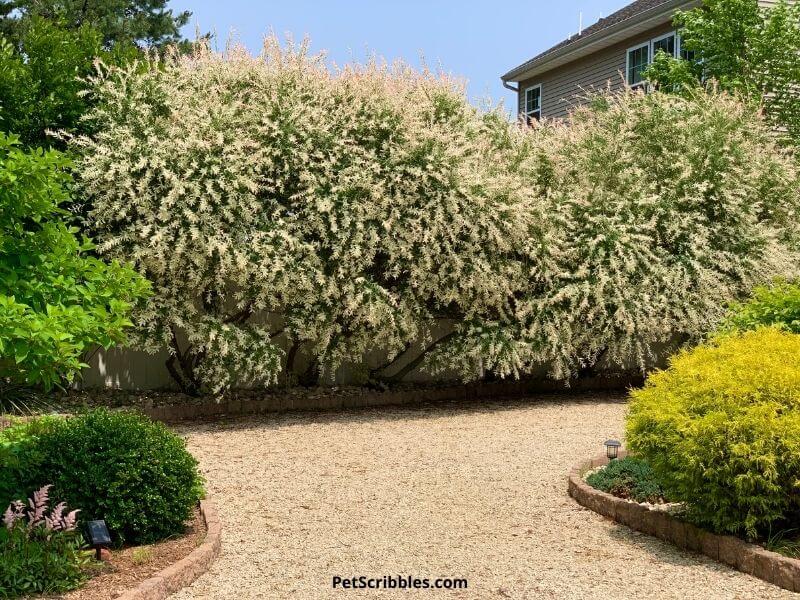 Our white vinyl fence — which you can't really see anymore when the Dappled Willow is leafed out — is 6 feet tall. Our Dappled Willow shrubs are between 10 and 15 feet tall. The length of this living wall is approximately 40 feet long. Each shrub is planted 3 feet away from the fence so that it has room to grow.
So that was my rookie success, but let's start back at the very beginning of the process . . .
How do you propagate Dappled Willow?
Cut several stems from a larger branch.
Stick stems into a container filled with soil.
Add water.
Put your container in the right spot.
Cut several stems from a larger branch
First, cut stems that aren't too thick or too small. I use these pruners from Fiskars. Look for stems around 6 to 8 inches in length, since at least two or three inches will be pushed into the soil.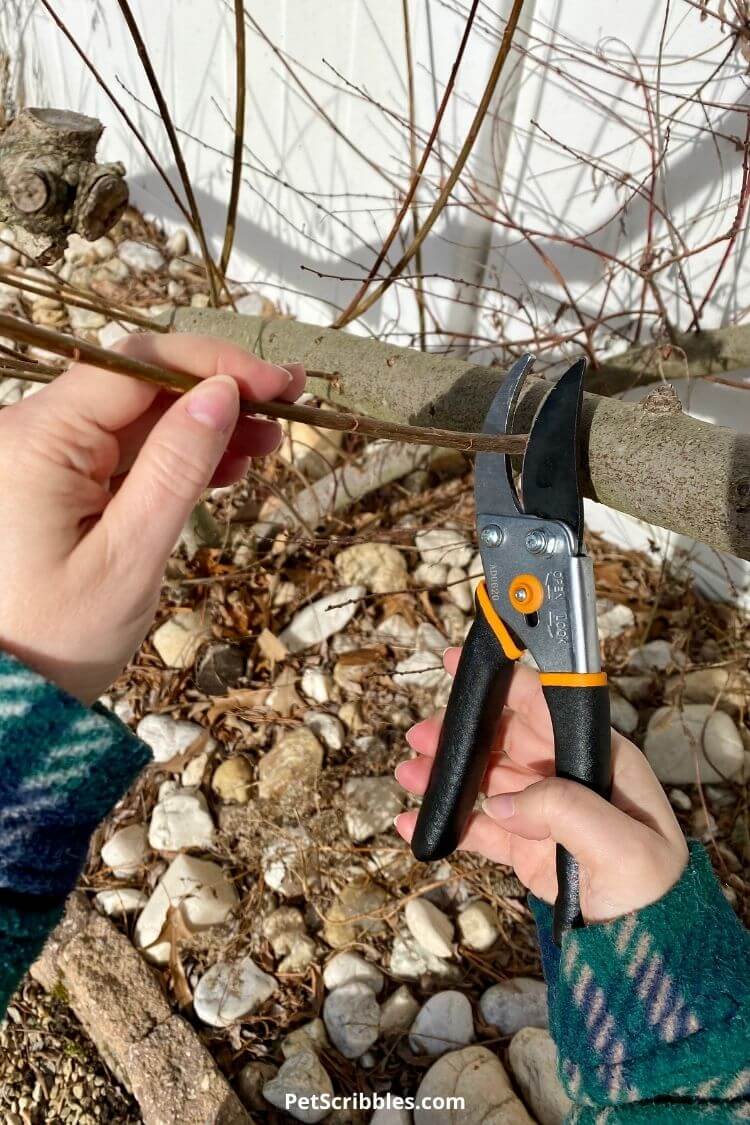 My latest cuttings are single stems, but I also chose a cutting that has multiple stems. Either type of cutting will work.
You can see in the photo below how green the end of the stem is, where I cut it off from the larger branch. Despite it being Winter when I took these cuttings, the green shows that this shrub is still very much alive!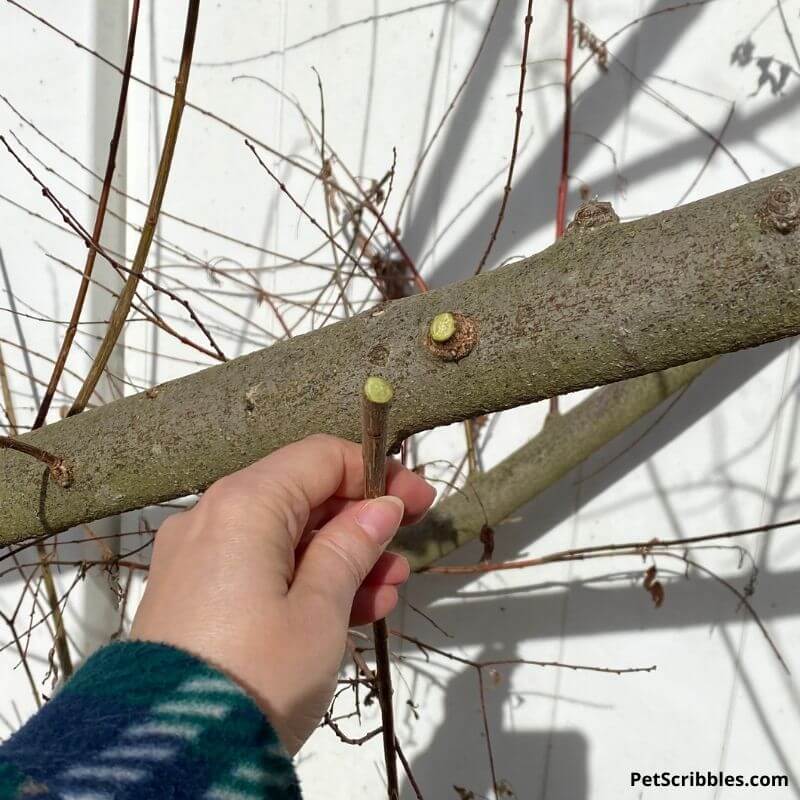 Stick stems into a container filled with soil
Next, stick each of the stems into a pot or container filled with potting soil. No other additives or rooting hormone is needed. Gently push each stem into the soil, making sure that at least two or three inches of the stem go down underneath the soil line.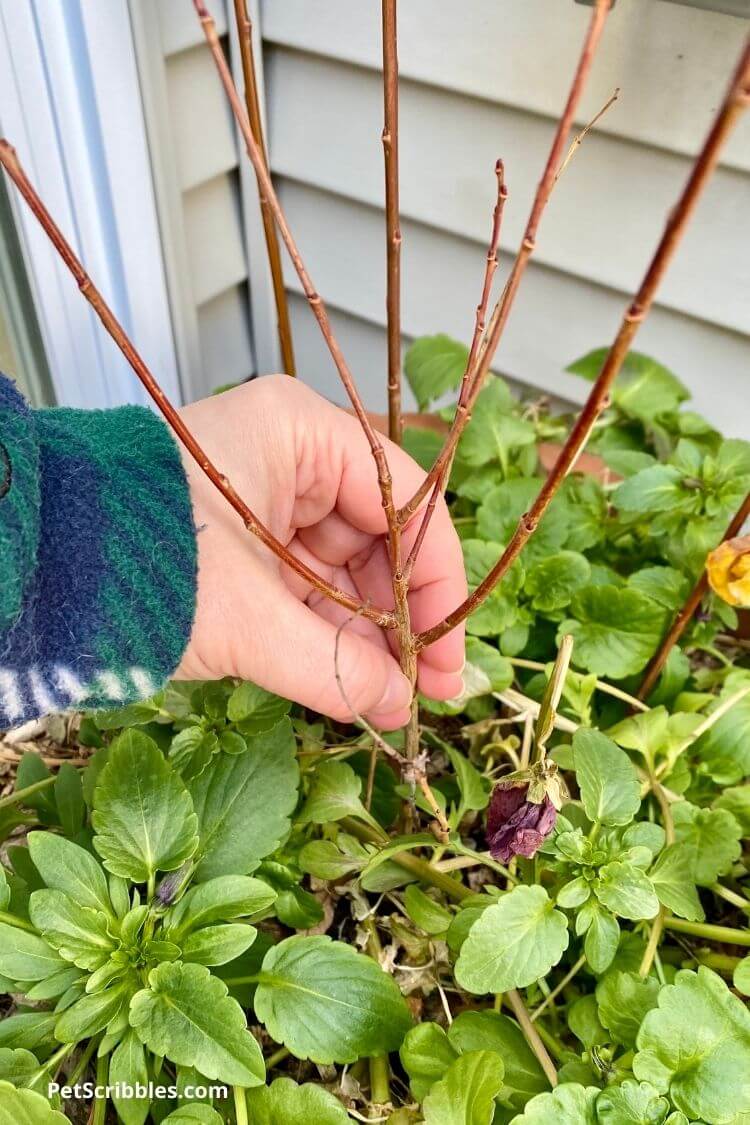 You can use any type of container — I've used both terra cotta and plastic resin containers with success. Your pot can already have plants in it, or you can start a fresh container just for your Dappled Willow propagation.
I'm using a container of potted pansies. I like the idea of using the pansies to keep the soil covered, although I also have some wood chip mulch on top of the soil as well.
Add water
Finally, give the container a decent amount of water, just like you would water new plantings. Keep the pots moist but don't overwater. Dappled Willow loves moisture but you don't want to drown any new roots as they start to form.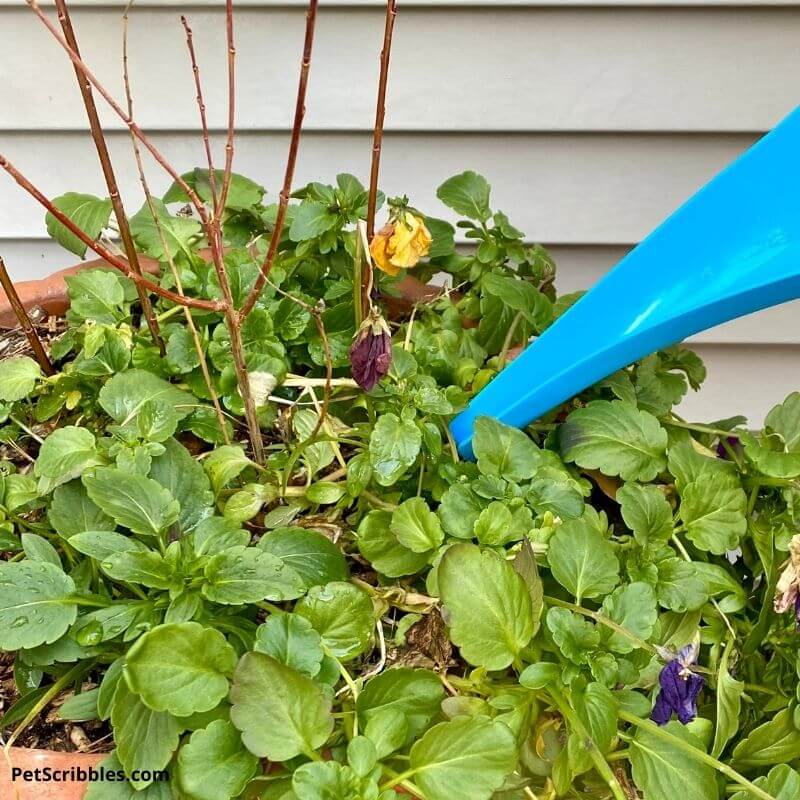 During the Winter months, if there's no snow or rain for weeks, add water to the pots occasionally if temperatures are above freezing. In Spring there is usually enough rain to provide water naturally.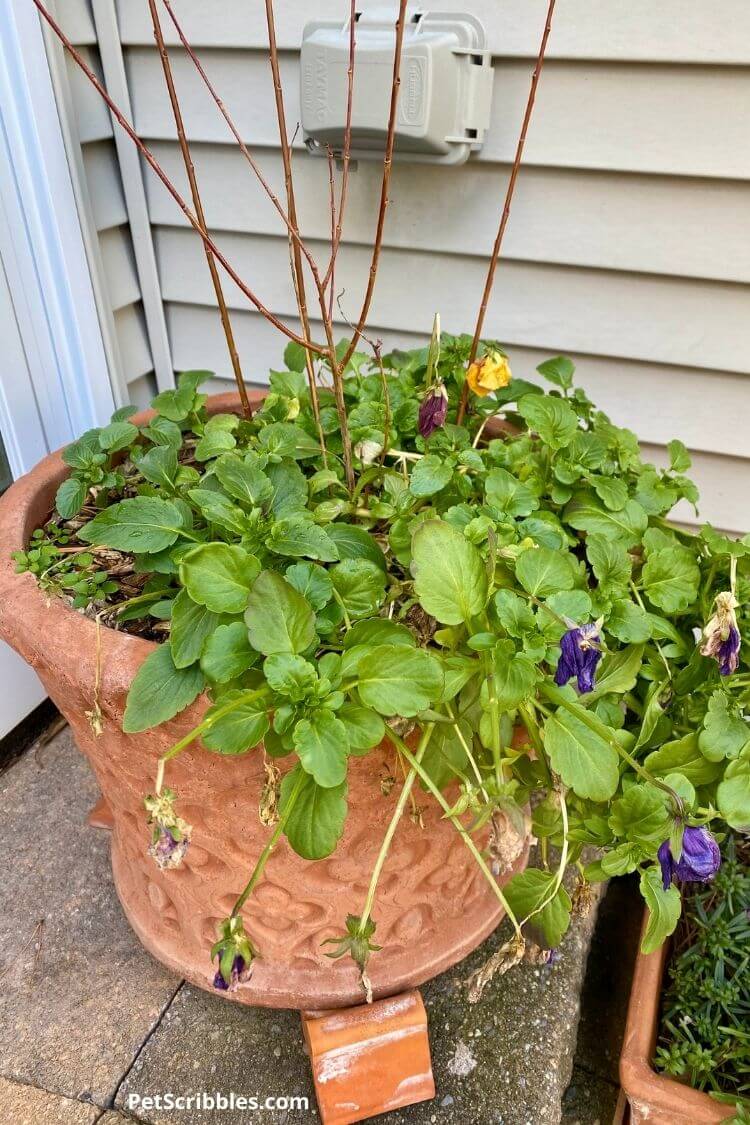 As the arrows show in the photo below, these cuttings already have buds on them. Yes, even though it is January, you will see tiny buds on many shrubs if you look closely. From a distance, it all just looks like twigs, doesn't it?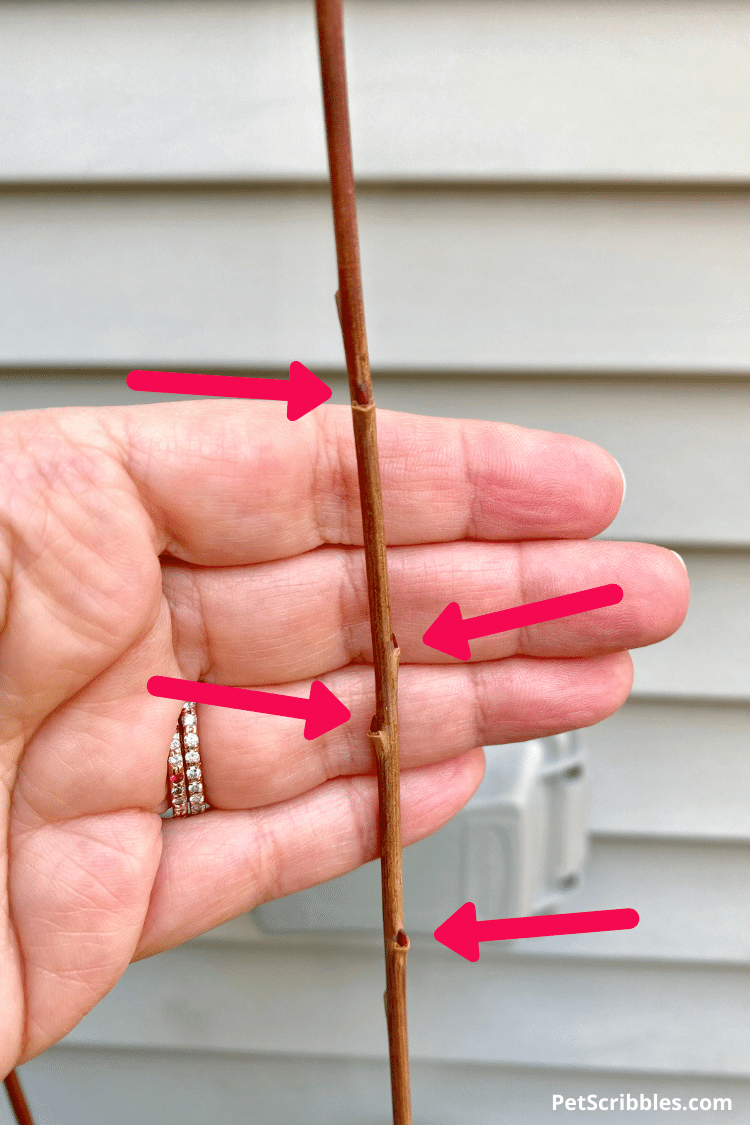 Put your container in the right spot
Place the pots in a shaded area, yet make sure the shade is bright shade. You want these cuttings to have light, but not direct sun when they start out — especially if you're doing this during the hot Summer months.
This planter always stays on our patio steps. Because it is in a little nook, the planter is protected from strong winds. The temperature is also a bit warmer since it is so close to the house.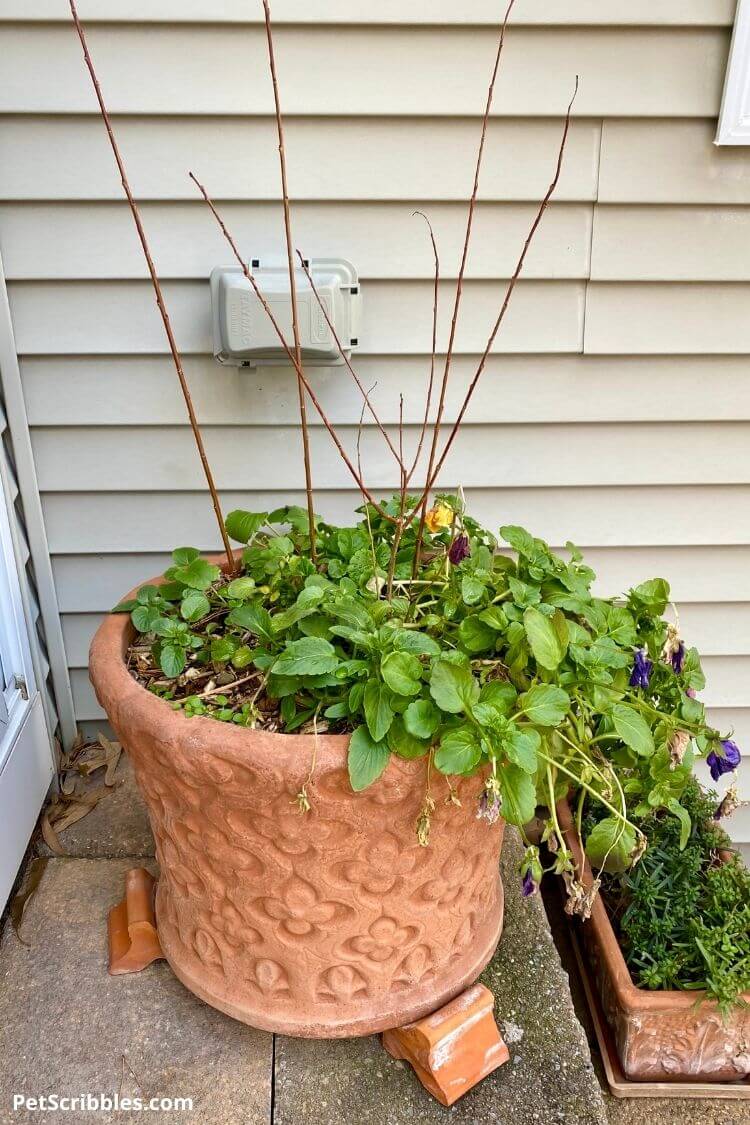 In general, during the Winter months I leave the potted stems outside. No special care, no protection from the elements like snow or freezing temperatures. I'm in zone 7, near the shore in southern New Jersey.
What does the new growth look like?
The photos below are good examples of what Dappled Willow cuttings look like after being in a pot for almost a year.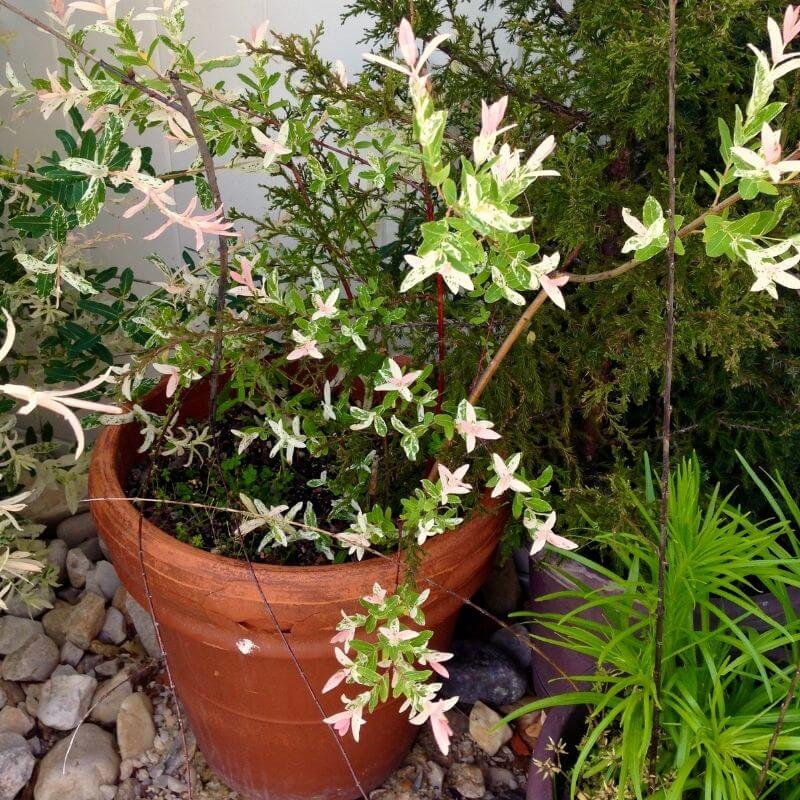 Some of the new growth occurred at the bottom of the red stems.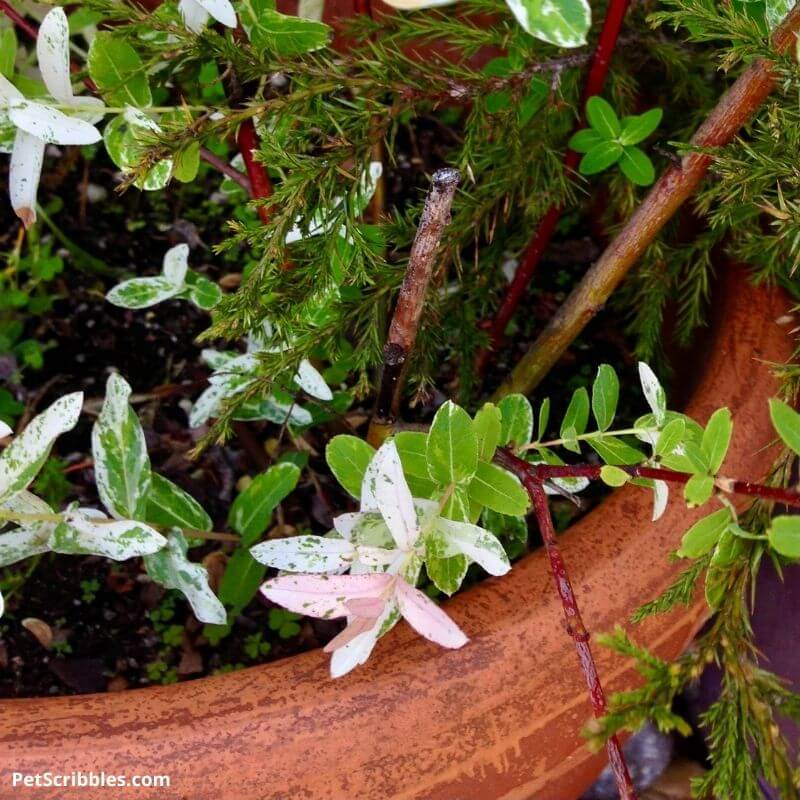 Additional new growth sprouted further up the stems as well.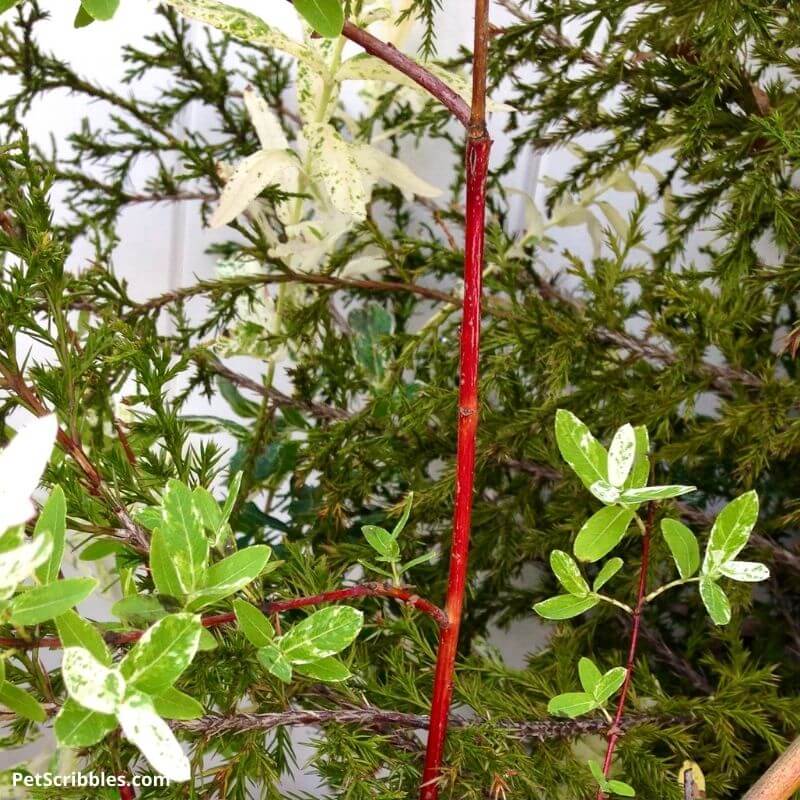 Most of the stems will sprout, and a few of them won't. It depends what Mother Nature decides to do. The arrows below show you one of the stems that died. It happens.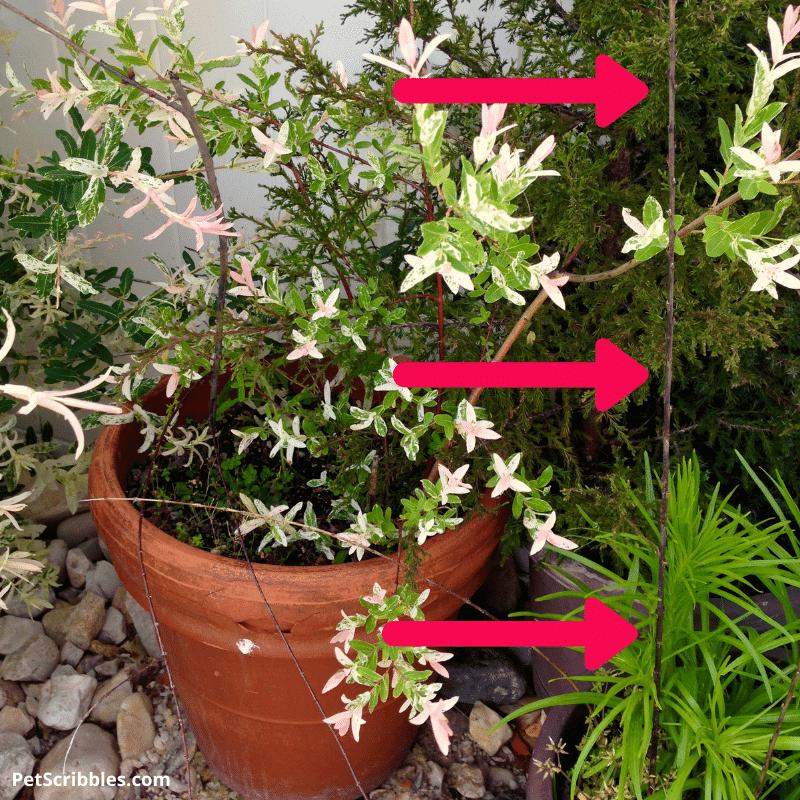 When do you propagate Dappled Willow?
You can take cuttings from your Dappled Willow any time of year, however in my own experience, the best time to propagate Dappled Willow is anytime during the Winter and Spring seasons — all the way to the end of May.
Why are Winter and Spring best for propagating Dappled Willow?
Winter is the dormant season, when there's not as much daylight and temperatures are cold. My experience is this dormancy seems to help the cuttings. If there is snow in Winter, it will help insulate your potted cuttings. (I love how Mother Nature works!) If there's no snow to be found, don't fret as your cuttings should still be fine, just keep the pots in a sheltered spot close to your foundation where it's warmer than out in the middle of the garden.
In the Spring, your cuttings will enjoy cool temperatures and the usual Spring rain showers, which will give them a great start to the growing season. Just as all shrubs and trees begin to leaf out and bloom, so will your Dappled Willow cuttings, although it may seem slow at first. Those roots need to develop before the cutting can turn into a viable seedling.
What about during the Summer or Fall?
Your cuttings may not do as well in hot Summer temperatures getting started as they will in cooler temperatures. You may have to check on them more often, making sure the soil is moist, and any new leaves are not drying out. All it takes is one scorching day where you forgot to check on those seedlings for them to fail. And the stress on those seedlings of bouncing back can sometimes be too much for success to occur.
Early Fall is also ok, but your cuttings won't have enough time to establish roots before the season goes dormant. Roots may begin to form and then die off when Winter sets in. Propagating Dappled Willow in Fall doesn't mean they won't sprout the following Spring, but you might not have as much success.
Will Dappled Willow cuttings root in water?
Yes, they will. Propagating Dappled Willow in water is as simple as placing the freshly cut stems into a jar or vase of water. Place where it will get indirect light. And just like with soil propagation, no special rooting hormone solution is needed.
Doing this in Winter or Spring is best because you won't get intense sunlight like you do in Summer. For Summer propagation in water, keep the jar or vase away from long periods of direct sun.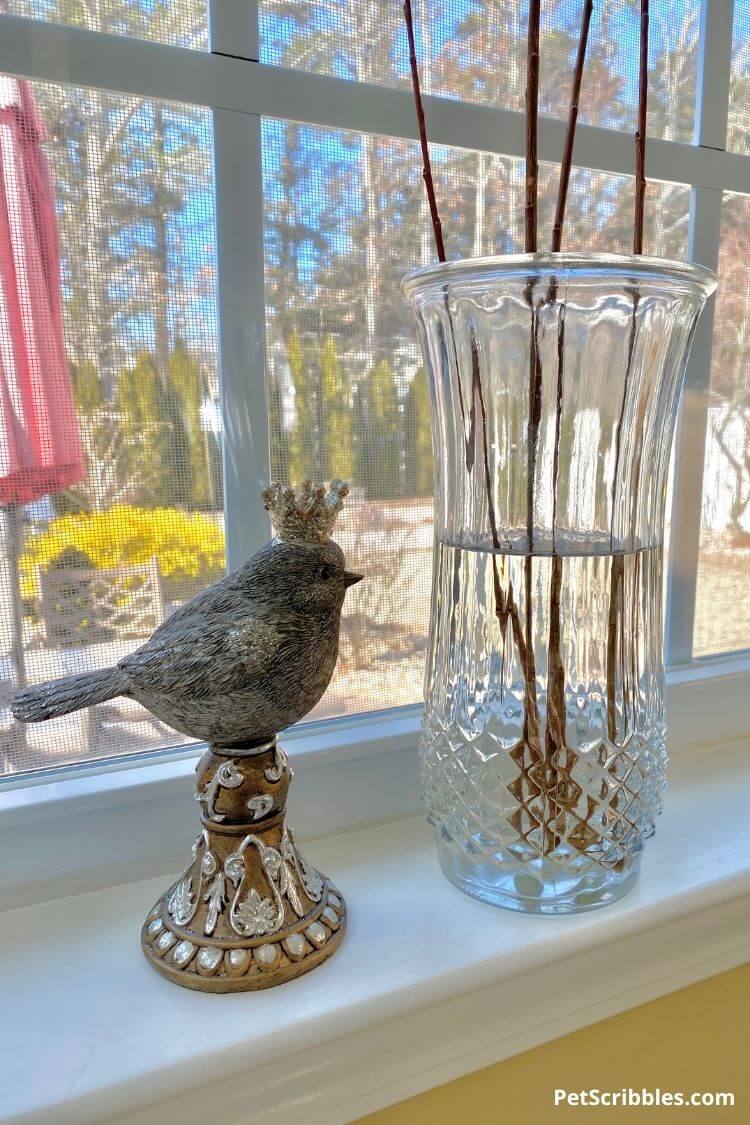 I stuck the cuttings — shown above — into the vase on January 28th. By February 24th, good roots were growing: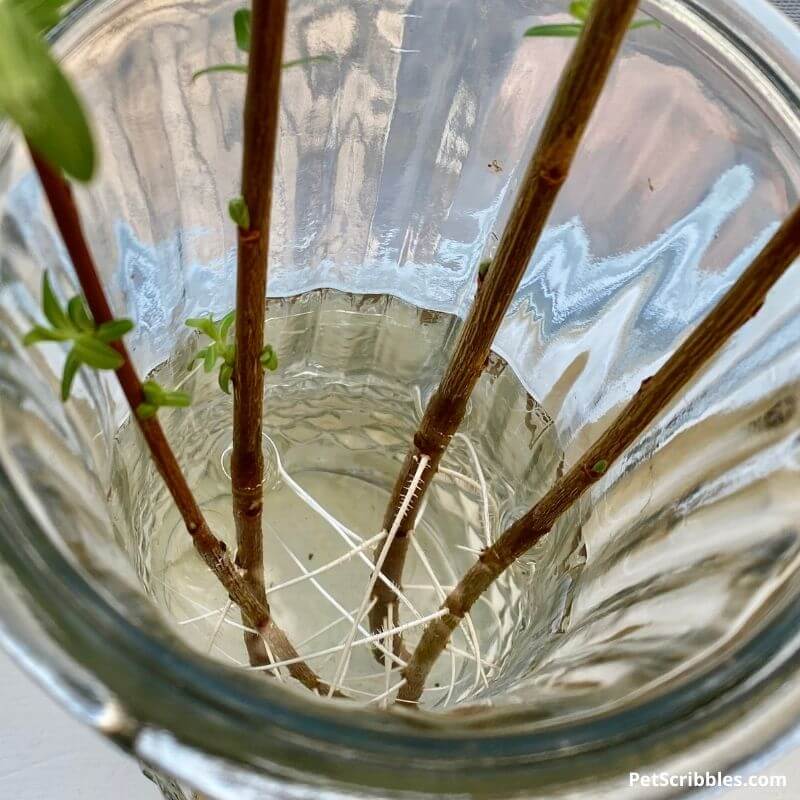 Leaves also popped open from the buds as well: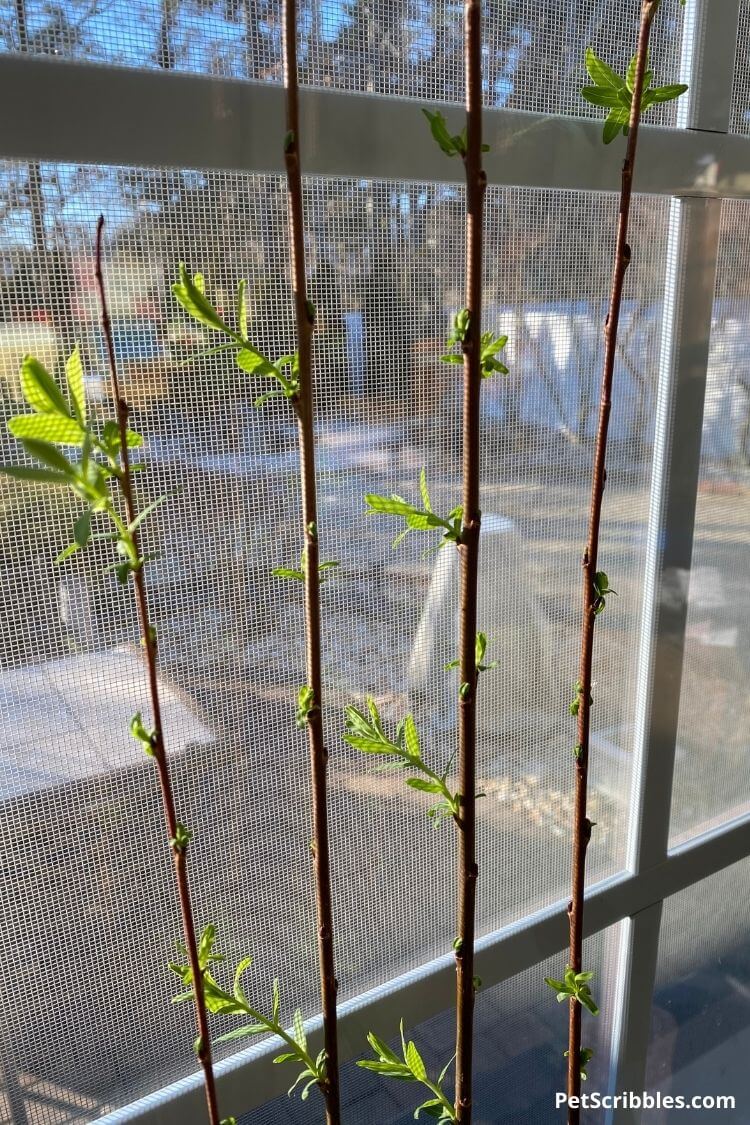 After leaving the stems in water for a few months, the roots looked wonderful!
After the Dappled Willow cuttings rooted in water, and developed for a few months, I potted them up in containers shown above. Make sure to place those containers in the shade at first, in order to get them acclimated to the outdoor temperatures and more sunlight. Depending on the season, you can move them into the sun as long as they continue to receive plenty of water during dry spells. (Dappled Willows love moisture, and you'll be surprised at how much water these young developing seedlings take in.)
I go much more in-depth about these cuttings in my video, further below in this article.
Willow Water
The water that these cuttings root in is rich with nutrients. There's actually a term for it: Willow Water, and this type of water has been used to fertilize plants. So make sure you choose some favorite plants and water them with this Willow Water once your cuttings have been potted up. Free liquid fertilizer!
When to plant Dappled Willow cuttings
The final step of successfully propagating Dappled Willow is adding the new plants into your landscape. Usually it takes about a year until the cuttings are ready to be planted into the garden. However, it depends on when you begin the cuttings.
For cuttings started when dormant in Winter, you may be able to plant them at the end of the Summer. For cuttings taken in early Spring, you could most likely plant them also at the end of the Summer or very early Fall.
The main question to ask yourself is: what do these cuttings look like? Is there a good amount of healthy leaves and shoots? Are there several stems?
You want to plant your cuttings when they resemble small seedlings or small plants. Be patient, and you will be rewarded with strong seedlings that have developed good roots. When I see those things, I know I can plant my Dappled Willow cuttings with a good degree of confidence.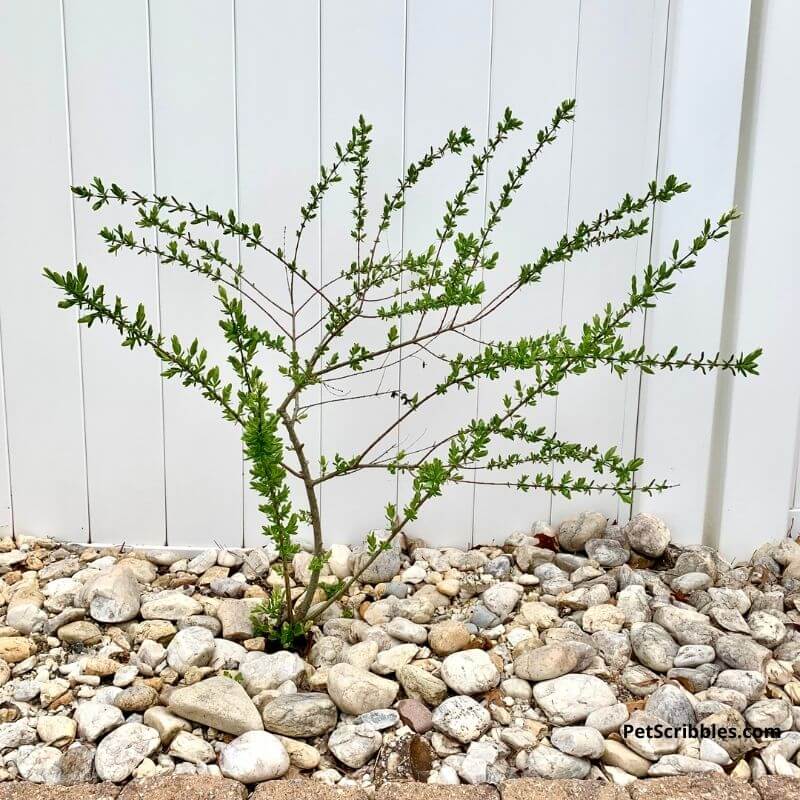 A word of caution about planting
When it comes time to plant your Dappled Willow cuttings, remember to space them at least 6 feet apart from each other. It will seem like a lot of empty space, but trust me: these plants will fill in that space quickly as they turn into gorgeous shrubs.
Conclusion
Remember: When propagating Dappled Willow, I don't bother with any special rooting solution or anything else. Just cut, stick in a pot of dirt, then wait and see what happens. Keep them in the shade and keep the soil moist.
This is a fun project, and really satisfying when you see a skinny twig eventually become a full-size shrub.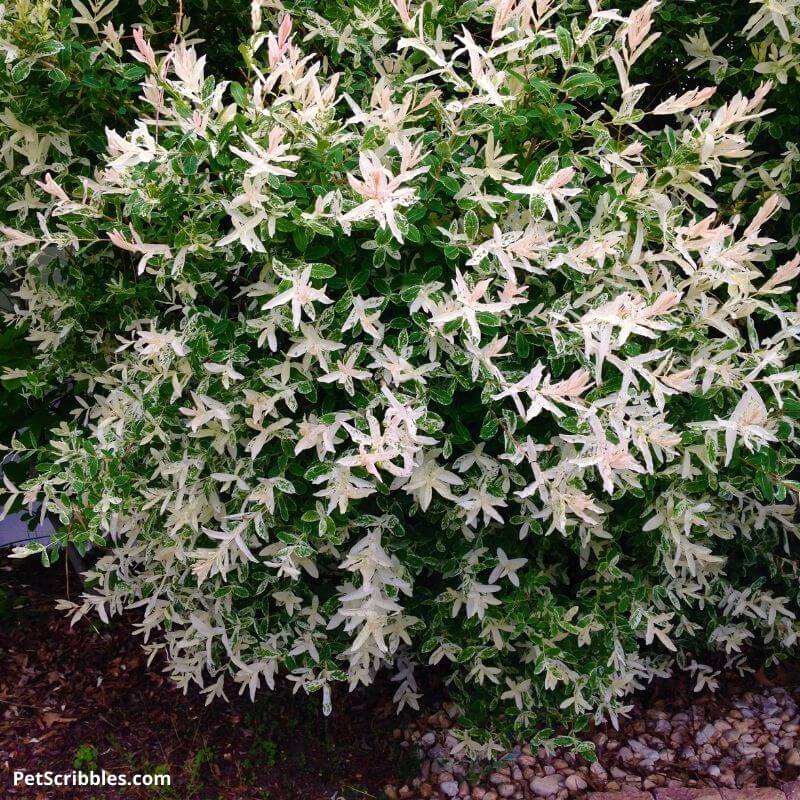 If you have a Dappled Willow shrub, I hope you'll try this for yourself. And let me know if you do.
---
---
VIDEO: Propagating Dappled Willow From Cuttings
---
---
Dappled Willow: The Complete Guide
Make sure to read my free Dappled Willow Guide for help with growing requirements, planting, fertilizing, pruning and more.
I put together this guide based on years of growing Dappled Willow and answer many questions I've received from readers over time.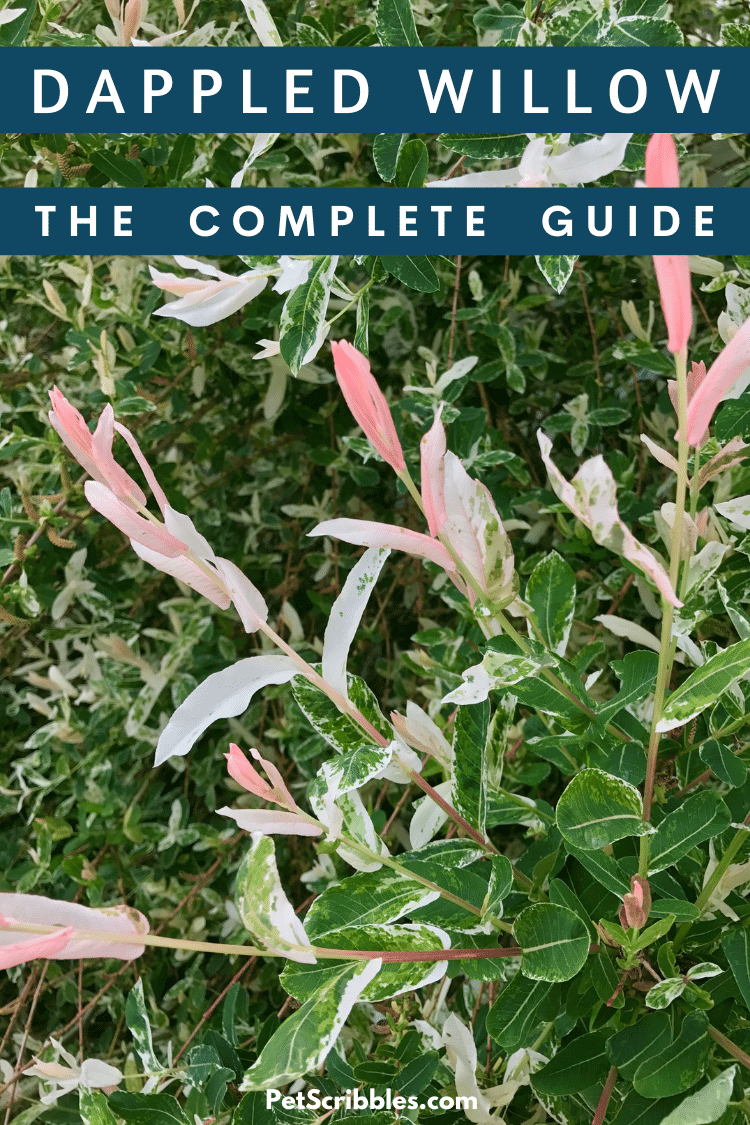 Happy gardening!