Mini Picnic Basket Favors are very popular for weddings, as well as for Spring and Summer parties and events! Make a pretty DIY mini picnic basket favor using paint and tiny flower embellishments. It's easy and inexpensive to do!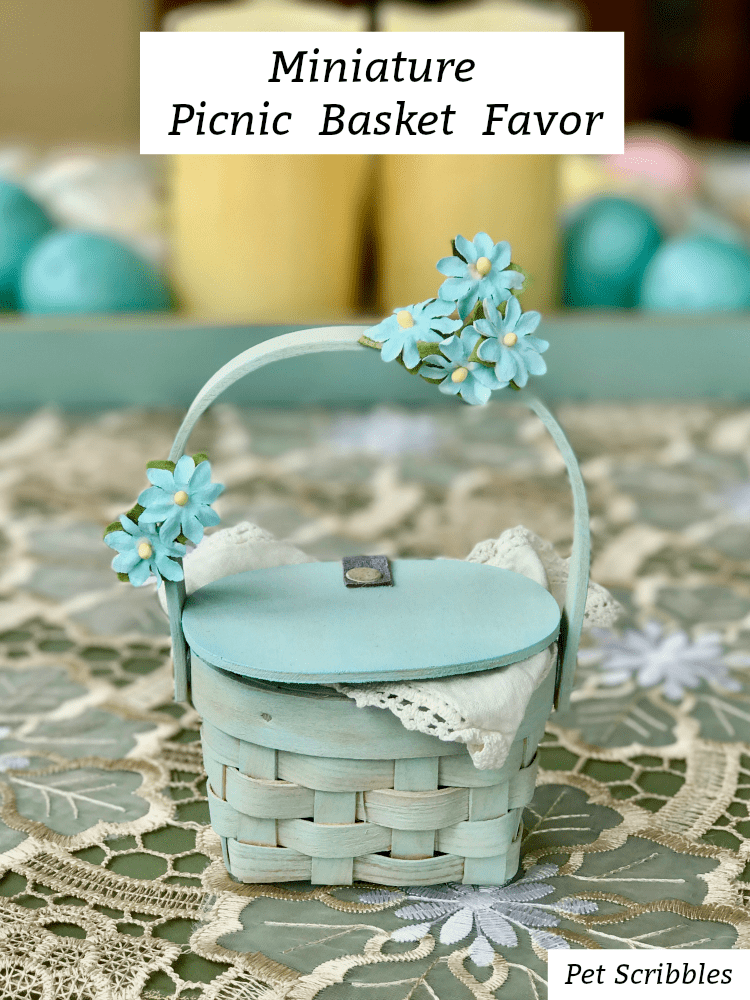 Mini Picnic Basket Favors are popular for just how versatile they can be: you can leave them as is, or dress them up.
Have a pretty picnic "tablecloth" peeking out, or fill it up with something fun inside. Keep the basket lid open and stick a succulent inside.
The possibilities are almost endless to personalize these and make them your own.
FTC Disclaimer: I've received products to try out in my role as a Plaid Crafts Ambassador. This mini picnic basket favor, however, is 100% my own project! Some of the links in this post are affiliate links. I explain more here.
Make A Pretty Mini Picnic Basket Favor!
There are quite a few different styles of mini picnic basket favors including those that are open, i.e. no lid. A quick Google search — or a search on Pinterest — will help you find exactly the style you want.
I found mine (below) at A.C. Moore craft store. It's approximately 4.5 inches high and cost $1.00. The lid is attached with a small strip of leather. You can find many miniature unfinished wood items (like these) all for around one dollar. Over the years I've purchased tiny boxes and miniature chairs in that section as well.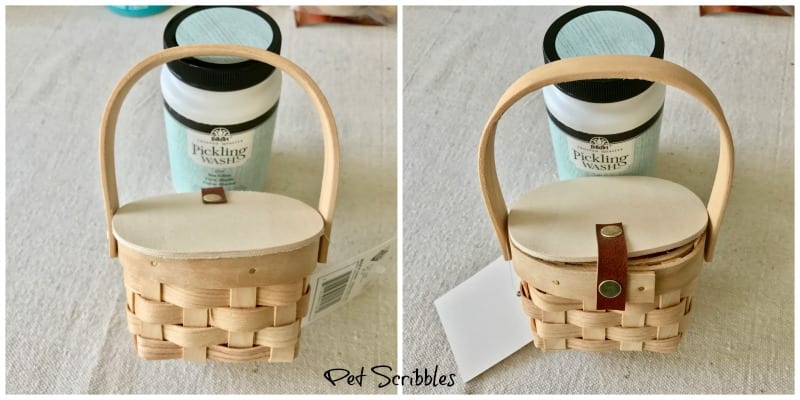 Add paint or stain . . .
Spring has me in the mood to make pretty things, so I simply painted on a thin coat of FolkArt Pickling Wash in Sea Glass with a small paintbrush.
I even lightly painted the leather "latch" on the basket lid. For the inside of the basket, I only painted the rim. This gives the inside a finished look without trying to get into all of those nooks and crannies.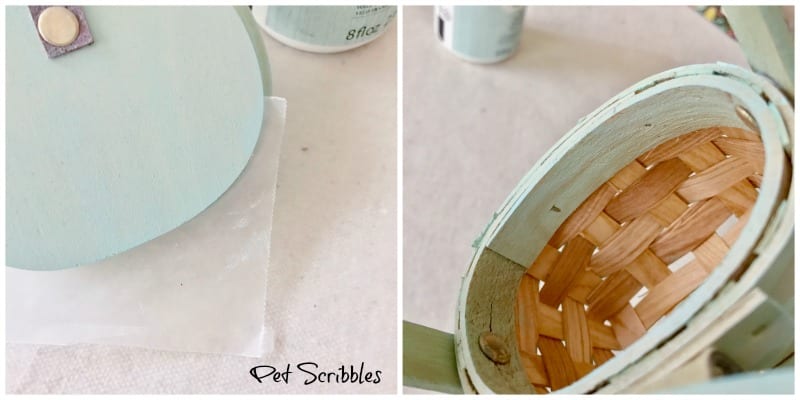 Pickling Wash dries super fast — as it absorbs into the wood quickly — so you can paint a bunch of these in no time at all. (And if you need to paint lots of mini picnic basket favors for a wedding, enlist your girlfriends for an afternoon painting party!)
Add flowers . . .
A quick and easy way to add flowers to your mini picnic basket favor is to purchase tiny flowers that have wires already attached.
Below left, is a box I purchased at Michaels. To match the basket, I painted them with the Sea Glass Pickling Wash.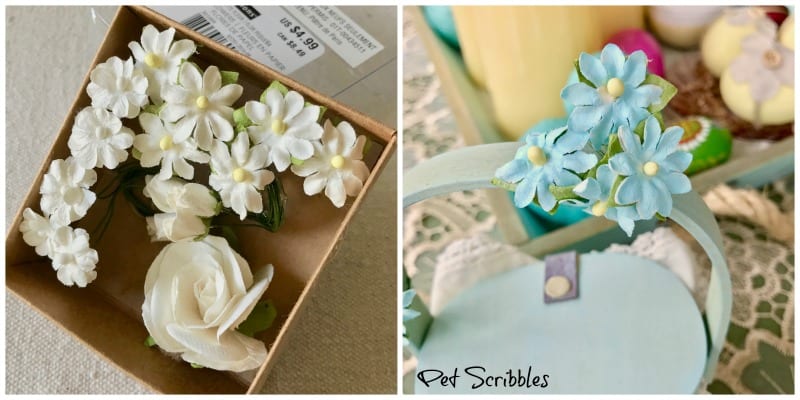 Once the flowers are dry, just wrap them around the basket however you like.
Helpful tip: If you're making these mini picnic basket favors for a large group, search the interwebs for bulk amounts of these paper mulberry flowers. They come in many different colors — if you don't want to paint them — and also come in white and ivory, if you do! I found two examples for you on Amazon here (roses), and here (cherry blossoms). Definitely search around online!
This is an easy and inexpensive idea for favors, hostess gifts or simply for your own decor.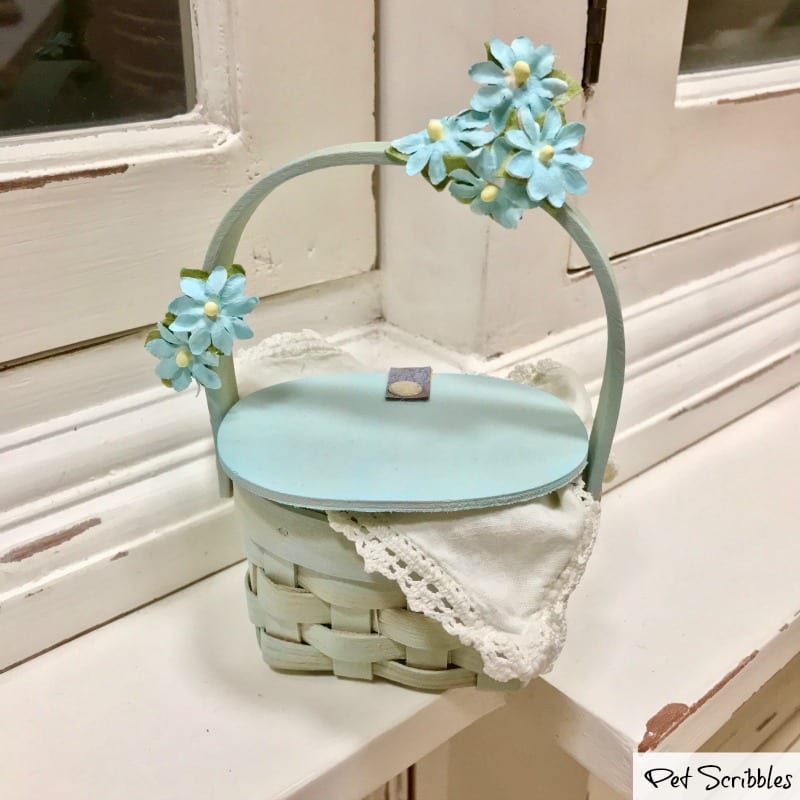 For my miniature "tablecloth" peeking out, I cut up a section from an old pillowcase that had gorgeous crocheted lace trim, then arranged it into the basket. You could also use more traditional red-and-white check fabric, or any fabric that matches your event or wedding colors.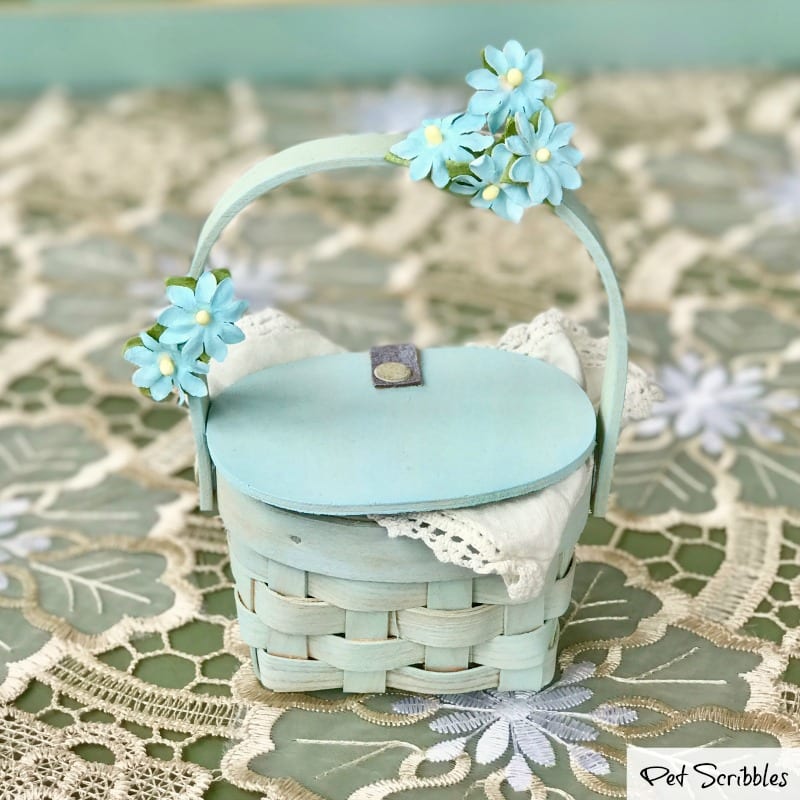 This also makes a cute miniature Easter basket too. Fill it up with miniature eggs or candy.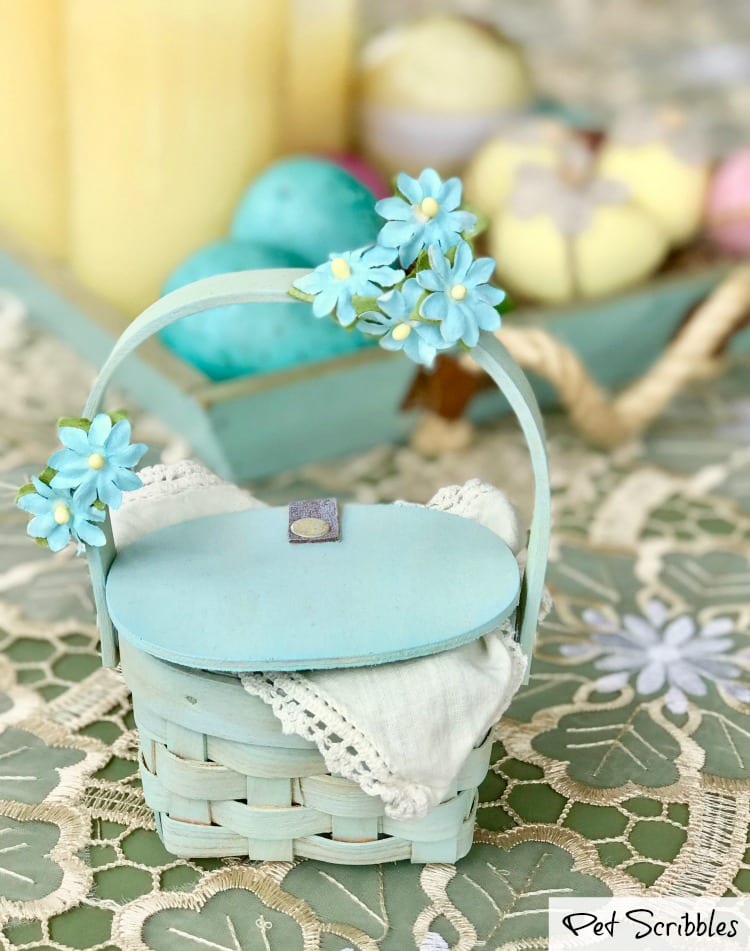 I love how sweet this looks!
Curious about the pretty open lace tablecloth seen in these images?
I found it here on Amazon and bought it to use in our Breakfast Room for Christmas. I decided to keep it out for the Spring and Summer!
Peat Pot Wedding Favors
Don't miss my easy Peat Pot Wedding Favors tutorial too! Another easy and inexpensive way to dress up a special event.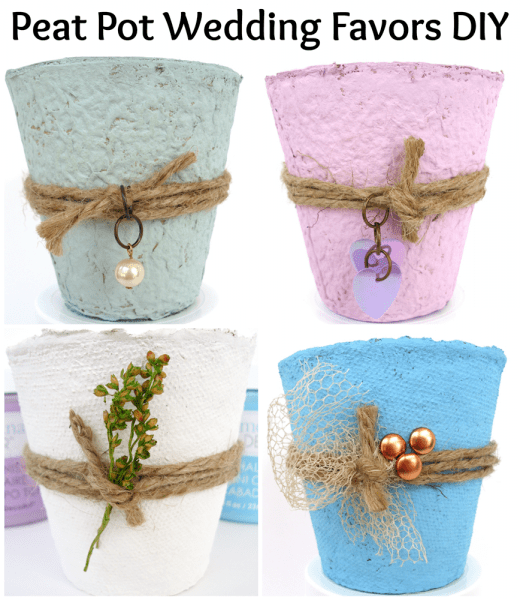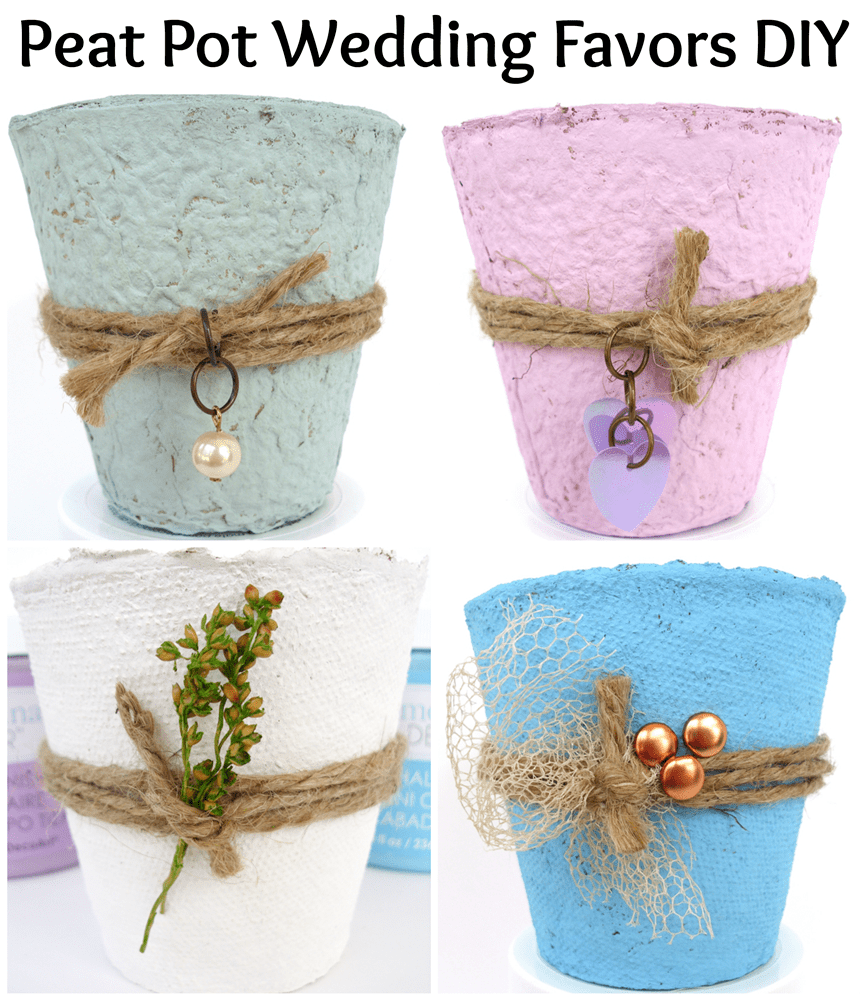 Happy crafting!