Ivan Karl is the happiest cat we've ever met, and also the most relaxed and chill. He is the heart mender we didn't know we needed.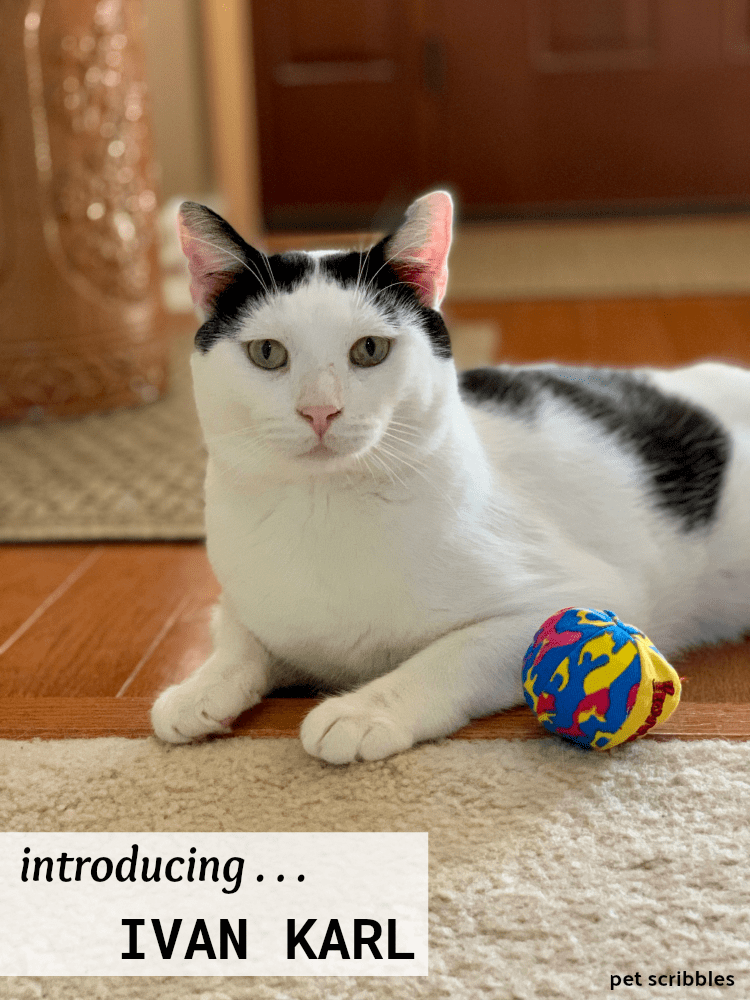 I am so happy to tell you about our newest addition to our furry family: Ivan Karl, a rescue kitty who makes us smile every single day. He has a wonderful purrsonality, being so happy, so comical, so curious and so affectionate.
I didn't mean to stop writing about the cats
It's surprising that I haven't written anything about our cats in approximately a year, since I wrote about Lulu's passing.
Lulu was a huge loss to me and my husband Hans. And saying that — or just typing those words — still doesn't quite explain the giant thud her loss had on us.
It was definitely a giant thud. And it still is, at times.
Lulu was truly one of a kind. There isn't a day that goes by where we don't think of something Lulu did that makes us laugh, or makes our eyes water. We both still have pictures of Lulu as our cover photo on our iPhones.
This is the photo of Lulu I see every time I pick up my phone: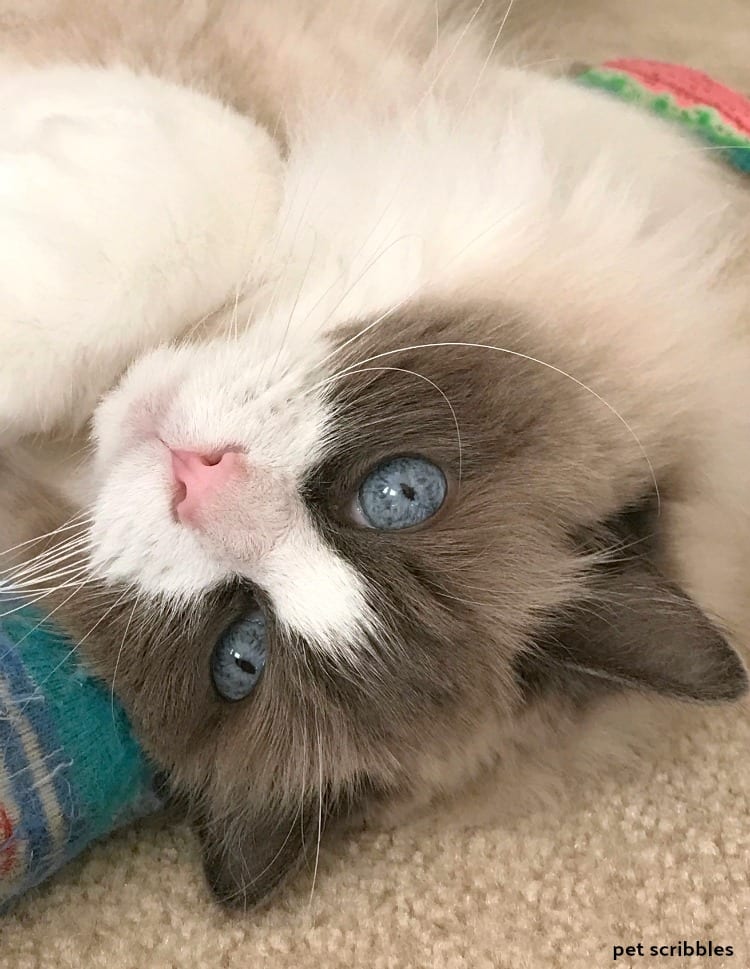 I can't even — honestly — think about Lulu that much at one sitting without getting very sad. It's so damn hard. She was with me for almost 20 years. The loss can feel suffocating sometimes.
How has Otto been?
Our other cat Otto had a very hard time coping with Lulu's loss as well. He was very depressed without Lulu. He quickly got a kitty cold, which then developed into kitty pneumonia. With much comfort and care, Otto got better and we began to try and cope as a threesome.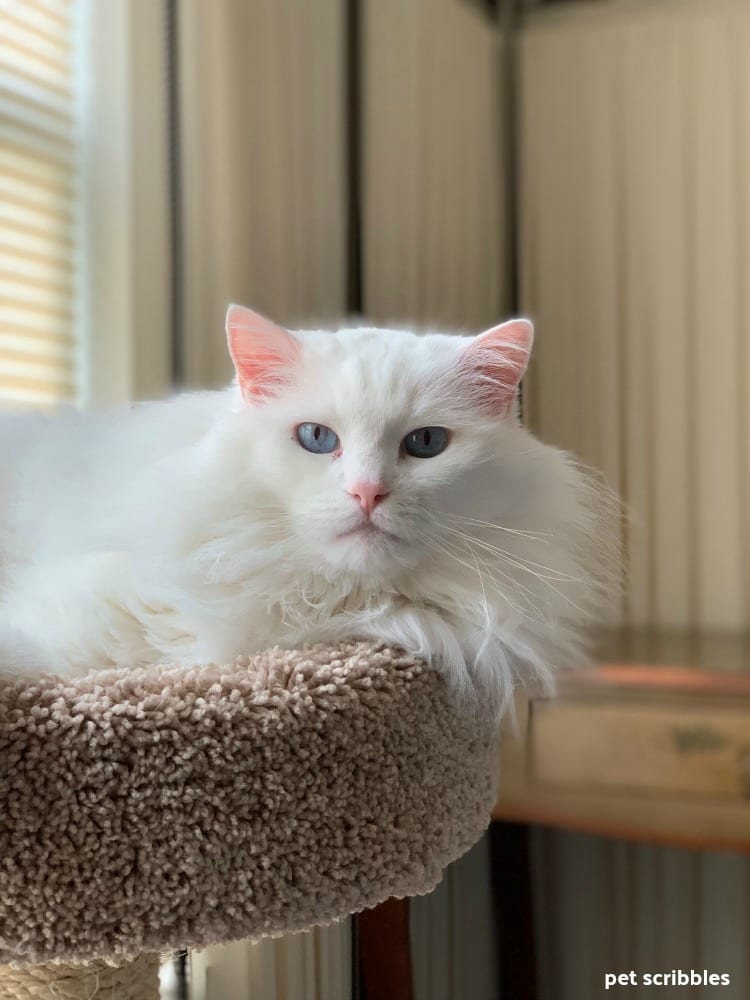 Otto is one gorgeous cat, isn't he?
Otto is 8.5 years old, and is a white Ragdoll who is deaf. We adopted him when he was five years old, and you can read his rescue story here.
After Lulu passed away, Otto was beginning some destructive behaviors, such as scratching door frames and pulling out his fur. We knew he needed a buddy. He was not meant to be an only cat. We saw how much he loved Lulu whether she loved him back or not.
Neither Hans nor I were ready for adopting another cat, and we both knew we couldn't handle another female kitty — way too soon after Lulu's large purrsonality in our lives for 18.5 years.
The unplanned coincidence with National Adopt a Shelter Pet Day
It was National Adopt a Shelter Pet Day, April 30, 2018 — just a few months after Lulu's passing — that I was on Twitter looking at all of the adoptable pet pictures being shared. Especially the cat pictures.
My heart longed for another kitty, especially for Otto. And then — as I was looking at those pictures — something crazy happened.
Out of the blue, our pet sitter texted us. She was fostering a cat who she thought might be a good fit for Otto. (And no — she had no clue it was National Adopt a Shelter Pet Day either!)
She explained that she never contacts her pet sitting clients about her fosters, but for some reason just felt this little guy might be great for Otto.
We start to melt for this sweet kitty
We agreed to see a picture — and you know how once you see a picture, that's most likely it — you're hooked!
Here was that picture: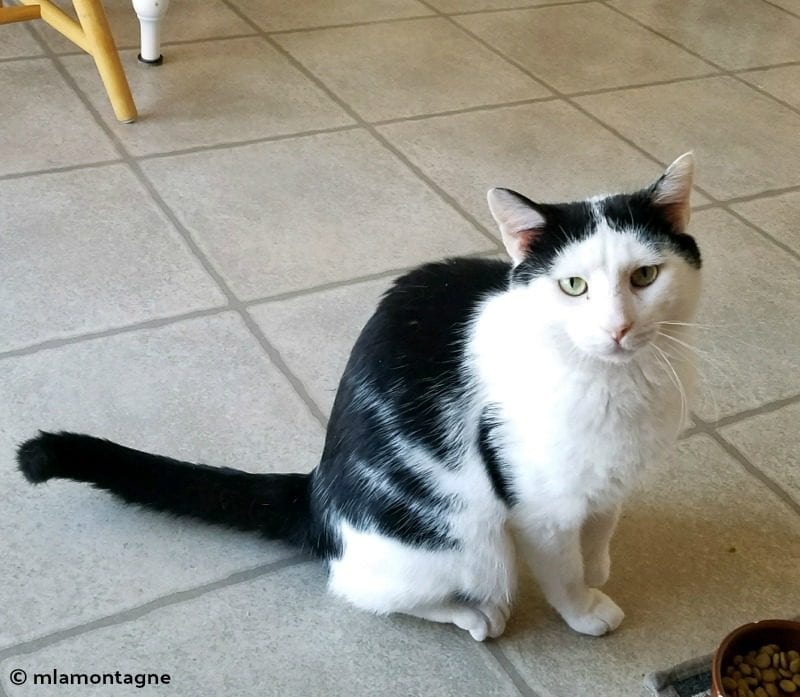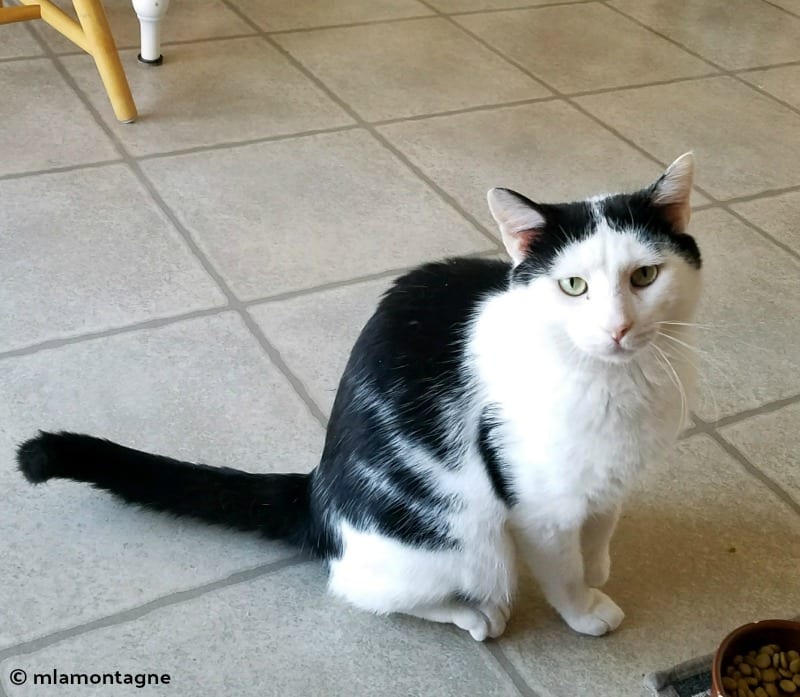 What a sweetie! He was about two years old, found in a cat hoarding situation. As all of the cats and kittens were being rescued from the house, this little guy was found outside of the house.
We're unsure how much time he was an outdoor kitty. Was he born inside the hoarding house and slipped outside one day? Was he born outside and just sort of hang around this hoarding house? Nobody knows. But thank goodness he was rescued!
This sweet kitty was checked over medically and neutered, but still seemed to be very depressed at the shelter clinic. So our pet sitter — who also works as a vet tech there — decided to bring him home to foster and see if he would improve.
From what she could observe, the little guy was great with her own cats and the other foster kitties, but shy with people. Hans and I were ok with any shyness, because we had experienced that with Aliza, our formerly feral cat. We knew we could handle it plus we mainly wanted a buddy for Otto.
Introducing Ivan Karl
As you can imagine, we became interested in adopting pretty fast after seeing his picture and hearing his story, especially as we trust our pet sitter implicitly. She helped us so much with Lulu, helping us administer her shots, and with Otto's kitty pneumonia. Our pet sitter is a rock star!
Within days of seeing this charming cat at our pet sitter's home, we agreed to adopt him, and he joined our home on May 3, 2018 — his new Gotcha Day!
After just two uneventful days of separating him and Otto with a pet gate, we let the little guy out to explore and they were instant buds.
Here they are on their first night together, just hanging out: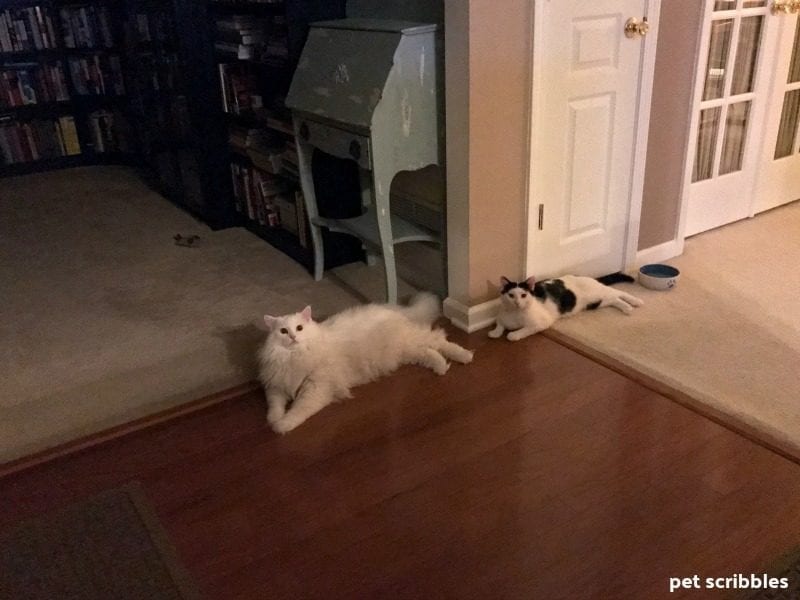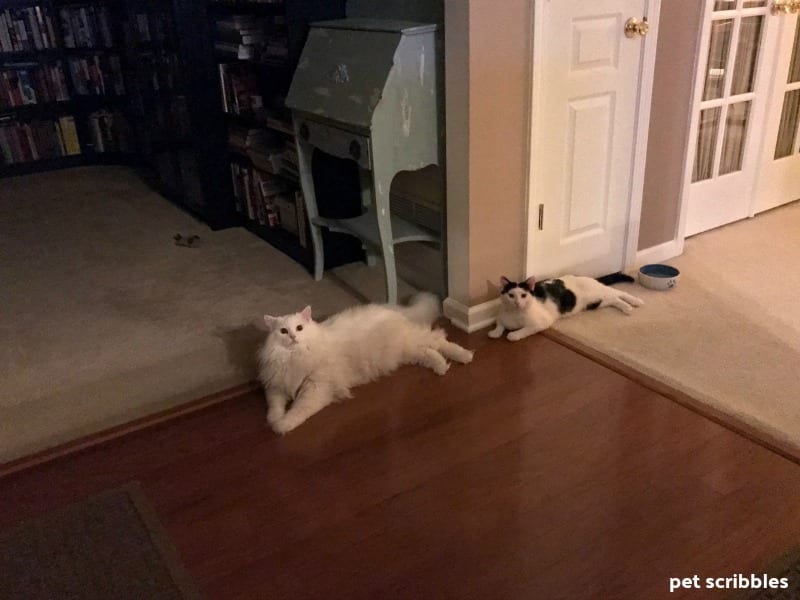 There was no fighting. Lots of sniffing and getting to know each other, then just sitting together like you see in this photo.
We were so happy! And it looked like Otto was too. (In that photo above, Otto looks like he's saying, "Look at me, I found a little brother!"
(We were also very relieved, after what we went through years ago when Lulu was not cool with Otto's arrival in our home.)
We named him Ivan Karl.
Since Otto had a German name, we wanted a more Eastern European / Ukrainian name for this guy — since that's my background. Ivan somehow fit him. We added the name Karl for those times when he's a bit naughty. "Ivan Karl… don't do that!" It works.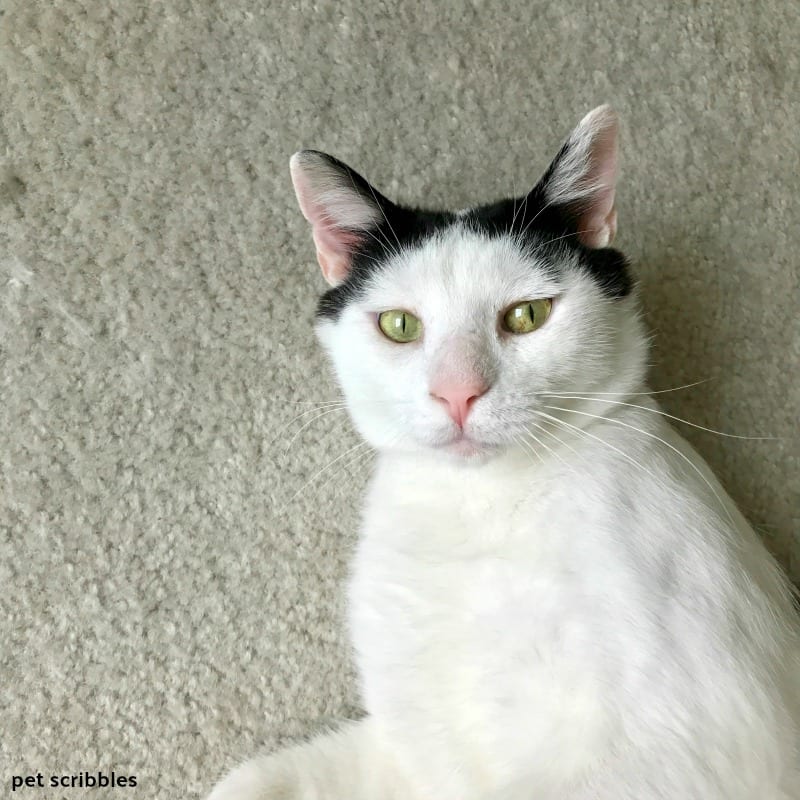 Ivan Karl and Otto Potato
Ivan and Otto bonded instantly, and besides playing and wrestling together, they also crashed and slept together.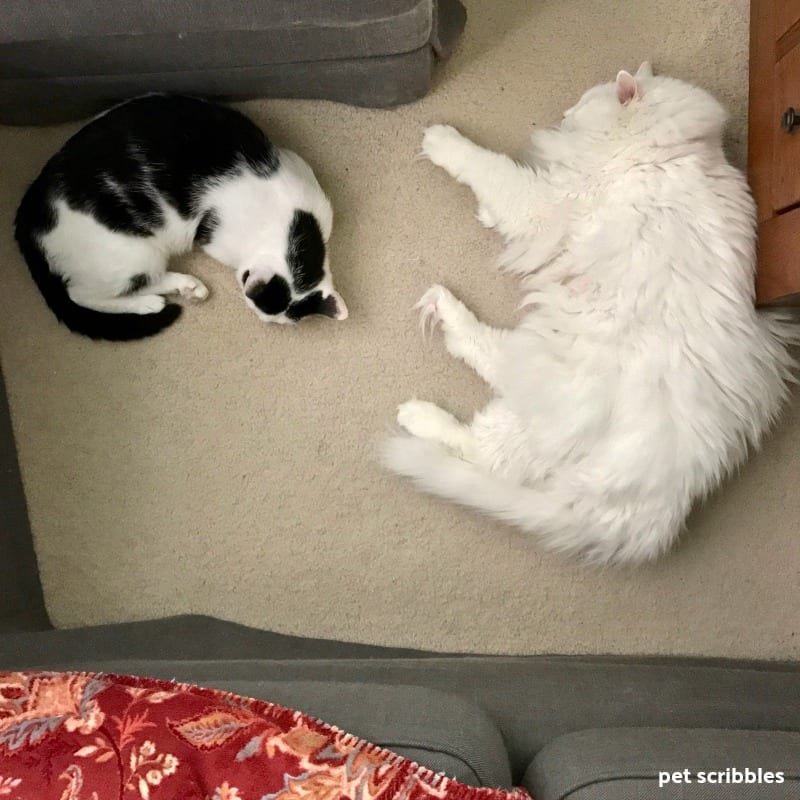 Here's Ivan passed out, not realizing that Otto's tail is in his face. (Otherwise he would be playing with Otto's tail, which he continues to think is a toy for his enjoyment!)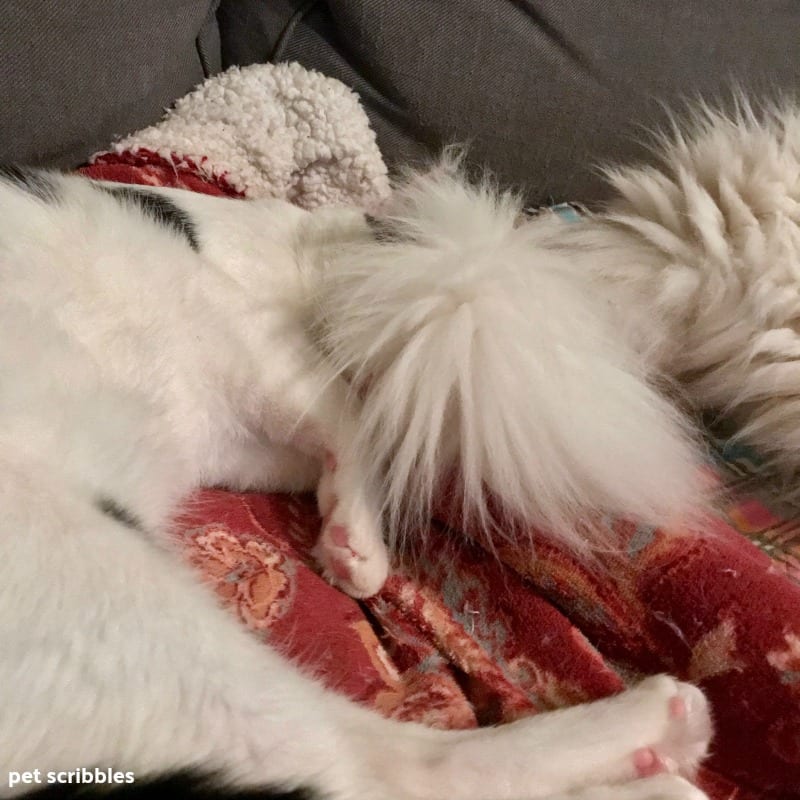 Eventually, Otto pulled his tail in and went to sleep. Ivan barely woke up just to nestle closer.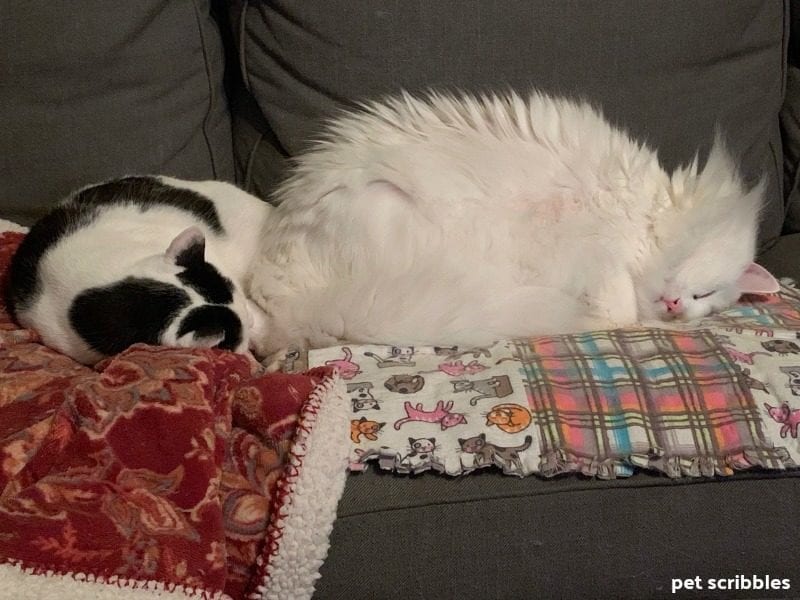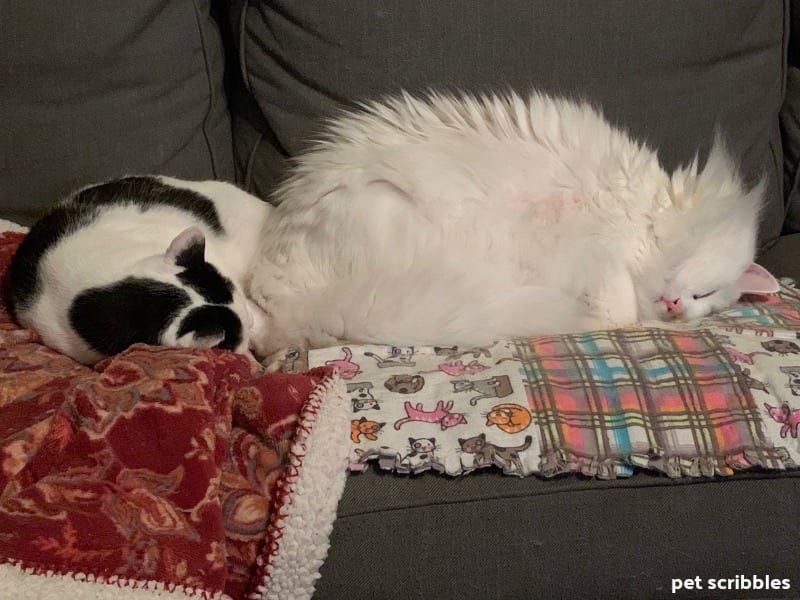 (Otto is on one of Lulu's favorite blankets, while Otto is on the other one.)
Do you see — in the image above — the slight pink area on Otto's fur? That was one of the spots where he pulled his fur out when depressed.
Ivan loves doing whatever his big brother is doing, such as looking at the birds and trees. We have several cat perches like this so they can enjoy the front and back yards from inside.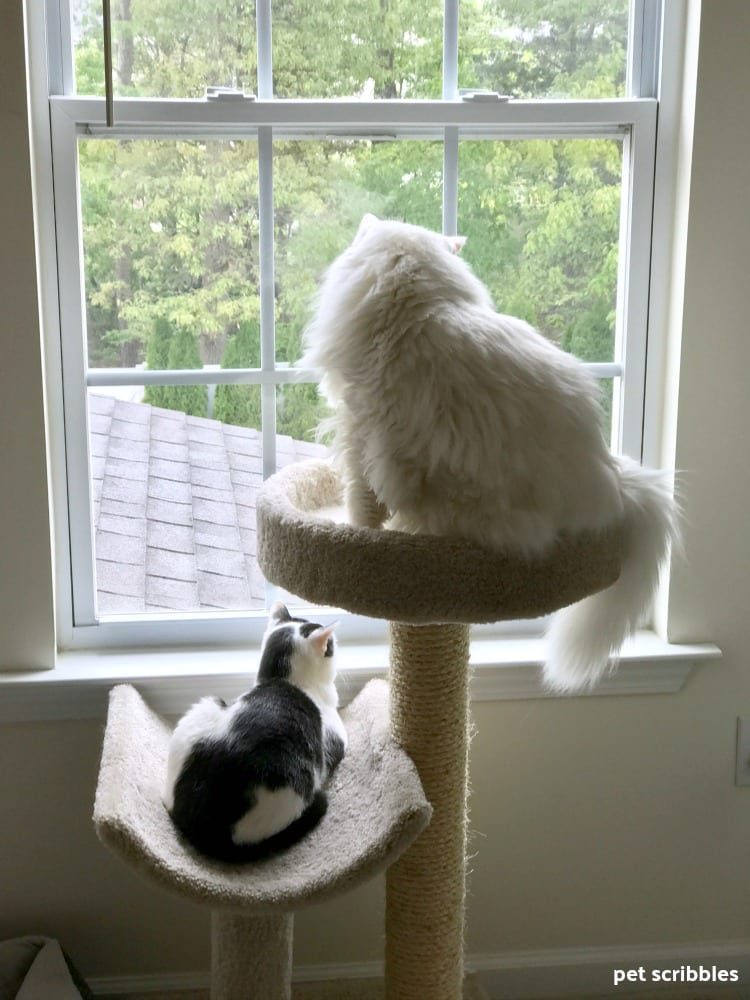 I caught them lounging in my office, with Ivan mirroring Otto's flop. I love when cats do this — I hadn't seen this done since we had Matisse and Lulu together over a decade ago.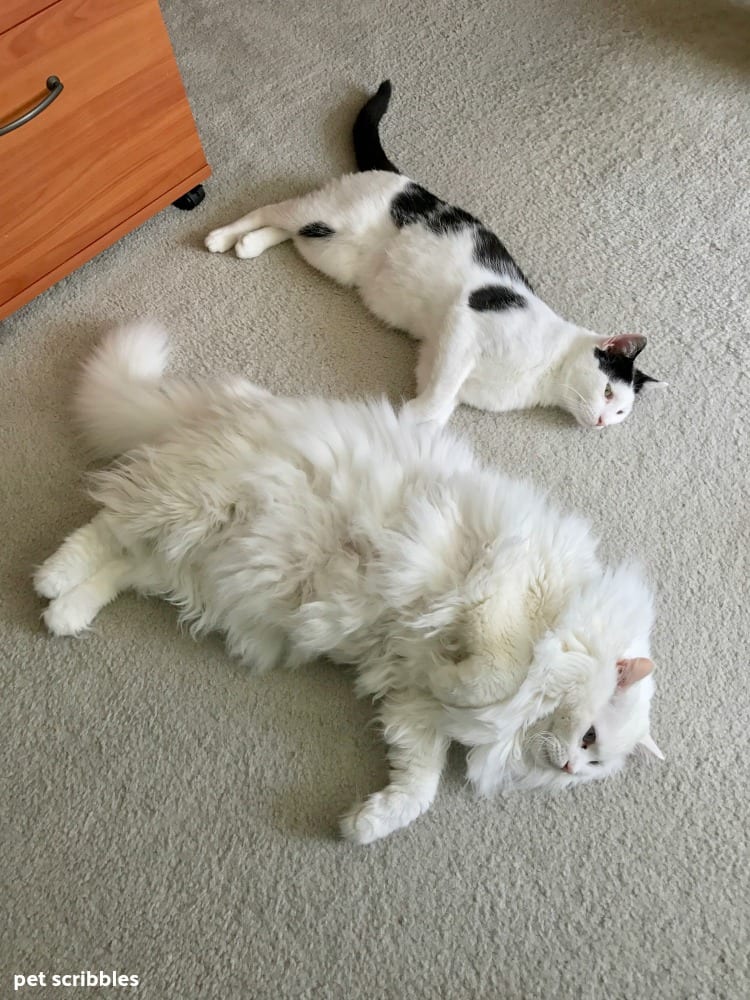 Ivan loves his big brother!
And even better? Otto loves his little brother too! Ivan is exactly what Otto needed.
The size difference is funny. Ivan barely weighs maybe 8 pounds. We call him a "fun size" cat! His fur is super short and feels a bit wiry. Otto is currently on a diet, and weighs about 20 pounds, with tons and tons of fur and fluff. He's a big guy.
Here they are after a play session, Ivan leaning in to give Otto some love: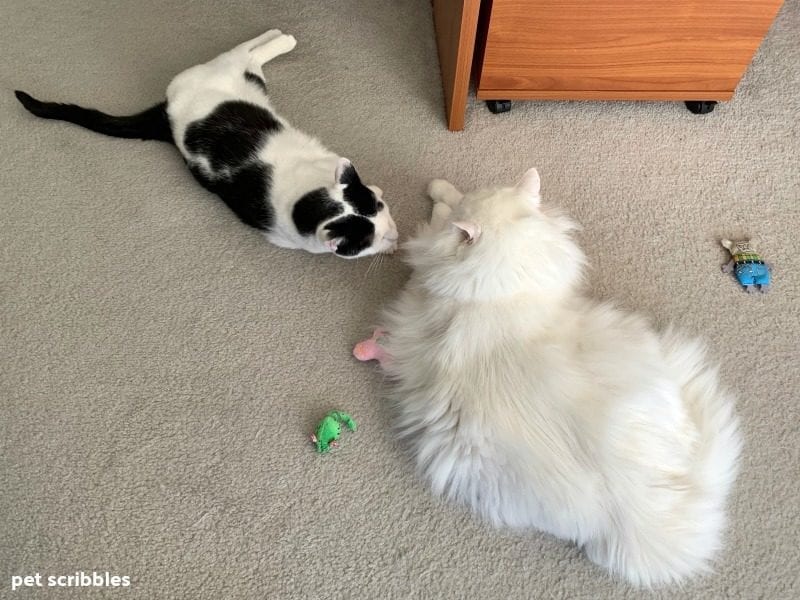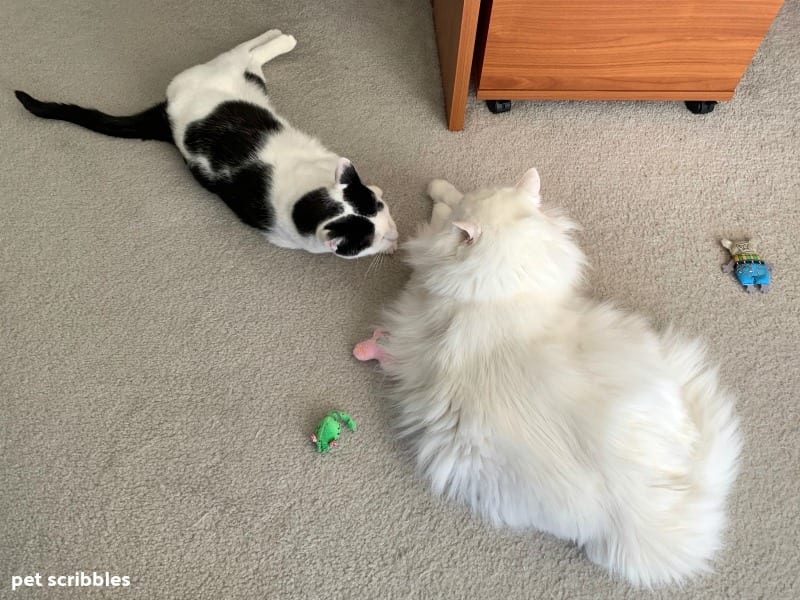 A language all their own, literally!
Otto has developed a language of sounds he uses only with Ivan. That's a new one for me, but it's amazing to witness. They have actual conversations back and forth with little chirps and sounds not made at any other time. It is wild, especially as Otto is deaf.
Every night before bed, the boys (as we call them) have a good play session, chasing each other up and down the hallway and then wrestling together. Ivan has some great Ninja moves!
For us, it warms our hearts to see Otto playing again, and even jumping in the air. He was never able to wrestle with Lulu, so this is a new thing for him, and he appears to love it!
Ivan Karl is one happy cat!
Those early days were hilarious, as we got used to having this little guy around. His energy is just so uplifting, so friendly, so easy-going, and content with life.
When Otto would sleep, Ivan would find things to do on his own — such a good little boy — and sometimes we would find Ivan just hanging out on the stairs with a catnip cigar: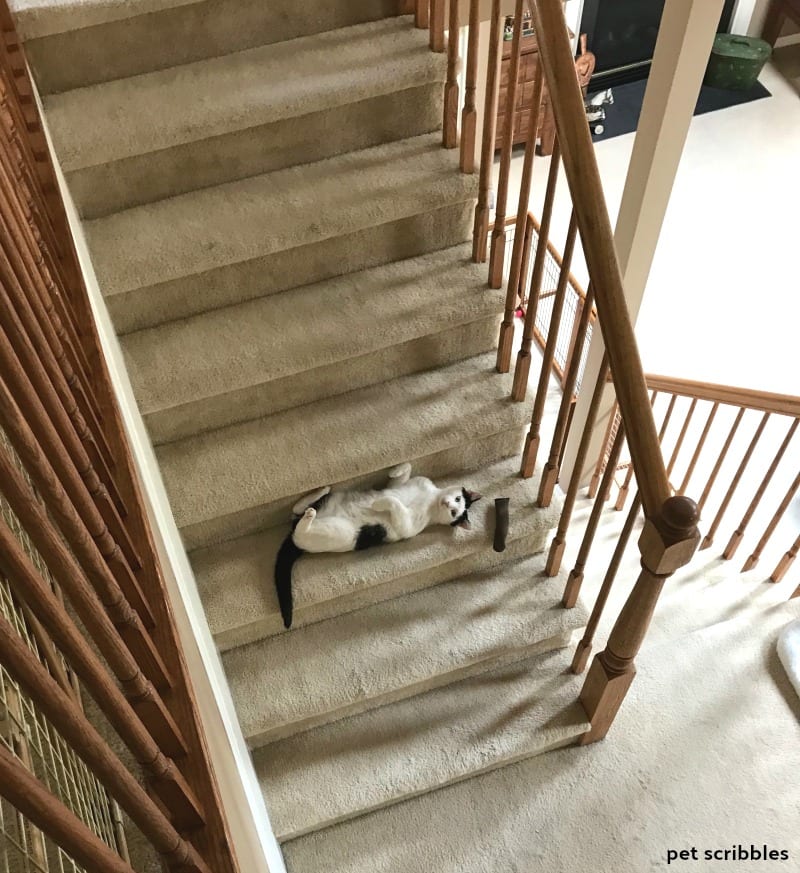 Or we would find Ivan sort of hiding: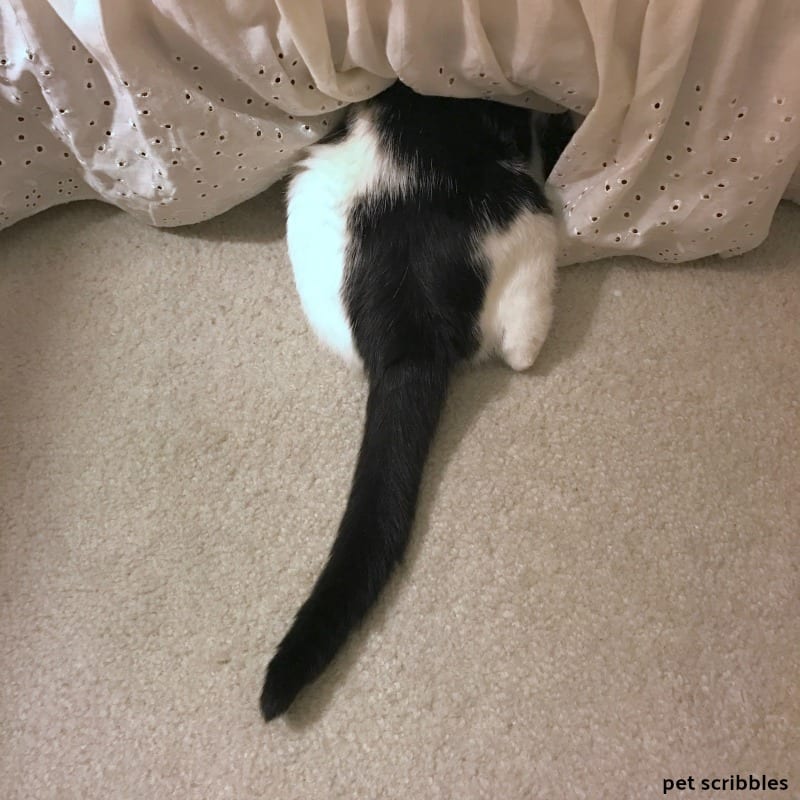 One day we couldn't easily find Ivan, and then he popped his head out of this furniture piece! I'm so thankful he stayed there so I could get this picture: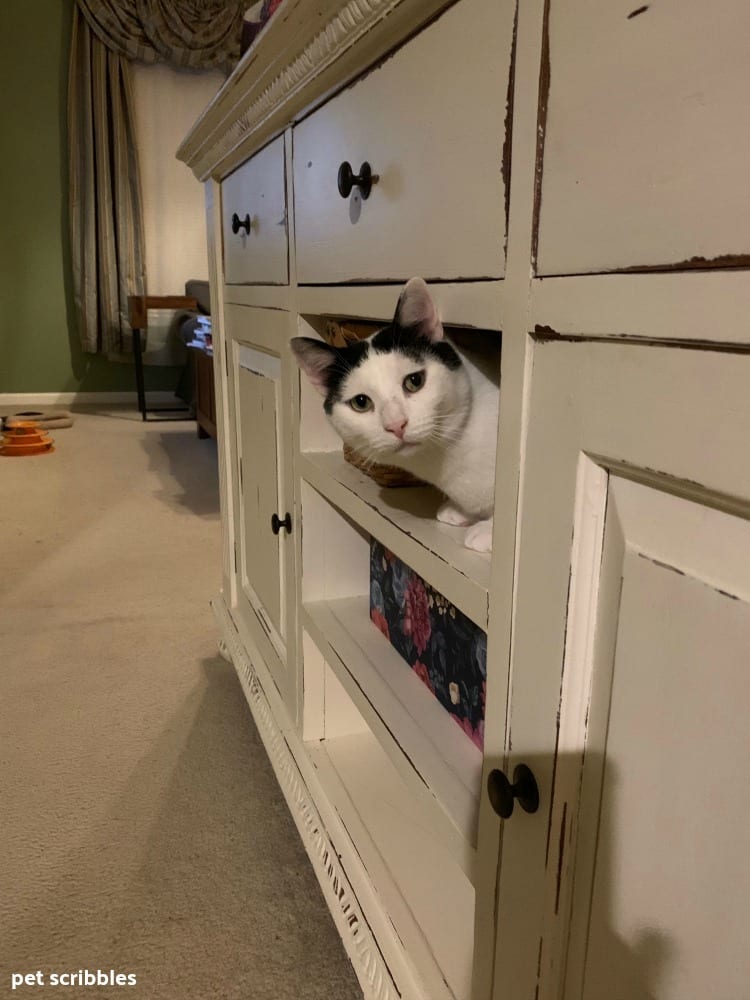 Ivan instantly loved Lulu's blanket. It made us tear up and smile that he just hopped up onto the couch and settled in. From the very beginning, he acted as if he was always a part of our family.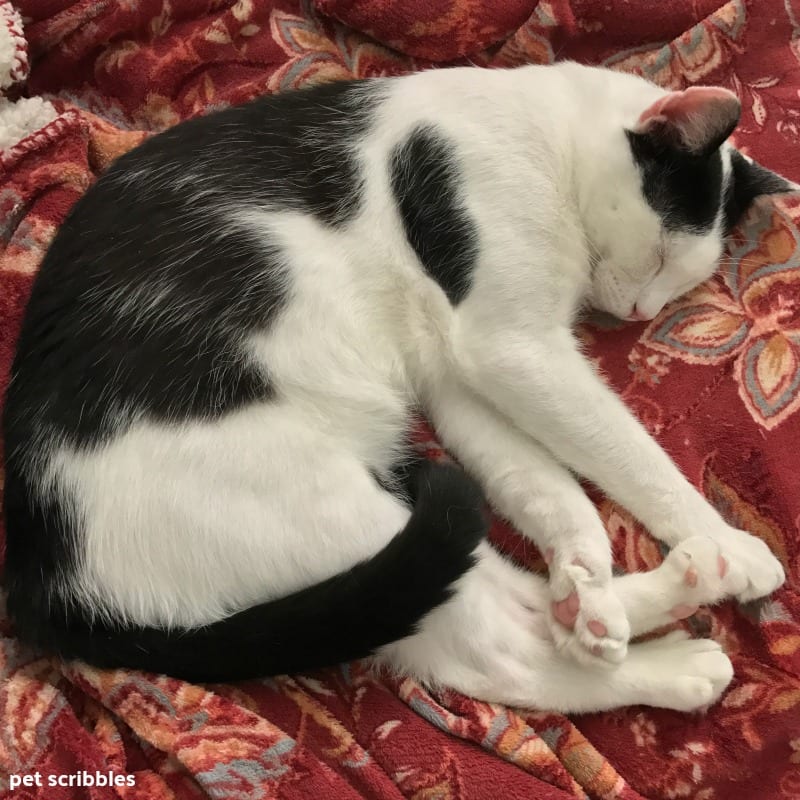 Even Ivan sleeping makes us smile!
When Ivan does sleep, he's comical and cute at the same time.
Ivan loves Lulu's bed that is still in my office. (I couldn't bear to move it.)
Except he prefers to sleep in the bed in his own unique way.
Here's Ivan in May 2018: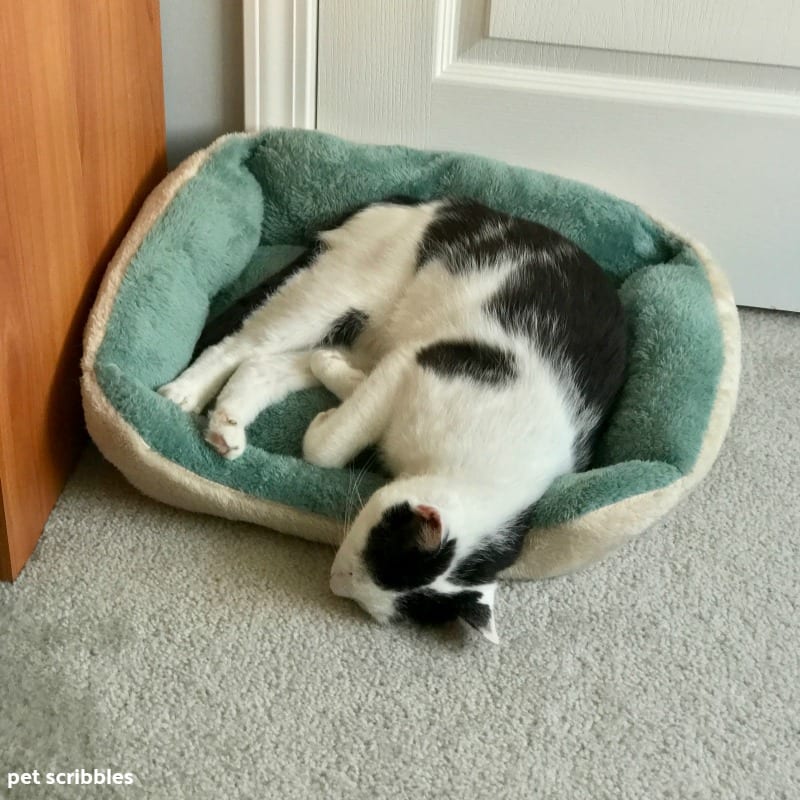 Next is Ivan in July 2018: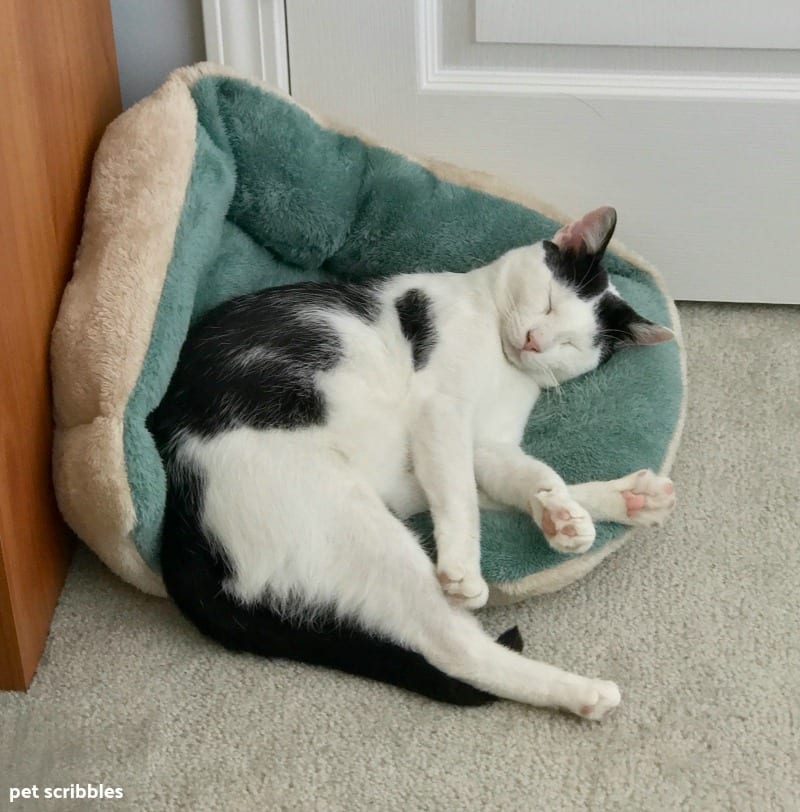 Finally, here is Ivan in September 2018: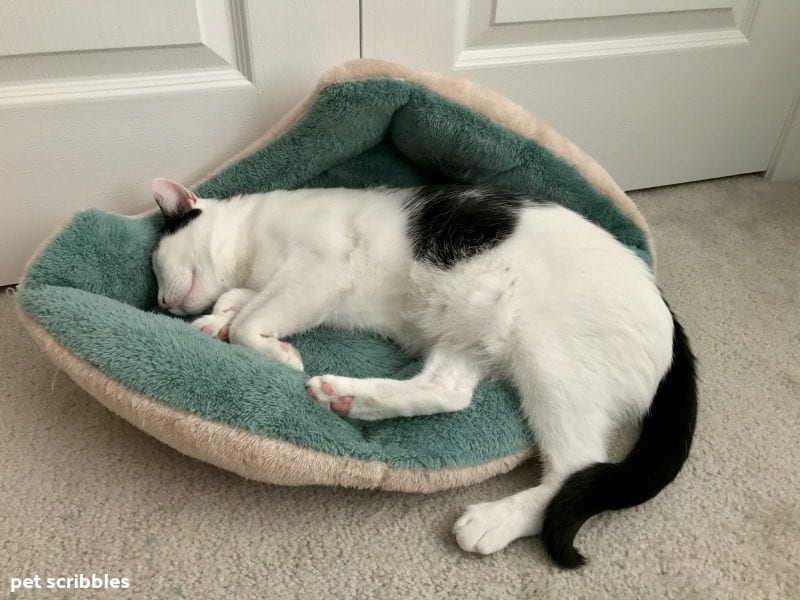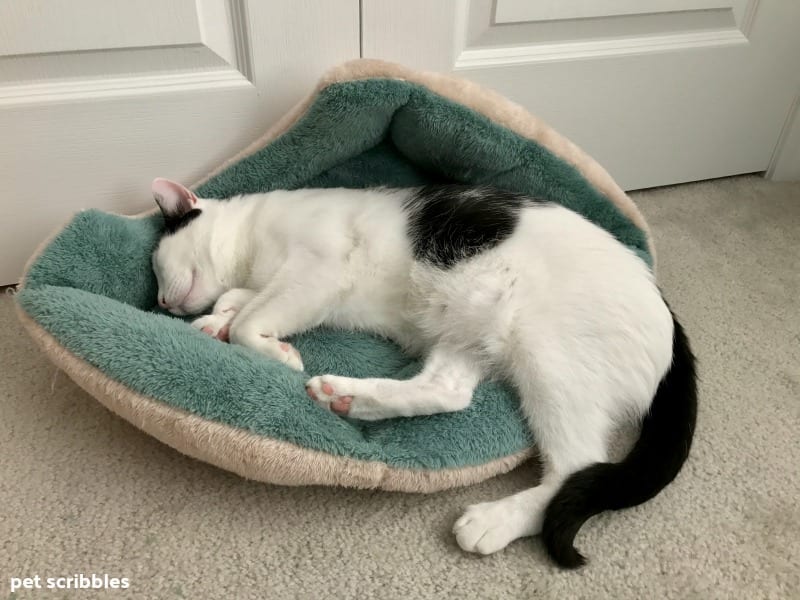 Hilarious! And adorable!
And that's the thing: Ivan makes us smile. Each and every day.
Even when he's sleeping.
Ivan is the happiest, most well-adjusted kitty we've ever encountered.
Ivan is not shy with us
There isn't any shyness with us either. Ivan purrs, and plays and loves getting pets from us and chasing toys and getting groomed and loved on.
For example, I groom Otto daily, and even though Ivan has extremely short hair, he will nudge my hand until I use the grooming glove on him too.
The boys also groom each other and give each other kisses and nudges and licks. It is beyond sweet to watch, and funny as hell when they turn it into bopping and wrestling instead.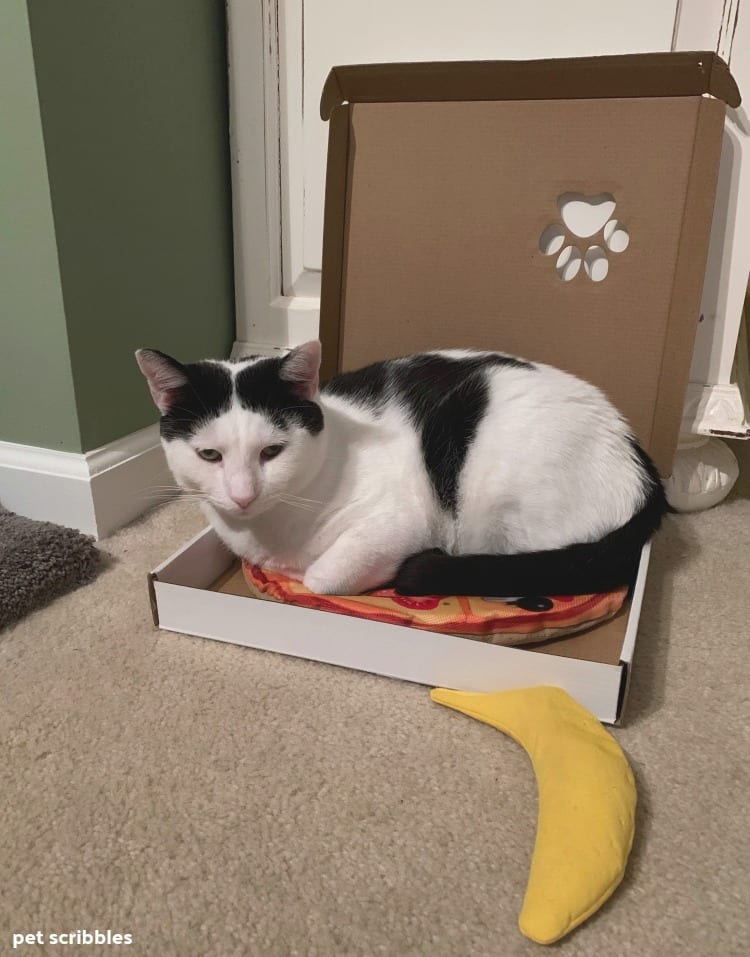 Yes, there are times we use his full name Ivan Karl. However, we're usually stifling a smile when he's done something wrong. He's just that dang cute.
By the way, we have yet to see Ivan get sick with any hairballs. Seriously. It's kind of amazing.
Ivan is the heart mender we needed!
Ivan sings and chirps away throughout each day.
He's just a happy cat.
The question we often ask Ivan is, "Why are you so cute???"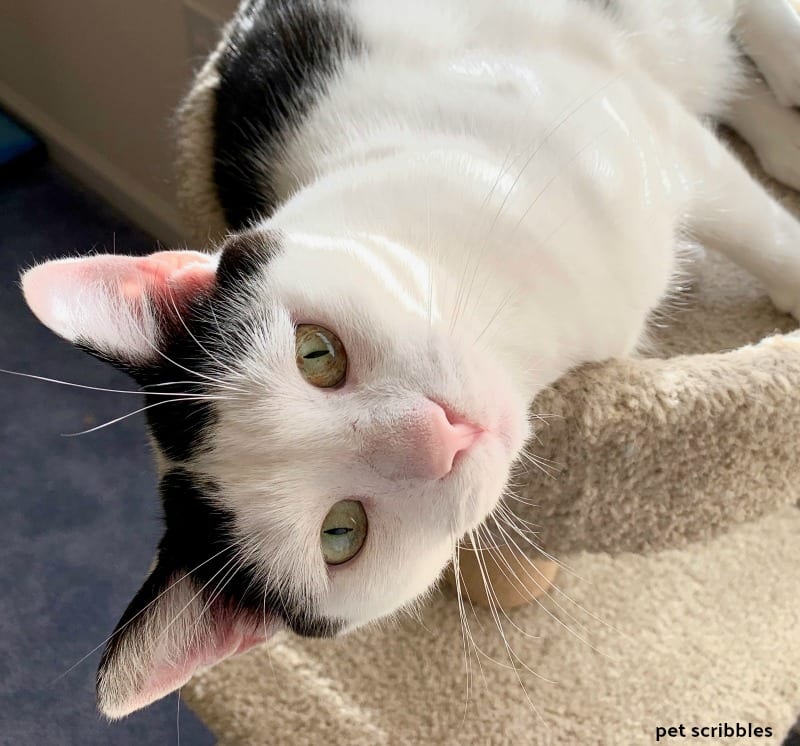 And the description we most often give about Ivan is this:
He would make a great "starter kitty" for anyone who never had a cat. He's easy-going and happy and never ceases to make us smile.
Ivan is the heart-mender we didn't know we needed. We will be forever thankful that somehow our pet sitter knew.
---
Below are some of our favorite cat toys. We've purchased each of these and can tell you our cats love them! One of the items is a catnip spray we've used for over 10 years. It works great to refresh toys and scratching posts, keeping the cats interested and engaged!
FTC Disclaimer: These links below are Amazon affiliate links. I explain more here.